Yesterday was Roberto Clemente Day across Major League Baseball. The day has been an annual September celebration (the exact date has shifted from year to year), but this was the first year that the day had a major uni-related component — or, rather, several components. Here's a recap:
• First, as you can see above, the Pirates' uniformed personnel all wore No. 21 and NNOB — just like everyone wears No. 42 on Jackie Day (it's almost a spooky coincidence that 21 is exactly half of 42):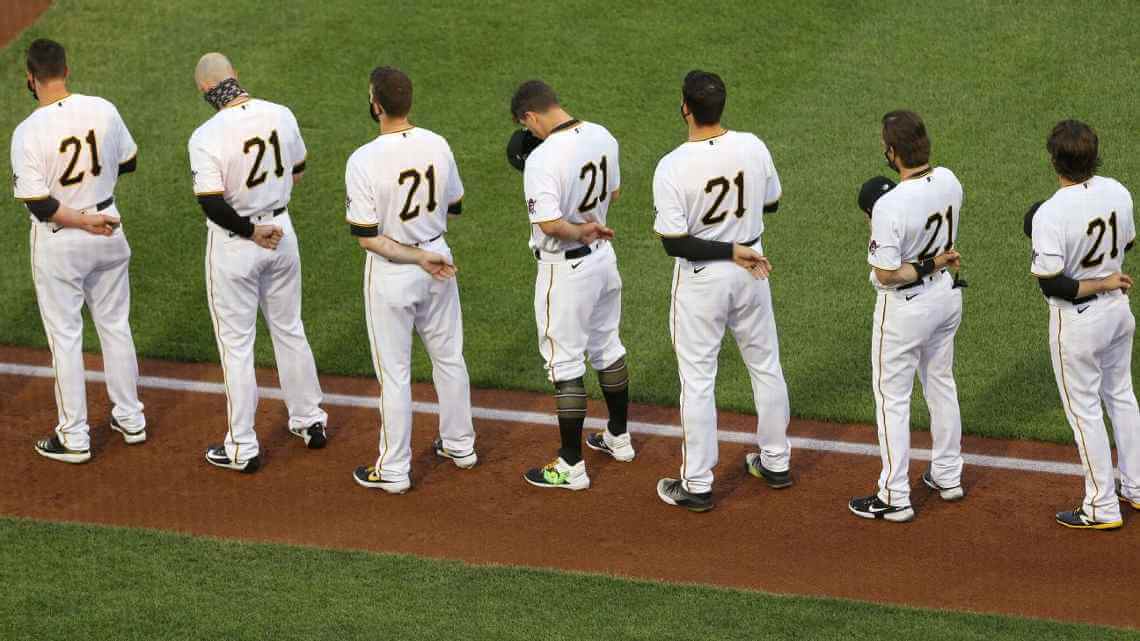 It was the first time in 47 years that No. 21 was worn by the Buccos.
• The Pirates also mowed a big "21" into their outfield grass: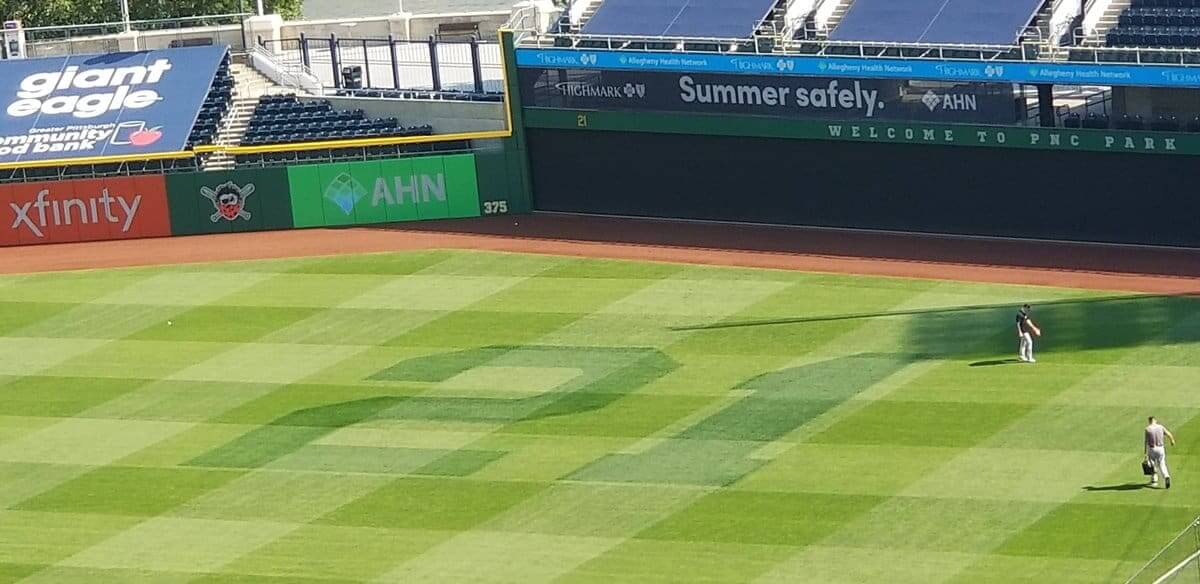 • Although the Pirates were the only club wearing No. 21 on a team-wide basis, Puerto Rican-born players on other teams were permitted to wear the number, but with their regular NOBs. Two players who jumped at that opportunity were Tigers pitcher Joe Jiménez (who normally wears No. 77) and Brewers pitcher Alex Claudio (normally No. 58) prior to yesterday afternoon's game in Detroit: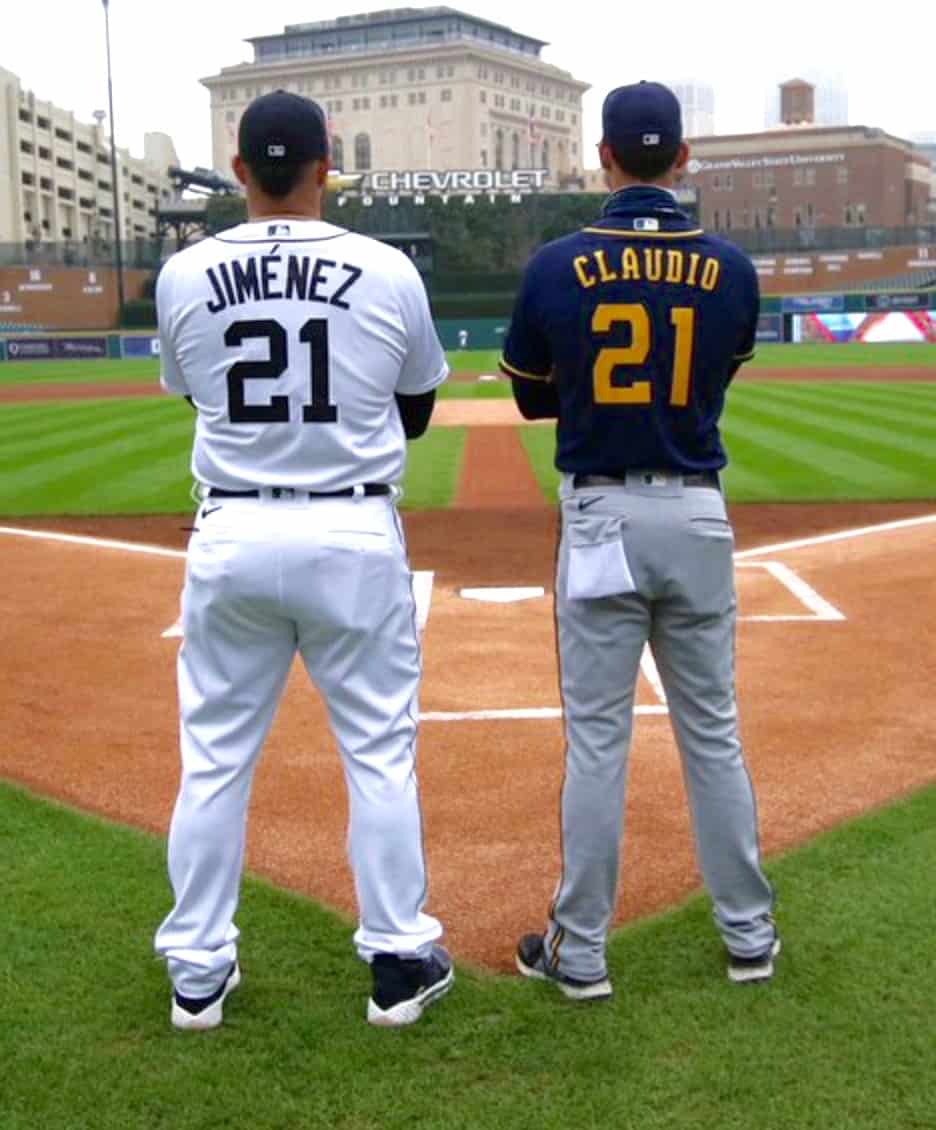 • Milwaukee pitcher Brent Suter, who normally wears No. 35, is not from Puerto Rico, but he also wore No. 21 yesterday, because he's the Brewers' nominee for the 2020 Roberto Clemente Award, which is the annual award to the MLB player who best represents the game through extraordinary character, community involvement, philanthropy, and positive contributions on and off the field:
Looking forward to the day when we all wear this number and it is retired league-wide. Special thanks to the Clemente family for giving me their blessing to wear #21 today. Happy Roberto Clemente Day! pic.twitter.com/DEDqQZYaRy

— Brent Suter (@bruter24) September 9, 2020
I looked up photos of a few other 2020 Clemente Award nominees and couldn't find any others who were wearing No. 21, but I didn't go through all 30 of the nominees. Anyone know if any of the others wore No. 21 yesterday? (Update: Apparently several other nominees wore 21. See today's comments for details.)
• The Pirates notwithstanding, most players (maybe all players?) wore a Clemente memorial patch. Most teams wore it on the right sleeve, but at least one team — the Tigers — wore it on the left sleeve: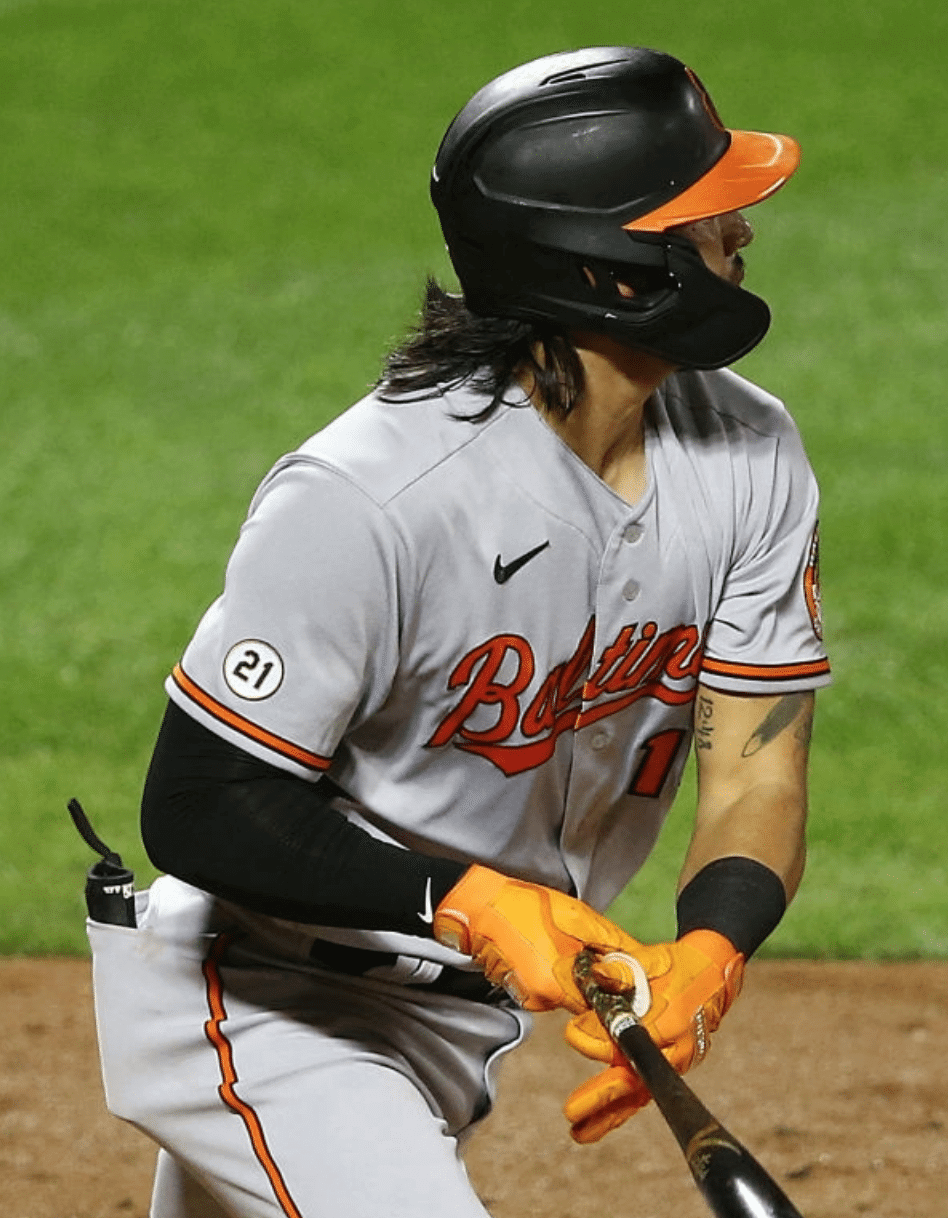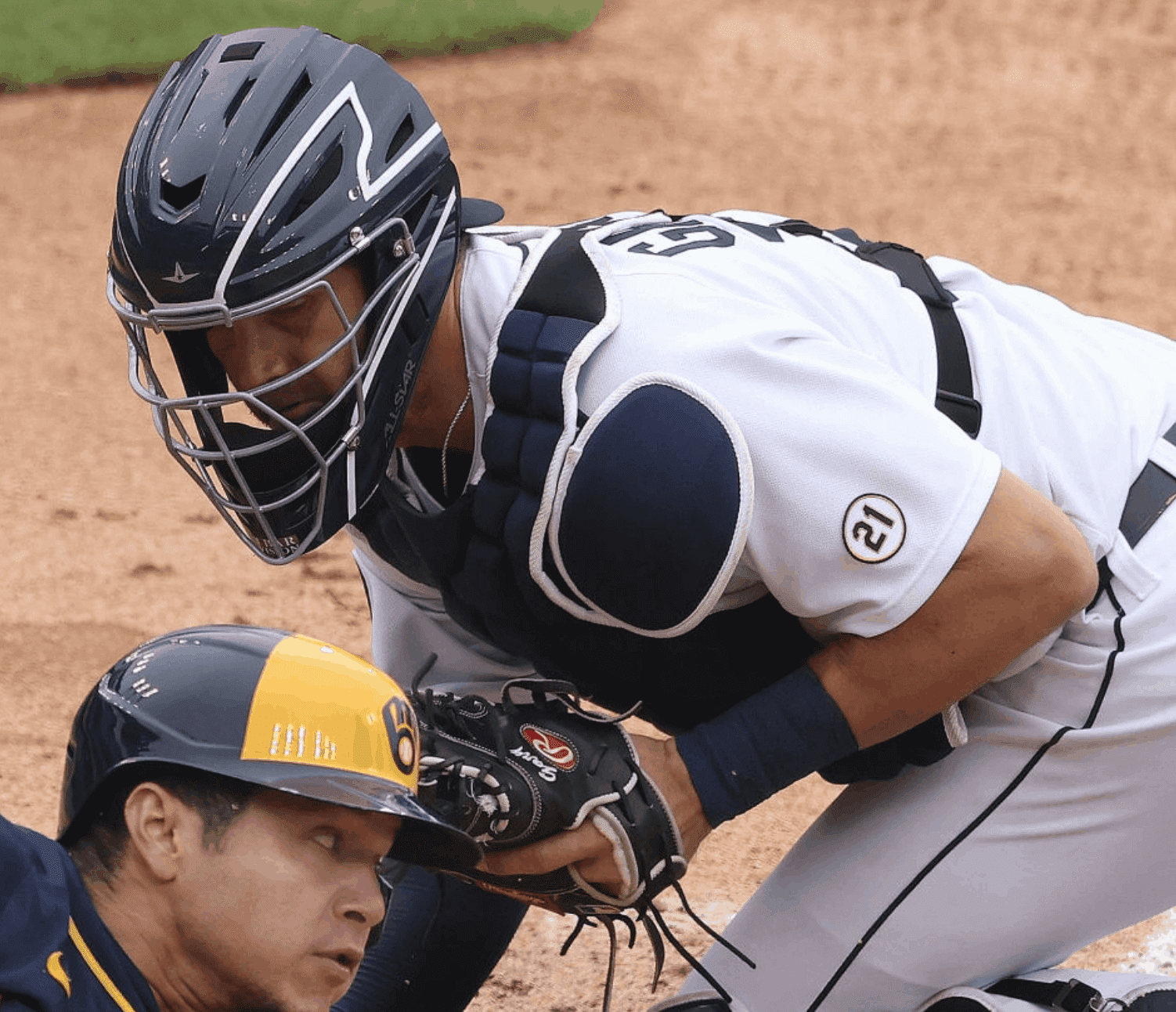 The patch design is based on the one that the Pirates wore for Clemente in 1973 (but with a thinner border). That was the first MLB memorial patch to feature a player's number. It seems like a standard thing now, but almost all uniform memorials up to that point had simply been a black armband or a piece of black crepe. So you could say that even after his death, Clemente was a pioneer!
• At least one player — Albert Pujols of the Angels — wore a Clemente memorial on his batting helmet: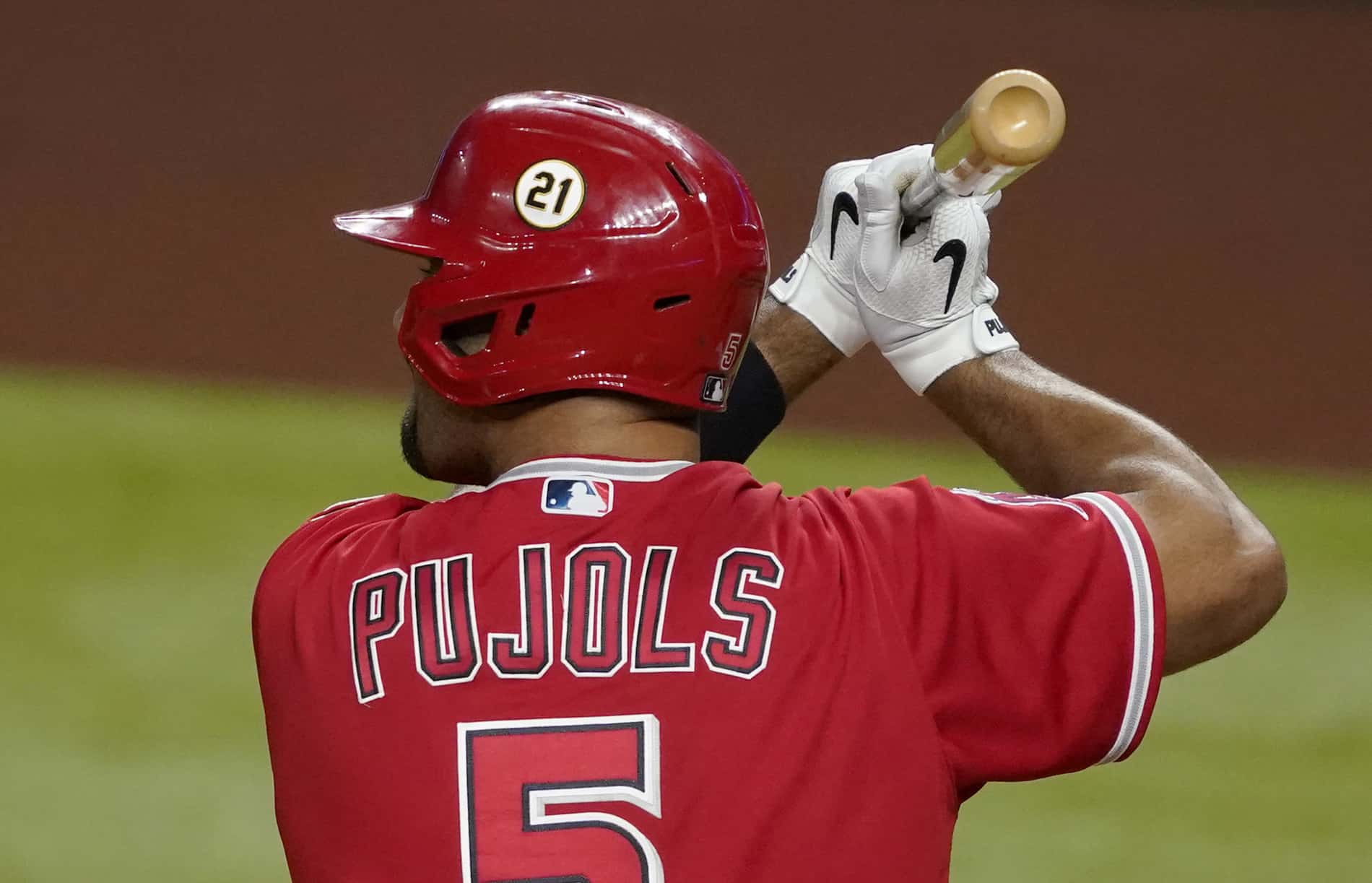 I'm not aware of anyone else having done this. Were there others?
• As you'd expect, there was also plenty of Clemente-themed footwear:
Special kicks.#ClementeDay pic.twitter.com/QE1cLcrMT9

— Pirates (@Pirates) September 9, 2020
• Astros catcher Martín Maldonado — one of the Puerto Rican players who wore No. 21 yesterday — took his shoes a step further by campaigning for MLB to retire No. 21 for all teams, just as No. 42 is retired for Jackie (additional info here):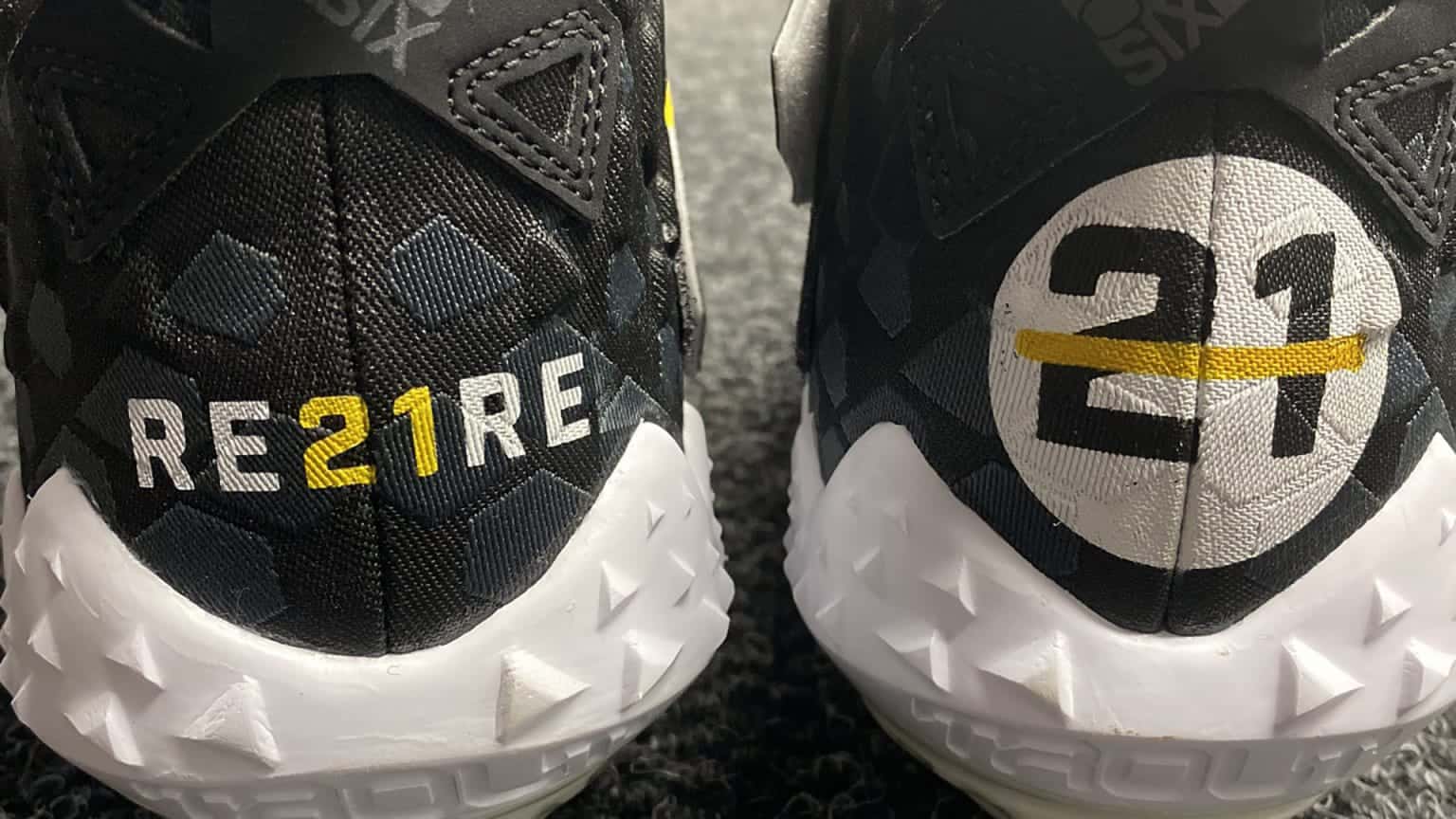 Several other players have voiced that same opinion. Personally, I'm not in favor of it — in part because I think Jackie is unique and in part because I think it would open the door to more MLB-wide number retirements, which would water down the whole gesture and make the whole thing feel rote. I say keep things the way they handled it this year: Let the Pirates wear No. 21 on Clemente Day, and let others wear it to honor his memory.
Speaking of which: I was an eight-year-old Mets fan in 1972 and was watching when Clemente got his 3,000th hit off of Mets pitcher Jon Matlack. I didn't fully appreciate the significance of either the man or the milestone, but I got the idea that it was special. Nobody realized at the time that it would also be his final hit. R.I.P.
• • • • •
• • • • •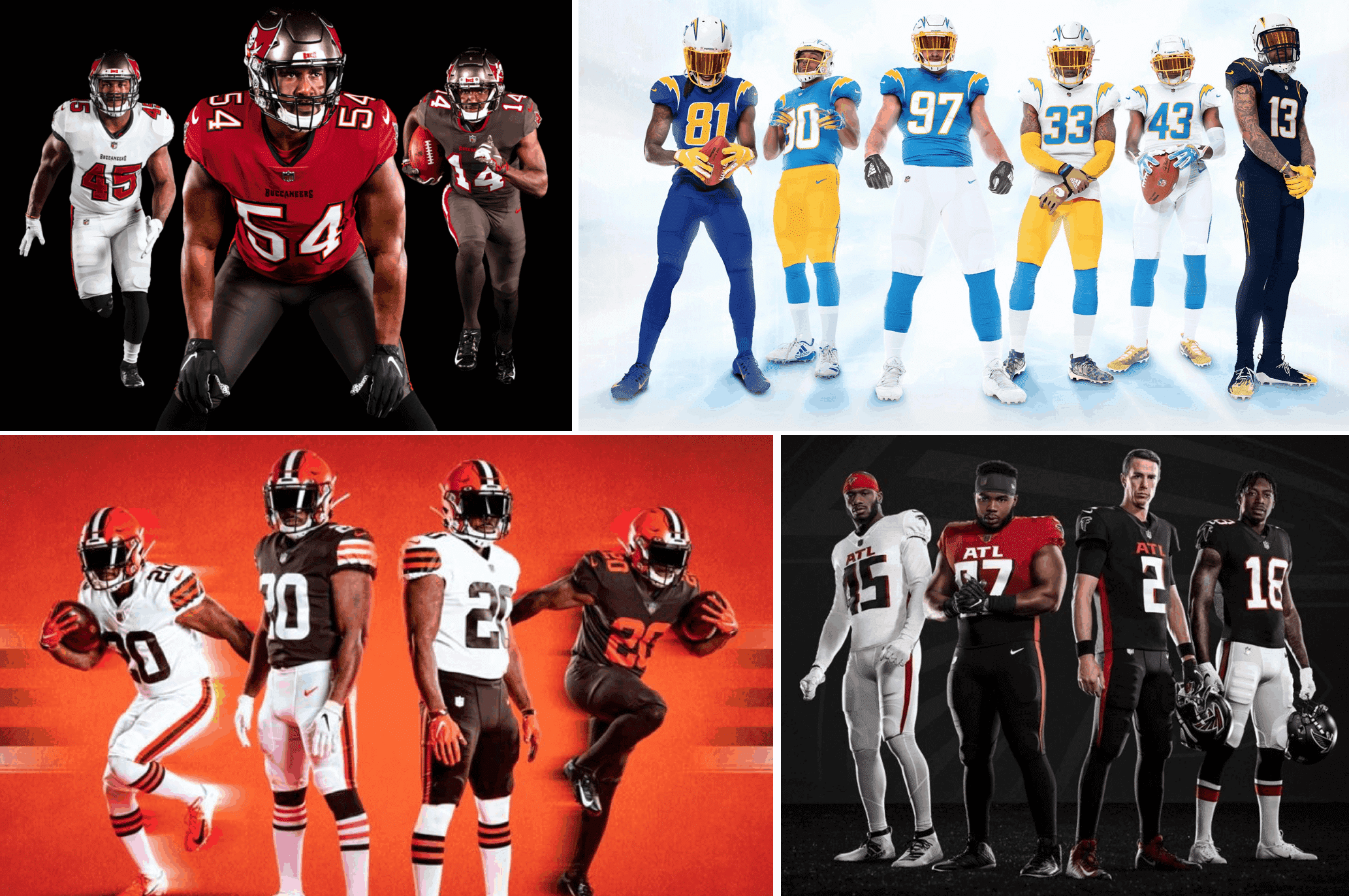 NFL Preview reminder: In case you missed it on Wednesday, the annual Uni Watch NFL Season Preview is now up and running over on InsideHook. Enjoy!
• • • • •
• • • • •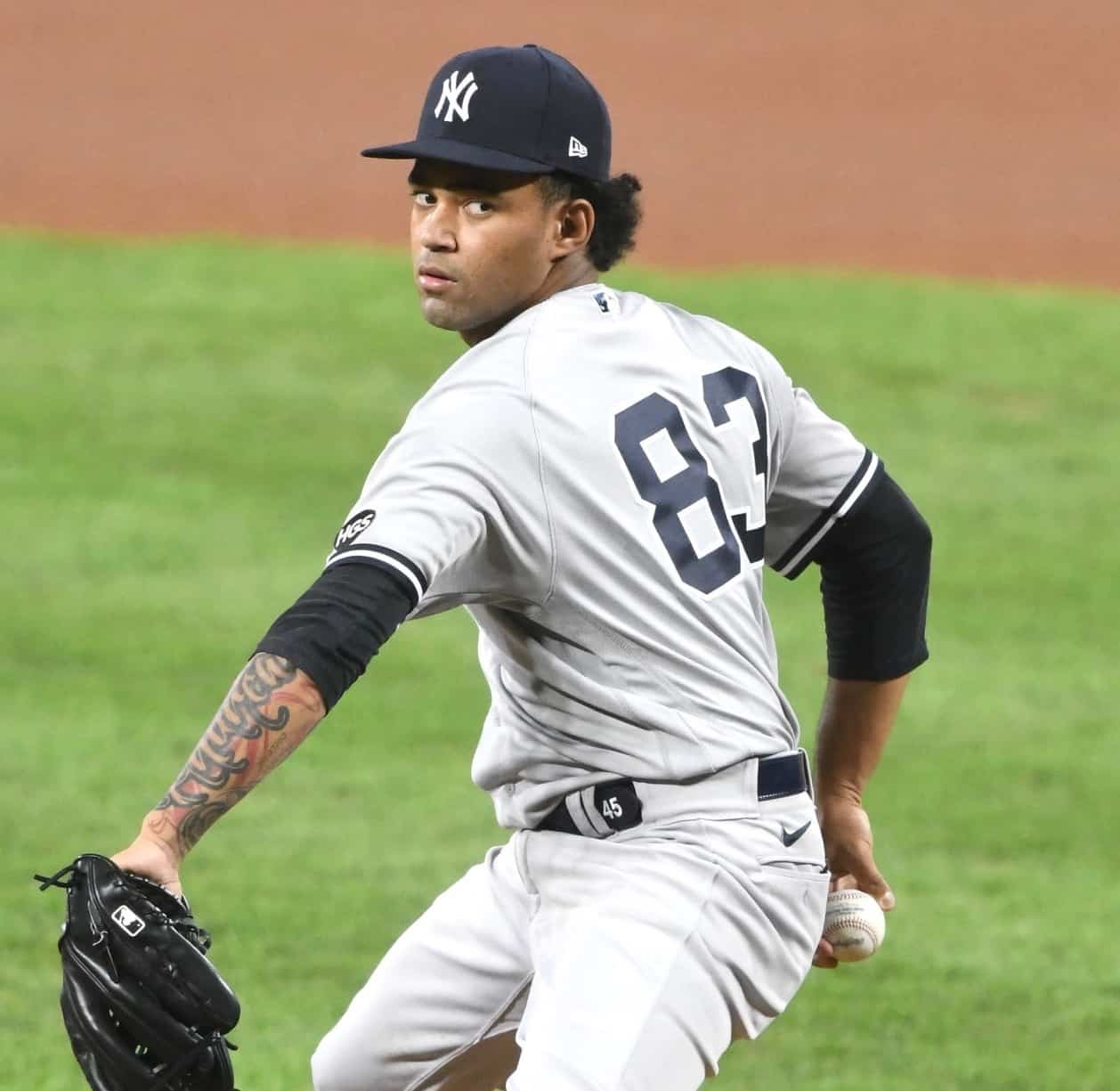 Click to enlarge
Numbers game: Yankees pitcher Deivi García has a number on his belt. There's nothing so unusual about that — we've seen more and more players doing it over the past year or so. But as you can see, the number on his belt (45) doesn't match the number on his jersey (83).
So did García borrow the belt from teammate Gerrit Cole, who wears No. 45? Nope — turns out the belt number is a shout-out to former MLBer Pedro Martinez! I'm pretty sure this is the first time we've seen a belt number used as a tribute, instead of for the player's own number.
(Big thanks to Reid Cure for this one.)
• • • • •
• • • • •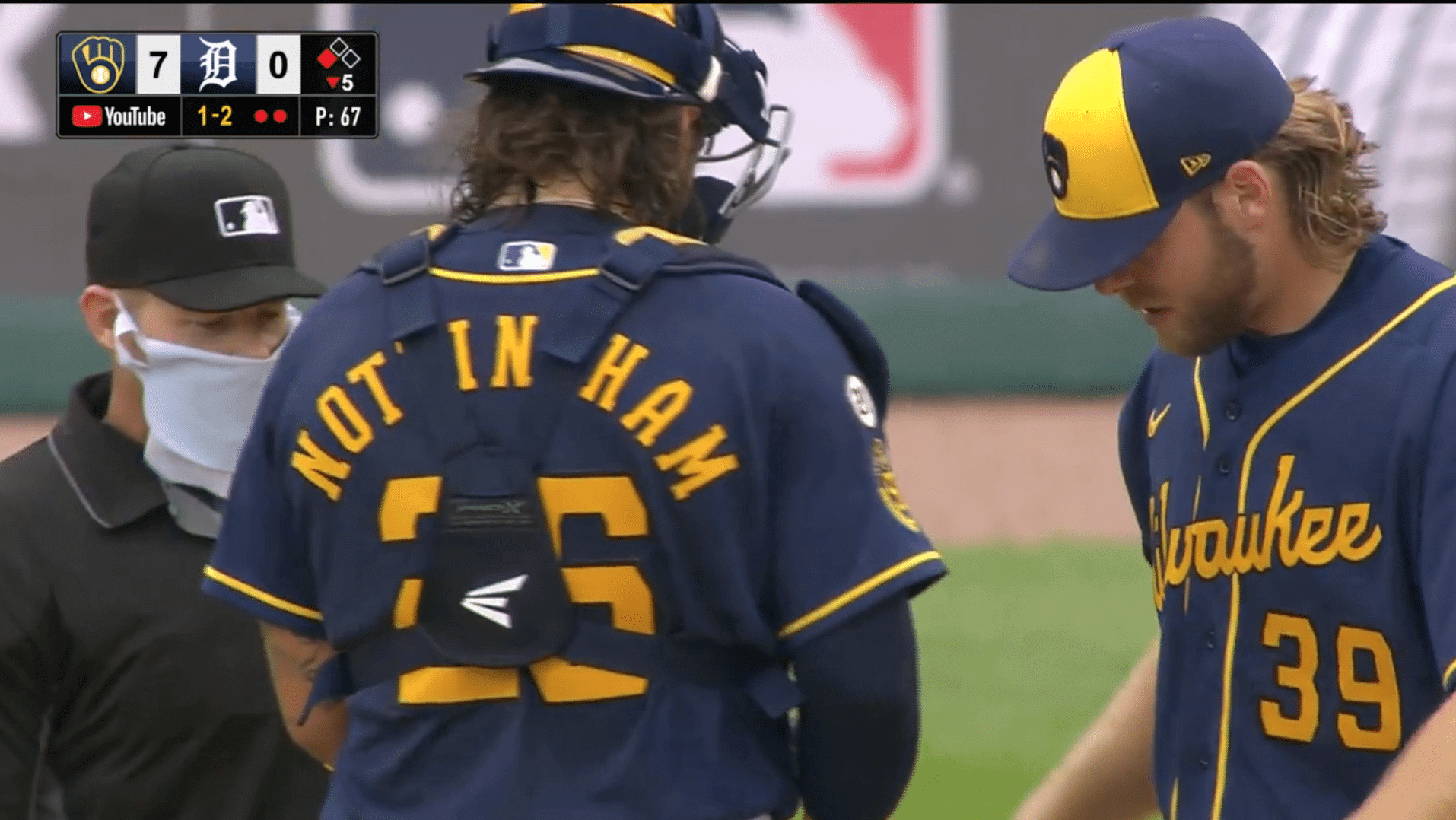 Click to enlarge
Too good for the Ticker: Check out what Brewers catcher Jacob Nottingham's chest protector straps do to his NOB. Looks like he's keeping Kosher, or maybe begging not to be traded to the Nippon Ham Fighters!
(Big thanks to reader Neal Dorfman for this one.)
• • • • •
• • • • •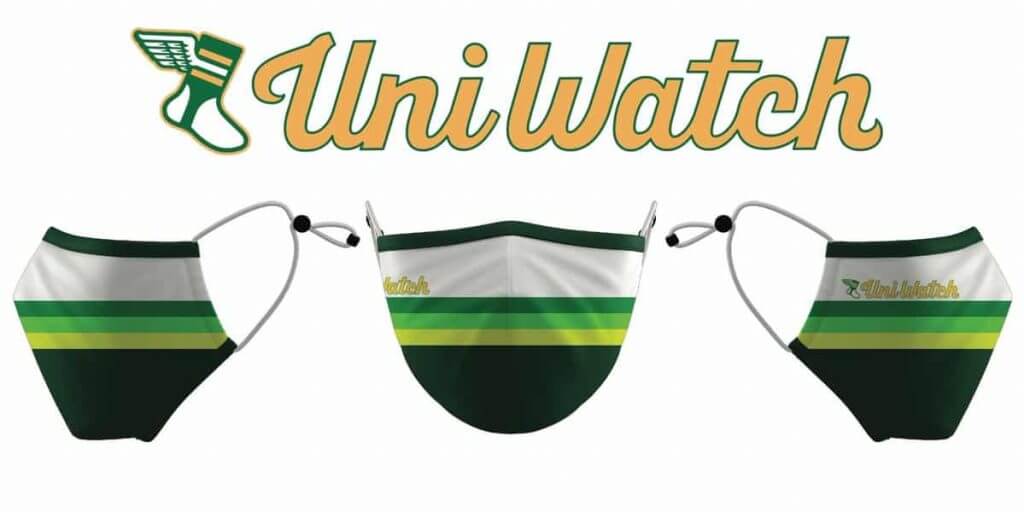 ITEM! Mask raffle: The recent Uni Watch Tequila Sunrise Masks were a big success! We sold 500 of them in about two weeks, raising $2,500 for the National Alliance to End Homelessness. Unfortunately, they're now sold out.
But! Reader Adam Bogan bought three extra masks, all sized M/L, for me to raffle off, so that's what we're going to do today.
This will be a one-day raffle. USA addresses only, sorry. To enter, send an email with your mailing address to the raffle address by 8pm Eastern tonight. I'll announce the winners tomorrow.
Meanwhile, the two winners of our last raffle are Noah Softball and Ron Heerlyn, who've each won $100 to spend on Uni Watch merchandise. Congrats to them, and big thanks to James Mellett for sponsoring that one!
• • • • •
• • • • •
The Ticker
By Paul

'Skins Watch: Loveland High School in Colorado will no longer call its teams the Indians (from Jason Greening). … The school board in Radnor Township, Pa., has dropped the high school's Native American-themed logo and also its "Raiders" team name (from Andrew Hoenig). … Agawam High School in Massachusetts, bucking the national trend, will keep its Native-themed mascot character and will also keep calling its teams the Brownies. The school says the name refers to the team's brown/orange color scheme (from Timmy Donahue). … Carthage College in Wisconsin will no longer call its teams the Red Men and Lady Reds (from Geoff Poole).

Working Class Wannabes™: A high school football coach in Maryland says, "I'm blessed to have a hard-working group. They were very blue collar last year." … An UNC-Asheville soccer coach says, "[We have] a fantastic recruiting class, which encompasses the blue-collar mentality we must have here at UNC Asheville." … An article about the Montana State football team says that MSU coach Cliff Hysell wore blue jeans, a short-sleeved work shirt, and boots when coaching his first game in 1992, because "[i]f Hysell was going to lead a blue collar program at his alma mater, it was going to start with him." … Oklahoma football coach Lincoln Riley hopes his latest quarterback recruit has a "blue-collar work ethic." … Notre Dame football coach Brian Kelly describes one of his players, Ben Skowronek, like so: "He's blue-collar in the sense that he's the first one in and the last to leave." … A recent article about an Aussie rules football game refers to the Adelaide team being "at the coalface," which according to our own Jamie Rathjen "appears to be the Commonwealth version of calling something or someone 'blue collar.'"

Baseball News: The Wisconsin DMV is offering new Brewers-themed license plate designs (from many readers). … Some fans are honoring deceased loved ones by ordering cardboard cutouts of them (WaPo link) to be placed in MLB ballparks. … A Houston cocktail bar called the Anvil has a tequila sunrise-style T-shirt (from Colin Sherrod). … In a related item, here's a tequila sunrise-style golf head cover (from @TheBigJamesG). … The Kamloops NorthPaws — now there's a name — are the latest expansion team in the summer collegiate West Coast League (from John Cerone).

NFL News: New uni number assignments for the Patriots' rookies. … Ditto for the Lions' rookies. … Although on-field postgame jersey swaps are banned this season, players can still exchange jerseys by mail. … Two Broncos players have changed their uni numbers. … Too late for my NFL Season Preview:Here are the uni schedules for the Bucs, Dolphins, and Bears (who are keeping their awesome 1930s throwback!).

College Football News: New uniforms for North Carolina A&T. … To celebrate the start of the CFB season, Robert Brashear sent along some vintage program and magazine covers from his collection. … Missouri State is the first team I've seen to use a contrast-colored center plate on the Schutt F7 helmet, creating a mohawk-ish effect (from @PaytonGlen).

Basketball News: A Seattle-area teen is getting lots of high-powered attention for his NBA uniform concepts (from Dustin Jensen). … New court design for UAB.

Soccer News: New home kit for Serie A team Parma (from Ed Zelaski). … Also from Ed: New kits for Ukrainian club NK Veres. … The Houston Dynamo are considering some sort of redesign (paywalled) (from Ryan Maquiñana). … Here's one of the new kits, plus a goalie's shirt, for the UVa women's team (thanks, Jamie). … Here's a look at this year's Premier League shirt advertisers (from Ryan Walters). … English side Bedale AFC has new vegetable-themed kits (from @Spottschrift).

Grab Bag: Good story about how one U.S. Air Force airman's experience resulted in a new policy on maternity uniforms. … Here's a video showing all the logos for the TV show Jeopardy!, including the one for the new season, which begins next week (thanks, Jamie). … Also from Jamie: "Ferrari's Formula One cars have a new livery this weekend for their 1,000th Formula One race, the Tuscan Grand Prix. The safety car will apparently also be red (it's normally silver because it's a Mercedes)." … Two Virginia high schools that were named after Confederate generals have now been renamed (from Timmy Donahue). … I wouldn't say these inverted cat-eye glasses are good-looking, but they're definitely clever! … New uniforms for the Italian men's volleyball team Kioene Pallavolo Padova (from Jeremy Brahm). … Here's an article with lots of really great info on space mission logos, patches, stickers, and so on (from Mike Mills). … Here's a very simple, interesting explainer for the Tesla logo (from Andreas Papadopoulos).
• • • • •
[adrotate group="2″]
• • • • •