[Editor's Note: Paul is on his annual August break from the site. Deputy editor Phil Hecken is in charge from now through the end of the month, although Paul may be popping up here occasionally.]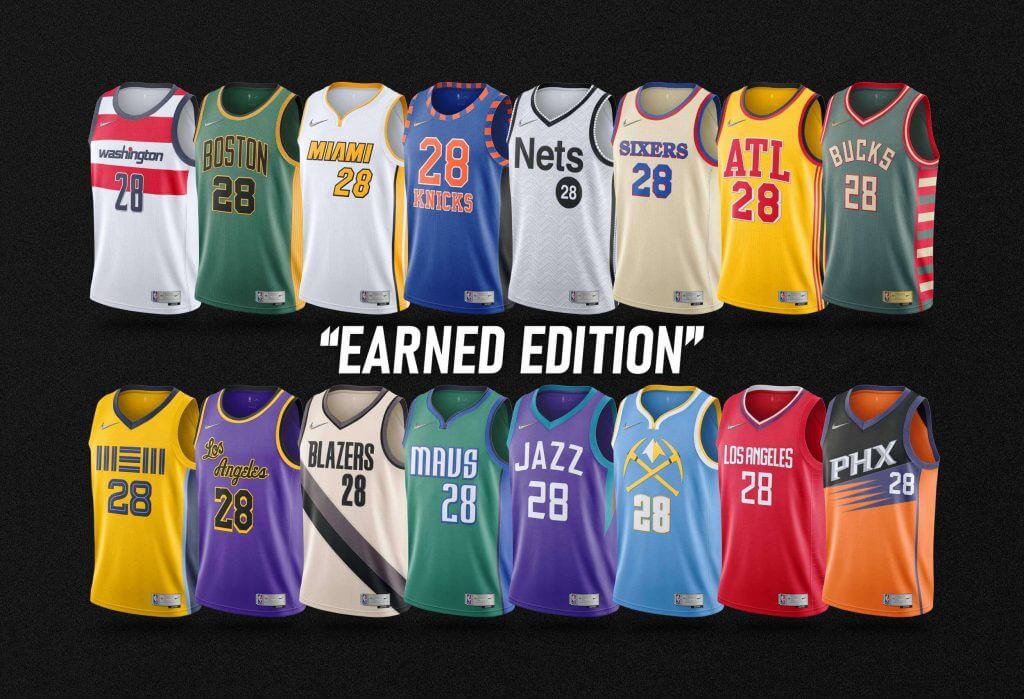 By Phil Hecken
Follow @PhilHecken

Greetings and a good Wednesday morning to all!
Weekend readers know I like to occasionally feature graphic designers creating new uniforms — whether they be tweaks, full-blown new uniforms, fauxbacks — some even create entire leagues with fictional teams and uniforms. Today I'm pleased to again feature the work of Casey Vitelli (and some of his collaborators), who have created 16 new "Earned" NBA jerseys, for the 16 teams that made the playoffs this past spring.
As most of you are aware, this season the NBA will be celebrating its 75th anniversary, so Nike's usual program for introducing new "City" edition uniforms, as well as creating "Earned" uniforms for playoff teams, has been altered. Instead, the three "original" NBA teams (Warriors, Knicks and Celtics) will be wearing "Classic" editions (basically throwbacks). Those were announced last week, and I wrote about them here. The remaining teams (with the exception of the Suns and Jazz) will get one new uniform this year — and reports are that the new unis will be some sort of throwback/mashup to replace the "City" edition uniform (those have yet to be unveiled). The Suns and Jazz will continue to wear their "City" edition from the previous season. The three other uniforms teams wear ("Statement," "Icon," and "Association") will remain unchanged from this past season. I literally cringed just typing all those names. But this is the Nike Basketball Association, and it is what it is.
The NBA defines the "Earned" edition as "exclusively available to the teams who earned a spot in the 2020 playoffs and celebrate each franchise's colors, logos and more." So Casey worked within those vague parameters to come up with his vision of what could have been, had the NBA released "Earned" uniforms for the 2021-22 season.
Enjoy!
• • • • •
NBA "Earned" Edition Concepts
by Casey Vitelli
Celebrating the teams whose success brought them to the playoffs, these designs were curated with the team's/Nike's design style in mind. Each design represents the teams with their storied pasts.
Collaborators:
Pete Rogers, Graphic Designer – @petemrogers
Lance Hinesman Jr., Graphic Designer – @Lance_Hinesman
Denver Gravitt, Graphic Designer – @DenverGravitt
Jazz Uniform Tracker, Graphic Designer – @JazzUniTracker
Chris Newsome, Professional PBA Player – @New11New
SunsUniTracker, Graphic Designer – @SunsUniTracker
Nick Mueller, Graphic Designer – @MLR_Studios
__________
Washington Wizards
Based off the jerseys worn from 1974-1987, 'Washington' adorns the front in the current style with the current iteration of colors.
__________
Boston Celtics (Collab w/ Pete Rogers)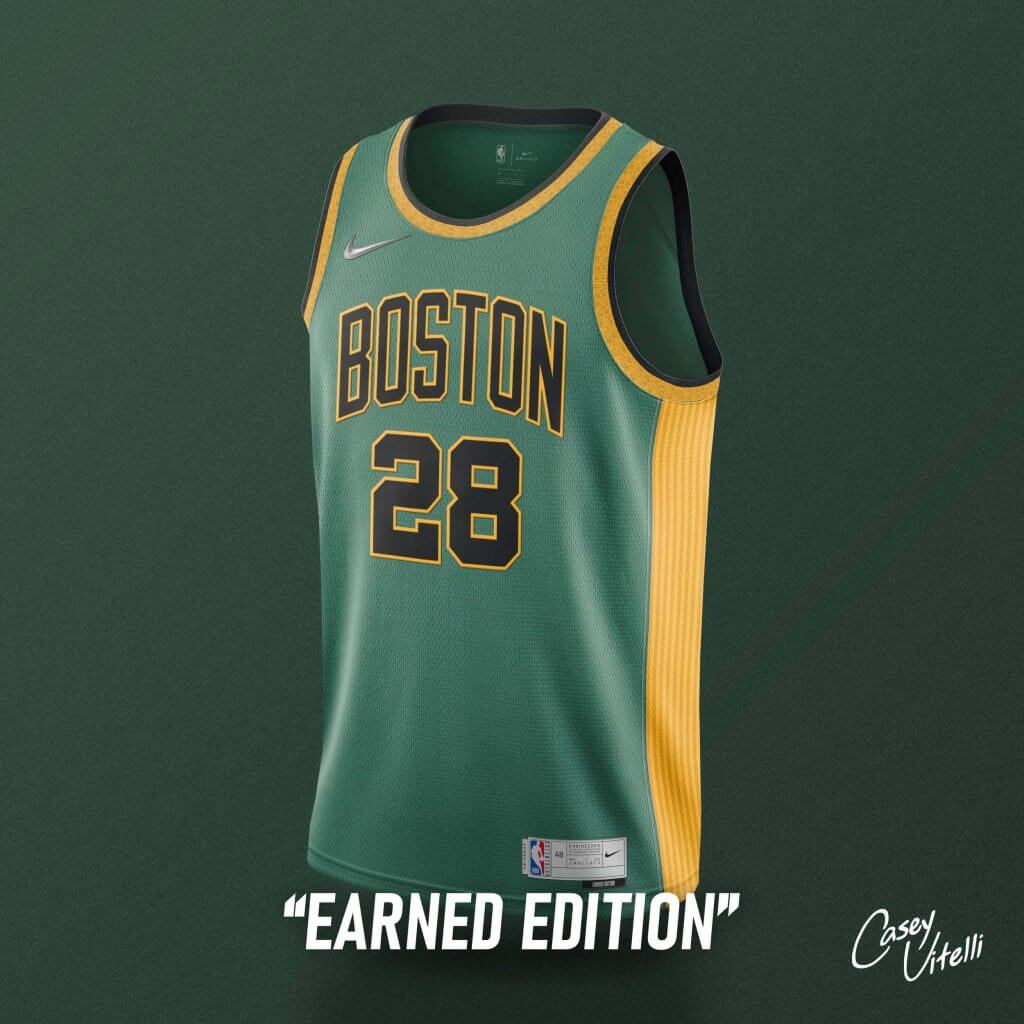 Celebrating history, sprinkled with gold. 17 stripes adorn the side of the jersey to represent the number of championships in team history.
__________
Miami Heat (Collab w/ Lance Hinesman Jr.)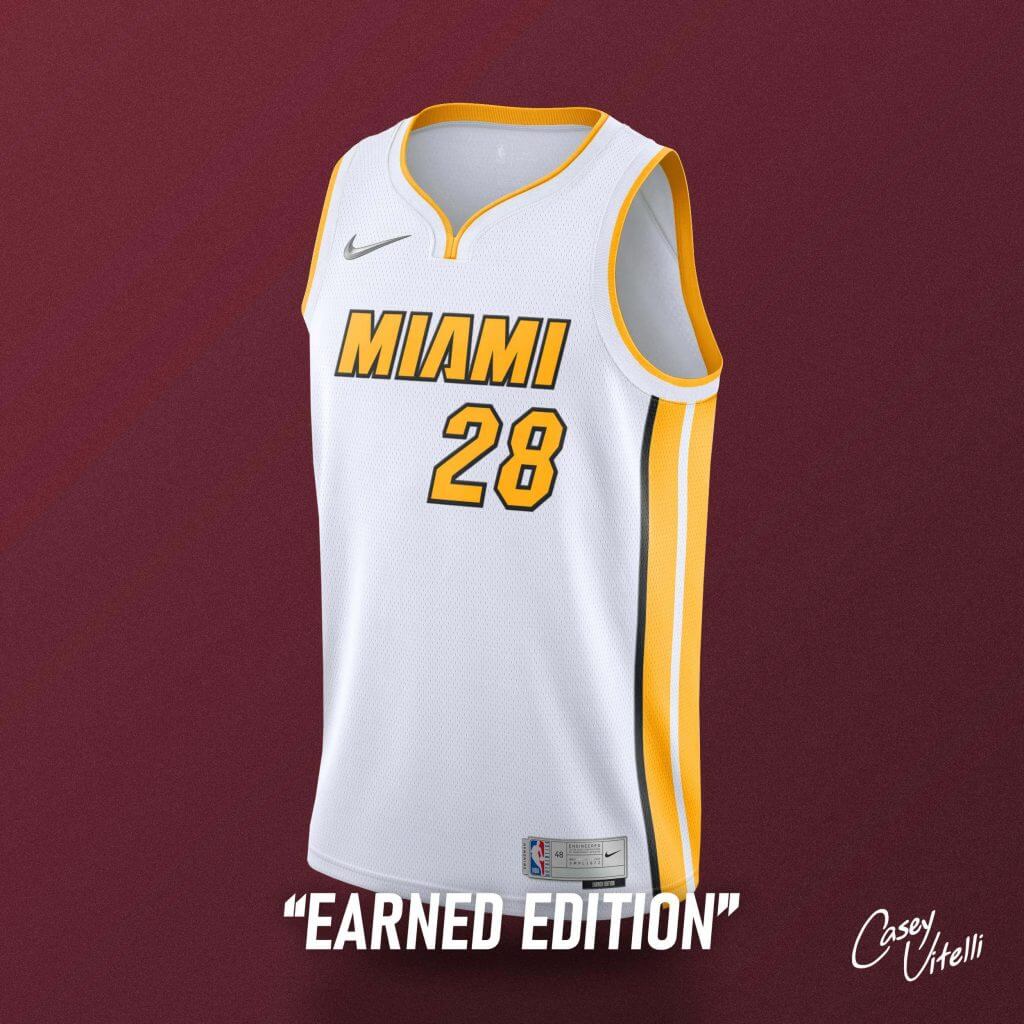 Trophy White. White iteration of the "Earned Edition" worn by the team this past season.
__________
New York Knicks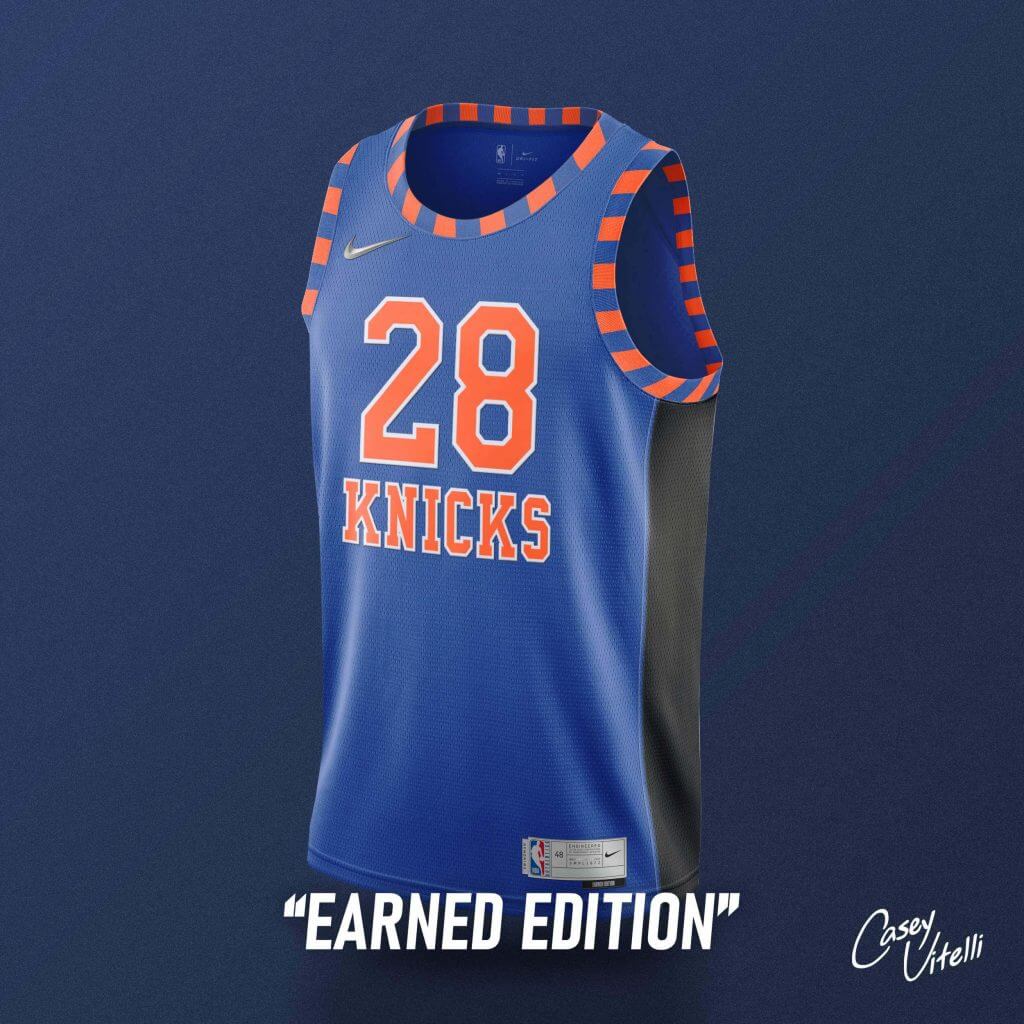 'KNICKS' returns to a uniform for the first time since 1983, which the design is based off. Including elements from many jerseys worn in the past, in the famous Blue/Orange with hints of black.
__________
Memphis Grizzlies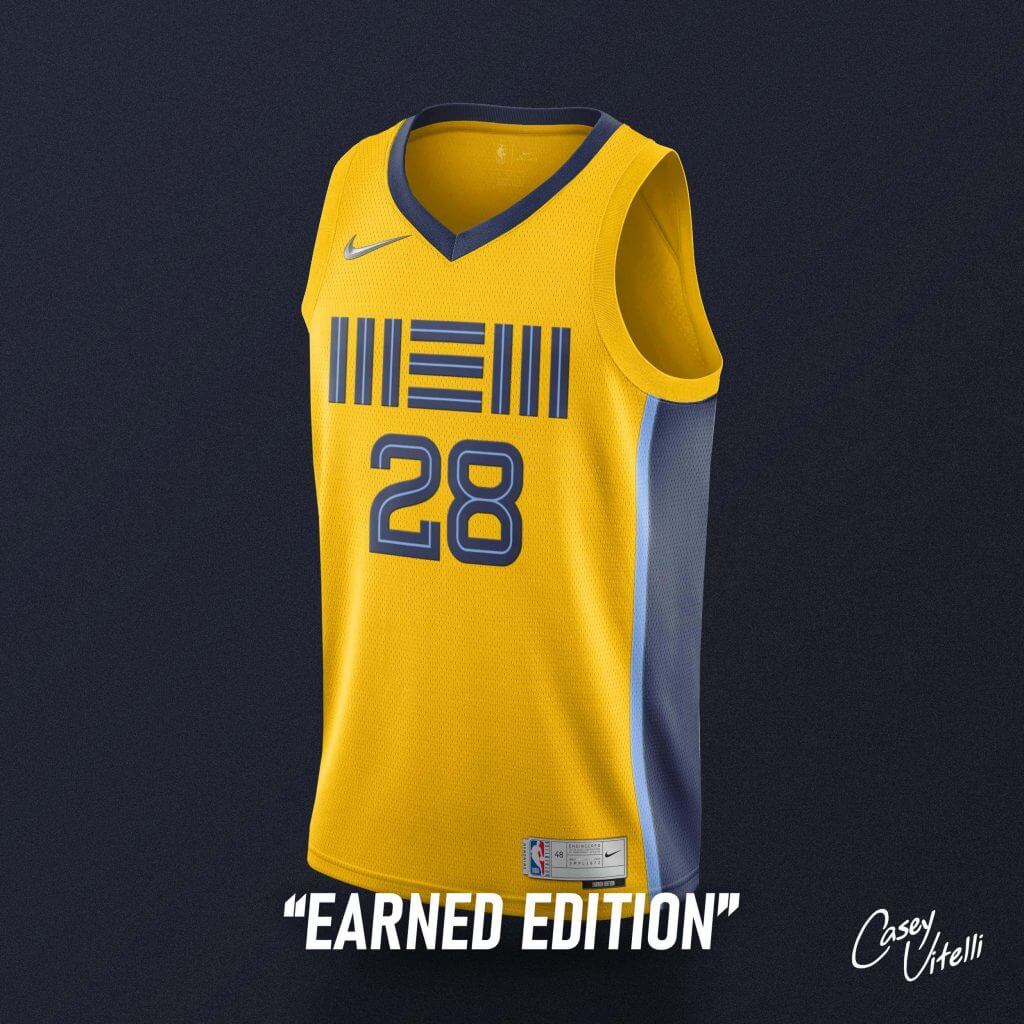 Jersey in 'Grizzlies Gold' with the special "MEM" wordmark, meant to resemble shipping crates. A nod to Memphis being a commercial hub for shipping by road/rail/river/run-way.
__________
Los Angeles Lakers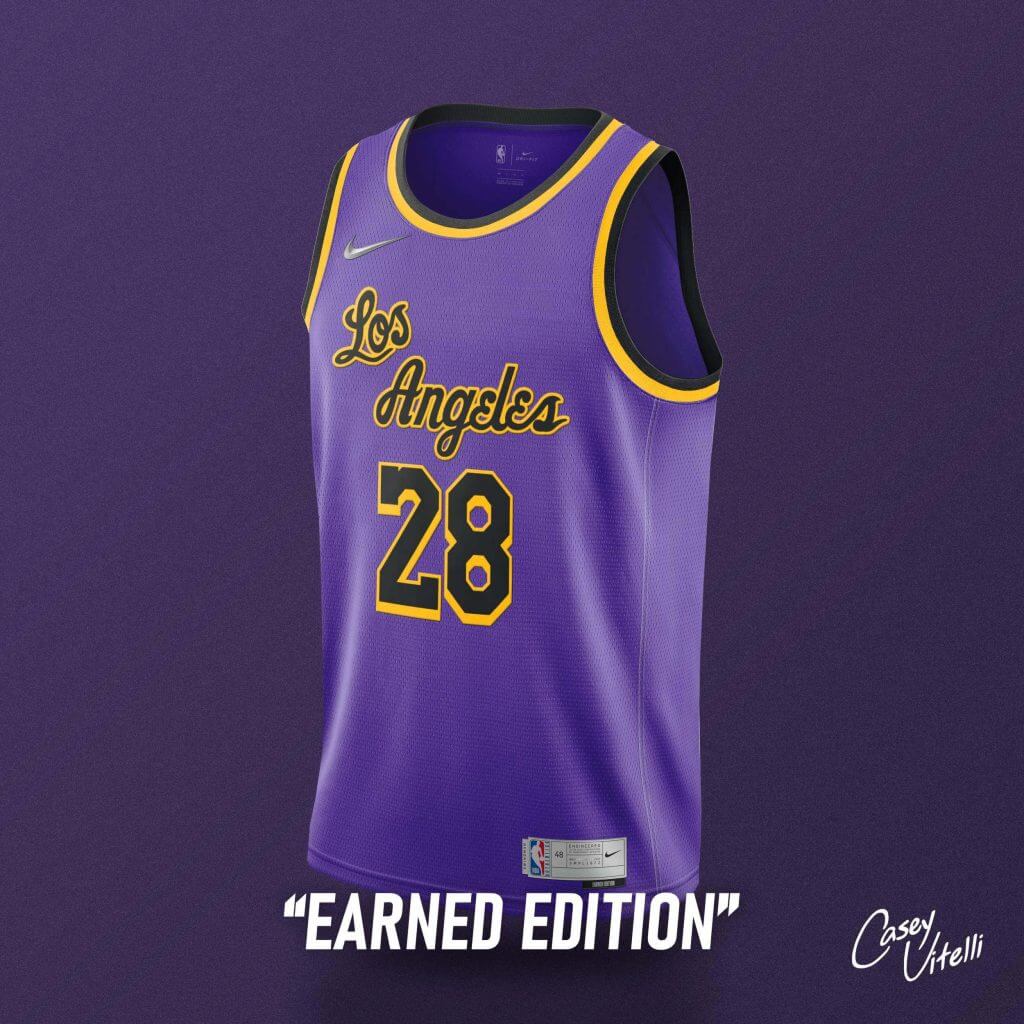 Purple design, with the old-school "Los Angeles" wordmark in black. A nod to the famous photos of Kobe Bryant with the champion trophies in a black version that never made it to the court. RIP Bean.
__________
Portland Trail Blazers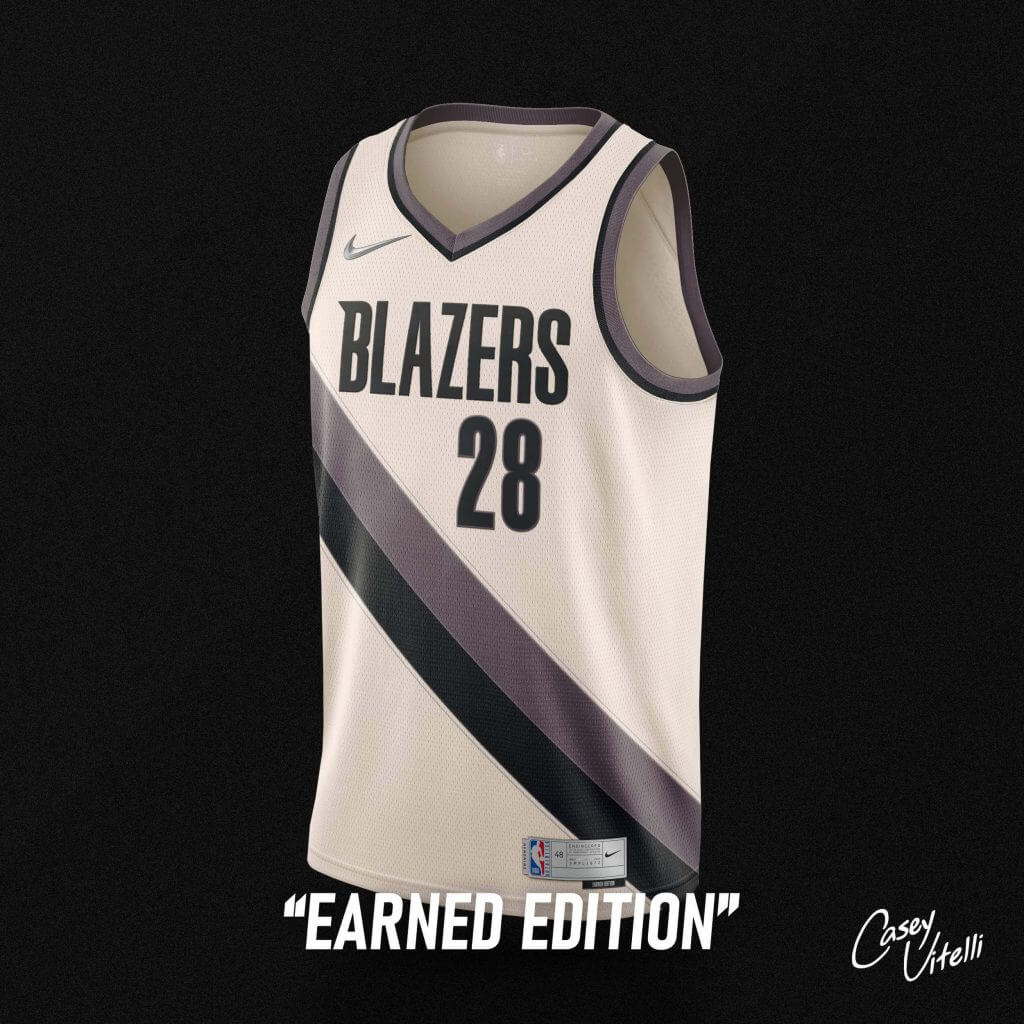 Current template in crème/brown tones. A nod to the team and its long history in Portland.
__________
Dallas Mavericks (Collab w/ Denver Gravitt)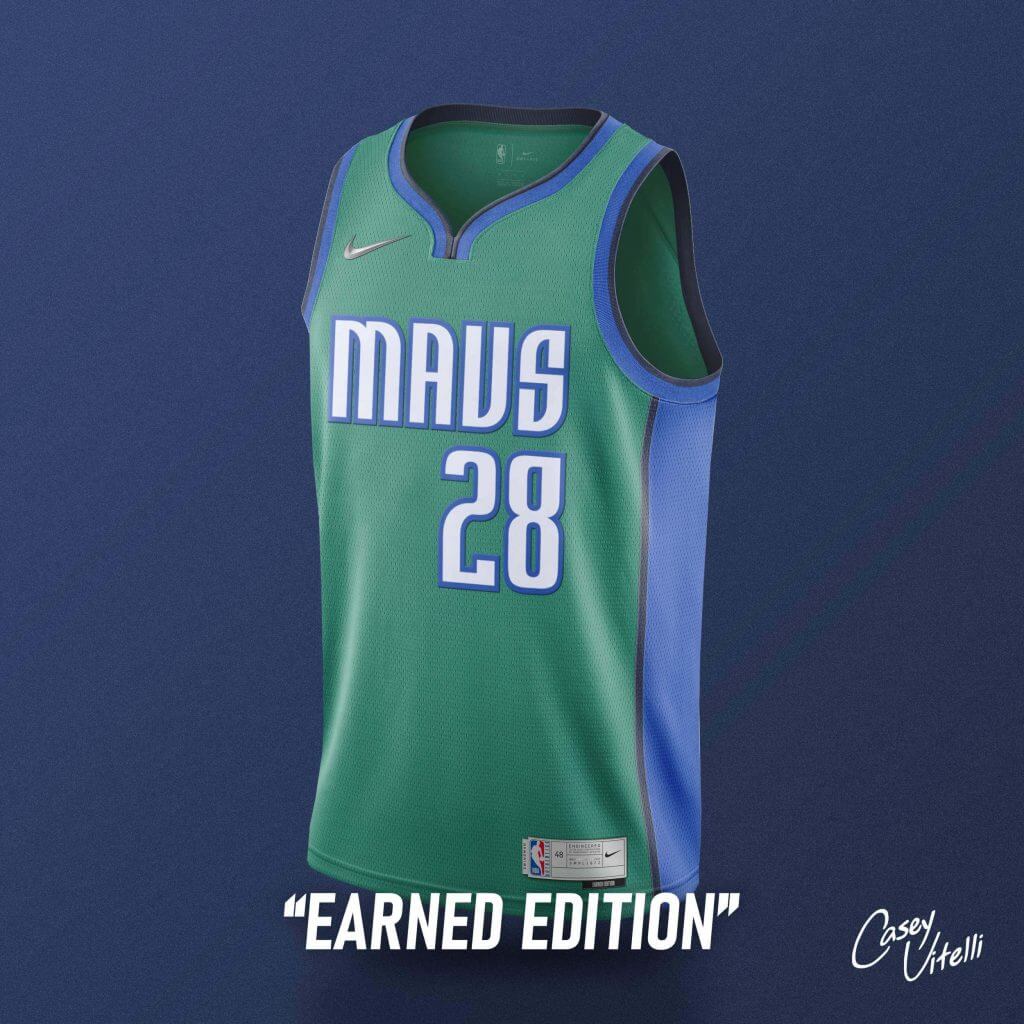 #GREENITBACK. Current royal/navy blue colors mixed with green to bring a familiar, but different, color palette to the organization.
__________
Philadelphia 76ers
On a simple crème colored jersey, "SIXERS' adorns the front of the jersey in the same font used in the team's primary logo.
__________
Brooklyn Nets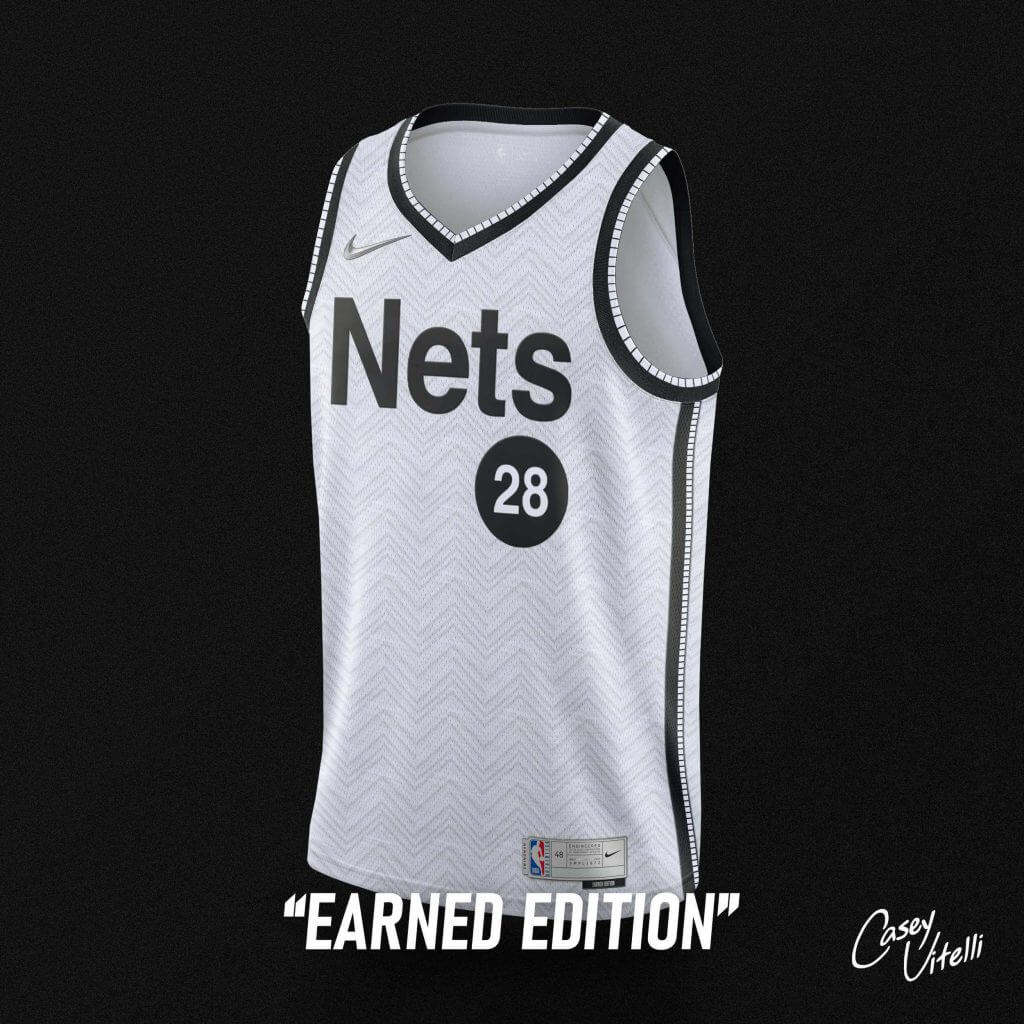 White version of the subway style jerseys worn by the team this most recent season. Meant to represent the famous subway system that connects New York, and it's its many boroughs.
__________
Utah Jazz (Collab w/ Jazz Uniform Tracker)
Current template, in the famous mountain throwback color scheme. "JAZZ" adorns the front of the jersey in the current font, matching "UTAH" from the 2 iterations of their 'City Edition'.
__________
Denver Nuggets (Collab w/ Chris Newsome)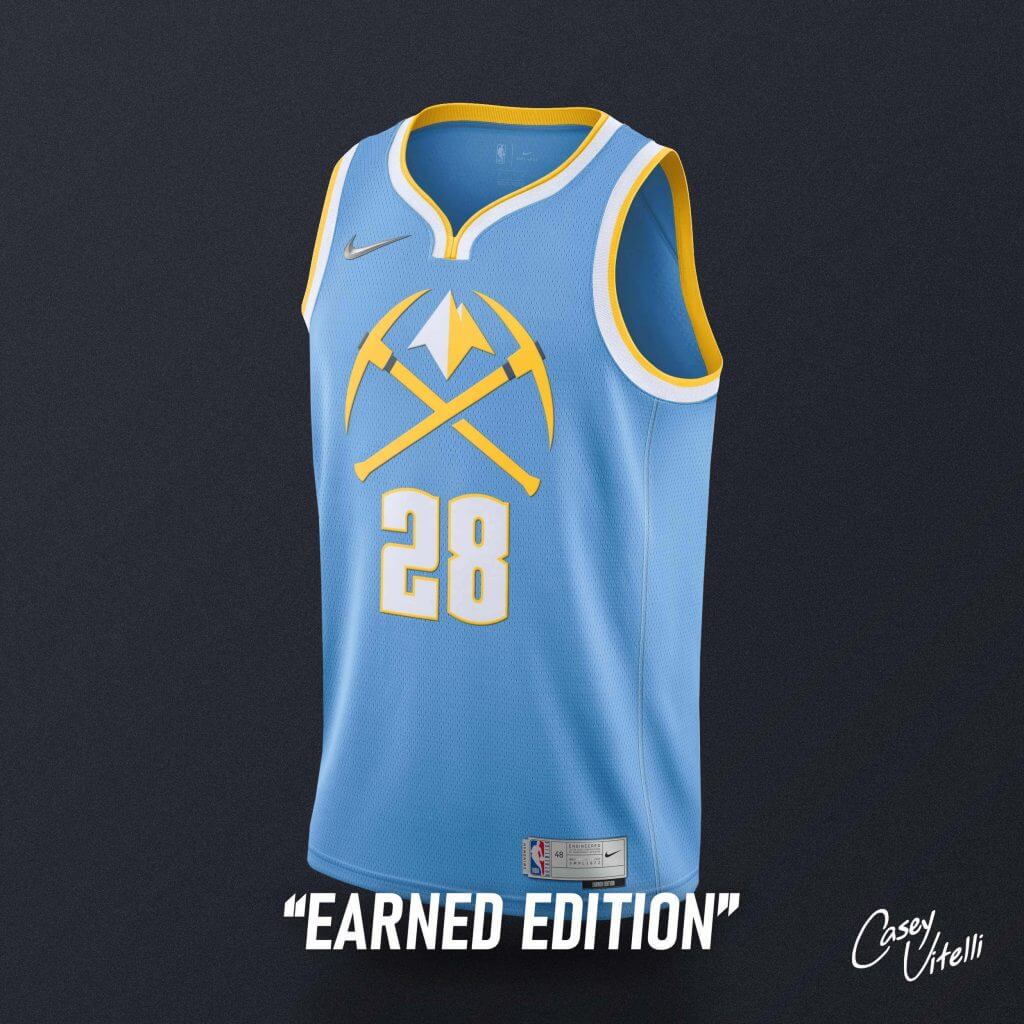 Bringing back the sky blue used from 2003-2018. The double pick-axe logo adorns the front to combine many different designs from recent years.
__________
Atlanta Hawks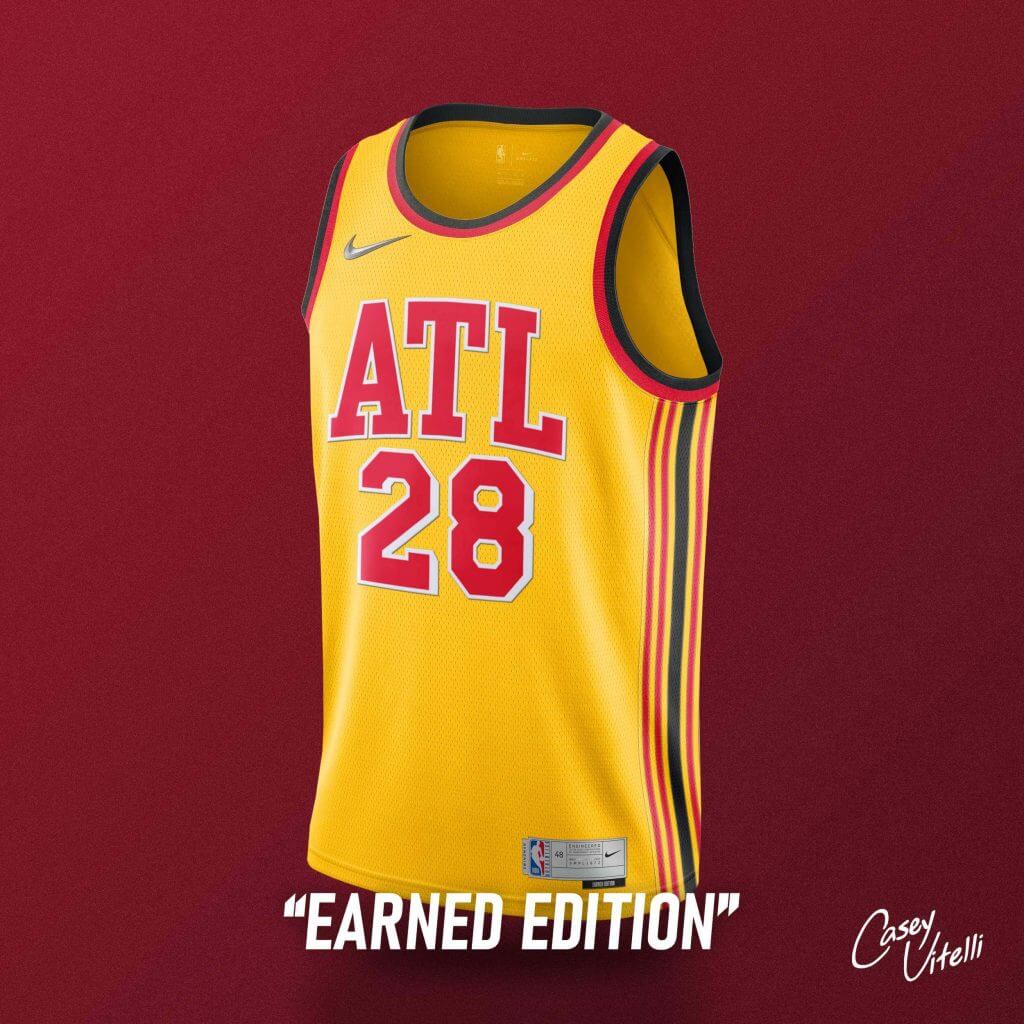 "ATL", in the current font, adorns the front of a yellow colored jersey. This is the first appearance of gold as a primary jersey color, since 2007.
__________
Los Angeles Clippers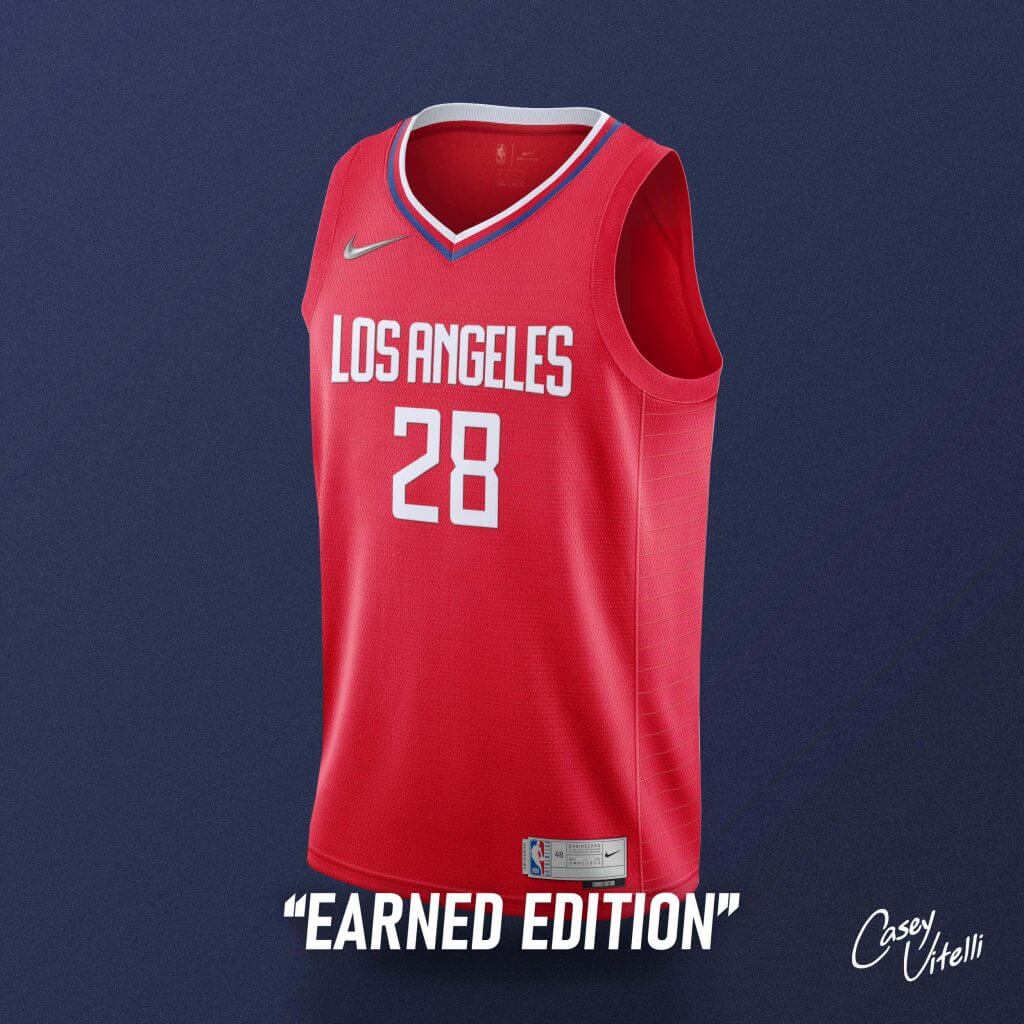 "LOS ANGELES", for the first time since 2015, adorns the front of a red jersey. The team hasn't sported a red jersey since 2017.
__________
Phoenix Suns (Collab w/ SunsUniTracker)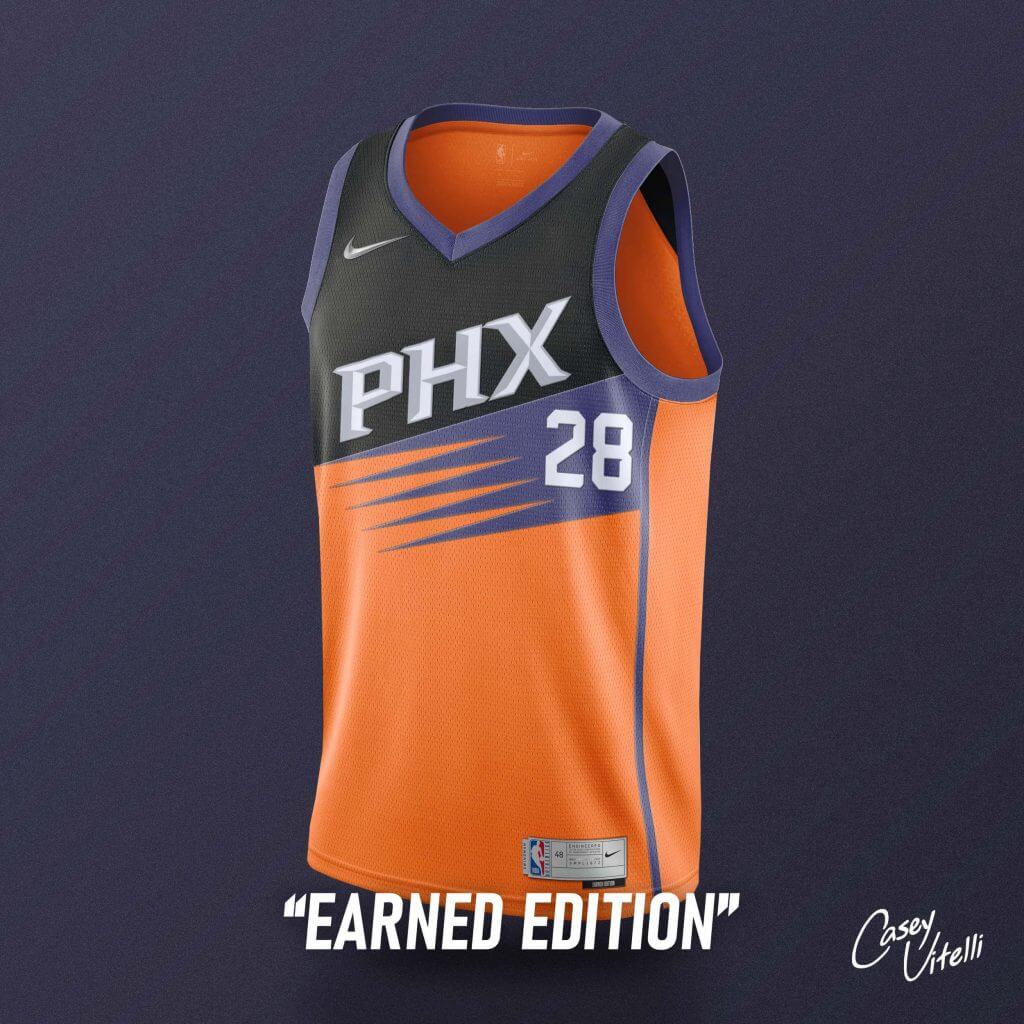 Based off the leaked "Earned Edition" design that would have been used if the Suns were eligible, the orange primary is marked with a purple sunburst, which splits the addition of black.
__________
Milwaukee Bucks (Collab w/ Nick Mueller)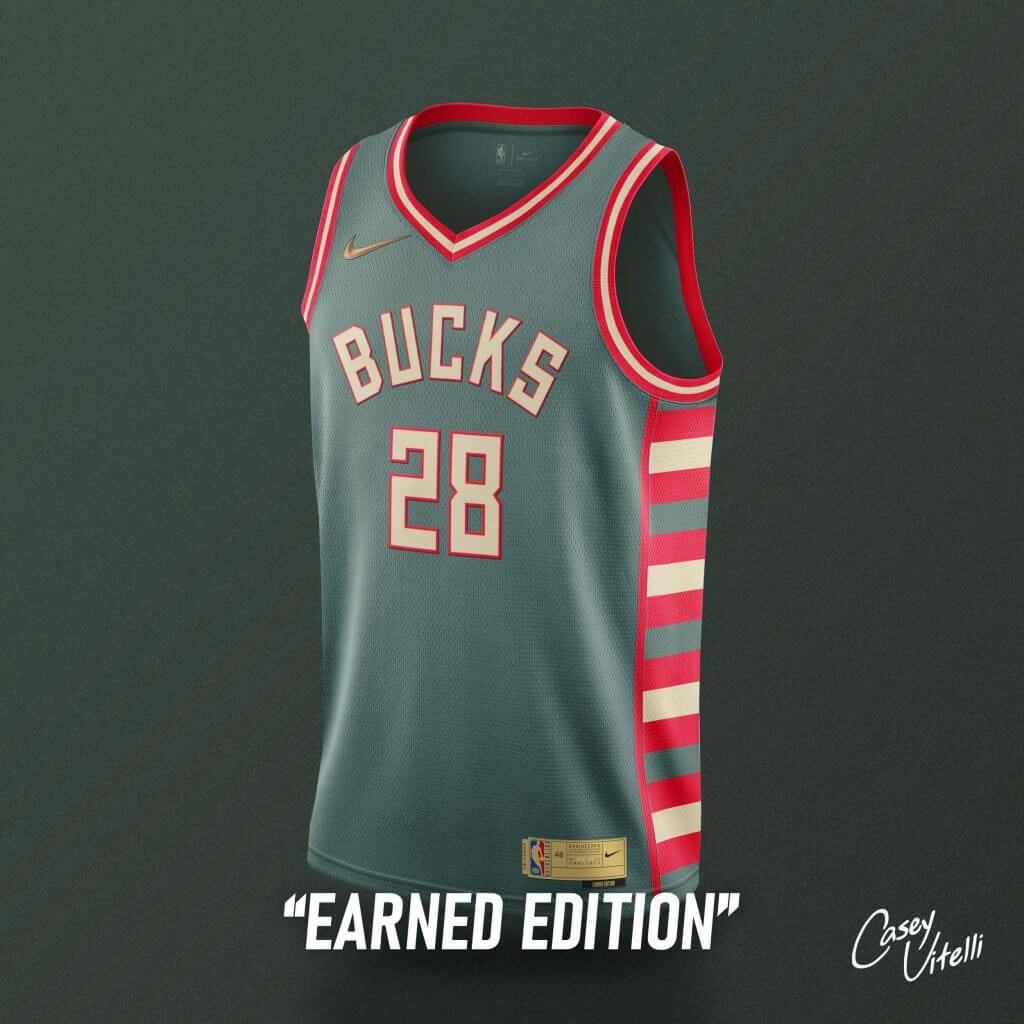 The Champs! Celebrating history, the design brings back elements used since the team's inauguration, in 1968.
• • • • •
Thanks Casey! Nice job with the presentation — I do wish there were shorts shown along with the jerseys, but half the time Nike unveils a new "uniform" they only show the jersey (and cap, if applicable), so I see what you did there.
Readers, what do you think of Casey's (phantom) Earned Edition concepts?
• • • • •
• • • • •
A Quick Look at Vandy's New Unis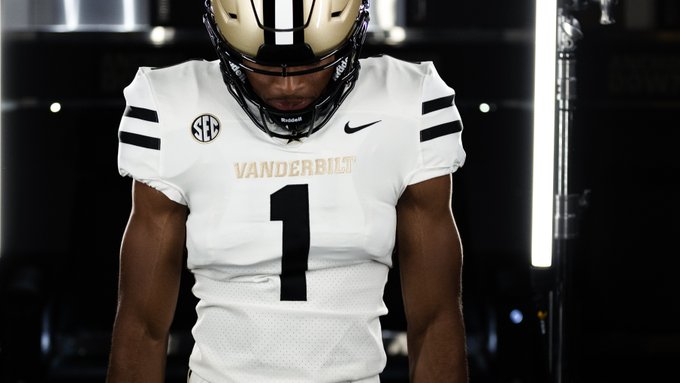 Although it was a ticker item yesterday, I wanted to take a minute to look at the new Vanderbilt Commodores football uniforms, which were unveiled on Monday, since there didn't seem to be any chatter in the comments about them.
Like Arizona, who unveiled gorgeous throwback-ish uniforms last week, Vanderbilt has for probably more than a decade had really crappy uniforms. That's about to change.
Unfortunately, there haven't been many still photos of the new unis floating about, but the hype video gives a good look at what the team will be wearing this fall.
Allow us to reintroduce ourselves.

Team 1⃣ dressed. Ready for Sept. 4.#AnchorDown pic.twitter.com/zrrPIz0hab

— Vanderbilt Football (@VandyFootball) August 9, 2021
While I can't say for certain, it looks like Vandy will start the season with just a single, gold helmet, adorned with a block "V" — and a black/white/black center stripe that is just a solid look. In that video, you'll see a new white jersey featuring two black stripes on the shoulder caps, and black, block numbers. "VANDERBILT" appears in block gold letters across the chest. The black jersey is not quite an inverse, as it has two gold stripes on the shoulder caps. Numbers are in big block white and the Vanderbilt wordmark appears in gold across the chese. Both jerseys were shown paired with both white and gold pants. The white pants have a black/gold/black stripe, while the gold pants have a black/white/black stripe mimicking the helmet striping.
Here's a look at the black/gold combo: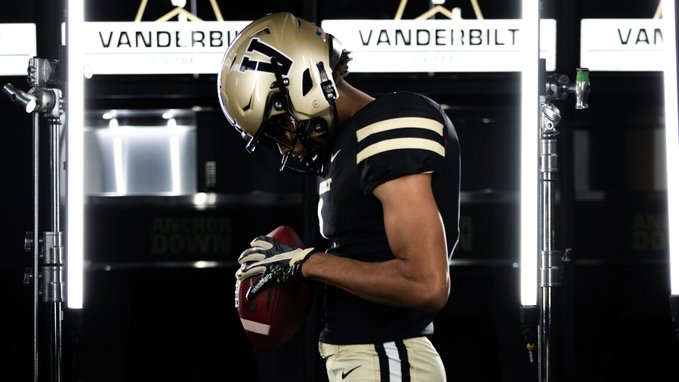 I love this look (if only the Saints could take a cue from these). My only complaint — and it's minor — is that I wish the white jersey could have had a black/gold/black shoulder cap stripe (matching that on the white pants). But other than that, these look might-tee-fine. While no black pants have been shown (or announced), it would not surprise me if they are added to the possible combos at some point.
I'm certainly not going to say that college football design has (or will) taken a turn towards the more traditional or classic — after all Nike, adidas and UA are still in the game — but if some of the recent reveals are any indication, we'll have some pretty good looks on the gridiron this fall. Well done, Vandy!
• • • • •
• • • • •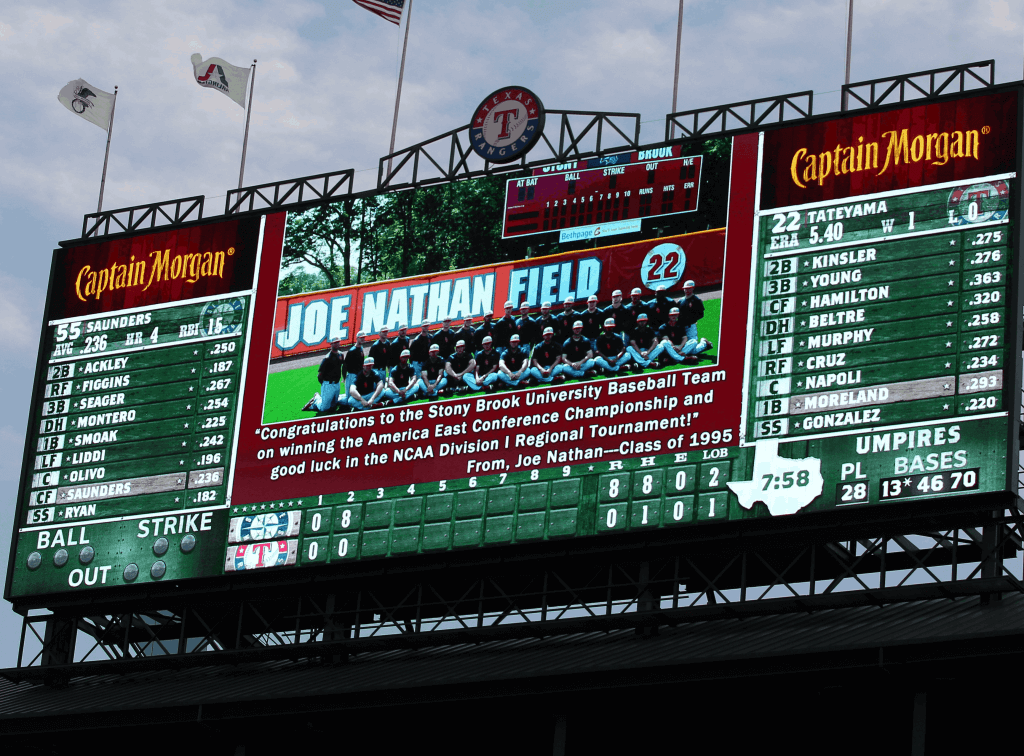 Guess The Game…
from the scoreboard
Today's scoreboard comes from Michael Vagnetti.
The premise of the game (GTGFTS) is simple: I'll post a scoreboard and you guys simply identify the game depicted. In the past, I don't know if I've ever completely stumped you (some are easier than others).
Here's the Scoreboard. In the comments below, try to identify the game (date & location, as well as final score). If anything noteworthy occurred during the game, please add that in (and if you were AT the game, well bonus points for you!):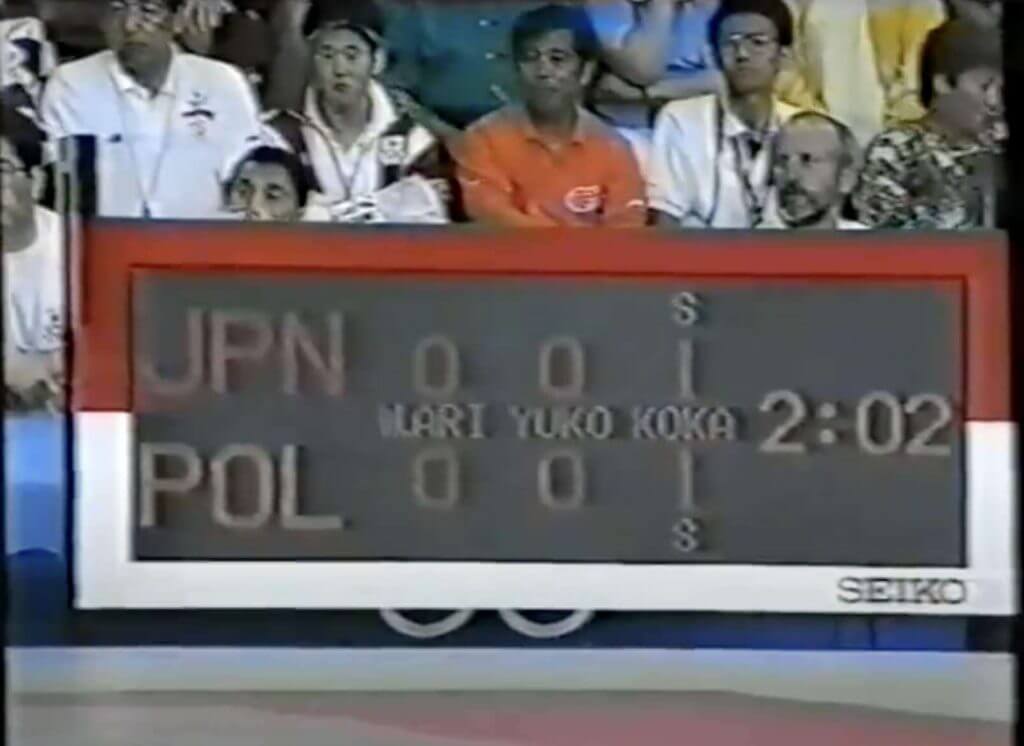 Please continue sending these in! You're welcome to send me any scoreboard photos (with answers please), and I'll keep running them.
• • • • •
• • • • •
Reader Created Tee Needs an Update
In case you missed it, last Friday's post (scroll down), I wrote a bit on the Arizona Wildcats' new (retro) uniforms.
That prompted reader Rocky De La Rosa to shoot me an e-mail which reads as follows:
Created this shirt to show all the main helmets Arizona had used since my dad attended the school in 1974. Looks like I'll have to add the (new) throwback helmet to the shirt and very VERY happy about it.
Here's a look at the shirt created by Rocky (and what I believe is a photo of the design he created on his computer). I guess his new shirt will have 10 helmets on it now: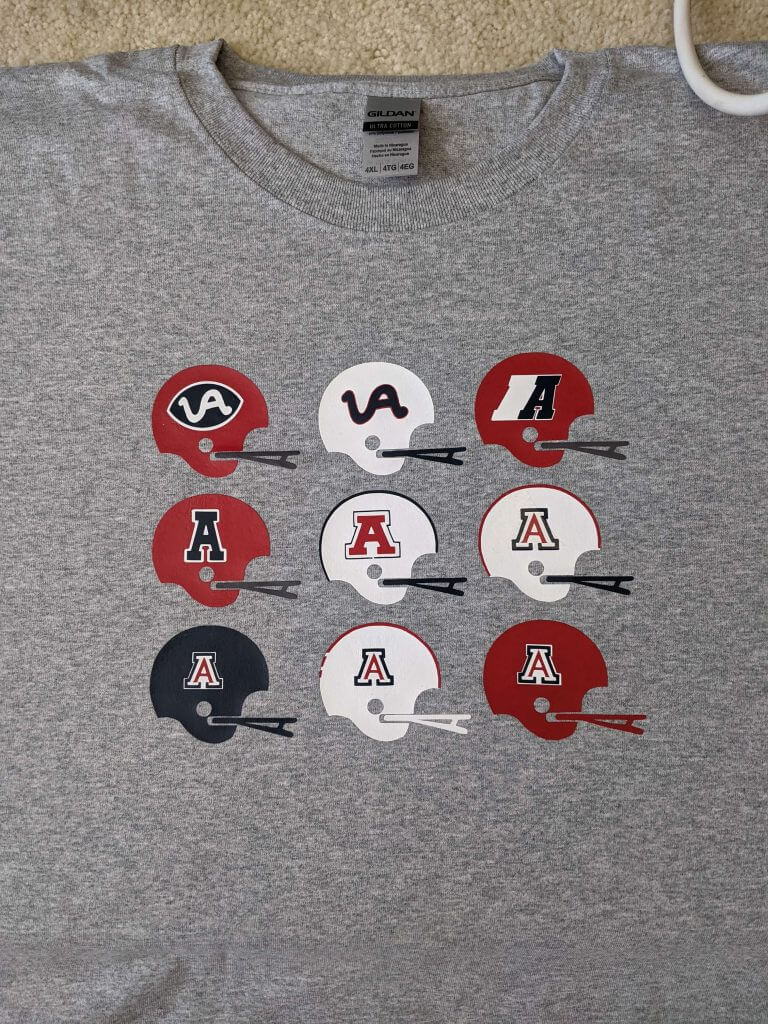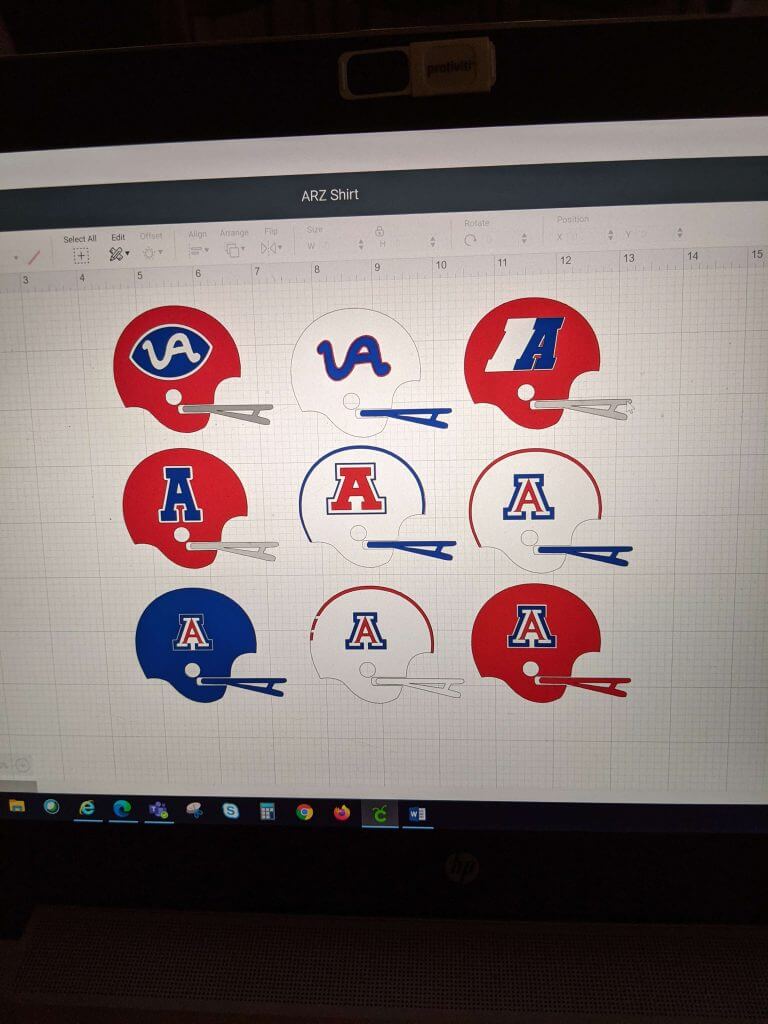 Thanks Rocky — that's a neat looking shirt!
• • • • •
• • • • •
The Ticker
By Lloyd Alaban

Baseball News: Blue Jays DH Vladimir Guerrero Jr. gifted Vanessa Bryant, widow of Los Angeles Lakers PG Kobe Bryant, with Kobe- and Gianna-themed cleats (from Andreas Papadopoulos). … Here are some shots of the Field of Dreams ballpark the Yankees and White Sox will play at on Thursday (from our own Phil Hecken). … The New York Times has an in-depth look at the branding work of Minor League graphic design stalwarts Brandiose (from multiple readers). … The Portland Pickles of the West Coast League have released cream jerseys based on the Negro League team Portland Rosebuds. … The Pensacola Blue Wahoos, affiliate of the Marlins, have a story behind what they call the worst uniforms ever (from Phil). … BFBS for the Brooklyn Cyclones, affiliate of the Mets (from Robert Brashear). … The Tennessee Little League World Series team wore near replicas of Vanderbilt's unis (from @lukedevoe21).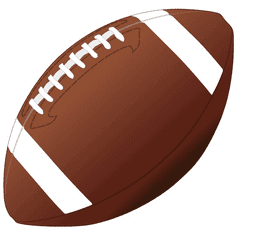 Football News: Off-center helmet stripe for Colts QB Sam Ehlinger (from Rich Fuller). … Michigan has some new helmet stickers—a lot more detailed than just football stickers (from Ben, who didn't give his last name). … Someone caught Nebraska recording their hype video for their new flag-desecration-themed unis (from Alex Kidwell). … New player-designed unis for Johnson C. Smith University (from Kary Klismet). … Also from Kary: Mike VII, LSU's live tiger mascot, is now fully vaccinated.

Hockey News: The latest 3-D wall art from reader Kevin Cearfoss is the Sabres' logo. … New numbers for some Bruins (from Anthony Emerson).
.

Basketball News: NBA TV used the Lakers' black alternate to introduce PG Russell Westbrook—a uniform that he will never wear (from Ju Sim). … Reader Etienne Catalan has the latest NBA uni number updates. … Cross-listed from the baseball section: Toronto Blue Jays DH Vladimir Guerrero Jr. gifted Vanessa Bryant, widow of Lakers PG Kobe Bryant, with Kobe- and Gianna-themed cleats (from Andreas Papadopoulos). … PK85, a tournament celebrating coach Phil Knight's 85th birthday, will take place next year. In the PK80 Tournament in 2017, which celebrated Knight's 80th birthday, players received an alternate jersey as a gift (from our own Phil Hecken).

Soccer News: Lionel Messi will wear No. 30 with Paris Saint-Germain. No. 10 is currently used by Neymar (from multiple readers). … New third kits for Arsenal (from Kary Klismet). … Three Hummel-outfitted clubs, Everton, Southampton, and Denmark's Brøndby, are wearing Pride-themed warm-up shirts next weekend (from our own Jamie Rathjen). … New third shirt for AFC Bournemouth (from Sam Williams).

Grab Bag: Here's the National League Lacross Draft logo (from @PhillyPartTwo). … New nickname for Valparaiso University (from multiple readers). … The next three items are from Kary Klismet: New logos for South O'Brien (Iowa) High School. … The New Bern, North Carolina, Police Department has introduced new pins that officers who are military veterans can wear on their uniforms. … Kalama, Washington, High School has unveiled a new team name and logo. … Pebbles cereal has a 50th-anniversary logo (from John Cerone).
• • • • •
• • • • •
Uni Tweet of the Day
OK, this was the laugh I needed today… (yes, it's fake)
Source: @QB1TATT00 |
🎈Nebraska to unveil "Lil Red" alternate uniforms vs Oklahoma September 18th. #Huskers #GoBigRed pic.twitter.com/93i9dpvfba

— CFB Home (@CFBHome) August 11, 2021
• • • • •
• • • • •
And finally… that's it for today — big thanks to Casey for sharing his NBA concepts! That was fun.
Everyone have a great day today and I'll catch you back here tomorrow.
Peace,
PH