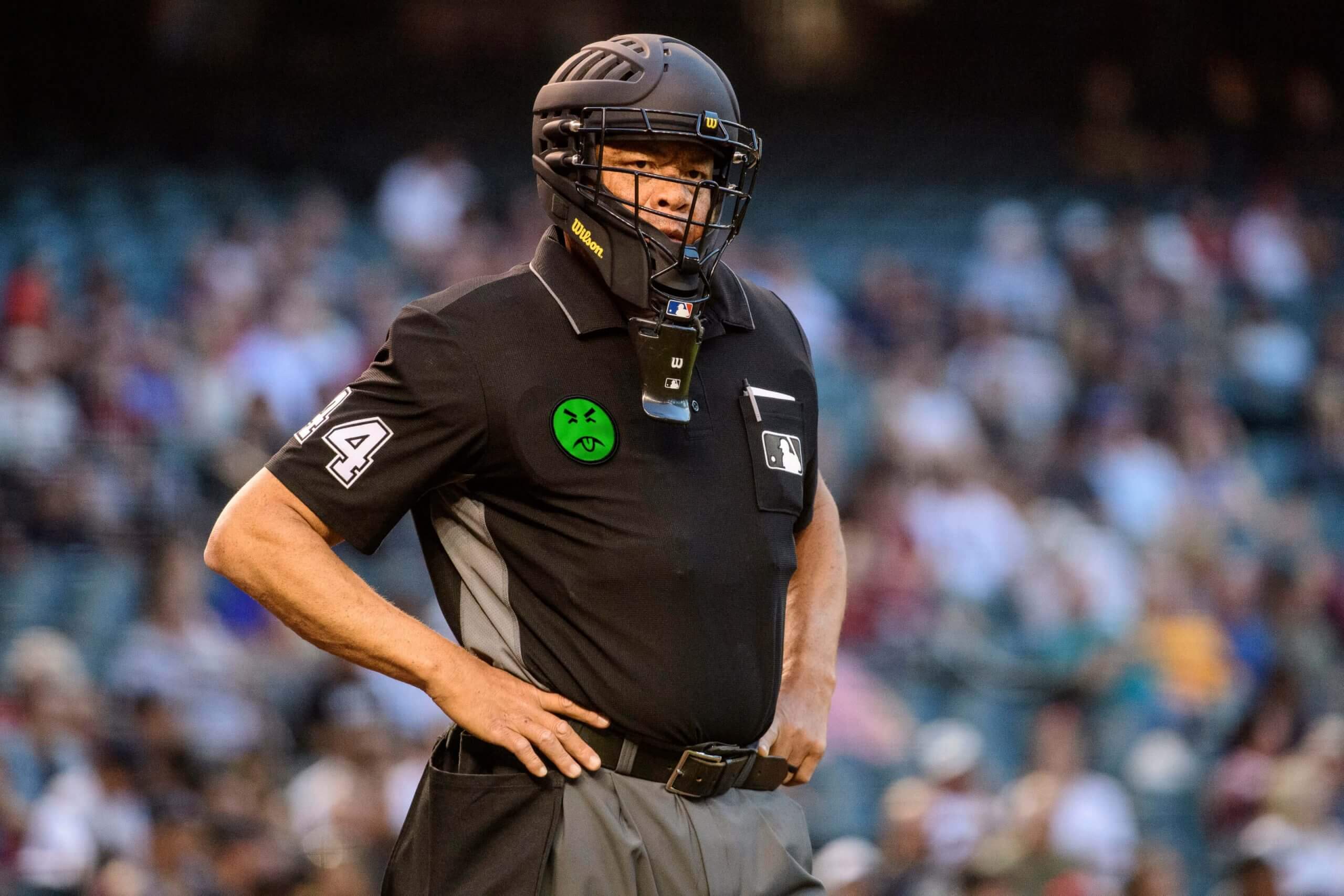 For all images, click to enlarge
Welcome back to Ump Watch, where we continue to cover the wide world of umpiring attire. Sadly, the latest news on that front is of the gross variety, as MLB yesterday announced that umps will soon begin wearing advertising patches for a cryptocurrency exchange. The patches will make their on-field debut on July 13 at the All-Star Game and will become a permanent fixture from then on. Although not mentioned in that press release I just linked to, various news reports indicate that the deal is for five years.
MLB's announcement did not include a view of the patch design or an indication of where the patch would be positioned on the umps' uniforms, but you can see some possibilities scattered throughout today's Uni Watch entry.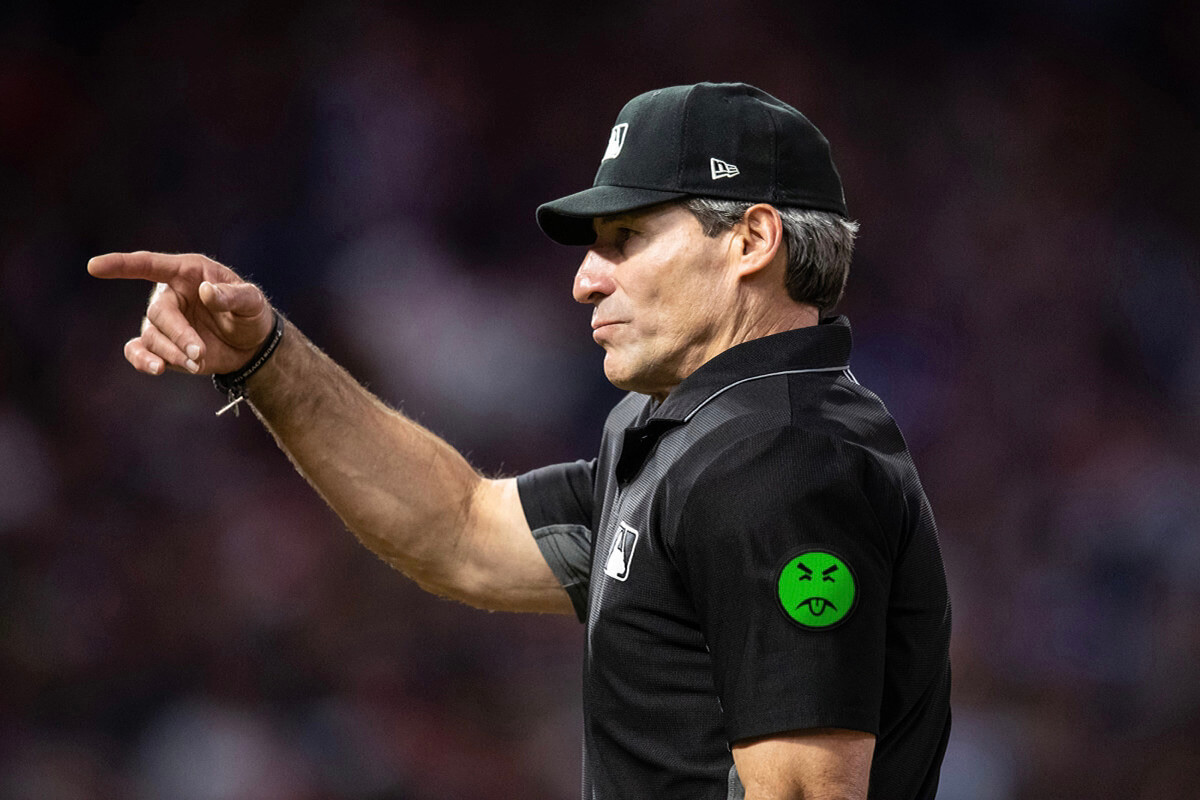 A few thoughts:
1.. First and foremost, this is really, really pathetic. I mean, seriously — ads on the umpires? Here's a measure of how lame-o that is: Even the NBA hasn't done it (yet). And isn't it interesting that this development comes just as the umps are getting more screen time due to the sticky regulations. Just a coincidence, I'm sure.
2. Of all the advertisers to choose for this gig, a fucking crypto exchange? For starters, crypto has been tanking lately — great timing, MLB! Moreover, having the umps wear a crypto ad is like saying, "Hey, want an untraceable way to bribe the umps? Here's how!" The only worse option would be a betting company, or maybe Warby Parker.
3. Naturally, MLB's press release does not include the word "advertising" (or any variant thereof). Instead, it simply says the crypto exchange "will become MLB's first-ever umpire uniform patch partner." Misleading and cowardly.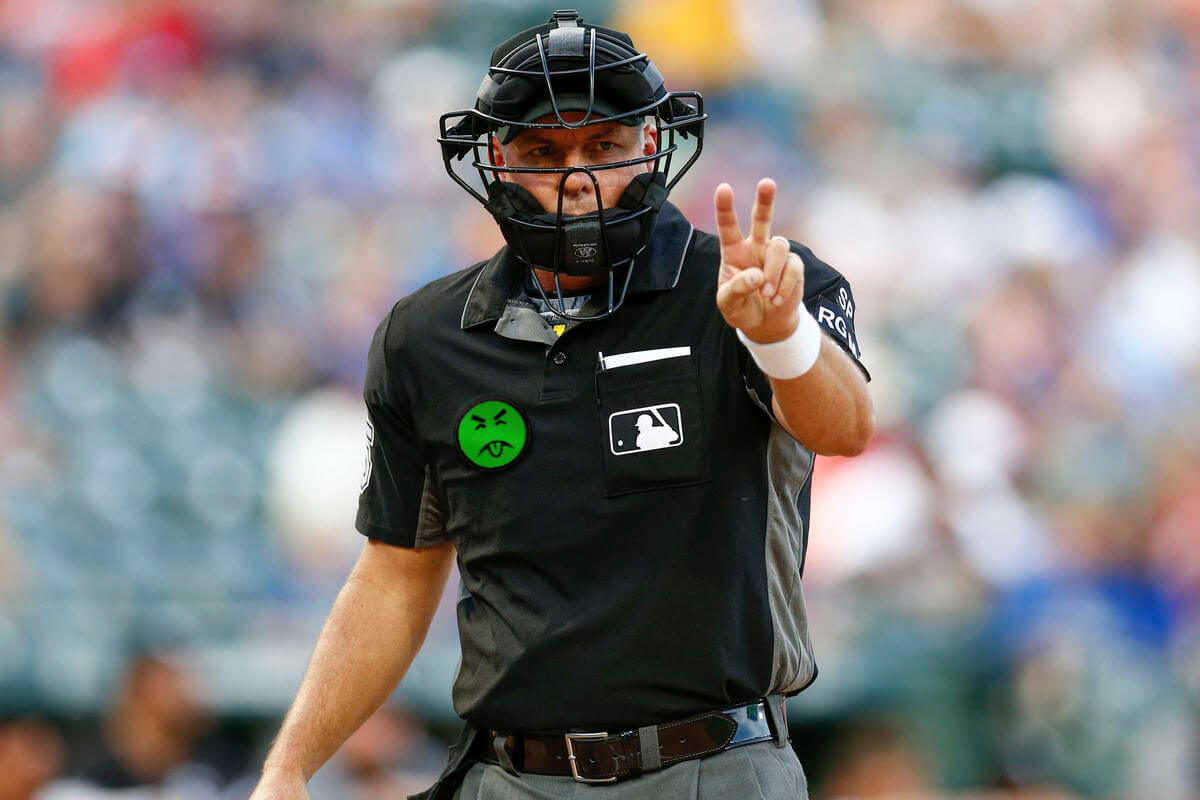 4. Media coverage also avoided saying the dreaded A-word. Here's how various outlets referred to the ad patches:
• Coindesk: "branding"
• Yahoo Finance: "sponsorship presence"
• TheStreet.com: "uniform patches"
• Business Insider: "logo patch"
• The New York Times: "a [sponsored] patch on umpire's uniforms"
• Bloomberg.com: "logo patch"
• Deadspin: "umpire jersey patches"
Why is everyone connected with this story so afraid to refer to advertising as advertising?
5. Does this move foreshadow the advent of ad patches on the players' uniforms? My usual stance in situations like this one is that we shouldn't jump to conclusions, but in this case I think it's fairly clear that the answer is yes. Over the past two years we've seen (a) uni ads for games in London, (b) uni ads for games in Mexico, and (c) an abortive attempt to use uni ads during the pandemic-shortened 2020 season. MLB can't unilaterally impose ads on the players' uniforms under the current collective bargaining agreement, but it's widely expected that ad patches and/or decals will be negotiated with the players' union as part of the new CBA that will go into effect next year. So while MLB is waiting for that to happen, they can set the stage with the ump ads. At this point, I think the only thing that can delay the onset of ads on MLB uniforms is a work stoppage (which was considered increasingly likely just a few months ago but is now thought to be less of a concern).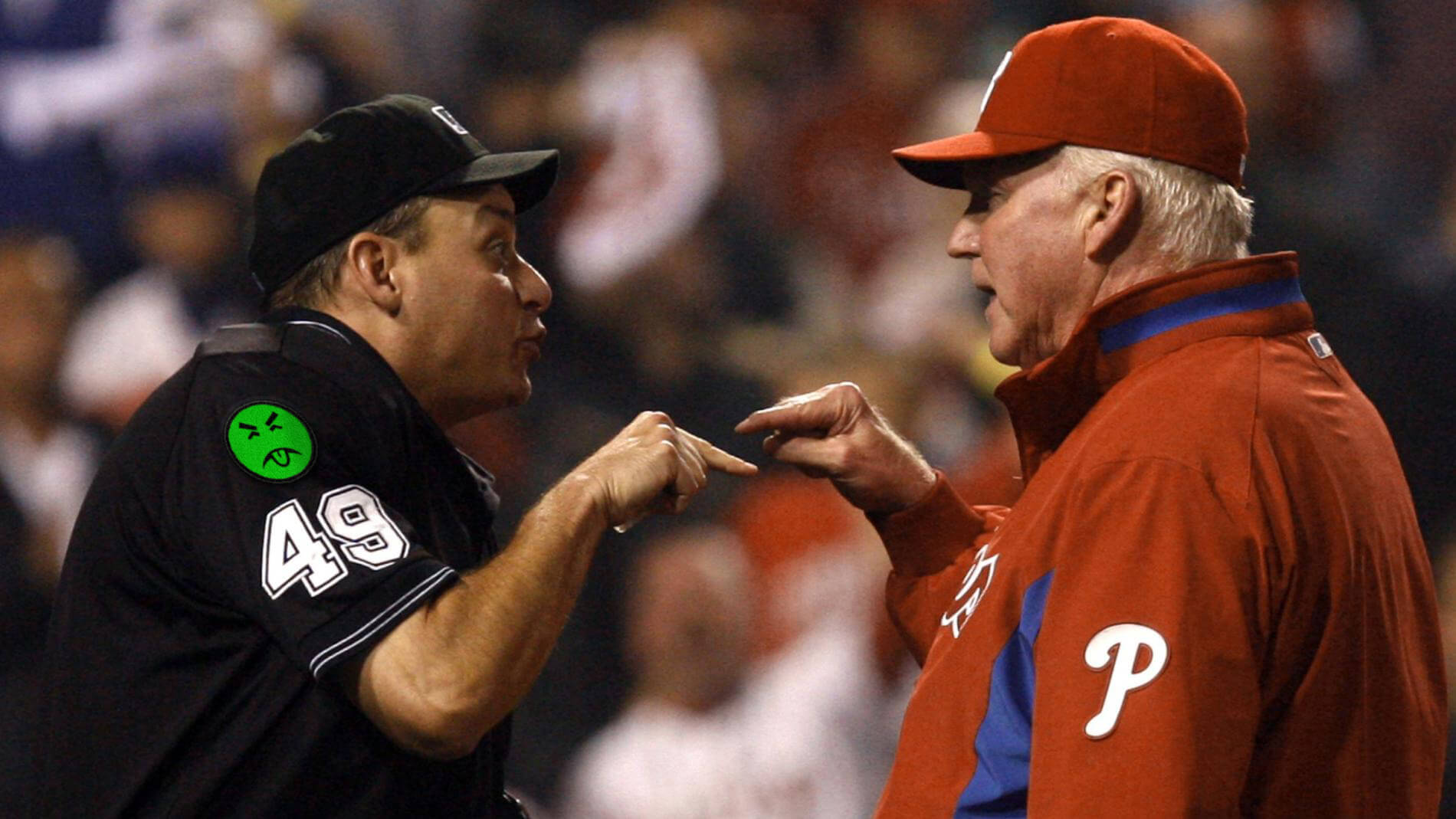 6. Finally, it's worth noting that this is just the latest in the long run of uni-ruinous actions taken by MLB commish Rob Manfred, who continues to cement his position as the worst thing that has ever happened to baseball uniforms. History will not judge him kindly, and neither should we.
That concludes this installment of Ump Watch. Here's hoping the next installment won't be as depressing.
(Mega-thanks, as always, to Nic Schultz for his Mr. Yuk Photoshoppery.)
• • • • •
• • • • •
• • • • •
• • • • •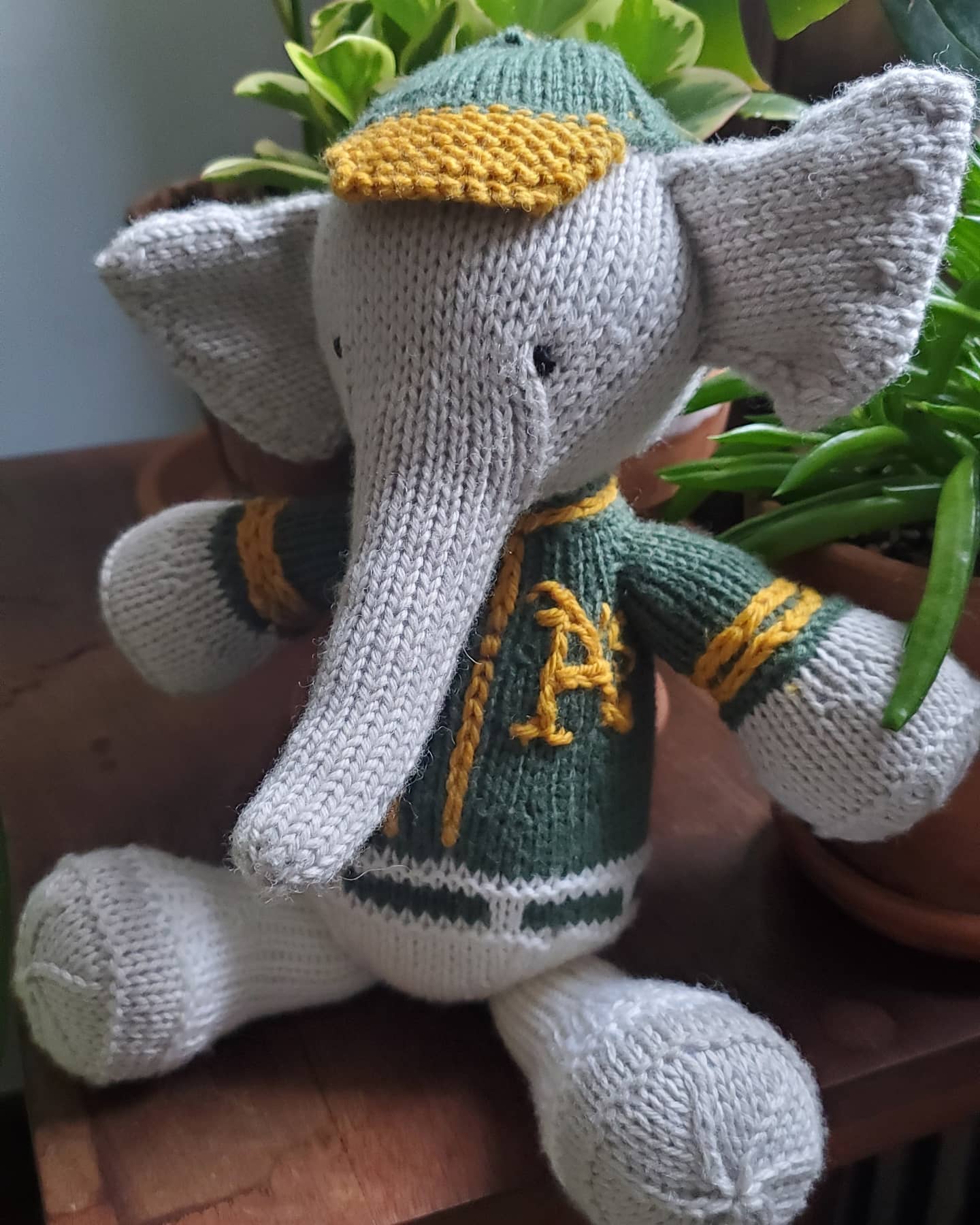 Click to enlarge
Way too good for the Ticker: My very talented friend Jessica Douglas likes to knit stuffed elephants whenever one of her friends has a new baby, and she recently made one modeled after the A's mascot, Stomper. She explains:
My friend's husband is a huge A's fan and really wanted a Stomper stuffed animal for their baby. Everything they saw out there was super-synthetic, but she knew I've knit quite a few elephants, so she asked if I could do Stomper.

I used this knitting pattern and altered it to include the uniform. The challenge was really just figuring out how to make the uniform details identifiable. For example, at first the "A" on the front didn't have serifs, but I realized pretty quickly that that was important.
I'd say she nailed it. Here are some more pics (including the all-important yellow squatchee!):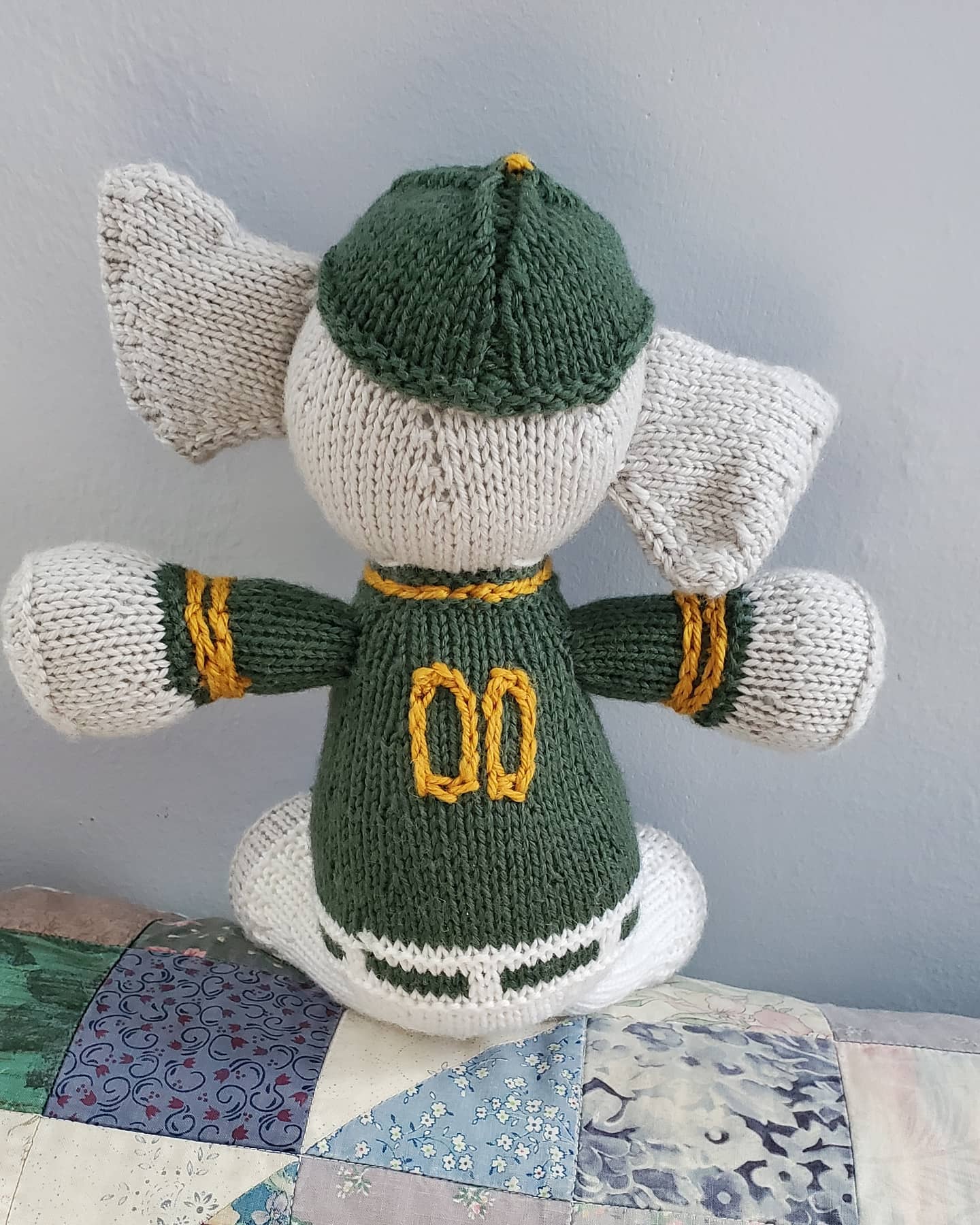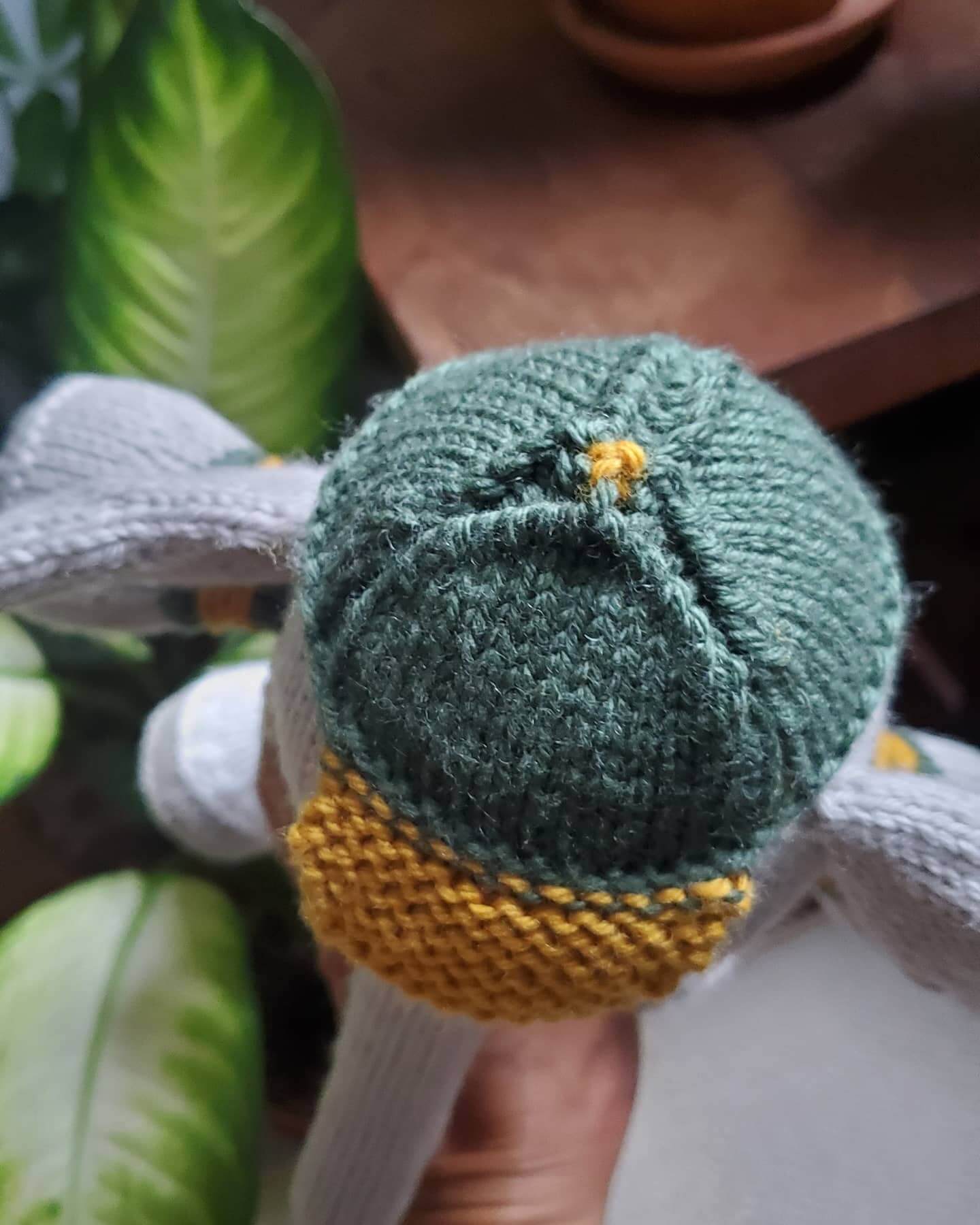 • • • • •
• • • • •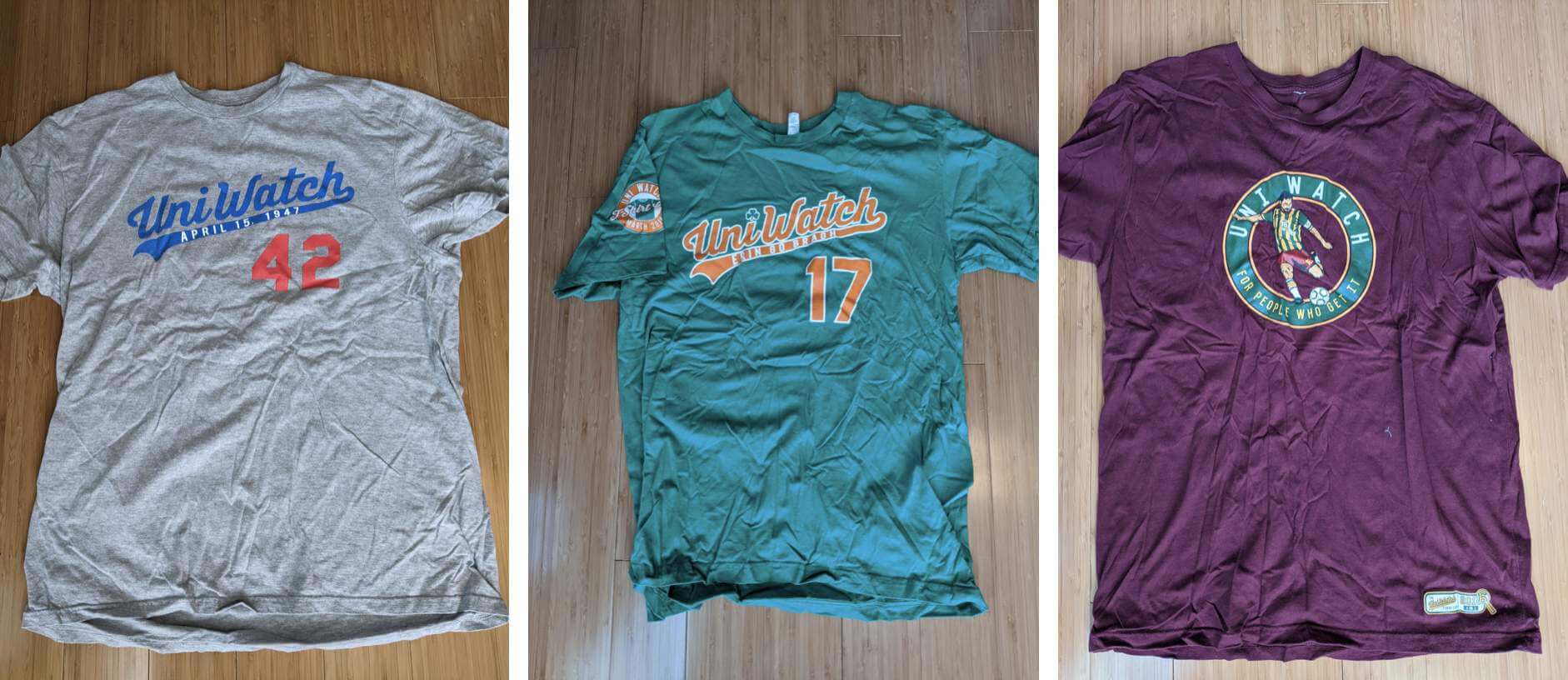 Click to enlarge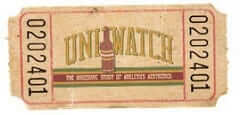 ITEM! New T-shirt raffle: Reader Tyler Kulasza has three Uni Watch T-shirts that no longer fit him — a Jackie Day shirt, a St. Paddy's Day shirt, and a soccer shirt (you can see bigger photos here, here, and here). "They're all size Large and barely worn," he says. "They are very wrinkled from being in the bottom of my drawer, but they are clean." Tyler has offered to let me raffle these off, so that's what we're going to do today.
This will be a one-day raffle. USA mailing addresses only. To enter, send an email with your preferred shirt design and your mailing address to the raffle in-box by 8pm Eastern tonight. If you like more than one of the shirts, list the shirts in your order of preference. I'll announce the three winners tomorrow. Thanks to Tyler for making this one possible!
• • • • •
• • • • •
The Ticker
By Paul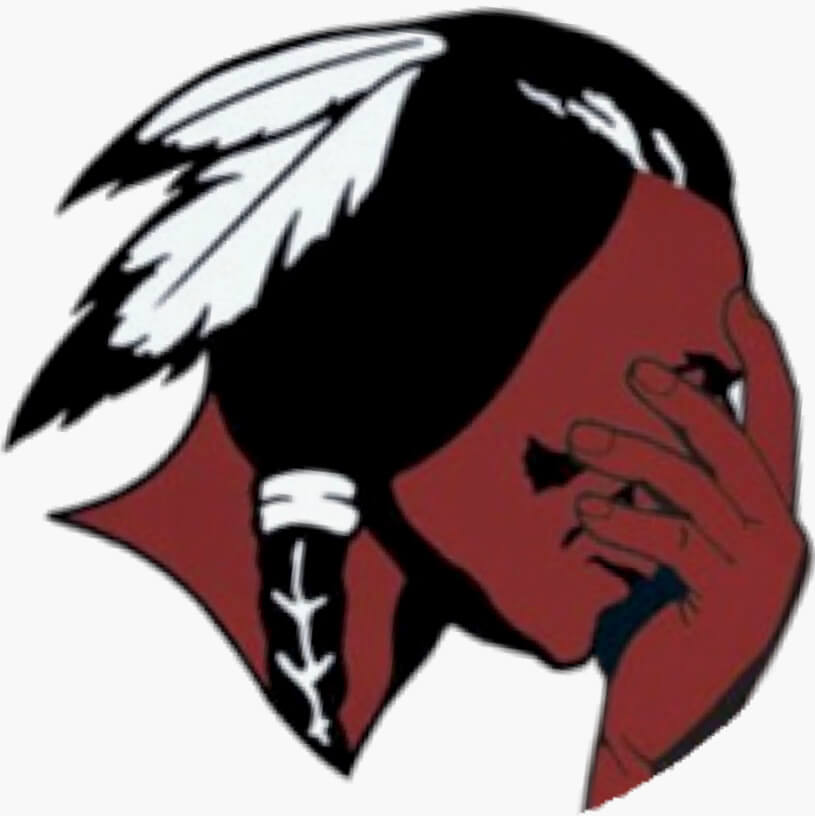 Indigenous Appropriation News: The school district in Parma, Ohio, is considering whether to change its "Redmen" team name (from Bill Gornall). … Following a review, Wayne Valley High School in N.J. has decided to keep its "Indians" team name (from Wayne alum Keith Seminerio). … The rest of these are from Kary Klismet: After consulting with tribal leaders, Totem Middle School in Kent, Wash., will change its school name and "Thunderbirds" team name. … Here's a good story detailing the history of the team names and mascots used by Jamestown (N.Y.) High School, which recently decided to drop the Native American imagery associated with its "Red Raiders" team name. … The school board for Cedar High School in Cedar City, Utah, is reconsidering its decision to change its team name from "Redmen" to "Reds" after a board member opposing the change invited members from the local Paiute tribe to speak in favor of the old name at a recent board meeting. … Snell Middle School in Bayard, N.M., is changing its team name from "Redskins" to "Miners." … Cambridge (N.Y.) Central School will no longer call its teams the Indians. … Dartmouth (Mass.) High School is considering dropping its "Indians" team name.

Baseball News: I think we've seen this before, but once more won't hurt: The Rangers' ballpark has a great jersey-themed mural (from Bo Baize). … Also from Bo: The Double-A Wichita Wind Surge are wearing a Todd Radom-designed memorial patch for their late owner, Lou Schwechheimer. Here's a clearer look at the design. … The Double-A Northwest Arkansas Naturals will wear fauxbacks tomorrow (from @WoggieMac). … While MLB is supposedly cracking down on sticky stuff, there are ads behind home plate for Gorilla Glue (from Andreas Papadopoulos). … The Double-A Hartford Yard Goats became the Hartford Steamed Burgers last night (from Ryan Spaulding). … Blue Jays manager Charlie Montoyo wore his Father's Day jersey last night (from Deeks Hightower). … This is interesting: U. of Texas SS Trey Faltine uses one of coach and former MLBer Troy Tulowitzki's old gloves, complete with the Gold Glove manufacturer's patch (from @charliehog).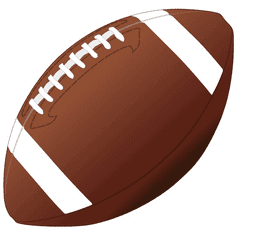 Football News: Here's how the Cowboys became known as "America's Team" (from Kary Klismet). … Consider the source: A Redditor claims to have seen a bunch of NFL throwback helmets that will be revealed soon, with the one-shell rule finally being scrapped. Could be true — or not (thanks to all who shared). … Virginia Tech's "Maroon Effect" game will be on Oct. 16, when the Hokies host Pitt (from Andrew Cosentino).

Hockey News: Singer Celine Dion, a native of Quebec but a longtime performer in Las Vegas, is taking heat back home for appearing in a Golden Knights uniform during the Knights/Canadiens playoff series (from Wade Heidt). … Although this isn't yet confirmed by the team, the Oilers will reportedly redesignate their navy alternate uni — my least favorite of their looks — as their new home primary next season. That article also says players really disliked the team's ЯR uni, which is why it was worn only two times this season (from Brandon Weir).

Basketball News: The City of Milwaukee is using the Bucks' original "Bango" logo — one of my favorite sports logos of all time — as its new Twitter avatar. Here's a closer look (from Jeff Ash). … Speaking of the Bucks, check out their current logo rendered as an amazing-looking pretzel! (Thanks to all who shared.)

Soccer News: New home shirt, with a very interesting half-and-half design, for Israeli side Maccabi Haifa (from Ed Zelaski). … Also from Ed: New shirts for Belarusian champs Shakhtyor Soligorsk. … Following up on a Ticker item from yesterday: After refusing to allow Munich's Allianz Stadium to be lit up in rainbow Pride colors, UEFA added a rainbow motif to its own logo. … New crest for the Major Arena Soccer League's San Diego Sockers (from Kary Klismet). … Kansas City NWSL wore rainbow numbers yesterday (thanks, Jamie). … New away kit for Scottish Premiership side Hibernian (from Ed Zelaski and Germán Cabrejo). … U.S. Customs agents recently seized a shipment of El Salvador jerseys, thinking they were counterfeit. Per standard procedure, they posted tweeted photos of the confiscated contraband. But the jerseys turned out to be real, not counterfeit, which meant that their tweet inadvertently leaked a new design that hadn't yet been officially revealed (from @AlexSonofJohn). … Here's an infographic showing all the Euro 2020 kit matchups so far (from Rex Henry). … USL League One club Forward Madison's new alternate shirt is reversible, so it's two shirts in one (from @PolishCDN).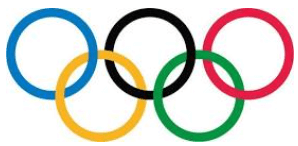 Olympics News: Following up on a Ticker item from a few days ago, here's more on USA hurdler Christina Clemons wearing Doritos earrings during the recent Olympic qualifiers (from John Cerone).

Grab Bag: The design website Creative Bloq has ranked the 10 best sports logos of all time. … Very nice new logo for the National Gallery of Canada (from @Minor_Leaguer). … Shrewsbury (Mass.) High School is considering retiring its "Colonials" team name or changing its associated imagery to be more culturally inclusive (from Kary Klismet). … Australia's Twenty20 cricket leagues, the Big Bash League and Women's Big Bash League, are now outfitted by Nike, so all the teams are getting new kits in a few months (thanks, Jamie). … Looking for some unique headcovers for your golf clubs? A company called Cuddle Clones will make headcovers that look like your favorite pet. Additional info here. … The flag for the Dutch town of Diemen has its ducks in a row — literally (from Trevor Williams). … Here's a fun little slideshow of vintage fast food logos. … Multinational corporations are wrestling with the question of whether to have rainbow/Pride versions of their logos, especially in countries where such a gesture would be more controversial. … Here's why jeans have that leather patch on the back (from Jon Viera).