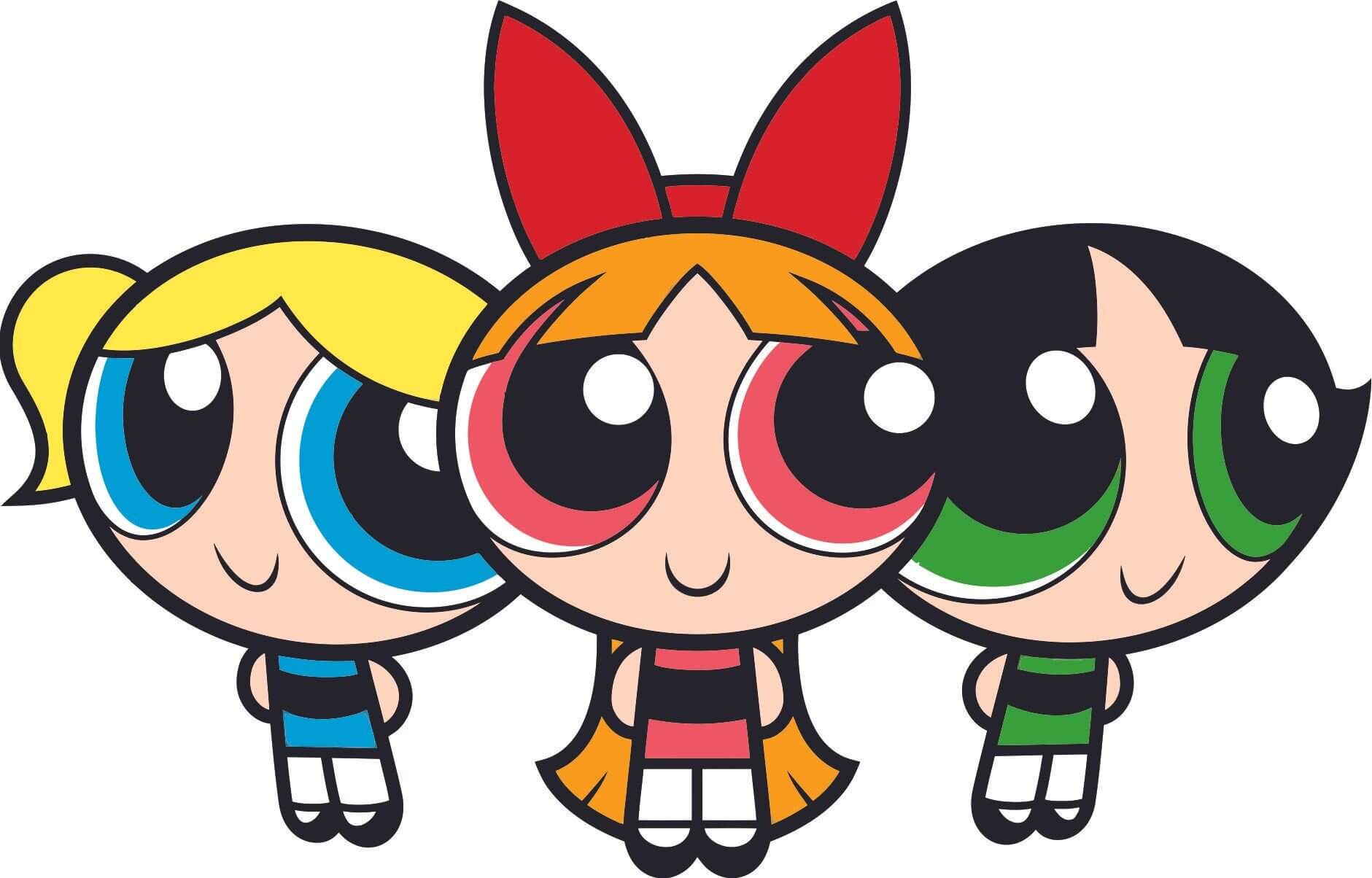 Click to enlarge
I'm a huge fan of the late-'90s/early-aughts cartoon series The Powerpuff Girls. I love the writing, the animation style, the vocals, the sound effects, the colors, the overall aesthetic, and more — but that's not what I want to discuss today. Instead, I want to talk about The Powerpuff Girls because I think it's the most Uni Watch TV show ever.
What do I mean by that? I mean that The Powerpuff Girls (let's just say PPGs for short) is the most intensely programmatic TV show — and maybe the most intensely programmatic work of art, period — I've ever encountered. It's loaded with all sort of uni-like rules, guidelines and protocols, all of which appeal to me in exactly the same way that uniforms appeal to me.
The PPGs themselves, for example, are strictly color-coded: Blossom is pink, Bubbles is blue, and Buttercup is green. As you can see in the header image on this post, those color assignments apply to their clothing and their eyes, but it goes beyond that. The colors also apply to their contrails: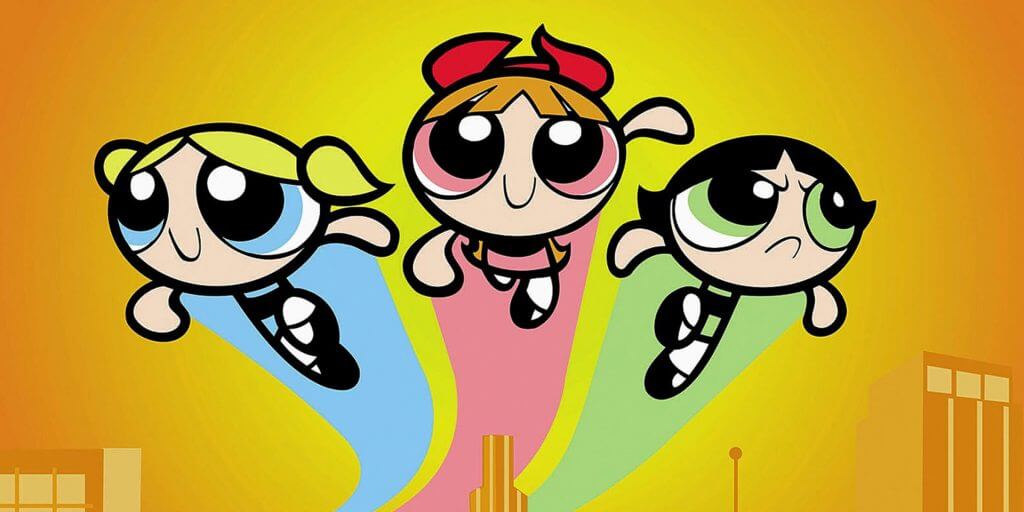 They even sleep together each night under a color-coded blanket (as shown here with their creator/father, Professor Utonium):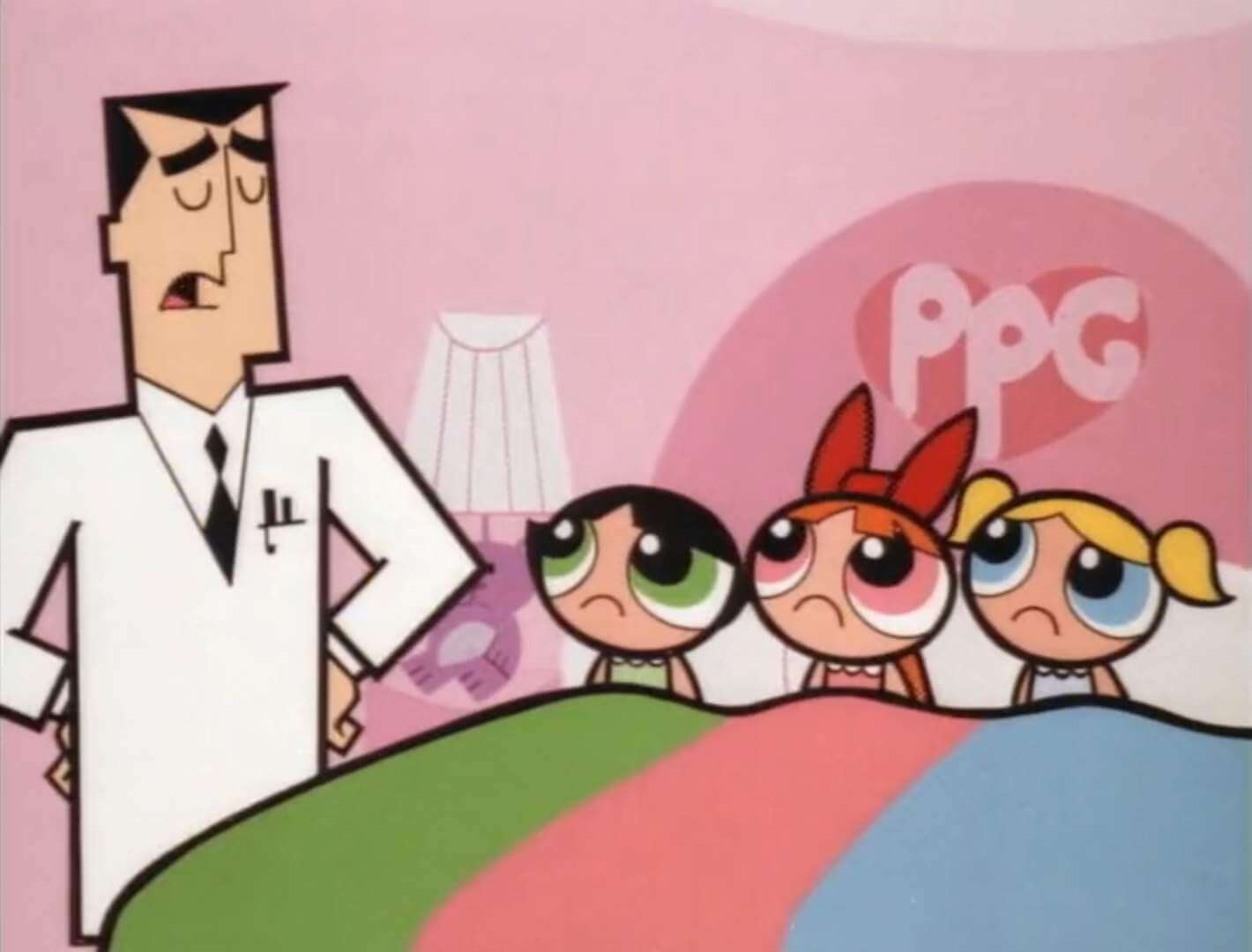 But that's just the tip of the show's programmatic iceberg. Among its many, many, rules and quirks:
• Every episode begins with the narrator saying, "The city of Townsville…"
• Every episode ends with the narrator saying, "And once again, the day is saved…" (or, occasionally, some variation thereof).
• The PPGs' primary nemesis, Mojo Jojo (a singularly brilliant character, in part because he once stormed out of his lair, ready to destroy the PPGs, but then realized he had to stop and go back because he had forgotten his wallet), is always shown with his cape flapping in the breeze, even when he's standing still and indoors: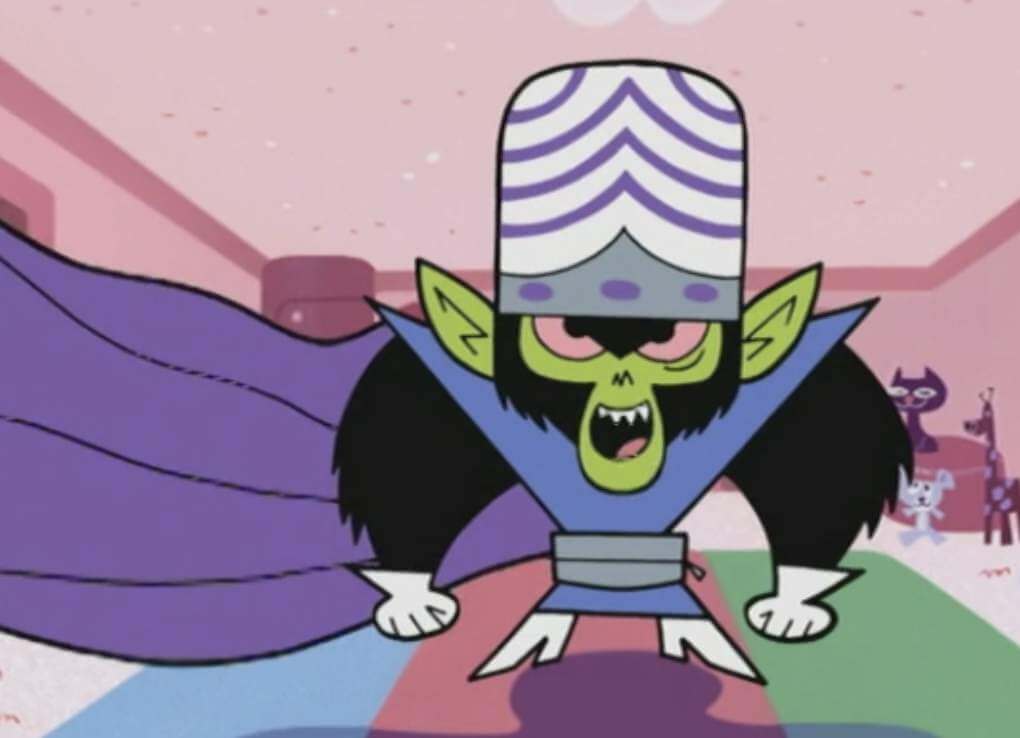 • Another one of the characters — the mayor's secretary, Miss Bellum — is always shown with her face cropped out of the frame or otherwise obscured: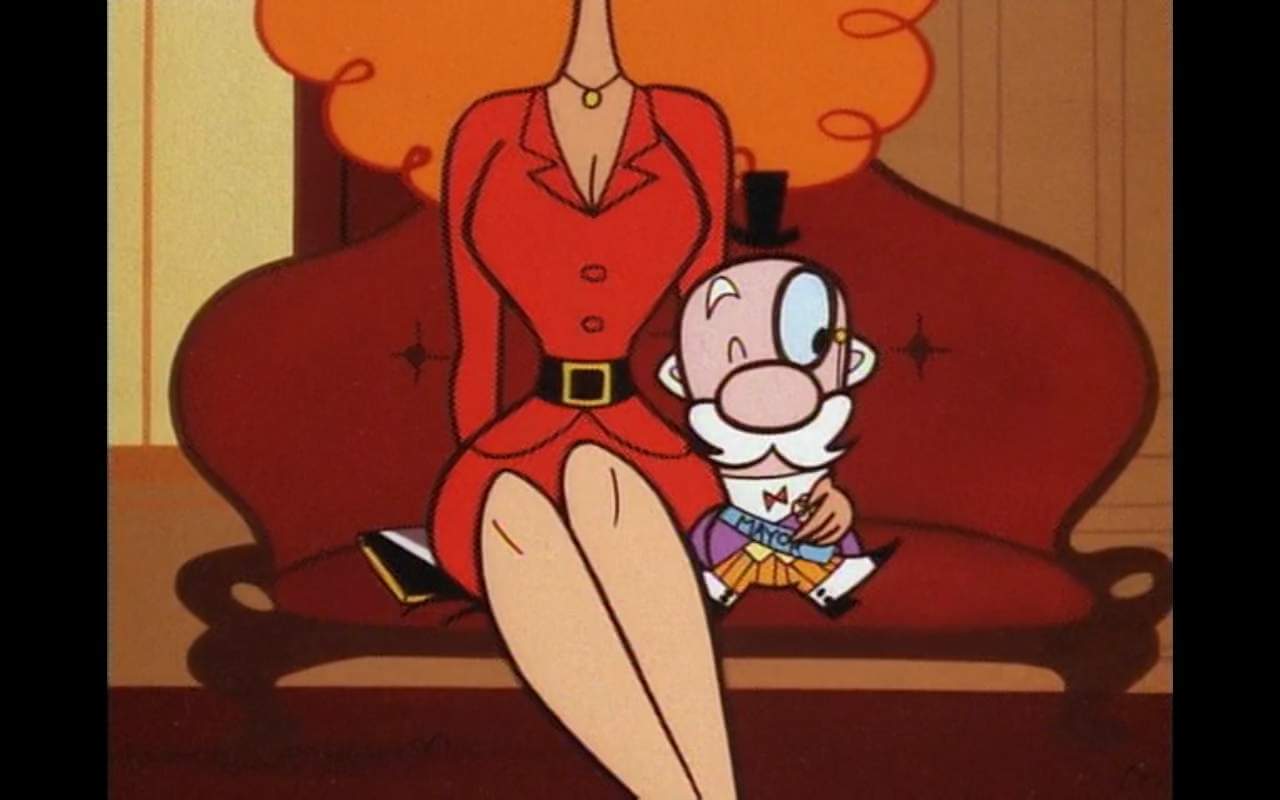 And so on. I was recently discussing all of this with my friend Nate, who's an animator. As I tried to explain why all these programmatic rules and guidelines appealed to me, I said, "That show must've had one hell of a style guide." To which Nate replied, "Oh, sure. You haven't seen it?"
He then whipped out his phone and cued up the following pages from a PPGs style guide. Check these out (for all of them, you can click to enlarge):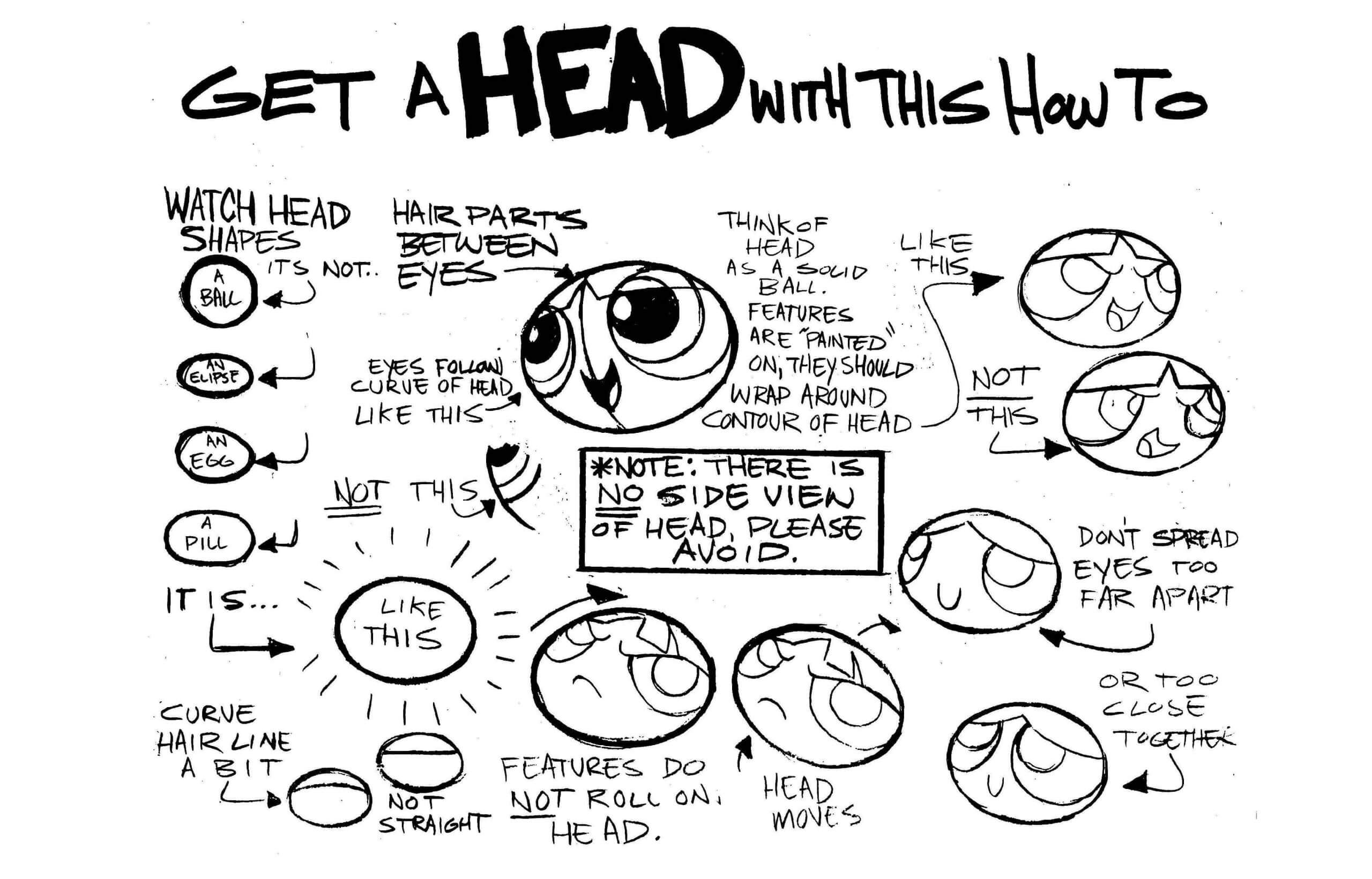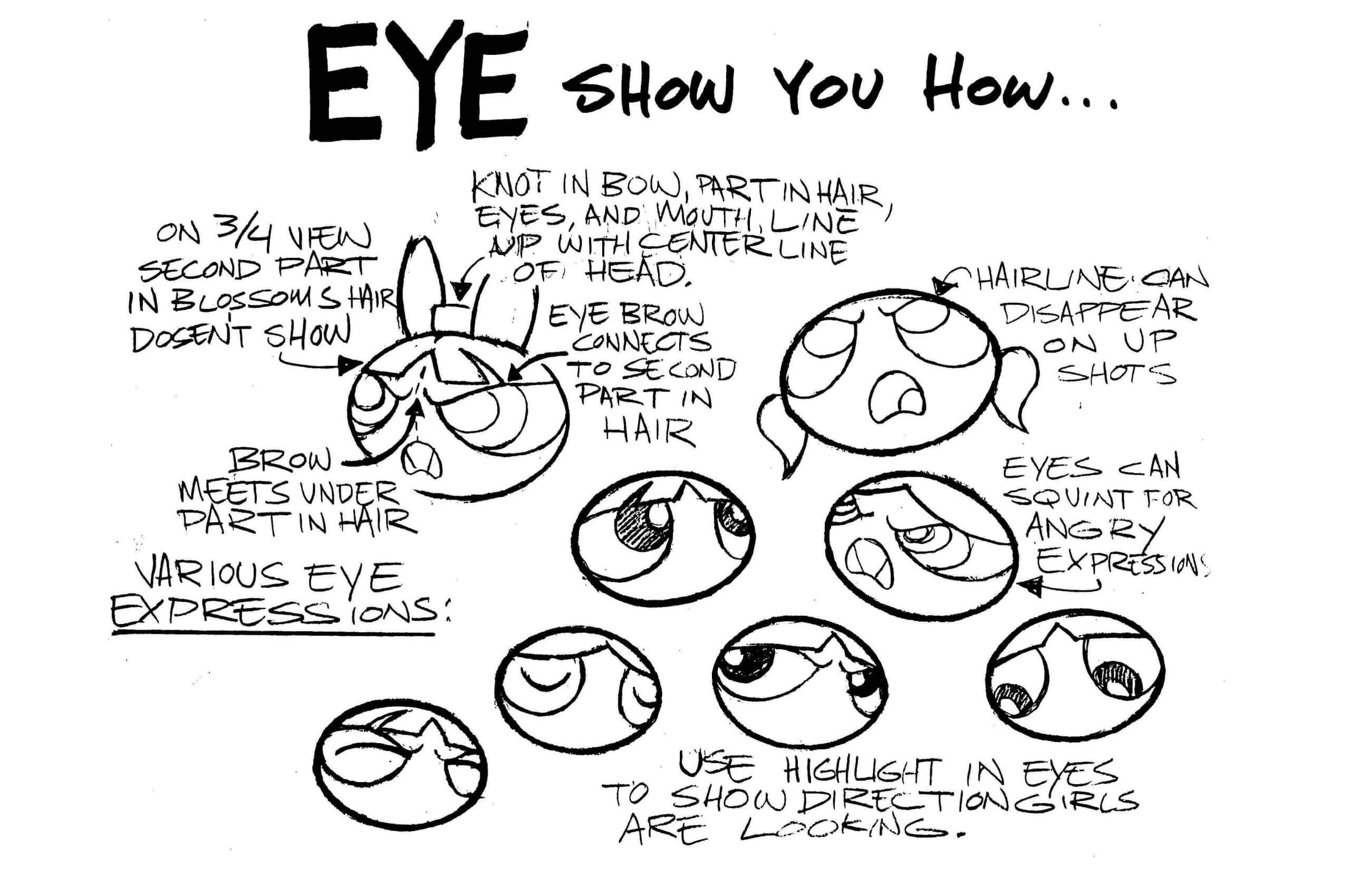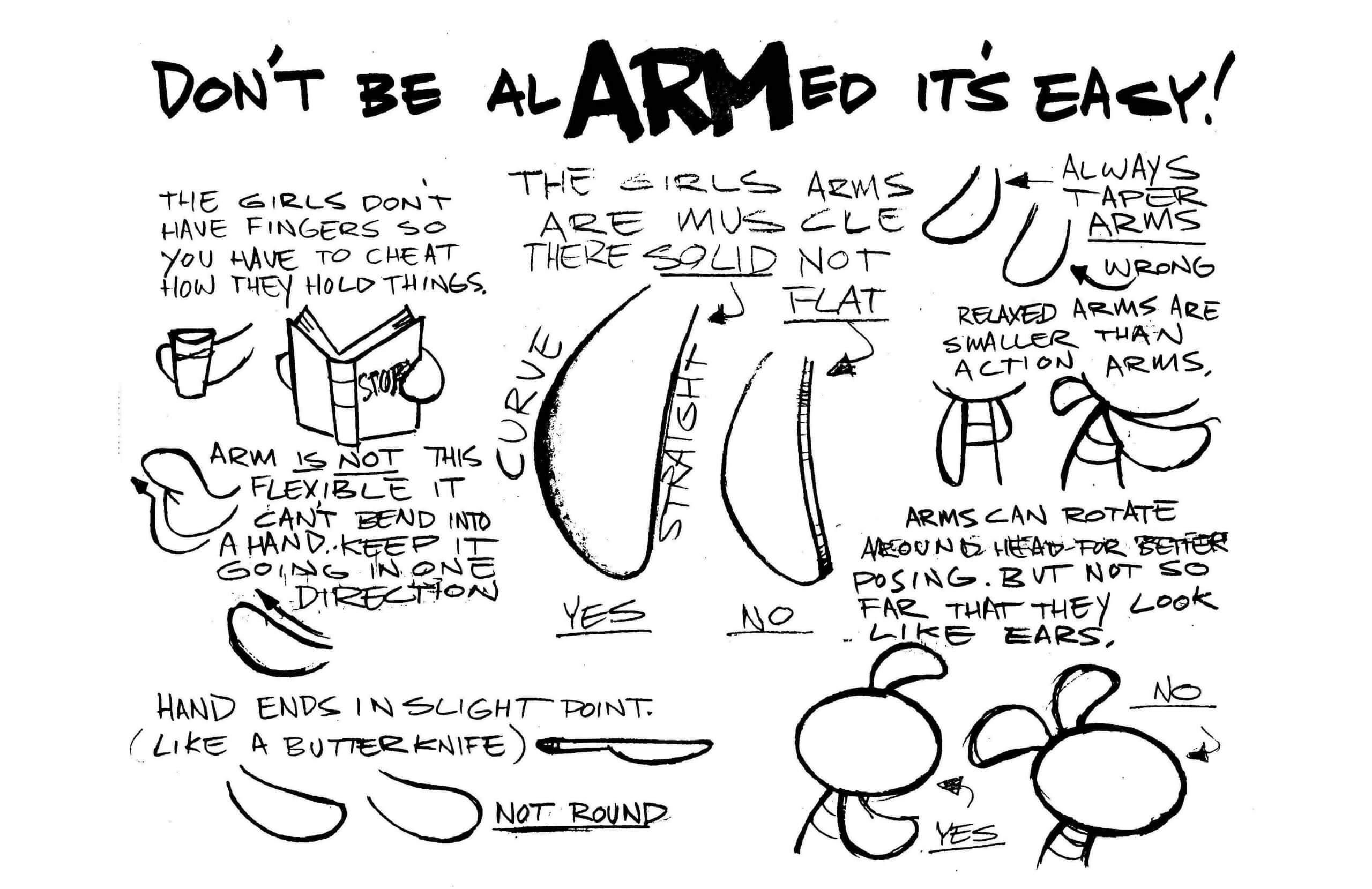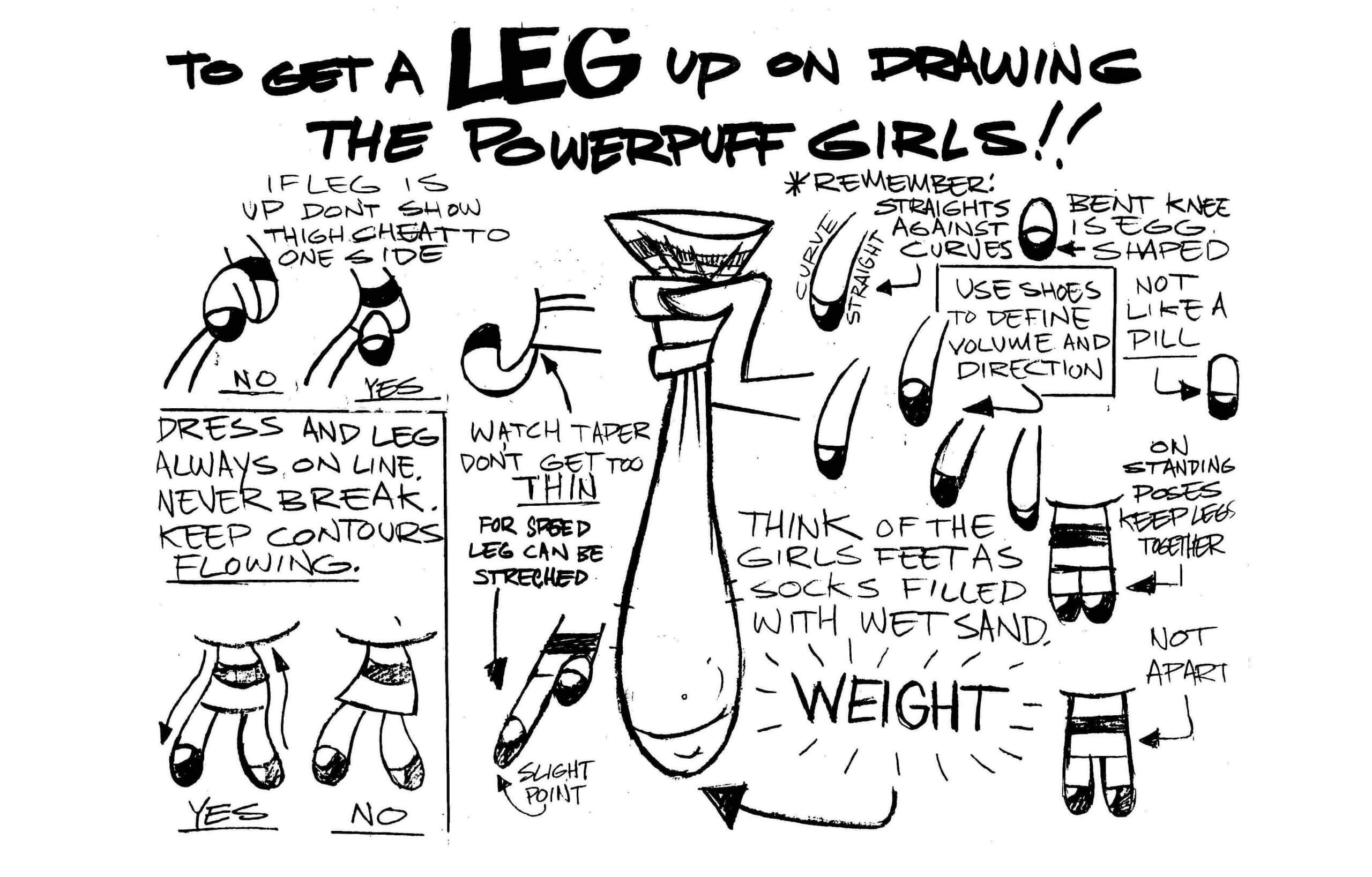 Aren't those great? My favorite bit is in the last one, where it says that the artists/animators should "think of of the girls' feet as socks filled with wet sand" — brilliant!
These pages appeal to me in precisely the same way that a uniform style guide or brand style guide does. They help create order out of chaos and impart a sense of "a place for everything, and everything in its place." There's something satisfying about all of it.
The Powerpuff Girls isn't the only cartoon show with a style guide, of course (in fact, it's not even the first one I've written about in this same context), but it's hard to imagine another show that would have such a good style guide. If you've been wondering what to get me for my next birthday, a PPGs style guide would definitely be a big hit here at Uni Watch HQ.
On the one hand, I realize that this is a very different kind of Uni Watch entry. On the other hand, the connection between uniforms and the PPGs feels like a very straight, direct line — at least to me. Does anyone else get what I'm talking about here, or is this one of those things where it makes sense to me but not to anyone else? I'm genuinely curious to know!
• • • • •
• • • • •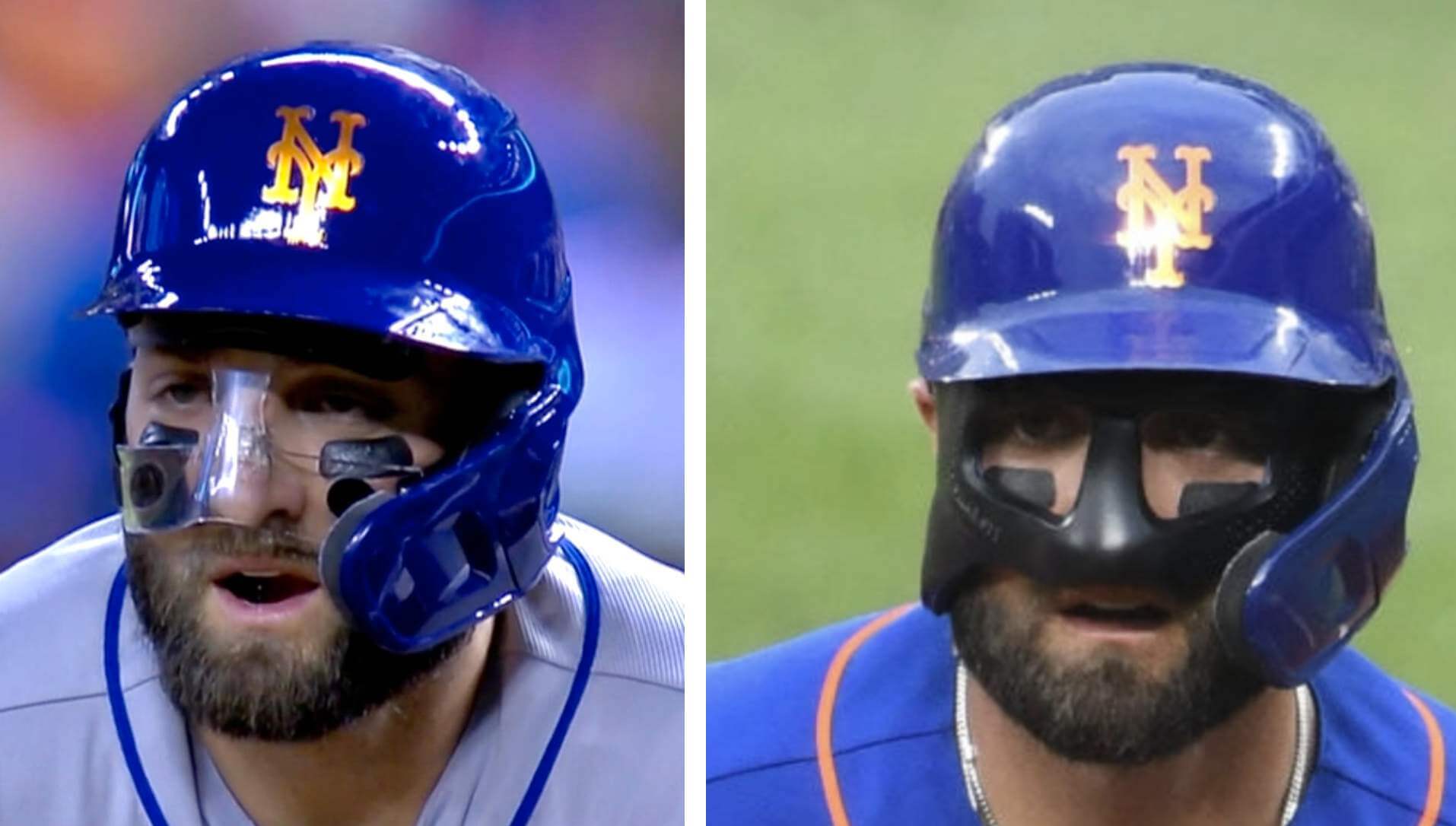 Click to enlarge
Mask machinations, continued: Last week I wrote about Mets outfielder Kevin Pillar's new clear mask (above left), which he was wearing in the field and while running the bases as he nurses a broken nose after taking a pitch to the face in mid-May. This week he swapped out the clear model for a black mask (above left), which appears to be thicker and also seems to have a maker's mark, although I can't make out what it says.
• • • • •
• • • • •
The Ticker
By Paul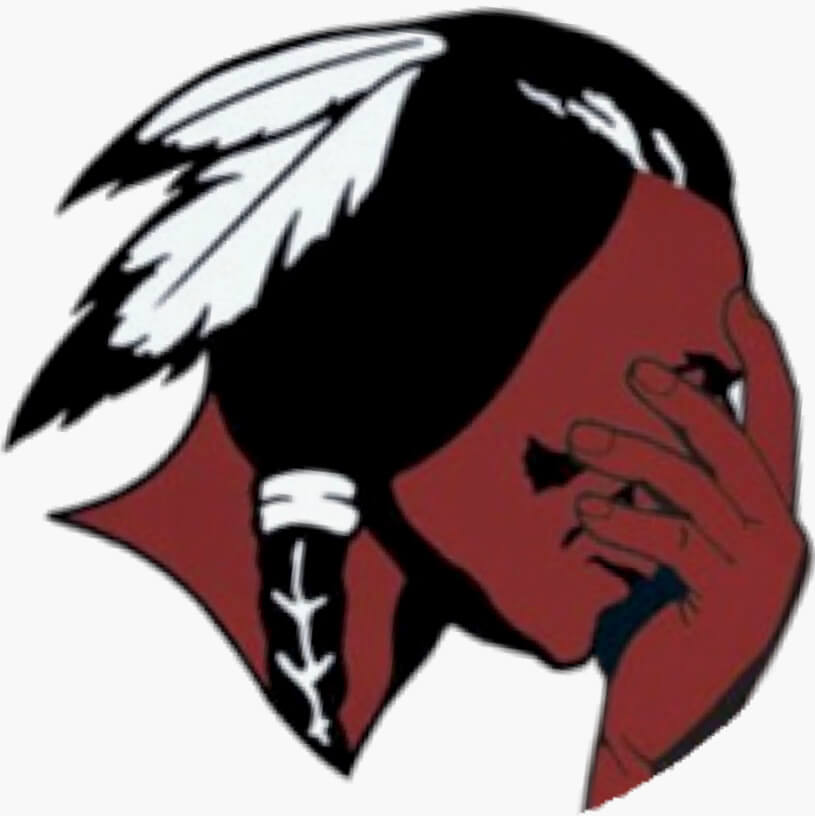 Indigenous Appropriation News: Sports teams at public schools in Jamestown, N.Y., will no longer use Native American imagery. … A new law just enacted in Nevada "will require schools to change any name, logo, mascot, song or identifier that is 'racially discriminatory' or 'associated with the Confederate States of America or a federally recognized Indian tribe.'"

Baseball News: Trivia question: All good uni-watchers should know that the last MLBer to wear a flapless batting helmet was Tim Raines in 2002. But who was the last player eligible to go flapless, even though he opted to wear an earflap? Answer at the end of the baseball section. … Uni Watch proofreader Jerry Wolper attended Tuesday night's Pirates/Dodgers game in Pittsburgh. The good news: He got actual physical tickets! The bad news: Ads in the on-deck circles. … The Bowling Green Hot Rods were supposed to host last year's Midwest League All-Star Game. Obviously, that game never took place due to the pandemic, and the Midwest League no longer exists due to MiLB's restructuring, so the Hot Rods and the Aberdeen IronBirds will wear the phantom 2020 All-Star jerseys this Friday and Saturday. … The independent Frontier League's New York Boulders are giving away a 10th-anniversary coin this Saturday (from John Cerone). … Whoa, check out this Padres-themed minivan (from Dave Dahl). … Speaking of baseball-themed vehicles, check out this MLB logo-emblazoned car! … The Nashville Sounds gave away a cap with four different Velcro-backed logo options last night. Not sure I've ever seen that type of product before (from Timmy Donahue). … The Frisco RoughRiders wore jerseys festooned with bluebonnets — the Texas State Flower — for Texas Forever Night yesterday (from Timmy Donahue). … Something I hadn't noticed until Christian Berumen pointed it out to me: Atlanta third base coach Ron Washington wears his cap under his coaching helmet. … Trivia answer: Earflapped helmets became mandatory for new players in 1983, but veteran players were grandfathered. The last remaining 1982-active MLBer was Julio Franco, who finished his career with the 2007 Mets at the age of 48. He did go flapless early in his career but had added a flap by 1987 and kept wearing the flap for the balance of his career, even though he was flapless-eligible (big thanks to Twitter-er @schwyy for this excellent trivia question!).

NFL News: The moderator at the Williamstown, Mass., annual town meeting, which took place at a local football field due to the pandemic, wore an NFL official's jersey (from Lace Harris). … Cardinals S Budda Baker is changing his uni number from 32 to 3 as a tribute to former NBA star Allen Iverson (from Timmy Donahue). … The NFL is looking into playing some games in Germany.

Hockey News: A Jets fan says he was assaulted and had his Jets jersey ripped off his body while walking home from Monday's Jets/Canadiens game in Montreal (thanks, Phil). … The Colorado 14ers, a new girls' youth hockey team in the Denver area, have unveiled their jerseys (from Kary Klismet).

Basketball News: The Jazz, who had already been wearing a "1223" memorial band to recognize the number of career wins by former coach Jerry Sloan, added "53" to the band on Tuesday night as a memorial for former player Mark Eaton, who wore that number while playing for the Jazz (from Cody Eden). … Lakers star LeBron James will reportedly change his uni number from 23 to 6 next season. He wore No. 6 for four seasons while playing for the Heat and has routinely worn it for many years for team practices. … Valley Christian High School in Arizona has debuted a new uniform set that's basically a recolored version of the Suns' "The Valley" alternates (from @andypage117 and Zak Buncik). … UC-Santa Barbara unveiled their championship rings for winning the Big West regular season and conference tournament titles (from Kary Klismet). … Also from Kary: New floor for Hartselle (Ala.) High School. "I hope they have a licensing agreement with the University of Missouri for that tiger logo," adds Kary.

Soccer News: More Euro 2020 kit rankings here, here, and here. … MLS has a new Pride logo and Pride-themed pre-match shirts (from Trevor Williams). … New home shirt for second-tier English side Middlesbrough (from Ed Zelaski and R. Scott Rogers). … Also from Ed: New home kit for top-tier Scottish side Hibernian, which has switched from Macron to Joma. … Here's an article on America's soccer jersey subculture — or, as the author calls it, the kit-industrial complex (from @coachganzer). … The "Greenwood" patch recently worn by Tulsa FC to mark the 100th anniversary of the Tulsa race pogrom will also be worn by the world-class LA-based cycling team L39ION during the 2021 race season (thanks, Phil). … New mascot for Italy's national team (from Kary Klismet). … New shirt for Scottish club Aberdeen (thanks, Jamie). … Also from Jamie: "One of the teams that signed up to relaunch the USL W League was the South Georgia Tormenta. They consider 'Tormenta Women' a placeholder name and want suggestions for a replacement." … And hey, the rest of these are also from Jamie: A new shirt for Scottish League One's Dumbarton can be seen at the end of this announcement on a new signing. … New title advertiser for Scotland's men's top four tiers. … Following up on a Ticker item from a few days ago: Norwich City has ditched their new shirt advertiser, which had caused controversy by posting NSFW images on social media.

Grab Bag: The design of the Progress Pride flag has been updated to better represent intersex people (from Trevor Williams). … Dixie State University in Utah is removing the "Dixie" from its name (from James Gilbert). … New athletics branding for the Citadel (thanks to all who shared). … Cross-listed from the soccer section: The "Greenwood" patch recently worn by the soccer team Tulsa FC to mark the 100th anniversary of the Tulsa race pogrom will also be worn by the world-class LA-based cycling team L39ION during the 2021 race season (thanks, Phil). … At yesterday's NCAA track and field 800-meter semifinals, two Texas A&M runners wore different-colored uniforms (from Tony DiRubbo).