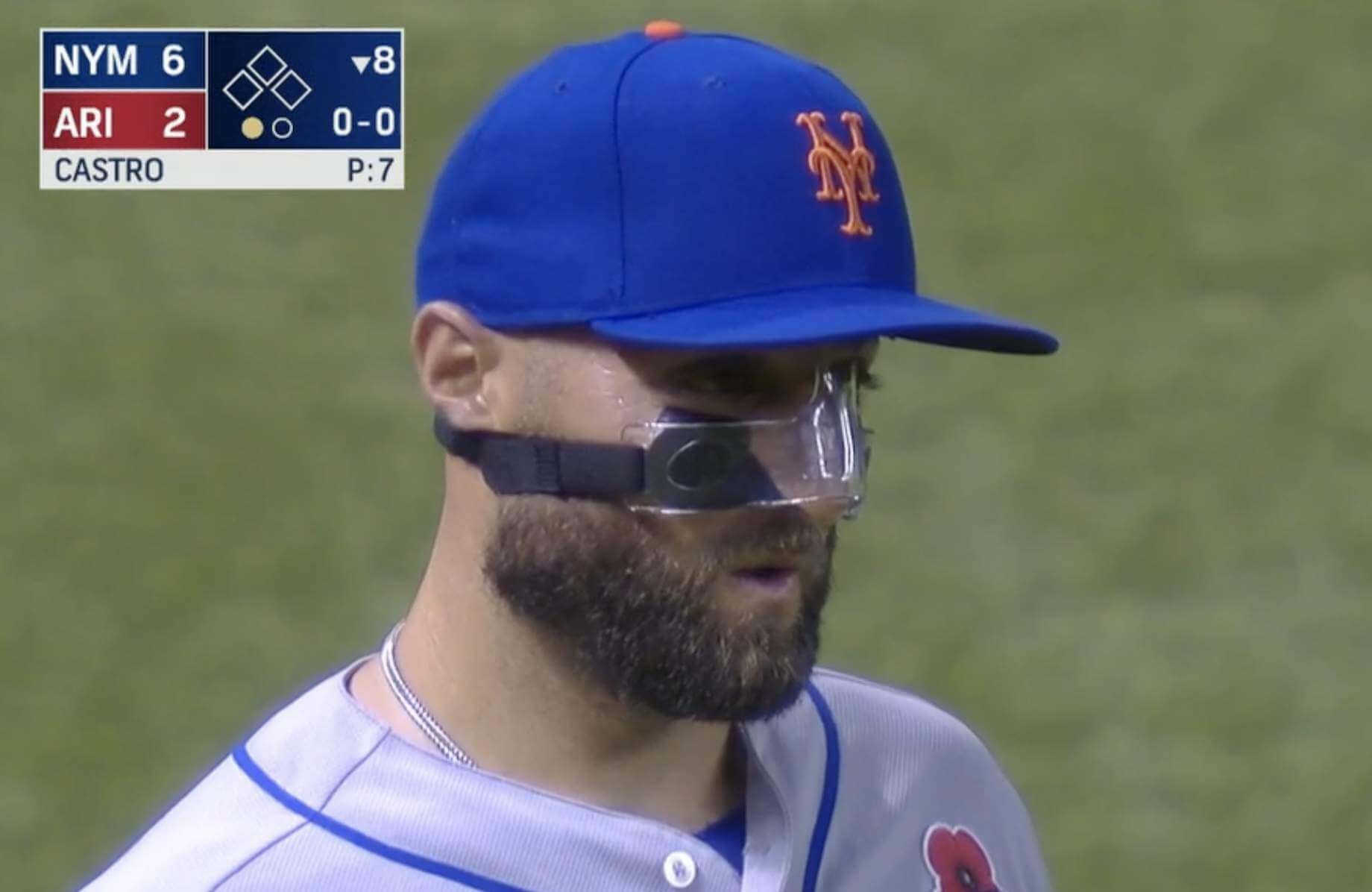 For all photos, click to enlarge
Good morning, and happy June! Hope everyone had a good holiday weekend.
Now then: Only two weeks after taking a fastball to the face, Mets outfielder Kevin Pillar was activated off the injured list yesterday and entered last night's game against the Diamondbacks as a defensive replacement in the seventh inning. Because the broken bones in his nose won't fully heal for another four to six weeks, he wore a hard-shell mask while playing the field. As you can see above, it's sort of like a bare-bones version of a Rip Hamilton-style mask, but with much less facial coverage.
Here's how it looks without the cap: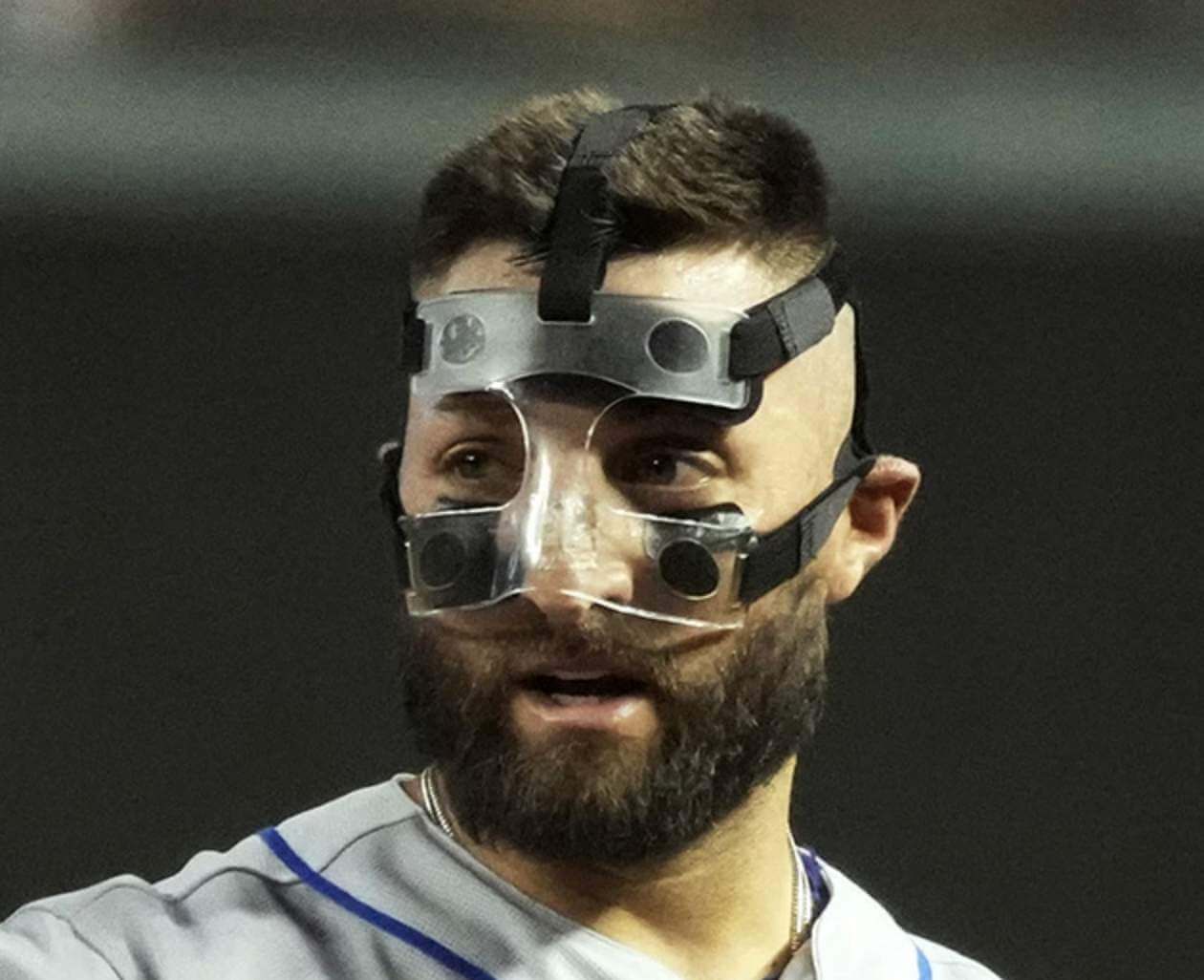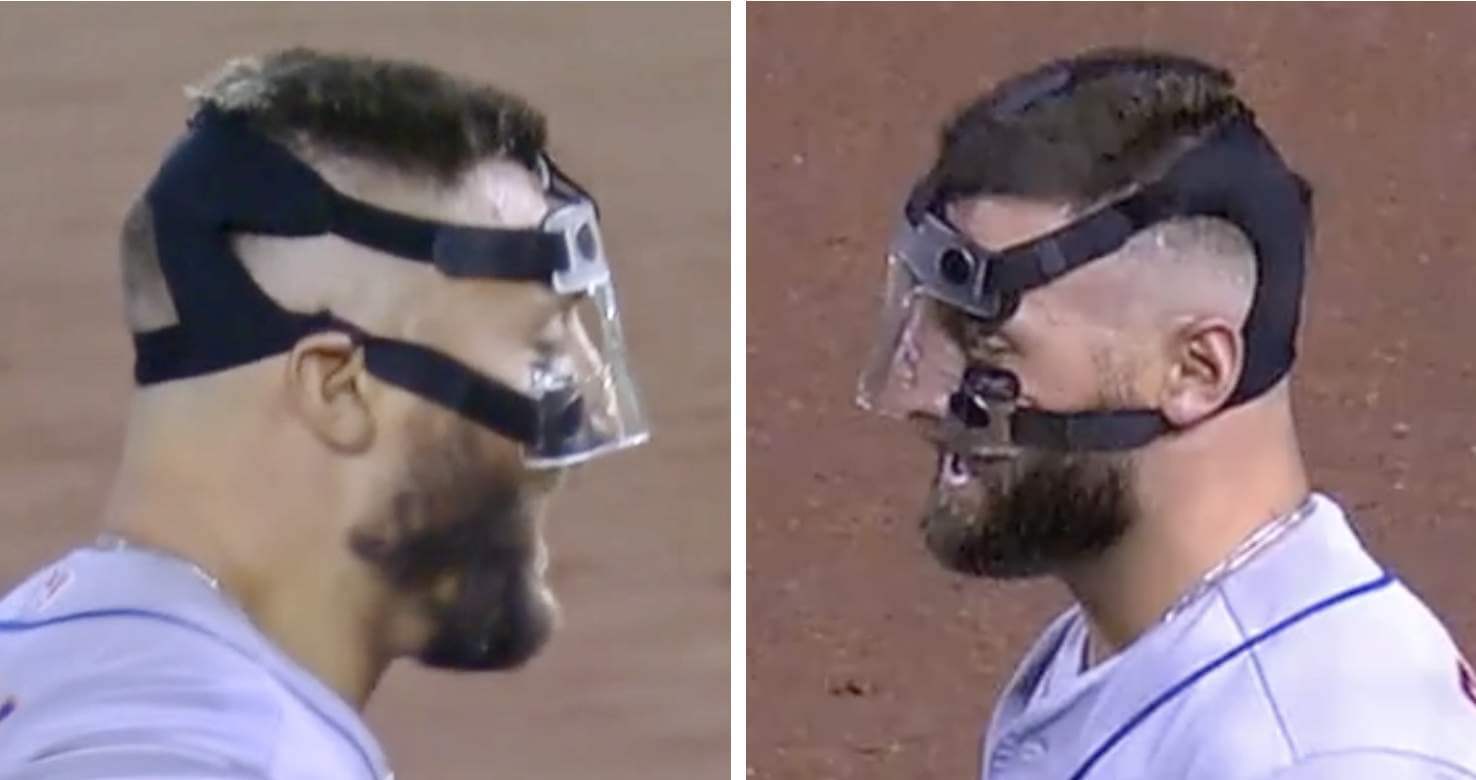 Looks like he's still getting the hang of whether the straps should go above or below his ears.
Pillar won't be wearing the mask while batting because it interferes slightly with his peripheral vision, but he's wearing it while running the bases. We got to see how that looks when he came up to bat in the top of the eighth and promptly singled. After reaching first base, he put on the mask: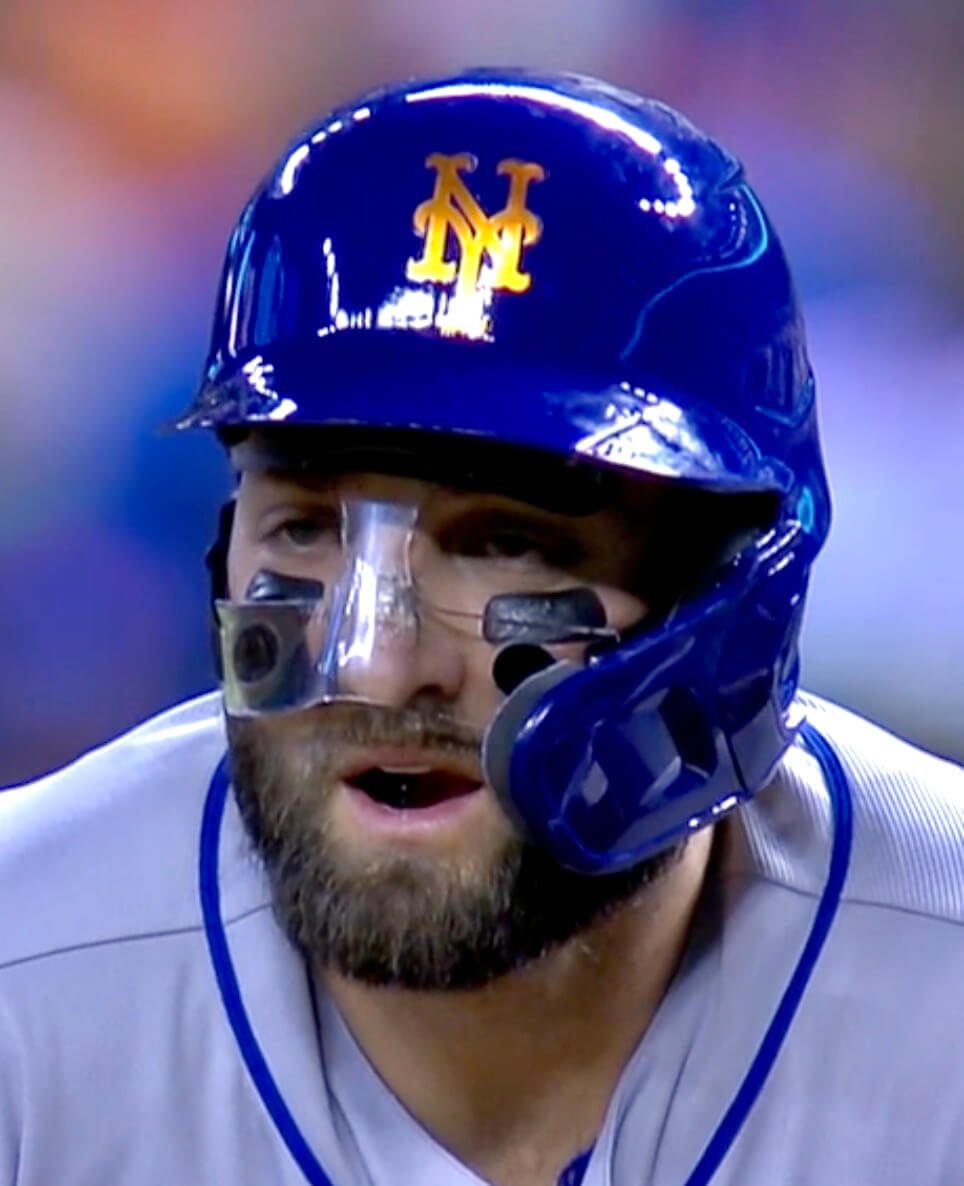 Also, note the C-flap on Pillar's helmet. He hadn't been wearing that until now. (Also-also: On top of everything else, does Pillar have a tongue piercing?)
We've seen plenty of MLB players wearing protective masks while batting or running the bases. But I can't think of another player who's worn a hard mask (as opposed to a surgical or other soft mask) while playing the field, at least not in the regular season, so Pillar may have made a bit of MLB history last night.
One footnote to that history: According to this 1994 article, Dodgers outfielder Delino Deshields wore a mask on the bases and in the field to protect a broken cheekbone during spring training of that year. It's a little hard to see, but here's a view of how it looked while he was running the bases (with a double-earflapped helmet to boot!):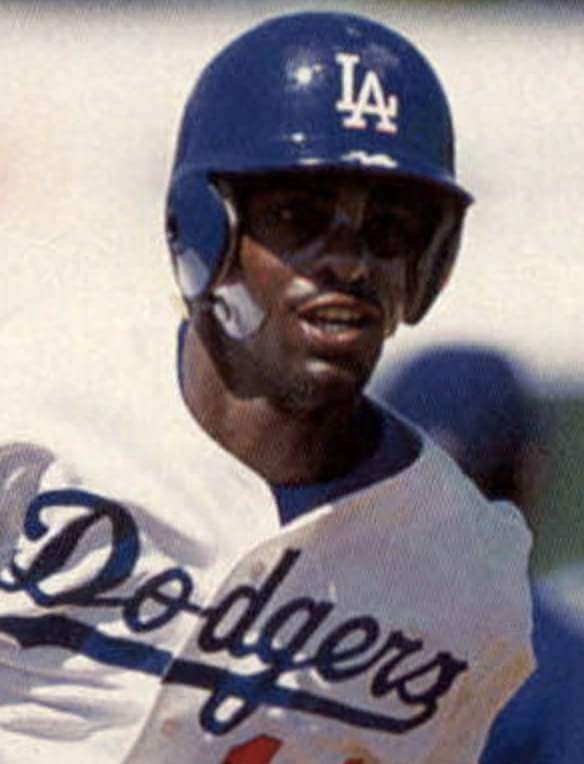 Looks like another Rip Hamilton-style mask. But again, that was during spring training, not the regular season. Is anyone aware of another MLBer who's worn a hard mask (not a gaiter, ski mask, balaclava, or other soft mask) in games that count?
One final note: If you scroll back up and look at the photo of Pillar at the top of this blog post, you'll see that he didn't wear the Memorial Day cap patch that everyone else wore yesterday.
Update: Well, that didn't take long. Mere minutes after today's entry was posted, reader/commenter Jeremy Snyder alerted me to two previous instances of MLBers wearing protective masks while playing the field. Let's start with Twins second baseman Rob Wilfong, who wore protection for a broken nose in 1981: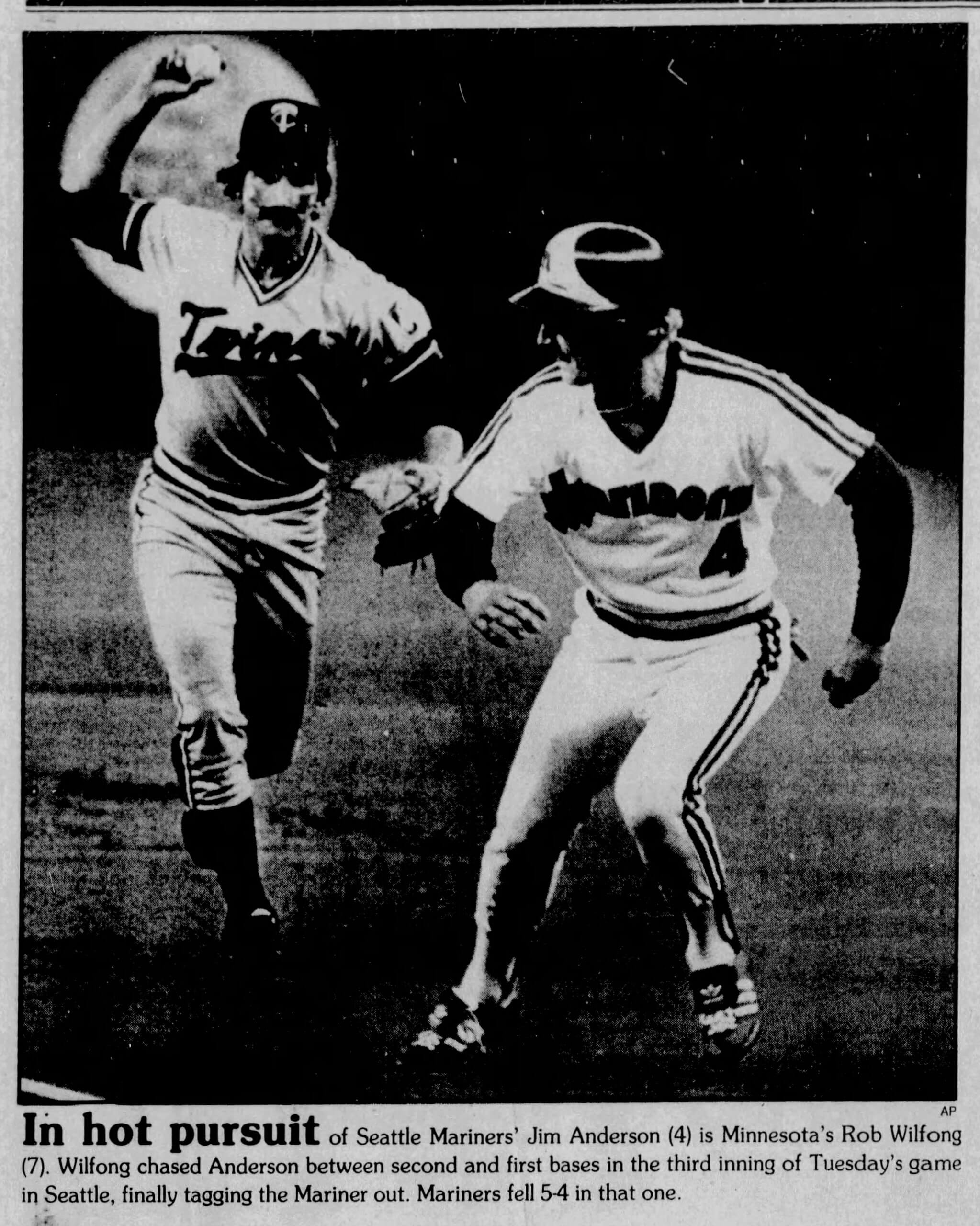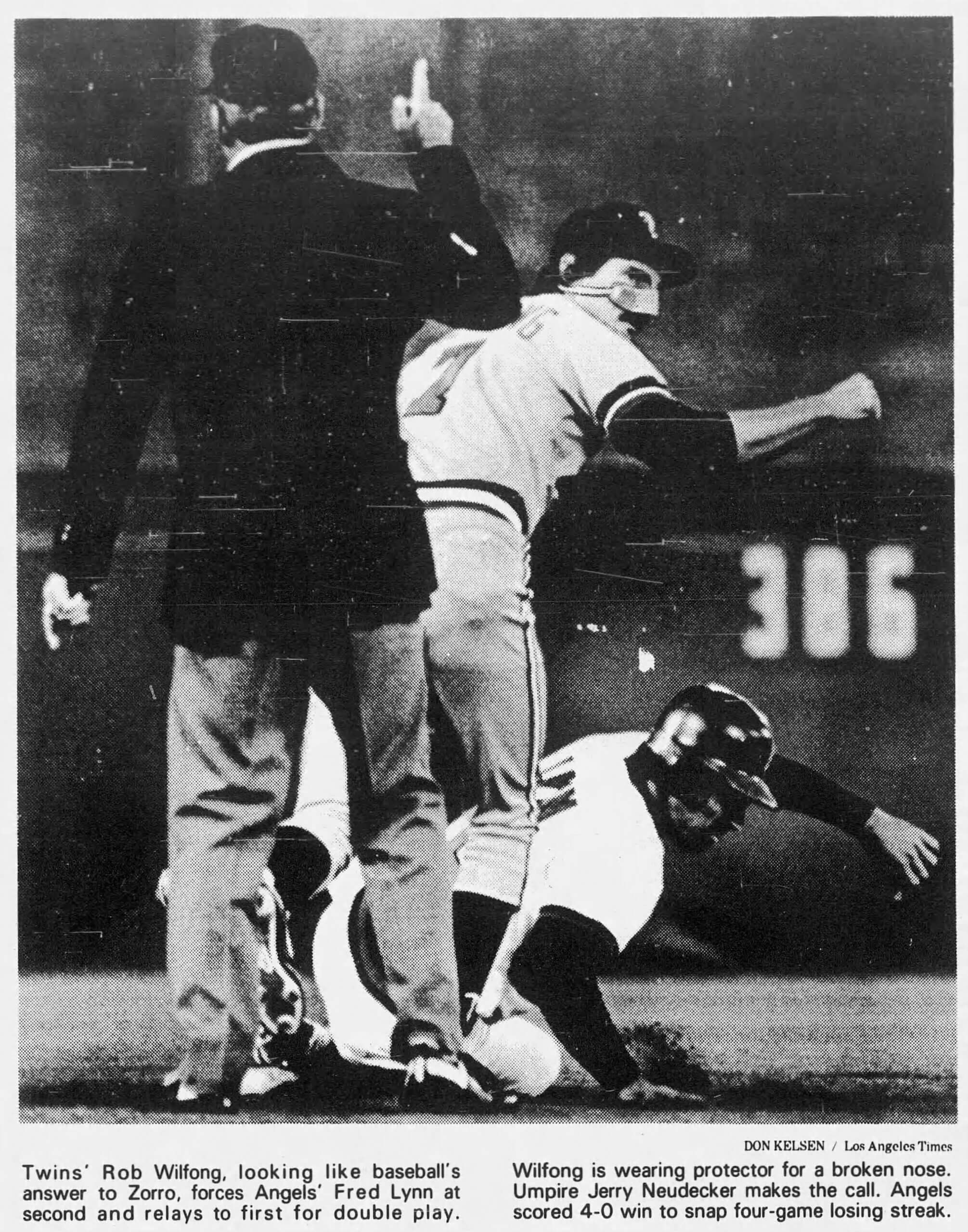 A dozen years later, in 1993, Giants second baseman Robby Thompson wore a mask to protect a broken cheekbone: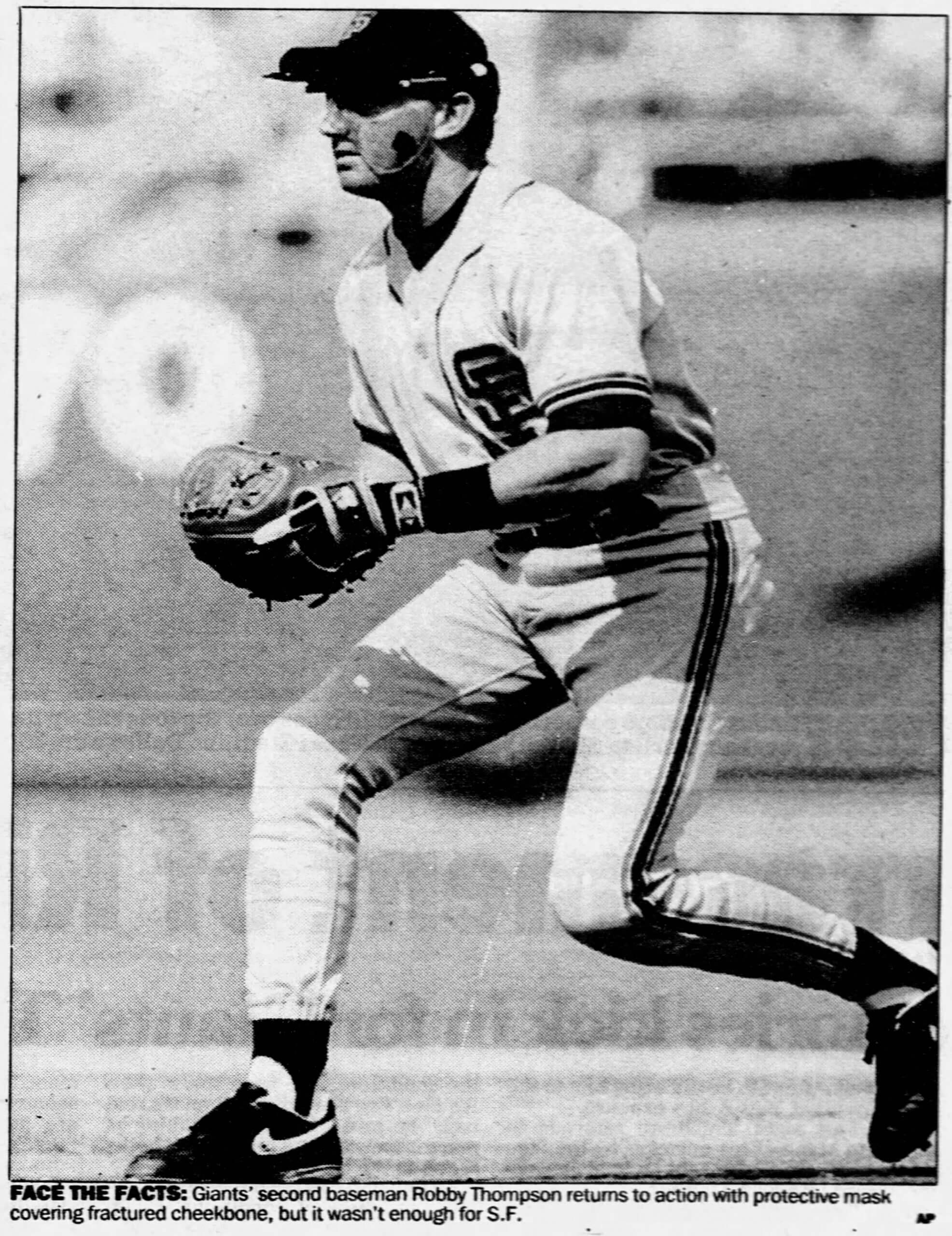 I wasn't aware of either of these examples. Big thanks to Jeremy for helping to fill in the historical record!
(Big thanks also to Trevor Williams for coming up with the Delino DeShields tidbit.)
• • • • •
• • • • •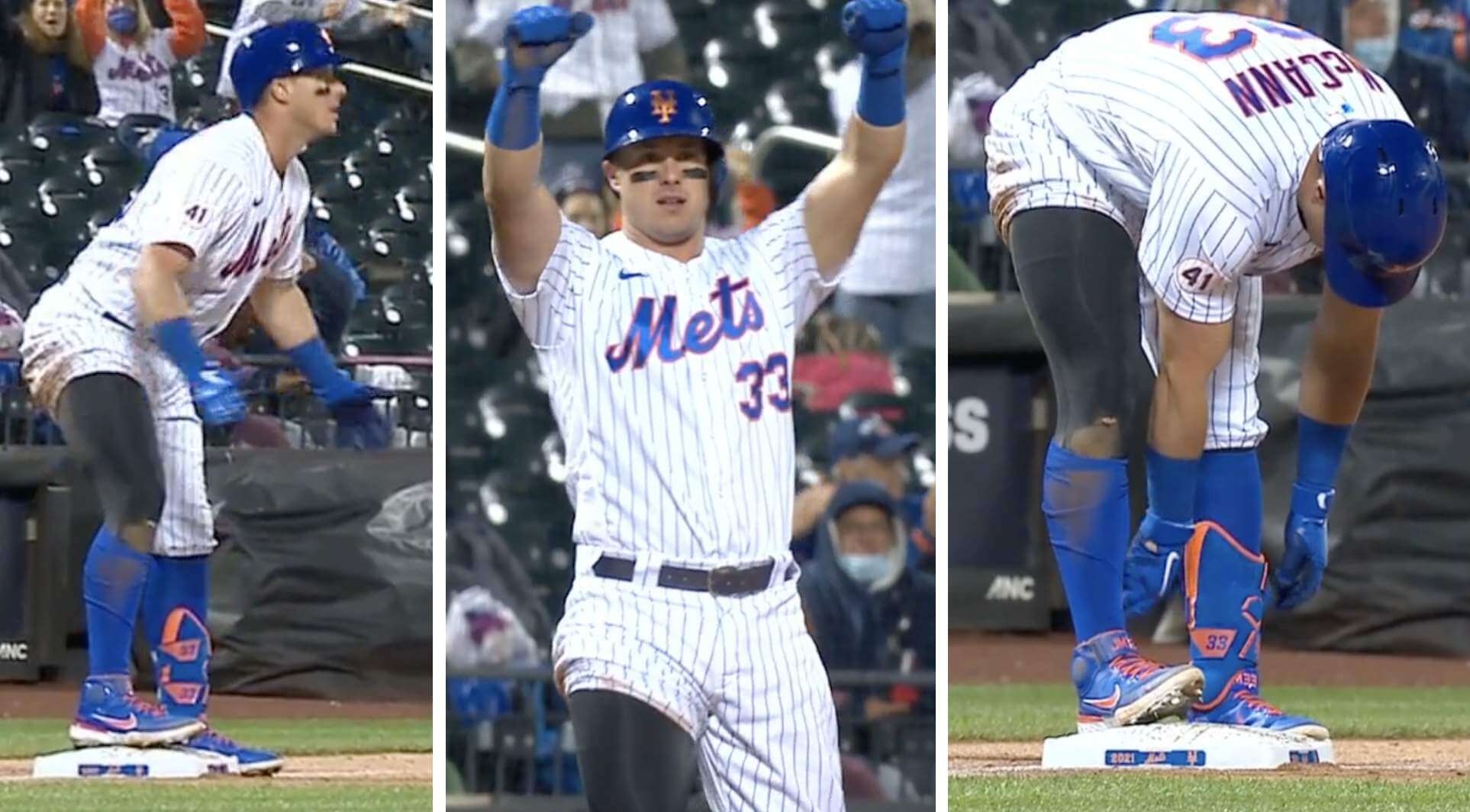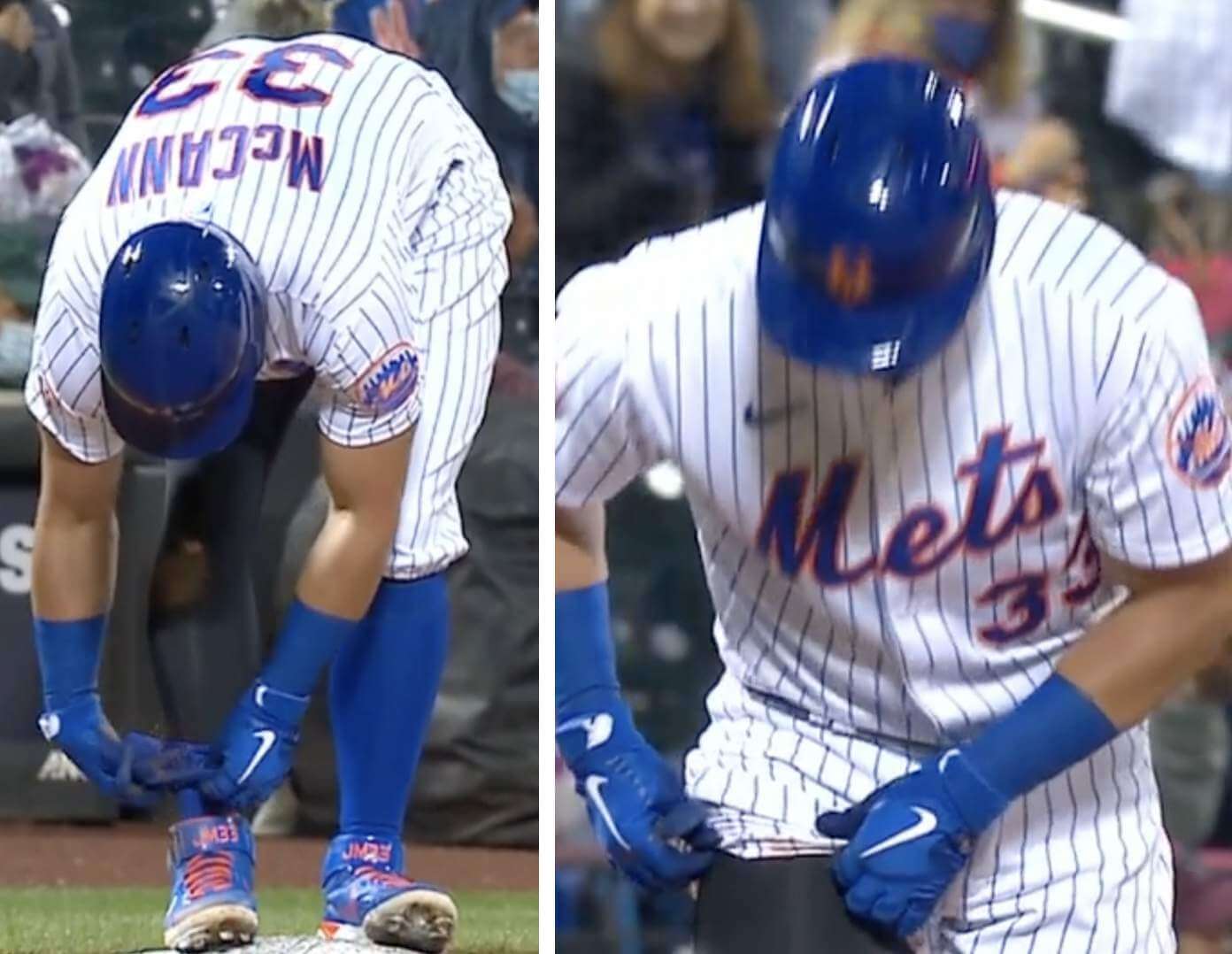 Click to enlarge
Man in tights: Speaking of Mets doing things I've never seen before: When first baseman James McCann, who goes high-cuffed, slid into third base during Saturday night's game against Atlanta, his right pant leg rode up, revealing his black base-layer leggings. I know lots of players wear leggings, but we don't usually get to see it like that!
Also: McCann was wearing a black belt instead of a proper blue one. At least it matched his leggings!
• • • • •
• • • • •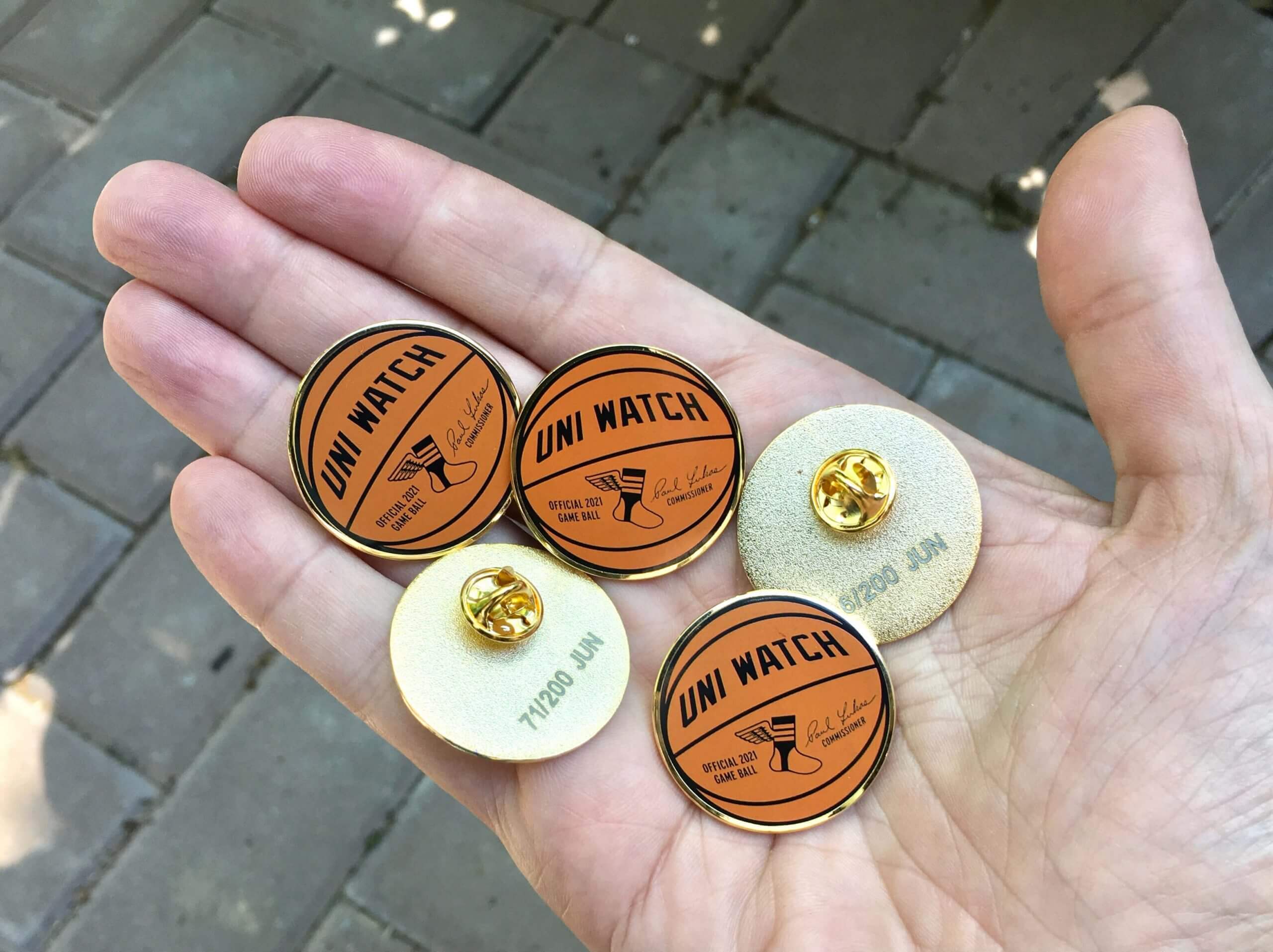 Click to enlarge
ITEM! June pin launch: Today is the first day of June, which means it's time for our latest Uni Watch Pin Club release. And with the NBA playoffs in full swing, we've decided to go with a basketball theme. Our "Official Uni Watch Basketball" pin — similar to the baseball pin that we did in April of last year — comes with my signature and is also the first pin we've ever done that doesn't include green!
This pin is available in a numbered edition of 200. You can order yours here. My thanks, as always, for your consideration of our products.
• • • • •
• • • • •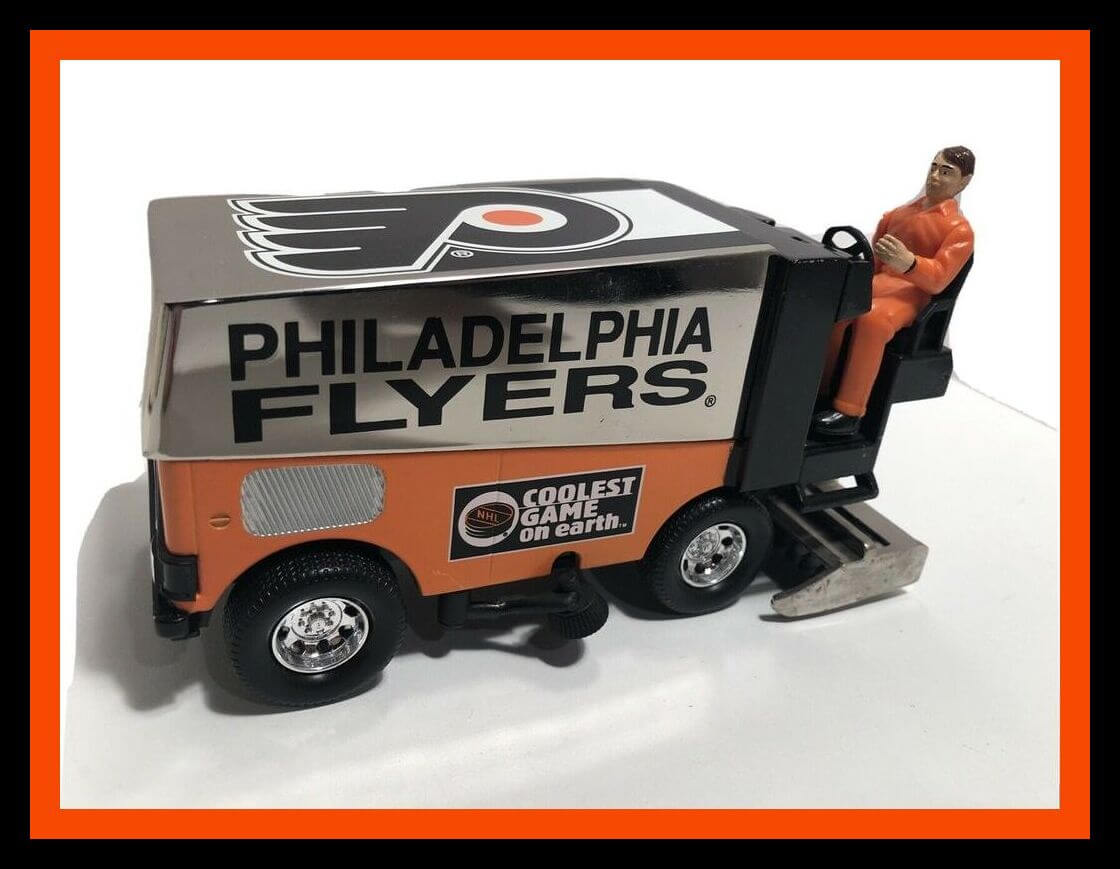 Click to enlarge
Collector's Corner
By Brinke Guthrie
Follow @brinkeguthrie   
Collector's Corner welcomes you to the first day of June, and we're starting off with a hockey item. Specifically, this 1999 Philadelphia Flyers Zamboni Bank. I've always loved the Flyers' logo, but the other thing that caught my eye about this item is that the driver looks like Dan Aykroyd in an orange prison jumpsuit!
Now for the rest of this week's picks:
• Speaking of banks, this 1940s Detroit Tigers baseball bank was sponsored by Mobil Oil. The Tiger sure doesn't look like what we're used to!
• And here's an Atlanta Falcons helmet bank, one of those early-1970s bank promo helmets we've seen a lot of over the years. Oddly, it comes in a box for a completely different item (a glass with a pewter logo). I was excited there for a minute, because I've never seen one of the banks with the original box — and now I guess I still haven't.
• Tomorrow is Lou Gehrig Day in MLB, so here's a 2014 Gehrig bobblehead to commemorate the 75th anniversary of his famous July 4th, 1939, "Luckiest man" speech.
• Take a look at this 2001 Los Angeles Lakers phone. How does this work? Do you talk into that little basketball..? There's no handset, so is it always in speaker mode? 
• Nice artwork on the front of this 1970 Aladdin Bobby Orr lunchbox. Looks like the goalie is based on Orr's teammate Gerry Cheevers.
• This 1970s Detroit Lions pencil sharpener is still in the package. That's Colts quarterback Bert Jones shown on the card graphic, no question.
• One more sharpener: Here's an NFL football sharpener. Not sure of the year, but it has Paul Tagliabue's signature on it, so it has to be from between 1989 and 2006.
• This one's for Paul, and all the other Mets fans out there: Take a look at this set of 1960s Mr. Met "Ed-U-Cards."
• Look at the artwork on this 1963 Kansas City Athletics Scorebook. Note that the word "Athletics" is rendered in what we now think of as the Pirates' font.
• And finally, gonna sneak in this tennis item because, well, I'm a tennis nut. This is a mid- to late-1970s navy/beige Fila Bjorn Borg warm-up jacket. They referred to their tennis line back then as "White Line Fila." He usually wore this style in red/beige, although it also came in green/navy, and I had one in navy/cobalt. Cost a ton back then, too. And the quality was unmatched!
• • • • •
• • • • •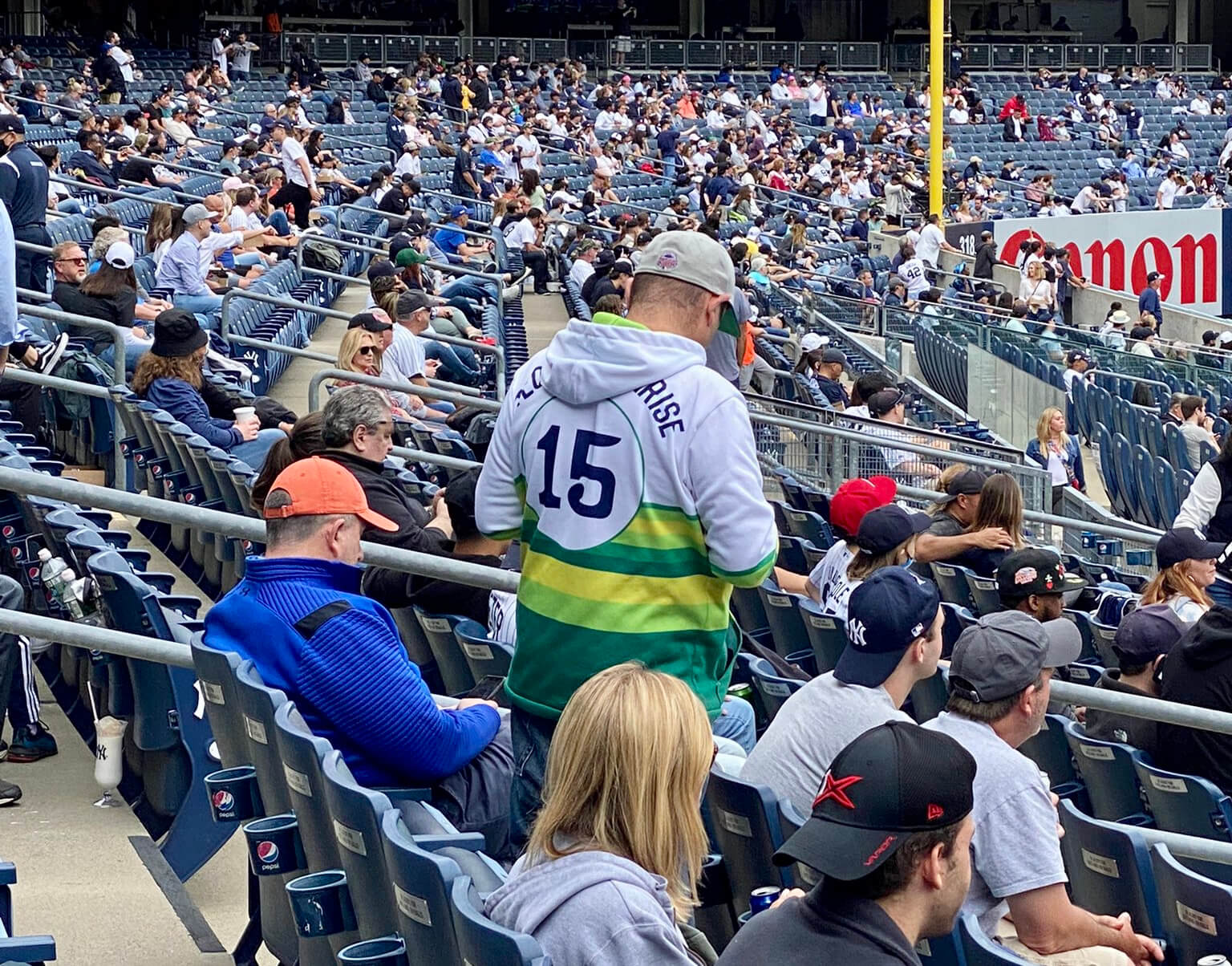 Click to enlarge
ITEM! Uni Watch in the wild: An unidentified (uni-dentified?) Uni Watch fan spent his Monday afternoon at Yankee Stadium. If that fan is reading this, feel free to say hi!
(My thanks to Twitter-er @_RF30 for taking this photo and sharing it with me.)
• • • • •
• • • • •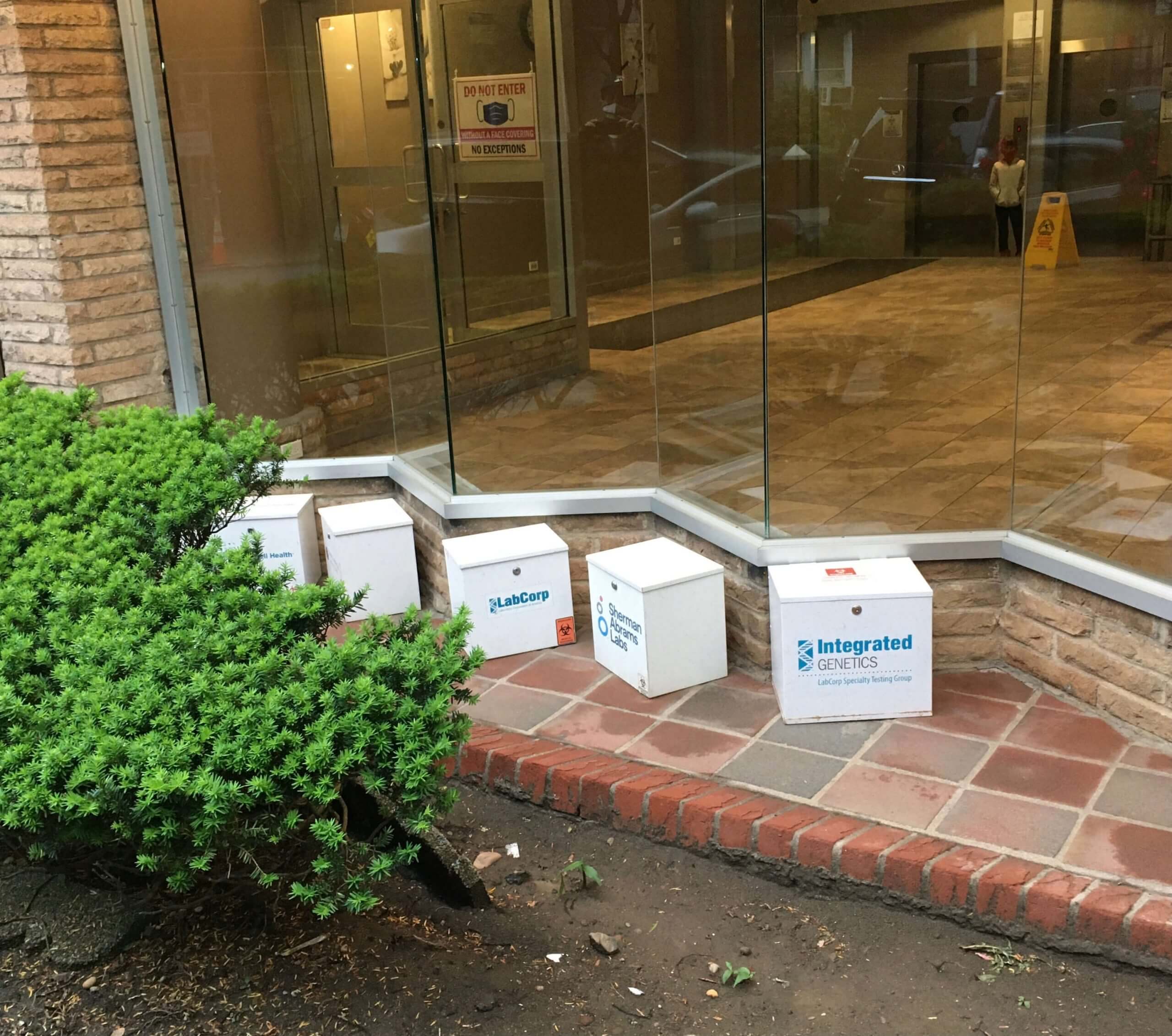 Click to enlarge
The same thing, only different: We've all seen drop-off boxes for lab samples lined up in front of doctors' offices, but I really love how the ones shown above are arranged to match the zigzag design of the building's front wall. Something very pleasing about that!
• • • • •
Sorry, no Ticker today, as the Uni Watch staff had yesterday off. The Ticker will return tomorrow. — Paul