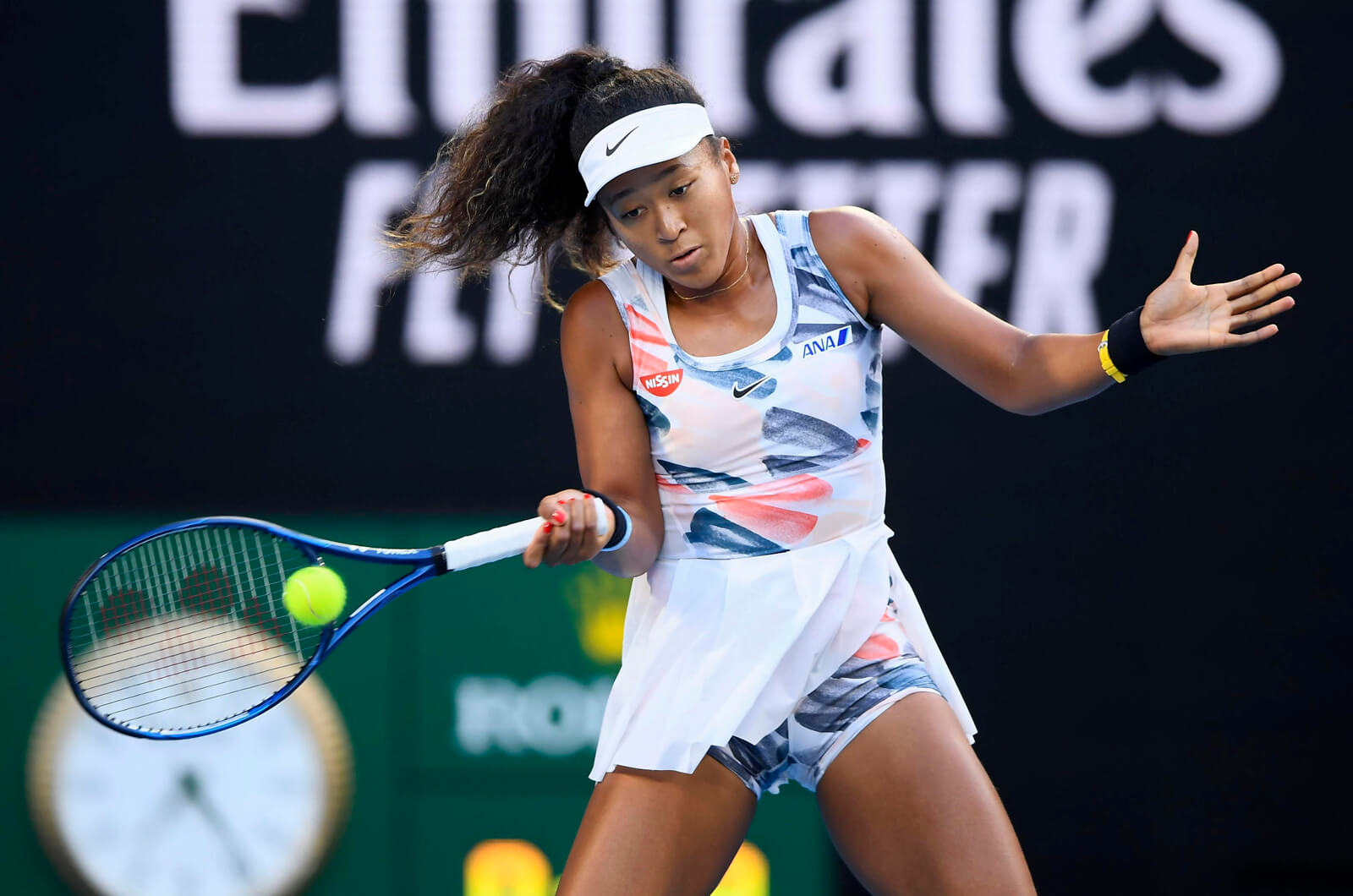 [Editor's Note: I wrote this piece on Monday night and planned to run it on Tuesday, but Kevin Pillar had other ideas. A day later, a few jillion writers have now chimed in on this topic, so I understand if you've already had your fill, but the issues still seem worth discussing here. — PL]
As you probably know by now, Naomi Osaka, one of the world's best tennis players, withdrew from the French Open on Monday. That was the culmination of an unusual sequence of events that began when she announced prior to the tournament that she wouldn't be doing the usual press conferences after her matches, citing mental stress and self-care. When she was true to her word and skipped the presser after her first-round victory, she was fined $15,000 and threatened with being bounced from the Open and the other three Grand Slam tournaments. Rather than escalate the conflict, she opted on Monday to exit the Open, explaining that she's going through a rough phase and finds media sessions difficult because she suffers from depression and anxiety.
Media availability and post-match pressers are a contractually mandated part of the job for players like Osaka. If she wasn't capable of doing her job, for whatever reason, then it's probably best for everyone — as she herself said — that she stepped aside.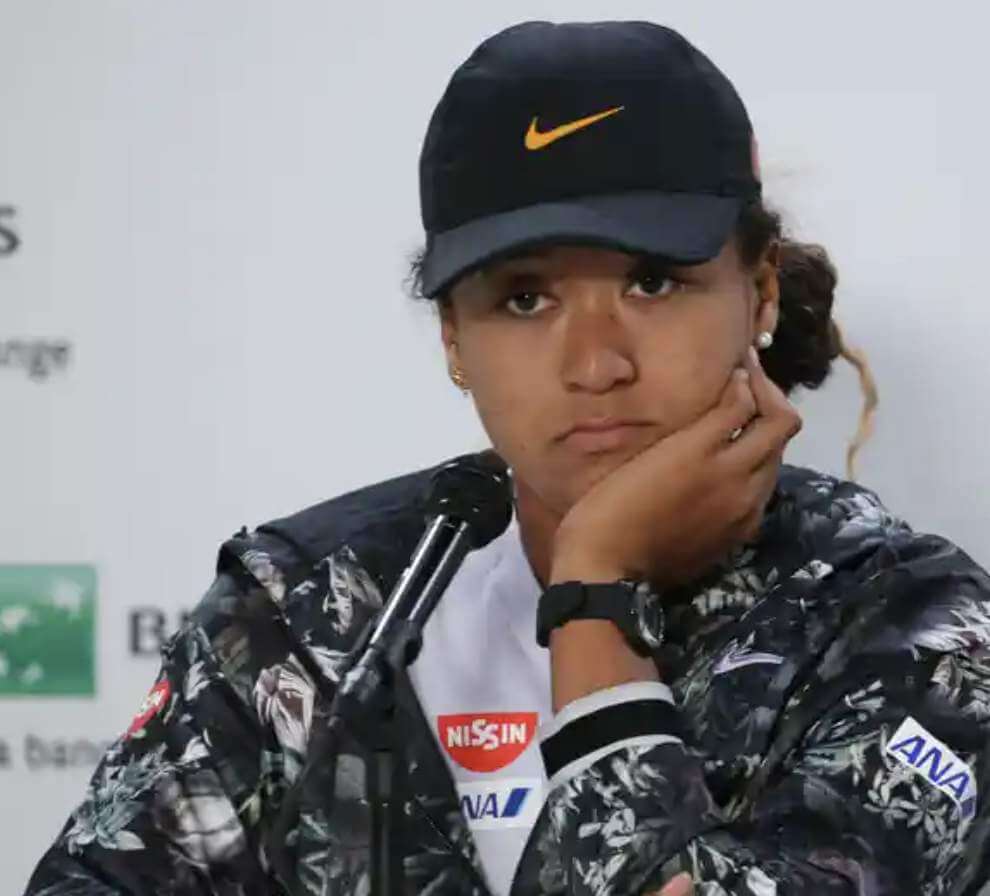 But should those things be part of her job? That's what I'd like to talk about today.
I should start by saying that I would probably be a lousy team beat reporter, because I've always been a bit uneasy about being in a team's clubhouse — not because I'm starstruck by the players or anything like that, but just because I think it's really strange to be interrogating people at their workplace. I know, I know — they're entertainers, they get paid big bucks, it comes with the territory, blah-blah-blah. But most other entertainers don't have reporters walking around their dressing rooms, and they also don't have to answer a barrage of questions after every performance. We're so used to the sports world working this way that it's easy to forget how weird it is.
That said, of course I recognize the value of reporters asking athletes questions. Reporters serve as the fans' eyes and ears, asking questions and pursuing storylines that enhance our appreciation and understanding of the game. Without that, all we'd get are the narratives put out in press releases.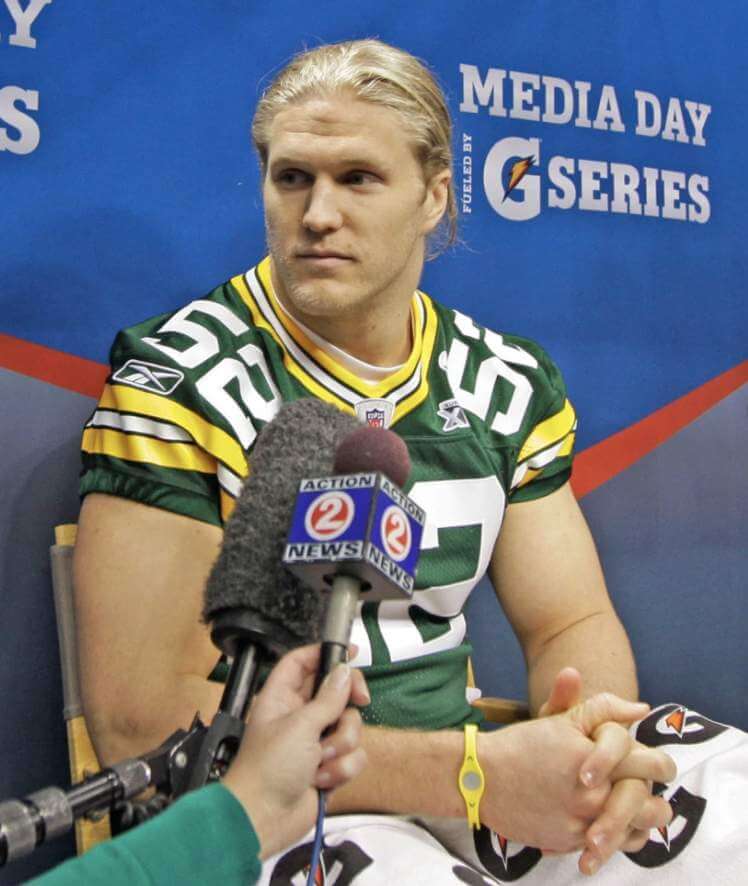 Or at least that's the idea. In practice, many sportswriters already accept the narratives that teams and players feed to them (or at least use those narratives as the starting point for their reporting), others just lob softball questions designed to elicit predictable responses, and even challenging questions often become moot because athletes long ago mastered the art of stringing together clichés to form well-crafted non-answers. I mean, seriously, when was the last time you learned anything meaningful from an athlete at a postgame presser? At best, it usually feels like loosely scripted theater where everyone already knows how the plot will turn out; at worst, a complete waste of time (especially since today's athletes often save their more meaningful statements for their own social media channels and sometimes even feed fake storylines to the press). Meanwhile, the presser backdrop shows a bunch of advertisers' logos and the athletes are told which beverage bottle logos can and can't be displayed, which increasingly feels like the point of the entire exercise.
In light of all that, and also in light of the mental health issues that Osaka cited, I found her stance was refreshing. Admittedly, though, I like her as an athlete, so I was probably predisposed to respond favorably to her position. As a thought experiment, I tried to imagine how I would have responded if a player I disliked had made the same announcement about skipping media sessions. Granted, it no longer felt quite as refreshing or admirable, but it still felt like no great loss to journalism.
Now, it's true that media sessions lead to exposure and articles that help promote and grow the sport, all of which puts more money in Osaka's pocket. But I wonder if she, and many other athletes, would trade some of that income in return for a less demanding life. As a comparison, I know that most MLB players hate playing on Sunday night, because Sunday is almost always a getaway day and they'd rather not take a red-eye flight. The ESPN Sunday-night TV contract is very lucrative for MLB, and the players share in that revenue, but would they give up some of that loot in return for guaranteed Sunday day games? I wonder. (Of course, the owners have no incentive to offer that trade-off, because Sunday-night games only complicate the players' lives, not the owners' lives.)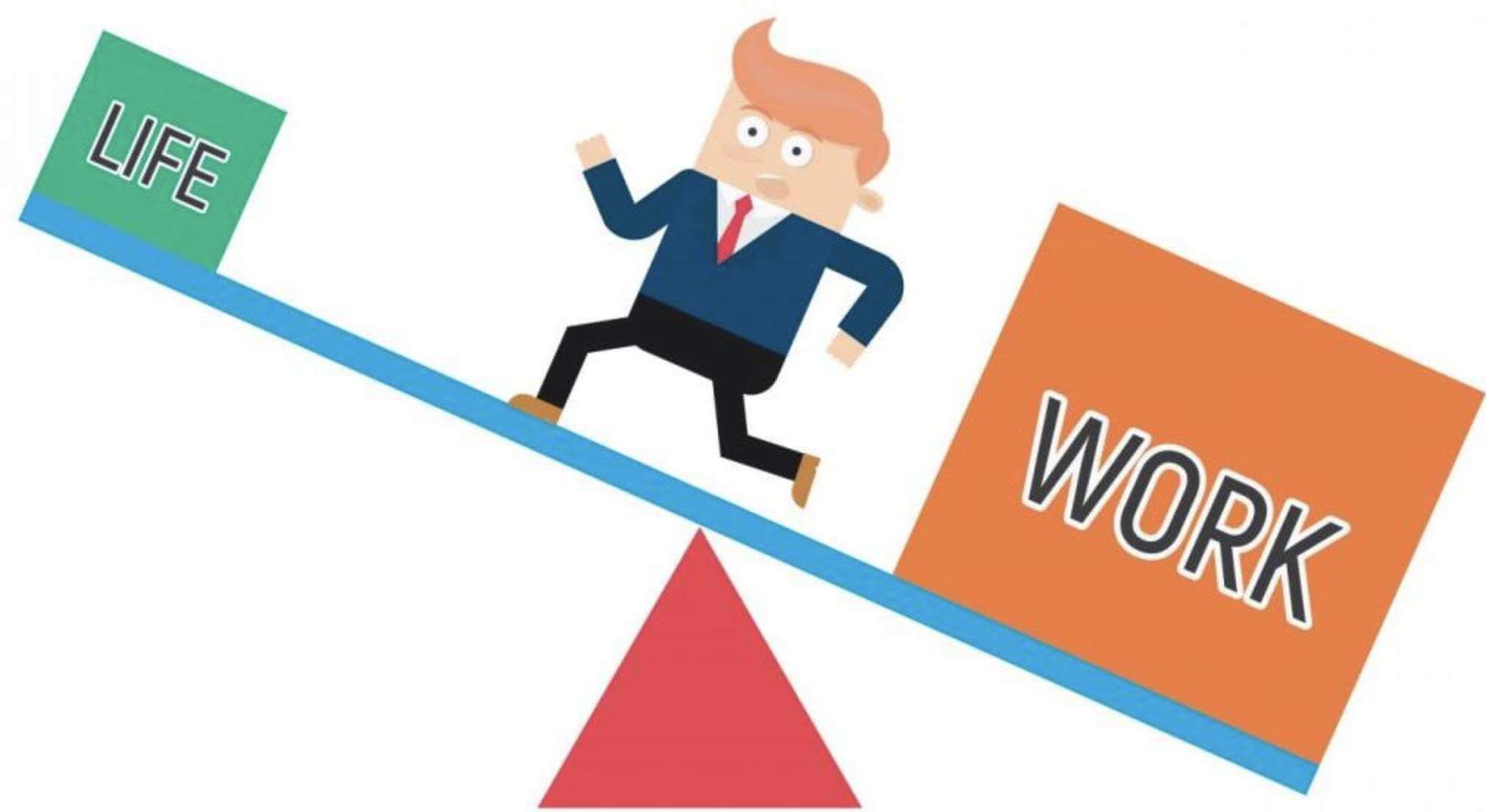 Another reason this all hits home with me is that we're just now emerging from the pandemic, an experience that has led many of us to re-evaluate our priorities, take stock of what does and doesn't matter in our lives, and so on. I'm not sure if that's what led Osaka to prioritize self-care over post-match pressers, but her stance resonated more strongly with me in 2021 than it probably would have if she had done this in, say, 2019. I've been examining some of my own priorities and reminding myself that what's best for Uni Watch isn't always what's best for my well-being — or for my relationship with the Tugboat Captain. For example, after years of saying yes to almost every radio, TV, or podcast interview request that came my way, lately I've been much choosier about them, plus I've scaled back the podcast schedule and am generally trying to establish more of a work/life balance. (The fact that I'm writing this sentence at 11:22pm on Monday night means I still have a ways to go in that regard, but I felt strongly about wanting to write this essay, in part to help work out some of these issues in my own head.)
It's easy to cast Osaka as a spoiled malcontent in this storyline. We've all heard people say (or maybe said ourselves), "Stop complaining — you get paid millions of dollars to play a game!" True enough, but being a top-level athlete sure looks difficult from my vantage point. I've often wondered how many potentially great players there are who never make it to the big time because they possess the physical skills but can't handle the travel, or the press, or playing in a different country with a different language, or playing in front of big crowds, or the homesickness, or the toll on their families, or the toll on their mental and emotional health, or whatever. Most of those athletes get weeded out in their teens or early 20s, so we never hear about them.
I'm not saying Osaka was definitely in the right. But I'm definitely saying that she's raised some interesting issues that are worth thinking about. And if this all leads to a reconsideration of the boilerplate postgame/post-match press conference, that can't possibly be a bad thing.
I realize this piece didn't have much to do with aesthetics (well, aside from the ad-plastered backdrops). Thanks for your indulgence, and for listening.
(Footnote: In a very strange coincidence, another top player, Petra Kvitova, withdrew from the French Open yesterday. Why? Because she injured her ankle during a post-match media session. Go figure.)
• • • • •
• • • • •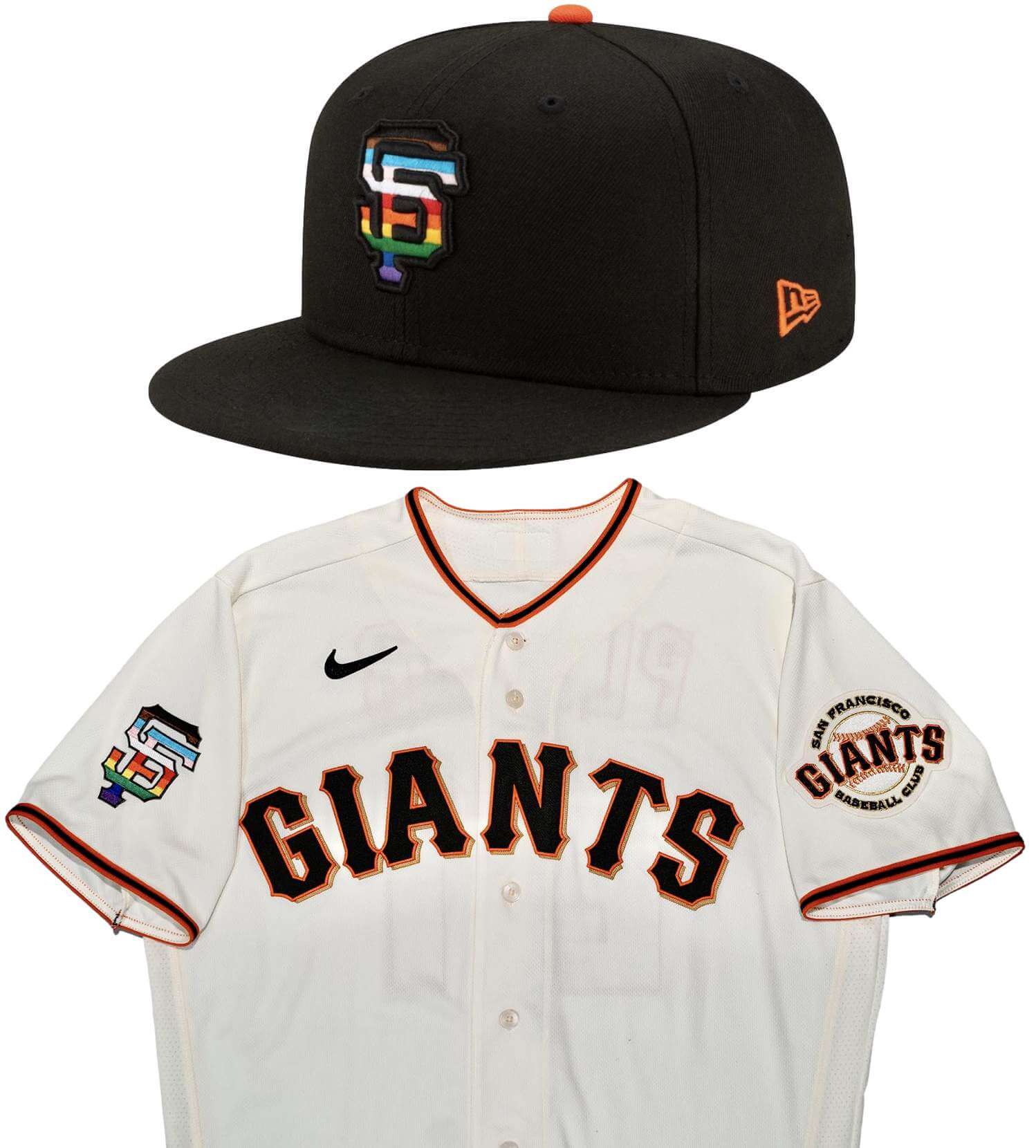 Click to enlarge
Over the rainbow: With June designated as Pride Month, the Giants announced yesterday that they'll wear a rainbow-striped version of their "SF" logo on their cap and right jersey sleeve for this Saturday's game against the Cubs.
This will mark the first time that an MLB team has worn LGBTQ+ symbolism in a game (as opposed to during pregame activities), but it's consistent with the Giants' long tradition of community outreach and inclusion. The team has supported AIDS research by wearing a red ribbon for "Until There's a Cure Day" for nearly 30 years now.
• • • • •
• • • • •
Elks Club: The Edmonton CFL team formerly known as the Eskimos yesterday announced that they will henceforth be known as the Edmonton Elks.
The team's new logo set is shown above. I really like the minimalism of the primary mark (and also the color scheme, natch, although that's a carryover from the team's previous identity), although it's a bit weird how the elk appears to be balancing something on its head.
Here are some shots of the new helmet (click to enlarge):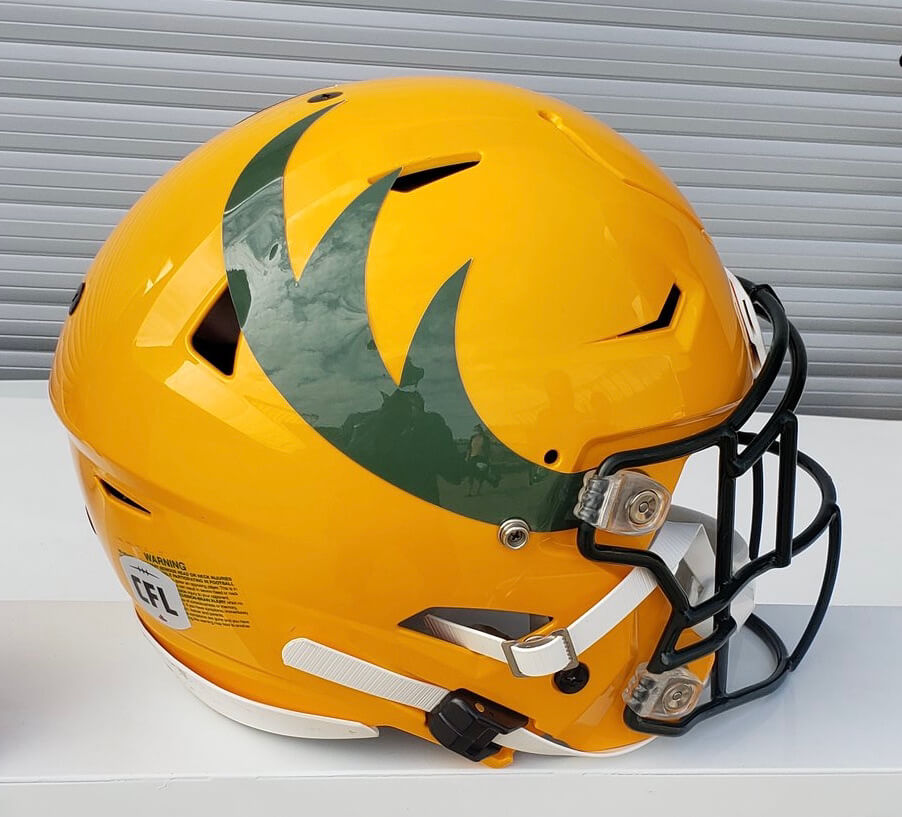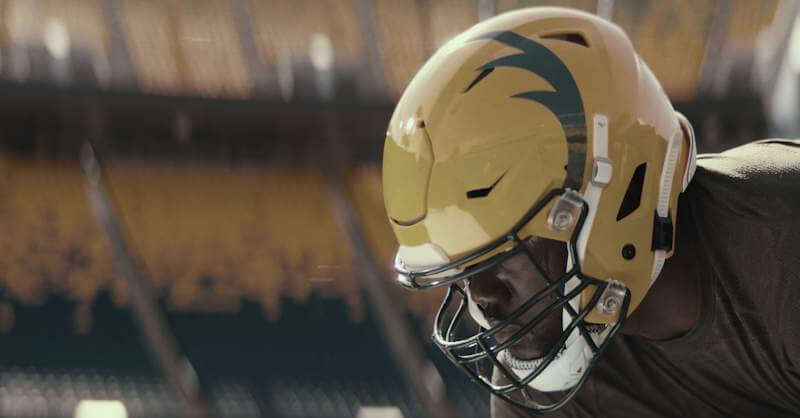 In theory, I like the idea of using the elk antlers. In practice, though, this treatment seems a bit spare and spindly, not majestic like a real elk's antlers. I'm surprised they didn't create a horn design that occupied a bit more of the helmet. Having the antlers emerging from a spot more to the front of the helmet shell, instead of the side, would also help.
But hey, I don't actually watch CFL games, so what do I know. I'm just glad that they changed the team name.
• • • • •
• • • • •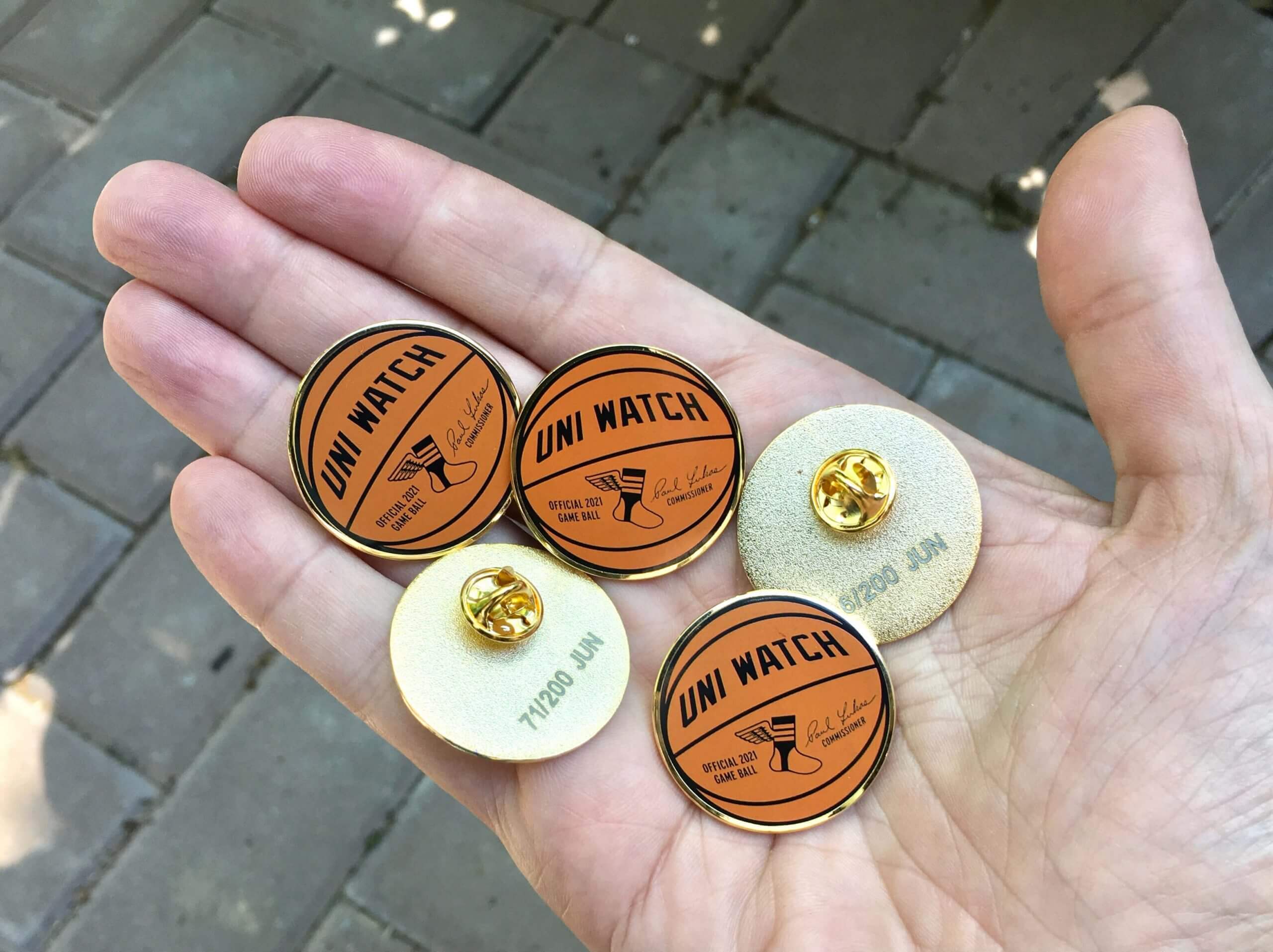 Click to enlarge
June pin reminder: In case you missed it on Tuesday, our June pin is now available. With the NBA playoffs in full swing, we've decided to go with a basketball theme this month. Our "Official Uni Watch Basketball" pin — similar to the baseball pin that we did in April of last year — comes with my signature and is also the first pin we've ever done that doesn't include green!
This pin is available in a numbered edition of 200. After the first day of sales, there are fewer than 100 remaining. You can order yours here while supplies last. My thanks, as always, for your consideration of our products.
• • • • •
• • • • •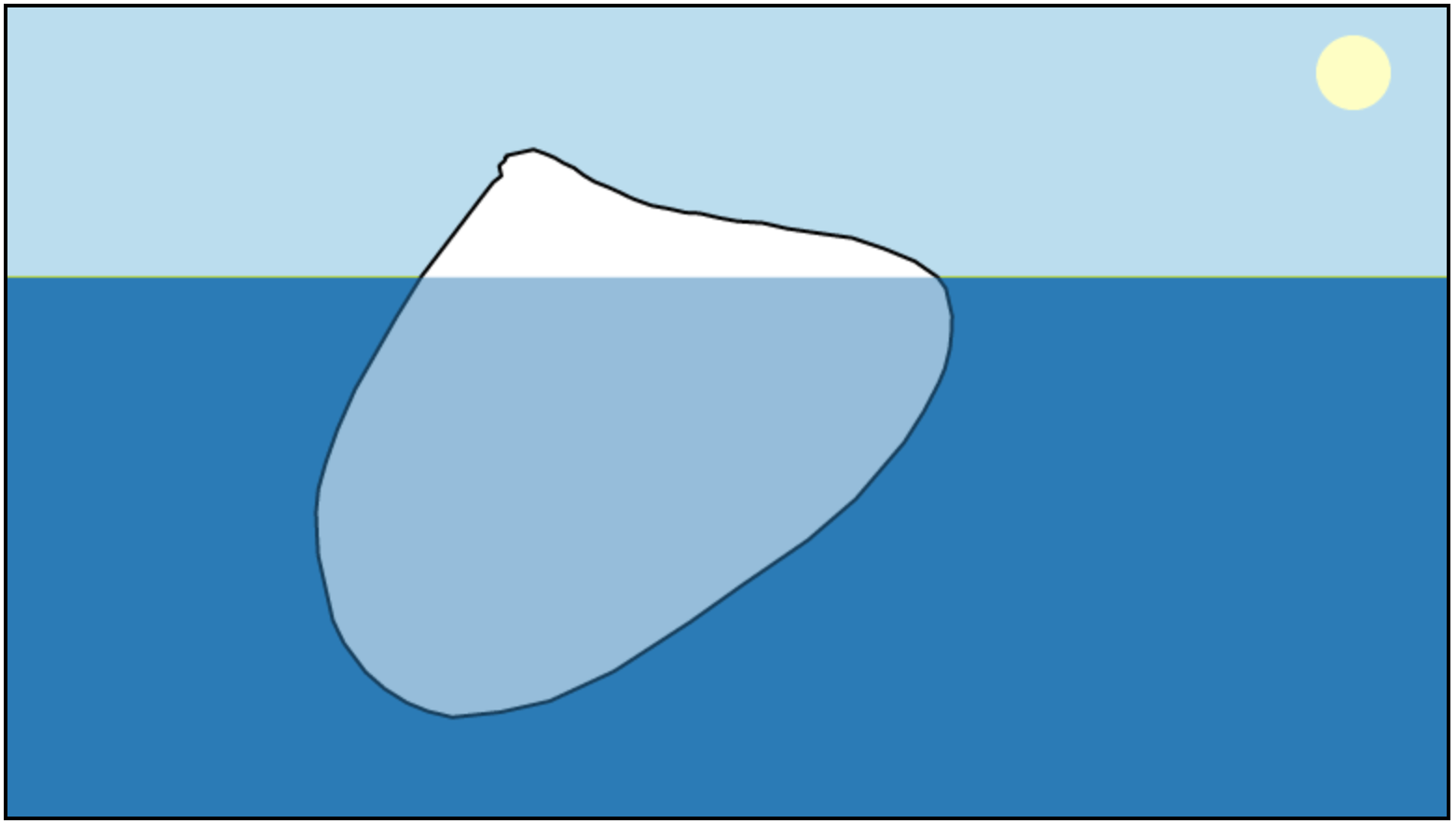 We interrupt this blog for something completely awesome: The image above shows the angle at which an iceberg of a certain shape would probably float. I drew the iceberg myself on an absolutely brilliant (and brilliantly simple) interactive site called Iceberger. Go there right now, draw yourself an iceberg, and watch what happens — it's soooo good! Then draw another iceberg shape. Then draw one shaped like a dog, or a star, or a crescent, or a random squiggly shape, or whatever. Then draw one entirely in the sky, not in the water, and see what happens.
Hell, you can even draw a winged stirrup:
Draw whatever you like. Guaranteed to ruin your productivity for the rest of the day (well, except your iceberg-drawing productivity). You'll thank me afterward — trust me.
• • • • •
• • • • •
The Ticker
By Lloyd Alaban

Baseball News: MLB has designated today as Lou Gehrig Day. All players will wear this patch to raise awareness of ALS. Teams that are off today will wear the patch tomorrow. … This article about the history of Black baseball teams in Charlotte, N.C., is worth reading not only because of the excellent writing and compelling subject matter but also for the fantastic vintage uniform photos (from Kary Klismet). … Here's how Nike and the Marlins pulled off their wildly successful alternate jersey (from Dan Gitlitz). … Twins OF Rob Refsnyder crashed into the outfield wall at Camden Yards on Monday, so the Orioles' grounds crew created a "chalk" outline of the point of impact (from multiple readers). … Here's a great jersey-based infographic for the College World Series (from multiple readers). … Mets P Marcus Stroman is upset with D-backs broadcaster Bob Brenly over an on-air remark that Brenly made about Stroman's do-rag, which he wears under his cap.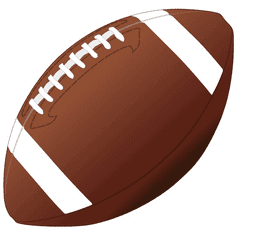 Football News: Cardinals LB Isaiah Simmons has switched from No. 48 to No. 9 (from our own Brinke Guthrie). … Here's why Taylor Field, former home of the CFL's Saskatchewan Roughriders, had different-colored seat sections (from Wade Heidt). … The NFL, which is expanding its schedule from 16 to 17 games this season, could go up to 18 games by 2025.

Hockey News: The Peoria Rivermen of the Southern Professional Hockey League are bringing back their old mascot, "The Captain," as both a logo and in costumed form (from Kary Klismet).


Basketball News: The University of Utah has some USA Basketball-inspired shirts (from Markam Hyde).


Soccer News: New shirts for Real Madrid (from multiple readers). … New shirts for Brazilian side Fortaleza (from Trevor Williams). … Also from Trevor: New third kit for Brazilian side Goias. … Here's a rundown of all the national teams' kits for the upcoming Euro 2020 tournament (from Kary Klismet). … New badge for Hemel Hempstead Town. Their nickname is the Tudors, hence Henry VIII is shown in their badge (from James Welham). … Etihad Airways released a Manchester City ad that said they won the Champions League—something they didn't actually do over the weekend (from multiple readers).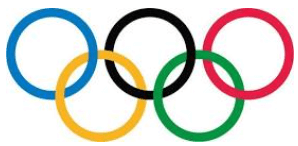 Olympics News: Here's a look at the suits Great Britain will wear at the Olympics (from our own Phil Hecken).


Grab Bag: New uniforms for Samoa's national rugby union team (from German Cabrejo). … Virginia has revealed its men's lacrosse national championship logo (from our own Jamie Rathjen). … New name and logo for the professional lacrosse players' union (from Michael Sullivan). … At the 54:40 mark of this podcast episode, ESPN's Zach Lowe and guest Dave McMenamin have a short debate on naming arenas after corporations, teams, or other options (from KC Kless). … The Canadian Coast Guard is moving toward gender-neutral labeling for its uniforms (from Kary Klismet). … Miller Light and New Balance are releasing a shoe koozie (from @MeanJoeFranco).