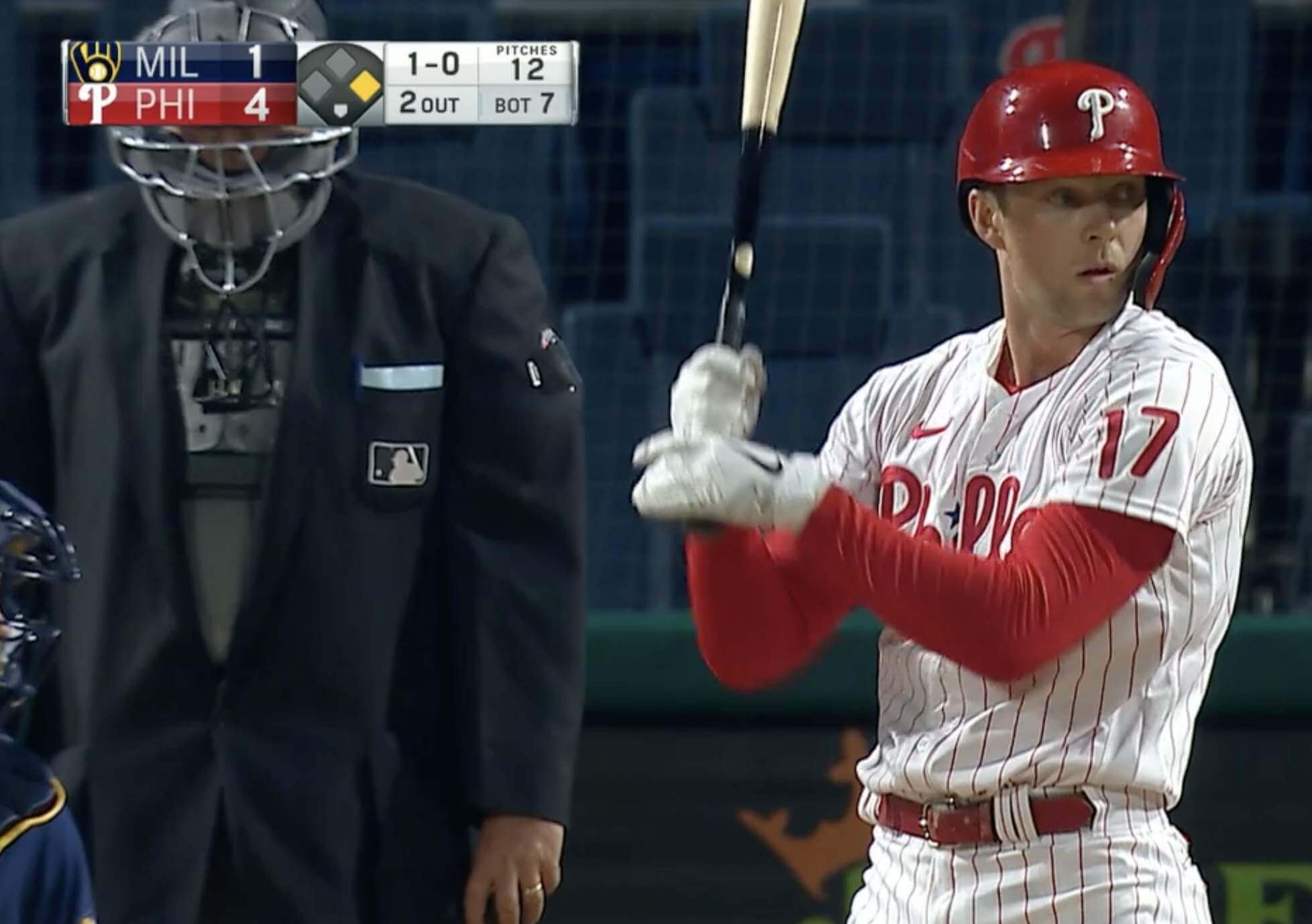 For all images, click to enlarge
Good morning and welcome back to Ump Patch Watch, the website where we cover the exciting and wide-ranging world of Major League Baseball umpires' sleeve adornments. Of course, not everybody Gets It™ (you wouldn't believe how often people say to me, "Wait, you just write about umpires' patches?"), but that's their problem, not ours.
Today's featured umpire is Hunter Wendelstedt, who was working the plate in last night's Brewers/Phillies game. As you can see in the screen shot above, he appeared to have a strip of tape covering a patch on the sleeve of his jacket. Let's take a closer look, shall we?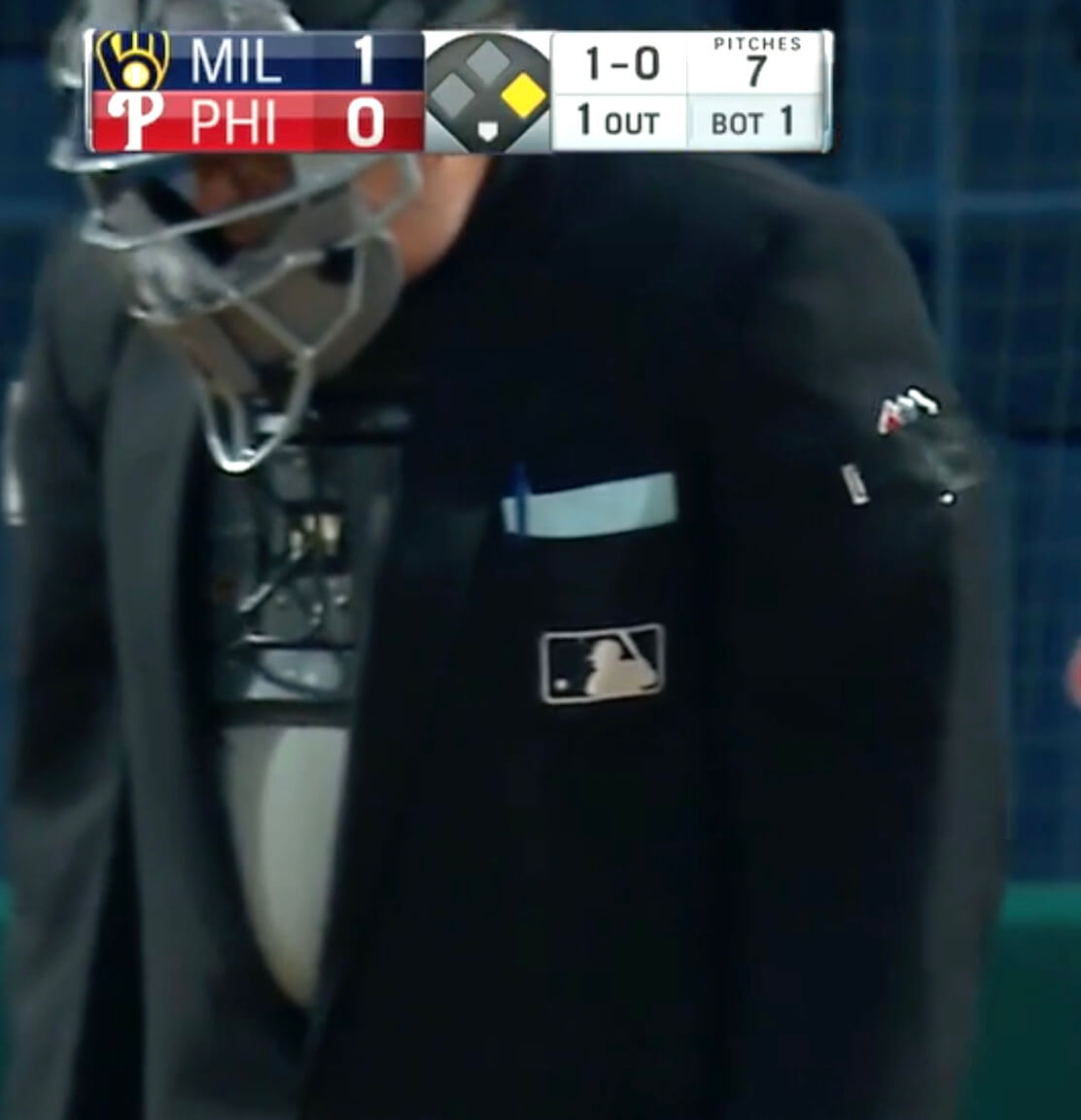 That's not a memorial patch, and it also doesn't match up with any World Series or Postseason patches from the past couple of years. Jackie Day patch? Nope. All-Star Game patch? Nope.
Looks like it's … wait for it … the Postseason patch from 2015! Is that nuts or what? Here's a side-by-side comparison:
Bizarre. When I realized that it was such an old patch, my first thought was, "Oh, he must not have had his plate jacket with him — maybe he thought the weather would be warmer — so they just gave him any old jacket that was available in the umps' dressing room and it happened to have the 2015 patch on it." But then I saw the uni number on the opposite sleeve — No. 21: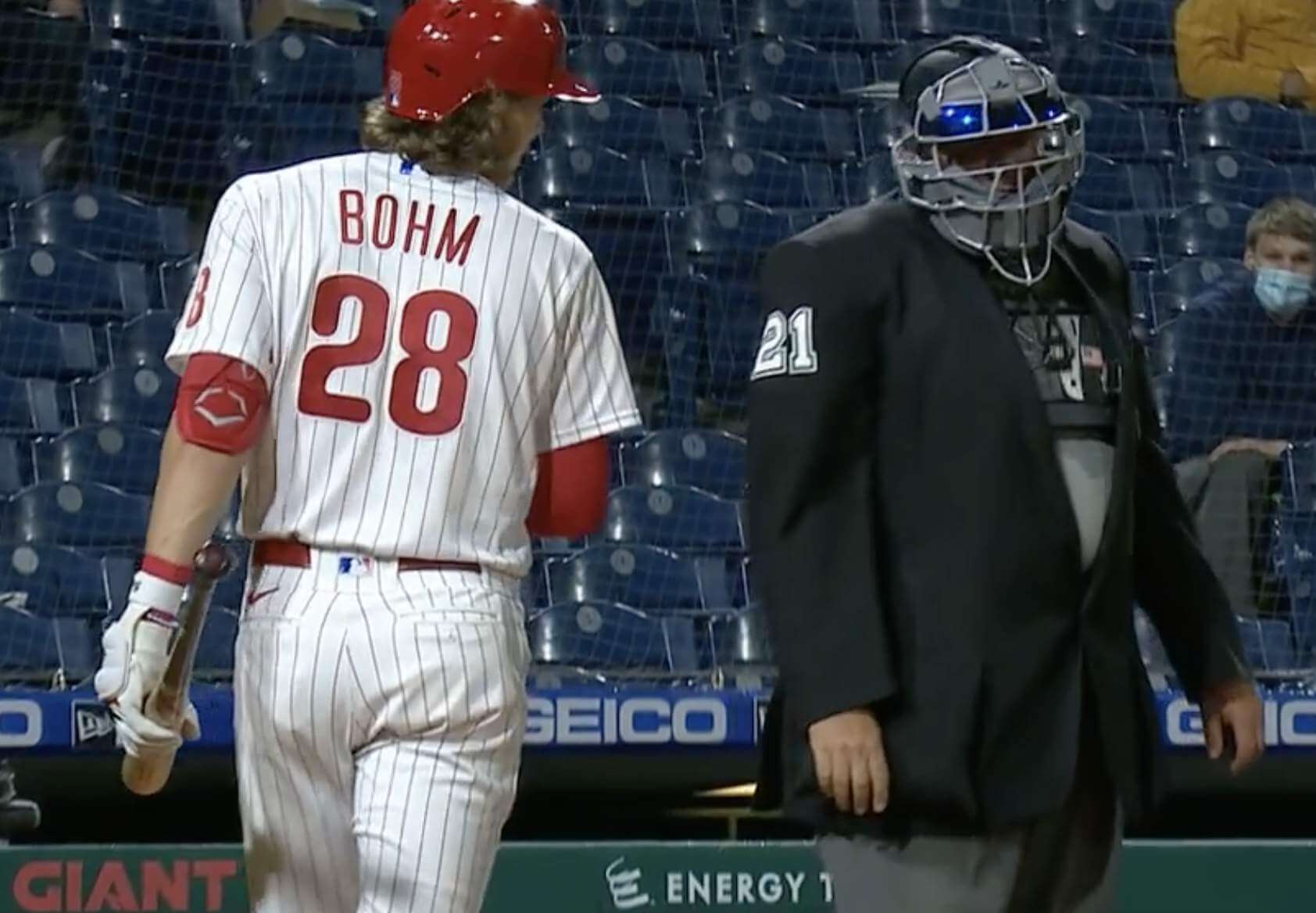 That's Wendelstedt's usual number (the same one worn years ago by his father, Harry), so that's definitely his jacket, not a loaner. But why would he have a jacket that still had a 2015 patch on it? And for that matter, why would he do such a sloppy job of covering it up? I mean, would it kill you to use a few more strips of tape? Maybe it was literally the last few inches of tape on the roll. Very, very strange.
But wait, there's more! Wendelstedt wasn't the only ump with a cover-up tape job last night. Mark Carlson, who was working the plate in the Mets/Cardinals game, also had black tape on his sleeve: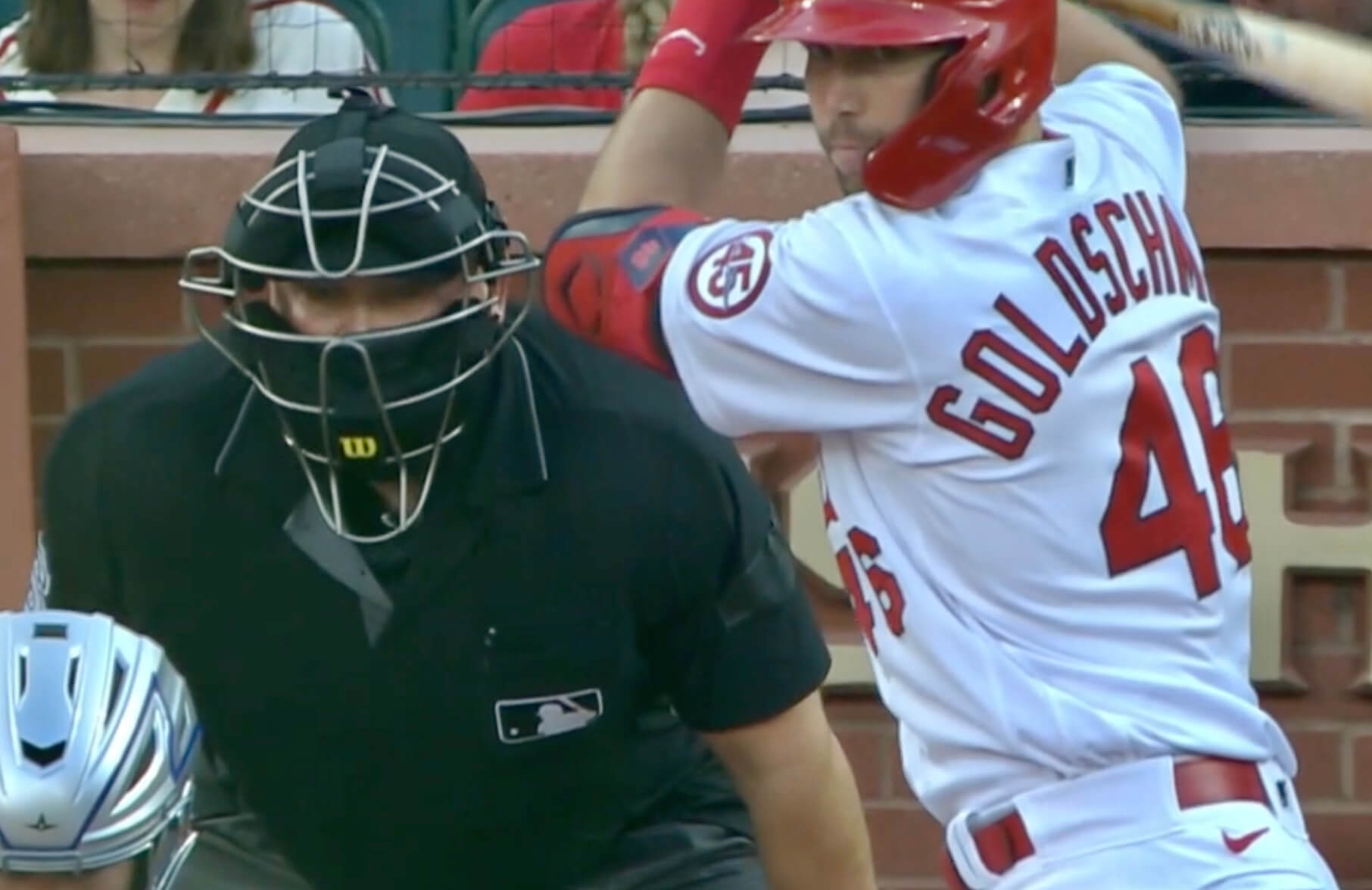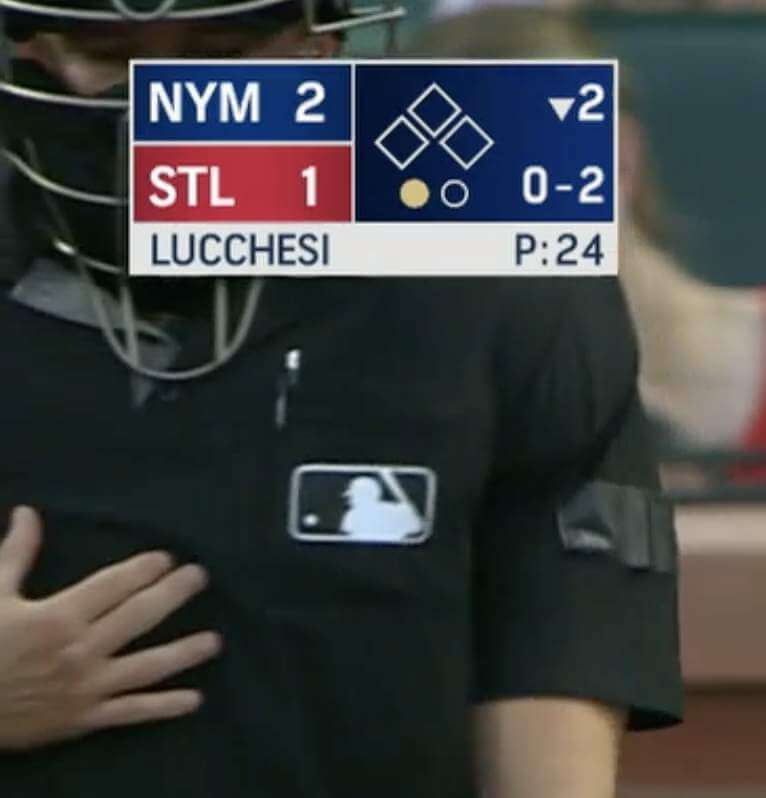 In Carlson's case, the patches he was covering up were almost certainly the Darryl Cousins and Paul Schrieber memorials, which, as we discussed yesterday, umps stopped wearing at the end of April (more on that in a second). That raises two questions:
• According to the @umpcrew Twitter account, which tracks umpire assignments, last night was Carlson's first game since April 26, so he had plenty of time to get the memorial patches removed from his jersey. Why didn't he do so? Someone get this guy a Uni Watch Ump Patch Watch seam ripper!
• If you haven't gotten the memorial patches removed for whatever reason, why not just wear them? Is honoring a pair of deceased colleagues for an extra day or two really a worse look than having some tape on your sleeve?
All of which brings us back to yesterday's entry about how the umps stopped wearing the the Cousins and Schrieber memorial patches after the first month of the season. I didn't understand why they weren't wearing the patches for the entire season, which has always been the standard protocol — or so I thought.
Yesterday afternoon, reader Ed Kozak posted a comment in response to that entry. He had shown the entry to MLB ump John Tumpane, who happens to be an acquaintance of his. Tumpane wrote back to him:
[For r]etired umpires who pass away ,we wear their initials for one month. Those individuals [Cousins and Schrieber] passed during the off-season, so we honored them for the month of April. If an active umpire passes, we wear [the patch] for the whole season.
Wow — I didn't realize that there were separate protocols for active and retired umps. I somehow thought (incorrectly, it turns out) that the memorial patches were always a season-long thing. Shame on me, the guy who writes about umpires' patches for a living, for not knowing that!
Another reader, who prefers to remain anonymous, also showed yesterday's entry to an umpire friend of his and came back with essentially the same info. (That reader also told me, "[The umpire] had never been to your site before and says you are quite observant," which of course I got a kick out of.)
Maybe these readers can once again contact their ump acquaintances and show them today's entry, which might shed some light on why Wendelstedt's jacket still had a 2015 patch on it, and why Carlson chose to cover up the memorial patches instead of just wearing them for an extra day.
That concludes today's edition of Ump Patch Watch. Come back tomorrow as we continue to devote our entire freaking lives to documenting what's happening on umpires' sleeves.
(Big thanks to Logan Stair for spotting Hunter Wendelstedt's cover-up tape job; to Twitter-ers Justin Walker, @_RF30, and @LSThrasher04 for helping to identify the 2015 Postseason patch; and to the readers and umps who helped explain the memorial patch situation.)
• • • • •
• • • • •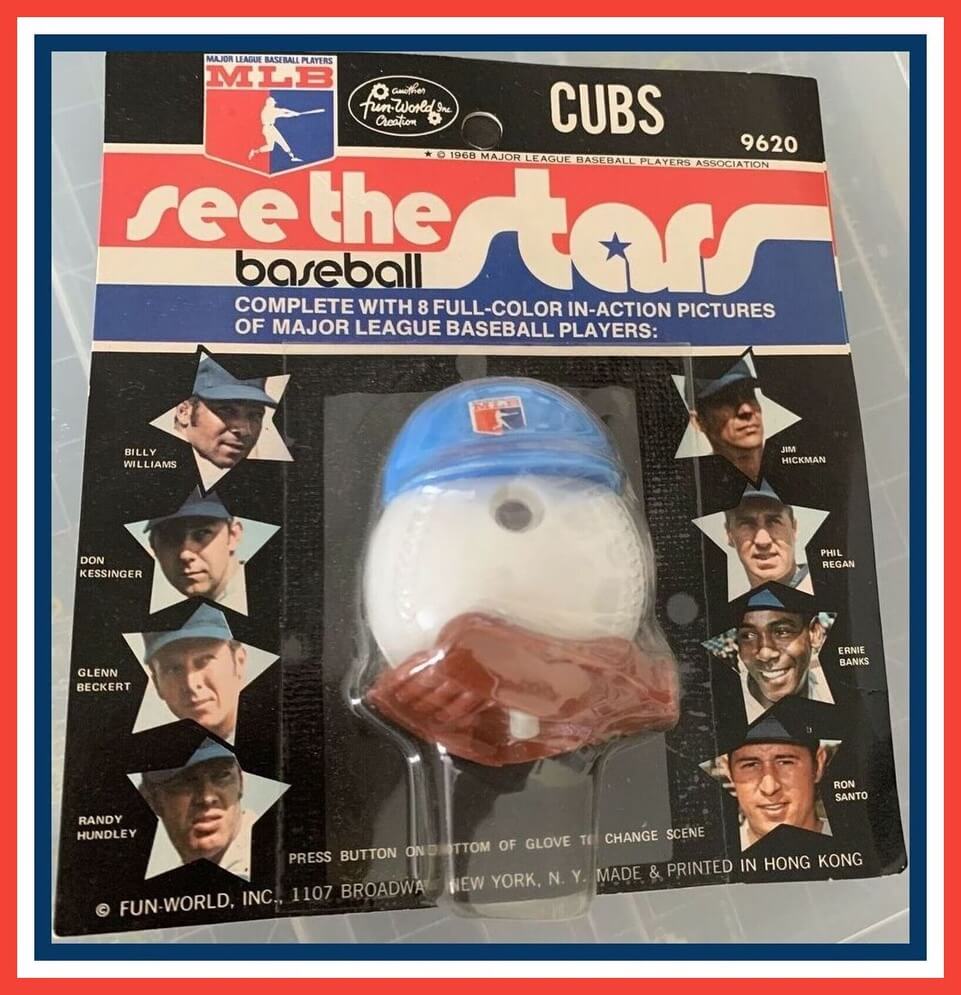 Click to enlarge
Collector's Corner
By Brinke Guthrie
Follow @brinkeguthrie    
Here's one I've never seen before! This is a 1968 "See the Stars Baseball," for the Chicago Cubs. So, you peer into the little hole, and click the button on the bottom, inside the glove. You then see eight "full-action in-color pictures of major league baseball players," just like the old View-Master slides. This was an MLB Players Association-endorsed item, so no Cubbies branding here.  Found one for the "Yanks", too. Now for the rest of the week. Now for the rest of the week.
Now for the rest of this week's picks:
• Staying in the Windy City here: Chicago's Comiskey Park opened in 1910, so this 75th-anniversary plate is from the 1985 season. The seller says just 1,000 were made. 
• The seller of this Molson hockey jersey sweater says it's from the Hockey Hall of Fame in 1986.
• Paul Kratter was the artist and Union 76 was the sponsor for this excellent-looking print commemorating the 1963 Dodgers World Series win over the Yankees.
• Reggie's Wax was the "car collector's choice" when they wanted to polish up the Rolls or Jag. Did Reggie really use this stuff on his car collection?
• This 1982 MLB All-Star Game (Partie et Étoile) notepad was given out to journalists covering the game in Montreal.
• Settle all (hockey) arguments with this 1960 Detroit Red Wings Facts and Record Book. 
• The title font on the dust jacket of Senator and former New York Knickerbocker Bill Bradley's 1976 bio Life on the Run is just pure 1970s.
• This (I'm guessing early-1960s) football board game is called Play Fut-Bol, for "Everyone Who Loves Football." I have no idea why it's spelled "Fut-Bol," but in any event this is a "A Scientific Card Game With All the Thrills of Football." Works for me!
• Former Tigers star and catcher Bill Freehan was the star of this 1973 instructional record/booklet combo simply entitled Catching.
• Washington Senators player autographs decorated this 1970 promo inflatable baseball, sponsored by Schaefer beer. (Note: It has a slow leak!)
• And finally, since today is May 4, check out this Star Wars "Dark Side" baseball jersey. (No, we're not talking about the Yankees.) May the Fourth be with you!
• • • • •
• • • • •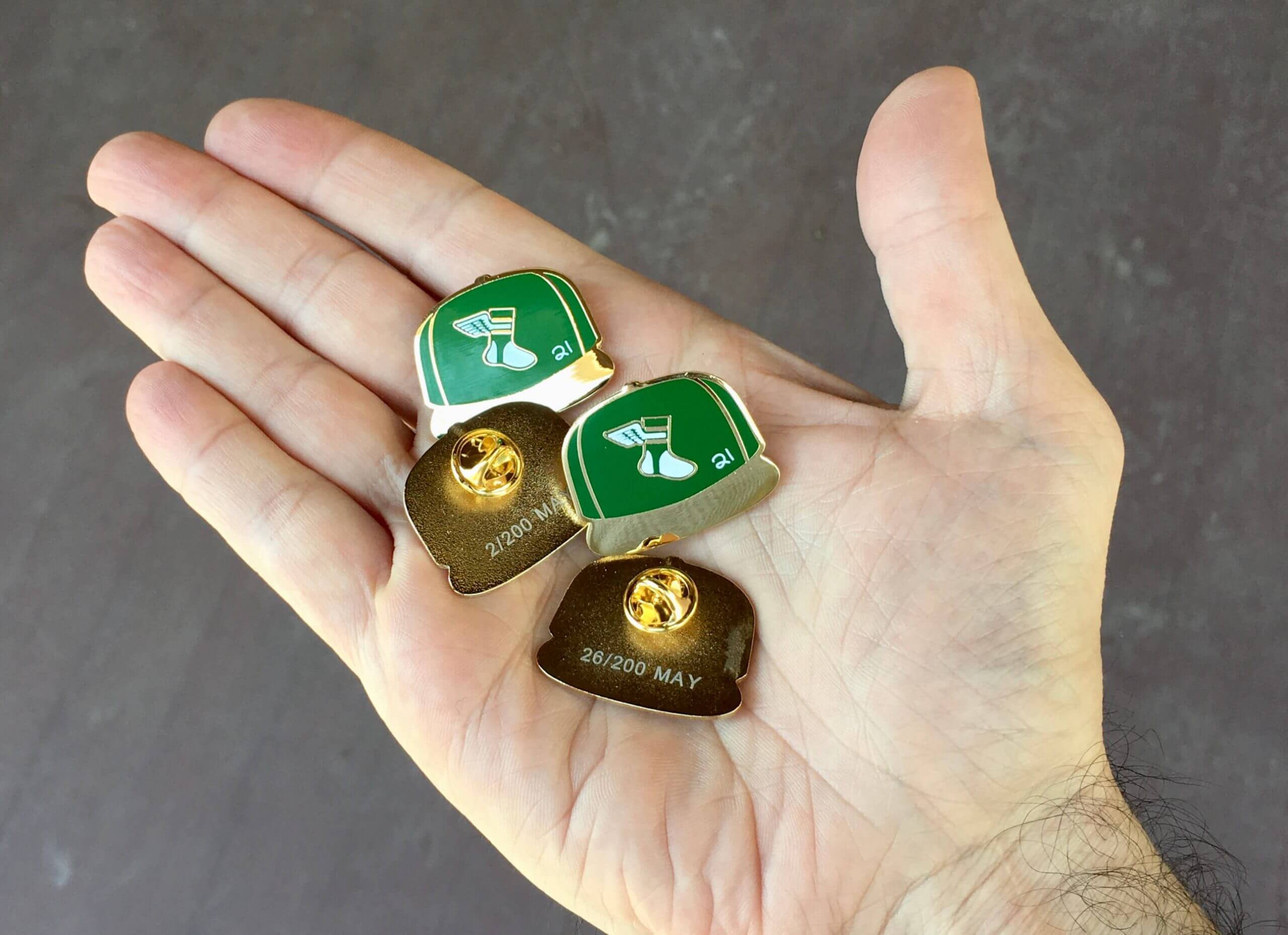 Click to enlarge
May pin reminder: In case you missed it earlier, our the Uni Watch Pin Club's design for May is a baseball cap design. The little white "21" stands for the year, obviously, and is meant to mimic the little cap inscriptions that MLB players sometimes use as a shout-out to injured or fallen teammates.
This pin was produced in a numbered edition of 200. As of this morning, there are about 75 remaining. You can order yours here. Enjoy!
• • • • •
• • • • •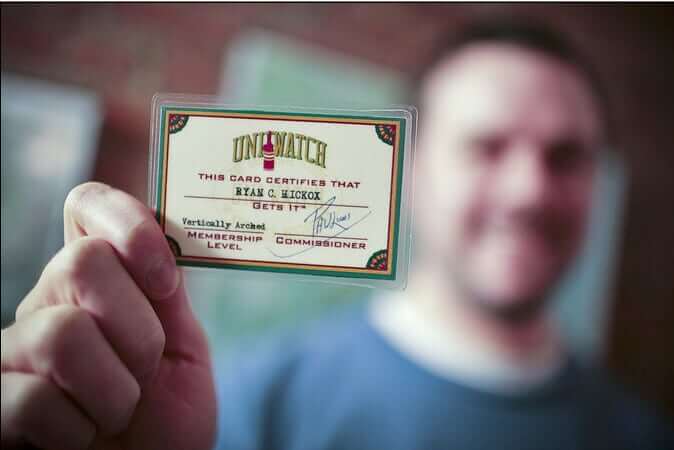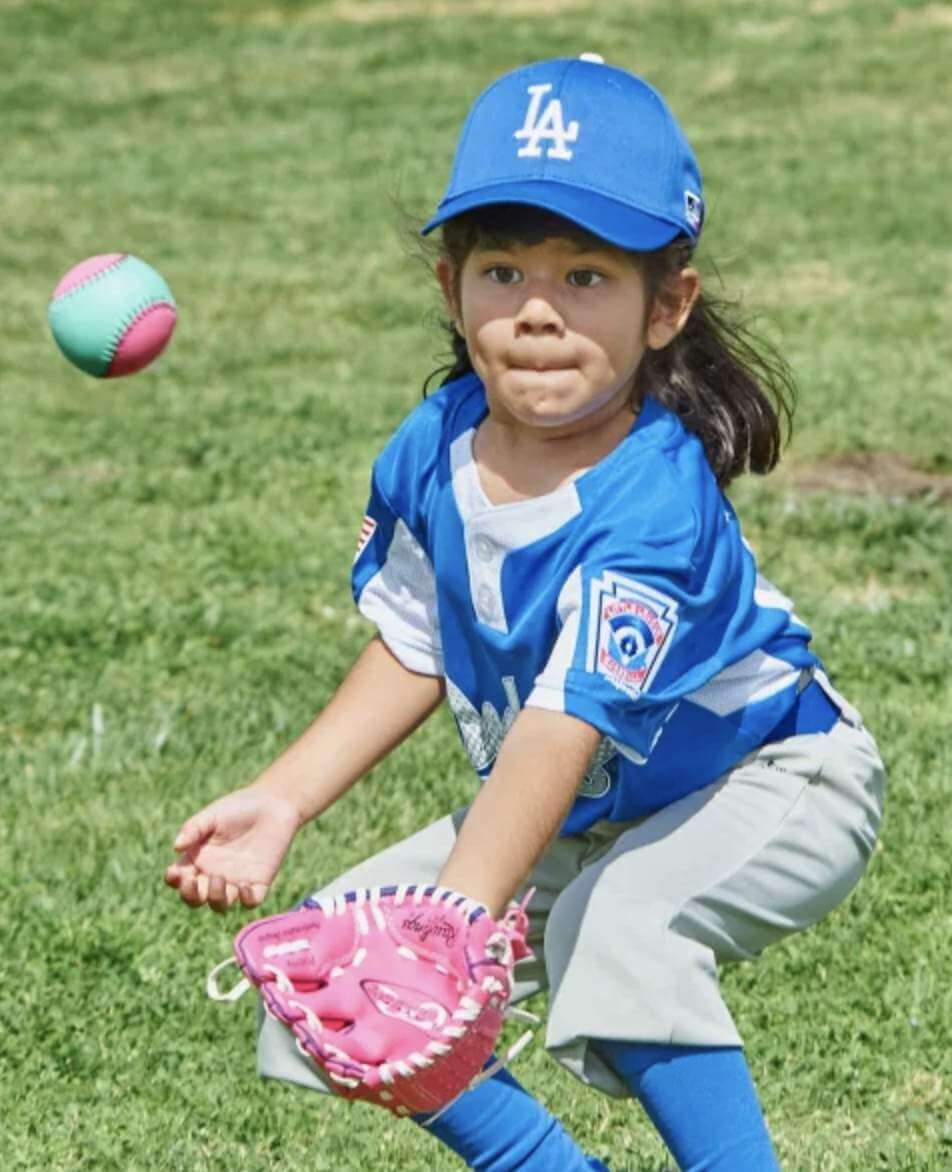 Raffle reminder: In case you missed it yesterday, I'm raffling off four memberships, with the stipulation that they must go to kids. So if you're a kid reading this, you're eligible to enter this raffle. If you're not a kid, you can still enter, but the membership card would have to be for a kid who you know. (Obviously, we can't enforce that, but I'm hoping everyone will adhere to the honor system.)
Today is the last day for this raffle raffle. Non-USA entries are fine. To enter, send an email to the raffle in-box by 8pm Eastern tonight, May 4. One entry per person. I'll announce the four winners tomorrow. Good luck, and big thanks to Kevin Cearfoss for sponsoring this one.
• • • • •
• • • • •
The Ticker
By Alex Hider

Baseball News: This line of MLB caps reimagines team logos as Arabic writing (from Michael). … The Double-A Wichita Wind Surge will wear a memorial patch honoring late Managing General Partner Lou Schwechheimer this season. Bonus note — the patch was designed by friend of the site Todd Radom (thanks to all who shared). … This video offers a good brief history on the origin of the baseball cap and its parts (from Jason Hillyer) … New uniforms for the Yankees High-A affiliate, the Hudson Valley Renegades (from Kary Klismet). … The High-A Vancouver Canadians will be playing home games in Hillsboro, Ore., this season, which meant a locker room redecoration was in order (from Wade Heidt). … Here's a look behind the rebranding of the Madison Mallards of the Northwoods League. The new logos and uniforms designed by Planet Propaganda were unveiled last month (from Jason Joyce). … Ernest G. Fagan, Jr.'s job takes him overseas, and during a trip to South Korea he found a vendor who was willing to turn his Minnesota Twins jersey into a KBO LG Twins jersey. While there is some differences in the wordmark (note the underlining on the sleeve patch), Ernest says that his jersey is similar to what the team wore in 2014. The jersey even includes a Hangul NOB with his last name. … Nice uniform matchup in college baseball last night — LSU in throwbacks and Southern in powder blues (from Max G.). … Florida A&M's 3D helmet logos presented all sorts of problems in games against Norfolk State last week (from Timmy Donahue). … The Mets fired hitting coach Chili Davis after last night's game. His replacement is named Hugh Quattlebaum, which should make for a doozy of an NOB. … Speaking of the Mets, OF Albert Almora has his jersey sewn shut, which he also did while he was with the Cubs.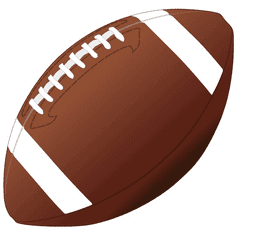 Football News: Ravens draft pick Rashod Bateman shared a Photoshop of himself in his new jersey — but the artist forgot to edit the TV numbers, creating an odd-looking numerical mismatch (from Ryan Donaldson). … Speaking of draft picks, here are the number assignments for the new members of the Falcons (from @Scandiphile). … 49ers S Jaquiski Tartt is switching from No. 29 to No. 26 (thanks, Brinke). … Reader Bradley Davis notes that because Miami DE Gregory Rousseau and OLB Jaelan Phillips both went in the first round, we have the rare situation of two players who wore the same number from the same school getting drafted in first round in the same year. Rousseau wore No. 15 in 2019 but opted out of the 2020 season, Phillips then chose to wear No. 15 last year. … New all-white uniform set for Columbia — and it seems that more combos are on the way (from Jace McKeighan).

Hockey News: Caps RW Tom Wilson lost his sweater in a fight against the Rangers last night. He briefly served time in the penalty box without his jersey before being sent off with a 10-minute misconduct (from Max Weintraub). … Speaking of the Rangers, they wore Pride sweaters for warm-ups last night (from Alan Kreit). … Sabres G Michael Houser, just called up from the AHL's Rochester Americans, wore his Amerks mask last night in his NHL debut (from @labflyer).

Basketball News: The Lakers' starting five last night — Kyle Kuzma, Kentavious Caldwell-Pope, Andre Drummond, Anthony Davis, and Alex Caruso — wore Nos. 0 through 4. That has to be rare, if not unprecedented, right? (Thanks to all who shared.) … The New York Post believes the Knicks' traditional blue jerseys are cursed. Going to into last night, they had won 11 of 12 games, but hadn't worn their blue jerseys since March 31. But they wore the blues last night against Memphis and won, so there you go (from Phil).

College Hoops: Virginia has a new weight room with a display of the men's and women's players who have played in the NBA and WNBA, including their teams' respective logos and what look like re-creations of their NOBs (from our own Jamie Rathjen). … Jordan gave a commemorative pair of sneakers to North Carolina's basketball team, commemorating recently retired coach Roy Williams's career (from James Gilbert).

Soccer News: The Premier League has a page on its website that lists each game ball design dating back to the 2000-01 season (from Jeremy Brahm). … Montclair State University, where the NWSL's NJ/NY Gotham FC is playing some home games this season, won't let a team supporters' group hang a banner reading, "No Justice, No Peace, Say Their Names" (from our own Jamie Rathjen).

Grab Bag: Pittsburgh's police cars, ambulances, and fleet cars will now be painted grey to represent the city's connection to the steel industry (from Timmy Donahue). … LoLo Phynarski notes some inaccuracies with the Chicago flag patches worn by police on the Showtime show Shameless. … Here's a new one — a series of graphics for Marvel movies inspired the vintage art on blank VHS tape sleeves (from Adam Vitcavage). … Street signs on the campus of Eastern Illinois University now include the school's logo (from James Gilbert). … The Muscogee Nation has a new brand identity for the tribe (from Dan Bewley). … Midland Lee High School (Texas) is changing its name to Legacy High School and is letting students vote on a new logo (from Jonathan Shaw).
.
• • • • •
• • • • •
• • • • •
I'm taking most of today off to clear my head and hang out with friends I haven't seen in ages. Play nice while I'm away, and I'll see you back here tomorrow. — Paul