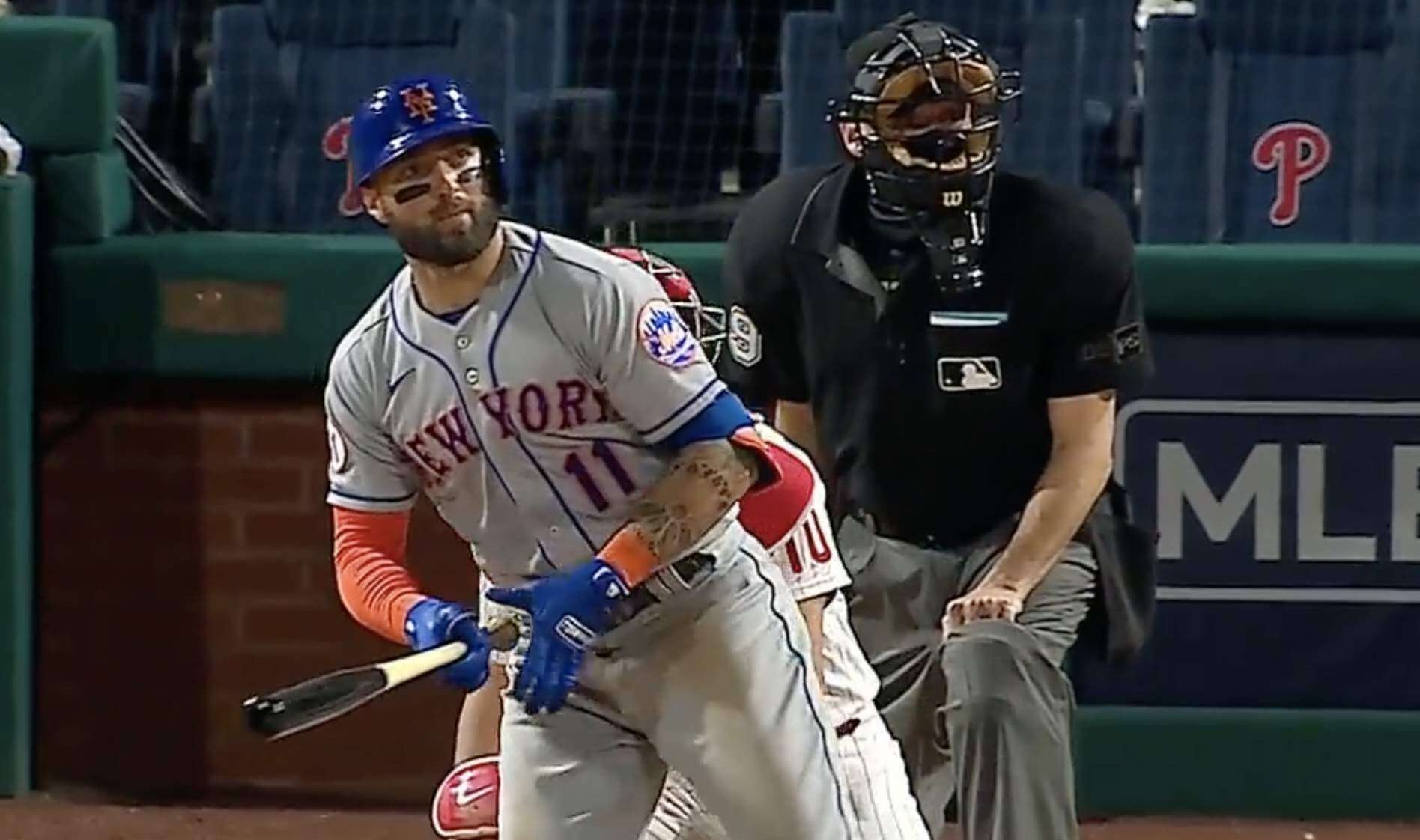 For all image, click to enlarge
Sometimes I'll spot something while watching a game — something small, something seemingly inconsequential — that sends me down a deep, deep rabbit hole and ends up revealing something larger. That was the case as I watched last night's Mets/Phillies game.
Let me walk you through the sequence of what happened:
1. As I reported in my blog post about Opening Day, MLB umpires have been wearing memorial patches this season for former umps Darryl Cousins and Paul Schrieber: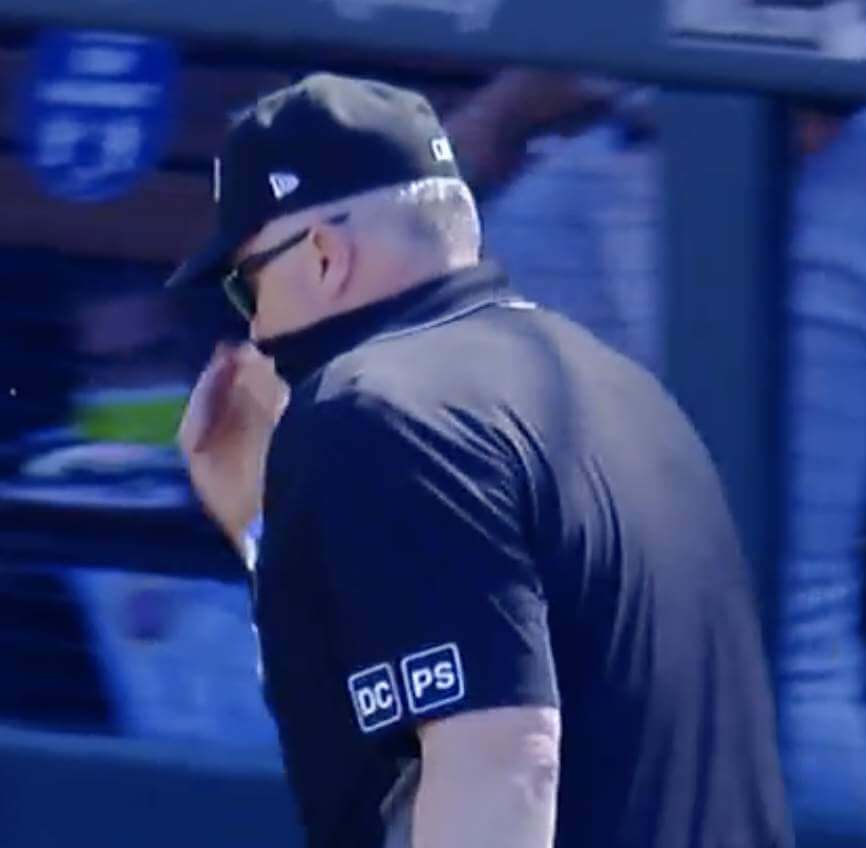 2. While watching last night's Mets/Phils game, I noticed that the white lettering and white borders on the plate ump's memorial patches appeared to be blacked out. You can see it in the screen shot at the top of this page, and also in these other screen shots, taken from various points throughout the game: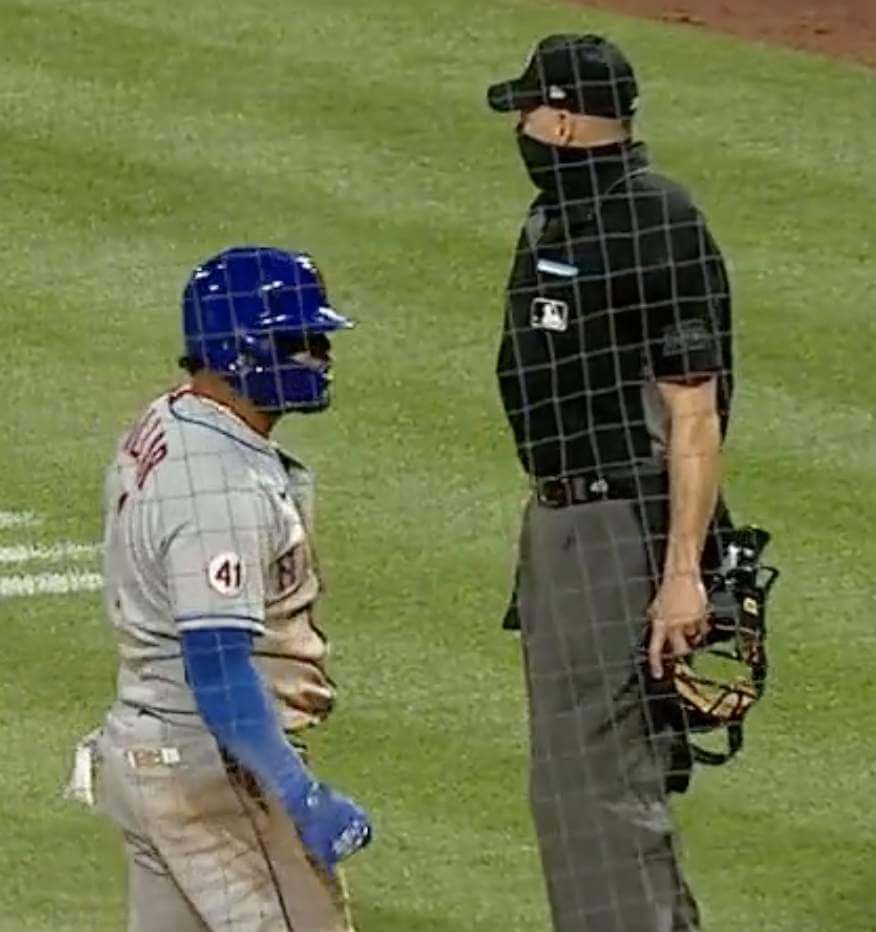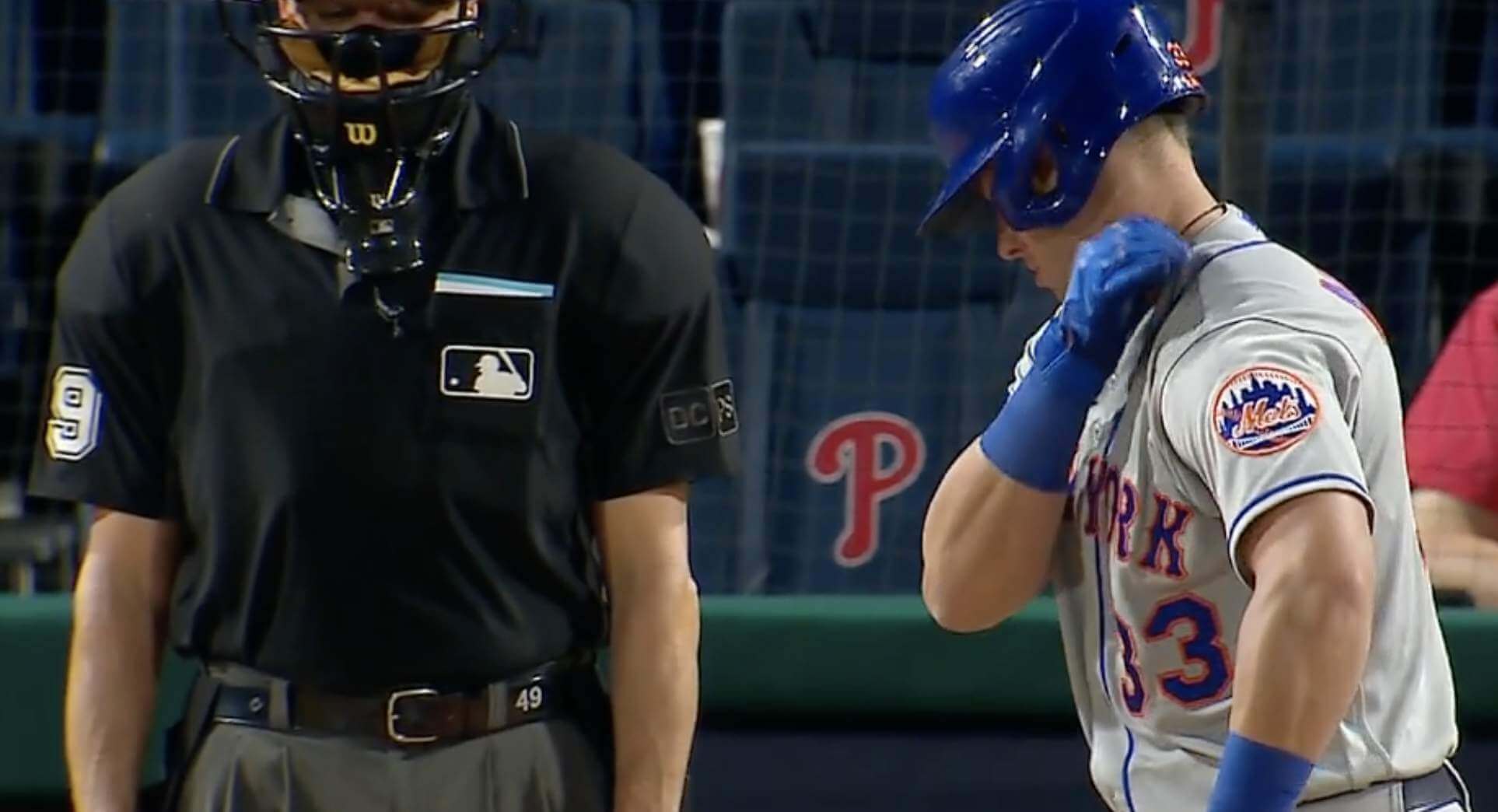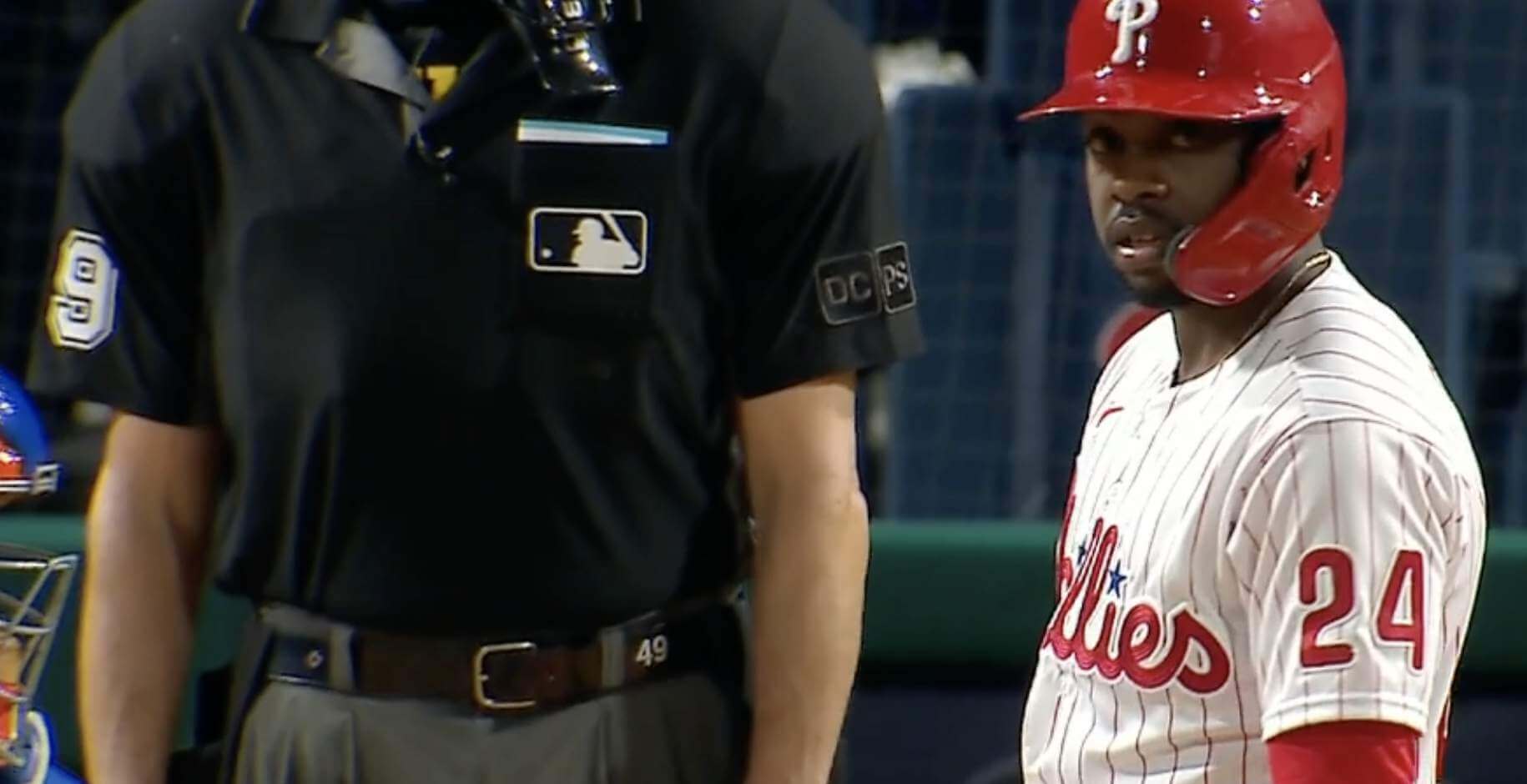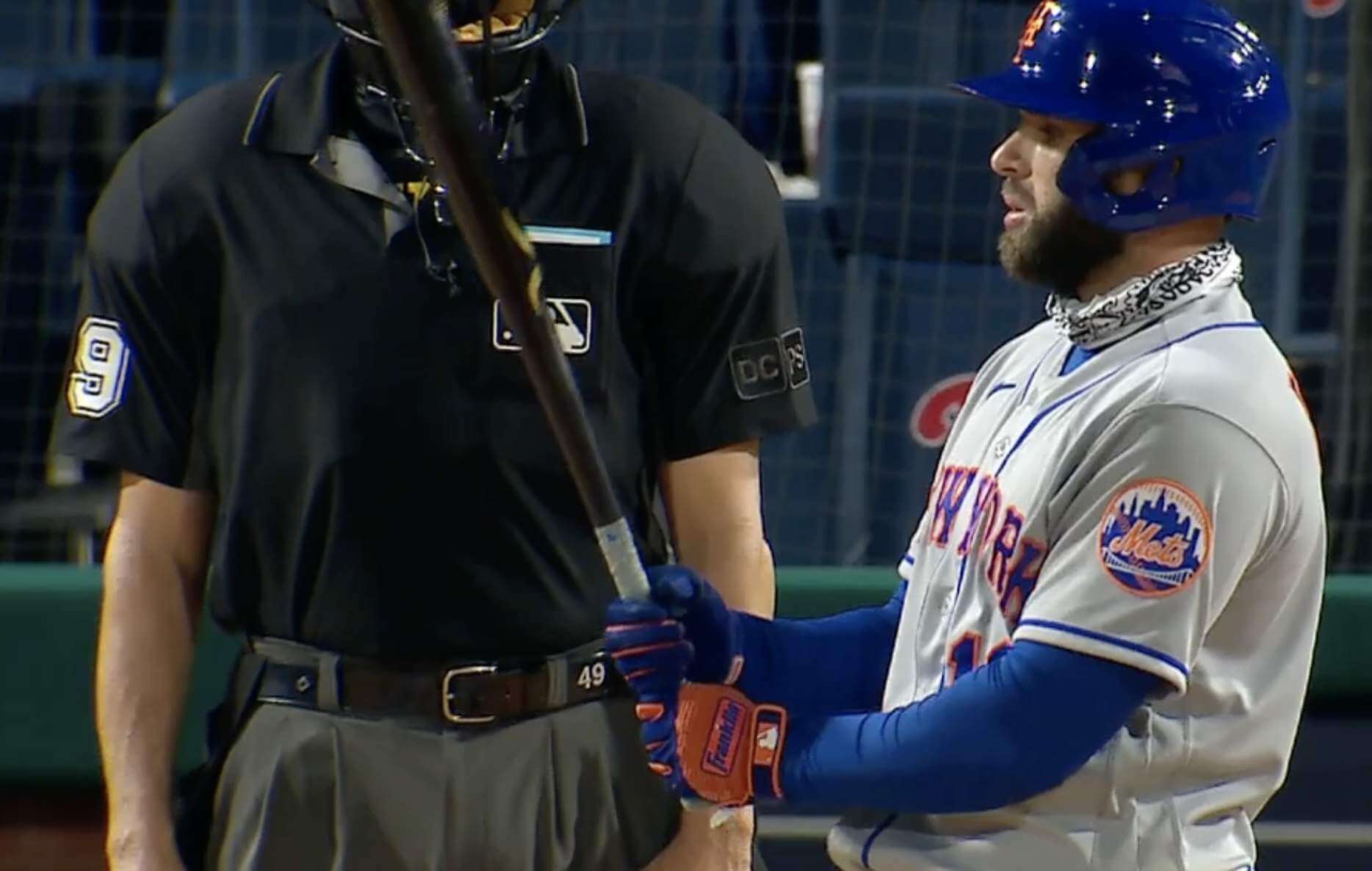 I kept fixating on it during the game, just in case it was a trick of the lighting or something like that. Nope — the patches were definitely blacked out. That seemed odd — did the plate ump have some sort of personal gripe with Cousins and Schrieber? Did he think black-on-black lettering was more appropriate for a memorial patch?
3. I looked up who the plate ump was and learned that it was Andy Fletcher.
4. I searched for photos of Fletcher from this season and discovered that he was wearing the memorial patches on April 23: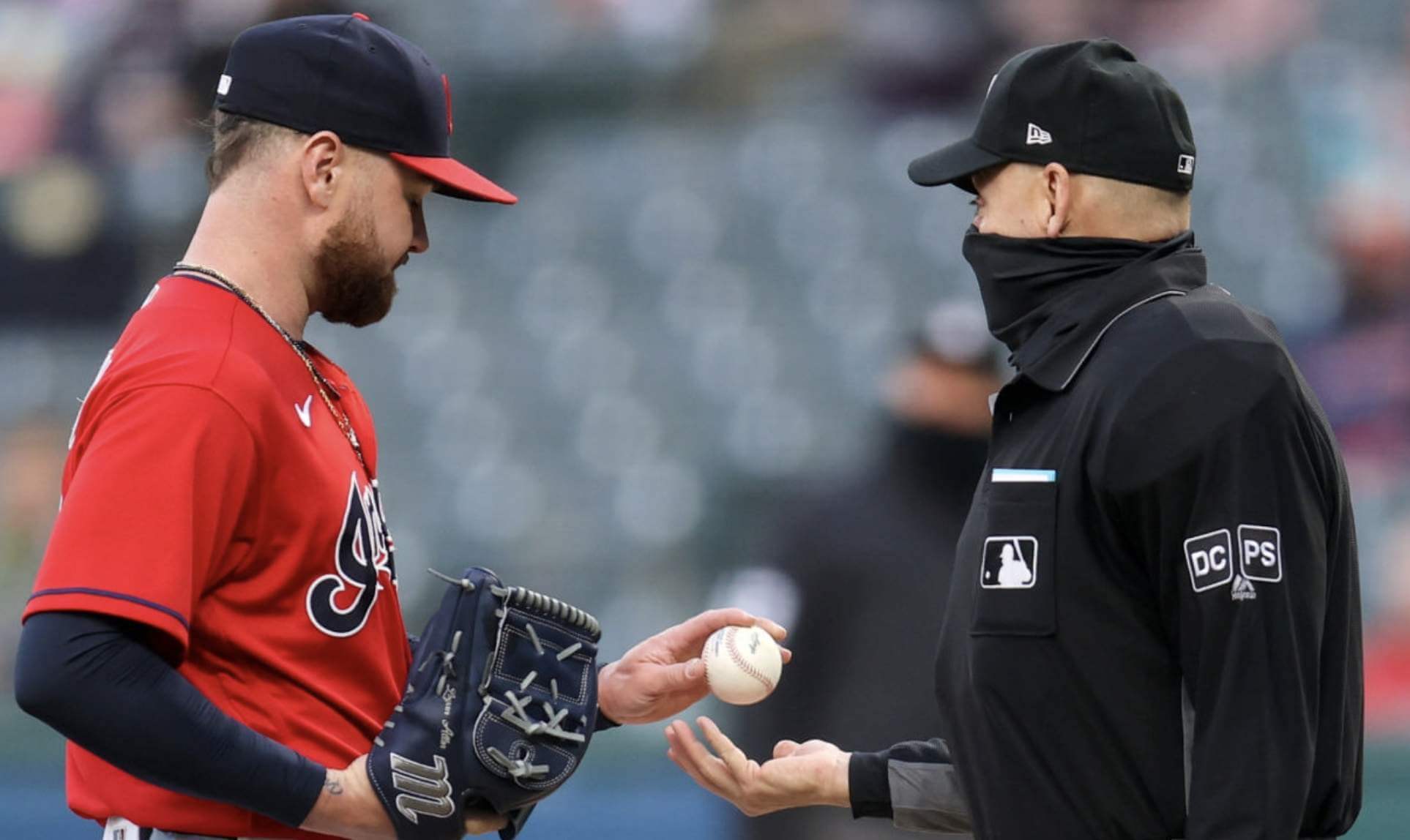 5. I was about to start checking video of games that Fletcher worked in between April 23 and last night, but then I noticed something else: The base umps in that same game I was watching — the Mets/Phils game — didn't appear to be wearing the memorial patches. It wasn't that their patches were blacked out like Fletcher's — they just weren't wearing them at all: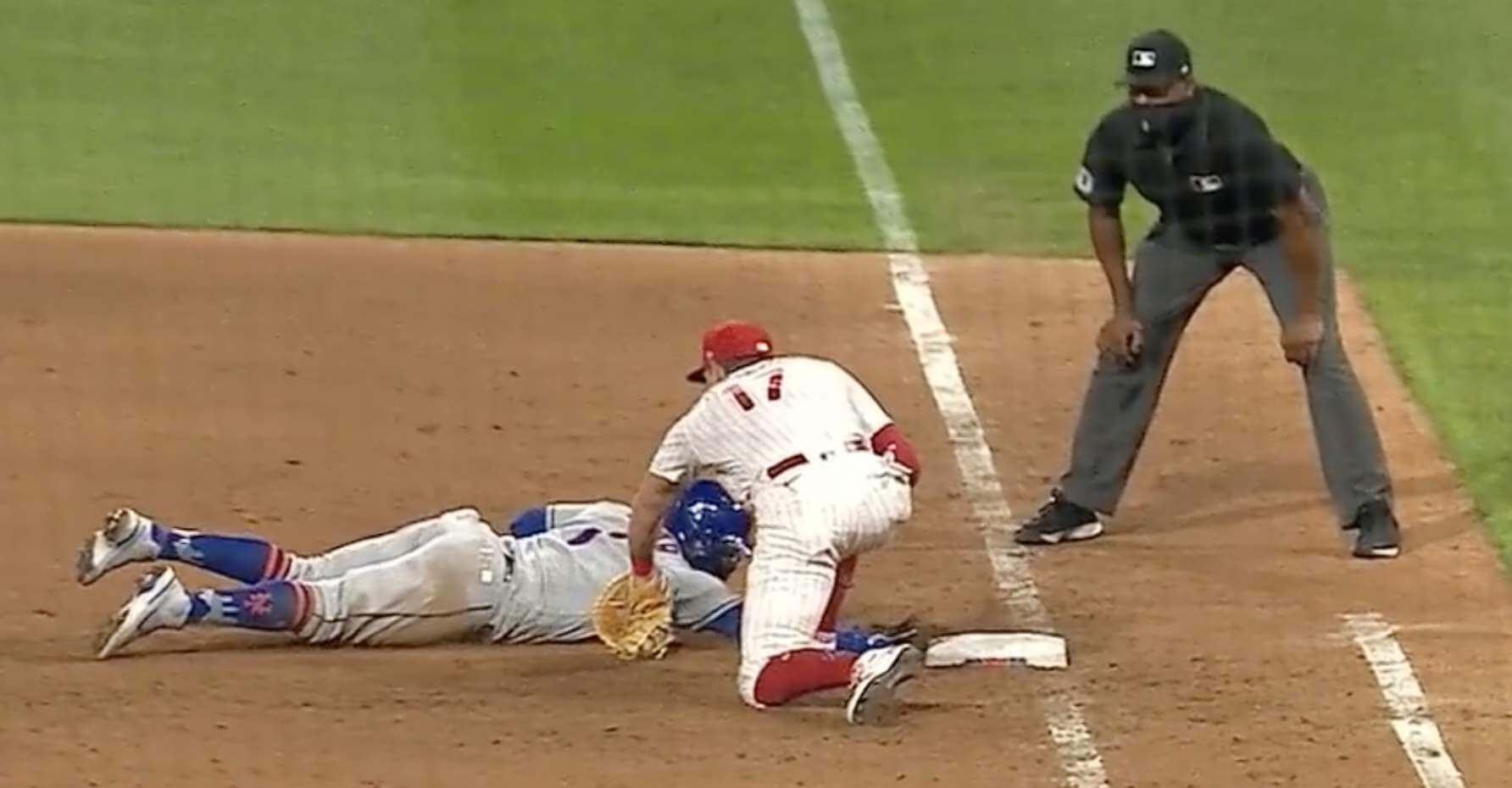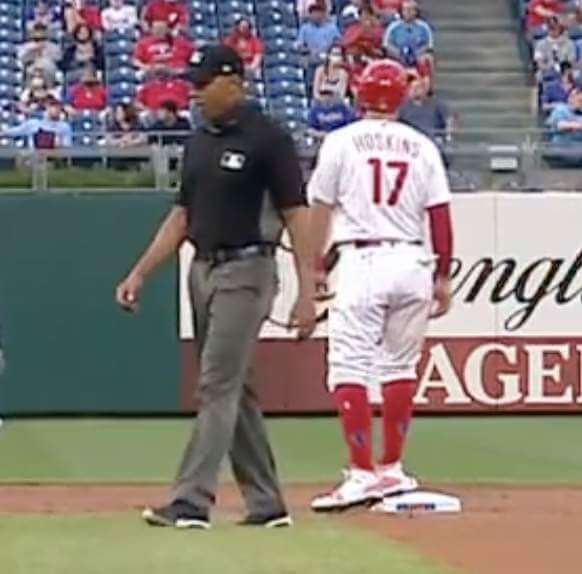 6. What about yesterday's other games? I checked the video from a bunch of random games and found that none of the umps had the memorial patches: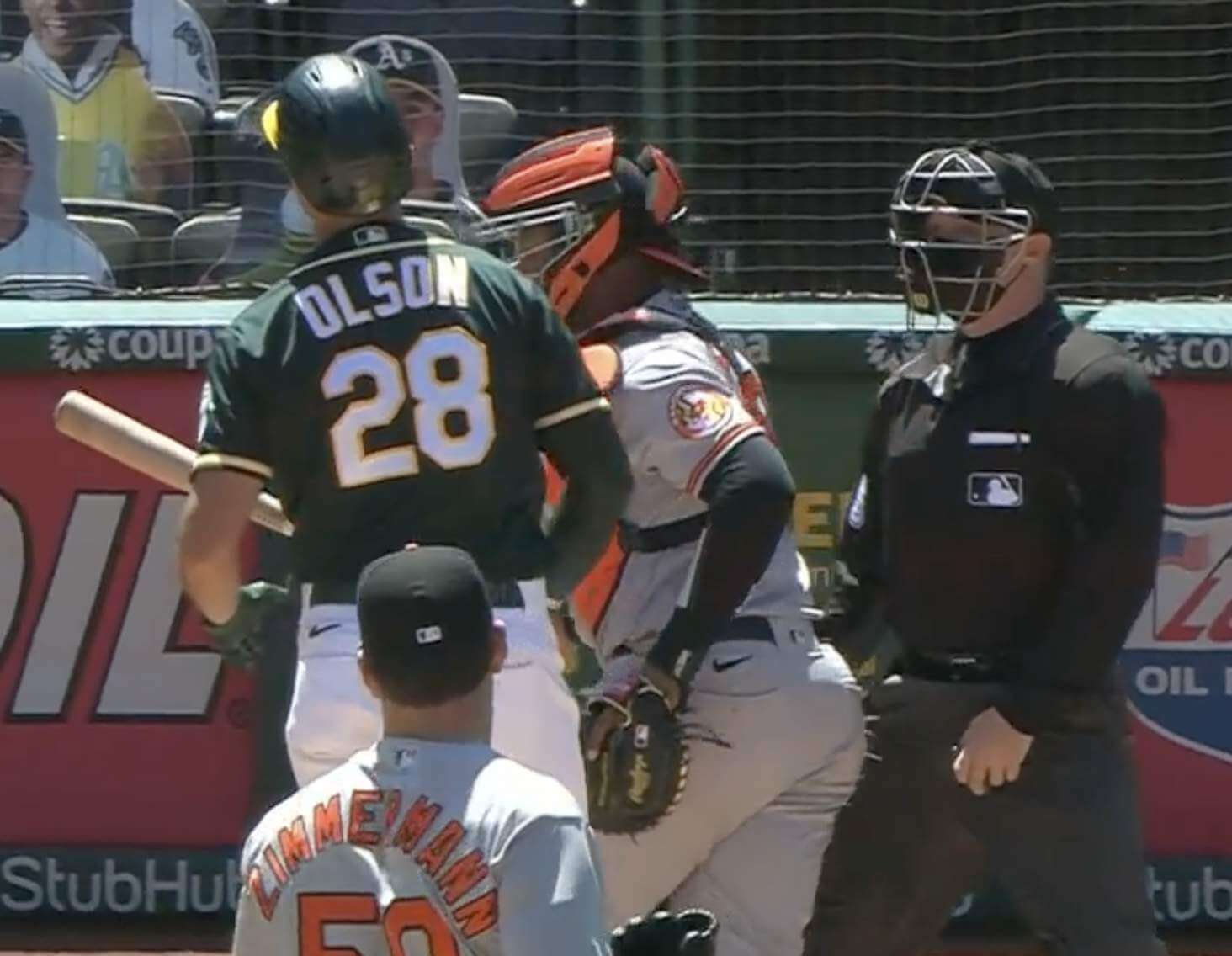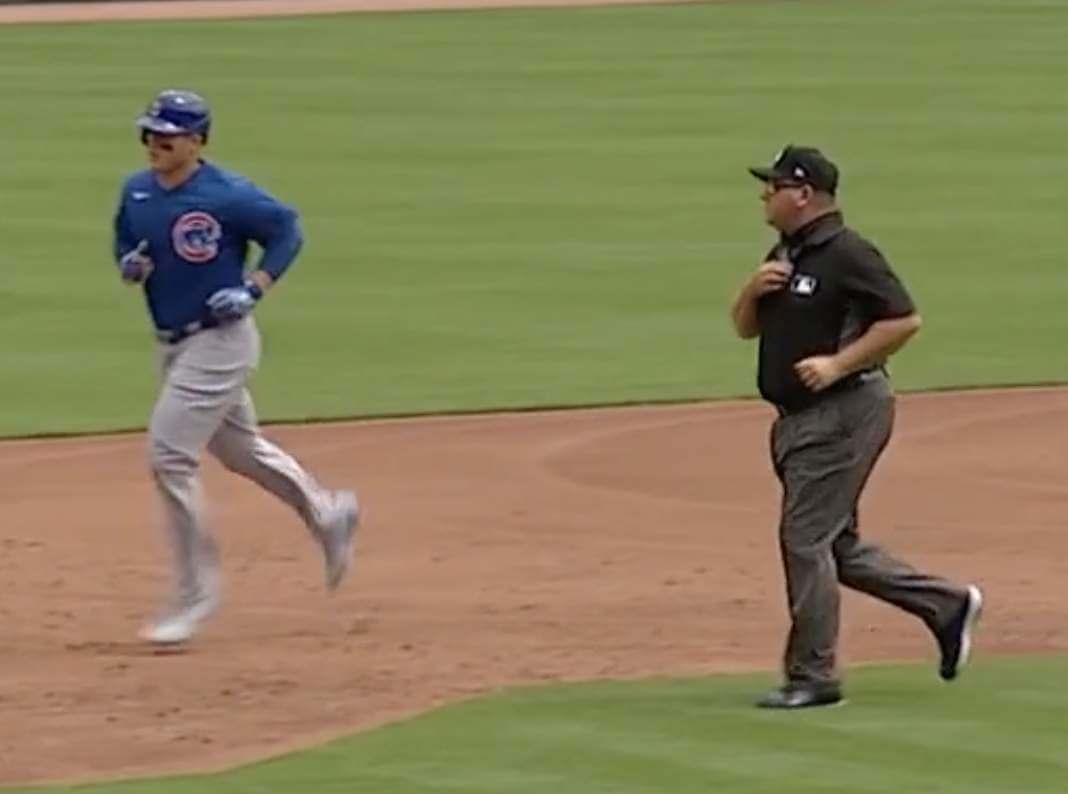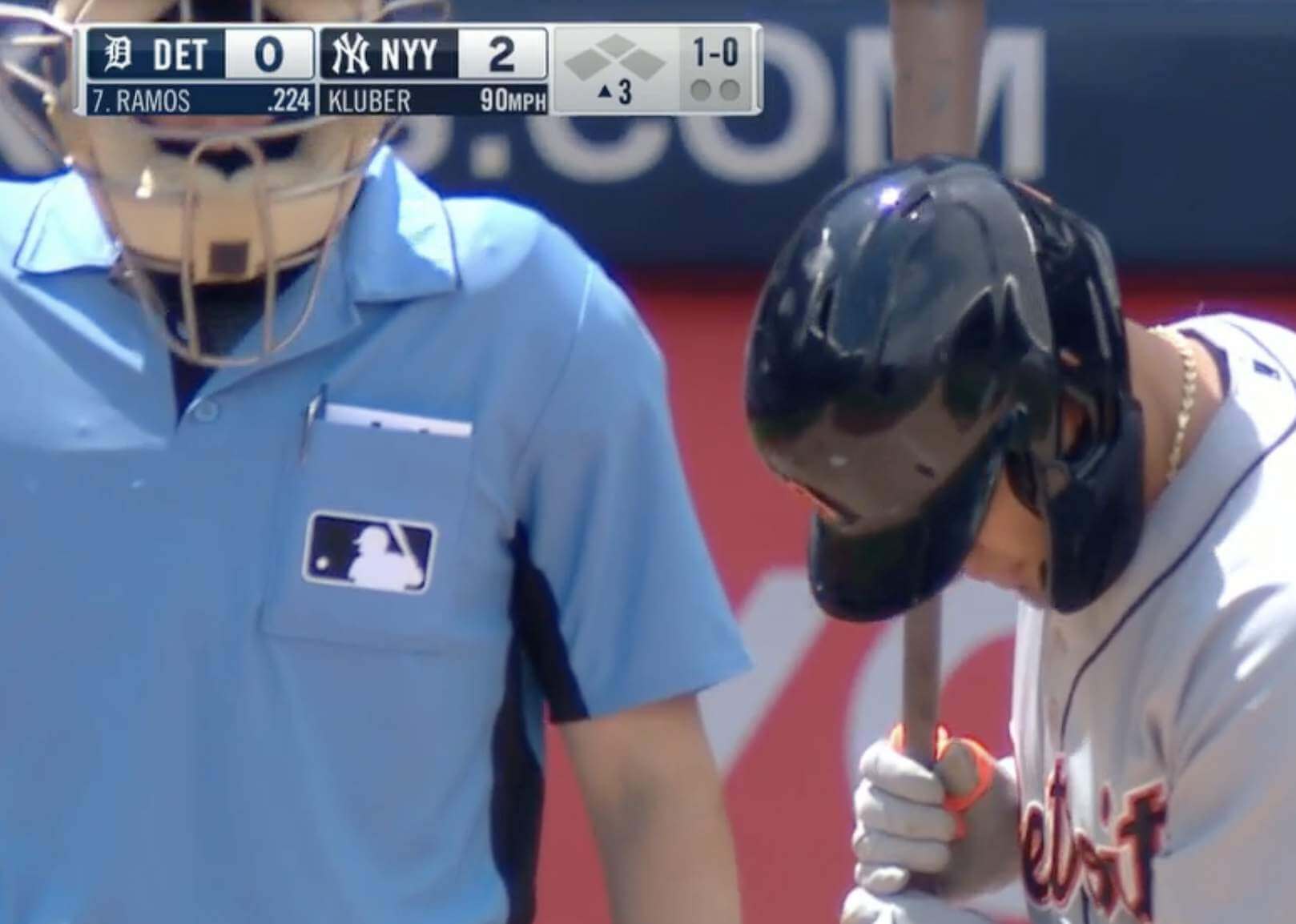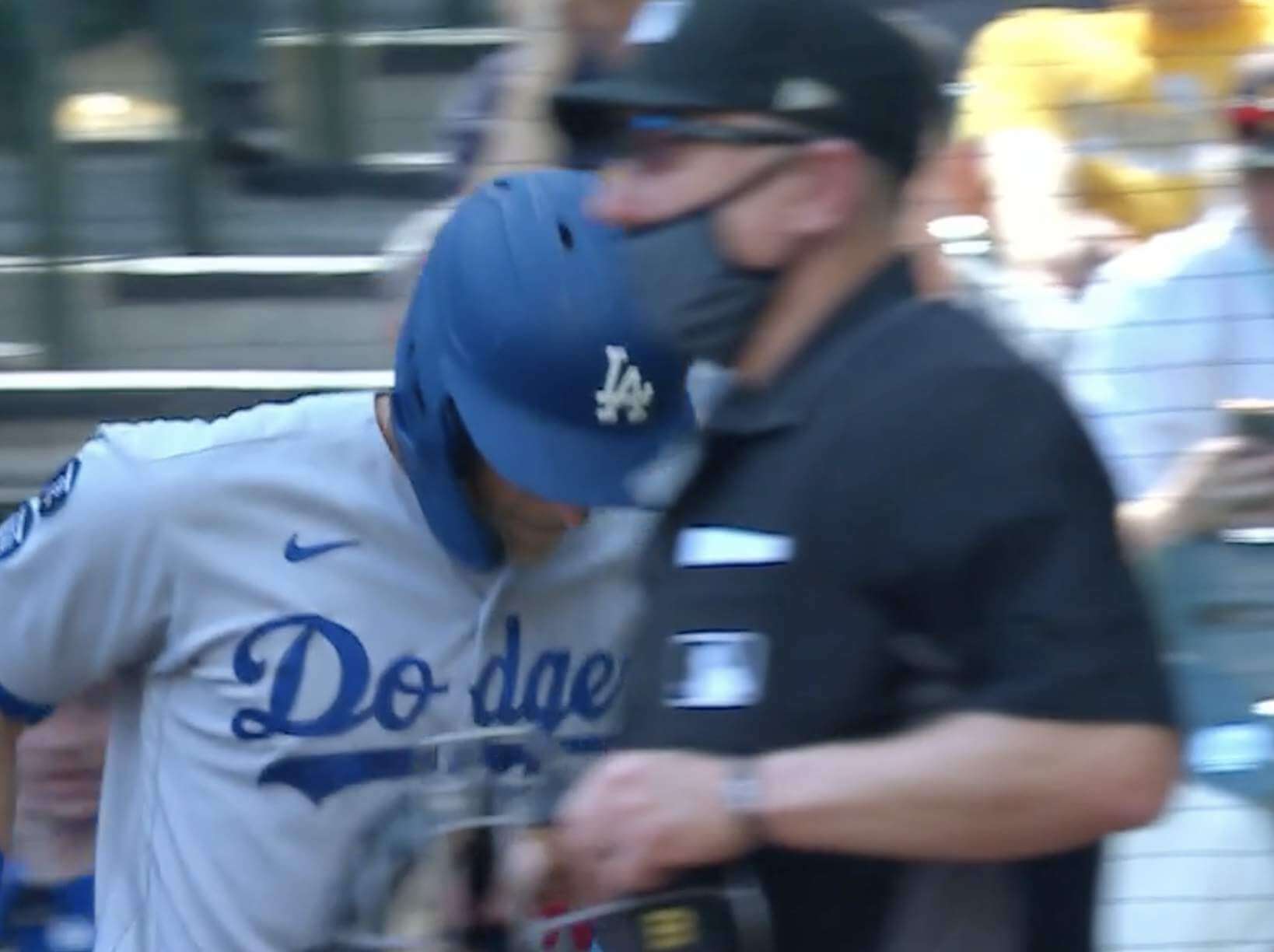 7. But the real kicker came when I checked the video of yesterday's Royals/Twins game. Not only was plate ump Phil Cuzzi not wearing the memorial patches, but he clearly had some residue on his sleeve where the patches had been: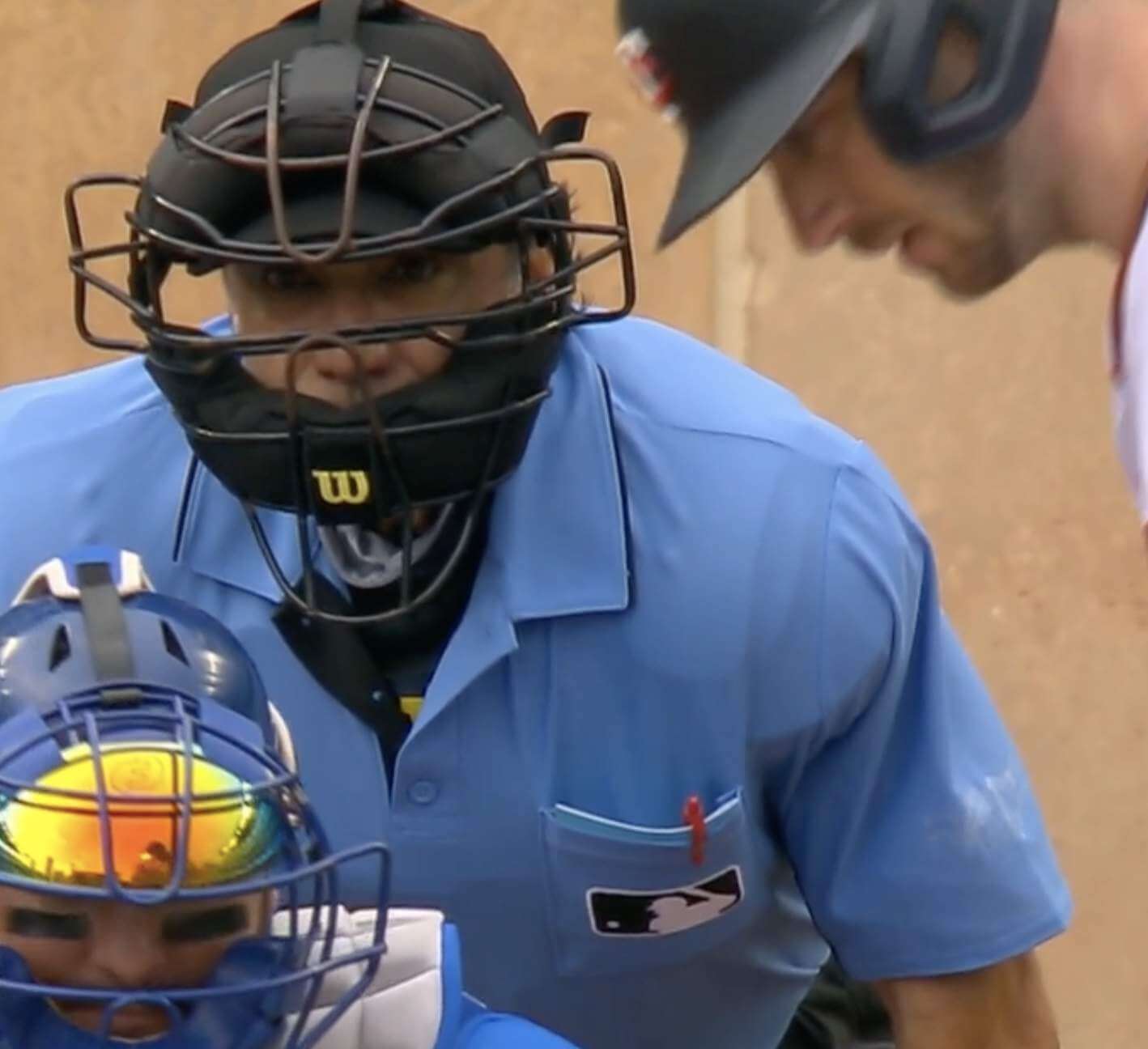 8. By this point I was convinced that the umps had all removed their memorial patches at some point recently (and that Fletcher, who apparently couldn't get the patches removed from his jersey, had blacked his out instead, just to be consistent with the other umps). But why did they do this, and when? In an attempt to answer the second question, I looked at video from Saturday's games. The results were consistent across the board: No memorial patches.
9. Umpiring crews usually are usually assigned to work an entire series. So if the umps weren't wearing the patches on Sunday or Saturday, I figured they weren't wearing them Friday either. So I looked at video from Thursday's games, to see how they looked during their previous series. And sure enough, umps were wearing the patches that day: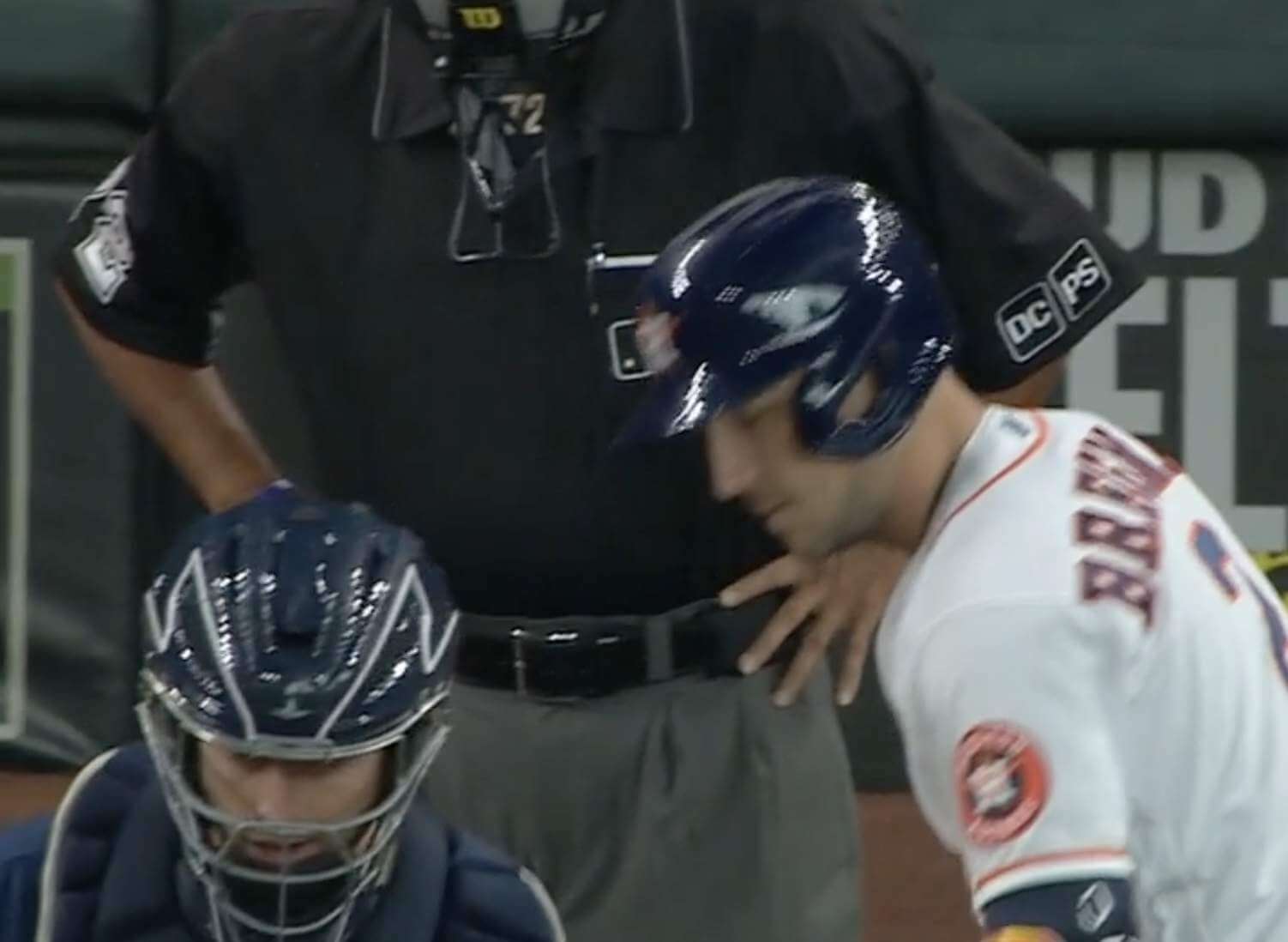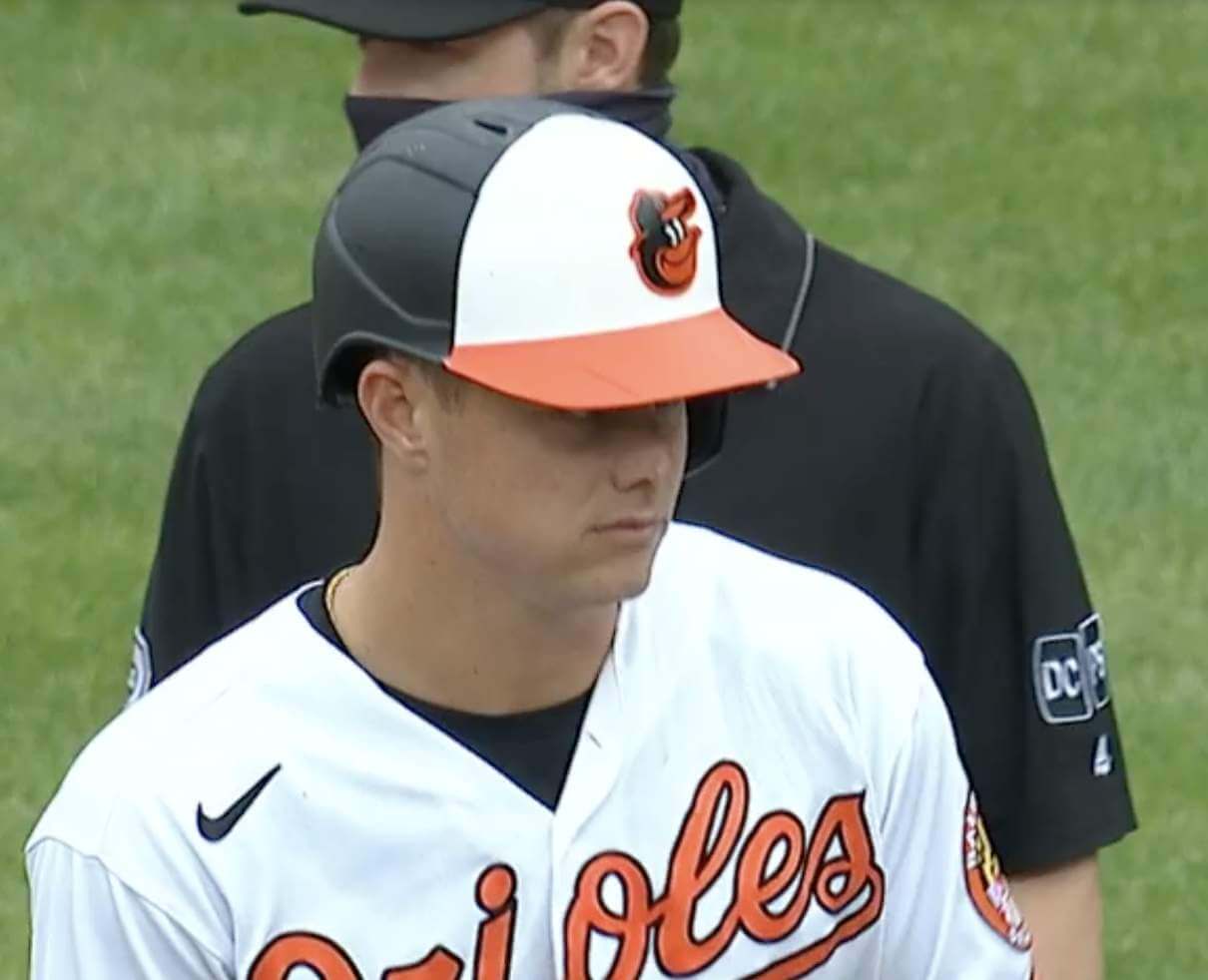 10. At this point I figured I had determined that the umps were wearing the patches on April 29 (Thursday) and stopped wearing them on April 30 (Friday, when they rotated to their new series assignemtns). But I figured I'd better check the Friday games, just to be sure that my theory about in-series consistency was correct. And as it turns out, I was wrong — the umps were wearing the patches on Friday: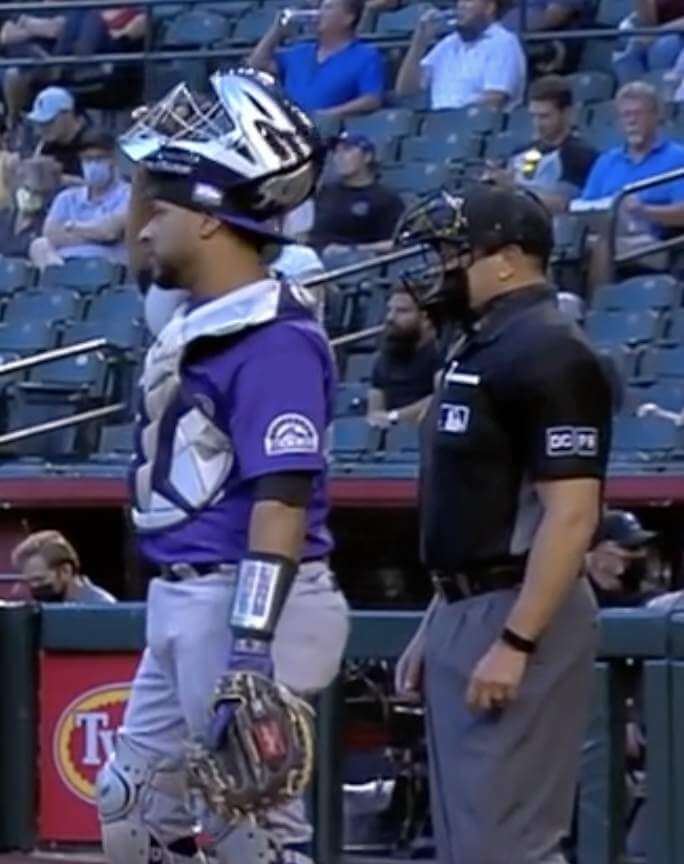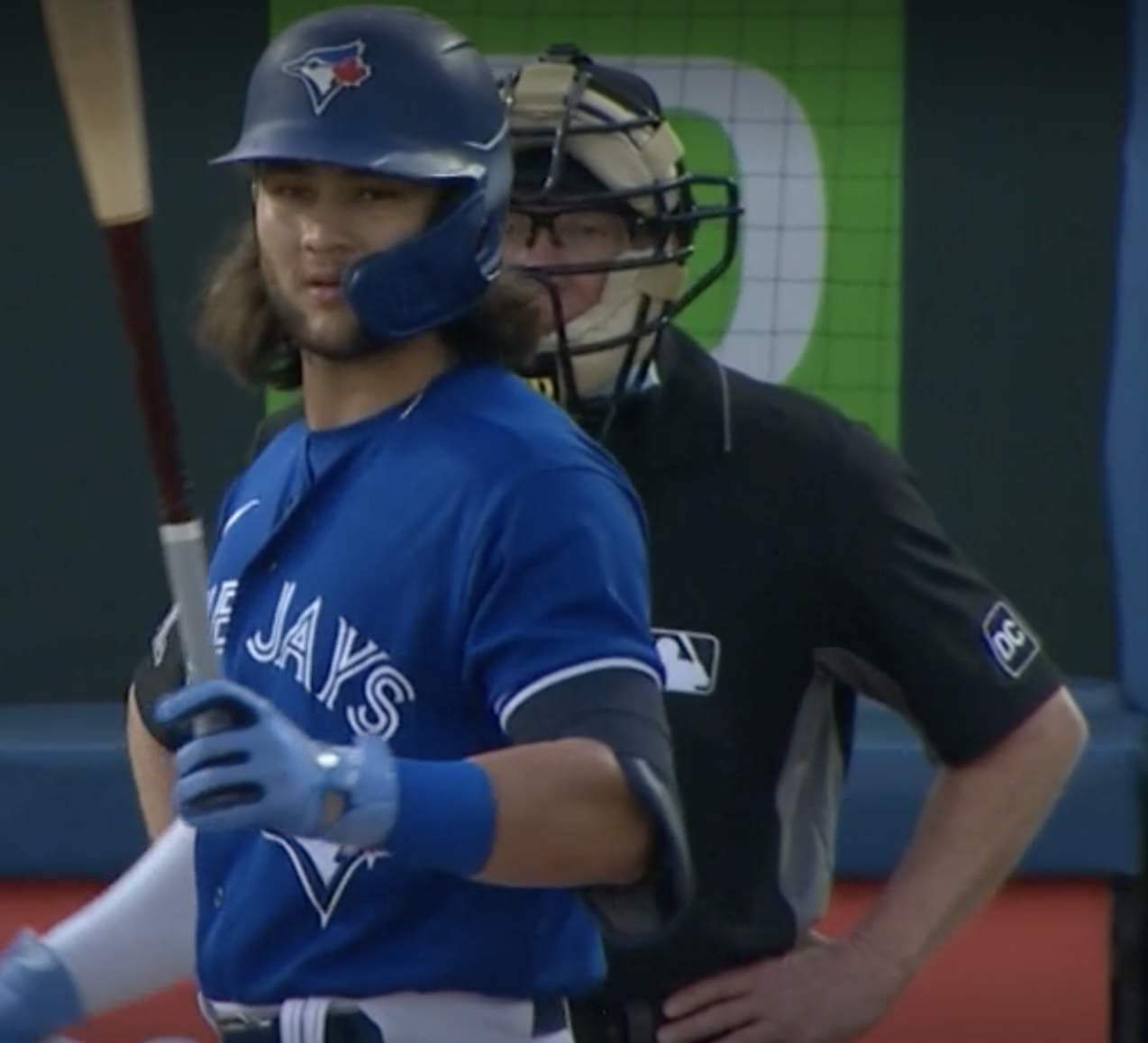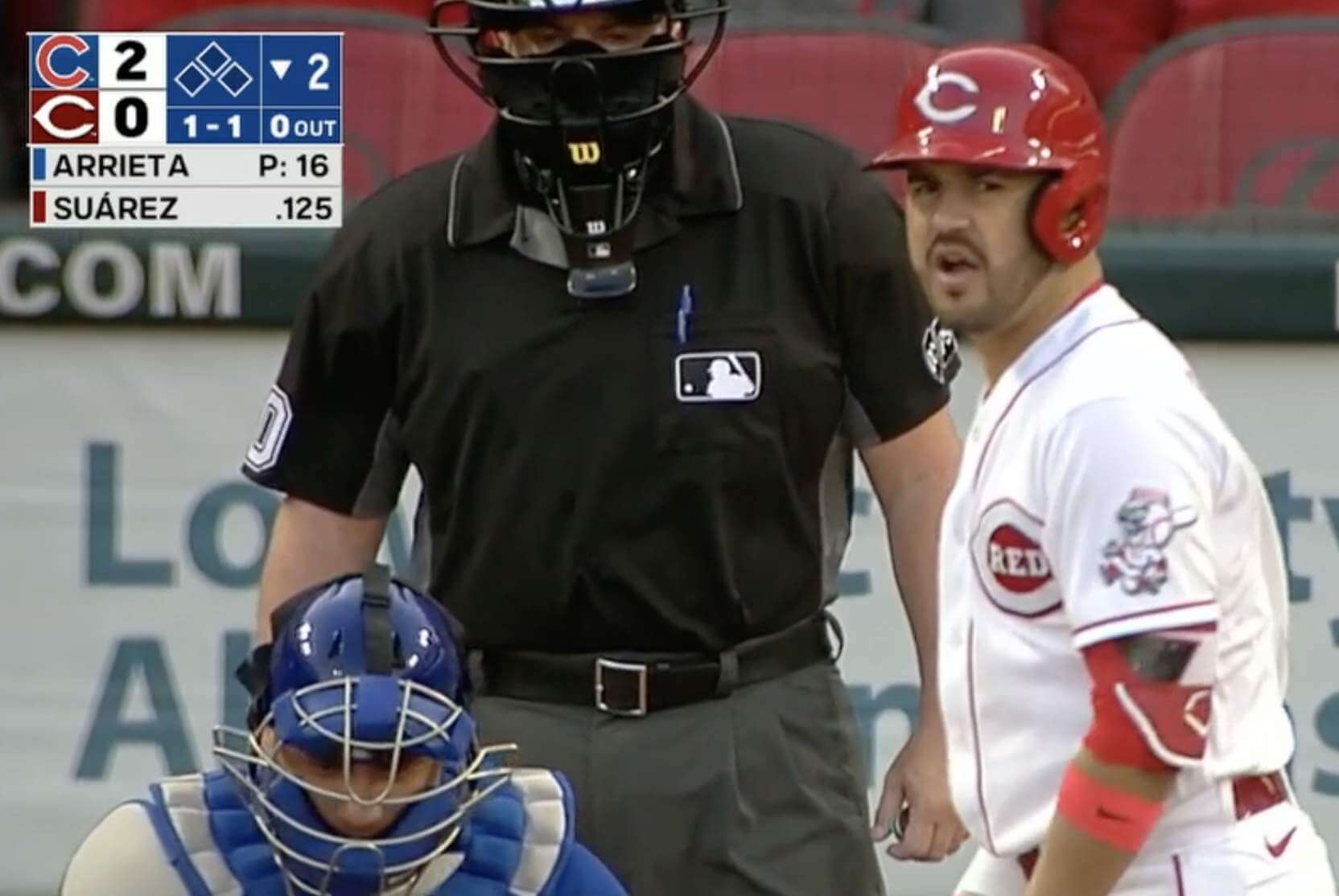 11. Friday was the last day of April. So it appears that the umpires wore the Cousins and Schrieber memorial patches for the first month of the season and then removed them (or, in Fletcher's case, blacked them out) for the start of May.
12. It's hard to be 100% certain about this (I'm not sure anyone documents ump patches except me), but I'm fairly sure this patch-removal move is unprecedented in recent MLB umpiring history. The umps usually keep wearing these sleeve memorials for the entire season. Why did they change the protocol this year? I don't know, but I'll try to find out — stay tuned.
——
So that was my Sunday night. I realize it's not a sexy topic like an unveiling or a jersey typo, but detail-obsessive things like this are exactly why I created Uni Watch more than two decades ago. Such a fun mystery to explore! And while I'm grateful to have so many great contributors who spot things and then let me know about them, this exercise was particularly enjoyable because it started with a random observation I made myself while watching my favorite team's game. Very satisfying!
Also: If Andy Fletcher had simply removed his patches like all the other umps, instead of blacking them out, I probably wouldn't have noticed. Similarly, if he had been working one of the bases instead of the plate, I probably wouldn't have noticed his blacked-out patches. A lot of random stuff had to fall into place Just Right in order for this story to emerge. Makes me wonder how many other stories we're missing.
Hope your Sunday night was good too, even if it wasn't as full-on geeky as mine.
• • • • •
• • • • •
Kruk and Kuip were talking about a commercial the Giants ran in 1983 that revolved around the team's new uniforms, and then during a mound visit, they showed the commercial! @UniWatch @GrantBrisbee pic.twitter.com/CVJsKrilpS

— 29 Sunset 👍🏽 (@29_sunset) May 2, 2021
Blast from the Giants' past: During the broadcast of Saturday night's Giants/Padres game, the Giants' TV crew cued up a uni-centric promo spot from 1983, featuring then-Giants players Chili Davis and Duane Kuiper (who's now one of the team's broadcasters). It's very short — check it out above.
So many interesting and odd things about that promo spot:
• Davis repeatedly refers to the design as looking "old" and "old-fashioned." That's definitely not how I would have described that uniform at the time.
• Kuiper says that skipper Frank Robinson helped to design the uniforms. I've never heard that before. It's unclear, at least to me, if Robinson really had a hand in the design process or if that's just a line they came up with for the script.
• Robinson doesn't speak but is shown glaring at the players. I remember how that was his reputation at the time — a stern taskmaster. I feel like that persona faded a bit later in his managerial career, as he became perceived as more of an elder statesman (or maybe he just mellowed out).
• I cracked up over the jingle at the end with the lyrics "Come on Giants, hang in there!" That's your slogan?
• I love the batting glove with the big "SF" logo patch at the end. Did anyone ever wear a glove that actually looked like that?
(Mega-thanks to Twitter-er @29_sunset for sharing this gem with us.)
• • • • •
• • • • •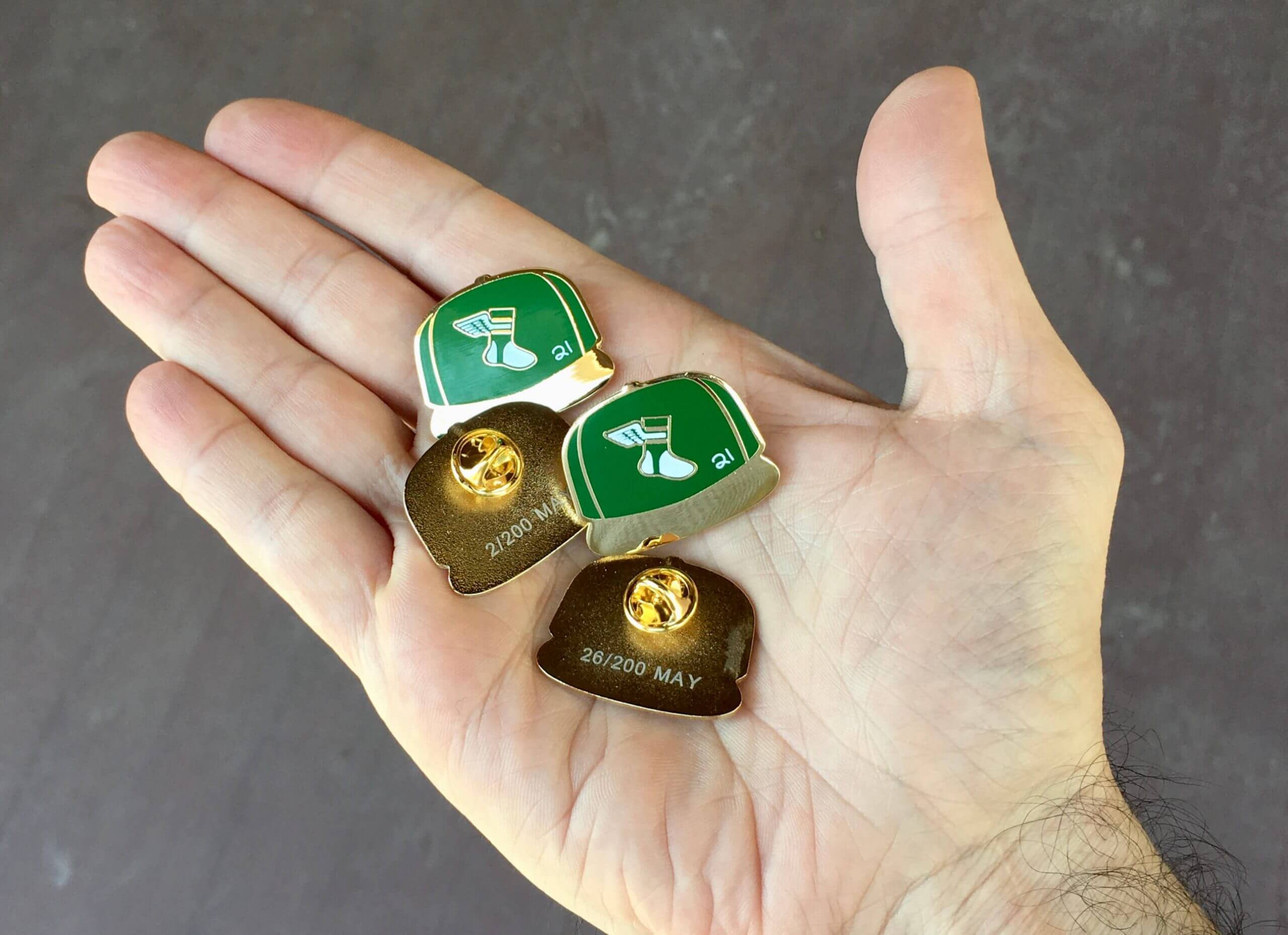 Click to enlarge
ITEM! New Pin Club design: I know many of you don't read the site during the weekend, so you may have missed our latest Uni Watch Pin Club launch. This month we're keeping it simple and classic with a Uni Watch baseball cap pin, which you can order here.
A few notes:
• This the first Pin Club pin that doesn't include the words "Uni Watch." We thought it was better to let the design speak for itself.
• The little white "21" stands for the year, obviously, and is meant to mimic the little cap inscriptions that MLB players sometimes use as a shout-out to injured or fallen teammates.
• This pin was produced in a numbered edition of 200. As of this morning, there are about 100 remaining.
Again, the pin is available here. Enjoy!
• • • • •
• • • • •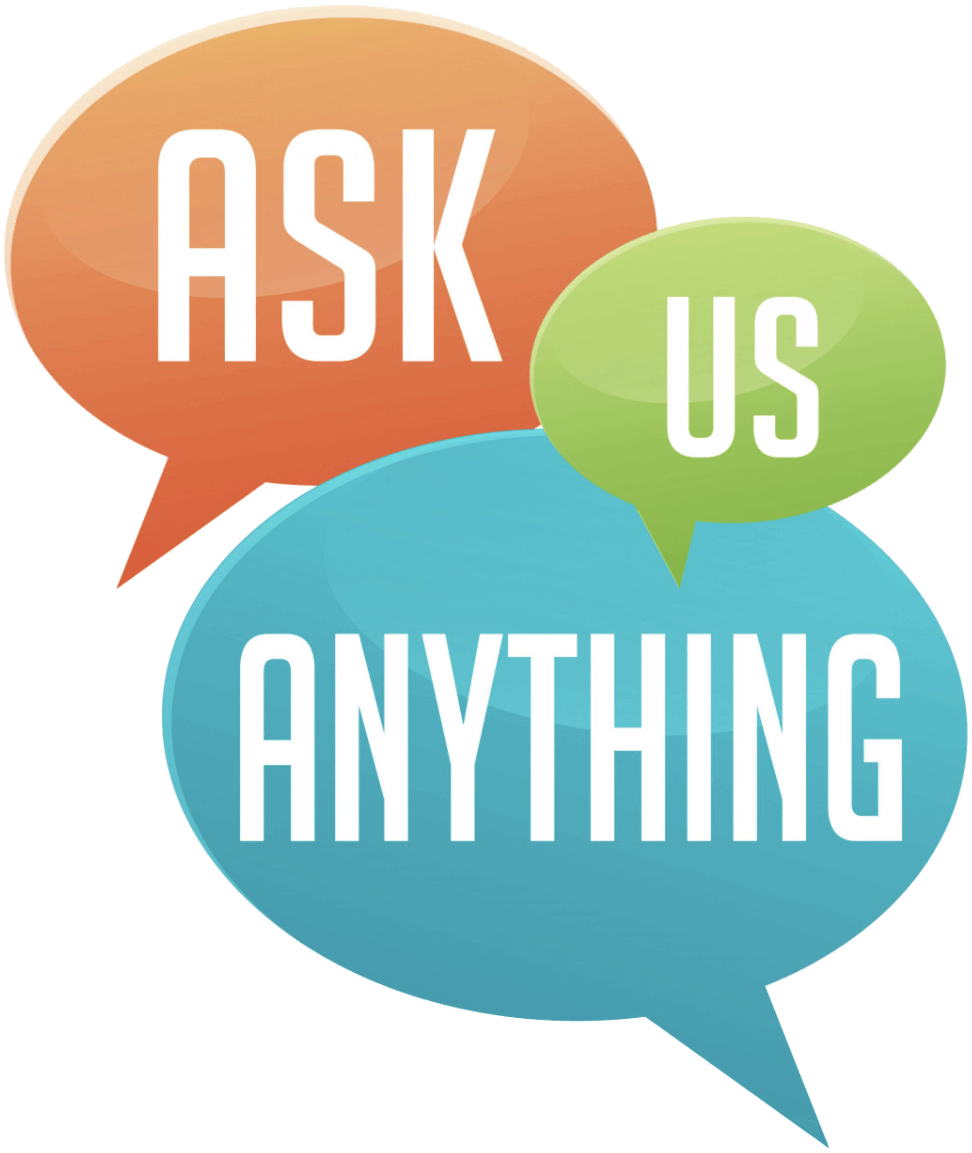 ITEM! Podcast news: Due to a scheduling conflict, we will not have a new Unified podcast episode this week. But we have something very cool planned for the week after that — it'll be our first "Ask Us Anything" edition, where we'll spend the entire episode answering listener-submitted questions. It should be a lot like our regular "Question of the Week" segment, but stretched out over the entire episode.
If you'd like to submit a question for us, you can do so here. A few things to keep in mind:
• Most of the questions we get are directed to both of us. But if you have a question specifically for me or for Chris, that's fine too.
• You can ask us about uniforms and logos, of course, but you can also ask the podcast itself, or about Uni Watch and/or SportsLogos.net, or about our careers, or anything like that.
• Questions that can be answered with a simple yes or no response aren't all that interesting (for us or for the audience), so try to avoid those.
Thanks in advance for your submissions — we look forward to responding to your queries!
• • • • •
• • • • •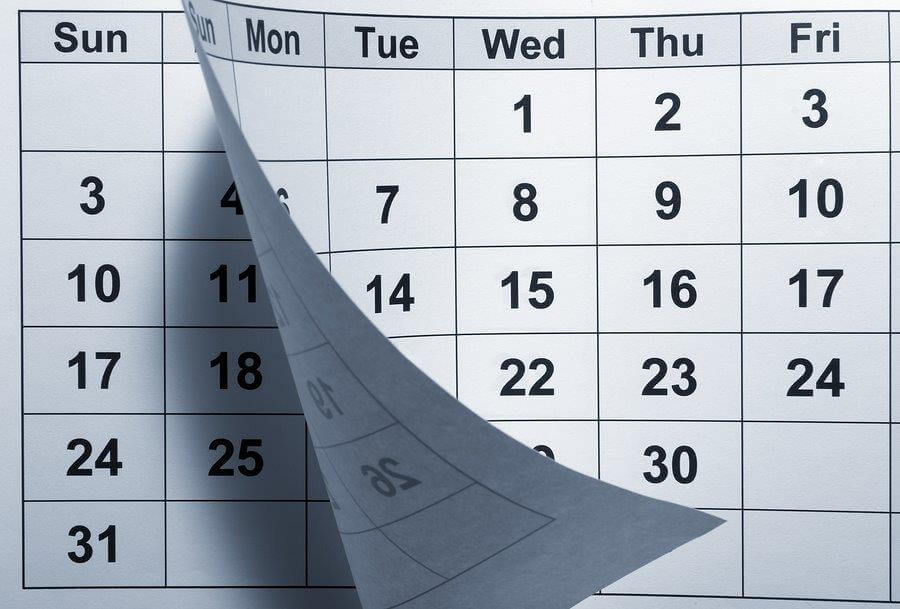 ITEM! Big month upcoming: May is always a big month on the Uni Watch calendar, and this year will be no exception. Here's what's in store:
• May 17 — two weeks from today — will mark the 15th anniversary of the very first post on this blog in 2006. Per longstanding tradition, that means it will also be Purple Amnesty Day — the only day of the year when I'll accept orders for purple-inclusive membership cards. As usual, designer Bryan Molloy and I will also have some purple merch offerings that will be available for exactly 24 hours — no more, no less!
• Nine days later — May 26 — will mark the 22nd anniversary of the very first Uni Watch column appearing in The Village Voice in 1999. It will also be the date of a very special uni-centric event that longtime Uni Watch reader and all-around swell guy Jason Von Stein has organized. I'll let him explain:
Hello, Uni-verse!

I love Uni Watch because it brings people together, no matter what uniform they wear or root for. Uni Watch also celebrates the arts. So please join us for a free celebration Wednesday, May 26, as a bunch of wonderful musical performers celebrate Uni Watch's 22nd anniversary and also raise money for worthy charities.

The event will be live-streaming on this Facebook page. Here's the schedule of who'll be performing, and the charities they'll be supporting [click to enlarge]: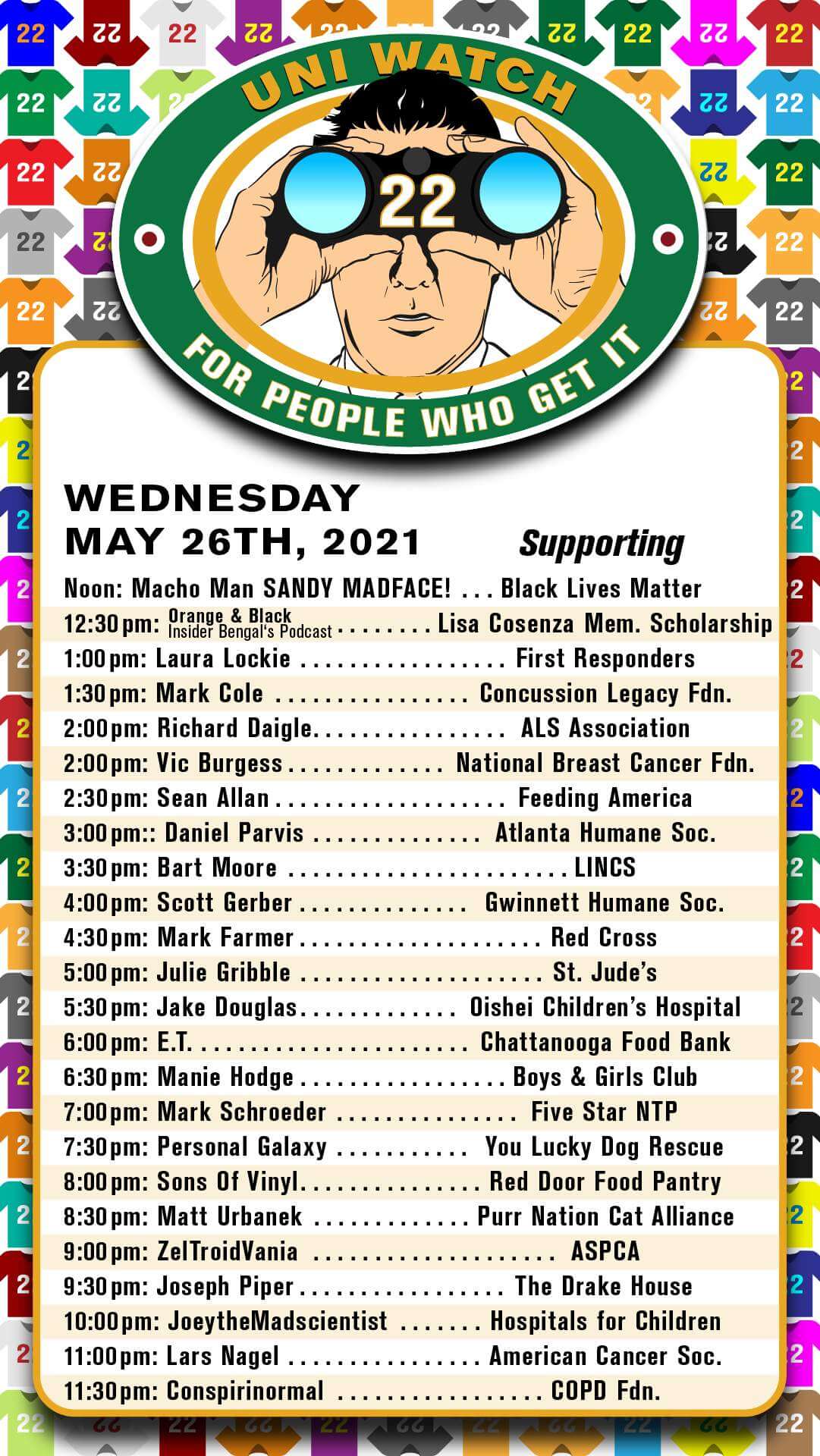 The performers will be live-streaming from their homes on the event page. You'll know who is currently performing by the red "Live" box appearing in the upper-right corner of the screen, and you'll be encouraged (but not required, of course) to donate to that performer's charity.

We will also be having "Stupid Sports Trivia" between performers, with prizes courtesy of Ebbets Field Flannels, Asgard Press, and others.

Feel free to interact with us during the event and tell us what Uni Watch means to you. If you like, we encourage you to wear your favorite uniform and post photos of yourself on the event page! The person whose photo has the most "Likes" will win a Uni Watch prize package that Paul has provided, featuring a Uni Watch koozy, trading card, magnet, and membership card. (Don't have a uniform to wear? Between now and May 26, use the checkout code UNI22 to get 10% off at Ebbets Field Flannels.)

We hope you'll join us to celebrate 22 years of Uni Watch, to enjoy lots of great musical performances, and to support lots of worthy causes. Thanks!
Isn't that nice? I've had nothing to do with the planning of this event, so Jason deserves every last bit of credit for putting it together. Thanks, Jason!
• • • • •
• • • • •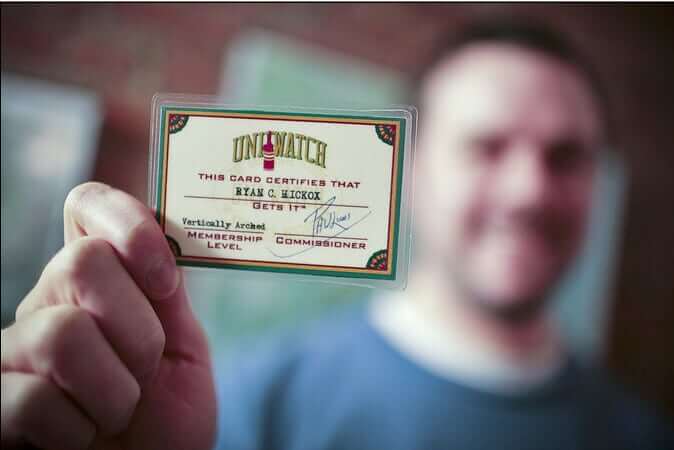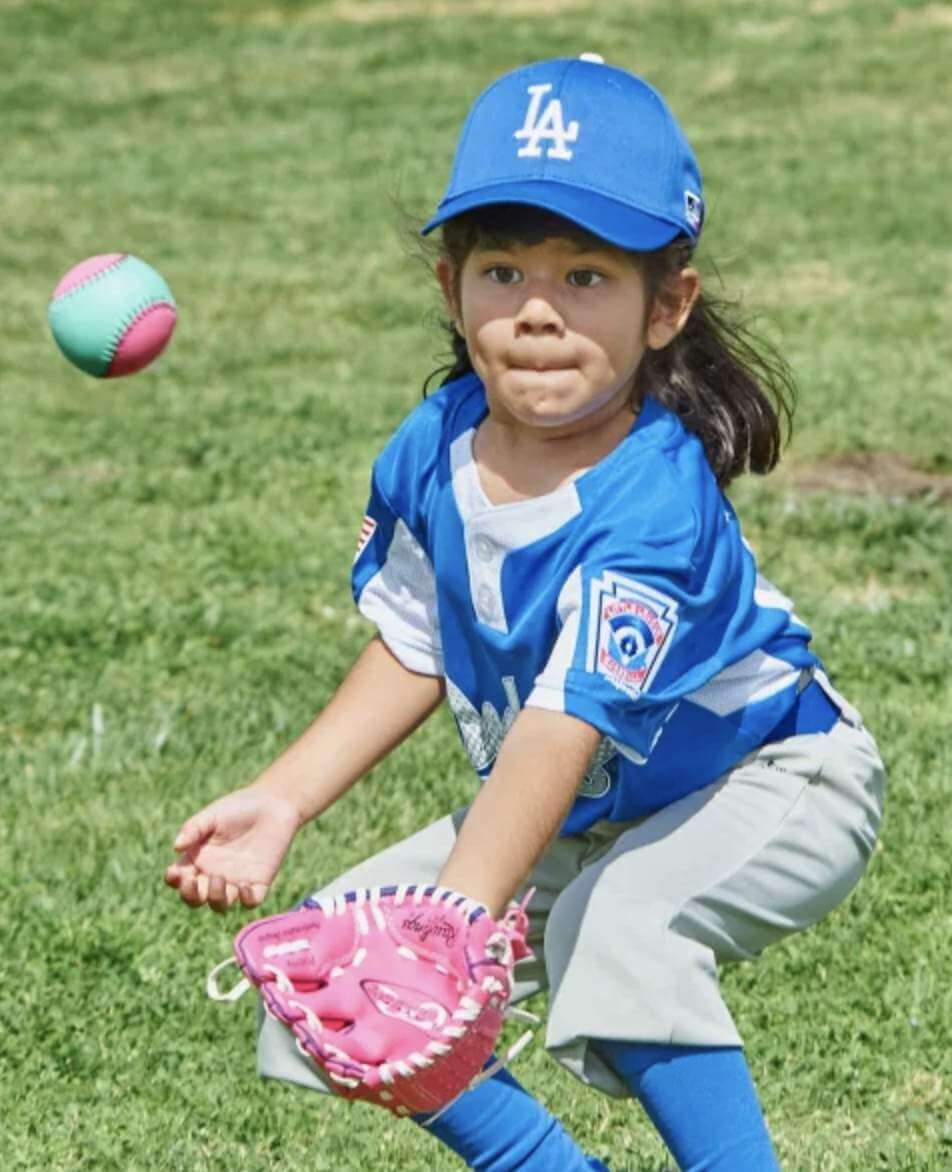 ITEM! New "Start 'em young" membership raffle for kids: Reader Kevin Cearfoss — the guy who makes those great 3D logos — has generously donated funds for four memberships, with an interesting stipulation: These memberships must all go to kids. "I would have asked my parents for one had I known about Uni Watch back then!" says Kevin.
I love that idea of adding more kids to our comm-uni-ty. So if you're a kid reading this, you're eligible to enter this raffle. If you're not a kid, you can still enter, but the membership card would have to be for a kid who you know. (Obviously, we can't enforce that, but I'm hoping everyone will adhere to the honor system.)
This will be a two-day raffle. Non-USA entries are fine. To enter, send an email to the raffle in-box by 8pm Eastern tomorrow, May 4. One entry per person. I'll announce the four winners on Wednesday. Good luck!
• • • • •
• • • • •
The Ticker
By Jamie Rathjen

Baseball and Softball News: The Yankees gave RF Roger Maris a No. 55 jersey when he reached that home run milestone in 1961 (from Dan Cichalski). … Missouri softball wore pink yesterday (from Timmy Donahue). … There is at least one new uniform for the U.K.'s National Baseball League's London Capitals (from Kurt Wasemiller). … New Mexico baseball honored Jackie Robinson on Saturday by wearing their normal uni numbers on the front of the jersey and 42 and "Robinson" on the back (from Guillaume Brady).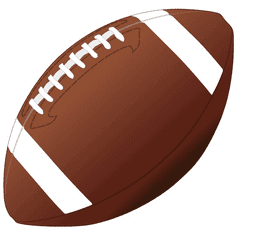 Football News: Cardinals S Budda Baker is changing to No. 3 (thanks, Anthony). … Most of the Bengals' draft picks are shown on their website wearing the old jerseys (from Bob Moon). … FCS South Dakota State has "Last Play" on their rear helmet bumpers, so they're literally putting the last play behind them (from Zach Barnett). … Here's a peek at two new Nevada helmets for this fall (from Cameron Smith).

Hockey News: Ducks players wore varying jerseys of retiring goalie Ryan Miller in warm-ups on Saturday (from Wade Heidt). … In a Chicago switcheroo, the Bulls' and Blackhawks' mascots traded places last week (from Kary Klismet).

Basketball News: Author John Grisham's new book, Sooley, is about basketball. Grisham has Virginia men's basketball courtside seats and recently did an interview on the book from John Paul Jones Arena. He also posted a picture of himself in uniform (thanks, Brinke). … New Cavaliers PG Jeremiah Martin is wearing No. 3 (from Etienne Catalan). … Cross-posted from the ice hockey section: The Bulls' and Blackhawks' mascots switched places last week (from Kary Klismet).

Soccer News: Premier League officials wore warm-up shirts supporting the charity Don't X the Line, which targets abuse, racist or otherwise, of officials. This coincidentally overlapped with men's and women's soccer in the U.K., as well as the other reasonably major team sports — rugby union and league, cricket, field hockey, netball, and even smaller ones like ice hockey — boycotting social media from Friday to today to pressure the providers to take action against repeated instances of racist abuse. … As we mentioned would happen in Saturday's Ticker, Tottenham Hotspur wore a charity ad for Indochina Starfish Foundation Cambodia (also from Moe Khan). … Germany's 2. Bundesliga's Hamburger SV wore shirts honoring the 10th anniversary of their LGBTQ fan club. … Japan's Yokohama F. Marinos released a third shirt to be worn July 10 (from Jeremy Brahm). … West Ham United women's pink shirts, which are usually worn in October, reappeared as a third shirt yesterday for the second time this season, as they apparently don't have this season's third kit. … Egypt's Al Ahly started work on a new stadium (from Kary Klismet). … Lots of shenanigans happen at corners, but this is a new one: Fulham striker Bobby Decordova-Reid trying to unstrap Chelsea goalie Edouard Mendy's gloves (from Tom Gronek). … In 2019, Colombian teams wore half their badges to represent that most clubs really have two teams and to boost attendance at the women's game, with men's and women's teams each wearing one half. I had trouble finding exact dates or pictures outside of that video, but it should have happened sometime between July and September that year (also from Jeremy Brahm).

Grab Bag: Stanford field hockey played their final game in the NCAA tournament yesterday, unless the school decides not to drop the sport, ending their status as perhaps the only Division I team to permanently wear sleeves. U.S. high school and college teams and high-level women's national teams usually don't wear sleeves, but most other teams do. … Jeremy Brahm has more for us after yesterday's entry: The namesake team from the anime 2.43: Seiin Boys High School Volleyball Team was depicted wearing the Japan men's national team uniforms. … NASCAR Cup driver Ryan Newman had a commemorative decal for his 700th start (from Nick Williams). … The next two are from James Gilbert: Retired North Carolina associate sports information director Dave Lohse received a framed No. 43 men's lacrosse jersey for his years of service. … The team also wore warm-up shirts, honoring a former player who recently passed away. … The Australian Football League's Greater Western Sydney wore an Indigenous guernsey on Saturday. … The next three are from Kary Klismet: Some Australian high schools have gender-neutral uniforms. … An Oregon high school that was replacing its Trojans name decided on "Guardians" instead of the initial "Evergreens" because of concerns that a tree-related name combined with the school's new namesake, NAACP founder Ida B. Wells-Barnett, could remind of lynching. … The Roman Colosseum is to have its floor reinstalled (NYT link).
• • • • •
• • • • •