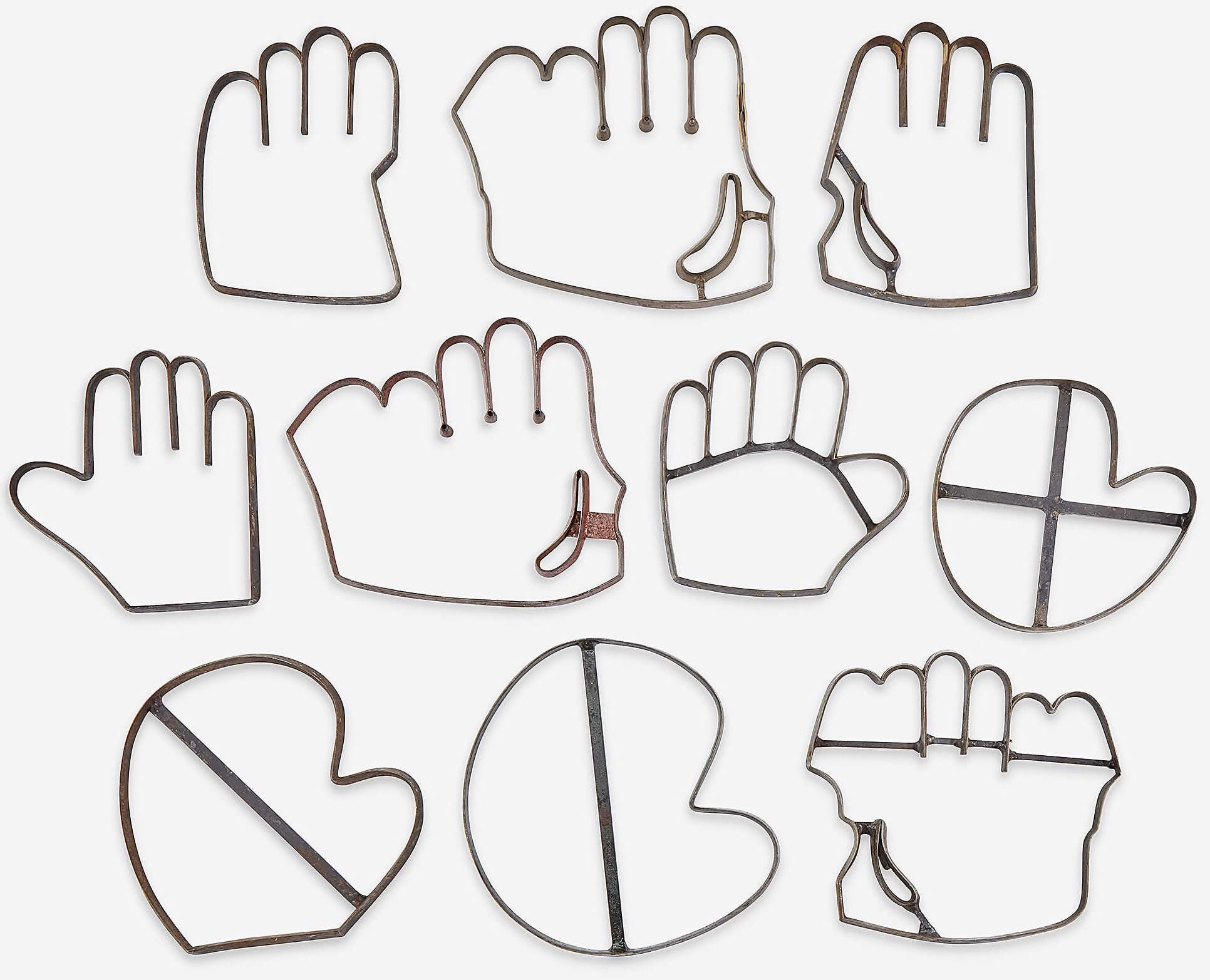 For all images, click to enlarge
Most of you have probably heard of sports auction houses like Grey Flannel, MeiGray, Steiner Sports, and a bunch of others. Those companies specialize in sports memorabilia, and their auction listings tend to get a lot of play in sports media outlets, including Uni Watch. But there are also lots of non-sports auction outlets that specialize in art, photography, collectibles, and so on but occasionally feature really good sports items.
My friend David Brown has been really into that art/collectibles auction scene for many years (at one point he even worked for Sotheby's). He doesn't necessarily bid on lots of stuff; he just likes to follow what's going on, similar to how some people like to follow real estate. Anyway, he's always attuned to interesting sports items that might be good for Uni Watch. Just last month, in fact, I wrote about some sensational baseball uniforms he discovered on an auction site, and that was just the latest in a long line of David Brown specials.
David's newest find, which he shared with me a few days ago, is shown above. Can you guess what they're for?
Answer: They're steel stamping dies for cutting out leather for baseball gloves! Aren't they amazing? So gorgeous, so pleasingly industrial!
And that's just one set — there's another set available (go ahead and click to enlarge — it's worth it to see the texture and details):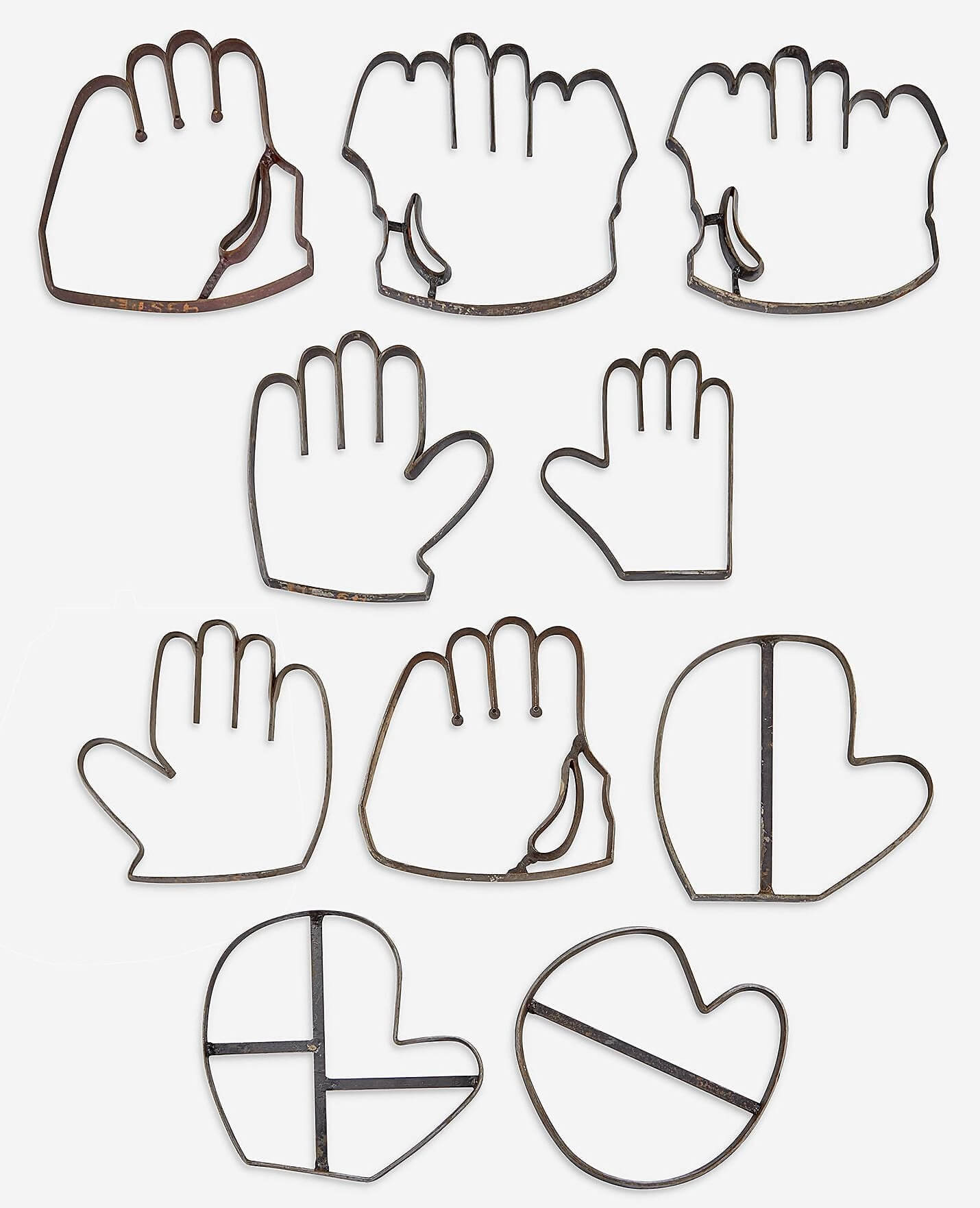 I love how catcher's and first baseman's mitts are included, and I especially love the little cutouts for the index fingerhole. So cool! I'd definitely enjoy owning these — they'd look so cool mounted on a wall, or even hanging like a mobile — but the price is way too high for me.
According to the auction listings, these items come from a now-defunct glove manufacturer called M. Denkert & Company, which operated in Johnstown, N.Y., from 1909 through 1973. I'd never heard of them, but it turns out that their gloves are all over eBay. You can even get a wallet made of leather from a Denkert glove.
Here's one of their Mickey Mantle signature models (perhaps made with the same stamping dies I just showed you!):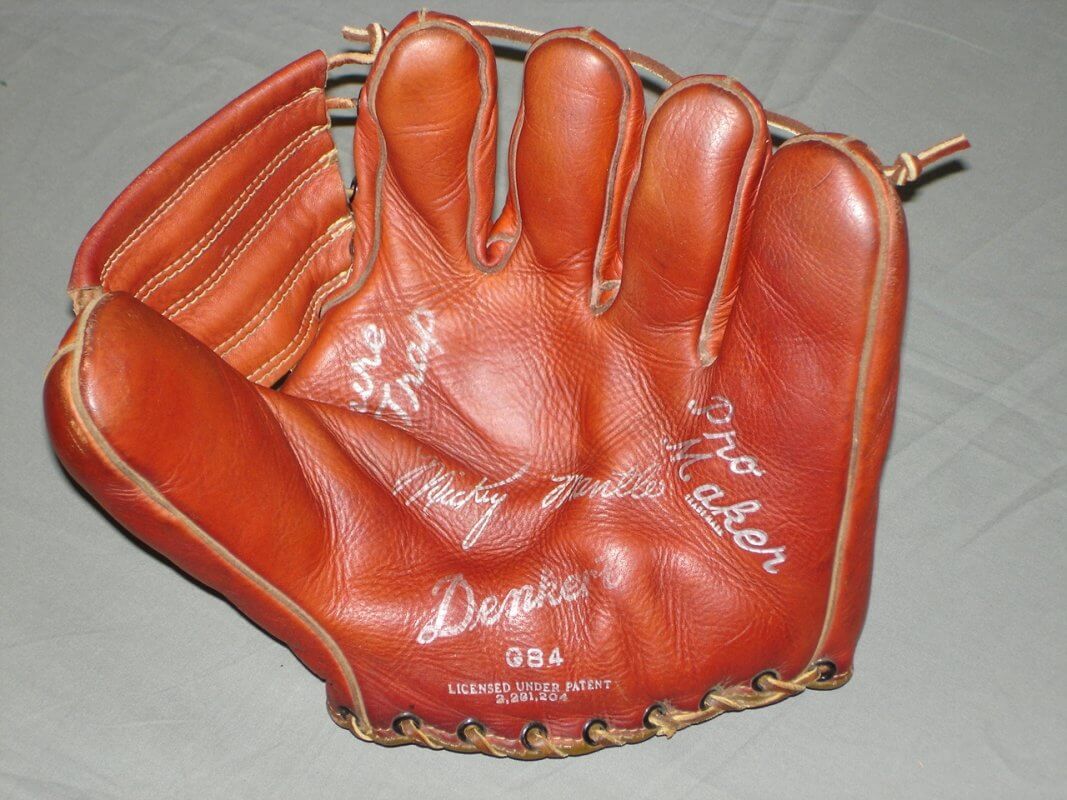 Denkert also held several glove-related patents, like this one for a glove design with a buckled strap on the back and another strap running through the fingertips: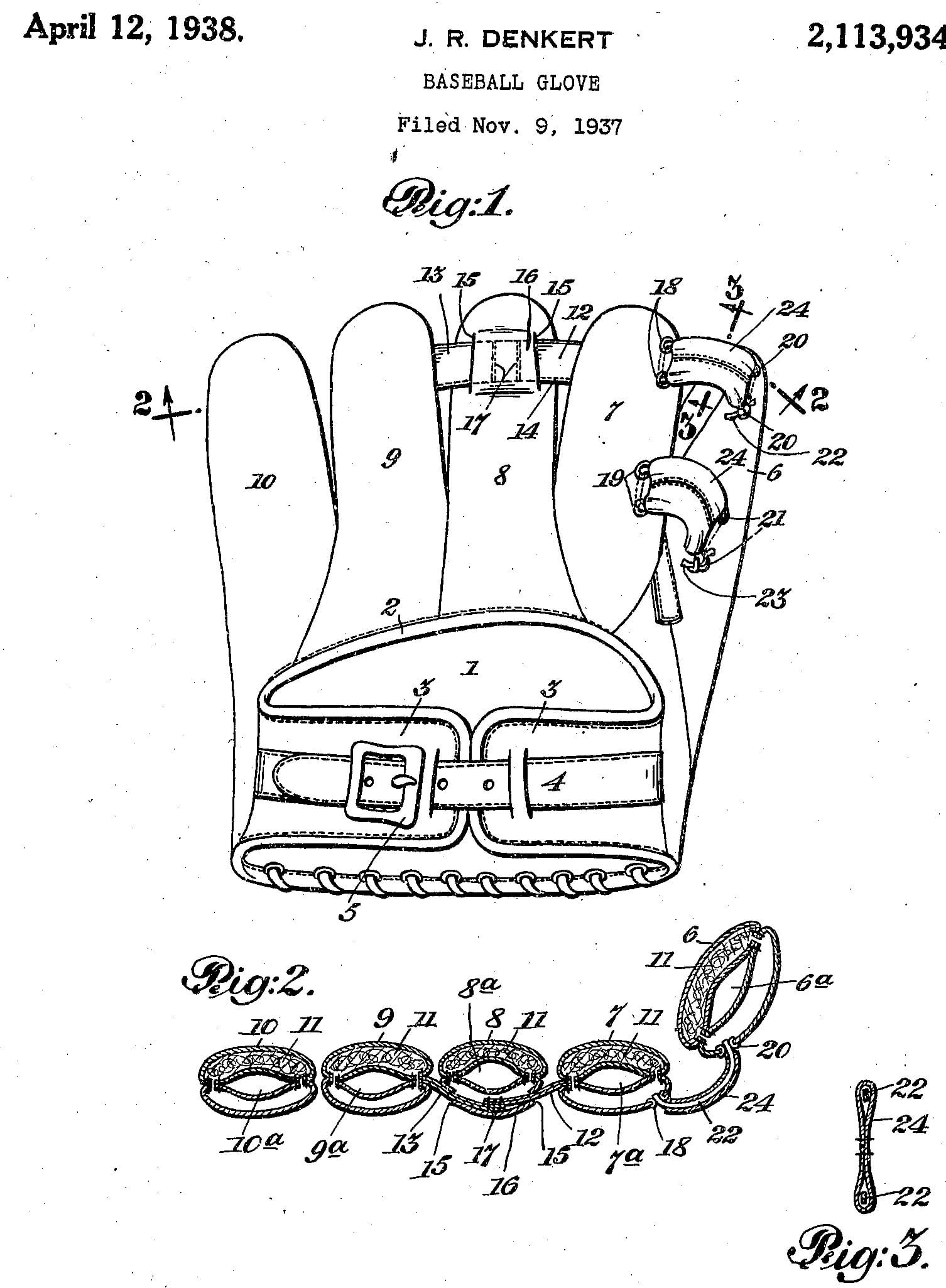 And then there's this patent, for a (four-fingered!) glove with a pre-formed pocket: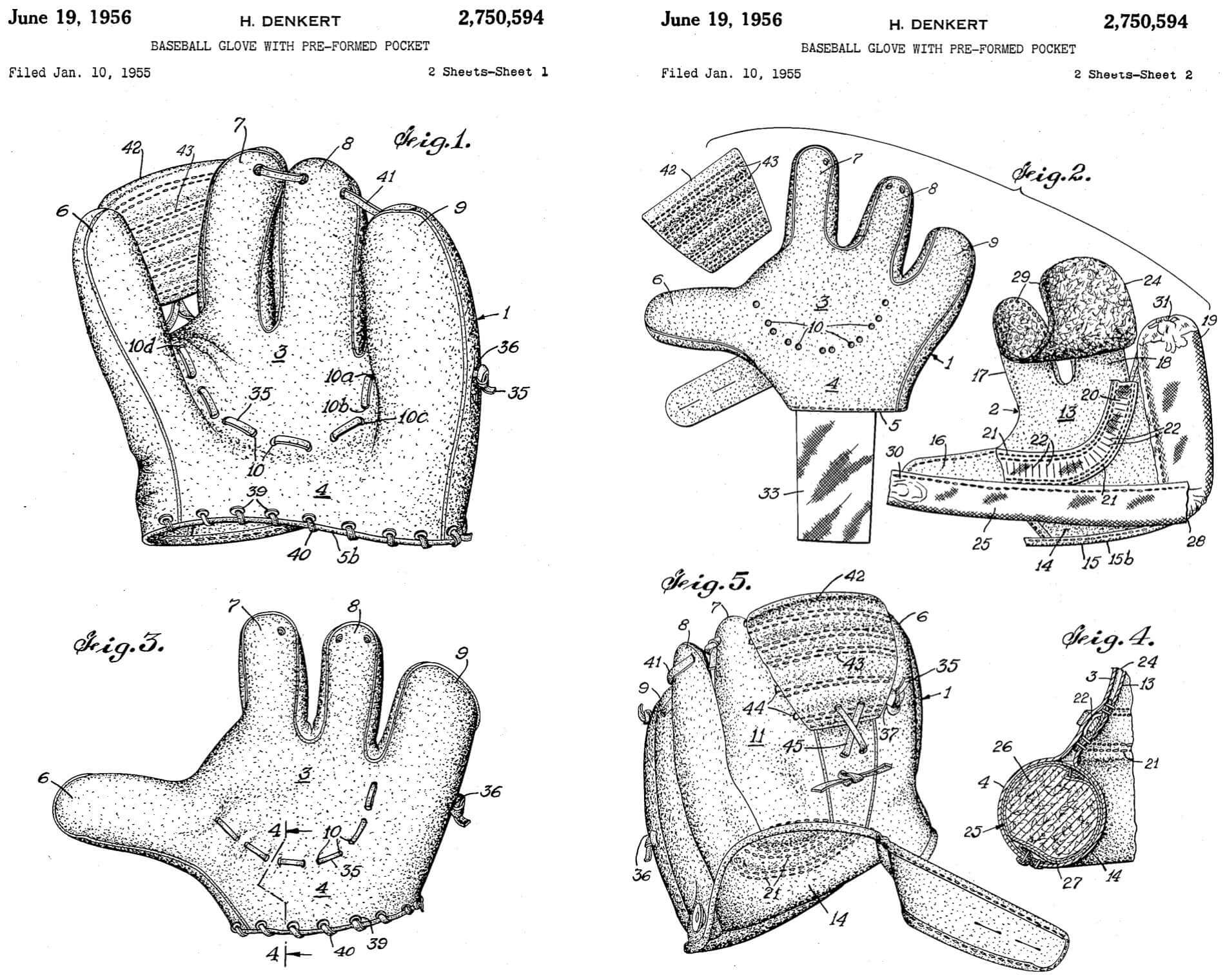 Again, I had never heard of Denkert, so I contacted Uni Watch reader Jimmy Lonetti, head of D&J Glove Repair, and asked if he worked with a lot of Denkert gloves. "I've repaired a few, but it's not a real common brand," he said (so then I didn't feel quite as bad about not having heard of it).
But wait — there's more! Since Denkert was essentially a leatherworking company, they also made leather football helmets — and some stamping dies for those are up for auction as well. They're not as cool-looking as the glove stampers, but they're still really interesting: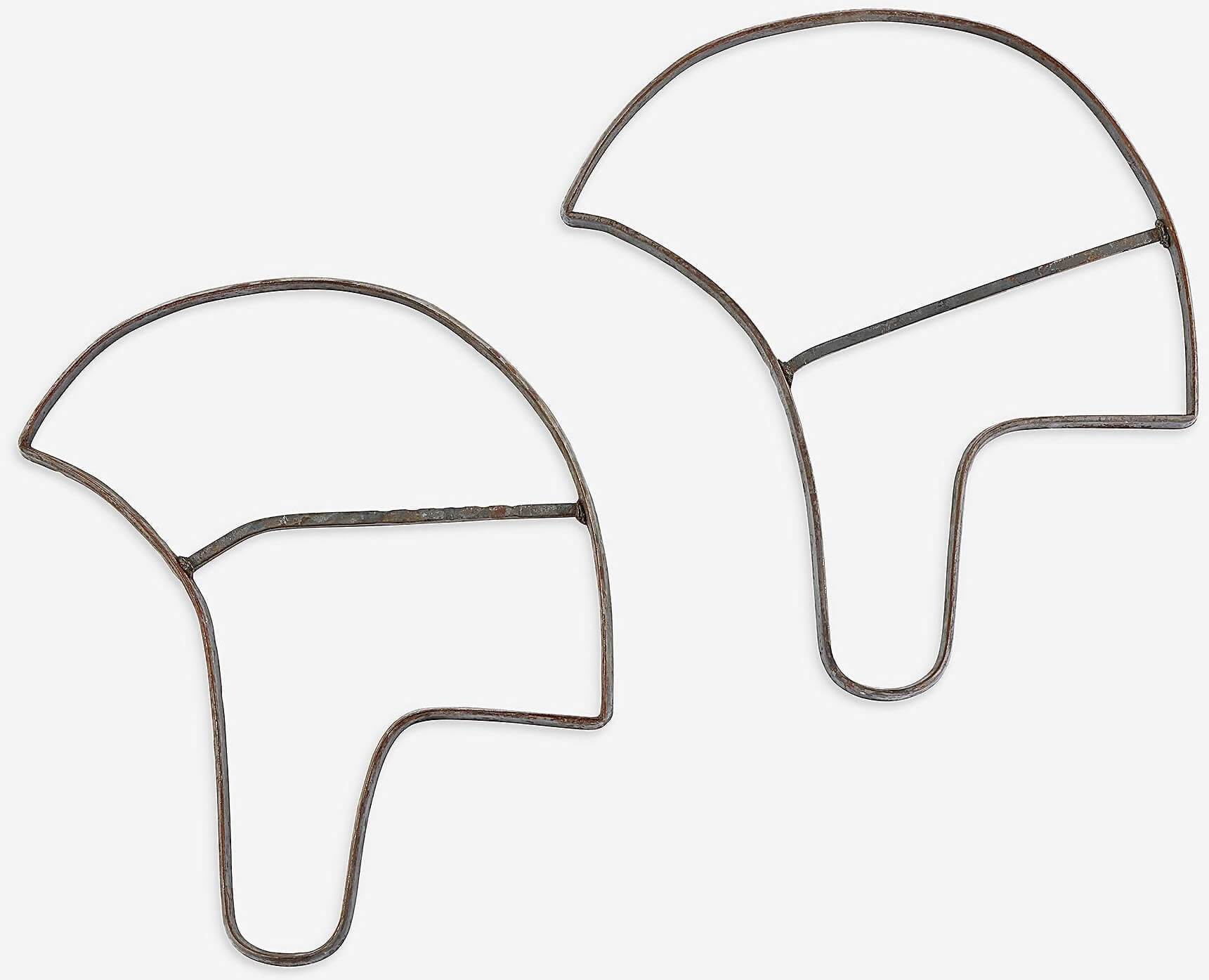 With some quick googling, I also found Denkert footballs, Denkert basketballs, and Denkert boxing gloves. According to this article, they also made baseballs, volleyballs, soccer gloves, boxing speed bags, gun holsters, and leather jackets for the military. 
That article also says that Denkert made a larger glove for Yankees pitcher Red Ruffing, which helped Ruffing disguise his pitch grip during his windup, and also designed a new kind of mitt that reduced the strain on Yankees catcher Bill Dickey's hand. The company was also known for dying their gloves "in unique colors such as red, orange, black and different shades of brown." (If you want to know more, that article is definitely worth reading all the way through.)
What a fun rabbit hole! All because of my auction-obsessed friend David Brown. Thanks, buddy!
• • • • •
• • • • •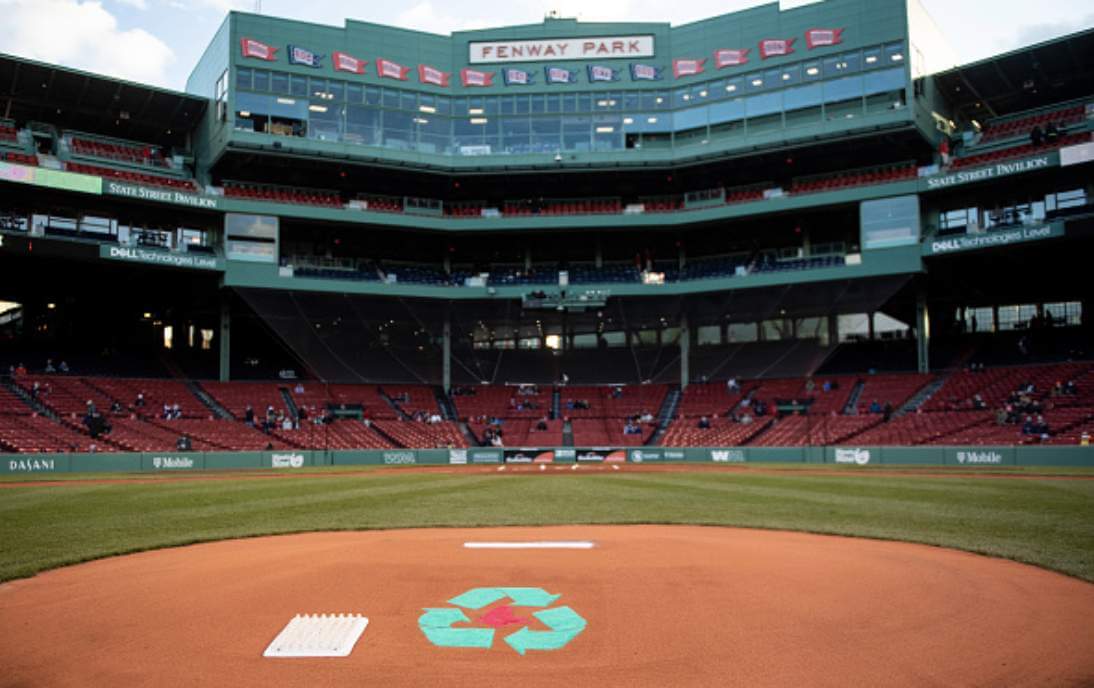 You say it's your Earth Day: One of the uni-verse's stranger phenomena was revived last night, as the Red Sox resumed their periodic observance of Earth Day. This is something they've done on and off over the past dozen or so years. Here's a chronology: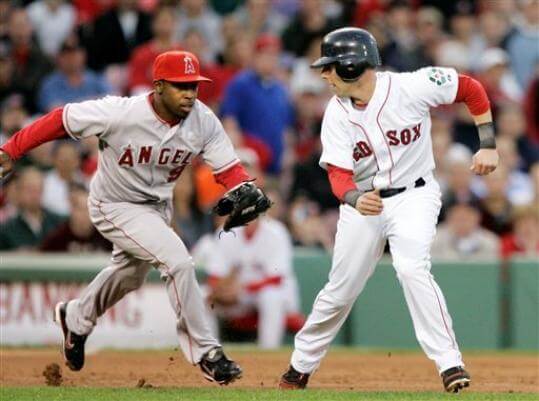 April 20, 2008

The Sox wear their standard home whites but add a green recycling logo patch to the left sleeve. (Sorry, that's the only photo of it that I have.)
———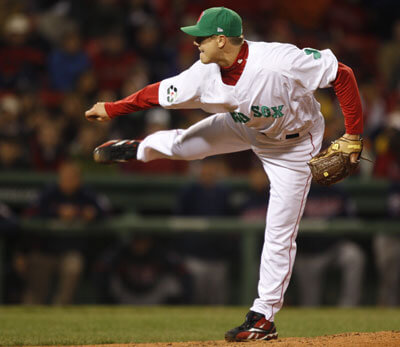 April 22, 2009

The Sox recycle (get it?) their green-trimmed St. Paddy's Day BP pullovers for Earth Day and add the recycling patch to the right sleeve.
———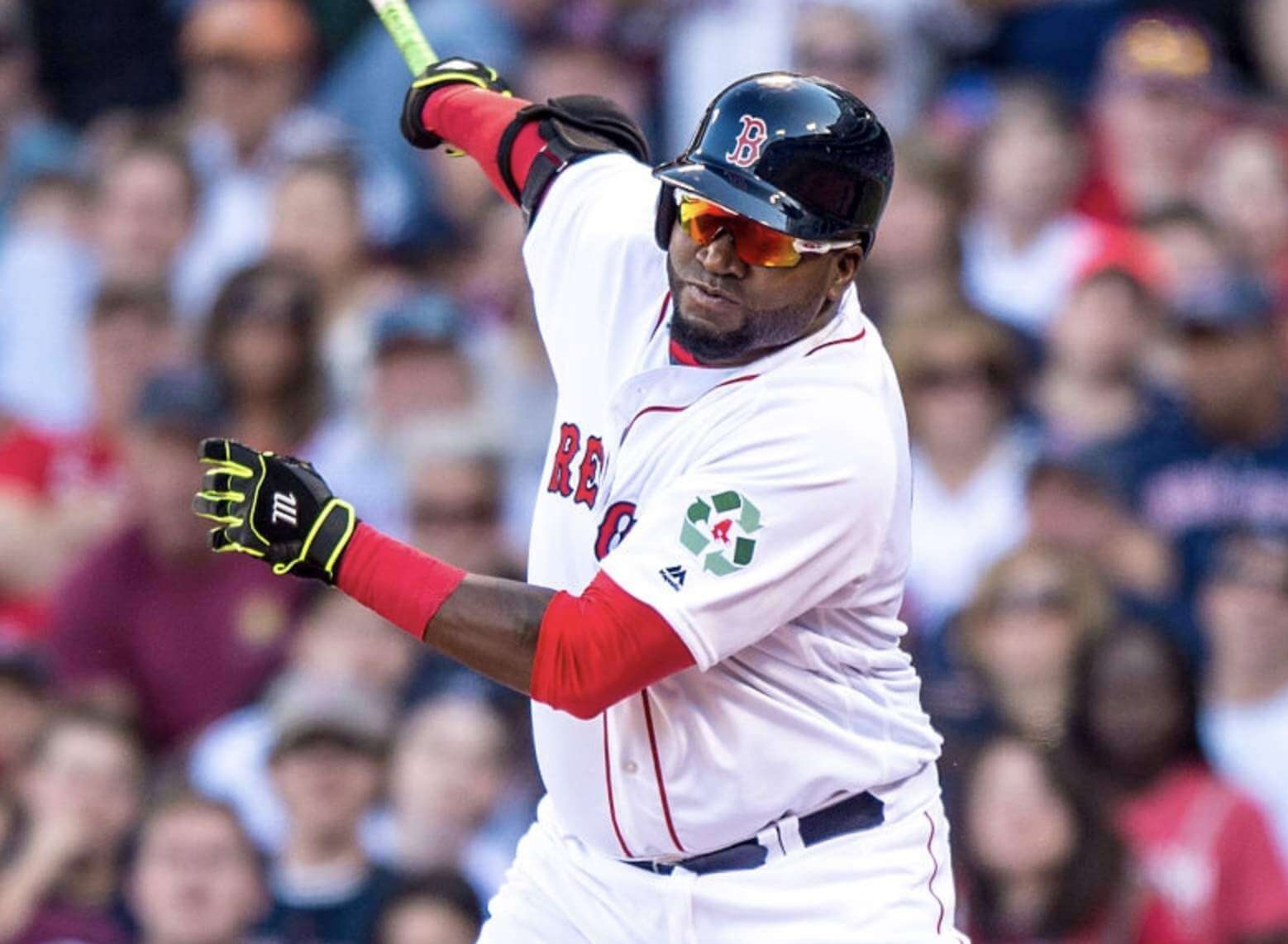 April 21, 2016

After a seven-year absence, Earth Day returns to Fenway, as the recycling logo reappears on the left sleeve.
———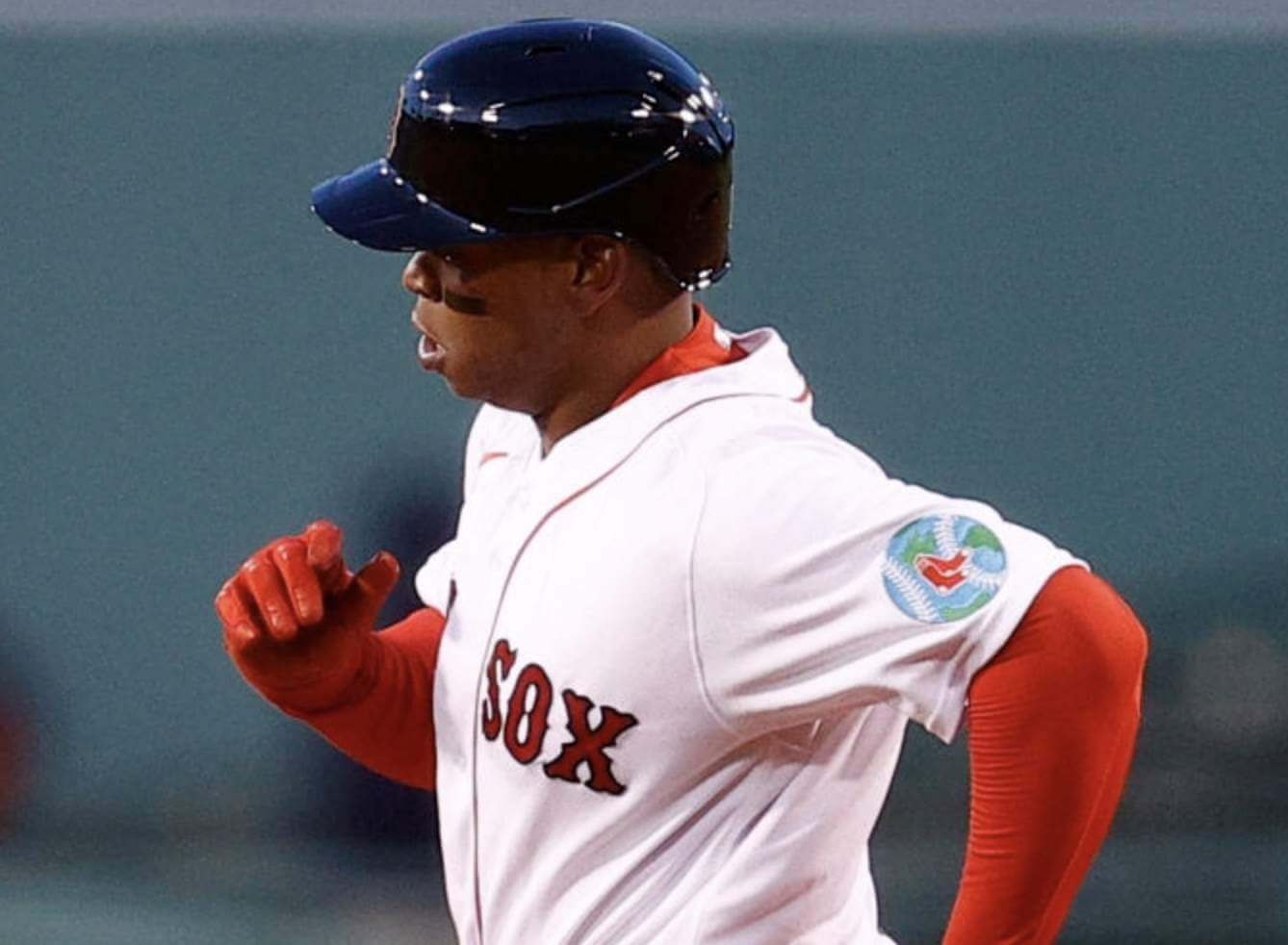 April 22, 2021

Earth Day is back, baby! But instead of going with the boilerplate recycling patch last night, they created a new patch design. Here's a closer look: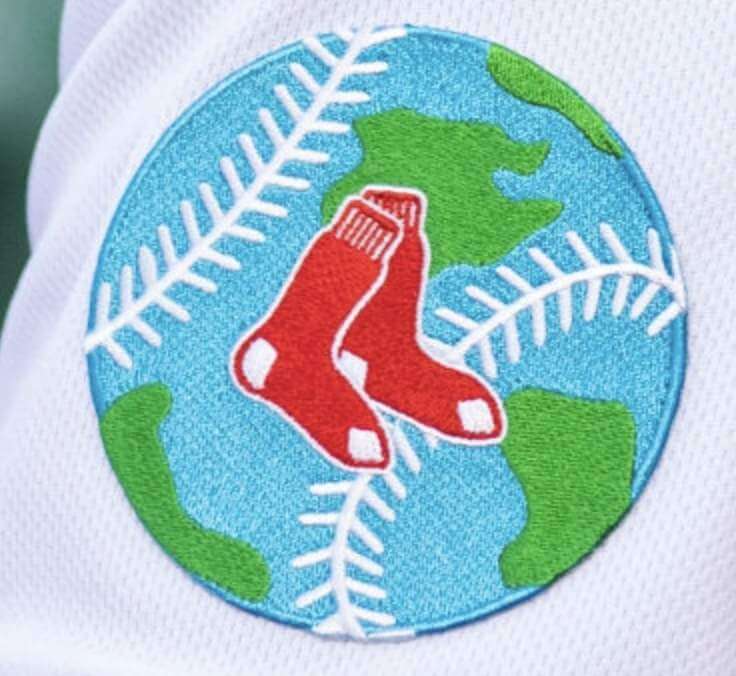 They did, however, put the recycling logo on the mound, as you can see in the photo at the top of this section.
———
I can think of only two other MLB teams that have ever worn anything Earth Day-related. First, in 2008 — the same year the Red Sox wore the recycling logo for the first time — the Astros wore green caps with "Play Green" on the side:
And in 2018, the Orioles wore green-trimmed caps and jerseys (but not pants):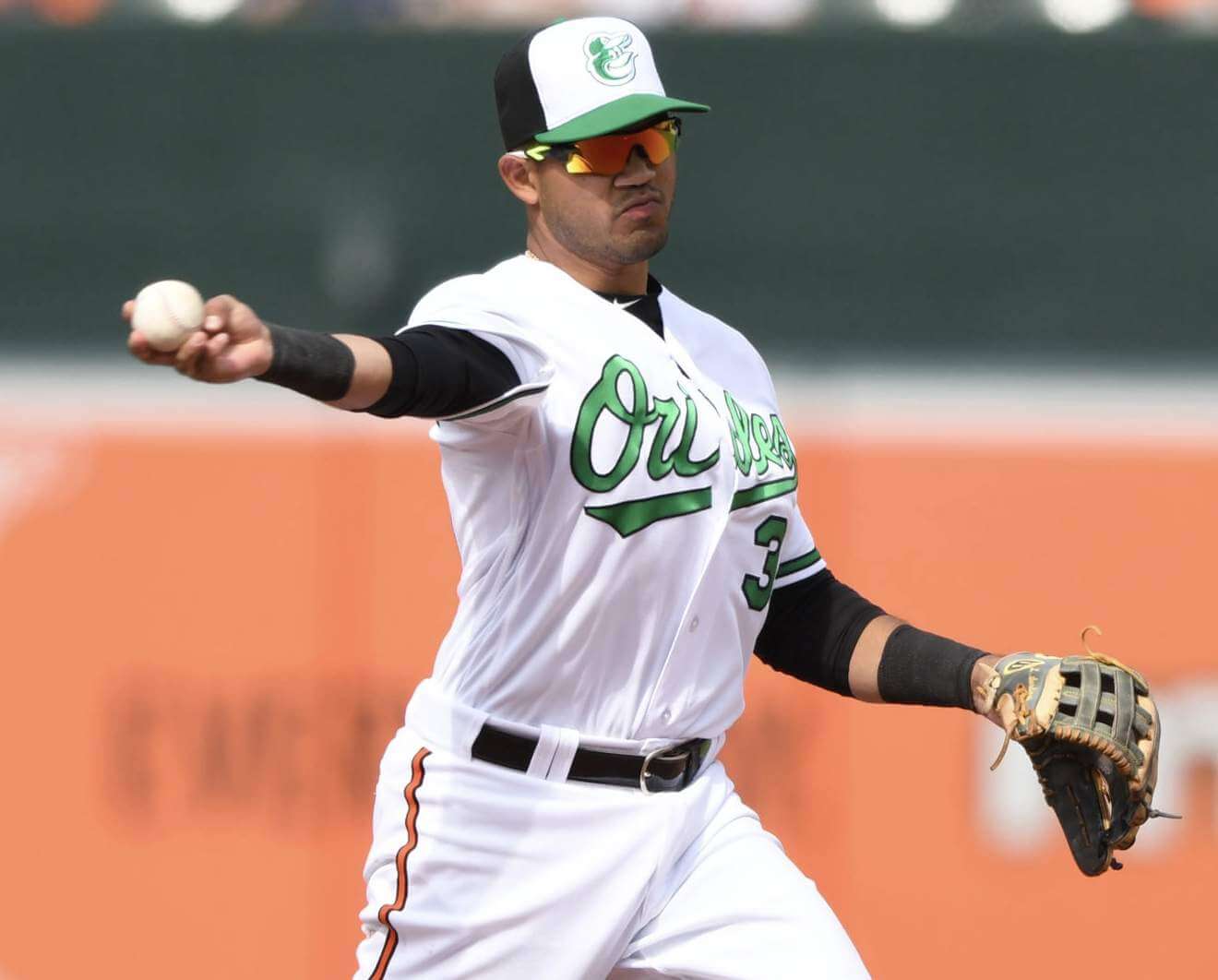 Have there been any other MLB Earth Day uniforms that I'm overlooking?
• • • • •
• • • • •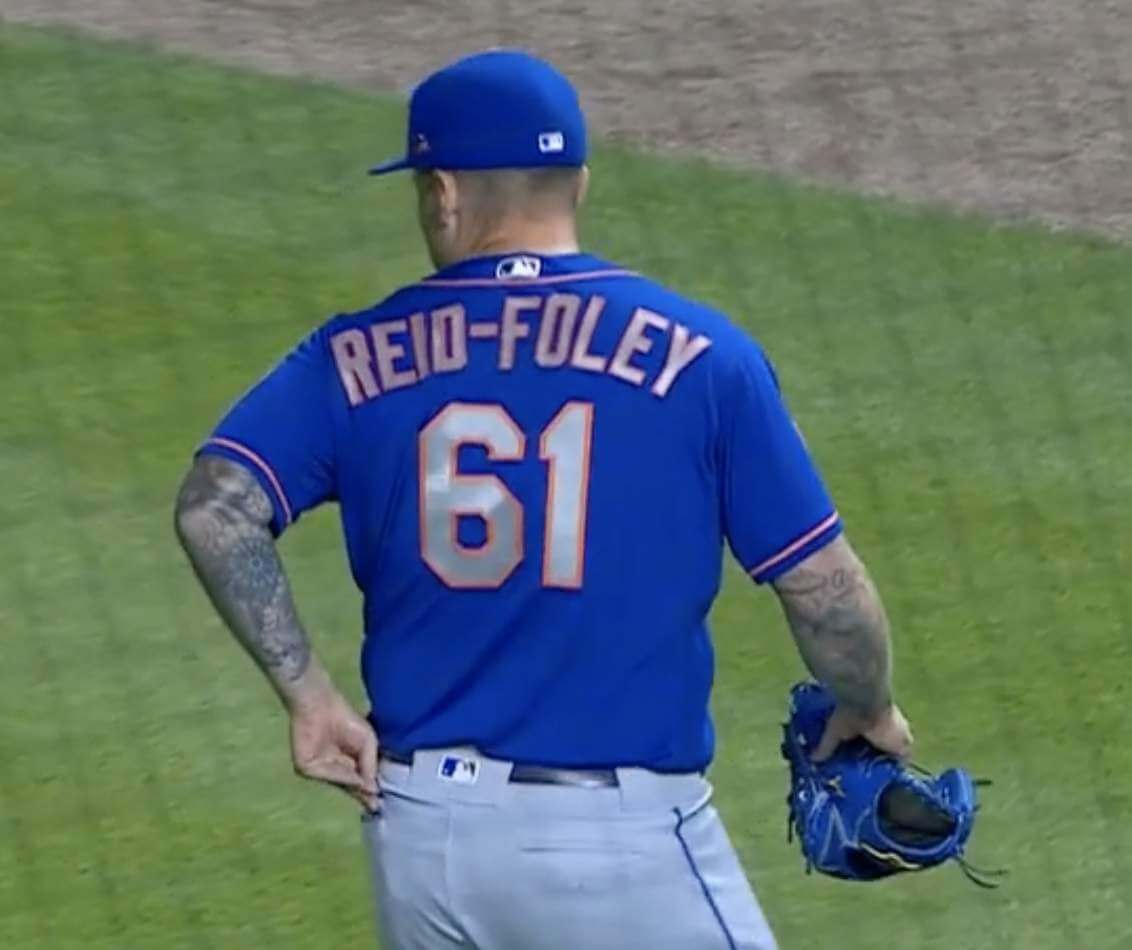 ITEM! Uni Watch gets on-air shout-out: Pitcher Sean Reid-Foley, just recalled from the Mets' alternate training site, made his debut with the team last night. In the Mets' radio booth, broadcaster Howie Rose noted that the team could end up with two hyphenated-surname players on the roster if top 2020 draft pick Pete Crow-Armstrong (whose NOB I wrote about in early March) makes it to the bigs.
That prompted Rose's broadcasting sidekick, Wayne Randazzo, to say, "Sounds like something Paul Lukas would have to look into, the Uni Watch guy, about hyphenated jerseys on Mets players over the years."
Both Rose and Randazzo are Uni Watch membership cardholders (here they are literally holding their cards, along with Padres radio guy Jesse Agler and yours truly), so of course they Get It™, but it's always nice to get a mention on the air. Thanks, Wayne!
Speaking of Reid-Foley: He goes into an exaggerated squat as he looks in for the catcher's sign. It's even more pronounced than the pose struck by longtime MLB reliever Craig Kimbrel — who's now with the Cubs and also appeared in last night's game, creating a battle of the squatters! Check this out: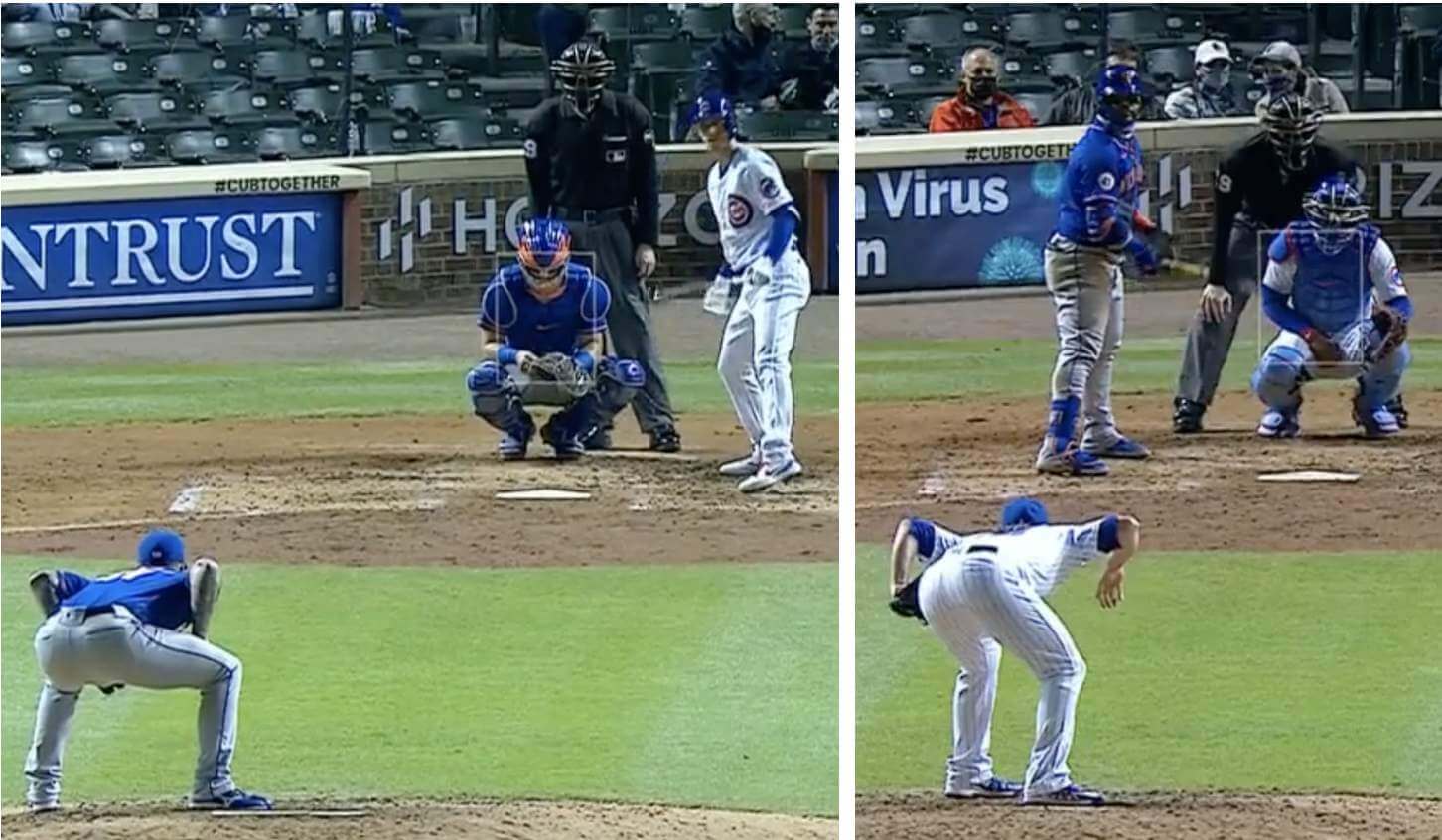 (Thanks to my pal Sujan Hong, who let me know about the radio banter while I was watching the game on TV.)
• • • • •
• • • • •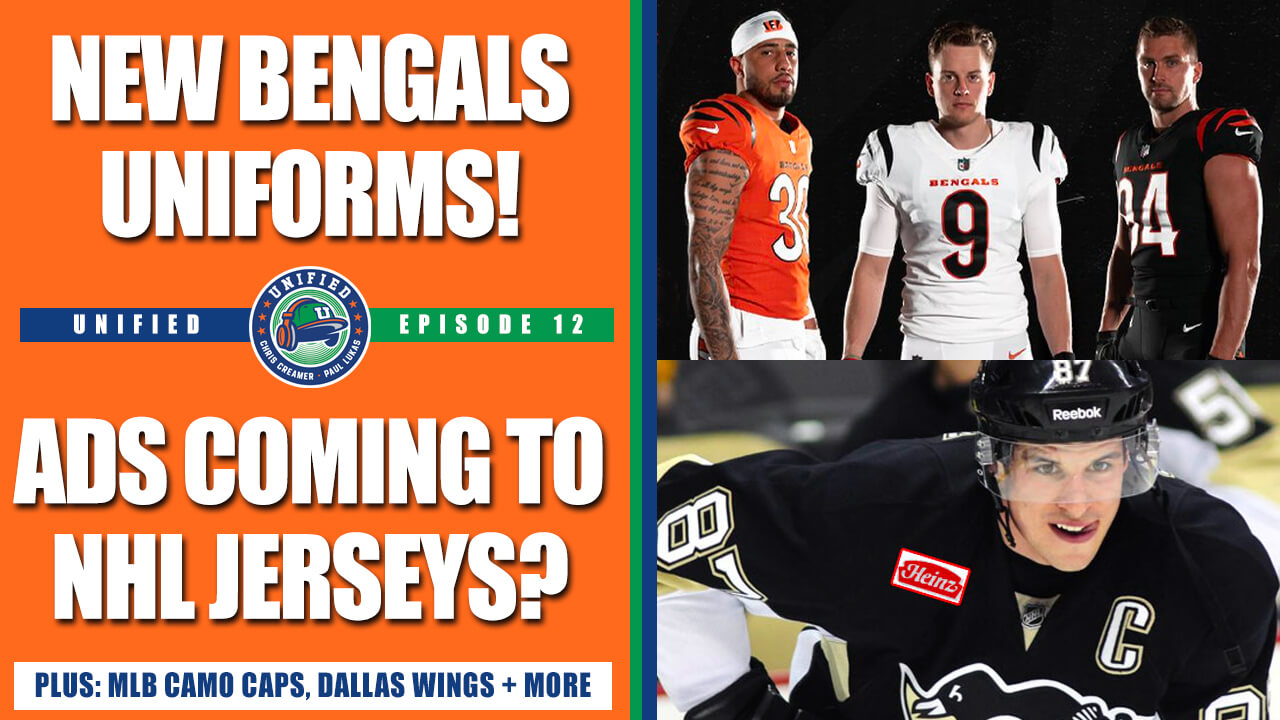 Podcast reminder: For this week's episode, Chris Creamer and I talked about the Bengals' new uniforms, plus we discussed the possibility of the NHL adding jersey ads, the leak of MLB's G.I. Joke caps, the WNBA's Dallas Wings having to scrap their just-revealed uniform due to a major research oversight, our Question of the Week, and more.
As always, you can listen to us on Apple, Google, Stitcher, TuneIn, and Spotify, or just use the player below:
The show notes for this episode, which include photos of many of the things we discussed (including a really sensational photo of Chris's son having what appears to be a formative logo-related experience), are here. Those photos (and some additional ones) also appear in the video version of the episode, which you can see here:
Please consider supporting this episode's advertisers, Streaker Sports (get 20% off any order with checkout code UNIFIED) and Homefield Apparel (15% off with checkout code UNIFIED).
Enjoy the episode, and thanks for listening.
• • • • •
• • • • •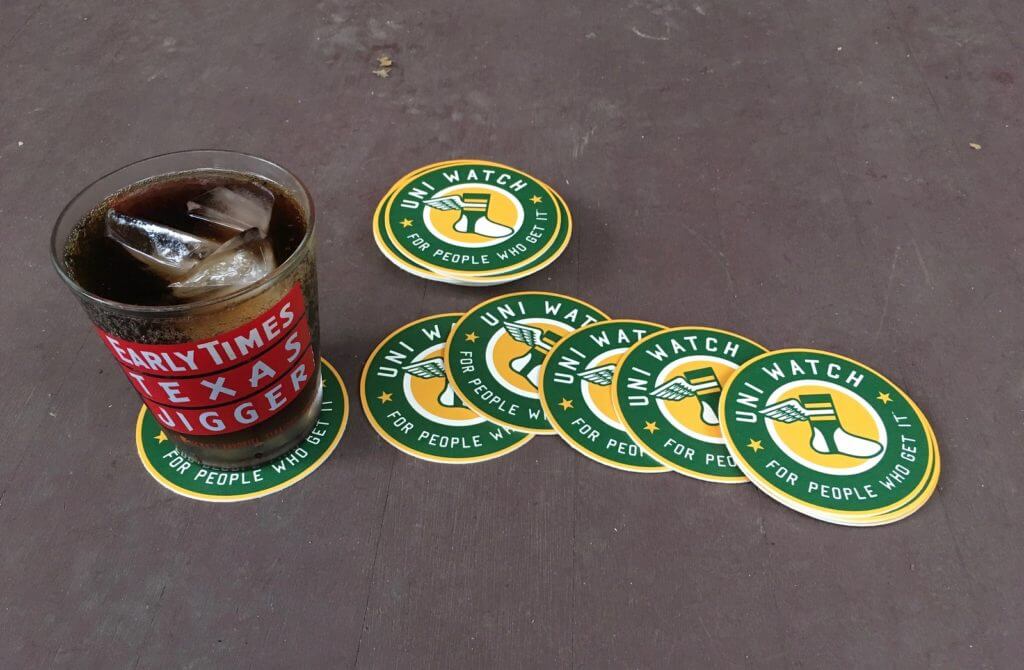 Coasters reminder: I'm down to five remaining sets of these great-looking Uni Watch coasters. They're made in the USA from sturdy pressboard and measure 3.7″ across.
Ordering instrux are available here.
• • • • •
• • • • •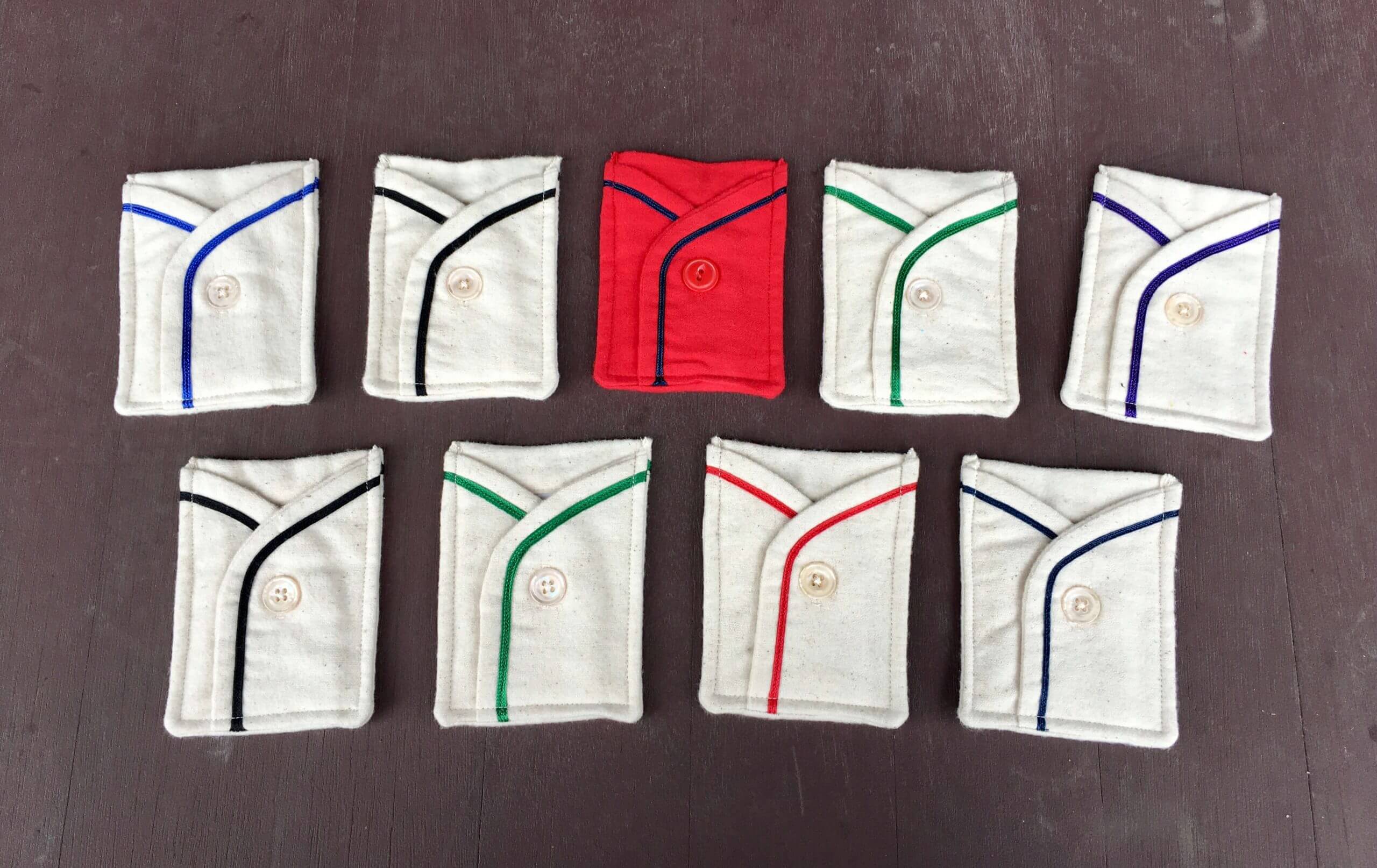 For all photos, click to enlarge
LAST CALL for the membership drive: Today is the last day to get in on our April membership drive. Out of all the people who order a membership card this week, three randomly chosen enrollees will get to choose one of the Wafflebored-made card pockets shown above (except for the purple one, which I'm saving for Purple Amnesty Day).
You know what to do!
• • • • •
• • • • •
The Ticker
By Anthony Emerson

Baseball News: A Mariners player — not sure who — had a wayward helmet logo last night (from Joel Hooper).



NFL News: Tom Brady is really unhappy with the NFL's new uni-numbering rules (from multiple readers). … In a related item, Vikings RB Dalvin Cook is switching to No. 4, which he wore in high school and college (from our own Brinke Guthrie). … USA Today has revised its NFL uniform rankings to reflect the Bengals' new set (from Kary Klismet).

College/High School Football News: A new NCAA "point of emphasis" (scroll down to the lower part of the page) takes aim at exposed undershirts, encouraging officials to have players to leave the game in order to correct them (from James Gilbert and our own Jamie Rathjen).

Hockey News: Maple Leafs F Nick Foligno wore his dad Mike's 1993 team-issued Leafs cap during a press conference. It looks good for 28! (From multiple readers.)


Basketball News: Here's an analysis of the Washington Mystics' 19th Amedment-themed alternate uniform (from Kary Klismet). … New Nuggets G Austin Rivers will wear No. 25 (from Etienne Catalan).

Soccer News: Manchester City's new home kits, featuring a clock motif, have been leaked by FootyHeadlines. The 93:20 is a reference to the famous goal Sergio Agüero scored to win City's first Premier League title in 2012. … FootyHeadlines has also leaked Atlético Madrid's forthcoming away kits. … Ever wonder why 1. FC Köln have a goat as their mascot? Here's your answer (from Kary Klismet).

Grab Bag: Australia's Super Netball's New South Wales Swifts are wearing a throwback to their original yellow-centric color scheme as the Sydney Swifts later this season (from our own Jamie Rathjen). … New Gaelic games kits for Galway GAA (from Phil Santos). … These last few items are from Kary Klismet: The College of the Florida Keys has introduced its new mascot and logos. … The new North Fork High School in western Colorado has chosen its mascot — the Miners. … This article from the St. John's University student newspaper discusses 150 years of mascot history at the school.
• • • • •
• • • • •
• • • • •
That's a wrap for this week. Stay well, enjoy Phil's weekend content, and I'll see you back here on Monday, when I expect to have a minor NFL scoop. — Paul