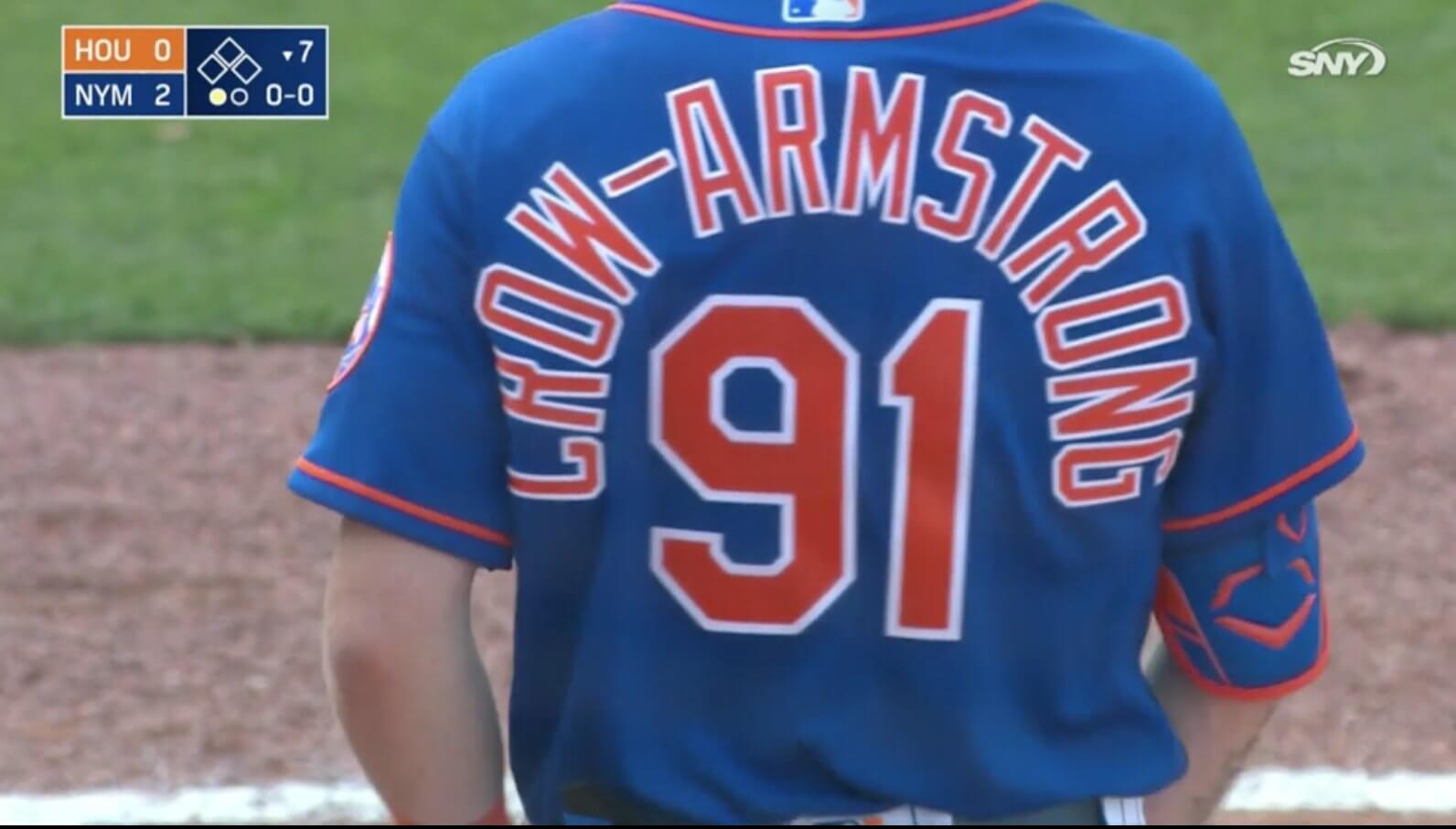 Click to enlarge
Mets prospect Pete Crow-Armstrong — the 19th overall pick in last year's MLB draft — made his Grapefruit League debut yesterday. There was lots of chatter about his plus-sized NOB, how they should have used compressed lettering, blah-blan-blah.
But you know what really stood out to me? The hyphen.
I mean, look at the size of that thing — it's more like an em dash! It could easily have been half that length and still gotten the job done. Granted, a smaller hyphen wouldn't have made the NOB look smooth and elegant all by itself, but the lengthy hyphen definitely made the situation clunkier than it needed to be.
That got me thinking. We've talked a fair amount in recent years about the NOB challenges presented by the growing number of athletes with hyphenated names, but I don't think we've ever discussed the hyphens themselves. What sorts of hyphens have other teams used?
Was Kareem the first athlete to go HNOB (that's hyphenated name on back)? I'm not 100% sure, but he was certainly one of the first, so his HNOB treatment can be considered at least somewhat foundational. Let's take a look: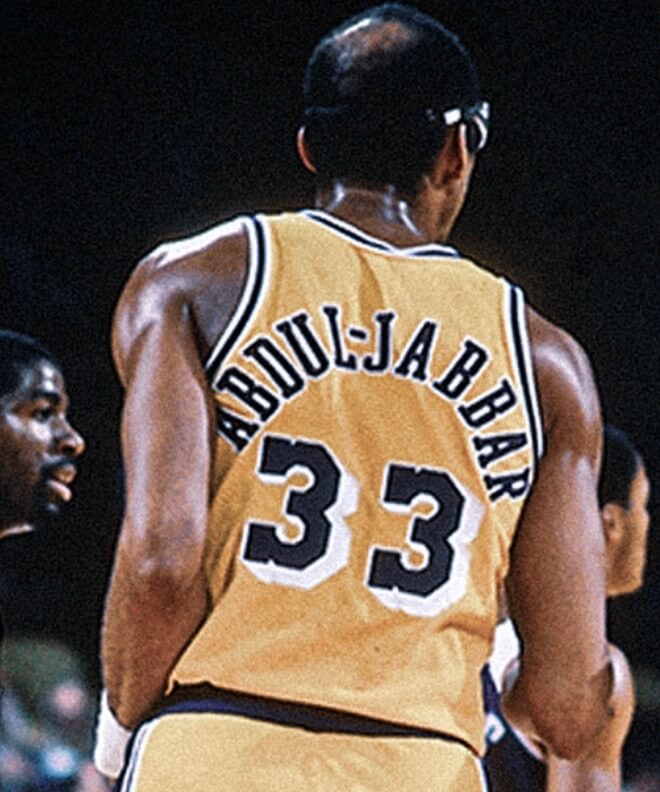 That's pretty good. The hyphen is a reasonable length, plus it's able to nest within the negative space of the two surrounding letters — a nice case of surname serendipity.
Obviously, lengthy NOBs, whether hyphenated or not, are easier to handle with one-color lettering. Similarly, one-color hyphens tend to look cleaner and properly stubby: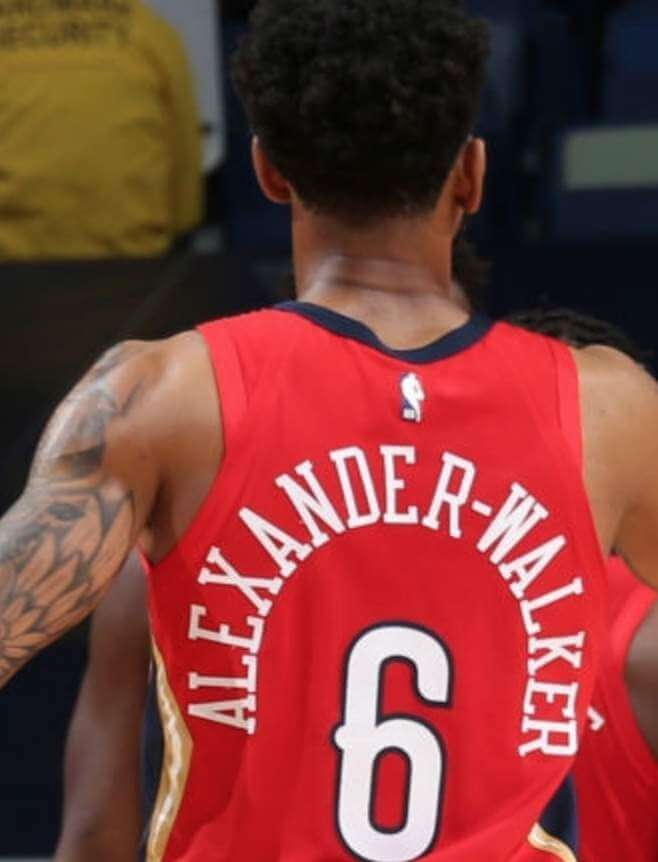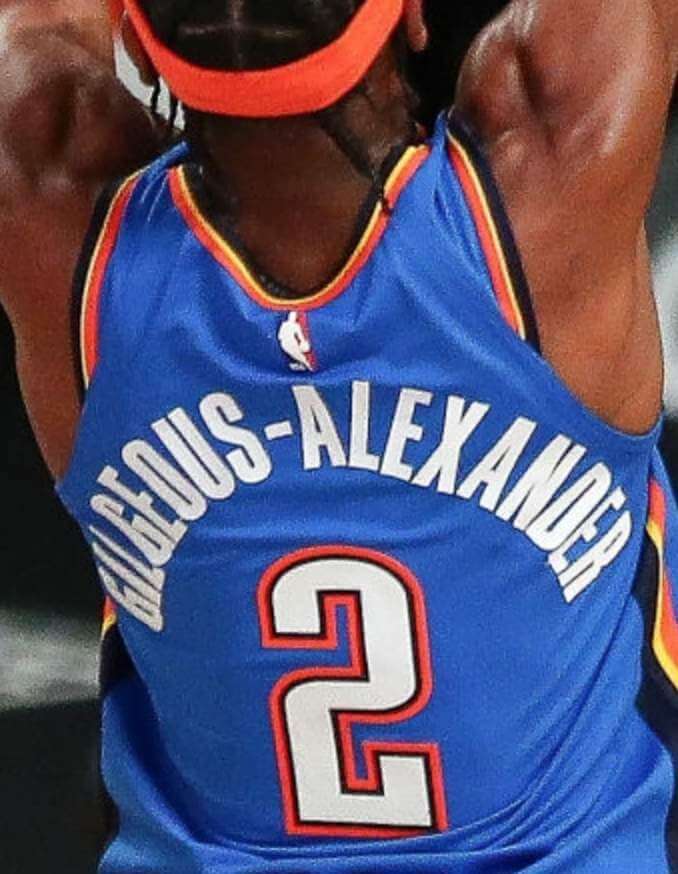 By contrast, two- or three-color hyphens tend to look particularly bad. Even if they start out at a reasonable length, the colored outlining usually makes them too unwieldy: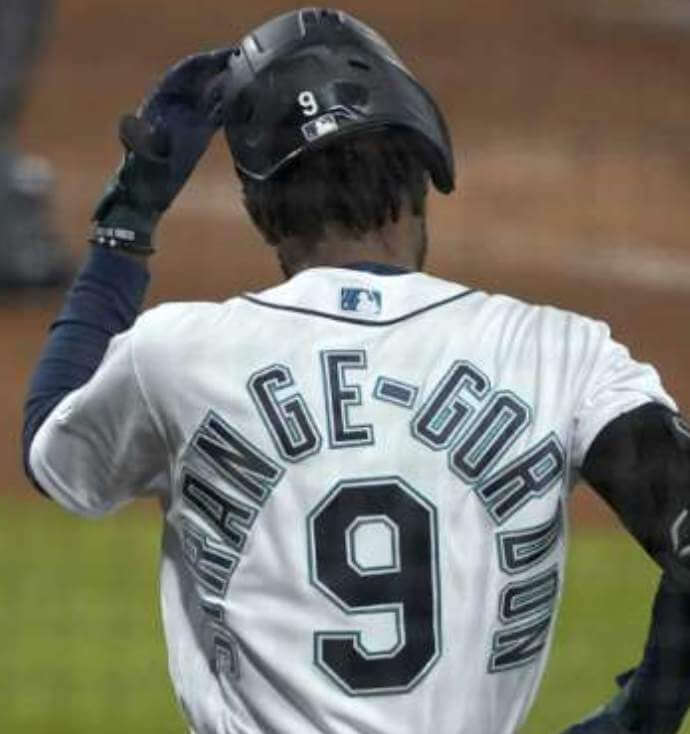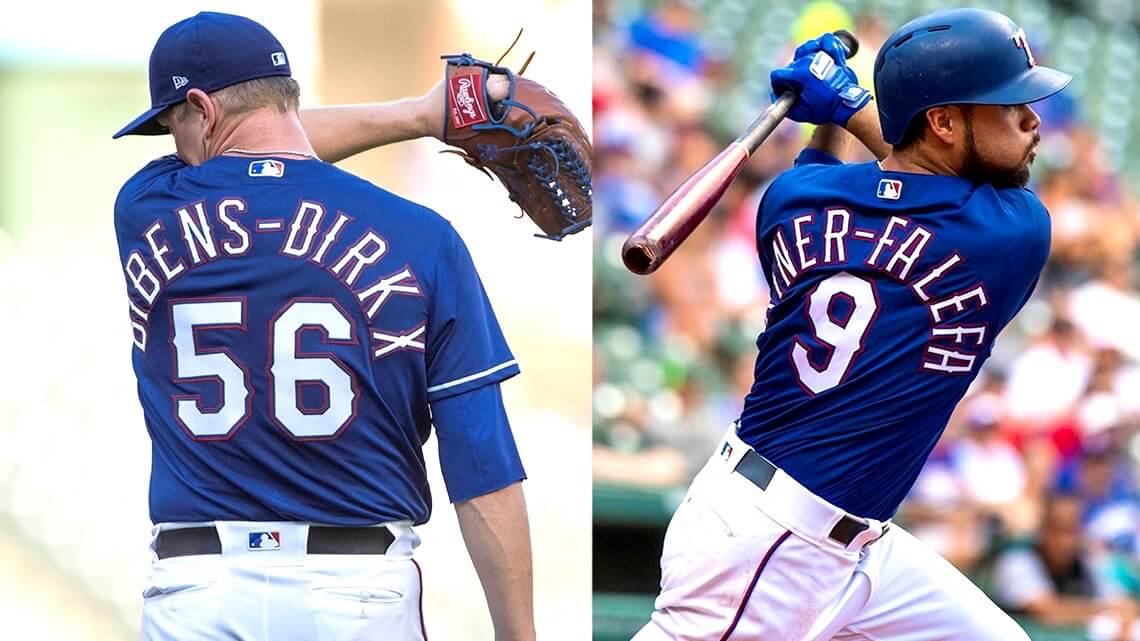 Still, even a two-color hyphen can look fine if it's kept short and simple: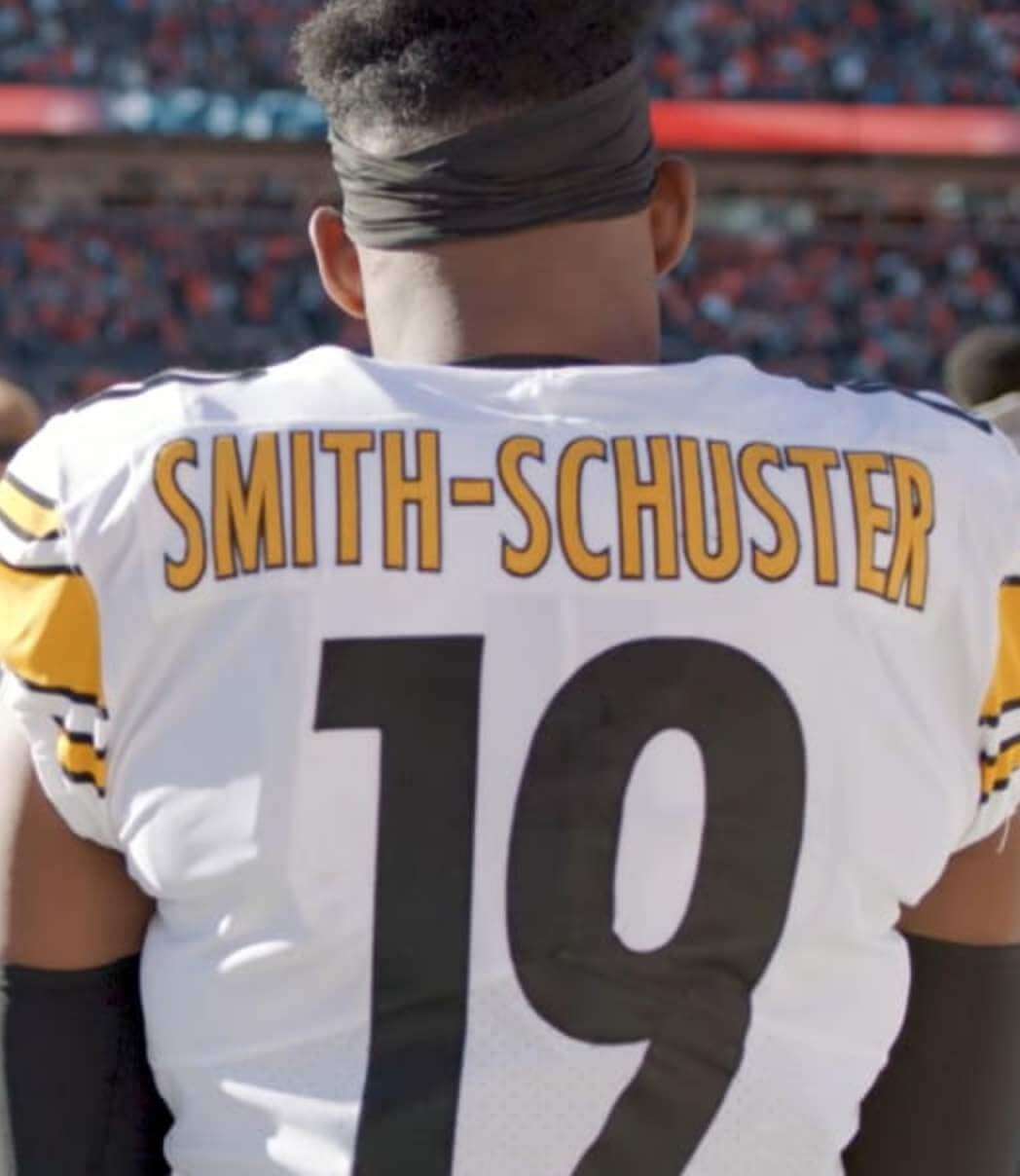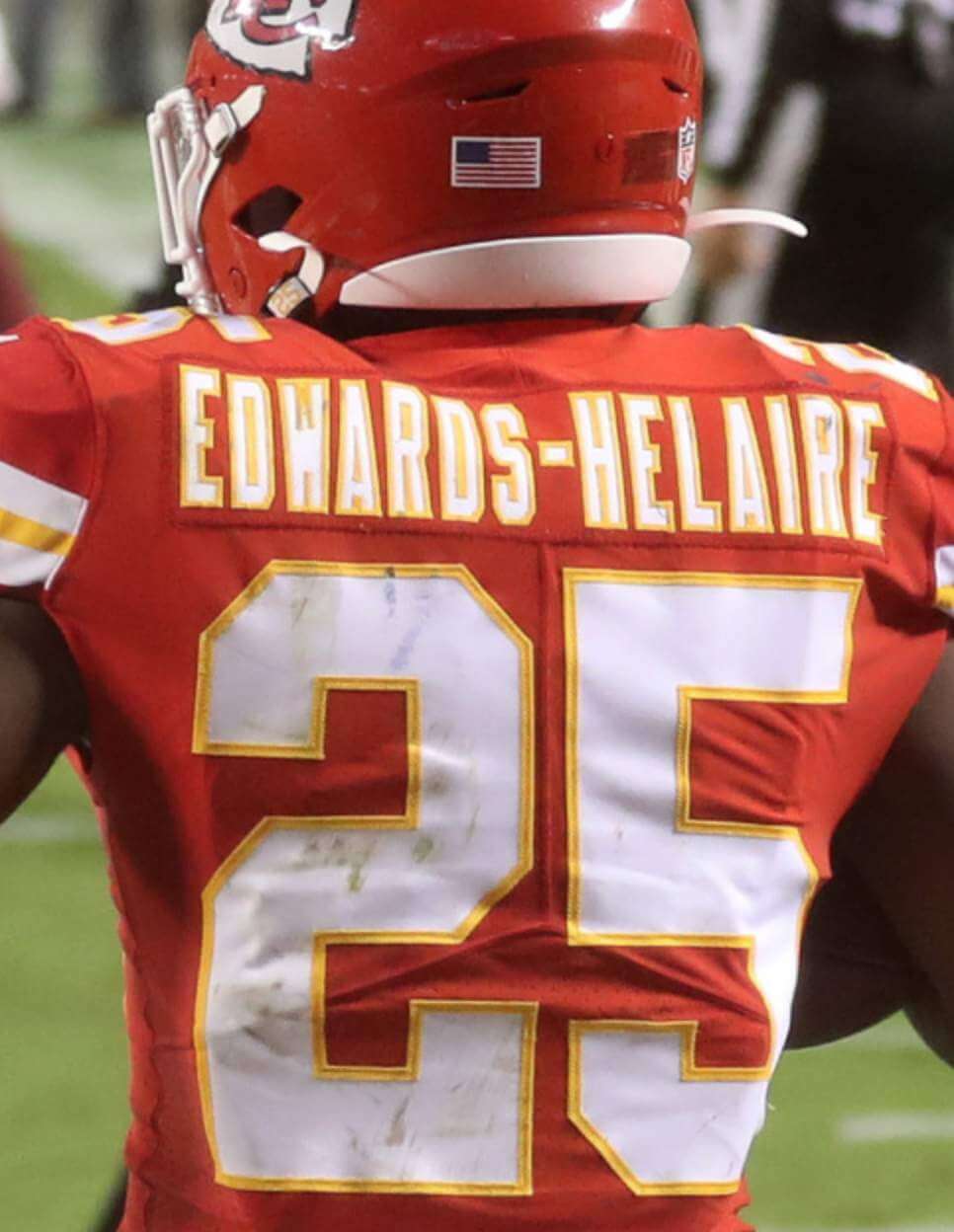 There's also the double-decker option, which makes the HNOB more manageable but leaves the hyphen hanging at the end of a line: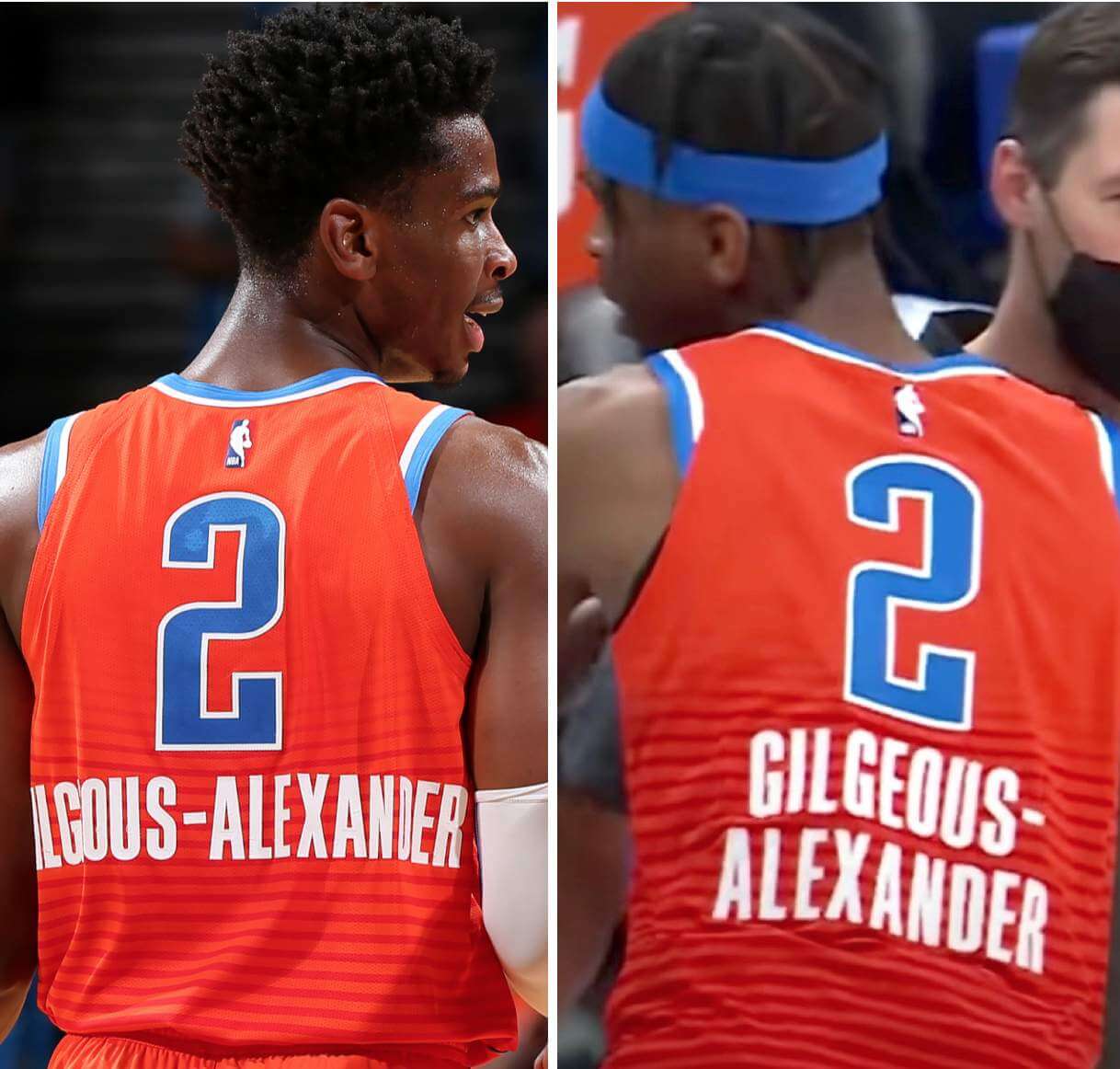 As you can see in those last several shots, hyphens of any length tend to look better in straight NOBs. For an arched NOB, the length of the hyphen can make all the difference: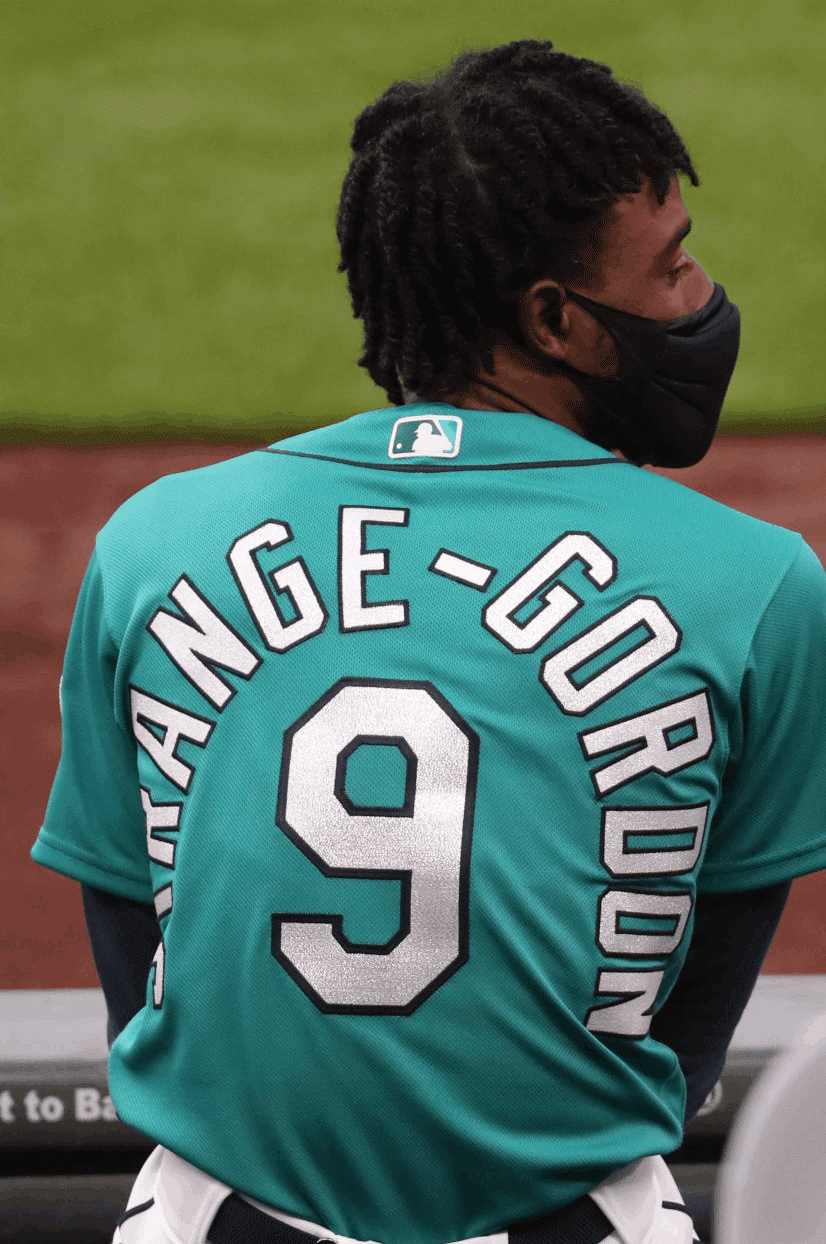 Ugh — that hyphen looks really bad.
Let's look at Crow-Armstrong's hyphen again — the one that got me started down this rabbit hole — and compare it to a much shorter hyphen appearing in essentially the same spot on Michael Kidd-Gilchrist's NOB:
That side-by-side pairing is particularly instructive because the two surnames have the same basic format: four letters, then a hyphen, then nine letters. It's not a perfect apples-to-apples comparison (three of Kidd-Gilchrist's letters are "I," which doesn't take up as much space), but the two photos nonetheless show how crisp typography — including a reasonably sized hyphen — can really make a difference. Kidd-Gilchrist's HNOB doesn't seem like a tight squeeze at all, while Crow-Armstrong's is a mess.
I could go on, but you get the idea. I looked at a lot of HNOBs while working on this blog entry, and not a single one of them included a hyphen as long as Crow-Armstrong's. It's truly a hyphen of Ruthian proportions (or maybe we should say McGwirean proportions, since it's like a hyphen on steroids).
According to the Mets' all-time roster, they've never had a player with a hyphenated surname (although there could have been other players like Crow-Armstrong — minor leaguers who got to attend the big league camp during spring training), so they don't have much experience with HNOBs. But they're getting some now — in addition to Crow-Armstrong, they also have newly acquired pitcher Sean Reid-Foley in camp. His hyphen is a smidge longer than I'd like, but nowhere near as egregious as Crow-Armstrong's: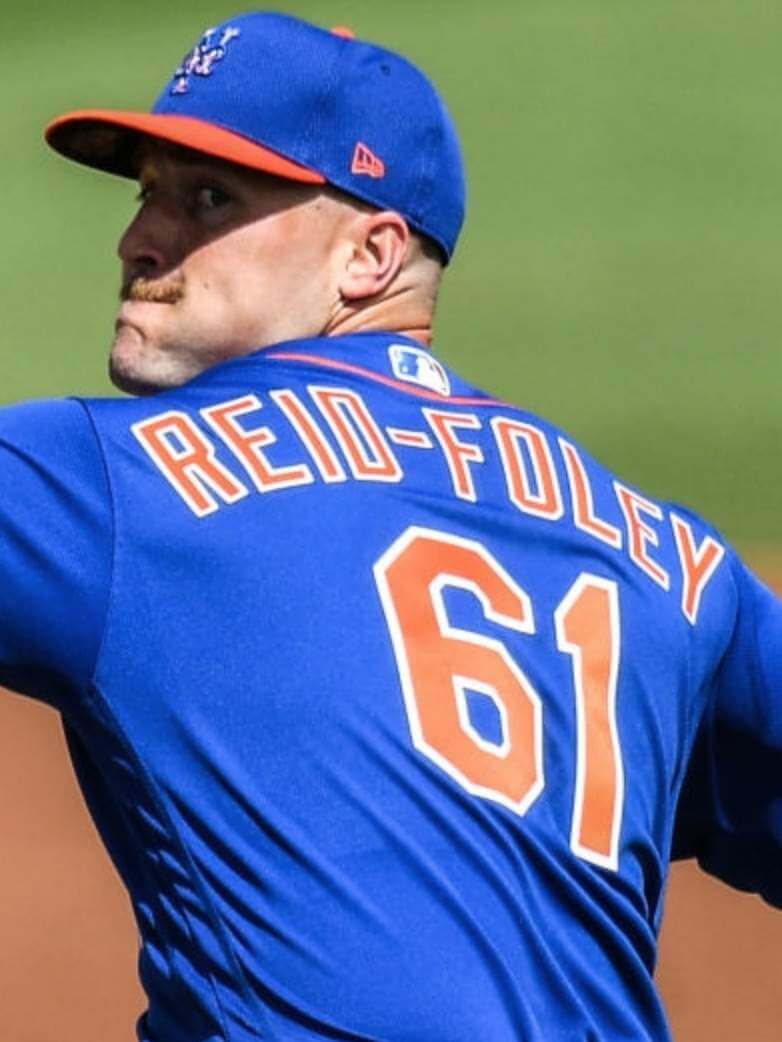 Thus ends, at least for now, one of the geekiest topics in Uni Watch history — and that's saying something!
• • • • •
• • • • •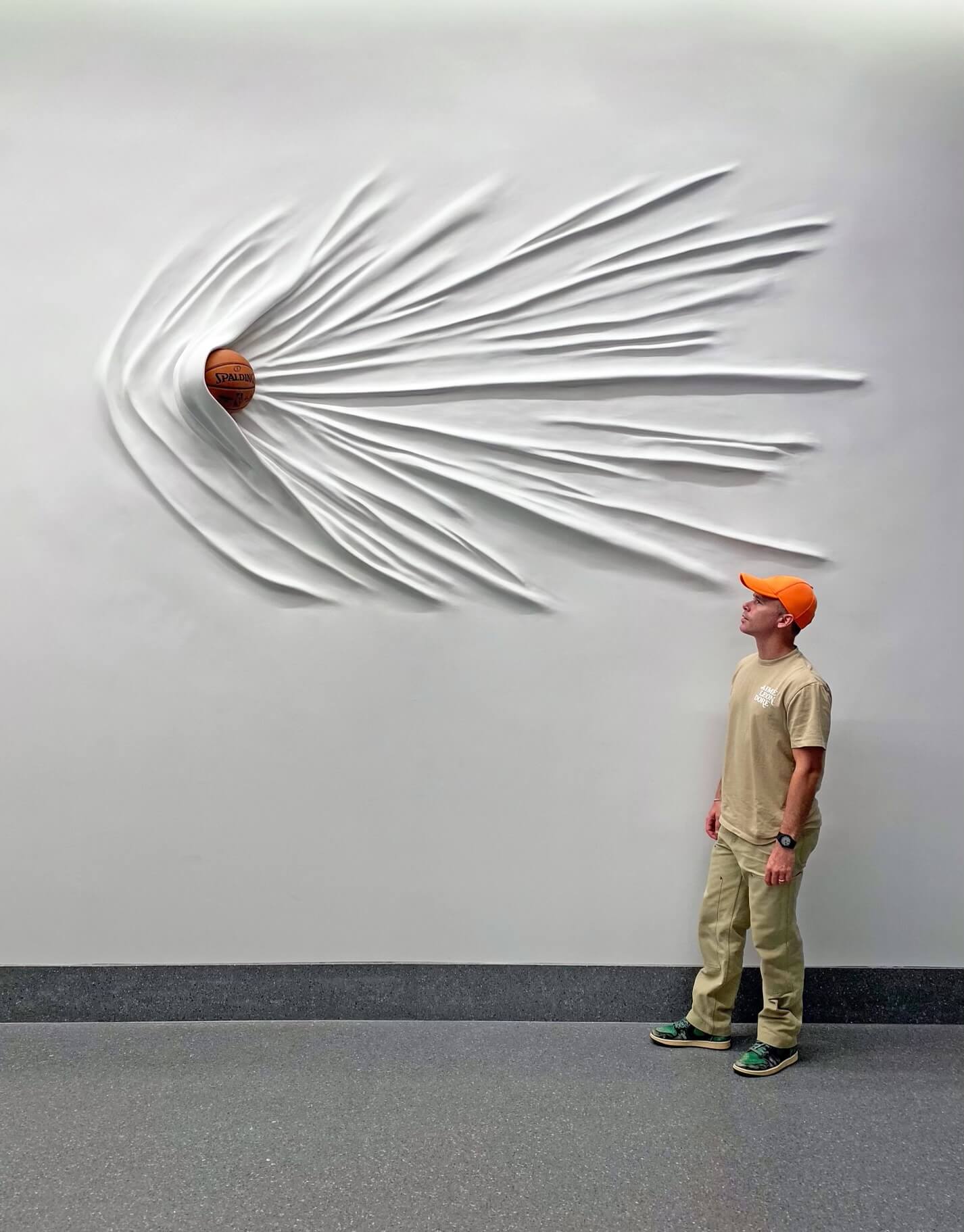 Click to enlarge
ITEM! New NBA feature: My latest piece for InsideHook is about contemporary artist Daniel Arsham (shown above), who was recently named creative director of the NBA's Cleveland Cavaliers, and how he represents the leading edge of the league's blending of sports and non-sports culture. It was a really interesting piece to report, and I think it gives a good glimpse of where the NBA (and maybe the sports industry in general) is heading in terms of marketing, promotion, and branding. You can check it out here.
• • • • •
• • • • •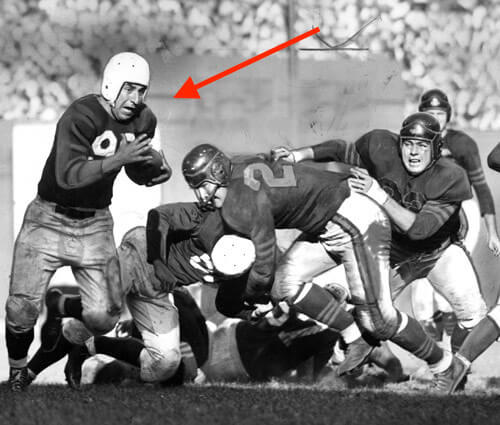 Numbers game: Couple of interesting developments yesterday regarding retired numbers. First, the daughter for former Chicago Cardinals great Marshall Goldberg (shown above), whose No. 99 was retired by the franchise in 2006, gave her blessing for newly signed defensive lineman J.J. Watt to wear that number if he chooses. By day's end, the Cardinals had officially un-retired the number and issued it to Watt. This isn't the first time a retired number has been brought out of mothballs, but it's still an uncommon situation.
In another uncommon development, Houston Rockets owner Tilman Fertitta announced that the team will retire James Harden's No. 13 later this season. This isn't the first time a player has had his number retired by a former team while he's playing for another team (you can see additional examples in this thread), but it always strikes me as an odd honor for an active player. It's one thing if you want to take a number out of circulation, but save the official number retirement until after the player himself has retired.
Meanwhile, a nitpick: That Harden article I linked to (and some of the Watt articles I saw, although not the one I linked to) erroneously referred to retiring the player's jersey instead of his number. We've already seen "jersey" used as a synonym for "uniform," and now it appears to be morphing into a synonym for "number" as well — ugh. Fight back against uni-illiteracy!
• • • • •
• • • • •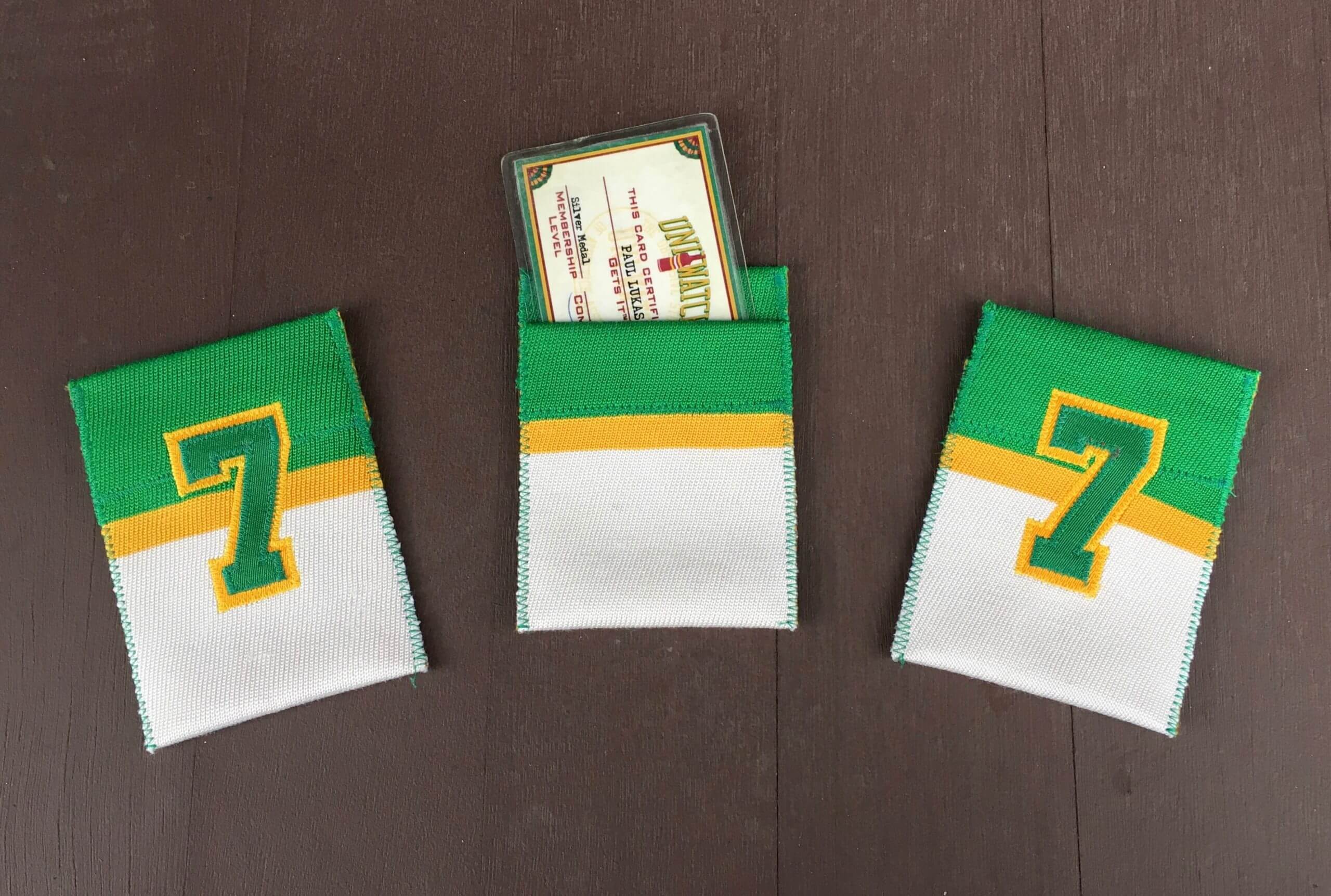 Click to enlarge
Membership drive reminder: In case you missed it on Tuesday, we're running a membership drive this week. I will pick three people at random from everyone who orders a membership card this week, and those three people's cards will come with one of these beautiful card pockets hand-sewn by DIYer extraordinaire Wafflebored.
Also: About a year ago, as a gesture of pandemic solidarity, I lowered the membership price to $20. After this week, the price will go back to $25. So signing up this week is a good move — you'll get in at the discounted price and will also get a shot at one of the card pockets. You know what to do.
• • • • •
• • • • •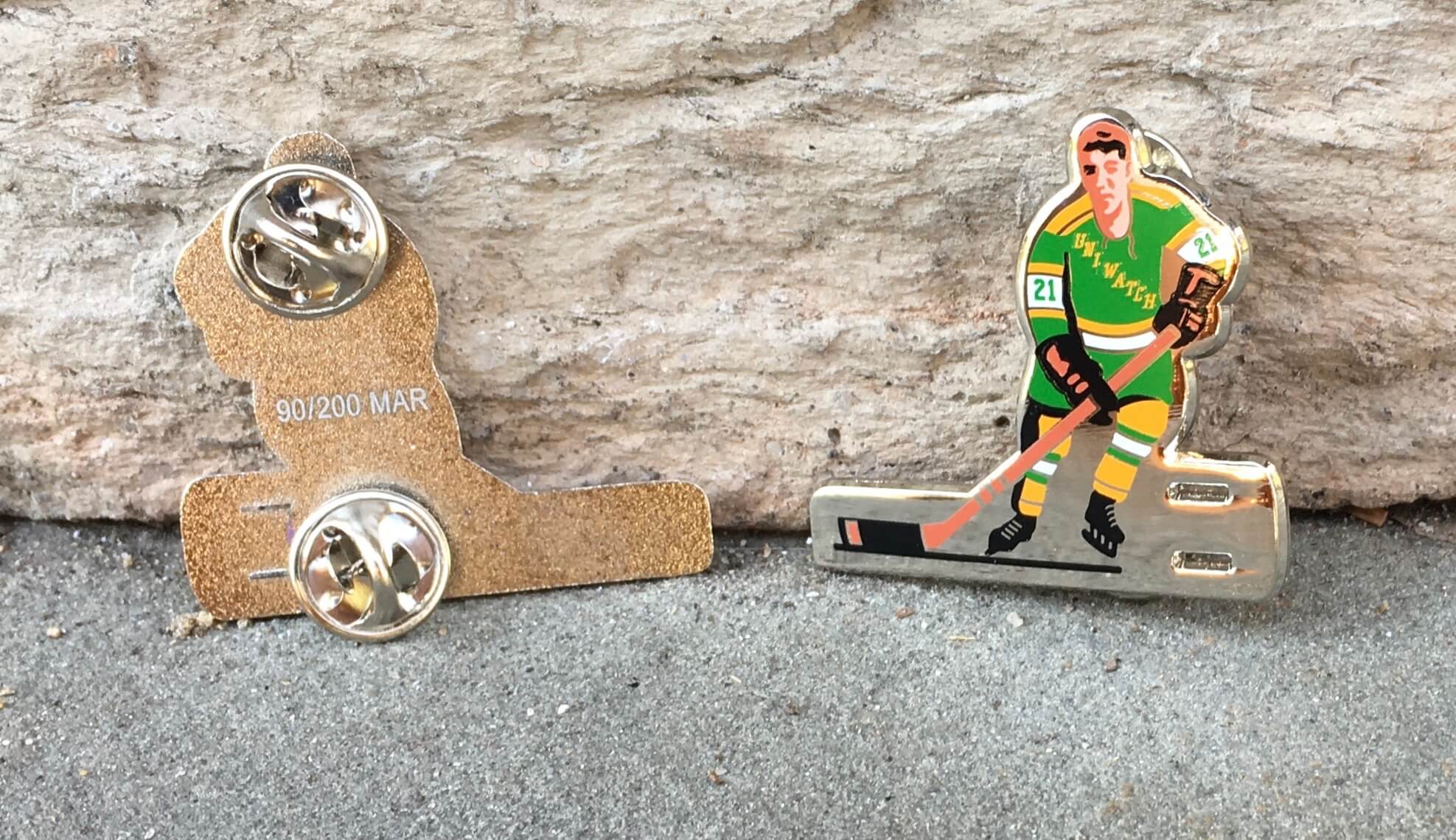 Click to enlarge
Pin Club reminder: In case you missed it on Monday, the Uni Watch Pin Club's design for March is a shout-out to classic table hockey players. It's one of my favorite designs of the entire Pin Club project, and it's available here.
This is a numbered edition of 200. As of this morning, we're already down to 48 of them remaining, so move fast (or at least fast-ish).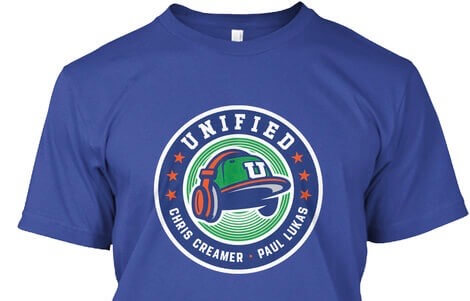 Meanwhile, another thing you might have missed earlier this week is that we now have a small assortment of T-shirts and stickers for the Unified podcast — you can see them here.
We'll be adding more designs soon, and also hope to have ballcaps similar to the one shown in our primary logo — stay tuned. Thanks for all your enthusiastic support of this new project!
• • • • •
• • • • •
Like it was made for me: I recently got a new laptop and quickly discovered that its ports weren't compatible with my printer or podcasting mic, so I needed some adapters.
Wasn't hard to figure out which brand to get.
• • • • •
• • • • •
The Ticker
By Lloyd Alaban

Baseball News: This year's World Series logo has leaked (from Mike Chamernik). … The Cubs have player-themed social distancing markers at their spring training facility (from Steve Sher). … A sportswriter has given a uni-centric review of Starting Lineup figures from the 1980s and '90s (from James Griffin). … Oklahoma State has inconsistent pants piping (from Justin Southwell).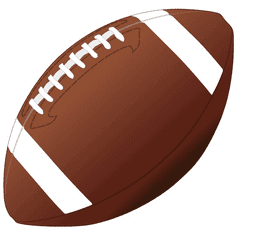 Football News: This Twitter thread has some reasonable assumptions about Arizona State's uniforms for 2021, based on the team's schedule.


Hockey News: The Rangers wore Women's History Month-themed warm-ups last night (from Alan Kreit). … Long Island University women's, which usually goes NNOB, wore NOBs for their conference championship game (from John Muir). … Wade Heidt found three really great vintage photos of the Drumheller Miners and the Saskatoon Quakers. Worth the click! … Bold-looking new playoff uniforms for HC Traktor Chelyabinsk, a Russian team (from James Paterson).

Basketball News: New logo for the WNBA's Seattle Storm (from multiple readers). … The Indiana Department of Transportation has installed temporary basketball-themed highway signs ahead of March Madness (from William F. Yurasko). … Speaking of March Madness, the JW Marriott in Indianapolis has a massive bracket projected onto its exterior (from @mrmichael21).

Soccer News: Lots of MLS news yesterday, beginning with new kits for the Columbus Crew (from Jay Mazzone). … New kit for the Vancouver Whitecaps (from multiple readers). … New shirt for NYCFC (from multiple readers). … New shirt for FC Dallas (from Gabriel Hurl). … The San Jose Earthquakes were set to unveil their new unis yesterday, but decided to postpone the announcement due to the death of head coach Matias Almeyda's father. … MLS has a new championship badge (from @tmclaughlin79). … Here are some details on the Chicago Fire's new crest (from T.J. Zaremba). … Inter will not have Pirelli ads on their shirts next season (from Bridger Deschamps). … The NWSL's Angel City FC now has a sleeve ad. That's two ads so far, and the team is still more than a year away from playing its first game (from our own Jamie Rathjen). … Here's why Huddersfield Town keeps changing its shirt ad every week (from Scott Rogers). … New 125th-anniversary kit for German side Hannover (from Ed Zelaski).

Grab Bag: Our own Jamie Rathjen enjoys writing about "cap numbers," which are permanent numbers assigned to each successive player in a team's history (so the 240th player to appear in a game for a given team would wear a small No. 240, in addition to their regular uni number). He spotted Australia's netball team wearing them high on the back of their uniforms. One of the players at the far right, Kiara Austin, doesn't have a cap number, because she was making her first appearance and therefore couldn't have her cap number assigned until after she entered the game. … New PT uniforms for the U.S. Air Force (from Timmy Donahue). … Also from Timmy: The Denver City Council approved a $1.1 million expenditure for police uniforms, accessories, and riot gear. … Washington State-based Oly Town Artesians is holding a bracket tournament for the best-looking county seal in the state (from Brandon Sparks).
• • • • •
• • • • •