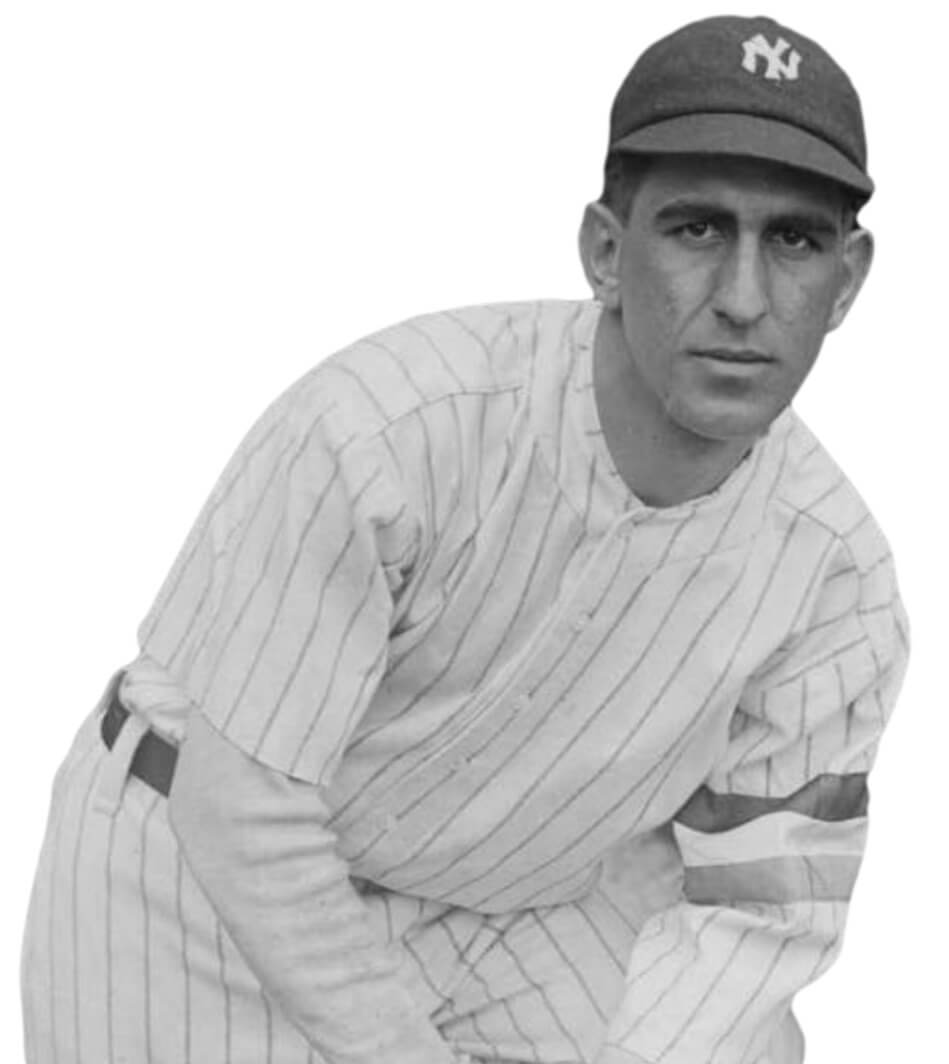 For all photos, click to enlarge
The photo shown above is of Yankees shortstop Roger Peckinpaugh. We can tell it's from 1918 because he's wearing the red, white, and blue armband that the Yanks wore that year to show support for America's involvement in World War I. Several other MLB teams made similar patriotic gestures in 1917 and/or '18, including flag patches, shield patches, red, white, and blue stockings, and of course the White Sox's 1917 World Series uniforms, but the Yankees were the only team to wear the striped armband.
Marc Okkonen did a color mock-up of the Yankees' armband as part of his uniform database, but I don't think I've ever seen a color photo of the armband — until now: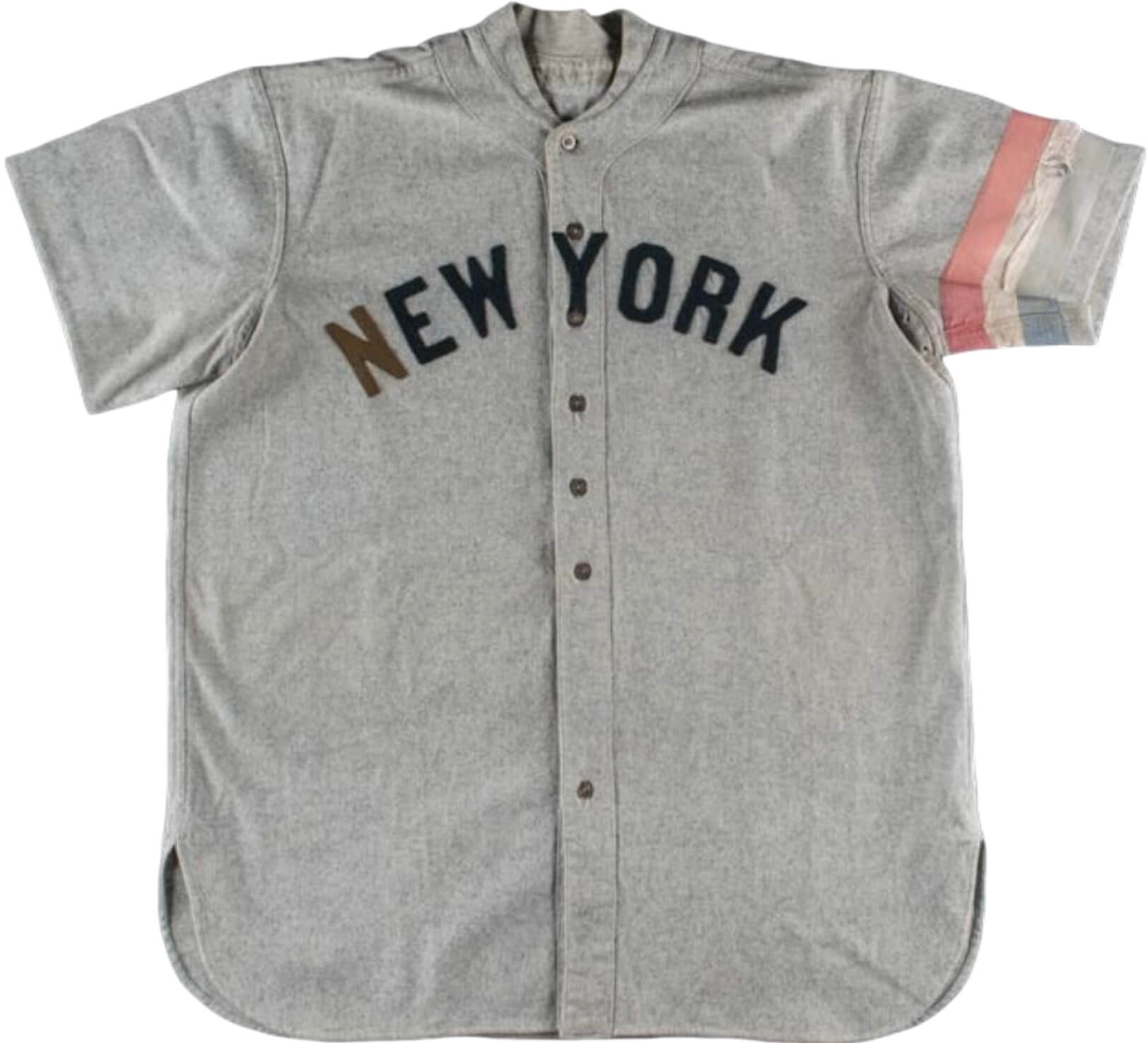 That 1918 jersey (which has an odd button pattern, no?) belonged to Peckinpaugh, the guy featured at the top of the page. His family is currently auctioning off a bunch of his memorabilia, including his entire 1918 road uniform. Obviously, the colors on the armband have faded, but it's still exciting to see.
Here are front and rear views of the entire uniform (remember, uni numbers didn't yet exist in 1918!):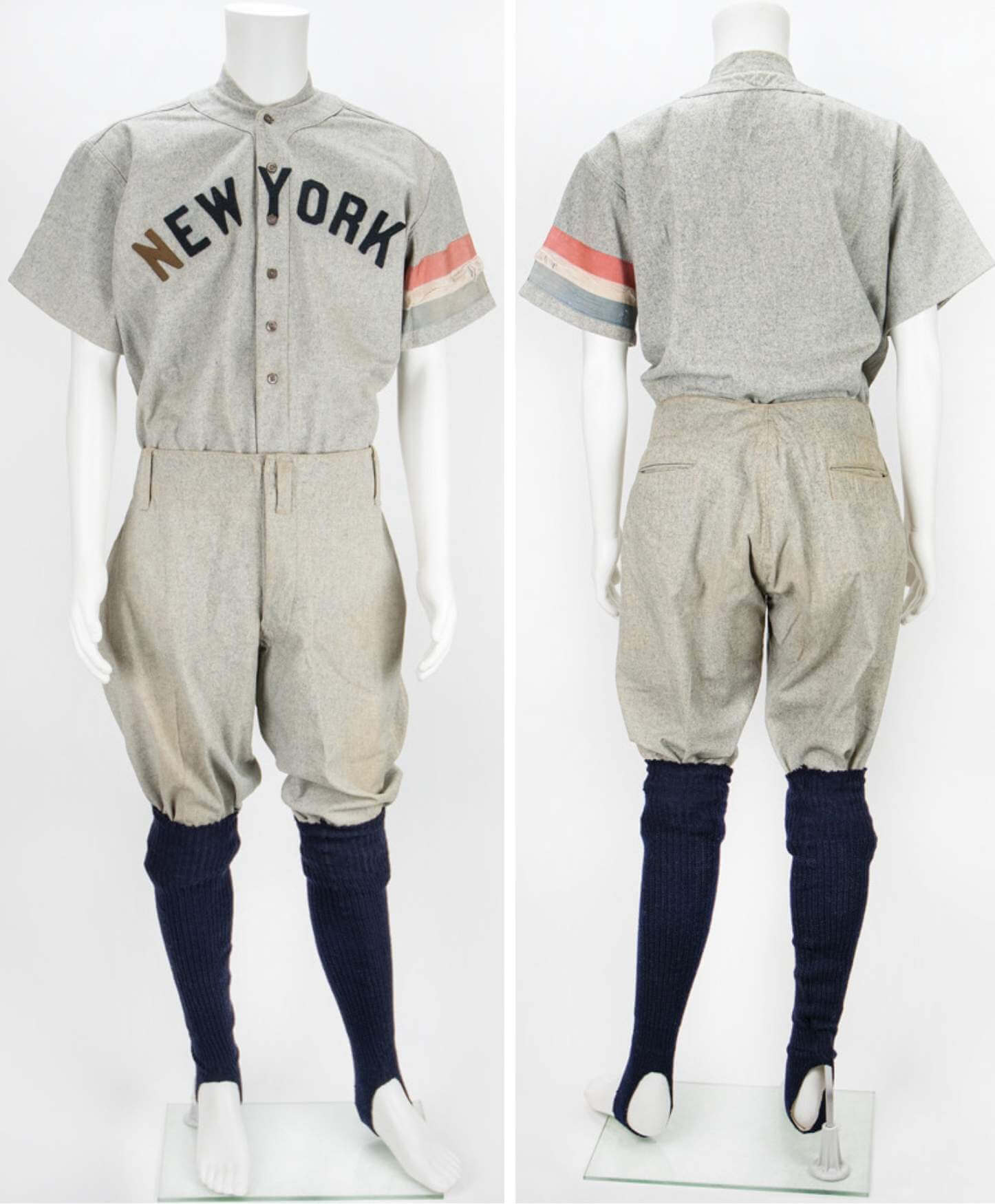 Note the belt loop at 12 o'clock, which looks odd to us today but was common for that era.
Also common for the era: The player's name was chain-stitched into the jersey and pants. But in both instances, they misspelled it as "Peckingpaugh" (it shouldn't have that first "g"):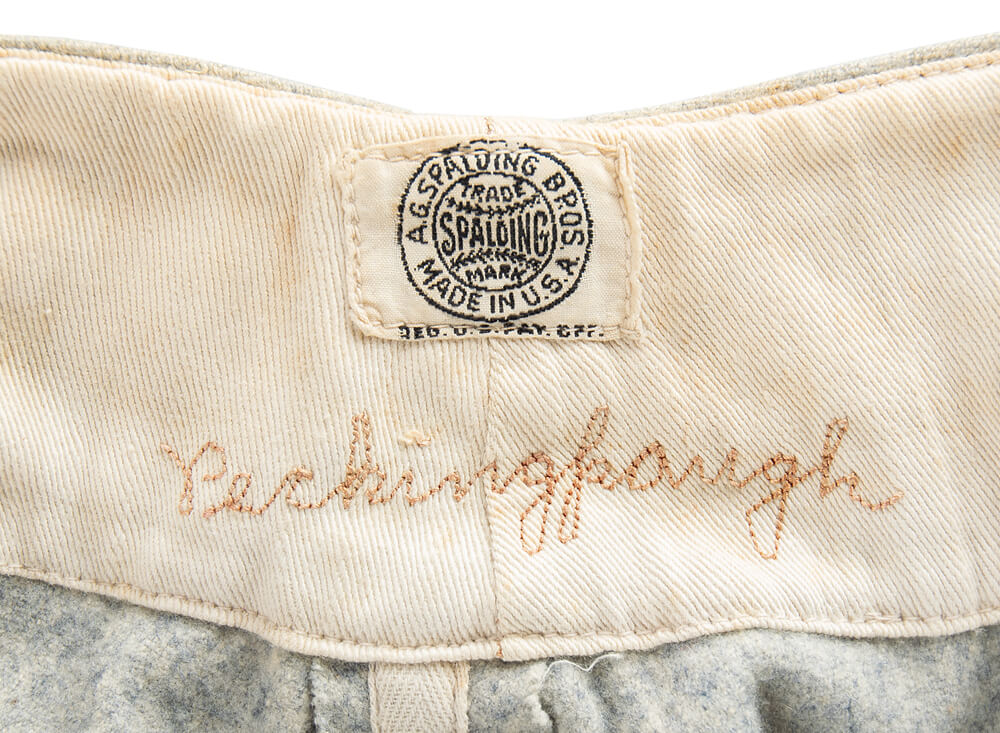 So even though NOBs didn't yet exist in 1918, it was still possible for a player's name to be misspelled on his uniform!
That Yankees road uniform isn't the only interesting Peckinpaugh item being auctioned off. There's also this jersey: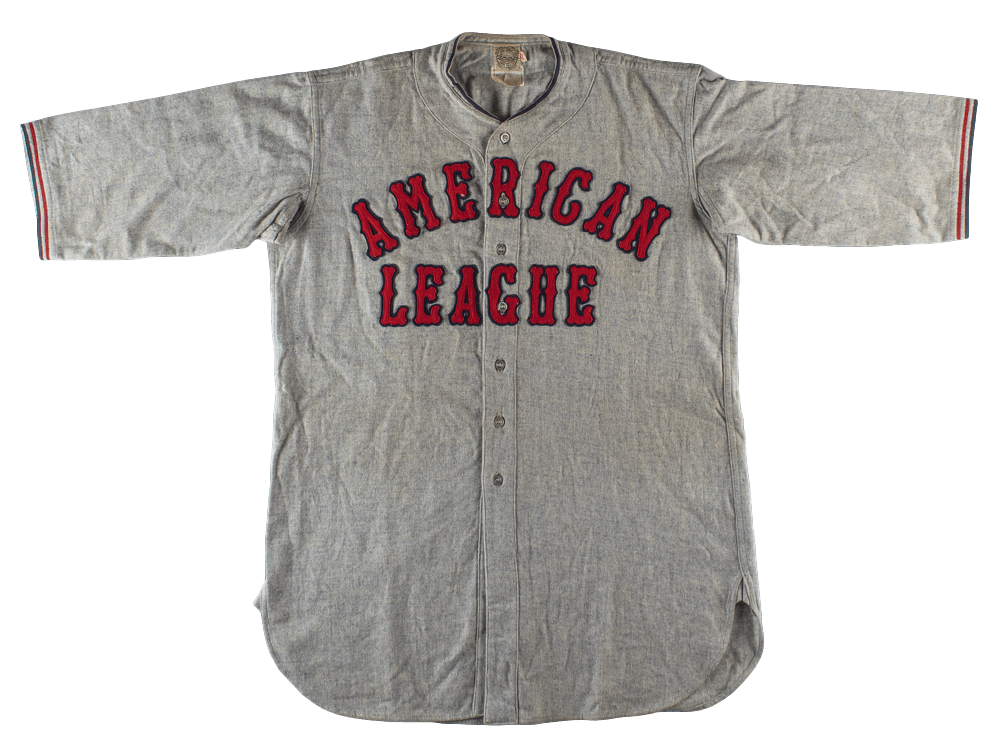 I've never seen this design before. When I saw it, the first thing that occurred to me — and, I'm sure, to many of you — is that it looks a lot like the jersey that National League players wore for the inaugural MLB All-Star Game in 1933 (but the National League split the "A" across the placket in order to maintain properly centered lettering):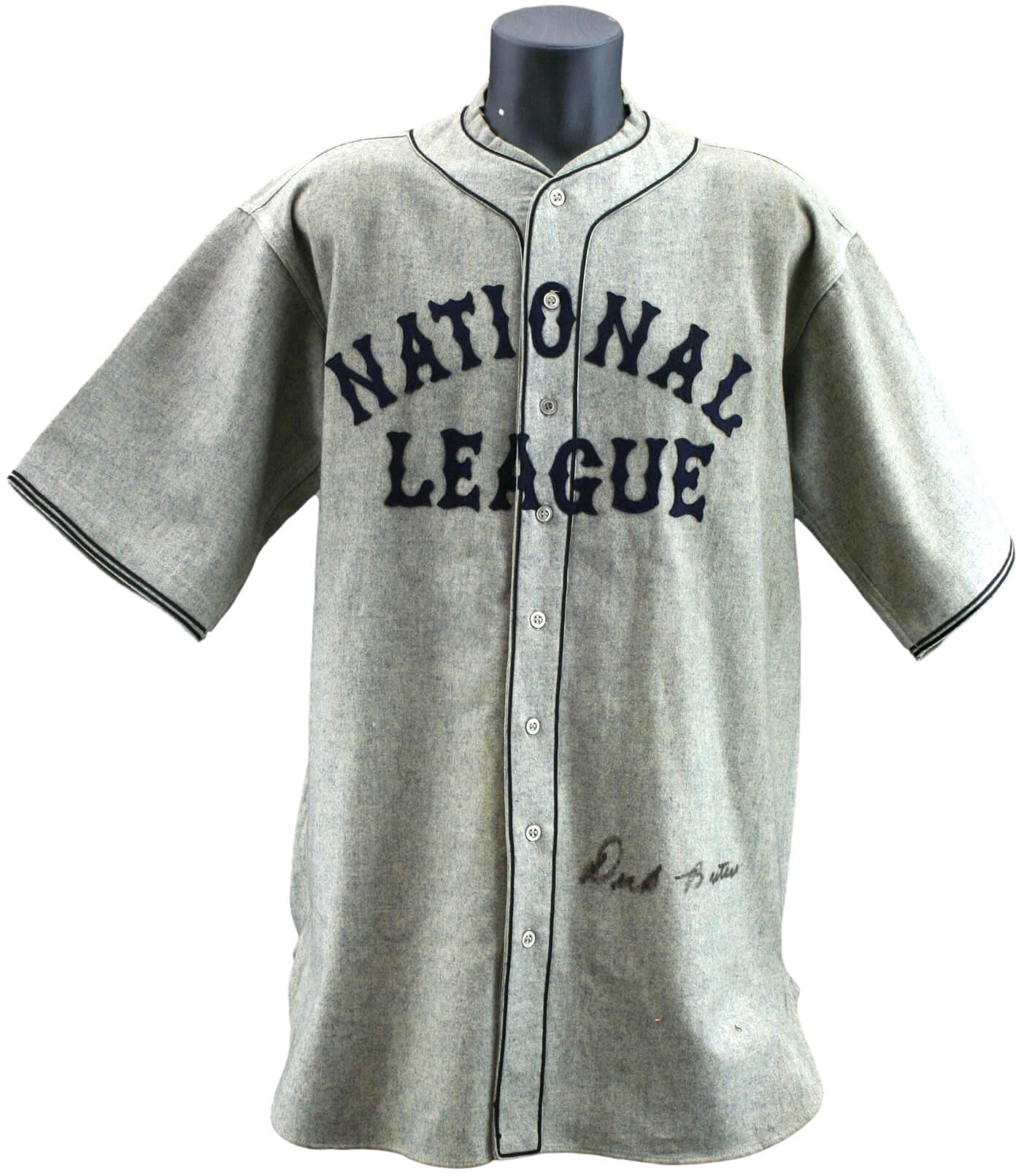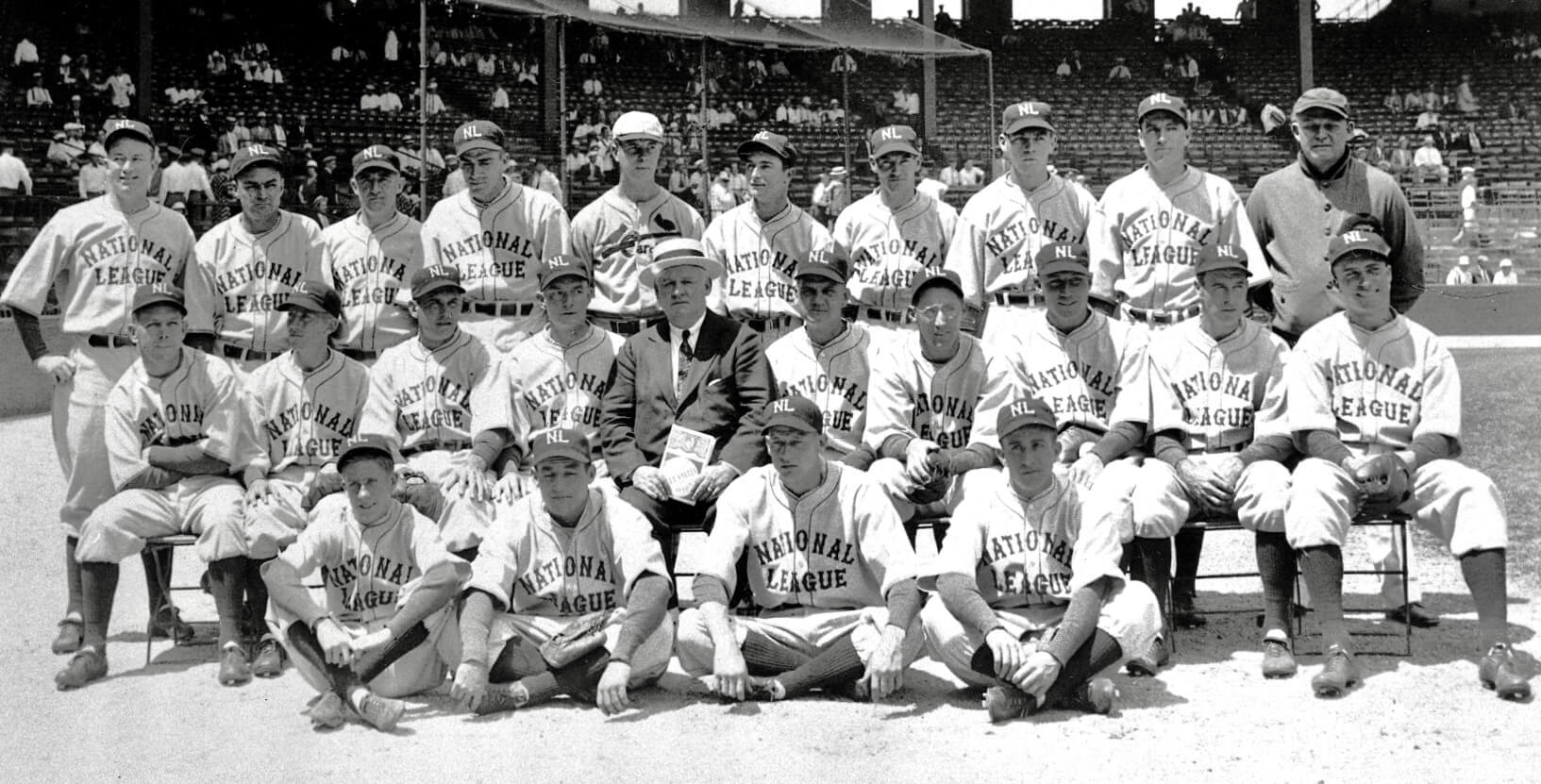 But the 1933 American League All-Stars wore their regular team uniforms (odd that they posed for that team portrait without their caps, no?), so where did Peckinpaugh's "American League" jersey come from?
According to the auction listing:
The family believes that Peckinpaugh wore this uniform when he attended American League games as an 'Ambassador' for the league in the mid-to-late 1930s. Peckinpaugh spent his entire 17-year playing career in the American League, spending nine seasons with the New York Yankees and five with the Washington Senators, along with stints in Cleveland and Chicago. … In 1935, he joined former ballplayer Lew Fonseca on a series of nationwide baseball promo tours. Dubbed the 'super salesman of the American League,' Fonseca's program included film showings, coaching clinics, and on-field demonstrations.
Faaaascinating. I found several 1930s newspaper articles about Fonseca's promotional tours (here's one from 1937, which mentions that Peckinpaugh was Fonseca's "first assistant"), but I didn't see any that included photos. A subject for further research!
You can see the auction catalog that these items come from here.
(Big thanks to my auction-savvy friend David Brown, who deserves all the credit for this one.)
• • • • •
• • • • •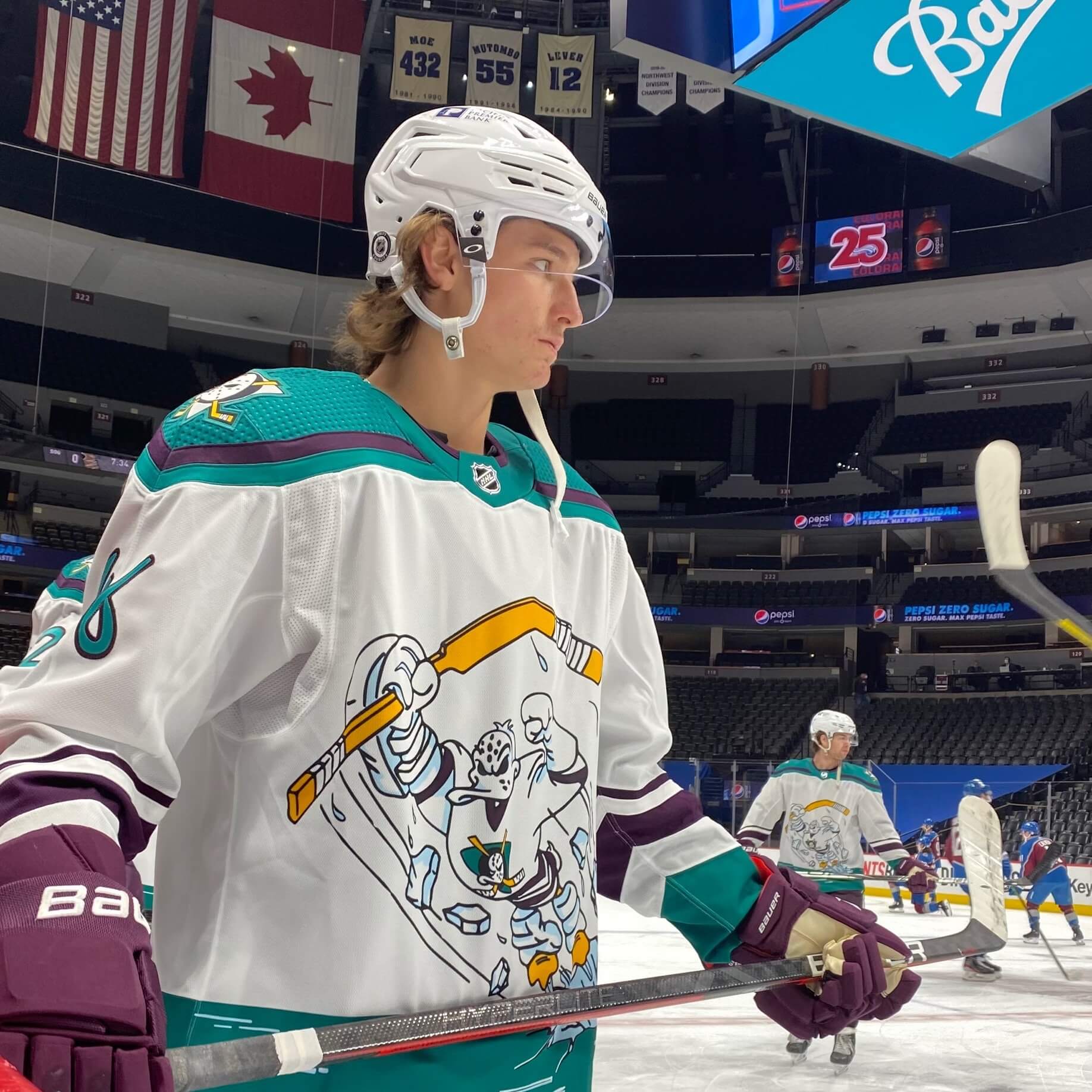 Click to enlarge
Wild Wing rides again: The Ducks debuted their ЯR uniforms last night, marking Wild Wing's triumphant return to the ice after 25 years. I've said all along that I love the jersey, although it looks a bit odd with teal socks: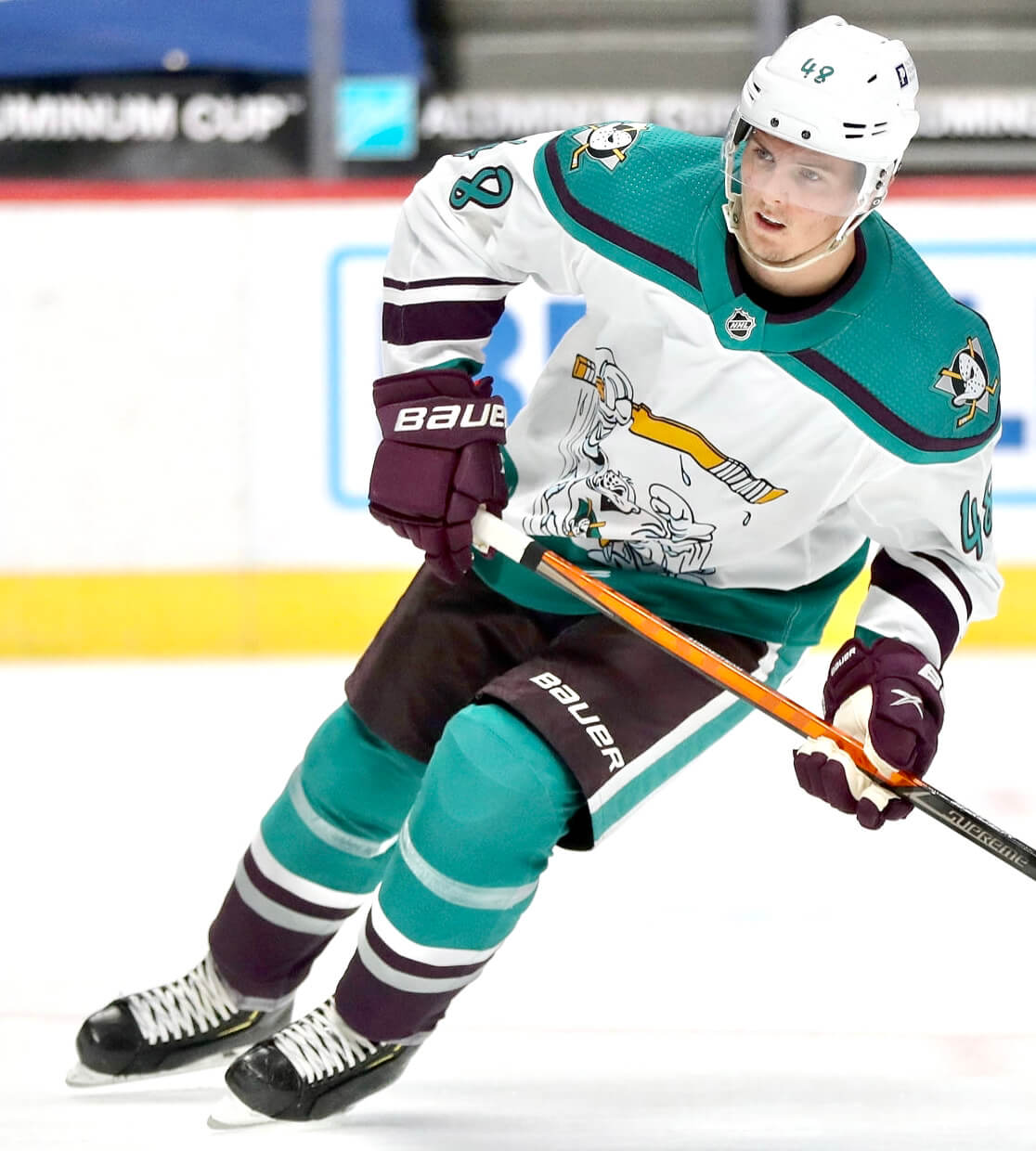 You can see lots of additional photos here, and here's some video footage:
Ducks goalie Ryan Miller began the game wearing a new ЯR mask (left), but he must have had issues with it because he switched to his usual mask for the third period (right):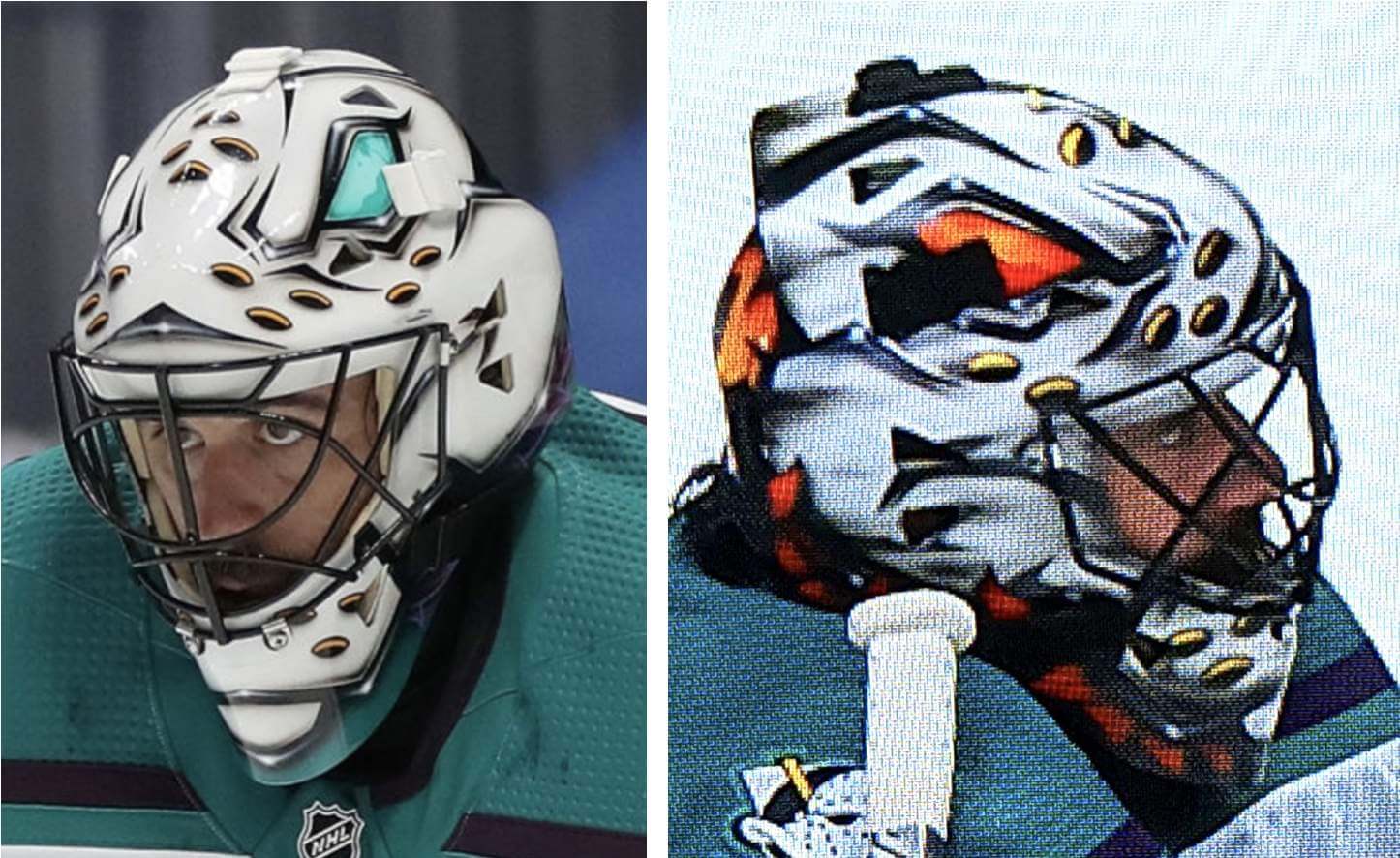 The Stars' ЯR uniforms also made their on-ice debut last night. Can't say I'm as enthusiastic about those: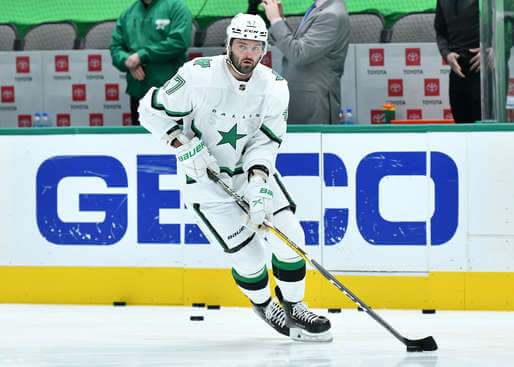 (My thanks to @_onlycorey for spotting Ryan Miller's mask switcheroo.)
• • • • •
• • • • •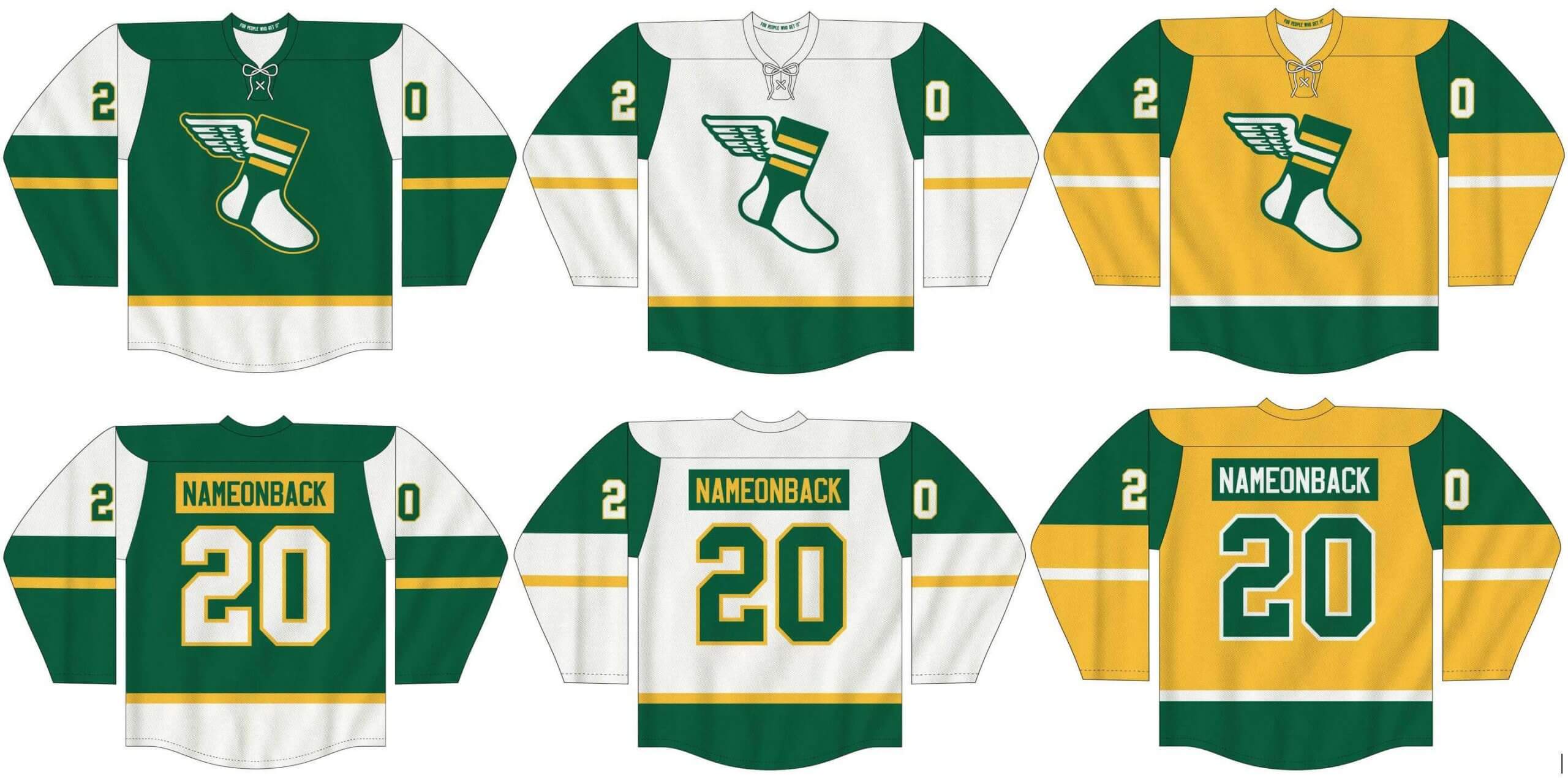 Click to enlarge
New merch reminder: In case you missed it on Tuesday, I've teamed up once again with Adelph Wear — the brand run by longtime Uni Watch reader Nathan Haas — to create a new line of Uni Watch hockey jerseys (customizable with your choice of number and NOB, of course), as well as new Uni Watch socks and stirrups. We're taking pre-orders on them now.
In order to get in on these items, you must place your pre-order by March 31. You can do that here. We expect the finished product to ship out by the end of April.
My thanks, as always, for your consideration.
• • • • •
• • • • •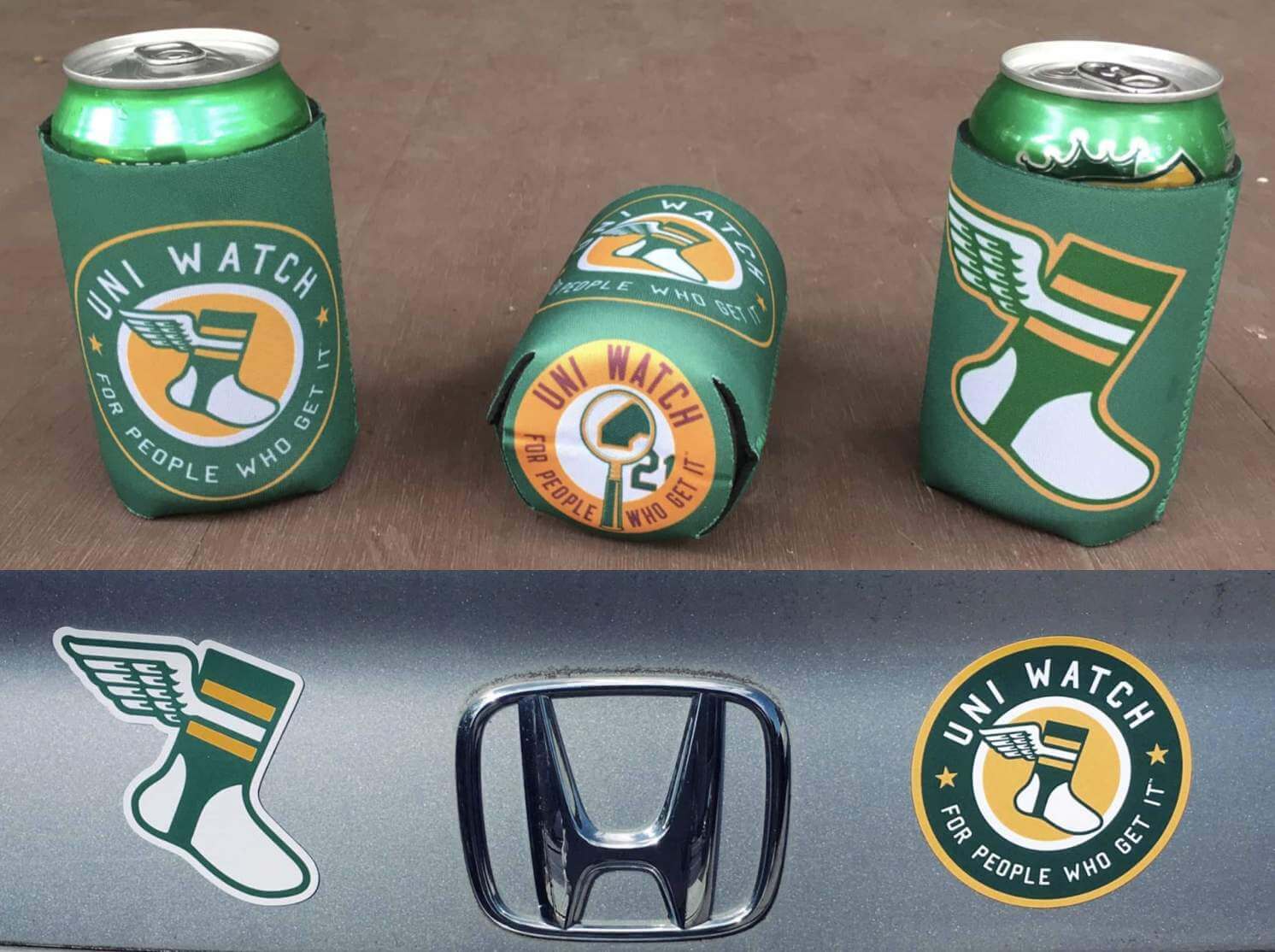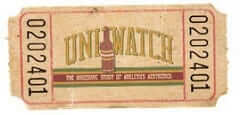 ITEM! New raffle: Reader Chris Hickey has generously covered the cost of two Uni Watch koozies and two Uni Watch magnets (one round and one winged stirrup), so that's what we're going to raffle off today.
This will be a one-day raffle. USA mailing addresses only. To enter, send an email to the raffle in-box by 8pm Eastern tonight. I'll announce the winner tomorrow. Big thanks to Chris for sponsoring this one!
• • • • •
• • • • •
The Ticker
By Lloyd Alaban

Baseball News: Minor League Baseball has made a slight adjustment to its logo. … Sling used the Marlins' old logo in a graphic yesterday (from @yancykyeater). … Here's a look back at MLB teams wearing green for St. Patrick's Day (from our own Phil Hecken). … One more from Phil: Take a look at these gorgeous vintage usher uniforms from the Mets and Tigers. … The MiLB team in Danville, Va., formerly called the Braves, will now be called the Otterbots (from @BallparkHunter). … Several Royals players had incorrect headspoon piping yesterday. … Dodgers P Clayton Kershaw is wearing something that may be an MLB first: Skechers batting gloves.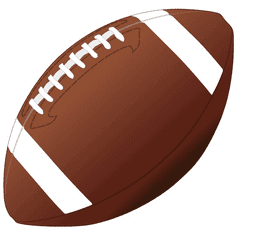 Football News: The NFL Network used Penn State's logo instead of BYU's on a QB Zach Wilson graphic (from @KKane_27). … St. Xavier High School in Cincinnati has sold the name of its football stadium to an advertiser (from our own Alex Hider).

Hockey News: Penguins C Evgeni Malkin wore a No. 77 helmet decal on his helmet last night in remembrance of Timur Faizutdinov, the captain of Dynamo St. Petersburg's youth team, who died earlier this week after being struck in the head by a puck (from multiple readers). … Speaking of the Pens, they wore green warm-ups last night for St. Paddy's Day (from Jerry Wolper).

Basketball News: The Pelicans and Blazers went red vs. grey last night in Portland. That was confusing and counterintuitive, because the Blazers' court is very red-themed, but the visiting Pels were the team wearing red (from Owen, who didn't give his last name). … Mavericks PG/SF Luka Doncic received a custom shirt from local soccer team FC Dallas (from Timmy Donahue). … The JW Marriott in Indianapolis unveiled a giant bracket on its builiding a few weeks ago, and crews were busy yesterday filling in the bracket. Naturally, Gonzaga was first to be entered (from Jeff Walter).

Soccer News: New shirts for Duluth (from @NickHannula). … Manchester United's women's team is playing a home game at the men's home of Old Trafford for the first time on March 27 (from our own Jamie Rathjen). … Cross-listed from the basketball section: Dallas Mavericks PG/SF Luka Doncic received a custom shirt from FC Dallas (from Timmy Donahue). … Here's a graphic showing J-League teams broken down by kit outfitter (from Jeremy Brahm). … Arsenal's Kieran Tierney pulled down his socks to reveal logos on his shinguards. "They appear to be the logos for Arsenal (his current club) and Celtic (his former club)," says Derek Linn.

Grab Bag: Cincinnati women's tennis added a memorial patch for Cincy alum and former pro tennis star Tony Trabert, who died last month at 90 (from Ryan Kosten). … NASCAR driver Ryan Ellis is asking fans to create a Women's History Month-themed truck (from Trevor Williams). … New jerseys for the Chicago Union, an ultimate frisbee team (from Alex Rubin). … You can now go curling — or at least simulate the experience — in the comfort of your own home (from our own Phil Hecken). … South Korea's defense ministry and police have bought 12,000 uniforms made from recycled plastic bottles (from Timmy Donahue). … Also from Timmy: A U.S. Air Force Squadron in South Korea has replaced a pit bull morale patch that had been linked to a white supremacy group. … Hennepin EMS paramedics in Minnesota will soon trade their brown uniforms for blue ones because they keep getting confused for law enforcement (from Frank Ferreri). … Occasional Uni Watch guest star Mr. Yuk has turned 50! Fun fact: The original design, created by the Children's Hospital of Pittsburgh, featured a skull and crossbones, but local kids mistakenly thought it had something to do with the Pittsburgh Pirates, so the hospital came up with the now-familiar design (from Pittsburgh's own Jerry Wolper).
• • • • •
• • • • •
Click to enlarge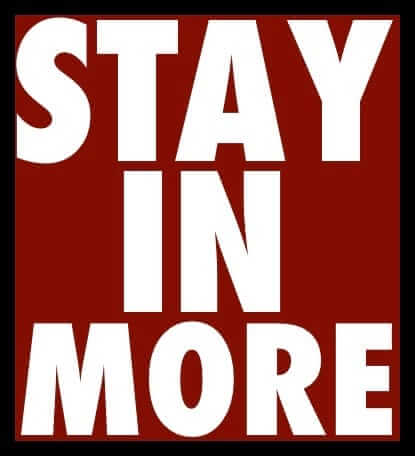 What Paul did last night: Last year, sometime around March 14 (I'm not certain of the exact date), as Mary and I were adjusting to the reality of what the pandemic and the lockdown would mean for us, we decided to end the day by having cocktails on our porch. It felt like a good way to take a small bit pleasure amidst the emerging crisis, to be thankful for what we had, and to go outside without going all the way outside.
The next day we did it again.
Thus began the daily ritual now known as Pandemic Porch Cocktails™. On the fourth-ish day — March 17 — I decided to start documenting that ritual by taking a daily photo from the back of the porch, looking out at Mary, our sidewalk, and our little world.
Yesterday marked the 365th daily photo. A full year. We've been out on the porch every single day of that year — on nice days and rainy days, hot days and frigid days, days when things were good between us and days when things were rocky. It's been the one constant for us through the pandemic.
The daily photo progression has made for a satisfying art project, but porch-sitting has also brought us closer to our neighbors (and their dogs!). In a world where most socializing is scheduled and pre-arranged, the porch ritual has allowed for spontaneity and a more organic-seeming way of interacting with people, many of whom we probably wouldn't have met otherwise.
As I've said all along, we plan to keep doing this until we can sit safely and comfortably at the bar of one of our local watering holes. That still seems like it's a few months away, but there's light at the end of the tunnel. Until we emerge on the other side, we're lucky to have this daily ritual to keep giving us some comfort and stability. Hope you've been enjoying it as well, and that you've had your own source of internal sustenance over the past year.
As always, you can see the full set of daily Pandemic Porch Cocktails™ photos — now a full year's worth — here.
• • • • •
Happy St. Patrick's Day to all, and happy birthday to longtime reader/pal R. Scott Rogers!