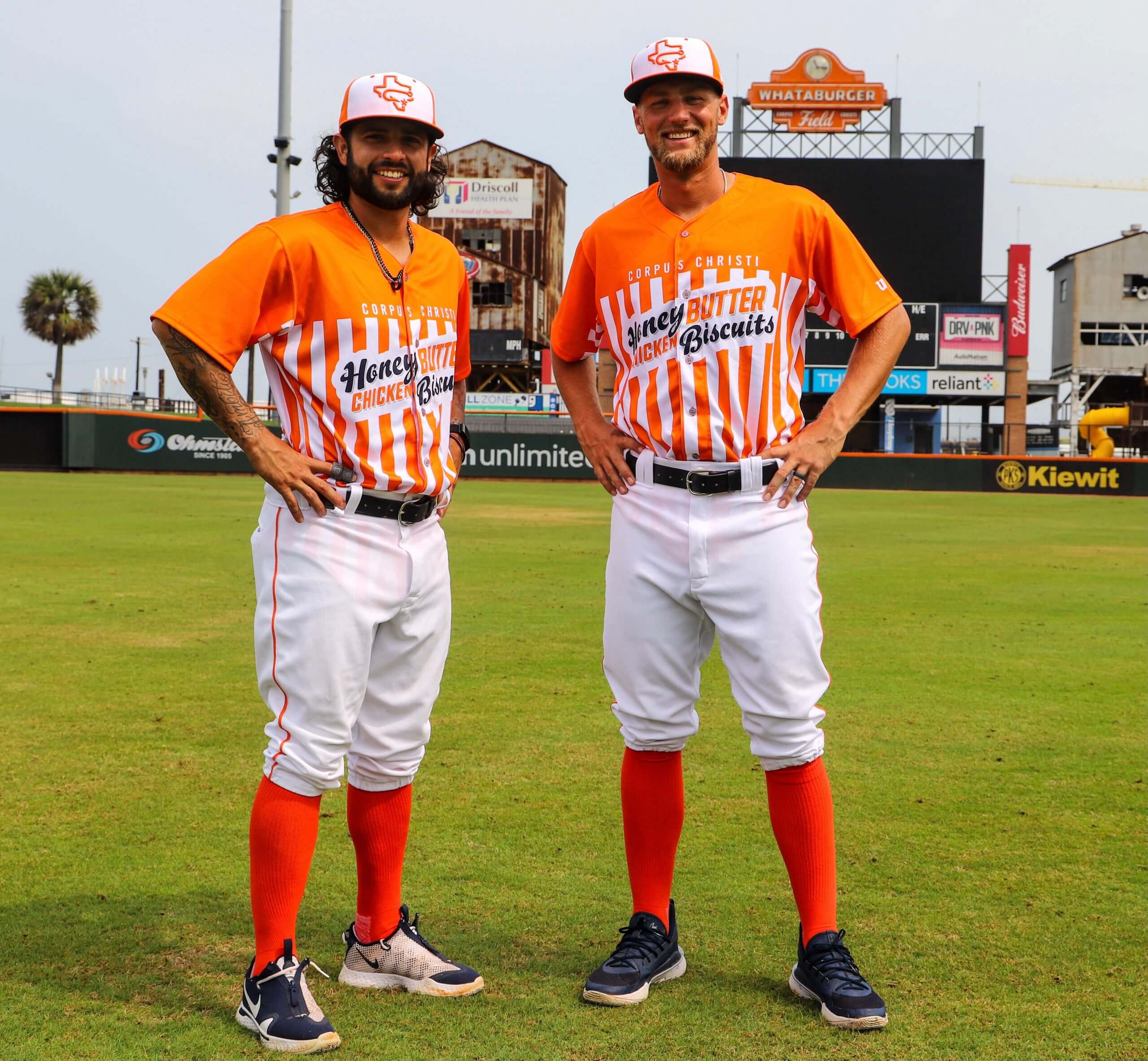 Click to enlarge
Ready for some eats? The latest food-based minor league makeover comes our way from the Corpus Christi Hooks — the Astros' Double-A affiliate — who announced yesterday that they will play as the Corpus Christi Honey Butter Chicken Biscuits on Wednesdays this season.
Here's how the uniforms look from the back: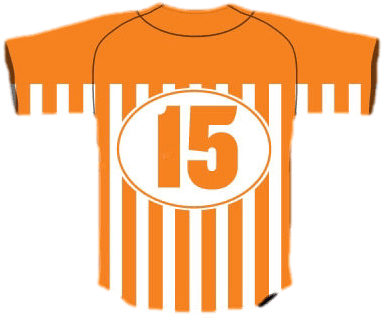 If you're a fast food fan and a Southerner, that design probably looks familiar to you, because it's based on the package and table tent designs of the regional burger chain Whataburger, which was founded in Corpus Christi and holds the naming rights to the Hooks' stadium.
Why are they going with the Honey Butter Chicken Biscuits, instead of just calling themselves the Corpus Christi Whataburgers? I'm sure they would have preferred that, but MiLB doesn't allow for that level of corporate hucksterism (at least not yet). It's the same rule that forced the Syracuse Chiefs to become the Syracuse Devices, instead of the Syracuse Brannock Devices, in 2018.
So yeah, the ad-creep aspect of this is a bit gross. But hey, it's Double-A ball, whaddaya gonna do. And at least they had some fun with it by choosing an endearingly clunky name. Say it three times fast: Honey Butter Chicken Biscuits, Honey Butter Chicken Biscuits, Honey Butter Chicken Biscuits!
Of course, we all know there's only one true biscuit-themed team. But I suppose we can let the Hooks put the biscuit in the basket too, as long as it's just one day a week.
• • • • •
• • • • •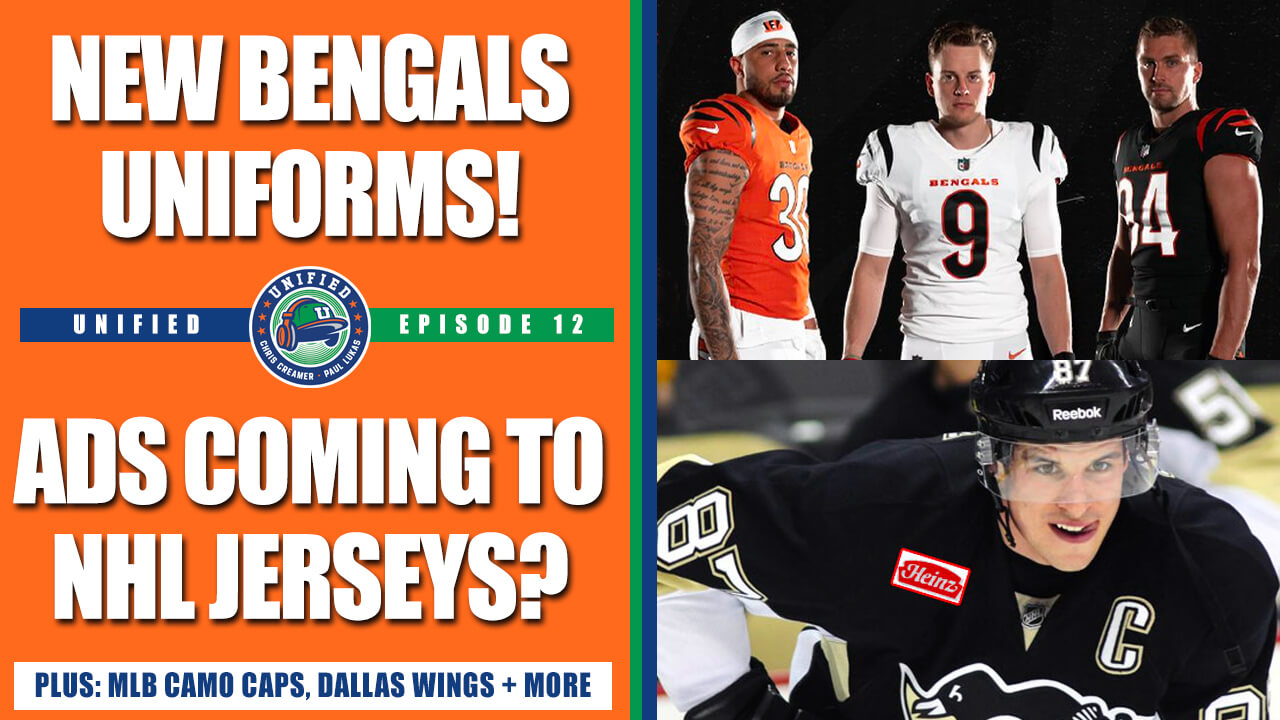 New podcast episode: For this week's episode, Chris Creamer and I talked about the Bengals' new uniforms, plus we discussed the possibility of the NHL adding jersey ads, the leak of MLB's G.I. Joke caps, the WNBA's Dallas Wings having to scrap their just-revealed uniform due to a major research oversight, our Question of the Week, and more.
As always, you can listen to us on Apple, Google, Stitcher, TuneIn, and Spotify, or just use the player below:
The show notes for this episode, which include photos of many of the things we discussed (including a really sensational photo of Chris's son having what appears to be a formative logo-related experience), are here. Those photos (and some additional ones) also appear in the video version of the episode, which you can see here:
Please consider supporting this episode's advertisers, Streaker Sports (get 20% off any order with checkout code UNIFIED) and Homefield Apparel (15% off with checkout code UNIFIED).
Enjoy the episode, and thanks for listening.
• • • • •
• • • • •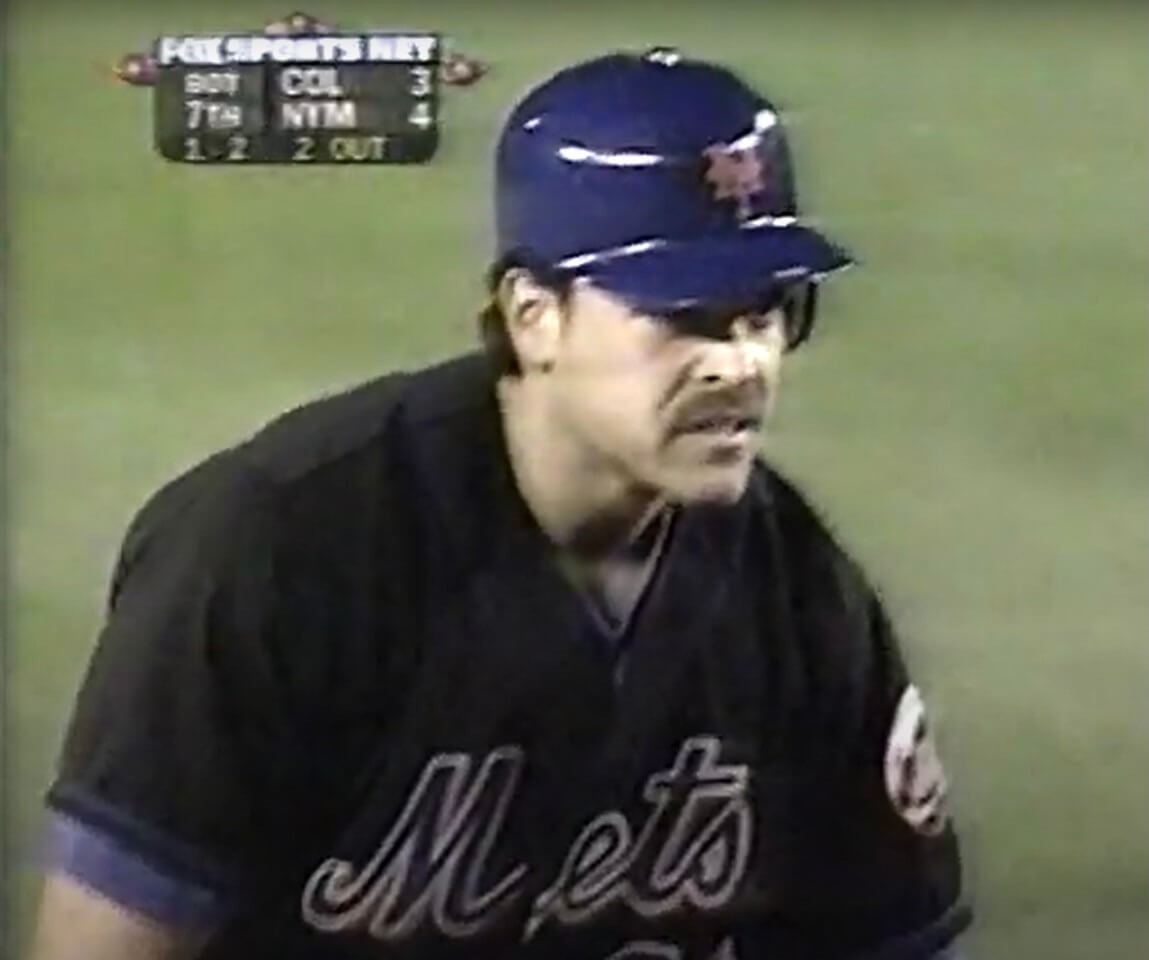 Black and blue: The screenshot above shows Mets catcher Mike Piazza wearing the team's blue helmet and black jersey. It's from the second game of a doubleheader on Aug. 18, 1998.
I had no memory of the Mets ever wearing that helmet/jersey combo. And it wasn't just Piazza — you can see the whole team doing it in this highlight sequence.
This discovery came my way from reader Patrick Lavery. It's one of a series of things he's uncovered while researching the 1998 MLB season. We'll be hearing more from him on that topic shortly — stay tuned.
Meanwhile, as long as we're talking about Mets helmets, here's another rare shot: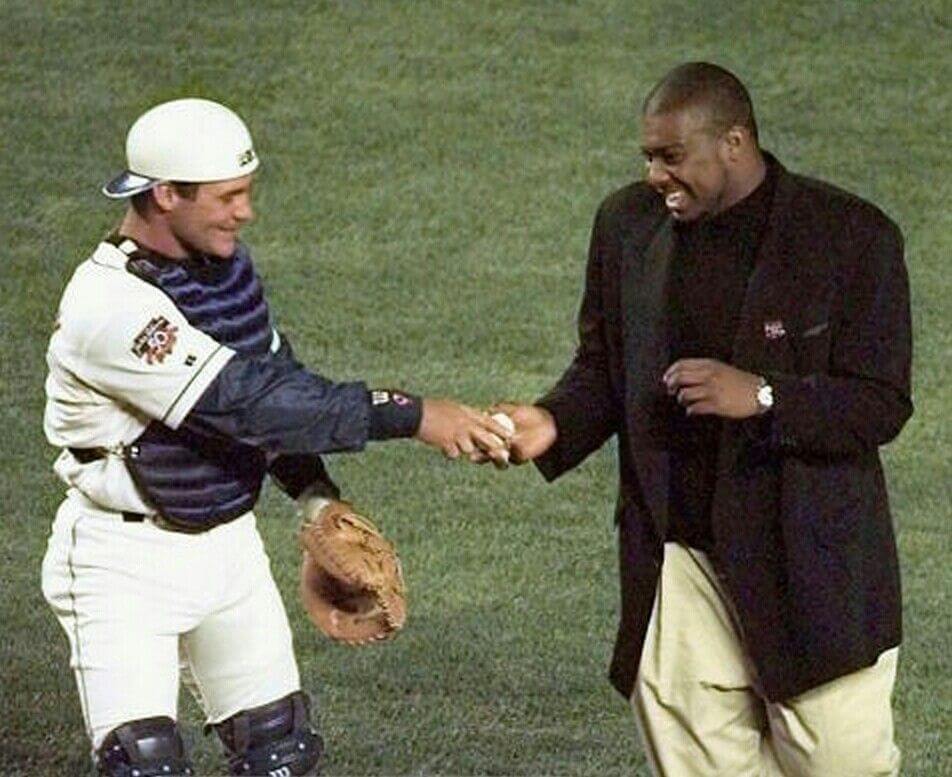 That's Mets catcher Todd Hundley with Jackie Robinson's son Jessie Robinson on April 15, 1997 — the 50th anniversary of Jackie's MLB debut and the night that No. 42 was retired MLB-wide. The Mets wore their infamous "Good Humor Man" white caps that night — one of only a handful of times that the much-maligned caps were worn (anyone know exactly how many times?). The team never bothered to make matching white batting helmets, but first baseman John Olerud wore a white helmet in the field — and, as we can now see, so did Hundley.
I knew about the Olerud helmet but had forgotten about Hundley until Twitter-er @jjburkeesq shared it with me yesterday. He said he's not sure if the Mets' two other catchers that season — Todd Pratt and Alberto Castillo — wore the white helmets (or if they even played in any of the white-capped games).
And as long as we're talking about the Mets, here are a few notes from last night's game:
• First baseman Pete Alonso wore an orange base layer (which is technically against the rules, as everyone on the team is required to wear the same color undersleeves, but good luck trying to enforce that one):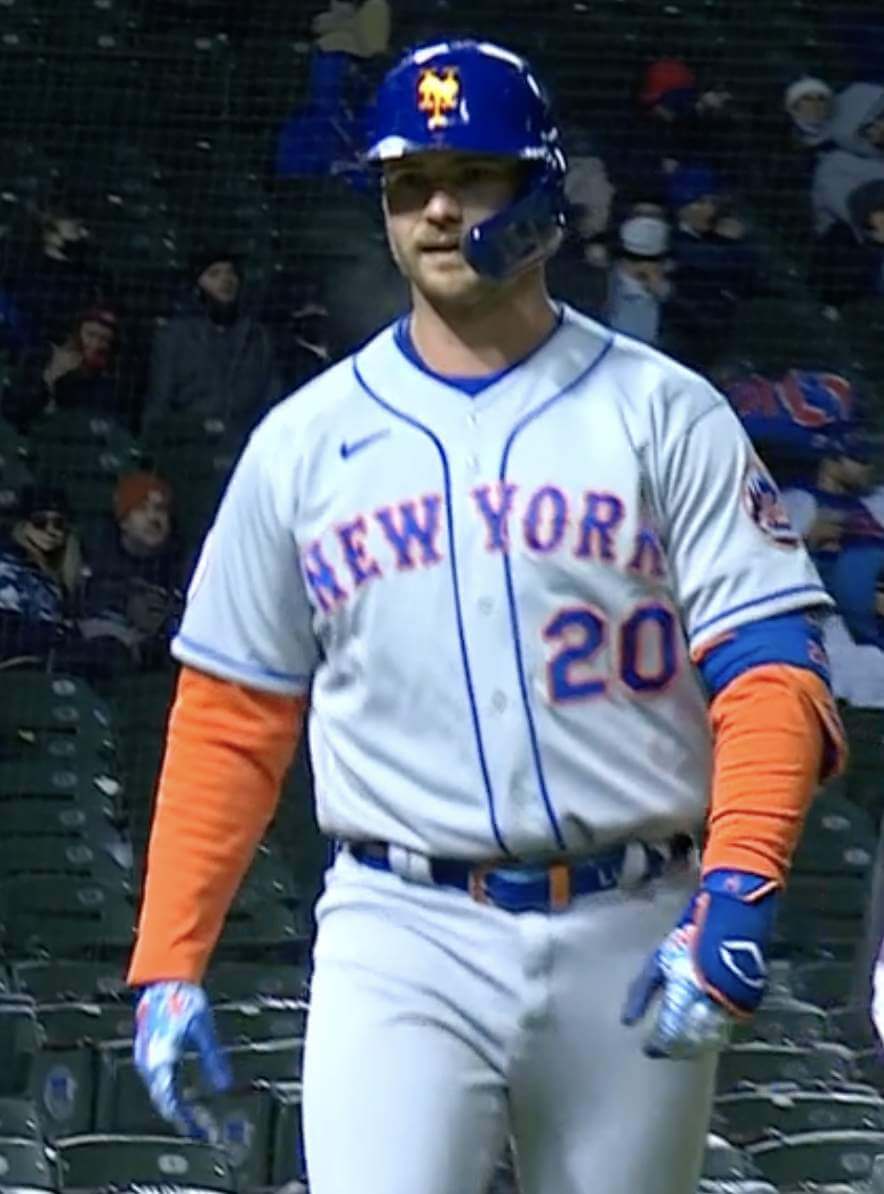 Pretty sure that's the first time he's done that. David Wright used to do it routinely, but only with short sleeves that didn't extend below his jersey sleeves, so all you saw was the orange collar.
• Second baseman Jeff McNeil wore a gaiter with the logo for the Cookie Club, which is a Mets-themed kids' TV show: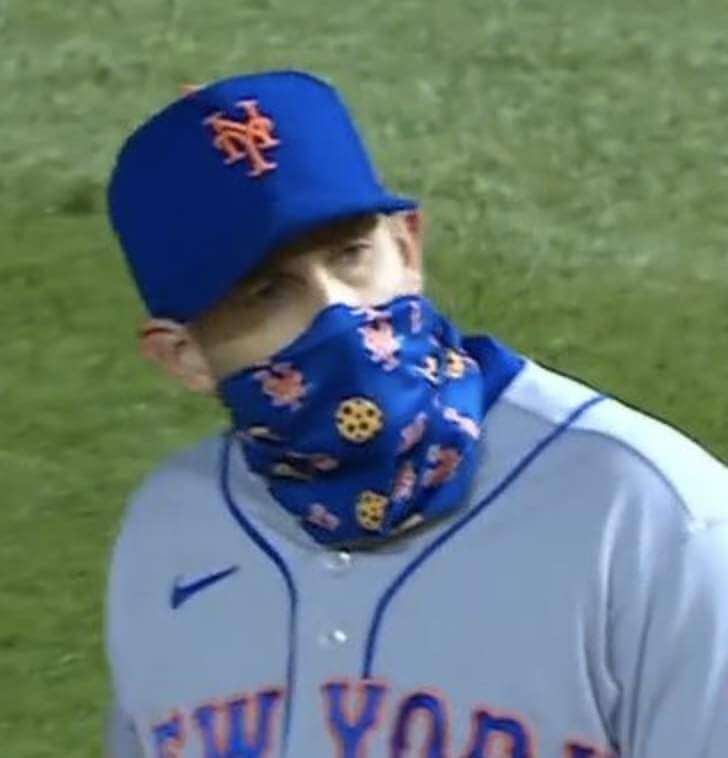 • Shortstop Francisco Lindor wore a hoodie. He had the hood up while playing the field but down while batting and running the bases: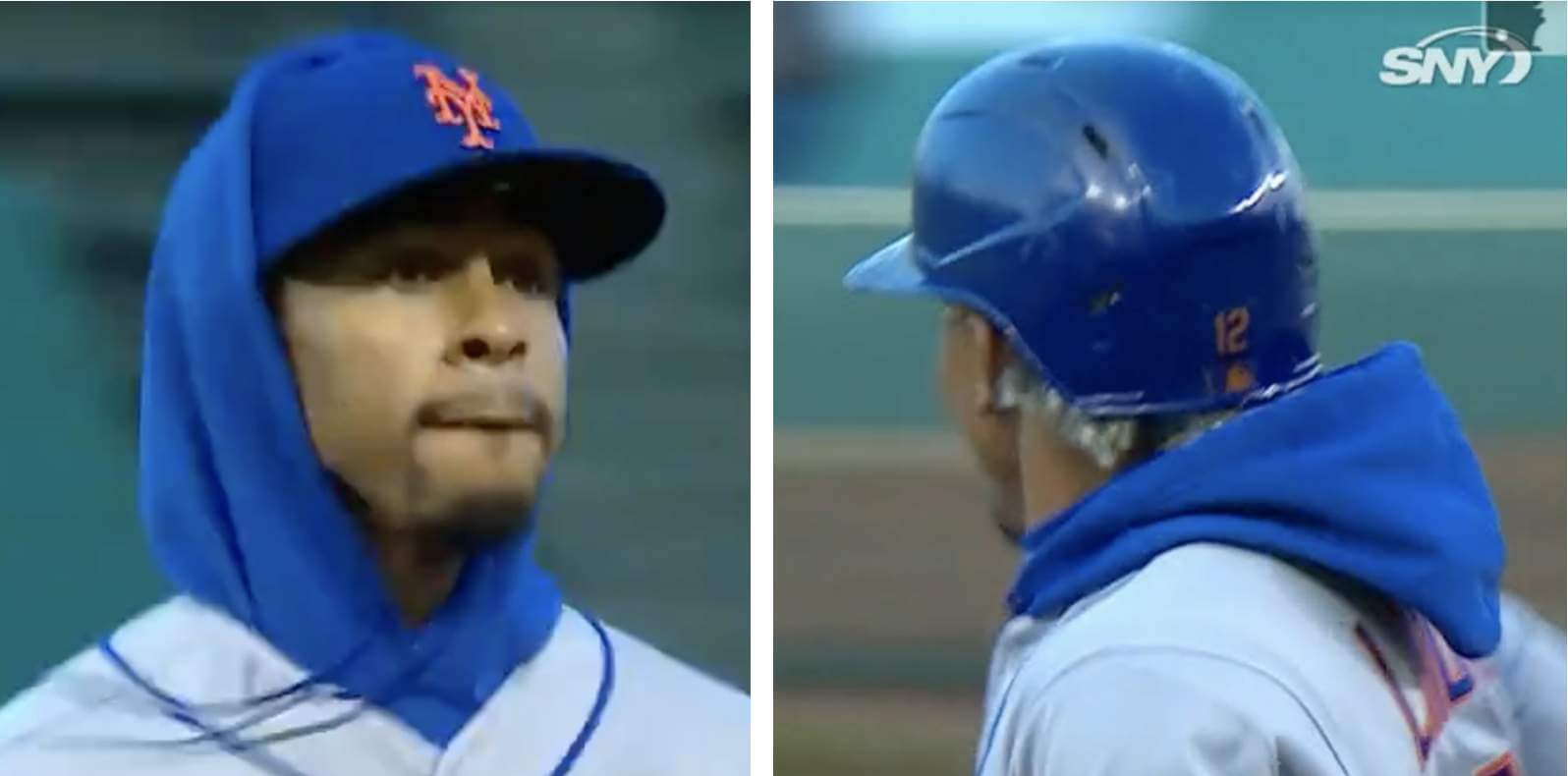 • • • • •
• • • • •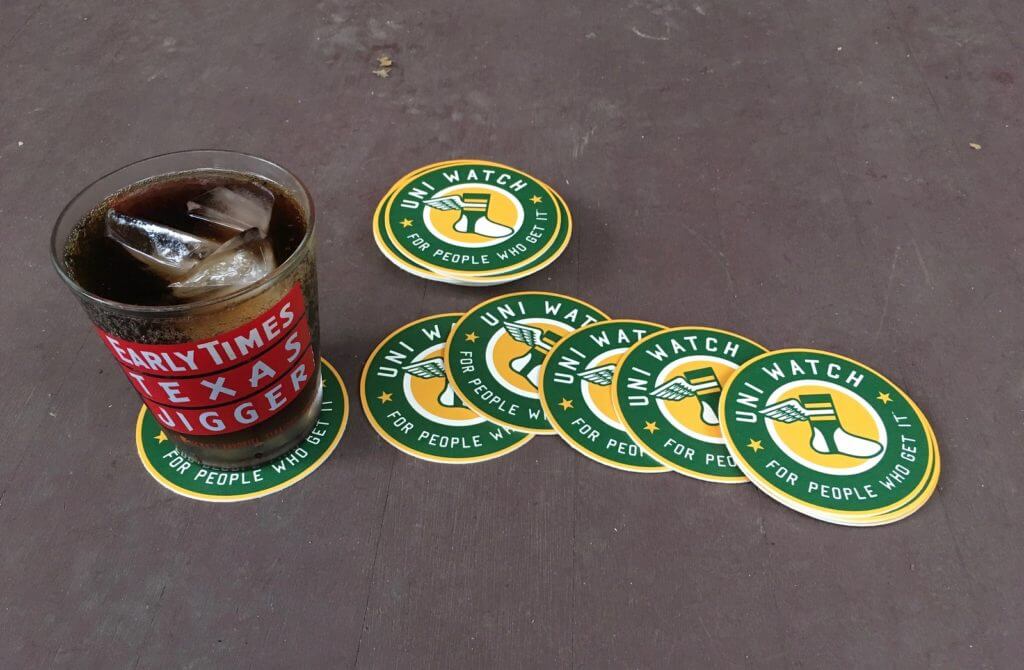 Coasters reminder: I'm down to about seven remaining sets of these great-looking Uni Watch coasters. They're made in the USA from sturdy pressboard and measure 3.7″ across.
As has been the case in the past, I'm selling these in groups of three coasters for nine bucks, including shipping. USA orders only, sorry.
To order, send me $9 via Venmo (use @Paul-Lukas-2 as the payee), Zelle (plukas64@gmail.com), or Google Pay (plukas64@gmail.com). If you want to use Apple Pay, a paper check, or well-concealed cash, get in touch and I'll give you the appropriate info.
After paying, email me with your shipping info. Thanks!
If you want to combine a coaster purchase with an order for a Uni Watch koozie, a trading card, a magnet, a seam ripper, or a chain-stitched patch, please email me and I'll give you a price that includes a combined shipping fee for the whole shebang. (Sorry, these are the only Uni Watch items I can combine into one shipment, because all our other items ship from separate locations.)
• • • • •
• • • • •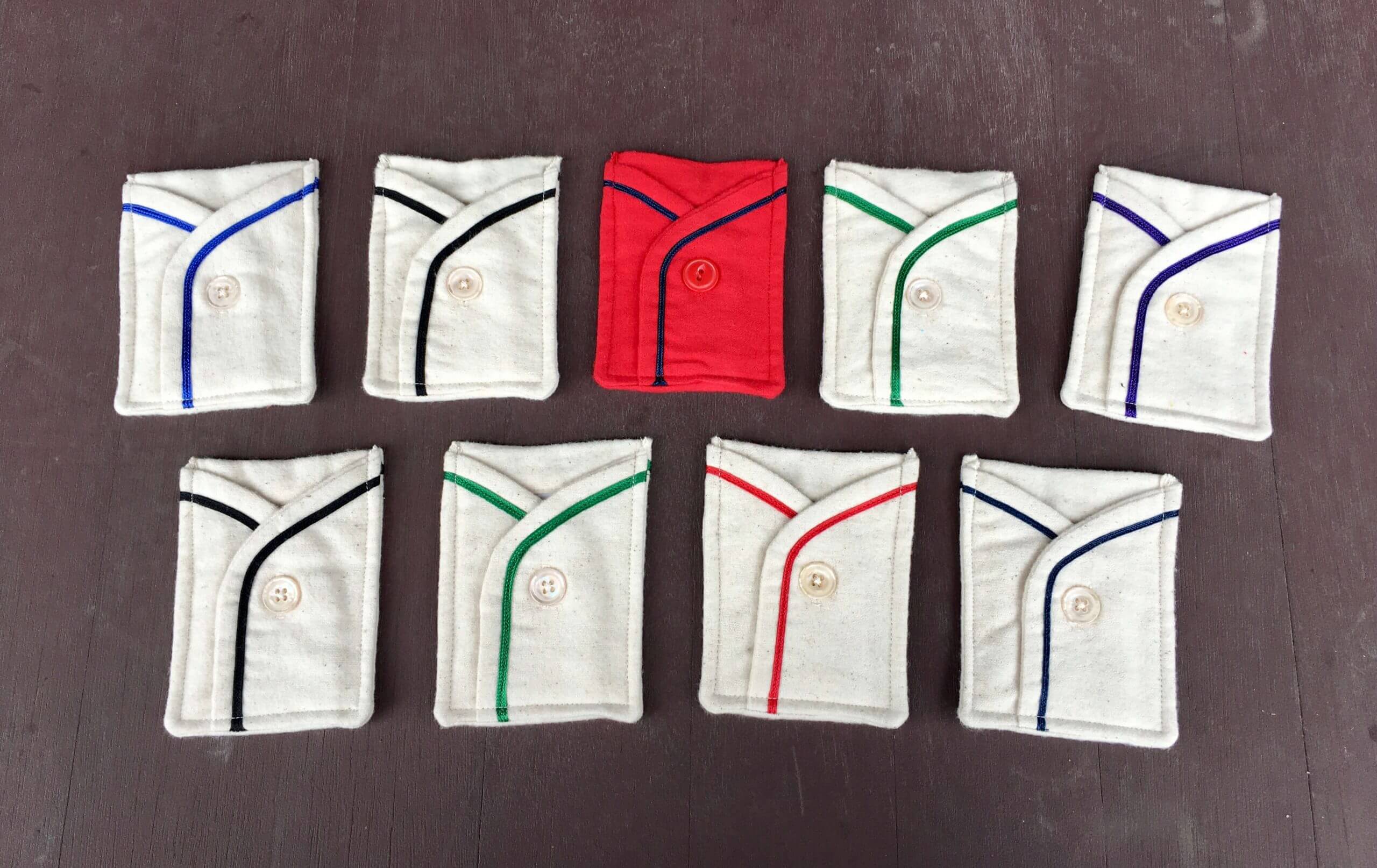 For all photos, click to enlarge
Membership drive reminder: In case you missed it on Monday, our April membership drive is taking place this week. Out of all the people who sign up for a membership card this week, three randomly chosen enrollees will get to choose one of the card pockets shown above (except for the purple one, which I'm saving for Purple Amnesty Day).
The pockets were made by the great Wafflebored. Here are some additional pics: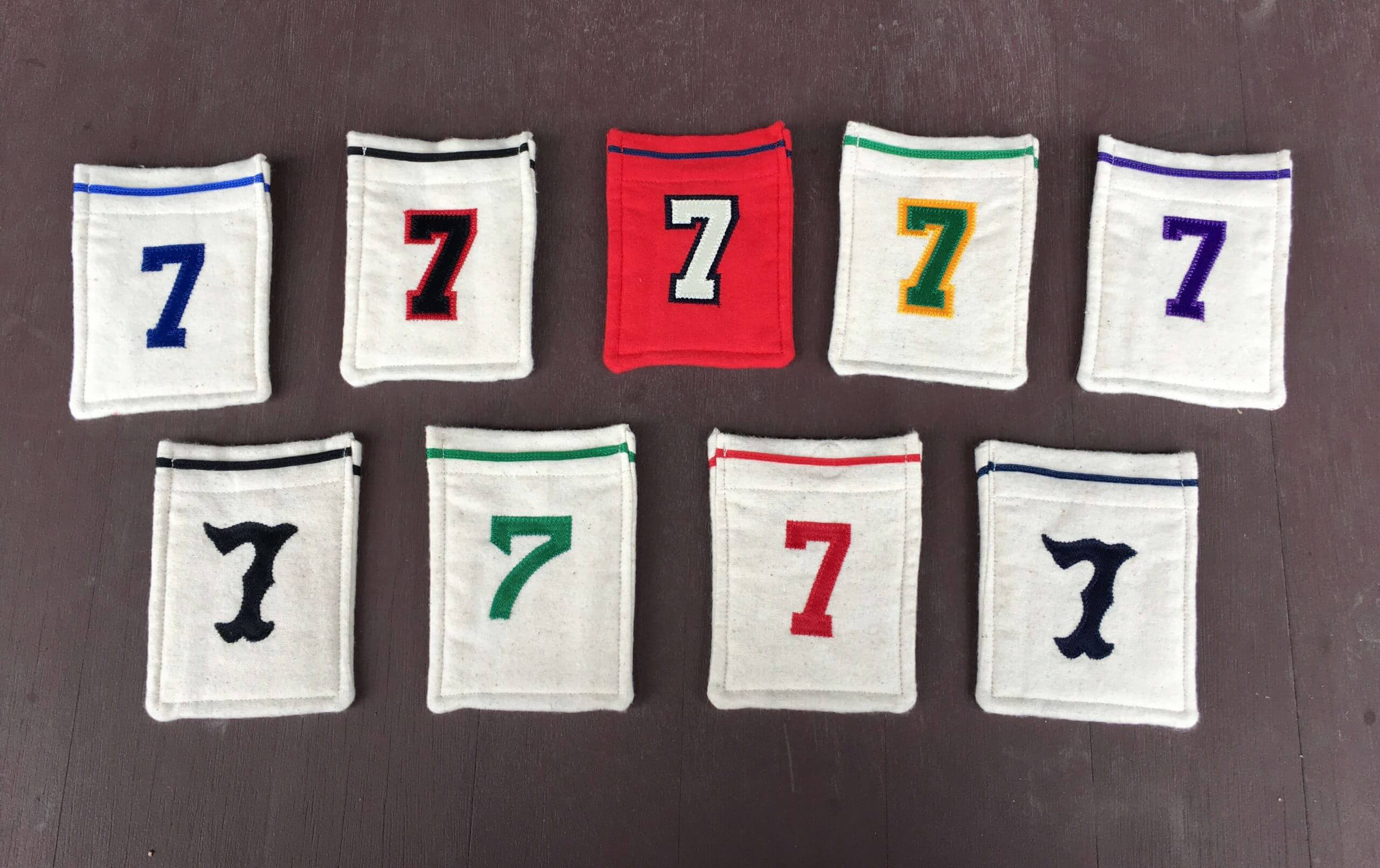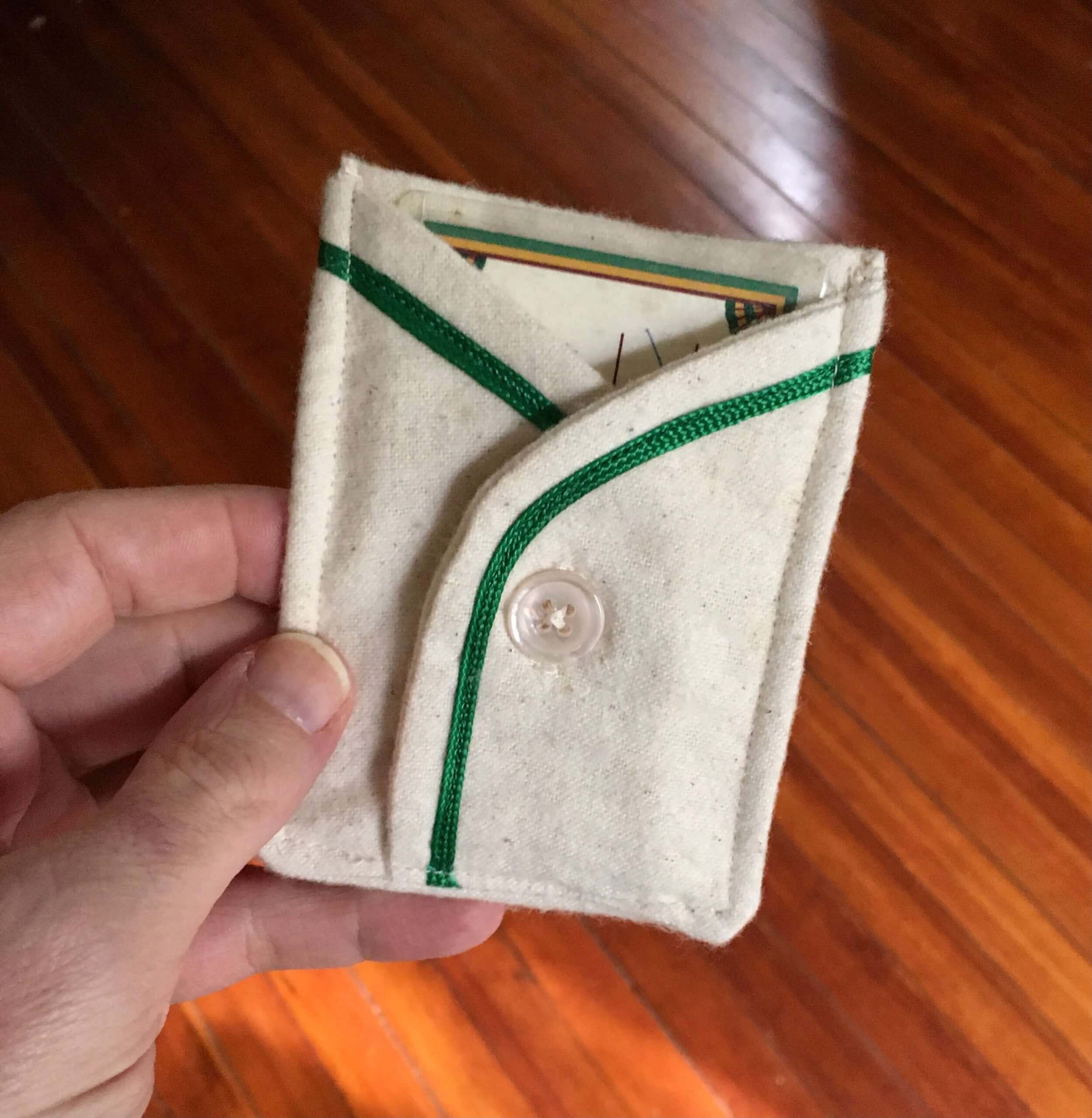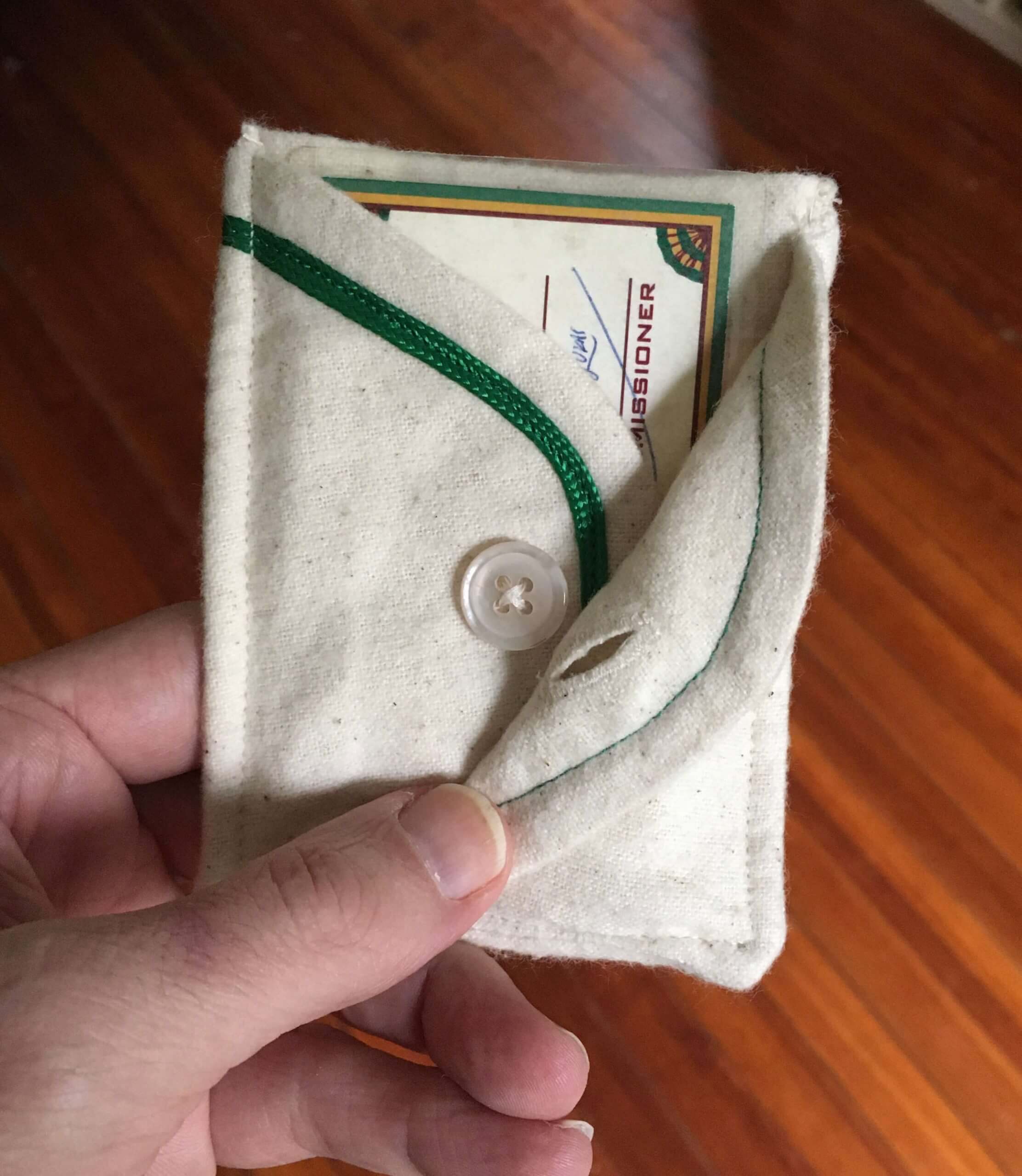 If you order a membership card this week, go ahead and specify which pocket you'd prefer if you turn out to be one of the winners. I'll try to accommodate the winners' preferences.
I'll announce plans for the remaining pockets later this year. Thanks for your consideration, and of course doubleplusthanks to Wafflebored.
• • • • •
• • • • •
The Ticker
By Paul

'Skins Watch: Next Wednesday, April 28, 10am-noon Eastern, I'll be participating in an online panel discussion about Native American imagery in Connecticut sports. You can see the other panelists listed here, and you can register to view the event here. … The Southern York County school board in Pennsylvania has voted to retire its Native American iconography but will keep its "Warriors" team name. … A commission has recommended that Algonquin Regional High School in Massachusetts should stop calling its teams the Tomahawks (thanks, Phil). … The rest of these are from Kary Klismet A debate over whether a nearby middle school should keep "Redskins" as its team name has created controversy and heightened tensions among faculty members at Tennessee Tech. … The school board in Atchison, Kan., has voted to discontinue the Native American-themed team names, reversing a 2018 decision to keep them. … Students at Columbia River High School in Vancouver, Wash., have voted to retire their "Chieftains" team name and replace it with "Rapids," adopting a new logo in the process that appears to have been poached from the Colorado Rapids of the late '90s. … Susquehannock High School in Pennsylvania has decided to keep its "Warriors" team name but will drop the Native American imagery associated with it.

Baseball News: Here's something I didn't know: When Rangers players lined up for pregame introductions at the team's first-ever home game in 1972, they wore cowboy hats! No word on whether the hats had a maker's mark on the other side (from Trevor Williams). … Red Sox SS Xander Bogaerts wore a Liverpool soccer jersey during Tuesday's postgame presser, evidently in solidarity with Liverpool players who oppose the European Super League. "Both the Red Sox and Liverpool are owned by John Henry," notes our own Anthony Emerson. … Great find by Todd Radom, who discovered a news clipping/photo about Reds skipper Dave Bristol being saddled with a misspelled NOB during spring training of 1967. … Good story about how the Pirates started wearing black and gold (from Kary Klismet). … Also from Kary: The Burlington Sock Puppets want fans to help name the team's new costumed mascot. … Marlins SS Jazz Chisholm, who wears No. 2, says he asked for No. 0 but the team said no. … MLB players have been wearing uni-numbered belts for a couple of seasons now, but this is the first time I've seen an umpire wearing one. That's Adam Hamari, who was working the plate for yesterday's Giants/Phils game (good spot by Steven Merrill). … The Rockies' Twitter page has created an amusing 2021 All-Star logo by modifying the 1998 ASG logo. Note the fine print at far-right. … Speaking of Colorado: What's better than an orange-vs.-purple game? An orange-vs.-purple game in the snow, which is what the Rox and 'Stros played yesterday (thanks to all who shared). … Weird sequence for the D-backs: They wore their road greys for Tuesday night's game in Cincinnati, which was suspended due to rain; when the game resumed yesterday afternoon, they'd changed to their red alternates; and then they went back to the greys for last night's regularly scheduled game (from Josh Pearlman and @coachJS20).

NFL News: As had been expected, NFL owners approved a proposal for more lenient uni-numbering guidelines, so lots of players could have new numbers this season. The ink on the rule change had barely dried when longtime reader/pal Jack Krabbe advised me that Ravens LB Patrick Queen had asked QB Lamar Jackson how much it would take for Jackson to give up No. 8, which is the number Queen wore at LSU and is now eligible to wear in the NFL. According to this ESPN article, players who want to change their numbers this season will have to buy out the league's existing inventory of their jerseys, although that wouldn't apply to players who give notice in 2021 that they want to change numbers in 2022.

Hockey News: New jerseys for the Elliott Lake Red Wings, a team in the Northern Ontario Junior Hockey League (from Kary Klismet). … New mask for Manitoba Moose G Cole Kehler (from Wade Heidt).


College Hoops News: Saint Mary-of-the-Woods College in Indiana is naming its court after retired women's coach Deann Bradley (from Kary Klismet).

Soccer News: Cross-listed from the baseball section: Boston Red Sox SS Xander Bogaerts wore a Liverpool shirt during Tuesday's postgame presser, evidently in solidarity with Liverpool players who oppose the European Super League. "Both the Red Sox and Liverpool are owned by John Henry," notes our own Anthony Emerson. … New home shirt for Belarusian side FC Isloch (from Ed Zelaski). … Kansas City NWSL wore "Justice for Daunte Wright" warm-up shirts last night (thanks, Jamie). … At least four Puma-outfitted countries — Italy, Switzerland, Austria, and the Czech Republic — have released new second shirts. "They all have a nonstandard placement of country name, crest, and Puma logo in the center," says our own Jamie Rathjen. … Here's a behind-the-scenes look at the logo-design process for Flower City Union, the new team set to debut next year in Rochester, N.Y. (from Mike Weston).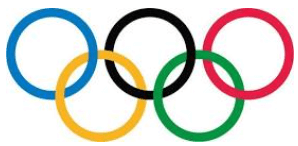 Olympics News: After polling athletes, the IOC has decided that protests and political messages will remain banned at the upcoming Tokyo Games.

Grab Bag: Falmouth High School in Maine is considering dropping its "Yachtsmen" team name and costumed "Yachtie" mascot because of concerns that the identity reflects economic and cultural elitism (from Kary Klismet). … Iowa State's wrestling team apparently used to have robes, and now they're bringing them back (from Phil Santos). … The Montana Highway Patrol — perhaps taking inspiration from the 1972 Texas Rangers — has added Western-style cowboy hats as an official headwear option for uniformed officers (from Kary Klismet).
• • • • •
• • • • •