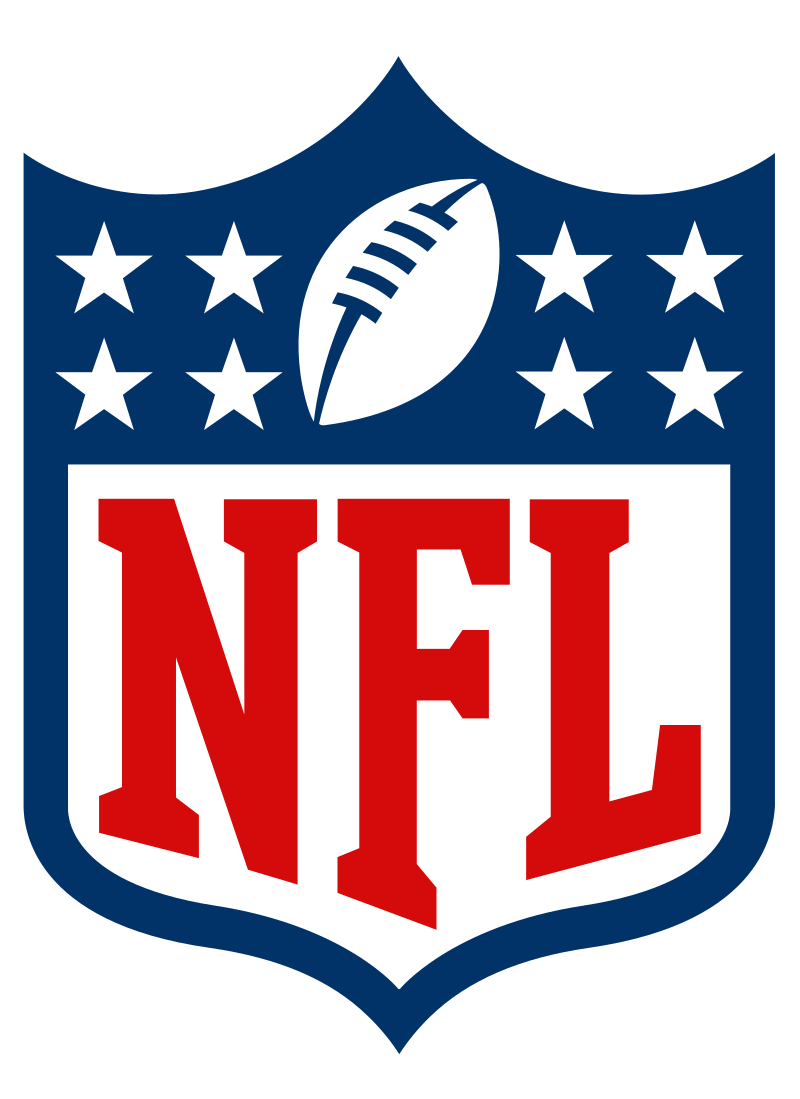 As you're probably aware by now, the NFL recently decided to expand its 16-game regular season — the standard for a non-strike season since 1978 — by adding a 17th game.
My primary thought about this was that sports schedules usually feature an even number of games — 162 for MLB; 82 in the NBA and NHL; 34 in the WNBA and MLS; 24 for the NWSL. Prior to going to 16 games, the standard NFL number was 14 (1961-77), and before that 12 (1947-60) and 10 (1943-45). So by going to a 17-game slate, the NFL was taking the highly unusual step having an odd number of games.
A reader who prefers to be known simply as Bryham has taken this line of thought a bit further. As he sees it, a going from 16 to 17 games is a big downgrade on an aesthetic level. I'll let him explain.
The Aesthetics of a 17-Game NFL Season
By Bryham
I, for one, am not pleased about the addition of a 17th game to the NFL season. Sure, I share the concerns about player safety and football overload that many people have expressed. But the real reason I don't like the 17th game is that it doesn't feel right. As somebody who makes sure all the bills are facing the same way in his wallet, I feel confident in saying that 16 is the perfect number of games for an NFL season, while 17 makes no sense whatsoever. 
Consider the beauty of the 16-game season:
• 16 games in a season; 16 teams in a conference. Perfection!
• 16 is 4 squared (4 times 4), just like the four divisions, each with four teams, in each conference.
• With a 16-game schedule, there are very clear quarter-, half-, and three-quarter-marks of the season, and a team can often win exactly a quarter, a half, or three-quarters of its games during a season. These fractions make sense to most people because we use them every day — think of coins or a tape measure. These benchmarks also make it easy to make statistical projections: If a running back has rushed for 600 yards at the halfway point of the schedule, you know he's on pace for a 1,200-yard season.
• Each 16-game season can be divided into halves and quarters, just like a football game.
  
Now, consider a 17-game season:
• A 17-game season can't be divided into halves. In fact, 17 is a prime number, so it can't be divided into any whole number of games during the entire season. Yikes!
• A 17-game season doesn't align with the number 4, which is so prevalent in the league. The one-quarter point of a team's season is at the end of the first quarter of their fifth game. Very unsatisfying!
• A team can't win a quarter, a half, or three-quarters of its games.  Final records of 12-5 or 7-10 just don't align with familiar things like tape measures, coins, or familiar fractions. And instead of ending up with winning percentages like .250, .500, .750, you get unfamiliar numbers like .764 and .412.
• A team can't have an equal number of home and road games.
Now, don't get me wrong — I like prime numbers, and 17 is just fine as numbers go. But for a professional sports league to use that number of games for its regular season is bonkers, especially when they already had the perfect square number. Bring back 16!
———
Paul here. Intriguing analysis, right? I don't agree with everything Bryham's written here (I think a 12-5 record feels fine, even if it doesn't result in a pleasing or familiar winning percentage), but I love that he's expanded the parameters of what qualifies as athletics aesthetics. A really interesting approach! Nicely done.
• • • • •
• • • • •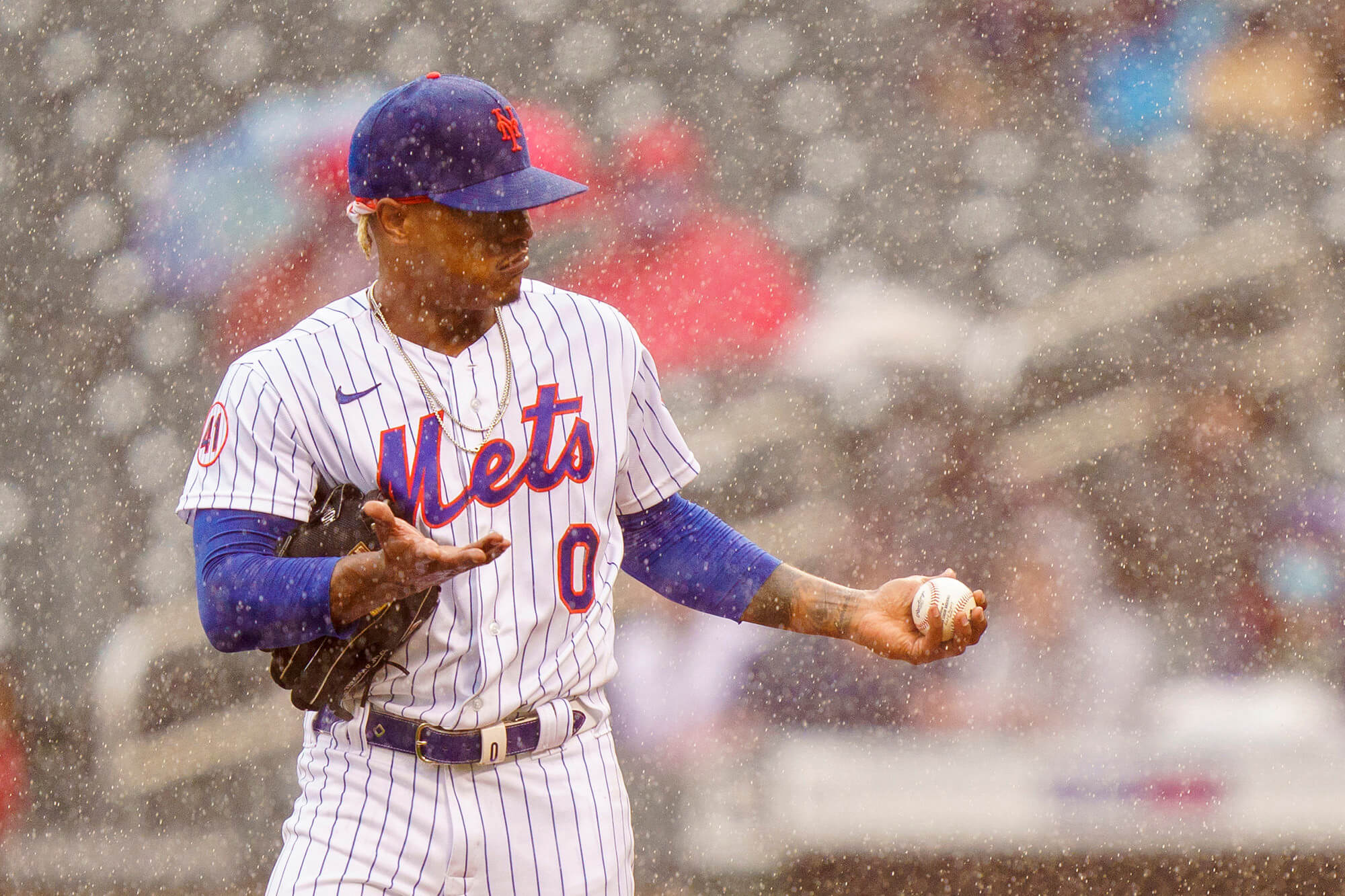 Click to enlarge
Silver lining: By now you probably know about how the Mets foolishly tried to play a game in the rain on Sunday, and how their starting pitcher, Marcus Stroman, wasn't happy about it. (The game was suspended after nine pitches.)
Stroman wasn't wrong — the game never should have been played. But it did result in a doozy of a photo by New York Post shutterbug Corey Sipkin (see above). Gorgeous work!
• • • • •
• • • • •
: Managers Announced

A diverse and experienced group of former players, coaches and instructors will manage the six founding teams in the inaugural #MLBDraftLeague

https://t.co/lgIAOqNPLz | @GoldenSombrero pic.twitter.com/VPu8NlubSn

— MLB Draft League (@mlbdraftleague) April 12, 2021
Can't make it up: Memo to the MLB Draft League (a new collegiate summer league featuring draft-eligible prospects): If you're going to pat yourself on the back for how "diverse" your new managers are, maybe don't put a stereotyped racial caricature literally front and center in your announcement.
(My thanks to @KCNep95 for this one.)
• • • • •
• • • • •
Another history mystery (already solved!): Reader Alan Tompas came across this TV special about the Polo Grounds, produced shortly before the stadium was demolished in 1964, called Requiem for an Arena. The video quality isn't great and the overall feel is a bit too melodramatic, but there's some great highlight footage — not just of baseball, as you'd expect (the Giants, Yankees, and Mets all called the Polo Grounds home at various points), but also pro and college football, boxing, track and field, tennis, soccer, and even auto racing. As the narrator notes, they played just about everything at the Polo Grounds except polo.
One thing that puzzled me was a sequence at the 8:00 mark, where the narrator says:
With two teams [the Giants and Yankees] sharing the Polo Grounds, the stadium saw its share of heroes. Ty Cobb, who held many of the headlines of that era, came to town with his Detroit Tigers. He was as fast with an autograph as he was with his spikes.
That narration is accompanied by shots of Cobb wearing a jersey I didn't recognize (it had American flag patches on both sleeves, something the Tigers never wore) and a Giants cap. At one point he's shown signing autographs with Giants players in the background: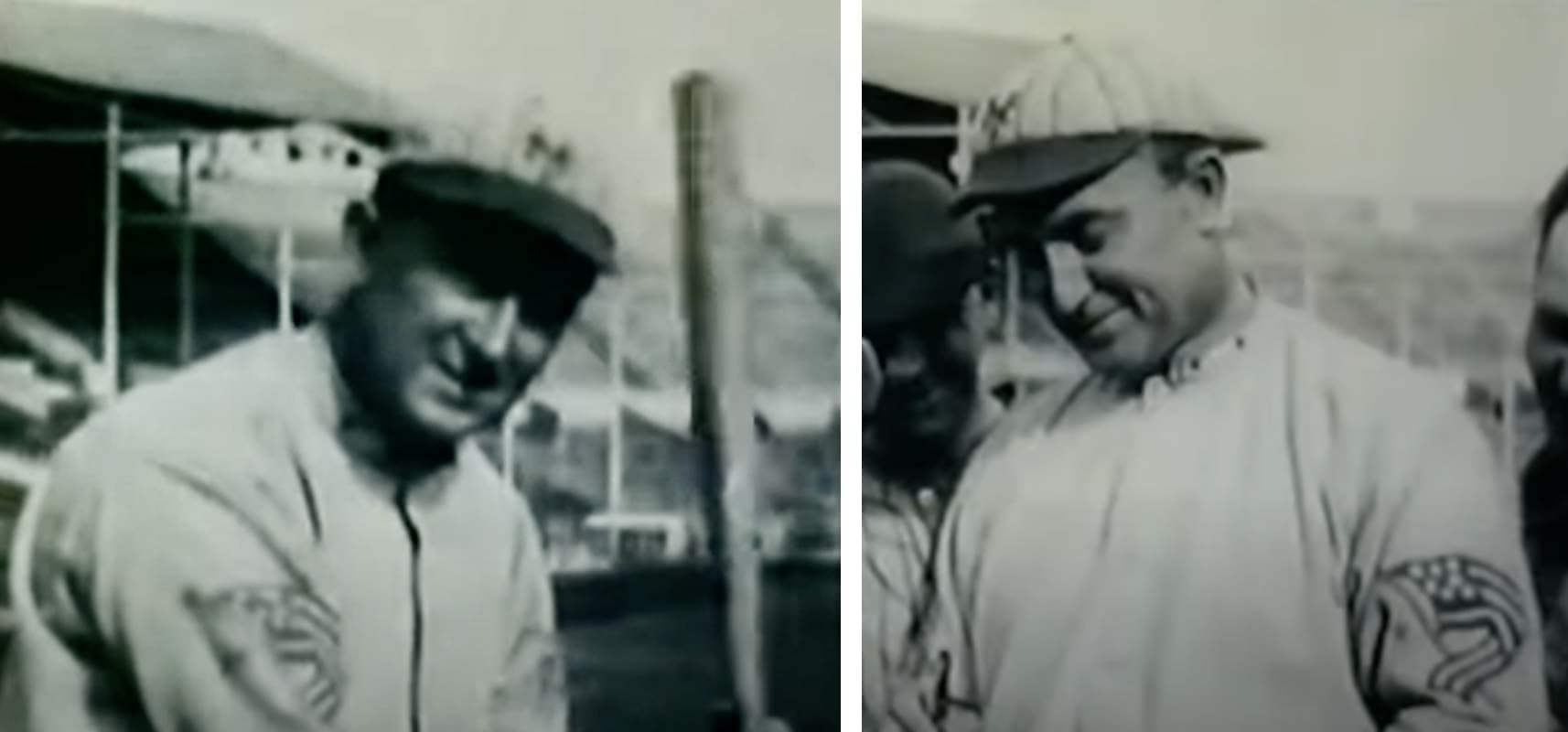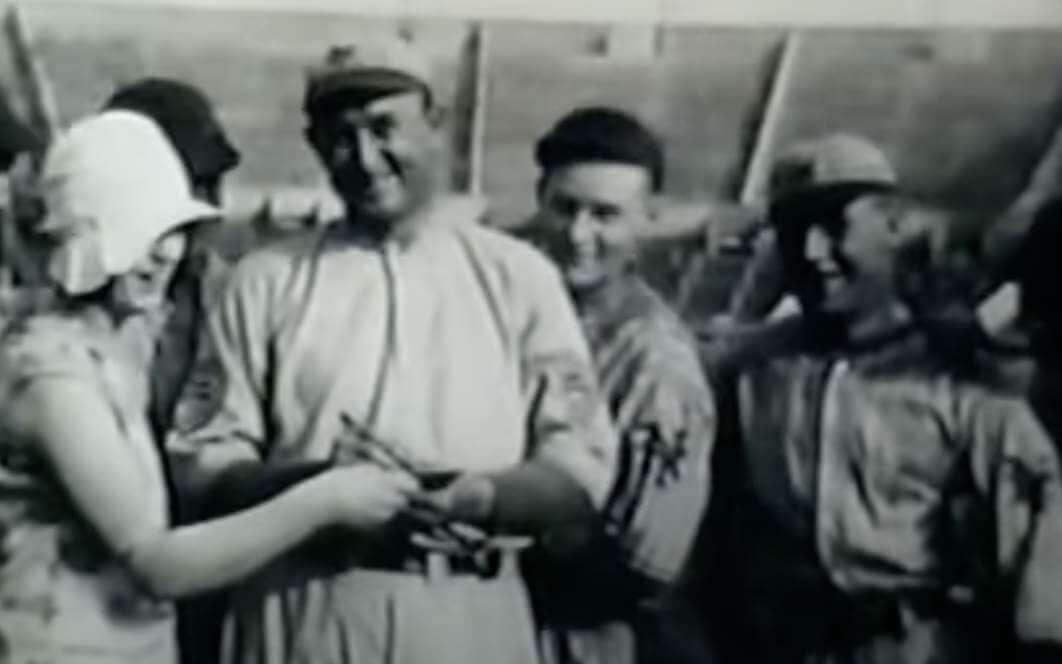 I didn't know what to make of this. Cobb played in the American League and the Giants were in the National League, so what situation would have brought them together? (Remember, the All-Star Game didn't yet exist.) And why would Cobb wear a Giants cap? And what jersey was he wearing?
It turns out that the footage in question was actually shot in 1929 (a year after Cobb's final MLB season) at Wembley Stadium in London, not at the Polo Grounds. Cobb was on some sort of promotional tour at the time.
So the folks behind the Polo Grounds documentary basically fudged the facts on that one. Wouldn't surprise me if they colored outside the lines in a few other spots, but it's still an interesting and enjoyable video — worth checking out.
(Big thanks to Alan Tompas for letting me know about this one.)
• • • • •
• • • • •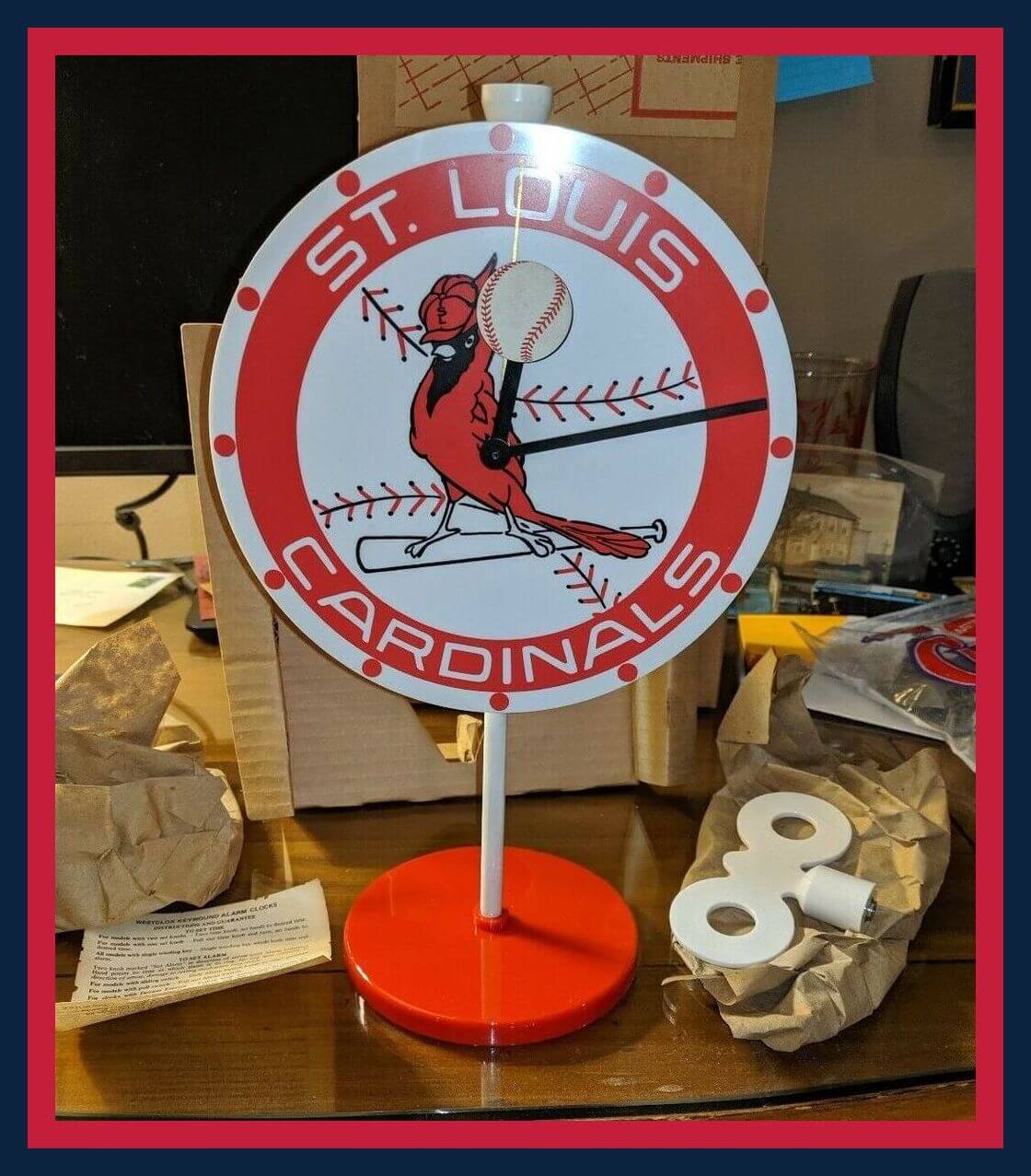 Click to enlarge
Collector's Corner
By Brinke Guthrie
Follow @brinkeguthrie    
Check out this beauty! This is a St. Louis Cardinals Team Mate clock by Westclox. These are from the early 1970s. It's got a big ol' key to wind 'er up in back. I've looked for these before and hardly ever seen them. (I used to have one of these for the Reds. Ran quite well, as I recall! I've also always liked the spelling of "Westclox.")
Now for the rest of this week's picks:
•  Check out this blue Montreal Expos football mini-helmet that was recently included in the Ticker. Turns out the seller also has one available in white. But where's the pinwheel version?
• I'd say the artist who did this 1970s "Welcome Texas Rangers" sign nailed the TR logo pretty well. But where were they being welcomed to?
• I can't tell if this women's Green Bay Packers sweater is a DIY job. It looks like it could be a Sears item, but there's no collar label. There is, however, a "Specially Fashioned By Grandma" label sewn inside. So maybe Grannie was a Packer Backer.
• This is a complete set of 1966 NHL Player Stamps (or, if you prefer, album des joueurs de la LNH). Brought to you by your local Coca-Cola bottlers.
• Will you look at the terrific design on this early-1970s Mead NFL school binder. Bob Griese, Dick Butkus, Ed Podolak, and Gale Sayers on the front; Jerrell Wilson, Joe Namath, Floyd Little, and Roger Staubach on the back. No team logos on an otherwise dynamite layout.
• Here's a 1960s New York Yankees popcorn megaphone. The vendor sells you the popcorn, you munch it down, then pop out the bottom disc and you have a megaphone. Like it says, "Easy as 1-2-3."
• Take a look at the "NY" on this 1960s kids' MacGregor New York Giants helmet. Looks like a hand-drawn "10" for Tarkenton on the front, too.
• This is a nice-looking 1950s St. Louis (baseball) Cardinals sticker that says "Let's Go See the Cardinals." But what is that black thing it's holding in its right hand? (Or wing?)
• I know this isn't vintage, but the San Diego Padres did a terrific job on this 2019 Swinging Friar Bobblehead!
• • • • •
• • • • •
Membership update: Eric Areman recently came to me with an absolutely brilliant membership request: He wanted a card based on the unusual referee's jersey from the 2000 NHL All-Star Game. To my knowledge, that was the only time this jersey design has ever been worn. (If I'm wrong about that, feel free to set me straight.) Eric's resulting card design is one of several that have now been added to the membership card gallery.
Ordering a membership card is a good way to support Uni Watch (which, frankly, could use your support these days). And remember, a Uni Watch membership card entitles you to a 15% discount on any of the merchandise in the Uni Watch, Uni Rock, and Naming Wrongs shops, plus the discount also applies to our Uni Watch Classic Cap. (If you're an existing member and would like to have the discount code, email me and I'll hook you up.)
As always, you can sign up for your own custom-designed card here, you can see all the cards we've designed so far here (now more than 3,100 of them!), and you can see how we produce the cards here.
• • • • •
• • • • •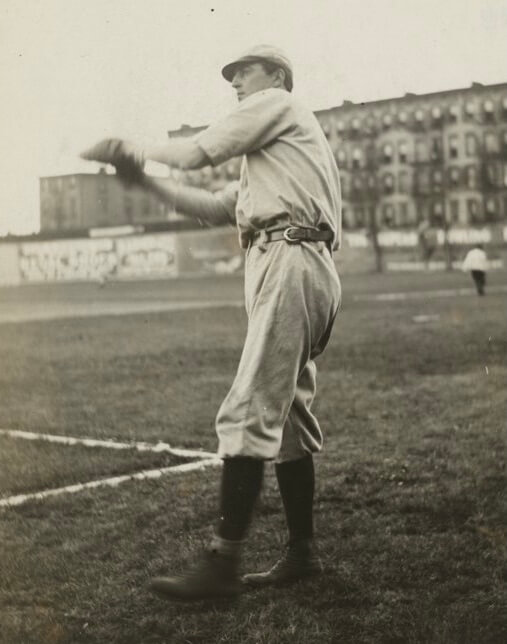 Click to enlarge
Too good for the Ticker: I've written many times about how it used to be common for ballplayers to wear their belt buckles off-center. But I don't think I've ever seen one as far off-center as the one in this photo of Pirates pitcher and eventual Hall of Famer Vic Willis. The buckle is basically on his hip — another inch and it'd be on the dark side of the moon! Never seen that before.
(Big thanks to Phil for this one.)
• • • • •
• • • • •
Uni Watch Hit Parade: A long time ago — before Uni Watch, before I quit office jobs and went freelance — I was so into the 1980s and '90s New Zealand indie-rock scene that I actually traveled there twice just to see bands and connect with other fans. That scene, like any cultural scene, eventually splintered and collapsed, but every now and then I hear a band or record that reminds me of it.
That's the case with What's Growing, the sensational new album by a Christchurch band called Wurld Series that longtime Uni Watch reader Jimmy Lonetti recently brought to my attention. Totally delivers the goods in that old-school New Zealand way.
If the label names Flying Nun and Xpressway mean anything to you, you'll absolutely dig this record. If you have no idea what I'm talking about, it's still a great listen — enjoy.
• • • • •
• • • • •
The Ticker
By Alex Hider

Baseball News: The full set of MLB Mother's Day caps has been unveiled, meaning we finally have a look at the three caps that didn't leak last week — the ones for the Blue Jays, Rays, and Atlanta. … The boxes for the Dodgers' World Series rings include a miniature video screen that plays personalized highlights from the team's championship season (from Kary Klismet). … The Blue Jays broadcast last night showed an old photo of Yankees 2B Rougned Odor Photoshopped into his new cap and jersey — resulting in a rare image of a Yankee with facial hair (from Jean Lefebvre). … Joey Meyer, who briefly played for the Brewers in the late '80s, hit one of the longest home runs ever recorded at an estimated 582 feet. This piece about the homer notes that Meyer, who wore No. 0, was a big dude — so big, in fact, that the team had to go to a local sports bar to find him a "souvenir shirt" that was big enough for him to wear (from William F. Yurasko). … Boulevard Brewing Co. in Kansas City has released a new beer in collaboration with the city's Negro Leagues Baseball Museum (from R. Scott Rogers). … Good catch by @Finerific, who spotted Red Sox hitting coach Walt Hriniak apparently wearing his stirrups inside-out in an old photo. Note that the No. 33 is backwards!

NFL News: An Atlanta sports blog has ranked their favorite Falcons throwback uniforms (from Kary Klismet). … Broncos blog Mile High Report is calling for the end of the one-shell rule (from Phil).
.

College Football News: Here's an update on which Ohio State freshmen have "lost their black stripe" thus far. The team makes freshman players "earn" the right to wear a red stripe on their helmets (from Kary Klismet). … Pretty cool behind-the-scenes shot of the making of Alabama WR DeVonta Smith's game-worn patch cards, which will be made out of a pair of his cleats (from @eYank45). … BYU is constructing a uniform evolution display in its new "Player Experience" room (from @BenOnSports).

Hockey News: Hurricanes players all warmed up in Jordan Staal's No. 11 sweater last night in honor of Staal's 1,000th game (from Wade Heidt). … Also from Wade: The Avalanche recently acquired G Devan Dubnyk, formerly of the Sharks. During Sunday's game, Dubnyk dressed in his San Jose mask, pads and gloves (Dubnyk appears at 0:22 in that clip). … New numbers for the Bruins trade deadline acquisitions (thanks to all who shared). … New Penguins F Jeff Carter will wear No. 77, becoming the first Pens player to wear that number since Paul Coffey (from Jakob Fox).

Basketball News: The Canadian men's national team, which hasn't made the Olympics since 2000, is hosting a six-team Olympic qualifying tournament this year. As a good luck charm, the games will be played on the same floor on which the Toronto Raptors won the 2019 NBA championship (soft paywall, NYT). The floor had already been sold off in pieces, but Canada Basketball spent $270,000 to get the pieces back. They'll soon re-finish the floor with FIBA logos and markings for the international game (from Kary Klismet). … We've got several updates on the NBA number front. For the latest, check out number guru Etienne Catalan's Twitter account. … New logo for the 2021 FIBA Asia Cup (from Jeremy Brahm).

Soccer News: Inter Miami has sold the naming rights to its stadium to AutoNation. However, the stadium will be named DRV PNK Stadium, based on the company's cancer awareness initiative (from Timmy Donahue). … The head of German company Flyeralarm, which advertises on the sleeves of second-tier German club Würzburger Kickers and is the naming-rights advertiser of the top-flight women's league Frauen-Bundesliga, says he wants to pull his advertising because he's upset that several crucial calls have gone against Würzburger this season (from our own Jamie Rathjen). … The Russian Premier League changed its Twitter avatar yesterday by putting its bear mascot in a spacesuit to honor the 60th anniversary of Yuri Gagarin's first manned space flight (from Ed Żelaski). … Here are some of the other jersey designs USL League One club Forward Madison FC considered for their 2021 away kit (from R. Scott Rogers). … New kits for Bolivian club Bolívar (from Germán Cabrejo). … Brazilian club Fluminense FC's 2021-2022 home kit has reportedly leaked — a throwback design that honors the 115th anniversary of the club's first title (from Trevor Williams). … New kits for Detroit City FC (from Ryan Keberly).

Grab Bag: Florida State will be offering a series of classes in the near future that will help student athletes navigate potential name, image, and likeness rules should the NCAA adopt them (from @VictoryCB ). … Greater Western Sydney of the AFL typically wear orange and black, but they'll be wearing solid black against Sydney next weekend (from our own Jamie Rathjen). … Sanitation workers in India now have a national uniform dress code (from Kary Klismet). … Couple of curling notes from Wade Heidt: The 2021 Men's World Curling Championship was played in a bubble in Calgary, Canada, but four participants still contracted Covid. As a result, all curlers had to wear masks during play on Sunday. Sweden took the championship, and team skipper Niklas Edin wore black tape to cover up logos on his hat during the run to the championship. … It's common for countries to award their space explorers a pin upon their return to Earth. But the Association of Space Explorers will soon begin awarding every man and woman who has been to space with a pin featuring the Universal Astronaut Insignia — an international symbol that the association hopes will unite space explorers around the world (from R. Scott Rogers). … Nike said yesterday that it will begin reselling lightly used returned sneakers at a discount in an effort to reduce waste (from Brinke).
.
• • • • •
• • • • •
• • • • •
Our latest raffle winner is Patrick Wise, who's won himself a Uni Watch membership card. Congrats to him, and thanks to Adam Hornstine for sponsoring this one. — Paul