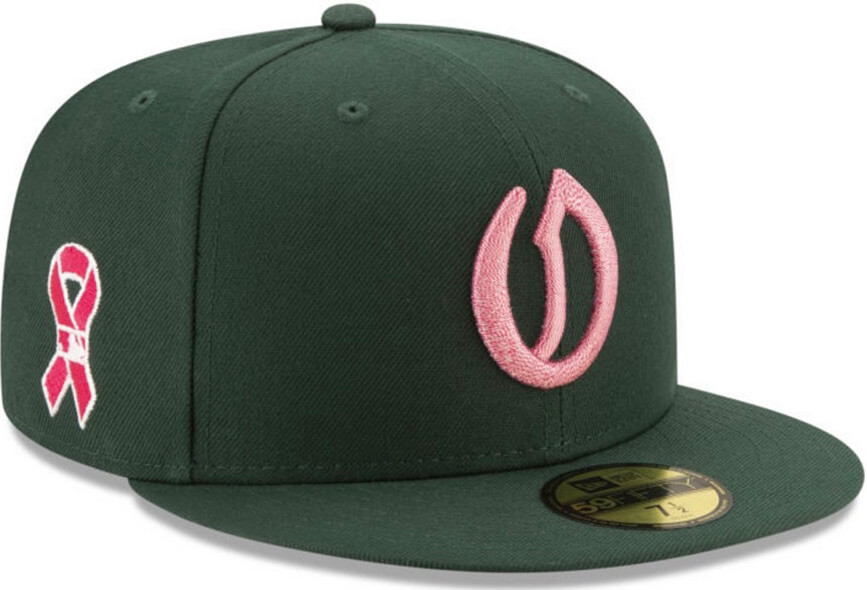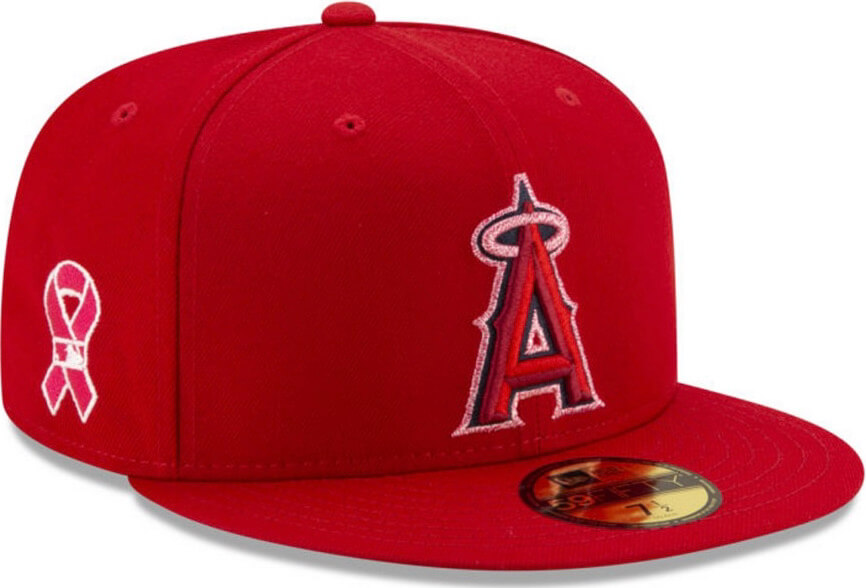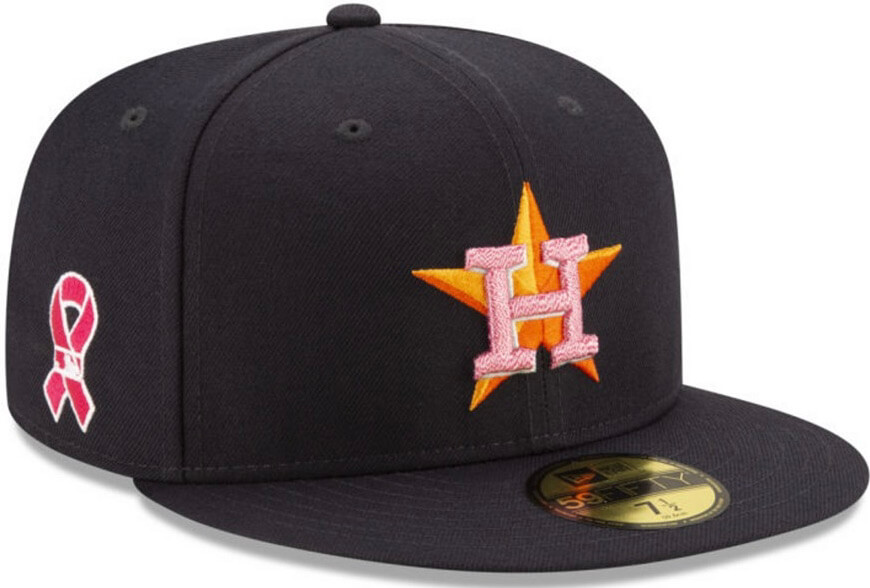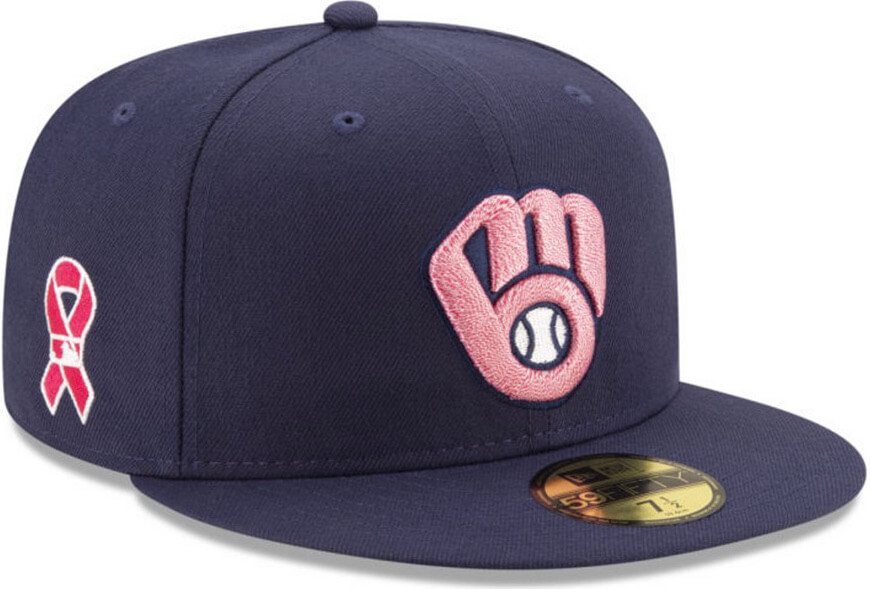 For all caps, click to enlarge
Almost all of MLB's 2021 Ma's Day caps briefly leaked yesterday on the Macy's website. As you can see from the six designs shown above, they're going with a simple (and mostly brutal) design approach this year, changing the standard cap logos to pink. Looks awful to me, but this is the world we live in now.
Three teams — the Blue Jays, Rays, and Atlanta — were not shown in this leak. But here are the caps for all the other teams: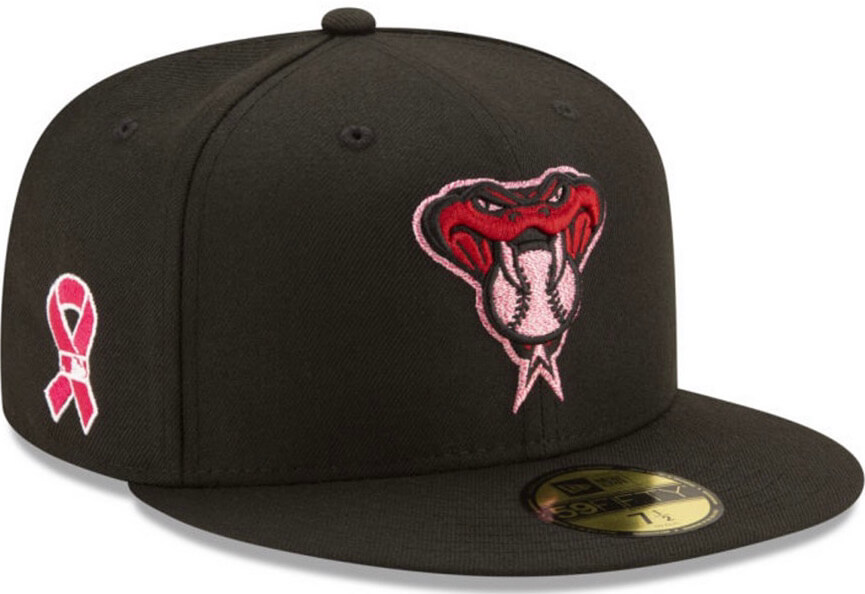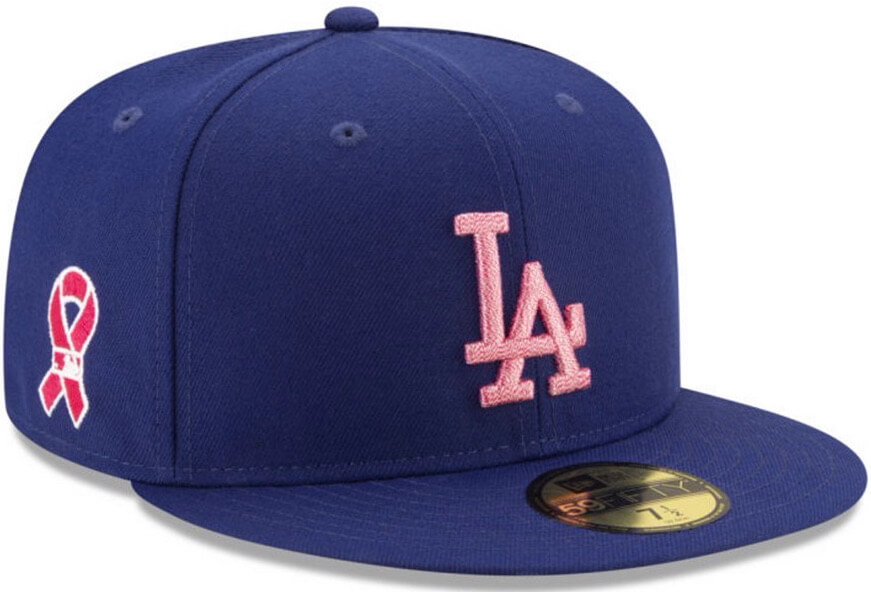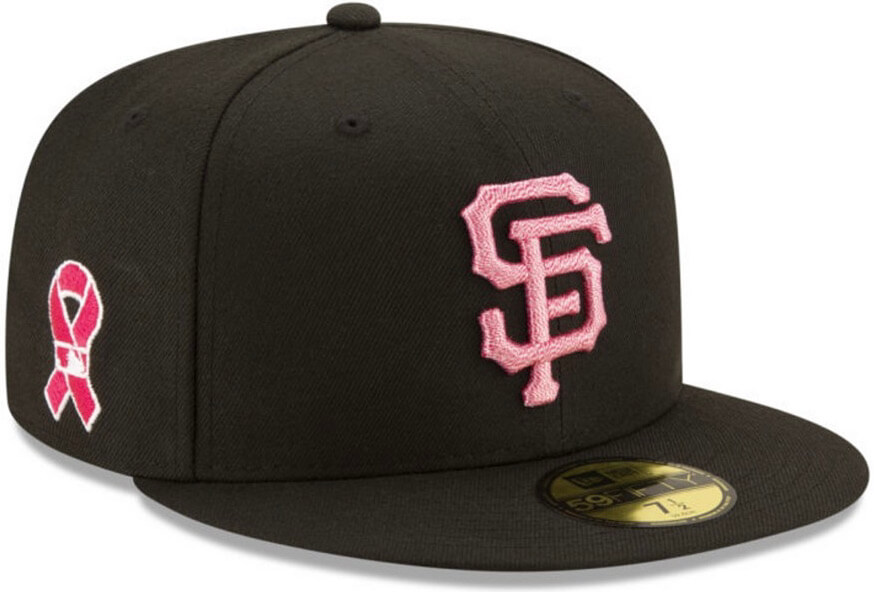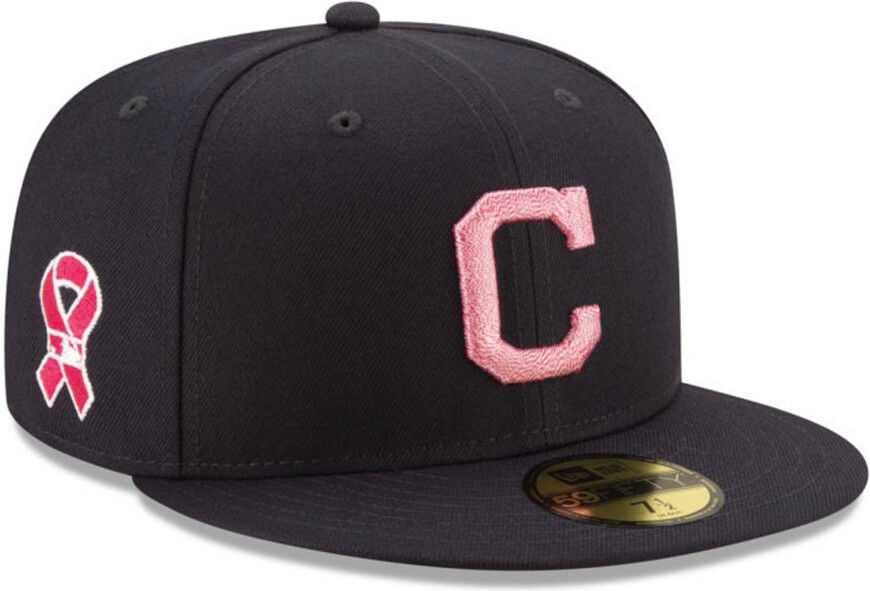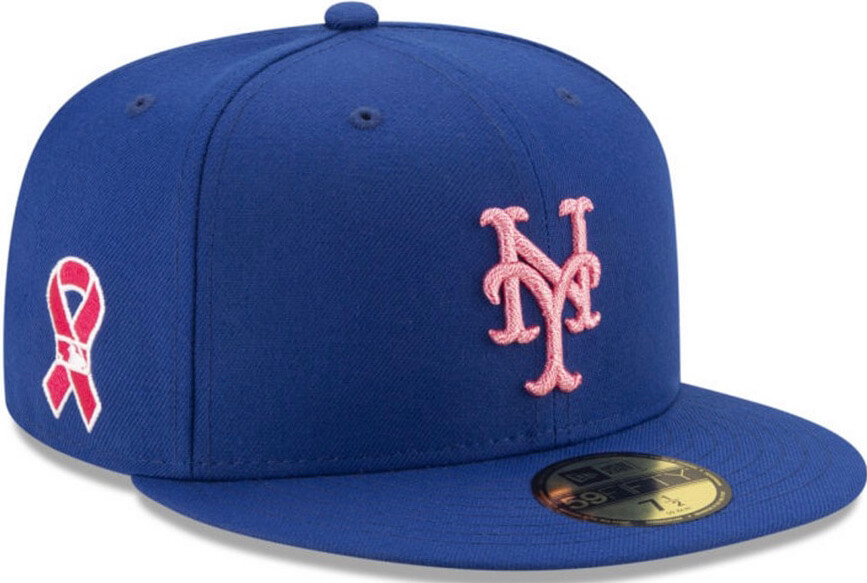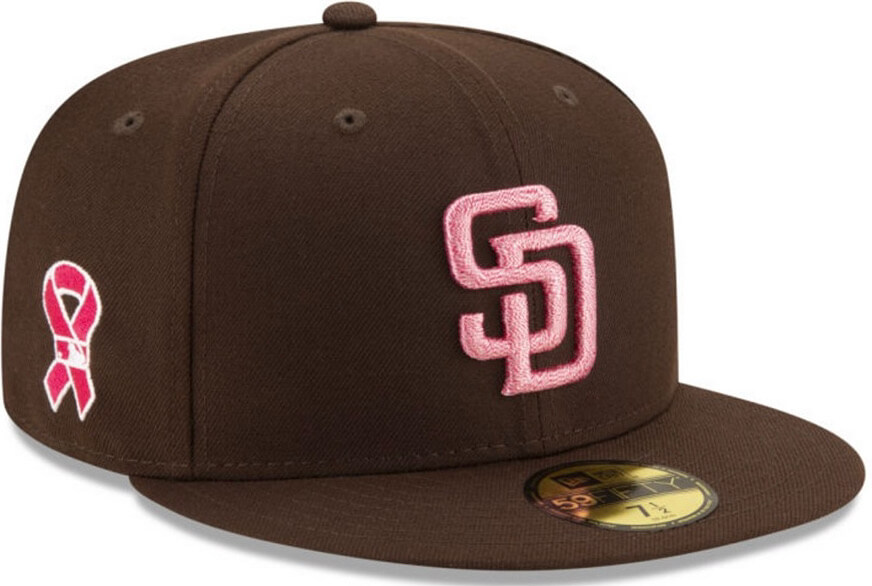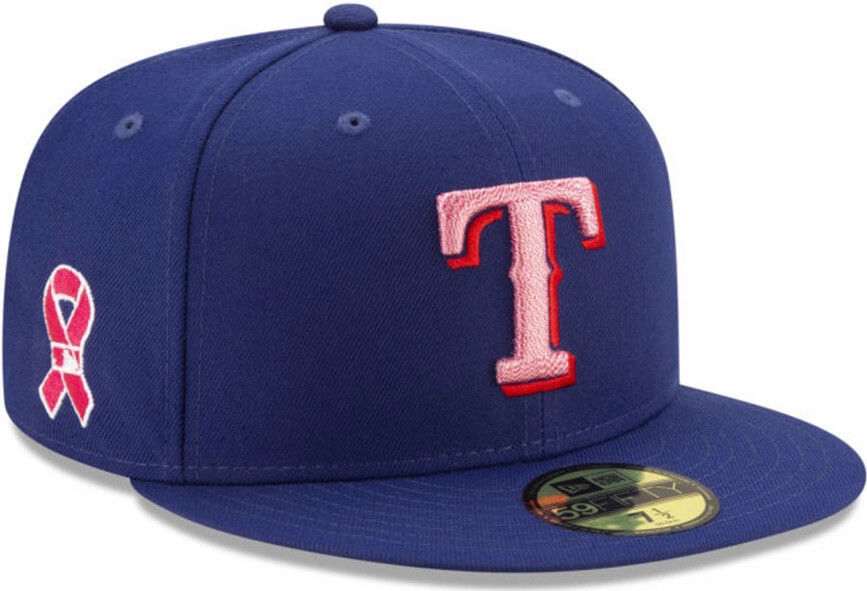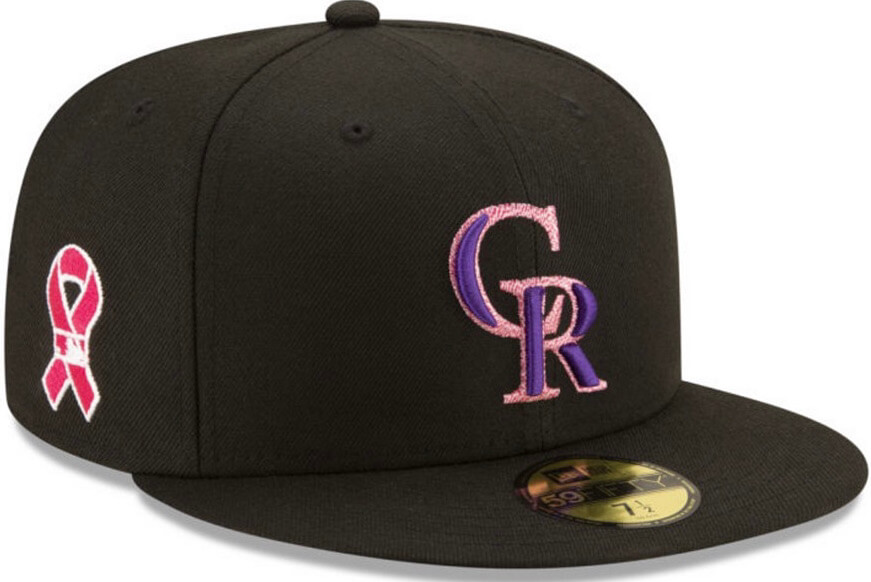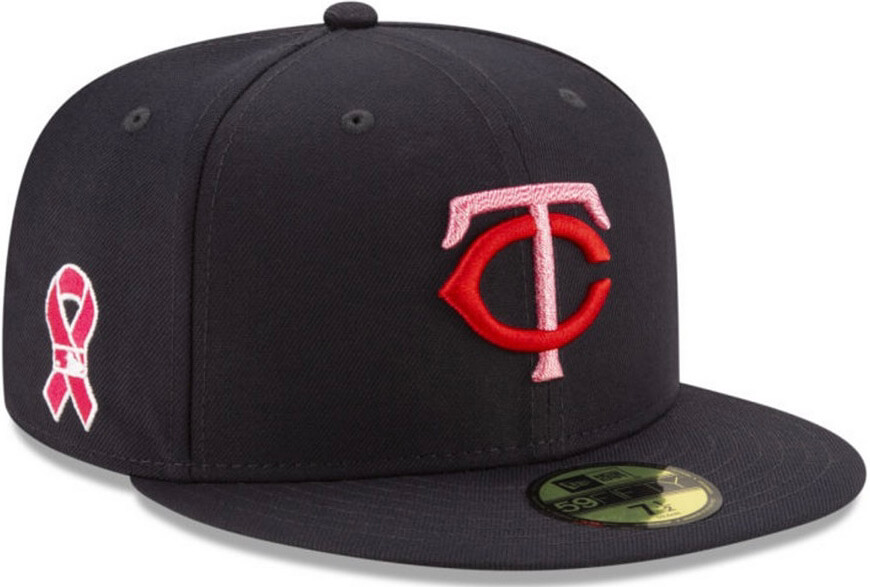 ———
Let's shift into FAQ mode:
They look like they got put in the wash with a red T-shirt and got stained when the shirt dye bled all over everything else!
Yes, they do.
That's a weird choice for the A's logo!
Yes, it is. Don't recall seeing that before.
They're not as bad as the ones with full pink crowns and/or visors!
No, they're not. But they're still pretty awful.
What about the maker's mark and the MLB logo on the back — are they pink?
No, they're in their usual colors.
Will there be pink-accented jerseys to go along with the caps?
They haven't used holiday jerseys since 2018. In 2019, they had the pink caps but teams wore their regular jerseys with the pink ribbon patch, and my understanding is that they planned to do the same thing last year before the pandemic wiped out all of last year's holiday dates (well, except for Labor Day, which MLB chooses not to recognize in any special way, presumably because you can't pander about the labor movement the way you can about patriotism and cancer, plus someone might start pointing out that the caps and jerseys are made outside the USA, mostly by exploited workers, blah-blah-blah — but I digress). Here's hoping they don't do holiday jerseys this year either.
Are they going to wear these for the full holiday weekend, or just on May 9?
Except for Independence Day, they ditched the weekend format in 2019 and went back to wearing the holiday merch only on the actual holidays. Again, here's hoping that's the case this year.
Are the caps that leaked yesterday just the ones they had planned for last year?
I don't know that for a fact, but it seems likely.
When will we see the caps for the other holidays?
Soon-ish, I'd think, but I have no specific info on that — sorry.
(My thanks to Macy's for leaking the caps, and to Ken Bartelt for letting me know about it.)
• • • • •
• • • • •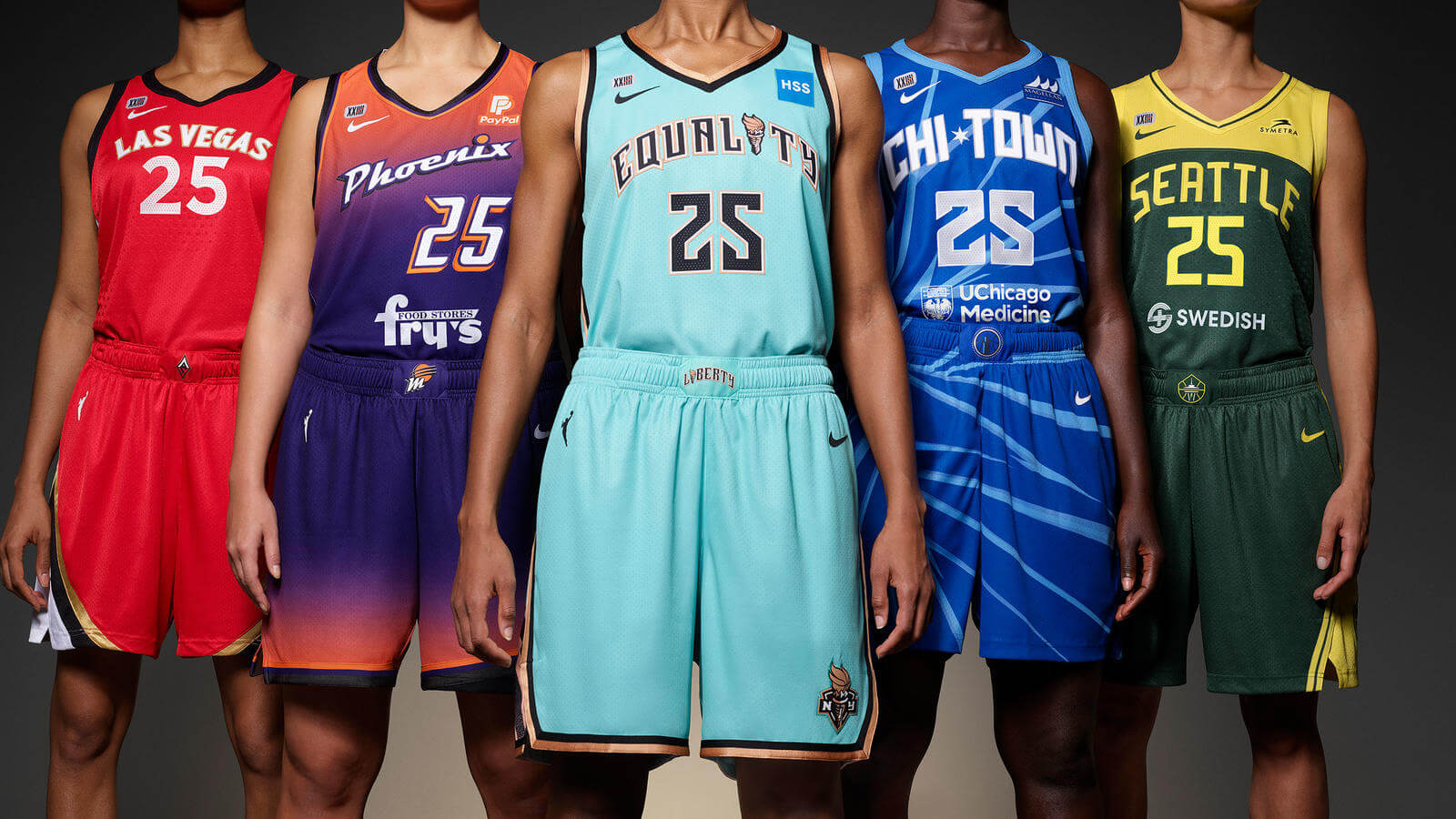 Click to enlarge
WNBA, NWSL Team Up for Big Day of Uni Reveals
By Jamie Rathjen
Thanks to several coincidences of timing, yesterday was a banner day, — possibly the banner day in a long while — for uniform releases in women's sports. The biggest news came from the WNBA, which released three new uniforms for every team — the "Heroine," "Explorer," and "Rebel" editions. (Yes, the first letters of those words spell out "H-E-R." Nike is nothing if not subtle.)
The major WNBA changes include the following:
• For the first time since 2015, each team has a white uniform.
• Ads, which previously were prominent on the jersey front, sometimes in place of a team name or insignia, have generally been moved to two spots: below the back numbers and to the same upper-left front spot as NBA ad patches. Some teams, but not all, also have them below the front numbers.
• The jerseys also have the WNBA 25th-anniversary logo as a patch.
One of the three uniforms for each team — the "Rebel" design — at least vaguely represents either the team's city or some aspect of women's empowerment while not necessarily sticking to team colors. You can see those jerseys here (click to enlarge):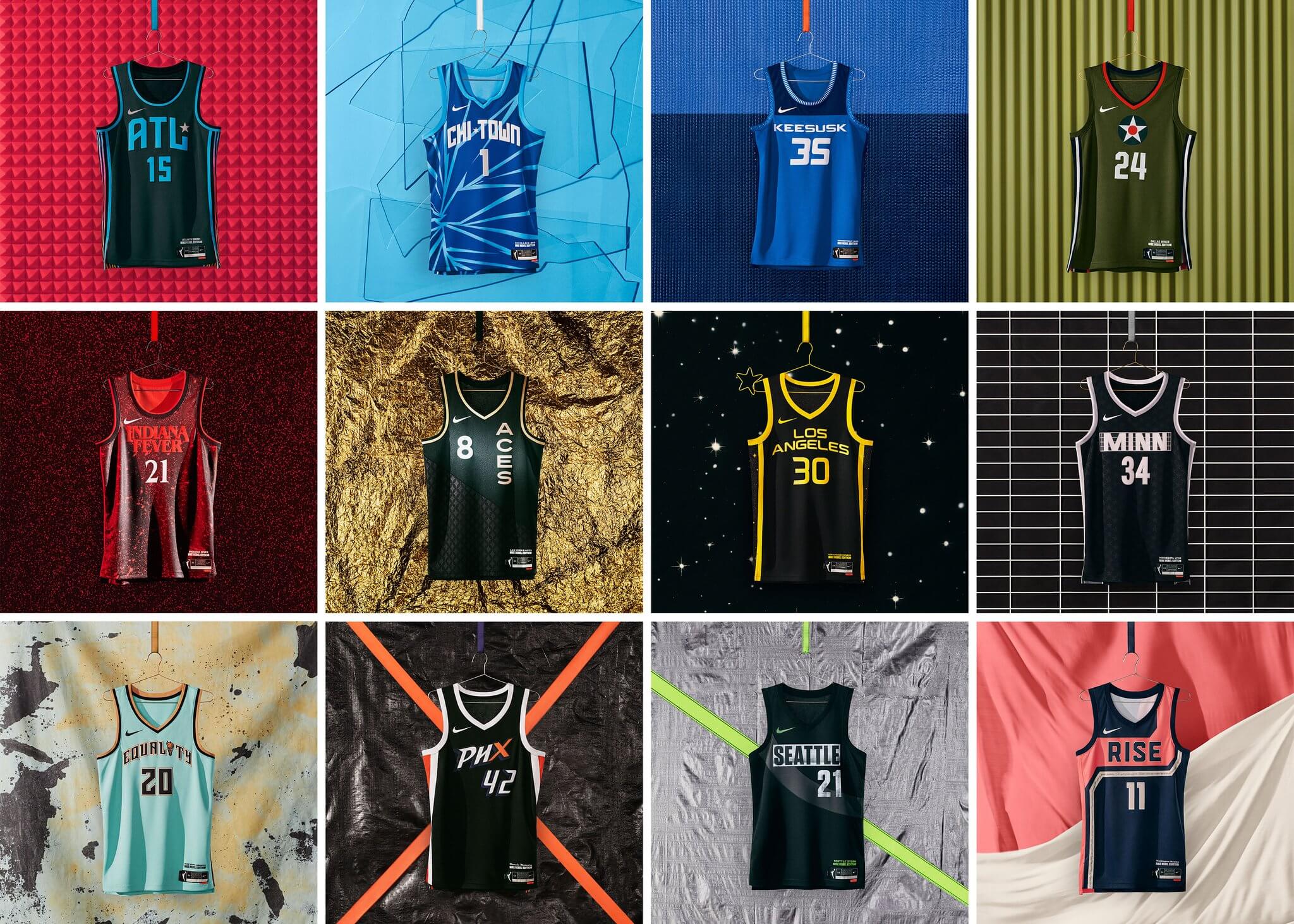 Two of the more obvious inspirations for these uniforms are the New York Liberty's "Equality" design and the Washington Mystics' design, which references the 19th Amendment to the U.S. Constitution. There are some outliers, though: The Indiana Fever chose to represent the Netflix series Stranger Things, which takes place in Indiana, and the Connecticut Sun went with an Indigenous theme by rendering "Sun" in Mohegan.
The other two uniforms are conventional colored and white options. Just as in the NBA, there are no home, away, or alternate designations. You can see each team's two colored jerseys, but not the white ones, on this page, which also has lots of background info.
Meanwhile, yesterday also featured some uniform releases from NWSL teams (who've been procrastinating ahead of today's season opener). The expansion Racing Louisville released their first two kits, and the newly renamed NJ/NY Gotham FC, formerly Sky Blue FC, did likewise with their first two shirts since Tuesday's renaming.
Y'all want to see the full team in the kits? 🤔 pic.twitter.com/s9DlU2ubaS

— Racing Louisville FC (@RacingLouFC) April 8, 2021
Colossal/Black '21 https://t.co/tSxerjKVLM pic.twitter.com/KwoF2wbDWZ

— NJ/NY Gotham FC (@GothamFC) April 8, 2021
Kansas City NWSL, which moved from Utah in the offseason, also announced that they'll wear a plain white shirt, at least for the season-opening Challenge Cup.
I'll have more to say about those and other new releases in the NWSL next week, but it's safe to say that Louisville's dark shirt is the latest in a series of well-received NWSL shirts, and in general the league's current designs blow MLS out of the water.
In still more women's soccer news, Scottish Women's Premier League club Forfar Farmington switched outfitters, from Adidas to Joma, and released a new kit:
Our new kit sponsored by @DirectSoccer, will get its first run out this Sunday live on BBC Sport Online, as we host Glasgow City at Station Park, KO 1pm.https://t.co/8hPMDjOFkR#localbusiness #SponsorshipOpportunities #fclub pic.twitter.com/nHKqMLnAFR

— Forfar Farmington FC (@Farmington_FC) April 8, 2021
That change comes even though they're in the middle of the recently restarted SWPL 1 season, and surely makes the town of Forfar one of the smallest places to have a pro team showcased on Uni Watch above the Ticker!
• • • • •
• • • • •
Our Opening Week threads: #For44 and #ForKnucksie 💙❤️ pic.twitter.com/Ox4heiPeTK

— Atlanta Braves (@Braves) April 9, 2021
Atlanta update: For a week now, we (or at least I) have been wondering if Atlanta would move their rear-cap memorial patches for Henry Aaron and Phil Niekro to the right-sleeve spot that suddenly became available when MLB decided to move the All-Star Game out of Georgia. I figured if they were going to give Aaron and Niekro the proper sleeve treatment, they'd do it for their home opener, which is today.
Instead, they announced last night that they'll honor Aaron and Niekro by wearing 1970s throwbacks for "Opening Week." Their first homestand is indeed seven games in seven days, so the plan is apparently to wear these throwbacks for that full week.
Although I haven't confirmed this, I'm fairly certain that this was the team's plan all along for the first homestand, irrespective of the All-Star drama. Meanwhile, we'll have a wait until they go back on the road next Friday to see what happens with the cap memorials, the sleeve situation, and so on (well, unless they make some announcement before then).
Meanwhile, still no All-Star patch for the Rockies. I've asked them about this and will report back if they respond.
• • • • •
• • • • •
Podcast reminder: For this week's podcast episode, Chris Creamer and I talked about the Red Sox's new yellow "City Connect" uniforms, plus we have the second and concluding part of our interview with Dodgers senior design director Ross Yoshida, who gave us a scoop about how the Dodgers almost ended up wearing purple in the late 1990s!
In addition, we discussed the situation regarding the 2021 MLB All-Star Game patch now that the game has been relocated from Atlanta to Colorado, plus the question of the week and more. It's a really good episode!
As always, you can listen to us on Apple, Google, Stitcher, TuneIn, and Spotify, or just use the player below:
The show notes for this episode, which include photos of many of the things we discussed, are here. Those photos (and some additional ones) also appear in the video version of the episode, which you can see here:
Please consider supporting this episode's advertisers, Streaker Sports (get 20% off any order with checkout code UNIFIED), Ebbets Field Flannels (10% off, except on NFL items, with checkout code UNIFIED), and Homefield Apparel (15% off with checkout code UNIFIED).
Enjoy the episode, and thanks for listening.
• • • • •
• • • • •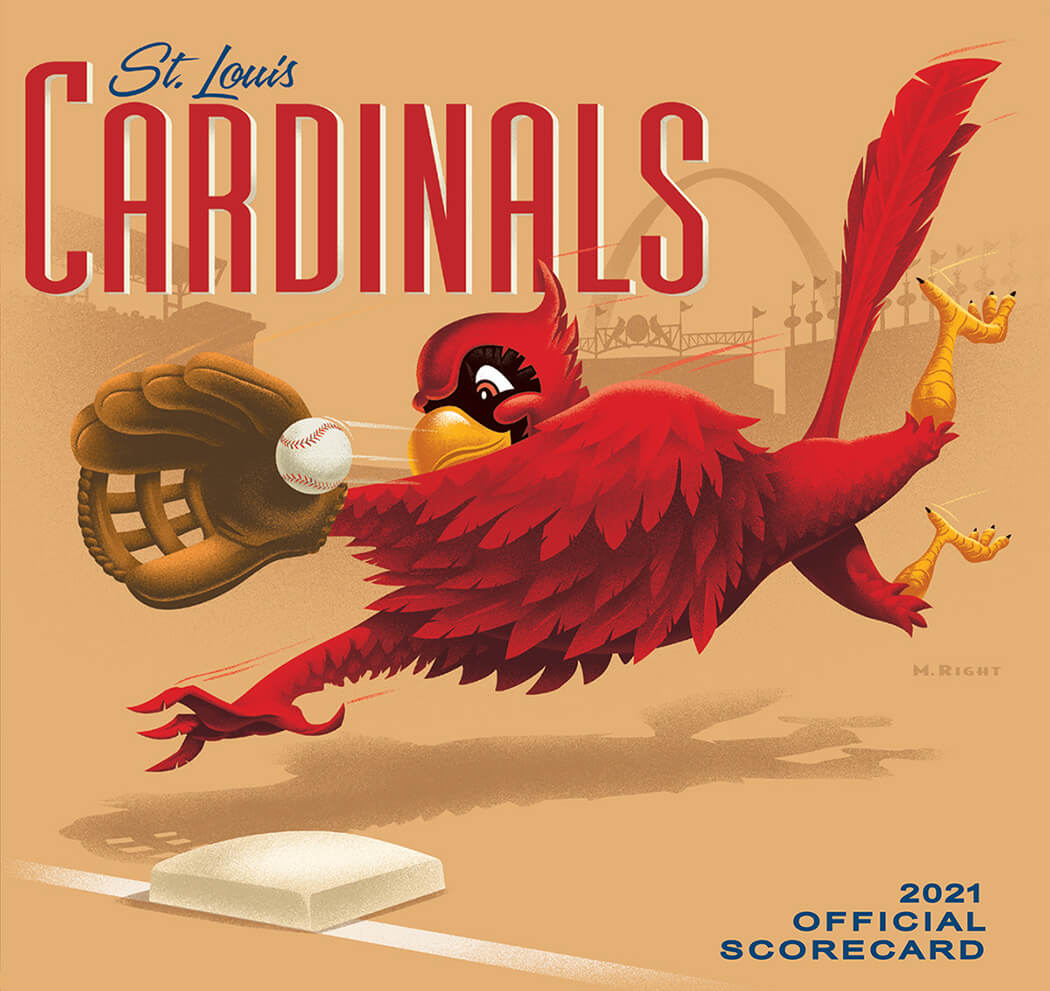 Click to enlarge
Hot corner: The Cardinals have a history of great program/scorecard covers, and this year's is no exception. What a beauty!
(Big thanks to Kevin Eckhoff for sending this one my way.)
• • • • •
• • • • •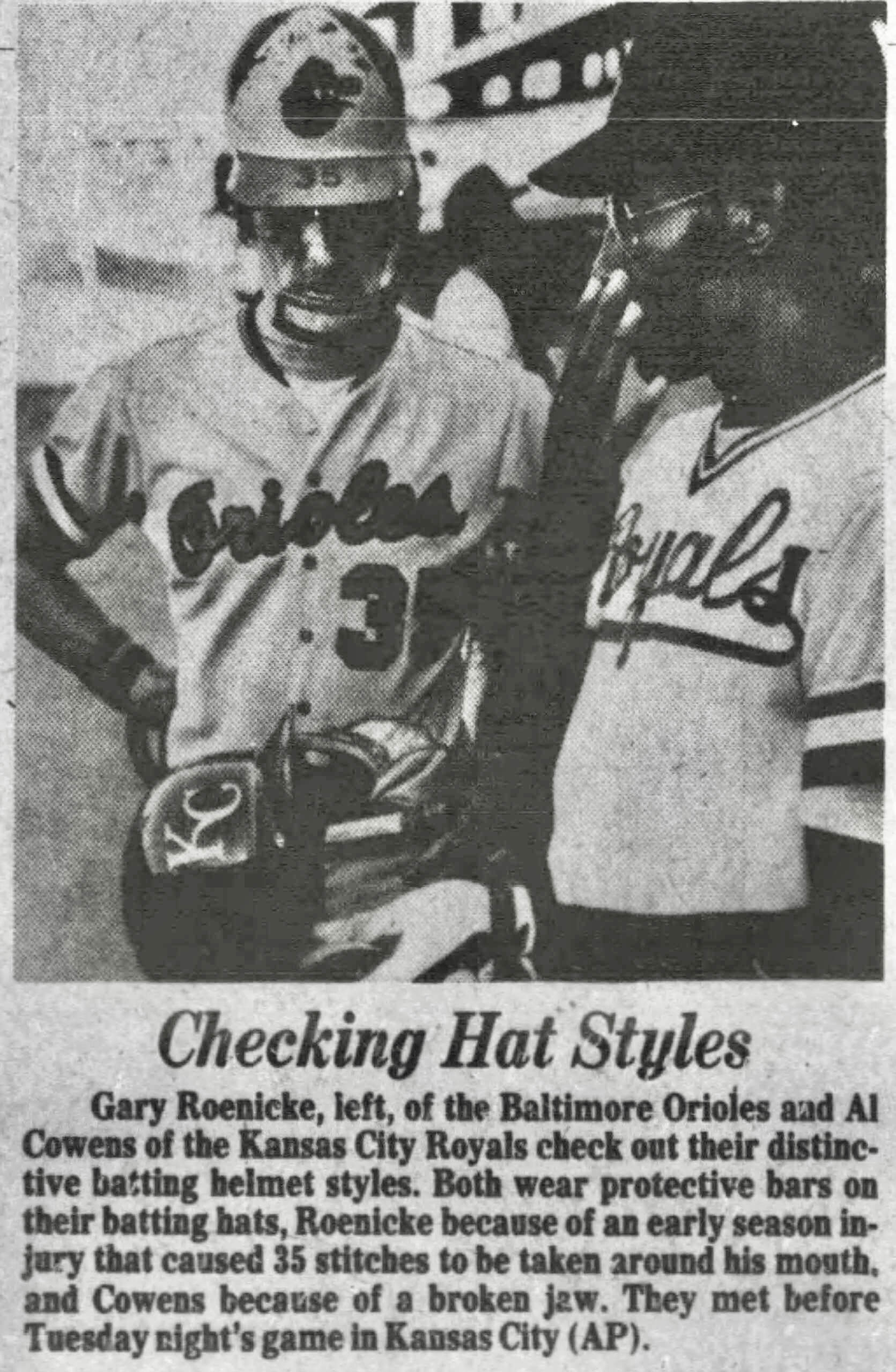 Click to enlarge
Mask mystery: I've always been fascinated by MLBers who've worn masks connected to their batting helmets after suffering facial injuries. That definitely includes Orioles outfielder Gary Roenicke, who wore a football-style facemask in 1979 (as immortalized on one of his Topps cards).
The photo above, which appeared in The Hartford Courant on May 30, 1979, shows Roenicke comparing headwear with Royals outfielder Al Cowens because, according to the caption, "Both wear protective bars on their batting hats."
I don't know about you, but I can't discern the mask on Cowens's helmet — frustrating! Moreover, I'd never seen a photo of him wearing a mask, so I went looking for one. No dice. Grrrrrr.
If anyone can shed some light on this situation of Cowens apparently wearing some sort of protective attachment on his batting helmet in May of 1979, I'm all ears. Thanks.
(Big thanks to Matt Edwards for finding and sharing this photo.)
• • • • •
• • • • •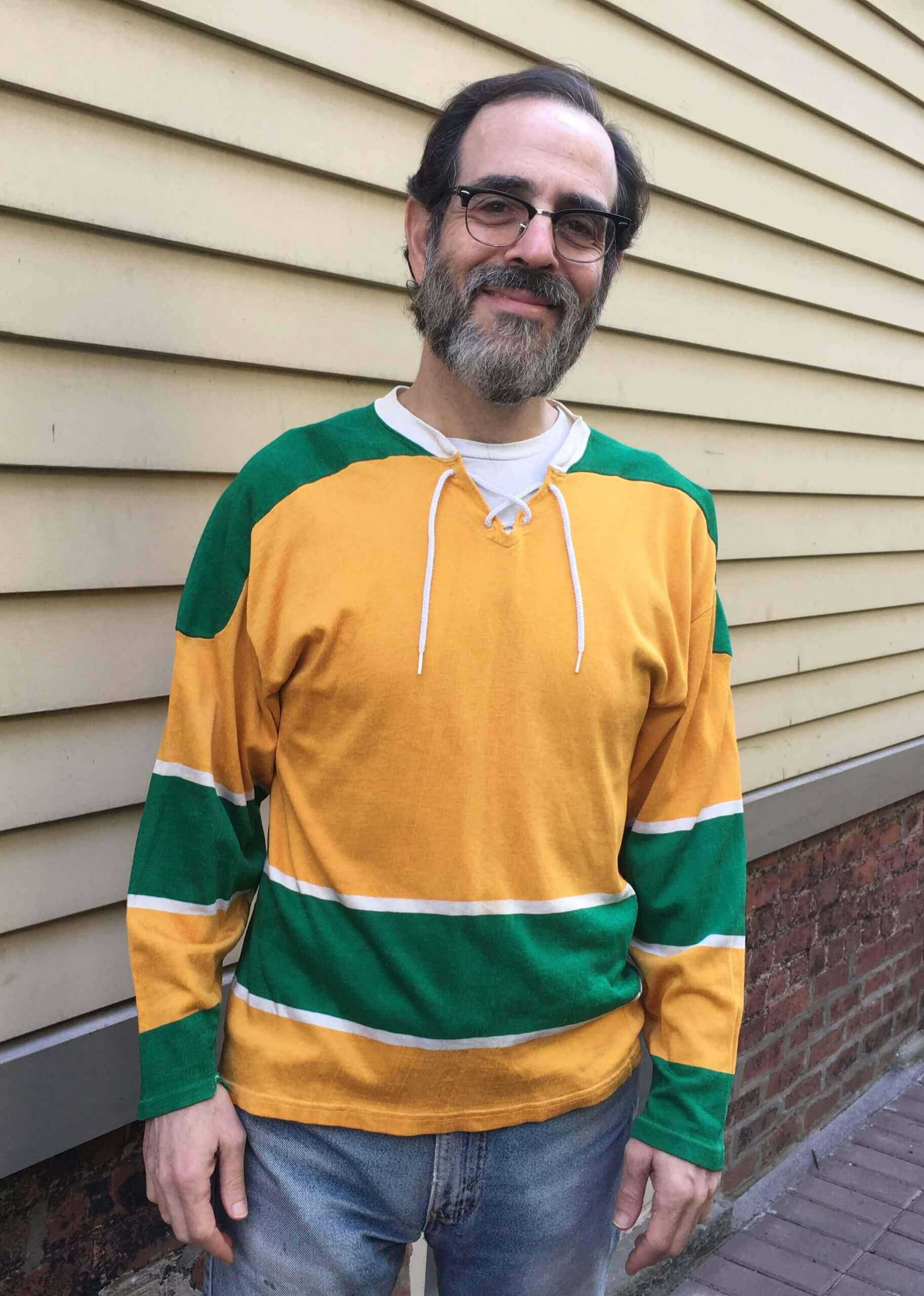 Click to enlarge
Sweet: Earlier in the week I mentioned that I'd scored a vintage Golden Seals blank jersey on eBay for a mere 35 beans. It arrived in the mail yesterday, and I absolutely could not be happier with how it fits — it really looks and feels like it was made for me.
As a bonus, check out the tagging: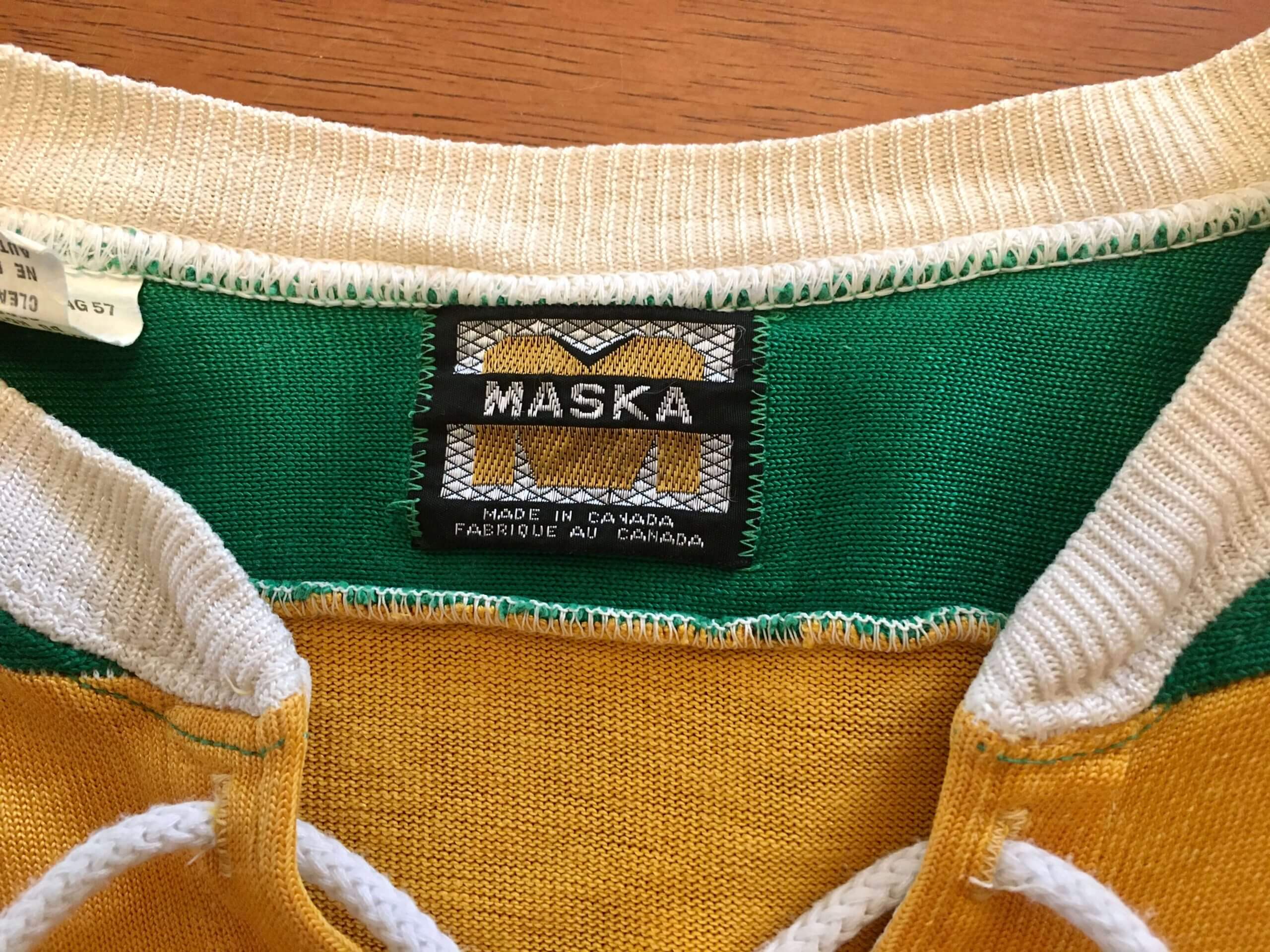 Isn't that great? The jersey on the tag mimics the actual jersey — very meta!
Here are two more shots: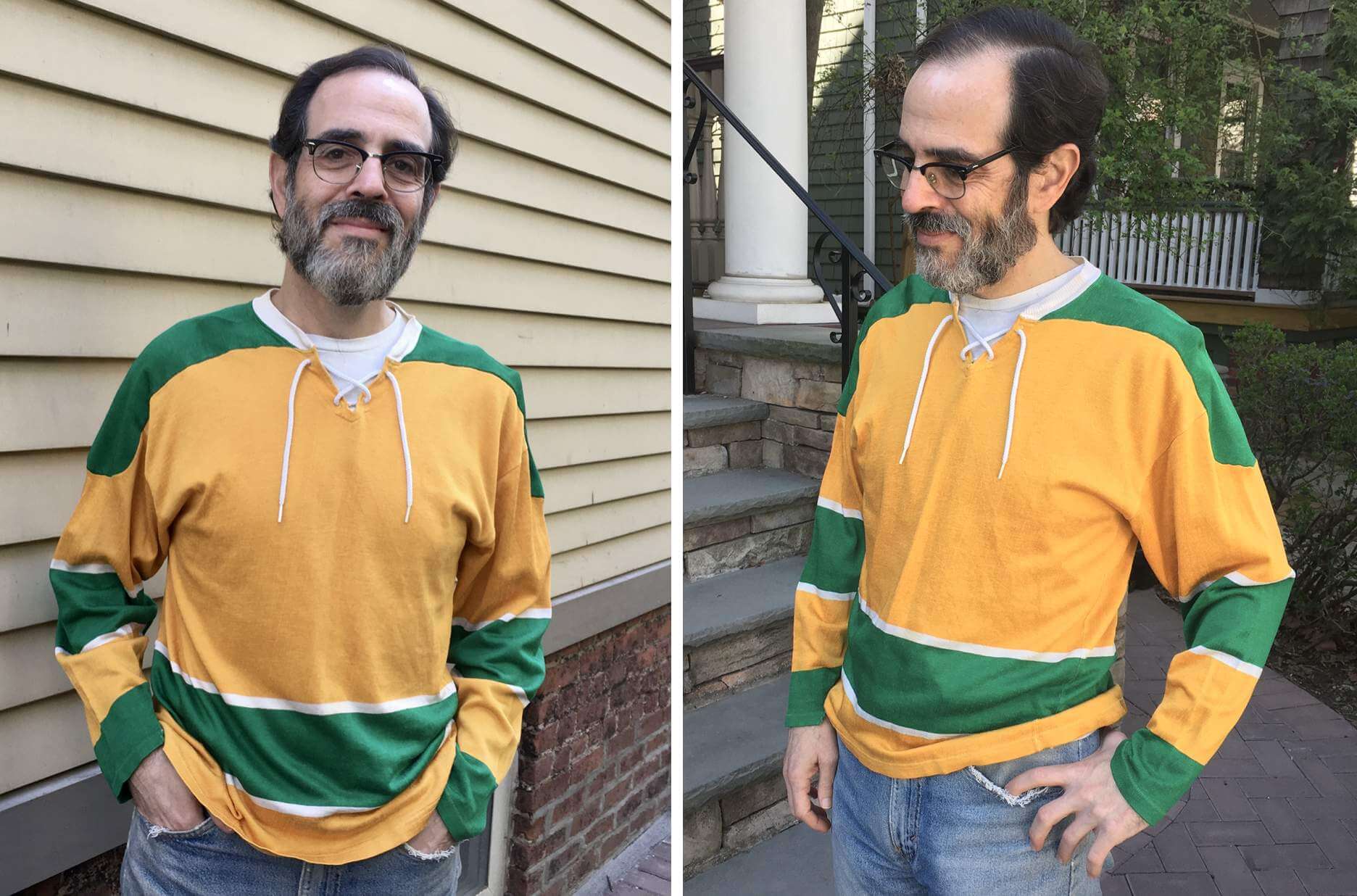 A very satisfying purchase. Now the only question is whether I should leave it as is or put a big winged stirrup crest in the center of it. Hmmmmmm…..
• • • • •
• • • • •
Click to enlarge
Culinary Corner: The Tugboat Captain, like so many people during the pandemic, has been making a lot of sourdough bread. She usually uses the discard to make sourdough waffles (we have a shitload of those in our freezer), but this week she decided to make homemade sourdough wheat thins! They turned out really well, plus they form a very pleasing grid pattern on the baking sheet. The photo above shows some of the raw dough before it went into the oven, and here are some shots of the finished product: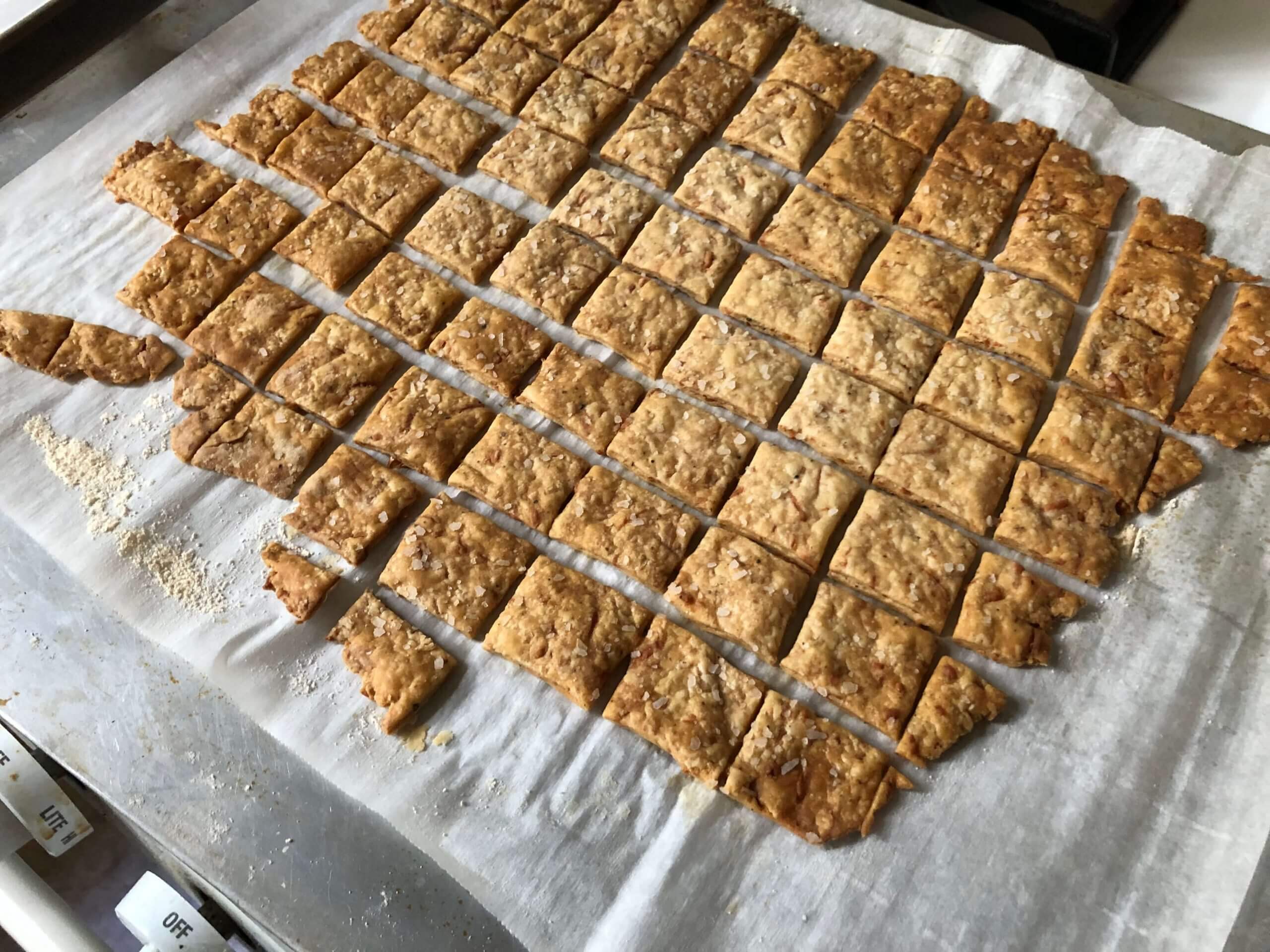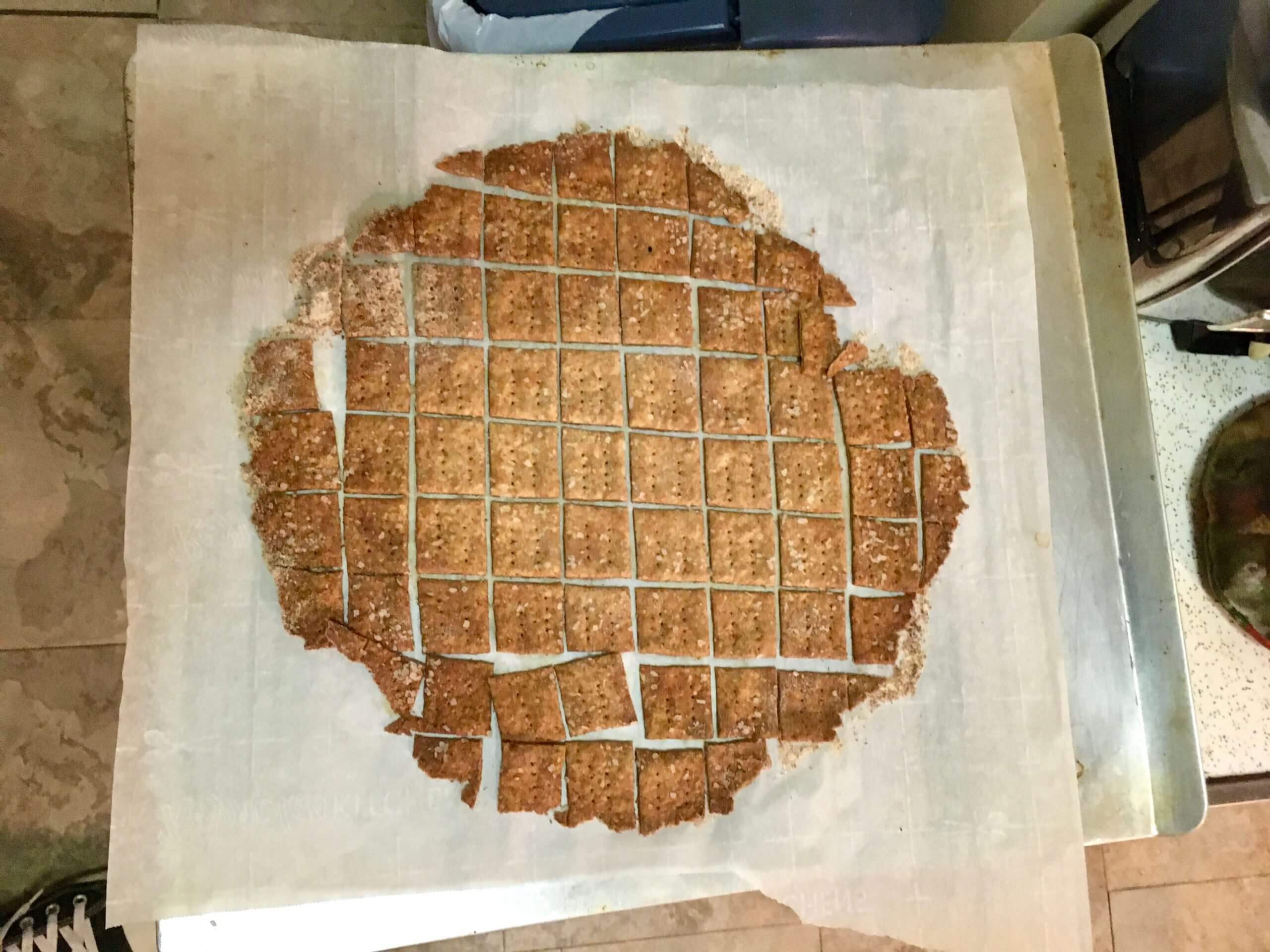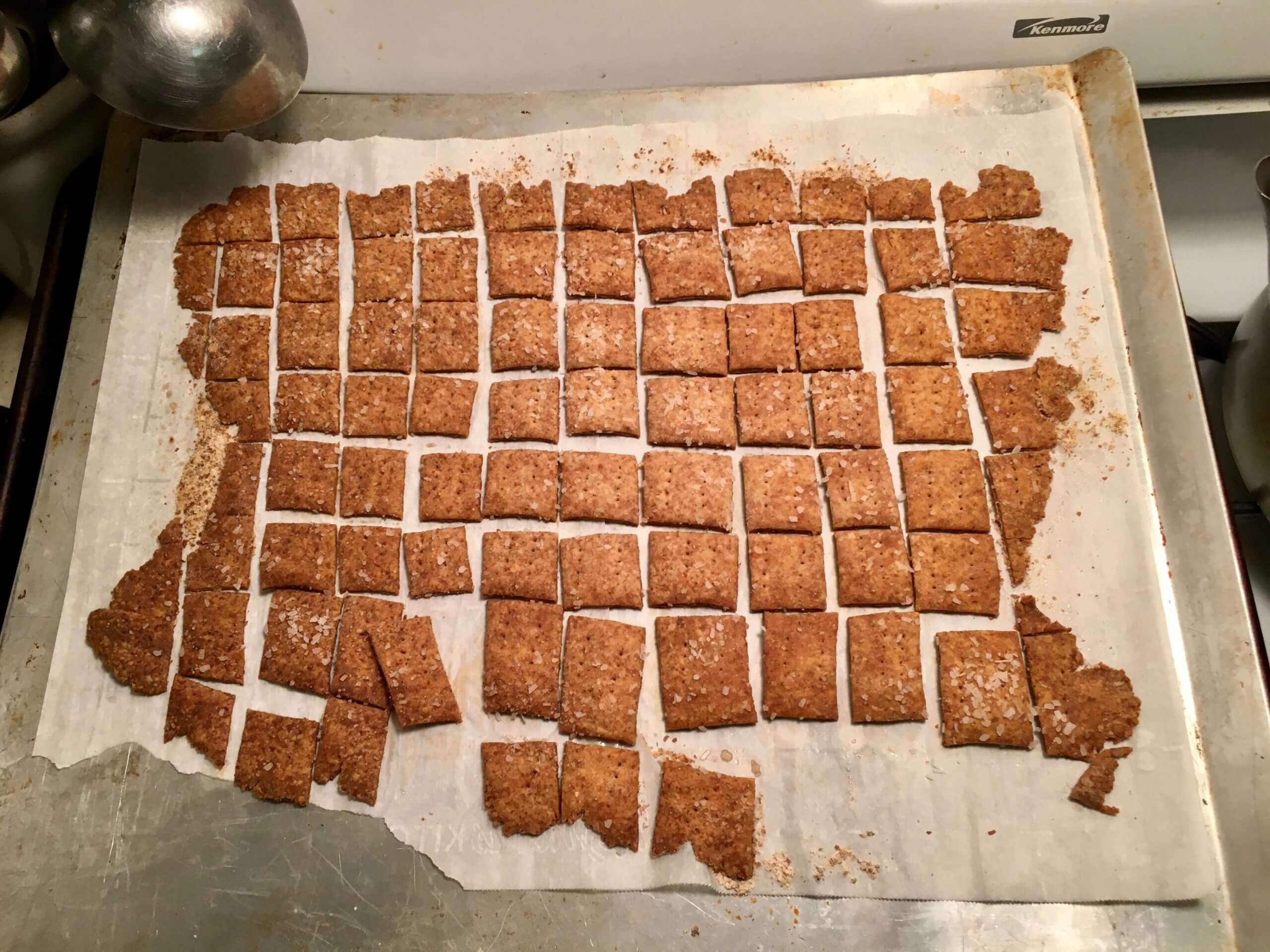 Cool-looking, right? That last photo looks a bit like a map of the lower 48!
Addictively tasty, too.
• • • • •
• • • • •
Membership update: Card designer Scott M.X. Turner is always upping his game. Lately he's come up with a speckle effect that really makes gold elements pop, as you can see here on Sam Mostow's card, which is part of a new batch that's been added to the membership card gallery and is based on the Nats' gold-trimmed championship jersey from last year. Great work!
Ordering a membership card is a good way to support Uni Watch (which, frankly, could use your support these days). And remember, a Uni Watch membership card entitles you to a 15% discount on any of the merchandise in the Uni Watch, Uni Rock, and Naming Wrongs shops, plus the discount also applies to our Uni Watch Classic Cap. (If you're an existing member and would like to have the discount code, email me and I'll hook you up.)
As always, you can sign up for your own custom-designed card here, you can see all the cards we've designed so far here (now more than 3,100 of them!), and you can see how we produce the cards here.
• • • • •
• • • • •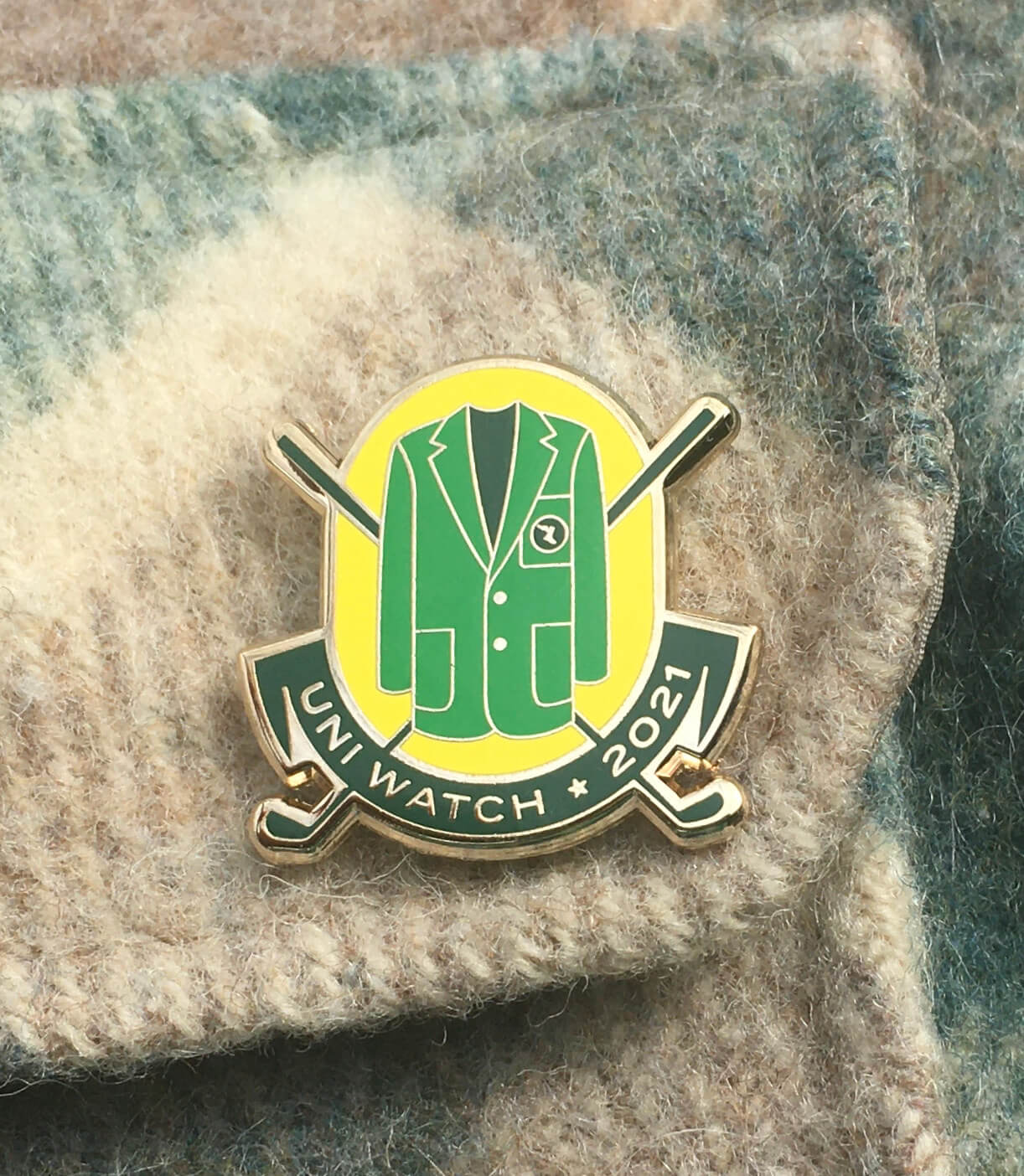 Pin Club reminder: With the Masters now under way, here's one last reminder about the Uni Watch Pin Club's April release, which has a golf/Masters theme. It's a numbered edition of 200, with each pin individually numbered on the back, and there are now about 60 remaining. It's available here, and we're donating all the profits from this one to Fair Fight. (You can learn more about why we've chosen to do that here.)
• • • • •
• • • • •
The Ticker
By Anthony Emerson


Baseball News: Cap chaos in yesterday's Mets/Marlins game, as Mets P Miguel Castro mistakenly wore the team's alternate home cap and Marlins manager Don Mattingly wore his team's BP cap (from multiple readers). … Authentic versions of the Red Sox's City Connect jerseys will retail for an eye-popping $435 (thanks, Phil). … A's P Cole Irvin appears to still be using the glove from his Oregon Ducks days (from Brendon Smith).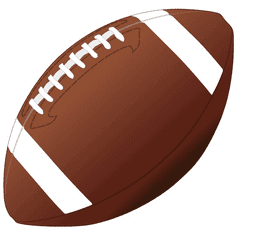 Football News: A new Vicis helmet has received the best score ever in the Virginia Tech youth football concussion tests. … The XFL's Houston Roughnecks, who were being sued by the NFL for trademark infringement over their very Oilers-esque helmet logo and Patriots-esque alternate logo, have chosen to drop said logos (thanks, Phil).

Hockey News: Rangers RW Vitali Kravtsov had his NOB misspelled last night (from multiple readers). … A ski resort in Idaho has a new logo that looks very similar to the Kraken's logo (from Eric Taylor). … The Islanders have revealed the sweater numbers of new acquisitions Kyle Palmieri and Travis Zajac (from Jacob Zaldin).

NBA News: New NBA uni number news from Etienne Catalan: Heat C Dewayne Dedmon will wear No. 21 and Rondae Hollis-Jefferson will wear No. 2 for the Blazers.

Soccer News: Haitian side Arcahaie has some uni number size inconsistencies during the CONCACAF Champions League (from Bob Wilmot). … Neither Ajax nor Roma can wear their primary kits for their Europa League quarterfinal, as it's been decided that they clash (from our own Jamie Rathjen). … Napoli's new kits have leaked and they are, uh, something all right (thanks, Phil).

Grab Bag: New athletics logo for Lawrence University in Wisconsin (from Kary Klismet). … T.C. Williams High, the school featured in Remember the Titans and the largest high school in Virginia, is being renamed to Alexandria City High School. The school's original namesake, Thomas Chambliss Williams, was a longtime segregationist (from William F. Yurasko).
• • • • •
• • • • •
• • • • •
Today is my indestructible mom's (97th!) birthday, so I'm heading out to see her. And this time I'll be permitted to hug her! My brother, who I haven't seen in well over a year, will be there as well, so this will be a long-overdue family gathering.
Have a great weekend, enjoy Phil's weekend, and I'll see you back here on Monday. — Paul