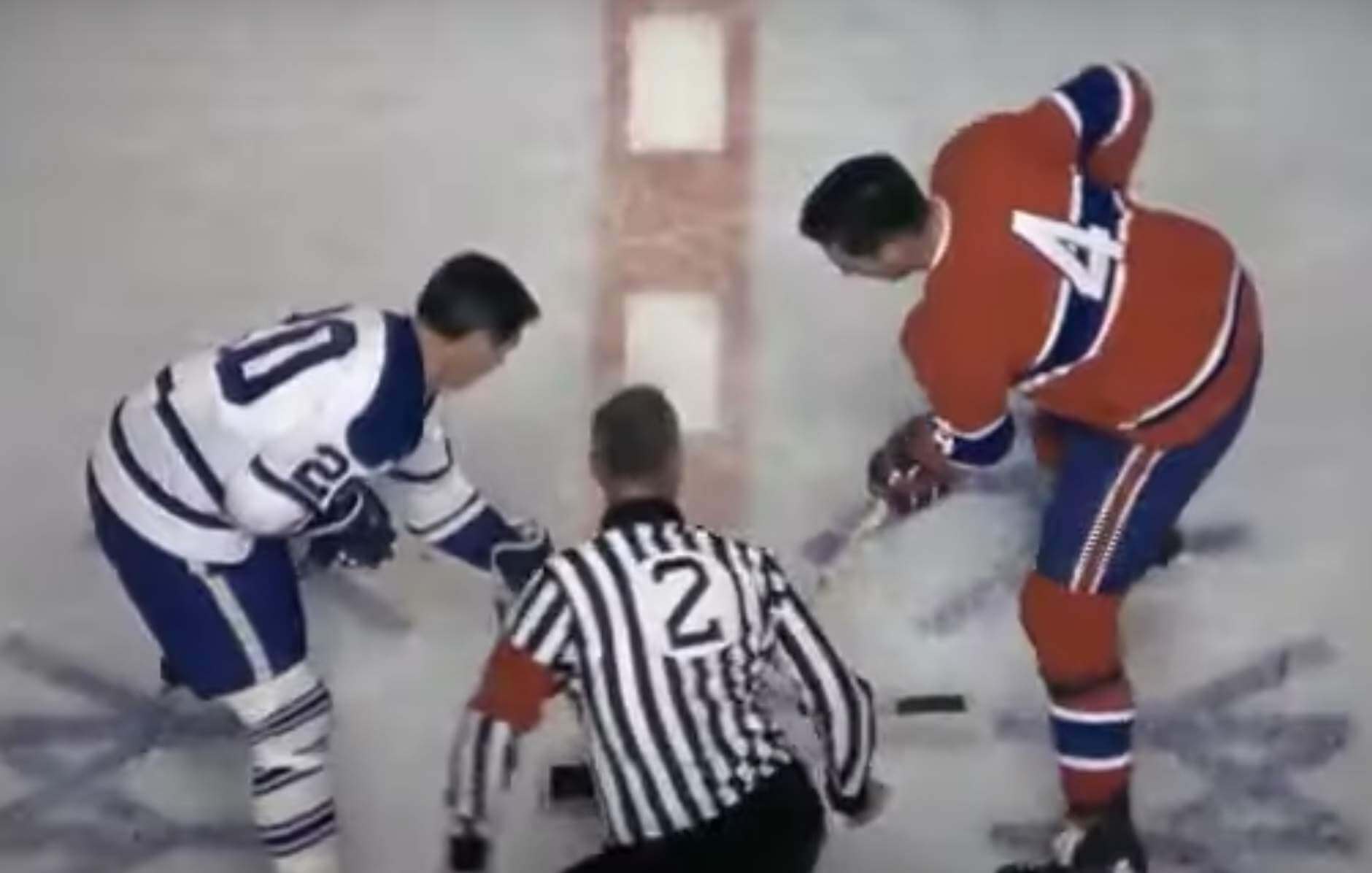 For all photos, click to enlarge
Good morning! Greetings from Uni Watch HQ, where I'm happy to report that all three inhabitants have now received all their shots. Hope your home is also moving toward full vaccination.
Now then: Longtime Uni Watch reader Alan Kreit recently pointed me toward a 10-minute film made in late 1960s by the National Film Board of Canada, called Blades and Brass. It features 1967 NHL highlight footage, all shot at the Montreal Forum, set to mariachi music (hence the title), which is a silly concept, but whatever — there's some great footage and some uni-notable details, the most surprising of which, at least to me, is that the refs wore only one red armband instead of the now-familiar two. And it wasn't just that ref in the image shown above — here are some additional examples: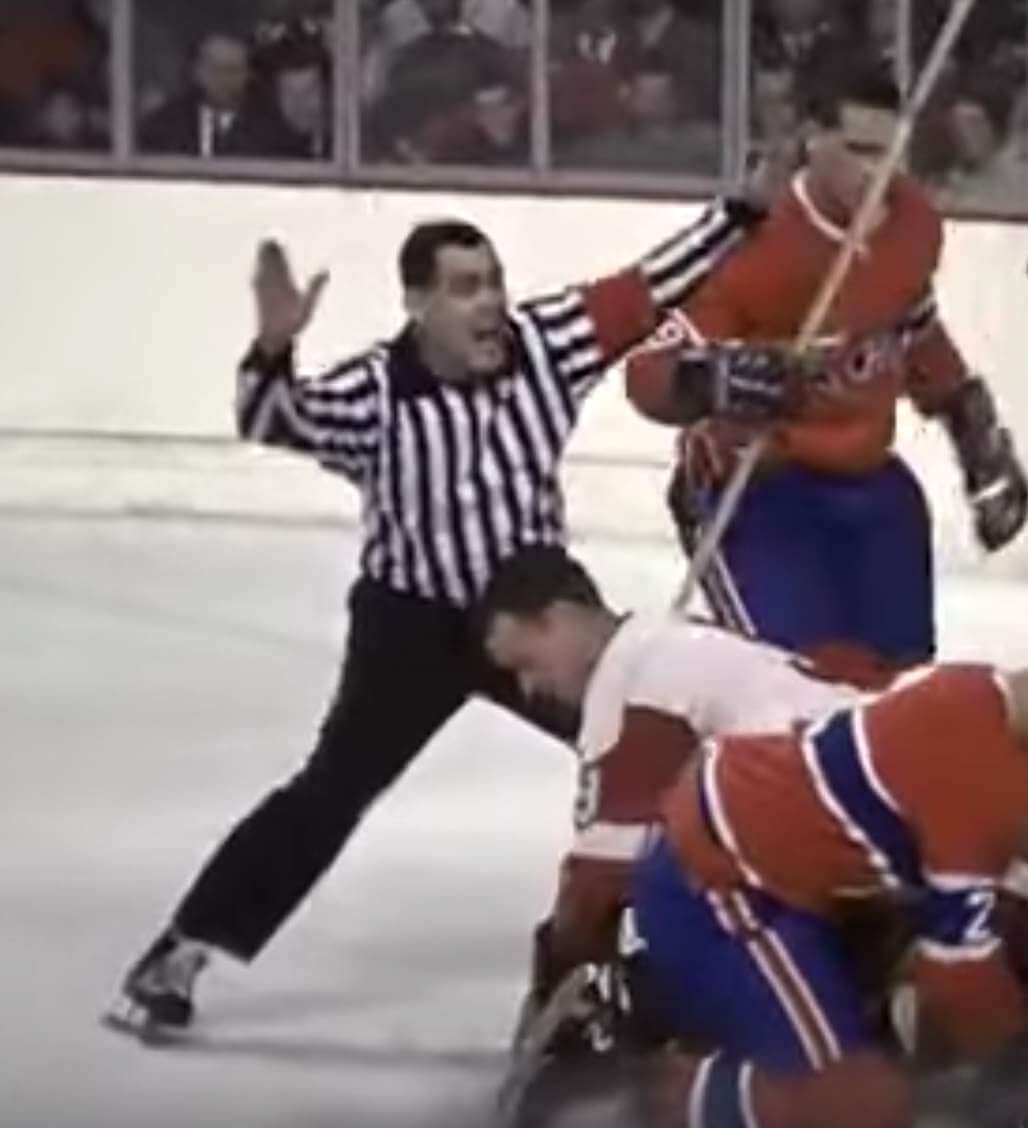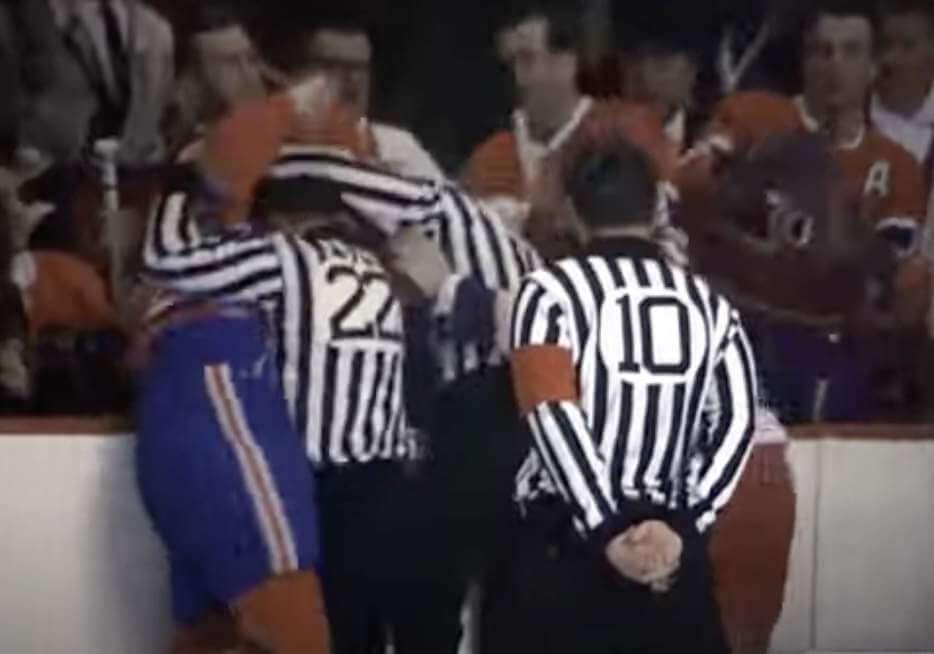 I began watching NHL games in 1972, and it was always standard for the ref to have the red bands on both sleeves. Anyone know more about the one-band style?
Some other notes regarding the film:
• Look again at the image at the top of the page. Do you recognize that center-ice design they were using at the Forum? Here's a better look at it: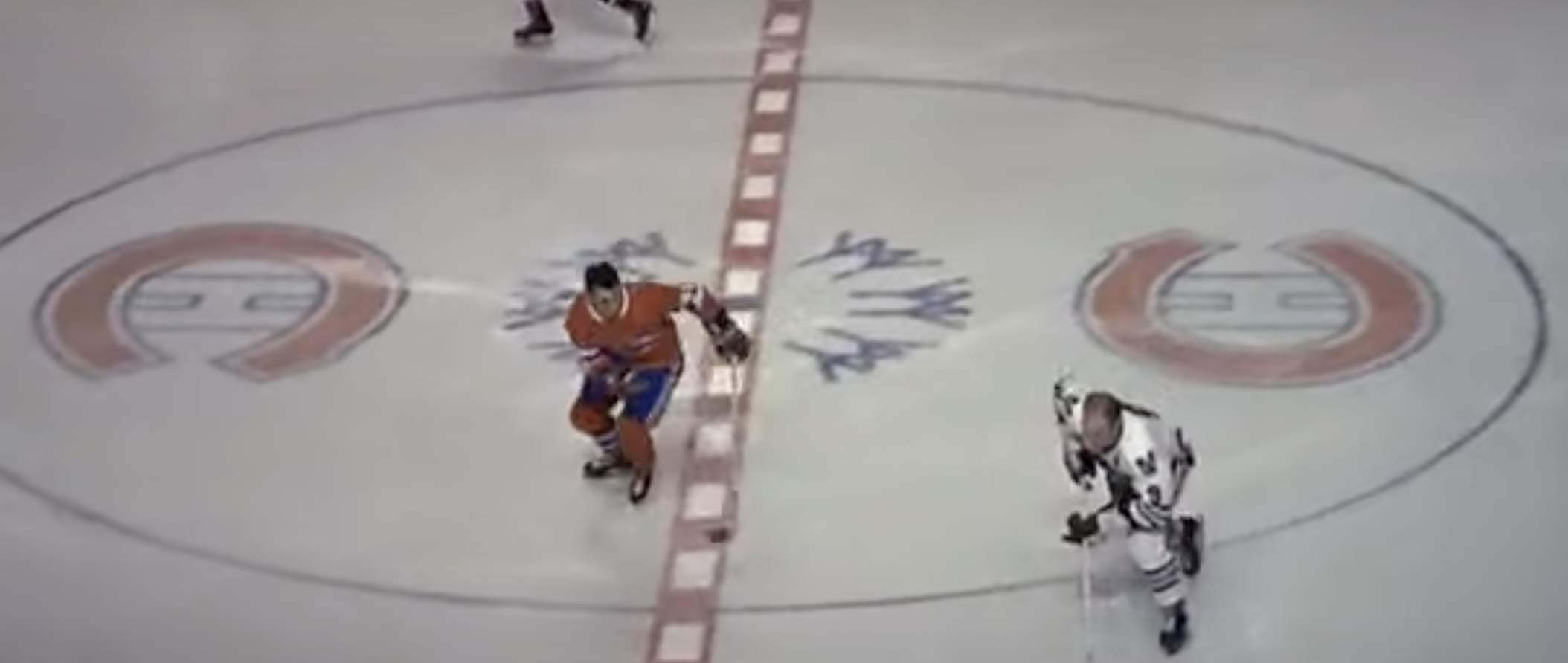 That's the logo for Expo 67, the World's Fair that opened in Montreal in April 1967 (and was so successful that it became the namesake for MLB's Montreal Expos). Here's a look at it by itself: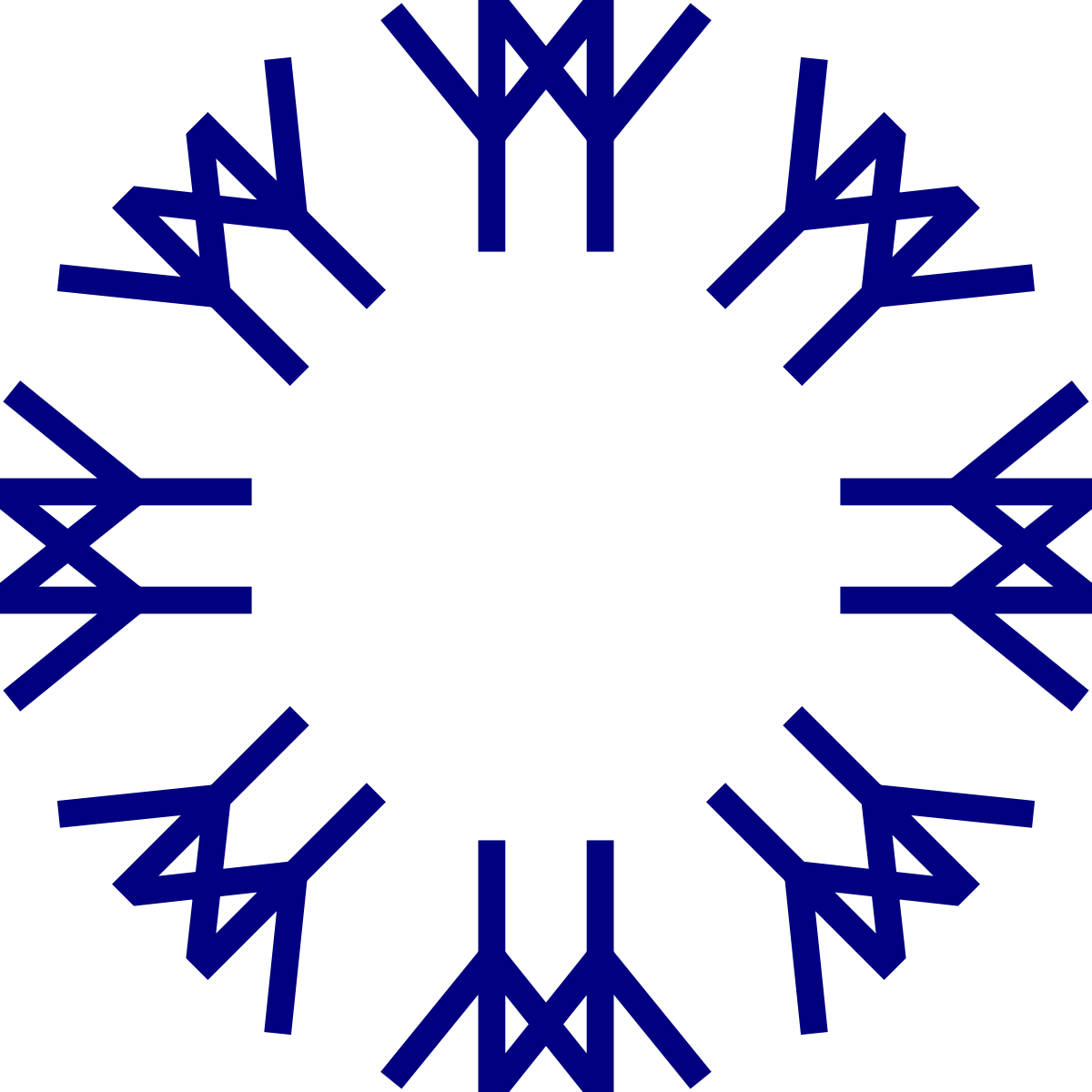 According to Wikipedia, citing the fair's guidebook, "The logo was designed by Montreal artist Julien Hébert. The basic unit of the logo is an ancient symbol of man. Two of the symbols (pictograms of 'man') are linked to represent friendship. The icon was repeated in a circular arrangement to represent 'friendship around the world.'" Until now, I didn't realize that the Canadiens had used the logo at center ice to promote the fair. According to TheFaceoff.net's center ice database, they used it only for the 1966-67 season.
(Footnote: Some members of the Canadian House of Commons disliked the logo and attempted, unsuccessfully, to have it replaced, with one member describing it as an "artistic monstrosity" and saying he would have preferred a maple leaf.)
• Since the movie was shot in 1967, many of the goalies played without masks: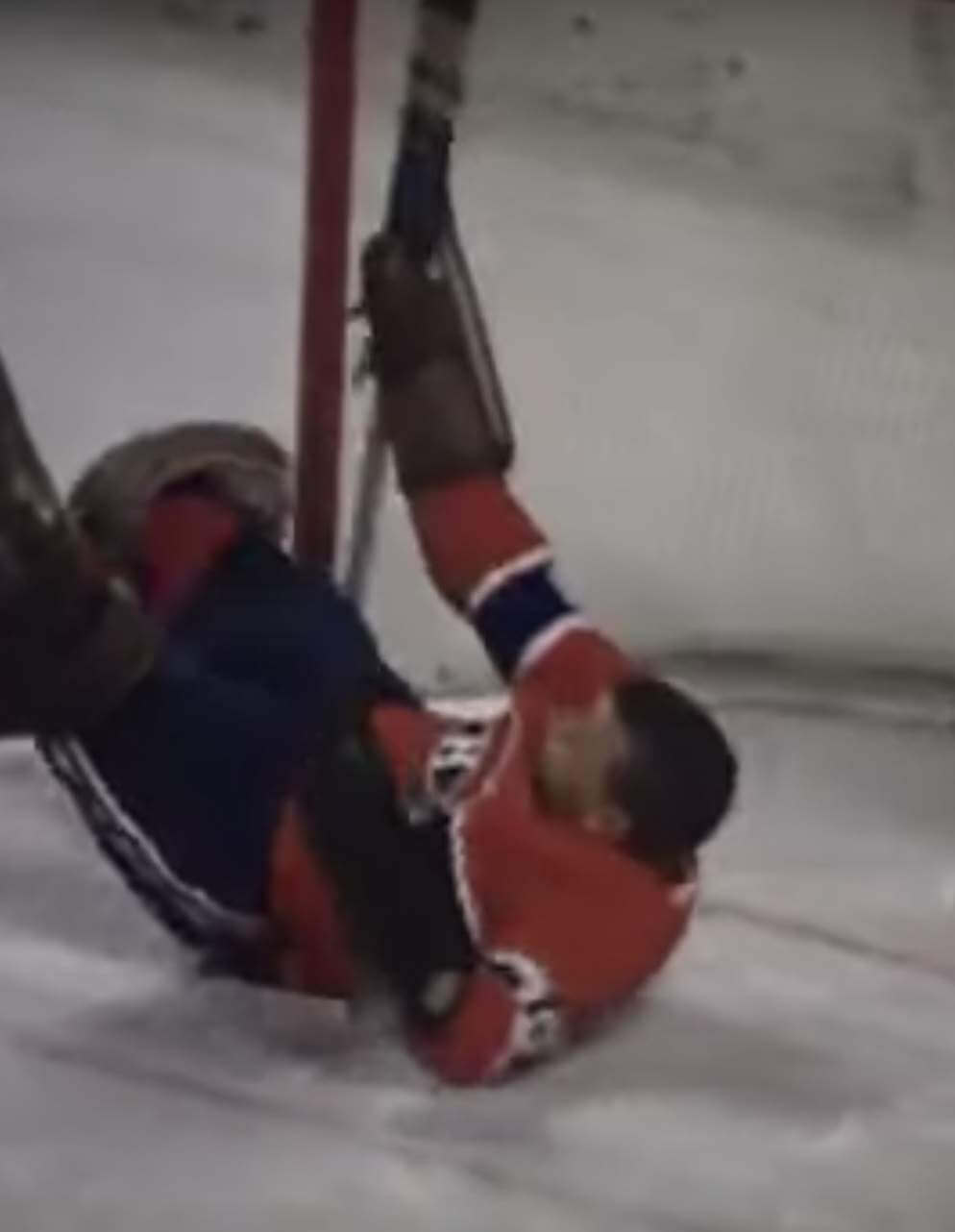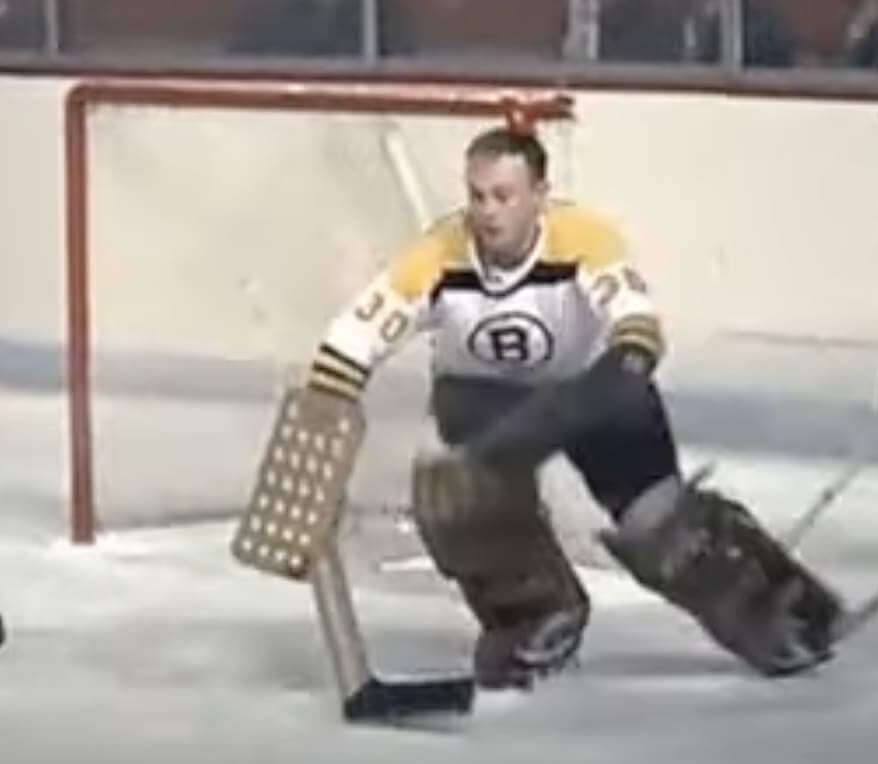 • Similarly, most of the non-goalies played without helmets. One of the exceptions, Canadiens right wing Bobby Rousseau, had a white helmet, while teammate J.C. Tremblay had the more familiar blue: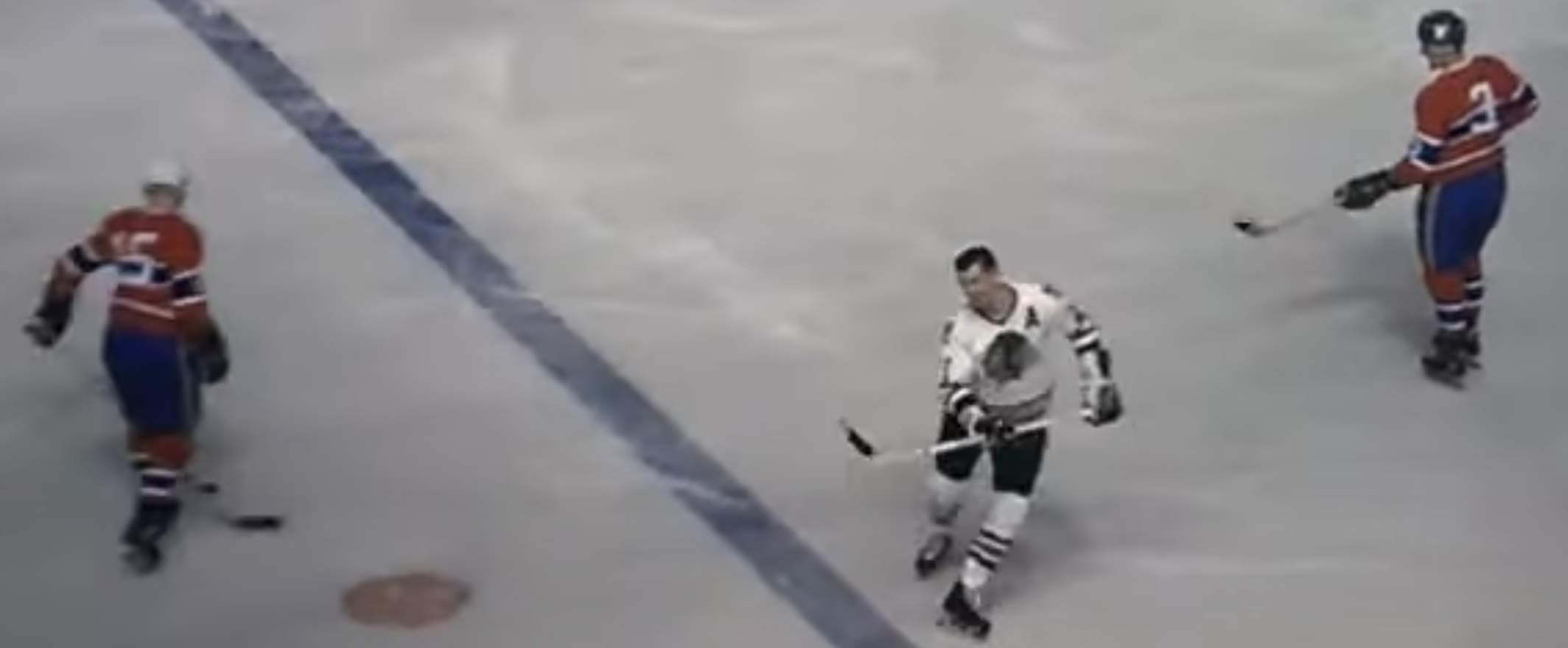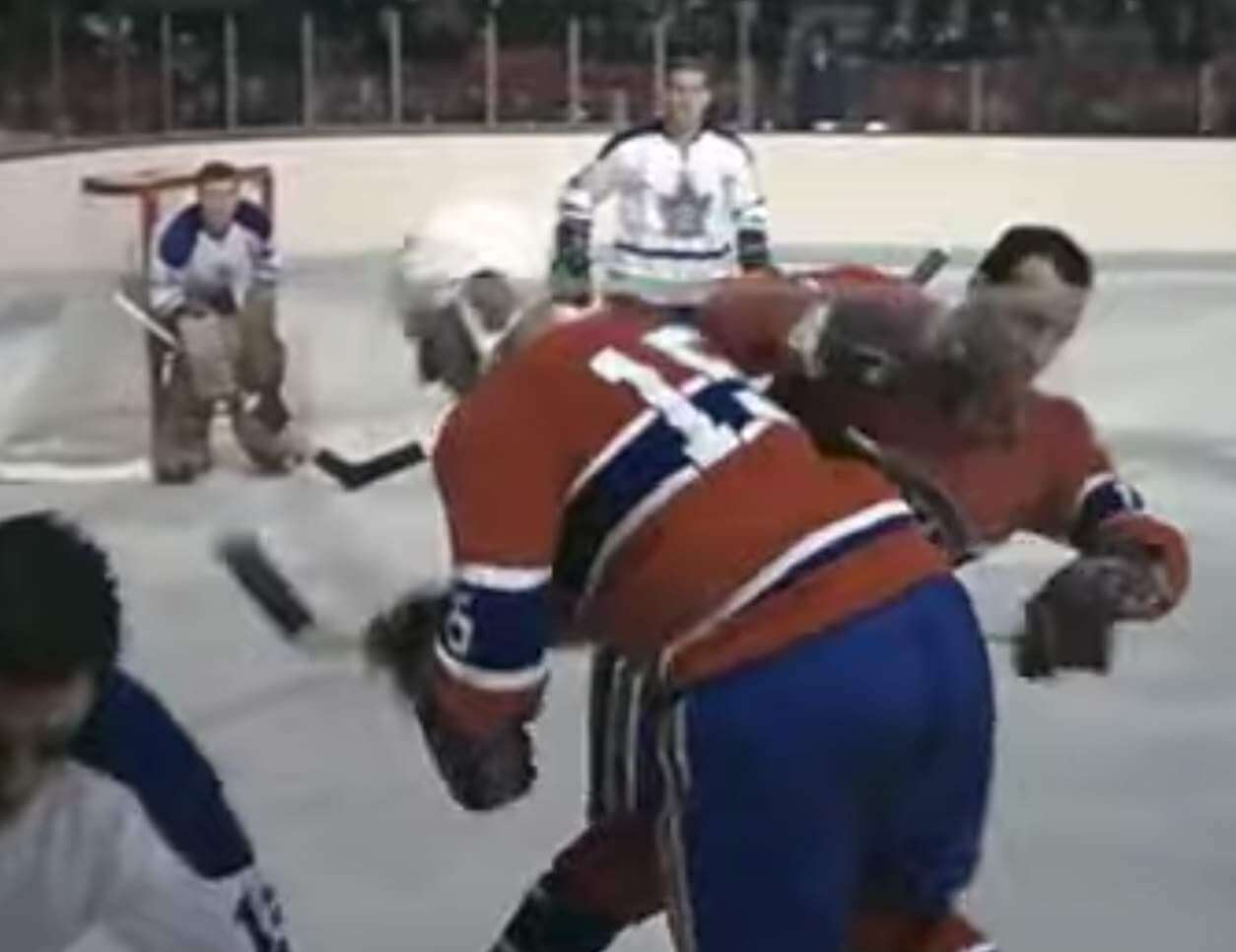 • We all know about fans tossing hats onto the ice to celebrate a hat trick. But at one point in the film, a worker is shown shoveling up shoes (or maybe galoshes?) from the ice: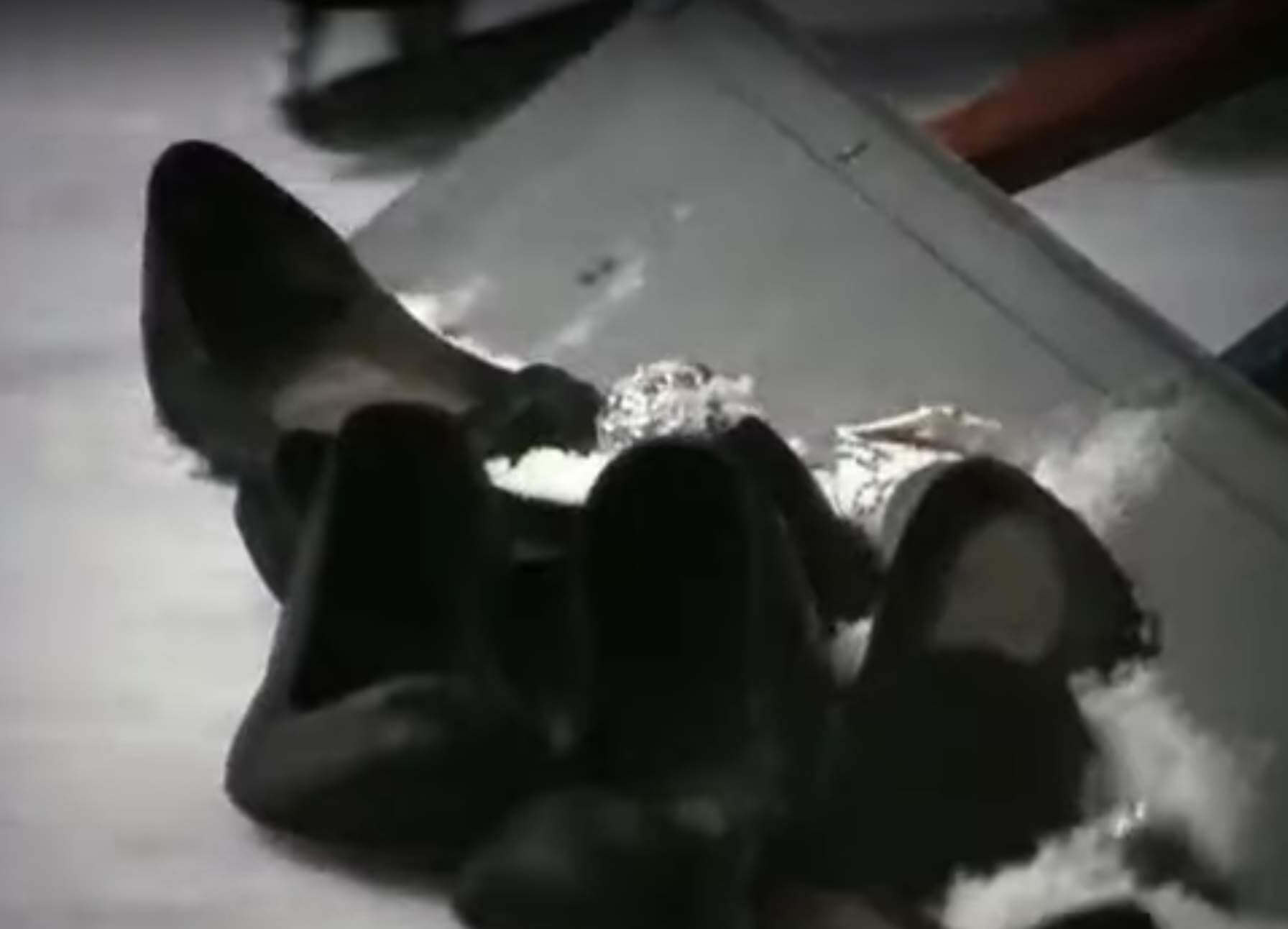 Since the film has a musical score but no narration, there's no explanation for this. Anyone..?
• It was hard to get a good screen shot of this, but two guys on the Canadiens' bench — trainers, I think — were wearing sensational cardigans: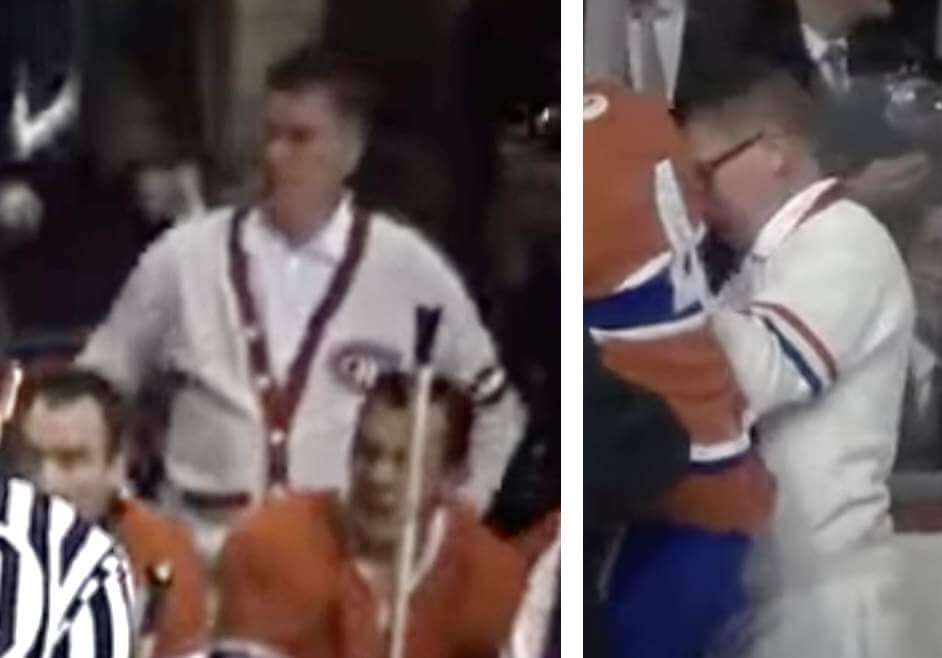 • All five of the other Original Six teams show up in the film. It's remarkable how little their uniforms have changed over the past half-century (and with good reason). Since all the footage was shot in Montreal, the Habs are consistently shown in red and the other teams in white, because the NHL still had a color-at-home protocol in 1967. Home teams began wearing white for the 1970-71 season, and then the rule changed back again in 2003-04.
———
That should be enough to give you an idea. The film is only 10 minutes long and well worth watching (but maybe with the sound muted). You can check it out here:
(Big thanks to Alan Kreit, who deserves all the credit for this one.)
• • • • •
• • • • •
Click to enlarge
Head games: The Cardinals had a surprise in store yesterday for their first Sunday home game of the season: Sunday batting helmets to match their Sunday caps. Looks nice, right?
It's a bit surprising that the Cards — a very uni-aware team — took so long to do this. They've been wearing Sunday caps for over two decades, but until now they used their regular red helmets for Sunday games.
• • • • •
• • • • •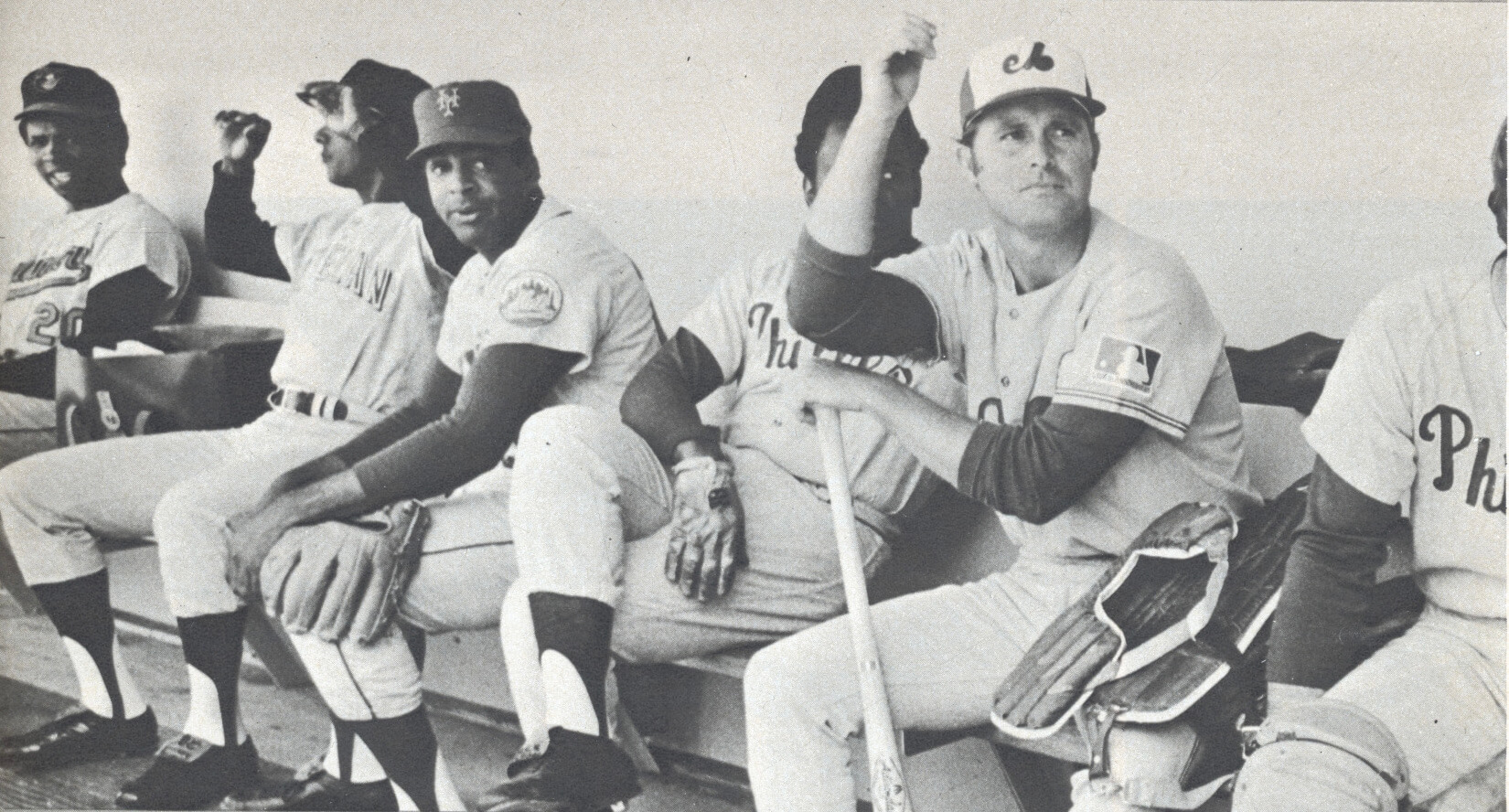 Click to enlarge
East-West Classic, continued: I've had two recent posts about the 1970 East-West Classic, which honored the life and legacy of Martin Luther King. (If you missed those posts, look here and here.) Now reader Jay Vandervoort has come up with a few more uni-notable photos, which originally ran in the July 1970 issue of Sport magazine.
The photo shown above, for example, shows players in the East dugout, including Expos first baseman Ron Fairly (who was named the game's MVP). As you can see, he still had the 1969 MLB centennial patch on his left sleeve, even though the game was played on March 28, 1970. None of the other photos from the game have shown anyone wearing that patch.
Also of note: Although Giants outfielder Willie Mays was on the West squad, which was the home team, he wore his road uniform: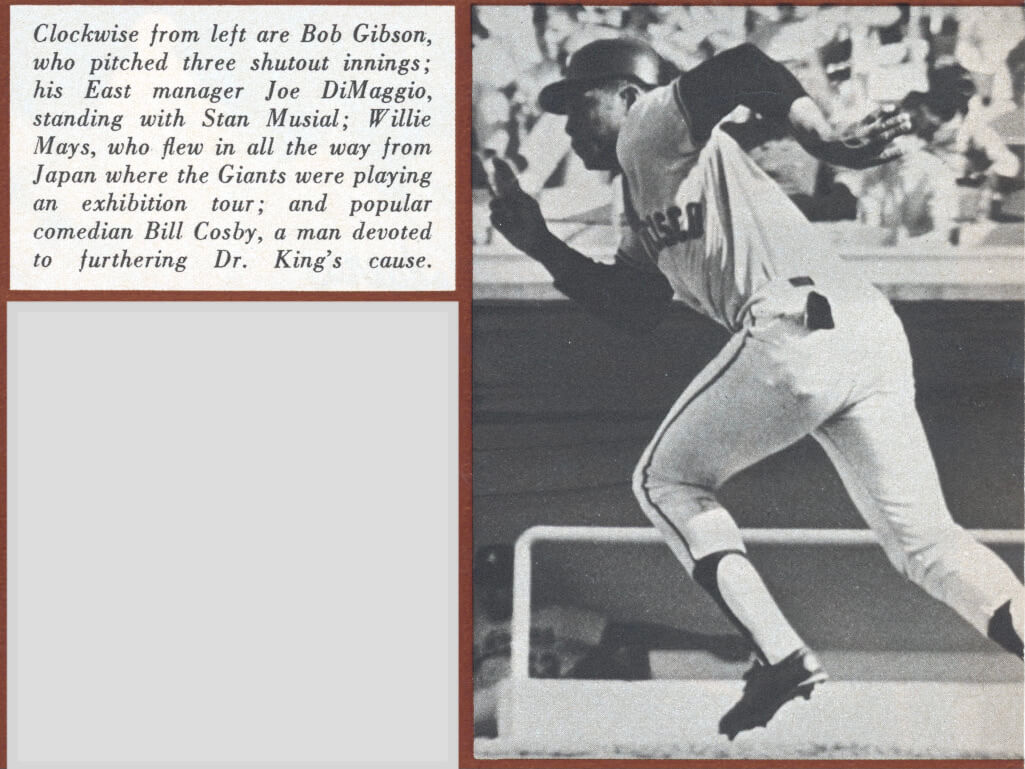 As noted in the photo caption, Mays came all the way from Japan to play in this game, so he may have had limited uniform options.
Here are some additional shots from the game, although they're not uni-notable: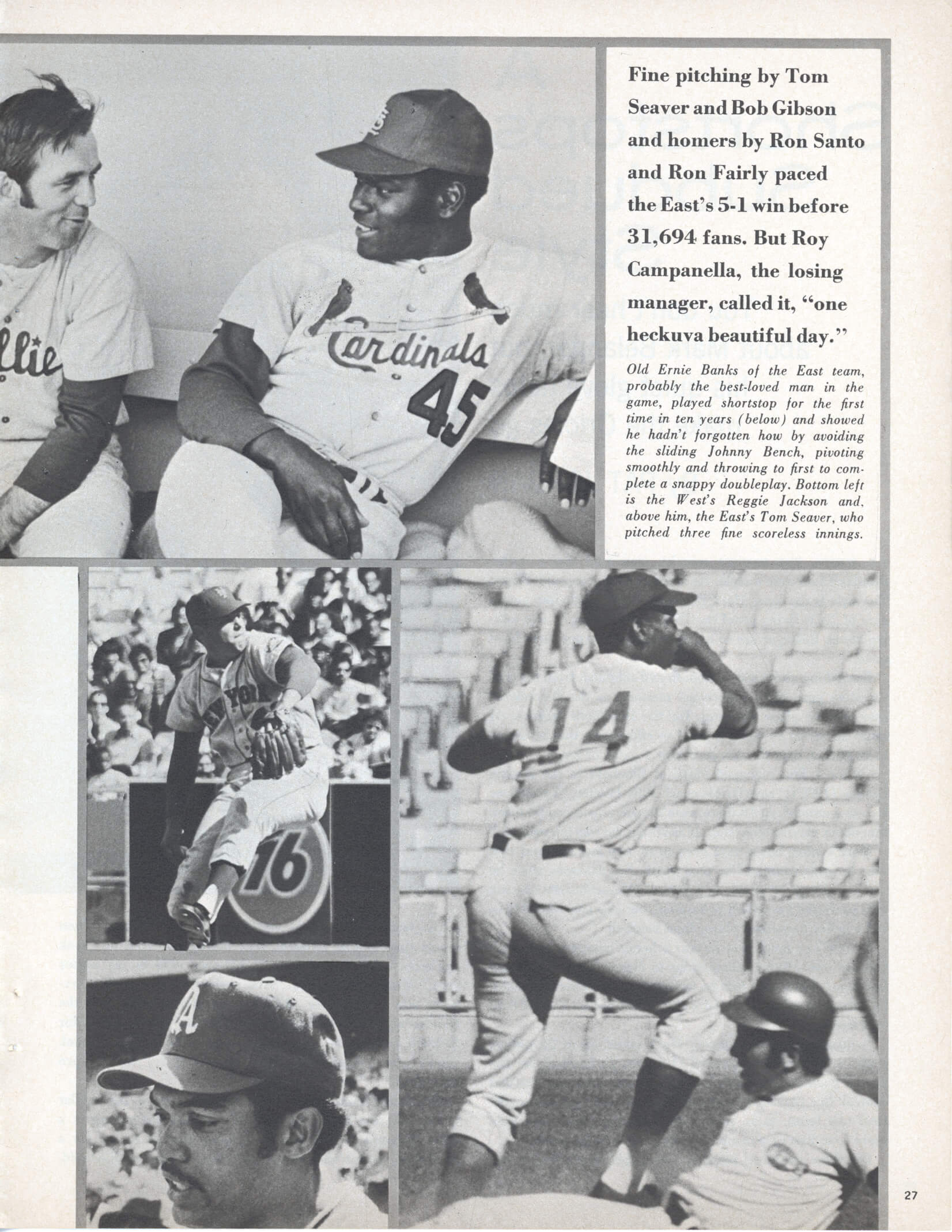 Finally, I previously wrote that I questioned whether this is really Yankees catcher Curt Blefary, as the caption claims, receiving a book from Coretta Scott King, because Blefary wasn't listed in the program as one of the game's participants. Jay — the guy who provided these photos — notes that Blefary's presence may have been connected to the fact that Astros pitcher Don Wilson was playing in the game. As Blefary's SABR bio notes:
Blefary wore number 13 in Houston. The choice was iconoclastic and controversial in that era. However, his willingness to room with Don Wilson was far more daring. The duo were probably baseball's second pair of interracial roommates. … You could argue that Blefary played the most significant role in integrating the game of any white player in baseball history, but the case is hard to make simply because his role has been so minimally documented.
Fascinating. So for a game honoring MLK, maybe Blefary thought he should be there to support Wilson. Both players are now deceased, so we'll probably never know the full story there.
(Big thanks to Jay Vandervoort for all his great research on this game.)
• • • • •
• • • • •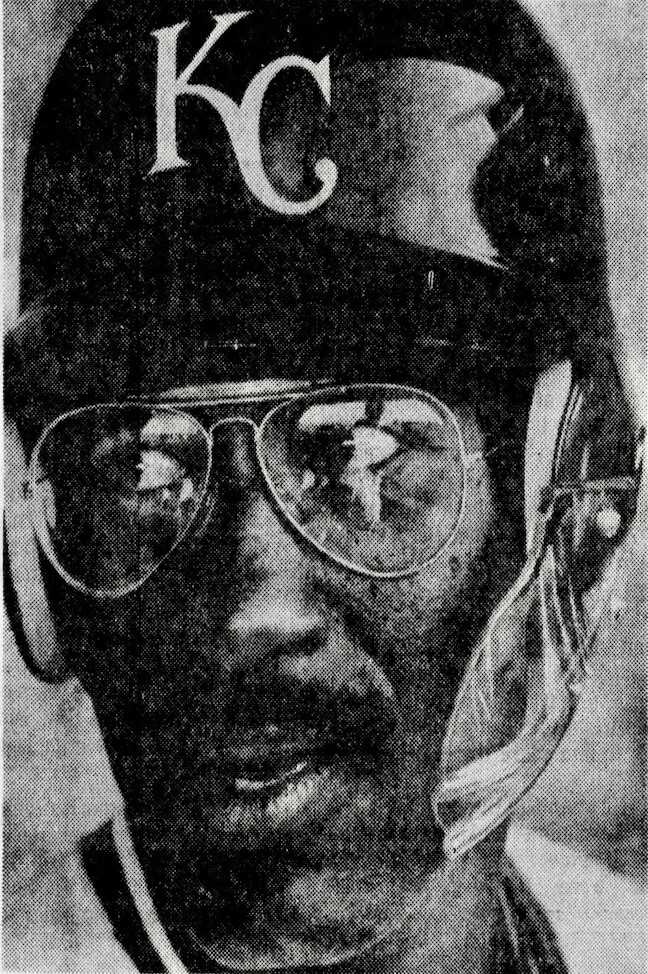 Click to enlarge
Mask mystery solved: Last Friday I posted a 1979 photo of Orioles outfielder Gary Roenicke and Royals outfielder Al Cowens comparing the mask attachments on their respective batting helmets. But the photo didn't provide a good look at Cowens's mask, and I'd never seen a photo of him going mask-clad, so I asked if anyone knew more.
Reader Jeremy Snyder responded with several photos, the best of which is shown above. As you can see, Cowens was wearing something similar to what we now know as the C-Flap — but with a twist. It's hard to tell from that photo, but Cowens's flap was actually clear, or at least translucent (click to enlarge):

Those screen shots come from reader Matt Edwards. Obviously, the resolution isn't great, but it's enough for you to get the idea.
When I interviewed the C-Flap's inventor, Dr. Robert Crow, for this 2018 ESPN article, he said he perfected the design at some point in the early 1980s. (He couldn't recall the exact date.) He didn't mention anything about a clear version, although he did say the design went through several years' worth of revisions before he perfected it, so it's possible that Cowens could have been wearing an early version in 1979. Or maybe someone else came up with a similar flap-attachment concept, which is certainly possible.
The earliest photo of a player wearing a C-flap, at least I'm aware of, is this 1987 shot of Giants infielder Chris Brown. (Other MLBers had worn various types of mask attachments prior to then, but those were all football-style masks, like Roenicke's, not flaps.) So if Cowens was going flapped in 1979 — whether he was wearing a true C-Flap or something similar made by someone else — that changes the timeline significantly. Until now, I hadn't realized that Cowens had worn any kind of mask, and he definitely appears to be the first player to have worn a flap attachment instead of a football-style mask, so he was a pioneer of sorts. Unfortunately, he's now deceased, so we can't ask him about this.
(Big thanks to Jeremy Snyder and Matt Edwards for the Cowens photos.)
• • • • •
• • • • •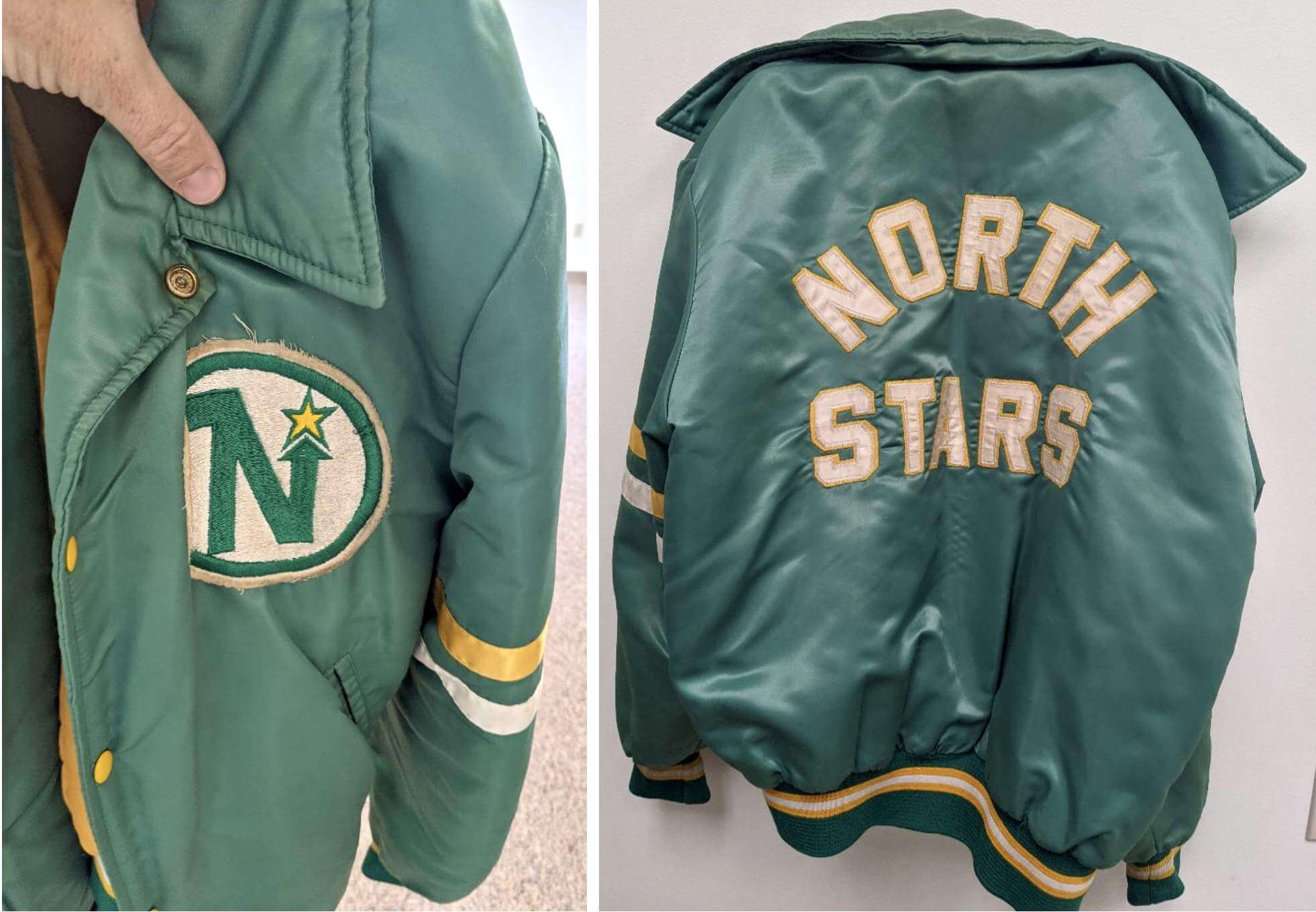 Click to enlarge
Too good for the Ticker: Nice North Stars jacket, eh? The story behind it is even better. I'll let reader Derek Houtz explain:
I'm a chiropractor in Pennsylvania, and I've worked with an old couple for a decade. About seven years ago, the husband came in wearing this North Stars jacket. I naturally made a big deal over it — first because that's a classic color set, but second because I sure didn't expect to see it in central PA. I told him people would pay money for that, and he was like, "I'm not selling it, it's warm!" He's a Pens fan but had bought it at a yard sale. We laughed, and that was that. I hadn't seen him wear it since.

Two weeks ago, he died. His wife came in for her regular appointment and gave me this jacket. She said she wouldn't be offended if I didn't take it, but she thought I'd like it — and of course I did. It was super-kind of her, and also astonishing that this 85-year-old lady remembered the conversation about the jacket from years ago.
How great is that? A heartwarming uni story.
• • • • •
• • • • •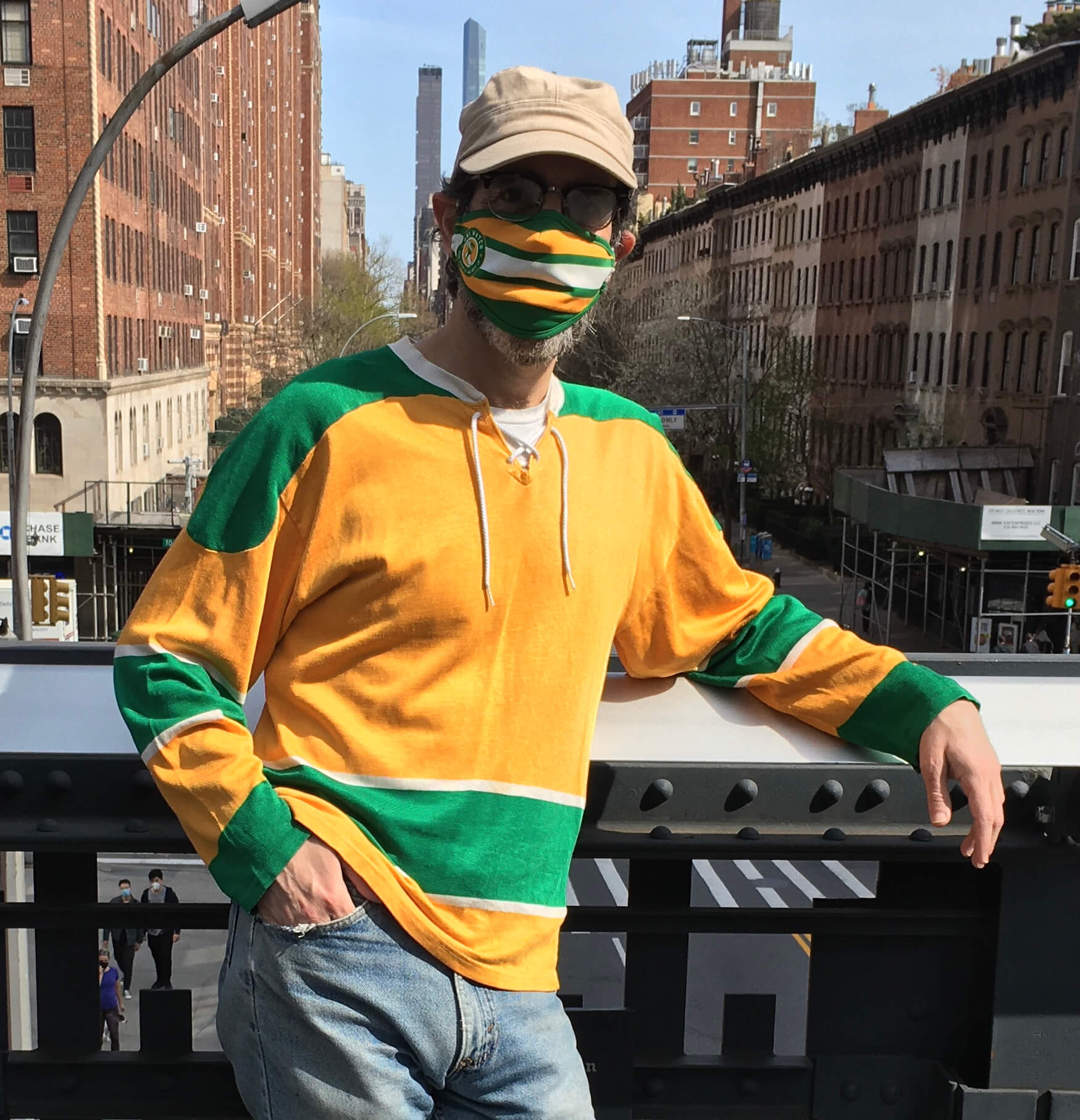 Click to enlarge
Made for each other: The other day I showed a few pics of the vintage Golden Seals blank jersey I recently scored on eBay. But it wasn't until the weekend that I realized how the jersey colors are an exact match — I mean an exact match — for the colors of my Uni Watch mask! There's something very satisfying about that.
When I posted that photo on Twitter over the weekend, longtime reader Roger Faso pointed out that all I need to do now is saddle up Charlie O. and I'll be all set: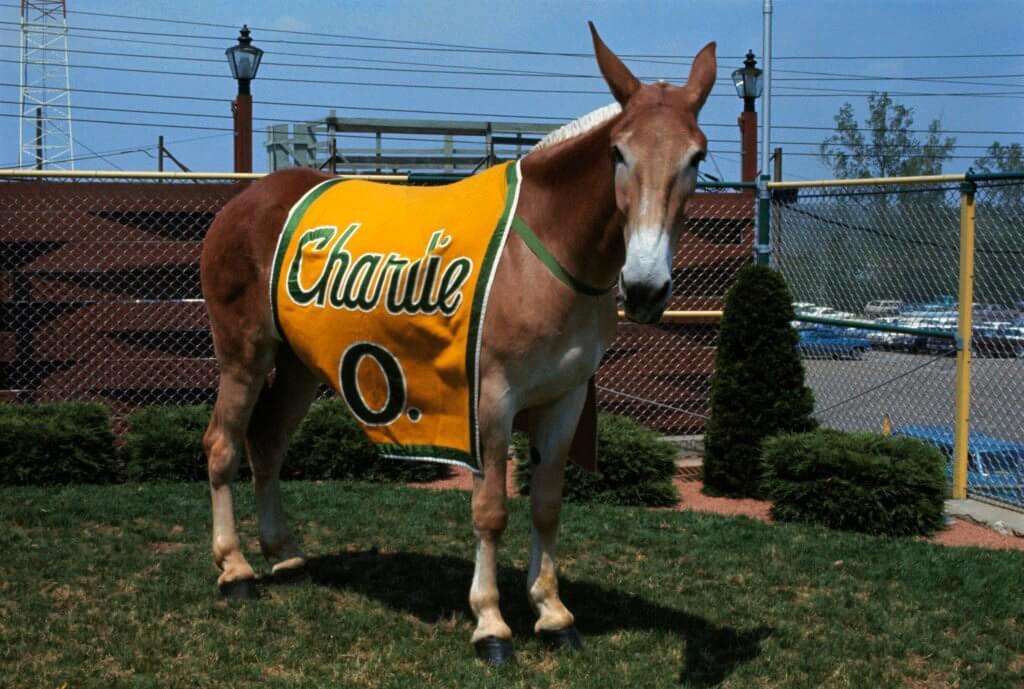 • • • • •
• • • • •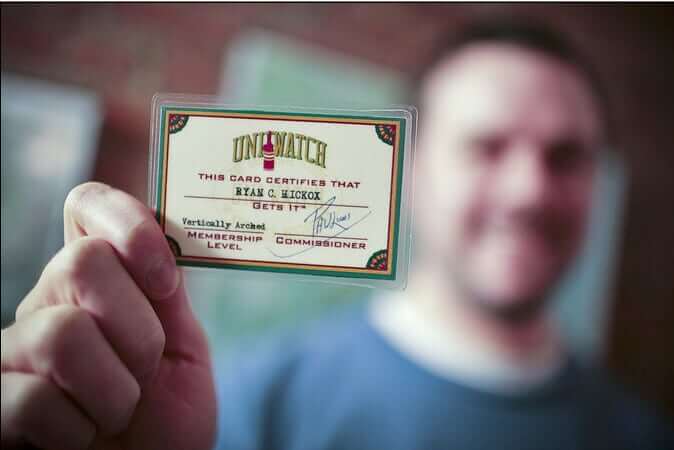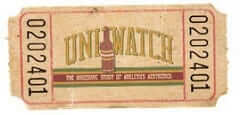 ITEM! Another membership raffle: Reader Adam Hornstine (nephew of Ward Harkavy, who was one of my early Uni Watch editors at The Village Voice nearly 20 years ago) recently won a membership raffle and decided to pay it forward by sponsoring another one, so that's what we're going to do today.
This will be a one-day raffle. No entry restrictions. To enter, send an email to the raffle in-box by 8pm Eastern tonight. I'll announce the winner tomorrow. Good luck!
• • • • •
• • • • •
The Ticker
By Jamie Rathjen

Baseball and Softball News: Yankees CF Aaron Hicks was wearing a batting helmet with No. 71 at some point since Friday. Nobody on the team has that number and he's No. 31 (from Josh Edney). … The Mets are going to add a statue of Tom Seaver this summer and apparently already have a place ready for it (thanks, Phil). … The name of the first MLB commissioner, Kenesaw Mountain Landis, doesn't appear on the league MVP awards anymore, so the trophies were redesigned (from Jon Anker). … The next two are from Kary Klismet: Here is the Dodgers' championship flag. … A new stadium for the Double-A Wichita Wind Surge hosted Wichita State baseball for its first game. … Northwestern softball has helmets featuring the school mascot, Willie the Wildcat (from Dan Sagerman). … Carlisle (Pa.) HS, which is in the same town as the U.S. Army War College, wore military-themed alternates on Saturday (from Timmy Donahue and Dell Michaels). … Here's a great photo of the Alou brothers — Matty, Jesús, and Felipe — all wearing the uniform of a non-MLB team. Anyone know what team that is? (From Trevor Williams.)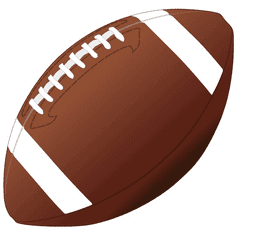 Football News: Elizabeth II and Prince Philip came to North America to open the Canadian parliament in 1957 and then visited the U.S., including making it to a Maryland/North Carolina football game. "To my knowledge it's the only college American football game he attended," says James Gilbert. … Montana is another FCS team still wearing the CFB 150 patch, joining the examples in yesterday's Ticker (from Bridger Deschamps). … The next two are from Kary Klismet: Iowa is ending a school-branded train that took fans from nearby Coralville to Kinnick Stadium on game days. … Harlingen (Texas) South HS has a new helmet. … Here's a great little video clip showing how Lions DB Yale Lary, who played in the 1950s and '60s, would switch helmets when returning punts. He wore a facemask for punt return duties, but not when playing safety.

Hockey News: The Devils held a pride night with warm-up jerseys last night (thanks, Phil). … The next two are from Wade Heidt: Maple Leafs C Auston Matthews wore skates supporting a cystic fibrosis charity. … The ECHL's Tulsa Oilers wore their own ЯR jerseys on Saturday.

Soccer News: The USWNT gave midfielder Carli Lloyd a commemorative captain's armband for her 300th appearance on Saturday, as players reaching milestones are often made captain for the day. She was substituted, so normal captain Becky Sauerbrunn also wore it for 25 minutes. … FC Barcelona wore fifth (!) shirts in La Liga against Real Madrid on Saturday. … From that same game, both teams posed for the prematch photos with a board saying "Misma Pasión" ("same passion") in support of Real goalie Misa Rodríguez after she received sexist abuse last week. … Sash-based shirt designs aren't that common to begin with, but two teams in Bolivia's Primera División, Always Ready and Nacional Potosí, played a rare sash-vs.-sash matchup (from Germán Cabrejo). … This is probably the most mysterious thing I've seen in my many trips through old sports during Covid: Scottish officials wore a No. 23 — always No. 23 — below their badges only during the 2006-07 and 2007-08 seasons. I don't know what it could mean.

Grab Bag: University of Houston athletics has a 75th-anniversary logo for next school year (from Ignacio Salazar). … The UC Davis field hockey team wore "Save Stanford Field Hockey" shirts for this season's team picture because Stanford is discontinuing the sport after this season. That leaves UC Davis and Cal, both of which play in the America East, as the only Division I teams west of Iowa City. … New clash kit for AFL club Collingwood's Super Netball team. … NASCAR Cup races at Martinsville Speedway have well-known grandfather clock trophies, so it follows that yesterday's winner, Martin Truex Jr., had a stack of caps from advertisers ready and waiting for him to put on while he posed for photos with the clock (from Trevor Williams). … A podcast on college marching bands did an episode on uniforms (from James Gilbert). … The outdoor clothing company Patagonia will stop adding other companies' logos to its products (from John Cerone and Kary Klismet).
• • • • •
• • • • •
• • • • •
My mom turned 97 (!) on Friday, so my brother Roy and I went out to visit her. It the first time all three of us had been together since Thanksgiving of 2019 — nearly a year and a half (the Tugboat Captain wasn't able to join us due to work obligations, but she made the mask that Mom is wearing in this photo):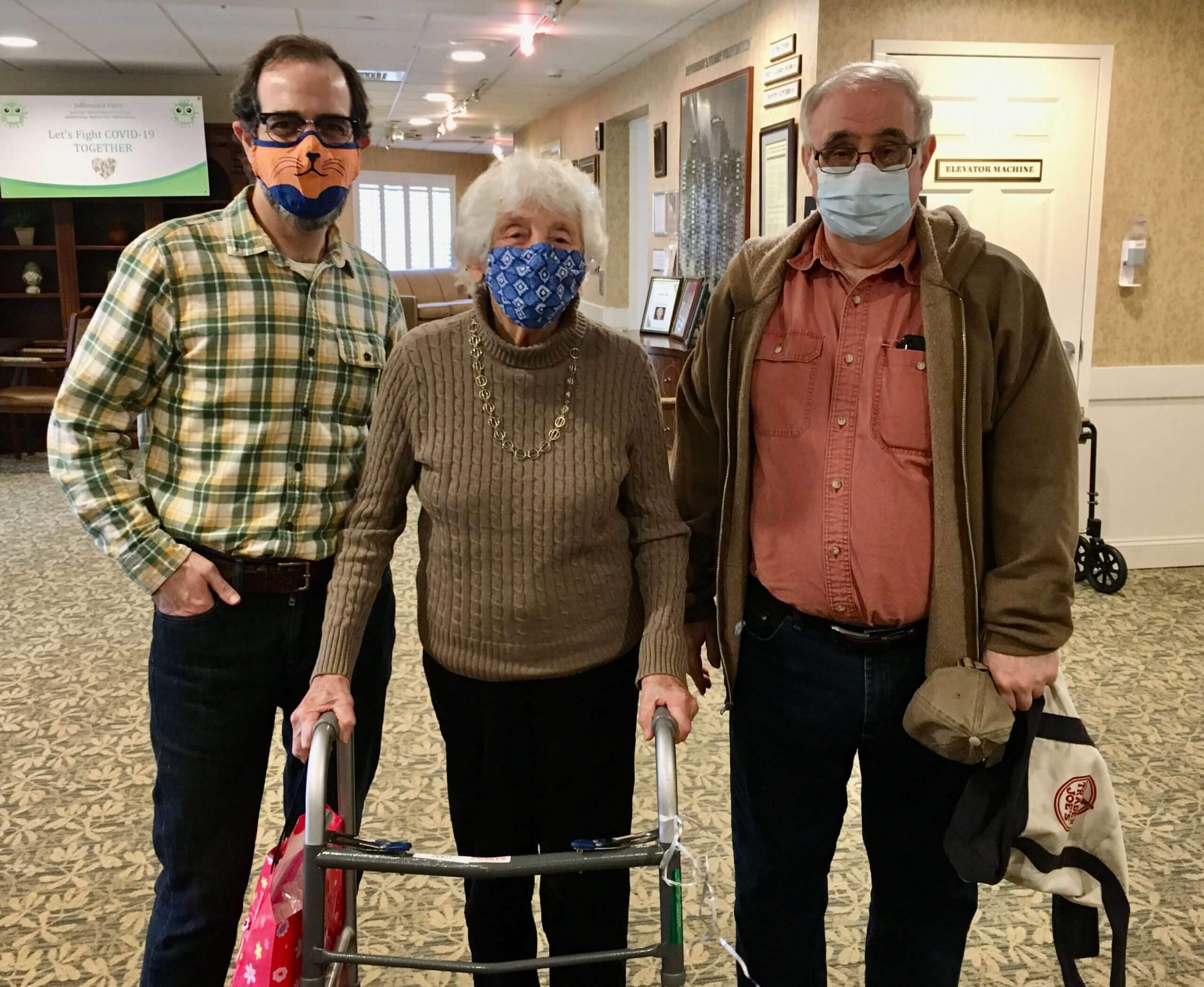 I know many of you have been separated from your loved ones during the pandemic. Here's hoping you get to experience your own family reunions soon! — Paul