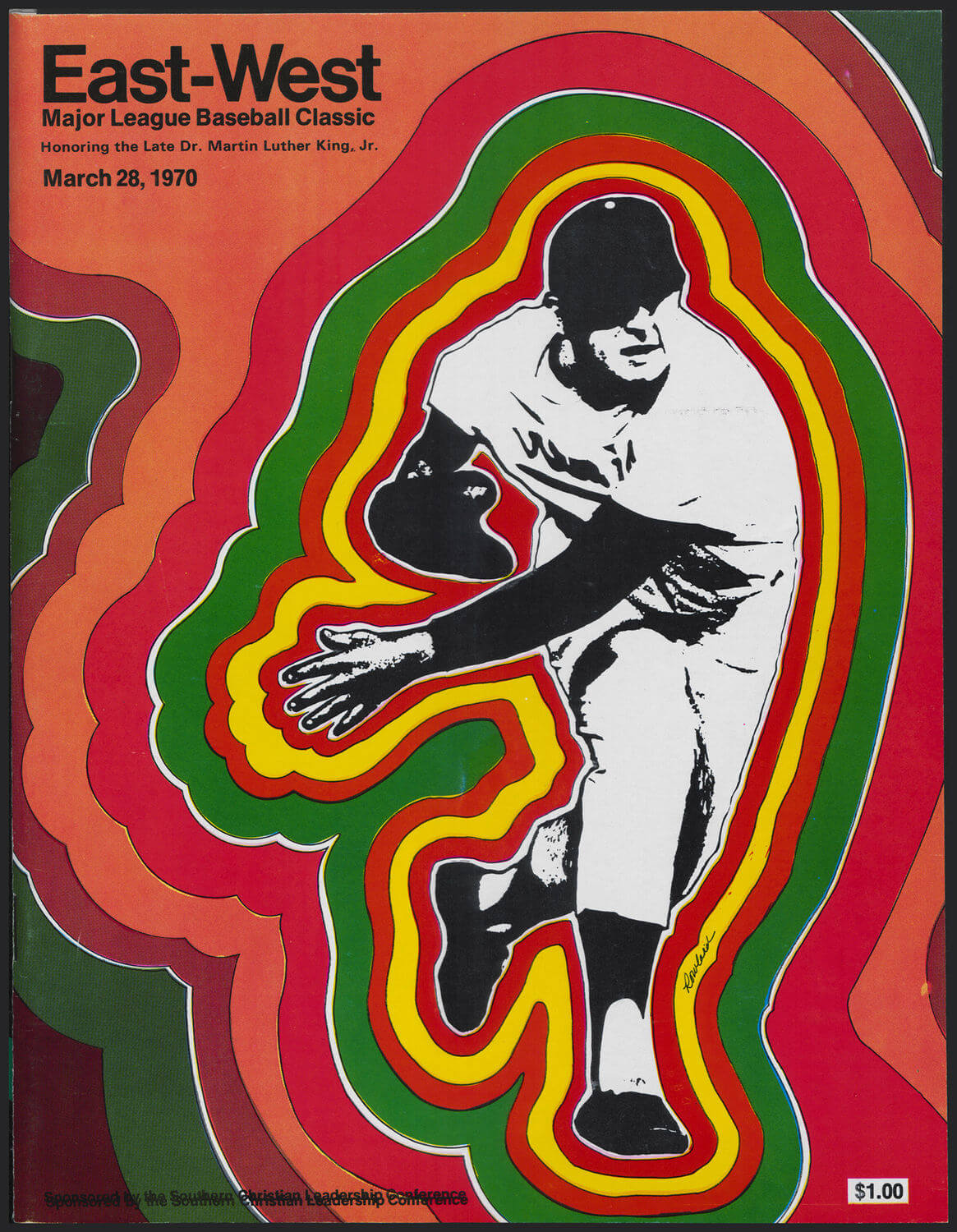 Click to enlarge
This Sunday, March 28, is the 51st anniversary of an event I didn't even know about until longtime reader Steve Dodell recently brought it to my attention: the East-West Major League Baseball Classic, essentially an all-star game at Dodger Stadium to honor the memory and legacy of Martin Luther King, who was assassinated two years earlier.
The basic story is this: After King's death on April 4, 1968, Black ballplayers contacted the Southern Christian Leadership Conference, which King founded, to inquire about the best way to honor him. In the fall of 1968, the SCLC proposed a benefit game, which was originally planned for March of 1969, but the arrangements couldn't be made that quickly, so the schedule was pushed back by a year. Joe DiMaggio and Roy Campanella were named as managers for the two squads, and a California sportswriters' group chose the players. All told, 23 then-current or future Hall of Famers participated.
If you want to learn more about the game, I strongly suggest reading this article from the Baseball Hall of Fame's website, this one from Sports Illustrated, and this one from The Undefeated, all of which do a good job of filling in the historical details. But for Uni Watch purposes, what about the uniforms and other visual aspects of the game?
Unfortunately, the visual record is thin. Although there was local TV coverage in California, no highlight footage has survived, and game photos are rare. But there are a few noteworthy visual details to go over:
• Let's start with the cover of the game program, shown at the top of this page. Clearly a classic of its style (and exactly the sort of thing that influenced a young Brinke Guthrie). Note the chest insignia on the jersey — looks like it's going the wrong way! This was probably a photo of a right-handed pitcher that the designer flopped. You can page through the entire program, which is a pretty remarkable document, here.
• Here are the two managers — Campanella and DiMaggio (who had just resigned from his role as a coach with the A's but nonetheless chose to wear an Oakland uniform) — greeting each other prior to the game. The player behind DiMaggio, shaking Campy's hand, is Tim McCarver: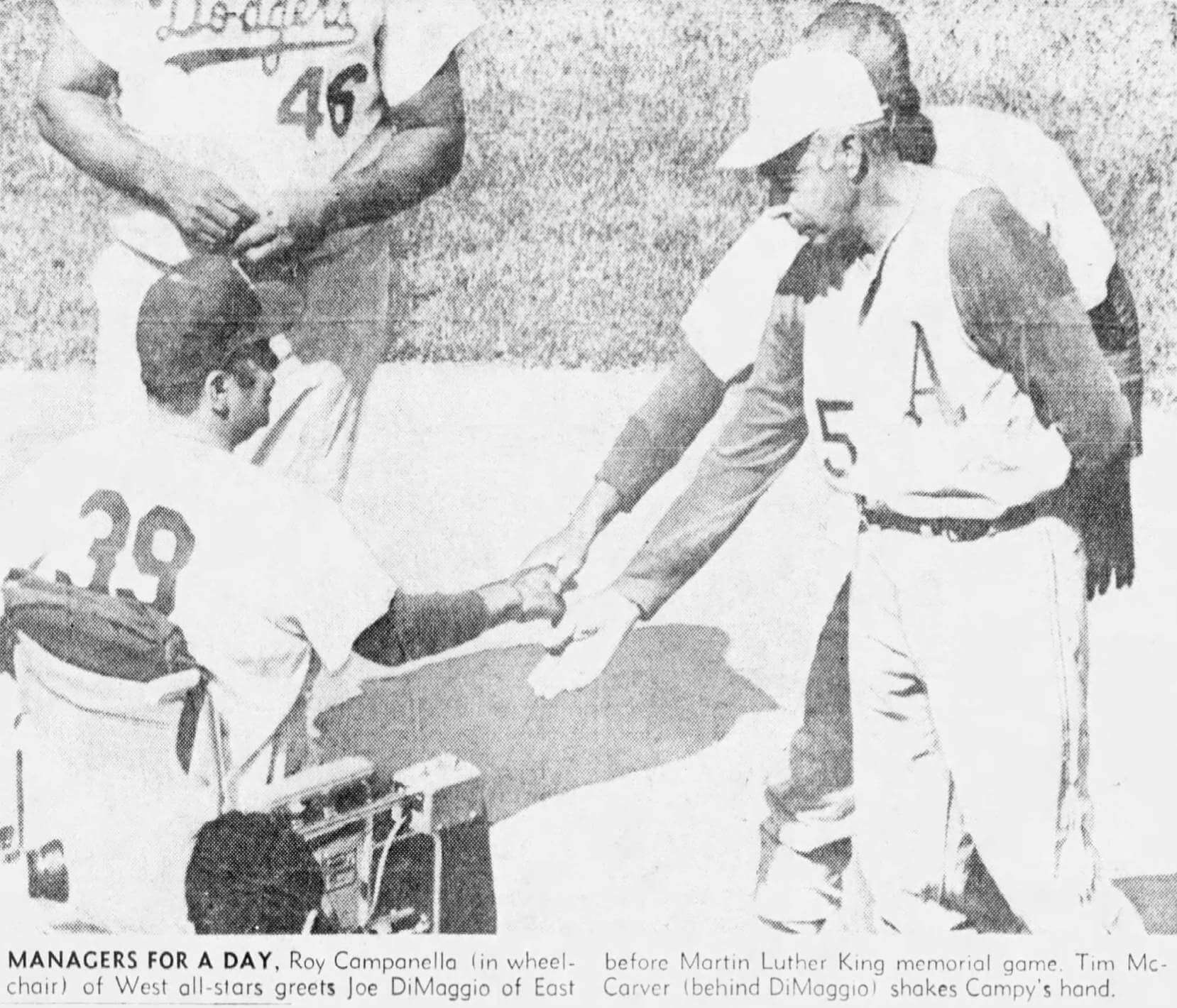 According to that SI article I linked to earlier, it was the first time Campanella wore his No. 39 Dodgers jersey since playing his final game on Sept. 29, 1957. (He was paralyzed in a car accident four months after that season ended.)
• The only other photo I could find was this shot of Expos outfielder/first baseman Ron Fairly returning to the East dugout after hitting a home run. As you can see, the players wore their regular team uniforms: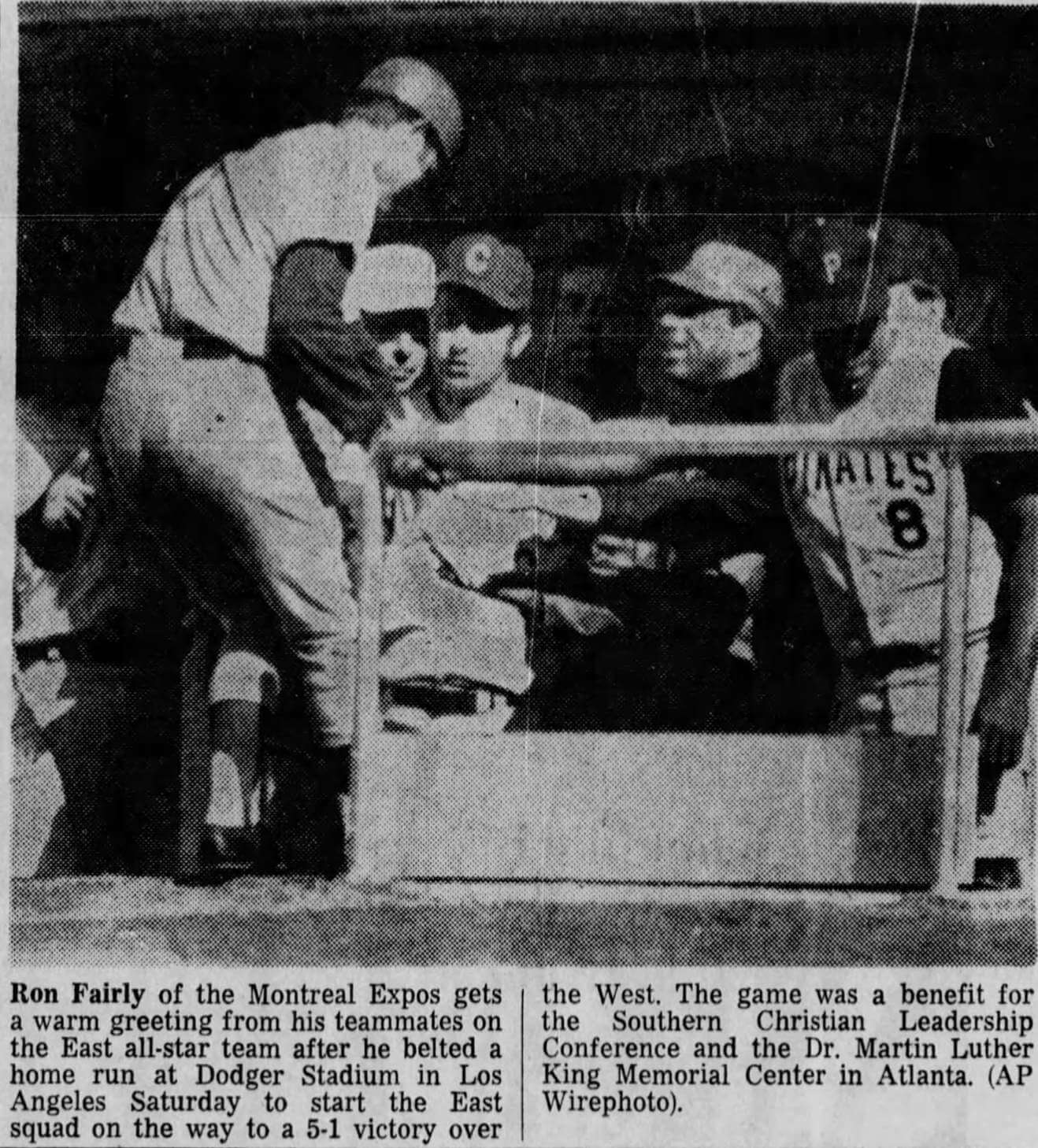 • Fairly was named the game's MVP and, according to news reports, was presented with a trophy after the game by King's widow, Coretta Scott King (who also threw out the first pitch). I haven't found a photo of that presentation, but the Hall of Fame does have a press photo of the trophy itself, along with a news release featuring a boilerplate caption that was apparently supposed to run with the trophy-presentation photo: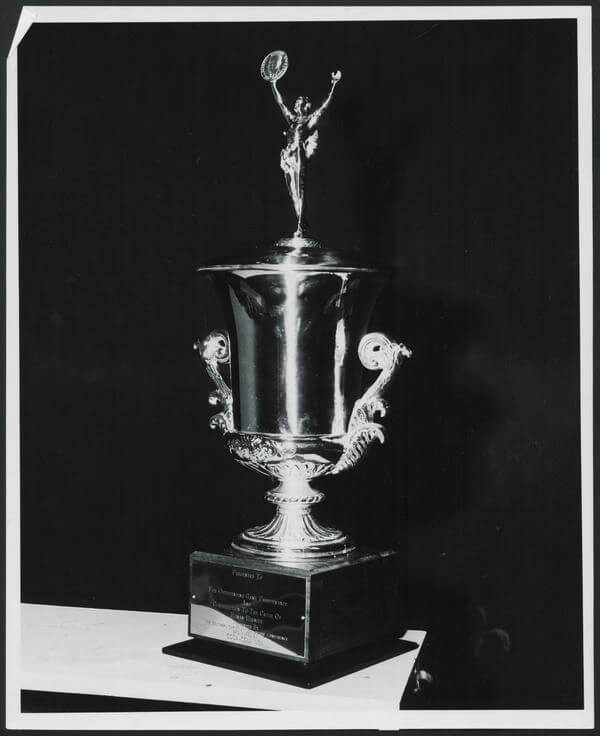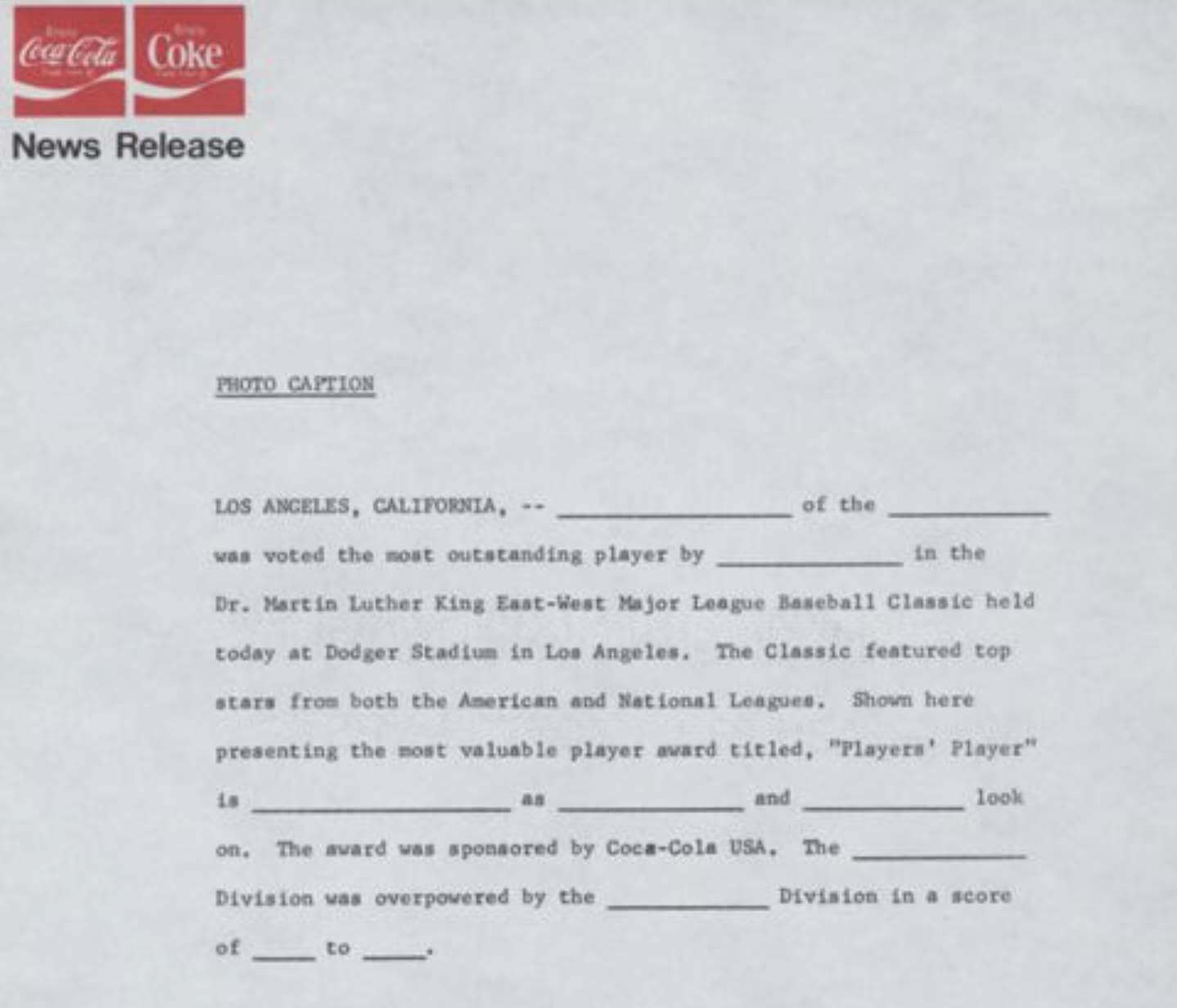 • The Hall of Fame has lots of other archival materials relating to the game. You can see those here.
———
The East won, 5-1. The game took all of two hours and six minutes to play, had a crowd of 31,694, and raised $30,000 for the SCLC. Here's the AP story on the game, along with the box score:

(Note that the third graf refers to pitcher "Lew Krausse of Seattle." That's because the Seattle Pilots still existed on March 28, 1970, when the game was played. This was during that now-famous period when the Pilots' equipment truck had already left spring training in Arizona and was parked in Utah, waiting to be told whether to proceed to Seattle or detour to Milwaukee. Four days later, on April 1, a federal official would rule that the Pilots were bankrupt, clearing the way for the franchise's move to Milwaukee. As reader/commenter teenchy points out, that means this game was probably the last time a Seattle Pilots uniform was worn on the field.)
It's not clear why the game faded into obscurity so quickly, but I heard absolutely nothing about it while growing up in the 1970s. There have been some articles written about it in recent years, like the ones I linked to earlier, but they've mostly been published in January, to coincide with MLK Day — a time when nobody's thinking about baseball — rather than on the anniversary of the game itself, which has probably contributed to the game's ongoing low profile. Somewhat incredibly, there isn't even a Wikipedia entry for it.
That SI article I've referred to a few times was written by Tom Verducci. Here's a video clip of him talking about the game (again, he did the interview this past January):
One of the players in the game was Mets first baseman Donn Clendenon, fresh off being named the MVP of the 1969 World Series. Verducci's article includes some information about him that I hadn't been aware of:
Born in Missouri, Clendenon was raised in Atlanta by his stepfather, Nish Williams, who played in the Negro Leagues. Young Donn received advice from Williams's friends from the Negro Leagues, including Jackie Robinson, [Satchel] Paige, Campanella, and [Don] Newcombe. Clendenon attended Morehouse College, where upperclassmen serve as mentors, or "big brothers," to incoming freshmen. The man who volunteered to be Clendenon's big brother happened to be a recent Morehouse graduate: Martin Luther King Jr.
As a lifelong Mets fan, I know about Clendenon's World Series heroics, his seven-RBI game in 1970 (then a Mets record), and more. But I had no idea that his step-father played in the Negro Leagues, or that he'd been personally mentored by history's greatest American. Very fitting that he of all players got to participate in this game.
(Big thanks to Steve Dodell, who deserves all the credit for this one.)
• • • • •
• • • • •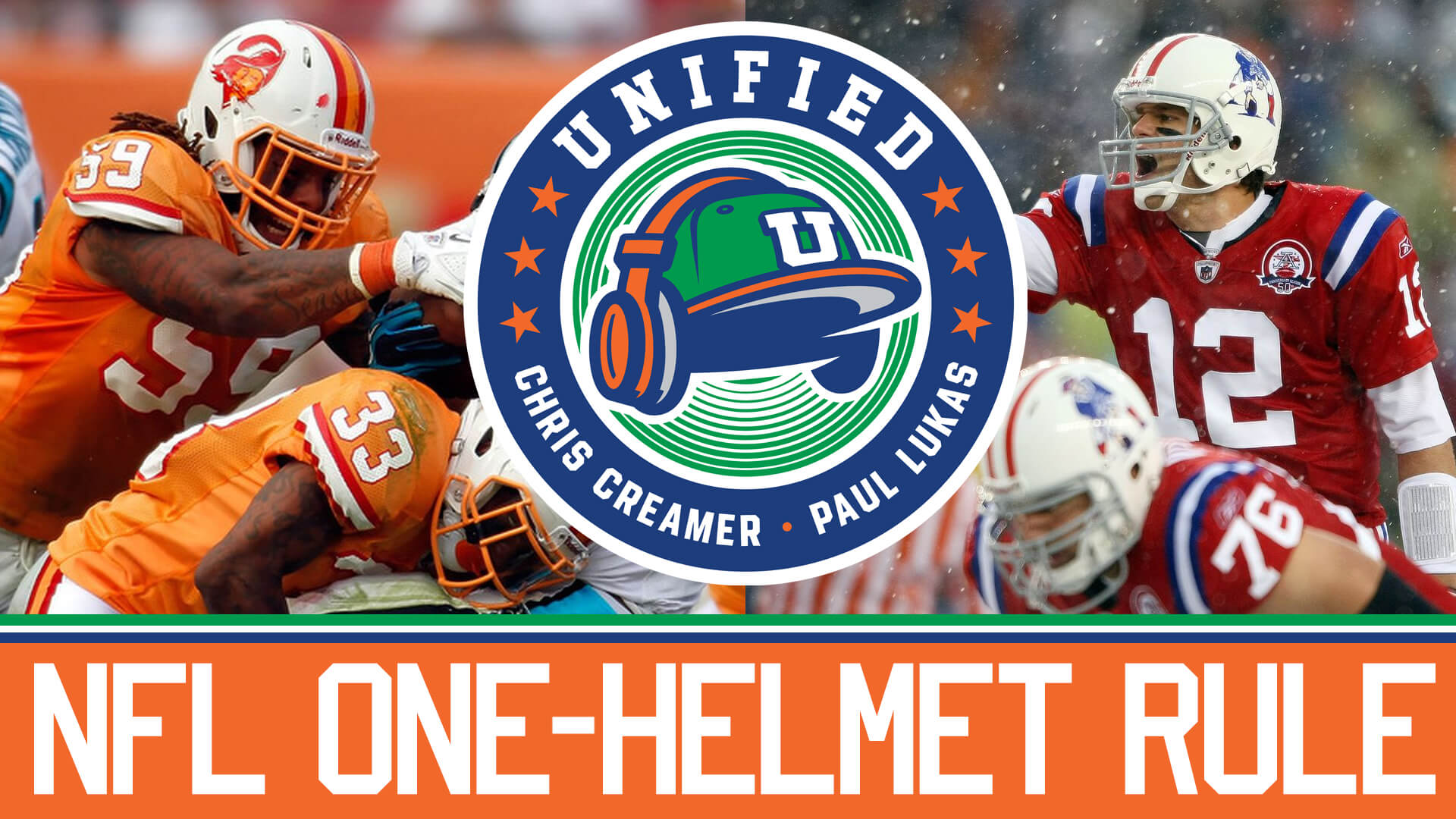 Podcast reminder: In case you missed it on Thursday, the latest episode of Unified is about a very hot-button topic in the uni-verse: the NFL's one-helmet or one-shell rule. Will it be lifted for the coming season, as has been hinted at? If so, what sorts of throwback helmets might reappear? Moreover, what sorts of alternate helmets (like, say, a neon-green Seahawks lid) might suddenly appear? We discuss all of that, along with the latest uni-related news of the past week, our weekly listener-submitted question, and more.
As always, you can listen to us on Apple, Google, Stitcher, TuneIn, and Spotify, or just use the player below:
The show notes from this episode, which include photos of many of the things we discussed, are here. Those photos (and some additional ones) also appear in the video version of the episode:
Please consider supporting this episode's advertisers, Oxford Pennant (get 20% off any order with checkout code UNIFIED), Ebbets Field Flannels (10% off, except on NFL items, with checkout code UNIFIED), and Homefield Apparel (15% off with checkout code UNIFIED).
Enjoy the episode, and thanks for listening.
• • • • •
• • • • •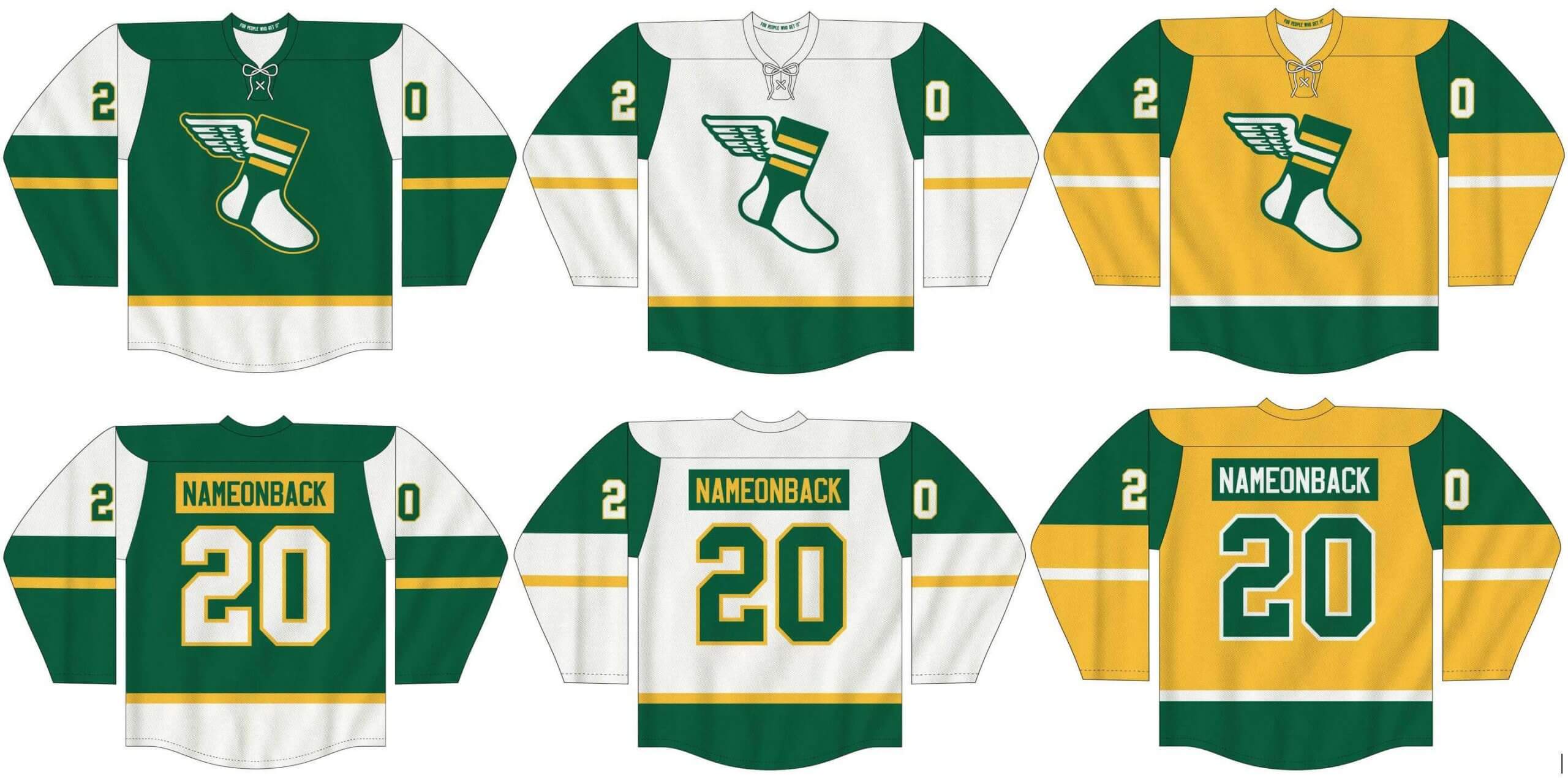 Click to enlarge
The usual merch reminders: As you probably know by now, we have a new line of Uni Watch hockey jerseys (customizable with your choice of number and NOB, of course), as well as new Uni Watch socks and stirrups. In order to get in on these items, you must place your pre-order by March 31 (that's next Wednesday). You can do that here. We expect the finished product to ship out by the end of April.
Meanwhile: Todd Radom and I had recently found a small stash of our limited-edition 2018 "Rain Check" print that we had set aside for promo purposes and then forgotten about. These are all signed by both Todd and myself: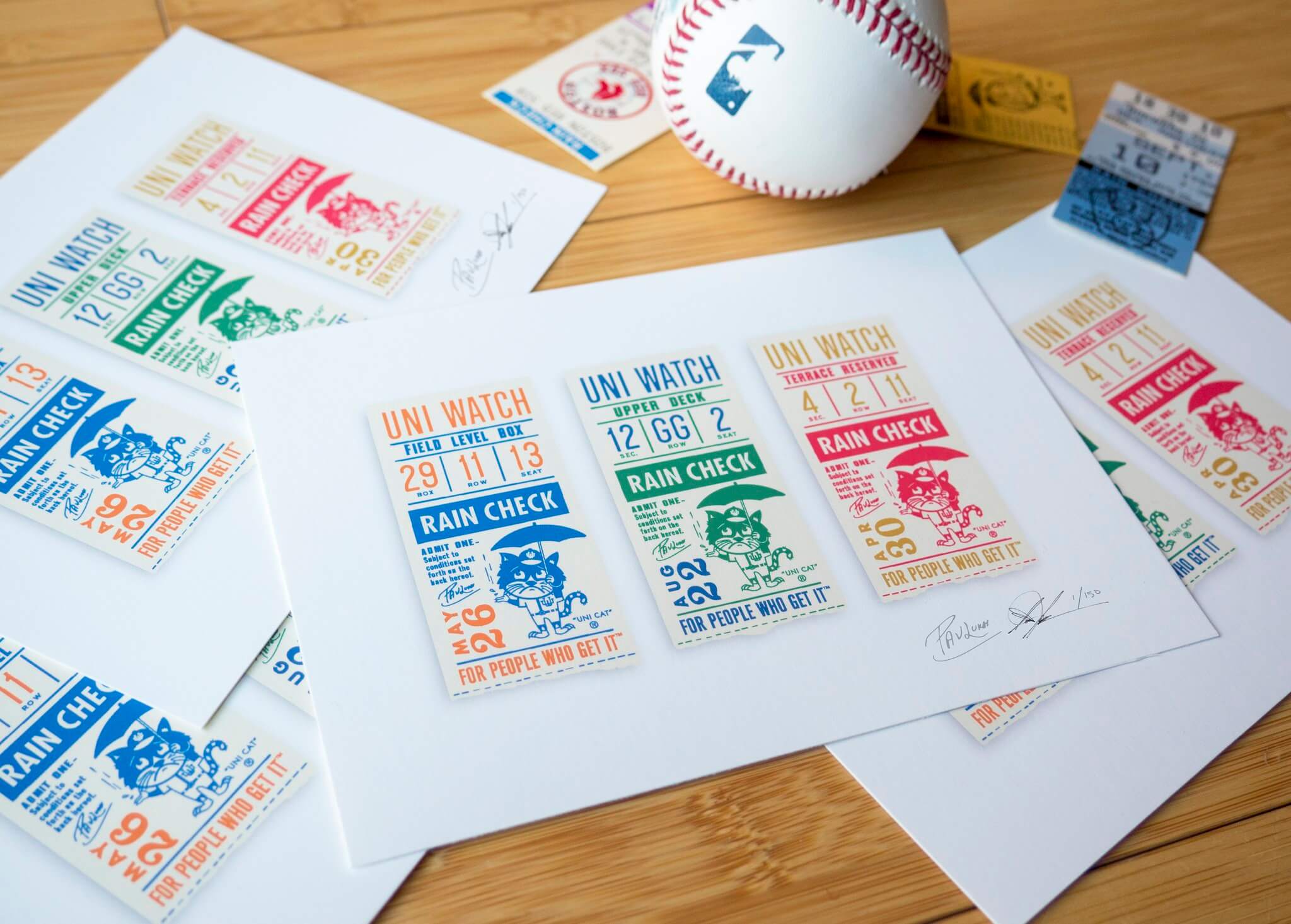 These are available while supplies last on Todd's website.
My thanks, as always, for your consideration.
• • • • •
• • • • •
The Ticker
By Anthony Emerson


Baseball News: Reader David Scherzer came across a childhood copy of The Great Baseball Fun Book, which included an amusingly crude mock-up of the White Sox's 1982 beach blanket design. … Here's an interesting pic of White Sox slugger Frank Thomas wearing football cleats during a game in what appears to be the Oakland Coliseum. Did he do this often? Did other players? (Great spot by Jimmy Barbarossa.) … The Appalachian League's newest team will be called the Princeton WhistlePigs (from Kary Klismet). … Broadcaster Rick Sutcliffe wore an ESPN pullover while working a non-ESPN game yesterday, so he covered up the ESPN logo with some tape (from Todd Brommelkamp).

Hockey News: The Blues have added a memorial decal for Bob Plager, who died on Wednesday (thanks to all who shared). … The Ontario Hockey League is soliciting submissions for a fan-designed sweater to be worn by one unspecified team (from Wade Heidt).

NBA News: In the wake of yesterday's NBA trading deadline, which resulted in a flurry of deals, Nicklaus Wallmeyer sent along a handful of media outlets' Photoshops of traded players, including Aaron Gordon as a Nugget, Nikola Vučević as a Bull, Rajon Rondo as a Clipper, Lou Williams in an old Hawks uni, and Victor Oladipo on the Heat. … Another traded player, G/F Evan Fournier, will wear No. 94 with the Celtics, becoming the first Celtic ever to wear that number. It's a number he previously wore with the Nuggets for two seasons, and Fournier remains the only NBA player to ever wear it (from Etienne Catalan and Cameron, who didn't give their last name). … In another first, F Nemanja Bjelica will become the first Heat player to wear No. 70. … Lots of additional NBA uni number news on Etienne Catalan's Twitter feed.

Soccer News: The Seattle Sounders have officially unveiled their new second jersey, claiming inspiration from Jimi Hendrix (from @ZayAnthony87). … A couple of posts on the Museum of Jerseys blog featured some Irish soccer jersey history, from a failed attempt by the national team to introduce a design similar to West Germany's legendary 1988-1992 away kit to a rare orange shirt worn by the national team in 1997 and '98 (from our own Jamie Rathjen). … Also from Jamie, Spain's women's league will be recognized as professional by the Spanish government, and will be renamed as Liga Ellas. … Hmm, are Pelé and Jair Marinho wearing the same sweater in this shot of them attending a match at the 1962 World Cup? Could it be team-issued, even without the traditional Brazilian colors of green and canary yellow? (From Aled Thomas.). … The rock band Weezer's Matt Sharp wore a Barcelona jersey in the music video for the band's single "El Scorcho" (from Patrick Andres).

Grab Bag: Not sure if we had this earlier in the month, but the FIA has dropped Formula 1's one-helmet rule, allowing drivers to adopt different helmet designs throughout the season (from Clayton Johns). … Speaking of F1, their official YouTube account has posted a video of drivers discussing why they chose their car numbers (from Jeremy Brahm). … New logo for Athletics Canada (from Kary Klismet and Wade Heidt). … Russia will unveil their Summer Olympics uniforms in April (thanks, Phil).
• • • • •
• • • • •
• • • • •
I'm getting my second vaccination shot later today. Here's hoping I don't have any serious side effect — wish me luck!
Stay safe and sane, happy Passover to all who are celebrating tomorrow night, enjoy Phil's weekend content, and I'll see you back here on Monday. — Paul