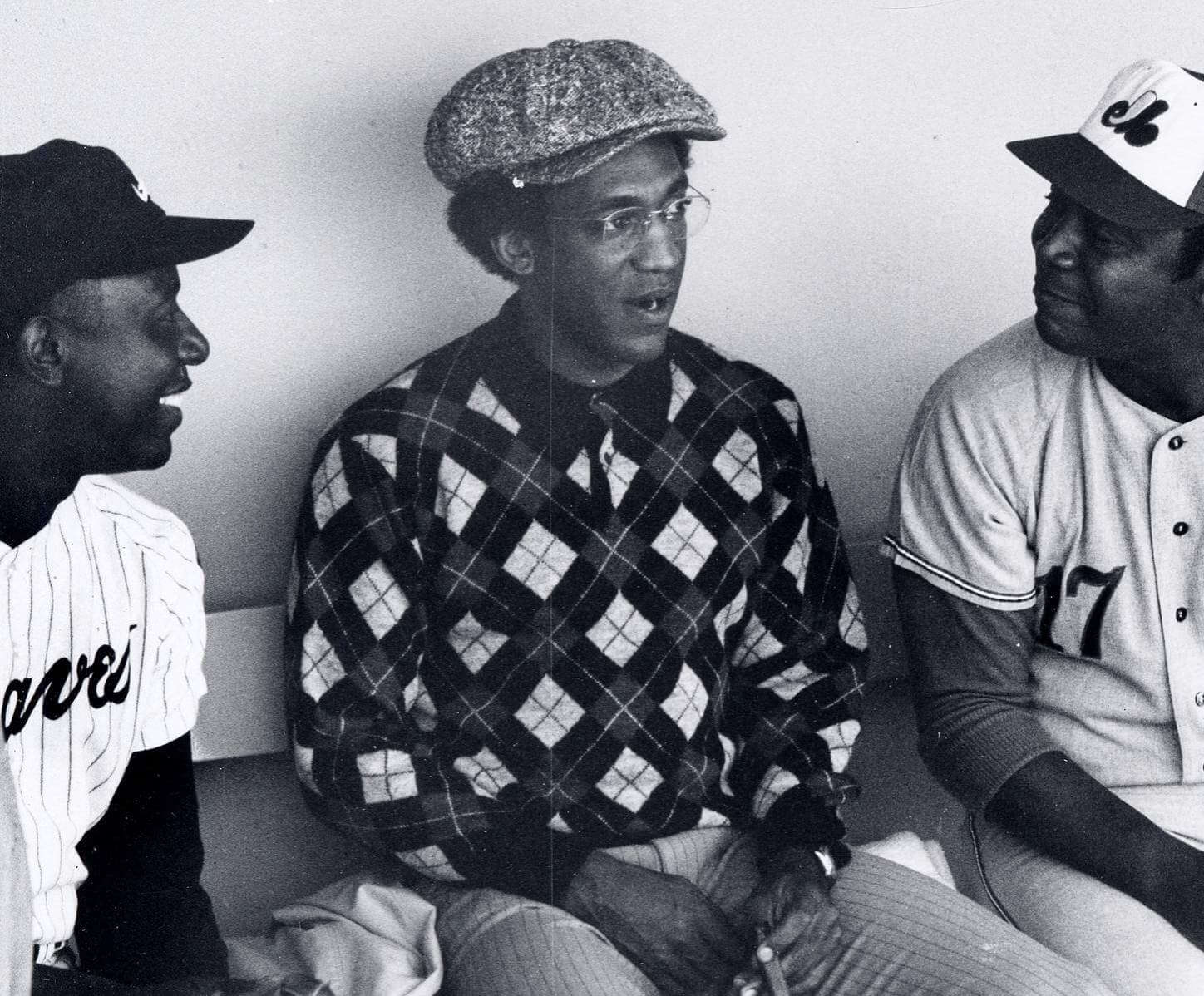 For all photos, click to enlarge
Good morning! Greetings from Uni Watch HQ, where all three inhabitants continue to be safe and well. Hope things are good at your home too.
On Friday I wrote about the East-West Baseball Classic, a benefit all-star game to honor the life and legacy of Martin Luther King, which took place 51 years ago yesterday. Since that piece was published, a number of readers have come up with additional photos from the game, many of which are uni-notable, so we're going to go over those in a follow-up blog entry today.
Let's start with the photo shown above, which I initially found very confusing. That's Henry Aaron on the left and now-disgraced comedian Bill Cosby in the center. But who's the Expos player on the right?
Some quick info before we answer that question:
• The team format for this game was East vs. West, not American League vs. National League. The Braves were part of the West squad (presumably because they were part of the NL West at the time, none of which makes any sense but that's just how things were set up) and the Expos were on the East. Since the game was played at Dodger Stadium, the West was the home team, so it makes sense that Aaron, as a West player, was wearing his home uniform and that the unidentified Expos player, as a member of the East, was wearing his road uni. But it doesn't make sense that they'd be in the same dugout.
• According to the program, the two Expos representatives in the game were Ron Fairly and Rusty Staub. Both of them were White, so our mystery Expo must have been someone else.
• According to Baseball Reference, the only player to wear No. 17 for the Expos in 1970 was pitcher Bill Dillman (who is White, so he's clearly not our mystery man). But he didn't make his 1970 debut until May 21 — nearly two months after the East-West Classic — so No. 17 would have been available for someone else to wear in late March.
At first I thought maybe one of the West players, such as Tommy Harper of the Pilots/Brewers, misplaced his uniform and was forced to wear something else as a stopgap. But an Expos road uni seems like a really odd thing to be used as a stopgap at Dodger Stadium — like, why would that uni even have been on hand in the first place?
After kicking this around a bit on social media, I believe the mystery man is Larry Doby, who broke the American League's color barrier in 1947. He would have been 46 at the time of the East-West Classic and was serving as a minor league instructor with the Expos that season. Tom Verducci's recent Sports Illustrated article about the East-West Classic, which I referenced several times in Friday's post, mentions that Doby was "in uniform" for the event, although it doesn't mention which uniform he was wearing, or in what capacity he was serving. I figured he must have been one of the East coaches, but he wasn't. The program, however, does include a note that thanks several people, including "Mr. Larry Doby of the Montreal Expos," for "their desire to participate" in the event.
So maybe Doby was just on hand in an honorary capacity, because he wanted to be there. That would help explain why he was was fraternizing with Aaron in the opposing team's dugout.
Doby became part of the Expos' big league coaching staff in 1971 and remained in that capacity through 1973, so there are plenty of early-1970s pics of him wearing an Expos uniform, but they all show him wearing No. 14 (as seen here, here, and here), which is the same number he wore for most of his playing career. So if he's the mystery man alongside Cosby and Aaron, why was he wearing No. 17?
Answer: Because second baseman Marv Staehle wore No. 14 for the Expos in 1969 and '70, so Doby's preferred number wasn't available and he apparently had to wear No. 17 instead. The dugout shot of him, Cosby, and Aaron might even be the only extant photo of him wearing a No. 17 Expos uni! (Staehle moved on to the Braves in 1971, clearing the way for Doby to claim No. 14 when he was elevated to the major league coaching staff.)
Phew — that's a lot of analysis for one photo!
In addition:
• Here's a shot of Tom Seaver — listed as "Tommy" in the caption! — batting in the second inning. Note that he appears to be wearing a Pirates batting helmet: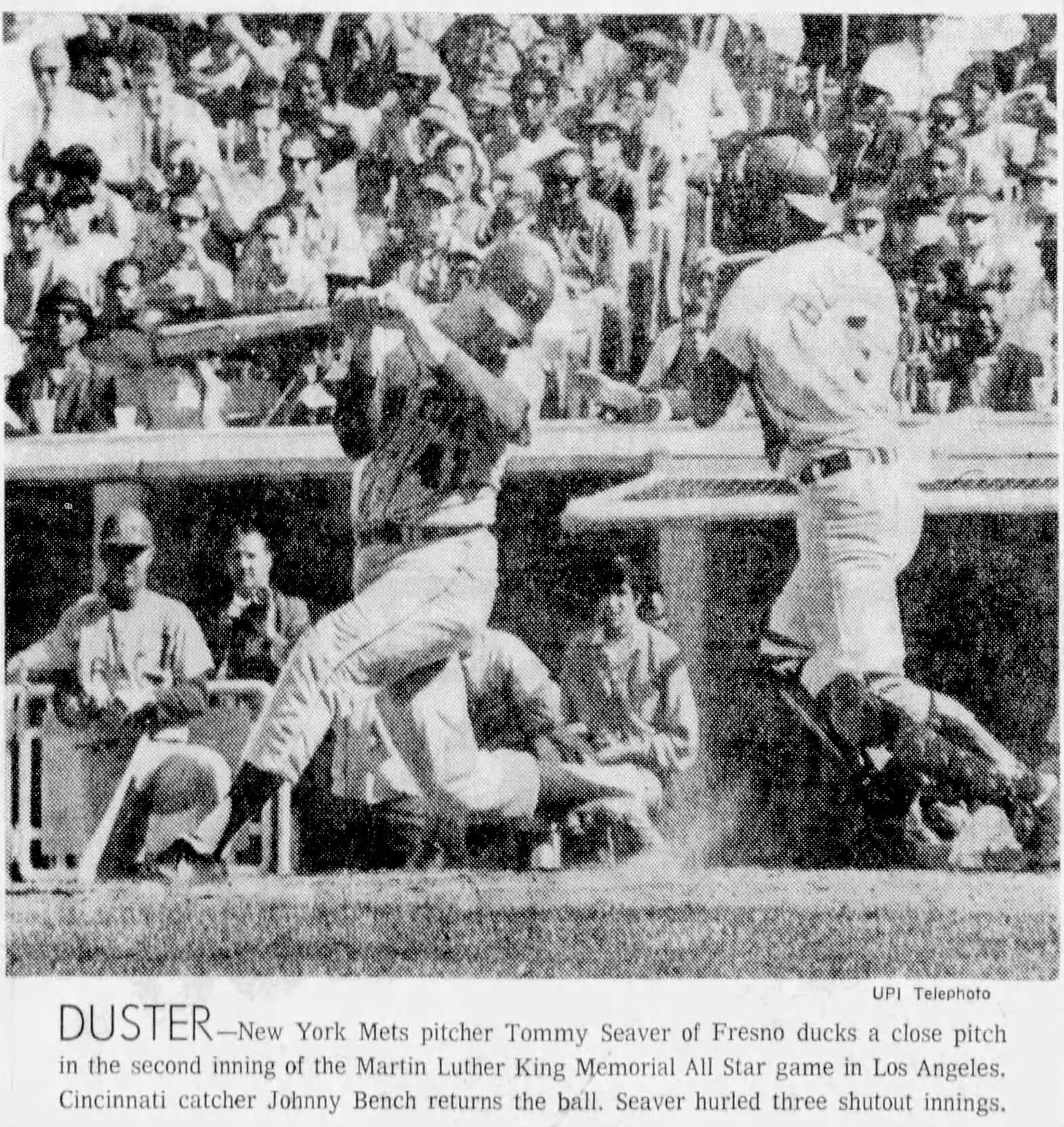 Of course, players (especially pitchers) having to borrow someone else's batting helmet is a time-honored tradition in the MLB All-Star Game, so it's not surprising that it happened in the East-West Classic as well.
• Here's a shot of Sal Bando (West team) batting against Bob Gibson (East team):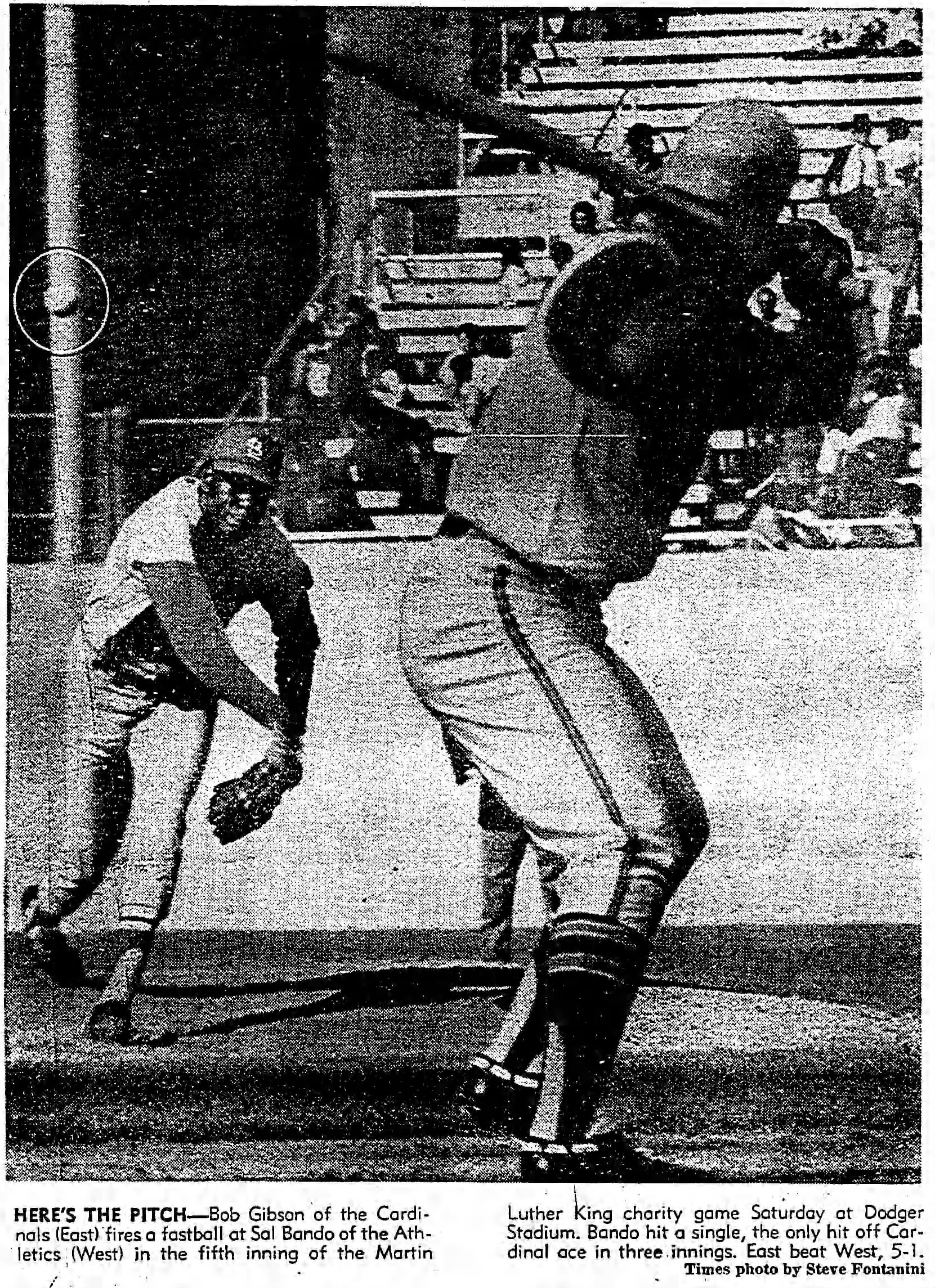 • In Friday's post, I mentioned that Coretta Scott King threw out the first pitch. Here's a shot of her having a post-pitch handshake with Reds catcher Johnny Bench (again, the West was the home team, and Bench was their starting catcher, so that's presumably why he got to do the honors):
Note that Mrs. King and the woman sitting next to her are wearing buttons that mimic the game's program cover artwork.
• According to the caption, this next shot, which appeared in the July 1970 issue of Sport magazine, supposedly shows Mrs. King giving "a book detailing her late husband's beliefs" to Curt Blefary: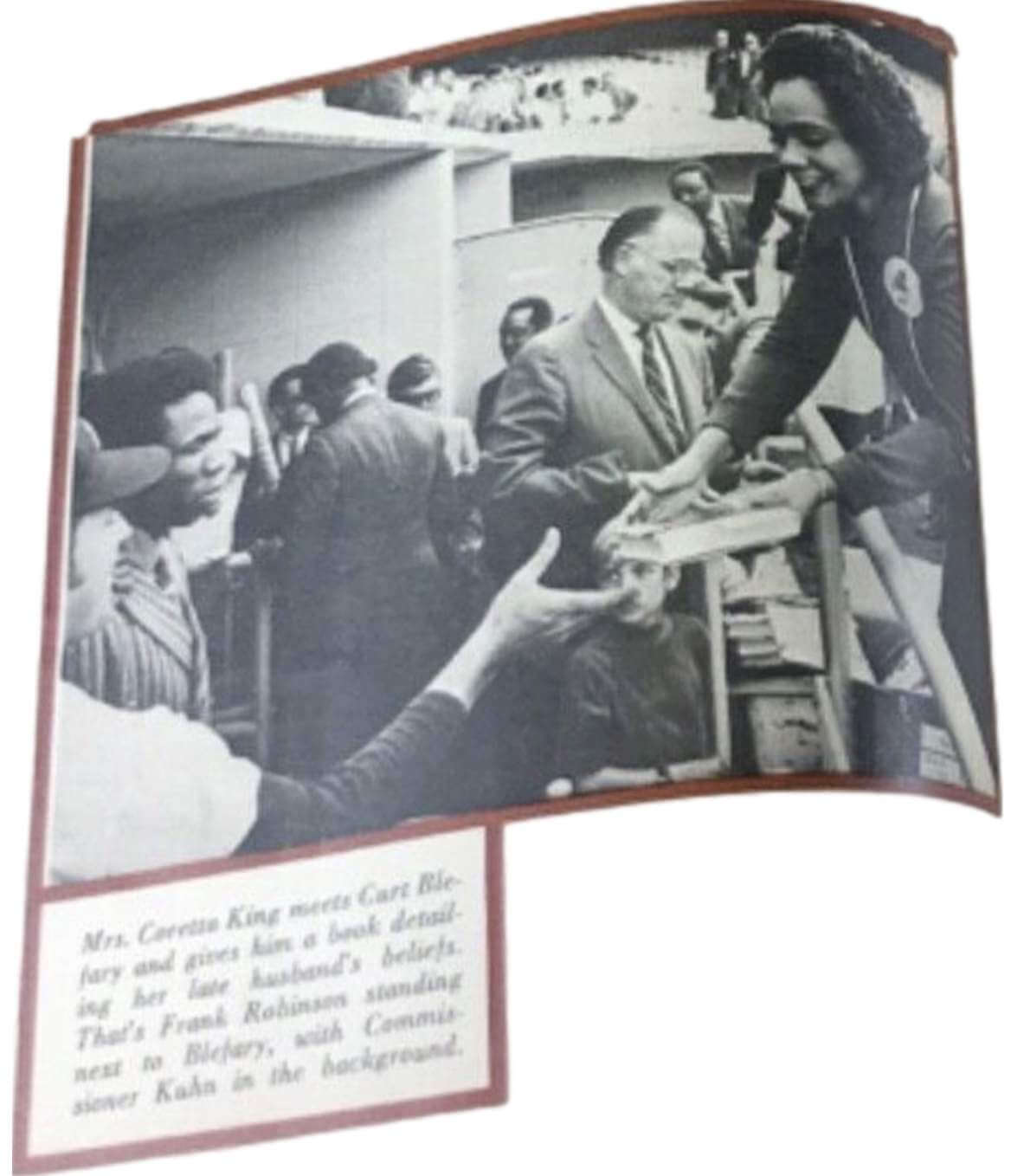 I question that caption, because Blefary isn't listed in the program as one of the East-West Classic's participants, but maybe he was a late addition to the roster.
Either way, that does indeed appear to be Frank Robinson (just as the caption says) standing next to the book recipient. Odd that he'd be wearing a suit instead of his uniform. The box score shows that he had one at-bat in the game, so maybe he changed into his civvies and then returned to the dugout after that.
• For reasons that aren't clear, actor Danny Kaye was on hand in a Reds helmet: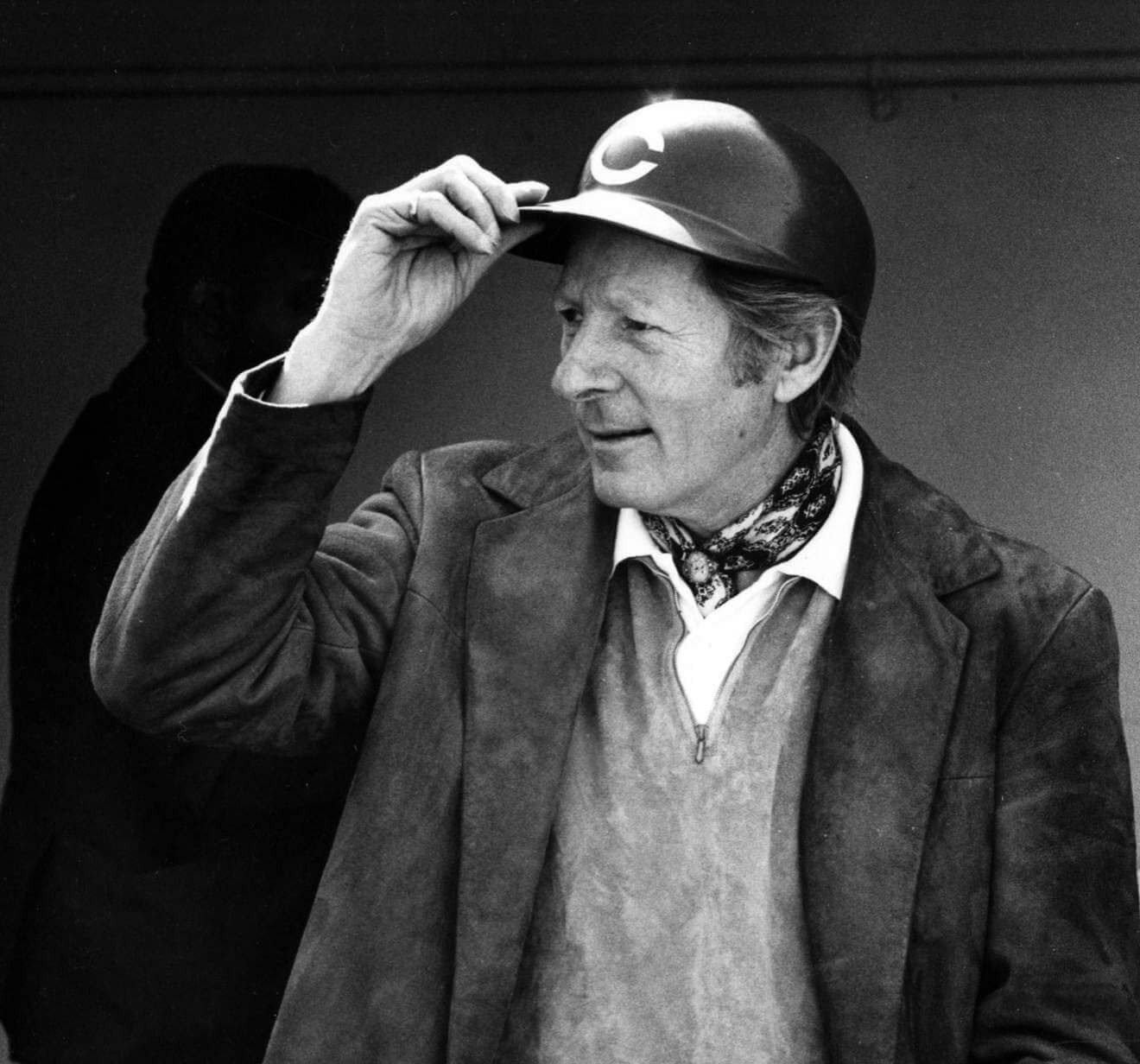 • I don't usually like to post photos that include the Getty Images watermark, but I'm going to do so for this shot of Joe DiMaggio, who managed the East team (while wearing an Oakland A's uniform, paradoxically):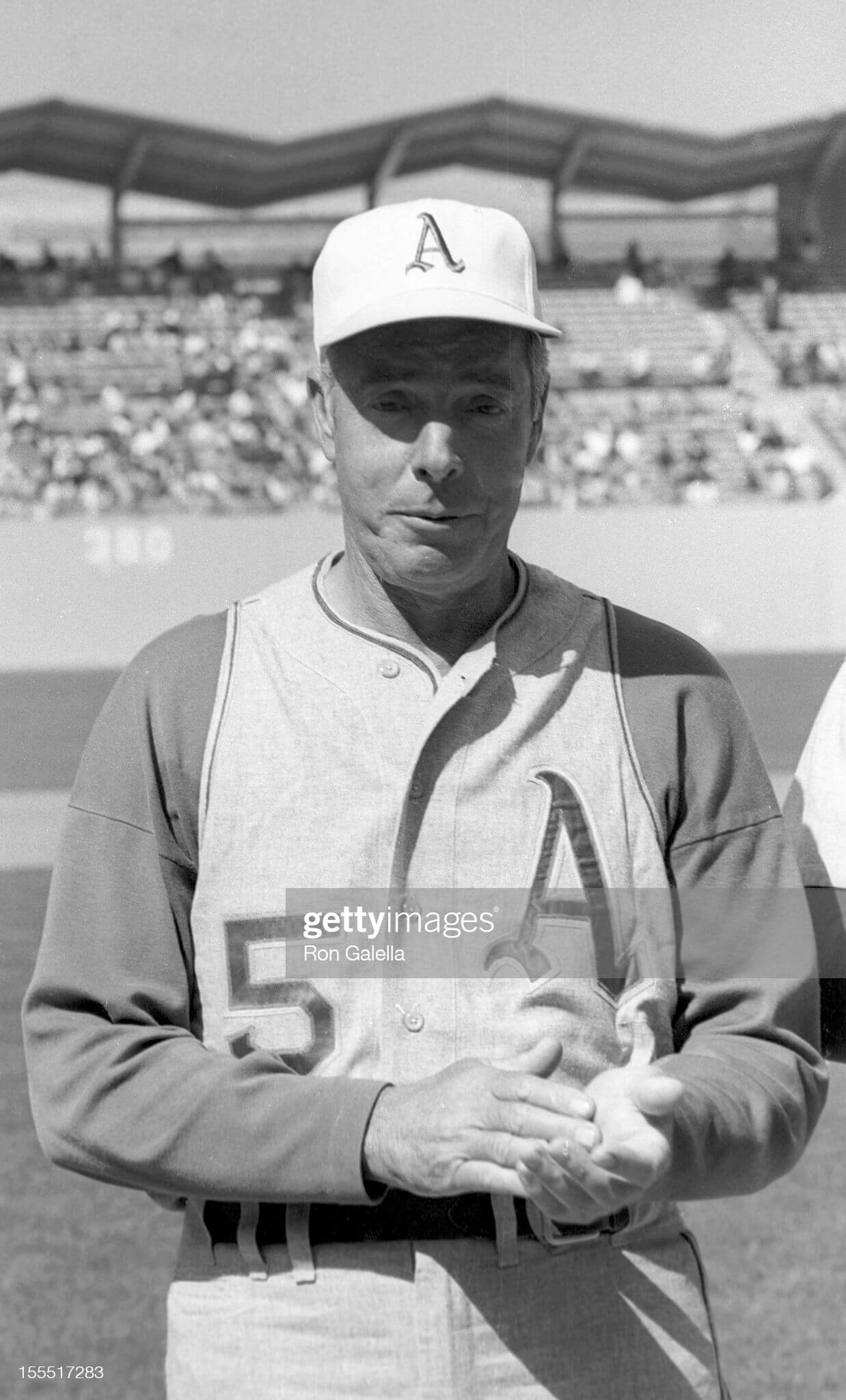 There are several uni-notable details here. First, it was standard for the Oakland manager and coaches during this period to wear white caps (the players wore green), so of course that's what Joe D. wore. Second, look at the crazy drop-shoulders on his undershirt! Third, note that he's wearing his belt buckle way off-center, just as he did during his playing days. That was a common style back in the day, but it's sort of startling to see someone doing it in 1970. I wonder who was the last one to wear his uniform belt this way? And fourth, it's also startling to see the familiar Dodger Stadium outfield architecture behind DiMaggio, a career American Leaguer. I wonder how many times in his life he was there?
• Months later, in July 1970, at least some of the players who participated in the game were awarded medallions by the Southern Christian Leadership Conference: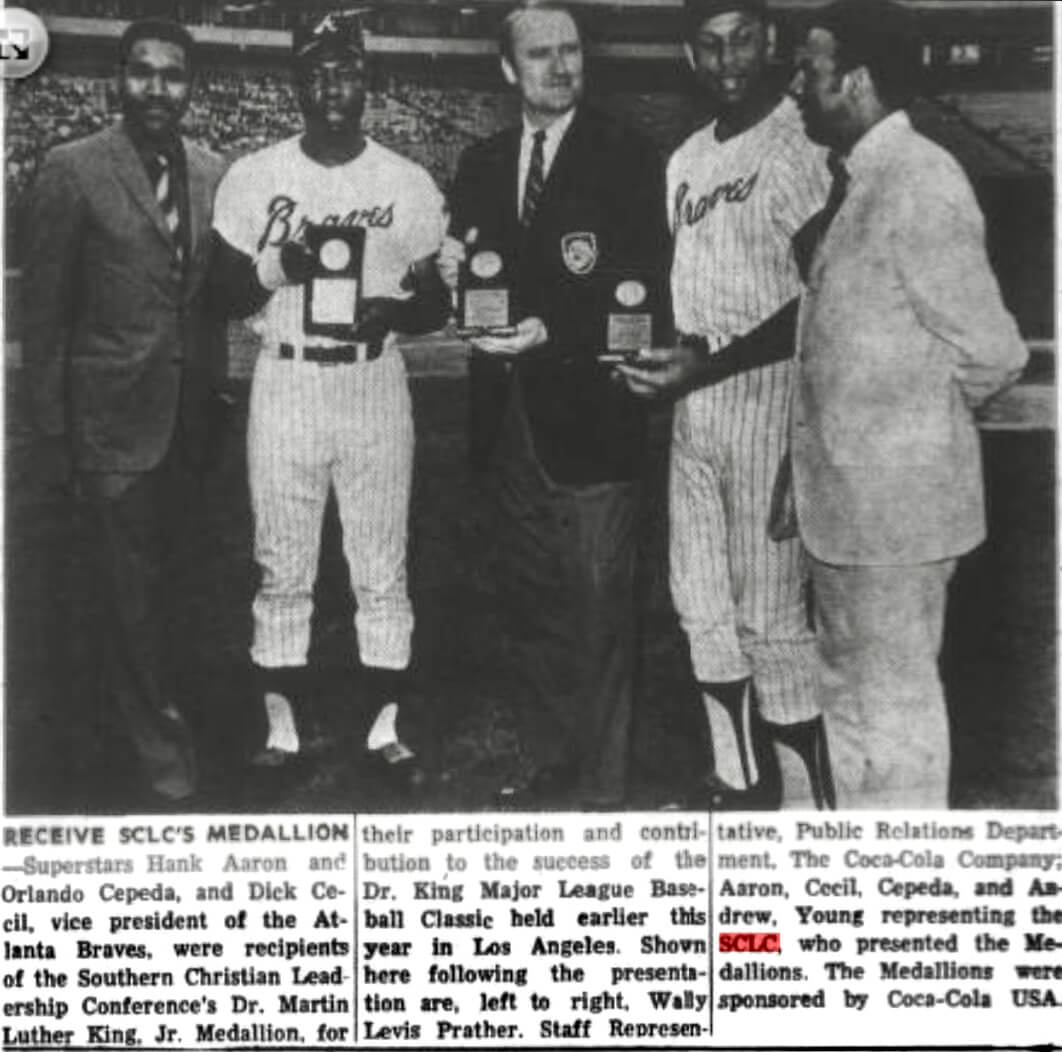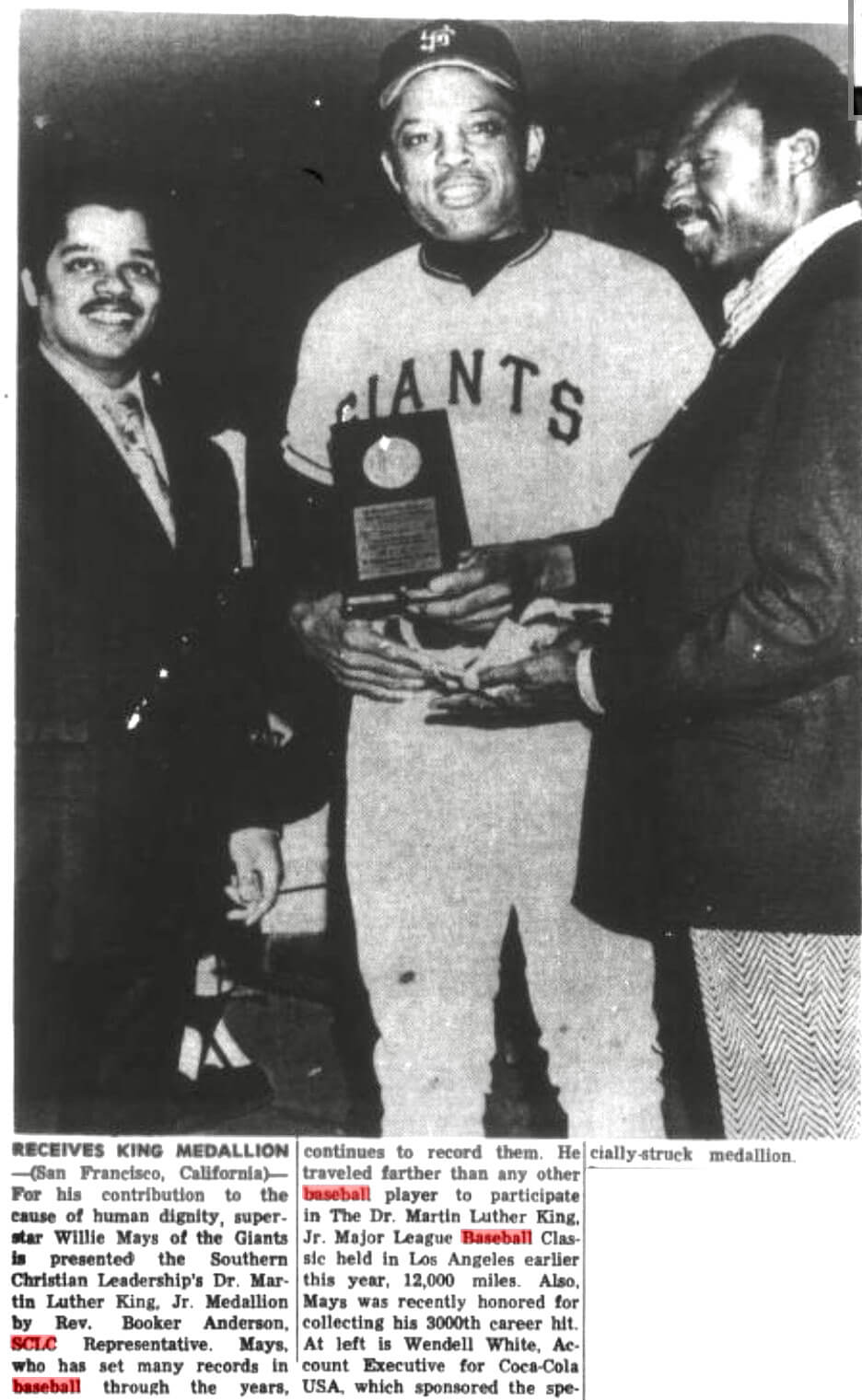 That's it, at least for now. If any additional photos emerge, I'll definitely share them here. So interesting to be learning about this game that I'd never heard about until recently!
(Big, big thanks to James Gilbert, Marcus Hall, Chris Hickey, Bill Schaefer, and Jay Vandevoort for their photo contributions; to Jon Becker for his help in identifying Larry Doby; and to Steve Dodell for putting the East-West Classic on my radar in the first place.)
• • • • •
• • • • •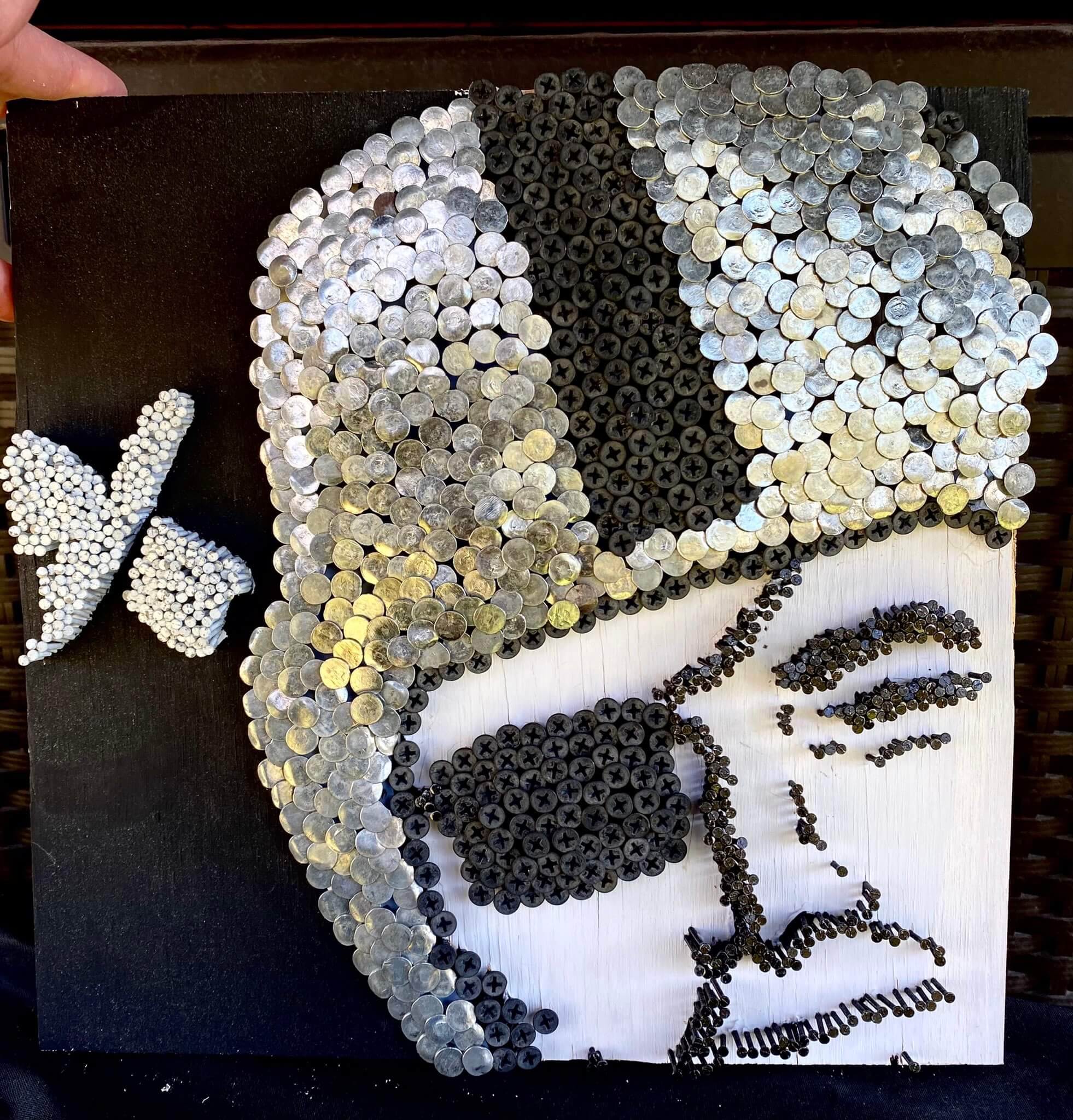 Click to enlarge
Tough as nails (literally): Check out this DIY Raiders logo made of finishing nails and drywall screws. It was made by Twitter-er Mike Summo, who recently posted several photos of it. "I wanted to experiment with some leftover nails from a housing project, and the Raiders came to mind because of the silver," he says. "It took me a couple of weeks to complete, as it was taxing on my wrists to hammer all those nails!"
Here are a few more shots: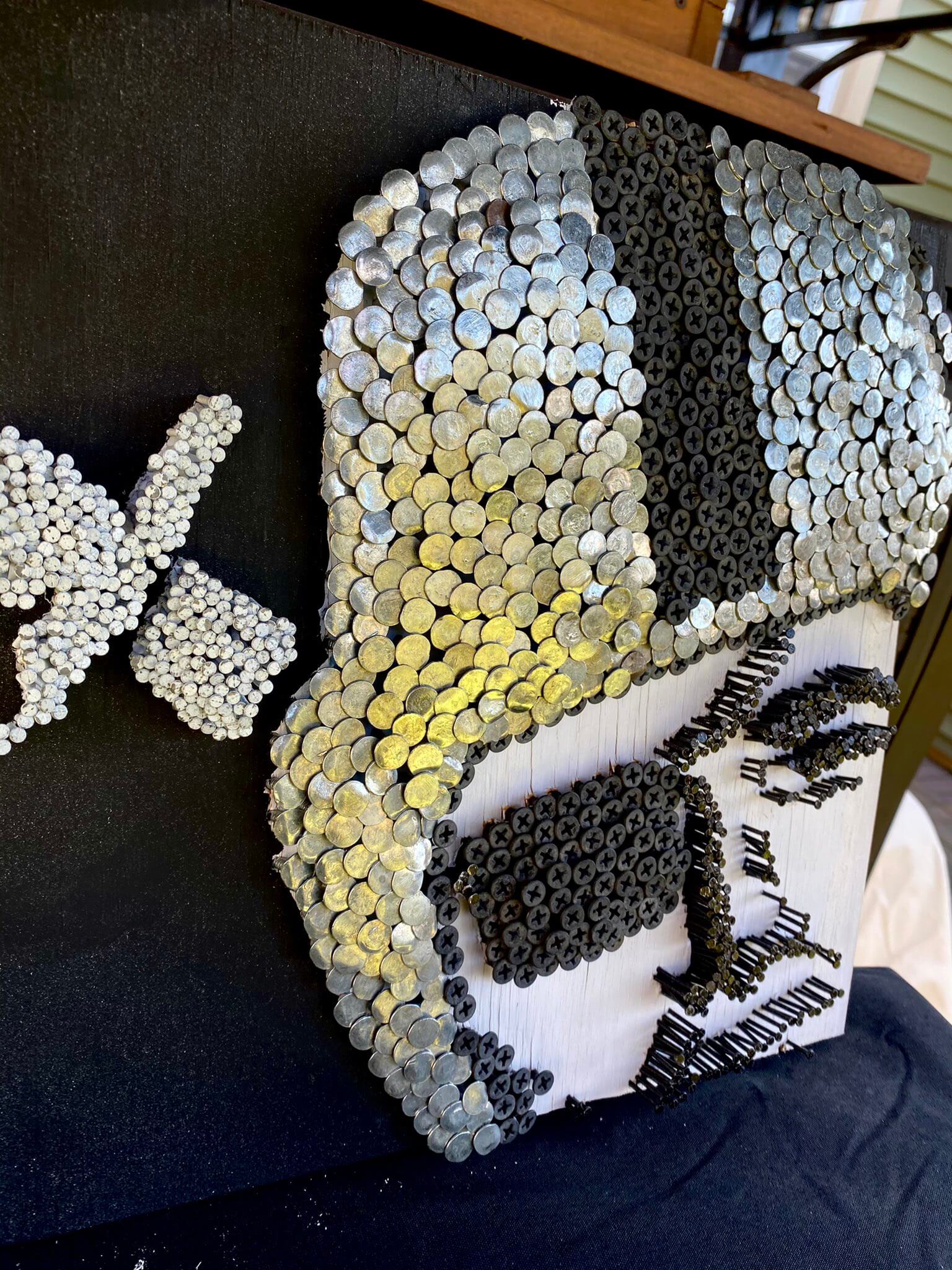 Isn't that great? I especially like how the silver nail heads overlap each other. I've never seen any "hardware art" quite like this before, at least not for anything sports-related. Really interesting!
Of course, it's easier to do for the Raiders than it would be for most other teams, because silver and black are common hardware colors. Good luck trying to do something similar for, say, the Vikings, right?
Wrong: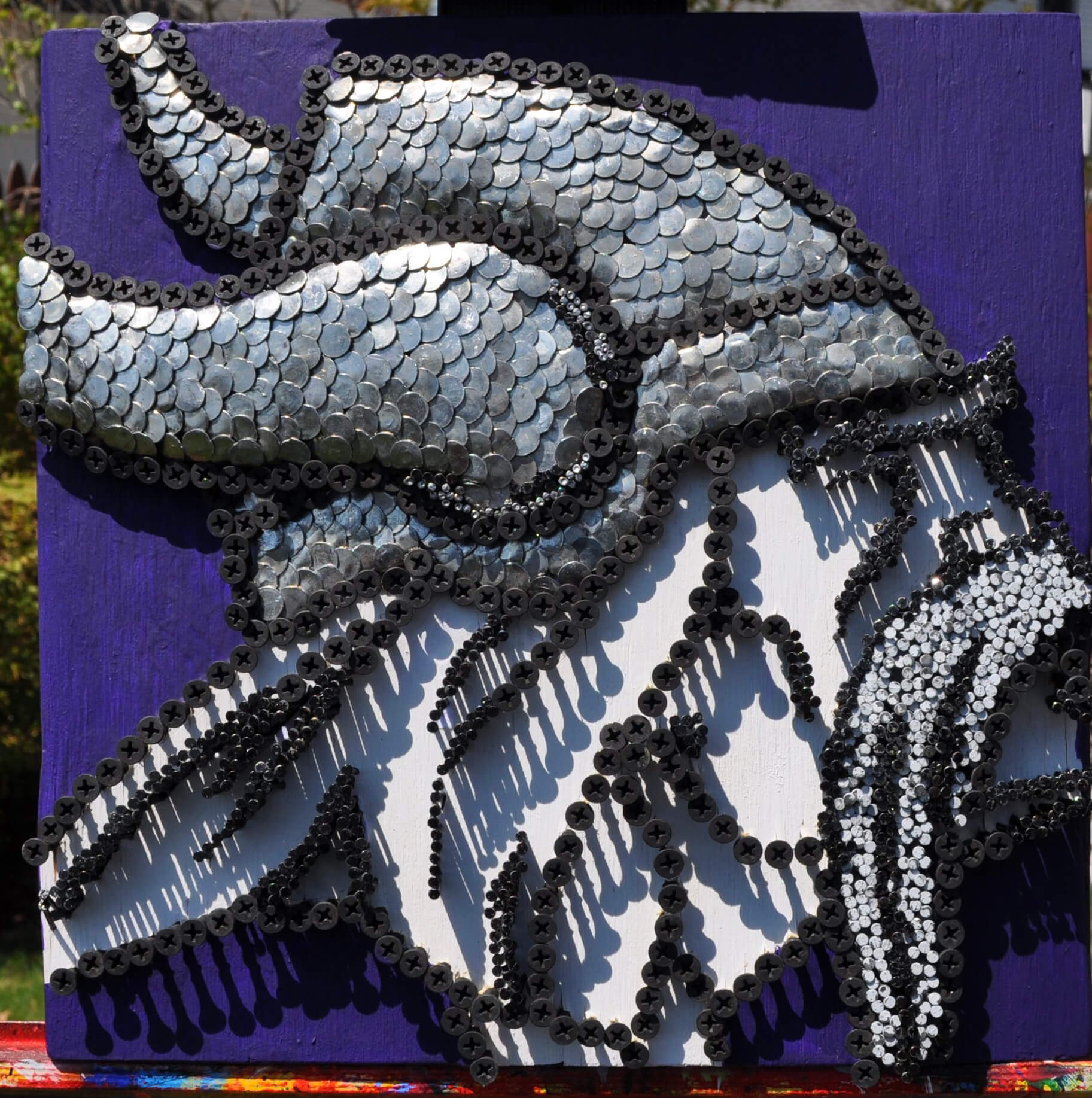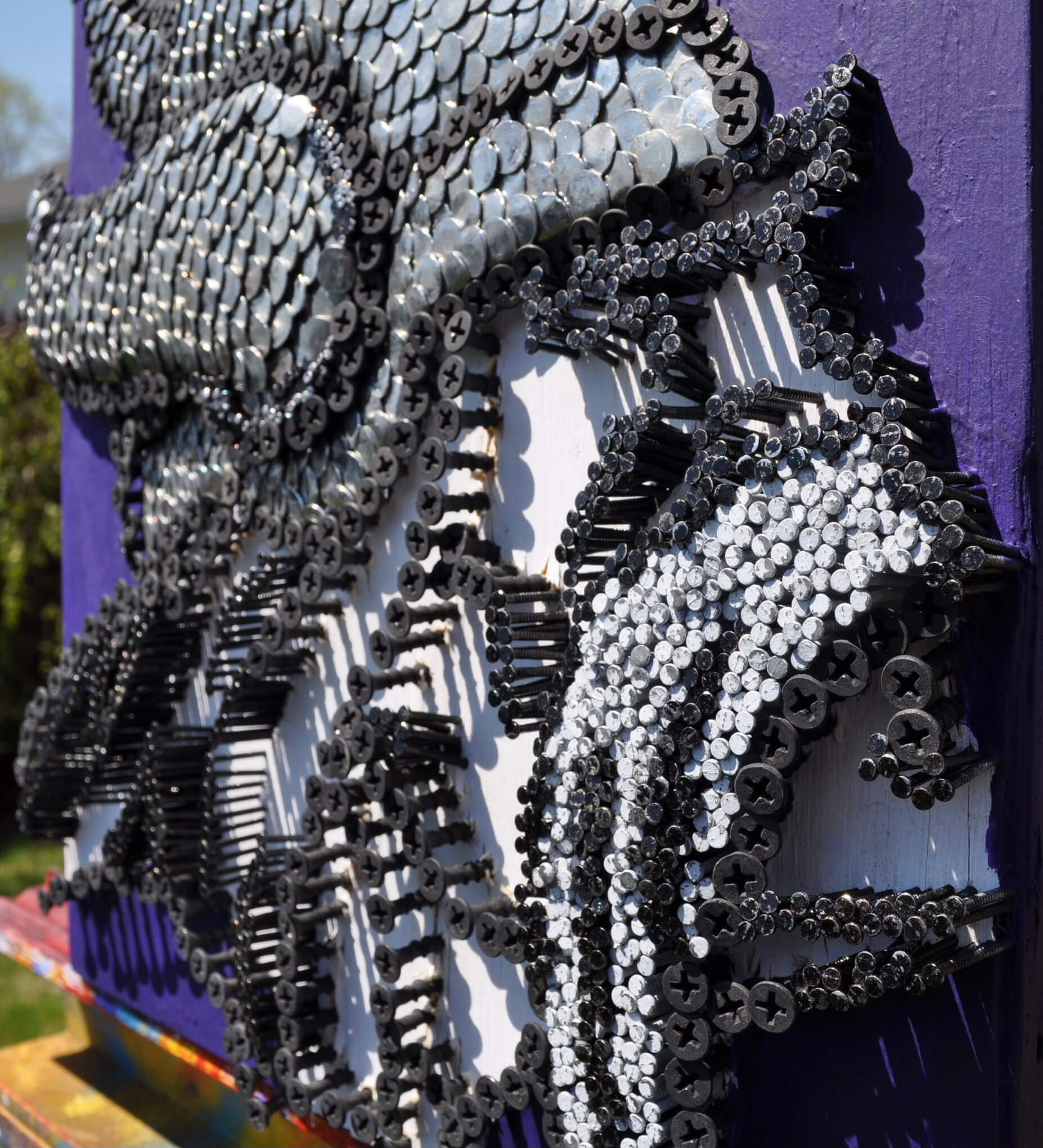 Mike has a bunch of other interesting projects that's he's been showing me, so expect to see more of him here on Uni Watch in the weeks to come. Big thanks to him for sharing his creativity with us!
• • • • •
• • • • •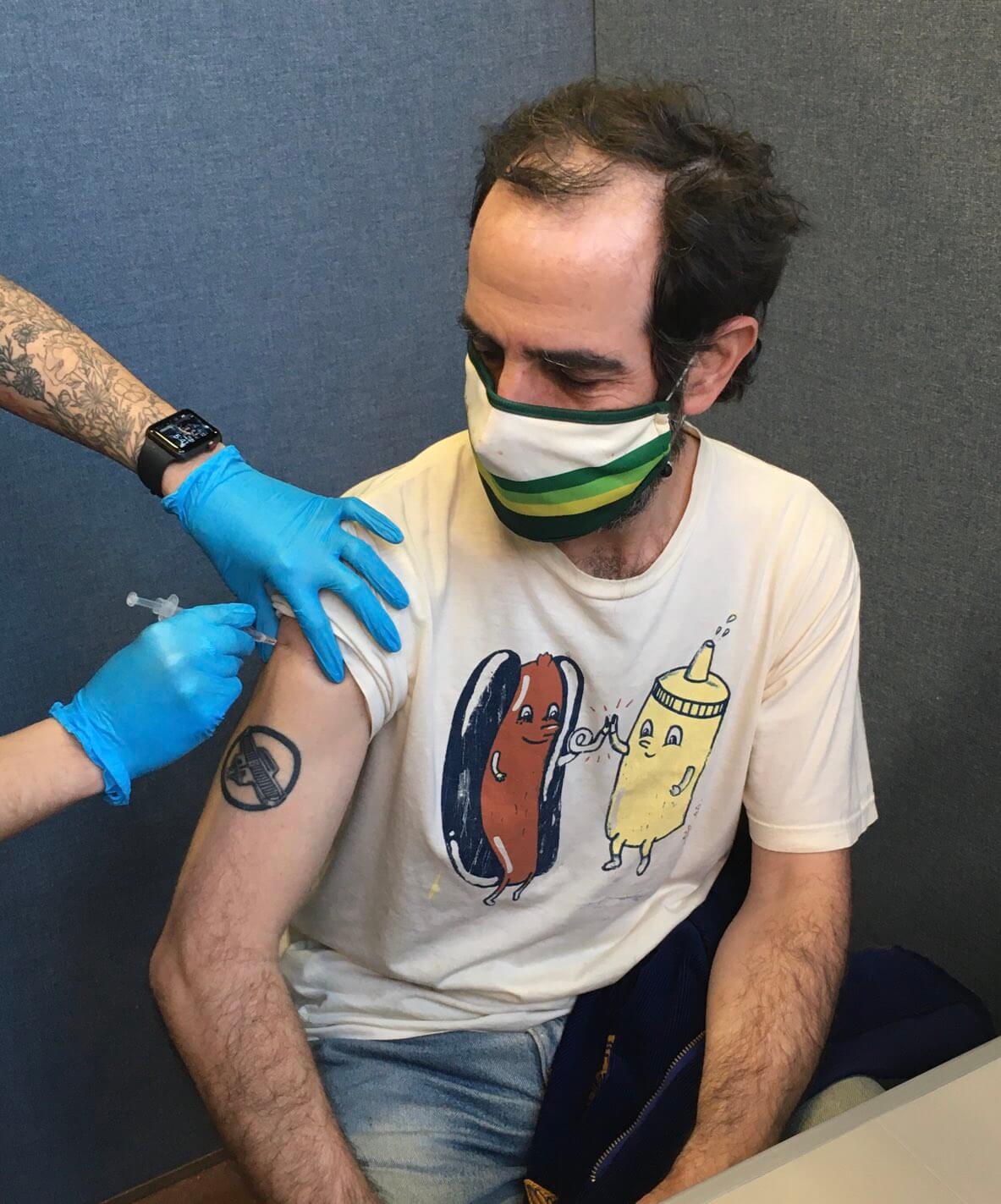 Click to enlarge
Two of two: Received my second Pfizer vaccination shot on Friday (and had exactly zero side effects afterward, yee-haw!). Once again, I was inexplicably the only person wearing a Uni Watch mask, go figure.
The vaccination took place in the gymnasium at Medgar Evers College in Brooklyn, about a 20-minute bike ride from Uni Watch HQ. There was a sign at the front of the gym indicating that they'd vaccinated 90,000 people so far at that facility. Then, while I was doing the mandatory 15-minute wait after receiving the shot, this happened:
The applause was a particularly nice moment of grace.
• • • • •
• • • • •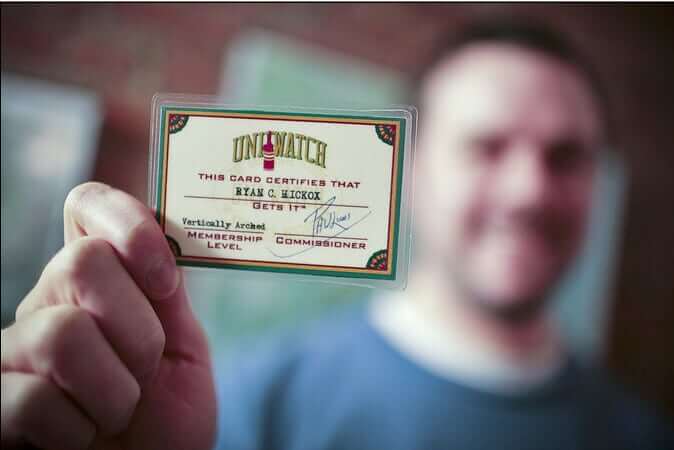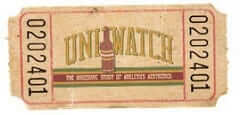 ITEM! Another membership raffle: Ticker-contribution stalwart Kary Klismet recently donated funds for a new membership raffle, so that's what we're going to do today.
This will be a one-day raffle. No entry restrictions. To enter, send an email to the raffle in-box by 8pm Eastern tonight. On entry per person. Good luck!
• • • • •
• • • • •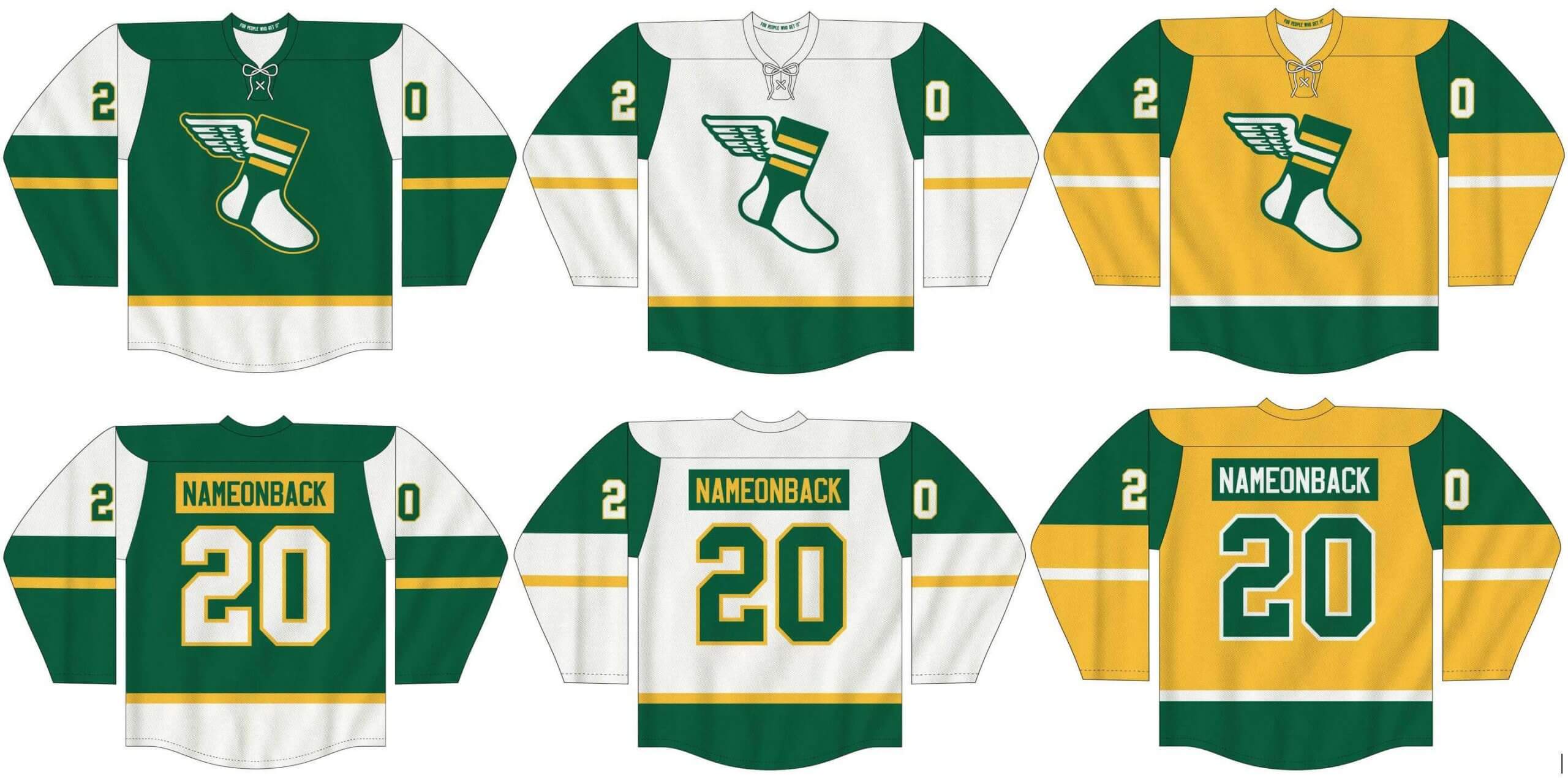 Click to enlarge
Going, going…: Just a few days left to get your pre-orders in for our new Uni Watch hockey jerseys (customizable with your choice of number and NOB, of course), socks, and stirrups. Or, to put it another way, just a few days left for you to have to read this particular reminder each day!
In order to get in on these items, you must place your pre-order by this Wednesday, March 31. You can do that here. We expect the finished product to ship out by the end of April.
My thanks, as always, for your consideration.
• • • • •
• • • • •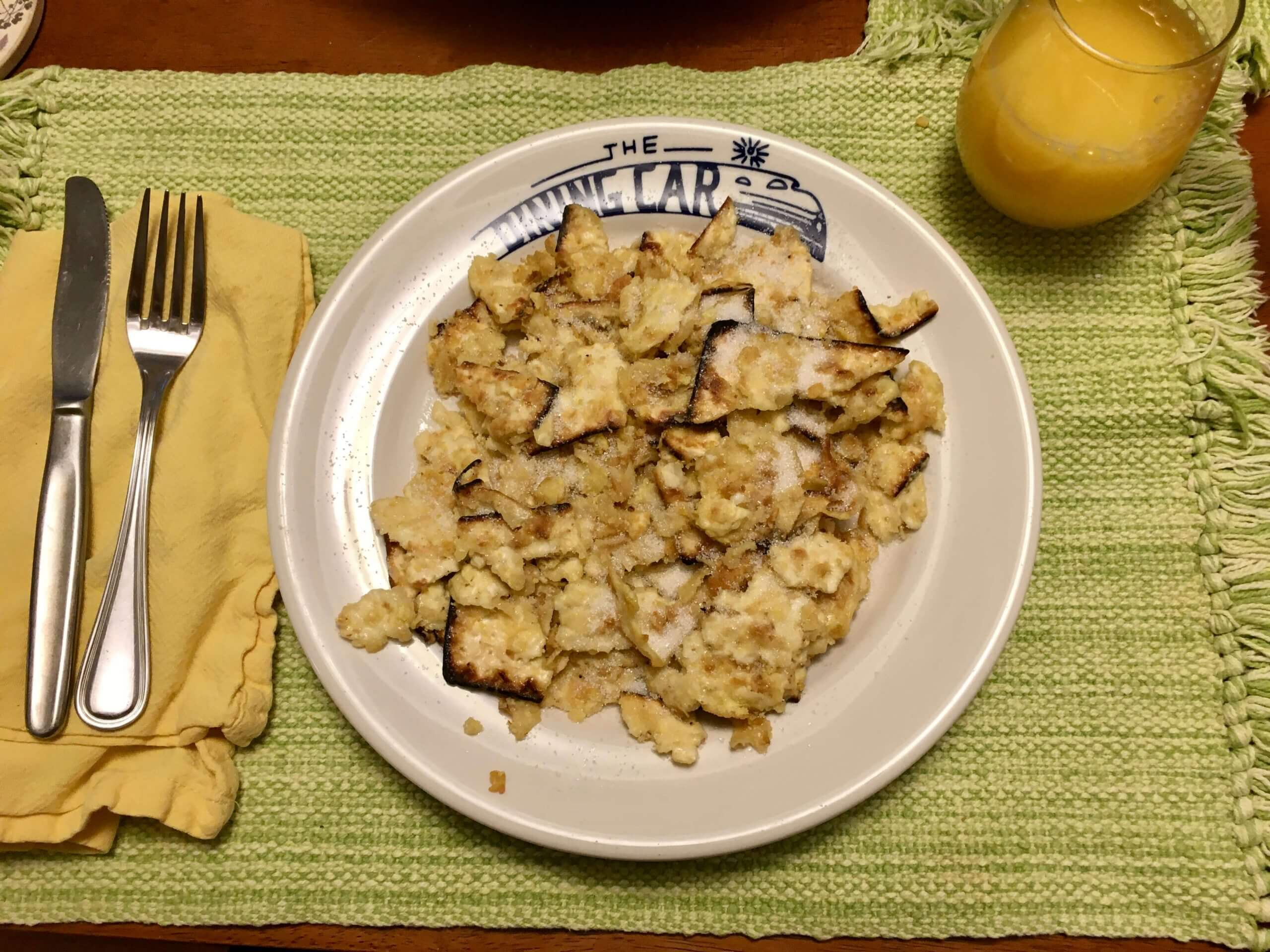 Culinary Corner: Passover started on Saturday night, which means it was time to make matzo brei on Sunday morning. It's about the only Jewish thing I was raised to do, and I've kept on doing it all these years. You can make it anytime, of course, but I save it for Passover, so it has those extra flavors of ritual and nostalgia.
There are a million ways to make matzo brei, but there's only one right way, and that's the way your mother made it. For me that means the following:
1. Take three sheets of matzo per adult (maybe a bit less for kids) — preferably Streit's, in the "Kosher for Passover" pink box — and break them up into small-ish pieces, a few inches per side. Put the pieces in a bowl and fill the bowl with enough cold water so that the pieces are fully submerged. Let the pieces soak for a minute or two — you want them soaked and a bit soggy on the outside but still crisp-ish on the inside — and then drain the water from the bowl.
2. In another bowl, beat some eggs — one egg for every two matzo sheets you're using. Add a pinch of salt to the beaten eggs, then pour over the wet matzo pieces and toss to coat.
3. Melt some butter — at least half a stick — in a large skillet over high heat. When the butter is melted and bubbling, add the egg-coated matzo. Reduce heat to medium and cook, stirring frequently, until the pieces are browned and sizzling, about four-ish minutes.
————
Just about everything I wrote there would be controversial in just about any Jewish household (and so would anyone else's recipe), but that's how I learned to do it. Works for me!
The most controversial part, however, is whether to make the matzo brei sweet (by topping it with sugar, honey, maple syrup, jam, etc.) or savory (salt, pepper, hot sauce, etc.). I come from a sweet household, so I top mine with sugar, as shown in the photo at the top of this section. The Tugboat Captain, however, never ate matzo brei until she met me, and she generally favors savory breakfasts over sweet ones, so she likes to add salt, chopped scallions and Tabasco. I have to admit that her version is more visually appealing, even though it's completely and totally wrong: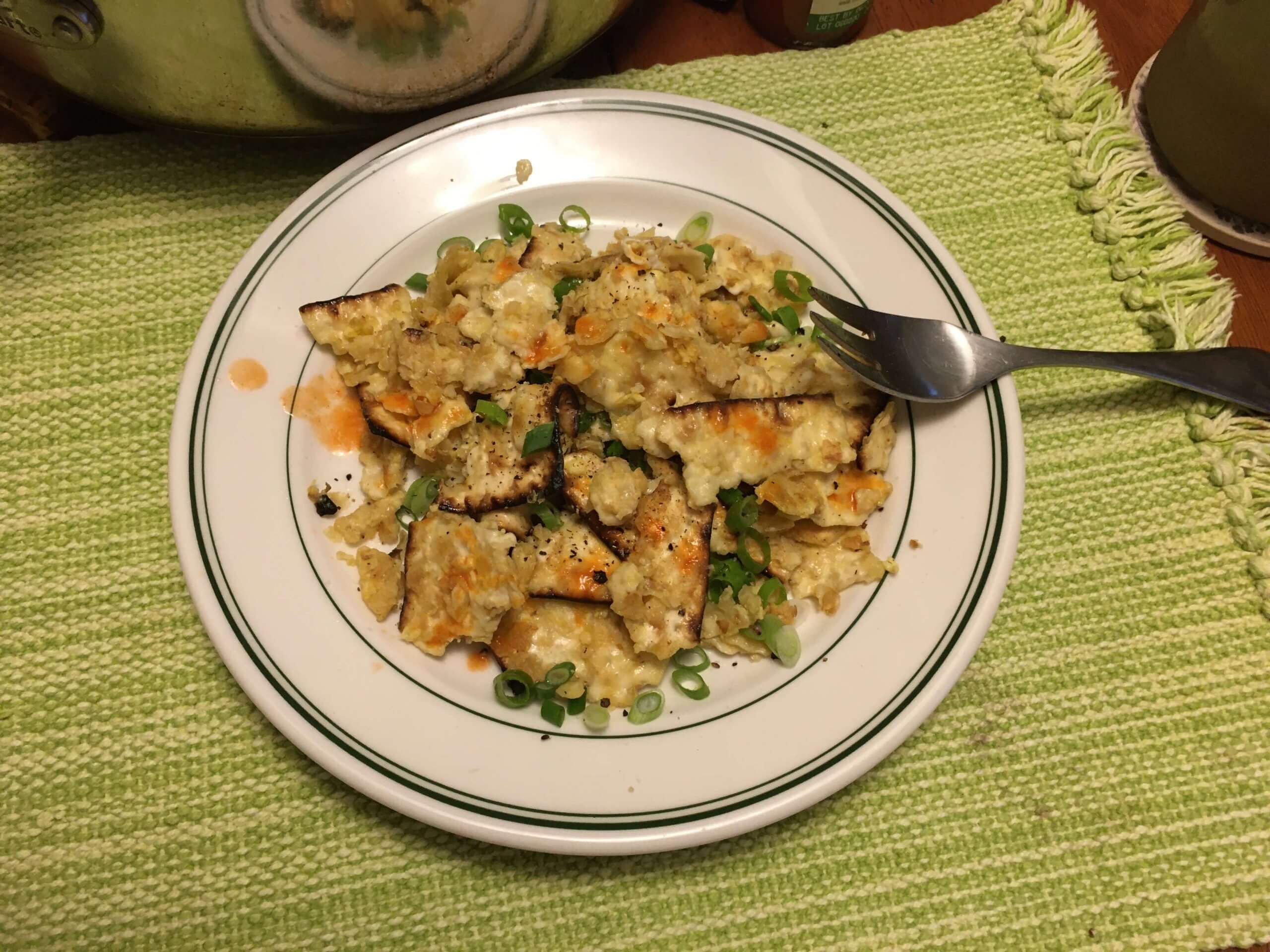 However you like your matzo brei, happy Passover to you. And if you want a little bonus content, here's an article I wrote in 2007 about the Streit's mazto factory.
• • • • •
• • • • •
The Ticker
By Jamie Rathjen

Baseball News: Looks like Marlins Park will get an advertised name this week (from Nick Mueller). … The Washington Post has compiled the seventh-inning stretch music, mascot names, racing characters, and fan rituals for all 30 MLB teams. … Nebraska baseball has a new flag-desecration Sunday alternate — with an American flag chest patch for good measure (from multiple readers). … Reader Kyle Eilts has a replica 2002 Royals jersey and managed to find and sew on himself the sleeve patch they wore that season. … Over a million Covid vaccinations have been administered at MLB ballparks.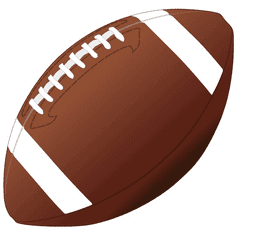 Football News: Rams P Johnny Hekker is active on Reddit and told another user that the team's new alternate probably won't be yellow (thanks, Phil). … The new uniforms that we mentioned FCS Bucknell wearing on Saturday also featured a large off-center helmet logo, with numbers on the other side (from Rocky De La Rosa).

Hockey News: Capitals winger T.J. Oshie has the team logo on his mouthguard (from Max Weintraub). … The bassist of the English band UB40 was wearing a cap with a very Lightning-like logo in 2001, well before that logo was introduced (from Jeff Ingalls)

Basketball News: NBA numerologist Etienne Catalan has more new and changed player numbers. … On the topic of numbers, Nuggets PF Aaron Gordon has a few reasons for choosing No. 50 (from multiple readers). … The Seattle Times reported earlier this month that WNBA teams are supposed to get three new uniforms in April. One of the Mystics' has appeared in a store. It looks like the text on the white part is from the 19th Amendment to the U.S. Constitution, which gave women the right to vote (from @GLB62). … The accents on some UCLA men's players' jerseys don't line up properly (from Matthew Wolfram). … South Carolina G Destiny Littleton was wearing mismatched shoe colors yesterday (from Michael Rich). … "This National Geographic article about the history of basketball has some spectacular photos that help to show the evolution of the sport's uniforms and court designs," says Kary Klismet. … Also from Kary: A new Converse shoe honors the first all-Black starting lineup to win the Indiana boys' state championship, in 1954-55.

Soccer News: The first two items are from men's World Cup qualifiers: The Netherlands wore "Football Supports Change" warm-up shirts, again a reference to Qatar's human rights record. … The qualifiers also have a common sleeve patch (on the left). … Scottish club Motherwell Gets It™: they provided material for a page on their clash kits at Historical Football Kits, a website that is a primarily a database for what clubs in England and Scotland wore at home, but because of what I assume is the difficulty of research, Motherwell is only its 11th clash kit page. … Meanwhile, Motherwell's women's team are to start wearing the logo of a local mental health charity when the Scottish Women's Premier League restarts next week. … USMNT and BSC Young Boys striker Jordan Siebatcheu wears "Pefok," his mother's maiden name, as his NOB. He's worn that throughout his professional career (from Jakob Fox). … If you haven't seen the argyle pattern on the back of one of North Carolina's women's team's shirts — the other two don't have it — now you have (from @DarinWithOneR). … Argentine club Aldovisi's crest features a shark. Their number font is now also shark-themed, and you can see all the numbers and their new shirt here (from multiple readers). … Chile's major competitions now all have variations of the same logo. … Sweden's IFK Göteborg have new shirts. … The Seattle Sounders' new sleeve ad, mentioned here last week, is for the Puyallup Native American tribe. On the first shirt, it's an ad for the Puyallup casinos, but on the second shirt, it's their fish emblem. This article argues that that's preferable compared to Native American team names (from R. Scott Rogers). … New home kit for Boca Juniors (from Trevor Williams).

Grab Bag: One of the Olympic sites with an interesting history is Calgary's Olympic Oval, the speed skating venue in 1988, which had its surface briefly covered over with grass afterwards before being restored for speed skating. … The Olympics account in Spanish posted a side-by-side comparison of men's field hockey games in 1932 — played at the L.A. Coliseum — and 2016. For 1932, note that the umpire is wearing a hat and blazer and it looks like India, the team wearing colored shirts, has pinned-on numbers. … The next four are from Kary Klismet: A Florida high school introduced a female Viking logo for its girls' teams. … Division II Bluefield State has a new mascot and logos. … NAIA Evangel University is retiring its "Crusaders" name. … Here is how Yale found the new incarnation of its bulldog mascot. … Singapore Airlines has one of the longest-lasting flight attendant uniform designs in aviation, but they're now updating the pattern on it (from Jeremy Brahm). … Really interesting article on car paint colors. … The Onion's latest spot-on headline: "NASCAR+ Premium Subscription Features Cars Without Ads." … A new report is calling on sports teams to sever their ties with advertisers and sponsors that are high carbon emitters. … Old golf courses are being turned into e-commerce warehouses.
• • • • •
• • • • •