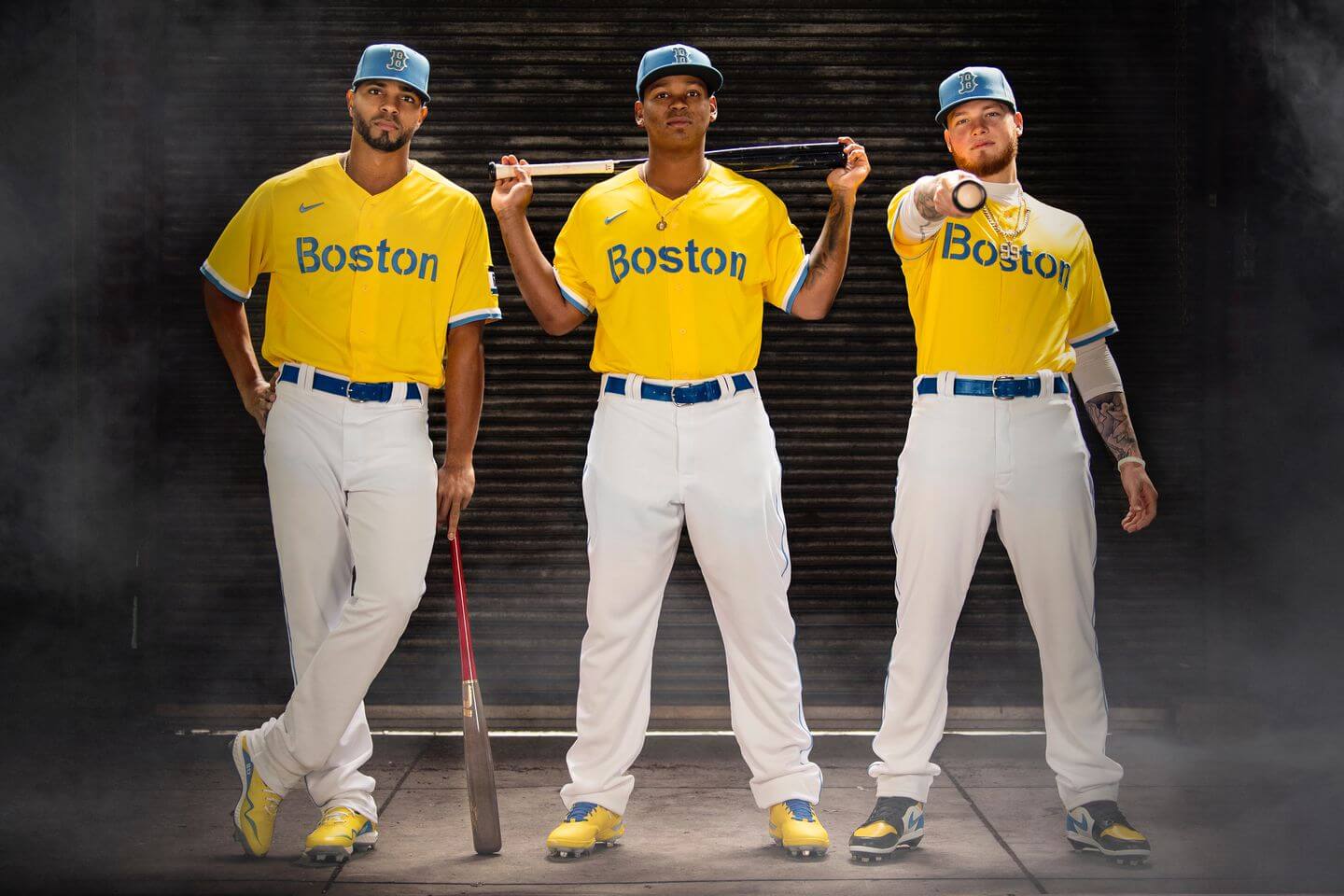 Click to enlarge
We've known for a while now that MLB would be adopting some of Nike's NBA-style uniform programs, but we didn't know when those programs would launch. We got our answer yesterday, as the Red Sox became the first team to unveil a uniform as part of MLB's new "City Connect" series.
The simple yellow/blue design, shown above, references the finish line at the Boston Marathon: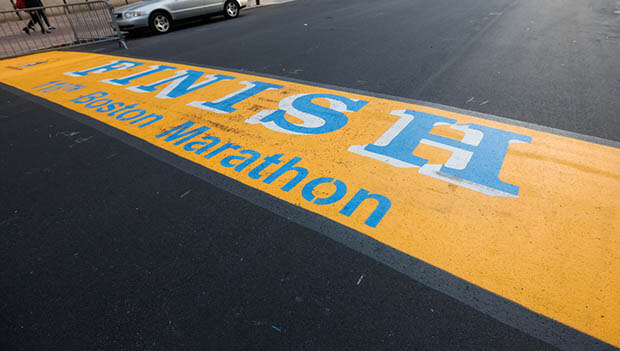 I didn't have advance access to this one, but ESPN and SportsLogos.net did, so I strongly encourage you to read their articles on this uniform, which includes good background info and quotes from various connected parties.
Let's shift into FAQ mode:
When will the Red Sox wear this uniform?
On April 17 and 18 — the Saturday and Sunday of Patriots' Day weekend — when they host the White Sox.
What about their traditional Patriots' Day game on April 19, which is also the day of the Boston Marathon?
They'll wear their "Boston Strong" alternates that day, as usual.
Will every MLB team have a "City Connects" uniform?
Yes, but not all at once. Six other teams besides the Red Sox will be part of the program this season: the Marlins (whose alternate will make its on-field debut on May 21), White Sox (June 5), Cubs (June 12), D-backs (June 18), Giants (July 9), and Dodgers (late August).
When will those uniforms be unveiled?
It's not yet clear, but presumably shortly before their respective on-field debuts.
What about the other 23 MLB teams?
Some will join the program in 2022, and the rest in 2023. By the end of that season, all 30 teams will be participating.
Even the Yankees?
Yes, even the Yankees.
In the NBA, City alternates are worn for only one season. Will that be the case with these uniforms too?
No. The plan is for them to stay in each team's wardrobe for three seasons.
For the seven teams that are part of the program this season, why did they wait until the season had already started to unveil the designs?
Good question (sure would have made my MLB Season Preview more interesting!). Might have had something to do with retail production issues, or maybe they just wanted to space it out.
Those aren't Red Sox colors.
Sharp eye! But as we've seen in the NBA in recent years, a team's established color program doesn't matter that much for this type of alternate uniform program.
Didn't Boston once have a team with those colors?
Good memory! In the late 1930s, the new owners of the Boston Braves (forerunners of today's Atlanta franchise) rebranded changed the team's name to the Boston Bees, and they did indeed wear blue and yellow. (They later went back to the old Braves name and colors.) But that was a National League team that had nothing to do with the Red Sox, and the Bees weren't referenced at all in yesterday's Bosox announcement, so that historical antecedent is just a coincidence, not a "storytelling" detail.
It looks like a UCLA uniform!
That was the most common reaction I heard yesterday, especially because UCLA has a cap with a "B" logo (for "Bruins") that looks a lot like the Red Sox's "B":

It looks like the Eagles' 1930s throwbacks!
Yeah, kinda.
It looks like a maintenance staff uniform!
You'll get no argument from me on that point.
So you hate it?
I don't think it's a terrible uniform. But I do think it's a fairly terrible Red Sox uniform.
Do you have anything good to say about it?
Sure. The design of the "bib number" sleeve patch is very nice: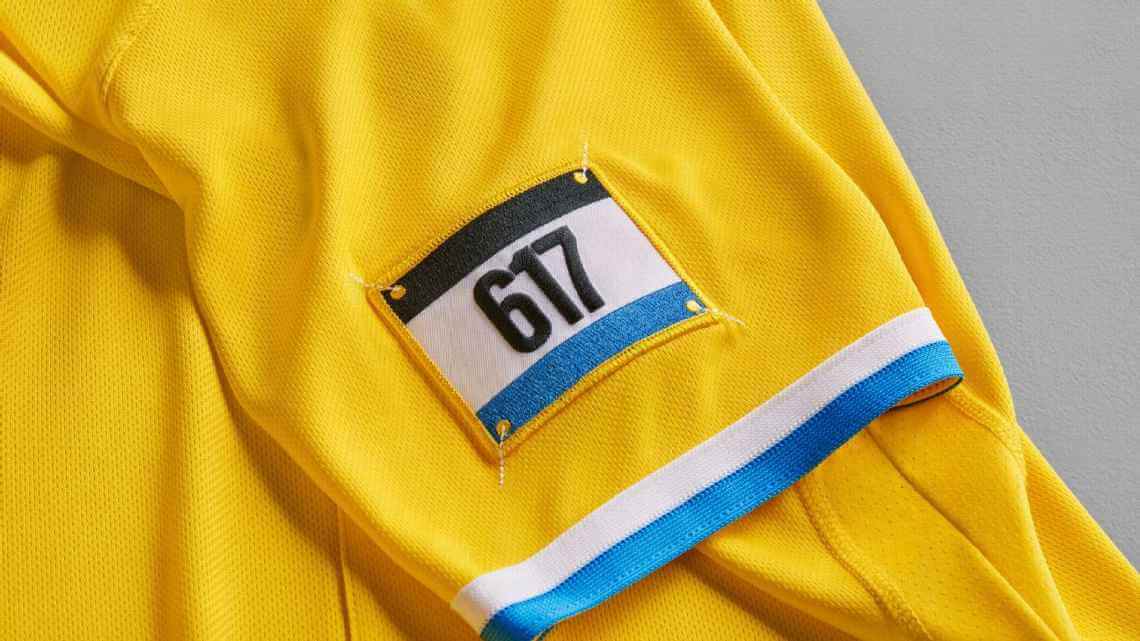 Also, I'm thrilled that the team I root for won't be part of this program until at least next year — and maybe not until the year after that!
I haven't seen a rear view yet. What do the uni numbers look like on the back? Will the jerseys be NNOB?
Here's a screen shot from the hype video (poor image quality because of all the fake smoke, but it's enough for you to get the idea):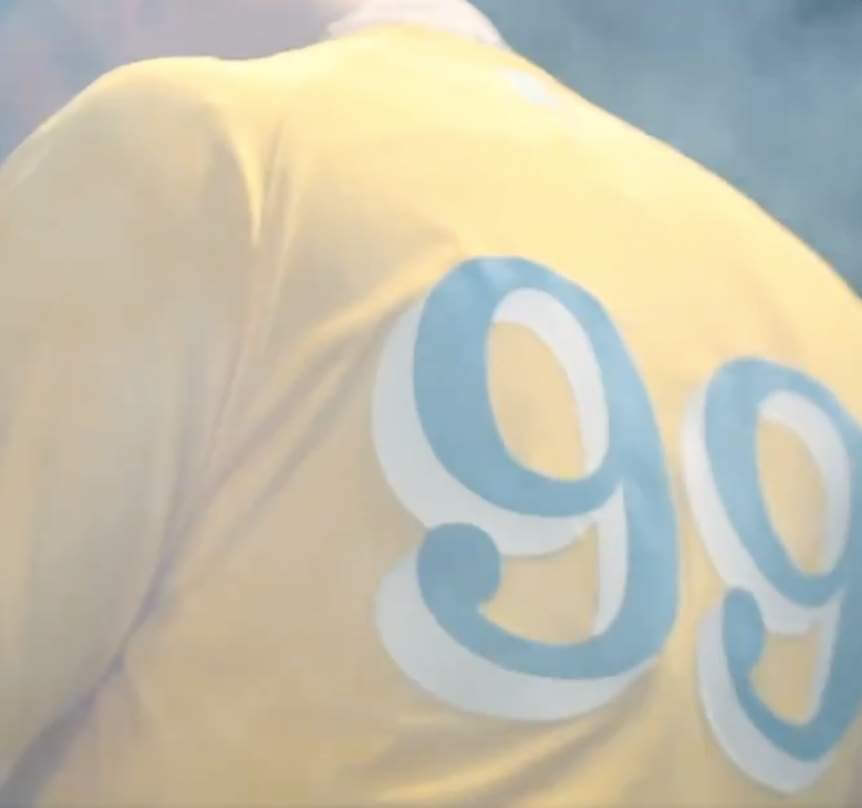 You can see how other numerals look in that font by checking out the retail versions.
What do you think of all this in the big picture?
A few thoughts:
1. This is obviously where MLB uni design is heading, at least for the near future. Or to put it another way, this is why MLB hired Nike — to do stuff like this. MLB exec Noah Garden said as much in that ESPN story I mentioned earlier: "This is what we expected, and this is what we wanted. This is the plan we always set out for."
2. The league, the teams, and Nike understand that not everyone will like this approach, and they're fine with that. Red Sox exec Adam Grossman told SportsLogos.net, "These were not designed for the traditionalists, we recognize it may not be everyone's cup of tea, and we're okay with that. That's something that we talked to Nike about. They said, 'These are designed to push the envelope and it's okay to acknowledge that not everyone's going to gonna like these.'" So if people like me (or you) don't like it, I'd say they'd consider that a feature, not a bug.
3. Further to that point, Grossman also specifically said that this uniform is intended to appeal to "younger, more diverse crowds" — in other words, not a middle-aged White guy like me. MLB has the oldest fan base of any of the Big Four leagues, so this is part of a big push to change their fan demographic because they're worried that their core fan base will literally die off and they'll be left as an also-ran sport while everyone else plays soccer and watches football and basketball. They realize this approach may be a turn-off to some longtime fans, but they believe they have more to gain than to lose by going this route, and that the risk of sticking with the status quo outweighs the risk of shaking things up.
4. Here's another Grossman quote from that jumped out at me from the ESPN article:
Grossman said that the City Connect series provides baseball an opportunity to grow its audience among casual fans and become a part of daily lifestyle culture.

"When you see this convergence and for us and the sport, we want to be more part of the lifestyle," Grossman said. "We do as a game, but getting outside the white lines of the diamond, that merch and hats are part of everyday culture is essential to growing the game just as the game itself."
The approach he's articulating there — reaching the casual fan or even the non-fan via merchandising, and calling it "lifestyle" — is consistent with what I reported in my recent InsideHook article about NBA marketing. Compare Grossman's quote above with this one from Cavs exec Tad Carper:
Our brand really is bigger than basketball, and it's bigger than sport. We want to be at the intersection of lifestyle, culture, sport, fashion, music, food — all of those things that fit into that equation. When you look at it that way, our potential to reach fans expands beyond wins and losses.
And then check out this quote from Cavs creative director Daniel Arsham, describing the approach he'll be bringing to the team's new uniforms:
A lot of people looking at basketball overseas, they don't really follow the games or the season — they're more interested in the idea of this American sport. So you could see a kid walking around in Tokyo wearing, say, a Lakers jersey, and they don't know anyone who's on the team and [have] probably never even watched a game. That's the kind of interesting universe that I'm trying to push toward.
So I think there are two things at work here: First, there's MLB's attempt to grow and diversify its fan base (an understandable and commendable goal, even if I don't much care for the resulting aesthetics). And then there's MLB's attempt to sell baseball as a consumerist experience to people who don't actually care that much about baseball (a goal for which I have much less sympathy, at least to the extent that it affects the on-field look of the game).
5. HOWEVER … despite all of the above, here's something worth keeping in mind: History shows that when it looks like the uni-verse is heading off in a new direction, the pendulum often swings back toward established norms — not just in baseball but in most sports. For example:
• MLB: In the 1970s and '80s, most MLB teams wore some combination of pullover jerseys, sansabelt pants, and powder blue road uniforms, plus we had the Astros' tequila sunrise, the White Sox's leisure suits and shorts, and a lot more. By 1993, all of that — all of it — was gone and everyone was back to wearing buttoned jerseys, belted pants, grey on the road, and and fairly conventional designs.
More recently, after the Diamondbacks introduced an "innovative" uniform set in 2015, all of the "innovative" elements — the blood-stained pant cuffs, the snakeskin fabric pattern, the charcoal road uniforms, the half-length pants piping — had fallen by the wayside within a few years.
• NBA: In the 1990s, as sublimation opened up new design possibilities, lots of NBA teams came out with fairly gonzo uniforms. Within a decade, all of those teams had moved to something more conventional.
More recently, in 2015, the Hawks launched the most outré NBA uni set in a generation. A mere five years later, they scrapped that and returned to a much more traditional approach.
• NFL: From 2013 through 2015, the Browns, Buccaneers, and Jaguars all pushed the envelope in terms of NFL uniform design. By 2020, all of them had gotten back to basics. (Jury's still out on the Rams and Falcons, but I'd be willing to bet that at least one of them will ride the pendulum back in the other direction in a few years.)
In short, despite all the branding nonsense and marketing mumbo-jumbo, it appears that fans often have a somewhat stubborn notion of what a sport is "supposed to look like," so attempts to redefine the look of a sport often meet with a fair amount of pushback (and not just from middle-aged White guys). That's not always the case — the Broncos and Seahawks are examples of teams whose newfangled designs have stuck, for example — but it's an indication that new trends don't always pan out in the long run.
Still, all of those pendulum-swing examples I just listed had to do with primary uniforms, which fans tend to feel more strongly about, while this new MLB program is about alternate uniforms, where there tends to be less resistance to tinkering. I think that's probably what we'll be seeing a lot more of, in all of the major pro sports: fairly straightforward primary uniforms, at least for most teams (there'll always be a few outliers), and lots of wackadoodle stuff for the alternates.
———
So that's it for now. The next team up is the Marlins. Miami Vice, MLB version?
• • • • •
• • • • •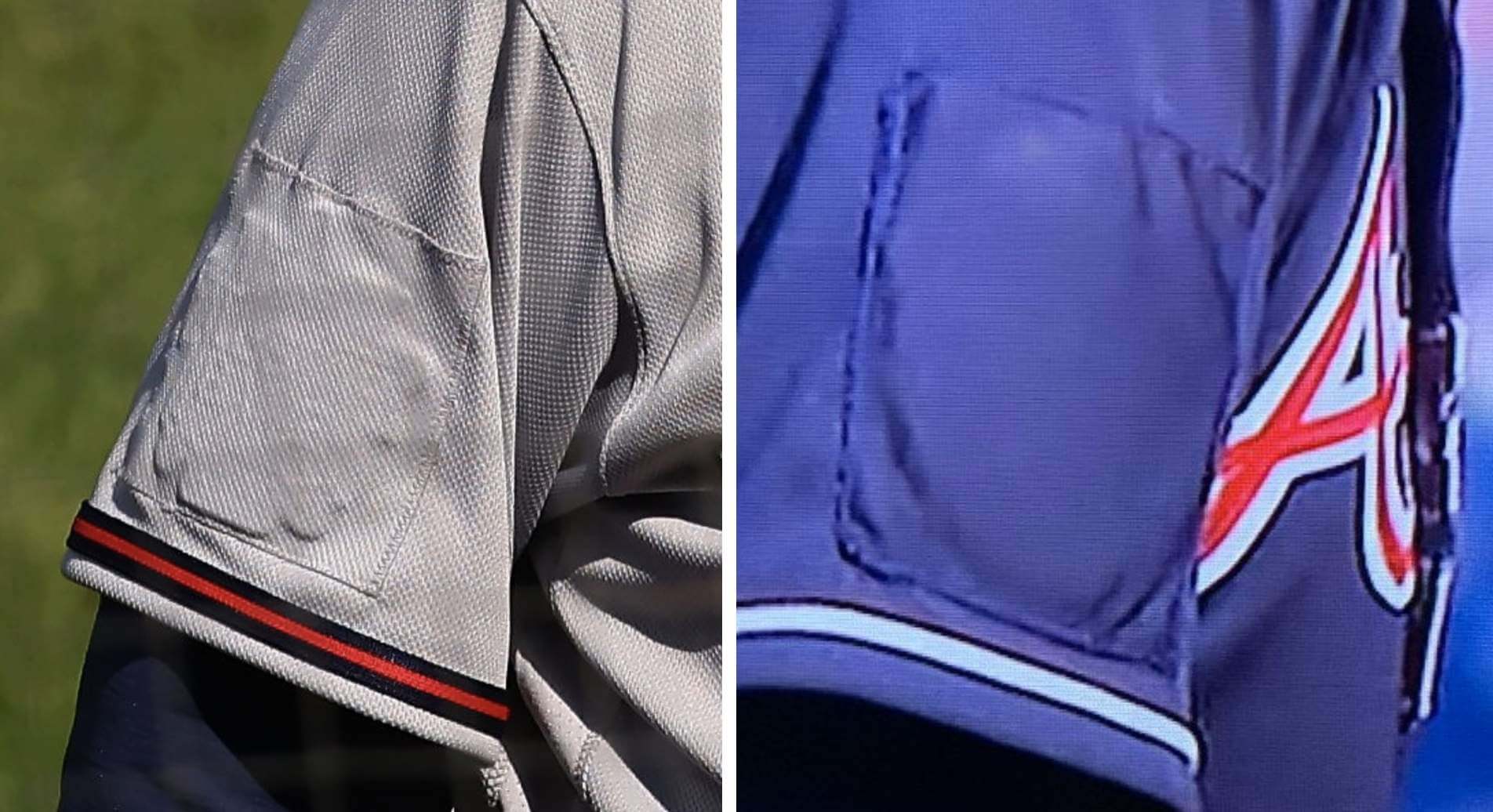 Click to enlarge
Patchwork: At left is the best photo I've seen of the cover-up patch that Atlanta is using to obscure their All-Star Game patch. Yesterday was the first time they wore their navy alternates since the announcement of the ASG's relocation, so we got to see that cover-up patch's debut.
People have been asking why they covered up the patches instead of simply removing them or even getting new jerseys. Removing the patches probably wasn't an option because there likely would have been lots of sticky residue. And being on the road at the very beginning of the season during a pandemic probably isn't the best time to coordinate a whole new set of jerseys (or two sets, if you count the grey and navy versions). So as counterintuitive as it might seem, the cover-ups may have been the most feasible option.
I fully expect the team to have fresh jerseys for their home opener this Friday. I figure that's also when we'll find out if they plan to move their Henry Aaron and Phil Niekro cap memorials down to the now-available sleeve — Friday or never.
Meanwhile, the Rockies played their first game since the announcement that the All-Star Game will be played at their ballpark. So far, no patches for them, but of course it's still early days. We'll see how that develops.
• • • • •
• • • • •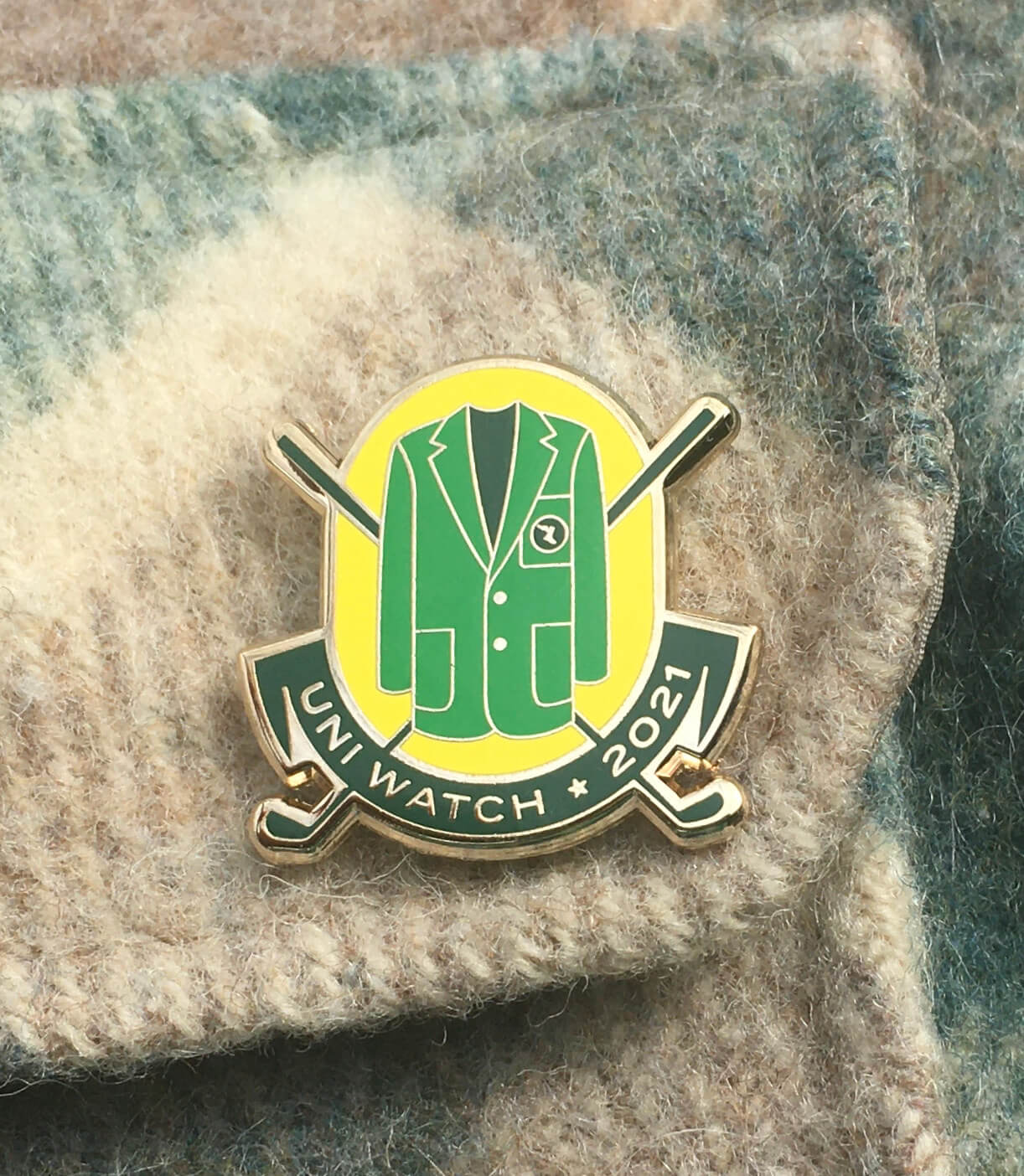 Pin Club reminder: In case you missed it last Thursday, the Uni Watch Pin Club's latest release has a golf/Masters them. It's a numbered edition of 200, with each pin individually numbered on the back, and as of this morning there are about 65 remaining. It's available here, and we're donating all the profits from this one to Fair Fight. (You can learn more about why we've chosen to do that here.)
• • • • •
• • • • •
The Ticker
By Lloyd Alaban

Baseball News: Here's a new D-backs uni tracker for this season. … A sportswriter has ranked the 10 best Mets unis ever (from our own Phil Hecken). … Graffiti legend Blake Lethem, aka Keo aka Lord Scotch 79 aka Jonathan Lethem's brother, made this fun two-tone Mets piece (from Ebin Sandler). … Here's a look at the cold weather gear that Cleveland and the Marlins wore for Game Three of the 1997 World Series, which was played in frigid conditions (from Graham Clayton).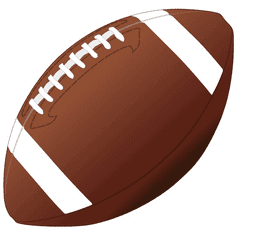 Football News: The Edmonton CFL team doesn't yet have a new name, but it has quietly changed its logo (from Johnny Garfield).


Basketball News: NBA numerologist Etienne Catalan has a bunch of new NBA uni number assignments. … Remember those March Madness-themed route-marker signs that recently went up along Interstates in Indiana? Here's what will happen to them now that the NCAA tourney is over (from William Yurasko).

Soccer News: New third kit leak for Manchester United (from our own Phil Hecken). … Sky Blue FC of the NWSL has a new name and logo (from multiple readers). … England's Women's Super League has a new 10th-anniversary logo (from our own Jamie Rathjen). … ESPN has ranked all of MLS's new shirts (from our own Phil Hecken). … New shirts for Army men's (from Justin Rocke). … FS1's graphics for the CONCACAF Champions League match between the Portland Timbers and CD Marathon showed the wrong logos for both teams. When Portland scored, the graphic showed the badge of Werder Bremen; when Marathon scored, it showed the badge of Bayern Munich (from LM Grismer). … New kits for Alianza Lima (from Trevor Williams). … Also from Trevor: Alajuelense and Atlanta United both wore "metallic" numbers and NOBs in their CONCACAF Champions League game last night. … One more from Trevor: New fourth kit for Inter.

Grab Bag: The No. 28 will return to NASCAR Cup after a 12-year hiatus as part of driver Joey Gase's Davey Allison fauxback/tribute entry for the Spring race at Talladega (from Christopher Hickey). … New UFC fighter unis (from @vicious155). … Russia has been banned from numerous worldwide competitions because of doping, which means Russian teams are not allowed to use the country's flag. Instead, the Russian curling team has used the abstract shapes of a curling house to echo the white, blue, and red of the national flag. You can see it at the top of this screenshot, fifth flag from right (from Scott Rogers).
• • • • •
• • • • •
• • • • •
Does anyone have an extra March 2021 Uni Watch pin that they'd be willing to sell or trade to another reader? If so, please give me a shout. Thanks. — Paul