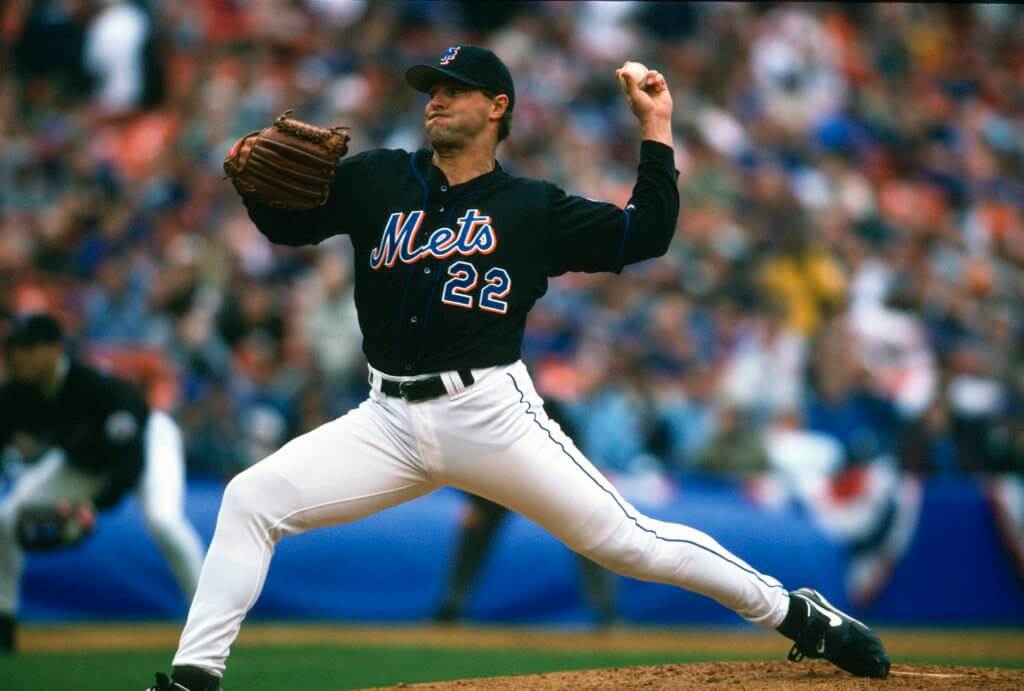 The Mets made it official last night, announcing that the team's BFBS jerseys (and presumably caps) will be returning "for a limited number of games later this summer." Further details will presumably be forthcoming soon-ish, but one of the BFBS games will almost certainly be on Sept. 11, when the Mets host the Yankees on the 20th anniversary of the 2001 terrorist attacks.
Some quick background: The Mets wore the BFBS uniforms from 1998 through 2012. At one point they were actually listed in the MLB Style Guide as the team's "Club Preferred" uni option, even though they were alternates. They were designed by Bob Halfacre, who at the time worked for the small uniform supplier AIS and who also designed the team's black-drop-shadowed script. You can read more about how that all took place here.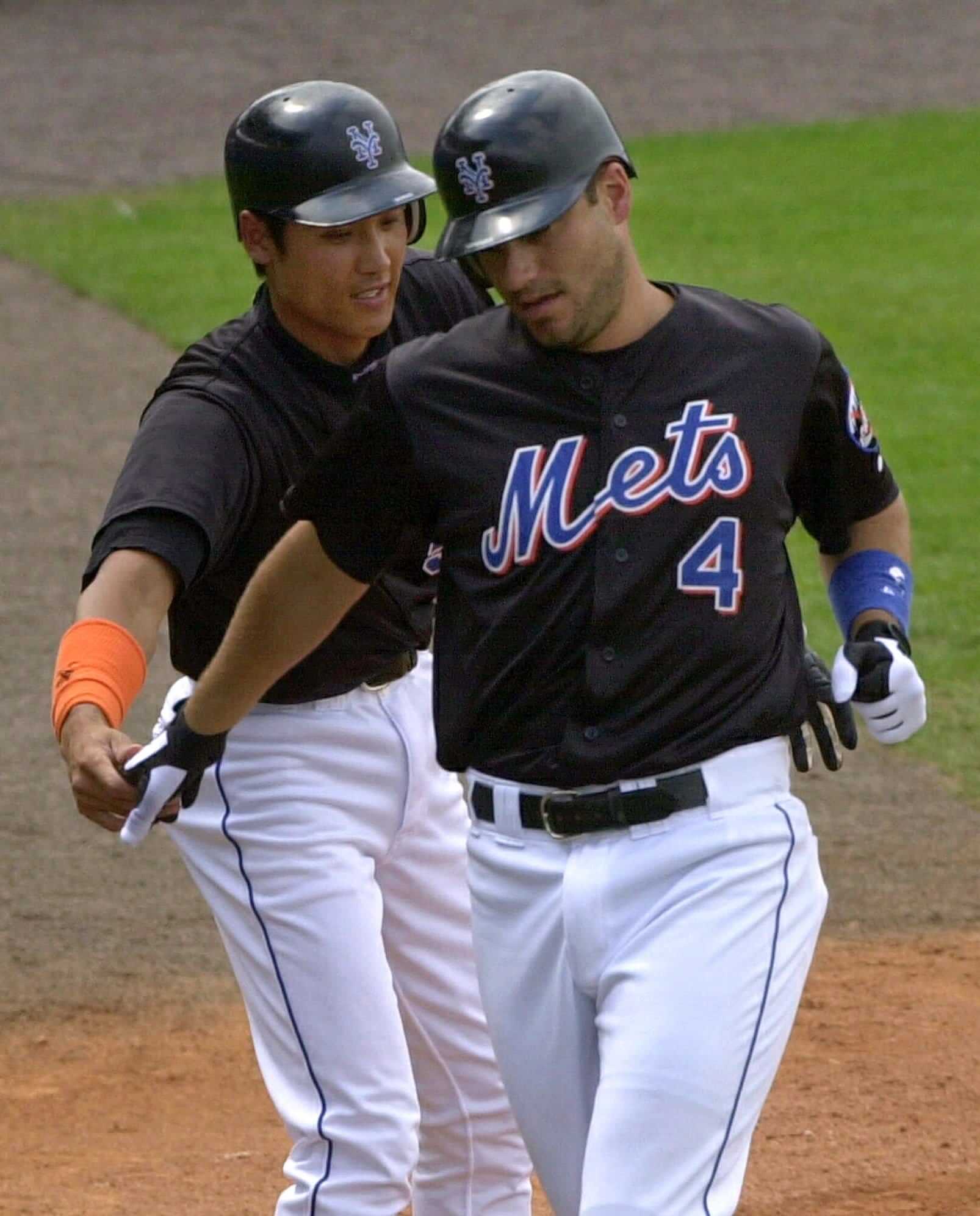 New Mets owner Steve Cohen has been teasing the return of the BFBS uni for months, and several of the team's players have been lobbying for it, so yesterday's announcement feels almost anti-climactic to me. I'm disappointed, yes, but not surprised.
Moreover, I can absolutely understand why a certain generation of fans feels a connection to this design. If you grew up watching the Piazza/Alfonzo/Leiter team that went to the postseason in 1999 and to the World Series in 2000, and if you then watched Wright/Reyes/Delgado squad win the National League East in 2006, of course you're going to feel a bond with the BFBS unis — that's what your heroes were wearing. If I were running the team, there's no way I'd bring back these uniforms, but I could certainly see why some fans might want me to.
Hell, as much as I hated those uniforms at the time, and still hate them now, I'll admit that I still feel a pang of recognition when I see the old photos or highlight footage of the team wearing them. I wouldn't exactly call it nostalgia, since nostalgia usually involves an idealized fiction with all the harsh edges buffed smooth, and I can assure you that is not how I feel about the BFBS look. It's like your hometown greasy spoon when you were growing up — the food may have sucked, but there's a comfortable familiarity about your memories of the place, the people, the experience. For better or worse, all of that becomes part of you. That's how the BFBS feels for me as a Mets fan. I suspect many of you feel similarly about certain unfortunate chapters in your favorite teams' uniform histories.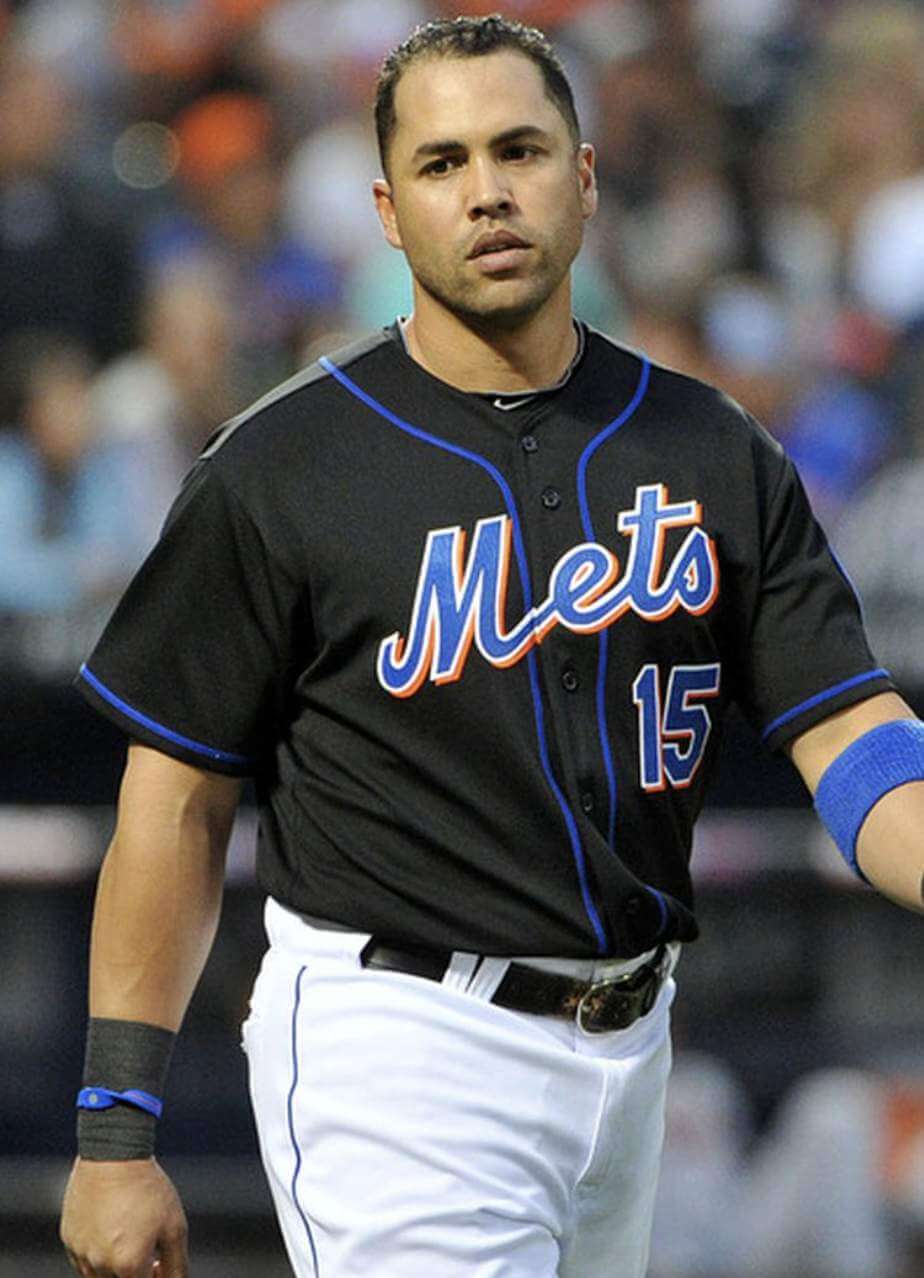 Of course, that doesn't mean you want to eat that same shitty food now, and I absolutely do not want to see the BFBS uniforms return as full-fledged alternates. A one-off throwback game where we can all laugh at how misguided the whole BFBS thing was? Be my guest. Even an annual one-off throwback? Not ideal, but sure, knock yourself out. But the idea of using this design for multiple games this year raises the possibility of having it become a standard Friday alternate (or Sunday alternate, or whatever) for future seasons, and that is completely unacceptable.
The thing that scares me the most, though, is this: The return of the BFBS jerseys will presumably also mean the return of all the accompanying BFBS accessories — not just caps, but also base-layer shirts, socks, and belts. And the way players are today, you just know some chucklehead in the clubhouse is gonna say, "Hey, why don't we wear wear those black caps and undershirts with the home pinstripes tonight? You know, just to change things up!" That would pave the way for black to regain parity with blue in the team's color scheme, a nightmare scenario of the worst order.
Mets fans, myself included, have been cheering the departure of the previous owners, Fred and Jeff Wilpon. But the Wilpons are getting the last laugh here: They're the ones who oversaw the team's BFBS phase, and now it's become part of the team's DNA. It will likely be their most enduring legacy. Sigh.
• • • • •
• • • • •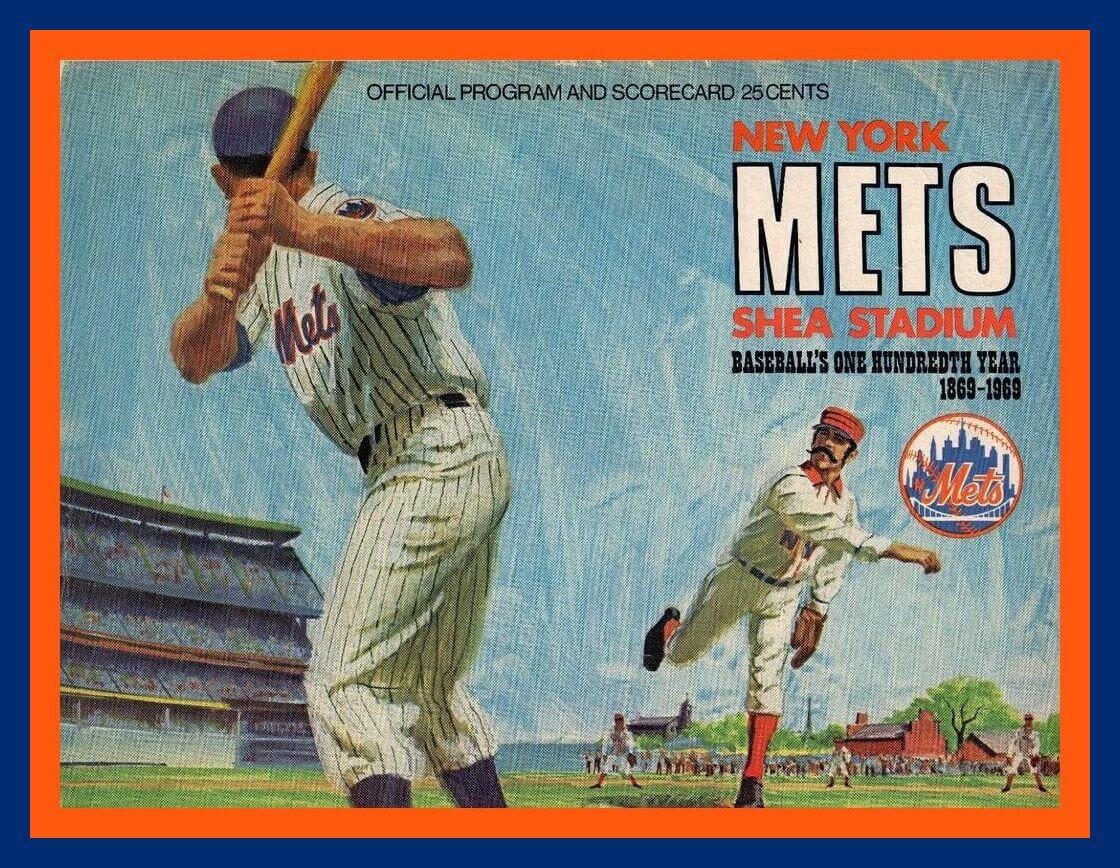 Click to enlarge
Collector's Corner
By Brinke Guthrie
Follow @brinkeguthrie   
MLB's Opening Day is just two days away, so CC is all baseball today. Let's start with this New York Mets program from April 8, 1969! This was MLB's 100th-anniversary season for MLB, and the artist nailed it with the pitcher in a vintage uniform and the Mets batter in the more contemporary look (but, oddly, without the front uni number). A great cover concept!
Now for the rest of this week's picks — play ball!
• This is a nice-looking late-1970s game-worn dugout jacket for the Toronto Blue Jays. The seller adds, "The jacket has a nylon satin outer with a fairly heavy inner lining for those cold nights at old Exhibition Stadium next to Lake Ontario."
• Here's a full ticket for the first game ever played at the San Francisco Giants' then-new Pacific Bell Park on April 11, 2000. That was the stadium's first name; it's now on its fourth one.
• Here we have an actual sack of Kirby Puckett & Homestead Mills Pancake Batter from 1992. The seller says, "This was Kirby's first advertisement to market a product. We purchased it locally the year it came out." Note that the illustration of Puckett on the back shows him wearing an "All-Star" jersey.
• Moving from Minnesota pancakes to burgers, this chef's apron was a Minnesota Twins 1992 season giveaway, with "Turn a Real Double Play with a Double Cheese Burger" on the front.
• This 1990 box says "Suit Up with the Pros" and contains a "B.F. Goodrich"-stamped promo baseball. Hmmm, what do tires have to do with "suiting up?"
• I never knew the Phillie Phanatic had a cousin! His name is Phred and here he is as a little stuffed plush character.
• Here's a really good-looking charm for the 1971 World Champion Pittsburgh Pirates. The seller notes these were given to "wives or special press agents."
• Another Pirates item here, of unknown vintage: Maybe this "Phry The Phillies button" was worn by Wendy's restaurant employees in the Pittsburgh area.
• The Milwaukee Braves honored their longtime ace pitcher by holding Warren Spahn Night on Sept. 17, 1963. If you were at Milwaukee County Stadium that day, you got this card that says, "I Helped Salute Spahnie." They also sold this button. (You can see a bit more about this promo event here.)
Got an item to include on Collector's Corner? Tweet submissions to @brinkeguthrie.
• • • • •
• • • • •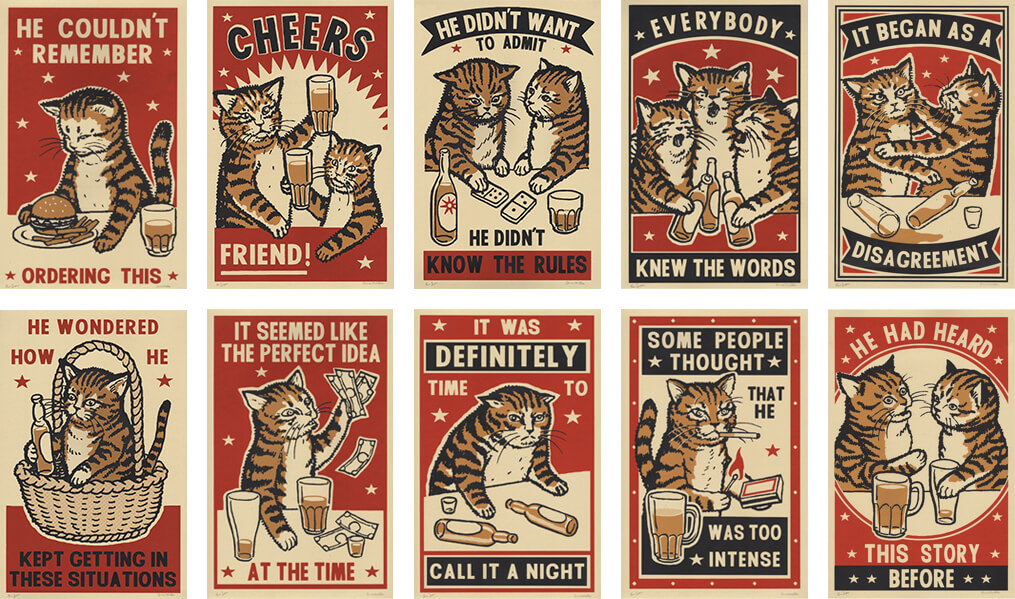 Click to enlarge
Too good for the Ticker: Look at these great designs designs showing cats at bars. As soon as I saw them, I thought to myself, "They look just like old matchbox art." And sure enough, the artist who made them is offering them on custom matchboxes! Dig: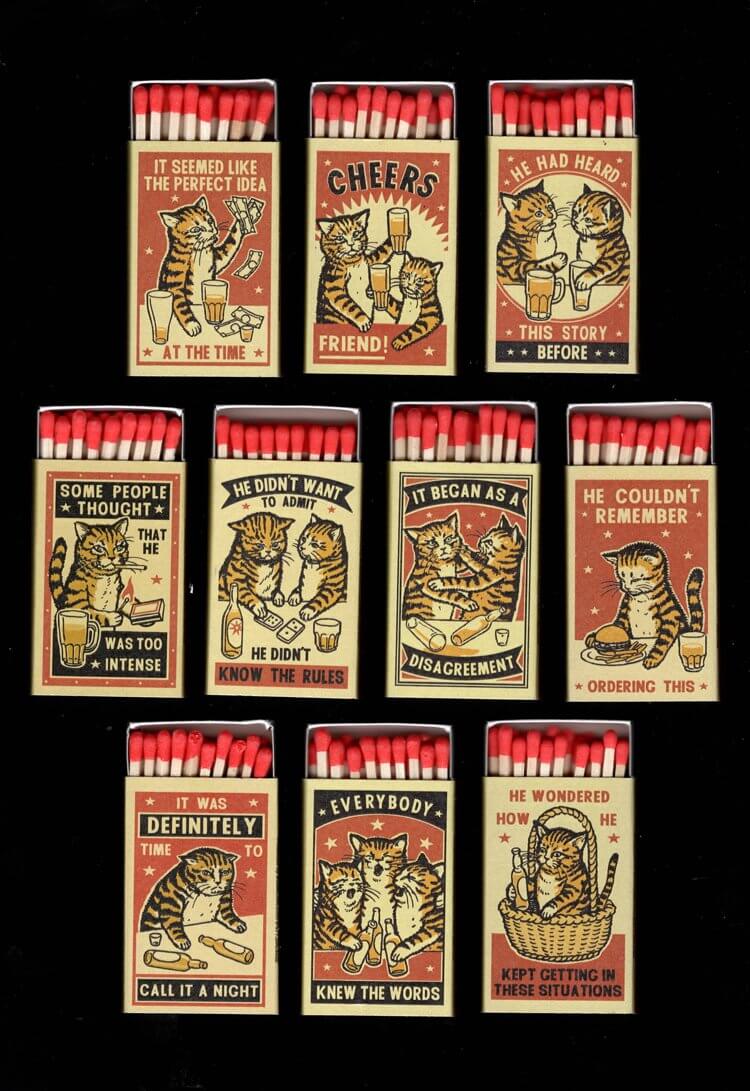 They're also available as posters and, maybe best of all, sheets of stamps: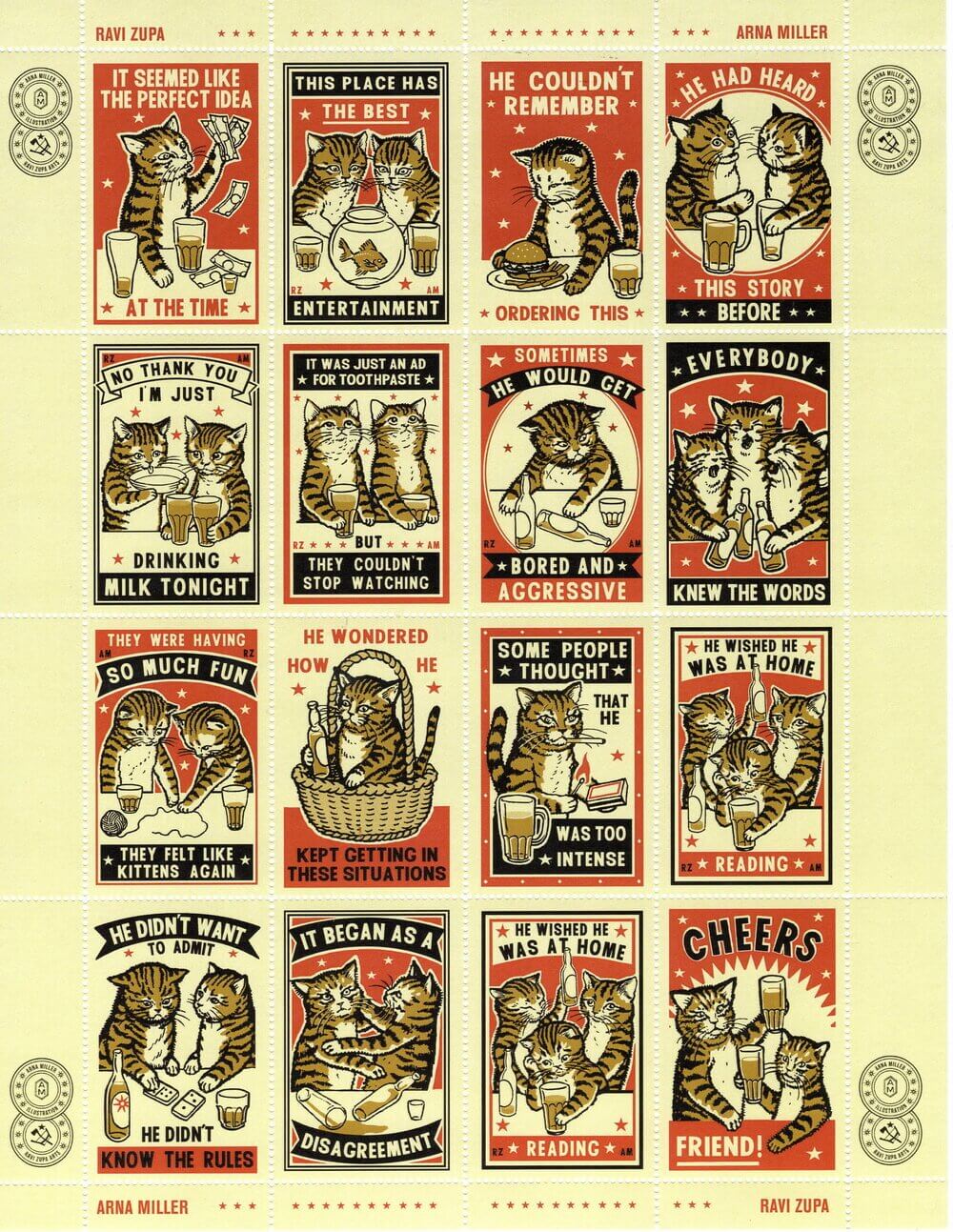 So brilliant. There's a sort of uni-related spirit behind all of it, don't you think?
The genius behind all of this is a Colorado illustrator named Arna Miller. As you can see on her website, she appears to specialize in semi-absurdist depictions of animals. Here's what she has to say about the "Drunk Cats" series:
The series features cats drinking at the bar, and the good, embarrassing, and confusing situations we have all found ourselves in.

The style is inspired by vintage matchboxes and Russian and Chinese propaganda posters.

The original title was "Strike Your Fancy." It was a project that I did in collaboration with Ravi Zupa in 2018 for an art show in Denver. We designed, drew, and hand-printed the images on matchboxes, and I made little frames for them. I posted the images on instagram, and the design blog This Is Colossal featured them, which opened the door for people to discover this series.

It has been the most popular series I have ever created, and since then we created a poster series, and the stamp sheets. Many people have printed bootleg designs on shirts, and many people have gotten tattoos of the series.
It's interesting that she didn't choose to do T-shirts herself, and even more interesting that she seems unbothered — maybe even pleased! — by the fact that people have created bootleg shirts of her work. That shows an impressive spirit of generosity, which I really admire.
(Major thanks to reader Michael Rich for putting this one on my radar.)
• • • • •
• • • • •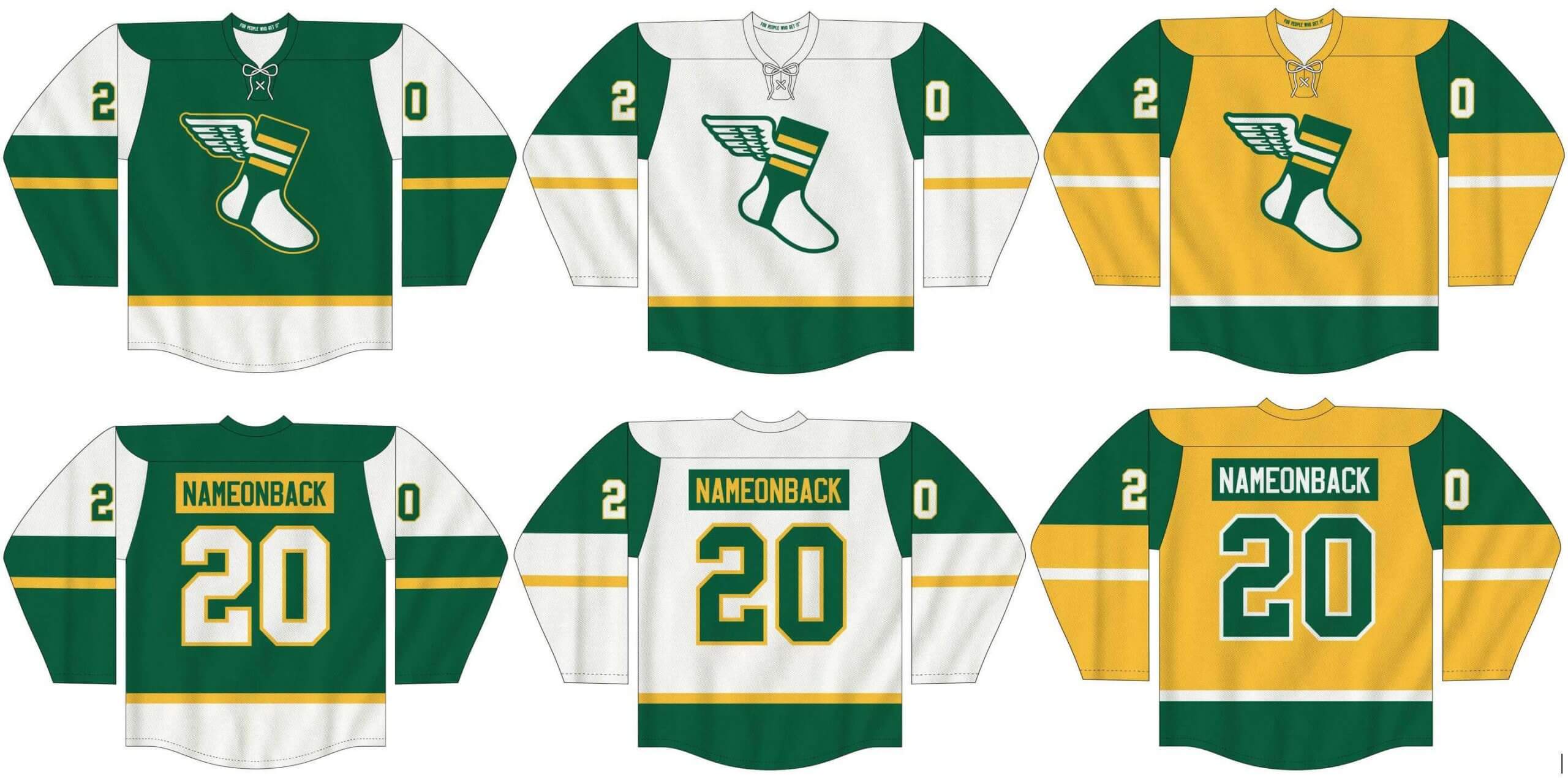 Click to enlarge
Next-to-last call: We're almost at the deadline for you to place your pre-orders for our new Uni Watch hockey jerseys (customizable with your choice of number and NOB, of course), socks, and stirrups.
In order to get in on these items, you must place your pre-order by tomorrow, March 31. You can do that here. We expect the finished product to ship out by the end of April.
My thanks, as always, for your consideration.
• • • • •
• • • • •
Membership update: A new batch of designs has been added to the membership card gallery. That includes Mike Oberholtzer's card, based on the Phillie Phanatic's Saturday Night Special throwback jersey — an inspired choice!
Ordering a membership card is a good way to support Uni Watch (which, frankly, could use your support these days). And remember, a Uni Watch membership card entitles you to a 15% discount on any of the merchandise in the Uni Watch, Uni Rock, and Naming Wrongs shops, plus the discount also applies to our Uni Watch Classic Cap. (If you're an existing member and would like to have the discount code, email me and I'll hook you up.)
As always, you can sign up for your own custom-designed card here, you can see all the cards we've designed so far here (now more than 3,000 of them!), and you can see how we produce the cards here.
• • • • •
• • • • •
The Ticker
By Alex Hider

Baseball News: Looks like Rangers LF Joey Gallo is adding a powder blue glove to his rotation this year (from Phil). … The Reds have added an on-field ad behind the plate, in addition to the ads they had last year near the coaches boxes (from Michael Kinney). … This has probably been mentioned before, but it's worth bringing up again: Noted Red Sox fan Ben Affleck allegedly made a big stink on the set of Gone Girl when he refused to wear a Yankees cap in a few scenes (from Andrew Barbot).

NFL News: The Bills have sold their stadium's naming rights to a new advertiser (thanks to all who shared). … Reader Dan Cichalski got his first vaccine shot over the weekend (congrats!) at the Meadowlands Racetrack, located right next door to the home of the Jets and Giants. He noted that the Super Bowl XLVII logo is still etched on the windows of some of the track's doors. … Several readers spotted a real estate listing for a silver-and-black house for sale in the Baltimore area that includes a number of Raiders decorations. … The Steelers are the latest team to have their draft cap leak (from Noah Kastroll). … Here's some great footage of the 1951 49ers/Rams game.

College Football News: Reader Bradley Davis notes that Miami defensive ends Gregory Rousseau and Jealan Phillips could end up being the first pair of players to wear the same number from the same school to be drafted in the same year. Rousseau wore No. 15 for the Hurricanes in 2019, but opted out of the 2020 season. Phillips then transferred into Miami and wore No. 15 for the 2020 seasons. Anyone know if that's happened before?

Hockey News: New color-changing mask for Flames G Louis Domingue (from Wade Heidt). … The Islanders' new arena is changing the environment around the adjacent Belmont Park and providing an impetus for upgrades to the historic horse racing track (from Kary Klismet).

Basketball News: Several new WNBA jerseys have leaked in retail stores in recent days. Jamie noted in yesterday's Ticker that a Washington Mystics jersey had leaked. Yesterday, a second Mystics jersey leaked — Julie Streeter notes that Elena Delle Donne doesn't have a hyphen in her name, so that leak actually contains a typo — along with a Minnesota Lynx jersey, two New York Liberty jerseys, and a Dallas Wings jersey. We also got some hints as to what one of the Connecticut Sun's new uniforms will look like. "The most exciting change for me — no front jersey ads!" says Julie said (thanks also to Cork Gaines and Phil). … Blazers G/F Norman Powell ripped his own jersey in frustration Sunday after missing a late free throw, prompting many "Rip City" jokes (from Jeremy Brahm). … NBA numbers guru Etienne Catalan has several post-trade deadline updates. Head over to his Twitter account to see more. … Someone spotted a Lamborghini with a Michael Jordan paint scheme (from Ignacio Salazar).

College Hoops: Uniforms played a crucial role in Sunday's Sweet 16 game between UCLA and Alabama, as officials took several minutes to determine whether a loose ball grazed a Bama player's shorts (from Griffin T. Smith). … Indiana introduced its new head coach, Mike Woodson, at a press conference yesterday, and presented him with a jersey the team last wore in 2018 — note the neck and sleeve piping, which has been changed in recent years. As Jarrod Campbell notes, many Hoosier fans were excited to see the old uniform come out (from Ryan Cotter). … Before playing in the state championship, East Anchorage High School in Alaska received a complaint for wearing warmups with "Black Lives Matter" messaging. However, the team was cleared to wear them in the finals, which they won. The team also received sneakers from Puma as a result of the controversy (from Timmy Donahue).

Soccer News: The next three submissions are from Kary Klismet: LAFC has unveiled its new second jersey for the 2021 season. … Speaking of MLS, here's a rundown of each team's new uniforms. … Parkes Cobras of Australia's sixth-tier Western Premier League have new jerseys for the 2021 season. … Scottish club Partick Thistle revealed a throwback for the 100th anniversary of their 1921 Scottish Cup win (from our own Jamie Rathjen and Ed Żelaski). … Line Of Duty, a BBC police procedural filmed in Belfast, Ireland, has agreed to advertise on the Belfast Celtic FC's youth girls uniforms (from Colm Heaney).

Grab Bag: The Utah Warriors of Major League Rugby are holding a contest to name their mascot (from Kary Klismet). … The Canadian Lacrosse Association has renamed itself Lacrosse Canada and has a new logo (from Michael Sullivan). … New uniforms for the San Diego Metropolitan Transit System's compliance and security officers. Their previous uniforms were blue, which sometimes led officers to be mistaken for cops (from Timmy Donahue). … Also from Timmy: The Air Force is changing its uniform requirements, as airmen will now be required to wear the Operational Camouflage Pattern as a utility uniform starting April 1. … New logo for the Buffalo Fenians, a Gaelic sports club (from @BirtMC). … The Autism Society of Cincinnati has a new logo for its 50th anniversary (from Bill Fenbers). … Nike has sued a Brooklyn company after it made a series of Satan-themed sneakers, each supposedly containing a drop of human blood, in collaboration with rapper Lil Nas X (from @texastrevor). … The Maryland state legislature has voted to repeal the state song, which was an ode to the Confederacy that referred to Abraham Lincoln as a "despot" and to Union soldiers as "northern scum."
• • • • •
• • • • •
• • • • •
Our latest raffle winner is Michael Taylor, who's won himself a Uni Watch membership card. Congrats to him, and thanks to Kary Klismet for sponsoring this one.
Tomorrow: The 23rd annual Uni Watch MLB Season Preview!