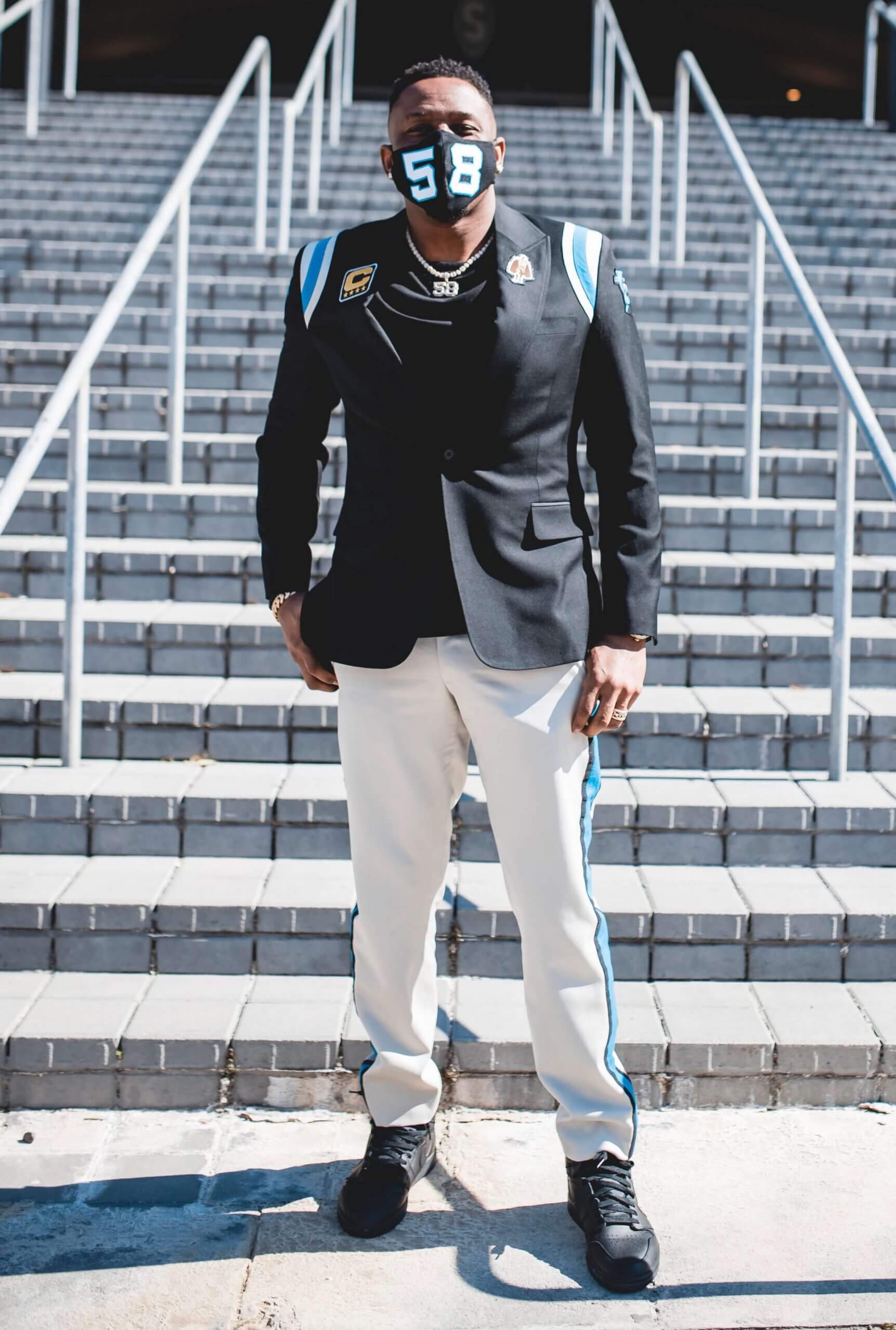 Click to enlarge
Longtime NFL linebacker Thomas Davis, who spent the first 13 of his 15 pro seasons with the Panthers, returned to Carolina yesterday to sign one of those one-day retirement contracts, so he could retire as a Panther. As you can see above, he marked the occasion by wearing a custom jacket and slacks patterned after the team's uniform because, he said, he wanted to wear the uniform one last time.
A few notes about the outfit:
• When I first saw the photo shown above, for a second I thought Davis was wearing a backpack with Panthers-striped straps!
• Davis wore a captaincy patch and his Walter Payton award patch on his lapels, and the "58" on his mask appeared to be sewn on: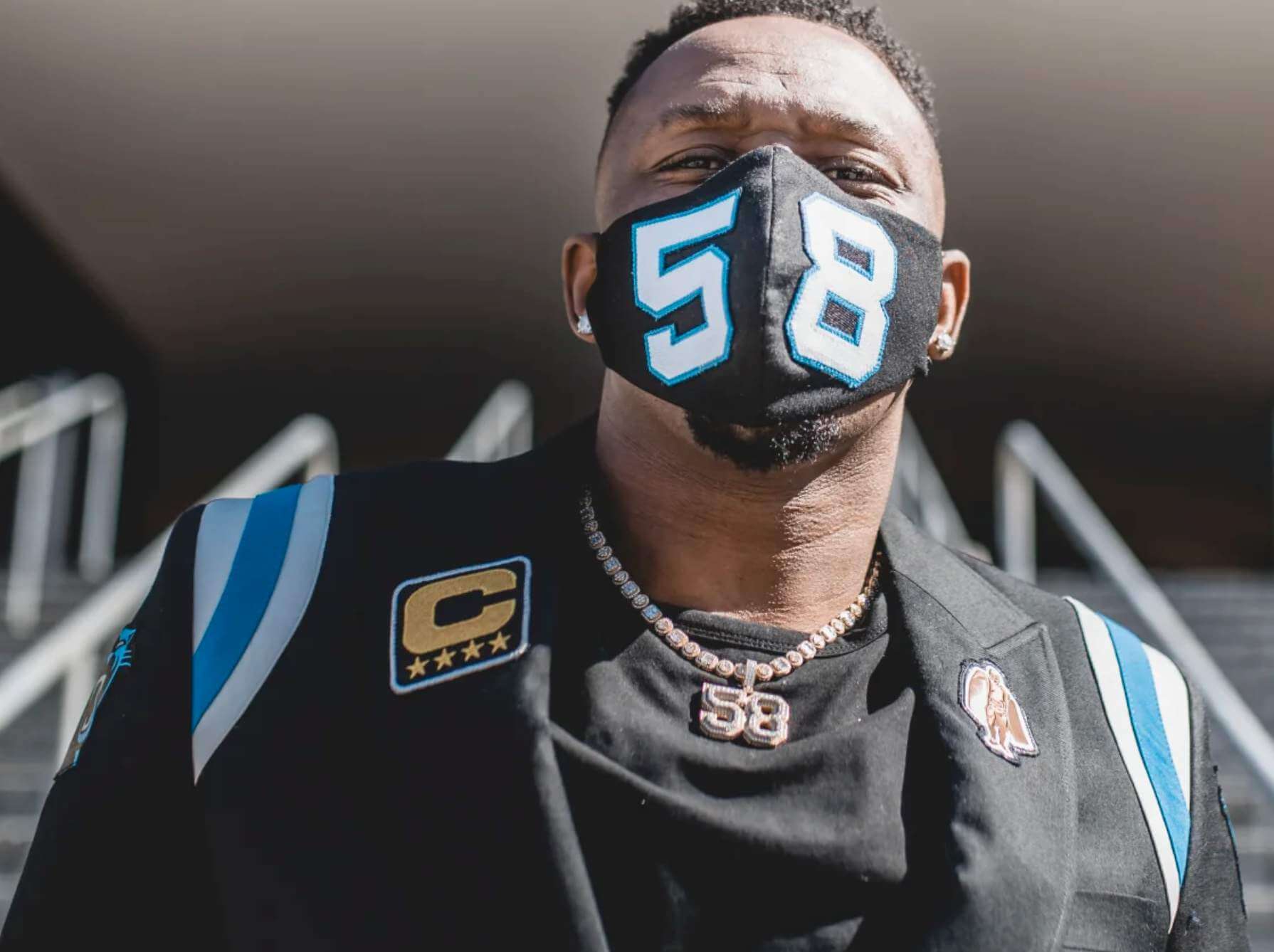 (As an aside, Thomas currently holds the record for having worn the Payton patch for the most teams: the Panthers, Chargers, and Washington.)
• Naturally, he had his number and nameplate on the back: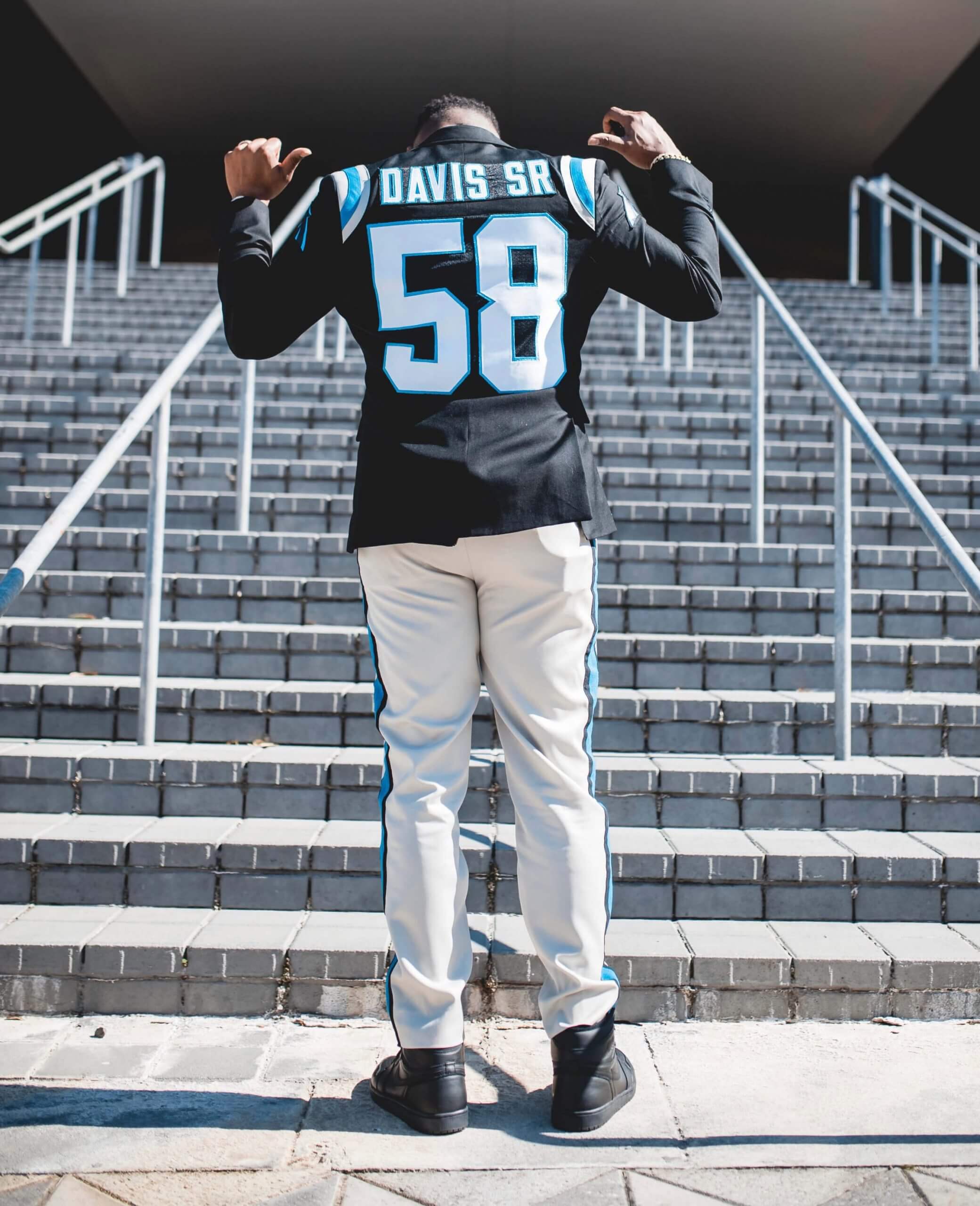 Note that there's no period after the "SR," which is consistent with how the Panthers handle generational suffixes. (For more on how certain teams do or don't include the period in these situations, look here.)
• The piping on the Panthers' uniform pants is tapered, but the piping on Davis's slacks was not: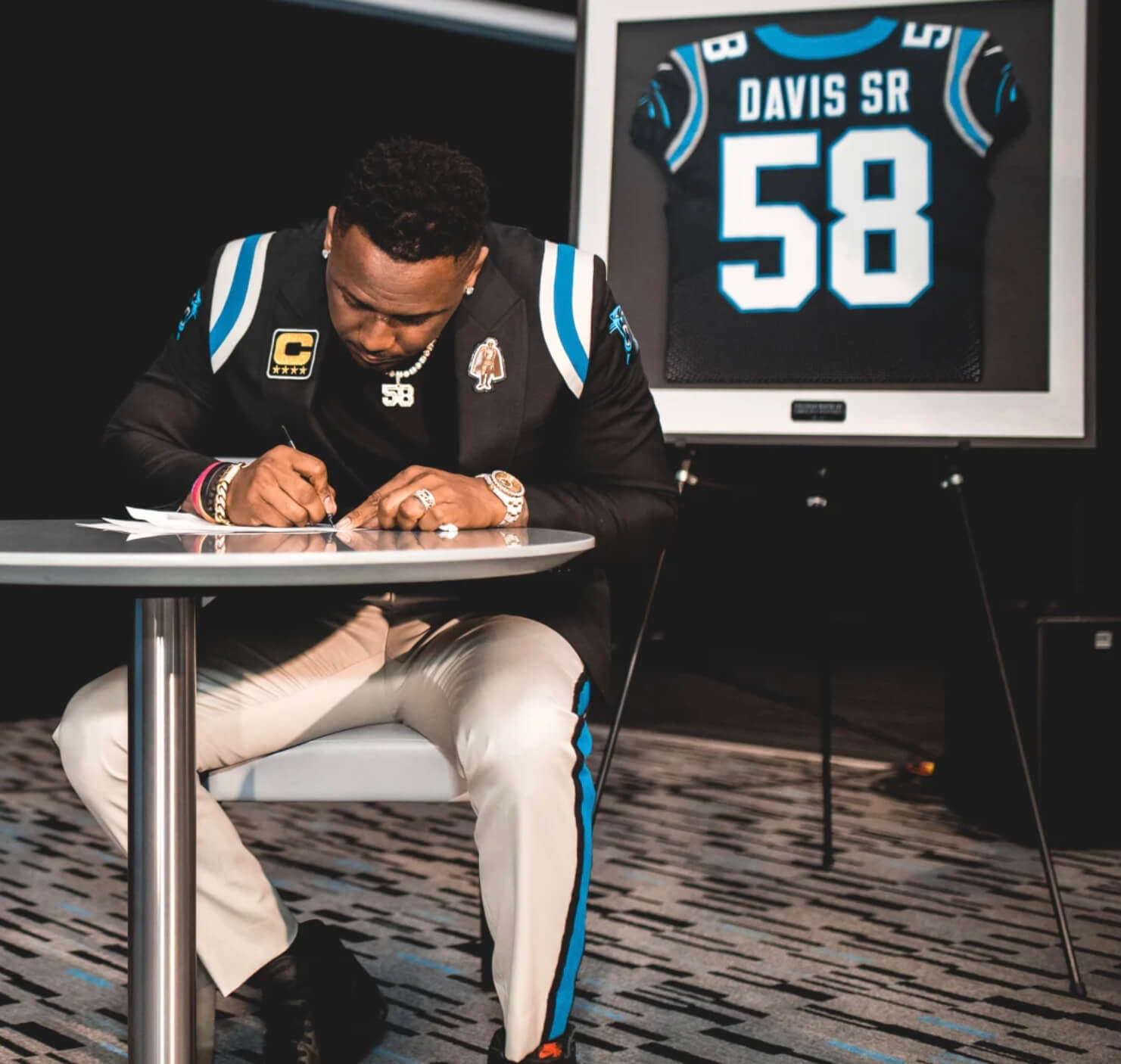 Side note: See Davis's framed black jersey in the background? Tight end Greg Olsen also signed a one-day retirement contract yesterday, but he opted for the team's alternate blue jersey — a surprising choice, given that it's typically worn only a couple of times per season: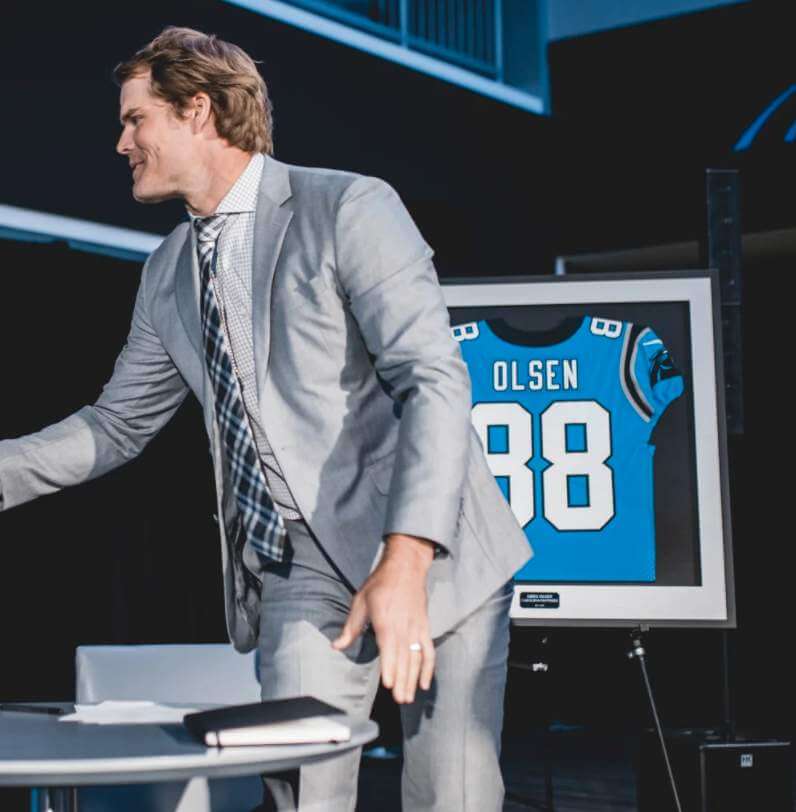 Davis has a history of wearing uni-inspired apparel. When he came onstage to announce the Panthers' first-round pick in the 2017 NFL draft, he represented Carolina by wearing a teal suit with a purple tie — Charlotte Hornets colors:
And when Davis's alma mater, the University of Georgia, won the 2017 SEC championship, he showed up for the Panthers' game the next day wearing a red UGA cap and a matching red suit:
.@ThomasDavisSDTM is @FootballUGA proud! #SECChamps pic.twitter.com/eukIcgscdV

— Carolina Panthers (@Panthers) December 3, 2017
Thomas Davis: Expanding the uni-verse into the realm of menswear, and vice-versa!
• • • • •
• • • • •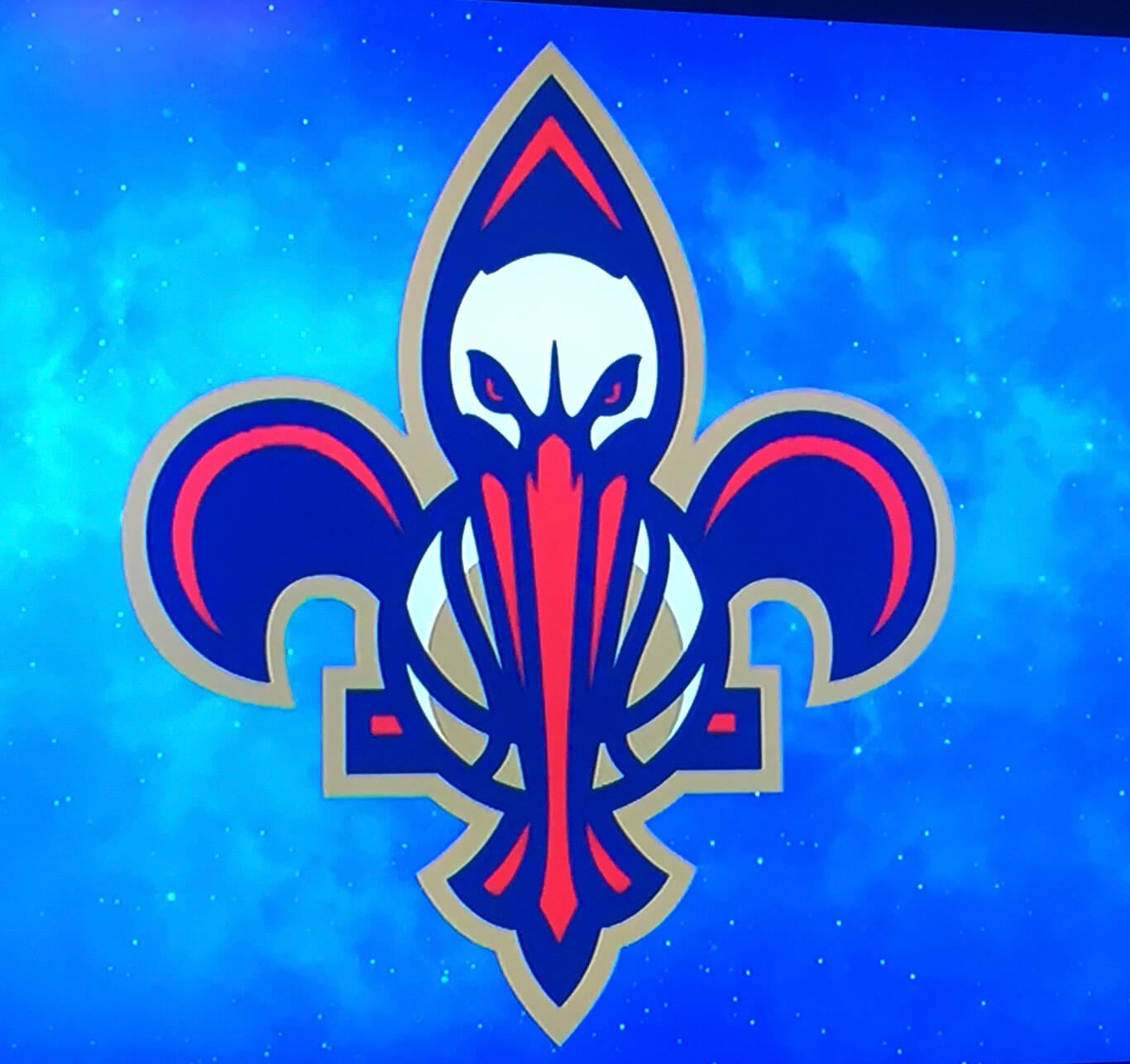 What is "My favorite category this month"?: Mary and I will periodically go on a Jeopardy! kick, and we're in the midst of one now. As we sat down on the sofa for last night's episode, I was excited to see that one of the categories as "NBA Logos"! Hmmm, could there be a Uni Watch reader on the Jeopardy! staff?
I grabbed my phone so I could photograph the clues as they came up. It took a little while before the contestants delved into that category (they were initially more interested in lame-o categories like "It's All Onions" and "Neck and Necking," go figure), but they eventually got around to it.
One of the clues was the logo shown at right, along with the description, "One of this southern team's logos is called the 'Bird-de-Lis.'" The other clues were strictly verbal, as follows (click to enlarge):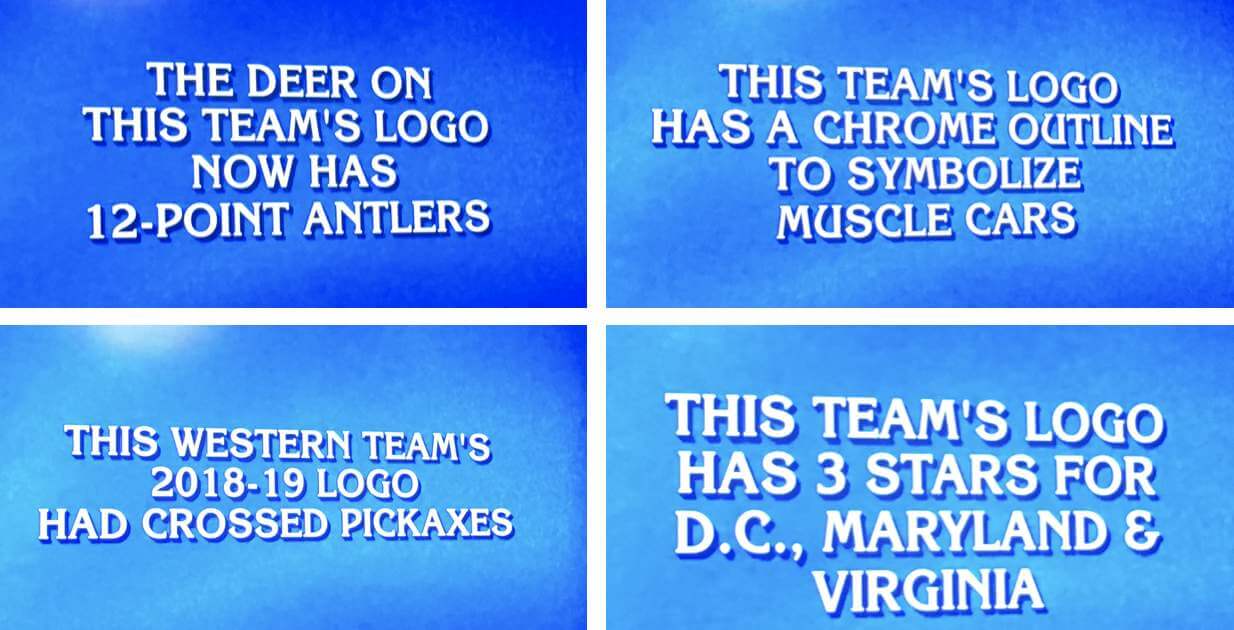 Granted, those weren't too difficult, but I was happy to see that all of the clues were answered accurately.
Imagine an entire uni-centric episode of Jeopardy! — that's something we need to get working on.
• • • • •
• • • • •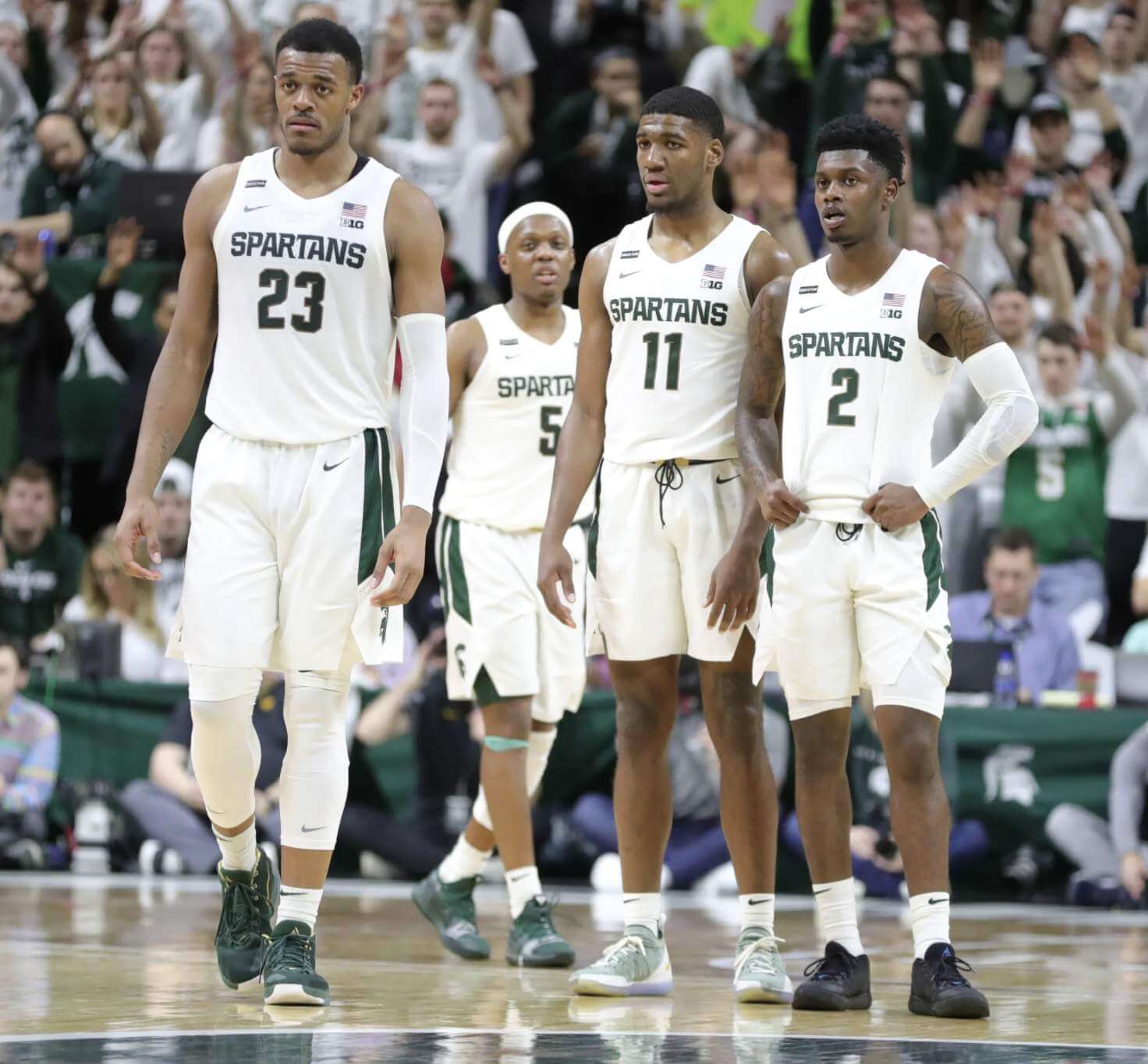 Oh for fuck's sake: The latest step in our culture's seemingly inevitable march toward Idiocracy came yesterday, as Michigan State University announced, apparently with a straight face, that its basketball team will henceforth be known as the "Michigan State Spartans Presented by [a large mortgage broker]."
After everyone checked the calendar to see if it was April 1 (it wasn't), the reality began to set in that MSU had literally sold the name of its basketball team. To a mortgage company. For real. (Proofreader Jerry Wolper suggests that "MSU" should now stand for "Mortgage State University.")
You all know what I think of this shit, so I won't belabor the point. I will note, however, that it isn't just awful on its own terms — it's also a symptom of a larger illness in our culture. Sigh.
• • • • •
• • • • •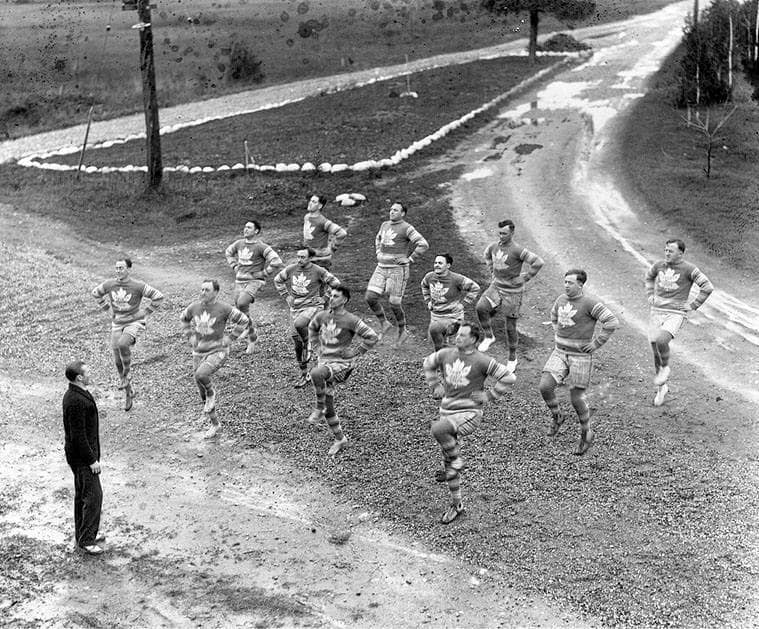 Click to slightly enlarge
Too good for the Ticker: What's going on here? It's the 1928 Toronto Maple Leafs doing outdoor calisthenics in full uniform! How great is that? The drill instructor is Cpl. Joe Coyne of the Royal Canadian Regiment, an infantry regiment of the Canadian Army.
Of course, lots of sports teams used to work out in their game uniforms, but it looks particularly amusing/endearing when a hockey team does it because (a) hockey uniforms are so unusual, what with the short pants and the striped stockings, and (b) it just seems weird to a see a fully uniformed hockey player wearing shoes on dry land.
(Big thanks to Brandon Weir for this amazing shot.)
• • • • •
• • • • •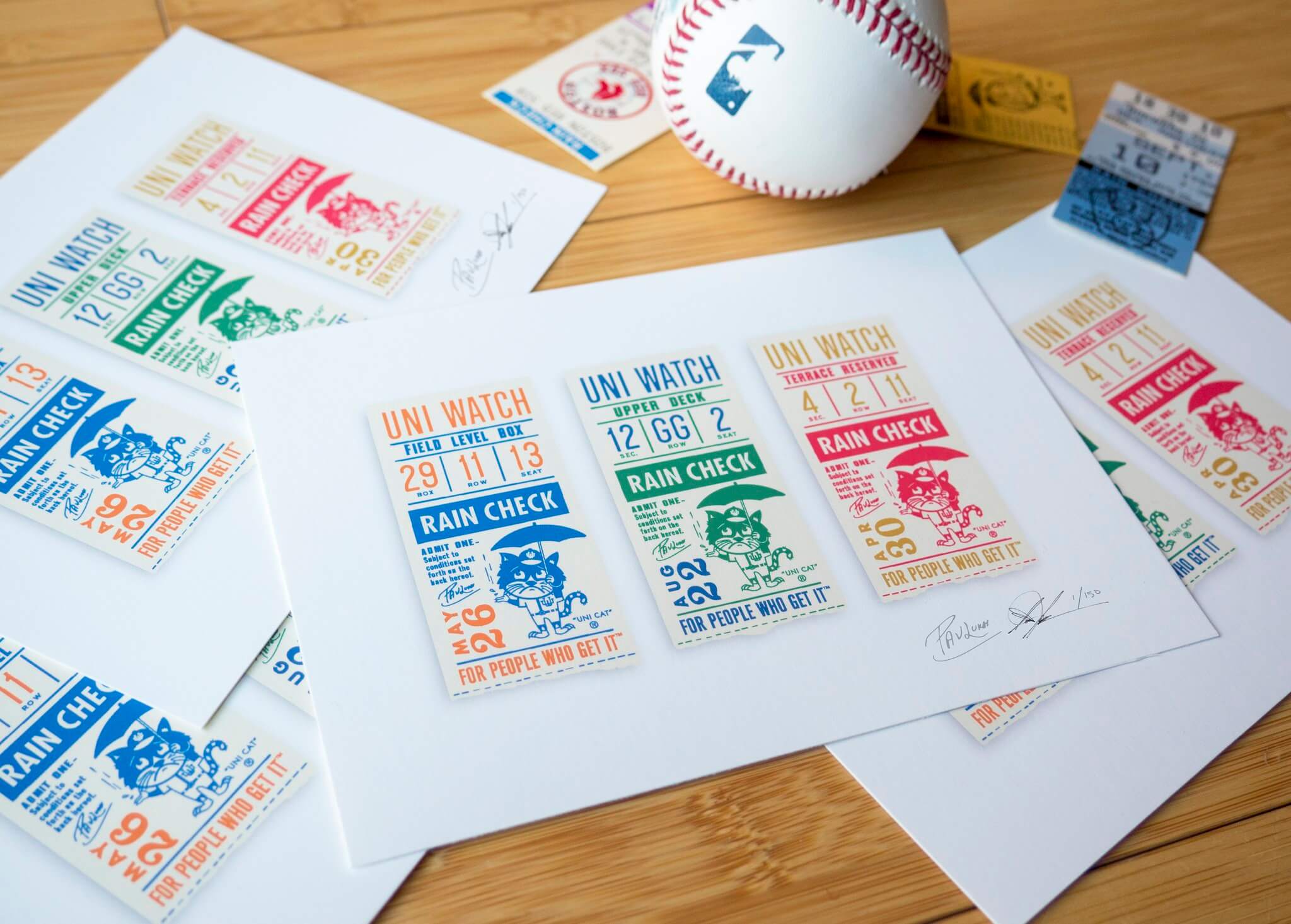 Click to enlarge
One print, two print, old print, new print: Earlier this week I mentioned that Todd Radom and I had found a small stash of our limited-edition 2018 "Rain Check" print that we had set aside for promo purposes and then forgotten about. We still have some of those — all signed by both Todd and myself — available on Todd's website.
That got us thinking: With the Uni Watch Pin Club doing so well, how about a signed print showing all of last year's designs? Something like this (click to enlarge):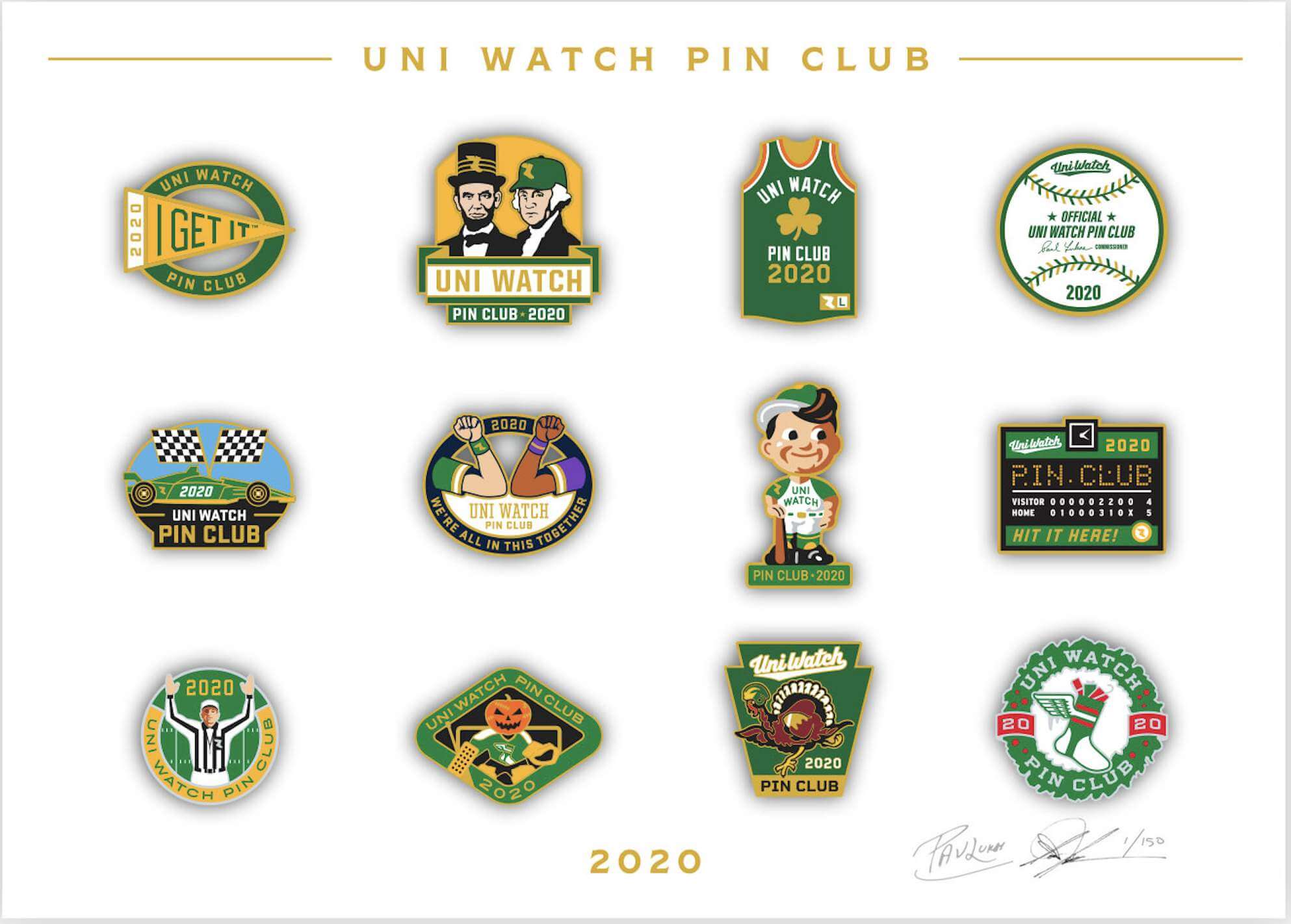 We're thinking 7″ x 5″, signed by both of us. We'd do a similar print at year's end for the 2021 designs.
Before we pull the trigger on this, we'd like to get a sense of how many people might be interested in it. If that's you, shoot me a note. Thanks!
• • • • •
• • • • •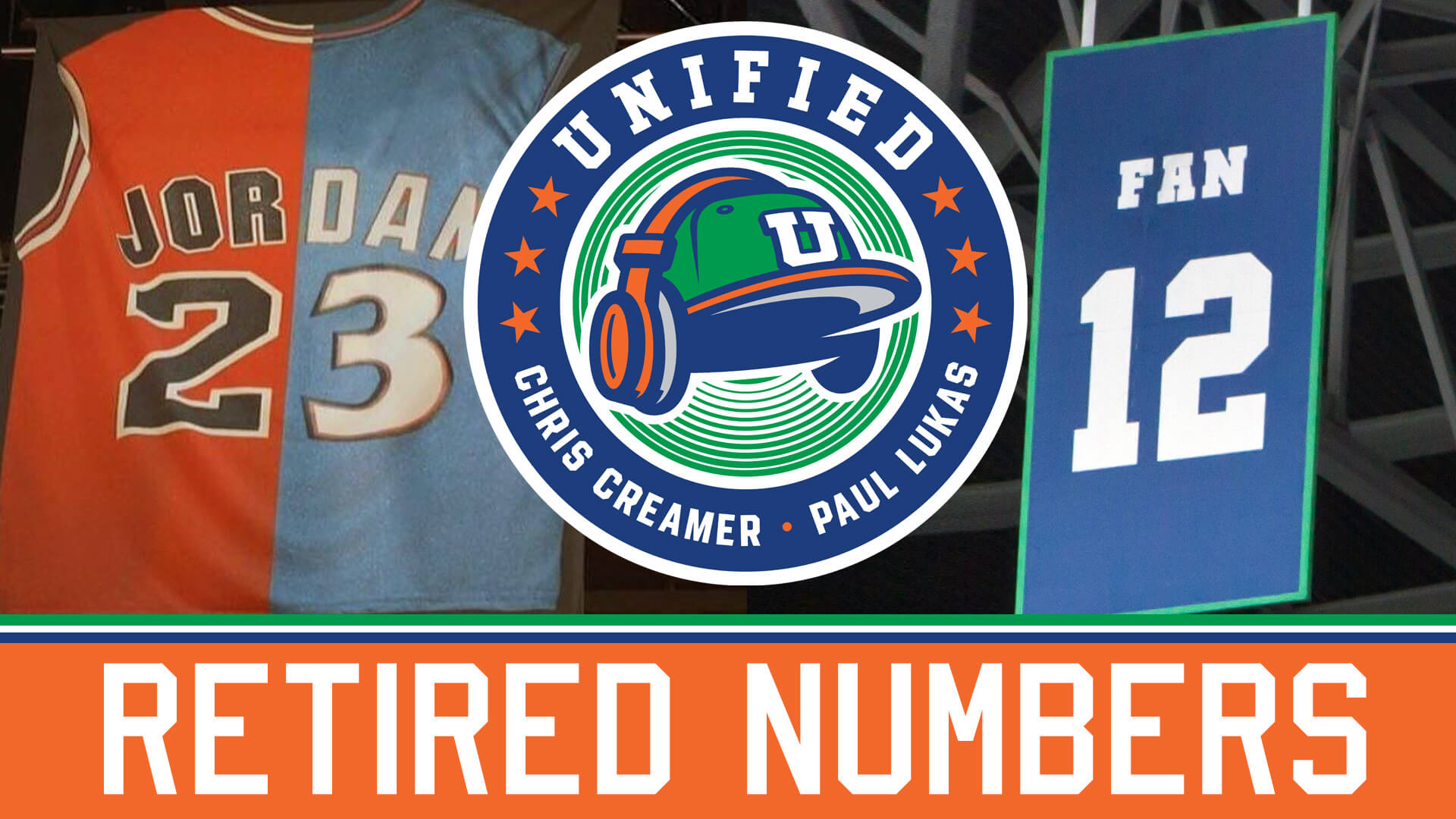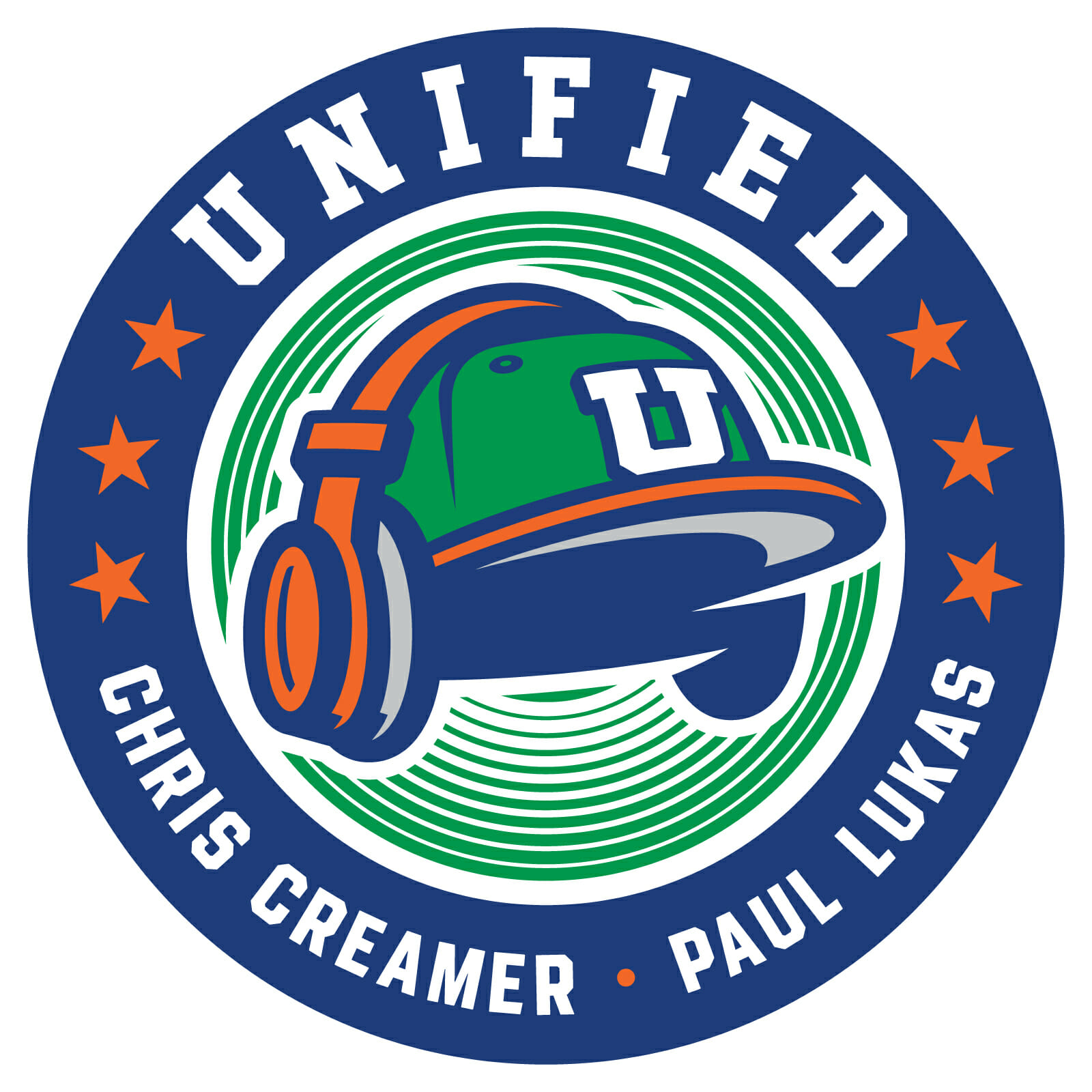 Podcast reminder: For this week's episode, Chris and I discuss the ins and outs of retired numbers, along with the recent NFL leaks, the NBA All-Star Game, MLB's new Lou Gehrig Day, whether team success or failure should dictate uniform choices, and more.
Due to a microphone issue that we weren't aware of until after we recorded, my voice sounds more echo-y on this episode. Sorry about that, and hope it's not too distracting.
As always, you can listen to us on Apple, Google, Stitcher, TuneIn, and Spotify, or just use the player below:
The show notes from this episode, which include photos of many of the things we discussed, are here. Those photos (and some additional ones) also appear in the video version of the episode:
Please consider supporting this episode's advertisers, Streaker Sports (20% off with checkout code UNIFIED), Homefield Apparel (15% off with checkout code UNIFIED), and Oxford Pennant (20% off with checkout code UNIFIED).
Enjoy the episode, and thanks for listening.
• • • • •
• • • • •
The Ticker
By Anthony Emerson

Baseball News: MLB is testing out a bunch of rule changes in the minor leagues this season. One of them, being used at Triple-A, involves increasing the size of the bases. … The Wei Chuan Dragons, the newest team in the Taiwan-based Chinese Professional Baseball League, have unveiled their inaugural set of uniforms (from Kary Klismet and @BallparkHunter). … Here's an interesting marijuana-inspired take on the Blue Jays' logo, used by a coed softball team in Connecticut (from Stan Capp).

NFL News: Reader Cris Routh noticed that in 1978, Dolphins FB Norm Bulaich was wearing the team's original helmet logo in at least four different games. That logo had been retired in 1973. Even odder, Bulaich didn't join the Dolphins until 1975.

Hockey News: Canucks G Braden Holtby has a new Indigenous-designed mask that will be worn for away games (from Wade Heidt). … SaiPa goalie (and Kings draft pick) Juho Markkanen has ads on his pads. That seems like a bridge too far, even for the very ad-heavy Finnish league (from Jakob Fox). … The Sabres wore white at home by wearing their ЯR unis against the Pens yesterday (from @AnakinForrest). … Golden Knights owner Bill Foley says the team's metallic gold helmets are here to stay.

Basketball News: The Bucks' Chief Marketing Officer says the reason why every Bucks jersey reveal features a Khris Middleton jersey is because the team specifically requested a Middleton jersey for an unveiling several years ago and now the league just keeps sending them Middleton jerseys for their reveals (from @NicholasOfMKE). … Joel Geier found an old NBA team logo ruler from his elementary school days. Seeing as it includes the Bobcats but has the purple Bucks logo, it's likely from 2005-ish. … Here's a cool story about all the venues in Indiana hosting the NCAA tournament this year (from Kary Klismet).

Soccer News: Some English women's teams are wearing a "Take a Stand" chest patch to promote social justice. Most patches are in black-and-white, but Everton wore a yellow-and-blue one, matching their change kit (thanks, Jamie). … New home shirt for Belarusian top-flight club Energetik-BGU Minsk (from Ed Żelaski). … Also from Ed: USL Championship side Indy Eleven have unveiled their new home kit. … São Paulo FC have unveiled their new home kit (from Marcos Vieira). … Nashville SC have unveiled new images of their new stadium, set to open in May 2022 (from Kary Klismet).

Grab Bag: Interesting note from Joseph Bailey, who works at Genesee Community College in upstate New York: "I saw these SUNY 'Women's Empowerment Draft' cards in a colleague's office. As you can see by the card checklist, there's a variety of women represented. For Linda Cohn's and Kim Pegula's cards, Cohn's card is green and yellow — the colors of her alma mater, SUNY-Oswego — and Pegula's card is blue and white, obviously due to the Bills. I appreciate the attention to color by the designers." … Junipero Serra High School in San Diego is changing its name to Canyon Hills High School/Mat Kwatup KunKun (the second part representing the school's name in the indigenous Kumeyaay language) and its team name from "Conquistadors" to "Rattlers" following a student-led movement to raise awareness against the glorification of European colonialism and its negative impacts on Native Americans (from Kary Klismet). … One more from Kary: Here's a story on actor Billy Barty, who led an effort in the 1990s to change the team name of Wanatah High School in Indiana from "Midgets" to "Racers". … You can now vote to choose the logo of the 2026 Winter Olympics in Milan and Cortina, Italy (from Rob Altman).
• • • • •
• • • • •
• • • • •
Our latest raffle winners are Patricia Wren, Sam Mostow, Greg Morrison, and Kevin Crothers, each of whom has won a Uni Watch membership card. Congrats to them, and my repeated thanks to Evan Friednash for sponsoring this one.
That's it for this week. Stay well, stay safe, enjoy Phil's weekend content, don't forget to have your clocks spring forward, and I'll see you back here on Monday. — Paul