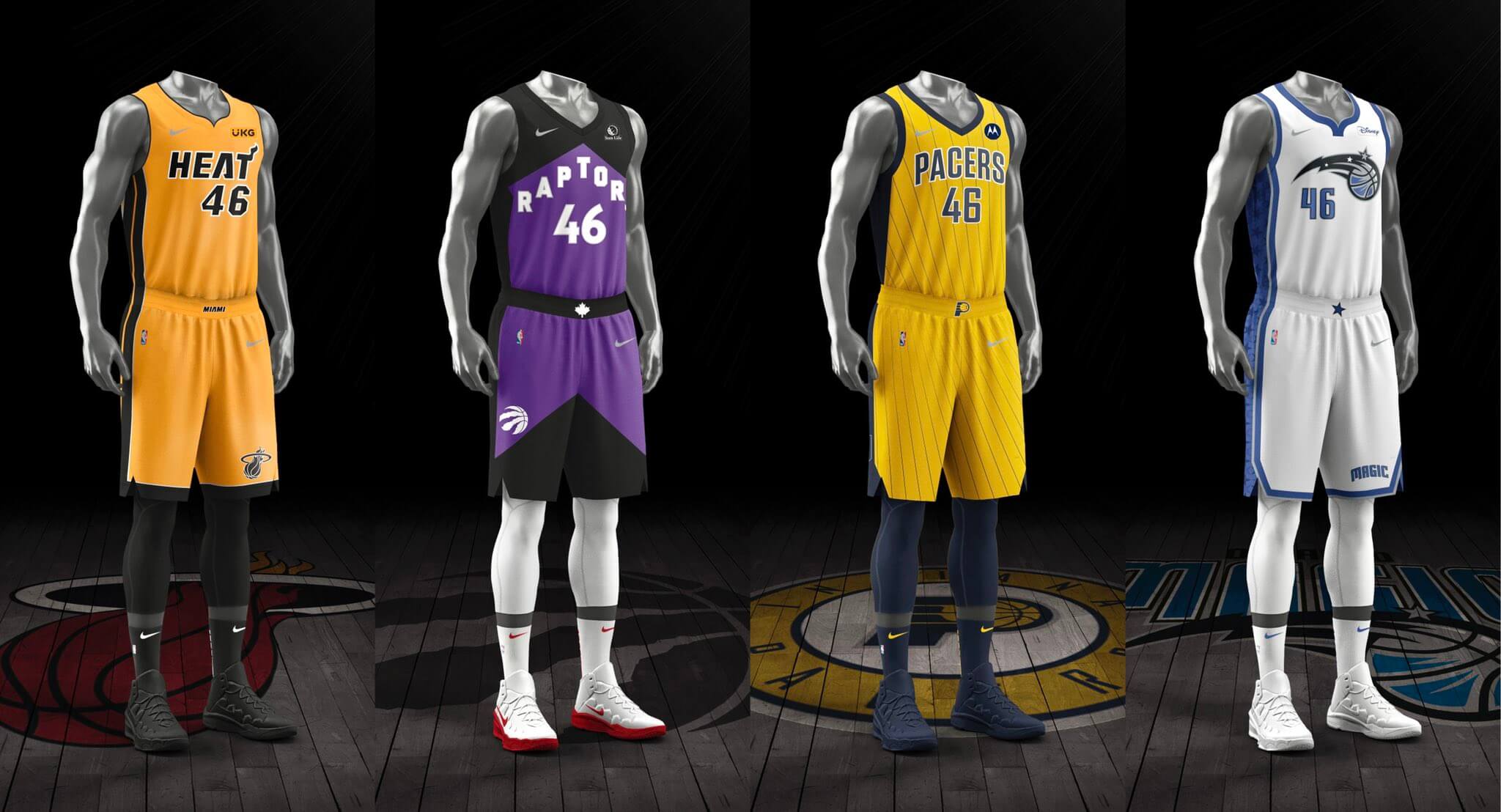 The NBA finally went ahead yesterday and unveiled this season's Participation Trophy uniforms. These are the designs that 16 teams get to wear for making the playoffs last season, wheeee! Four of those 16 teams made the postseason despite having a losing record, so you can see what a huge honor it is to wear this oh-so-special category of uniform.
Refresher course: The Participation Trophy uniform program debuted, largely to a well-earned chorus of ridicule, during the 2018-19 season. It was then scrapped for the 2019-20 season, and now it's back for 2020-21. With a track record like that, and with more than half the league qualifying for the postseason, I can't imagine why anyone wouldn't take these uniforms seriously.
You can see four of this season's designs above. Here are the other 12: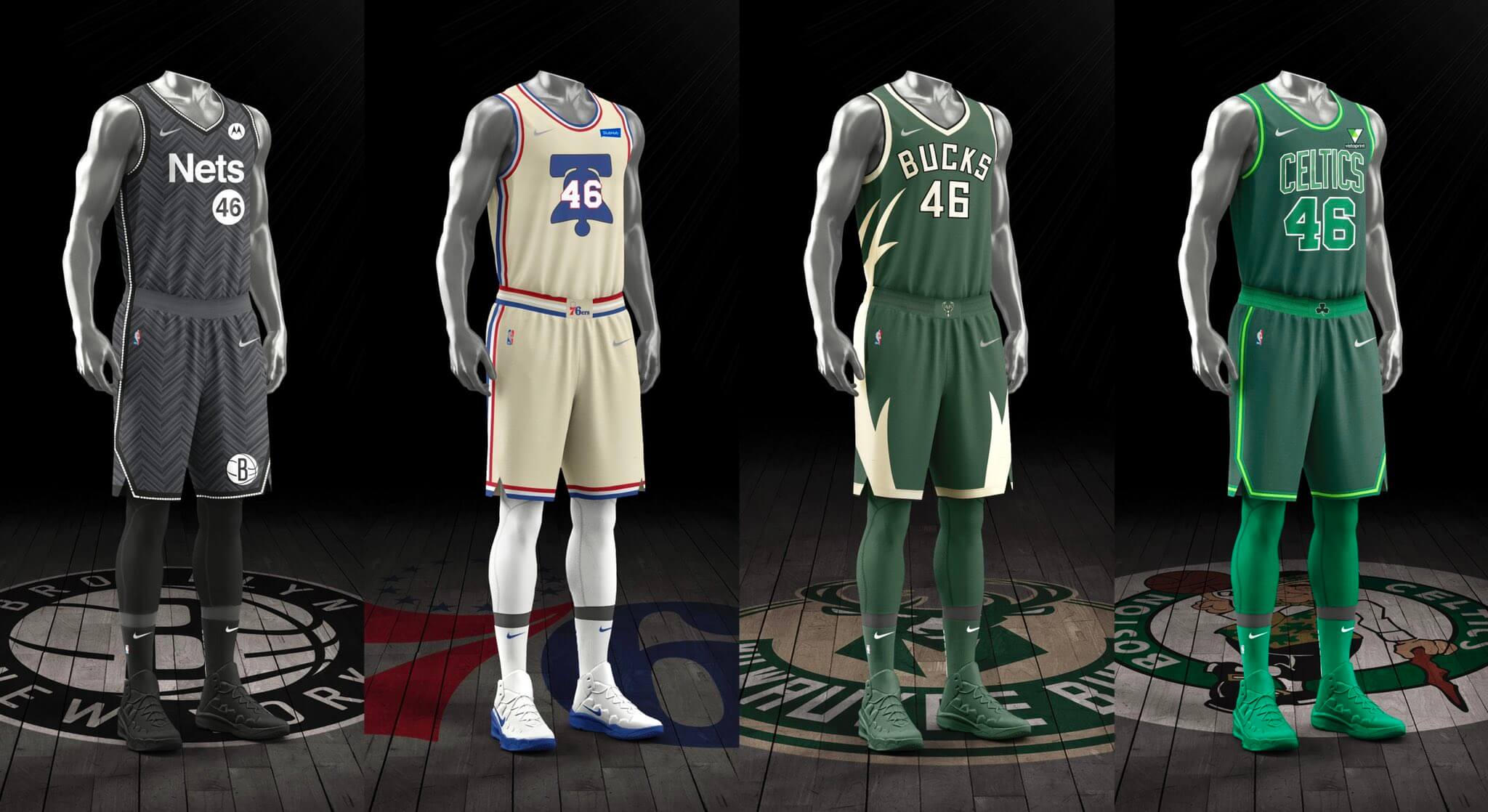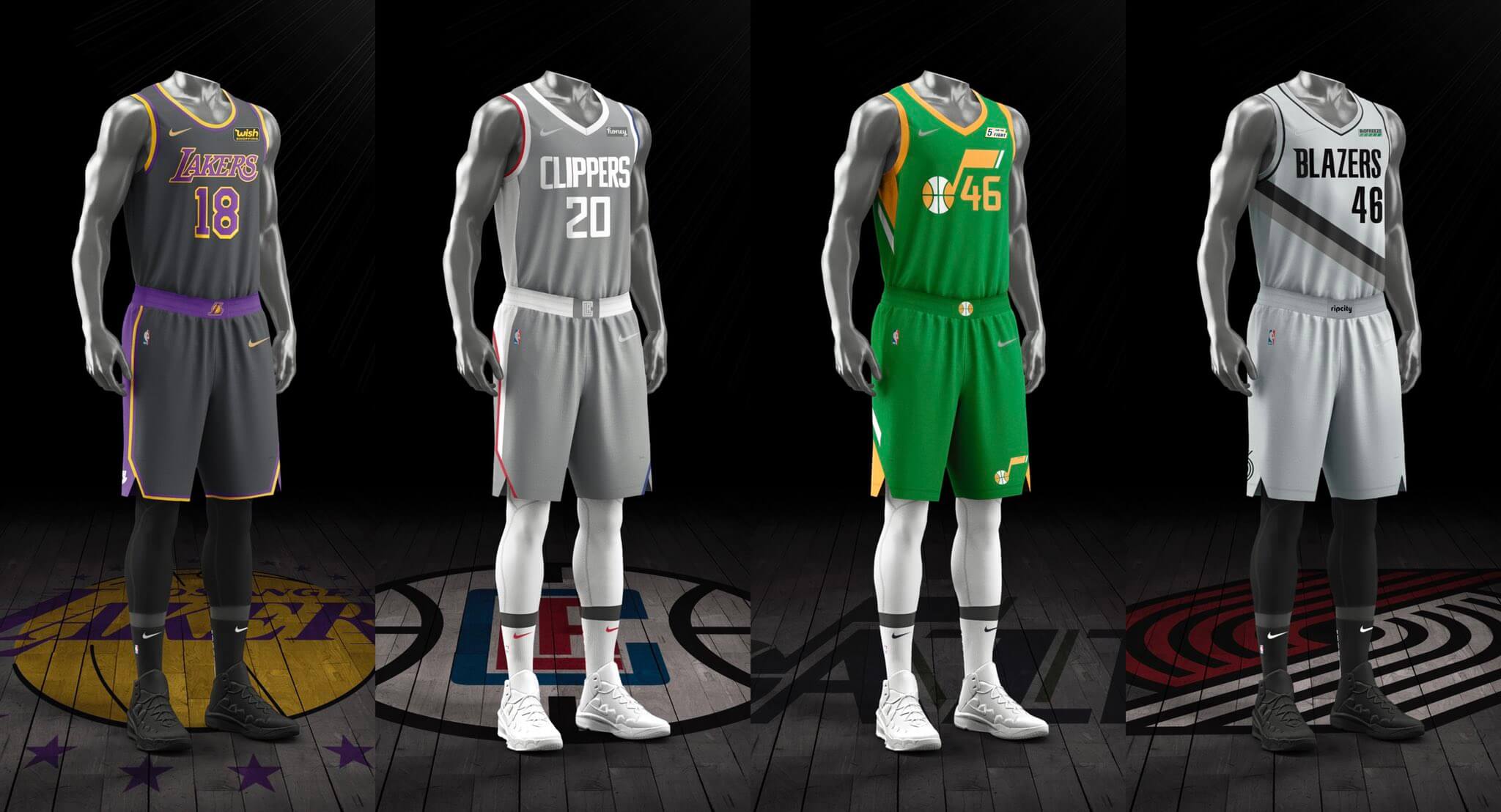 Many of the designs had leaked earlier. Some of the them are pretty good; some are awful; most are meh. Several had me thinking, "Wait, don't they already wear that?" Three are green, which is nice to see (although one of the green ones also has green lettering/numbering, which is beyond stupid and hearkens back to the "Big Color" debacle). Two are grey, which I hate. One has a different-colored maker's mark than the others, which I guess gets some people excited. Two don't have ad patches, so those two are the best. All 16 will soon be mothballed and forgotten, so none of this really matters.
In an absolutely perfect development, the NBA couldn't be bothered to finish the second paragraph of its press release about these uniforms, which really tells you everything you need to know: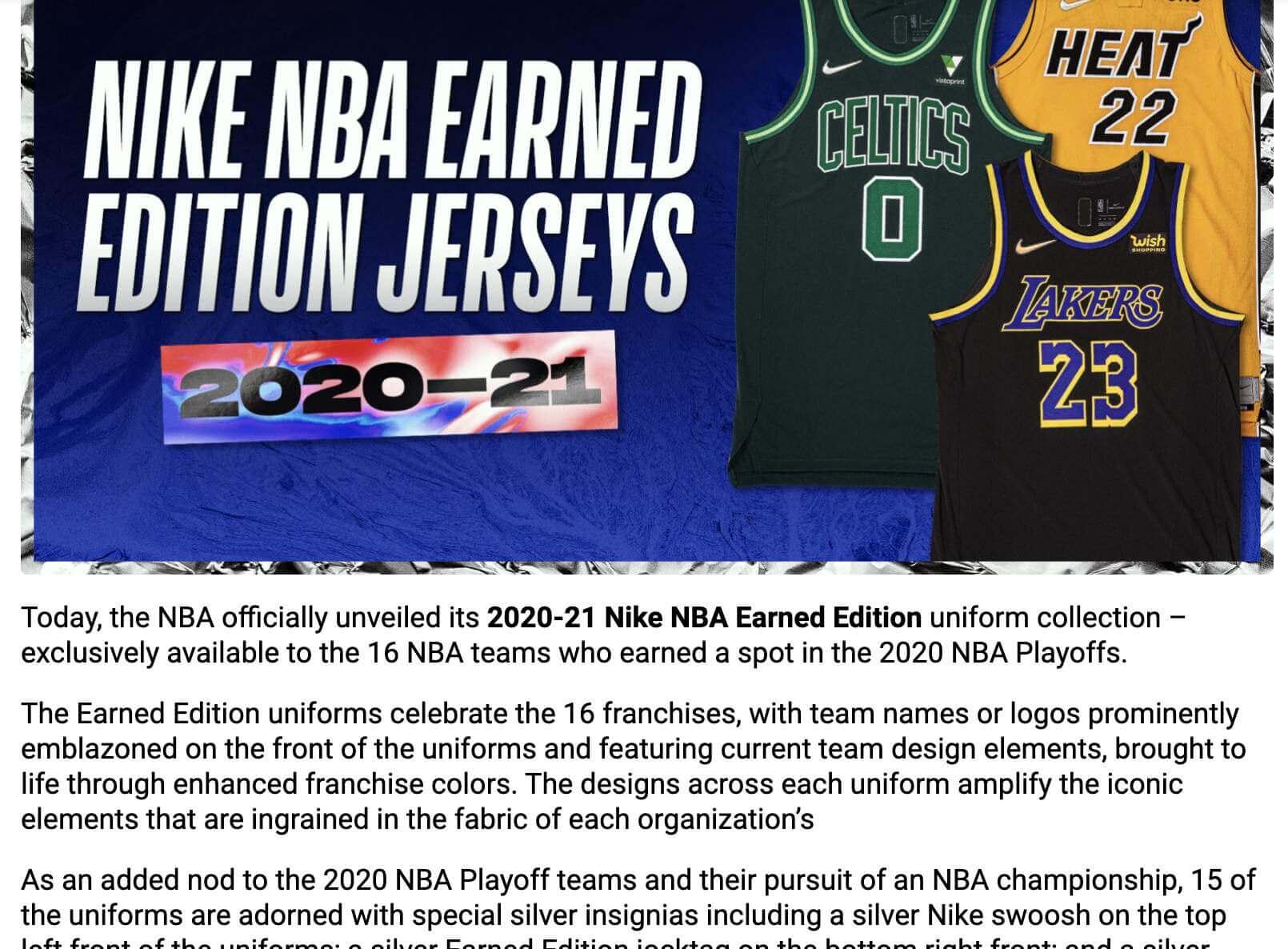 Can't make it up!
Former NBA exec and current columnist for the The Athletic John Hollinger reacted to all this with a fun suggestion: Instead of awarding a new uniform to teams that make the playoffs, make teams that miss the playoffs wear a shitty throwback from their past. That's not bad! They could call it the Shamed Edition. (Of course, the Nets are already wearing the throwback that Hollinger suggests in that tweet, but you get the basic idea.)
In other NBA news yesterday, the Lakers, Heat, Celtics, Bulls, Spurs, and Warriors will soon have their logos stamped into a new line of Oreo cookies! Check this out: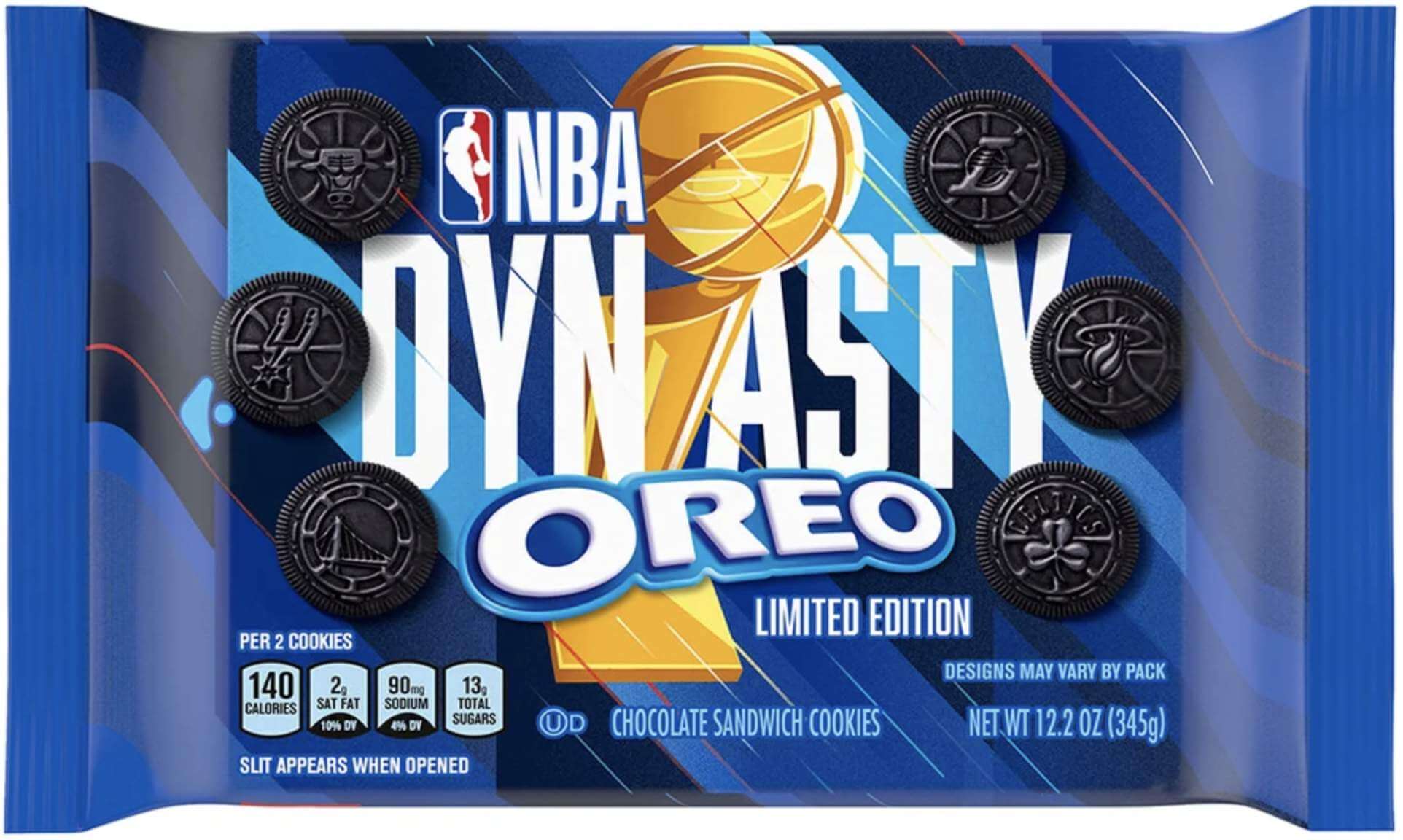 Personally, I think the Oreo news is much more noteworthy than the Participation Trophy uniforms. Tasty!
• • • • •
• • • • •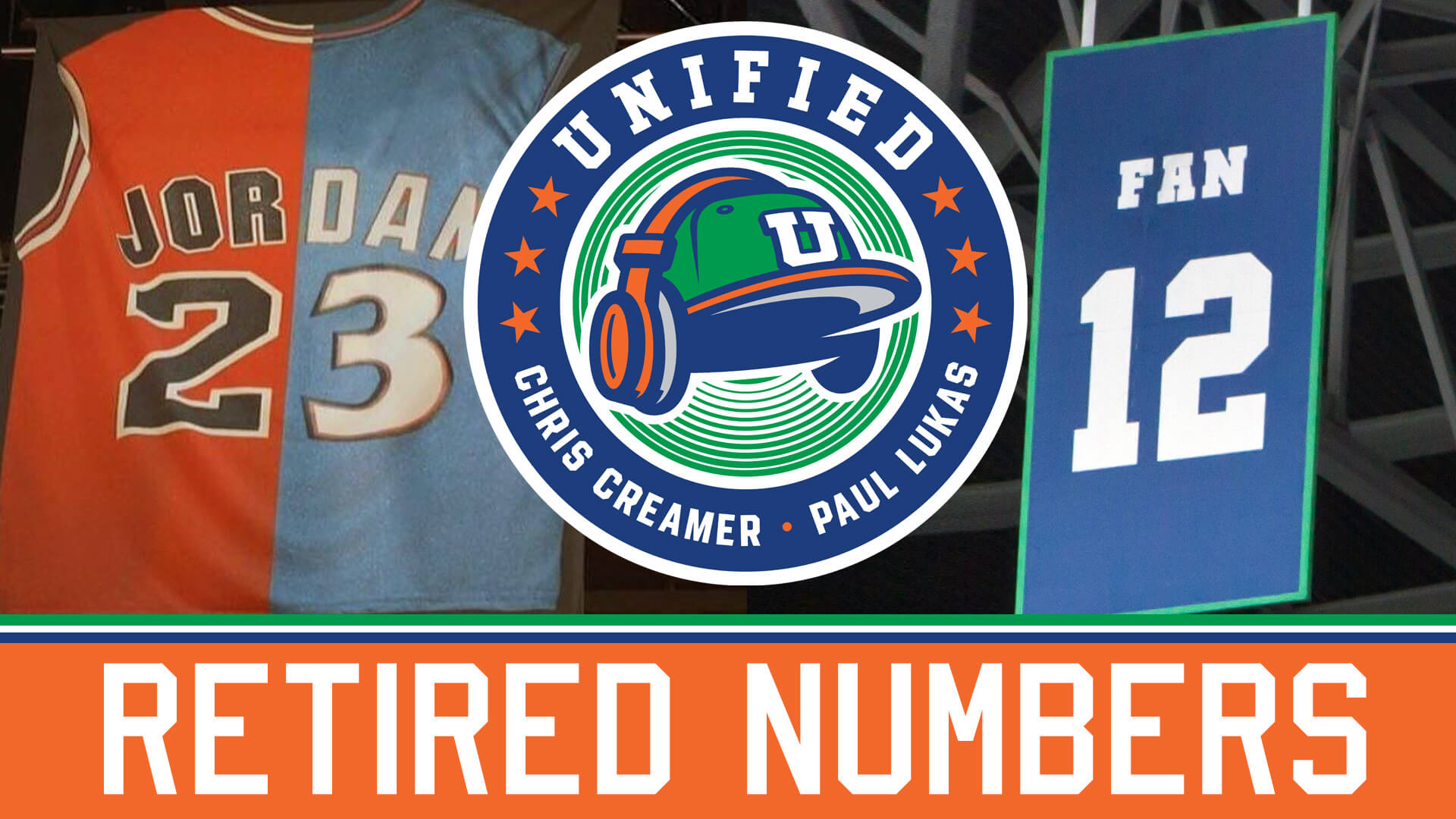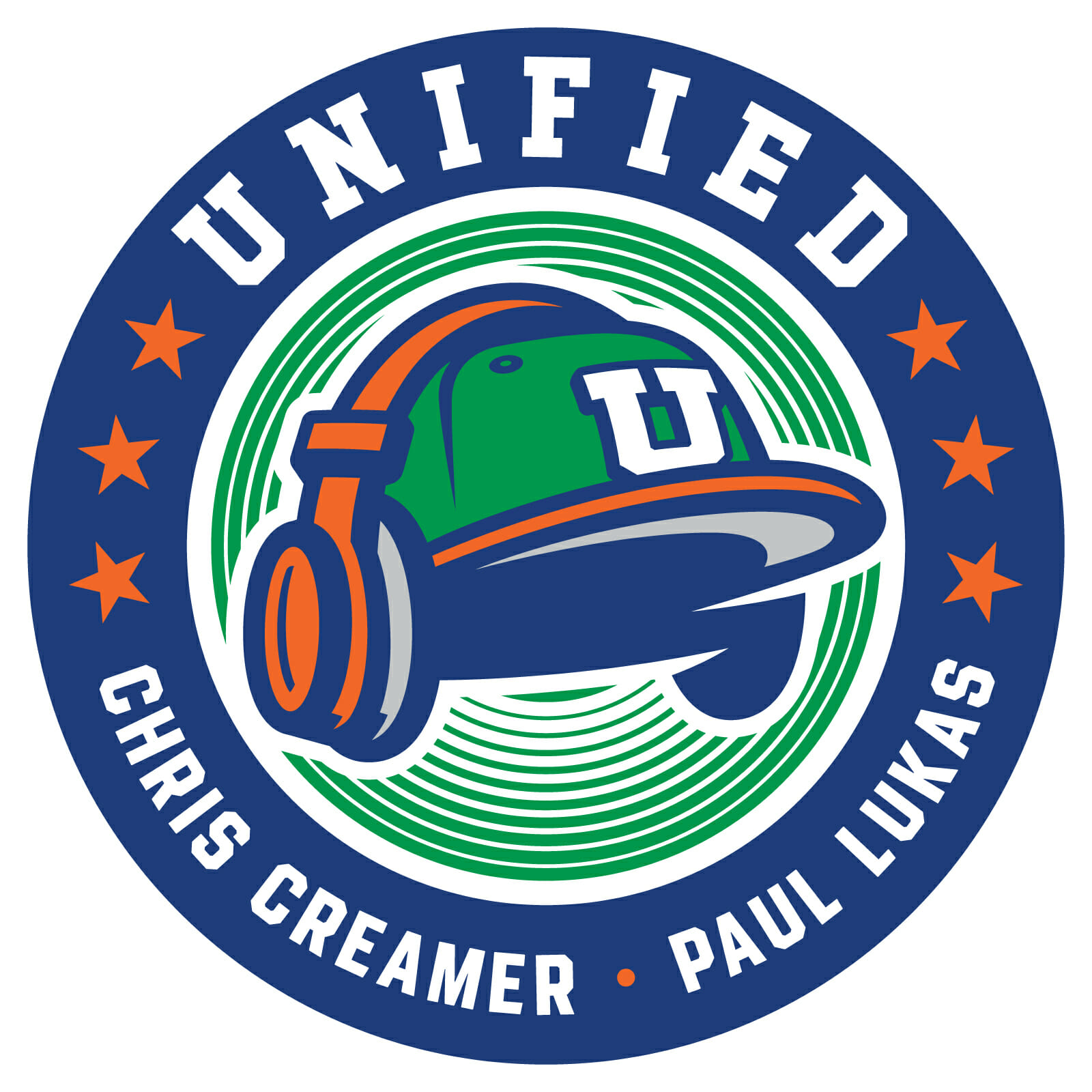 ITEM! New podcast episode: With an NFL team "unretiring" one of its retired numbers and an NBA team announcing that it will retire the number of a 31-year-old player who presumably has a lot of his career still ahead of him, Chris and I decided to discuss the ins and outs of retired numbers on this week's installment of Unified. Plus we also discussed the recent NFL leaks, the NBA All-Star Game, MLB's new Lou Gehrig Day, whether team success or failure should dictate uniform choices, and more.
Due to a microphone issue that we weren't aware of until after we recorded, my voice sounds more echo-y on this episode. Sorry about that, and hope it's not too distracting.
As always, you can listen to us on Apple, Google, Stitcher, TuneIn, and Spotify, or just use the player below:
The show notes from this episode, which include photos of many of the things we discussed, are here. Those photos (and some additional ones) also appear in the video version of the episode:
Please consider supporting this episode's advertisers, Streaker Sports (20% off with checkout code UNIFIED), Homefield Apparel (15% off with checkout code UNIFIED), and Oxford Pennant (20% off with checkout code UNIFIED).
Enjoy the episode, and thanks for listening.
• • • • •
• • • • •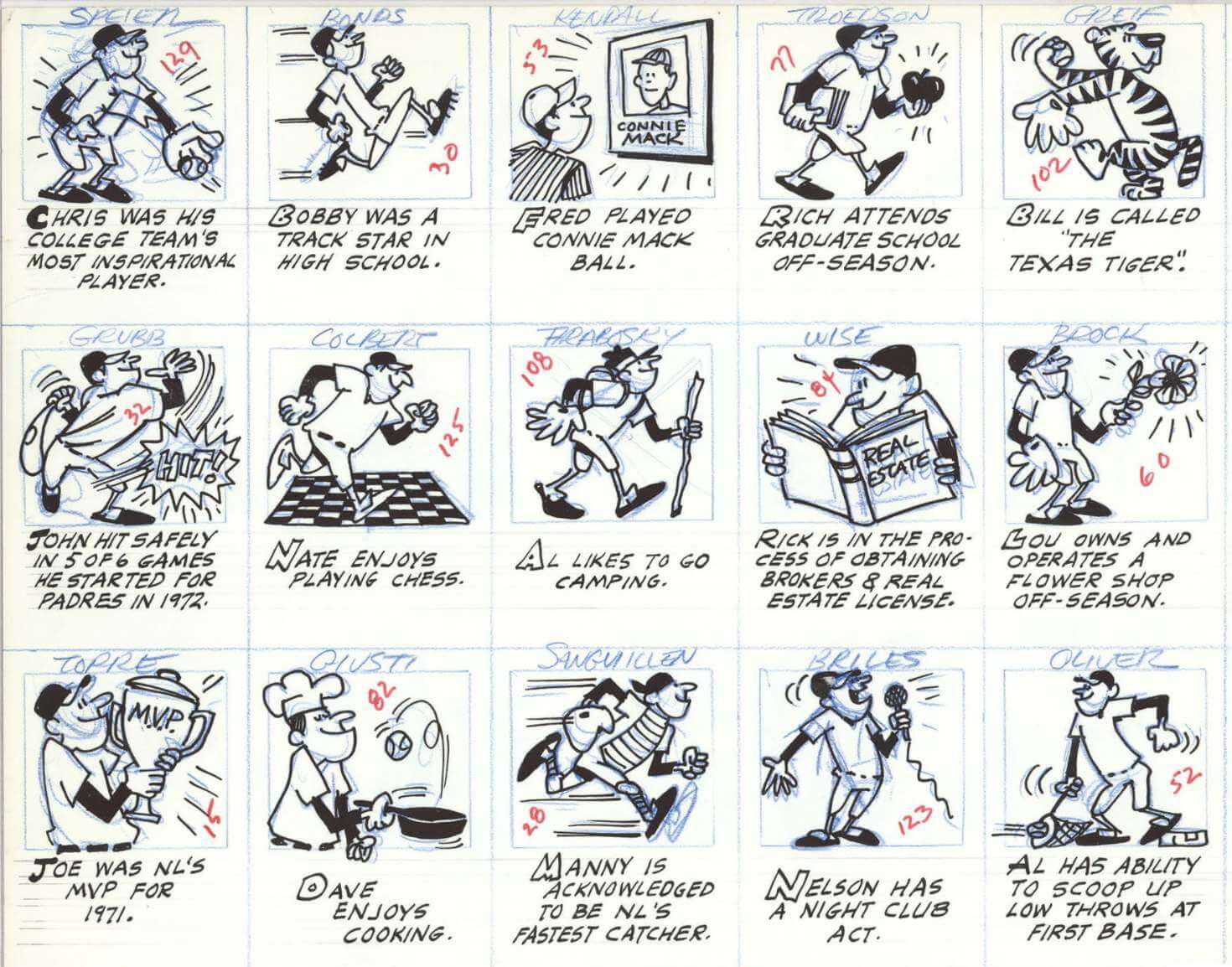 Click to enlarge
Too good for the Ticker: I've always loved the little cartoons that appeared on the back of Topps baseball cards in the 1960s and '70s (which served as the model for Rob Ullman's cartoon on the back of my Uni Watch trading card). The original artwork for many of those cartoons is currently being exhibited at the Baseball Hall of Fame, and there's a great article about that here. The only downer is that nobody seems to know who the original artists were — a real shame. Still, the article is highly recommended. Enjoy!
(Big thanks to James Poisso for this one.)
• • • • •
• • • • •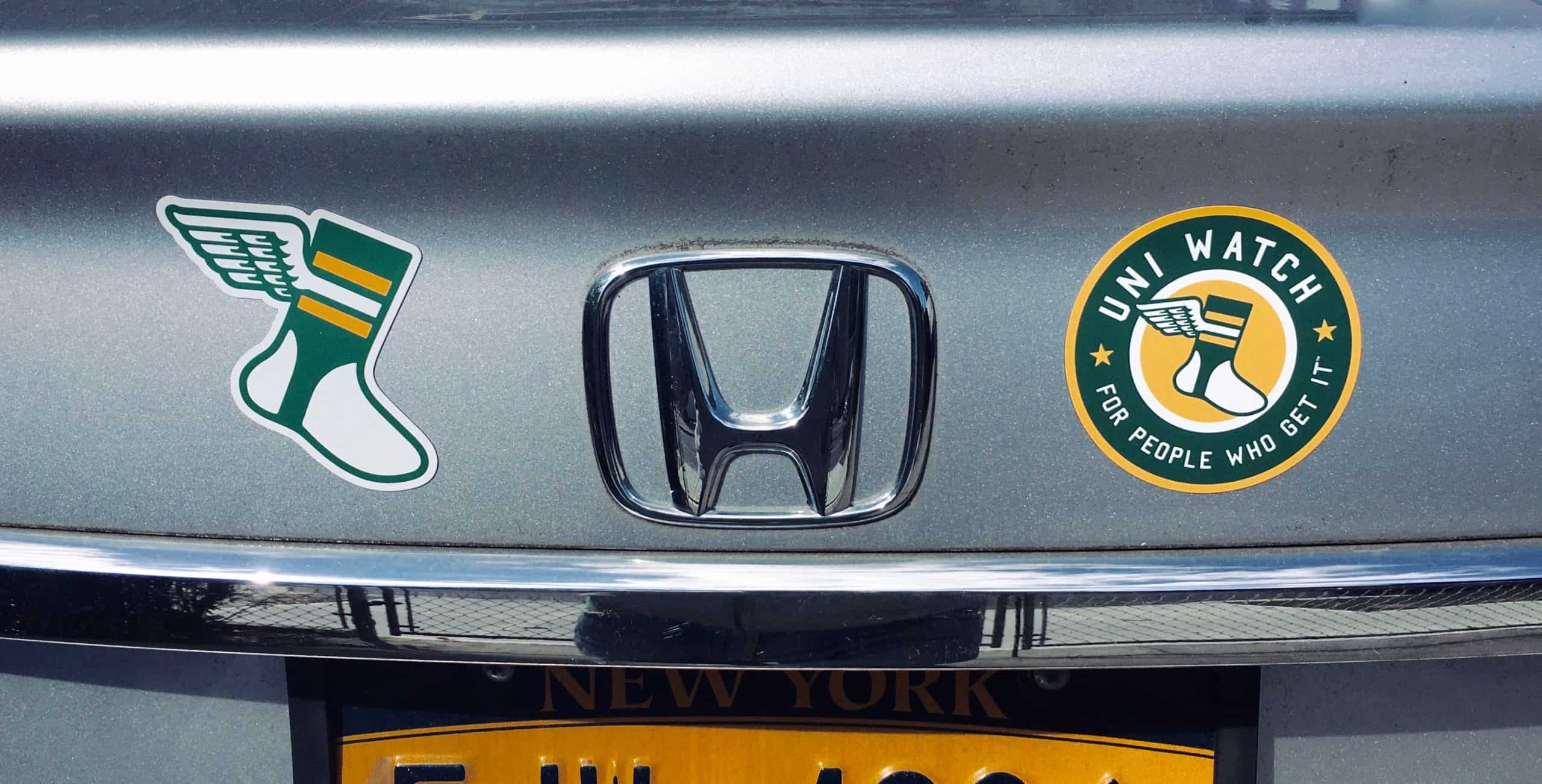 Click to enlarge
Magnet reminder: In case you missed it on Wednesday, our round Uni Watch magnets are now back in stock — and I still have some of the winged stirrup magnets on hand as well. Both designs are available here. Thanks!
• • • • •
• • • • •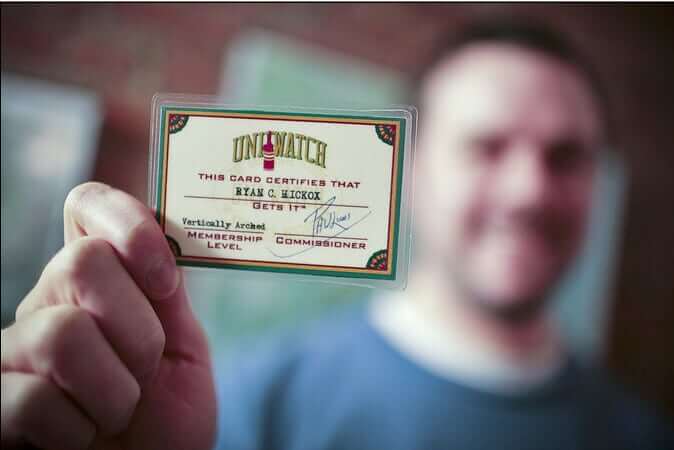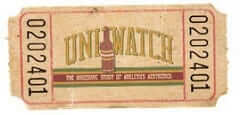 ITEM! Yet another membership raffle: Reader Evan Friednash recently purchased four memberships for me to raffle off, so that's what we're going to to today.
This will be a one-day raffle, with no entry restrictions. To enter, send an email to the raffle in-box by 8pm Eastern tonight. One entry per person. I'll announce the four winners tomorrow. Big thanks to Evan for his generosity!
Meanwhile, the winner of yesterday's membership raffle is Jay Grizzle. Congrats to him, and thanks to Ed Hahn for sponsoring that one.
• • • • •
• • • • •
The Ticker
By Paul

'Skins Watch: Anderson High School in Cincinnati, whose teams were formally called the Redskins, will now call its teams the Raptors (thanks, Alex). … The Canadian Press — basically a Canadian version of the AP — will no longer use the Cleveland MLB team's name (from Noah Sidel). … Schools in Danville, Vt., will no longer call their teams the Indians (from Ryan Frazer). … Students at Nipmuc Regional High School in Massachusetts have started a petition to change the school's "Nipmuc Warrior" mascot (from MplsMike). … Marion High School in Iowa has postponed its decision to change its team name from "Indians" to "Mavericks" after learning that the etymology of their proposed new name comes from Samuel A. Maverick, a 19th-century Texas rancher and slaveholder (from Kary Klismet). … Two New Jersey high schools — Pascack Hills and Pascack Valley — have renamed their teams "Broncos" and "Panthers," respectively, after dropping "Cowboys" and "Indians" last year (from Kary Klismet). … Also from Kary: A student at North Central High School in Spokane, Wash., has helped write a legislative bill to ban Native-based team names in the state, which would also affect her own school. … The Atlanta Braves have donated $30,000 to the Eastern Band of the Cherokee Indians, which will help the tribe hire a Cherokee language teacher for its school system. The funds came in part from sales of a T-shirt featuring Cherokee syllabary displaying the word "Anetsovsgi," which translates to "Ballplayer" (from @Squish581).

Baseball News: The Cardinals are doing a 1944 replica jersey giveaway on April 23, which suggests that they may be wearing '44 throwbacks that day. … Here's an item we missed: Phillies SS Didi Gregorius's No. 18 jersey somehow didn't make the trip to the team's road game on Sunday, so he had to wear a No. 95 jersey instead. … Newly acquired Astros P Jake Odorizzi will wear No. 17 (from Ignacio Salazar). … With Texas abandoning most of its pandemic-related public health measures, the Rangers will allow full occupancy at their ballpark — albeit with masks required — for Opening Day (from Mike Chamernik). … The Boise Hawks of the independent Pioneer League have unveiled drawings for a proposed new stadium (from Kary Klismet). … Milwaukee's Racing Sausages have kidnapped Bernie Brewer in the debut episode of a new video series, possibly portending a major makeover for Bernie (from Kary Klismet). … Padres radio broadcaster and Uni Watch pal Jesse Agler reports that the team's top pitching prospect, MacKenzie Gore, has changed to wearing No. 1 this spring. Jesse says Gore will definitely be with the big league club at some point this season and might even make the Opening Day roster. If he keeps No. 1, he'll join Matt Young of the 1990 Mariners as a rare 1-clad pitcher. … Twins SS Nick Gordon's batting helmet logo was slightly askew yesterday (from Giles Ferrell). … A Reds fan has repainted his lawn jockey to look like it's wearing Cincy's 1956 road uni!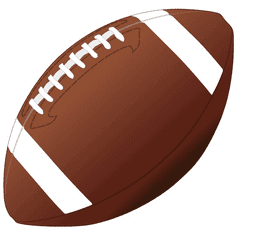 Football News: The Regina Rams — that's a Canadian college team — have what appears to be a new secondary logo on their front bumper (from Wade Heidt). … Following up on yesterday's entry about red-green colorblindness, Andrew Cosentino was watching an episode from the fourth season of Friday Night Lights that featured a red-vs.-green game. "It's the first game of the series where neither team is wearing white," he says.

Hockey News: Maple Leafs C Auston Matthews has been wearing some custom skates (from Wade Heidt). … Whoa, check out these amazing pics of a rink set up for a game on Lake Baikal, the deepest lake in the world! (From Ed Zelaski.) … New neon-accented mask for Stars G Anton Khudobin, to match the team's alternate uni (from Wade Heidt).

Basketball News: PF Ersan Ilyasova will wear No. 77 for the Jazz. … Pro wrestler Chuck Taylor (yes, like the sneakers) wore a Joel Embiid 76ers jersey last night (from @btownmoose). … Ed Hahn spotted an auto repair shop with a Celtics-themed sign in Richmond, Va., of all place. … Gee, ya think the SWAC tourney logo was big enough on the court last night? (From @gimmethewooby.) … Update: Several commenters have informed me that the SWAC logo was so big because it had to cover UAB's enormous center-court logo. … For the Big 12 tourney, all participating teams' colors will be featured as part of the lighting at Union Station in Kansas City, with colors removed from the display as teams are eliminated (from Ryan Atkinson).

Soccer News: New home shirt for Argentine side Velez Sarsfield (from Ed Zelaski). … Also from Ed: New corporate advertiser and logo for the third-tier Polish league II Liga. … Rio de Janeiro's Maracanã stadium is being renamed after Pelé. "Technically speaking, it already was named after a journalist, Mário Filho, but it's still way more commonly known as the Maracanã," says our own Jamie Rathjen.

Grab Bag: New F1 livery for Ferrari (thanks, Anthony). … Baltimore-based reader Andrew Cosentino created an Instagram slideshow of his 10 favorite redecorated Baltimore salt boxes. … Oh man, check out the sensational use of negative space in this preschool mascot design (big thanks to Jimmy Lonetti). … Saddleback College in California has narrowed the list to 21 possible replacements for its "Gauchos" team name (from Tom Wadsworth). … For the first time ever, tennis pro Roger Federer is competing in non-Nike footwear. … The NCAA is petitioning to invalidate a urology center's registered trademark for the term "Vasectomy Mayhem," claiming that it's confusingly similar to NCAA marks like "March Mayhem" (from Andreas Papadopoulos). … A Twitter-er has determined that the U. of Iowa has 85 different trademarked sports logos currently in use (from Kary Klismet). … Here's a look at the evolution of the Guinness beer logo. … An Aussie-rules football team announced that it has an "official Cheese Partner" (from Ash Norris). … Here's an article, written by a logo designer, about why people care about logos.
• • • • •
• • • • •