An interesting scenario played out over the weekend, which led to a fun uni-related spat between me and my favorite blogger. Give me a minute to set up the backstory.
So: On Friday it was reported that the Mets were signing free agent pitcher Taijuan Walker (wasn't official yet, pending a physical, you know how that works). Walker had worn No. 00 for his previous team, the Blue Jays (above right). Since the Mets already have pitcher Marcus Stroman wearing No. 0 (above left), that meant the Mets were potentially poised to become only the second team in MLB history to have 0 and 00 on the roster simultaneously (the first was the 1985 Blue Jays, who had Al Oliver and Cliff Johnson), and the first to have both of those numbers in the same starting rotation! (As a side note, I didn't realize until choosing those two photos that Stroman and Walker also both wear blue gloves!)
But that would come to pass only if Walker stuck with double-zero. Late Friday night he posted a Twitter poll, asking fans if he should wear 00 or 99 (the latter of which he wore with the Mariners and D-backs, making him the only player in MLB history to wear 99 and 00). Double-zero ended up winning the poll, although somewhat narrowly:
Which number?

— Taijuan Walker (@tai_walker) February 20, 2021
On Saturday, evening, Walker tweeted a Photoshopped image of himself (presumably created by the Mets) wearing No. 00, which seemed to settle the issue. But when a fan responded to that tweet by asking, "So we're going with 00?," Walker said he still wasn't sure: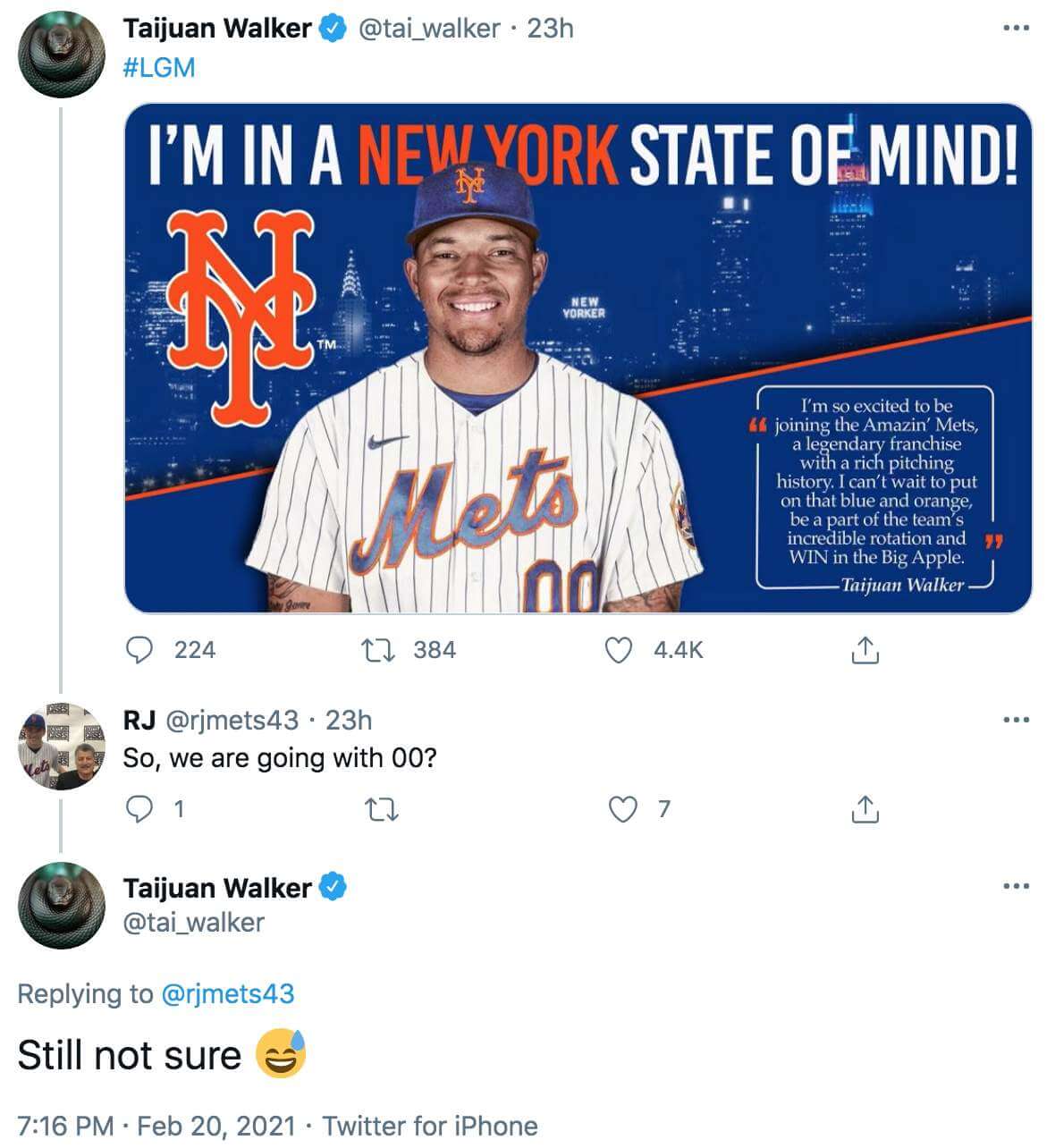 Hmmmm.
A few hours later, Walker said he will actually be wearing No. 99. So that was the end of the potential 0/00 situation — it won't be happening after all. (And yes, I realize Mets first baseman Tony Clark had to stop wearing No. 00 back in 2003 because Mr. Met wears that number, blah-blah-blah. We don't know whether that had anything to do with Walker not going with double-zero.)
Among the many interested observers watching this situation unfold on Saturday was my friend Shannon Shark. He runs the excellent Mets Police site, which is the only sports blog I follow on a regular basis. I don't recall when I first started reading his stuff, but my Gmail archive indicates that I've been emailing with him since at least 2009. In that time, we've become mutual fans and allies, and my respect for him has grown steadily. We have lots of things in common — we love the Mets, hate the Mets' BFBS uniforms, hold Matt Harvey in fairly low regard, think Dom Smith is a better baseball player than Pete Alonso, and and tend to get impatient and cranky with things we regard as bullshit. But when it came to Taijuan Walker and the potential 0/00 situation, well, it would be fair to say that we weren't on the same page:
Au contraire, I *love* this – hope it comes to pass!

— Paul Lukas (@UniWatch) February 19, 2021
So, basically, Shannon was opposed to the potential 0/00 situation (because he thinks those aren't proper baseball uni numbers), and I was rooting for it to happen (because it would be a fun anomaly and I enjoy uni-numerical aberrations).
Okay, no biggie — agree to disagree and all that. But Shannon decided to take it a step further. First, he turned his Twitter avatar purple (which, unfortunately, I didn't think to take a screen shot of). When someone asked him why, here's how he responded:
It is part of my Cold War vs Paul @uniwatch Lukas. He refuses to speak out against the idea of 00 being issued to a Mets player so I have embraced Purple, the color which looks best on uniforms. I am pushing for Purple Mets alternates. https://t.co/Q6pA6rzvca

— metspolice.com (@metspolice) February 20, 2021
I genuinely laughed out loud when I read that. A Cold War — bring it! Shannon went ahead and trolled me by posting a few more pro-purple tweets but then called a truce when Walker announced that he'd be wearing 99 instead of 00:
Thanks to my 3rd favorite Met @tai_walker choosing uniform sanity I hereby cease my Cold War hostilities against Paul @UniWatch Lukas.

— metspolice.com (@metspolice) February 21, 2021
I found all of this hilarious. I also thought it might make for a good conversation, so I asked Shannon if we could discuss the situation either over the phone or via DM. He chose the latter. Here's a transcript, edited for length and clarity:
Uni Watch: Okay, so you were opposed to Taijuan Walker wearing No. 00. Why?
Mets Police: When I look at a baseball game, I feel it should look a certain way. The pitcher should have a number between 11 and 59 (excepting 42). The position players should be between 1 and 51. Why? I dunno — that's what baseball looks like. For the same reason your goaltender should have a number in the 30s and your QB looks best with a two-digit number between 10 and 19.
Mathematically, some feel that 0 is not a number. I will let the mathematicians debate that — to me, 0 is clearly a number. But aren't 0 and 00 the same thing? If Stroman is 0 (I am also against 0 as a baseball number), how could someone else be 00? Why not issue 05 or 041? [Cue the Benito Santiago references. — PL]
In my mind's eye is a perfect baseball game. It's a sunny day game and the Mets are wearing their home pinstripes, NNOB, and blue caps. When you start to deviate — a swoosh jersey, a black drop shadow, 0 and 00 — that all starts to move away from the connections I have with the team. You add enough things and suddenly you start to wonder how else you could spend your three hours on a nice day. Be the New York Mets. Don't be an arena league football team.
UW: So, just to clarify, you didn't just object to the possibility of Stroman and Walker doubling up on zero and double-zero — you also would have objected to Walker wearing 00 even if Stroman wore a "normal" number, and you also objected to Stroman wearing 0 even before the Mets acquired Walker (and presumably also objected to Stroman wearing No. 7 in 2019, because it's a single-digit number). Is that all accurate?
MP: Yes, although I'm okay with a pitcher wearing a single digit. I just think it looks weird. So no issue on the 7, but I am not in favor of 0 being worn on baseball jerseys.
UW: Is 0 any better or more acceptable if the player's name begins with the letter O, as was briefly the case with Rey Ordoñez, and also with Omar Quintanilla?
MP: No! I hated when Ordoñez did it. It looked so much better when he wore 10!
———
I'm going to stop the transcript here to add some context. The day before we engaged in this discussion, Shannon published a blog post entitled "My plan to fix baseball: Introducing the Premier League of Baseball." It's his not-so-modest proposal to fix what he views as baseball's various ailments (games are too long, too many relievers, too many teams nobody really cares about, not enough star power, etc.). Among his proposed fixes: a "premier league" whose eight teams will play only three seven-inning games per week, thus maximizing front-line starting pitchers. Maybe that's a good idea, or maybe it's not — but either way, it seems like it's somewhat in conflict with the "baseball should look a certain way" mindset. I was intrigued by that seeming inconsistency, so I pointed it out:
UW: One thing I'm finding interesting here is that you're taking a very traditionalist stance about the uniforms (which is fine, of course), but you just published a proposal with all sorts of radically non-traditional ideas about remaking the sport! In fact, I cracked up when I was reading that post and got to the paragraph that says, "My league will play seven-inning games and have a DH. There will be fully normal extra innings as God intended." I mean, a lot of people might say that God also intended nine innings and no DH, right?
I'm not trying to play "gotcha." Rather, I'm saying that we all tend to be rather conveniently selective about the areas where we're old-school (like, say, which uni numbers look "right" and which ones don't) vs. the areas where we're willing to push the envelope. Any thoughts on that?
MP: Fair point. I think baseball does need to evolve to survive. I don't think there are many people not directly or indirectly employed by baseball who think the game — the actual game, the pure fun of watching the game, not some billionaire's financials — is in good shape. The record book was destroyed in 1998 [by steroids], so let's let it go. I've written before about baseball's ages or eras, which come in roughly 25-year installments. We're starting a new age now, so let's make some changes to the game — seven-inning games, universal DH, and so on.
Stepping off that soapbox, I think you and I agree that teams can and should look sharp while playing the game. For me, that includes a nice, proper number and NNOB (you can't read a uniform name from the upper deck, and on TV you don't need it).
UW: Turk Wendell wore No. 99 for the Mets (and also for two other teams), and Mitch Williams also wore 99 for three teams. So is 99 more of a reliever's number, and is it therefore not much better than 00 for Walker?
MP: 99 is a much better choice than 00. It's true that we have come to associate it with relievers since Major League, but I can bend on that one.
Let me add: As dug in as I am on uniforms, I have long been an advocate of what I call "Anything Goes Sunday." I think there is a kernel of an idea in what MLB has done with Players Choice Weekend or whatever it's called. It the Mets want to wear Hawaiian shirts and shorts once a week with nicknames and crazy numbers, okay — I like fun. But come World Series time, slap on those pinstripes and have a proper number!
UW: Last question: When Walker announced that he would wear 99, you called off the Cold War. What if he had gone with 00? How might the Cold War have developed??
MP: I like a good Cold War. I planned on finding as many purple Mets things as I could, and would have passively-aggressively posted them. I would also have advocated for a purple Mets alt (which, ya know, with a 00 on the back might look cool on Anything Goes Sunday). Then we could hit a game together and both be annoyed!
———
A really fun discussion! What I find so interesting is that Shannon is clearly a traditionalist when it comes to visual aesthetics but is willing (nay, eager) to break long-established norms when it comes to other aspects of the game — many of which, while not strictly visual, could also be considered aesthetic, at least in terms of the larger spirit of the sport. An impressive bit of compartmentalization!
What about you folks? Discuss!
• • • • •
• • • • •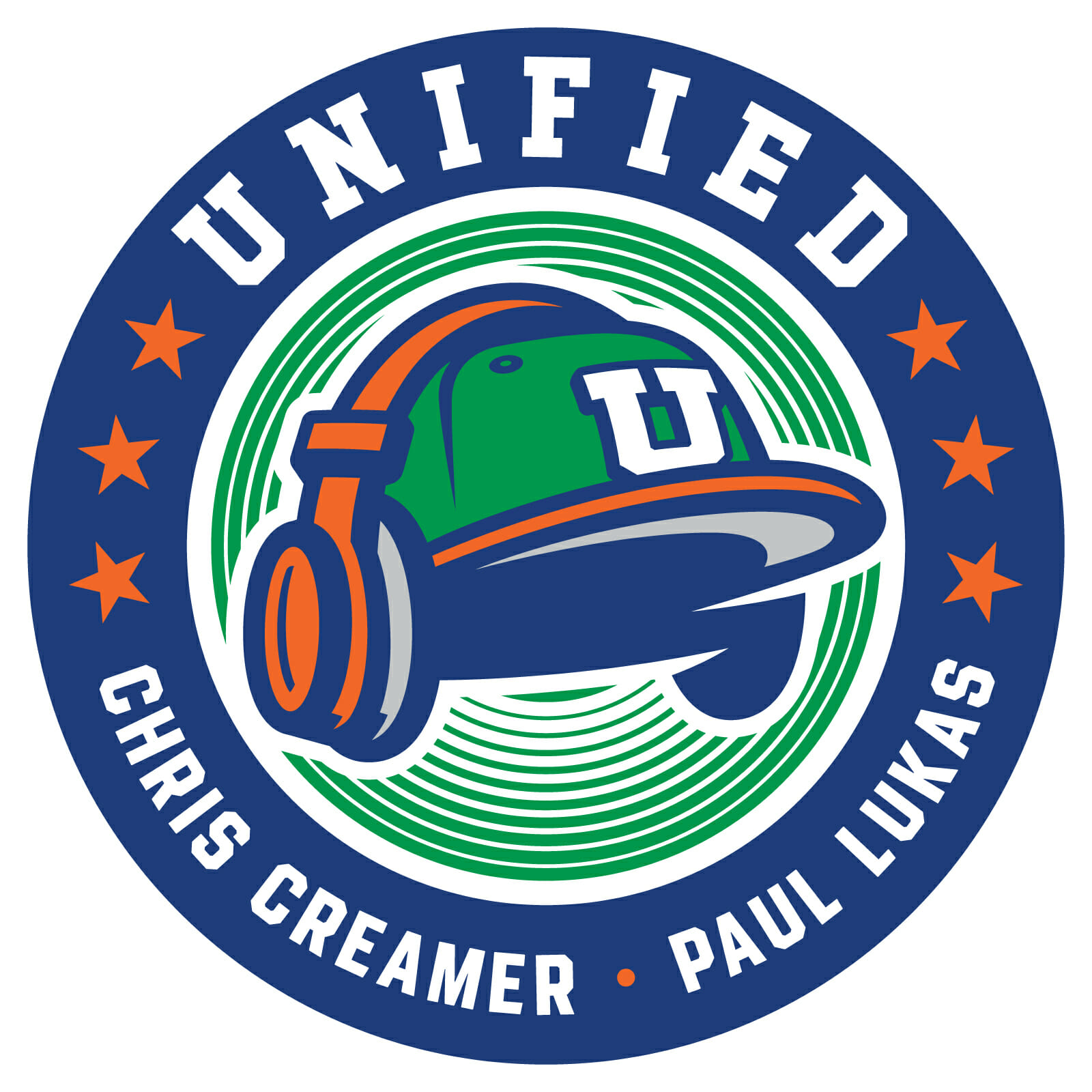 ITEM! Show about logos now has official logo: I'm happy to announce that Unified, my new podcast project with Chris Creamer, now has a primary logo (which you can click to enlarge), created by the great Brian Gundell. I love how it turned out!
Let's shift into FAQ mode:
Why did you choose these colors?
We went with green for Uni Watch, blue for SportsLogos.net, and orange trim because it goes well with both green and blue.
What about the fonts?
We went with a classic block font for the show name and a classic NOB font for our personal names.
What's with those concentric circles?
They're sound waves, and/or radio waves, and/or a speaker cone. You know, because it's a podcast!
What about the stars?
They're just a uniform-y detail. There's no particular significance to the fact that there's six of them — not everything has to be about "storytelling."
The little bullet in between your names is off-center.
Yeah. That was unavoidable due to the differing lengths of our names. We played around with various ways to solve that issue and ultimately decided that it's fine as is.
Wouldn't a microphone be more appropriate than headphones?
Mic-based podcast logos are a visual cliché that we wanted to avoid. Also, a mic would be about us, while the headphones are more about you, the listeners — we thought it was a more comm-uni-ty-minded way to go.
It would look extra-cool if the radio waves could be animated.
You mean like this?
Pretty cool, right? Longtime Uni Watch reader/pal Michael Princip created that for us. We'll use it at the start of our video episodes. Thanks so much, Michael!
The underbill of the cap looks like a Nike logo!
Indeed. That wasn't intentional — Brian just included that shadowing/highlighting because it made sense. Once we realized it looked swoosh-ish, we played around with various ways of tweaking it, but it looks best this way, so we decided to leave it as is. An unintentional uni-related Easter egg!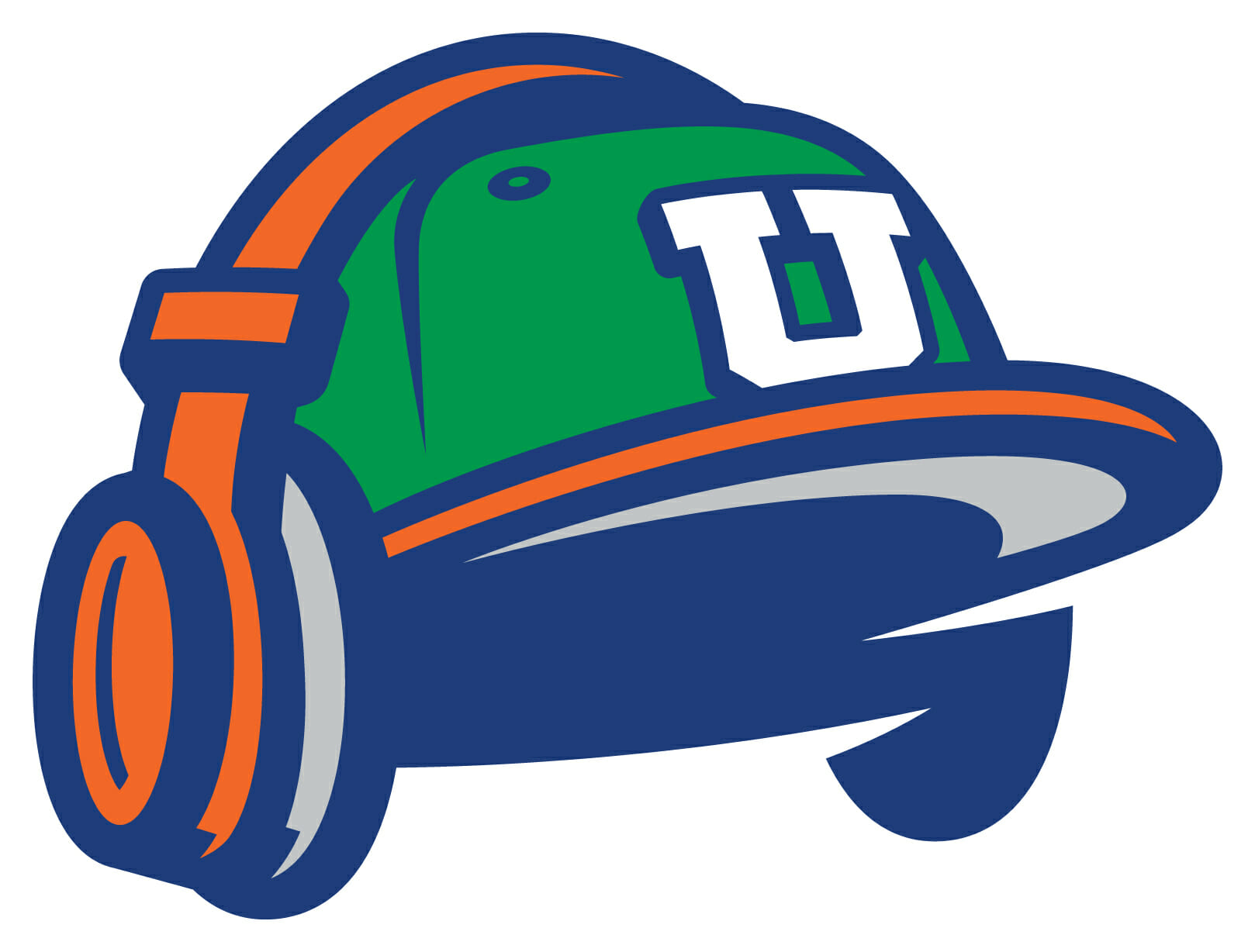 Are there any secondary logos?
The cap can function on its own as a stand-alone mark (as shown at left), and there may also be a version showing the "U" logo wearing headphones.
Also — and I'm really excited about this — there will be additional versions based on other sports. So instead of the baseball cap, there'll be a version featuring a football helmet, another one featuring a goalie mask, and so on. So we'll have a whole suite of interrelated uni-themed logos! But the version I'm showing you today will be the primary mark, or at least that's the current plan.
Will there be Unified merchandise?
Probably. I imagine we'll do T-shirts, stickers, maybe patches. We might also make a batch of caps like the one shown in the logo. Stand by for all of that.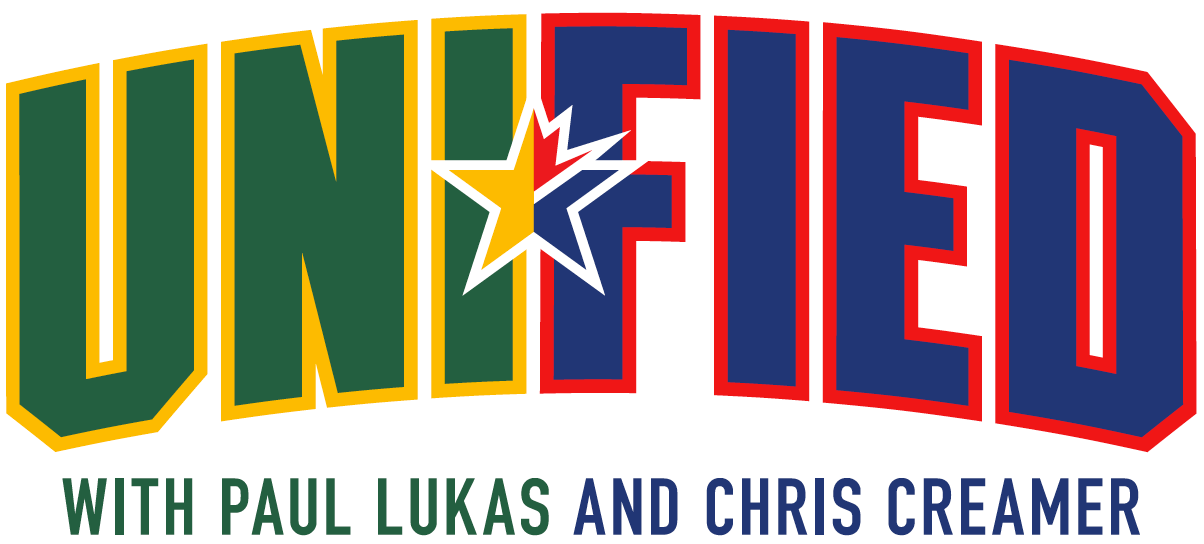 What about that other logo you were using?
Longtime Uni Watch reader/pal Joe Hilseberg took it upon himself to create a logo for us (shown at right) when I announced the podcast's existence. He didn't tell me he was doing it — he just did it and sent it to me. So nice of him! We had already hired Brian to create our official graphics by that point, but Joe's design was good, so we used it as a placeholder.
When I shared the new logo on social media over this past weekend, a few people said, "Nice, but I liked that other design better" or "I like this, but I like the vertically arched one too!" We like Joe's design as well, so we're going to include it in our merchandise offerings, and of course we'll split the profits with him.
———
I think that's it for now. If you haven't caught our latest episode, you can listen to it on Apple, Google, Stitcher, TuneIn, and Spotify, or just use the player below:
Photos of things we discussed in this episode are available on the Unified website, and those photos also appear in the video version of the episode:
Thanks for listening/watching! I'm really pleased with how this project is developing.
• • • • •
• • • • •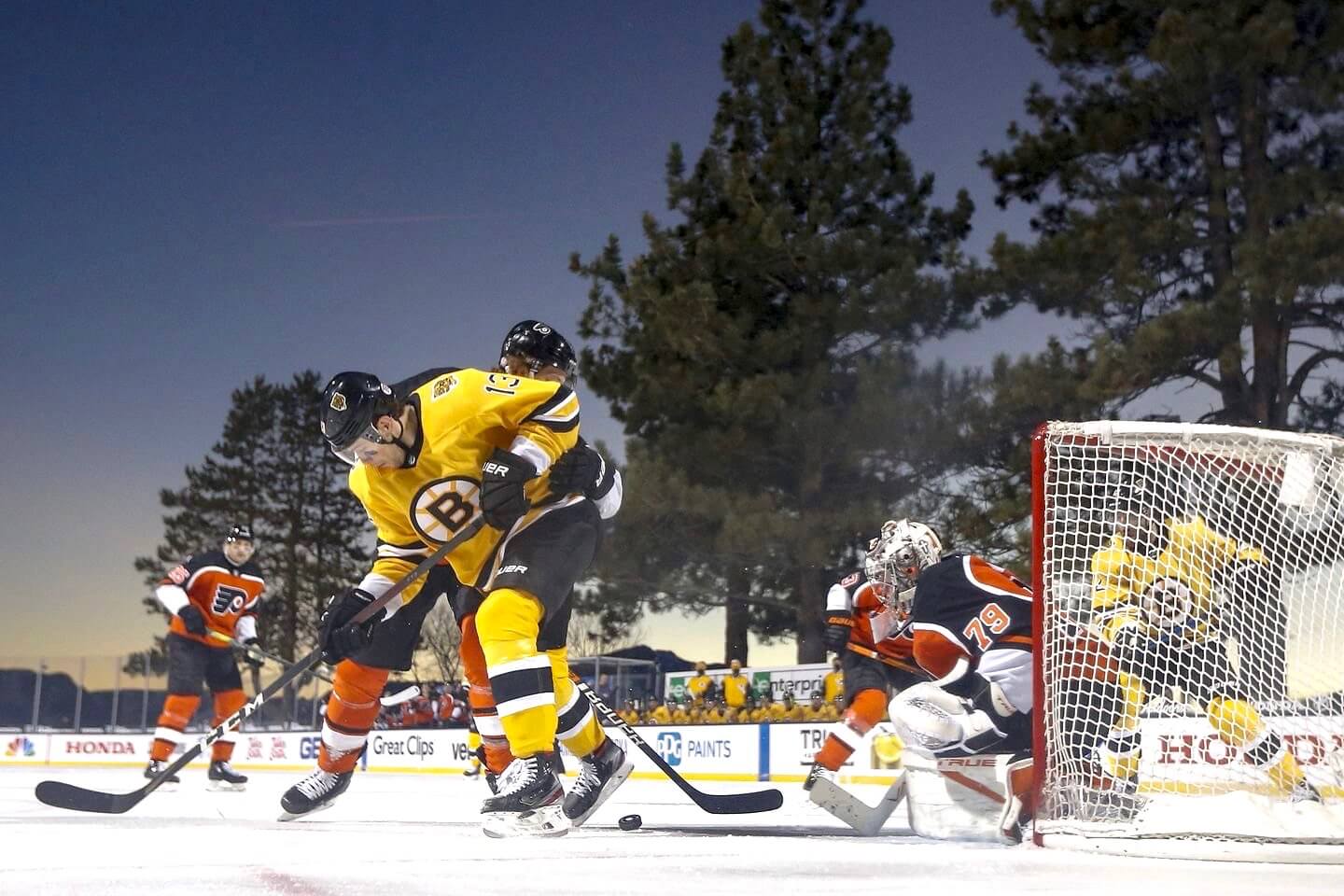 Click to enlarge
Too good for the Ticker: Damn, is that a gorgeous photo or what? It's from last night's Bruins/Flyers outdoor game at Lake Tahoe, with both teams wearing their ЯR uniforms (which in the Bruins' case should really become their primary look, no?). Love the trees in the background! Lots of additional photos here.
Meanwhile, reader Michael Raskin notes that the red line in Tahoe did not run through the center-ice logo: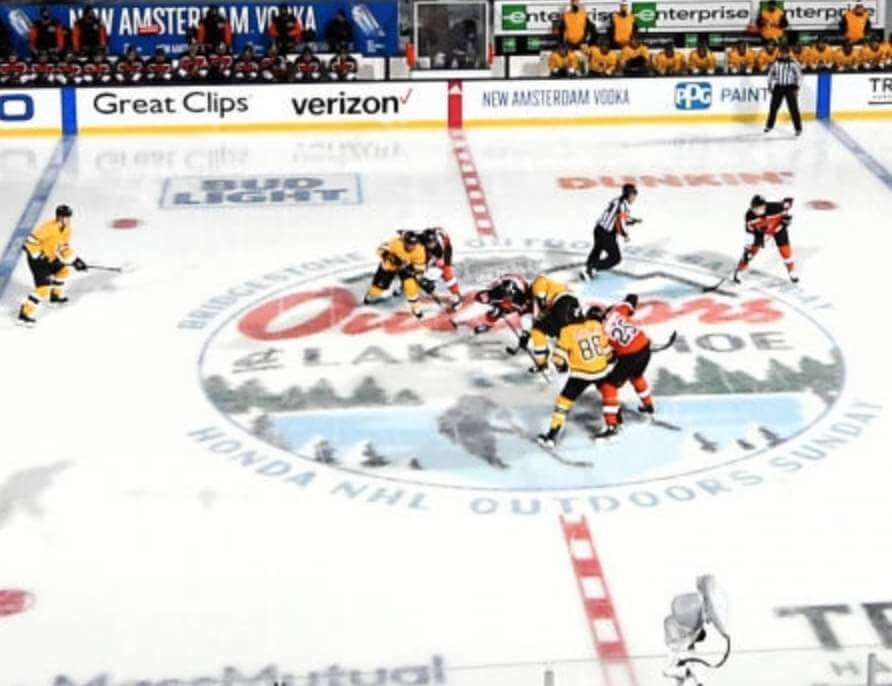 That's notable, because NHL red lines normally run through the logo. What do we think of this change? Is it better to leave the logo pristine (as long as there's a center dot for faceoffs, of course), or is it better to maintain the full-length integrity of the red line?
• • • • •
• • • • •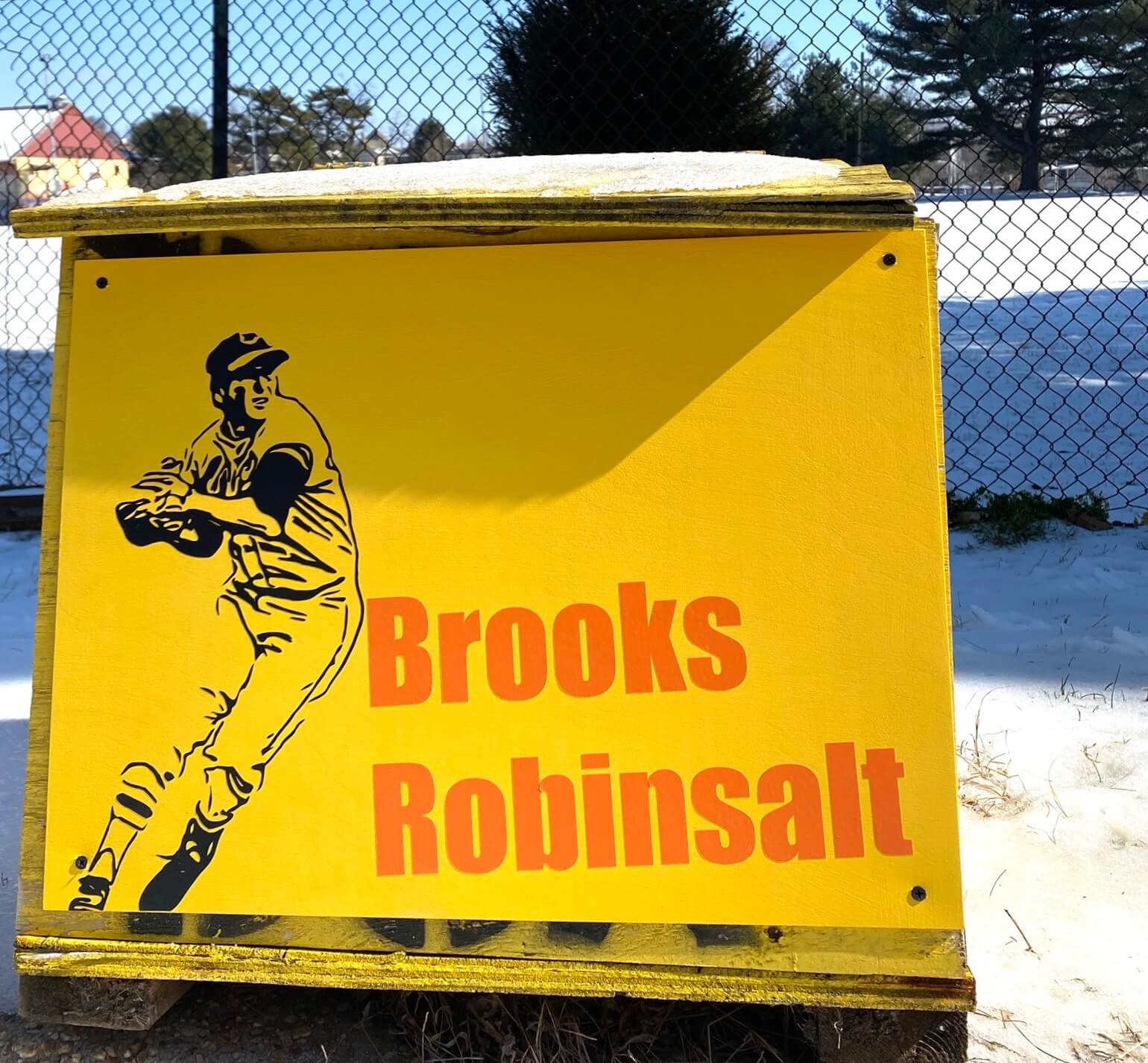 Click to enlarge
Salt box update: As you may recall, last week I wrote about the amazing phenomenon of Baltimore salt boxes being redecorated around the city. Reader Will Shoken liked the story so much that he contacted Juliet Ames — the artist who's responsible for most of the new salt box designs — and suggested that she do one based on Brooks Robinson. As you can see above, she took the suggestion and ran with it!
Can the Frank Robinsalt version be far behind?
• • • • •
• • • • •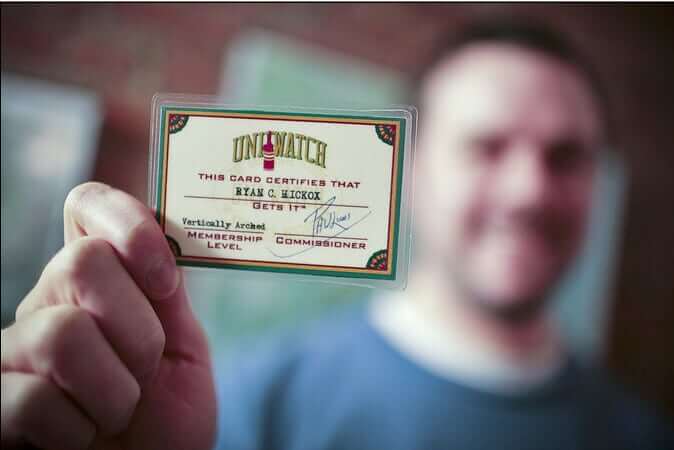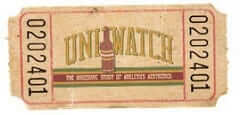 ITEM! New membership raffle: Reader Zach Spencer bought himself a Uni Watch membership the other day and, in a generous gesture, purchased an additional membership for me to raffle off, so that's what we're going to do today.
This will be a one-day raffle. To enter, send an email to the raffle in-box by 8pm Eastern tonight. I'll announce the winner tomorrow. Big thanks to Zach for sponsoring this one!
• • • • •
• • • • •
The Ticker
By Jamie Rathjen

Baseball News: Royals P Danny Duffy is changing to No. 30, becoming the first Royals player to wear that number since the previous Royal to wear it, Yordano Ventura, died in 2017 (thanks, Brinke). … Also from Brinke: Brewers OF Christian Yelich has new city skyline-themed cleats. … This video of the Cardinals' 1954 spring training features a segment with the team's equipment manager starting at the linked point (from Scott Unes). … There is at least one new jersey for Wichita State (from Blake Cripps). … LSU and Air Force went purple vs. blue yesterday. "Tough for some of us colorboind folks," says Ernie Ballard.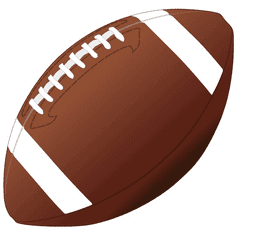 Football News: FCS school Jackson State played their first game of the season yesterday. The helmet design they wore had a logo on only one side (from Chris Mycoskie).


Hockey News: Blues G Jordan Binnington changed pants in the middle of Saturday's game (from John Heiligstein). … Devils C Travis Zajac received a T-shirt for his 1,000th game with the team (from Jakob Fox). … This picture of the 1953 Warroad (Minn.) HS team has among other things one of the captains apparently wearing an armband (from Brandon Weir). … Avs G Philipp Grubauer wore sunglasses under his mask during Satuday's pregame warm-ups (from Mike Chamernik).

Basketball News: The Raptors' Earned design has leaked. … Lakers PF Kyle Kuzma changed his shorts and jersey at the side of the court on Saturday after bleeding on them (from Mike Chamernik). … Women's college teams that wore pink or pink accents this weekend included N.C. State (from Timmy Donahue and Jennifer Hayden); Northwestern, in which Wisconsin also wore white on the road; both Michigan and Ohio State; both Purdue and Michigan State; Belmont; and San Diego State. Syracuse, who we mentioned here yesterday, participated by wearing white for an away game. … Color-vs.-color men's college games this weekend included Iowa State/Oklahoma (from Sam McKinley) and Michigan/Ohio State.

Soccer News: A kit based on the Premier League's No Room for Racism campaign is coming back to FIFA Ultimate Team for a second year in a row. … New kits or shirts for Sweden's Djurgårdens IF and midseason for Ukraine's Metalist Kharkiv (the latter from Ed Żelaski). … Mexico's Tijuana started taping over one of their shirt ads roughly a month ago, presumably because it's not supposed to be there anymore (from @bryant_rf). … The postponed Women's Euro 2022 now has a new logo. The tournament was supposed to be this year and initially used a similar logo to most of the previous editions. The also-postponed men's version not only still has its original logo, it's still called Euro 2020 (from Germán Cabrejo). … Northwestern's teams played their games this weekend indoors at the football team's practice facility. … USWNT and Orlando Pride striker Alex Morgan's daughter Charlie already has a shirt with "Mom" as the NOB (from Kary Klismet). … The current incarnation of the indoor San Diego Sockers are wearing throwbacks to the first NASL version this week.

Grab Bag: AFL Women's is holding its first Indigenous round next weekend, which likely means new designs for every team, though some have already been wearing theirs regularly for all away games. Besides those teams, Carlton and Geelong were the first to reveal their designs. … Australia's Super Netball's Queensland Firebirds have a 25th-season logo. … Here are some renderings of the planned new field hockey stadium in the Indian state of Odisha, which is to host the 2023 men's World Cup. … A blog called Impersonal Finances has some ideas on who could replace the people depicted on U.S. currency designs. … A new African low-cost airline revealed its first crew uniforms (from Kary Klismet). … New F1 livery for Alfa Romeo (from Ephraim Vorzman). … Some pro bowlers are masking up on the lanes.
• • • • •
• • • • •