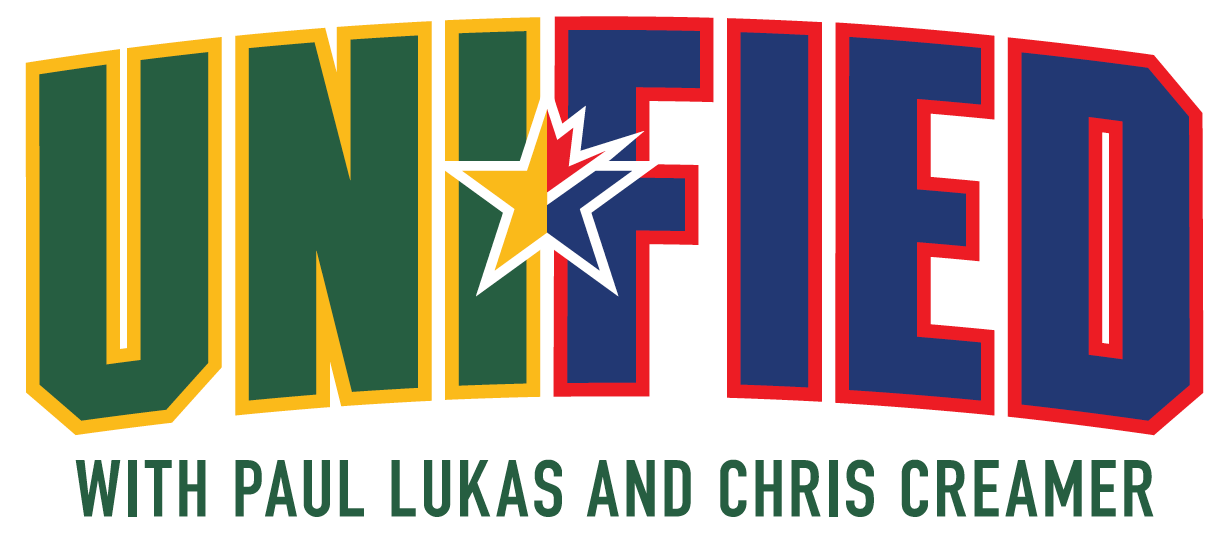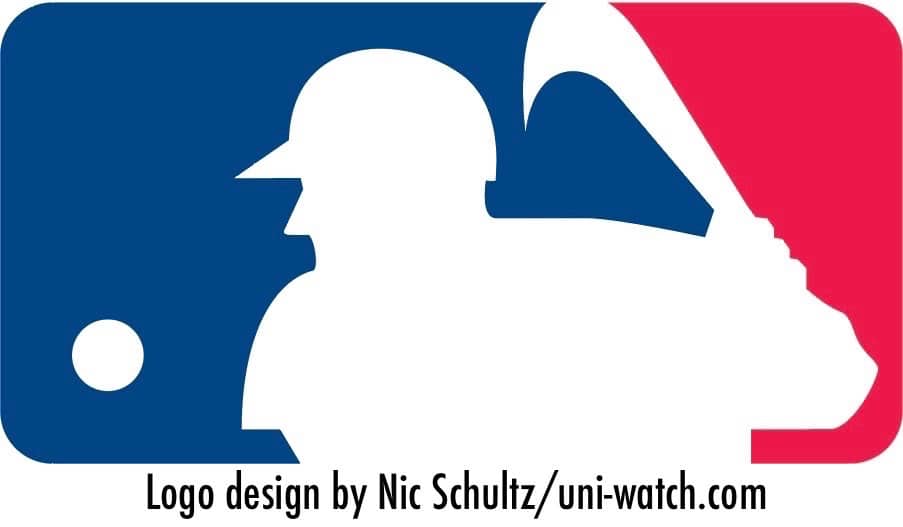 Good morning! I'm happy to announce that the new episode of Unified is now ready for your listening and viewing pleasure. With pitchers and catchers reporting to spring training this week, Chris and I talked about this year's upcoming MLB uniform uni changes, plus we each listed some MLB changes we'd like to see, plus-plus there's some chatter about the Golden Knights' new gold helmets and, in the first installment of what we hope will be a regular feature, we answered a question submitted by a listener.
Chris and I are very happy with the way this one turned out, and I hope you'll give it a listen. You can do that, and subscribe to future episodes, on Apple, Google, Stitcher, TuneIn, and Spotify, or you can just use the player below:
Photos of things we discussed in this episode are available on the Unified website, and those photos also appear in the video version of the episode:
———
A few other items regarding the podcast:
• We will continue to answer at least one listener-submitted question each episode. If you'd like to submit one for next week, you can reply to this tweet.
• Chris was interviewed on another podcast last night and talked a lot about Unified, about our friendship, and more. (I was invited to appear as well but was not available.) You can listen to that here.
• We need advertising support. Basically, we have two options: Either (a) we could sign up with a network, which would drop random corporate commercials into the audio stream in between discussion segments, similar to the way random banner ads appear here on Uni Watch, or (b) we could strike deals with specific companies that we feel comfortable with and read ad spots for them. We would strongly, strongly prefer the second option — the podcast format feels very personal, and there's room for only three or four ad spots per episode, so we'd love to work with advertisers who we believe in and who feel similarly about us. If that sounds like you, or if you have any leads, you know what to do.
———
The podcast is fun, but it is also, frankly, a lot more work than I expected. Most of that work is enjoyable, but it's still a significant time drain that takes away from other things, including the blog. So beginning today, in the interests of preserving my sanity, we won't have a lede entry on days when there's a new podcast episode (well, unless there was major uni news the day before). Instead, the new podcast episode will essentially serve as today's lede item.
This is the same way I handled things for many years when I was at ESPN — if I had a new ESPN column, there was usually no lede blog entry that day. Of course, we'll still have sub-ledes, the Ticker, and so on, even on podcast days. Thanks for understanding, and enjoy the new episode!
• • • • •
• • • • •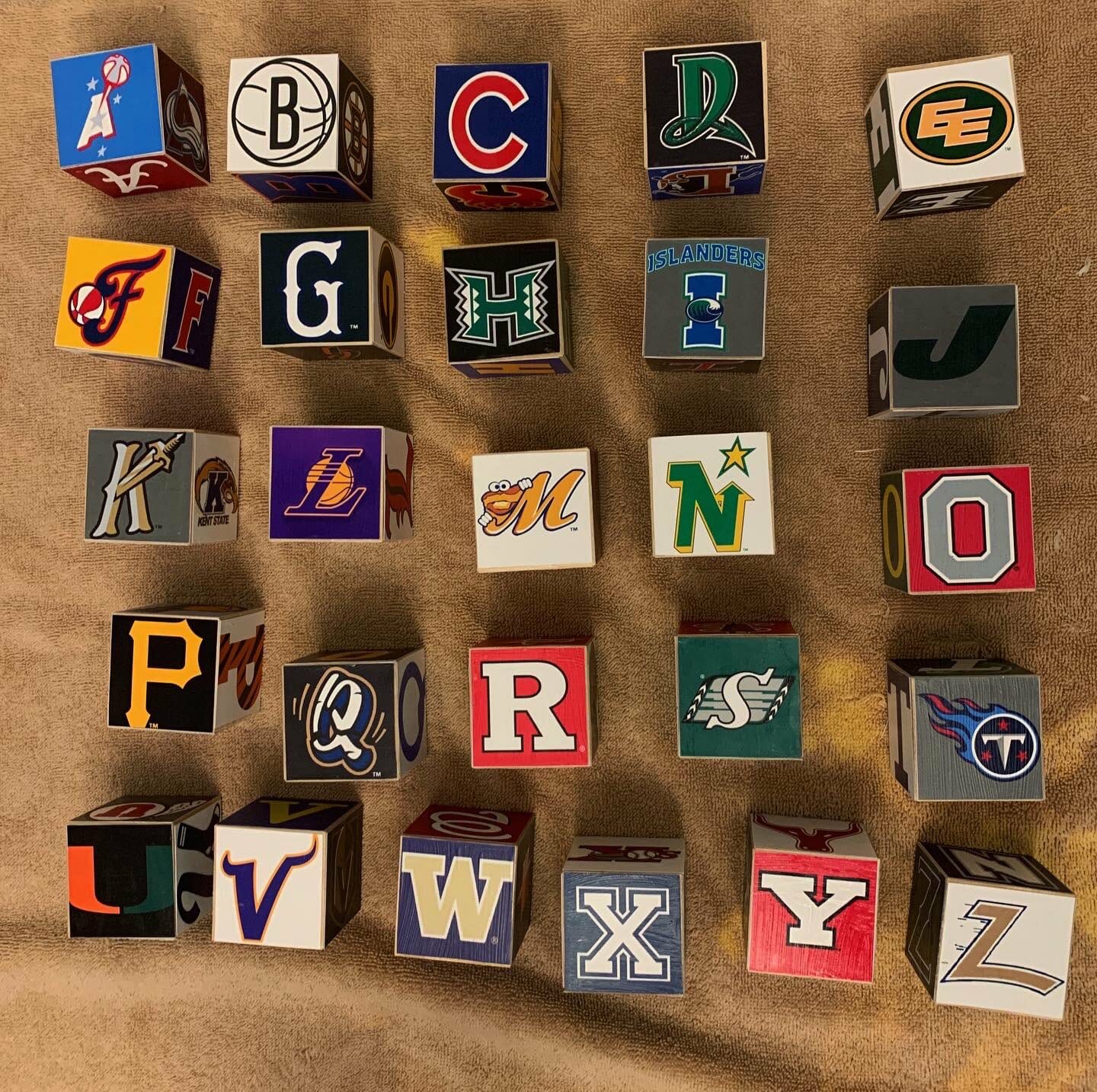 Click to enlarge
Another chip off the old block: Addison Walton is the latest Uni Watch reader to make a set of uni-themed building blocks. Aren't they great? All my life I've been waiting to see the Montgomery Biscuits' and Minnesota North Stars' logos side by side, and I didn't even realize it!
Addison made these for the upcoming arrival of his daughter, who's due to be born this June. Here are some view of the other block sides: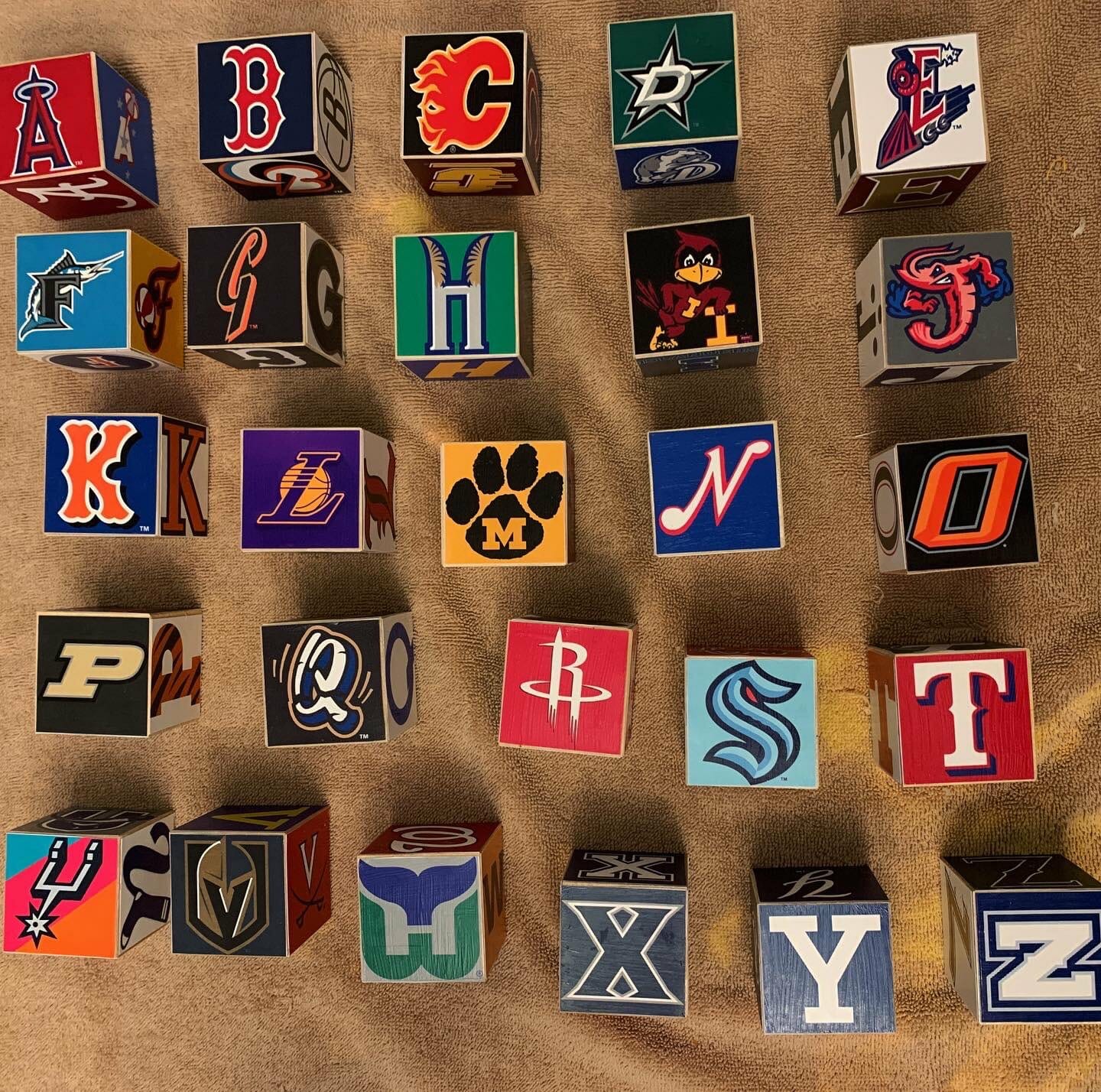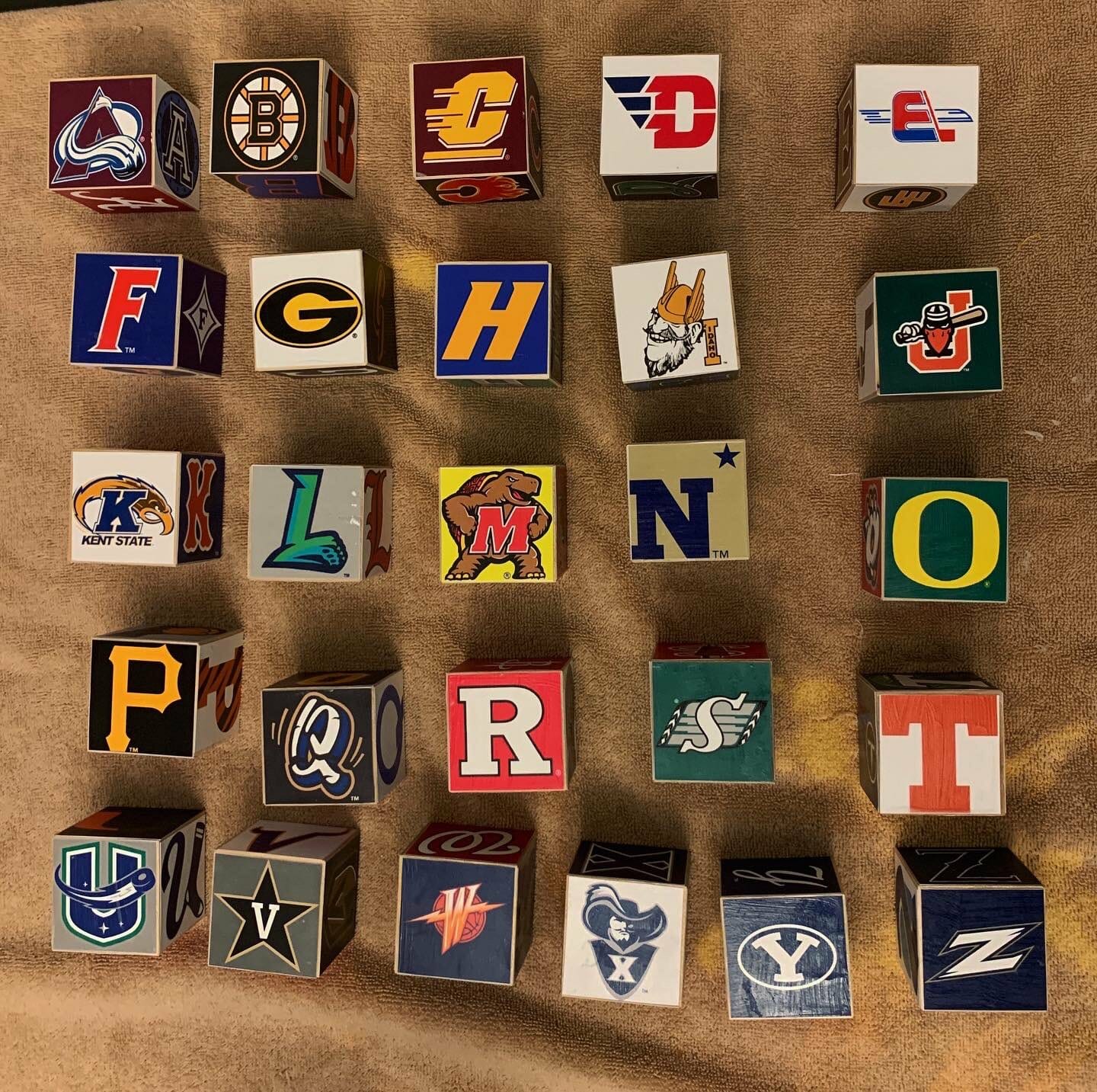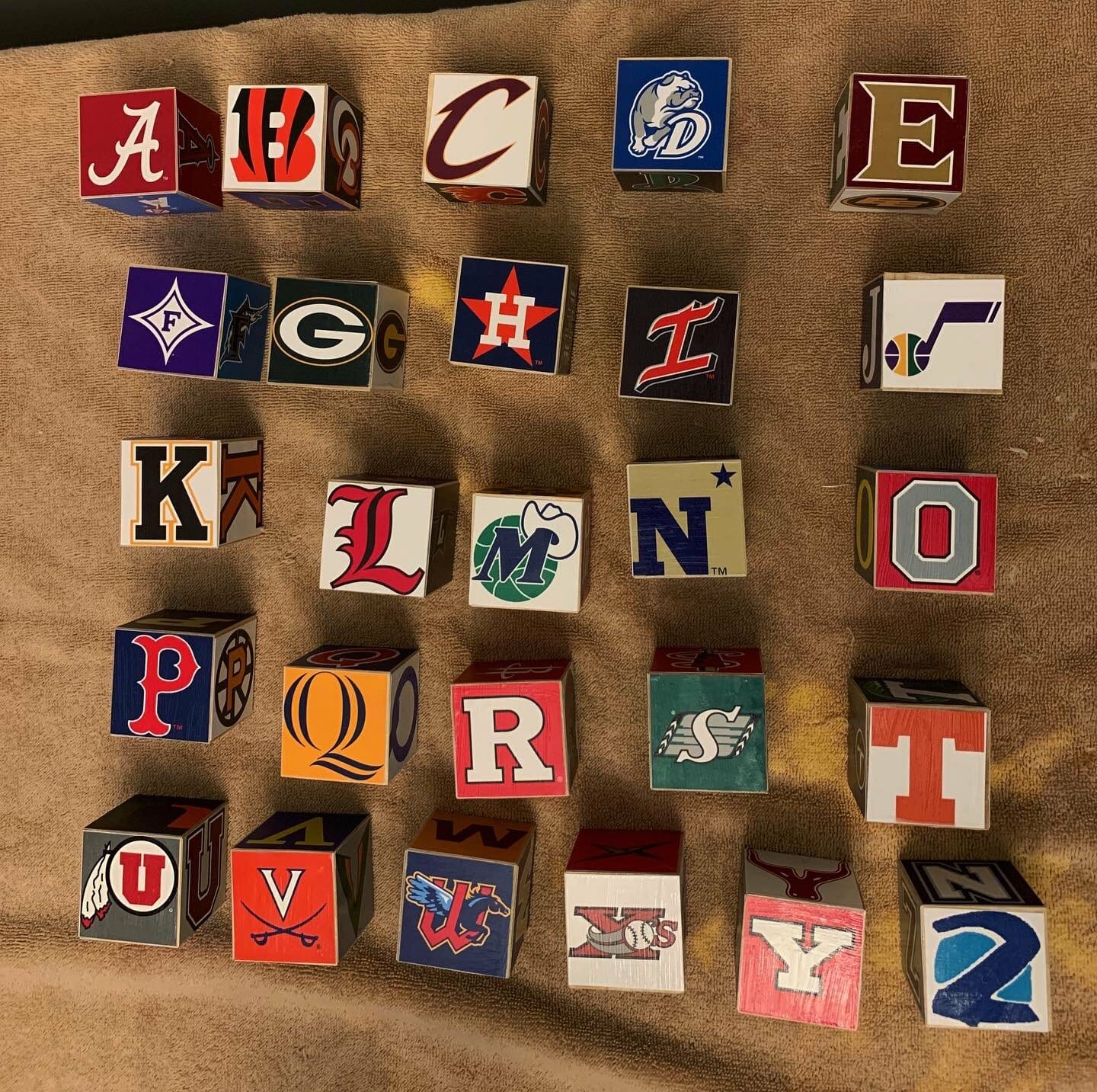 Nice, right?
To see more DIY uni-themed building blocks, look here and here.
• • • • •
• • • • •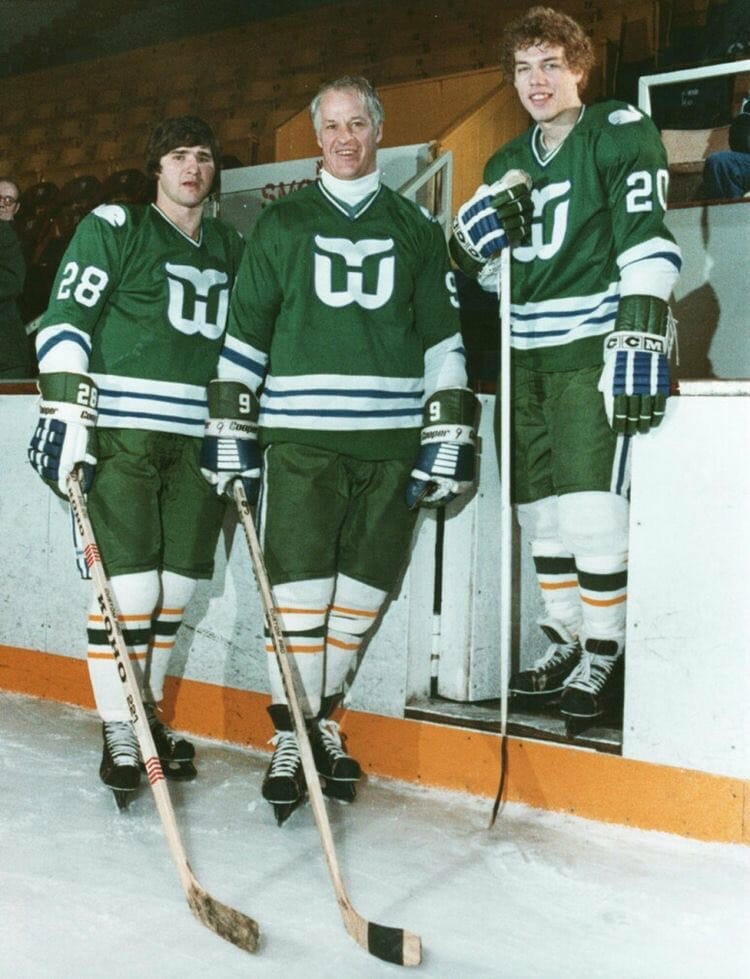 Click to enlarge
Too good for the Ticker: Check out this photo of Gordie Howe (center), Pat Boutette (left), and Mark Renaud (right) during their Whalers days. It's uni-notable on several levels: First, they're pairing the team's green jersey with white socks — a combo that was never worn in a game. And second, the jersey they're wearing is from the Whalers' NHL period (it debuted in the 1979-80 season), while the gold-trimmed socks are from the club's WHA period (they were last worn in the 1978-79 season).
I'm assuming this shot is from a practice session when they were wearing the outdated socks.
(Big thanks to @imgarthvolbeck for this one, and to reader/commenter Adrian for identifying the two non-Howe players.)
• • • • •
• • • • •
This motherfucker looks like he walked straight from invading Normandy to the game, drinks his water with a ladle, and there's a goddamn hobo and a 19th century teenager behind him. Don't tell me football's better now. pic.twitter.com/lAKLtqCT2p

— Super 70s Sports (@Super70sSports) February 18, 2021
Tweet of the day: Not much to add here — I'll let this one speak for itself.
(Thanks to Alan Kreit for pointing me toward this one.)
• • • • •
• • • • •
The Ticker
By Paul

'Skins Watch: The Cleveland Indians are conducting a survey to get fan input on the team's new identity (thanks to all who shared). … A resolution in the Utah House that would have encouraged the state's schools to retire Native American mascots has failed after one lawmaker wondered if animal mascots would next be considered too controversial (from Matt Jensen). … The teams at La Crosse Central High School in Wisconsin, which were previously called the Red Raiders, will now be called the RiverHawks (from Jerry Nitzh and Kary Klismet). … The rest of these are also from Kary: Marion (Ia.) High School, which previously announced that it is dropping "Indians" as its team name, is inviting the public to vote on the three finalists for its new name. … Cambridge (N.Y.) High School will vote next month on whether to retire its Native-themed team name and imagery.

Baseball News: Here's some footage from the Mets' first spring training camp in 1962. … Lots of photos of Hall of Famer Monte Irvin in this Instagram post. The first photo, interestingly, shows him in a 1951 Giants road jersey but without the usual orange outlining on the "New York" lettering (from William Yurasko). … MLB.com's "Cut 4" column has a new logo (from @MoxMulder). … The numerals on the Royals' spring jerseys appear to be a mix — some are solid twill and others are perforated (good spot by Brent Parsons). … Whoa, check out this old photo of Cubs SS Shawon Dunston wearing what might have been history's most extreme ribbon stirrups.

NFL News: Our own Anthony Emerson reports that Buccaneers QB Tom Brady has a new "7" logo to match his number of Super Bowl wins. But if it's about Supes, should it be a Roman numeral?


Hockey News: Nice piece about outdoor rinks in Ohio (from Sean Spitzer). … Speaking of the Blue Jackets, new pads for G Elvis Merzļikins (from Mike Chamernik). … The Prince George Spruce Kings of the Junior A British Columbia Hockey League have unveiled their own ЯR design (from Kary Klismet). … Jeff Brown has a new website devoted to college hockey history, including uniforms. … Good interview with Maple Leafs exec Brendan Shanahan talking about the history of the team's logo (from Paul Keery). … Several NHLers, including Panthers LW Anthony Duclair, are wearing Willie O'Ree tribute skates this month (from @VerbDC). … New mask for Oilers G Mike Smith (from Wade Heidt). … Speaking of the Oilers, Daniel Estabrooks notes that they've worn their third/alt unis for five of their first 10 home games.

NBA News: The Lakers are looking for a new jersey partner sponsor advertiser (from Mike Chamernik). … Here's a thread with lots of hints about the upcoming Earned alternates (from @unimockups).

College and High School Hoops News: New floor for Lewis & Clark Community College in Illinois (from Kary Klismet). … Also from Kary: The Hermon (Me.) High School girls' basketball team wore pink cancer-awareness uniforms on Monday night. … Here's a ranking of Ohio State's six current men's uni designs.

Soccer News: New shirt for second-tier Italian side Cosenza Calcio (from Trevor Williams). … England's Prince William is such an Aston Villa fan that he once wore a pair of game-used Villa socks (paywalled) (from Max Weintraub). … In another item regarding the English royal family, Prince Harry could be banned from wearing his military uniforms, as the Queen plans to strip him of his royal patronages and honorary military titles. "He would still be entitled to wear the medals he earned on his civilian clothes," notes Timmy Donahue. … New home and away kits for the NISA's Maryland Bobcats. … Museum of Jerseys has started a series on Liverpool's numbering systems in the 1980s and early '90s. "Basically, you can click through all the games in one season and see how each formation they used had a consistent numbering pattern, with some changes from game to game," says our own Jamie Rathjen. … New away shirt for Irish side Shelbourne (from Ed Zelaski).

Grab Bag: New paint scheme for NASCAR driver Cory LaJoie (from Mike Chamernik). … Edinburgh Rugby has opened a new stadium on the grounds of Murrayfield Stadium, which serves as the home field for Scotland's national rugby union team (from Kary Klismet). … Also from Kary: New package designs for McDonald's. … Officials in Arlington County, Va., are soliciting ideas for a new county logo (from William Yurasko). … Kings XI Punjab, a cricket team in the Indian Premier League, has renamed itself the Punjab Kings, complete with new logo (from Timmy Donahue). … Good news out of Virginia, where two more schools have scrapped their Confederate imagery (from Kary Klismet). … Interesting story about how the pandemic has made things complicated for a Massachusetts high school's uni/equipment manager (from Kenneth Traisman). … New uniforms for Maryland women's lacrosse.
• • • • •
• • • • •
• • • • •
To our readers in Texas, including Trevor Williams, Robert Eden, Robert Brashear, and many others, stay safe and warm. You're in my thoughts. — Paul