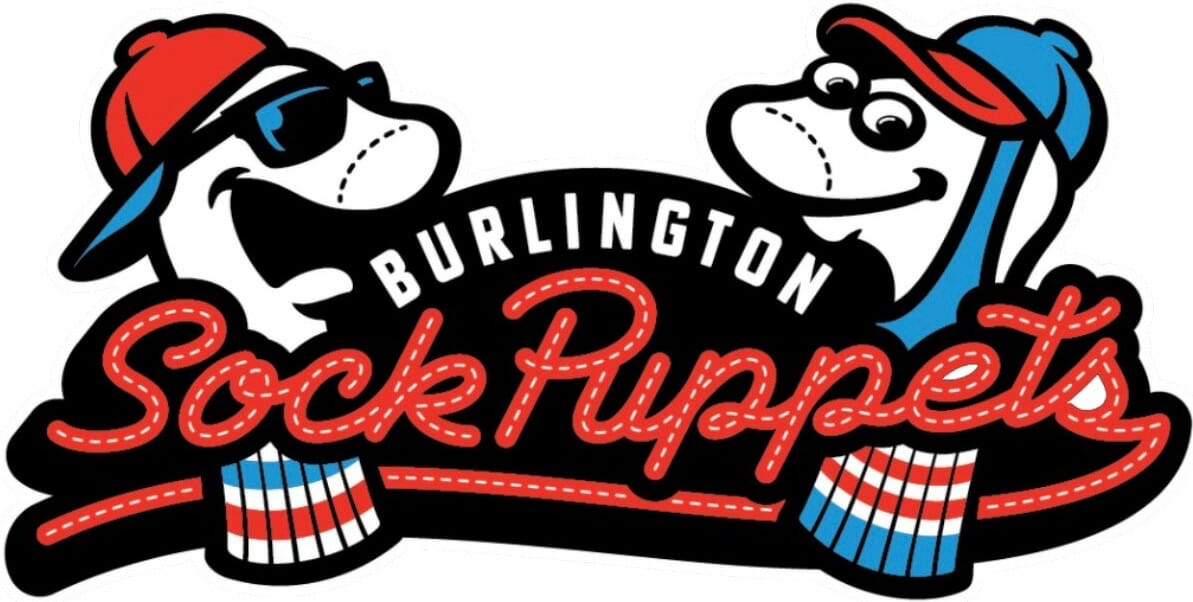 Every single day, there's an upside-down baseball stirrup at the top of this website. But today there are two upside-down stirrups! That's due to a really fun new team identity that was revealed yesterday.
Here's the deal: Since 1963, the Appalachian League has been a rookie-level minor league, with the Appy League teams affiliated with various MLB parent clubs. But as part of MLB's new reorganization of the minors, the Appy League has been redesignated as a collegiate wood-bat league. As a result, the league's teams, most of which have simply used the team names of their MLB parent affiliates (the Johnson City Cardinals, the Bluefield Blue Jays, and so on), are getting new stand-alone identities.
One of those teams is the Appy League franchise in Burlington, N.C. Previously known as the Burlington Royals, they announced yesterday that they're being reborn as the Burlington Sock Puppets — a nod to the city's history as a stronghold of sock-knitting mills.
Granted, "Sock Puppets" is a pretty odd choice for a team name, but there's a lot to like here. For example:
• For decades now I've been waiting for anthropomorphized stirrup character and never even realized it! Why didn't I think of this myself for Uni Watch? This mascot instantly vaults to the top of the "Best Mascots Ever" list. (It's worth noting that there's some precedent for anthropomorphized sock logos — but not, to my knowledge, stirrups.)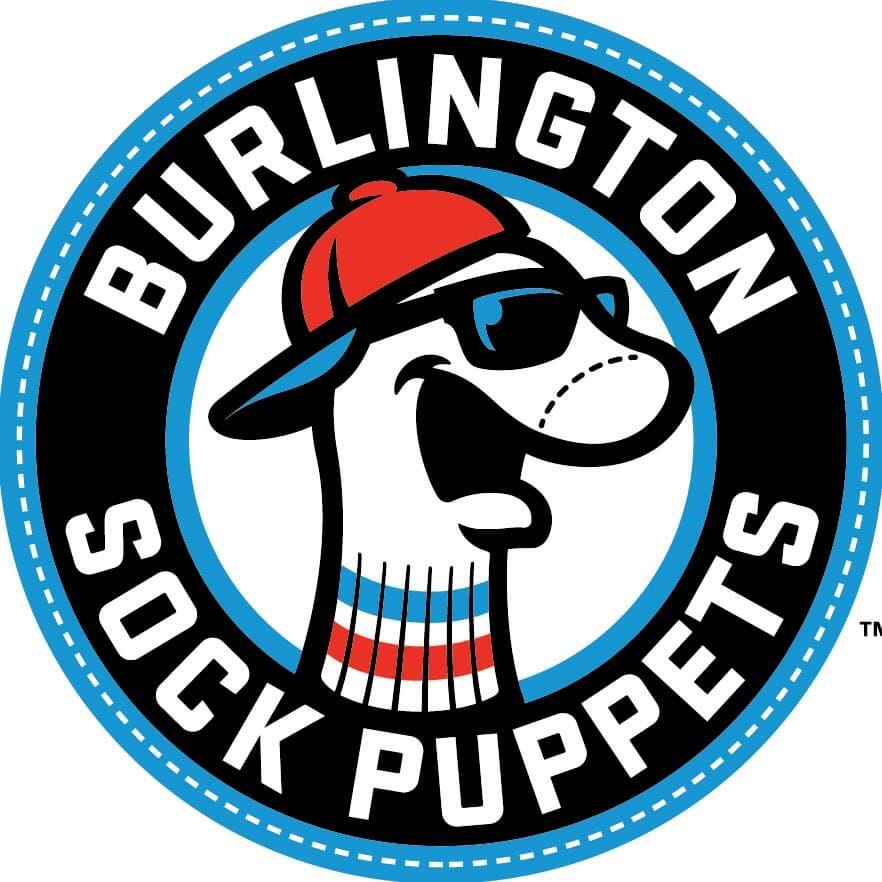 • I love how the mascot character without the stirrup has a douchey dude-bro look (he's basically Poochie), while the stirrup-clad character looks all wholesome and friendly. As it should be! I'm not sure if these characters have names yet (if that was mentioned anywhere in the press notes, I missed it), so for now let's call them Douchey and Danny.
As you can see at right, they're using Douchey as the basis for a roundel logo. Here's hoping they give Danny the same treatment!
• Douchey and Danny appear as actual sock puppets in the team's name-reveal video! Unfortunately, they used two-in-ones for Danny, instead of a real stirrup over a real sock, but it's still pretty great. You can see the puppets here:
• In a move that's arguably even cooler, the unveiling video also includes, with no explanation or warning, an old Burlington socks commercial. Not sure of the year, but it feels circa-1970 to me, and it's pretty hilarious. You can see it here:
Meanwhile, here's a bizarre tangent: As some of you may be aware, if a person creates a phony online identity — usually in the form of a bogus social media account that's used to express things that the person wouldn't want to be held accountable for — that identity is called a sock puppet account. And you know who was semi-recently caught using a sock puppet account? The police chief of that other Burlington — the one in Vermont. So he appears to be the original Burlington sock puppet! The newly named team should have him down to North Carolina for some sort of in-game promotion.
And, of course, let's hope the team actually wears stirrups.
• • • • •
• • • • •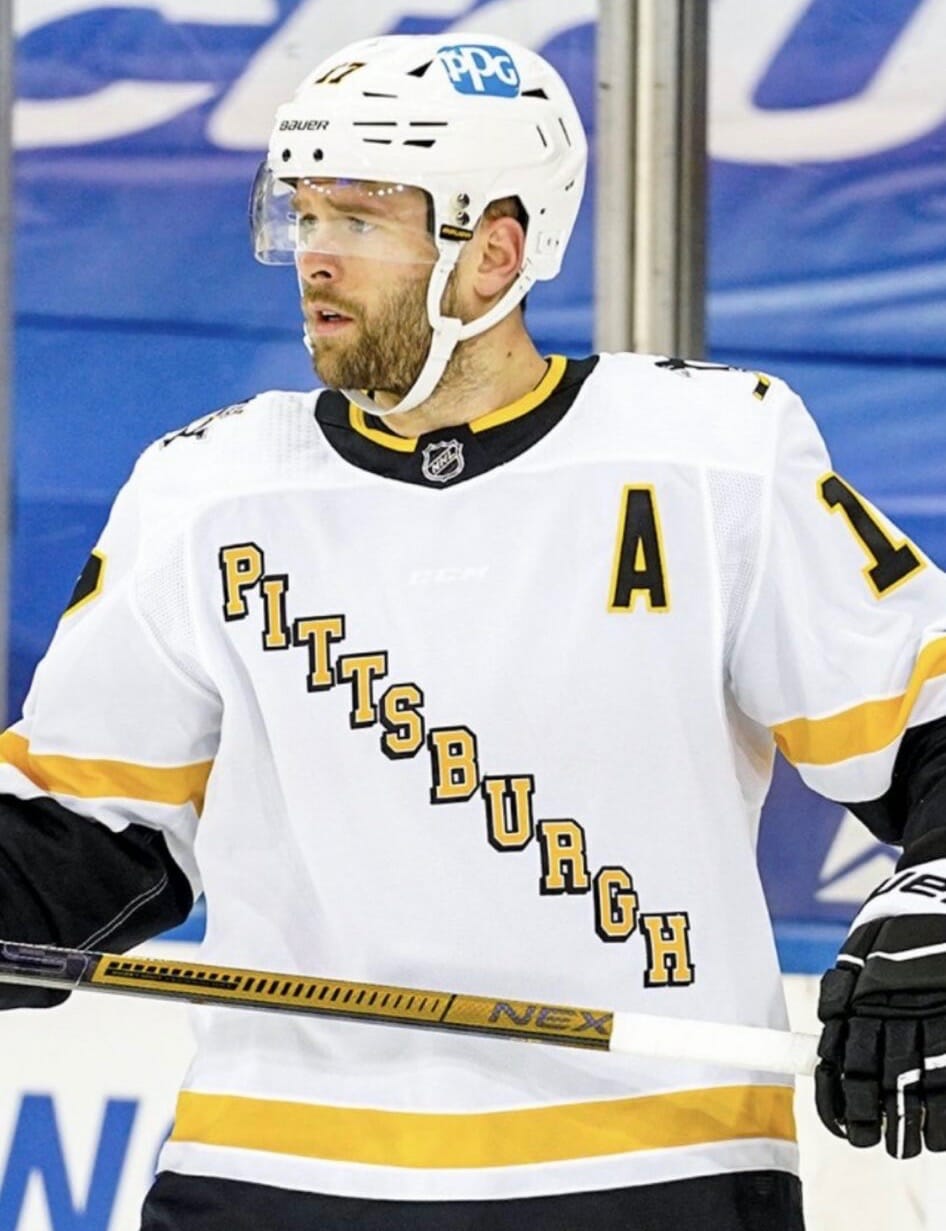 Click to enlarge
So you think you're a uni-watcher: Notice anything a bit off about Penguins right wing Bryan Rust's uniform (aside from the gross helmet ad, of course)? I don't want to give it away too soon, so take a minute and then scroll down to see the answer.
The answer, of course, is that the "I" on Rust's jersey is upside-down. You can tell because its drop-shadow projects to the northeast, instead of to the southwest like all the other letters' drop-shadows: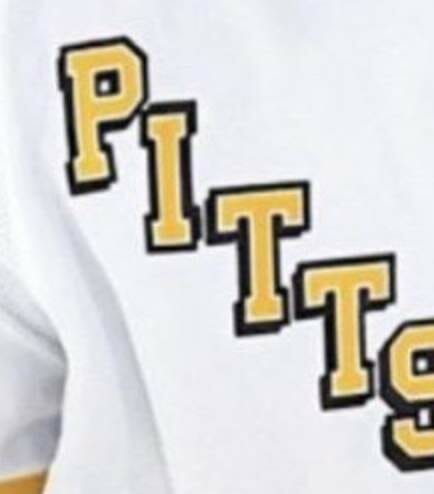 That's some godhead-level uni-watching right there, and it comes our way from reader Mike Givler (although I believe a few other people also noticed it independently of him). Spectacularly eagle-eyed work by him!
• • • • •
• • • • •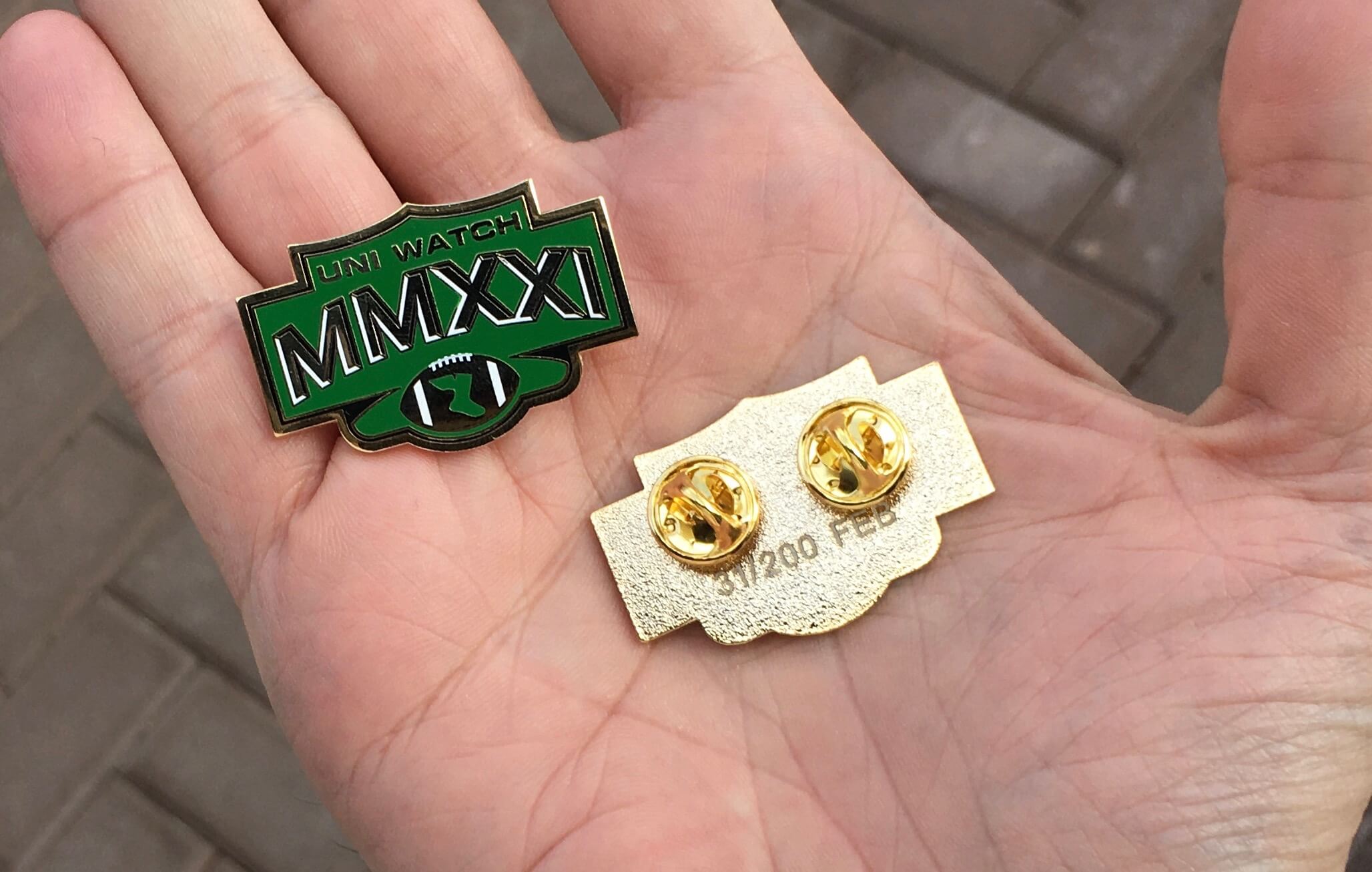 Click to enlarge
Pin Club reminder: In case you missed it on Monday, the Uni Watch Pin Club's design for February is now available. It's a shout-out to the Super Bowl, with the year 2021 rendered in Roman numerals. Numbered edition of 200; as of this morning, about 95 are left.
Again, the pin is available here. My thanks, as always, for your consideration.
• • • • •
• • • • •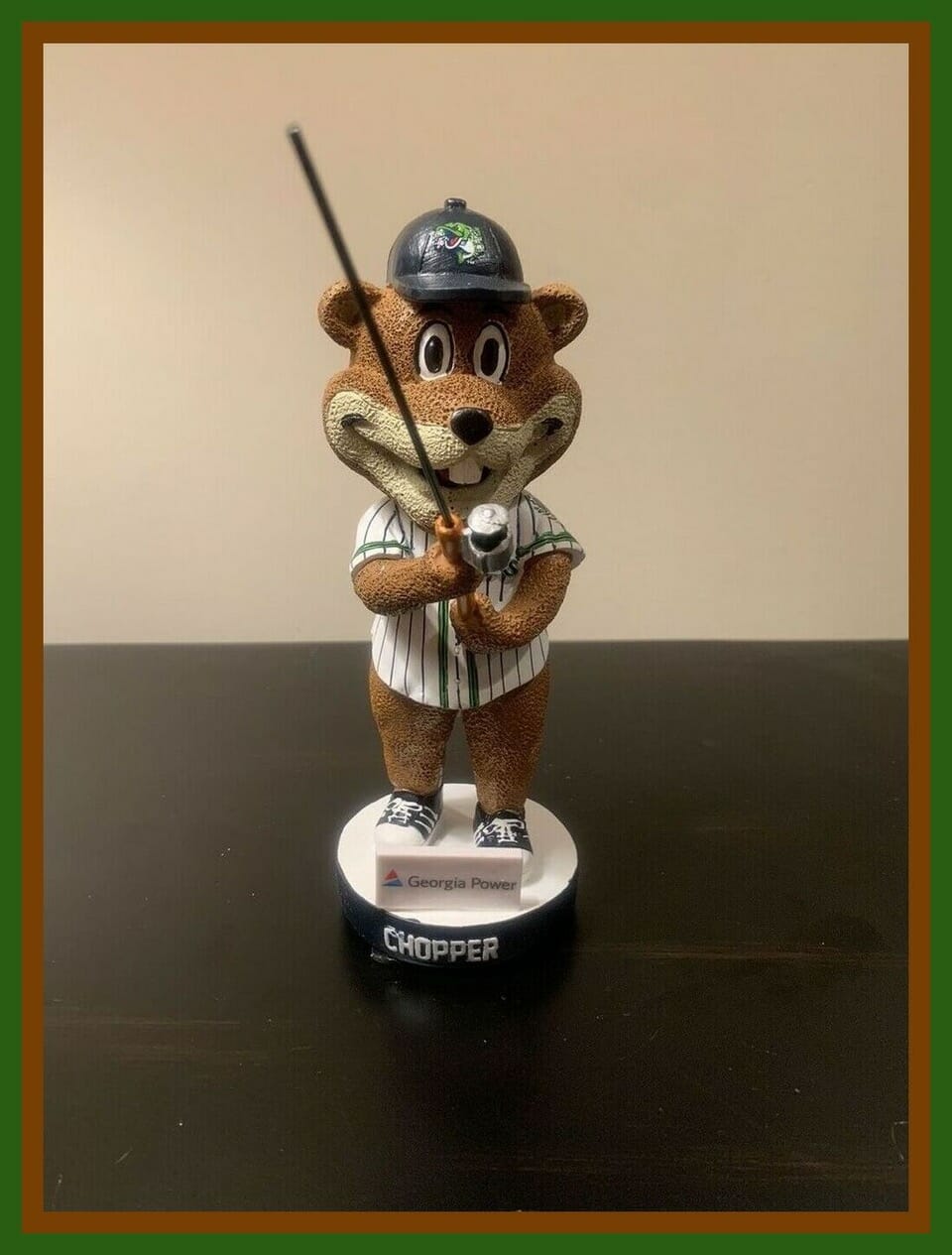 Click to enlarge
Collector's Corner
By Brinke Guthrie
Follow @brinkeguthrie    
"Okay, campers, rise and shine! And don't forget your booties cause it's cooooooold out there today." That's the opening to one of my favorite movies, Groundhog Day, streaming today on every platform imaginable, which I'm mentioning because today is Groundhog Day!
Unfortunately, Punxsutawney Phil says we have lots more winter weather ahead of us. But hey, it's his holiday and we don't want to blame the messenger, so we lead off Collector's Corner this week with a Chopper the Groundhog bobblehead, which shows Chopper wearing the uniform of the minor league Gwinnett Stripers baseball team. But wait! One website says, "Chopper is a marmota monax, better known as a groundhog, woodchuck, or whistlepig." See what you learn on this website?  Speaking of which: Groundhogs must like fish, since Chopper comes armed with his own fishing pole.
Now for the rest of this week's picks:
 • Here's a 1960 decorative plate shaped like the Stanley Cup, commemorating the Montreal Canadiens' fifth straight title. They'd just swept the Maple Leafs in four games — rematch of the previous season's finals — and this was their 10th straight finals appearance. C'est magnifique!
 • This was in the Ticker last week, but it's worth repeating here: My goodness, check out this tequila sunrise McDonalds softball team uniform. A value meal at any price!
 • Don't worry, we haven't forgotten that there's a Big Game coming up this Sunday. First we have a late-1990s Tampa Bay Buccaneers "sharktooth" design polo shirt from Logo Athletic. The seller says this was a coach's shirt, and he's right about that. "BR" is on the collar tag — the initials of strength and conditioning coach Brad Roll, who was on the late Sam Wyche's staff for the 1993-1995 seasons. (Also, as I tweeted last week, the version of Bucco Bruce looks a bit crazed on this particular item.)
 • The defending champs from Kansas City are the Bucs' opponents, and they're represented this week by this late-1960s bobblehead in great shape — no wear/tear on the back of the helmet like you often see.
 • Speaking of the Supe, here's a 1999 Super Bowl XXXIII metal sign from Miller Lite, decorated with the all the then-current teams/logos.
 • This is an American League Annual Pass for the 2012 season. It seems the bearer and guest could use this to see a game at any American League ballpark — now there's a deal!
 • According to this ticket stub, if you had eight dollars in your wallet, you could afford a box seat in the lower level of Candlestick Park for the 1961 MLB All Star Game. This was the game where Giants pitcher Stu Miller, pitching for the National League in his home park, was supposedly blown off the mound by the San Francisco Bay winds. As that linked article says, "Why was a ballpark ever built there?"
 • These 1992 Miami Dolphins stickers were sponsored by 610 WIOD radio and identified you as a season ticket holder.
 • If you were at Cincinnati's Riverfront Stadium on Aug. 17, 1984 — Pete Rose's first game as a player/manager — you received this certificate suitable for framing.
• Here's a pair of 1960s officially approved NBA basketball shoes — "The Choice of Big Leaguers," don'tcha know (never mind that "Big Leaguer" is a term usually associated with baseball). But did those big leaguers really choose the red suede?
Got an item to include on Collector's Corner? Tweet submissions to @brinkeguthrie
• • • • •
• • • • •
Click to enlarge
Printed matter: Check out this sensational Denver Broncos letterhead from 1960. The photo was sent my way by Broncos memorabilia maven Tom Jacobsen, who says, "I've seen this Broncos logo before, but never this letterhead." A nice find!
This is one of several beautiful vintage letterhead photos that Tom sent me the other day. They're all from a neighbor of his, whose dad was at the Broncos' 1960 training camp. You can see the rest of them here.
• • • • •
• • • • •
Membership update: Eight new designs have been added to the membership card gallery. That includes Matthew Marianacci, whose card is based on Stanford's early-2000s hoops uni. Nice one!
Ordering a membership card is a good way to support Uni Watch (which, frankly, could use your support these days). And remember, as a gesture of comm-uni-ty solidarity, the price of a membership has been reduced from $25 to $20 until further notice, plus a Uni Watch membership card entitles you to a 15% discount on any of the merchandise in the Uni Watch, Uni Rock, and Naming Wrongs shops, and the discount also applies to our Uni Watch Classic Cap and Uni Watch toque. (If you're an existing member and would like to have the discount code, email me and I'll hook you up.)
As always, you can sign up for your own custom-designed card here, you can see all the cards we've designed so far here (now more than 3,000 of them!), and you can see how we produce the cards here.
• • • • •
• • • • •
The Ticker
By Alex Hider

Baseball News: The cover for MLB The Show 21, which features Padres SS Fernando Tatis Jr., was released yesterday (from Dylan Bercu and our own Anthony Emerson). … Another new Appalachian League team identity, aside from the Sock Puppets: the Bristol State Liners (thanks to all who shared). … With Red Sox 2B Dustin Pedroia retiring yesterday, Boston's Double-A affiliate, the Portland Sea Dogs, shared photos from one of Pedroia's rehab stints, during which he wore what appears to be a relettered Sox jersey (note the maker's mark), but the Sea Dogs wordmark was in navy while his teammates' were in red (from Josh Miller). … Jorge Cruz found a Marlins-branded golf divot tool and ball marker kit that includes both the team's current and old logos. … Nats 1B Ryan Zimmerman used one of his bats to measure the snowfall near his home.

NFL News: Cool idea from @summo_13, who made these NFL 8-bit phone wallpapers inspired by the Atari 2600 football.



Hockey News: The Rangers wore "Equality" warm-up jerseys to commemorate Black History Month last night. The jerseys will be auctioned off to benefit the United Negro College Fund and the New York Urban League (from Brandon Wheatkings). … Also from Brandon: Ole Miss sent famous football alum Eli Manning one of its new hockey sweaters … NHL uniform schedules continue to trickle out, most recently for the Sabres and Predators. Nashville also announced that they'll wear navy helmets with their Reverse Retro uniforms (from Paul Braverman and Taylor Crabtree). … We have a first look at the goalie pads that Kings netminders Jonathan Quick and Calvin Petersen will wear with the team's Reverse Retro uniforms (from Jakob Fox). …  The owners of Maple Leaf Coffee Roasters in Roseville, Ill., are Canadians and hockey fans, and have given a few of their blends hockey-inspired names and packaging (from Bruce Adams). … The Savannah Morning News is holding a "best team name contest" for the city's new ECHL expansion team (from Kary Klismet). … In the early 1970s, the Omaha Knights, who at the time were an Atlanta Flames affiliate, had a Flames-based "K" jersey crest, although it sort of looked more like a melting "M." … Caps D Zdeno Chára's new shipment of sticks was mistakenly delivered to some guy in New Jersey (from Mike Chamernik).

Basketball News: Here's a profile on the Oakland-based artist who helped design the Warriors' "The Town" alternate jerseys. He shares how he feels about the team's move to San Francisco and what he thinks about their new "Oakland forever" alternates (thanks to all who shared). … Newly-signed Nets F Norvel Pelle will wear No. 14 (from Etienne Catalan). … It's almost too easy to forget that the current Jazz color palate spans the entire spectrum of the rainbow (from @Wilds_Lee). … Wyoming has unveiled a new uniform based on the state's flag (from @WyoFBEQ).

.Soccer News: MLS has released the ball design for the 2021 season (from @texastrevor).


Grab Bag: New pride uniforms for Carlton and Western Bulldogs of AFL Women's, the women's Australian Rules Football league (from Jamie Rathjen). … We've got several submissions from Kary Klismet: The University of Arkansas has unveiled new logos for its 150th anniversary, and the athletic department is celebrating the anniversary with a page that shows the evolution of the Razorback logo. … The Atlanta school board has recommended that a stadium in the district currently named after a segregationist newspaper editor from the 1800s be renamed after the state's first Black high school athletic director. … Columbus Signature Academy New Tech High School in Indiana has chosen "Dragons" as its new team name. … The North Carolina DMV will no longer issue license plates that include Confederate flag imagery (from James Gilbert). … New York City mayoral candidate Andrew Yang expressed support for a new NYC flag yesterday (from our own Anthony Emerson). … Rohan Mustafa, a cricket player for Team Abu Dhabi of the UAE T10 League, wore a backwards cap on the field yesterday (from Peter Della Penna). … Speaking of cricket, Northamptonshire Steelbacks have dropped military imagery from their new logo "to attract a younger, more diverse set of fans" (from @jerrypemberton). … Fun fact: Stetson University in Florida was named after John B. Stetson, of Stetson Hat fame. Their teams are known as the Hatters, and their "S" logo features a hat worked into the negative space (from Mike Chamernik).
• • • • •
• • • • •
Click to enlarge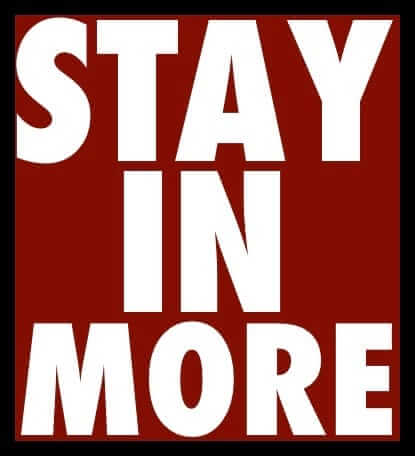 What Paul did last night: Winter wonderland here in NYC yesterday, as we got slammed by a serious Nor'easter. The porch was a mess, and it was still snowing, so we brought out a couple of stools and pressed them into service.
We thought the snowstorm would be the perfect occasion to crack open the 1976 curling-themed bourbon decanter that reader David Sonny recently sent me, so we brought it outside and prepared to break the seal — an event that seemed video-worthy:
Dang. Fortunately, we were able to extract the cork and access the booze, which was excellent. Thanks, David!
One more thing about the snow: Earlier in the day we decided to go out for a walk, so we bundled up, opened the door to the house, and found this:
I can't fully explain why, but there is something so satisfying about that crisp, clean edge of snow!
As always, you can see the full set of Pandemic Porch Cocktails™ photos — now more than 320 of them — here.