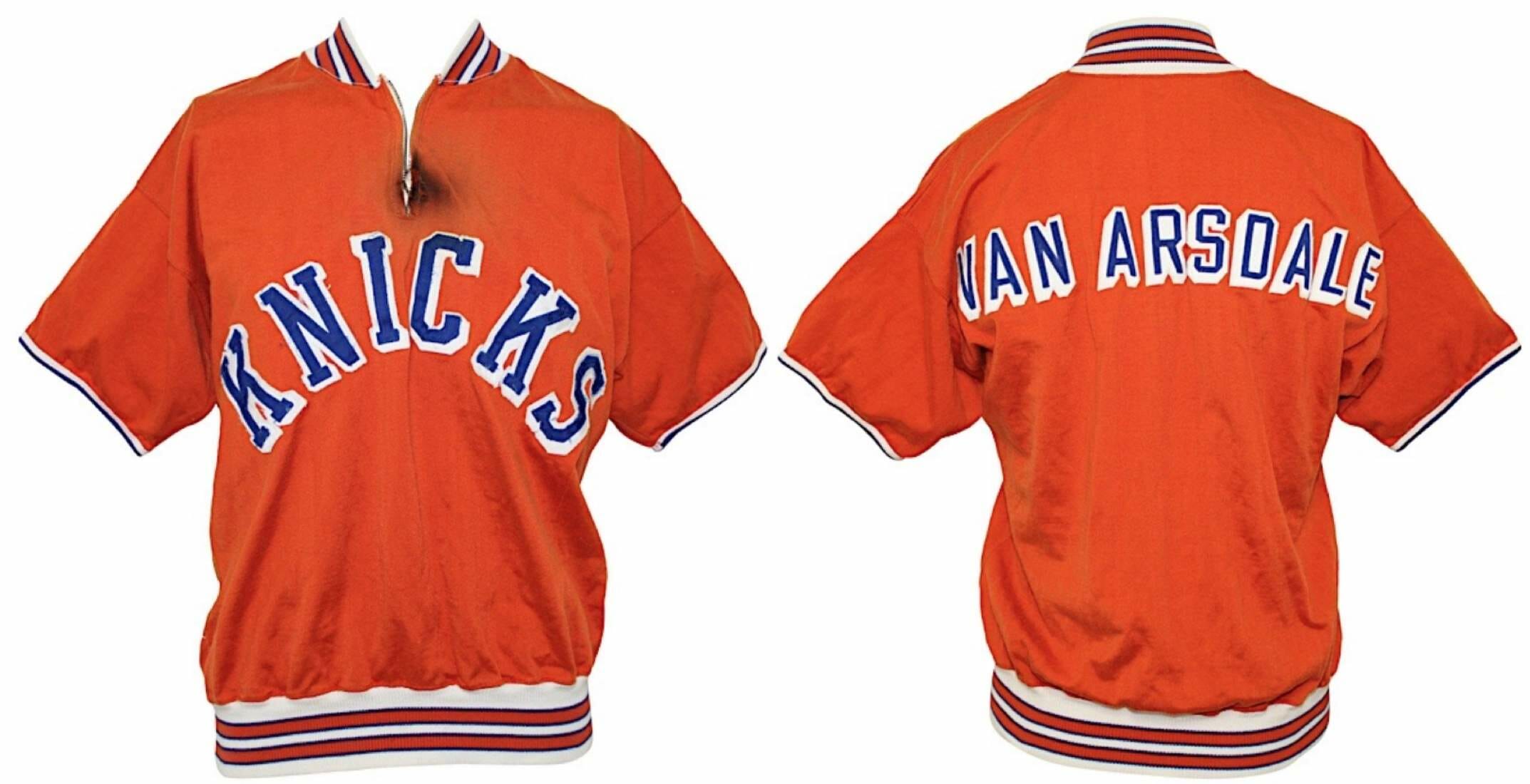 For all photos, click to enlarge
As you may have noticed in the left-hand sidebar, our friends at Grey Flannel Auctions are running a new catalog auction. Many of the most interesting items are from former NBA players and identical twins Dick and Tom Van Arsdale, including Dick's 1967 warm-up top shown above. Is that magnificent or what? Interestingly, the block-shadowing on the chest lettering falls to the right, while the NOB shadowing falls to the left!
There's also this amazing warm-up suit worn by Tom during an early-'60s trip to the USSR that was sponsored by The Indianapolis Star: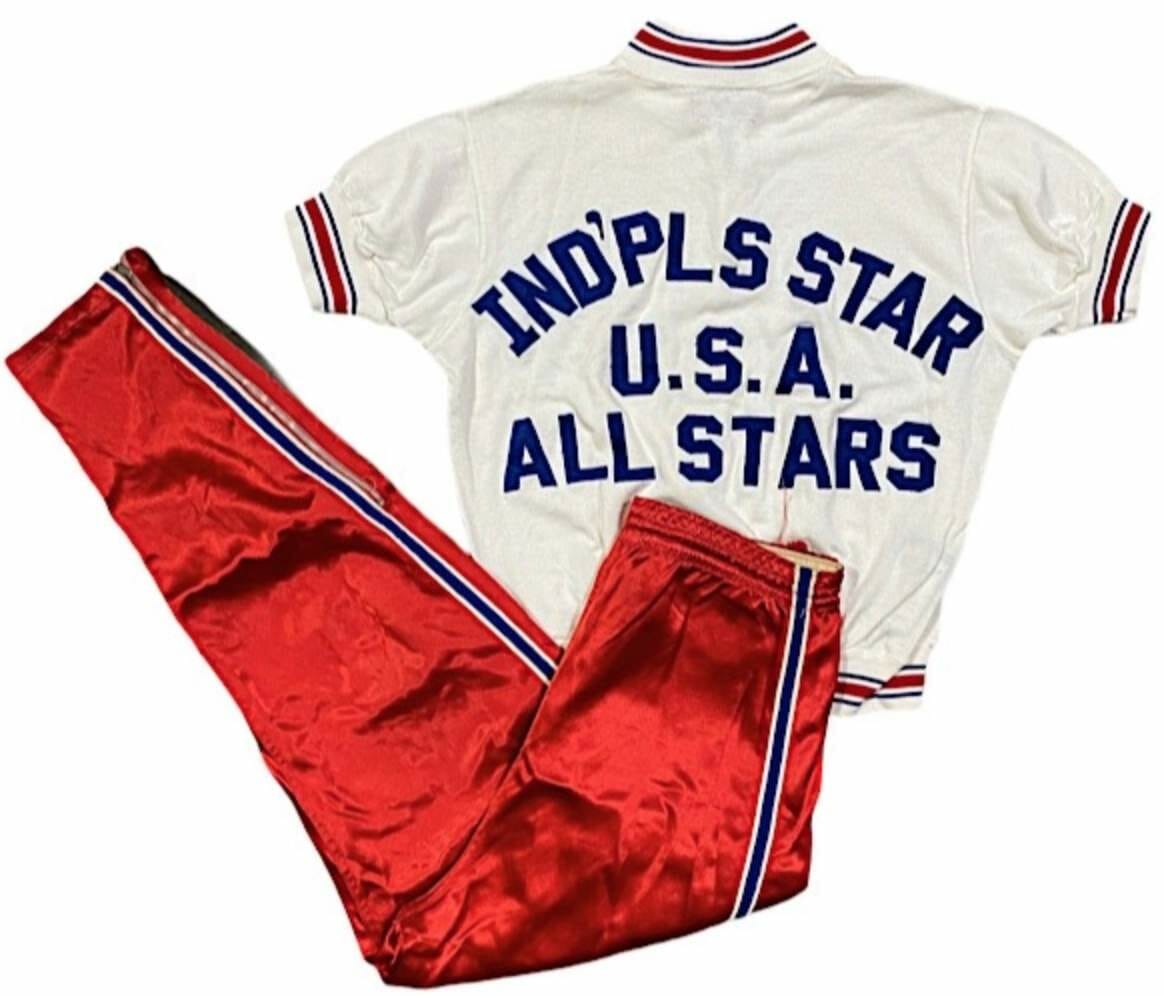 And here's Tom's late-'60s Cincinnati Royals warm-up top, with just "Van" as the NOB: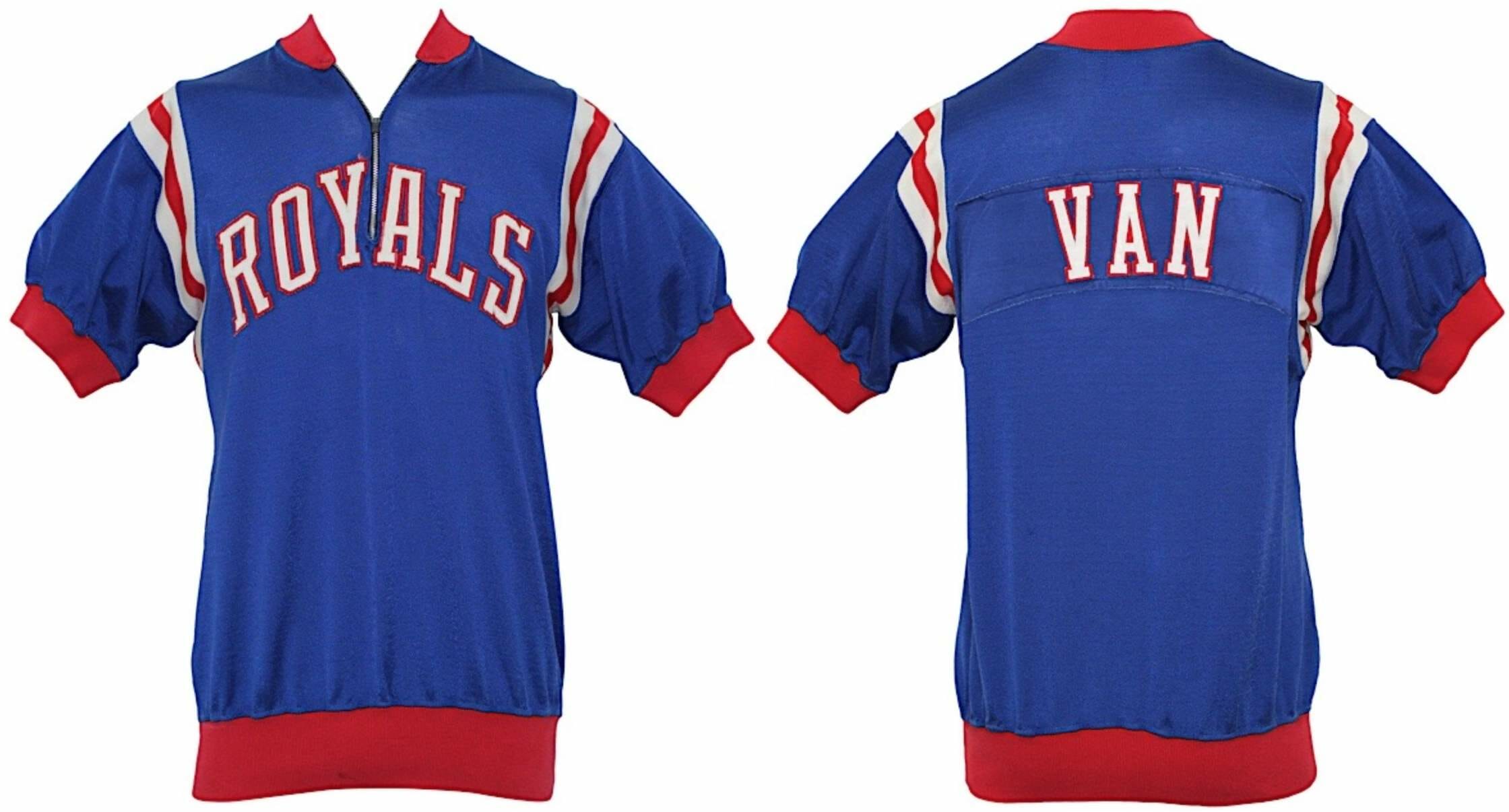 Interestingly, Tom's 1972 All-Star jersey had a "Van Arsdale" NOB, while Dick's jersey from a 1975 NBA/ABA tour of Japan just had "Arsdale":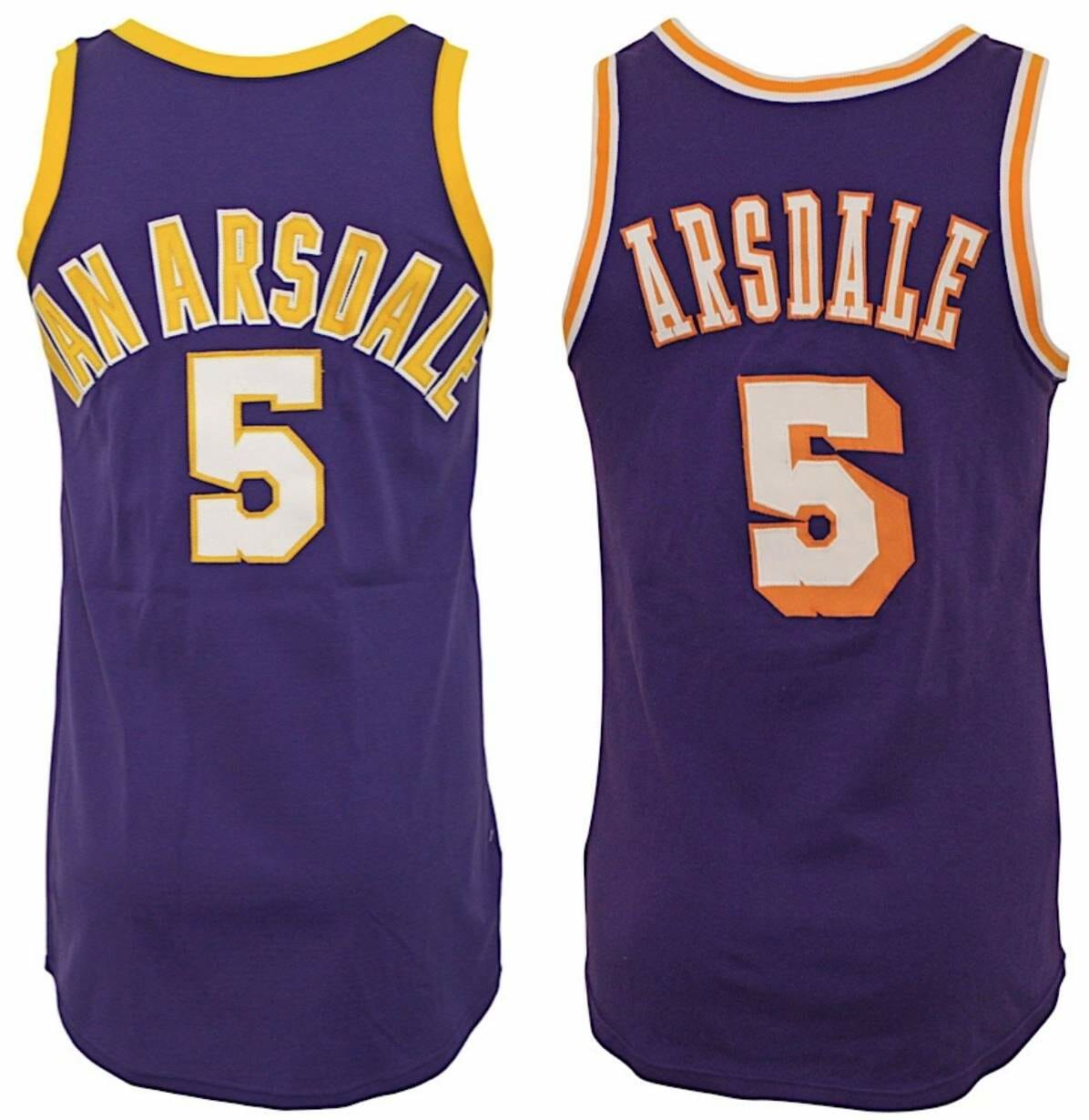 There are also lots of good non-Van Arsdale items. For example: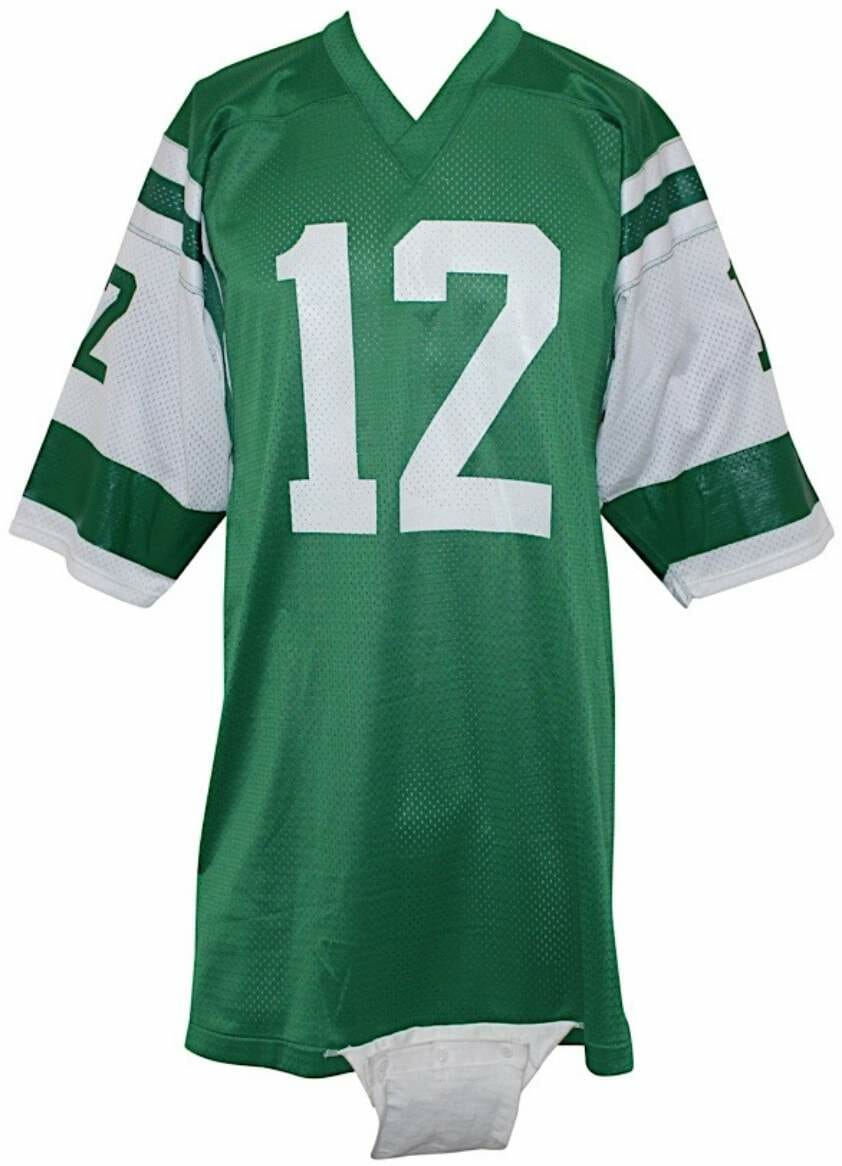 • I always thought crotch extensions on football jerseys — sometimes referred to as the "diaper" — were used primarily by linemen. But here's a 1970 Joe Namath Jets jersey with the diaper. Who knew? (Some very quick photo research indicates that, sure enough, many of Broadway Joe's gamers were diaper-equipped.)
• Nowadays, if an NBA team wears a black memorial band on its jersey's shoulder strap, the band is just a single strip of fabric on the front of the strap. But the black band on this game-used 1999-2000 Shaq jersey clearly wraps around the strap. When did they stop doing it that way?
• Here's something I've learned over the years: If you do a Google image search on "Dominique Wilkins Hawks" — because, say, you're looking for a good photo of the team's awesome diagonally oriented uniforms — the overwhelming majority of the photos that come up show Wilkins in the road red uni. Similarly, I'm pretty sure that all of the membership card requests we've had for that design over the years have been for the red version. But here's a white Wilkins jersey up for auction, from 1988.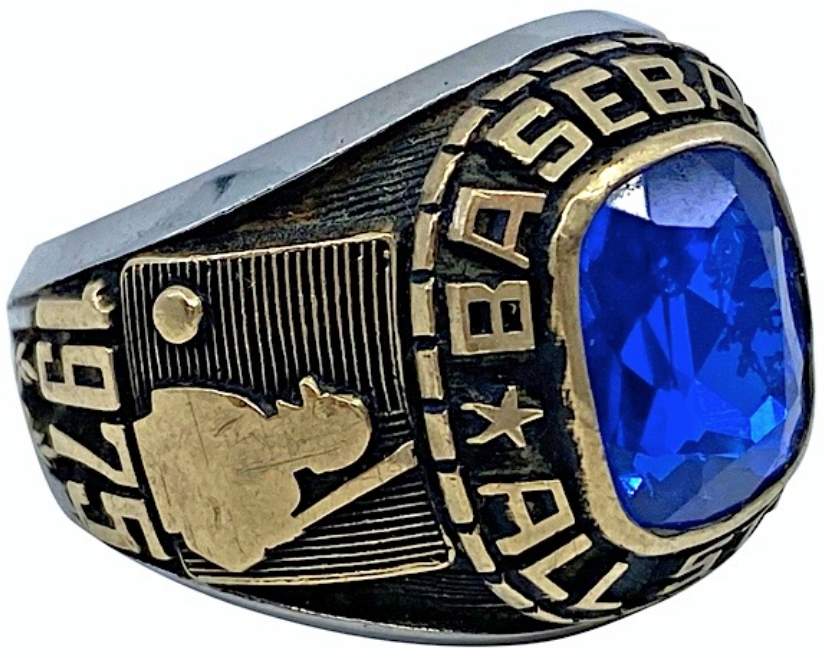 • Here's something you don't often see: an MLB All-Star ring, in this case for Catfish Hunter in 1975.
• Remember when the Knicks had that great vertically arched NOB lettering? Here are some examples from a bunch of players — Nate Bowman, Cazzie Russell, Patrick Ewing, and Clyde.
• The PBSW Ramblers were a professional women's softball team that played in Arizona in the 1940s. Here's an amazing jersey and jacket that they wore (plus the lot also includes an excellent quilt):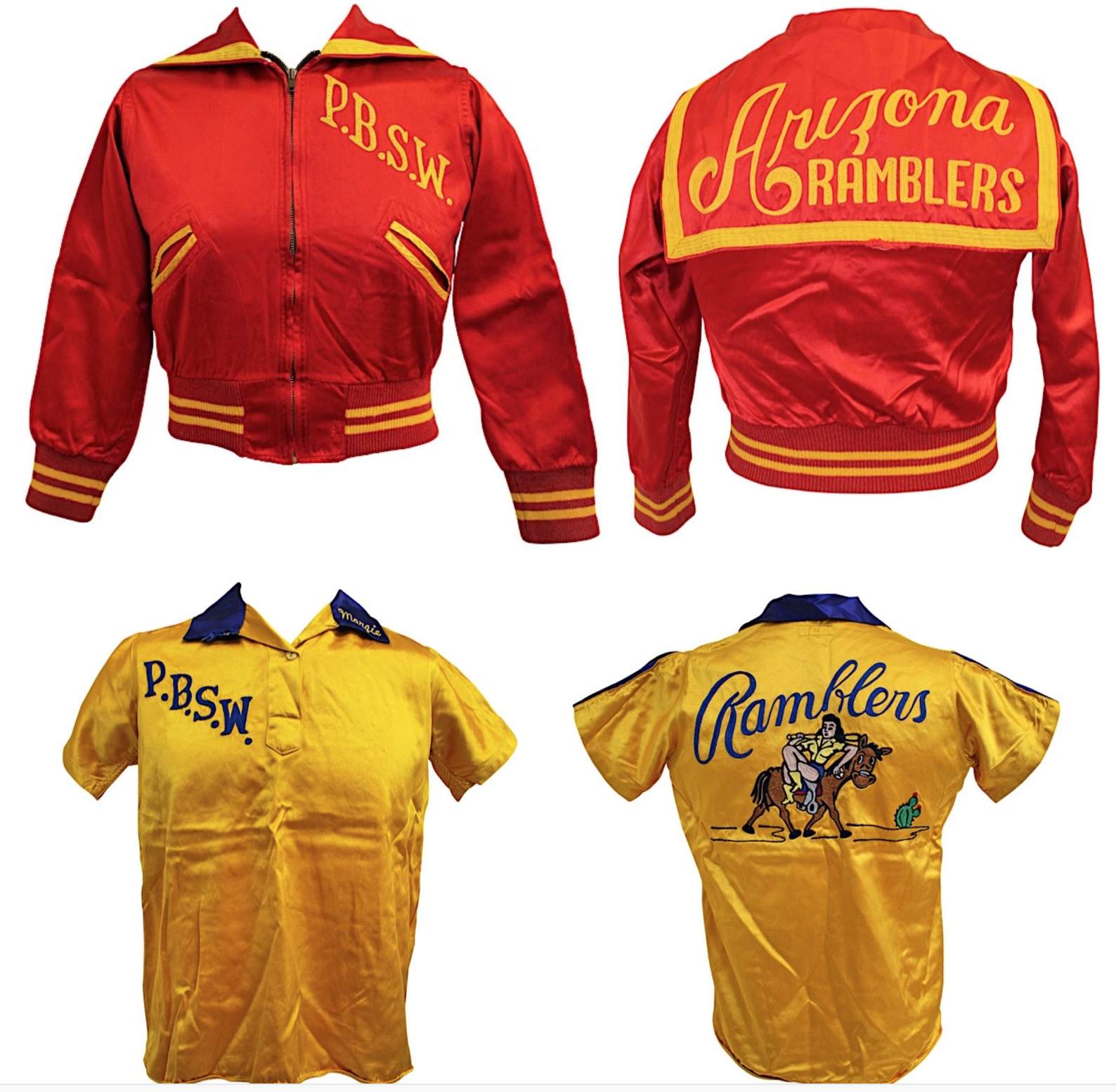 • Here's something we may soon be seeing a lot more of: a game-used MLB helmet — originally worn by A-Rod during a game in Japan — with an ad decal.
• Surprising to see that this 1970 Pete Rose jersey has a button right in the middle of the chest lettering. Would've been easy enough to skip it: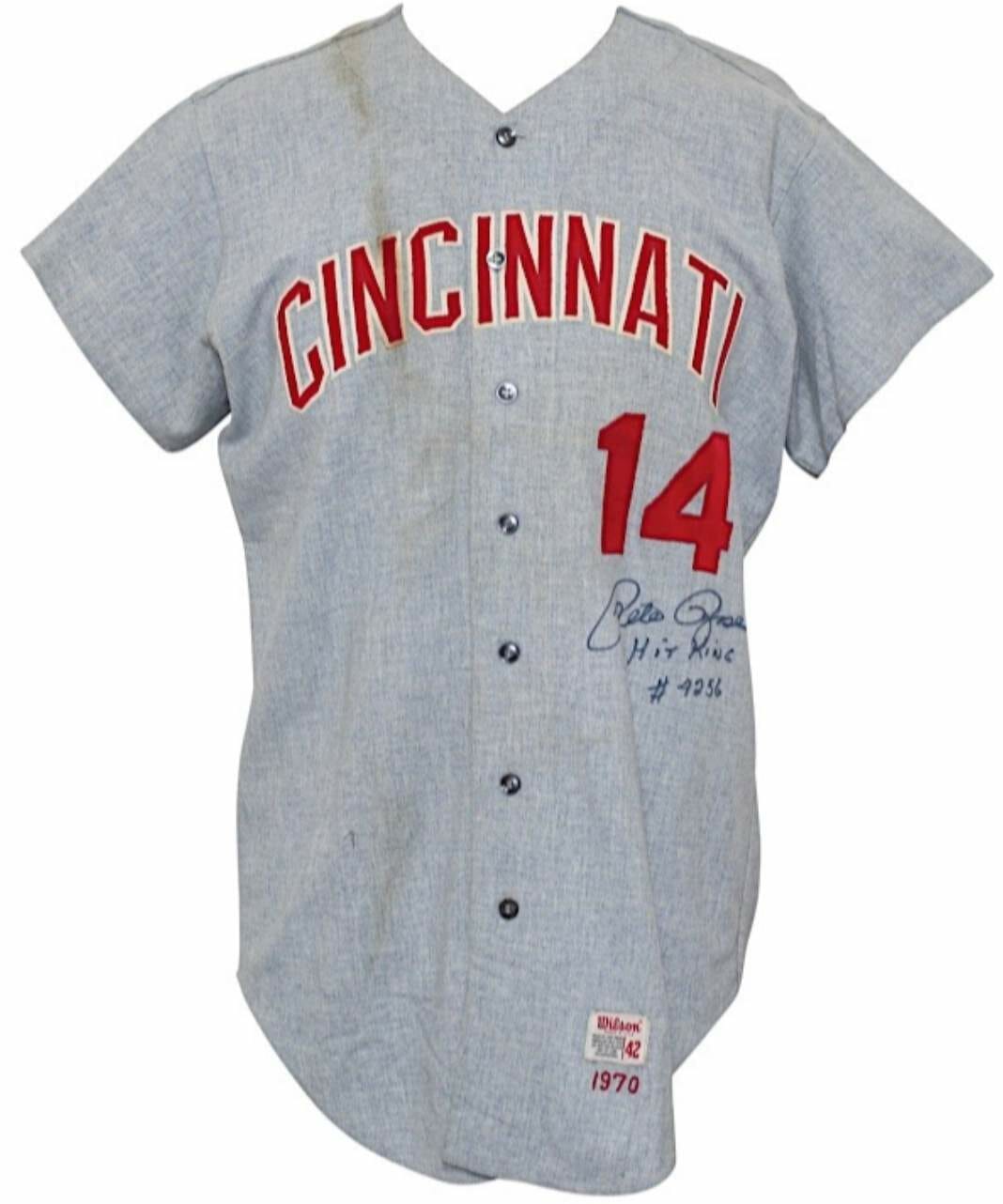 • And we wrap this one up with arguably the most interesting item of all — a 1948 Reds satin jersey: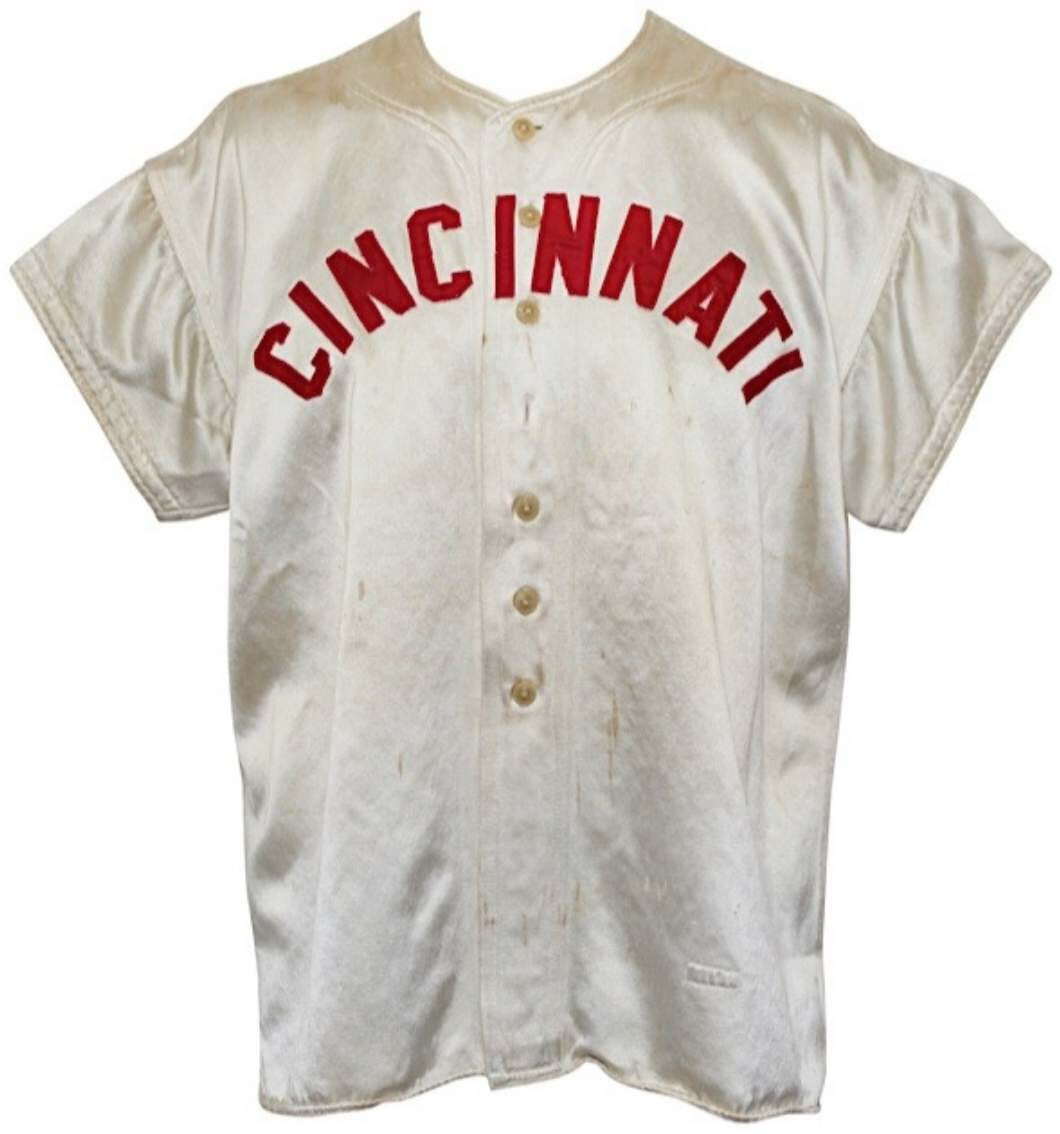 Several MLB teams experimented with satin uniforms for night-game visibility during the 1940s, but I hadn't been aware that the Reds were one of them. Dressed to the Nines has no indication of it. After seeing this auction listing, I poked around a bit and found this 2012 article (with no photos, alas) by noted uni collector Dave Grob, in which he makes a case for the Reds having worn satins in 1948. And then there's this 2018 tweet:
One Year Style Uniforms, a presentation by Dave Grob, a 1948 satin hat, worn by the Reds for night games. Players hated the uniforms. No jersey or pants are known to exist. pic.twitter.com/JXPTAS0mCX

— RedsMuseum (@RedsMuseum) February 17, 2018
So I checked with Todd Radom, and of course he had the goods. Check out this 1948 newspaper clipping: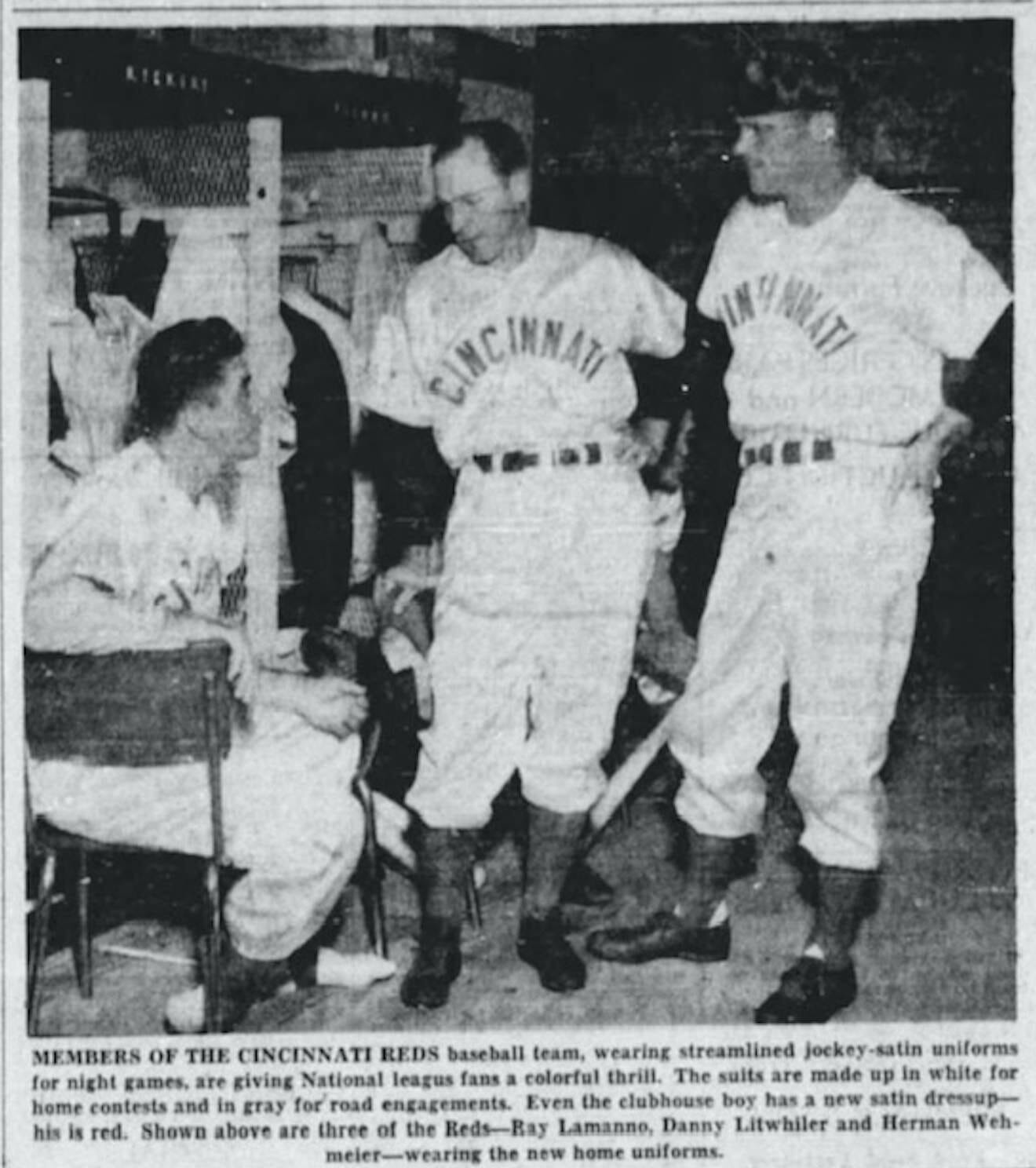 Surprising that they opted to wear "Cincinnati" on the home whites!
Want to see more from the latest Grey Flannel Auctions catalog? You can click through all of the auction listings here.
• • • • •
• • • • •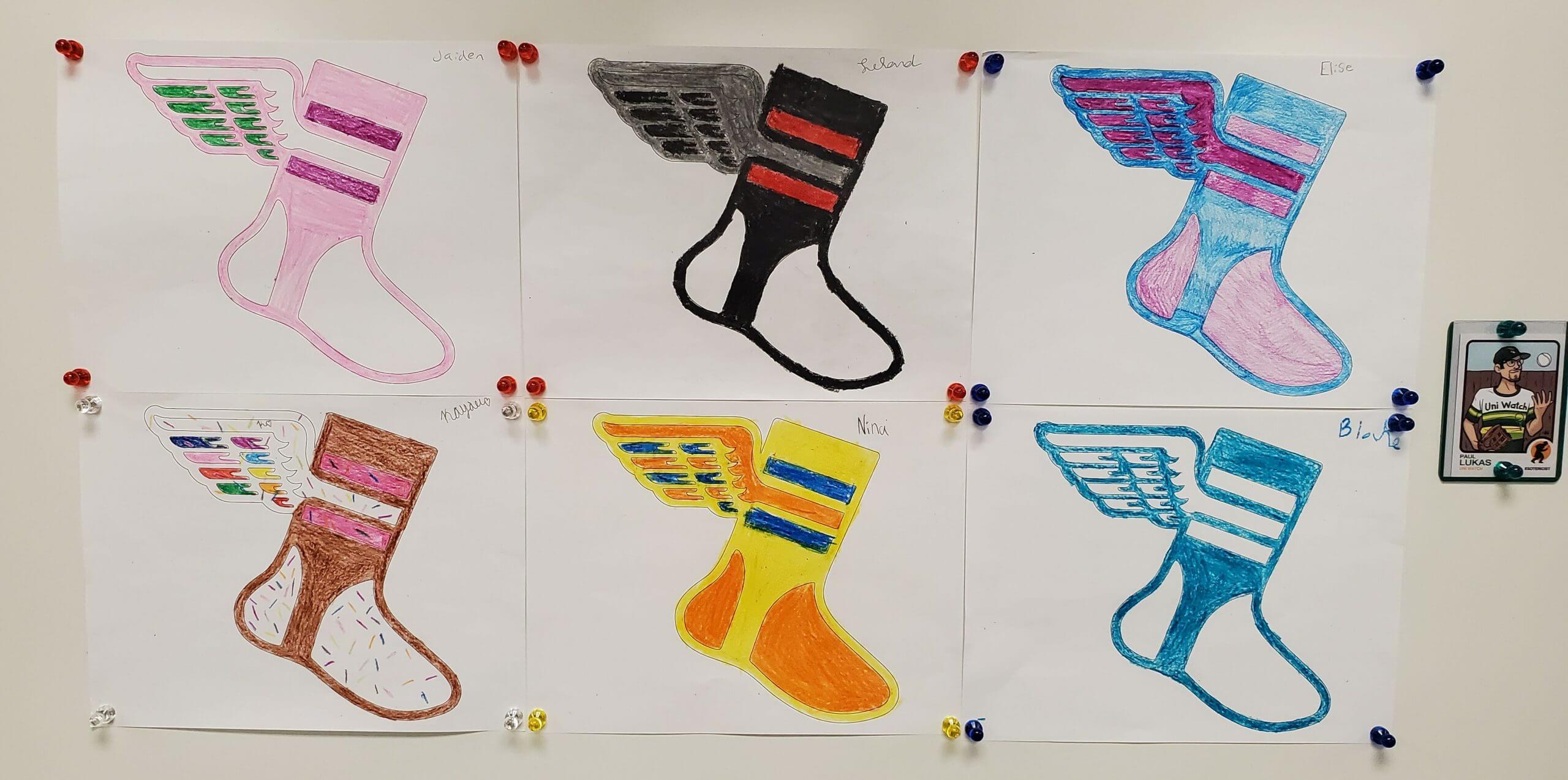 Click to enlarge
Start 'em young: The Uni Watch comm-uni-ty includes several schoolteachers who integrate uniforms into their curricula. That includes longtime reader Trevor Williams, who teaches third grade in Cleburne, Texas. "Before Christmas break, I had my class color the Uni Watch logo in whatever colors they chose," he says. "I chose six finalists and rolled a die to determine the winner for a Uni Watch trading card."
Here's the lucky winner (click to slightly enlarge):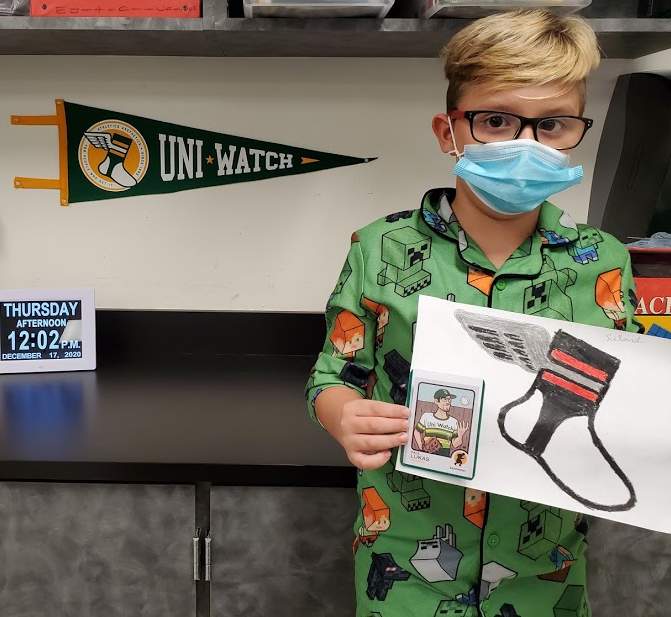 Thanks for spreading the Uni Watch gospel among the youth, Trevor!
• • • • •
• • • • •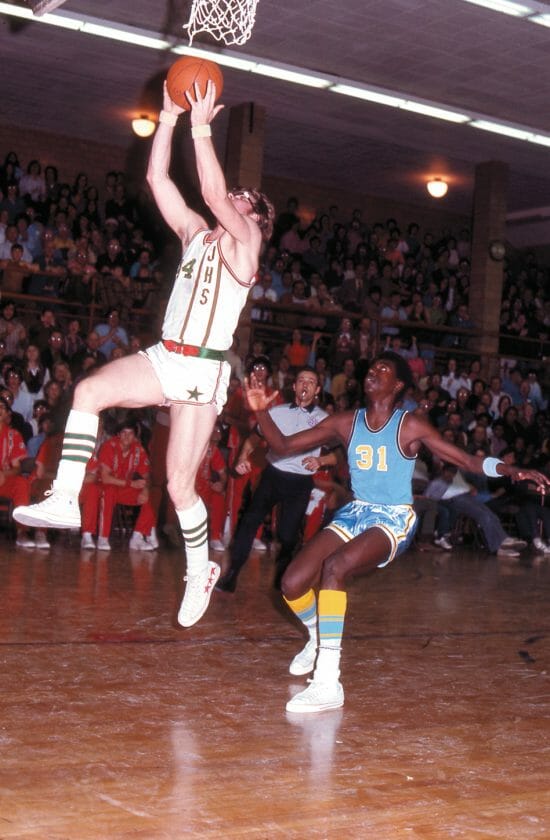 Too good for the Ticker: Oh man, so much uni goodness in this circa-1972 high school basketball shot. One thing at a time:
• The home team — Jamestown (New York) High — has the rarely seen red/green color scheme, including an amazing red/green belt!
• Also love their vertical "JHS" insignia.
• And the star on the shorts.
• And the triple-striped socks.
• Three stars on the Chucks!
• The player is wearing glasses, which appear to be taped at the hinge!
• And check out the warm-up suits being worn by his teammates in the background.
• The visiting player (not sure which school that is, sorry) is wearing satin shorts.
• Also love his Northwestern-striped socks. (As you can see, both players are wearing white crew socks over the striped socks, which means the striped socks are probably stirrups.)
• And his armband is Just Right.
• I also love love LOVE the ref's jersey. I'd wear that!
• Finally, look how scuffed that gym floor is.
(Mega-thanks to @retro_70s for this one.)
• • • • •
• • • • •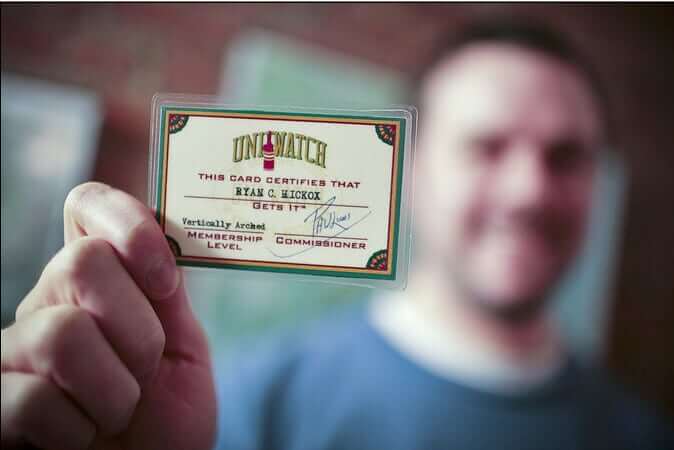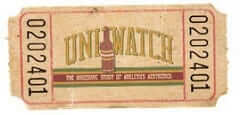 ITEM! Membership raffle: Noah Sidel, who wrote Wednesday's post about the Fitted Hat Society, has generously donated a membership for me to raffle off, so that's what we're going to do today.
This will be a one-day raffle. To enter, send an email to the raffle in-box by 8pm Eastern tonight. I'll announce the winner on Monday. Big thanks to Noah for sponsoring this one!
• • • • •
• • • • •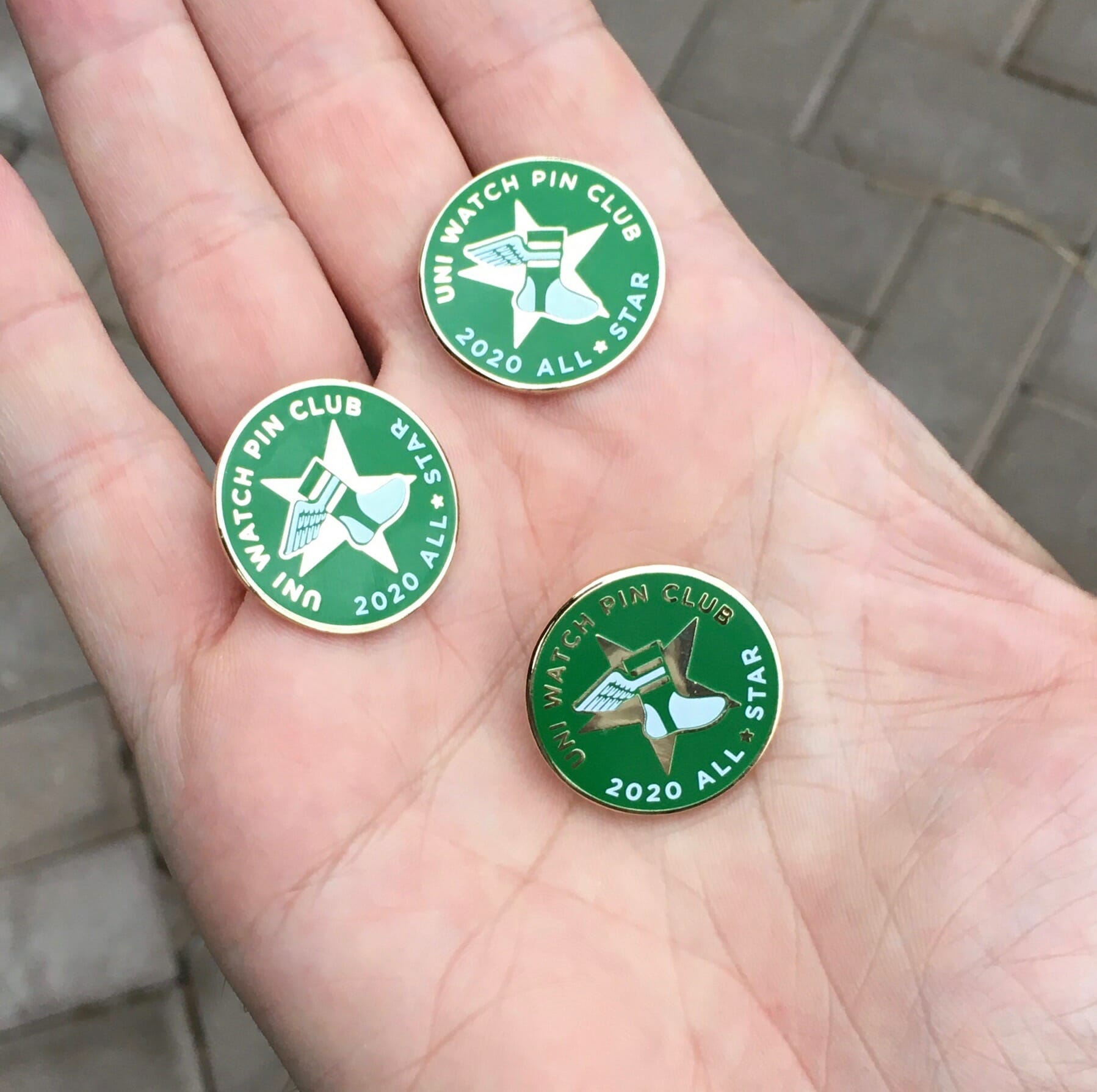 Pin Club update: All of the 2020 bonus pins have now mailed out to our Uni Watch Pin Club All-Stars, so those of you who qualified for this prize should watch your mailboxes. (If you collected all 12 of last year's pins and haven't yet claimed your All-Star pin by sending me either a photo of the pins or screen shots of your purchase-confirmation emails from Teespring, please do so pronto!)
Meanwhile, the January 2021 pin, which features a curling theme, is now available. As of this morning, we have about 60 of them remaining.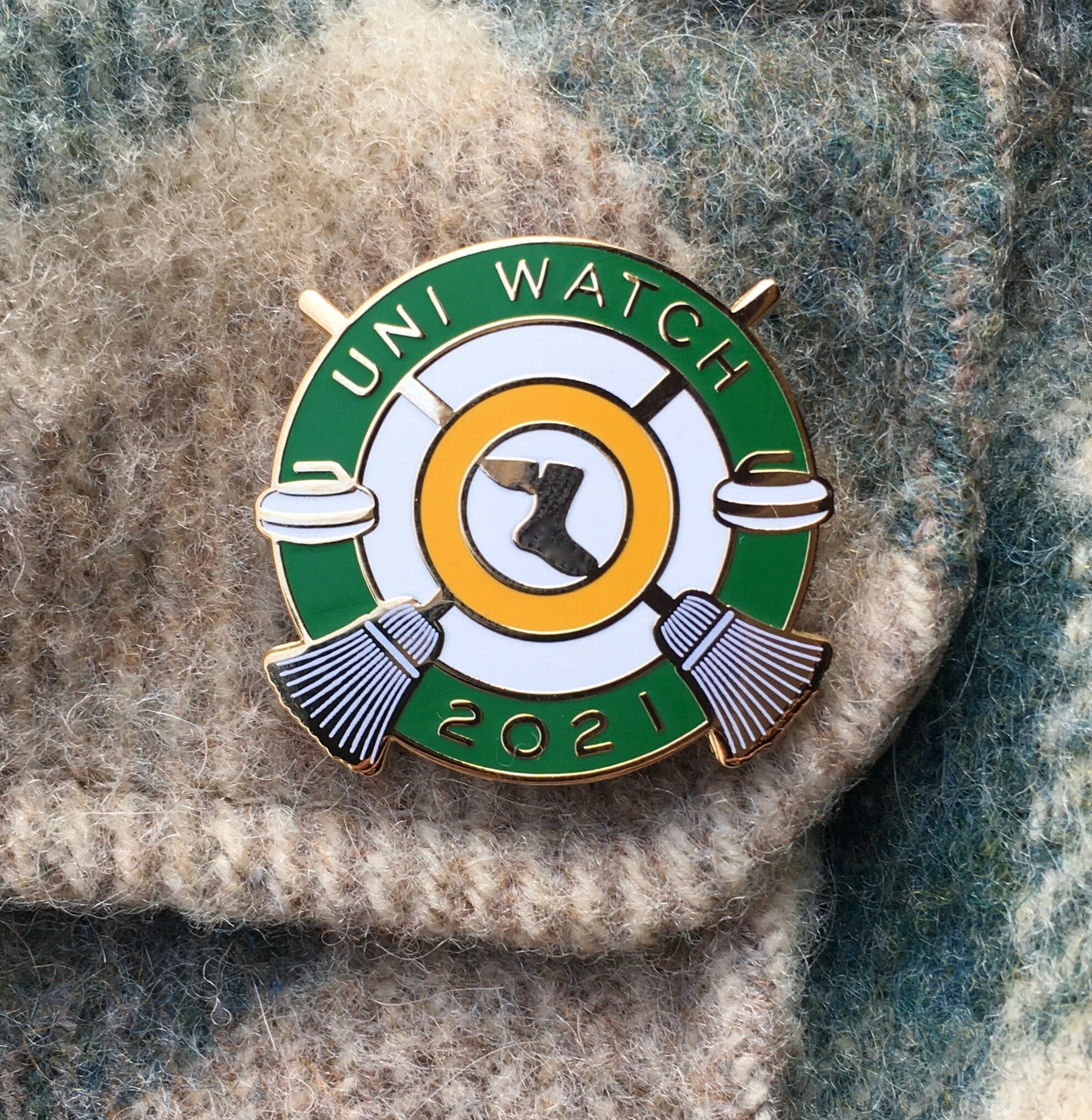 In addition, all of our remaining 2020 pins have been reduced in price from $13.99 to $9.99. You can find them in the Uni Watch Shop.
• • • • •
• • • • •
The Ticker
By Paul

'Skins Watch: Interesting piece on how a high school on an Indian reservation in Arizona calls its teams the Redskins (from Kary Klismet). … Also from Kary: Here's how the new team identities for Washington/NFL and Cleveland/MLB could result in financial windfalls for the two franchises.

Baseball News: Very excited that my favorite team has acquired one of MLB's true hosiery heroes. I look forward to cheering for him and his stirrups this season. … Speaking of my favorite team, their new owner dropped a serious hint yesterday about the return of BFBS jerseys (thanks to all who shared). … A high school baseball coach in Rhode Island has donated a bunch of uniforms to a baseball academy in Africa.

NFL News: The Rams will go dishwater over blue — a uni combo they haven't yet worn this season — for tomorrow's playoff game (thanks to all who shared). … The Bucs will wear red over pewter tomorrow, which means Washington will apparently be wearing white at home — something they didn't do during the regular season (from Dell Michaels). … The 49ers are giving away QB Jimmy Garoppolo jerseys to benefit local restaurants. … Bills QB Josh Allen has given golf clubs and lessons to his offensive linemen (from Nicklaus Wallmeyer). … A Redditor made some cool beverage coasters from old football cards (from Mike Chamernik). … For the first time in team history, the Jags wore all nine of their possible uni combos this past season.

College and High School Football News: Utah RB Ty Jordan, who died from a gunshot wound on Christmas Day, was dressed in his uniform for his funeral earlier this week (from @tstall14). … Whoa, check out this shot of the 1938 Benedictine (Va.) High School team. "My grandfather is in the top row, fourth from the left," says Brian Feeney.

Hockey News: New mask for Canadiens G Carey Price (from @GoalieGearNerd and Wade Heidt). … The NWHL's Metropolitan Riveters and Connecticut Whale will have cardboard cutouts of players from the WNBA's New York Liberty and Connecticut Sun (thanks, Jamie). … New red line design for the Ducks. … The Oilers have added a "JM" memorial decal for former coach John Muckler, who died earlier this week. … The NHL is selling Reverse Retro pennants (from Trevor Williams). … By far my favorite Ticker item of the year so far: As of New Year's Day, The Great Gatsby entered the public domain, and some enterprising soul wasted no time posting a version of the book in which the name "Gatsby" was replaced throughout the entire manuscript with the name "Gritty" (from the Tugboat Captain).

NBA News: Here's more on the design process behind the Grizzlies' City uniforms. … The Nets debuted their tie-dye throwbacks last night. … At the 1992 NBA All-Star Game, which was played in Orlando, Spurs C David Robinson and Trail Blazers G Clyde Drexler had to wear Magic warm-ups because their own didn't arrive (from @MarceloC87). … Here's the story behind Bucks F Giannis Antetokounmpo's new signature shoes (from Jakob Fox).

College Hoops News: Illinois debuted new throwbacks last night. Unfortunately, G Ayo Dosunmu's NOB was misspelled (from David Dahl and @bminick, respectively). … Iowa and Maryland players, along with coaches and game officials, kneeled just before the opening tip last night to protest social injustice (from Kary Klismet).

Soccer News: Barcelona's women's team played their first game in FCB's main stadium, Camp Nou, on Wednesday. "They usually play at the home of the men's reserve and youth teams," says our own Jamie Rathjen. … Also from Jamie: The last Premier League club that never had a sleeve ad now has one. … Following up on a Ticker item from earlier this week, Royal Antwerp ST Didier Lamkel Zé has apologized after showing up at training camp wearing the shirt of rival club Anderlecht (from Mike Chamernik). … Forward Madison's cow mascot has had a calf, and the team is asking for help in naming it (from Scott Rogers).

Grab Bag: New logo for drug maker Pfizer. … New logo for the CIA. … The sheriff's department in Berkeley County, S.C., is changing from blue uniforms to green (from Kenneth Traisman). … New logos and uniforms for Burger King. The "new" primary logo is actually very similar to the old one that they had when I was growing up in the 1970s (thanks to all who shared). … Did you know that Marine Corps uniforms include capes? It's true! (From Dell Michaels.) … Speaking of the Marines, here's what they're wearing in preparation for Joe Biden's inauguration. … Interesting piece on the streetwear brand Supreme and its ubiquitous logo (from James Gilbert). … The U.S. Air Force is reviewing its emblems, morale patches, and other symbols to weed out those that are racist, sexist or otherwise problematic (from Tim Dunn). … The Bristol Motor Speedway in Tennessee is serving as a Covid vaccination site to take pressure off the local health department (from James Gilbert). … North Korea released a photo of national dictator Kim Jong-un wearing a new military uniform. … Check it out: a bathroom with an infinite regression (from Will Hughes).
• • • • •
• • • • •
Click to enlarge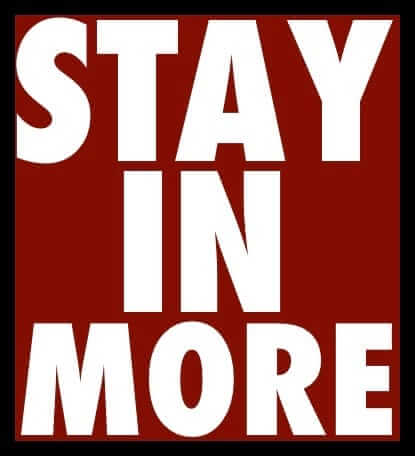 What Paul did last night: If you look closely, you can see that we had a guest of sorts for Pandemic Porch Cocktails™ last night: There was a dude sitting and checking his phone in the car in front of our house. He sat there for about 20 minutes before getting out of the car and walking away.
As always, you can see the full set of daily PPC™ photos — now nearly 300 of them — here.
• • • • •
On a personal note, I want to thank all the people who sent thoughtful notes in response to yesterday's non-post. It meant a lot, really — I'm privileged to have such an amazing readership.
Stay safe, stay sane, enjoy Phil's weekend content, and I'll see you back here on Monday morning. — Paul