Lots to like in yesterday's KC/Dolphins game, as the Fins wore their throwbacks, KC went white over red, and the late-year sunlight looked Just Right on Miami's grass field. A visual treat! Click on the highlight footage embedded above to revel in the uni goodness, and you can also see plenty of photos here and here. And yes, the Dolphins should wear this uni full-time, blah-blah-blah, we all know that already but they don't seem inclined to go that route so whaddaya gonna do.
In other news from a very uni-eventful day around the league yesterday (for most photos, you can click to enlarge):
• If you like striped socks as much as I do, you had to love the scene yesterday in Chicago, as the Bears brought out their 1936 throwbacks (additional photos here):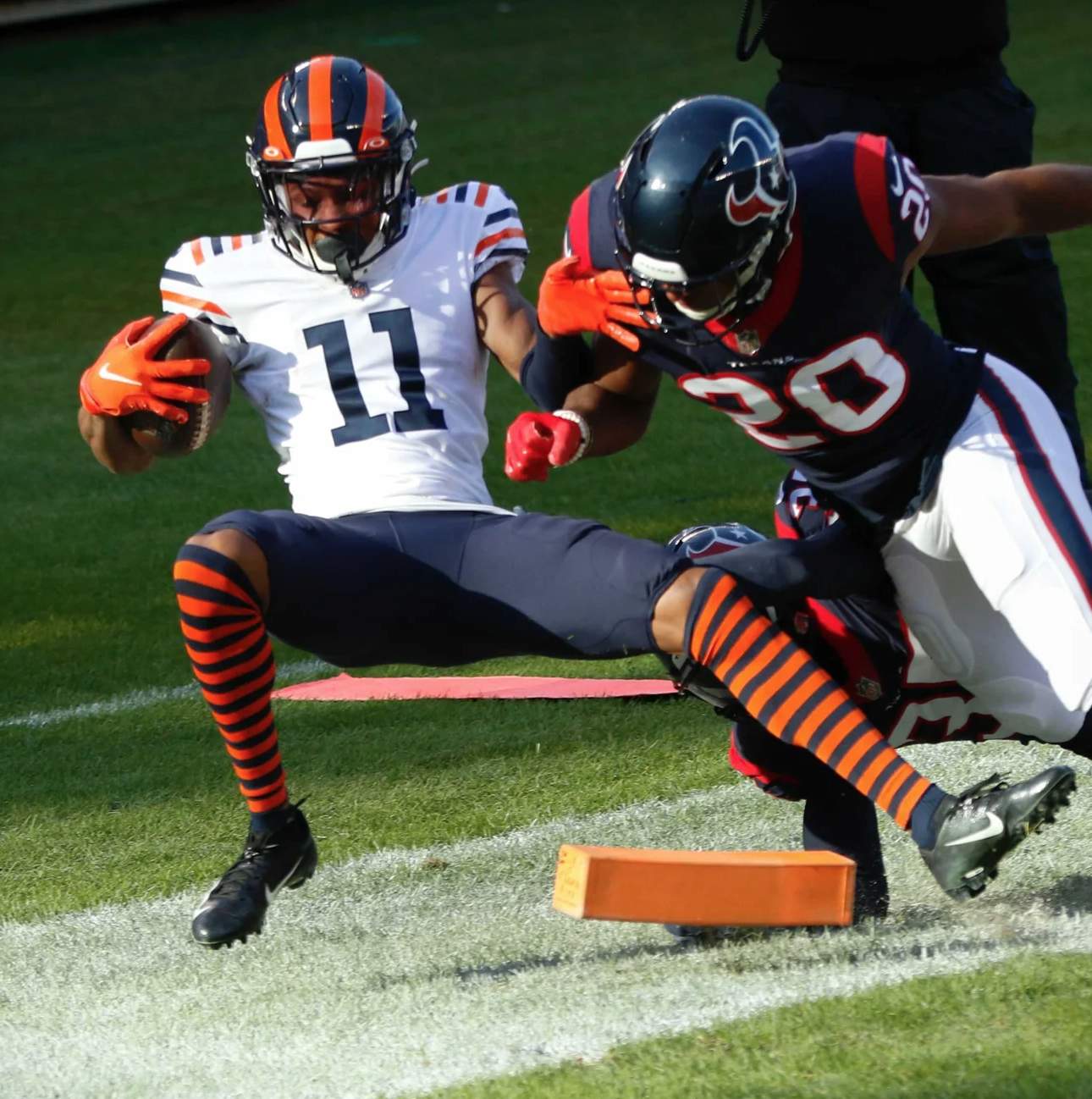 • In that same game, Bears linebacker Danny Trevathan had some issues with the striping tape on his helmet: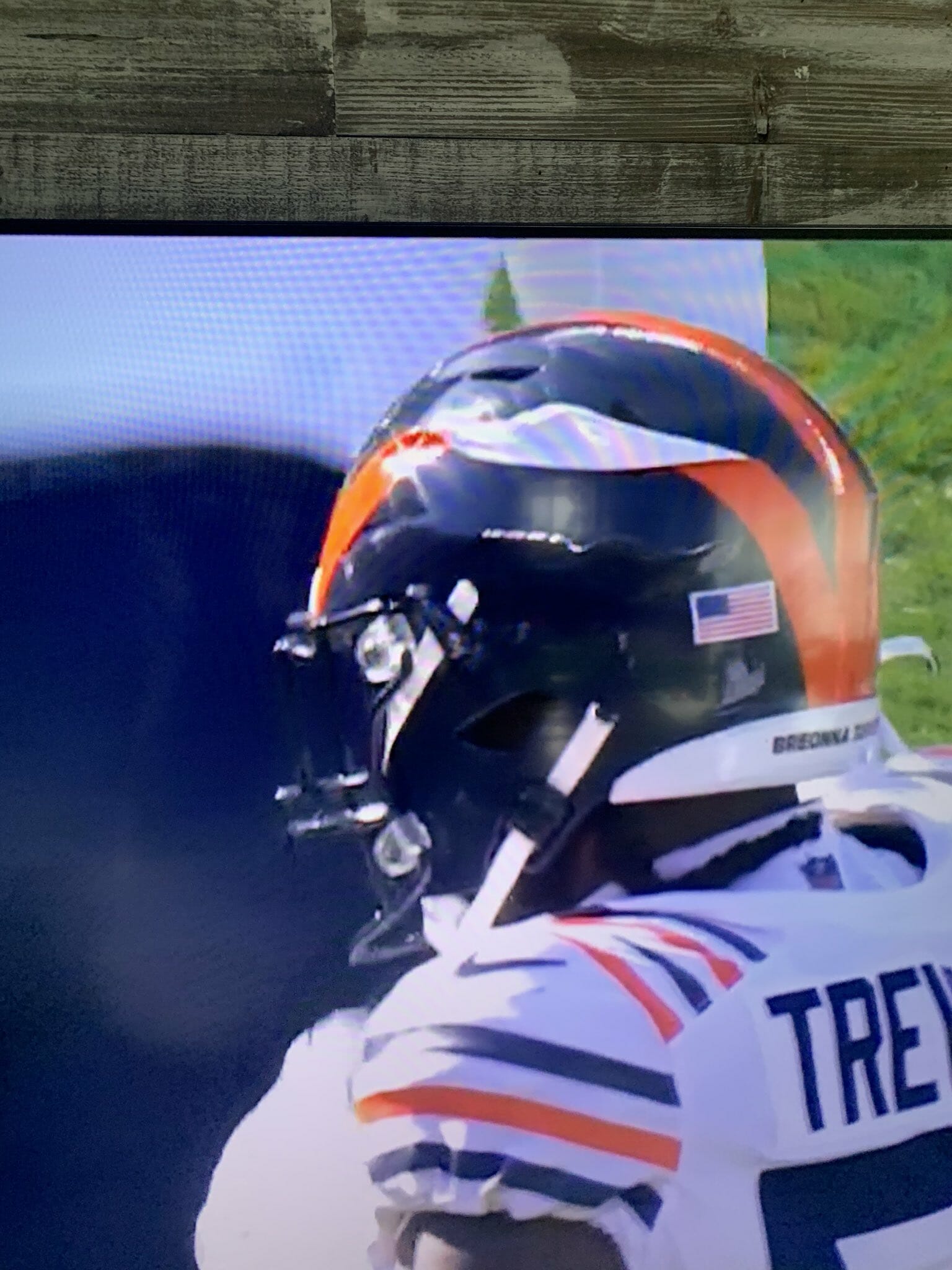 • The Bengals went mono-black: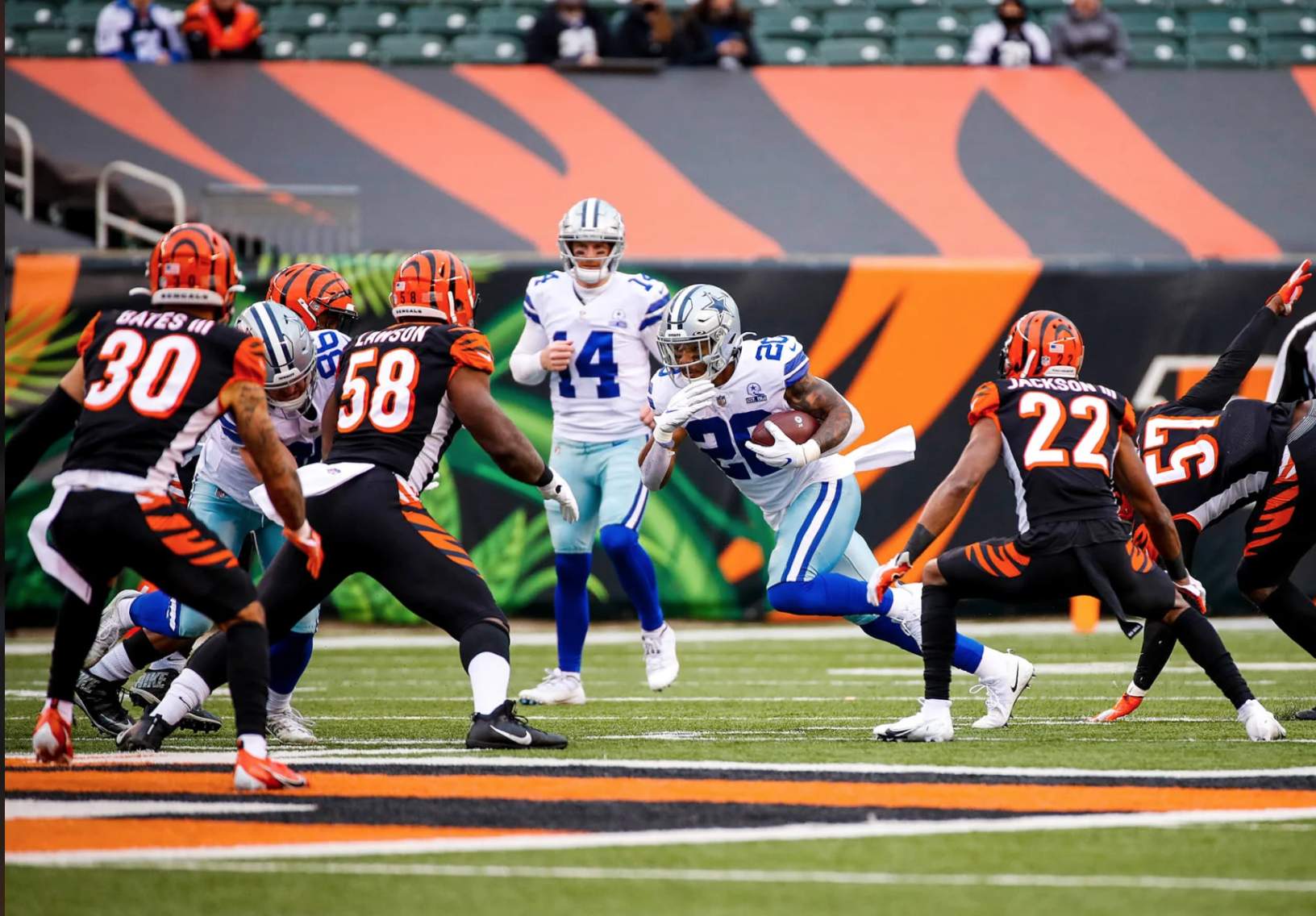 • The Jags went mono-black as well: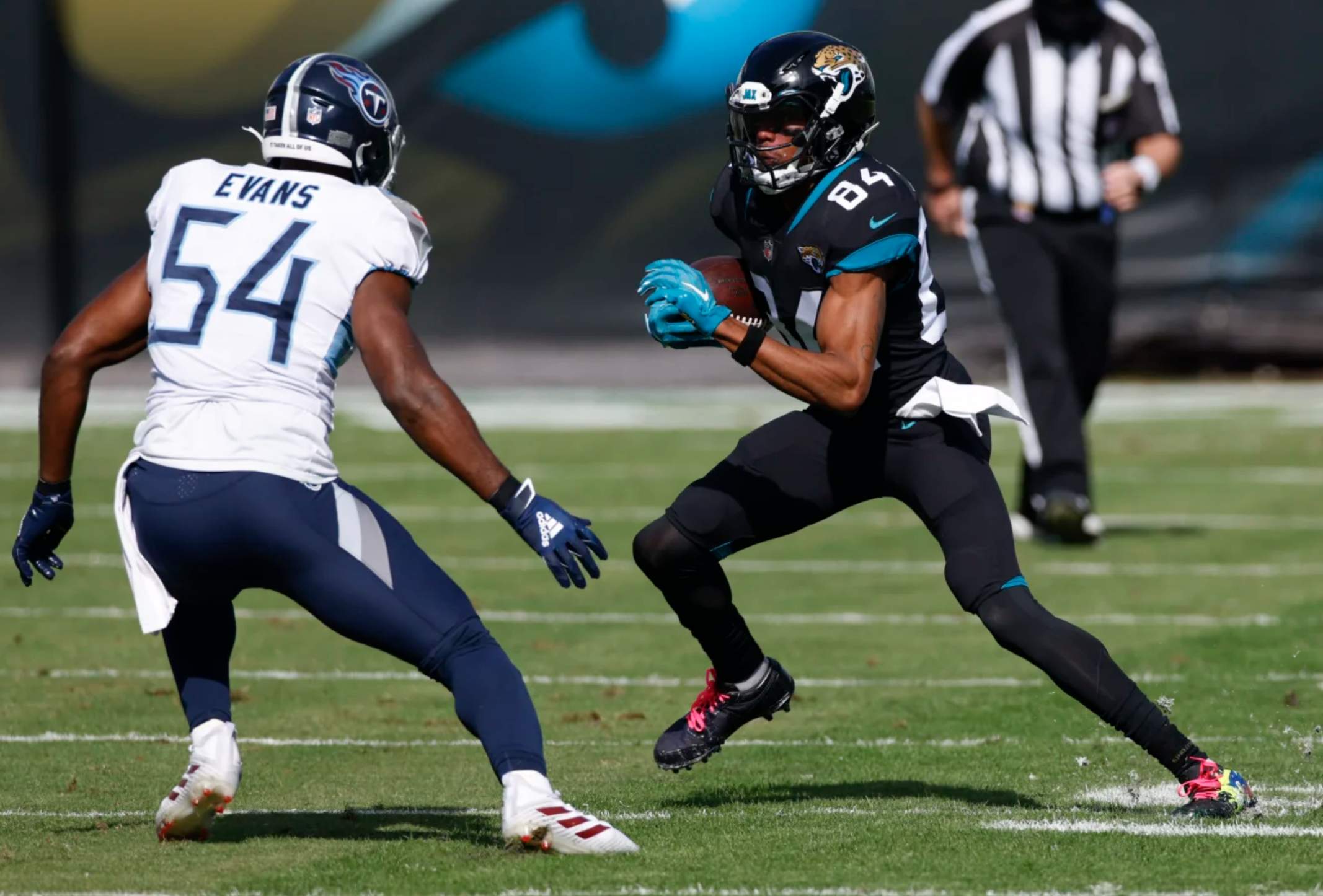 • The Panthers were yet another team that went mono-black: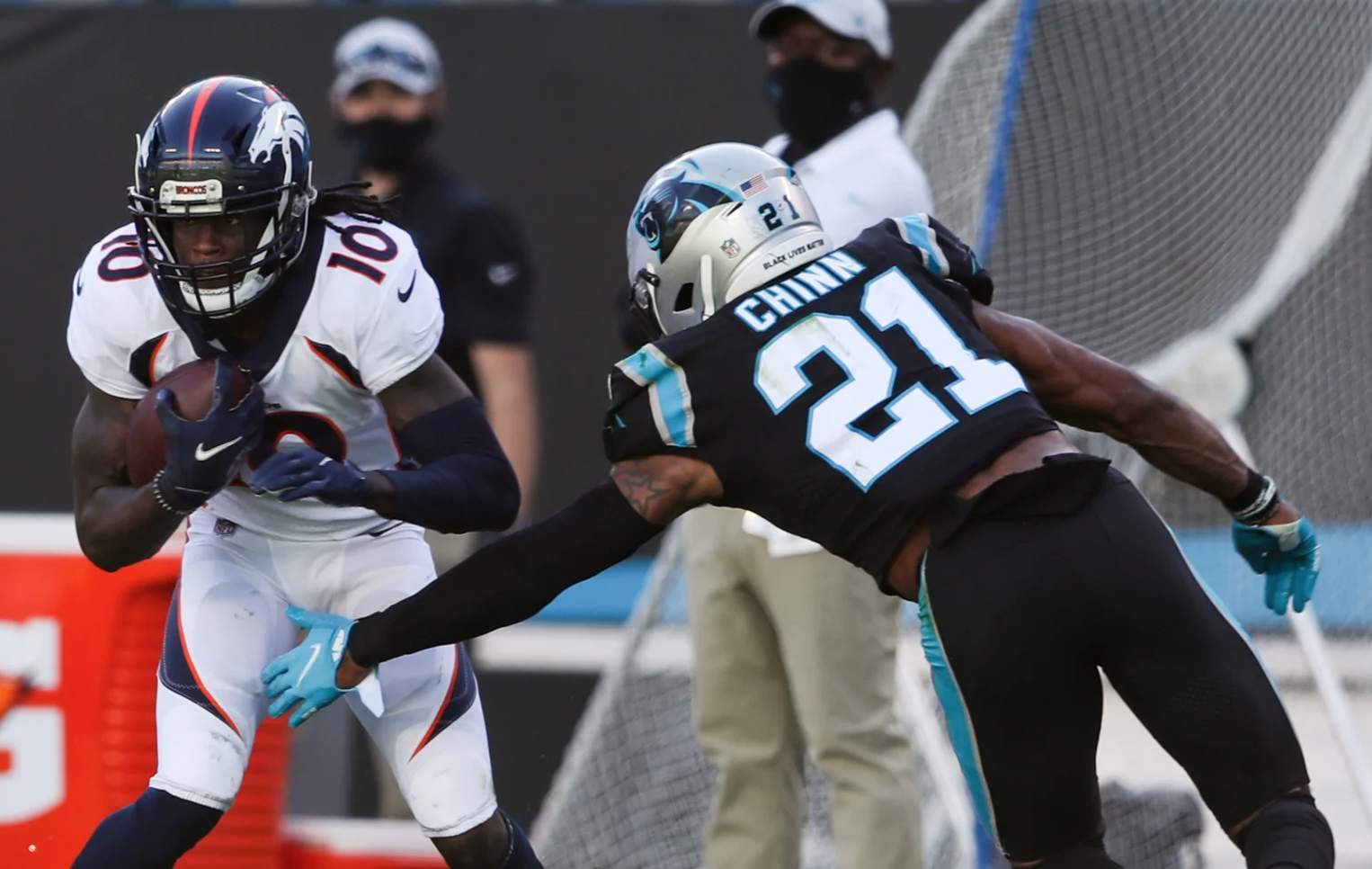 • And to save the worst example for last, the Eagles wore their miserable mono-black alternates:
• The good news is that the Lions didn't go mono-black; the bad news is that they went mono-blue:
• The Chargers went mono-blue as well: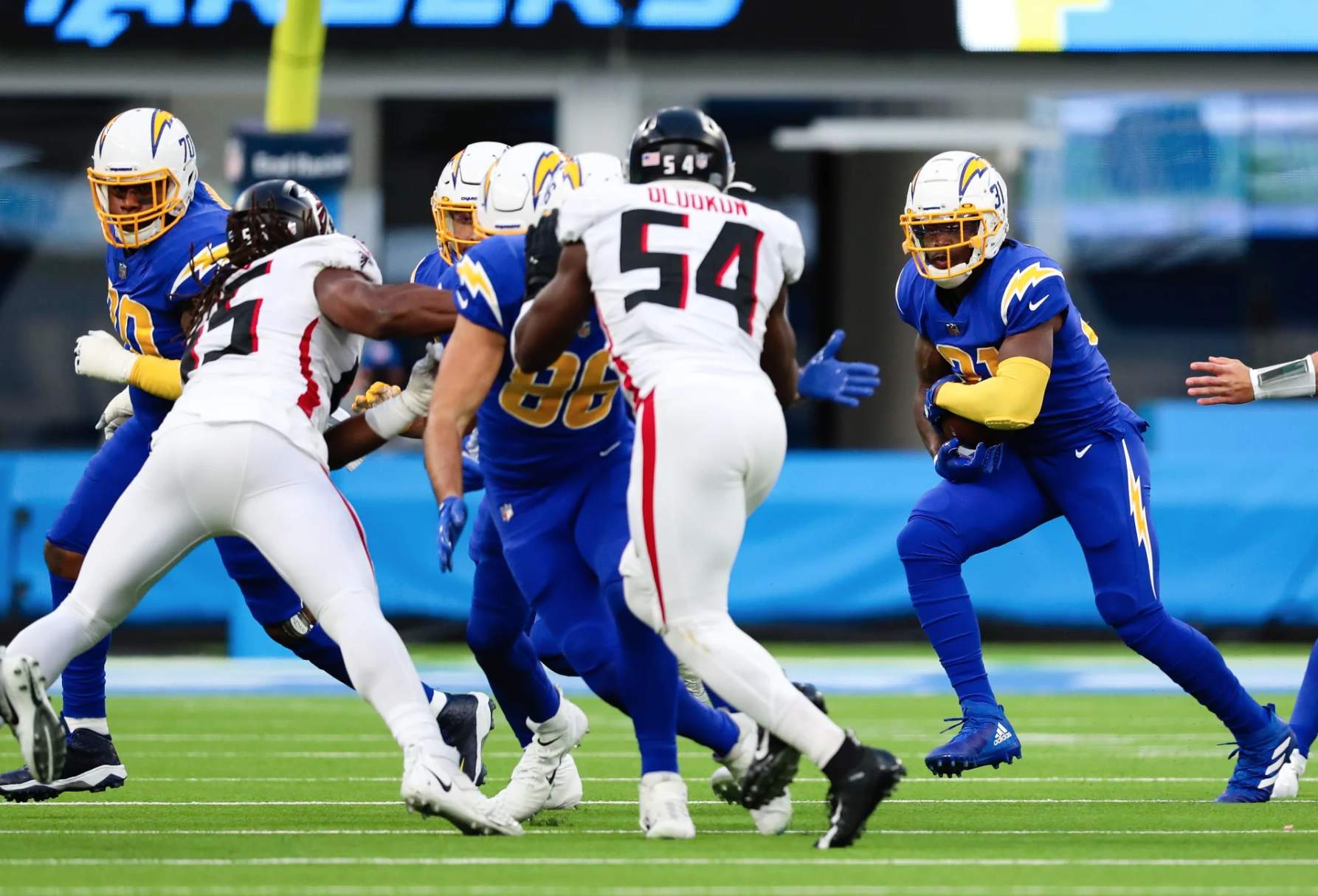 • After not going mono-white for over a decade, Washington did it for the second week in a row: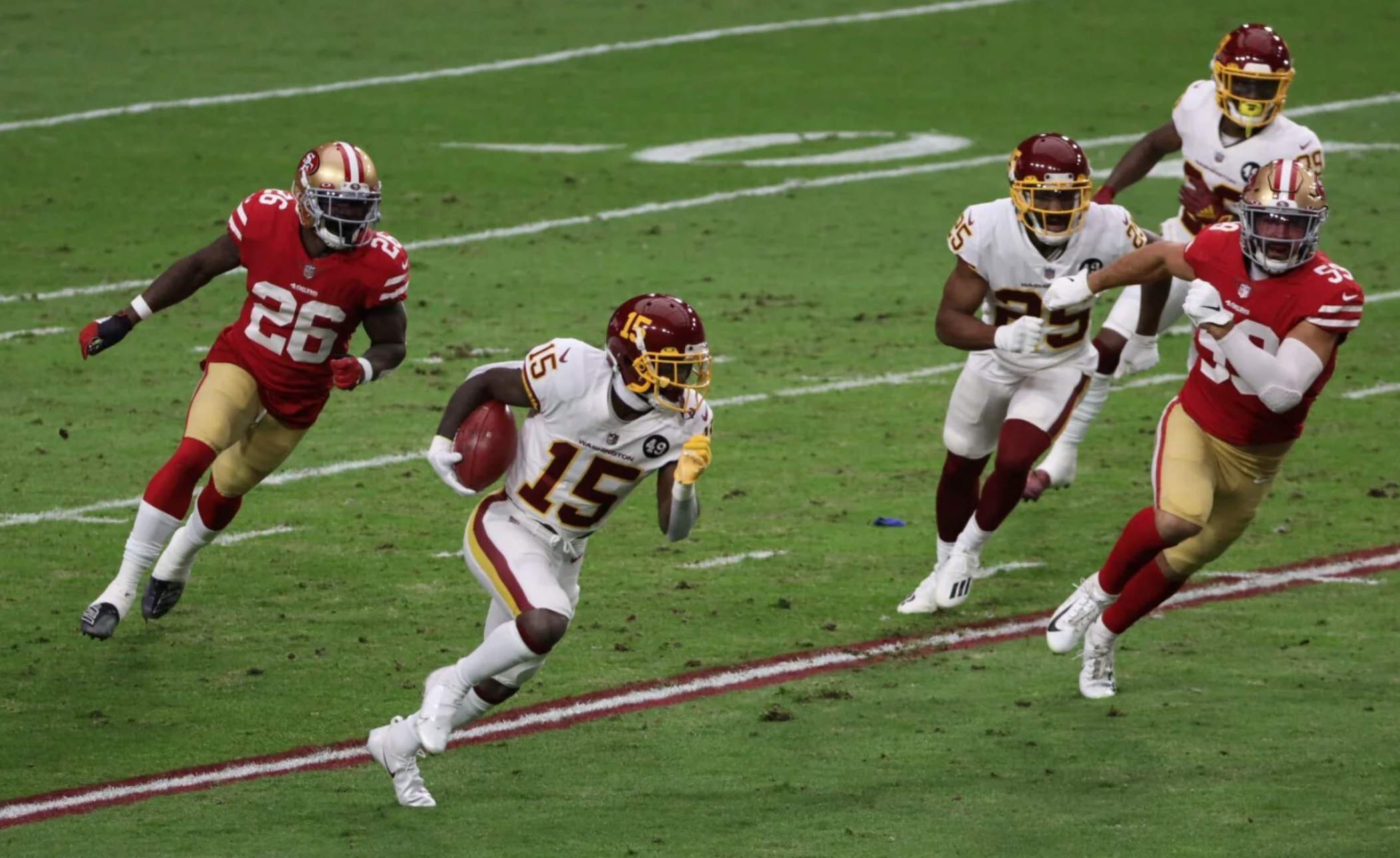 • Similarly, after not going mono-white since 2012, the Vikings did for their second consecutive road game: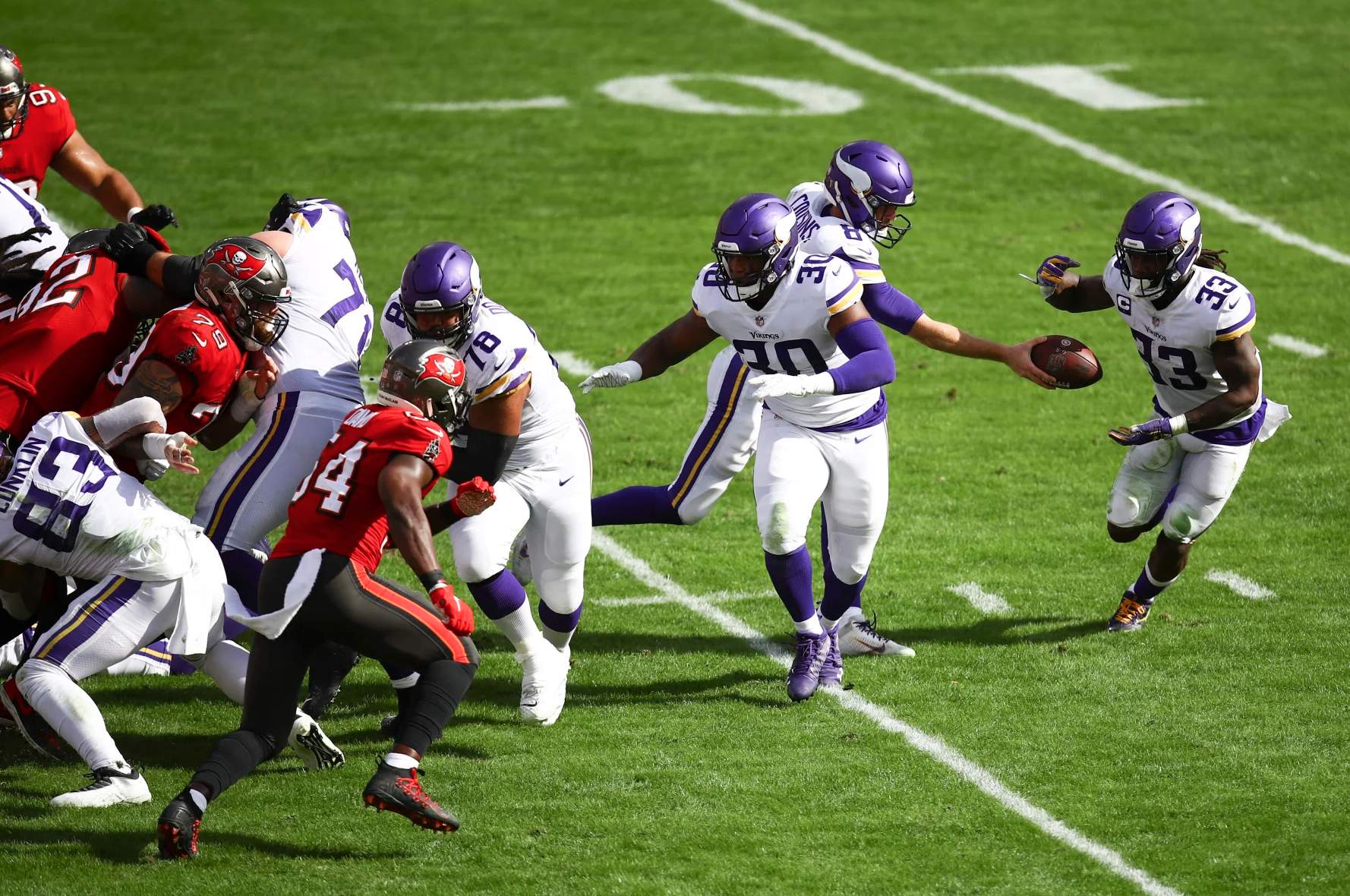 • The Bills, in their annual tragic misstep, went mono-red: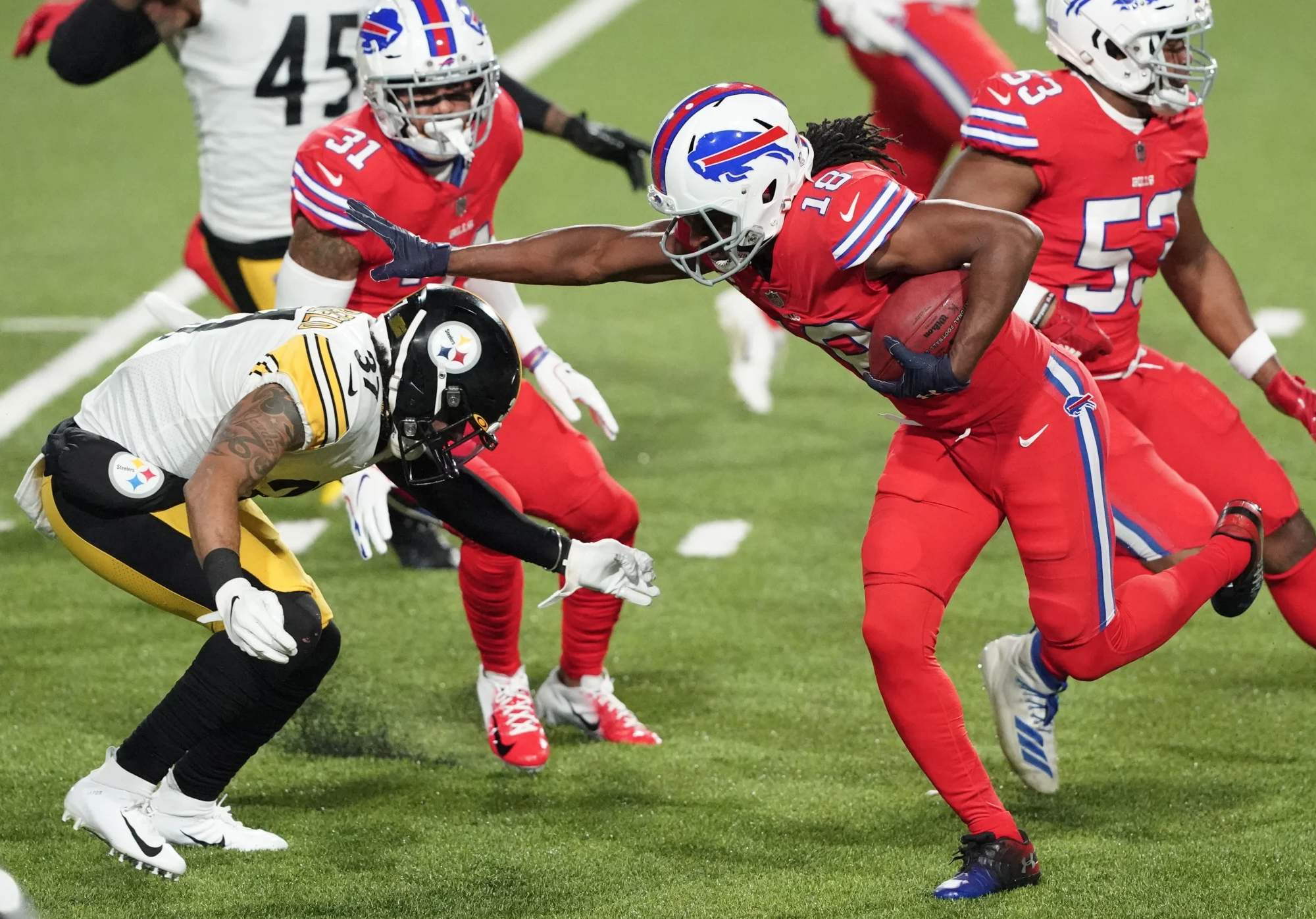 • It was a wacky day for undershirts. First, Jags running back James Robinson had a bit of base-layer malfunction: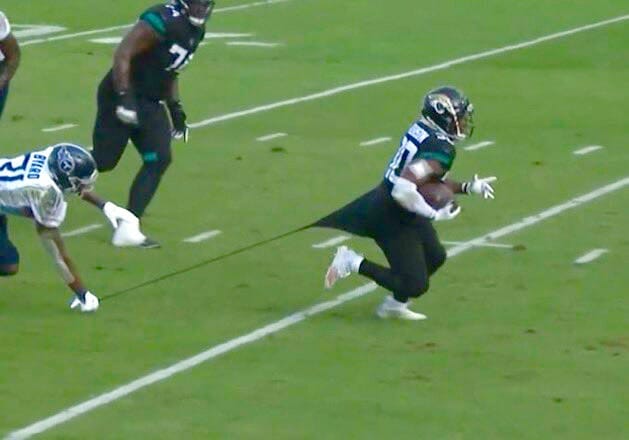 Here's a video clip of that play — not quite as good as the photo, but still interesting to see:
Love James Robinson.. his cuts are so smooth.

Unfortunately this was brought back due to too many guys on the LOC. Illegal Formation pic.twitter.com/SeotsGgT2S

— Laurie Fitzpatrick (@LaurieFitzptrck) December 13, 2020
• The same thing happened to Eagles wide receiver Jalen Reagor:
• And it also happened to Cowboys wide receiver CeeDee Lamb: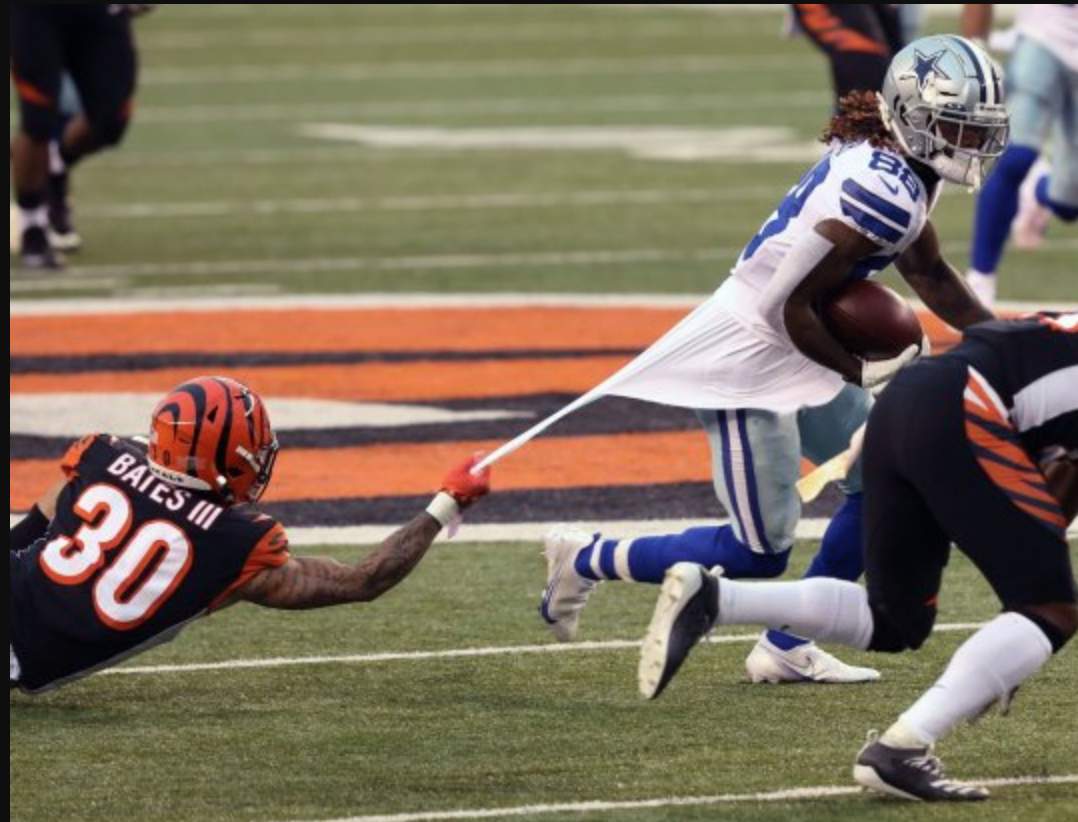 • And in yet another base-layer development, Raiders offensive lineman Trent Brown cut a fringe pattern into the bottom of his undershirt, creating a sort of grass-skirt effect: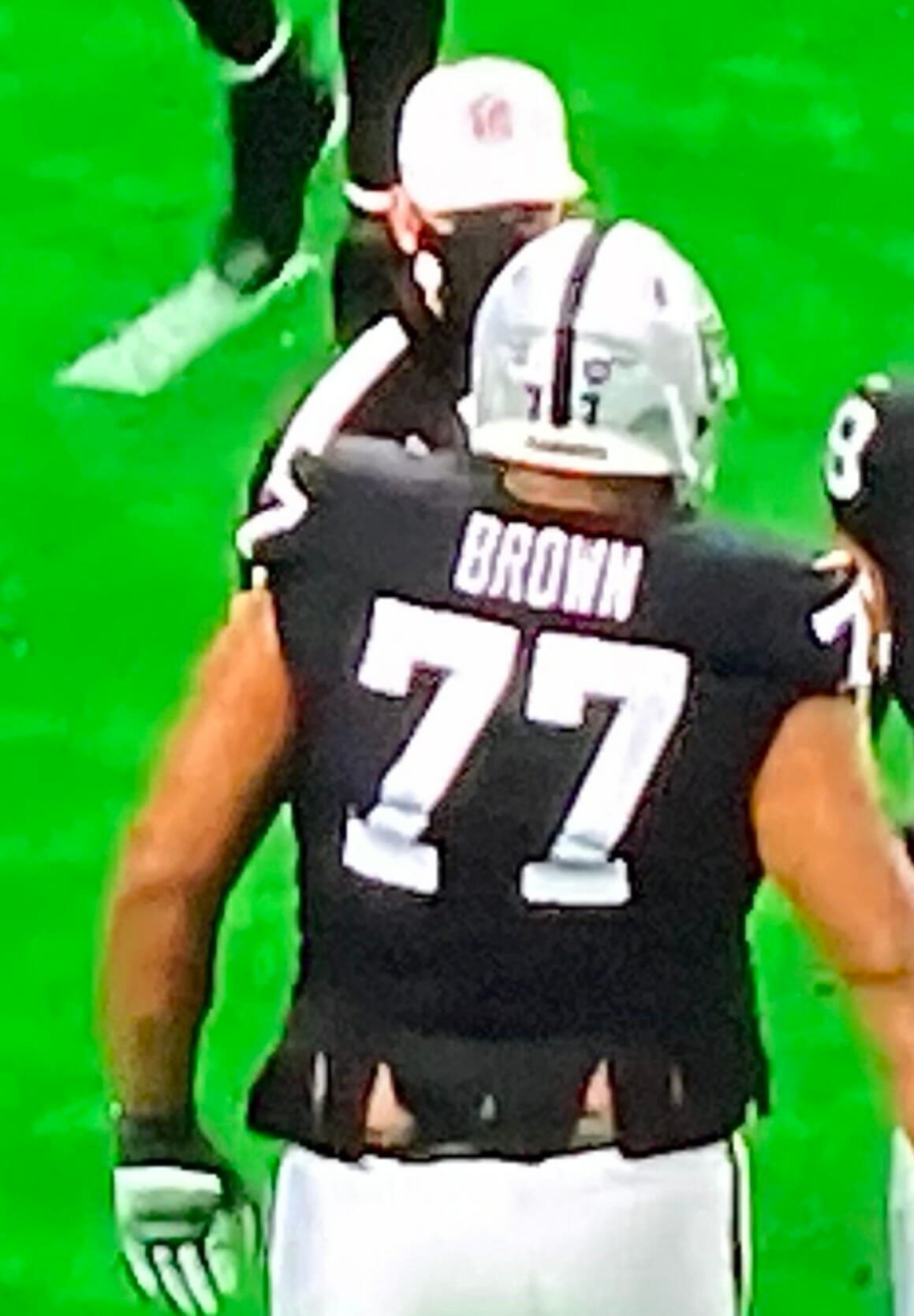 •  Speaking of Brown, he also wore a Black Lives Matter facemask during pregame activities (but not in the game itself):
Embed from Getty Images
That photo also provides another view of the fringed undershirt.
• Earlier this week, each team announced its nominee for this season's Walter Payton Man of the Year Award. Those 32 players all wore the Payton Award icon — the one that looks like Darth Vader — as a rear-helmet decal yesterday, as exemplified here by Panthers linebacker Shaq Thompson: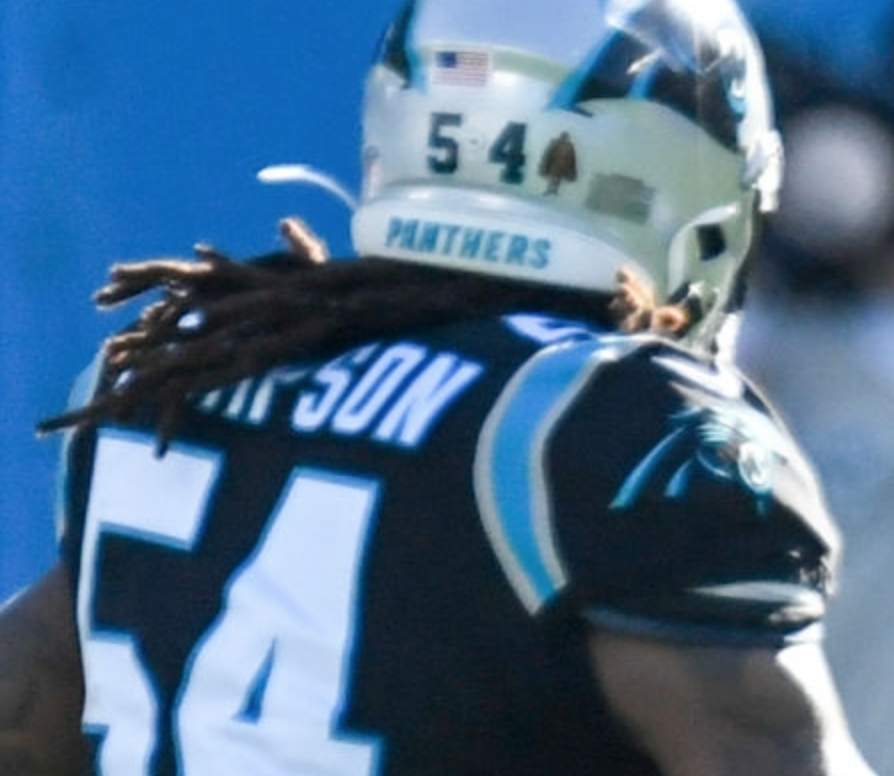 Thompson and the other 31 nominees will continue to wear that helmet decal for the rest of this season. The eventual winner of this season's award will wear the Payton icon as a jersey patch for the rest of his career, just like all past Payton winners who are still active.
• The aforementioned Bears were the only home team that wore white.
(My thanks to all contributors, including Matt Barnett, Robert Delano, Andrew Joseph, Brian Spiess, Trevor Williams, @NFL_Journal, and @MadeByTim.)
• • • • •
• • • • •
Big news out of Cleveland: The New York Times broke the story last night that the Cleveland MLB team has decided to change its name, with an official announcement possibly coming as soon as this week. Half an hour after the Times published its story, ESPN's Jeff Passan confirmed the report.
The Times report said that the team might keep the Indians team name and uniforms for one last season in 2021 (and then go forward with a new identity in 2022) or might instead choose to play simply as "Cleveland" in 2021 (similar to the Washington Football Team). Later in the evening, Cleveland.com reported that the team has chosen the first option — keeping the existing name for 2021 and then rebranding in 2022 — although it sounds like the situation is still somewhat fluid.
Either way: Good for them! As for what the new team identity should be, I'll leave that for Clevelanders to debate. I'm just glad the old name's days are numbered.
To Indians fans, I understand the sense of loss you may be feeling, and I'm sorry about that — really. You deserve something better to rally around than the block-C, so I hope the team's new identity, whatever it turns out to be, includes a great new logo for you to embrace. While they're at it, maybe the franchise can finally settle whether they're a blue team with red trim or the other way around. Lots of opportunities here to tie up loose ends!
This is the latest in a series of moves throughout the sports world to eliminate Indigenous-themed team names. The first team to do so was the NFL's Washington Redskins (who are currently playing as the Washington Football Team); then came the CFL's Edmonton Eskimos (who are in the process of choosing their new moniker); and now the Indians.
Next up: the Braves, Chiefs, and Blackhawks. You're on the clock, guys.
• • • • •
• • • • •
Ouch: ESPN put together this entertaining video about why NFL players don't wear a protective cup. It's about three-and-a-half minutes long, which feels just about right. Worth checking out!
(Thanks to Anthony Nuccio for this one.)
• • • • •
• • • • •
Darnold for MVP: Saturday Night Live did a segment the other night called "Sportsmax," which was a sports-themed parody of wackadoodle cable "news" channel Newsmax. It featured two "Jetsperts" who insisted that the Jets are actually undefeated and that any suggestions to the contrary just prove that the NFL is "rigged" (and they have a stack of signed affidavits alleging fraud to prove it!).
As you can see in the embed above, one of the segment's key visual props was a Jets three-peat T-shirt. I initially assumed that the wardrobe department created that shirt just for the segment (which would've been a pretty inspired move), but it turns out that the shirt is a commercially available item, which feels a teeny bit less satisfying. If they do a follow-up segment, maybe they can make an "Adam Gase for Coach of the Year" tee for the occasion.
• • • • •
• • • • •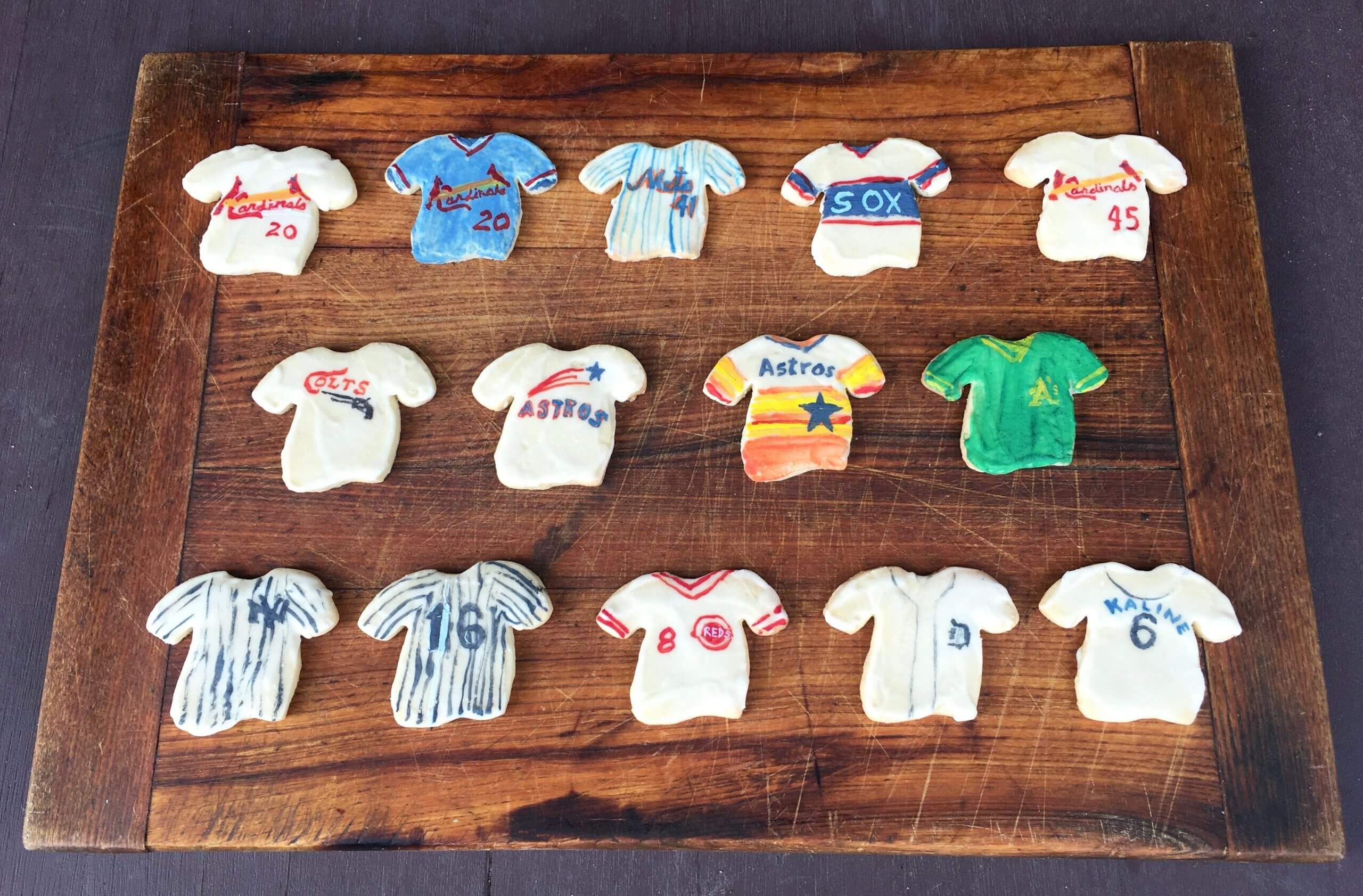 Click to enlarge
'Tis the season: One of the most cherished holiday rituals here at Uni Watch HQ is the annual arrival of a box of baseball uniform-themed cookies from longtime reader and national pastime treasure Elena Elms. I'll let her explain this year's batch:
The theme this year is honoring the six National Baseball Hall of Fame members passed away in 2020 — Lou Brock, Bob Gibson, Tom Seaver, Joe Morgan, Whitey Ford, and Al Kaline.

Four of them wore only one uniform, with a slight variation for Brock having to wear the blue away pullover jerseys. Kaline had to wear a grey pullover late in his career, but it wasn't colorful enough to include. I didn't reproduce every uniform that Seaver wore — just two significant ones. Wish I'd done the back of Gibson's jersey so he'd have multiple cookies like everyone else, but he's one of a kind, so one it is.

Joe Morgan gets too many cookies because he wore so many different jerseys. I did his three Houston ones because of the history, and the A's one because it's green.
Those Houston cookies are particularly spectacular, no? Thanks so much, Elena — you are, as always, the best.
• • • • •
• • • • •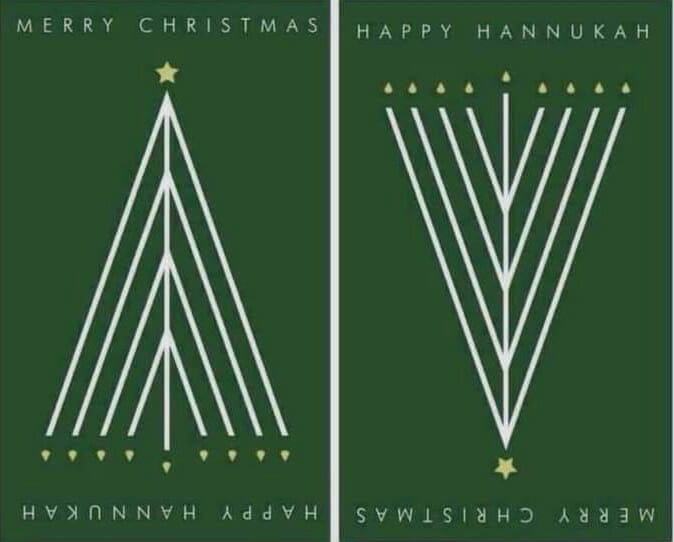 Twice as nice: Reader Christopher Pisciotti sent me this clever holiday card design over the weekend. He said he doesn't know who created it, although it appears to have shown up on Reddit two years ago.
So I tweeted the design and soon heard from Uni Watch fan Ryan Bricklemyer, who informed me that the design was created by his wife, Sameeha Bricklemyer! What are the odds, right? The card, along with lots of other cool stuff, is available in her Etsy shop.
• • • • •
• • • • •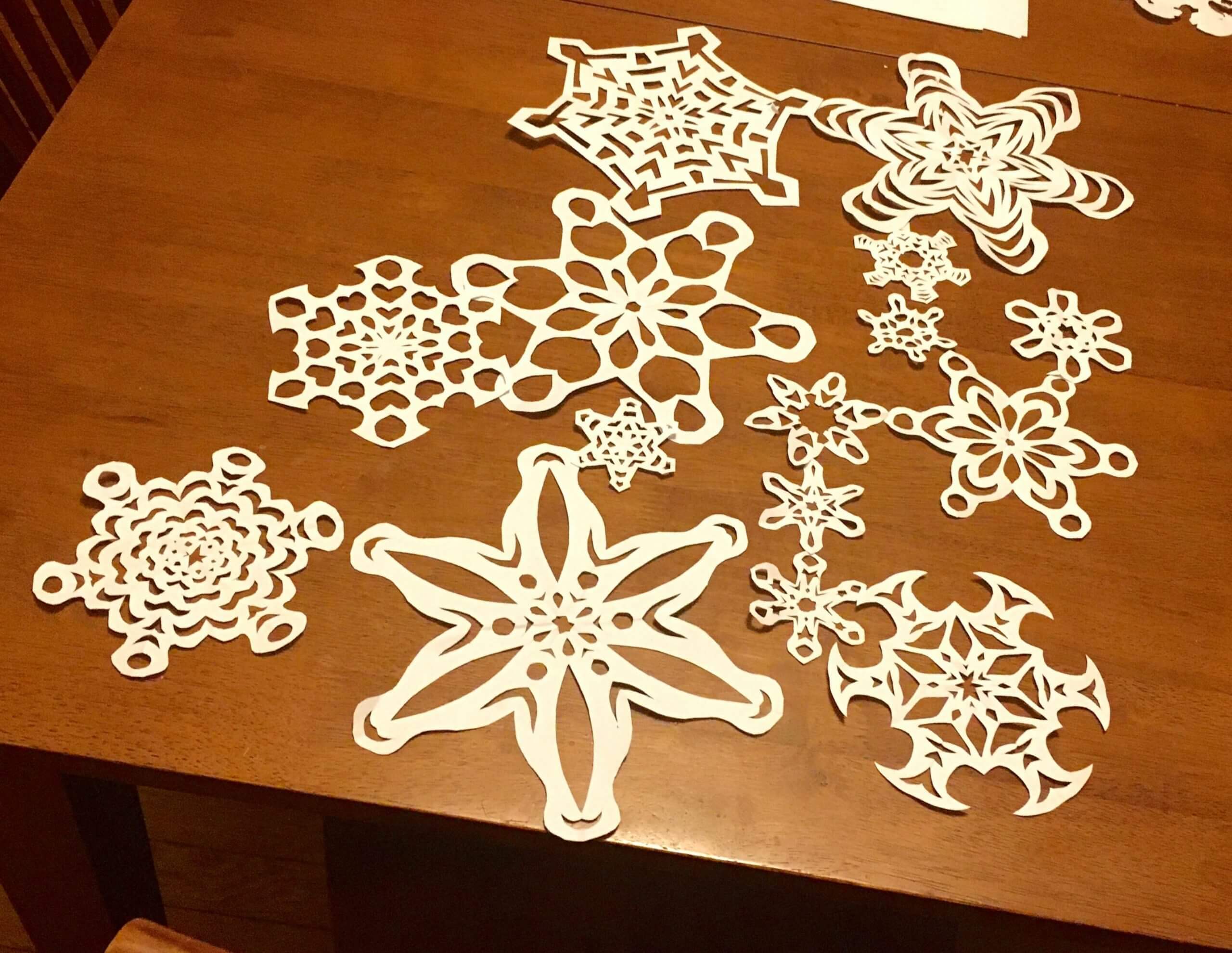 Mary Scissorhands: The Tugboat Captain was in full craft-y mode over the weekend, making these amazing paper snowflakes that she later put in some of the windows here at Uni Watch HQ. Whenever I try to make these myself, I end up with some sad Charlie Brown-ish result, so I'm lucky to live with such a gifted partner!
• • • • •
• • • • •
LAST CALL for the "Collect 'em all!" documentation: If you've collected all 12 of this year's monthly Uni Watch Pin Club pins, you're eligible to get our 2020 All-Star pin as a free bonus. But to qualify for the bonus pin, you must notify me asap by emailing me with (a) your mailing address and (b) some combination of photos of your pins, screen shots of your purchase receipts, or screen shots of your purchase-confirmation emails from Teespring to prove that you've purchased all 12 pins. In short: Collected 'em all? Great — prove it!
I will be ordering the All-Star pins TODAY, with the quantity based on how many people have emailed me their documentation. I'll definitely order an extra dozen or so (because I know there will be stragglers and late-comers), but that's it — a dozen extra, not 50 extra. So again, if you've collected 'em all, please prove it, pronto. Thanks!
• • • • •
• • • • •
The Ticker
By Jamie Rathjen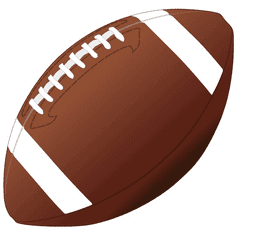 Football News: Texans DL J.J. Watt arrived to yesterday's game in Chicago wearing the shirt of his wife, Chicago Red Stars winger Kealia (from Ignacio Salazar). … The Canton Repository ran a story about the 1902-03 indoor world championship, which were the first indoor football games (from Tom Pachuta).

Hockey News: The first two items are from Wade Heidt: Here is U.S. G Spencer Knight's mask for the world junior championship. … Arizona State is one team that can wear multiple combos, and yesterday debuted all maroon except for yellow pants. … The Coyotes' ECHL team, the Rapid City Rush, wore kachina-derived warm-up jerseys yesterday (from Josh Pearlman).

Basketball News: FIBA revealed the logo for the 2023 Basketball World Cup, in Indonesia, Japan, and the Philippines (from Jeremy Brahm). … Color-vs.-color men's college games yesterday included Richmond/West Virginia (from Timmy Donahue), Michigan State/Oakland (from Stephen Brooks), and Grand Canyon/Arizona State (from Chris Mycoskie). … Former Illinois-Chicago head coach Jimmy Collins died yesterday, so the Flames added a memorial to him on their court (from Mike Chamernik). … Also from Mike: Speaking of UIC, they have some pretty wild flag/skyline-themed uniforms. And as you can see in that shot, last night's game against Loyola was color vs. color.

Soccer News: Bayern Munich wore their Humanrace hand-drawn fourth shirts in the Frauen-Bundesliga yesterday. The numbers and NOBs had a similar effect. … Some teams in England's women's top two tiers started wearing "Take a Stand" patches in support of the charity Kick It Out, which are to appear on those teams' shirts for the rest of this season. By my count at least half of the 23 possible teams participated, with the rest planning to do something else besides the patches. … Elsewhere in the Women's Super League, Arsenal and Manchester City both wore on their warm-up shirts the number and NOB of Arsenal center-back Jen Beattie, who made public her breast cancer diagnosis last week — and has been playing since she learned about it. Beattie also wore pink boots. … Scottish club Aberdeen started renaming three of Pittodrie Stadium's stands after fans for each game while they can't attend. … Cross-posted from the football section: Texans DL J.J. Watt arrived to yesterday's game in Chicago wearing the shirt of his wife, Chicago Red Stars winger Kealia (from Ignacio Salazar). … An artist in London turns soccer shirts into pieces of art (from Trevor Williams). … New shirts for the Colombian national team.

Grab Bag: Limerick won the All-Ireland Senior Hurling Championship yesterday, which the blog Museum of Jerseys points out makes them the first county team to win an All-Ireland without a shirt ad since Down won the Gaelic football version in 1994. Reader Adam Ingle says Limerick are the only county team that currently doesn't have a shirt ad. … Ferrari's two Formula One drivers, Charles Leclerc and the departing Sebastian Vettel, had an inconsistency around one of the ads on their similar helmet designs this weekend, despite Leclerc's being a one-off design that derives from Vettel's (from @bstew22). … Australian Twenty20 cricket's Big Bash League gives the leading run-scorer and wicket-taker golden caps to wear while fielding.
• • • • •
• • • • •