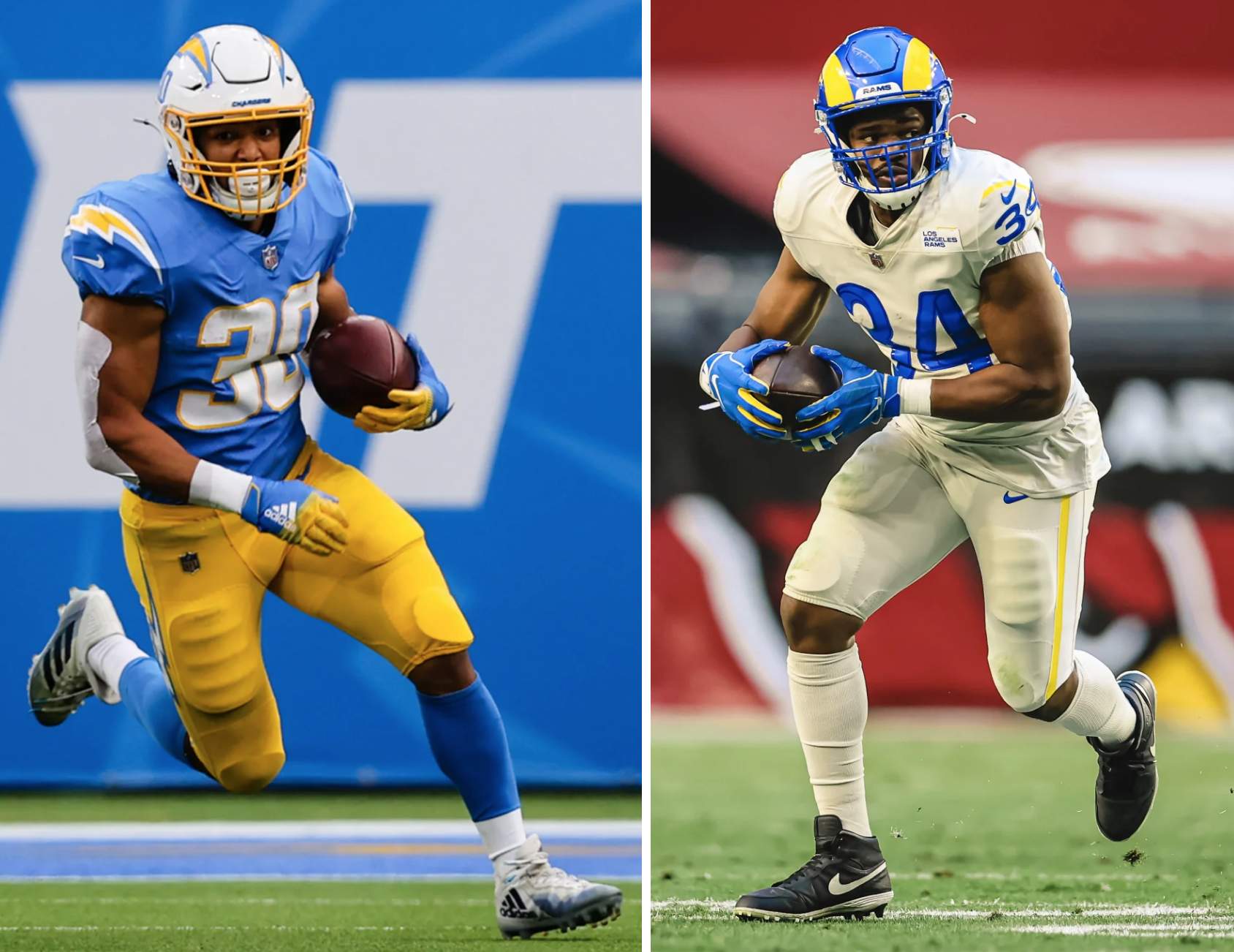 Click to enlarge
We all know about poetic justice, and this year there's been a lot of talk about social justice. But today I want to introduce a new term: sartorial justice.
Some quick background: I've always maintained that there's no connection, either real or superstitious, between changing uniforms and on-field success. For every team that wins a title after introducing new uniforms, there are countless counter-examples of teams that played more or less the same (or worse) after getting a uni makeover.
That said, however, I often find myself lapsing into the mindset of equating a franchise's new look with its overall operational competence. When a team introduces a lousy new uniform set, for example, it's easy to think, "Wow, if they can't even get their uniforms right, that probably means they're really gonna suck on the field too." Similarly, when a team introduces a good new uni set, it's tempting to think, "Now there's a front office that has its shit together! If they've gotten their uniforms right, that bodes well for the roster, the coaching, and so on. They're a well-oiled machine!"
This can definitely affect how I feel about a team on a season-to-season basis. When the Browns introduced that godawful uni set in 2015, for example, I wasn't exactly rooting for them to lose (I have no emotional stake in the Browns either way), but I kinda felt like they deserved to lose. Lousy uniform decisions, lousy team — it all sort of made sense. That's what I mean by sartorial justice. (And if they had performed really well in that uni set, that would've been a sartorial injustice.)
Of course, sartorial justice doesn't always work out in such a neat and tidy way, as we can see by looking at the two NFL teams in Los Angeles. While I know there are outliers and contrarians among you, I think most folks reading this would agree that the Chargers knocked it out of the park with their new uniforms, while the Rams struck out. And how have those two teams fared so far this season?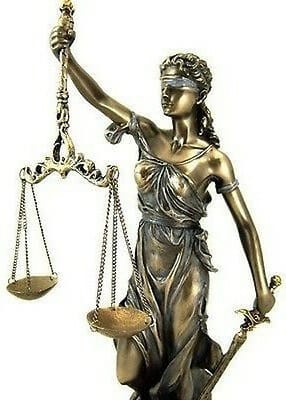 Let's start with the Chargers. They may look good out there, but they're 3-9, which puts them in last place in the AFC West. (They're at a particularly low ebb right now, having just gotten shellacked at home, 45-0, by the Pats.) With a uni set like that, they deserve to be better. Clearly a case of sartorial injustice.
As for the Rams, mono-dishwater and all, they're 8-4, good for first place in the NFC West, and will likely advance to the postseason. We've always been told that justice is blind, and that must really be the case regarding this team.
And what about the other NFL teams that underwent significant redesigns this season? Let's take a look:
• Browns: Cleveland is 9-3 and will likely make the postseason for the first time since 2002. They were 6-10 last season, so their on-field turnaround coincides with their aesthetic revival. And sure enough, just like I felt they deserved to lose over the last five seasons, I've been feeling like they deserve to win this year. A textbook case of sartorial justice.
• Buccaneers: The Bucs are currently 7-5, after going 7-9 last season. That feels about right — their uniforms are better than the alarm clock set (duh), but there's still room for improvement (read: ditch the mono-pewter and bring back Bucco Bruce). Sartorial justice.
• Falcons: Atlanta is 4-8. Another one that feels about right. Sartorial justice.
• Patriots: The Pats are 6-6. Brady is gone, their dynasty is clearly over. They are now a meh team with a meh uni set. Sartorial justice.
(I'm not including the Colts, because their uni changes were so small. Also not including Washington, because their uni changes were made at the last minute and were basically forced upon them by outside circumstances, not by aesthetic considerations.)
So at least for this season in the NFL, sartorial justice has largely been served. Now we just have to get things straightened out in L.A.
Again, I'd never go so far as to claim that a uniform switcheroo caused a change in a team's on-field fortunes, but I definitely feel like some teams deserve to have their win-loss record reflect their uni-related choices.
This should be a fun topic for discussion. What examples of sartorial justice or injustice (in any sport, not just the NFL) can you think of? And how do you feel when one of your favorite teams unveils a lousy uniform set — if they play well in the crummy threads, does that make you sort of cringe just a teeny bit? If they play poorly, do feel like there's a certain karmic logic to that?
• • • • •
• • • • •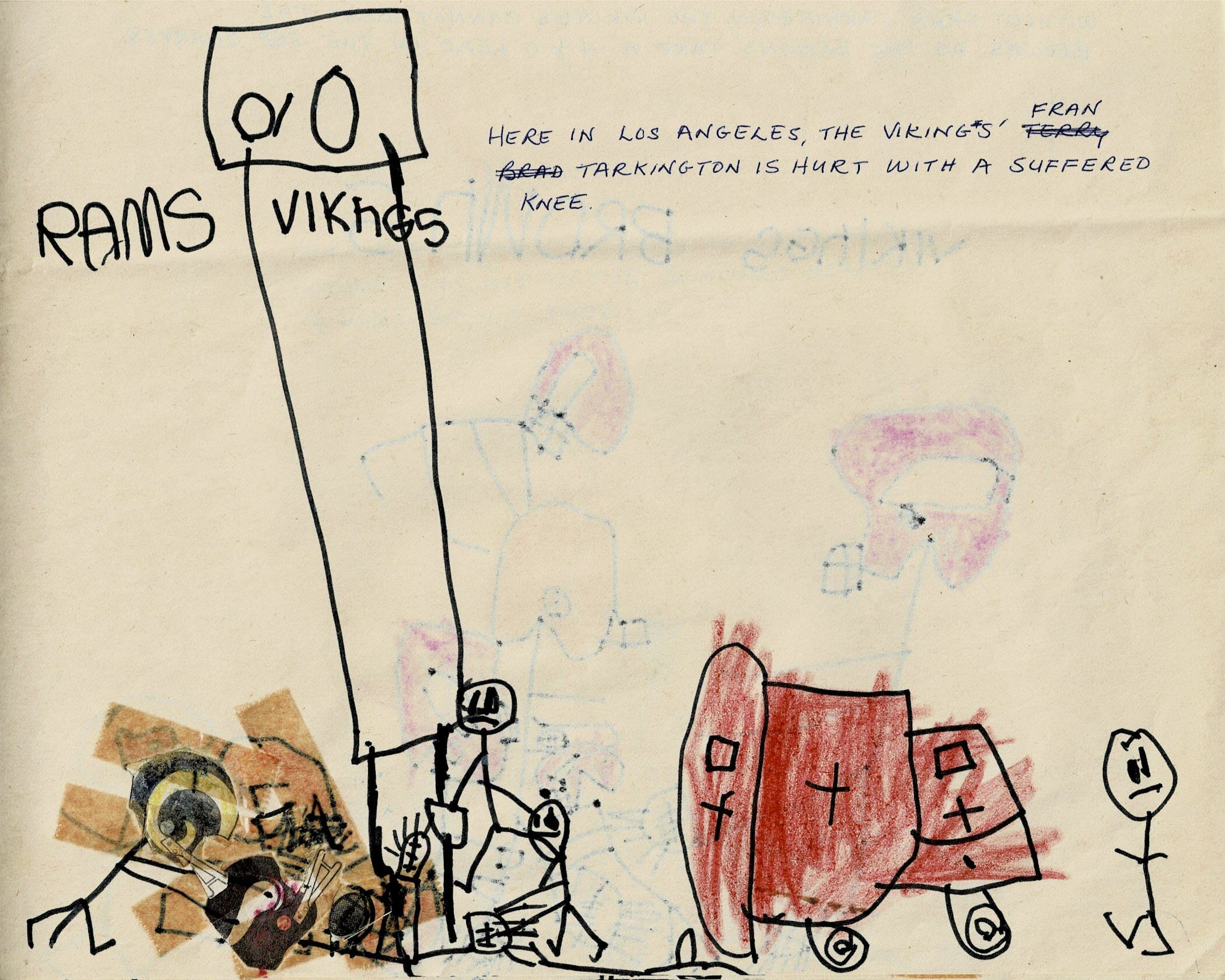 Click to enlarge
Start 'em young: As most of you know, I love kids' uni drawings, but I'm not sure I've ever seen one quite like this one, which longtime Uni Watch contributor Tris Wykes says he created in 1976, when he was six years old.
"My mom, who knew nothing about sports, provided the captions," says Tris. "I really like the ambulance and its attendants rushing to help Fran 'Tarkington' with his 'suffered' knee."
This masterpiece was one of several that Tris recently rediscovered. "They were in a box with childhood photos and drawings that my mom had saved," he says. "I recall them, but only vaguely." Here are the others: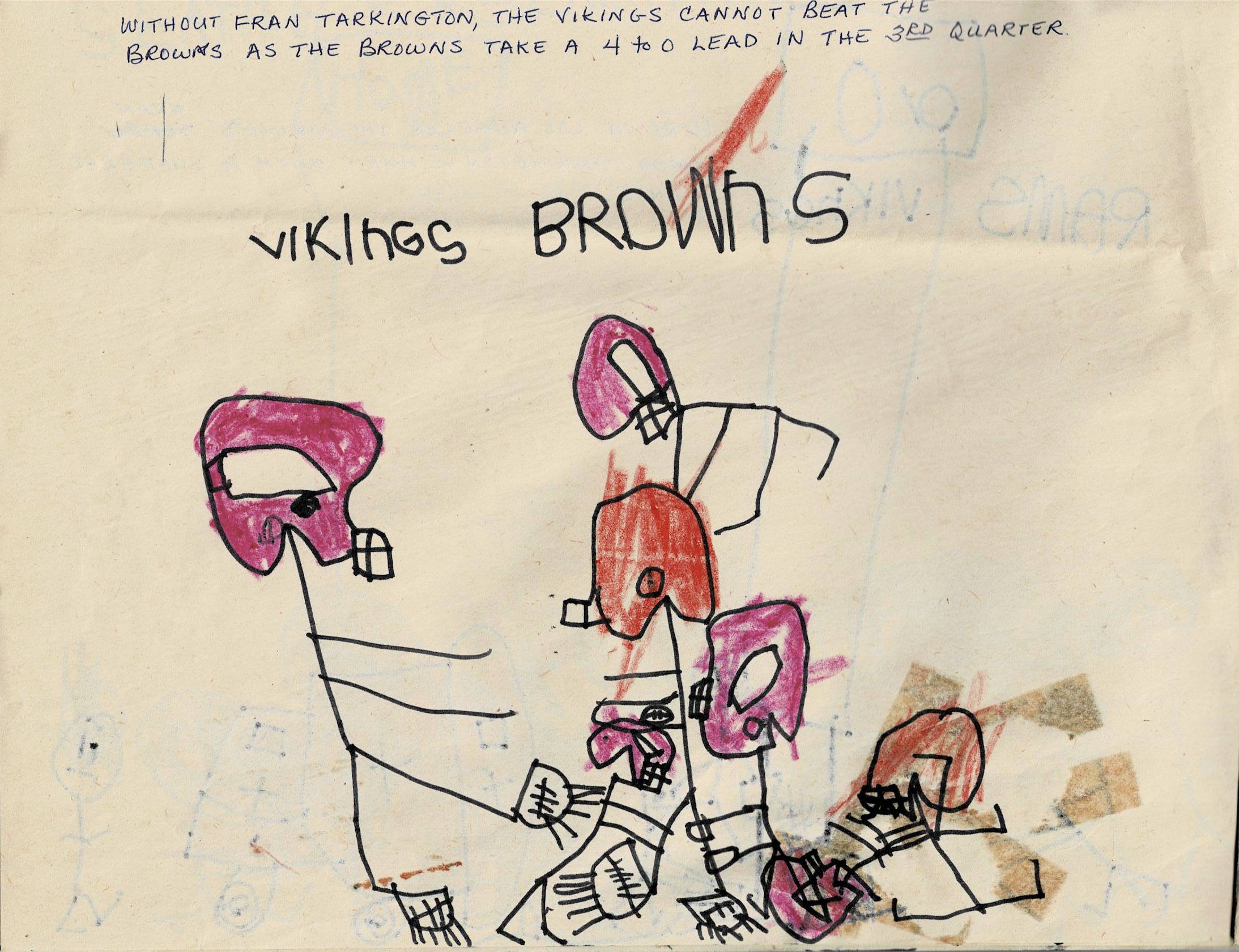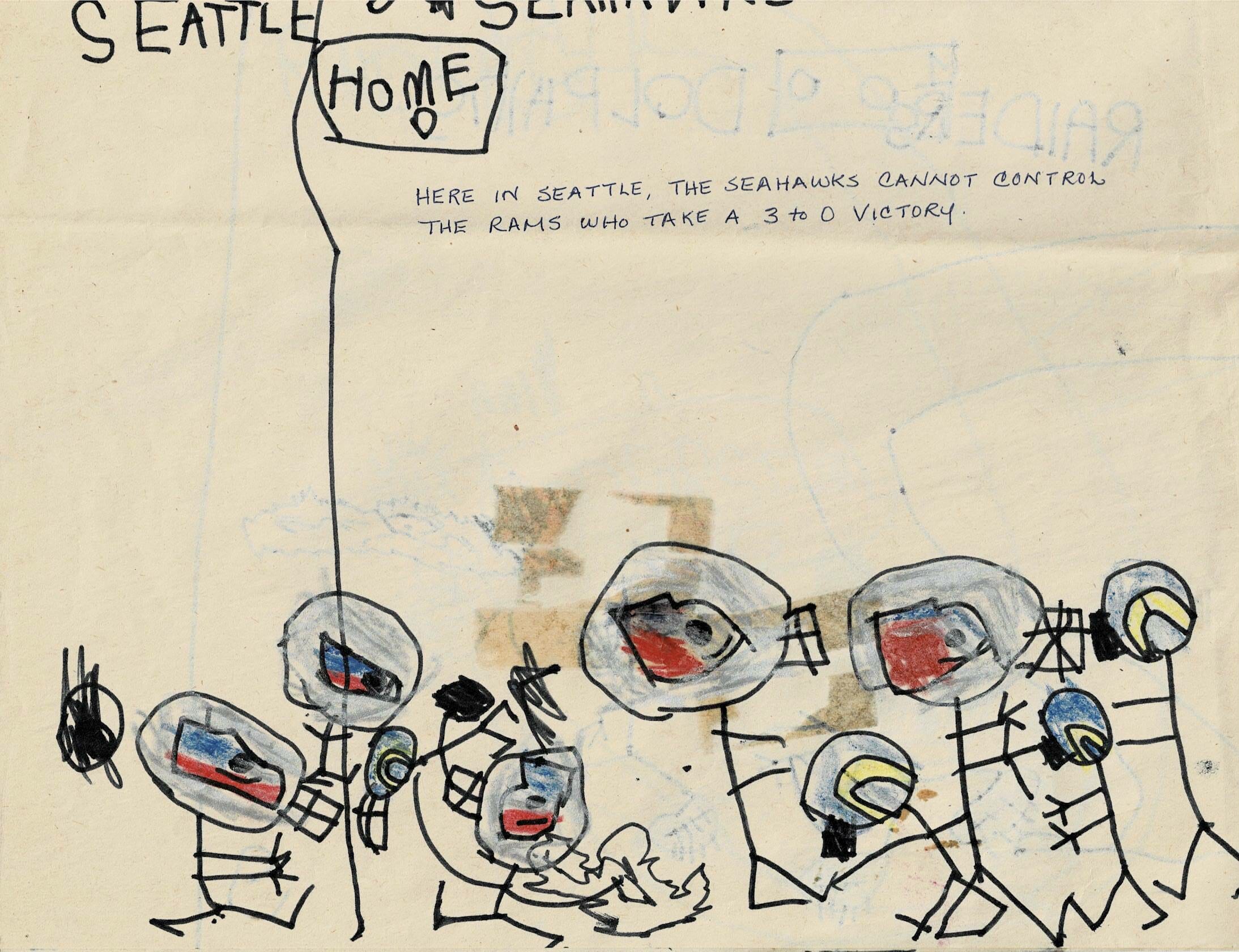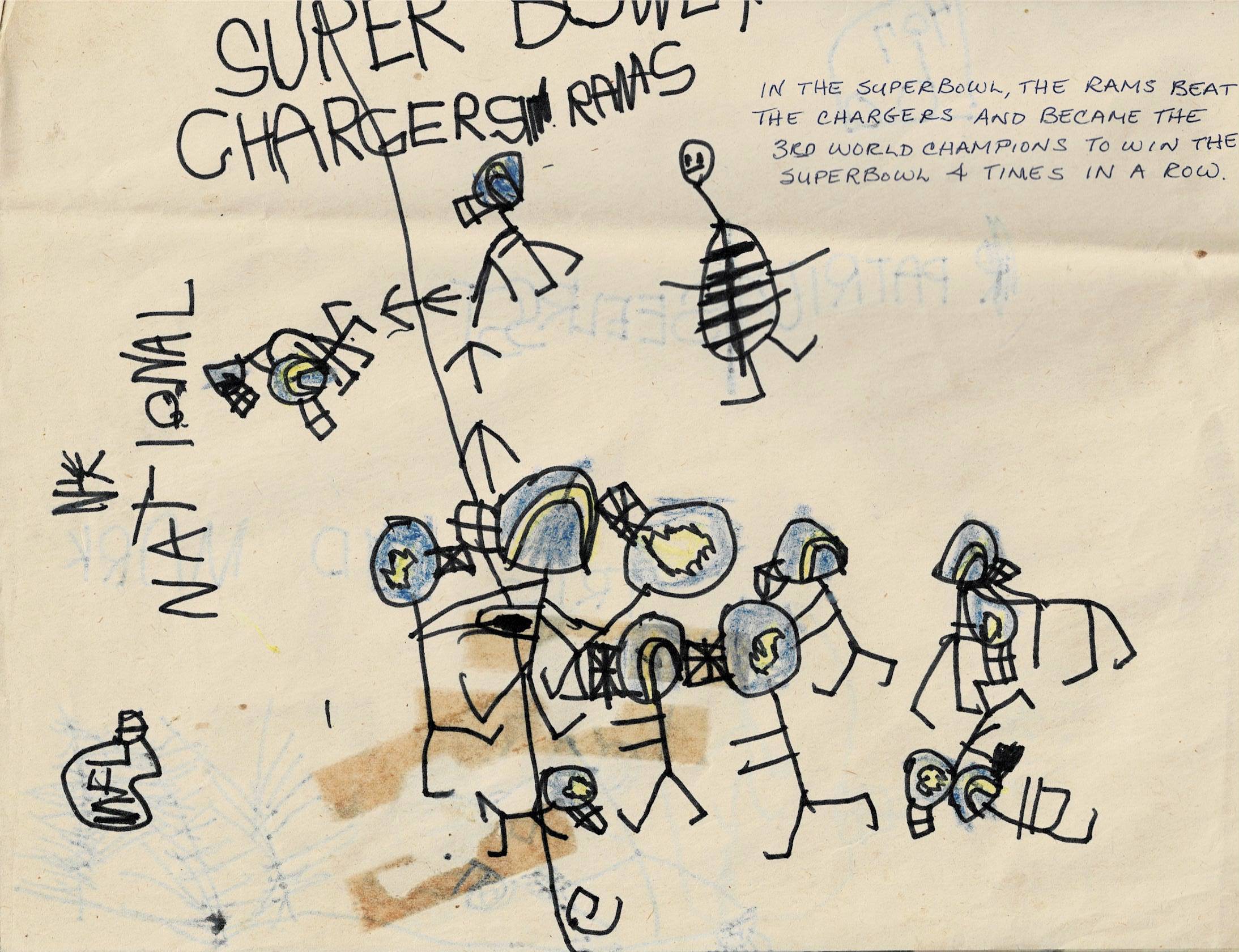 "The big debate now," says Tris, "is whether the striped thing in that last drawing is a referee or a tick."
• • • • •
• • • • •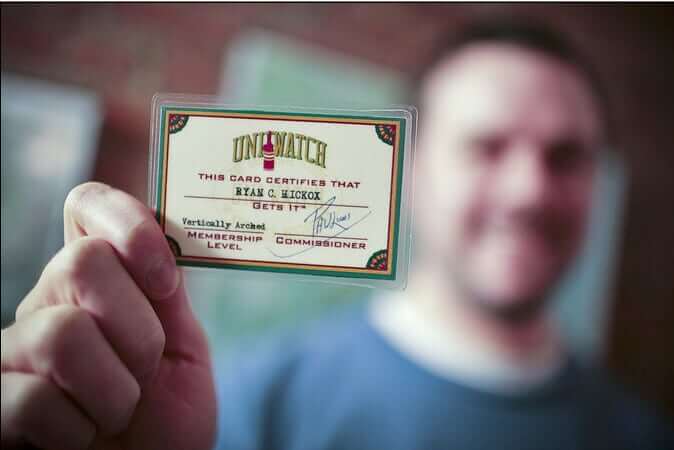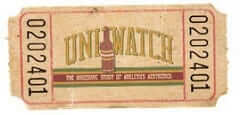 ITEM! New "family-pack" membership raffle: Reader Jeff Worth won one of the donated memberships I recently raffled off and has decided to pay it forward with a very interesting donation of his own: He's generously purchased three memberships, with the proviso that they be given away as a "family pack." In other words, the winner of this raffle will get to order a card for him- or herself and also for two family members.
This will be a one-day raffle. No geographic entry restrictions, but please enter only if you have two family members who'd enjoy having the two additional cards (or at least humor you about it). To enter, send an email to the raffle in-box by 8pm Eastern tonight. I'll announce the winner tomorrow.
Meanwhile, the winners of yesterday's magnet raffle are Mark Wilkes, John Horn, Karl Newkirk, Ryan Burns, Matt Cann, and Adam Walter. Congrats to them, and thanks to Matt Mosca and Rich Picardini for sponsoring this one.
• • • • •
• • • • •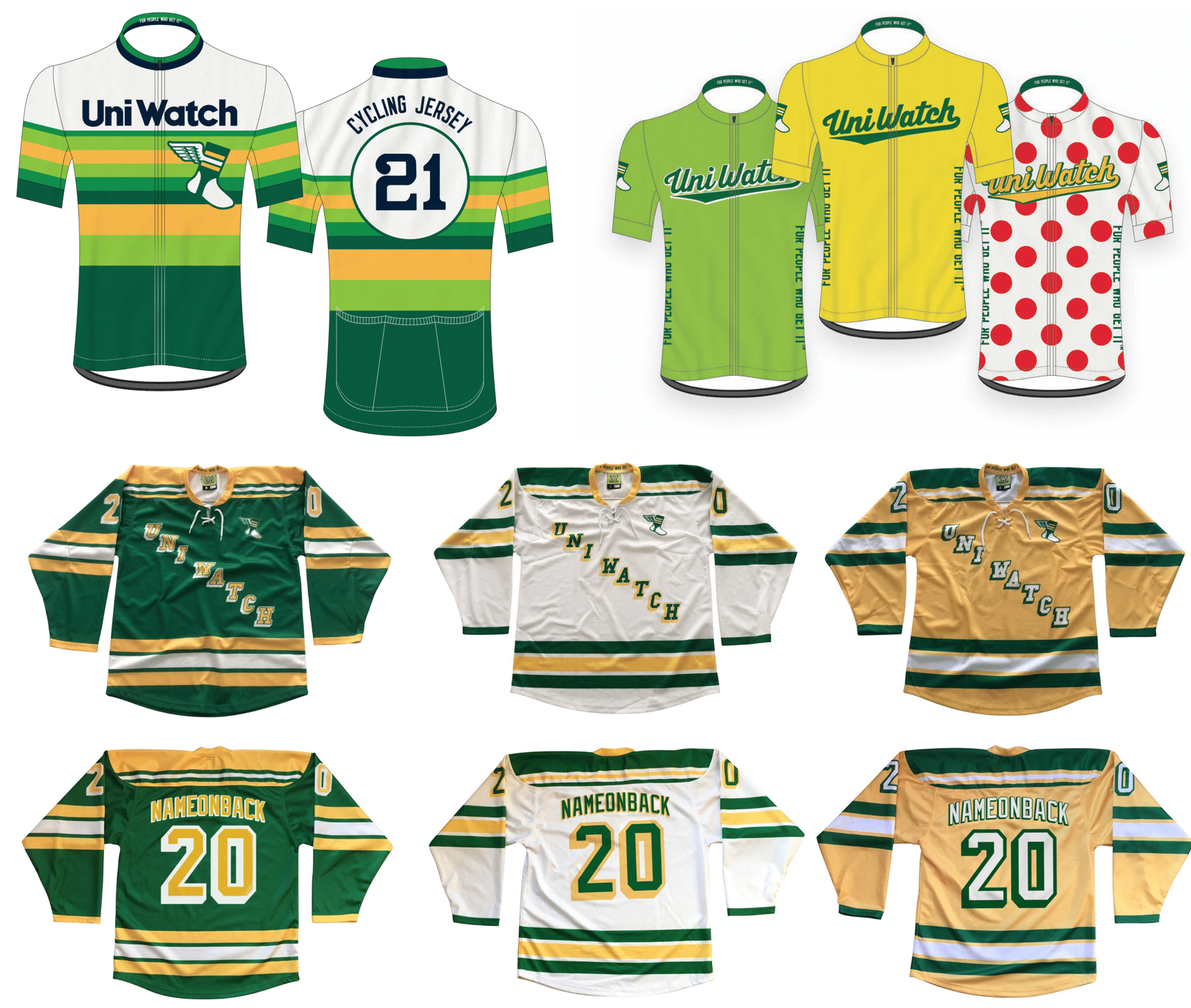 Click to enlarge
Hockey/cycling reminder: If you want to get in on the latest batch of Uni Watch hockey or cycling jerseys, you must get your pre-order in by this Friday. All jerseys are customizable with your choice of number and NOB. Get the full scoop here.
The rest of our fine Uni Watch products — baseball caps, toques, T-shirts, pins, cufflinks, patches, and plenty more — are listed here.
• • • • •
• • • • •
IMPORTANT "Collect 'em all!" reminder: If you've collected all 12 of this year's monthly Uni Watch Pin Club pins, you're eligible to get our 2020 All-Star pin as a free bonus.
If you qualify, you must notify me asap by emailing me with (a) your mailing address and (b) some combination of photographic evidence and/or receipts to prove that you've purchased all 12 pins. For example, if you order the December pin today (as of this morning, there were 28 of them remaining), you could send me a photo of the 11 pins you've already received plus your email from Teespring confirming that you ordered the December pin. Or you could look up all 12 of your Teespring confirmation emails and send screen shots of those. As long as you can prove that you collected 'em all, that's what I'm looking for.
I will be ordering the All-Star pins this month, with the quantity based on how many people have emailed me their documentation. I'll definitely order an extra dozen or so (because I know there will be stragglers and late-comers), but that's it — a dozen extra, not 50. So if you've collected 'em all, please prove it pronto. Thanks!
• • • • •
• • • • •
The Ticker
By Lloyd Alaban

Baseball News: Looks like the Tigers are focus-testing some new logos in a new fan survey (from Sean Gagnier). … P Lance Lynn was recently acquired by the White Sox after a stint with the Rangers. Fox Sports Photoshopped him into a White Sox jersey, but forgot to remove the Globe Life Field patch on his right sleeve (from Dylan Bercu). … The Louisville Bats, the Triple-A affiliate of the Reds, have unveiled renderings of their planned stadium upgrades (from Kary Klismet). … The Mexican League revealed the uniforms of its two newest clubs (from @bryant_rf).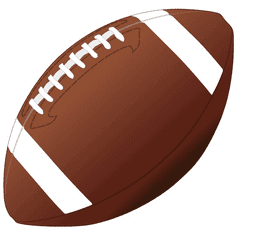 Football News: Reader Nate Mueller is currently working on a 3D-printed replica of Dolphins QB Tua Tagovailoa's helmet. … Each Army player will wear one of 10 subunits' decals on their helmet this week.

Hockey News: Fun story from Don Martinez, who writes: "During a recent visit with my wife's parents, we got these two boxes that my wife received as a charter member of the Mighty Ducks of Anaheim Booster Club in 1993. The larger box was a season ticket pack (the tickets themselves are missing; my wife was 11 at the time and in Arizona, so naturally would not be able to use them), which included a collector puck and a bumper sticker, and the smaller box was the fan club kit, which included a different-designed puck, a membership card (plastic credit card-style!) and a lapel pin for the booster club." … Nate Mueller's latest project is a 5.5″ 3D-printed replica of the Stanley Cup.

NBA News: NBA coaches will not be required to wear a sports coat during games this season. They are only required to wear face coverings and "business attire" — i.e., not track suits, but khakis and polos are okay (from Mike Chamernik). … For the latest in NBA number assignments, check out Etienne Catalan's Twitter feed.

College and High School Hoops News: Throwbacks for Rutgers and Syracuse last night (from Billy Rose). … Rough-looking game last night between Virginia Tech and Penn State, as the two teams went orange vs. black/pink last night (from Andrew Cosentino). … In a more visually pleasing contest, UNC and Iowa went blue vs. yellow (from multiple readers). … Timpanogos High School in Utah wears the same "Five for the Fight" patch that the NBA's Utah Jazz wear (from Greg Roper).

Soccer News: Dutch club Sportclub Heerenveen has printed its NOBs on the back of the collar, instead of their usual place directly above the number, presumably to make more room for ads (from Sean Kautzman). … English League Two club Stevenage's shirt advertiser is Burger King, which is a bit of a marketing stunt. Burger King also wanted to support Stevenage's amateur women's team, so their shirts now have a modified Burger King logo that says "Burger Queen" (from our own Jamie Rathjen).

Grab Bag: With Under Armour falling down on the job, UCLA will be switching to Nike and Jordan. Under the terms of the new six-year deal, which will kick in on July 1, UCLA's football and men's/women's hoops teams will wear the Jordan maker's mark, while the rest of the school's teams will wear Nike. … Scroll to 22:00 of this podcast for a uni discussion with the University of Wisconsin's marching band director (from Scott Hurley).
• • • • •
• • • • •