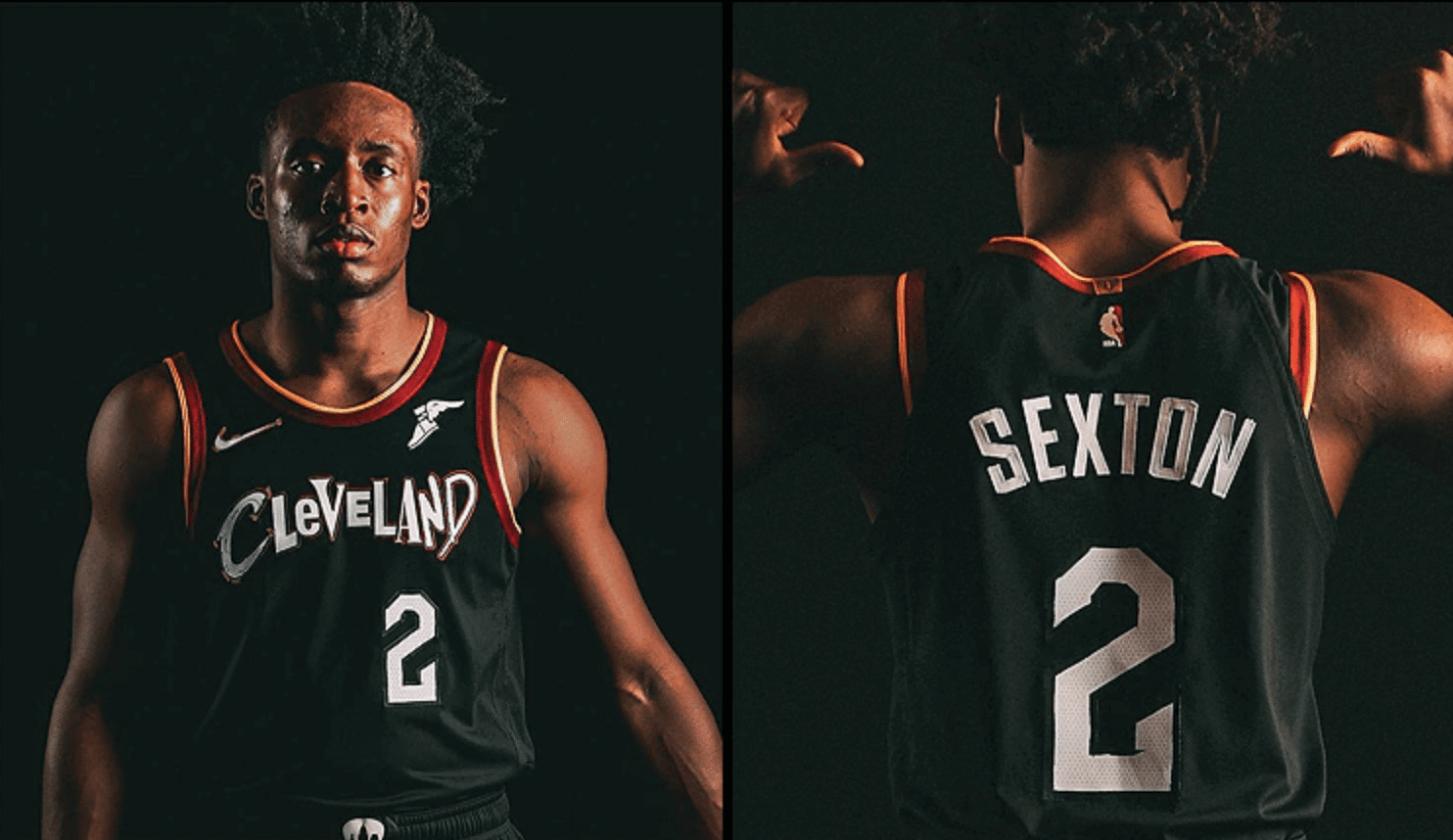 There was one last spurt of NBA City releases yesterday — mostly stuff that had already leaked, including the Nets' Jean-Michel Basquiat-themed design; the Cavs' Rock and Roll Hall of Fame-themed design; the Warriors' "We never wore 'Oakland' on our uni when we played in Oakland but we'll wear it now that we're gone" design; the Clippers' "same as last year but now in black instead of white" design; the Timberwolves' "Betcha didn't know the North Star is actually neon green" design; and the Lakers' white alternate plus script throwback.
I believe every team has now officially unveiled except the Knicks (whose reticence is understandable). The other 29 designs are all conveniently listed, described, and linked on this handy page.
Thank god that's over with! But before we move on, I want to address something about the Cavs' City design that I haven't seen anyone else talk about, namely that rock and roll in general and the Rock and Roll Hall of Fame in particular are approximately the most un-NBA cultural totems imaginable, making this a very strange choice for the Cavs.
Consider: NBA players are mostly young Black Americans, and the league has pushed relentlessly to associate itself with hip-hop, Black street culture, and the pop culture of the moment. We've seen that with lots of previous uni designs — the Nets' Biggie Smalls and Bed-Stuy alternates, the Mavs' graffiti alternate, and more. But I'm not talking just about uniforms here — I'm talking about the NBA's entire marketing ethos, which has embraced contemporary Black street culture.
Rock and roll, meanwhile, has zero current cultural relevance except as a relic of suburban White Boomer nostalgia, and the Hall is a monument to a bygone era. Think about your typical NBA player or fan — can you imagine them having any interest whatsoever in visiting the Rock Hall?
I don't mean this as a criticism of either rock and roll (which is my single favorite art form, even if it has no current cultural relevance) or of the NBA (which, understandably, wants to be contemporary and appeal to the Youth). I'm just noting that an NBA uniform based on the Rock Hall is a very odd pairing. It's like offering NBA fans a free subscription to Rolling Stone instead of The Source.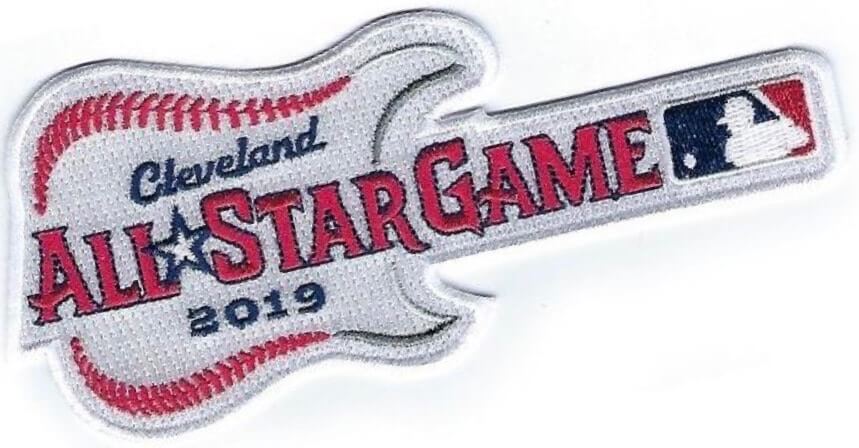 The Cavs aren't the first Cleveland sports team to reference the city's rock and roll heritage on their uniform. When Cleveland hosted the MLB All-Star Game in 2019, the Indians wore a commemorative sleeve patch shaped like an electric guitar — an instrument that has essentially vanished from contemporary pop music and has likewise become a nostalgic totem. But MLB's marketing approach and cultural niche, for better or worse, is older and Whiter than the NBA's, so the rock connection didn't feel as incongruous on a baseball uni as it does on the Cavs' uni.
On the other hand, basing an NBA uniform on a local tourist attraction fits squarely into what I've been describing for a while now as Nike's "tourism bureau" approach to uniform design, even if it doesn't make sense from a cultural standpoint.
One last thought about the Cavs' design: At least one of the letters on the jersey's ransom note chest insignia — and arguably the entire ransom note format itself — is based on the Sex Pistols. It's worth noting that when the Pistols were inducted into the Rock and Roll Hall of Fame, they declined to show up for the induction and instead sent a letter basically saying, "Fuck you." I suspect they wouldn't be thrilled about being referenced a Hall-themed uniform, either.
• • • • •
• • • • •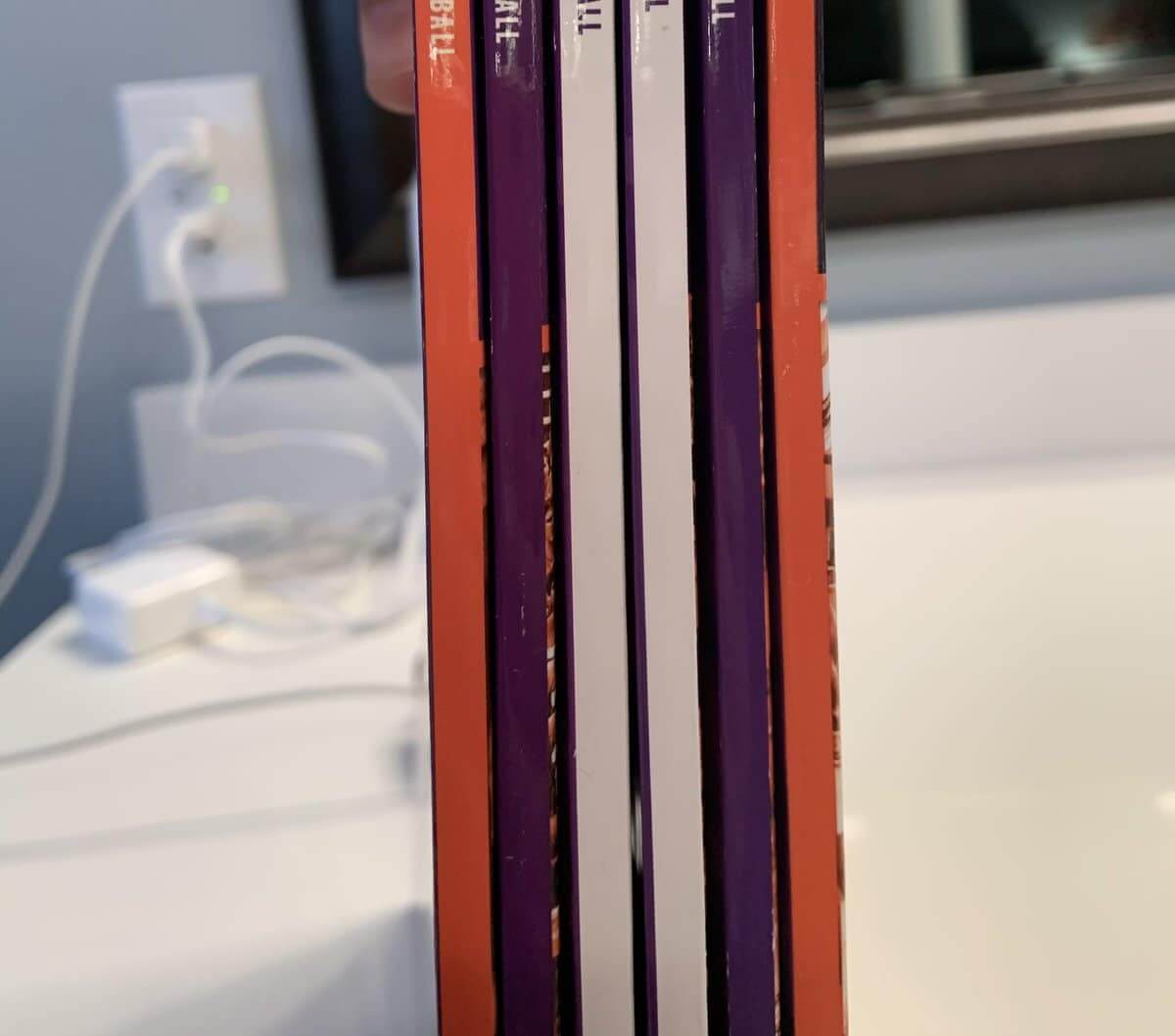 Click to enlarge
Waaaay too good for the Ticker: Clemson had six home football games this season. If you line up the six programs for those games in chronological order, their spines produce the team's helmet stripe! How awesome is that?
I like this so much that I don't even care about the purple!
(Big thanks to Cory LeFevre for bringing this one to my attention.)
• • • • •
• • • • •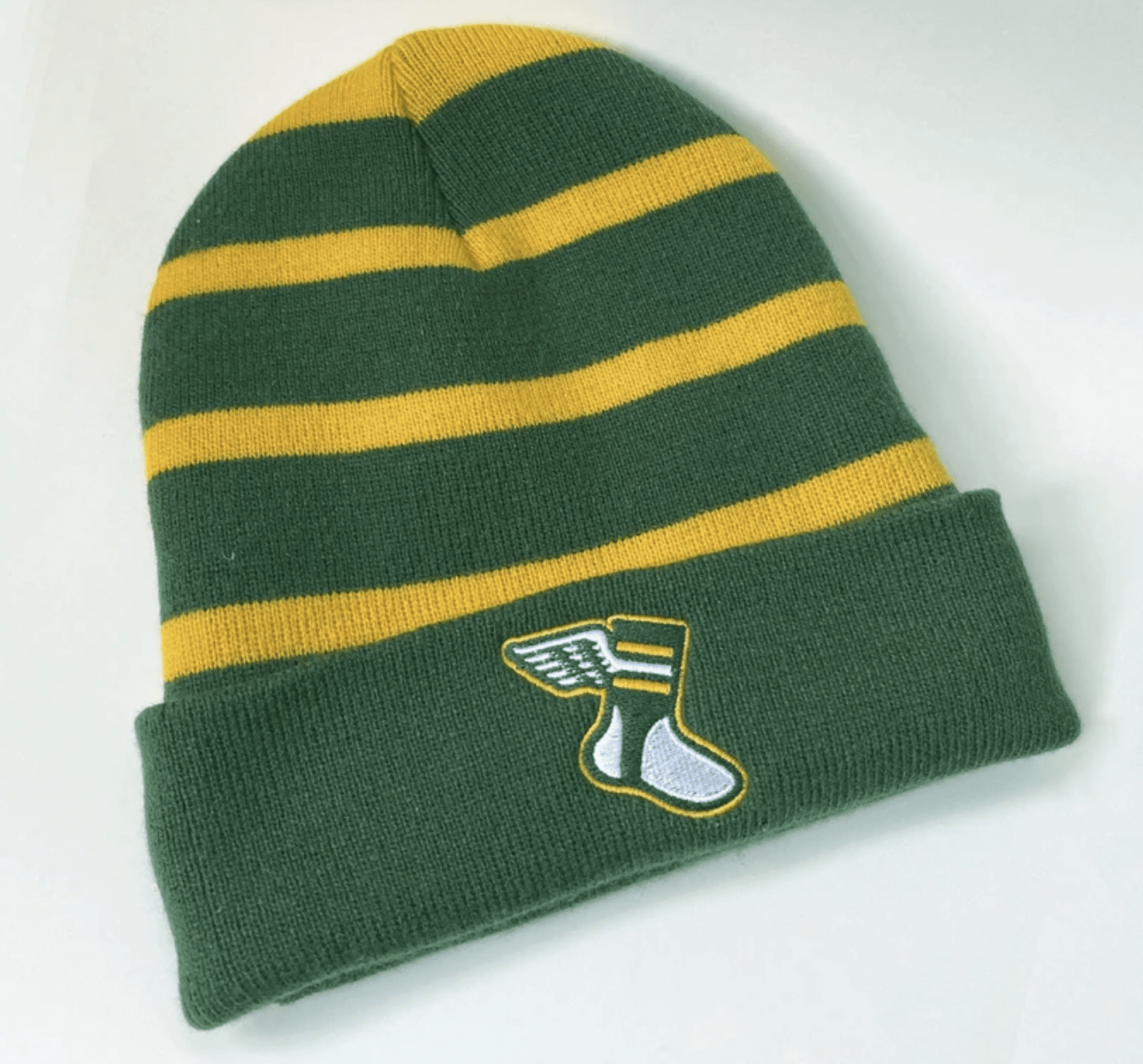 Click to enlarge
Headwear reminder: In case you missed it on Thursday, we're now offering a Uni Watch toque! It's available here. We'll sell it throughout the winter, but if you want it to arrive by Christmas, you must order by tomorrow, Dec. 5.
In addition, we have a bunch of new Color Remix caps available in a variety of autumn and Christmas color combos. Check these out (click to enlarge):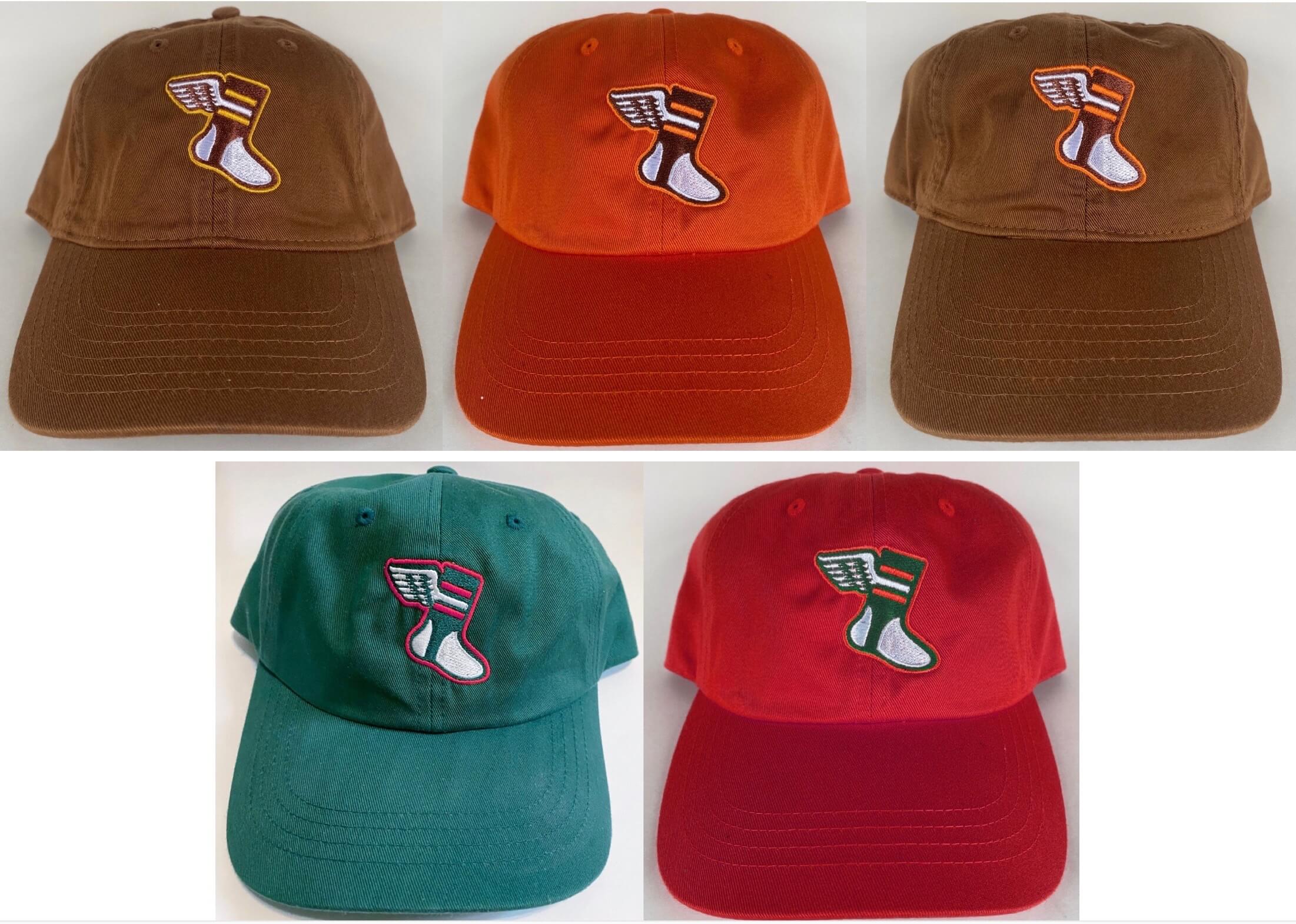 Plus we've brought back most of the previous Color Remix caps. All of them are available here, with the same proviso as for the toque: To ensure Christmas delivery, order by tomorrow.
Meanwhile: Remember that we're also taking pre-orders for Uni Watch hockey and cycling jerseys, all with your choice of number of NOB: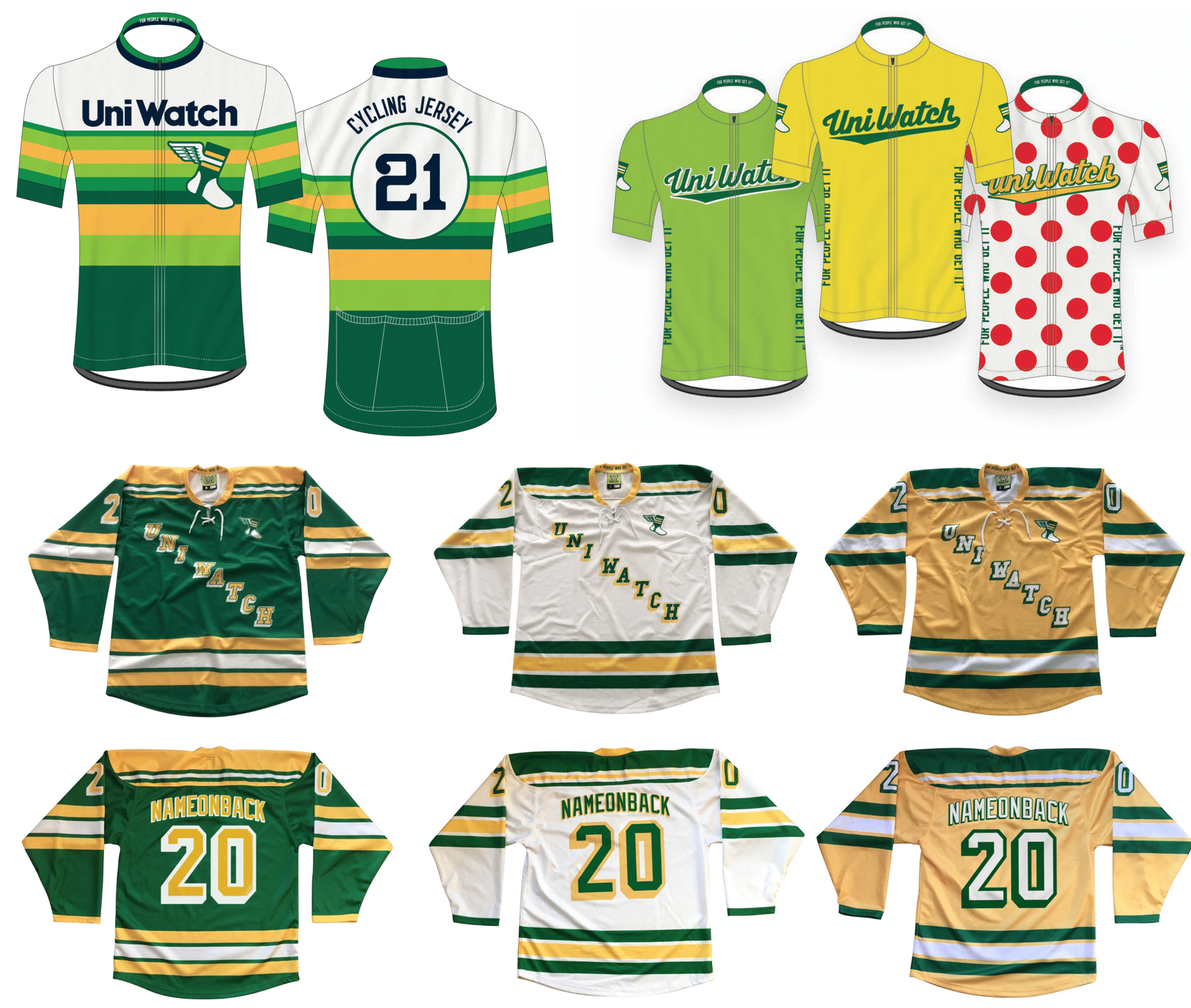 You can order these items here.
Thanks!!
• • • • •
• • • • •
Click to enlarge
Magnet reminder: Yesterday I announced that I had 50 Uni Watch Winged Stirrup Magnets to sell (but none of the round ones, sorry). We're now down to 24 of them, so they will likely sell out in another day or two. If you want to get in on these, full info is available here.
• • • • •
• • • • •
Membership update: Sixteen new designs have been added to the membership card gallery, including Steve Cecil's card, which showcases the logo of the Seattle Sounders' Emerald City Supporters club. I believe this is the first time someone has requested a card based on a supporters club — cool request, Steve!
Ordering a membership card is a good way to support Uni Watch (which, frankly, could use your support these days). And remember, as a gesture of comm-uni-ty solidarity, the price of a membership has been reduced from $25 to $20 until further notice, plus a Uni Watch membership card entitles you to a 15% discount on any of the merchandise in the Uni Watch, Uni Rock, and Naming Wrongs shops. (If you're an existing member and would like to have the discount code, email me and I'll hook you up.)
As always, you can sign up for your own custom-designed card here, you can see all the cards we've designed so far here (now more than 3,000 of them!), and you can see how we produce the cards here.
• • • • •
• • • • •
Click to enlarge
Pin Club reminder: Going fast … something-something … 44 of them left … something … available here.
Also, important: People who've collected all 12 monthly pins are eligible to get our Uni Watch Pin Club 2020 All-Star pin as a free bonus. If you qualify, you can claim your prize by emailing me with (a) your mailing address and (b) some combination of photographic evidence and/or receipts. For example, if you order the December pin today, you could send me a photo of the 11 pins you've already received plus your email from Teespring confirming that you ordered the December pin. Or you could wait until the December pin arrives and take a photo of all 12 pins. Or you can simply go to "My Purchases" in your Teespring account and take a screen shot of that. As long as you can prove that you collected 'em all, that's what I'm looking for. Thanks!
• • • • •
• • • • •
The Ticker
By Paul, pinch-hitting for birthday boy Anthony Emerson

Baseball News: Cleveland team president Chris Antonetti, speaking with reporters during a Zoom call yesterday, said the team is "continu[ing] to work through" the process of evaluating the team's name (from @spiders_six). … The new Frontier League team in Ottawa will be called the Titans (from @BallparkHunter). … We've plenty of old-timey examples of teams that had stacked lettering on the jersey placket (that's one of Phil's favorite uni elements!). But check out this 1913 team that had sideways placket lettering — not sure I've ever seen that before (from David Gehrug).

NFL News: This Sunday is the annual "My Cause, My Cleats" promotion. Remember all the hype when that program launched a few years ago? Hardly hear a peep about it now. You can see a lot of this year's footwear designs here.

College Football News: This week's No. 25 for Virginia Tech is LB Dax Hollifield, and the Hokies will wear maroon-maroon-white (both from Andrew Cosentino). … What do you get when you add No. 0 and a social justice NOB? Zero tolerance. That's UNC WR Emery Simmons (from James Gilbert). … Speaking of UNC, they're going blue-blue-white this week. … Awesome 1989 throwback helmet logo this week for Ball State. … Ohio is going BFBS (rare non-soccer contribution from Ed Zelaski). … Miami is going white-white-green (from Josh Lefkowitz). … Florida: blue-white-blue, including a new blue helmet (from @CanWeBeMature and Jeff Stark). "Check out this cool 1897 photo of Brigham Young Academy football team," says Kary Klismet. "Of particular note is the way several players appear to be wearing their position initials on their sweaters, long before the advent of uniform numbers or other common forms of identification." … Rutgers is going with a blackout uni this weekend (from Seth Kaufmann). … Virginia is going mono-blue. "An interesting subplot to these uni-announcment videos is that they've included the 'Set the Expectation' ribbon decals pretty much every time, but neither football nor any other fall sport has actually worn them this year," says our own Jamie Rathjen. … Michigan State is going mono-green (from @SportsConcepts1). … NC State is going white-black-white — for the first time ever, according to Rex Henry. … Arizona wearing "Battle Grey" GFGS tomorrow night (from WrigleyMaddux). … Mono-grey for Oregon (from peeweereis). … "This sums up the state of sports graphic design," says Trevor Williams. "A Texas A&M player jumping off a cliff in the Grand Canyon of Alabama to tackle an eagle."

Hockey News: Thanks to a video game, we can now see all of the full Reverse Retro uniforms, instead of just the jerseys. The big eyebrow-raiser is that the Oilers are going with orange pants and white gloves (from Wade Heidt). … Here are our first looks at the Avs with their new pant, glove, and helmet colors. Basically, all of the elements that had been black are now blue (from Tyler Paul). … At least seven NHL teams are looking into the possibility of playing some of their home games at outdoor venues, which would allow for more paying customers than indoor arenas. That article also says that the current season-opening date of Jan. 1 remains in flux, and that a February start date might happen instead. … 1975 throwbacks today for Arizona State (from Eric Gamborg). … Holy moly, look at this amazing century-old hockey sweater! Very curling-like (from Kary Klistmet). … New uniforms for the OHL's Niagara IceDogs. "There's a new alternate black jersey, and the former red alternate becomes their primary dark jersey," says Wade Heidt.

NBA News: NBA numerologist Etienne Catalan continues to deliver the goods regarding new uni number assignments. … Whoa, check out the crazy vertically striped warmup pants that the Suns wore in the 1970s (from Kary Klismet).

College and High School Hoops News: Some great uniforms in this gallery of old Utah basketball photos (from Kary Klismet). … Oklahoma has added a memorial patch for former coach Billy Tubbs (from Sam McKinley). … With UCLA's apparel deal with Under Armour in flux, some Bruins players are wearing non-UA sneakers. Those photos also show how UCLA is using its social justice patch to cover the UA maker's mark, which has been previously reported (from Brian Porreca). … NC State women's G Raina Perez's NOB was misspelled as "Pezer" last night (from Cory Lavalette). … Massachusetts Gov. Charlie Baker was on the 1977-78 Harvard basketball team. Such an odd uni, with the closed "v" and the asymmetrical piping/trim (from Lance Harris).

Soccer News: Here's more about how some of China's Super League teams will have to change their names to remove corporate branding (from Bryant Singleton). … German side Hertha will wear the Hertha Kneipe logo on their shirts for the upcoming Berlin Derby. "The program raises money for Hertha fans suffering during the pandemic," says Ed Zelaski. … FC Tokyo will now be outfitted by New Balance. … Dutch side FC Groningen apparently once had ads on their shirt collar. That photo on the left is from 2000 (from Jason Martin). … Due to a kit clash, Arsenal wore their away uniform at home yesterday against Rapid Vienna. It's the third time in five seasons that they've had to do that (from @museumofjerseys). … Manchester United's 2021-22 home kit will remain the same shade of red (thanks, Anthony). … This article is in German, but Ed Zelaski says it's about why St. Pauli's new on-field shirt has heat-pressed graphics instead of sewn-on. … The Columbus Crew are asking for the public's input regarding a jersey patch to commemorate the opening of their new stadium next season (from Kary Klismet). … New home kit for New Zealand side Wellington Phoenix (from @MadMaclegend). … New third shirt for FC Copenhagen (Ed Zelaski again).

Grab Bag: New city flag for Jenks, Okla. (from Timmy Donahue). … A ranking of Formula E liveries? Sure, why not (from ST Jacobson). … Here's a roundup of World Cup cross-country skiing uniforms (from Gavin Kentch). … I don't think we've ever had anything on Uni Watch about motorcycle racing leathers, until now (from Graham Clayton).
• • • • •
• • • • •
• • • • •
Our latest raffle winner is Patrick Sesty, who's won himself six months of New York Times digital access. Congrats, Patrick!
We'll have lots of new raffles next week, plus the annual year-end raffle the week after that. Until then, stay safe, enjoy Phil's weekend content, and I'll see you back here on Monday. — Paul