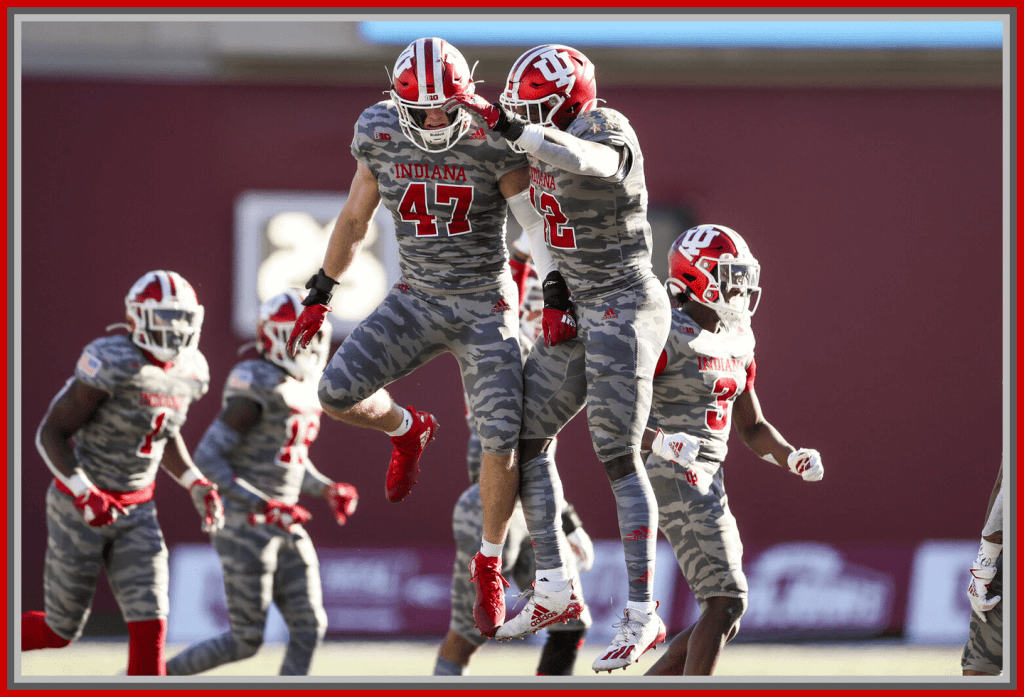 By Phil Hecken & the SMUW Crew
Follow @PhilHecken

The Big Game. The former Civil War. USF in green slime (or is it slime green?). The first female player on a Power 5 team. This weekend had it all. But the, ahem, big "uni" story was the Indiana Hoosiers, who wore dirty pajamas "Salute to Service" gray camo uniforms. Every uni has a story, right? Well, according to IU Vice President and Director of Intercollegiate Athletics Scott Dolson, "We owe an enormous debt of gratitude to our veterans who have served our country in the past, and an equal debt to those who are doing to same all around the world today. We are proud to partner with adidas on this project and I know our fans will love how these uniforms look and what they represent."
I think we'll all agree on the debt we owe to our veterans, but the "love how these uniforms look" part? Yeah, that's probably up for debate.
To be more specific, "The special uniform design incorporates IU's traditional markings on gray camouflage pants and jersey tops. In addition, the jersey sleeves include the United States flag and nine 'battle' stars. One of the other special features that won't be as obvious to spectators comes on the IU helmets. Inside the center stripe of each player's helmet are names of crew members of the WWII battleship USS Indiana BB 58."
Here's a closeup of those nine "battle" stars (I'm not sure why IU quoted the word "battle"). Unless you were three feet away, they were completely lost in the camo effect: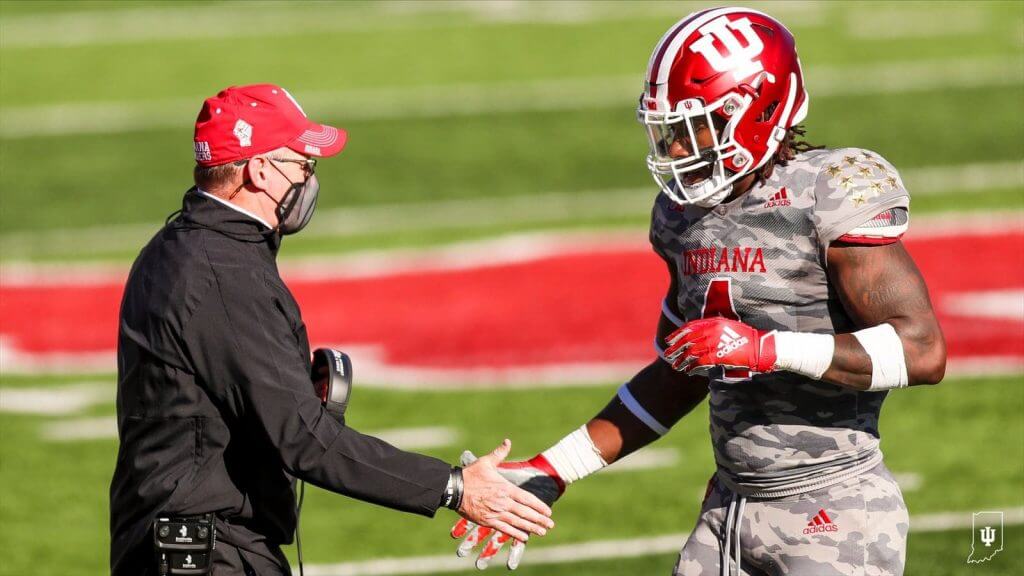 The team was originally supposed to wear these uniforms against Michigan on November 7th, but they were scrapped due to "contrast" issues. Apparently there was no confusion with Maryland's unis yesterday.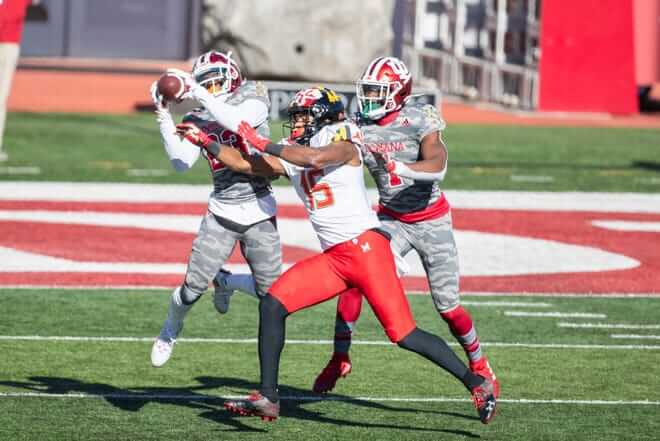 There also didn't seem to be any uniformity with regard to lower leg stylings, which were all over the place.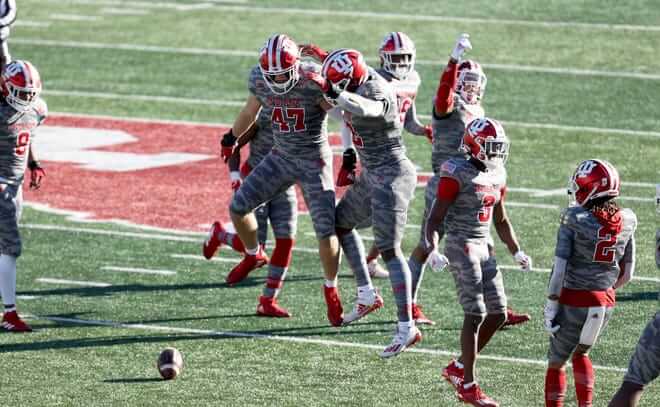 Indiana has a very good team this year (their only loss was last weekend to #4 Ohio State, and that was on the road and a close final score), so they won yesterday — making the uniforms a bit more palatable. If you're going to play dress-up and look like a clown, you better win, otherwise you just look like a clown. Let's hope these are one-and-done and they retire them as an undefeated uni set.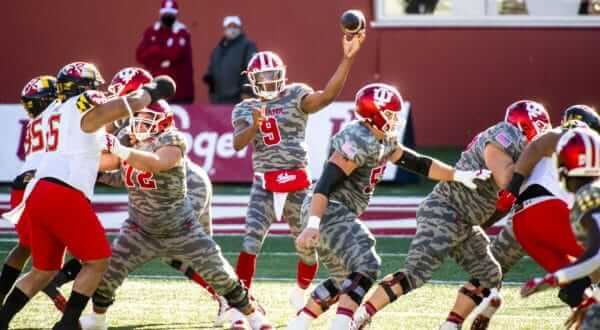 There's only one team that should play soldier. And that honor belongs to the team that will actually find themselves in harm's way some day. There are many ways to honor the military. This ain't one of them.
And now, here's TJ with your…
• • •
Sunday Morning Uni Watch
by Terry Duroncelet, Jr.
Hello, one and all. I hope you all had a happy and healthy Thanksgiving, full of food and… *thinks to myself* f-food… well, ANYWAY! Rivalry Week (Part 1, at least). Always full of fun, surprises, bad blood, and even the occasional new uni just for said occasion. Enough time wasted, let's get right to it.
From Friday:
• While (IMO) the color-vs-color version of this game would have been far superior to what was actually worn, this was still nice-looking.
• *The following exchange is a reenactment between the Adidas's design operations division (or whatever their title is) and the University of South Florida*

[Adidas] "How bright do you guys want this uniform to be?"
[South Florida] "Yes."
[Adidas] "You know that's gonna be quite bright, right?"
[South Florida] "Yes. Make it brighter."
[Adidas] "Um… we most certainly can, but the sheer amount of raw energy it'd be emitting would have detrimental effects to the DNA stability of the players and–"
[South Florida] "I said 'MAKE IT… B R I G H T E R'"
[Adidas] *sweats*
This uniform is the most outlandish, eye-disintegrating, can't-miss-it-if-you-were-looking-at-Earth-through-a-Rite-Aid-brand-garden-variety-telescope-from-Planet-Namek uniform I've seen in a long time, if not EVER… and I am 100% here for it. My problem with most team's uniform demonstrations is that whenever they try to Do The Thing, they always seem to fall short, like Maryland back in their ACC days when they didn't stagger the flag patterns on the helmets and shoulders of the jerseys (kind of an important detail, just saying). But this? THIS is a prime example of "if you're gonna do it, go full tilt, or don't do it at all". And to me, it fits them. I know my opinion of Adidas has been… sour, in the past, but I see the improvements they've made over time, and I gotta hand it to them for being honest in calling this "Slime Green", and nothing completely out of pocket like "Eco Emerald". It was also a premonition for Friday night…
• The Civil War Safety Vest game was… not necessarily a "looker", because there was hardly anything to look at to begin with! (Fog Bowl, anyone?) Those last two shots came courtesy of Steven Sernka. And then these two shots came from Thomas McLaughlin and Dave Wilock (respectively), who both noted that Redshirt-Junior WR Champ Flemings of Oregon State (#16) was wearing an older set of pants, last seen in (I believe???) 2018.
• UMass/Liberty is an example of how you can make two different shades of red look good.
• Wyoming/UNLV surprised me with how excellent of a visual showing it ended up being. And the Rebels' helmets were as much of a pleasant surprise to me, if not moreso (more on the helmet here).
• Cal and Stanford hit the big 1-2-3 today, and while the game itself was pretty standard-looking, Blaise D'Sylva found this gem.
From Saturday:
• Clemson wore their mono-purple military appreciation uniforms against Pitt. Always nice to see, if only because you don't get to see purple and orange utilized as team colors often, especially in college sports.
• Michigan State… we gotta talk. Actually, no. We just need to come to a collective "This ain't it". Because… ICK. At least the dark green trou made it more palatable, as opposed to the last time they wore this. Also from that same game: Northwestern wore a new helmet decal (black with a purple stroke). It's damn-near impossible to see, but thankfully, Blaise D'Sylva is on the up-and-up. They match their TV numbers on the shoulders! Neat.
• Ohio wore some beautiful 1960 throwback uniforms (a diamond jubilee that celebrates the 1960 NCAA College Football division championship team) against Bowling Green.
• BFBS for Toledo.
• North Texas went full-throwback against UTSA.
• Mississippi State went full-white against Ole Miss.
• Golden boy unis on tap in Baylor's game against Kansas State. Also from that same game: Sophomore TE Ben Sims's BU was N/A.
• UCLA/Arizona was a colorful treat for the eyes! I believe that the helmet that the Wildcats are wearing is new, too.
• Joseph Zurek is feeling "bugged" by the on-screen graphical info during the Western Michigan/Northern Illinois tilt.
• As a former drum major, and someone who has two brain cells to rub together on how to wear a mask the correct way, this kills me in ways I never thought a person could be killed, and not in the good way (H/T to Timmy Donahue).
That'll do it for lucky Week 13. Next week begins the December run, so bundle up, and tune in next week. See you then! And of course, a big shoutout and thanks to Blaise D'Sylva for all of the mentions and tips.
• • •
Thanks, TJ! Ok, now on to the rest of today's SMUW.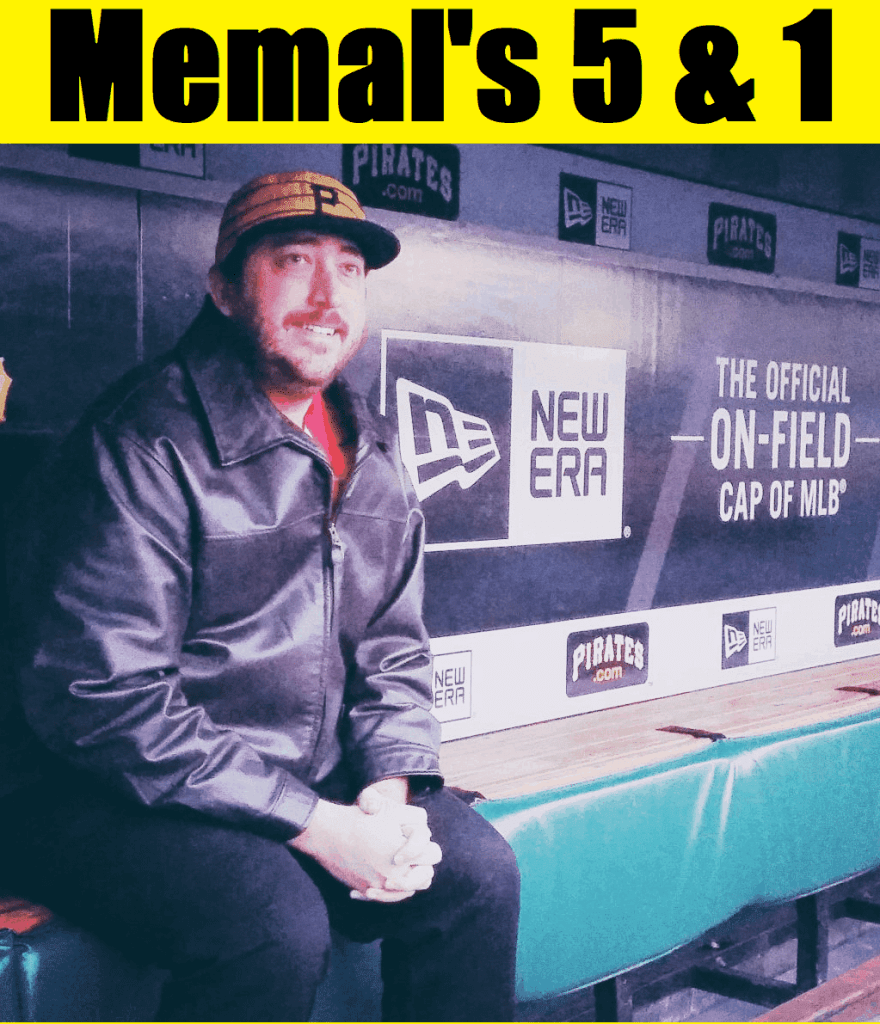 Memal's Final 5 & 1
Following in the footsteps of the original "5 & 1," Jim Vilk, Catherine Ryan after him, and finally Joe Ringham, in 2019 we introduced a new "5 & 1" (five good looking and one stinker) uni-vs-uni matchups — Michael "Memal" Malinowski. Like Joe, Catherine & Jim, Memal will pick HIS 5 best looking/1 awful matchup, and occasionally have some honorable mentions (both good and bad). You may agree and you may disagree — these are, after all, just opinions and everyone has one. Feel free to let him know what you think in the comments section.
Unfortunately, as you'll read below, this will be Memal's final 5 & 1. I want to thank him for the almost two full years of 5 & 1's (even if I didn't agree with him on every pick!), as he was a dependable and steady hand at what is essentially a thankless task. Great work Memal.
Here's his swansong…
• • •
Going into the start of this shortened season, I'd hoped to be able to provide a full season's worth of 5&1s since that'd mean we'd get to enjoy a whole season of college football. But the same reason we have a shortened season is why I'm cutting mine short as well. As the weather has gotten colder, the lingering issues from the bout of Covid-19 I fought off this past summer has made getting this piece completed and into Phil difficult. The lack of energy I suffered then has returned and it's gotten harder to see every game and compile this with the attention to detail I know it deserves. I've never submitted this piece to Phil and hoped everyone would agree with my choices, but I do hope you'd accept the fact that you'd rather wear a mask and social distance then deal, as I have, with the chest pains, shortness of breath, and health uncertainties that will occur if you contract the virus, so please choose caution.
I'm planning to be back next season contributing something to SMUW, but since I have a few articles in the works I'd like to say until the next time it's farewell and not goodbye! On to this week's games!
__________
Honorable mention – Bowling Green @ Ohio
__________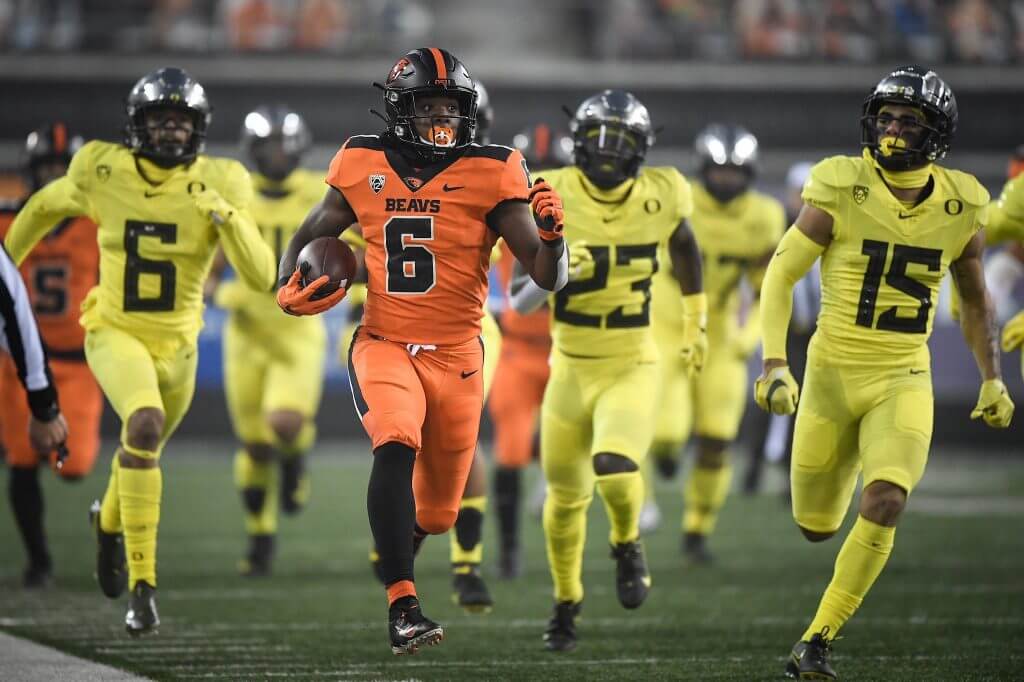 5. Oregon @ Oregon State

A color on color matchup between rivals in interesting weather conditions is the kind of college football game I love to watch! I had to put it at number five because even after watching a good portion of it I'm still not sure if it's a good looking matchup or if I was just entranced by the bright colors.
__________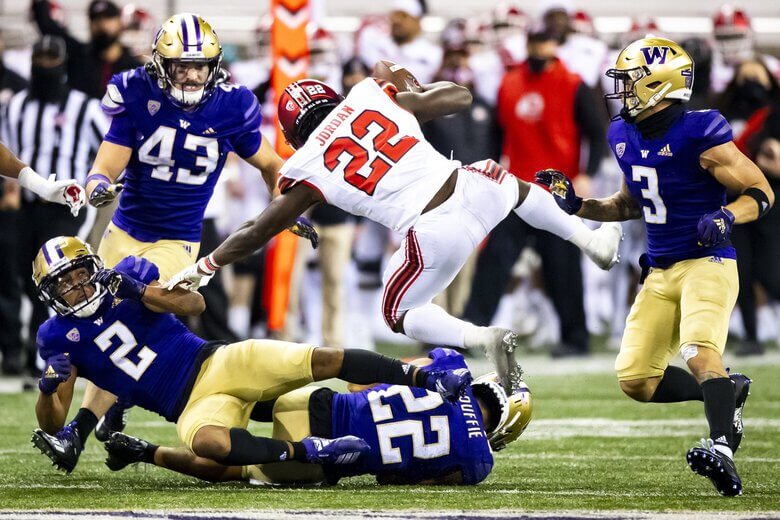 4. Utes @ Huskies

This was a wonderful contrast of colors! The Utes deep red helmets and white uniform set looked marvelous against the standard gold/purple/gold home set of the Huskies. I also like Utah's stripe set against Washington's relatively unadorned unis(I hesitate to call those light purple areas on their jerseys stripes).
__________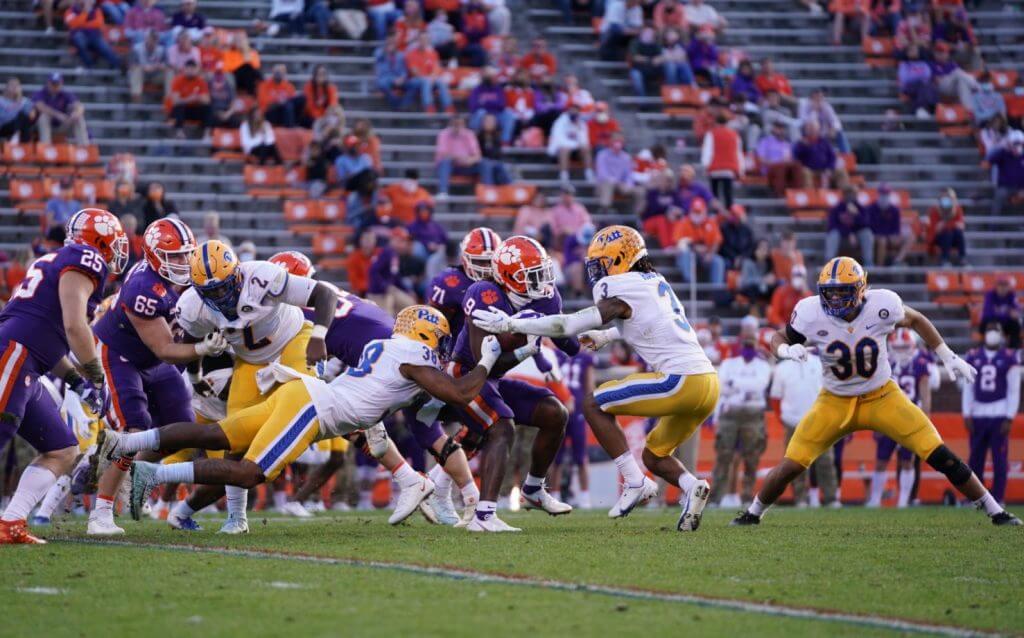 3. Pitt @ Clemson

I highlighted this game earlier this week and expected a colorful matchup, and I was delighted to see the Tigers brought out their purple jerseys and pants! Though they didn't provide the sharp contrast against Pitt's blue and gold as their orange tops do, I still liked how these two sets looked opposite each other on the field.
__________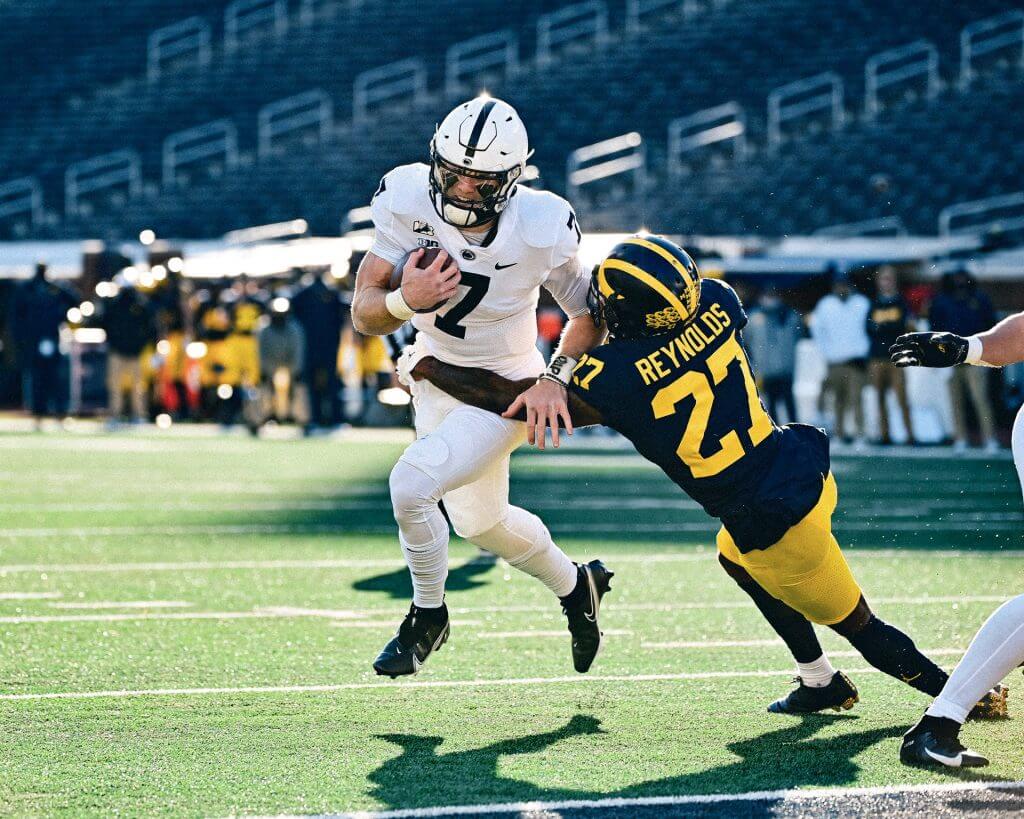 2. Penn State @ Michigan

This is one of those matchups that though the names and faces change, it always looks the same. I love this matchup of logoless helmets and I how they looked in the light of a gorgeous late fall day. A picture perfect Big 10 match up!
__________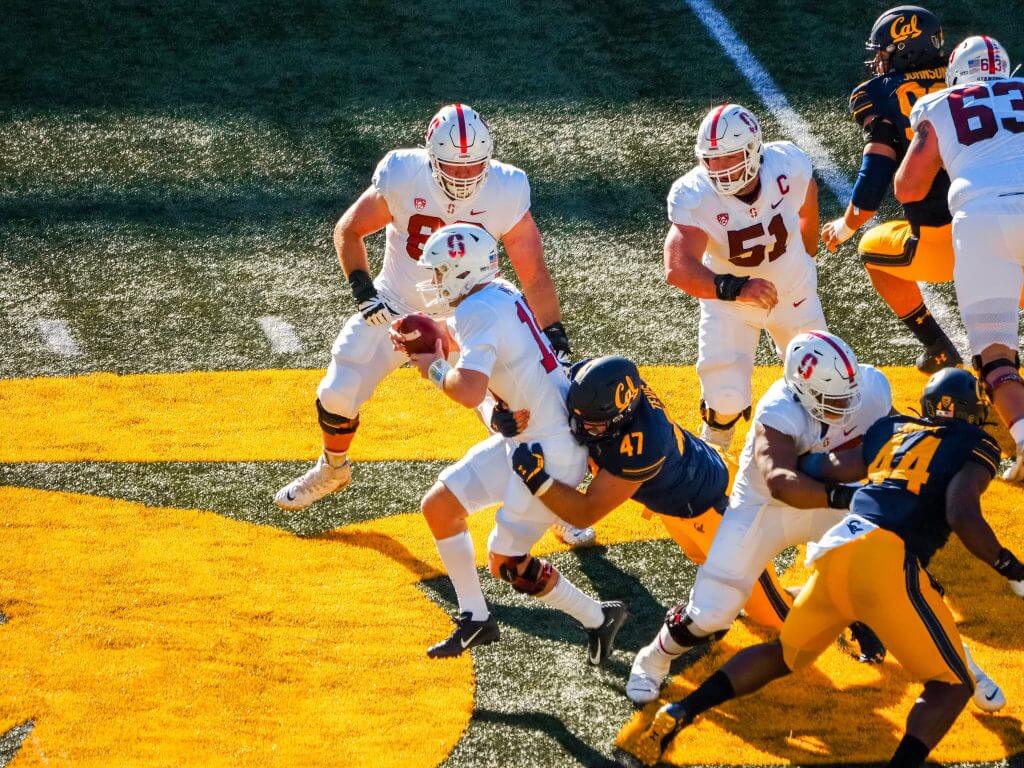 1. The Big Game – Stanford @ Cal

This game looked exactly as you might expect, the Cardinal in all white against the Golden Bears in blue/blue/gold, and it looked as terrific as you would hope it to! It's games like this, rivals meeting for a trophy on a scenic autumn day, that make college football such a unique sport and part of why I love spending my Saturday's taking in as many games as possible.
__________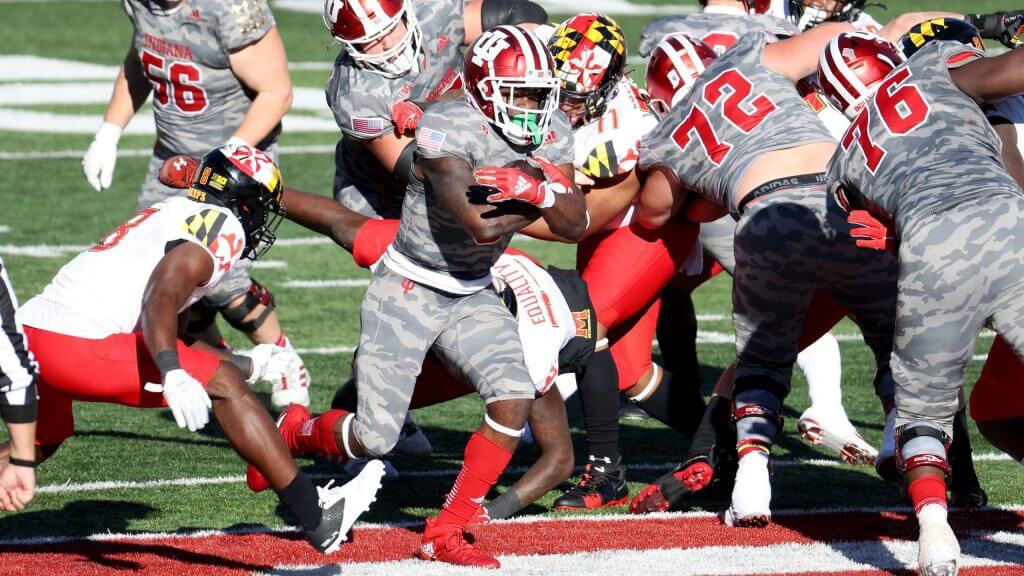 &1 – Maryland @ Indiana

The Terp's loud helmet and sleeve patterns are fine on their own, but when combined with the equally loud camo set the Hoosiers wore, their unis looked just as silly as Indiana's did. As often as I dump on gray-for-gray-sake uniforms, at least gray is a color, whereas camo is a pattern of colors, none of which are the school colors of Indiana University. I'm sure there was some sort of message attached to these using those uniforms, but it was lost with how atrocious they looked on the field.
• • •
Thanks, Memal! OK readers? What say you? Agree or disagree with Memal's final selections? Let him know in the comments below.


NCAA Uni Tracking
Uni Watch will again track the uniform combinations worn by the "Power 5" conferences. All of the 2019 trackers are back!
We've got Rex Henry (tracking the ACC), Dennis Bolt (tracking the PAC-12), Kyle Acker (tracking the Big XII), and Ethan Dimitroff (tracking the B1G AND the SEC). Rex, Dennis, and Kyle and are all returning from 2015, and Ethan is back after joining the NCAA Uni Tracking a couple seasons ago. Ethan continues his dual role of tracking both the B1G and the SEC.
We started the year off with three conferences (SEC, B1G, PAC-12) not playing at all, but now all five of the Power 5 have returned to play.
Here are the Uni Trackers for the Power 5 Conferences (I've left all the previous tracker info in their usual slots, even if the conferences aren't playing. In case you want to click on any of the links):
+ + + + + + + + + +
Rex is up first today (ACC):
• • •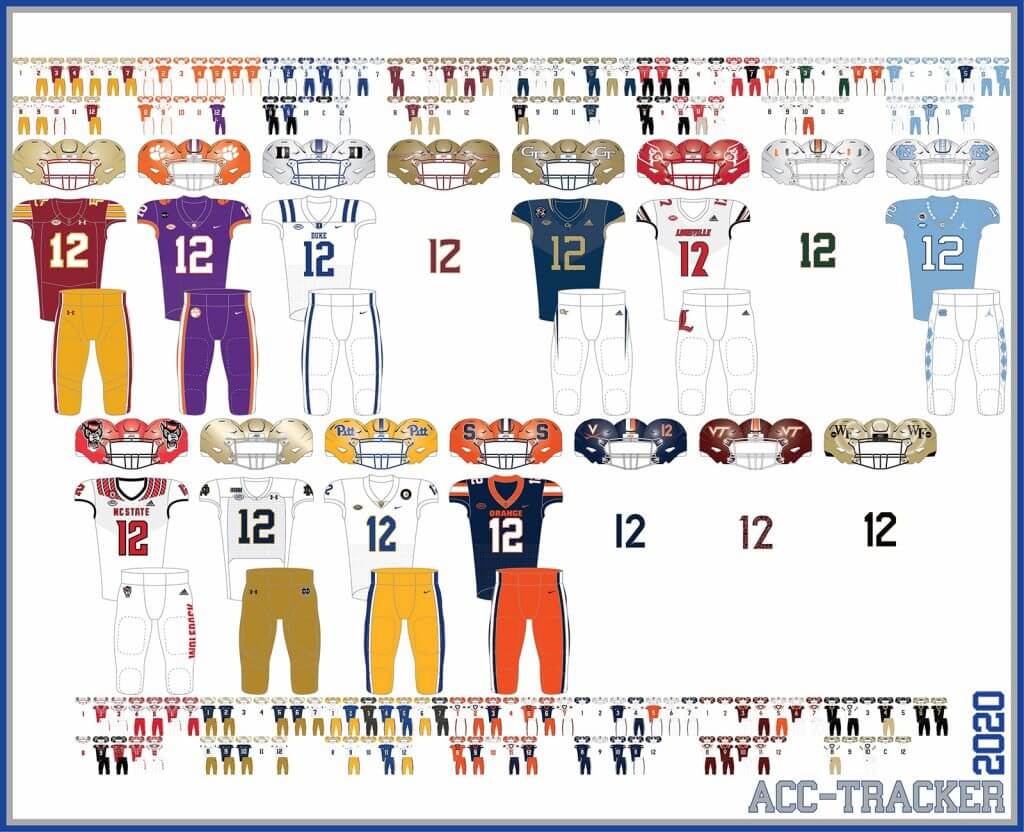 ACC

More Here.
Follow Rex on Twitter here.
• • •
And now, here's Dennis with the PAC-12: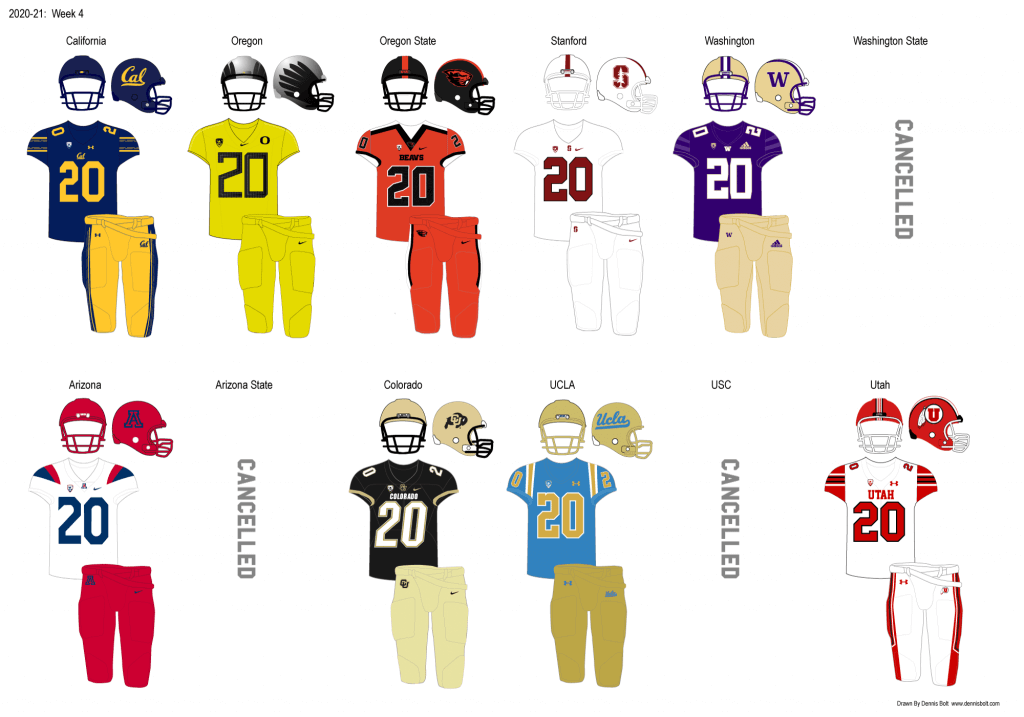 PAC-12

More here.
Follow Dennis on Twitter here.
• • •
And here is Ethan, with the SEC: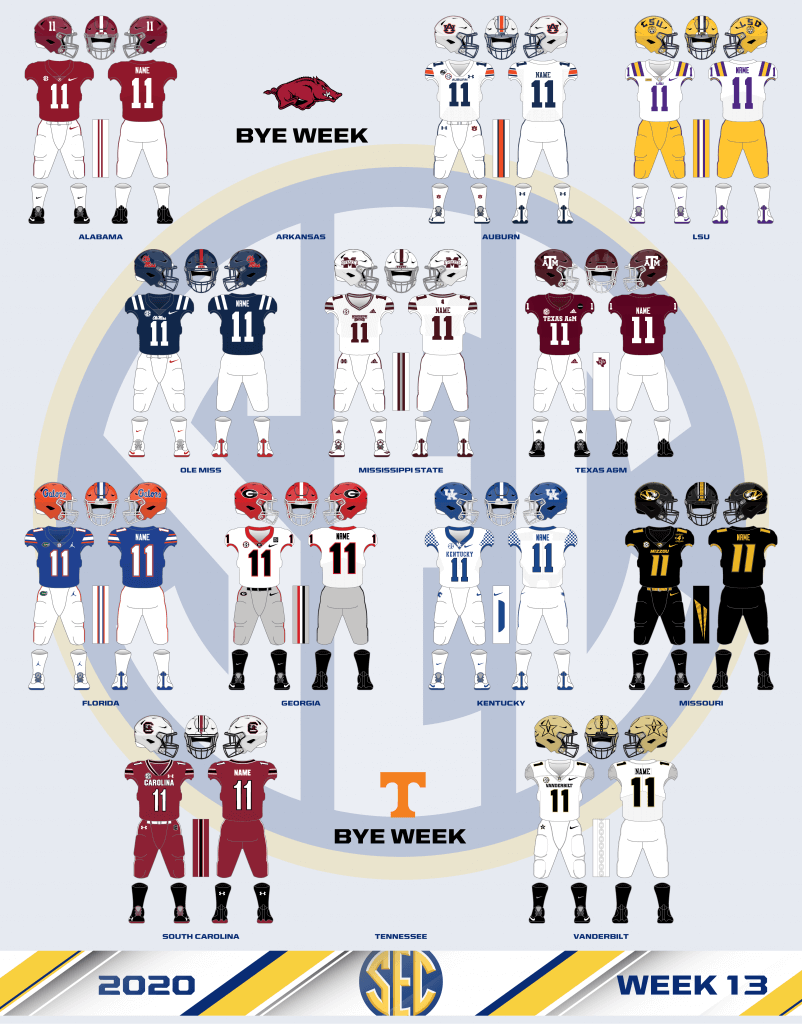 SEC

And be sure to check out Ethan's WVU Mountaineer Tracker.
Follow Ethan on Twitter here.
• • •
And here is Kyle with the Big XII: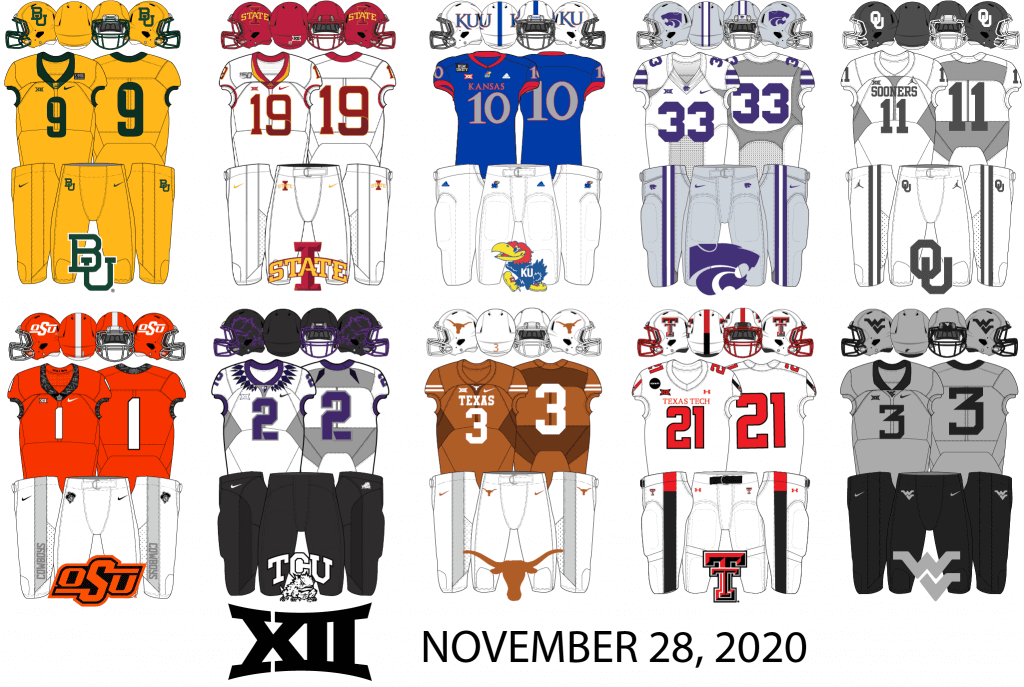 Big XII

Follow Kyle on Twitter here.
• • •
And here's Ethan with the B1G: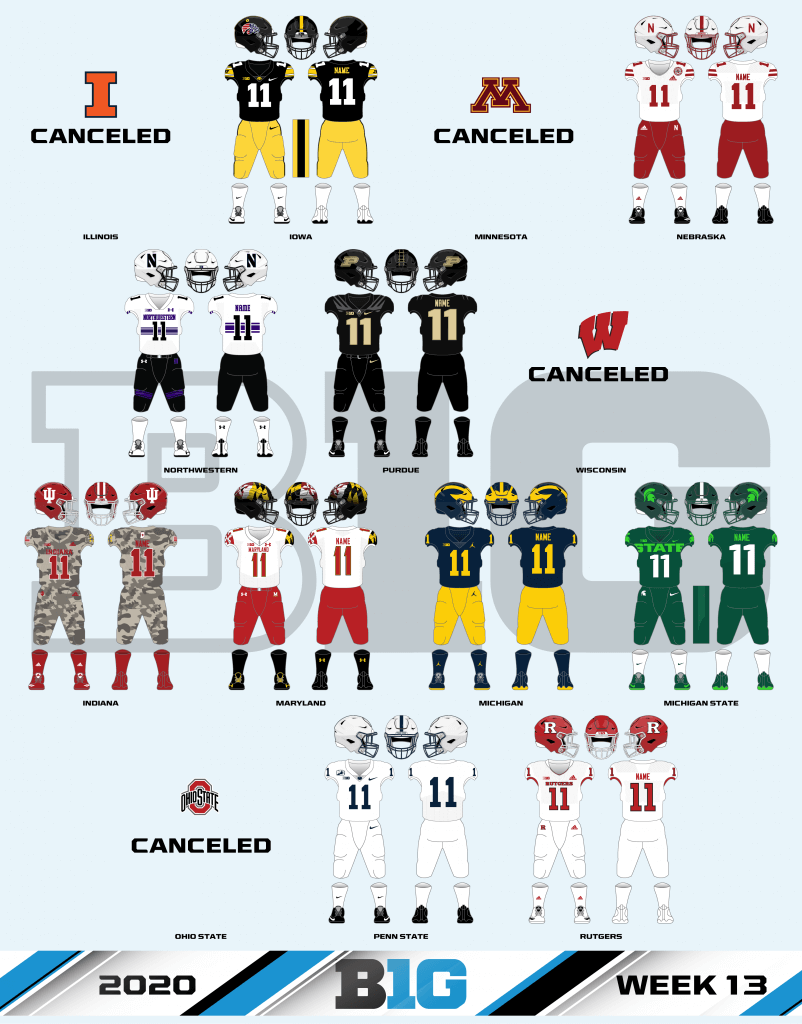 B1G




Welcome to the 2020 Oregon Ducks Uni Tracker. This little project was originally begun way back in 2008-09 by Michael Princip, who retired after several seasons, whereupon the project was continued by Tim E. O'Brien. He, too, retired from the tracking, but the project has been ably kept up by the man who also tracks the Pac12, Dennis Bolt.
Here's this week's Uniform Combo for the Ducks (you can click to enlarge):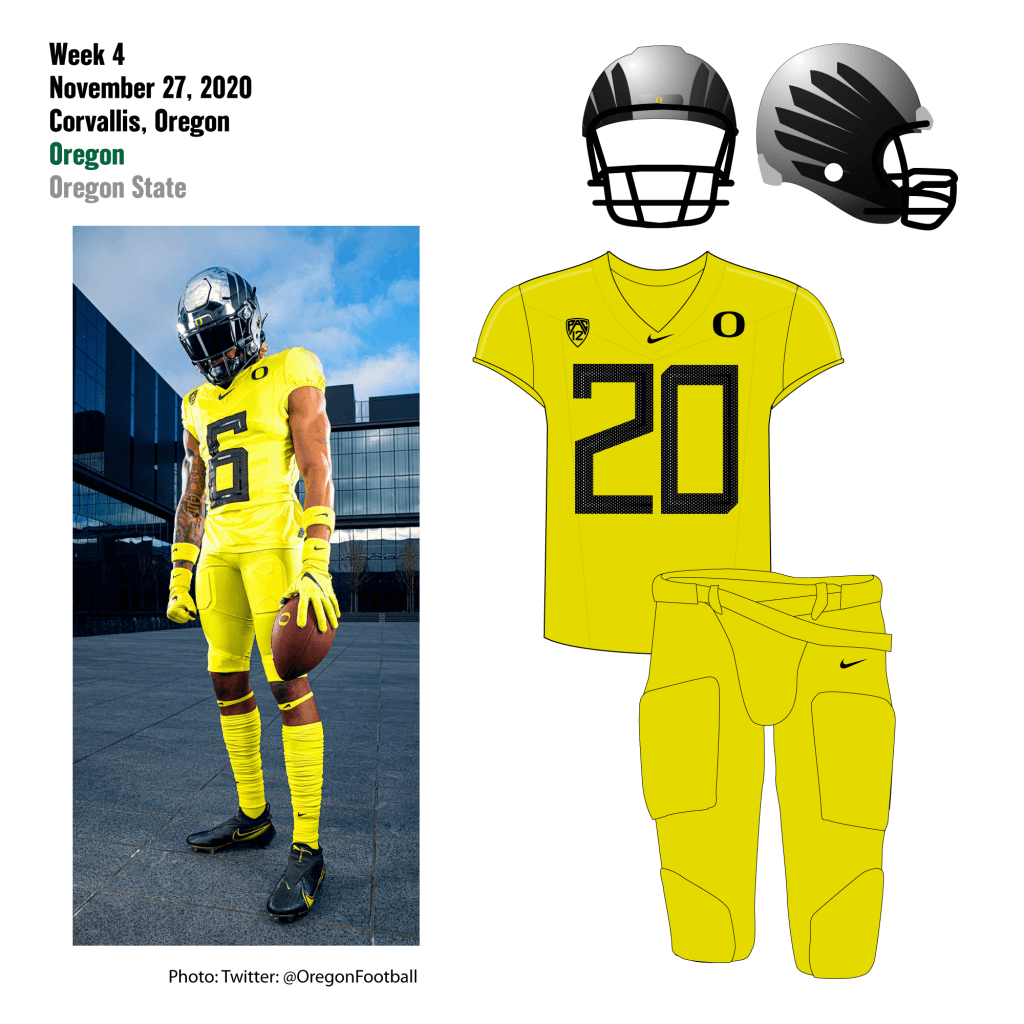 You can read about this uniform, and MUCH MORE, by checking out the Duck Tracker here!
Thanks Dennis!


5 & 1 "Guest Picker" Update
If you read yesterday's Uni Watch (and Memal's 5 & 1 today), you'll know that Memal has done his final 5 & 1, and I had put out a "Help Wanted" ad for a new guest picker.
In what to me was a surprising response, I received … TWENTY-FIVE replies from folks interested in becoming a guest picker for the remainder of the 2020 season (which includes the conference championship games and the bowls). Of those 25, more than half followed up and created a "mock" 5 & 1 (and perhaps not surprisingly, most had the IU/UMd tilt as their "& 1"); almost all of the responses were outstanding (a few people backed out entirely, some never followed through, and some sent in incomplete 5 & 1's), so over the next several weeks there will be several guest pickers. In fact, I may offer up TWO 5 & 1's per week, so that every qualified candidate has a chance to show off their chops. We'll begin that next week. I still haven't even gotten though every submission, and I will let the lucky guest pickers know this week if they've been selected and when they can be expected to come up with their submissions. I want to thank everyone who applied, and clearly there is great interest in bringing the 5 & 1 to the UW audience for the remainder of the season.
Make sure you guys check back next Sunday for the first of our guest pickers!!!


And now for a few words from Paul…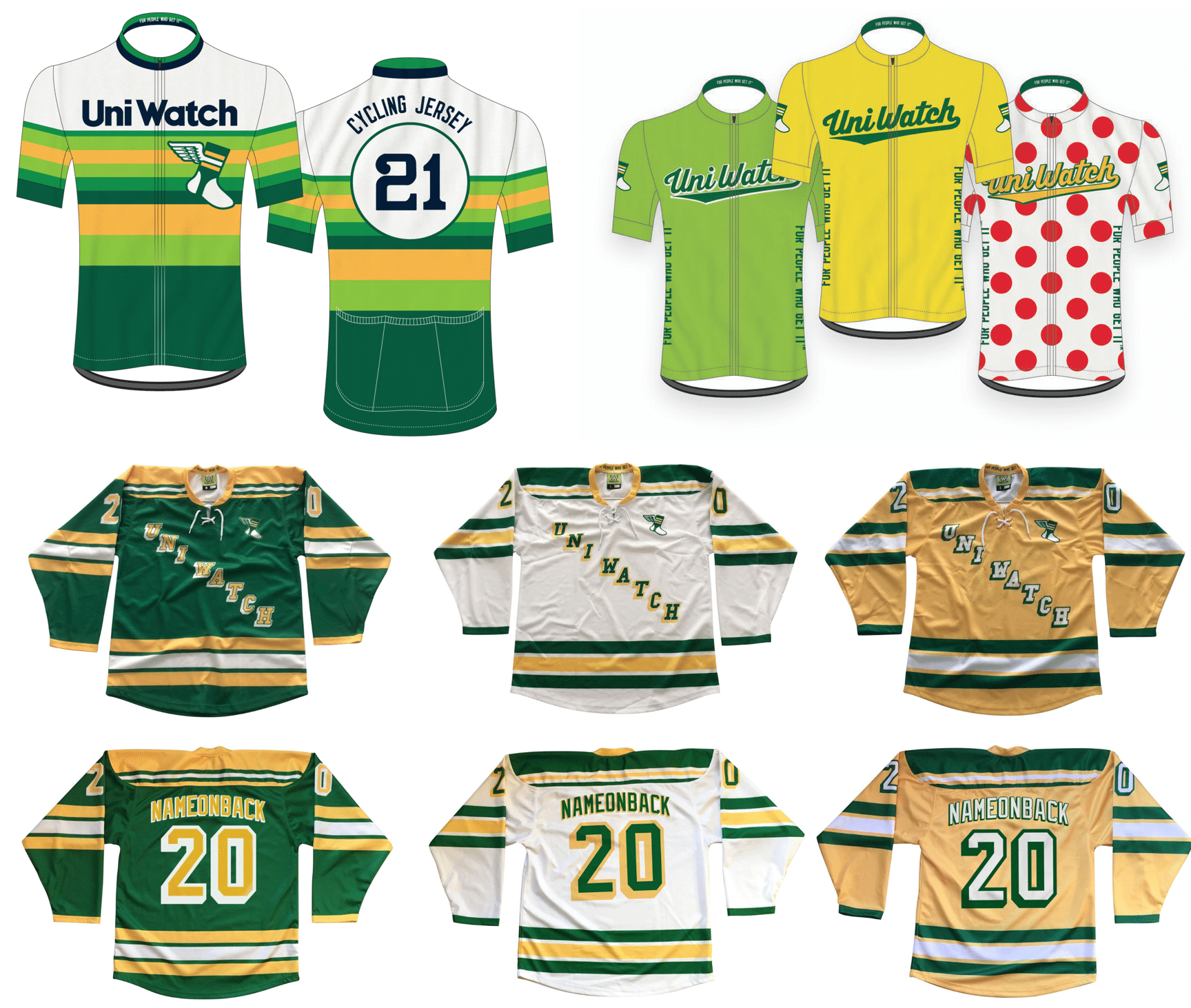 Click to enlarge
Merch reminders: Paul here again. In case you missed it, we're once again taking pre-orders for another round of Uni Watch hockey jerseys, tequila sunrise cycling jerseys, and Tour de Uni cycling jersey — all available with your choice of number and NOB.
You'll need to get your order in by Dec. 11, and they should arrive by mid-January. (Sorry, too late for Christmas delivery — mea culpa on that.) Full details here.
And as long as we're talking merchandise, keep the following points in mind:
• The Uni Watch Classic Cap, which normally costs $39.99, is now only $35.99 — a 10% break. All fitted sizes are currently in stock, along with the adjustable strapbacks.
• I've also reduced the price of Uni Watch trading cards. Full details here.
• You can see our full range of merch offerings here.
My thanks, as always, for your consideration.


Uni Watch News Ticker
By Phil

Baseball News: It's pretty quiet in MLB these days, but here's one on the stadium front. Wade Heidt says sources are stating Rogers Communications and Brookfield Asset Management looking to privately fund a new stadium for the Toronto Blue Jays. Rogers Centre would be demolished. A new natural grass baseball stadium with surrounding infrastructure in its place. … In the podcast, "How Brad Ausmus Chose His Glove & Who He Thinks Could Save the World with One Pitch," at the 22:25 mark, Brad Ausmus briefly discusses how he changed from a Mizuno to a Franklin catchers mitt (and how Franklin would not allow others to use the model without his permission). From James Shannahan. … Towards the end of the 84 season, the Chicago Cubs road unis seemed to intro radial arch on some players, even tho vertical arch was standard until about 87. More inconsistent before then than first realized (from MBD Chicago).

NFL News: Reader Mike Chaldu "Came upon an early 2021 NBA mock draft article from The Athletic, and there's a really glaring apostrophe catastrophe on the headline graphic. I can hear all the readers saying "What is that '6' at the top left stand for?"" … My pal Bill Hetrick writes, "Hope you had a good Thanksgiving. I can't remember if I showed you this before or not, but I have repurposed an electric football game into a magnetic bulletin board for football magnets. It's weird how my mind works." … Both Stacy Shannon and Sean Gierke noticed this comic strip from yesterday which is decidedly uni-centric. … This was spotted on Thanksgiving Day in the Wegman's grocery store in Erie, Pa. — a Cleveland Browns "snack helmet" that eschews the trademark brown-white-brown stripes but adds the brownie elf as an emblem. Submitter Tom Bierbaum adds, "One man's opinion — I think this looks pretty darn good." … The Bucs will sport their "traditional" red over pewter unis vs. the Chiefs. … In what could have been a classic looking game, the Bills will wear their throwbacks against the Chargers, who unfortunately will be going color rash today. … The New Orleans Saints will wear white jerseys AND pants for the first time this season (not counting the Color Rash combo). … This is great: Bill Schaeffer (of the fantastic Gridiron Uniform Database) and Funhouse tweeted: "I know you guys have some pics of the '73 Oilers and their absurd NOB spacing on the website. Not sure if you ever saw a video of it. #80 is Ron Mayo. They stretched M-A-Y-O across his entire jersey."

College/High School Football News: While this article itself is good reading, check out the photo of the Notre Dame helmet with the facemask shaped like a pint, used to promote Guinness (from James Shannahan). … Texas has unveiled a statue of Julius Whittier, its first Black letterman in football, at Daryl K Royal-Texas Memorial Stadium (from Kary Klismet). … Sarah Fuller became the first female to play football for a Power 5 conference when she suited up for Vandy yesterday, and she wore Play Like A Girl on her neck bumper. This article explains why. … Oops! CBSSports used a Russian hockey team Amur Khabarovsk's logo in place of an Auburn tiger head on today's pre-game coverage (from Clint Richardson). … Paintsville HS in Kentucky, the team in white in these pics, is in the midst of its 100th season. The team has put a 100 decal inside their P logo (from Josh Claywell).

Hockey News: This is a great one (pun intended): "So I found a new misspelled "Rnagers" CCM replica jersey for a song on eBay," writes Terence Kearns. "Without any context from the seller, I bought it and had Joe Hilseberg make me an homage to the infamous GRETKZY Liberty jersey snafu of 1997!" … Unfortunately submitter Eric Starke didn't provide any context for this photo other than to point out the blocker Tony Esposito is sporting. … Here's a pretty detailed write up and look at the Calgary Flames new "Reverse Retro" uniforms for next season (from Wade Heidt).

NBA News: Not everyone is a fan of the new NBA City alternate jerseys. This is particularly true of the new Dallas unis. However, Luka Doncic is a fan. … On Friday, the Milwaukee Bucks unveiled color of 2020-21 City Edition uniform with light show on Hoan Bridge. That color is blue. … Speaking of blue unis, a merch drop has basically confirmed the new Houston Rockets alternate unis.

College Hoops News: Brigham Young University has introduced some new BFBS unis this season. Submitter Nick Newman adds, "Not bad, but I don't like black for Black's sake." … Loyola Marymount and Minnesota played an especially good-looking color vs. color game yesterday (from Daniel). … The UNC Tar Heels Women's team will be wearing a Black Lives Matter patch all season long (from James Gilbert). … Good Lord: "I couldn't let it go & I finally figured out what Carver College's uniforms say: in white "Hydration Fit," and the rest says "Game Time." It is a NYC based water company. Having this on the uniform is being called an "Interactive Beverage Sponsorship."" (from Timmy Donahue).

Soccer News: From our own Jamie Rathjen, the USWNT added Black Lives Matter to their warm-up jackets, similar to what the men's team did a few weeks ago.. The tweet reads "We wear Black Lives Matter to affirm human decency. This is not political, it's a statement on human rights." Here's a bit more on that.

Grab Bag: The New Zealand All Blacks paid tribute to Diego Maradona when captain Sam Cane laid an All Black jersey — number 10 — on the field before the start of their Tri-Nations Test match against Argentina on Saturday.


And finally… big thanks, as always, to the entire SMUW crew, and best wishes to Memal (and big plus-plus thanks for all his contributions to SMUW with the 5 & 1 over the past two seasons). You guys are all aces. Thankfully, there were lots of volunteers to step in for the 5 & 1, so be sure to check back next Sunday to see what we have in store for you in that department!
Everyone have a great (or, this being 2020, at least a good) week, and I'll catch you all back here next Saturday. Stay safe!!!
Peace,
PH