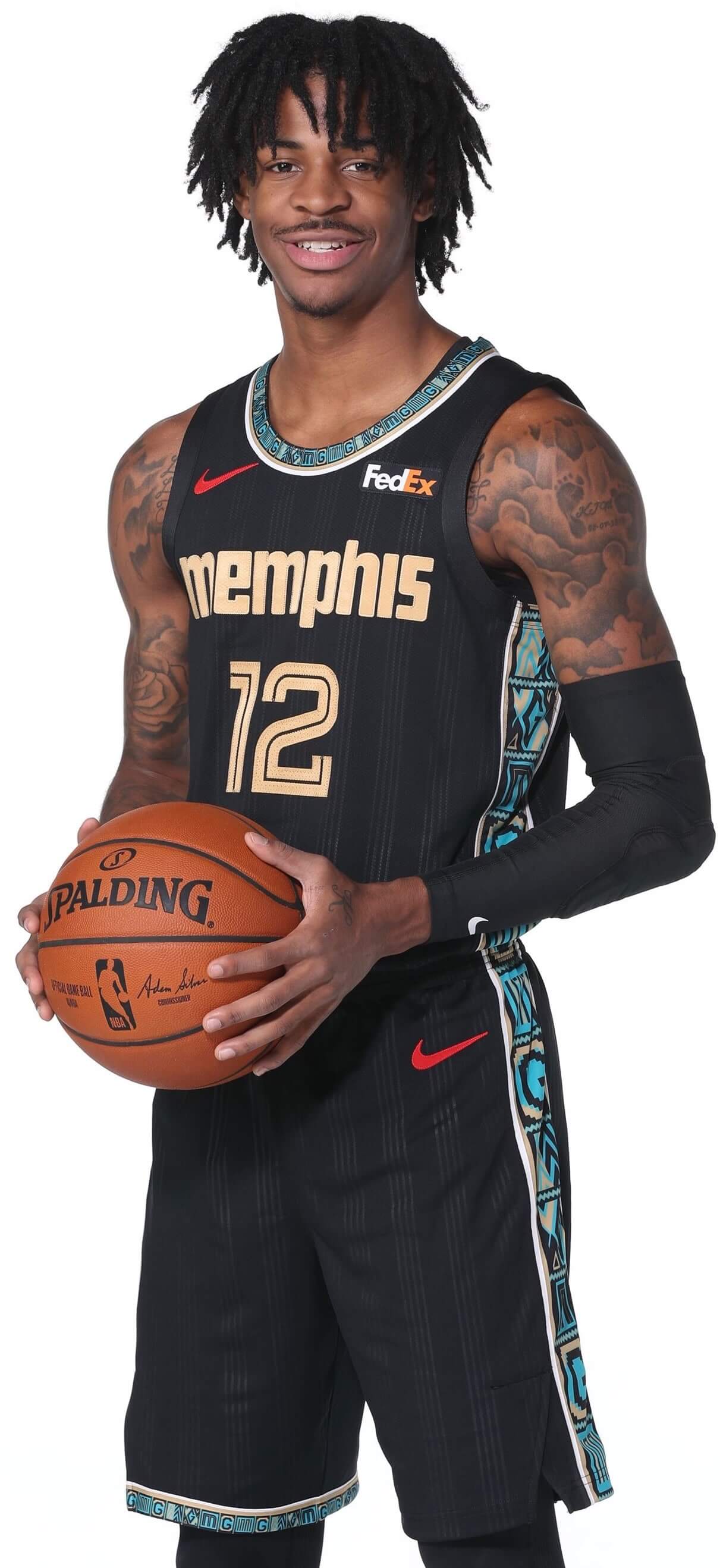 Click to enlarge
The Grizzlies unveiled their new (and previously unleaked!) City alternate yesterday, and it's interesting on a number of levels, so I want to talk about it today.
Viewed in strictly aesthetic terms, it's not bad. The chest lettering looks pretty snappy, and the tone-on-tone pinstriping is nice. But check out the story (or "storytelling") behind those elements: The lettering is based on the logo from the great Memphis-based R&B label Stax Records (wish they'd also used that font for the numerals, instead of sticking with the team's standard font), and the striping on the black fabric is meant to simulate the grooves in Memphis soul records.
The rest of the uniform stays with that theme. The collar trim, shorts trim, and side panels feature a Kente cloth pattern (for Memphis's large African American population) with "MG" lettering (which stands for "Memphis Grizzlies" or, if you prefer Stax house band Booker T. and the M.G.'s):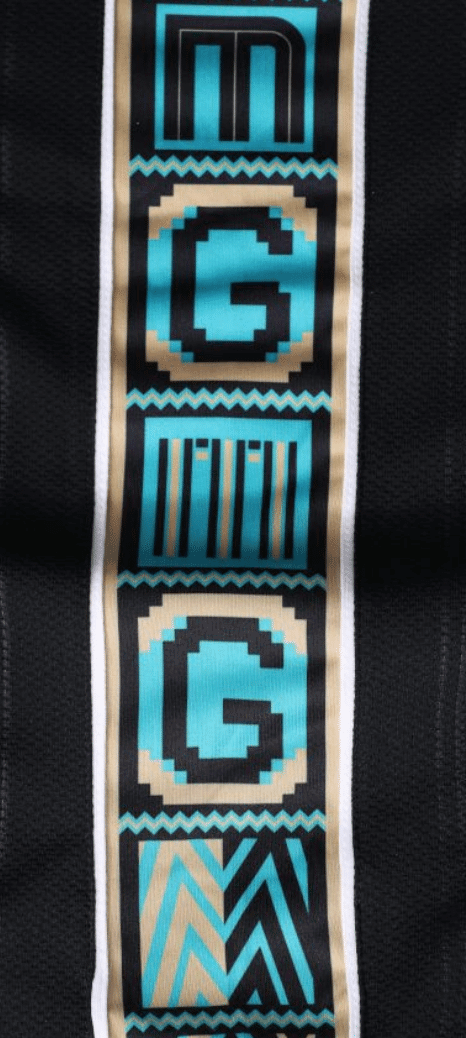 Hidden within the folds of the shorts are the Stax logo on one side and the late Stax artist Isaac Hayes's signature sunglasses on the other (the uniform was created in consultation with Hayes's estate):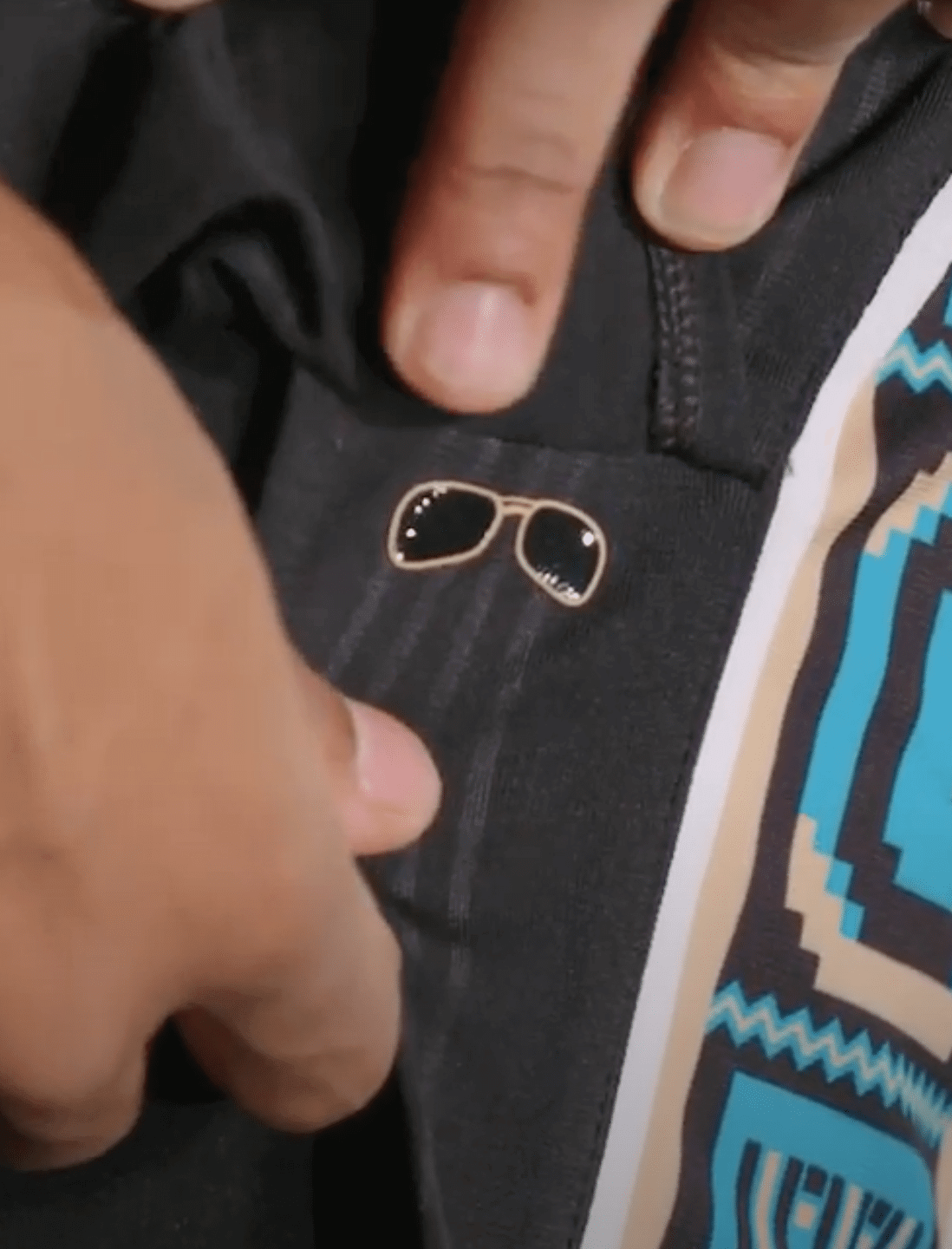 The uniform's gold/turquoise color scheme is based on Hayes's gold-plated Cadillac, which is exhibited at the Stax Museum of American Soul Music in Memphis.
The team is promoting the uniform with a video set to the tune of Hayes's 1971 No. 1 hit, "Theme from Shaft," complete with images of the Stax Museum, the Cadillac, and Hayes himself:
———
Although the uniform itself is fairly sedate by NBA City standards, this strikes me as the apotheosis of the Nike/NBA/City approach to uni design. It fits squarely within what I like to think of as Nike's "tourism bureau" format (i.e., promoting the city or region in much the same way that the local tourism agency would), plus it incorporates a major strain of pop culture, plus-plus this particular pop-cultural strain has Black-identified street cred but is also palatable to Whites. Checks all the boxes. (Additional info here.)
As it happens, my longtime Memphis buddy Sherman Willmott was the founding curator of the Stax Museum and even drove Hayes's Caddy to the museum after picking it up from its previous owner (the car passed through several pairs of hands after Hayes owned it). He's also published a series of Memphis travel guides, run a Memphis tour operation, and even written and published a book about Memphis pro wrestling, so it would be fair to say that he's a legit voice of Memphian authority. As soon as this new uniform was released yesterday, I asked him what he thought. His response:
Dig it! Like the font and the colors best. You know I love any Stax hook-ups! Side panels not so much, but I can dig It! Wish they would change the name to a more appropriate Memphis Souls! Or Memphis Sounds! Or Memphis Gold!

But there's never been a cooler uni reveal video! Grizz gettin' it on and off the court. Wish we could actually go to a game!
Ladies and gents, if it's good enough for Sherman, it's good enough for me. Print it!
Meanwhile, in other City news from yesterday:
• The Mavs' design had already leaked, but now it's been officially unveiled (additional info here):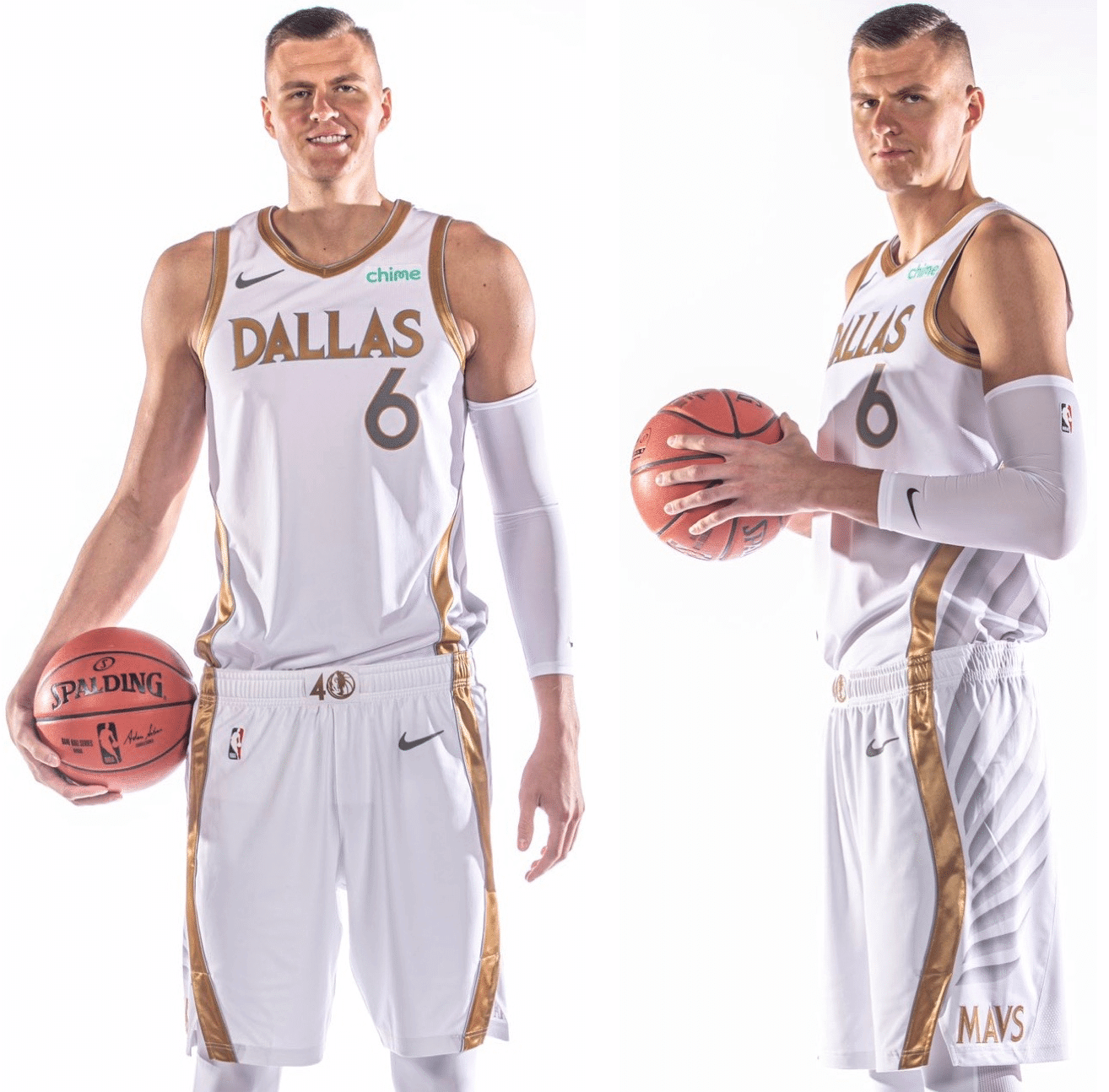 The feather pattern on the sides is a reference to Dallas's famous Pegasus sign (again with the travel bureau approach). But wait — I thought Skyline Green, not Pegasus, is synonymous with the city of Dallas. It's so hard to keep track of these things.
• The Raptors still haven't officially unveiled their City design, but they essentially confirmed a previous leak by announcing their re-signing of point guard Fred VanVleet by posting a video of him in the new City uni:
We're all in on @FredVanVleet. #BetOnYourself pic.twitter.com/Ecry0XTNDy

— Toronto Raptors (@Raptors) November 24, 2020
• Similarly, the Pacers haven't yet officially unveiled, but their earlier leak from a few days ago appears to have been confirmed by video game screen shots:
2021 Pacers City Jerseyhttps://t.co/Ml2NxKKCrr pic.twitter.com/pmwcVHOC9z

— CHession11 (@chession_) November 22, 2020
• • • • •
• • • • •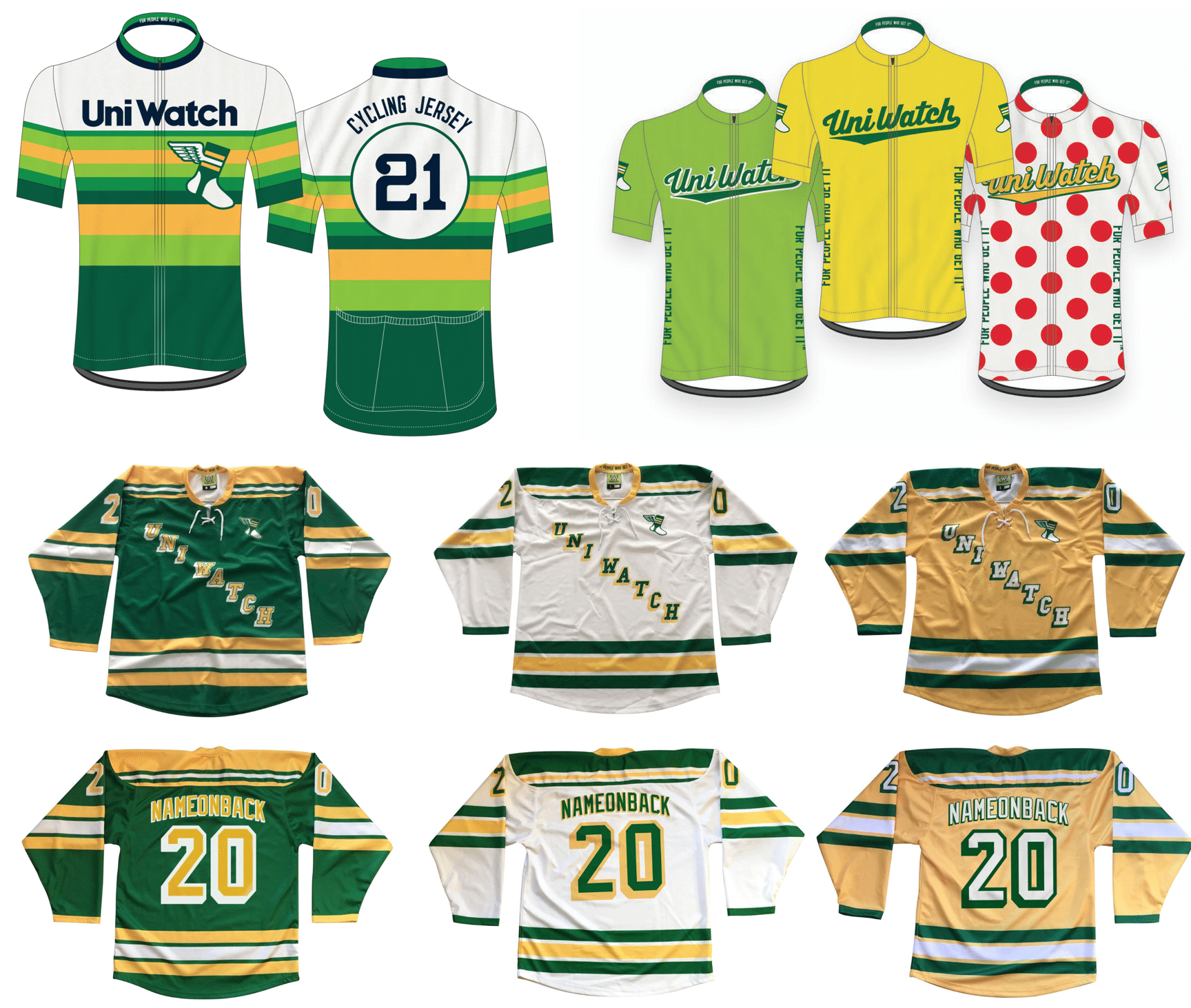 Click to enlarge
Merch reminders: We're once again taking pre-orders for another round of Uni Watch hockey jerseys, tequila sunrise cycling jerseys, and Tour de Uni cycling jersey — all available with your choice of number and NOB.
You'll need to get your order in by Dec. 11, and they should arrive by mid-January. (Sorry, too late for Christmas delivery — mea culpa on that.) Full details here.
And as long as we're talking merchandise, keep the following points in mind:
• The Uni Watch Classic Cap, which normally costs $39.99, is now only $35.99 — a 10% break. All fitted sizes are currently in stock, along with the adjustable strapbacks.
• I've also reduced the price of Uni Watch trading cards. Full details here.
• Today is the last day to get in on Teespring's free shipping deal for all orders of $50 or more. You can combine items Uni Watch, Uni Rock, and Naming Wrongs shops (or any other Teespring items) to hit that $50 threshold. Use the checkout code FREEOVER50 to get in on the deal, which is good from now through the end of today.
My thanks, as always, for your consideration.
• • • • •
• • • • •
The Ticker
By Lloyd Alaban

Baseball News: A shop in Kansas City is selling Royals jerseys with Kansas City Chiefs QB Patrick Mahomes's NOB on them (from Cameron Schneider).


Pro Football News: Throwbacks this week for the Bills (from Isaiah Livers). … Football Night in America used a nonstandard Saints helmet in one of its graphics on Sunday (from KC Kless). … Cross-listed from the baseball section: A shop in Kansas City is selling KC Royals jerseys with Chiefs QB Patrick Mahomes's NOB on them (from Cameron Schneider). … Reader Michael Hoster stumbled on his childhood collection of early-1990s gumball helmets, displayed on a customized shelf made by his father.

College Football News: Ohio State is going mono-white this week at Illinois (from @BlockOCanada). … Iowa State is also going mono-white this week (from Chad Lehman). … Reader Nate Mueller has 3D-printed a BCS National Championship trophy Christmas tree ornament.

Hockey News: The Athletic has a retrospective on the Ducks' uniform history (from Kary Klismet). … A wrestling team in New London, Conn., is using an interesting variation of the old Whalers' logo (from Charles, who didn't give his last name).

NBA News: F Obi Toppin will wear No. 1 with the Knicks. The Knicks botched Toppin's announcement twice: He is from the University of Dayton, not "Dayton University" and the font size in the announcement doesn't match the game-size font on other Knicks jerseys (from Eric Farrell). … SF Kelly Oubre Jr. will wear No. 12 with the Warriors (from Etienne Catalan). … Also from Etienne: C Marc Gasol will wear No. 14 with the Lakers, F Aleksej Pokuševski will wear No. 17 with the Thunder, PF/C Ed Davis will wear No. 17 with the Timberwolves, and SG/SF Dwayne Bacon will wear No. 8 with the Magic. For the latest on NBA number updates, be sure to follow Etienne's Twitter feed. … This Bleacher Report graphic erroneously shows Hawks PG Rajon Rondo wearing No. 9. Rondo will actually wear No. 7, as No. 9 has been retired by the Hawks for PF/C Bob Pettit (from Elijah Newsome). … A Houston-area hair salon is poaching the logo of the Rockets' former home, The Summit (from Dave Holz).

College Hoops News: UNC is adding a social justice message to the back of its jerseys (from James Gilbert). … New blue uniforms for Duquesne. Old version on left, new on right. … New uniforms for Coastal Carolina University (from Luke Rohan). … New uniforms for UIC (from Jake Epstein). … New uniforms for Fresno State (from Kary Klismet). … Also from Kary: Liberty University has opened its new basketball and volleyball arena. … New uniforms for Quinnipiac (from Jacob Resnik). … New unis for Army women's (from Justin Rocke). … Virginia Tech will be going GFGS for today's season opener against Radford (from Andrew Cosentino).

Soccer News: Greek side Panathinaikos has unveiled renderings of its planned new stadium (from Kary Klismet). Also from Kary: The Flint City Bucks have unveiled their championship rings for winning the 2019 USL League Two title. … New mono-black kits for Indonesian side Persija Jakarta (from Trevor Williams). … Sampdoria G Emil Audero was originally supposed to wear the field players' third kit, which was black. He ended up changing twice before and during the game so at the end he was wearing a mono-green goalie kit (from our own Jamie Rathjen).

Grab Bag: T.C. Williams High School, which gained national attention after being portrayed in the 2000 film Remember the Titans, is getting a new name after the school board voted to remove the name of segregationist T.C. Williams (from Tom Turner). … A mechanical engineering professor has calculated exactly how fast the eagle in the USPS logo is going (from James Gilbert). … Here's a compendium of particularly absurd marketingspeak terms (NYT link) that have been floating around lately.
• • • • •
• • • • •
• • • • •
Uni Watch will still be open and publishing tomorrow and every day through the Thanksgiving weekend. Stay safe, stay well, and I'll be back with some holiday thoughts tomorrow. — Paul