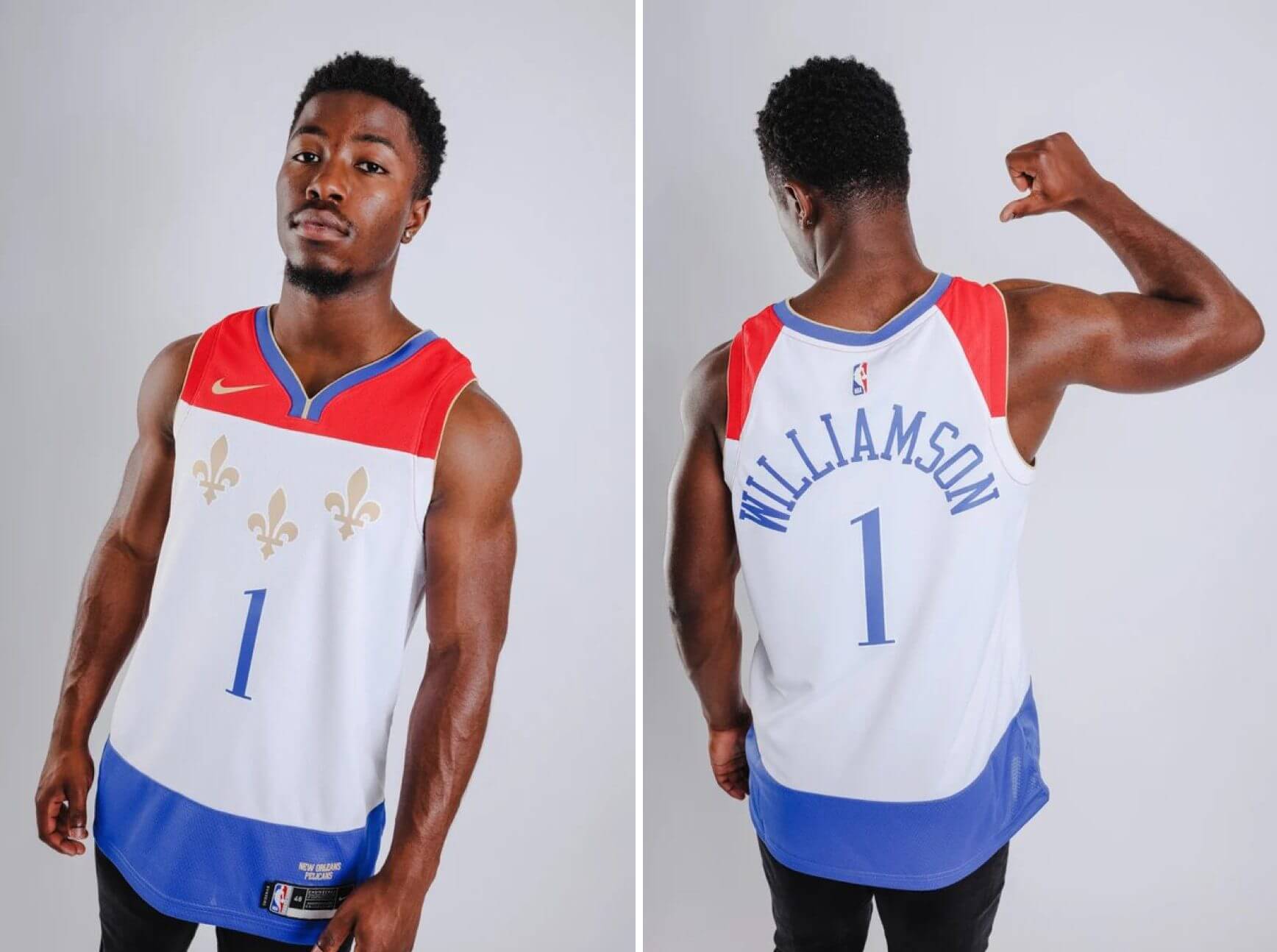 Click to enlarge
Another day, another pair of purported NBA "City" alternate jersey leaks. Yesterday we had leaks for the Mavs and Nets (both of which were quickly confirmed as legitimate). Today we have the Pelicans and Trail Blazers.
The Pelicans leak, shown above, comes from an Australian retail site. At first I wasn't sure what the design was based on, but then I thought, "Hmmm, could that be the New Orleans city flag?" Sure enough, it is! Not a great jersey, obviously, but an interesting design concept.
Also interesting: There's really no need for the blue section at the bottom of the jersey, since that will be tucked in. The shorts will presumably be blue, so that will complete the flag effect. The bottom of the jersey could have remained white, but they made it blue for retail customers who'll wear the jersey untucked. Another case of the merch tail wagging the on-court dog.
As for the Blazers, here's their leaked design, which began circulating after Twitter-er @officialnbabuzz posted it last night: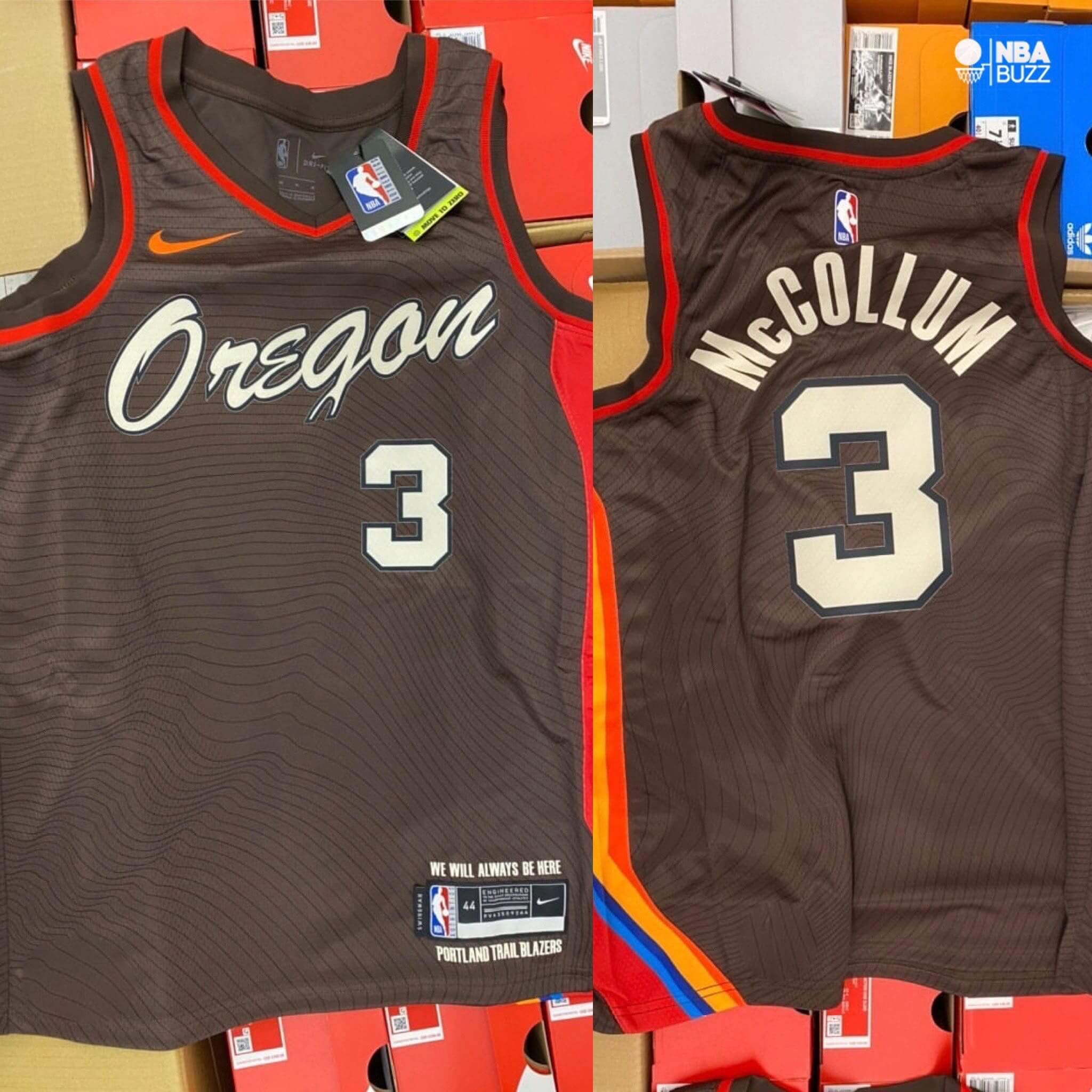 This one I recognized right away. The chest script is based on the magnificent White Stag neon sign in downtown Portland. Not sure about the multi-colored striping down the side, but I'm sure we'll be hearing about that soon enough.
Obligatory reminder: These leaks are not yet confirmed as legitimate. But I suspect they won't retain that status for long.
Update: Apparently this purported Suns leak is also circulating: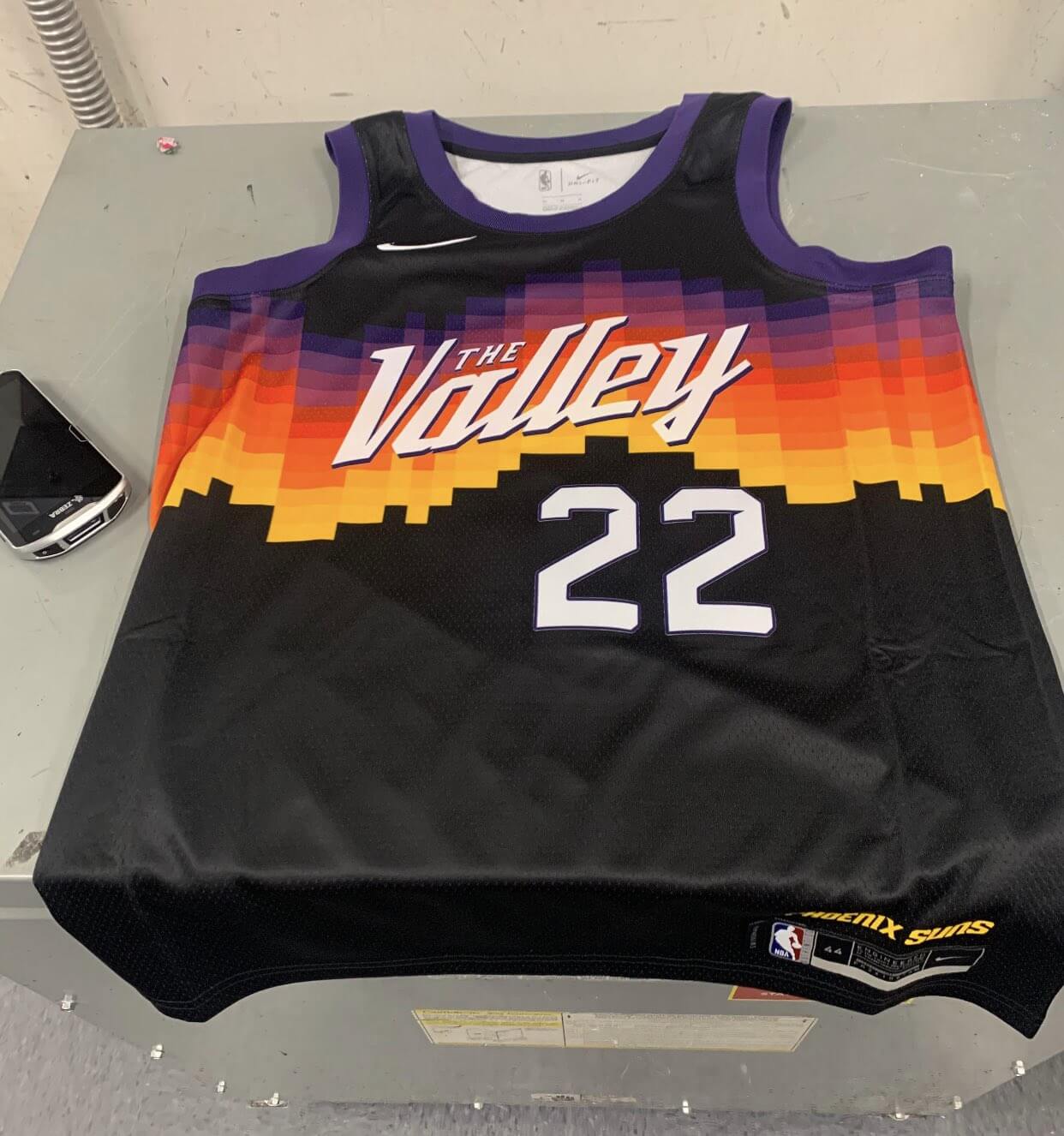 • • • • •
• • • • •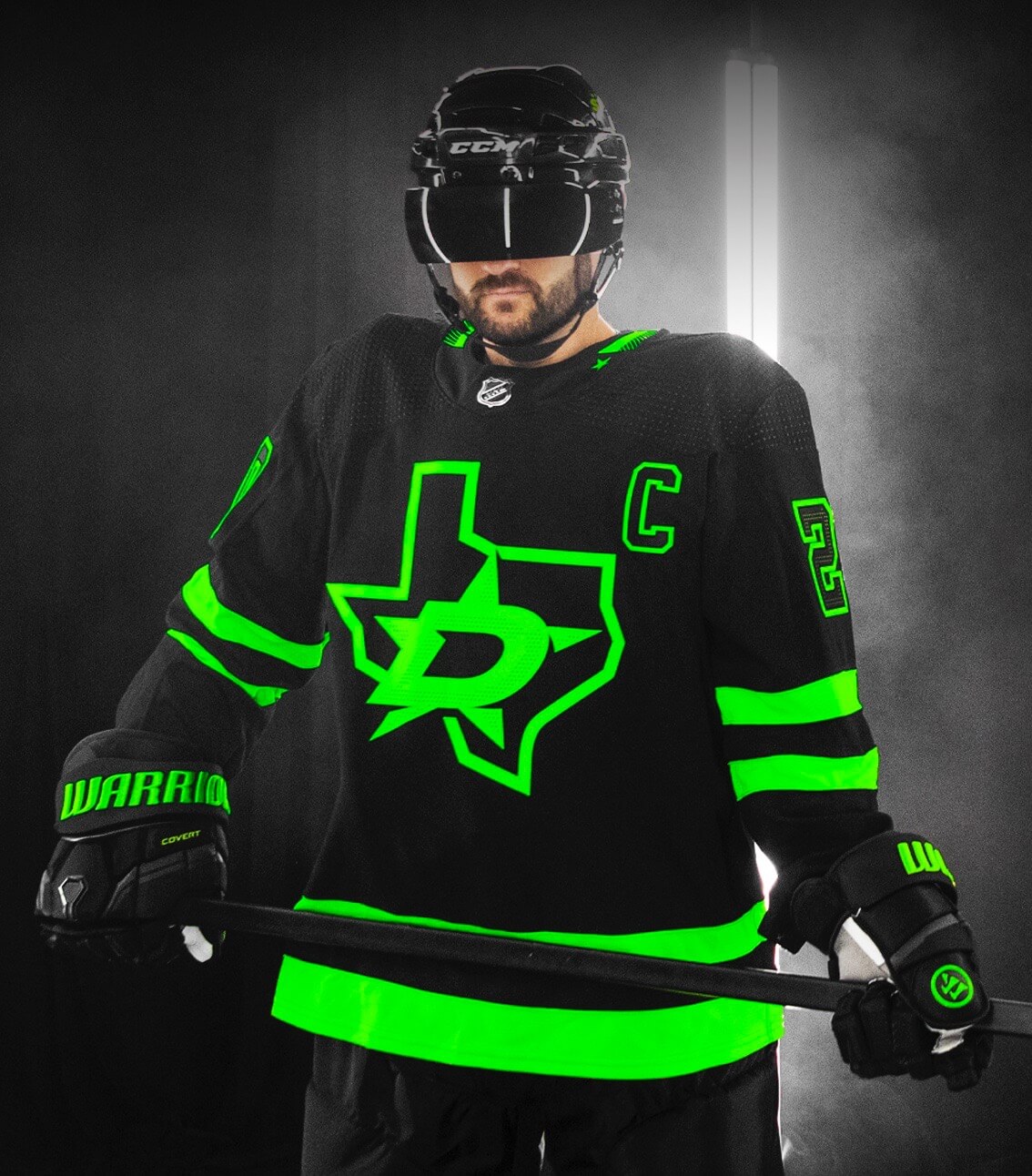 Click to enlarge
2020 keeps getting better and better: The Stars, who had teased a new black alternate uniform over the previous two days, went ahead and unveiled the uni yesterday. They're referring to it as the "Back in Black" design (a reference to the team's history of wearing black jerseys from 1993 through 2013), but the operative color, as you can see above, is not black — it's a neon/highlighter shade of green. And as you can also see, they gave their uniform model a black visor to enhance the cyborg/Tron effect. Ooooh, edgy.
So let's get the easy, obvious stuff out of the way first: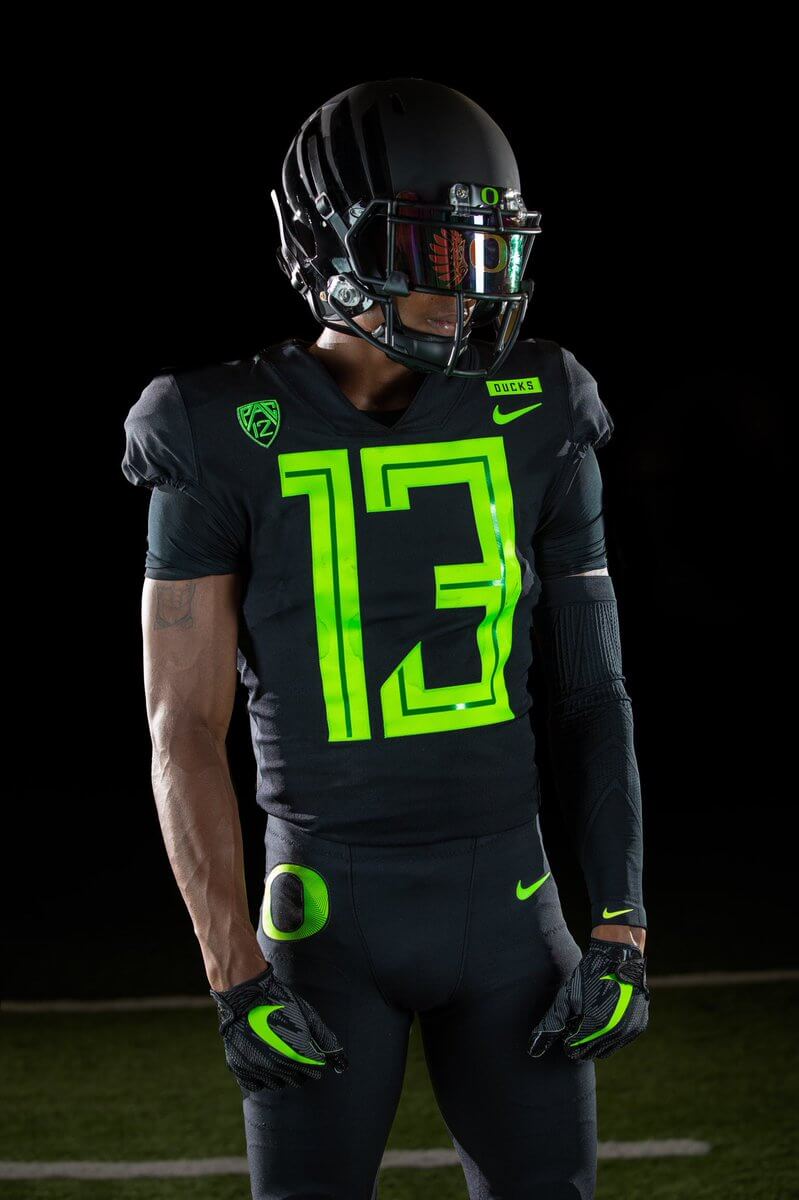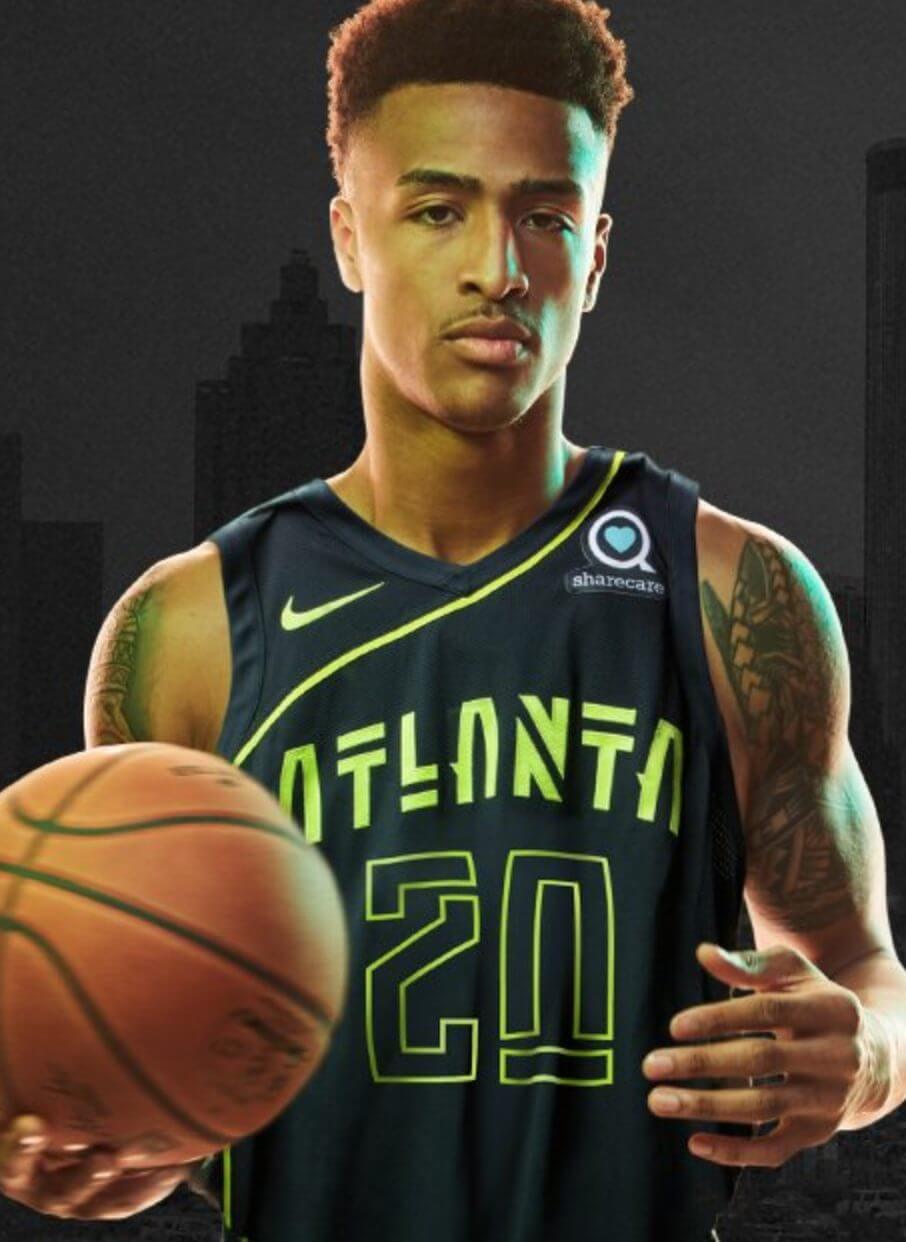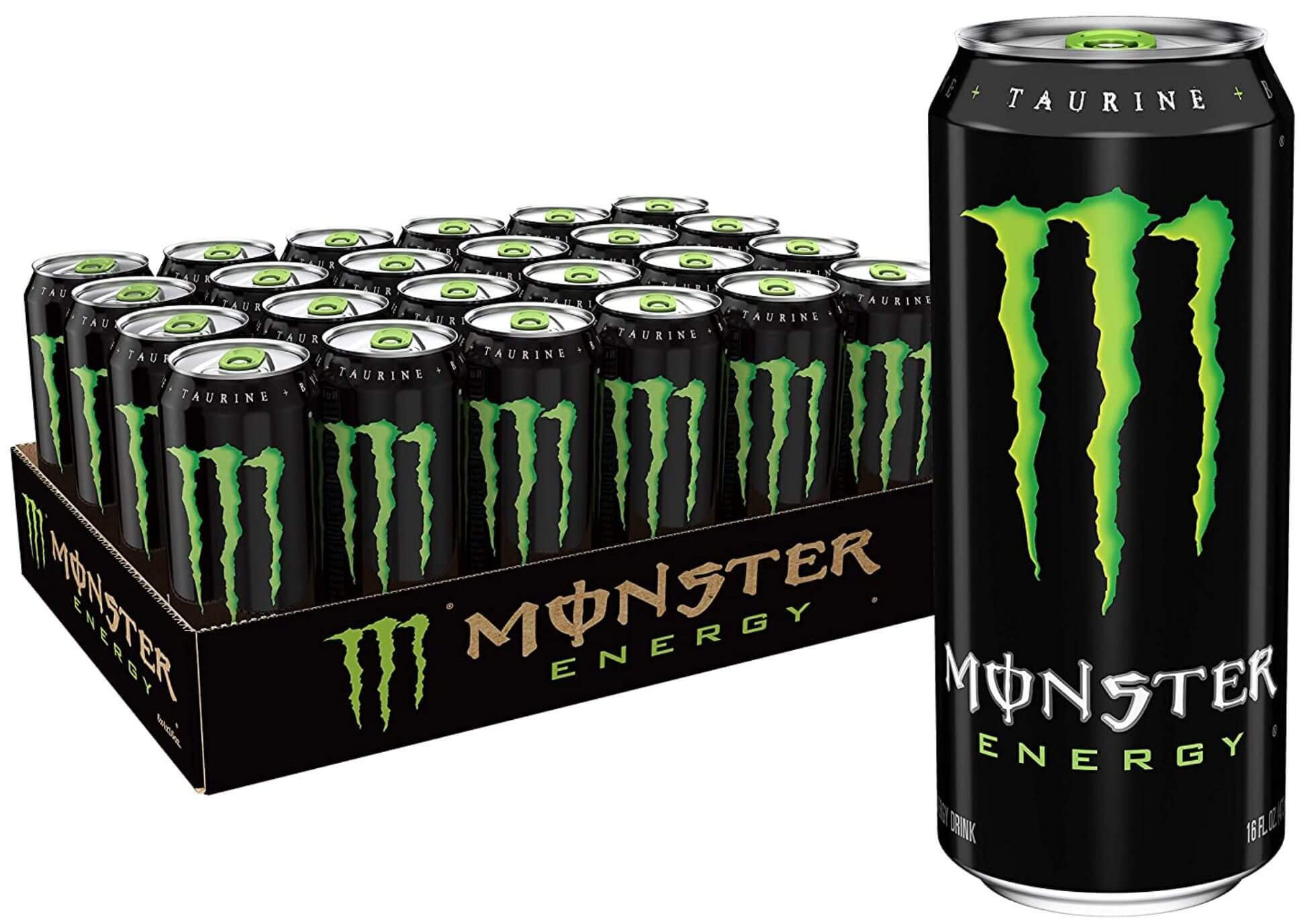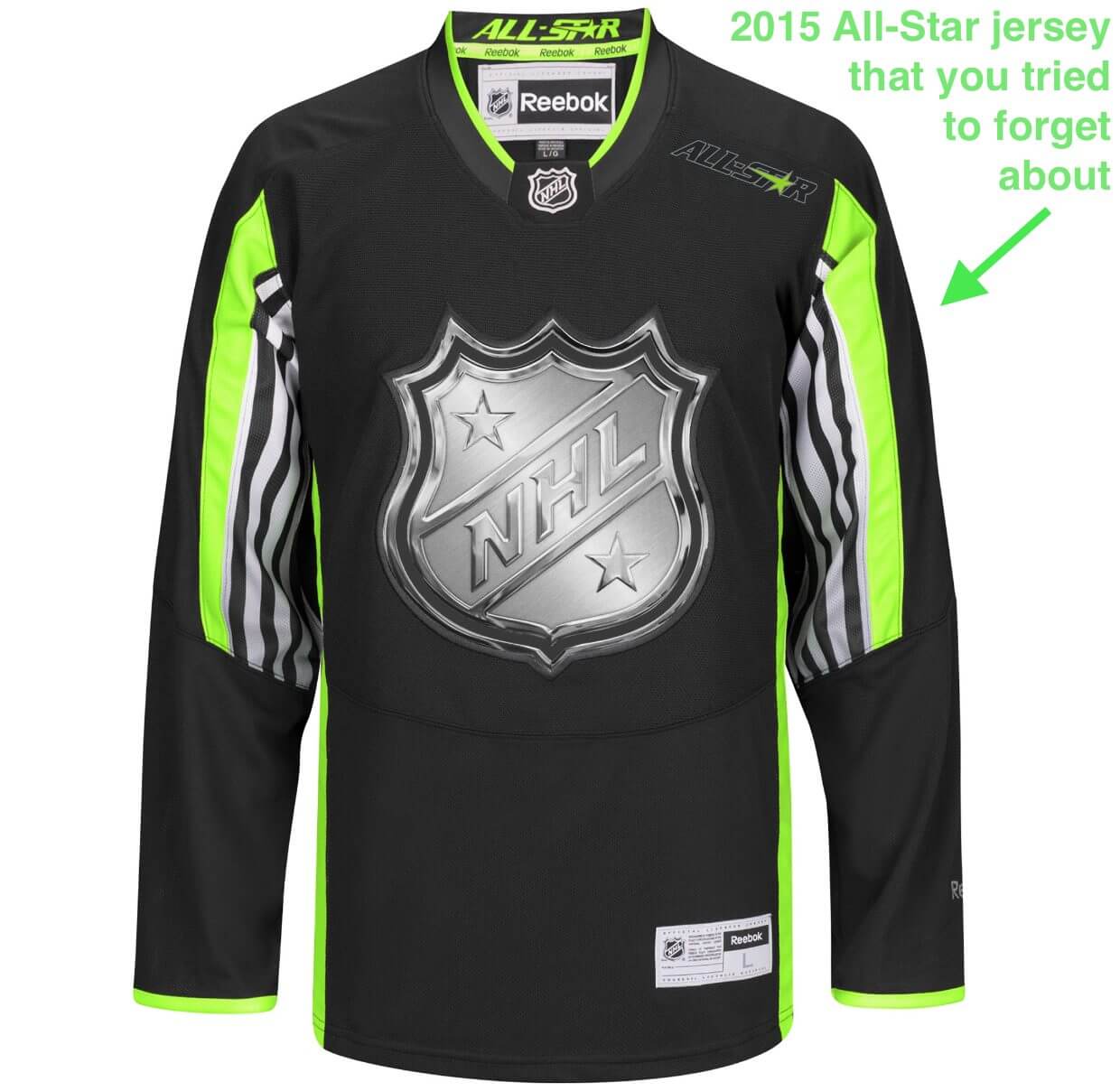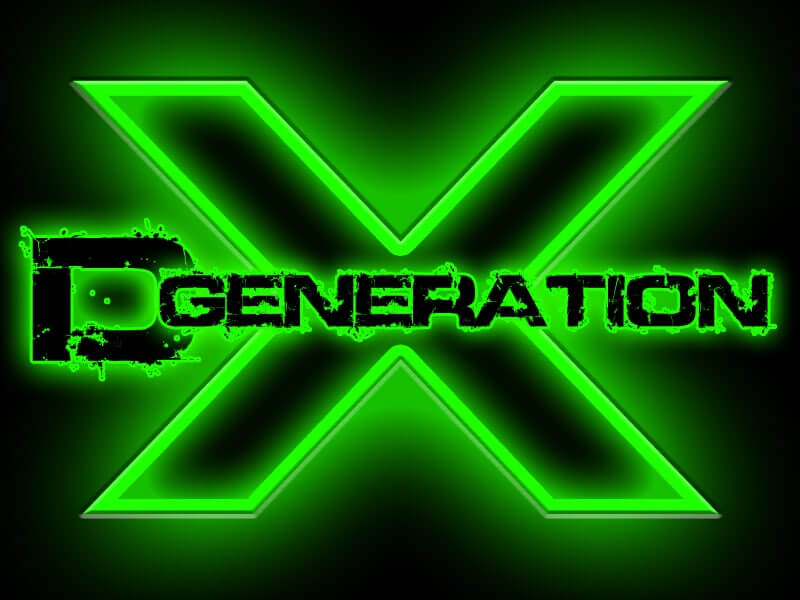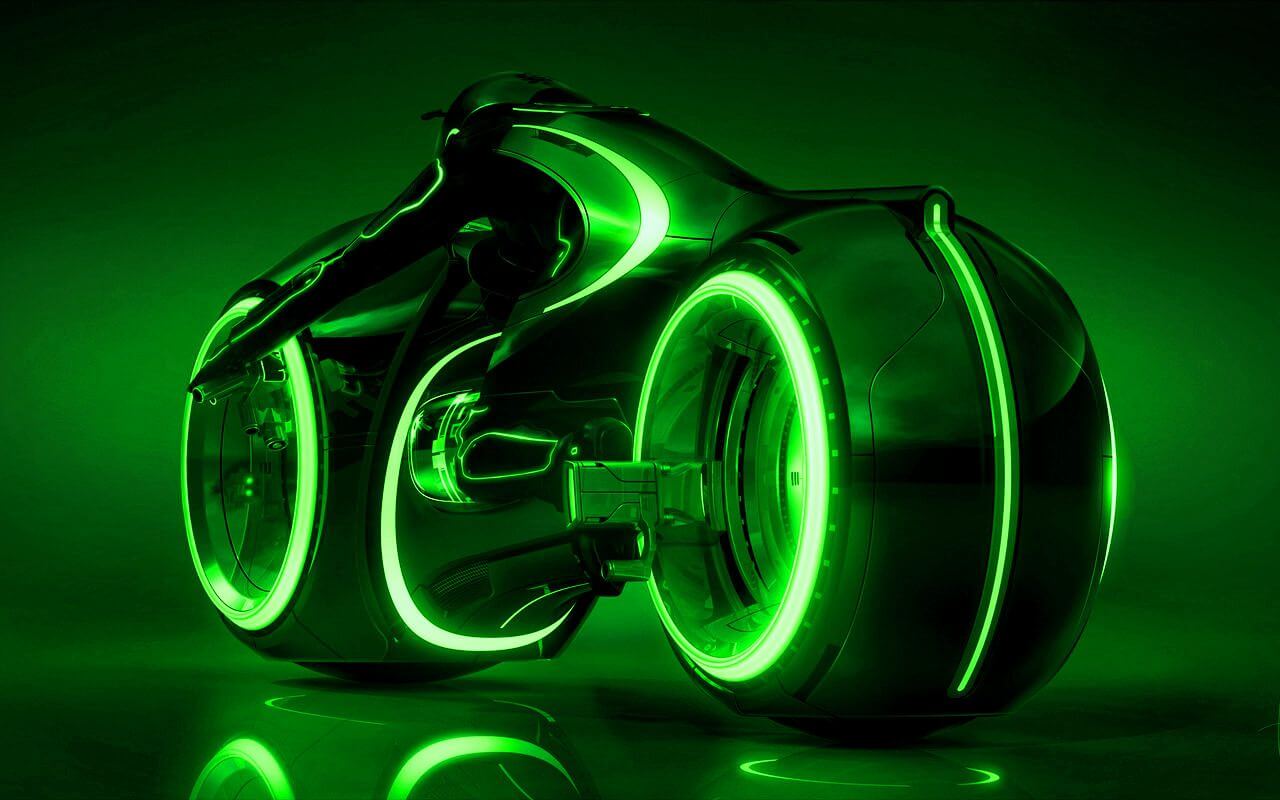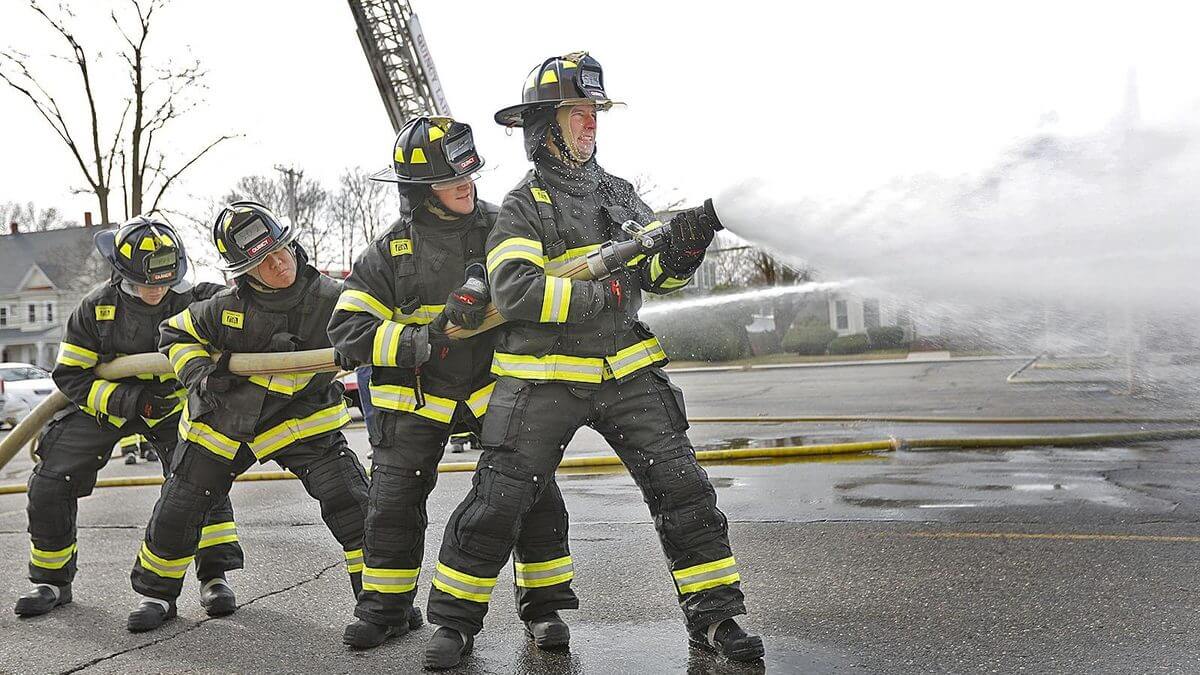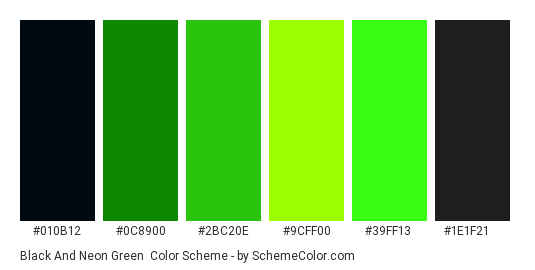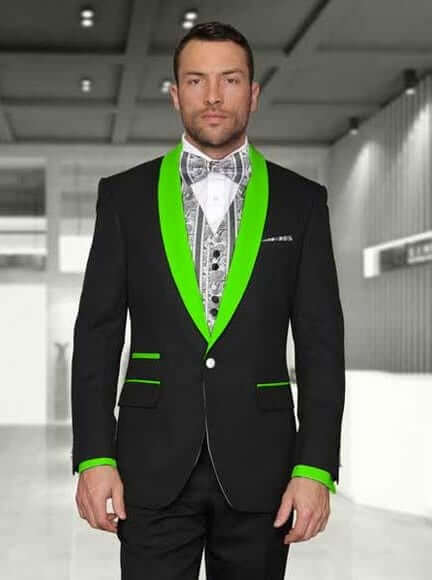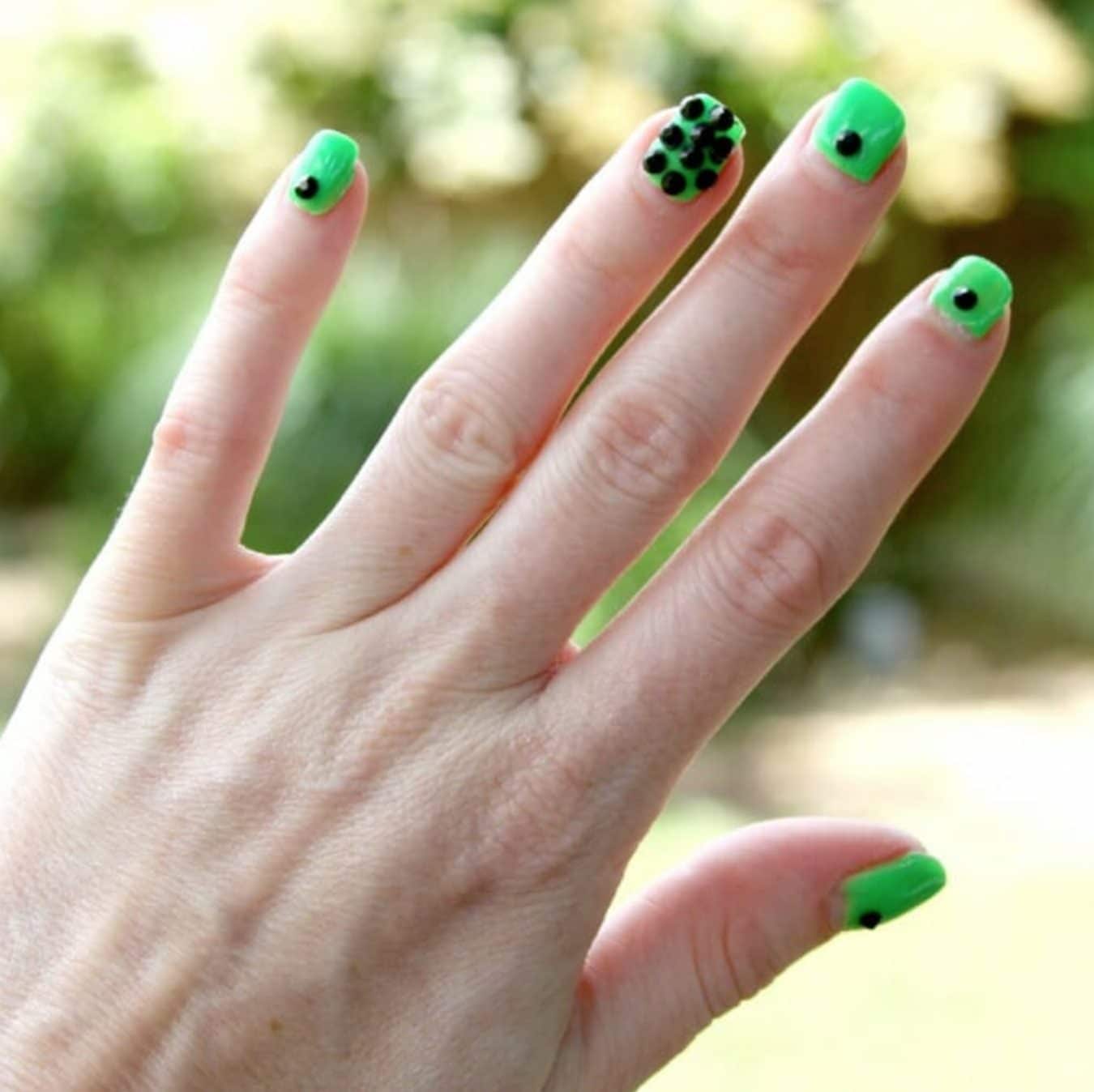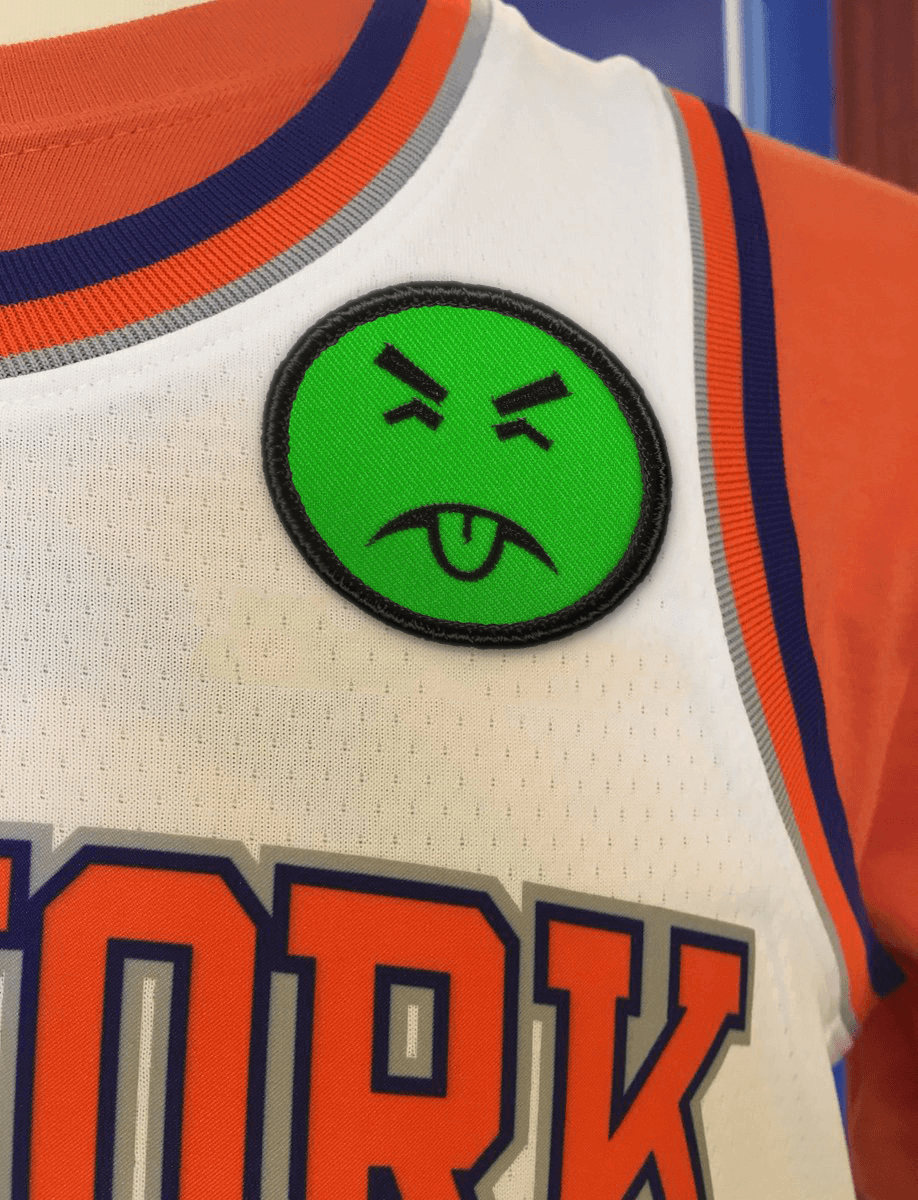 Okay, now that that's out of the way, let's go over a few of the design details (additional info here):
• To their credit, the team has provided a full-length shot of the entire uniform instead of just selling the jersey: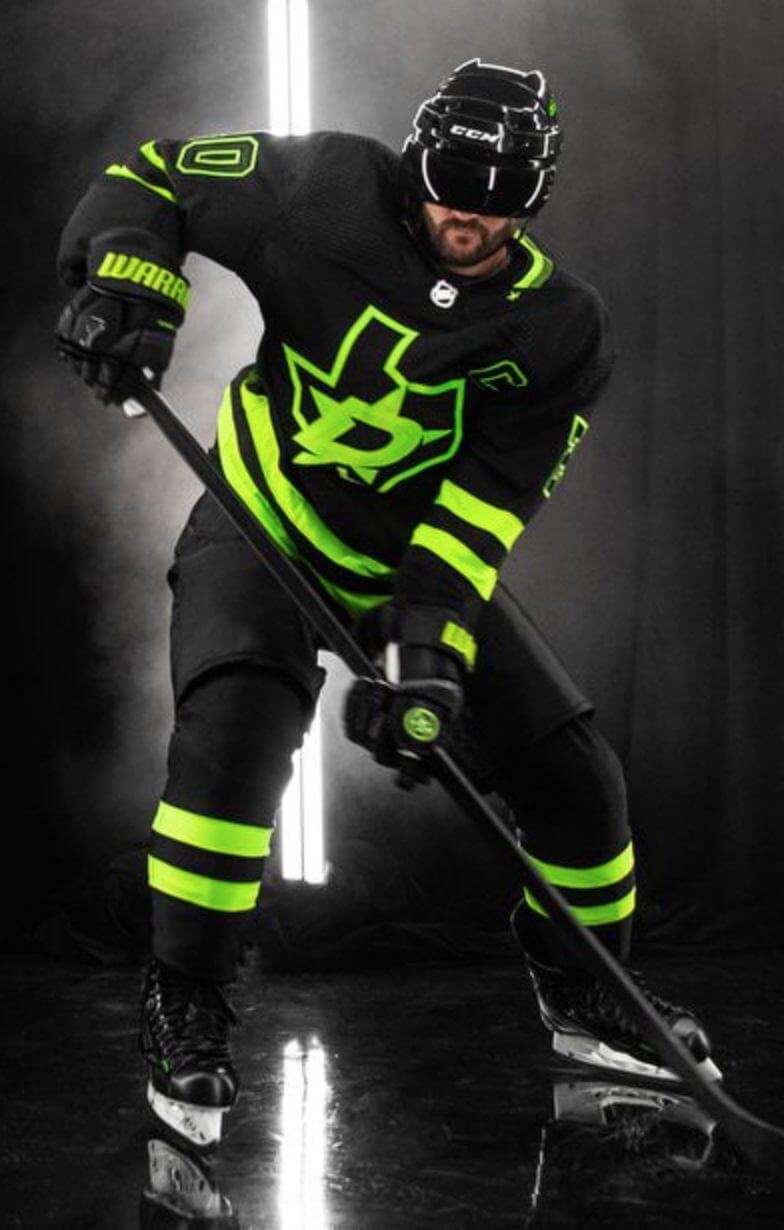 • The collar includes a single star because, you know, Texas: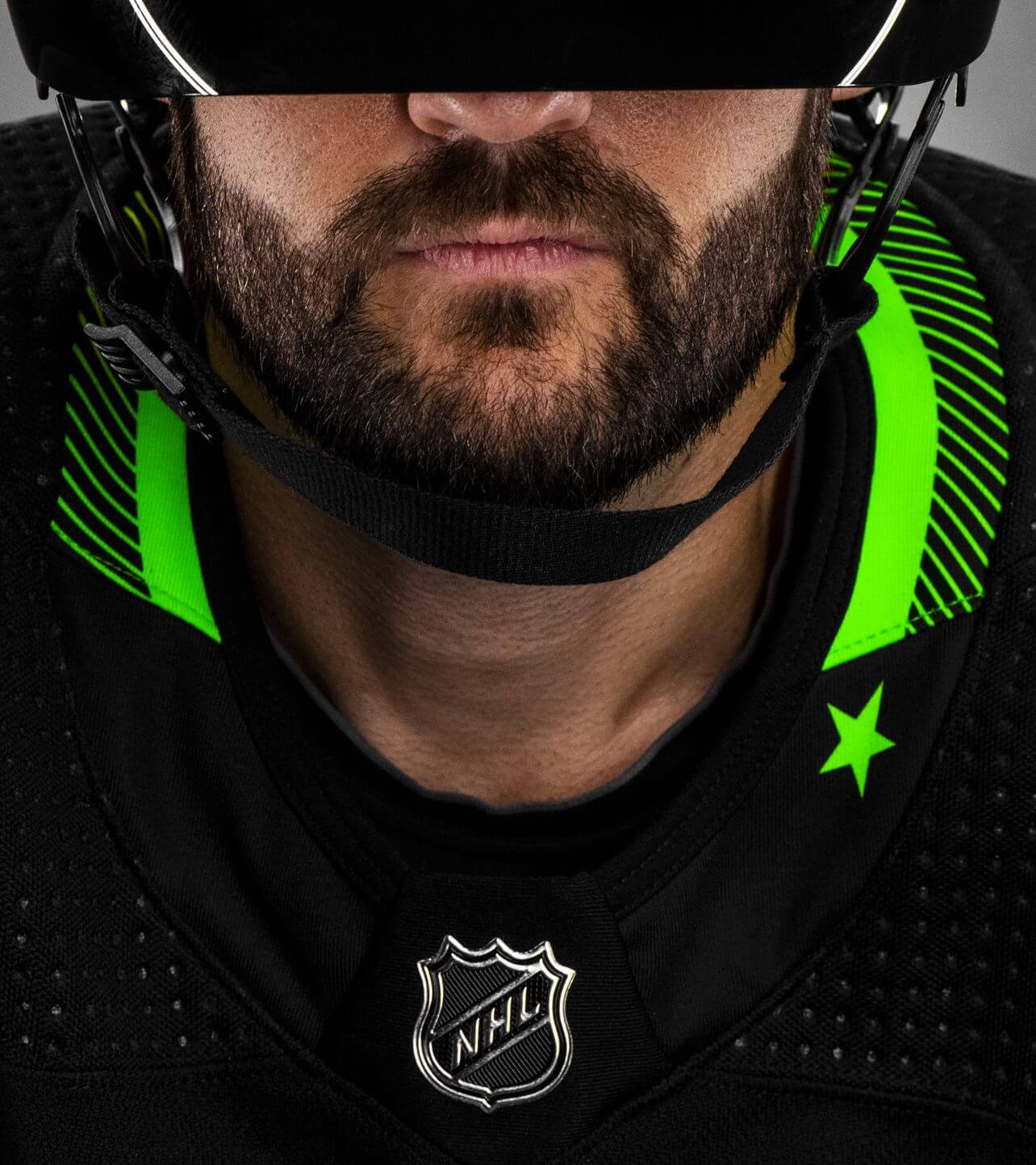 • The numbers have an LED-ish effect that creates a bevel-ish effect: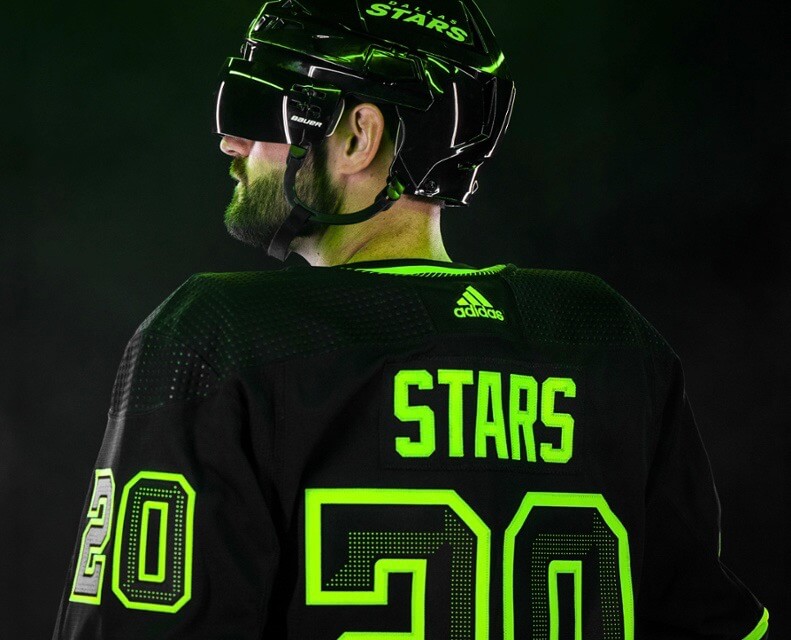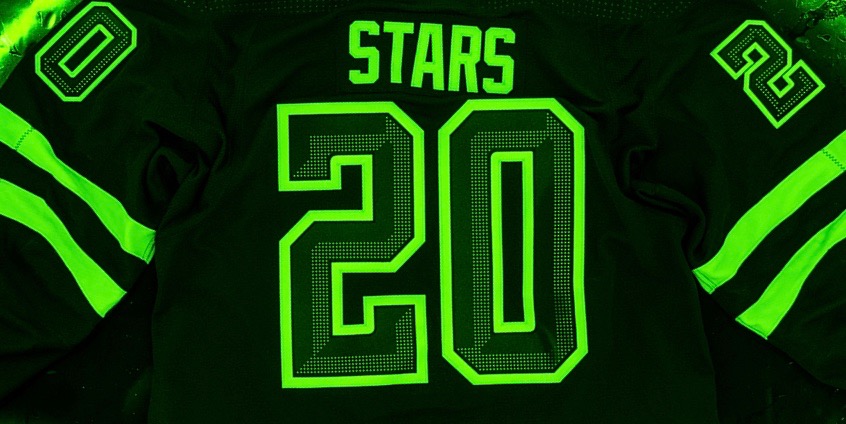 • You may be thinking, "The highlighter color probably doesn't look as bad under normal lighting, instead of that silly black-light treatment they used in the promo photos." Think again: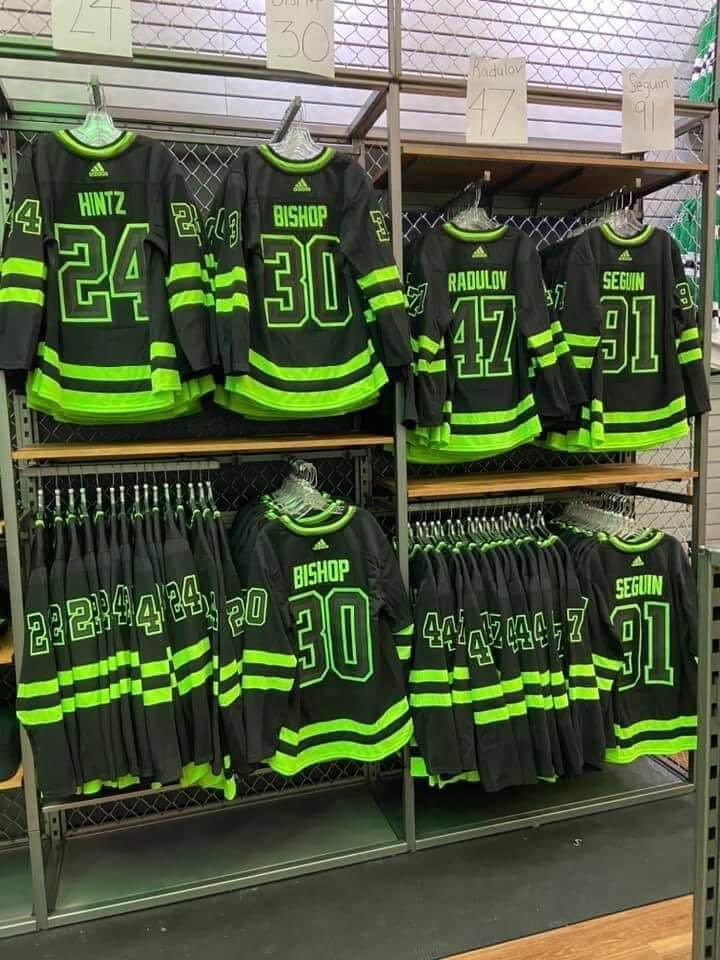 • Speaking of the highlighter color, the press release has this to say about it:
[The jerseys] also feature the introduction of a bold new color in Skyline Green. Inspired by one of the most iconic skylines in the world, Skyline Green is synonymous with the city of Dallas.
It's been nearly 20 years since I was last in Dallas. So when I read that passage in the press release, I couldn't recall exactly what the Dallas skyline looked like, or how it might be synonymous with a neon/highlighter shade of green. Then I thought to myself, "Hey, don't the Dallas Mavericks have a skyline jersey?" But when I looked at that jersey, there was no sign of neon/highlighter green. I figured I must be missing something, so I looked up a photo of the Dallas skyline, and suddenly it all made sense (click to enlarge):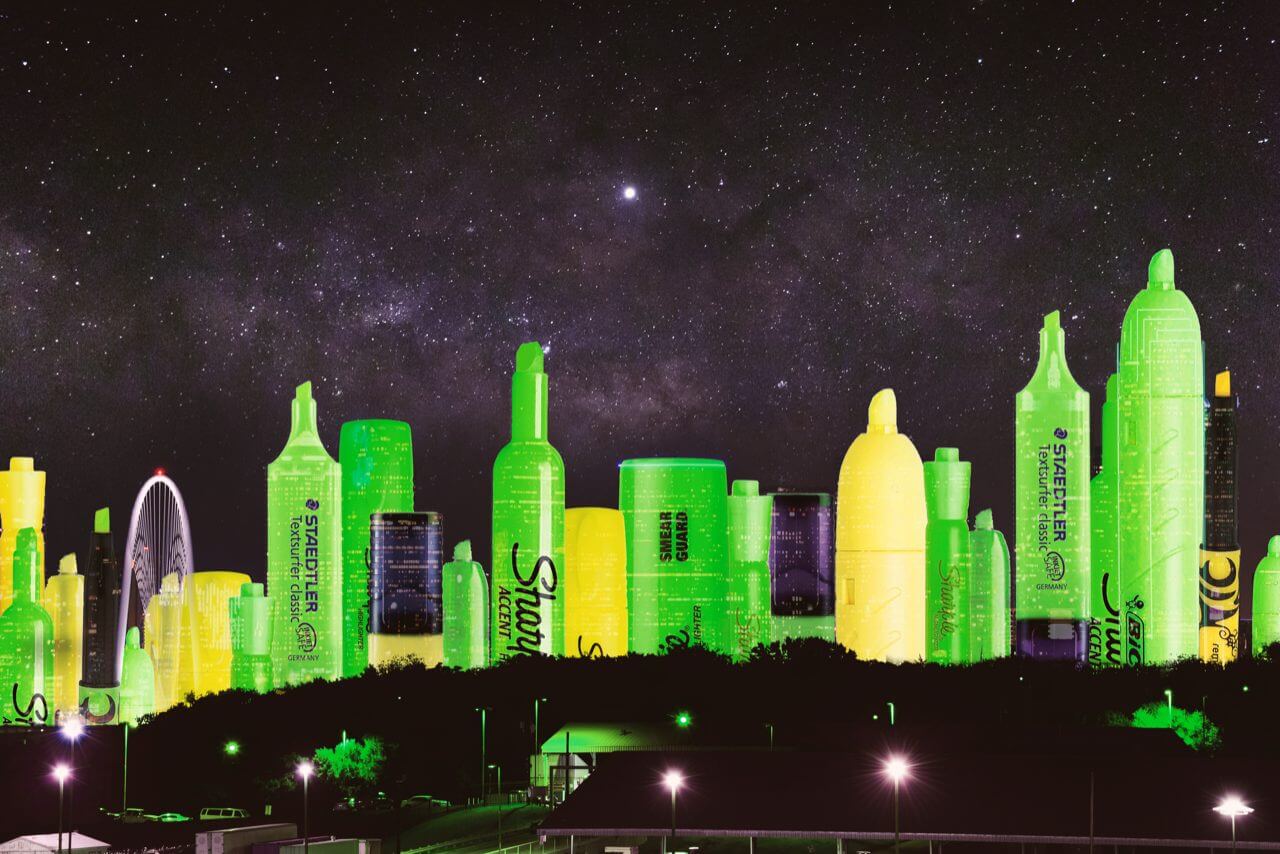 ———
The reality, of course, is that the Dallas skyline includes the Bank of America Plaza, which is lit up at night with green LED tubing. According to Wikipedia (and many other sources), the green lighting has led many Dallas residents refer to the building as The Pickle. I'm sure it was a tough call about whether the uniform color should be called Skyline Green or Pickle Green. Good thing they didn't choose Pickle — you wouldn't want to do anything silly or else people might not take your new uni design seriously.
(Neon-accented thanks to Nic Schultz for his highlighter-skyline Photoshoppery, and to R. Scott Rogers and Jeremy Bearimy for their contributions.)
• • • • •
• • • • •
Click to enlarge
ITEM! Uni Watch T-shirts get new life: Remember the Uni Watch T-Shirt Club from 2015? I got a note the other day from reader Joel Ford, as follows:
I ordered all of the 2015 shirts — even the extras for April, May, and July — and received the "collect 'em all" patch (which is currently is attached to my bulletin board in my office at school). Some of the shirts I wore religiously, while others I did not wear as much, due to either user ordering error or picking up a few pounds over the years.

Rather than discarding the shirts, which I couldn't bear to do, I decided to send them away and have them repurposed as a blanket. I ordered it as a belated birthday present from my family. Today, after about three weeks of waiting, I received my blanket in the mail. You cannot see every panel in the photo, but the bottom corners have Jackie Robinson panels from the April shirts.

I picked green for the blanket backing. Though I personally like many other colors more than green, it seemed like the only choice for this blanket.
How great is that? Have fun sleeping under the Uni Watch covers this winter, Joel (and happy belated birthday!).
• • • • •
• • • • •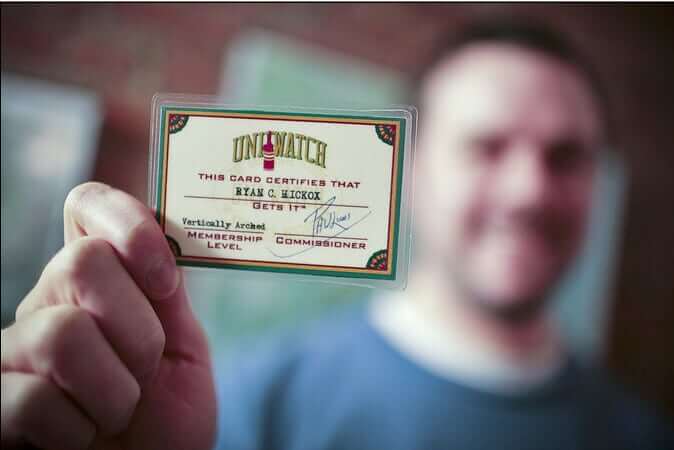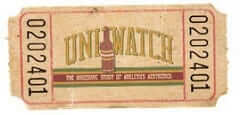 ITEM! Another membership raffle: The winner of yesterday's membership raffle was Matt Cann, who immediately paid it forward by purchasing another membership for me to raffle off, so that's what we're going to do today.
This will be a one-day raffle. No entry restrictions. To enter, send an email to the raffle address by 8pm Eastern tonight. I'll announce the winner tomorrow. Big thanks to Matt for sponsoring this one, and to Randy Spivey for sponsoring the one that Matt won.
• • • • •
• • • • •
The Ticker
By Paul

'Skins Watch: A local nonprofit is petitioning the Portland Winterhawks — that's a junior hockey team that uses Blackhawks-style branding — to change their logo. … Not sports-related, but an Illinois candy manufacturer is changing its Native-themed logo.

Working Class Wannabes™: New York Giants coach Joe Judge, who deserves a gold-plated hard hat for all the times he's appeared in this section, recently said Giants/Eagles games when he was growing up "were always tough games, blue-collar type games." … In what may be our first Aussie rules football item in this section, a coach says player Daniel Rioli's game "is based on the ability to work hard and up and down the ground. I think Daniel is a little bit more blue-collar if you want to call it that." No, actually, I don't want to call it that. … An article about 1991 Cal QB Mike Pawliski says, "He was the blue-collar signal-caller." … A high school football coach in Texas, talking about his school's upcoming rivalry game, said, "It's just a matchup of two blue-collar teams and they work extremely hard. Both teams may not have the best athletes in the area but they have some of the hardest-working kids in the area. It's just that kind of game where you roll up your sleeves and go to work." Bingo! … Pro soccer player Ali Krieger says that playing college soccer at Penn State gave her "this blue collar mentality that you can't replicate anywhere else" and "that experience of rolling my sleeves up and really getting after things." … A high school soccer coach in Michigan says, "[W]e're becoming a blue-collar, work-hard team." … An editorial about the new coach of an Australian pro basketball team says the coach "has made his name on playing a tough, physical brand of basketball. A brand of basketball the people of the Illawarra will welcome. Blue-collar basketball." … The very first sentence of an article about a high school girls' soccer team in Utah refers to to the team's "blue-collar, underrated defense." … An article looking back at a Massachusetts high school's 1988 basketball team quotes one of the players recalling, "We were a blue collar, hard working kind of a basketball team." … The first sentence of an article about a high school football team in Indiana refers to its "black- and blue-collar football program." … NC State football coach Dave Doeren says, "I know what our culture is. It's blue collar. I've said it many times, I came to NC State because I felt like I fit in. It's a bunch of people that work hard and like to have a good time together — very intelligent people, but very hard-working people. The blue collar, hands in your dirt program, that's what we're all about here." … An article about former Indianapolis Colts RB Edgerrin James says he knew he "didn't fit into some people's preconceived notions of what a blue-collar football player looked like." … An article about last Saturday's Notre Dame/Pitt football game says, "Pittsburgh's a tough town. A blue-collar, roll-up-your-sleeves and go to work, then relax with a couple Iron City Lights or Rolling Rocks town. The Irish were fully prepared to win a game with a blue-collar, go-to-work effort. Win a barroom brawl kind of contest." Bingo! … A high school hockey coach in Pennsylvania says, "We're a blue-collar team. We're going to have to work hard and work together as a whole unit." … A high school baseball coach in Virginia described another school's coach as a "blue collar coach." … An article about the Duke basketball team says that "it's exceedingly rare for [AAU] players to be championed in the world of star ratings for blue collar contributions such as tough defense, rebounding, and similar." … An obituary for David Braley — a man wealthy enough to have owned three different CFL teams during his life — says he "had a blue-collar feel." By way of example, the obit says Braley would bring a pitchfork along with him to training camp to show that "it's time to get to work." Sounds like a real man of the people.

NFL News: Two new Ravens made their debuts at yesterday's practice. WR Dez Bryant wore No. 11 and LB Yannick Ngakoue wore No. 91 (thanks to all who shared). … Speaking of the Ravens, someone decided to rank their uniforms. … Washington team prexy Jason Wright posted an interesting piece about the situation surrounding the team's name (from Roger Phillips). … If this season's Super Bowl takes place in Tampa as scheduled, the stadium will be limited to 20% capacity and masks will be required.

College Football News: BYU is going white-white-white with pink trim for Halloween. … Red-white-white for Iowa State (from Chad Lehman). … Looks like Arkansas is teasing a BFBS alternate for Halloween. … New uniforms for Central Michigan. "Numbers are no longer slanted, now have serifs, and are much wider and taller than in 2019, and looks like there are white outlines on the collar and sleeves, too," says @AVKingJames).

Hockey News: New centennial logo for Michigan Tech (from proud alum David Raglin). … New jerseys for the ECHL's Allen Americans (from Alex Jones). … New uniforms for the John Carroll University club team (from Chris Ostrander).

NBA News: A moving company in the Charlotte area is called Hornet Moving and uses Hornets colors. … Gross: The name of the Mavs' practice facility will now be an ad for some beverage with an embarrassing name that doesn't even make sense (from Timmy Donahue).

College Hoops News: All teams in the Big East will wear a "BLM" jersey patch this season. The patch design is based on the conference logo (from @Starkman55). … The name of Texas Tech's arena will continue to be an ad for a supermarket chain at least through 2035 (from Timmy Donahue).

Soccer News: Gross: The EFL Trophy — a knockout cup for third- and fourth-tier English teams, as well as some Premier League Academies — will now be named after a "pizza" chain (from Germán Cabrejo). … Interesting story about how Leicester City G Kirstie Levell wears No. 28 in memory of her brother (thanks, Jamie). … Also from Jamie: New shirts for Ireland's men's and women's national teams, which have switched from New Balance to Umbro. … New shirt advertiser for Everton's women's team (from Ed Zelaski).

Grab Bag: Fort Sill in Oklahoma is the first Army training base to use the new Army greens uniform. … Auto maker Kia will have a new logo next year. … Officials in Reading, Pa., are inviting residents to enter a contest to design a logo for the city. … Google's new logos are good. No, wait, they're bad. … A police officer in Reykjavík, Iceland, is under scrutiny for wearing symbols associated with hate groups on her uniform vest (from Timmy Donahue). … Great 1974 shot of rock star Elton John and tennis great Billie Jean King wearing jackets from World Team Tennis's Philadelphia Freedoms (from Matthew Algeo). … "The final 17 minutes of Tuesday's episode of the podcast Hot Takedown was a deep-dive into championship patch design for most of the U.S. pro sports leagues," says Michael Rich. "Probably not much that Uni Watch readers don't already know, but it was a good overview and there were a few good tidbits. For example, not sure if this has been covered on the blog, but apparently every time the World Series patch features the AL/NL flags, the Red Sox win the World Series." … New logo for the National Lacrosse League's 2021 season-opening weekend (from Michael Hochman). … Tommy Baldwin Racing's entry in the NASCAR Cup Series will feature a salute to fallen police officers (from Chris Hickey). … Also from Chris: "The No. 88 Hendrick Motorsports entry will be renumbered as the No. 5 for next season, with Kyle Larson behind the wheel." … New 25th-anniversary logo for the restaurant chain Tijuana Flats (from John Cerone). … After this year's Boston Marathon was cancelled, next year's has already been pushed back to at least the fall. … Gross: The University of Louisville is discussing a new residence hall and may sell the naming rights to the various floors. Fortunately, there's still a chance that an asteroid could plow into Earth before that happens (from @DJinLou). … The city of Ontario, Ore., has a new logo.
• • • • •
• • • • •
• • • • •
I didn't have time to write a proper obit, but R.I.P., Billy Joe. — Paul