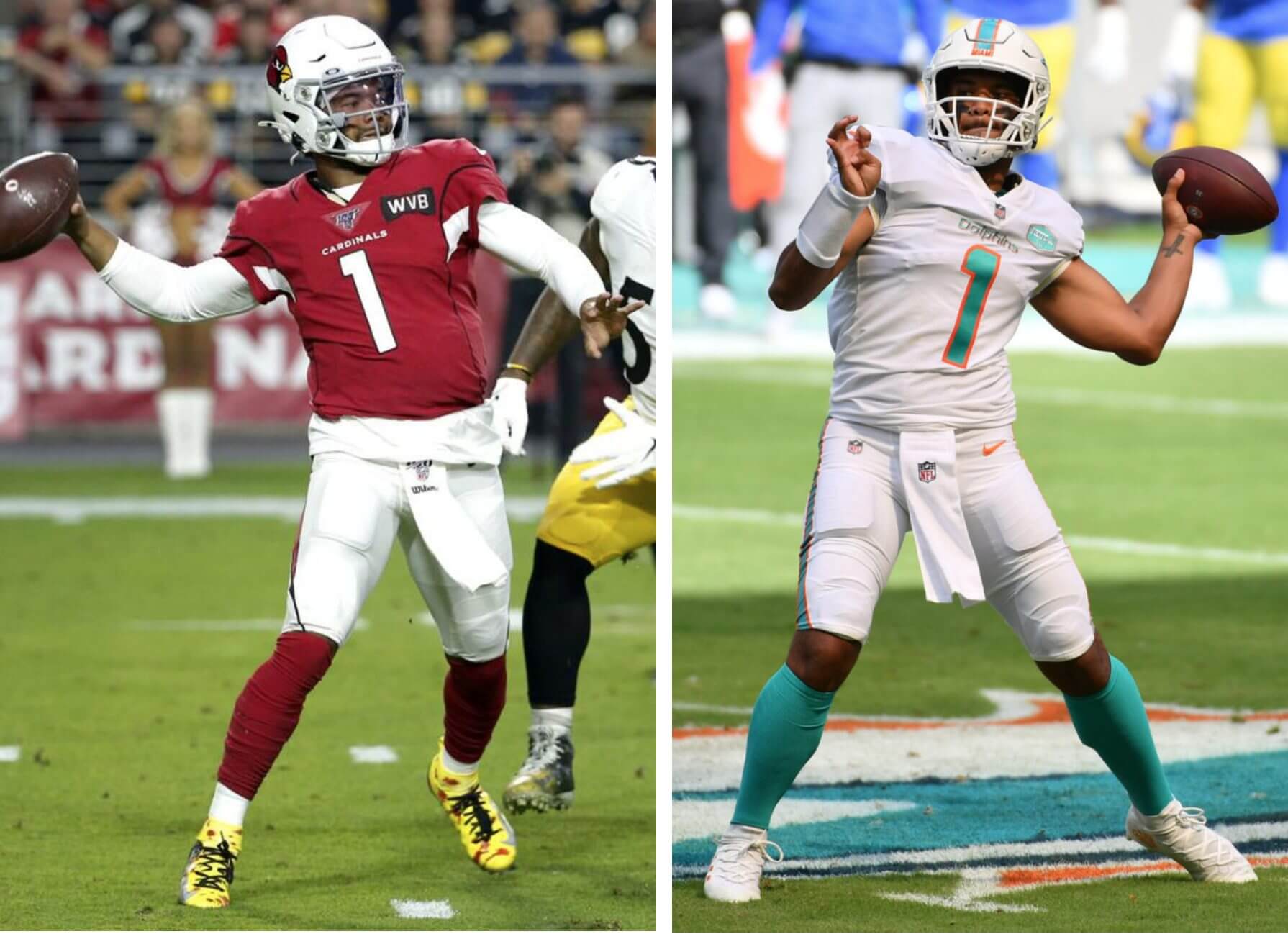 Click to enlarge
It's rare enough to have a uni-related occurrence that's never happened before, like a World Series game with each team using a single-digitized pitcher. But we appear to have something even rarer coming up this Sunday: a first-of-its-kind uniform occurrence that we know about in advance.
That's the situation on tap for this Sunday's Cardinals/Dolphins game, as both projected starting quarterbacks — Arizona's Kyler Murray and Miami's Tua Tagovailoa — wear No. 1. At first I figured that was fairly unusual but not unprecedented. After a bit of research, though, it appears to be an NFL first — a genuine uni-corn!
Let me anticipate some of your questions:
Wait a minute — the Cardinals played the Panthers last season, and Cam Newton was still with the Panthers then. So wouldn't Murray and Newton have started against each other?
They would have — if Newton hadn't been injured early in the season. He played only the first two weeks of the 2019 season, so he wasn't active when the Panthers played Murray's Cardinals in Week Three. So close!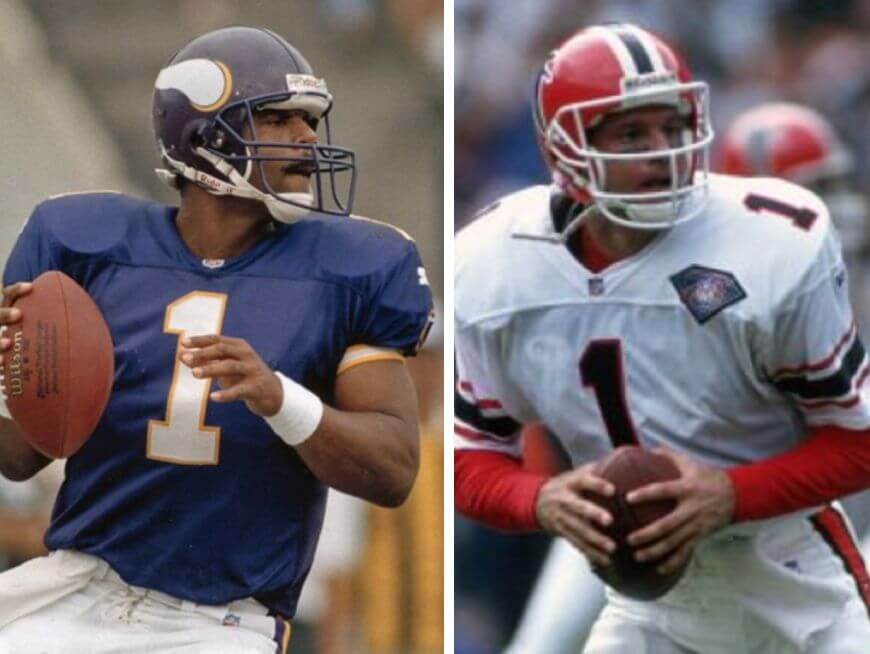 Wait a minute — Jeff George and Warren Moon both wore No. 1 and were in the league around the same time. They must have started against each other!
Nope. Here's the thing: Although you may associate George with No. 1 (as I do), he actually wore that number for only three of his 12 NFL seasons — 1994, '95, and '96, when he was with the Falcons. Moon was with the Vikings during those seasons, and the two teams did face each other during that period — a Week Two game in 1996. But Moon didn't play in that game for the Vikings — Brad Johnson did.
Wait a minute — I definitely remember a game from about 25 years ago where both teams had quarterbacks wearing No. 1.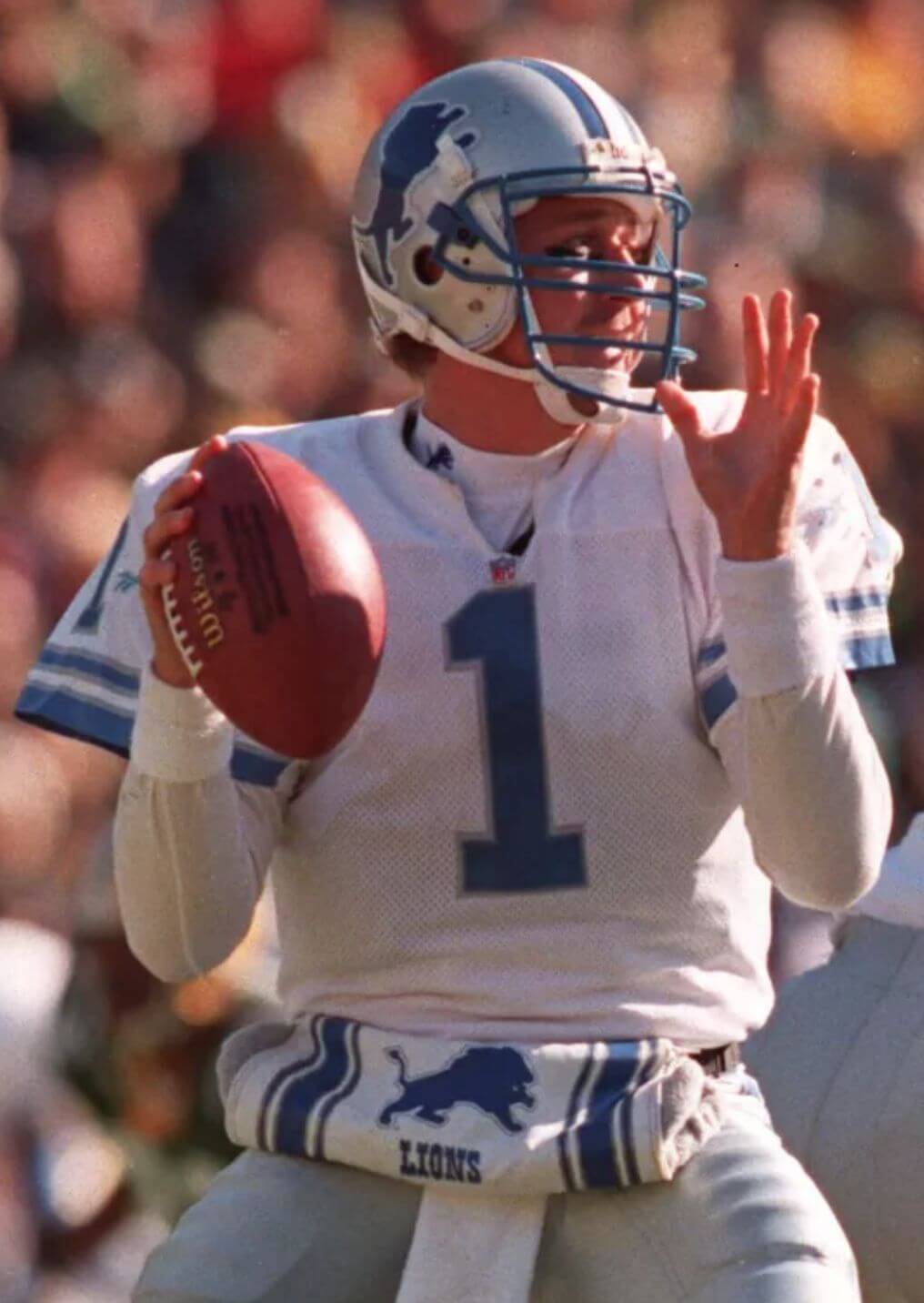 You may be thinking of this 1995 Vikings/Lions game. Moon started for Minnesota and Scott Mitchell (who wore No. 19 throughout his NFL career) started for Detroit. Late in the second quarter, Mitchell momentarily left the field and was replaced by Don Majkowski, who wore No. 1. He was in the game for one play and then Mitchell returned.
So for a brief moment of that game, the active quarterback for each team was wearing No. 1. For all I know, there may be other examples of similar situations involving backup quarterbacks. But the distinction we're talking about today — the thing that's never been done before but is on tap to take place this Sunday — is having both starting quarterbacks wear No. 1. So that Vikes/Lions game doesn't qualify.
(As an aside: The sight of Majkowski wearing No. 1 may be jarring for those who, like myself, primarily think of him wearing No. 7 for the Packers. But he wore No. 1 at UVa, so he already had a history with that number before wearing it for the Lions.)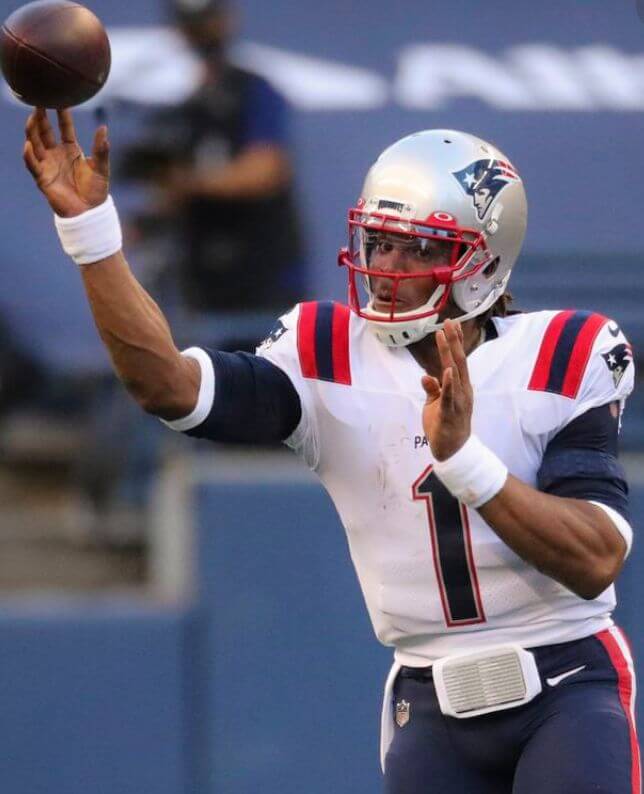 Wait a minute — you mentioned Cam Newton a minute ago. He plays for the Patriots now and still wears No. 1, and they played the Dolphins back in Week One of this season. So didn't the matchup of No. 1s happen then?
It would have — if Tagovailoa had been the Dolphins' starting quarterback at the time. But Ryan Fitzpatrick was Miami's starter until this past Sunday.
Wait a minute — the Dolphins and Pats are going to play again on Dec. 20, so we'll have Newton vs. Tagovailoa. Not only that, but the Pats are playing the Cardinals on Nov. 29 — Newton vs. Murray. Won't those games qualify?
Yes! After never having a matchup of No. 1-clad starting quarterbacks in its century-long history, the NFL may now have three such games in less than two months! But that's assuming that Tagovailoa, Murray, and Newton all stay healthy (and also that Newton doesn't get benched — no sure thing, given his recent play), so we can't count on those as sure things.
The one thing we probably can count on, barring any sort of midweek mishap, is that Murray and Tagovailoa will make NFL uni-numerical history this Sunday. I love it when stuff like that happens.
Is it possible that your research missed a previous instance of this happening?
Absolutely! Want to look into it yourself? Go for it — prove me wrong!
(Big thanks to my old college friend Michael Bressler for pointing out the Murray/Tagovailoa oddity to me and thus sending me down this very enjoyable rabbit hole.)
• • • • •
• • • • •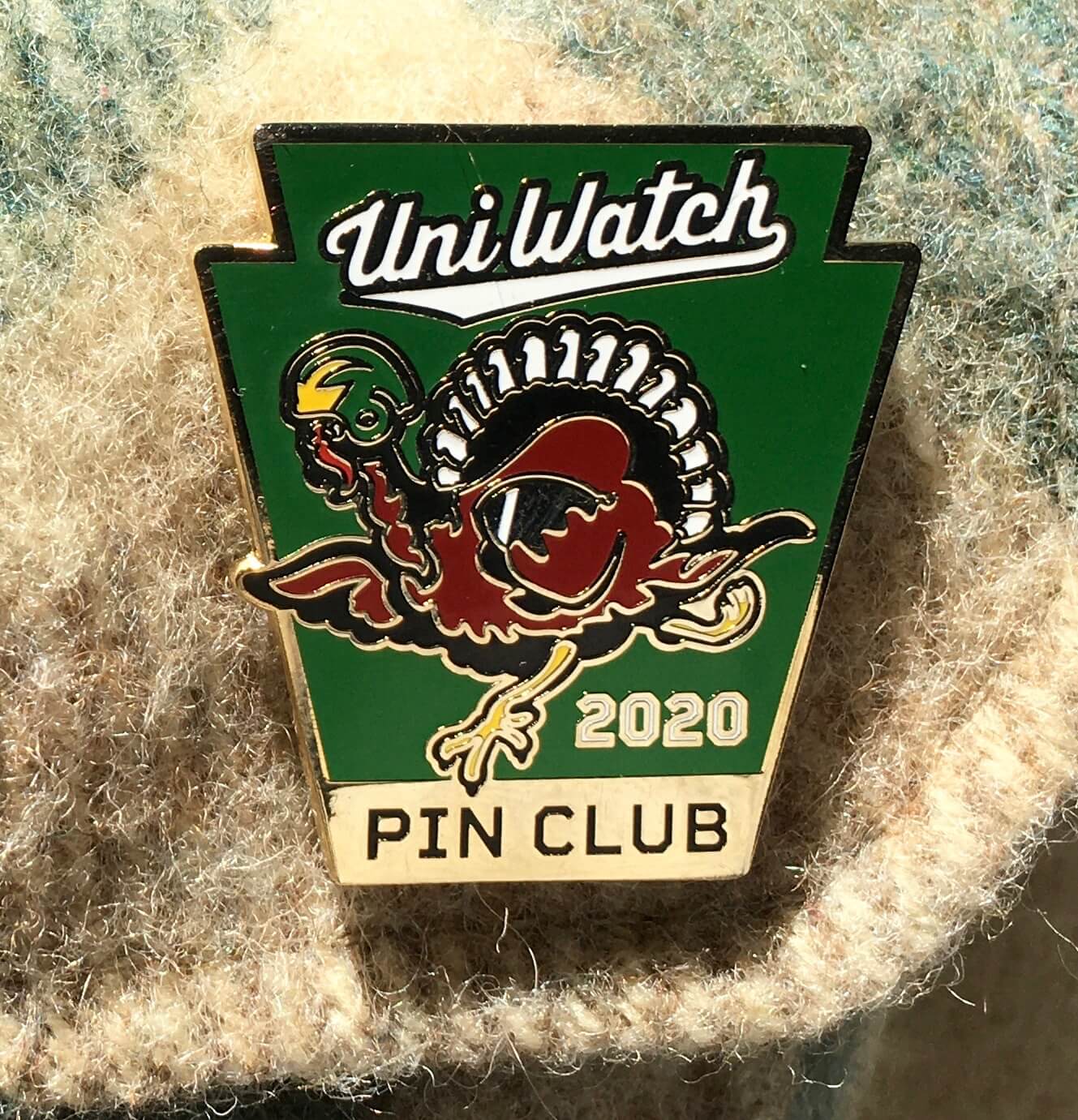 Pin Club reminder: In case you missed it on Monday, the Uni Watch Pin Club's design for November is now available. It's a limited/numbered edition of 200, and as of this morning there are only 60 left. You know what to do!
Need to get caught up? Here are the January, February, March, May, June, July, August, September, and October pins (sorry, April sold out!), along with our 2020 Press Pin and our basic winged stirrup pin.
• • • • •
• • • • •
The Ticker
By Lloyd Alaban

NFL News: Steelers WR JuJu Smith-Schuster and RB James Conner were fined $5,000 by the league for not wearing their hosiery properly (from multiple readers). … In a new anti-pandemic move, the NFL is expanding the bench area and requiring all players to wear face coverings after games (from Mike Chamernik).

College Football News: Throwbacks this week for Utah as they face Arizona (from Timmy Donahue). … The Clemson Uni Tracker has been updated. … Columbia released a uniform history celebrating the program's sesquicentennial this month (from Jace McKeighan). … New uniforms for the University of Sherbrooke (from Wade Heidt).

Hockey News: The Henderson Silver Knights, minor league affiliate of the Golden Knights, will unveil new uniforms on Monday (from Wade Heidt).


NBA News: The NBA is reportedly considering allowing teams to add a second jersey advertisement as a way to recover revenue lost during the pandemic. Gross.

College/High School Hoops News: New unis for Virginia men's (from our own Jamie Rathjen). … New GFGS jersey for Kansas (from @ForFreidom).

Soccer News: New kits for J League club Albirex Niigata (from Ed Zelaski).


Grab Bag: The BBC is getting called out for allowing its broadcasters to wear Remembrance Day poppies despite the network's supposedly strict rule against virtue signaling (from David Raglin). … The U.S. Air Force has tested G-force suits for female airmen (from Timmy Donahue). … Also from Timmy: New uniforms for Iberia Parish sheriff's deputies in Louisiana. … One more from Timmy: Troops can now wear fitness gear at military commissaries. … Voters in Mississippi overwhelmingly approved a new state flag design yesterday. … Nike announced plans to lay off 700 employees.
• • • • •
• • • • •
• • • • •
Our latest raffle winners are Travis Schroeder and Dan Rabinovitz, who've each won a copy of Chris Creamer and Todd Radom's new book, Fabric of the Game. (I was originally going to raffle off just one copy, but the publisher encouraged me to do two!). Congrats to them, and here's hoping everyone else buys a copy of the book. — Paul