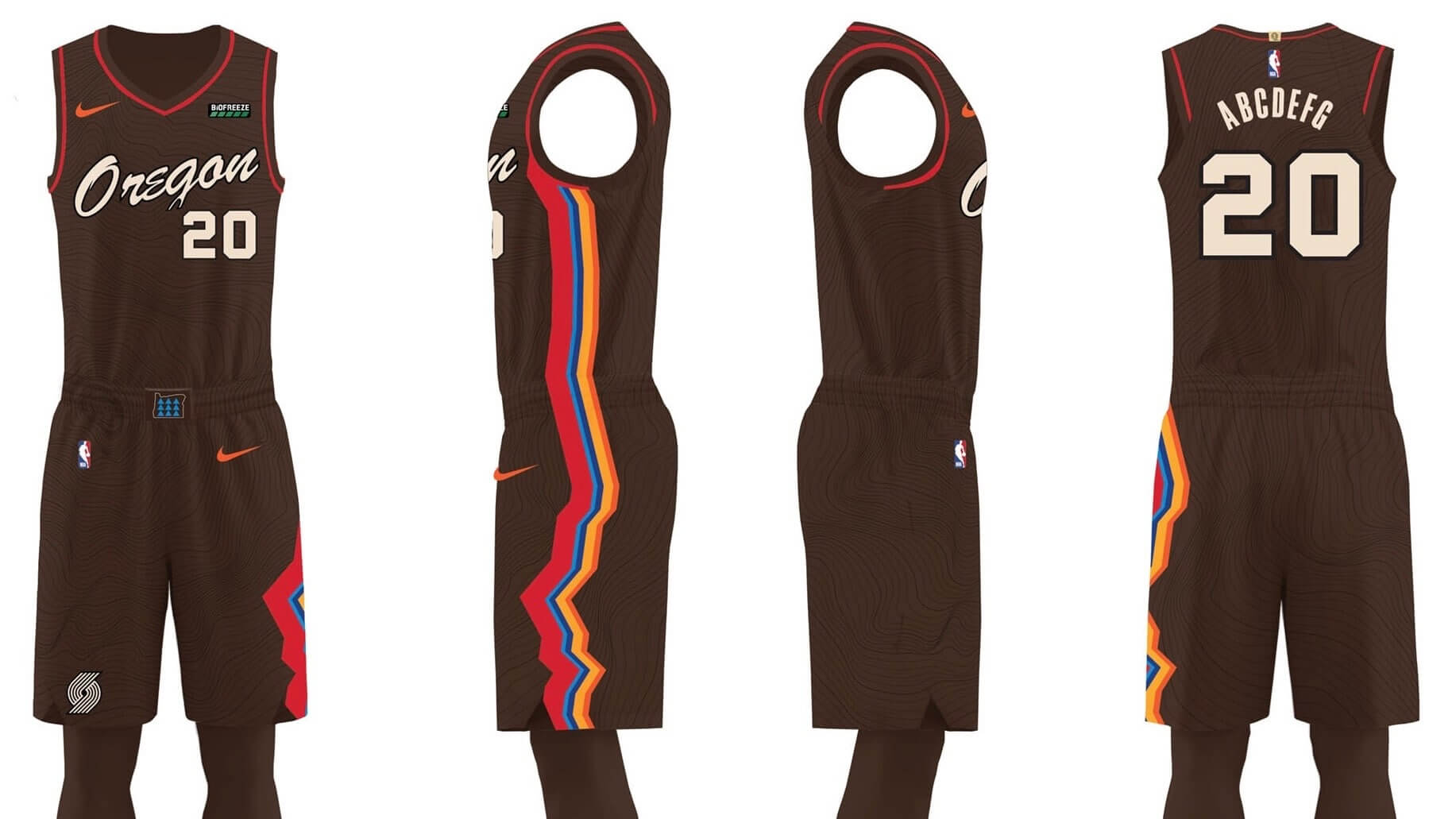 For all photos, click to enlarge
Well, that didn't take long. One day after the Trail Blazers' new City alternate apparently leaked, the team went ahead and officially revealed the new design. You can see various views of the full uniform (not just the jersey — thank you, Blazers!) above.
Some details and thoughts:
• The "Oregon" chest script, as I mentioned yesterday, is based on the White Stag neon sign in downtown Portland: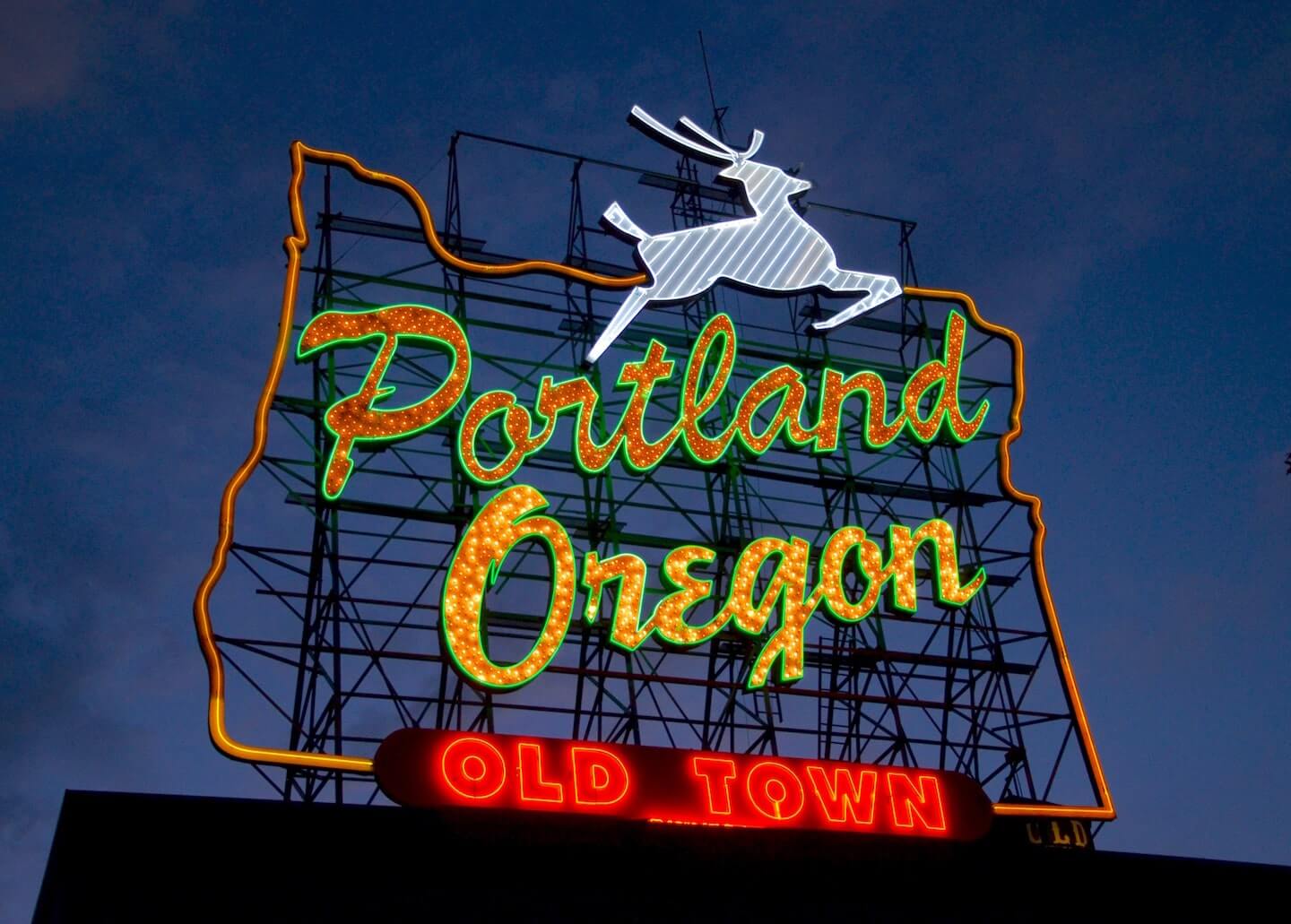 • The brown base tone supposedly represents the Oregon earth, or soil, or whatever. Symbolism notwithstanding, I can't think of a previous brown uniform in NBA history. Has there ever been one before?
• Speaking of: The brown fabric is ringed with black lines. I figured these were sublimated, but they appear to be individually stitched: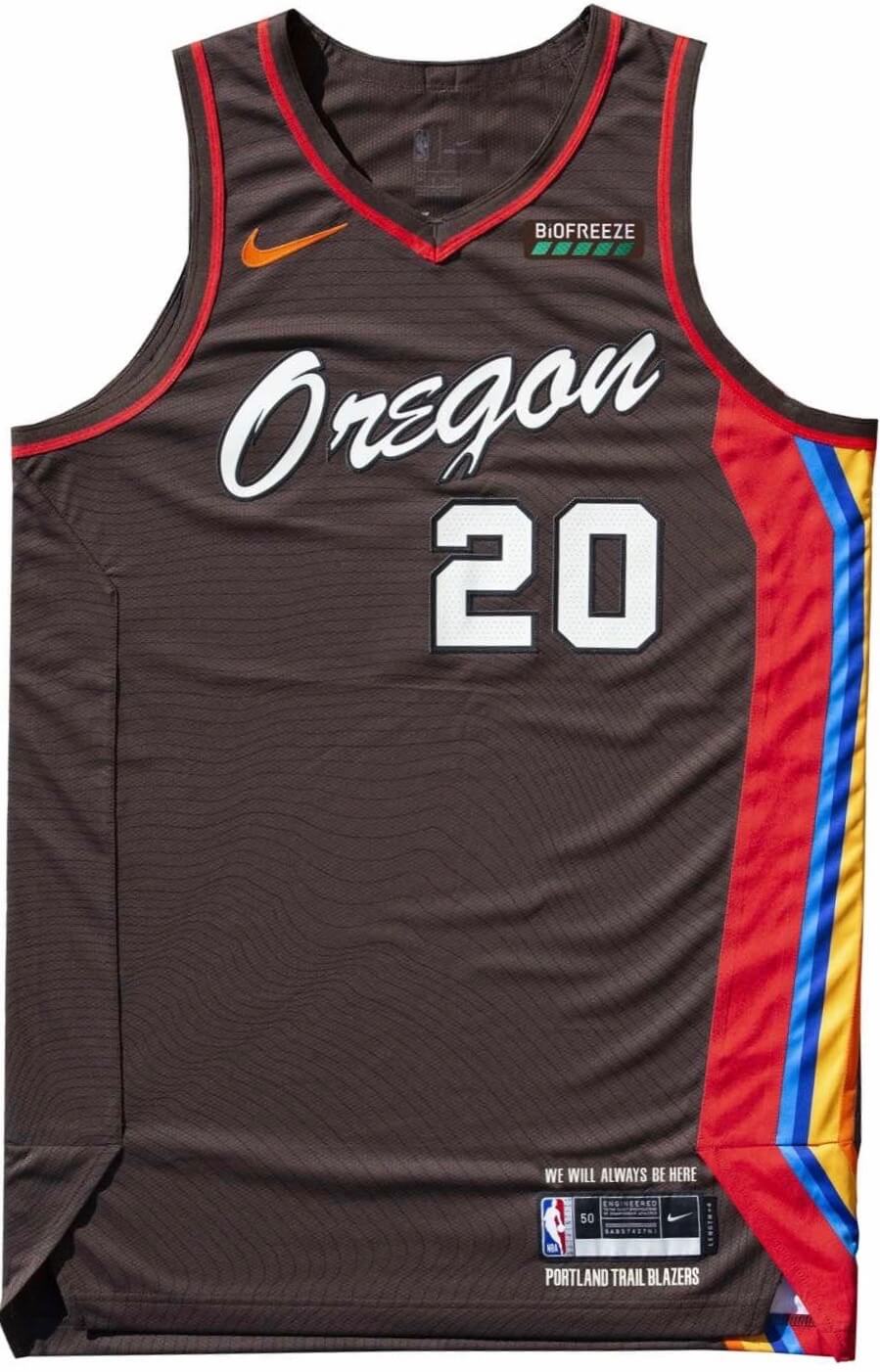 At first I thought this pattern was simulating tree rings (a total Brooklyn Branches rip-off!), but it's actually meant to mimic the lines on a topographic map of Oregon. Either way, I'm very curious to know if all the extra stitching — if the lines are in fact stitched, as they seem to be — affects the feel of the fabric.
• The jagged, multicolored lines running up the left side of the uniform may look like a flatlining EKG readout (bring in the defibrillator panels, stat!), but they actually reflect the rugged Oregon landscape, with each color representing a different natural attraction within the state — one of which is a tulip farm! While I may not yet be certain about this being the first brown NBA uniform, I am certain it is the first NBA uni whose design references a tulip farm. Edgy move for a team that plays in the City of Roses. Let it never be said that today's NBA shies away from inter-floral conflict!
• Interestingly, the multicolored lines also look a lot like the Montana license plate:
Plagiarists pic.twitter.com/cqiQeOiSNJ

— scott boehler (@slboehler) October 29, 2020
• An unspecified portion of the profits from jersey sales will be donated to a local Native American nonprofit. In addition, the waistband logo has the Oregon state outline and nine triangles, which according to the press release honors "the tribal nations throughout what is now considered Oregon who have called this land their home from the beginning":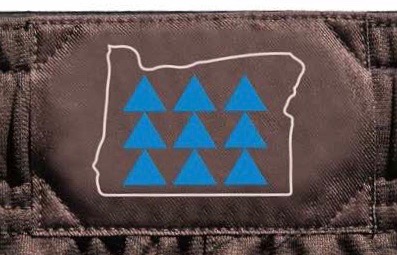 You can see more info and photos — including a photo of the tulip farm! — here, and there are still more photos here.
———
I think reasonable people can differ on whether this is a "good uniform" or a "bad uniform," at least when viewed in a vacuum. But I don't think there's any question that it's a very bad Trail Blazers uniform. For starters, the nature/landscape theme seems like a weak attempt to piggyback on Utah's "red rock" alternate. More importantly, the design doesn't reference the team's usual colors, the team name, the city name, the "Rip City" nickname, the club's longstanding use of diagonal lines, or any other Blazers-related visual cues (well, except for the little pinwheel logo at the base of the right shorts leg, which feels almost like an afterthought). As Todd Radom said shortly after the unveiling yesterday, "I have no idea what team this is, not even a breadcrumb of a clue."
I'm sure there are people out there (including some Nike employees — hello!) who are saying, "Right, that's the point of the City alternates, to come up with something different, something that doesn't necessarily mesh with the team's usual branding!" If you say so. But when there are so many alternates floating around out there that fans are saying, "I don't even know which team this is when I turn on the TV," maybe that's a hint that you're flooding the zone with too much product, and that all your carefully constructed "storytelling" about "lead design elements" is becoming a blur.
Also, while I don't like to predict the future, I do like to play thought experiments. So let's play this one: Several years from now, is this uniform likely to end up on a list of the Blazers' best uniforms ever, or the worst? The City program's best or worst? The NBA's all-time best or worst? There's no right or wrong answer. Just something to think about.
Meanwhile, remember that purported Suns leak from yesterday? Here's another look, to refresh your memory: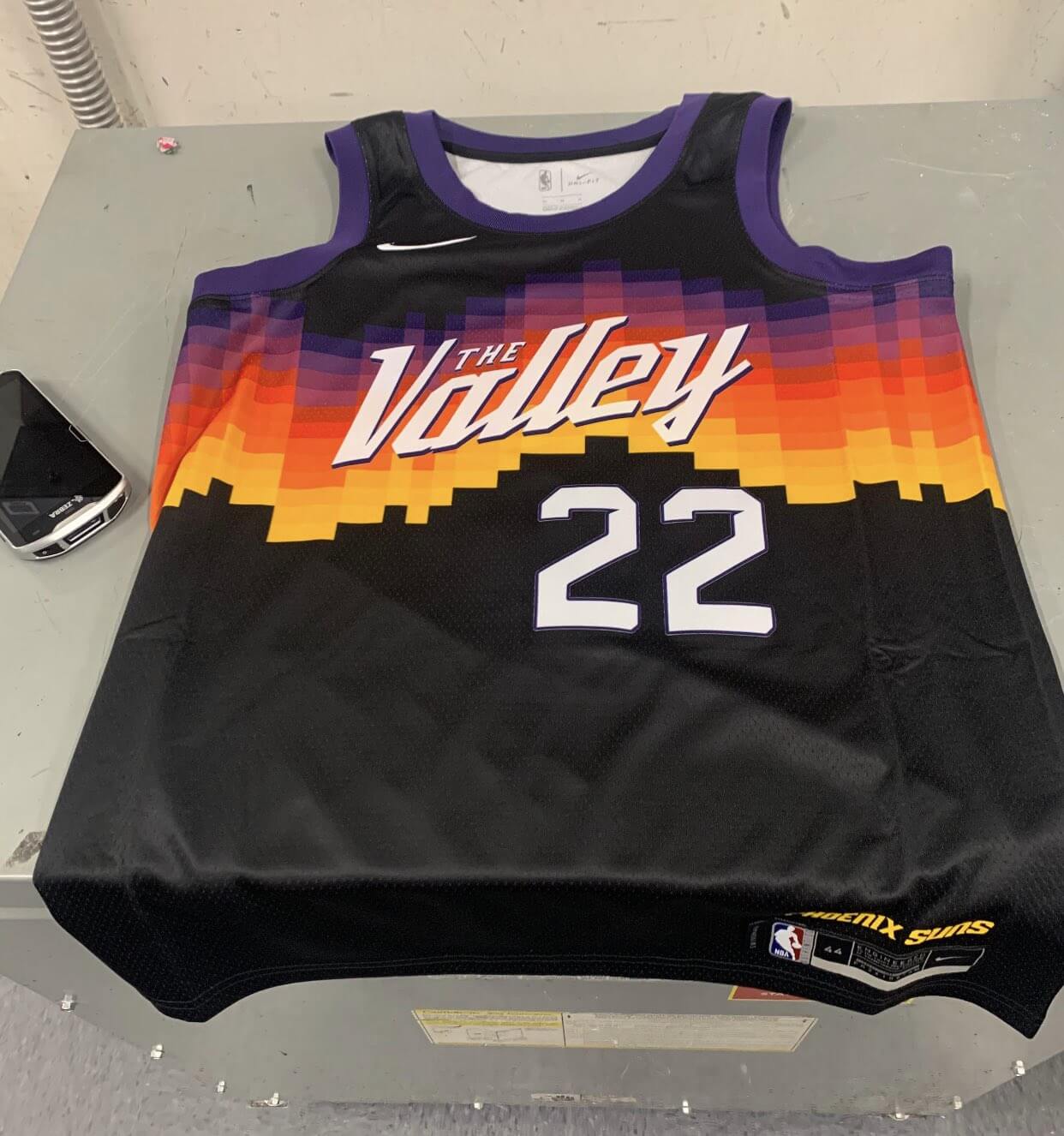 The team appeared to coyly but unmistakably confirm the leak's legitimacy yesterday afternoon — or at least they tried to. Here's the tweet they posted:
😉#WeAreTheValley pic.twitter.com/nCVouqu6UQ

— Phoenix Suns (@Suns) October 29, 2020
Depending on which platform you're currently using, you may not be able to see the shirt that Kelly Oubre's wearing in that photo. If so, click on the photo to see the whole thing.
And in still more NBA leak-related news, it appears that the Heat, having run out of conventional color combos for their Miami Vice-themed alternates, are now resorting to gradations, at least based on this shirsey: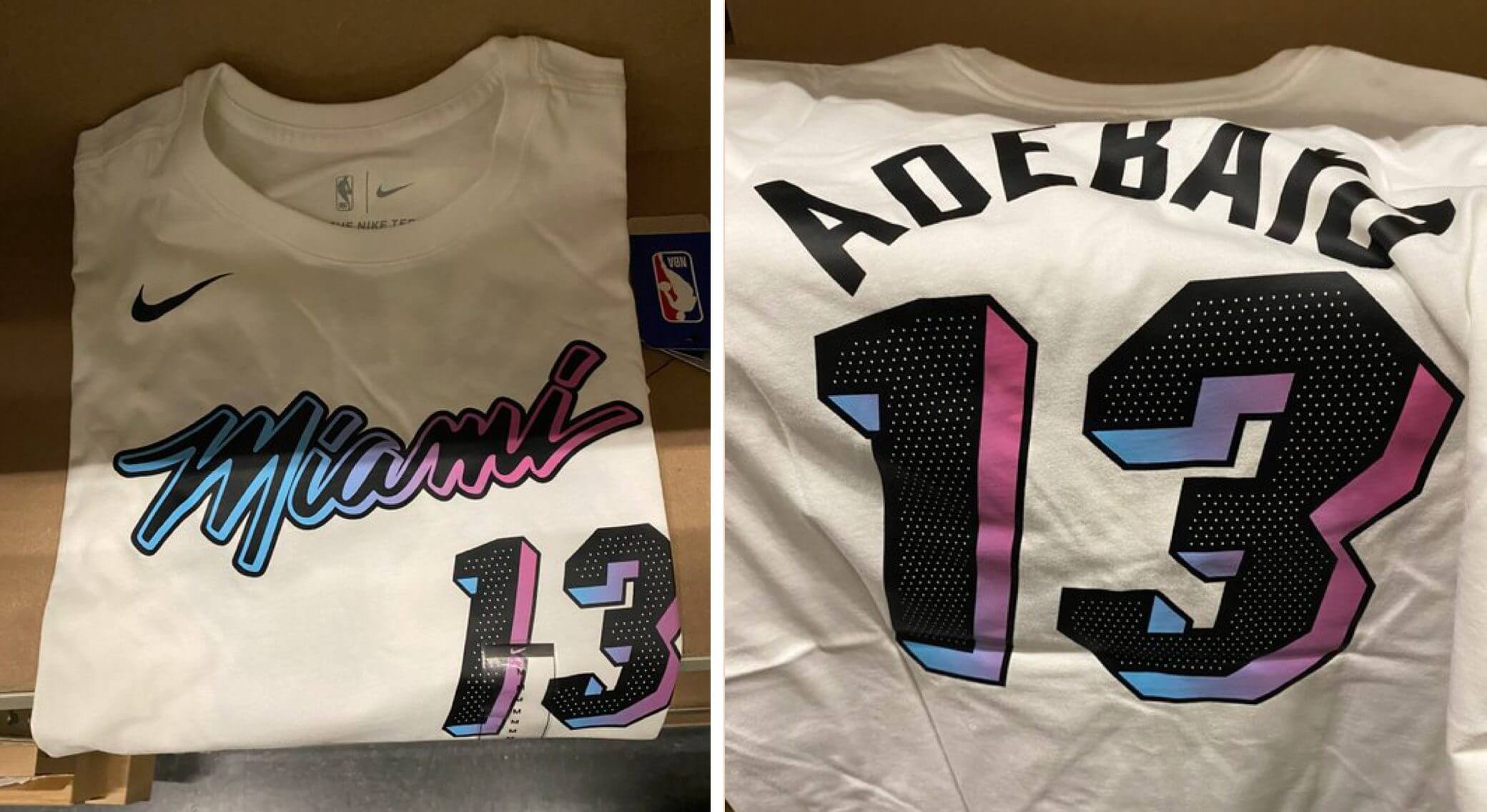 Retail shirsey leaks have proven to be extremely reliable indicators of forthcoming NBA uniform designs, so I think we can consider this one to be pretty solid.
(Thanks to Etienne Catalan and Josh Pearlman for their contributions to this section.)
• • • • •
• • • • •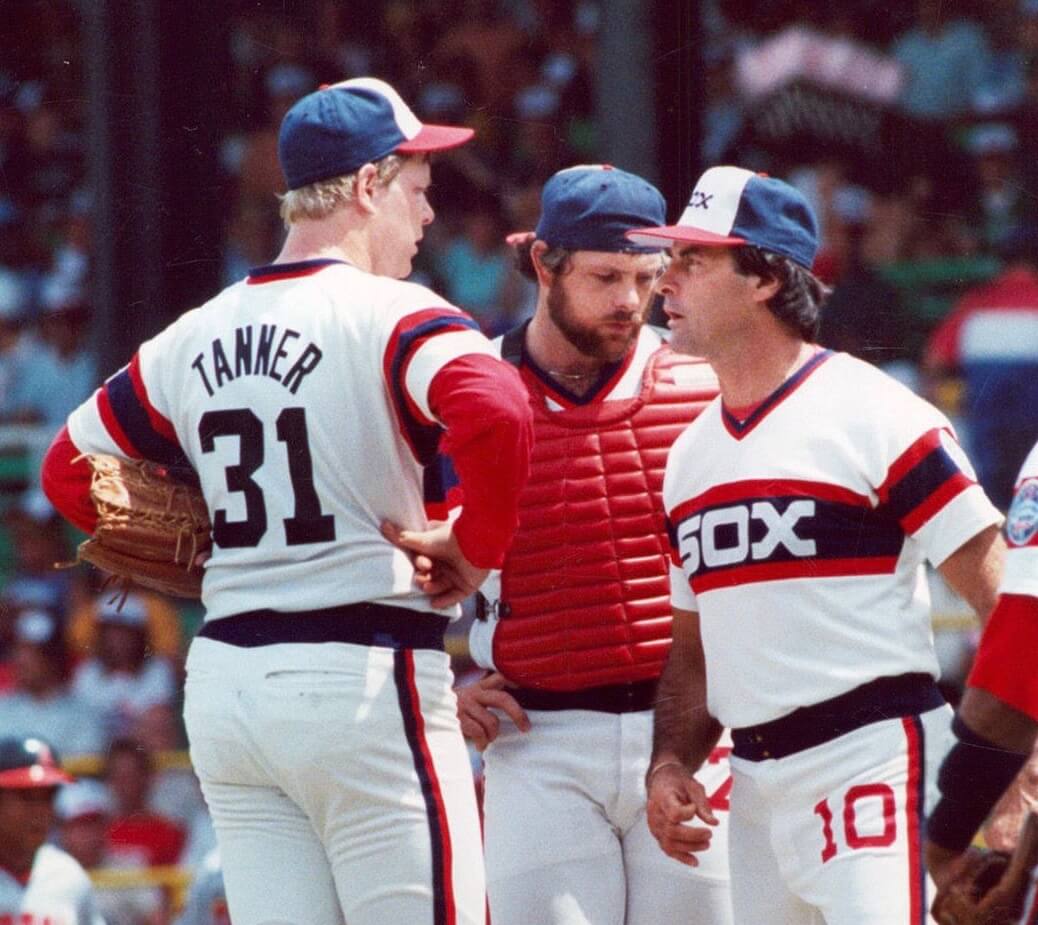 Beach blanket bingo: As you may have heard by now, the White Sox (re)hired Tony La Russa yesterday to be their manager. Much of the coverage of this news noted La Russa's age, 76.
It's true that La Russa will be one of the oldest managers ever to suit up in uniform (although he'll have to hang in there for a while before he matches Jack McKeon, who was 80 when he skippered the Marlins in 2011). But I'm more interested in another uni-related aspect to this story.
To wit: Back in the 1980s, La Russa wore the White Sox's beach blanket uniform (as seen in the photo above, which is from 1985). The Sox have worn that uniform as a Sunday throwback for the past eight seasons. If they carry it over to next year, La Russa will have the unusual status of wearing a uniform in its first go-round and then again as a throwback!
There have occasionally been players with this distinction (Craig Biggio in MLB, Kobe Bryant in the NBA, maybe a few others I'm not remembering). But has there ever been another manager who's hung around long enough to wear the same design in its initial incarnation and also as a throwback?
I posted that query last night on Twitter, where Twitter-er @jay_es_one came up with Bobby Cox, who managed the Braves in 1981 and then wore that same road uni again as a throwback in 2010. Can anyone think of any other examples?
But wait — there's more! According to Baseball Reference, La Russa, back in his playing days, appeared in five games with the A's in 1968 — all home games. And according to Bill Henderson's jersey guide, the A's wore 1968 home throwbacks for one game in 1992, when La Russa was their manager. I couldn't find any pics of La Russa either from 1968 or from that one '68 throwback game, but he presumably wore that same uni both in its original incarnation as a player and as a throwback while he was managing. Another unusual distinction!
I know of at least two other managers who've done that:
• Larry Dierker pitched for the Astros in 1977, when they wore this tequila sunrise design. And he was managing the 'Stros 1999, when they wore 1980-81 throwbacks, which are essentially the same as the '77 design. (The only difference is the collar trim and the lack of the number on the pant leg.)
Update/correction: Reader/commenter Rich Loup points out that I was mistaken about Dierker pitching for the Astros in 1977. He was with the Cardinals that year. He did pitch for Houston in 1975 and '76, when they wore this version and this version of the tequila sunrise, but those are both clearly different from the 1981 version that the team wore as a throwback while he was managing. So: He almost qualifies for this list, but not quite!
• And just to bring things full-circle, Ozzie Guillen wore the original White Sox beach blanket uni in 1985 (his rookie year as a player) and then wore it again as a throwback while managing the Sox in 2011.
Again: Any other examples that you know of?
• • • • •
• • • • •
The Ticker
By Anthony Emerson


Baseball News: L.A.'s City Hall was lit up in blue lights after the Dodgers' World Series championship (from Kary Klismet). … Once upon a time, new/old White Sox manager Tony La Russa appeared on an episode of To Tell the Truth. He wasn't wearing a uniform, but his two impersonators were.

College/High School Football News: Reader Fran Doyle noticed that this year, Penn State has changed the design on their front nose bumper, going from a Penn State wordmark to the Nittany Lion logo. … Virginia Tech is going maroon-white-maroon this weekend at Louisville and LB Keshon Artis will wear Beamer's No. 25 in that game (from Andrew Cosentino). … Duke is going mono-BFBS tomorrow (from Gabe Cornwall). … Carolina is going mono-white against Virginia tomorrow (from James Gilbert). … Rice is also going mono-white tomorrow (from Ignacio Salazar). … Also from Ignacio, Houston is going red-black-black tomorrow (also from Corey Buck). … Virginia is going mono-blue (thanks, Jamie). … Troy is going silver-white-white tomorrow.

Hockey News: Here's our best look yet at the Kings version of the 'I Voted' sticker given away at the Staples Center polling place (from Damon Hirschensohn).


NBA News: Here's a great article about the urban legend around the Lakers having a giraffe logo (from Kary Klismet). … Speaking of the Lakers (and cross-listed from the hockey section): Here's our best look yet at the Lakers version of the 'I Voted' sticker given away at the Staples Center polling place (from Damon Hirschensohn).

College/High School Hoops News: New unis for Indiana State. But we all know there's only one true Indiana State uni design (from Clay Bess).

Soccer News: During October, three different Arsenal teams — the men's senior team, the women's senior team, and men's U23 — played Manchester City, and each wore a different uniform combination against the Citizens (from John Flory). … An AI-controlled camera ruined an Scottish Championship match between Inverness Caledonian Thistle and Ayr United by continually mistaking a linesman's bald head for the ball (from Shawn Hairston).

Grab Bag: Jefferson Community College in New York has unveiled a new athletics logo (from Kary Klismet and Timmy Donahue). … Some field hockey notes from our own Jamie Rathjen: New unis for the Netherlands, the British women's team has lost their ad, and Virginia always practices in costumes before Halloween. Here are this year's entries. … New seal for the University of New Mexico (from Timmy Donahue). … The logo for the 2021 Indy 500 was unveiled yesterday (from Rob Altman).
• • • • •
• • • • •
• • • • •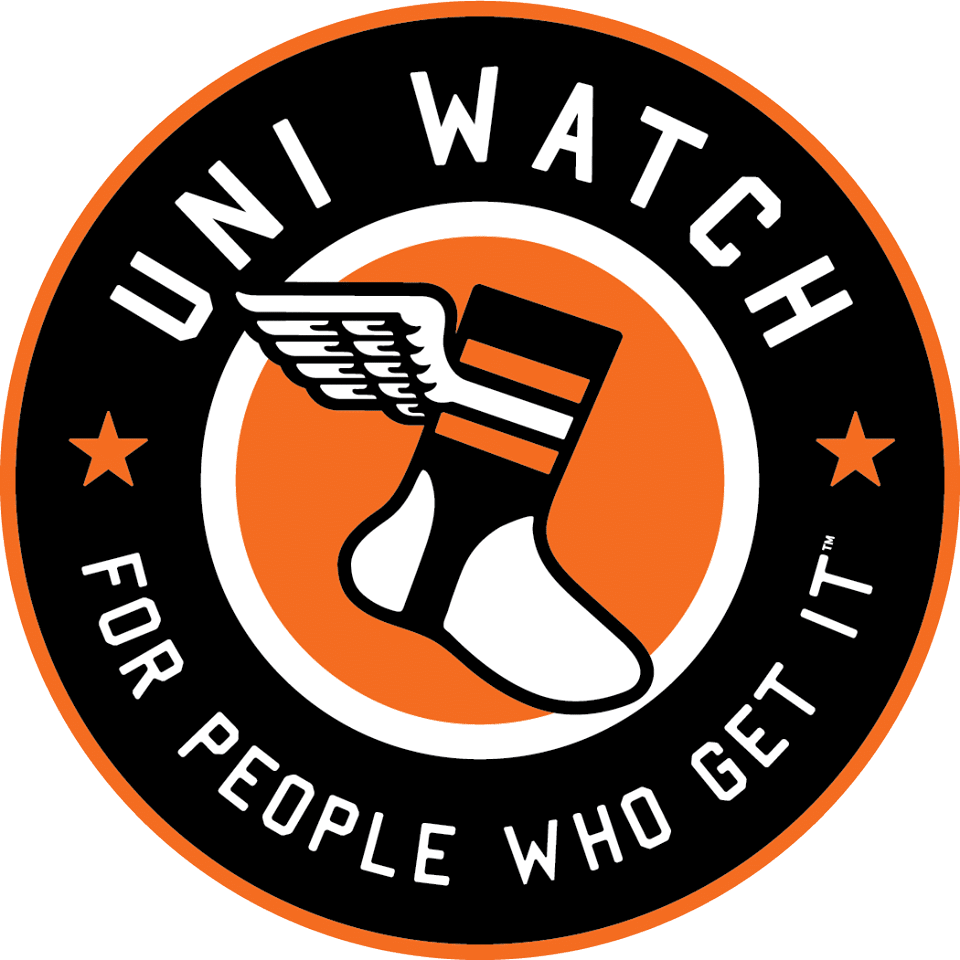 Our latest raffle winner is Dylan Hill, who's won himself a Uni Watch membership card. Congrats to him, and thanks again to Matt Cann for sponsoring this one.
That's it for this week. If you have any Halloween-related activities tomorrow, enjoy them safely. Phil will have his usual content buffet over the next two days, and then I'll see you back here on Monday. Stay well! — Paul