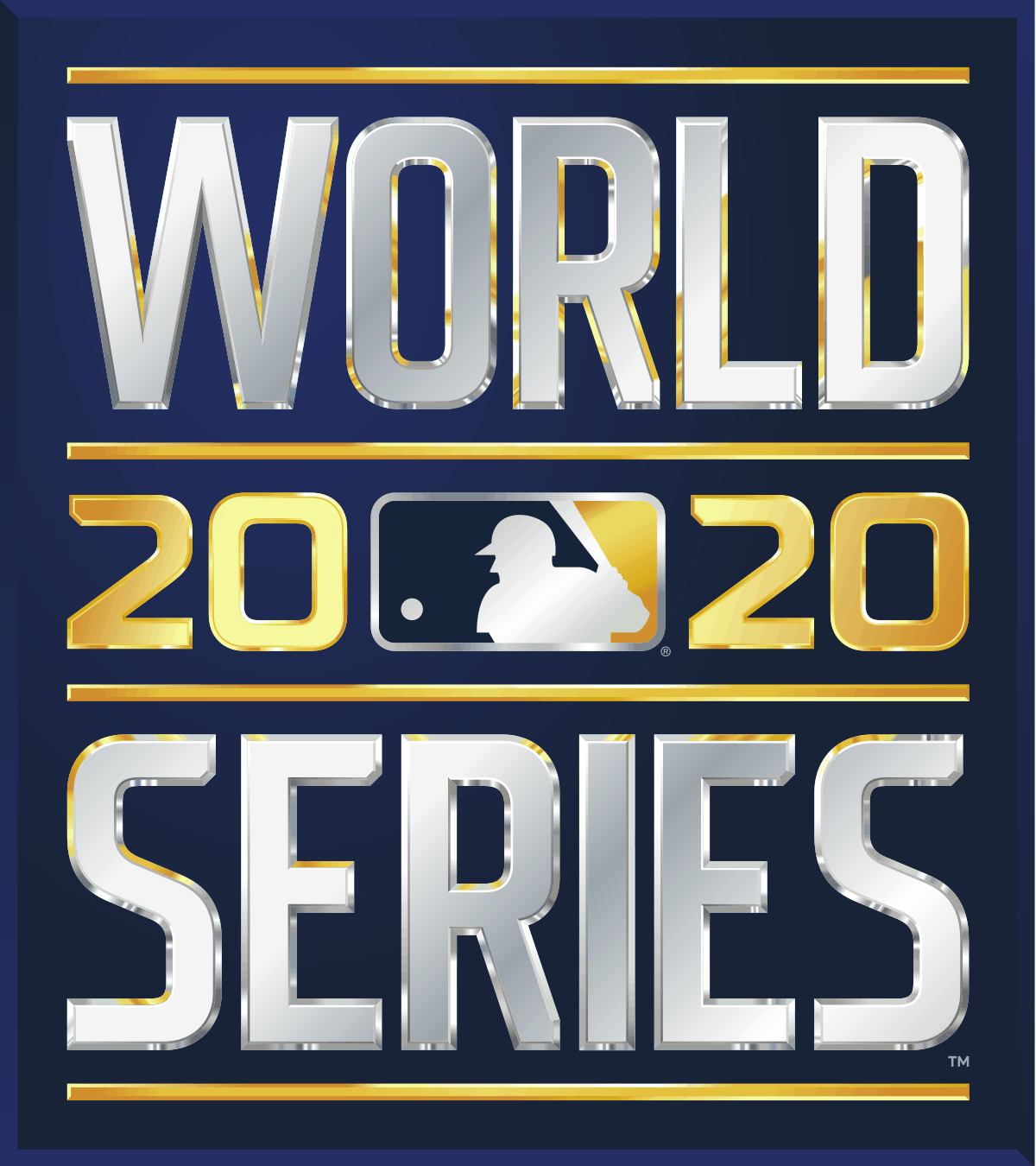 The World Series begins tonight, as the Dodgers and Rays will face off in the neutral site of Arlington, Texas. This will mark the first time that the entire Series will be played in a single ballpark since 1944, when two St. Louis teams — the Cardinals and Browns — met in the Fall Classic. At the time, they both used Sportsman's Park as their home stadium, so the entire Series was played there.
While the neutral site is something we're not used to, many other aspects of this World Series are fairly standard, including the arrival of the annual Uni Watch World Series Preview. I have to admit, I didn't think I'd be writing this particular preview this year, because I didn't think the MLB season would hold together all the way to the World Series this year. I'm very happy to have been wrong about that.
As usual, I've selected 10 uni-centric fun facts regarding this year's Series participants. Here we go (for some of the photos, you can click to enlarge):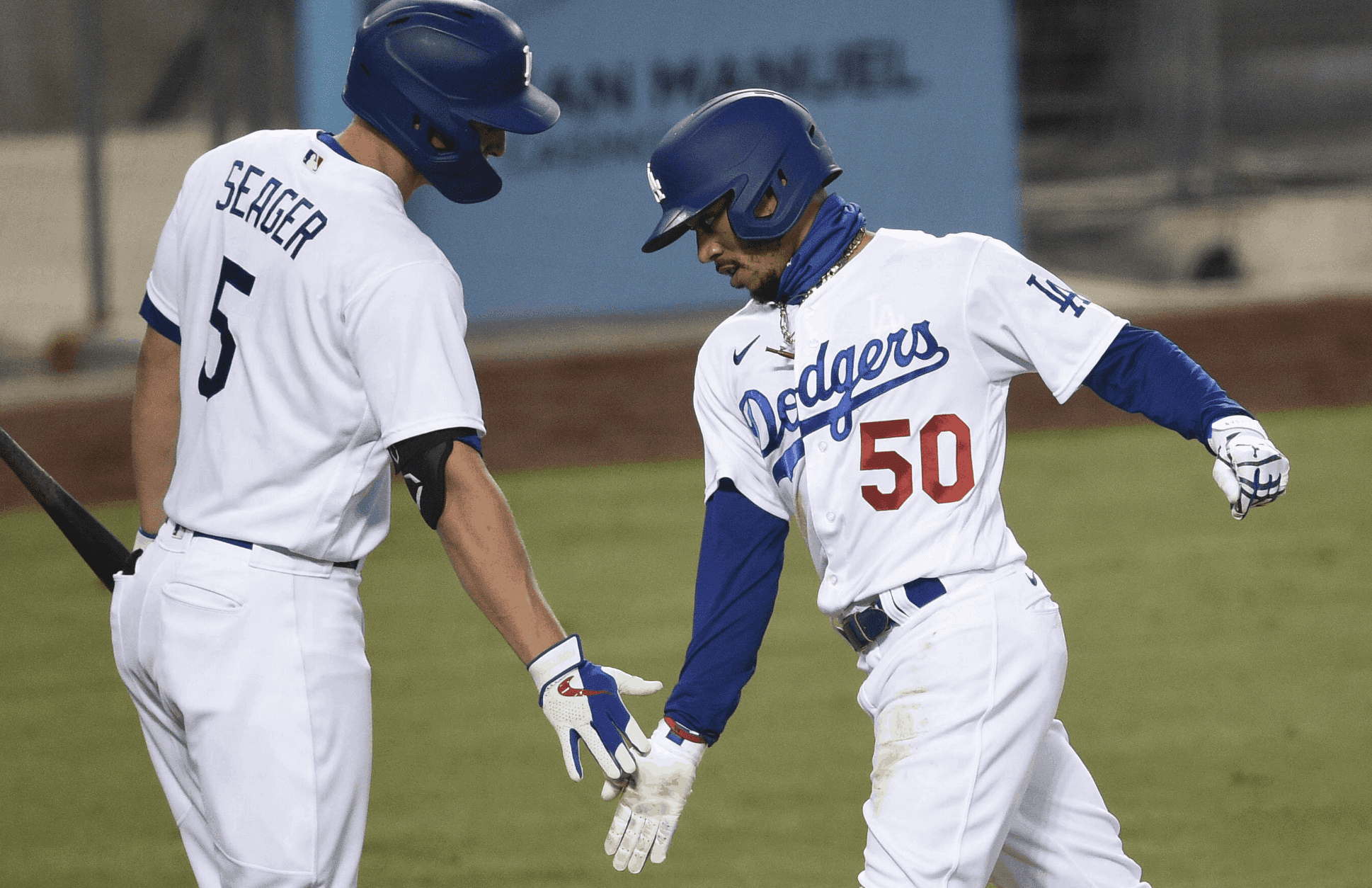 1. Red Letter Number Day

We'll start with an easy one, because most of you probably know this already, but people still occasionally ask me why the Dodgers have red front-jersey numbers when there's no red anywhere else on their uniforms. Uniform designer and historian Todd Radom came up with the answer a few year back, when he found an old article indicating that the Dodgers had actually planned to add the red numbers as a special addition for the 1951 World Series. As it turned out, the Dodgers didn't make it to the '51 Fall Classic (Bobby Thomson took care of that), but the red-numbered uniforms had already been ordered, so team ownership decided to use them for the 1952 season, and the numbers have been part of the Dodgers' look ever since. (Additional info here.)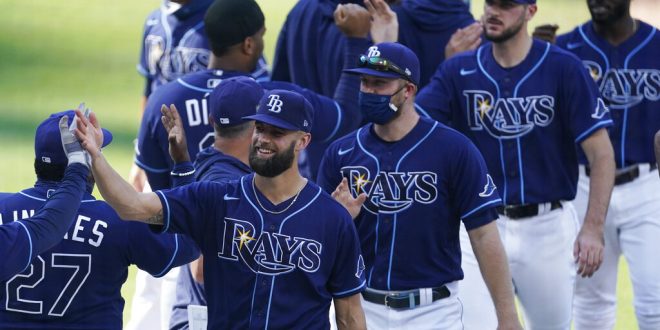 2. In the Navy

The Rays have worn their navy alternate jerseys for 12 of their 14 postseason games so far (the two exceptions were Games One and Seven of the ALCS, when they wore powder blue and white, respectively), so it seems fair to expect them to wear a lot of navy in the World Series as well. One exception is likely to be Game Five (if necessary), because that will take place on Sunday and they will be the home team, which means they'll probably wear their home-Sunday powder blues. Aside from that, I foresee a lot of navy. Good thing they're not facing Atlanta.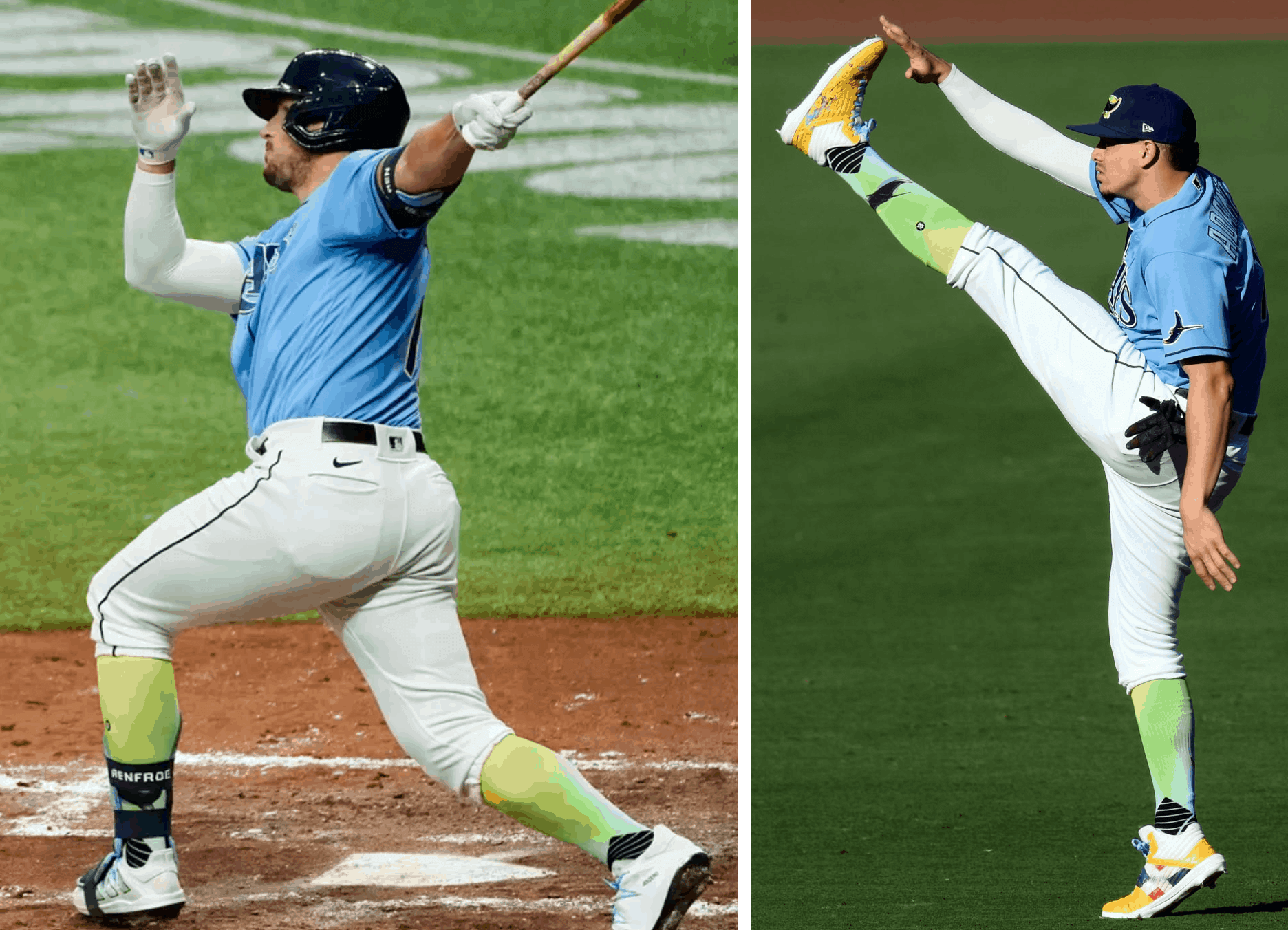 3. Sock Hop

If the Rays do indeed wear the powder blues for Game Five (or any other game), then we're all in for a, uh, treat, because outfielder Hunter Renfroe (above left) and infielder Willy Adames (right) like to accessorize that uniform with some truly heinous socks. Obviously, I'm a longtime proponent of high-cuffery, but I might make an exception in this case!
4. Mood Indigo
Speaking of navy, this will mark the the 15th consecutive World Series in which at least one team has worn some shade of blue somewhere on its uniforms. (I'm including the Yankees' midnight blue, although I realize many people think it looks black.) The last blue-free Series? White Sox vs. Astros in 2005.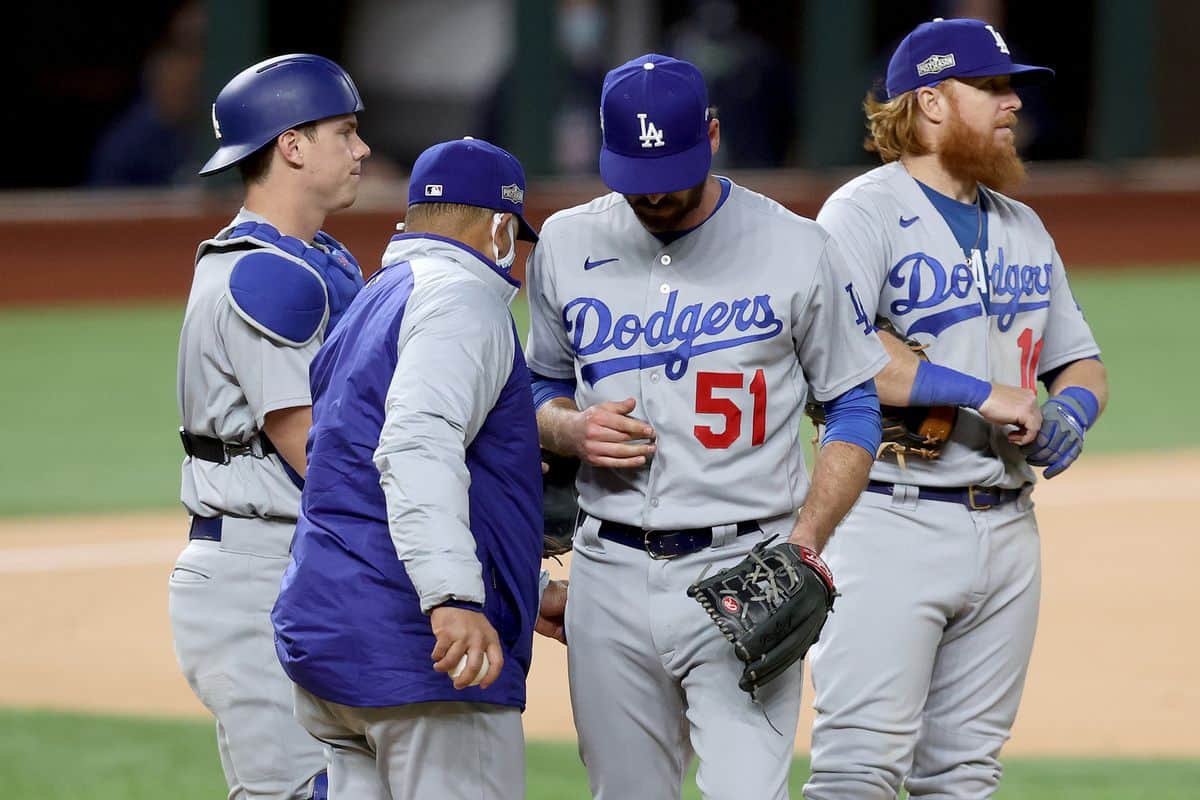 5. Where You From?

The Dodgers have been the road team for only four of their postseason games so far, and they wore their alternate "Dodgers" greys — rather than their "Los Angeles" primary greys — for all four of those games. That's no surprise, as they've been wearing the alts more than the primaries for several years now. They have home-field advantage in the World Series, which means they'll be the road team for Games Three, Four, and Five (if necessary), and it seems like a safe bet that they'll wear the alternates for those games. Since the Rays don't even have a jersey with "Tampa Bay" on the chest, this could be the rare World Series in which neither team's regional identifier appears as a chest insignia. The last time that happened? It also involved the Rays, when they faced the Phillies in 2008.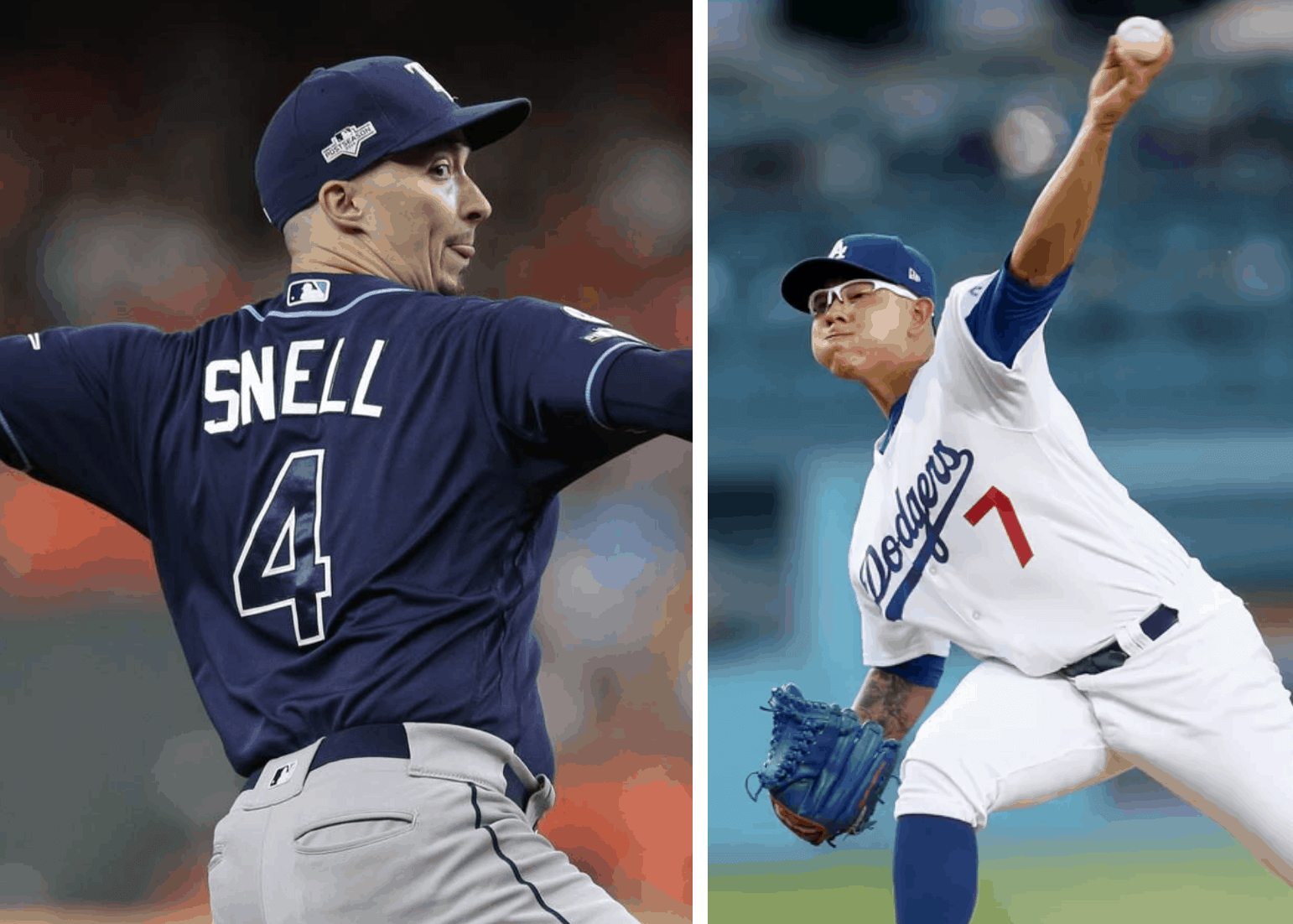 6. Multiple Single Digits

Another World Series rarity — and maybe a first! — is that each team's roster includes a pitcher with a single-digit uni number: L.A.'s Julio Urías (who also appeared in the 2018 Fall Classic) and Tampa's Blake Snell (making his World Series debut). Imagine if they ended up facing each other as the starting pitchers in the same game! That might set the World Series record for the lowest combined uni number total for a pitching matchup (well, not counting the pre-number era).

7. NOB Job

The Rays generally keep their NOB lettering fairly level. But outfielder Randy Arozarena and pitcher Shane McClanahan's surnames, despite being a relatively manageable nine and 10 letters long, respectively, are apparently too unwieldy to be handled with a gentle arch, so instead they get the Salty-style treatment (and McClanahan has the bonus of wearing a McNOB).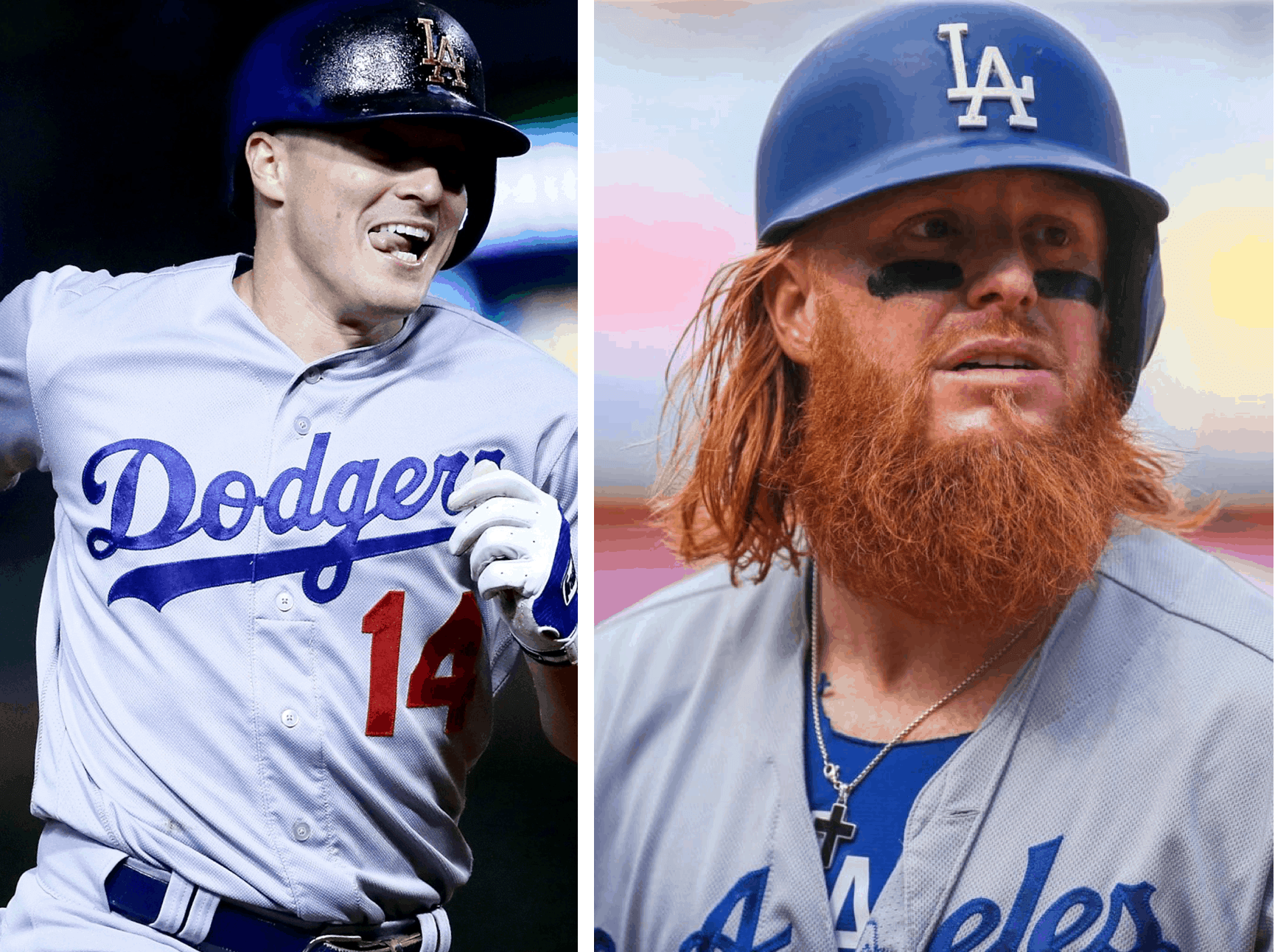 8. Mod Squad

Dodgers infielders Kiké Hernández and Justin Turner both modify their jerseys. Hernández has his sewn shut, so it's effectively a pullover (you can learn more about that here), while Turner has his collar narrowed (more info here). So much for uniformity! (Turner also has the bonus uni notability of having that ubiquitous pine tar smudge running through his NOB.)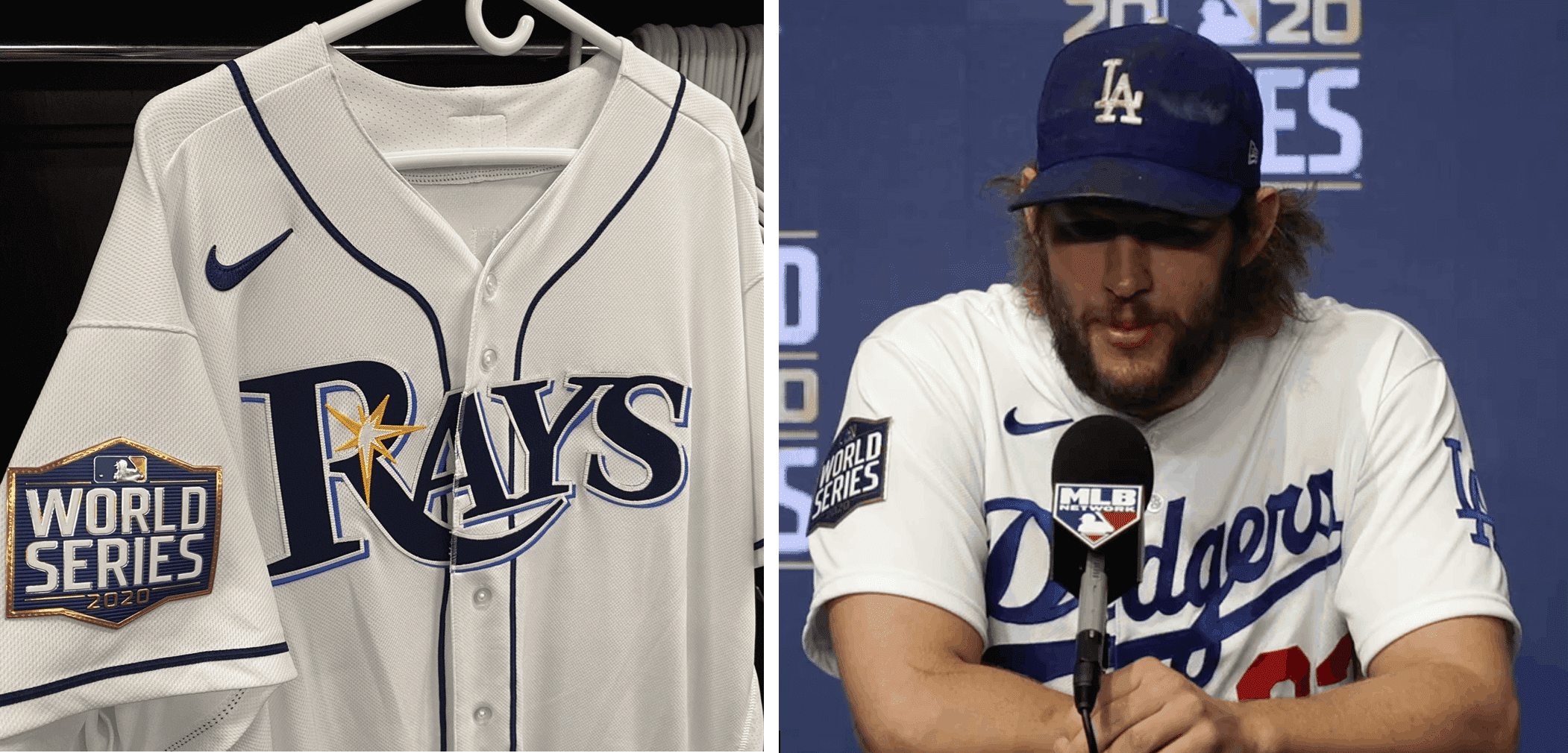 9. What's the Opposite of "Subtle"?

This year's World Series logo, which appears at the top of this post, is not exactly long on charm or playfulness. But whatever, it's just a logo. When rendered as a sleeve patch, however, it's not just brutal — it's practically brutalist. A suitably joyless symbol for this largely joyless year.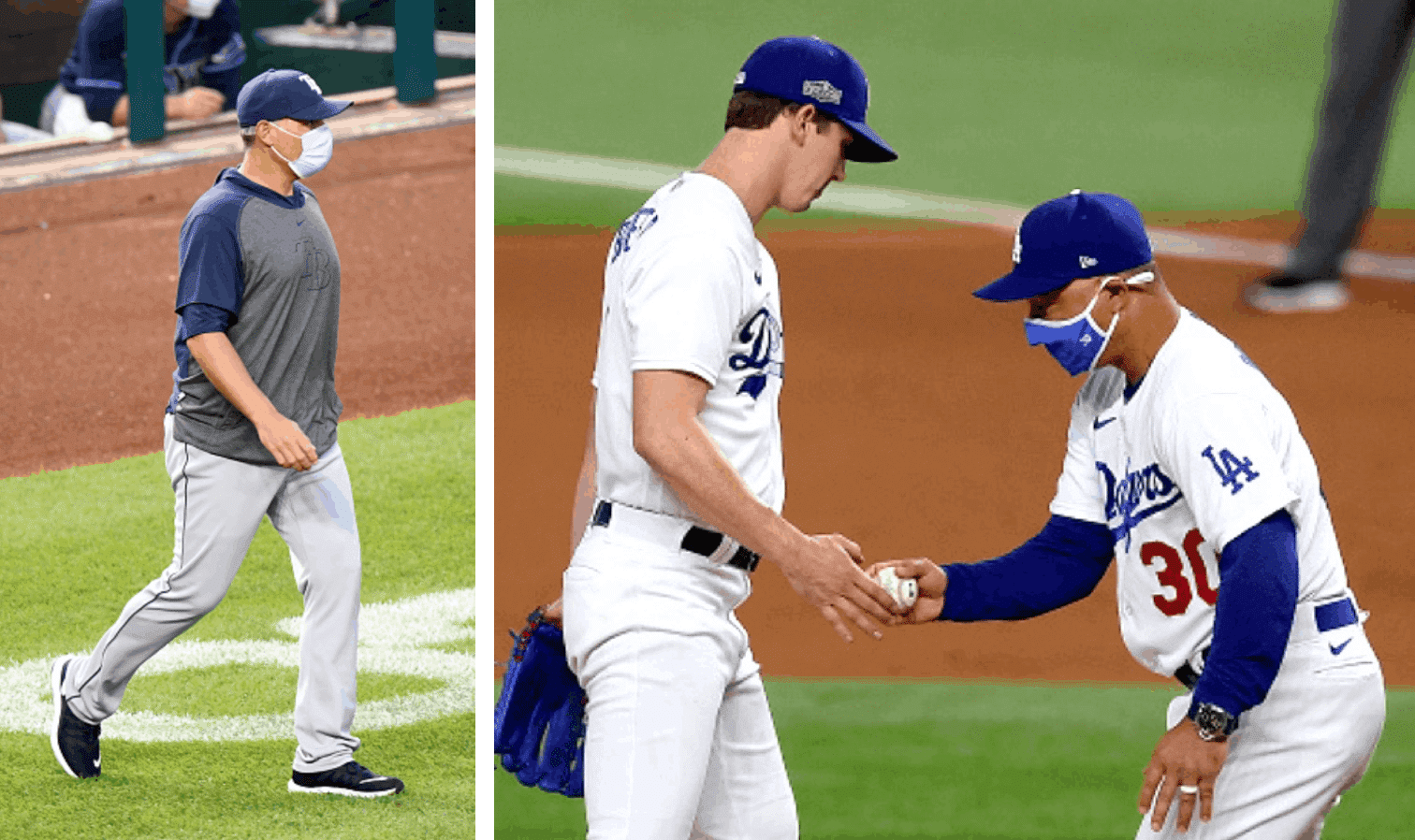 10. Formal vs. Casual

The two managers take very different approaches to their attire. Rays skipper Kevin Cash (who was uni-notable in his playing days for being among the first MLB catchers to wear his helmet with the brim facing forward), like many of his managing brethren these days, just puts on a pullover, leaves it untucked, and calls it a day. By contrast, the Dodgers' Dave Roberts is among the last — maybe the last? — of the big league skippers to suit up in a full uniform for every day.

Dishonorable Mention: Fun While It Lasted
This will be the first World Series sullied by the presence of the Nike maker's mark on jersey chests. Based on how the other postseason rounds went, this will presumably also be the first Series with ads projected onto the pitcher's mound. Sigh.
———
And there you have it. If there are any other good Rays- or Dodgers-related uni tidbits that I overlooked, feel free to post them in today's comments. Enjoy Game One tonight!
• • • • •
• • • • •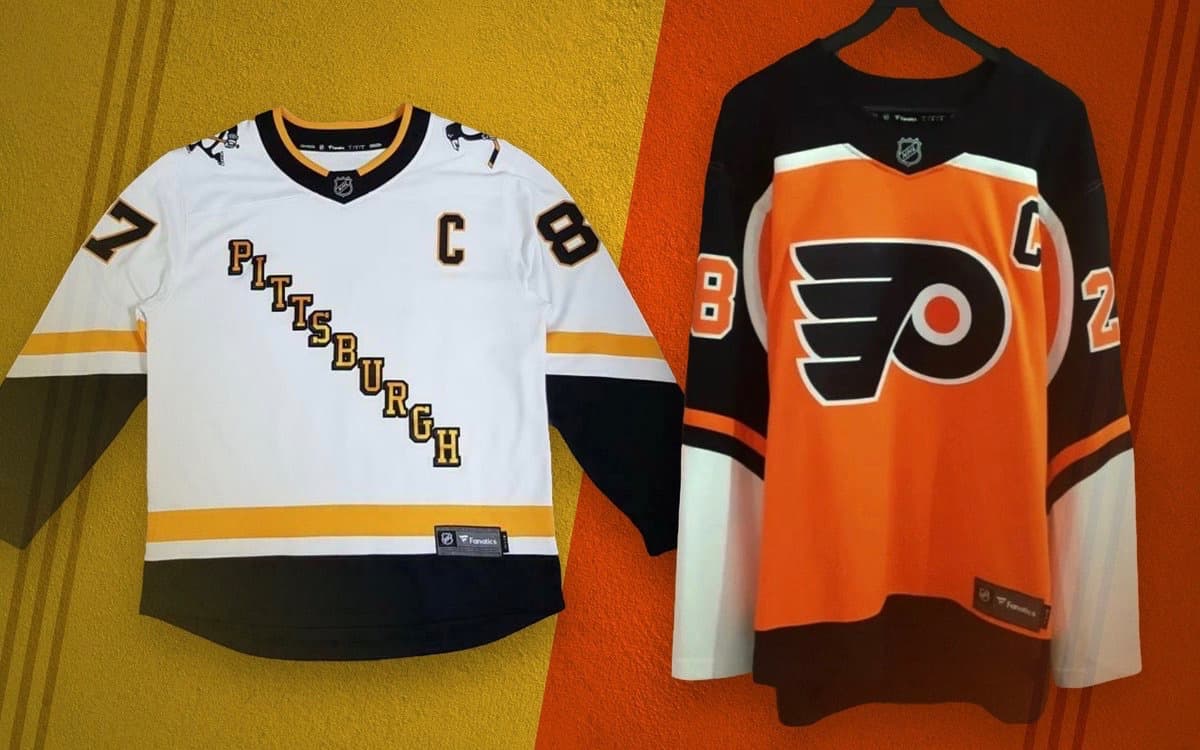 Photos via Icethetics; click to enlarge
New Pens, Flyers jerseys apparently leak: The images shown above, which began circulating yesterday, apparently show the designs for the Penguins' and Flyers' entries in the NHL's new "Reverse Retro fourth jersey" program. I could explain what that means, but Chris Smith of Icethetics, who broke this story, has already done a really good job of that. For the full scoop, go check out his report. You won't be sorry.
• • • • •
• • • • •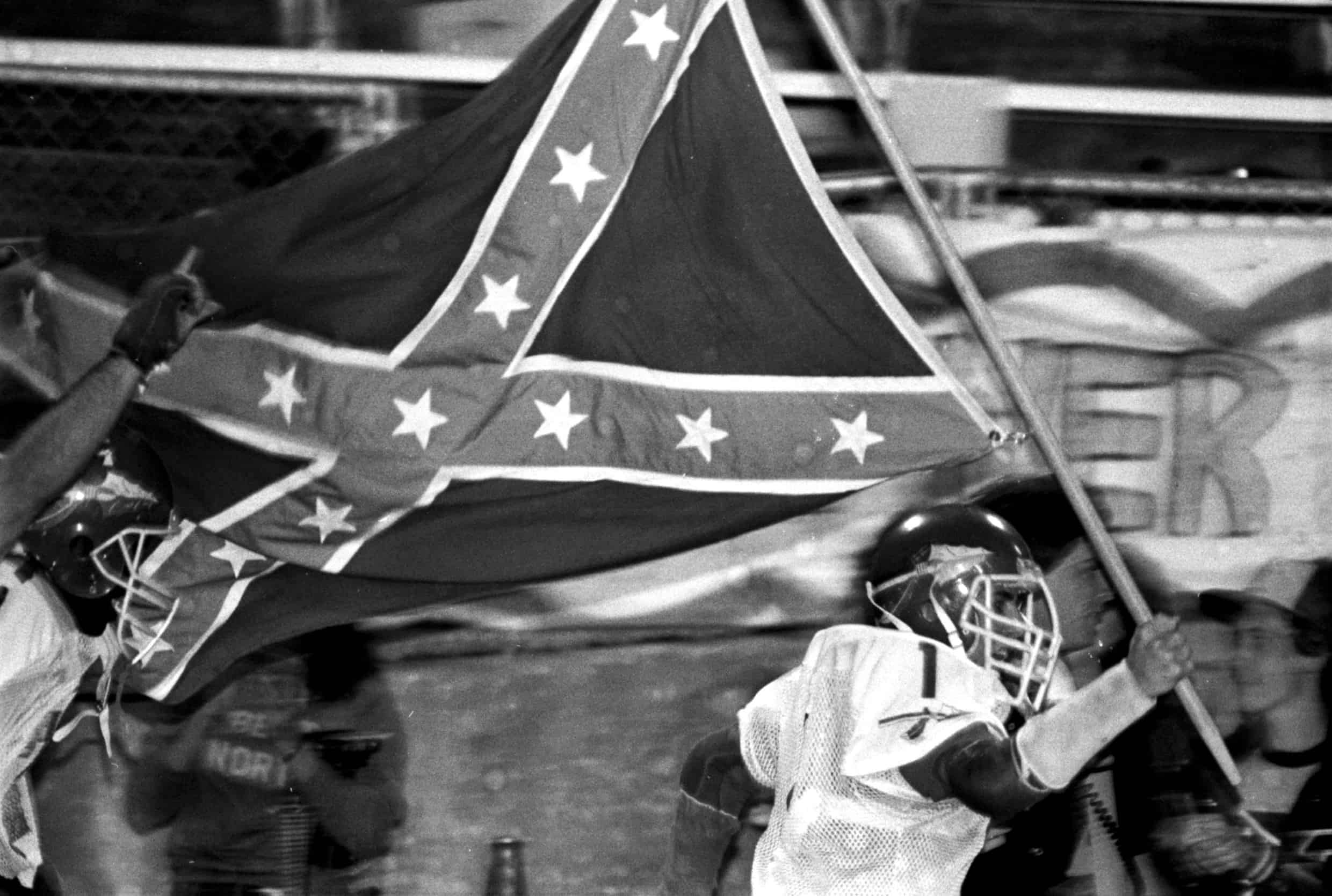 Photo by Mickey Torres; click to enlarge
South Grand Prairie update: Remember South Grand Prairie High School in Texas, where the baseball coach recently removed the Native American imagery from his team's uniforms but the football coach didn't want to talk about his use of Native imagery on his team's uniforms?
"This is not the first time controversy has surrounded the South Grand Prairie football team's imagery," says reader Chris Huff. "In 1985, a [Black] football player was dismissed from the team for protesting the team's 10-year-old tradition of running onto the field with the Confederate flag. That led to the state education board banning the Confederate flag at school events."
The photo at the top of this section, which Chris also provided, is from a SGP game on Nov. 9, 1985. The combination of the Rebel battle flag and the Native American spear logo on the helmet is quite the double-whammy — ugh.
In my interview with Art Senato, the SGP baseball coach, he said the school is "majority Hispanic" and "definitely a majority-minority school." I'm guessing the demographics were a bit different back in 1985.
• • • • •
• • • • •
Collector's Corner
By Brinke Guthrie
Follow @brinkeguthrie  
At my Cincinnati high school back in the day (mid-1970s), the sneakers of choice were Adidas and Puma. Nike was lurking — my senior year, our basketball team switched from Converse Chucks to the Nike Blazer. But Adidas and Puma were the popular brands, especially the Puma Clyde ("The Essence Of Cool") or the Clyde III. A lot of the guys wore the navy style you see in this 1985 Clyde Frazier Puma ad. (I wore the gold suede with black.) The Clyde III was also popular since it came in royal blue suede with yellow, our school colors. Had those, too.
(As an aside, I might've been the first at my school to wear Nikes — specifically, the white canvas with the powder blue swoosh "Allcourt" tennis shoes. I distinctly recall someone pointing to the heel tab and asking, "What are Nikes?," which he pronounced like "Mike.")
Now for the rest of this week's picks:
 • Staying with sneaks, drawings of Cincinnati Reds star Johnny Bench and New York Knicks star Willis Reed were featured on this 1970s Keds shoebox.
 • This 1970s NFL football bank has never been used but the decals are a bit dried out.
 • Coca-Cola was the sponsor of this 1970s San Francisco 49ers helmet sticker.
 • Philadelphia Phillies fans will love this 1980 World Champions step stool.
 • Billy Martin looked awfully cheerful on the cover of this 1983 New York Yankees program. (He is shown kicking dirt on Blue, though.)
 • The Union 76 Sports Club printed up this Fine Points of Basketball Defense booklet, starring "Boston Celtic Center" Bill Russell.
 • Caricatures of popular St. Louis baseball announcers Dizzy Dean and Johnny O'Hara were featured in this 1940s Falstaff beer ad. "Hiya Fans! Welcome to the Series!"
 • Infielder Tom Brookens hit just .246 for the 1984 Detroit Tigers, but since they won the World Series, he made it onto a limited-edition Coca-Cola can.
 • Signatures of the 1960 World Champion Pittsburgh Pirates were featured on this commemorative glass.
 • Baseball stars Pee Wee Reese and Jackie Robinson were showcased on this 1949 record called Slugger at the Bat.
• • • • •
• • • • •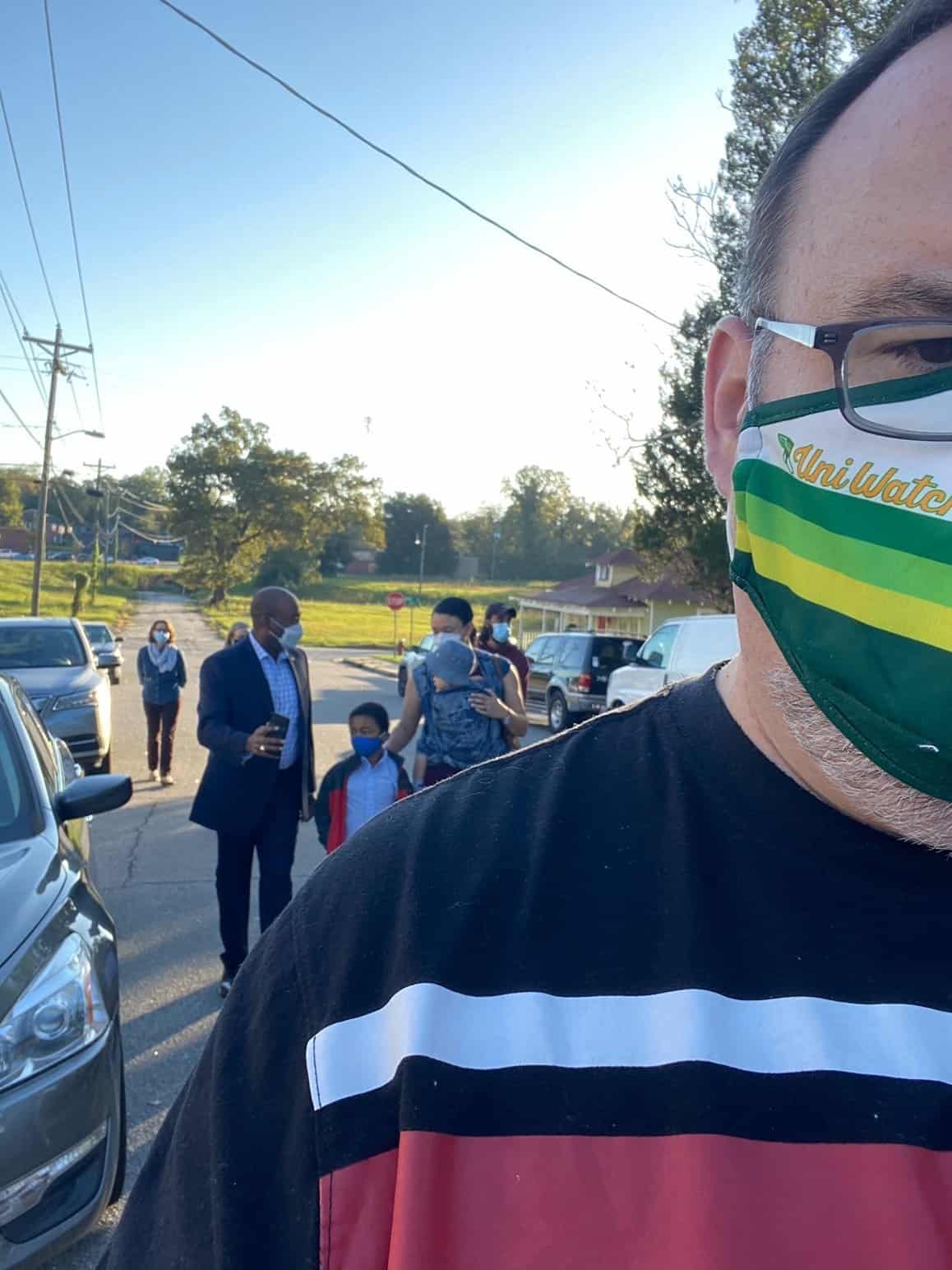 Click to enlarge
Who are those masked men? Reader David Staples strapped on his Uni Watch mask yesterday and went to vote yesterday in Columbia, S.C. And who should end up in line behind him but U.S. Senate candidate Jamie Harrison, who's visible in the background of David's selfie.
"There were cameras everywhere filming him and taking shots, and I am in a ton of these shots," says David. "The mask's gonna be everywhere! I'll keep my eyes peeled to see if we cameo in anything."
• • • • •
• • • • •
The Ticker
By Alex Hider


Baseball News: Los Angeles Fire Chief Ralph Terrazas has authorized all firefighters to wear a Dodgers cap while on duty until the end of the World Series (from Jakob Fox).
.

NFL News: Our first three items are from Mike Chamernik, beginning wih the news that Fox broadcasters Joe Buck and Troy Aikman were caught on a hot mic criticizing the pregame military flyover at Sunday's Packers/Bucs game. … This comprehensive video details each team's stadium and relocation history. … This may have been mentioned in the past, but Tua Tagovailoa became the NFL's first lefty QB since 2015 on Sunday. … I've never seen anyone add an "FC" to the AFC and NFC logos like the Eagles did in this sign commemorating their 1980 conference championship (from Arthur J. Savokinas). …  Paul noted yesterday that Patriots wide receiver Isaiah Zuber still has the wrong "Z" on his NOB. The Pats featured a shot of that egregious NOB error as one of their "photos of the game" (from Rob G). … The Colts have a new team airplane, which includes the team's old wordmark in the paint scheme (look to the right of the door) (from @WeberKing).

College Football News: All Indiana University teams will wear a social justice patch on their uniforms this season. The football team, whose 2020 schedule begins this weekend, will also wear it as a rear-helmet decal (from Kary Klismet and @btownm00se). … New gold helmets for Western Michigan. … Kentucky QB Terry Wilson wore an undershirt on which he wrote, "Records R Broken" on Saturday, referencing the Wildcats' first win in Knoxville since 1984 (from @BigBlueNat1on). … Nice move by Northwestern, who has added team record by uniform combination statistic to its team program (from Taylor Crabtree). … Miami will be wearing orange jerseys on Saturday (from Phil).

Hockey News: Jets C Nate Thompson will be the first player in team history to wear No. 11 since the franchise moved from Atlanta. That honor would have belonged to Rick Rypien, but he died by suicide before joining his new team in 2010. Thompson, who has dealt with substance abuse issues in his past, says he is wearing the number to honor Rypien's battles with depression (from Mike Chamernik and Wade Heidt). … C Adam Gaudette has returned to the Canucks, and he'll wear No. 96. He wore No. 88 in his first stint with the team (also from Wade Heidt). … New mask design for G Tyler Muszelik of the USNTDP (also also from Wade Heidt). … New sweaters for Western Michigan (from Joseph Zurek).

Basketball News: If this retail shirsey leak is any indication — and such leaks have generally been accurate indicators lately — the Lakers will be getting a white alternate uni with blue type (from Rafal Niewiadomski). … It appears that Georgetown will be wearing a more simplified uni set this season (from Dave Giordano). … The city of Alexandria, Va., has renamed a portion of a city road after Alexandria native Earl Lloyd, the first Black player to appear in an NBA game (from William F. Yurasko). … The Smithsonian's National Museum of African American History and Culture has added one of Kobe Bryant's jerseys to its display on social activism in sports (from Kary Klismet).

Soccer News: Tottenham has announced its men's and women's teams will wear poppies for Remembrance Day on Nov. 7 and 8. Jamie Rathjen believes that's the weekend when most other EPL and Women's Super League teams will choose to wear them as well. … Couple of Liga MX notes from Ed Żelaski: Pumas wore pink numbers Sunday, presumably for cancer awareness, and Atlas has a new Day of the Dead jersey.

Grab Bag: Cross-listed from the college football section: All Indiana University teams will wear a social justice patch on their uniforms this season (from Kary Klismet and @btownm00se). … Mark Divine sent along a photo that includes logos for every Big Ten school's Hillel Club logo. … Google has updated the icons for its workspace applications (from Brinke). …Also from Brinke: Roger Federer has a new sneaker line with Swiss running company On. … The Police Service of Northern Ireland has introduced a new uniform for the first time since its formation in 2001 (from Timmy Donahue). … Also from Timmy: Premiership Rugby club Leicester Tigers have agreed to sell the naming rights to their stadium for the first time since it opened in 1892 in order to survive the pandemic. … Speaking of Premiership Rugby, new jerseys for Bath (from Sy Hart). … More rugby from Sy: New jerseys for SX10, a rugby tens team comprised of Kenyan and South African rugby sevens players. … New jersey set for French volleyball club Tours VB (from Jeremy Brahm). … Rep. Sharice Davids, one of two Native American women currently serving in Congress, has incorporated a feather design into her campaign logo (from R. Scott Rogers). … Some Marines will now have red patches on their utility covers (Timmy Donahue again).
• • • • •
• • • • •