Welcome to the latest installment of Uni Watch readers telling us how they first got bitten by the uniform bug (or, as I like to say, how they first Got It™). If you're new to this series, here are the first, second, and third installments. Ready for the fourth one? Here we go:
Tyler Dresbach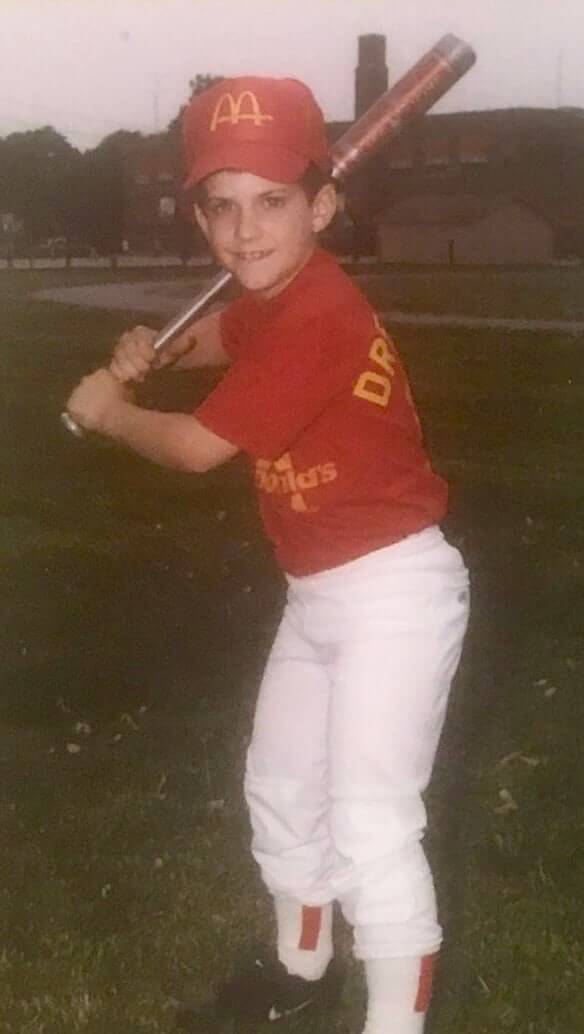 My first year of Little League baseball came in second grade, and I had already begun noticing aesthetics, particularly in sports. I was placed on the McDonald's-sponsored team. This upset me for a few reasons because I didn't like McDonald's, plus I wanted the team to have an MLB team name (like the Reds, my favorite team). In addition, I was disappointed with the discovery of two-in-ones. I had seen real stirrups on my dad's baseball cards, and I assumed I would get to wear those. The following year, I got placed on the McDonald's team again! This time we had switched to BFBS, and I distinctly remember thinking, "This doesn't make sense — McDonald's colors are red and yellow!" The next year I got to play travel baseball and I finally got a jersey with a proper team name on the front (Vikings). Better yet: white vests with pinstripes — I had arrived! Then I was quickly disappointed to find that our pants would be solid navy blue, again with two-in-ones. When I complained to my mom about it and argued that we should have gotten white pants with blue socks, she said the parents chose navy because they wouldn't stain. I distinctly remember saying, "Mom! Baseball uniforms are supposed to be dirty!"
———
Tom Bierbaum
It was the early '60s and I was probably five or six. A brother and I were really drawn to the Houston Oilers' helmets. How distinctive to see the white oil derrick on the pastel-colored helmet in a uni world mostly comprised of sharp-contrast color schemes. But in the age of black-and-white TV, what color were those helmets? We had no idea and my brother guessed they were tan (which arguably feels a little more "oil-like" than baby blue). A few years later I had a similar uni awakening when I went through most of that season seeing the expansion Falcons only in their white jerseys and was 100% sure their dark jerseys were the same bright red as the helmets (to the point where I misinformed my brother and he miscolored a drawing of his that featured all the NFL teams). So I was stunned to tune in to the Dec. 11 Cardinals/Falcons game and see Atlanta wearing their black jerseys! After I overcame my shock, I took a liking to the combination and the Falcons became one of my favorites for several years to come.
———
Nathan Arbour
The Pittsburgh Steelers helmet hooked me as a kid in the late '70s. As an eight-year-old, I thought it was odd that they had a logo on only one side, but I also thought it was somehow very cool. I begged my parents to buy me a Steelers varsity-style jacket with gold sleeves (they did), and I became obsessed with NFL helmets. That obsession spread to all things uniform-related in all sports, whether I actually watched the sport or not. I'm still like that to this day.
———
Basti Scherer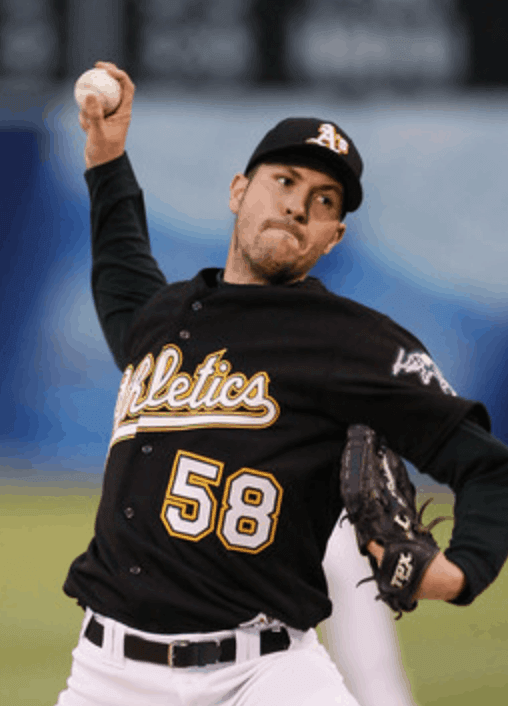 Growing up and living in Germany, it wasn't easy for me to follow baseball in the late '90s and early 2000s. With my favorite color being yellow, I always liked the A's. When they started wearing those dreadful black uniforms, I couldn't understand why they would ruin their look on the Field. I guess that's when I first Got It™. I'm happy to say that because of Uni Watch, I know there are more people like me.
———
Ted Machnik
It seems I was always intrigued by uniforms. Initially, it was military uniforms — I would see soldiers/sailors/airmen in Chicago and also saw photos in history books and encyclopedias. That carried over to sports — I bought baseball and football cards, even hockey cards; I wrote to various pro teams and they would send me decals and stickers, even color photographs. I received the official programs for the first two NFL-AFL Championship Games in 1967 and '68, along with several years' worth of the National League Green Book and the American League Red Book (all of which were lost, unfortunately, in a basement flood!). And getting our first color television set in 1972, man, that was a great day — color uniforms!
———
Lukas Hoffland
I believe it was a twofold experience around 1985, when I was seven (and first fell in love with sports). First, I couldn't help but be drawn to the aquamarine jerseys of the Miami Dolphins, especially in historic Super Bowl photos. From then on, I always preferred to see them wearing the aqua instead of the white jerseys. And second, I remember starting to feel bummed that year and the following couple years as baseball teams switched away from their powder blues and back to their road greys. That shade of blue had evidently made an indelible first impression on me.
———
Brian Graham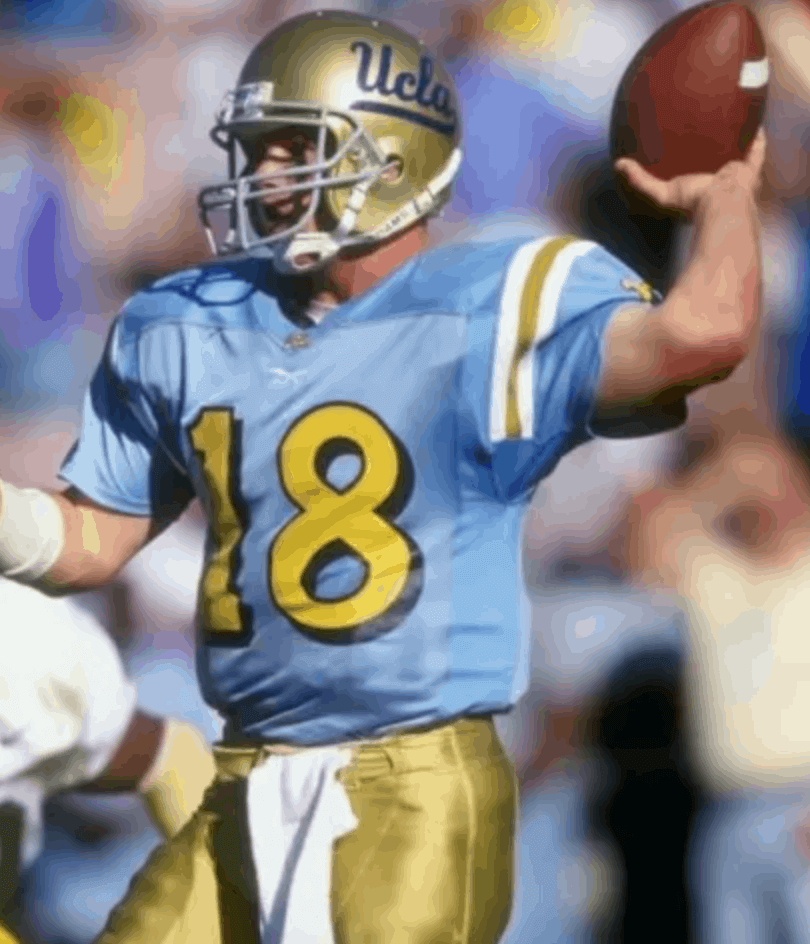 Growing up in southern California and becoming an avid sports fan in my late teens, I was initially more concerned with the results of the games I watched, rather than the aesthetics — but that didn't last long. As I became more aware of this thing called design (which would ultimately become my career), I realized I had strong feelings about how football uniforms looked. My North Star at the time was the classic UCLA uniform set with the light blue jerseys bracketed top and bottom by light gold. I would often state that "the helmet should match the pants," which made little sense to any of my family or friends. But it made sense to me. Still does.
———
Bud Parks
My beginning with Getting It™ in terms of uniform minutiae was definitely with football facemasks. It was always one of the first things I noticed on a player because, other than their jersey number, it was one of the few pieces of their uniform that made them distinctive. And it was endlessly fascinating to me when someone switched facemasks between games or seasons. I always wondered why they made the switch because it must've been something they thought long and hard about, right? In fact, I figured it was so serious that the first time I told my parents about a player switching to a different mask (hoping they could explain the reason for the switch), it blew my mind that they hadn't even noticed what the previous or new mask looked like. How could they not notice?! It's right in front of the player's face! That's when I kind of knew my perception of the game was different than most.
———
Ted Taylor
I knew I was different in Little League. But I think I came to terms with it in high school when I saw Twins pitcher Scott Erickson. His black socks stood out in a time of pencil-thin two-in-one stirrups, and I became obsessed. My Legion ball uniform was a rip-off of the Twins' look, so I searched high and low until I found some black stirrups in our town (it never dawned on me to just wear black socks). But the cut was still too high, so I had my mom cut the bottom strap and resew it so almost none of my sanitary sock could be seen. I had always been "fastidious" about my uniform, but this was the first time I realized how important it was for me to look a certain way. I also went out and bought a black Rawlings glove to go with my new look. That night on the mound I took the loss in a 24-8 loss. Granted, it was against a team in a class higher than us, but still. I remember the sequence of events that day like it was yesterday.
———
Kurt Rozek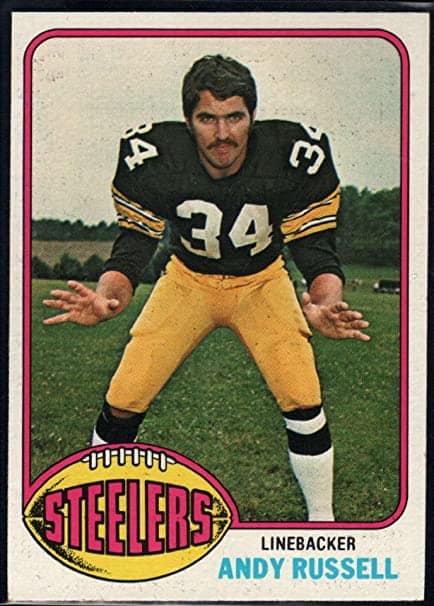 Being red-green colorblind has caused me lots of confusion over the years, but I believe it helped me in my uniform recognition. To me, the Pittsburgh Steelers' home uniforms looked a lot like the Green Bay Packers' home unis in the 1976 Topps football cards. I particularly remember Andy Russell's card, because he wasn't wearing a helmet, which would've made all the difference in the world (black instead of gold). I noticed the difference in sleeve stripes and the location on the TV numbers to help differentiate between the two. I guess the rest was history.
———
Kary Klismet
There is no mistaking the moment I Got It™: A visit to the Baseball Hall of Fame in Cooperstown when I was 15 resulted in something almost like a religious conversion. I'd always been a casual sports fan, but that day, surrounded by a visual feast of iconic baseball memorabilia dating back more than a century, something in me just clicked.
From that point forward, I was a diehard — not only of baseball, but of almost every sport I saw covered in the newspapers and on TV. Being a sports fan and uni-watcher were inextricably linked for me. I couldn't conceive of being a baseball fan without buying the National League Green Book and American League Red Book each year to scour the pages for any changes to the teams' uniforms. I wrote to every NFL and Major League Baseball team to collect team photos and logo stickers. And I created my own imaginary baseball and football leagues and spent countless hours drawing each team's uniforms.
———
Tom Evans
I live in England. In 1991, when I was six, my dad "encouraged" me to support his favorite club, Tottenahm Hotspur. It was the F.A. Cup semifinal, and Dad told me, "If the team in white wins, I will buy you a football shirt." That was enough for me to support Spurs for that game, and they won. So we went to our local sports shop to get my shirt. I wanted a Manchester United one, because all my friends supported them. Turns out I had not heard the part where my Dad said he would buy me a Spurs shirt. We walked away with a bright white home shirt and I have supported them ever since. I still have the shirt, in fact, and I just recently bought a replica of it, as the original doesn't really fit me anymore.
———
Larry Schmitt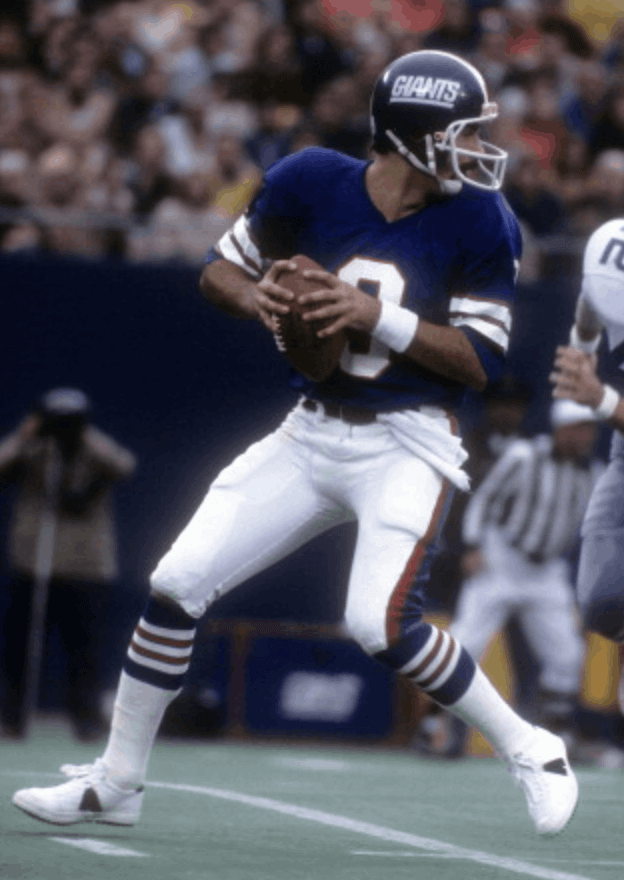 I grew up in a New York football Giants household. Our season tickets went back to my grandfather. I'd casually watch parts of Giants games with my father, and I knew they wore blue helmets and blue jerseys. 1979 was the year I really became a fan and would pay attention to the games and make sure I was in front of the TV every Sunday. Those were the crazy days of the Giants uniforms having stripes all over the helmet and socks, and that broad oversized stripe on the pants. The moment I first Got It™ came while watching the first preseason game of 1980, which I had to stay up late to see on tape delay. Not only did the Giants overhaul their uniforms (which I still remember the announcers referring to "going back a few years" with their new look), but they were wearing white jerseys at home, too. While I liked the new uniforms, especially the single red stripe on the helmet, I was uncomfortable with the idea of the Giants not wearing their blue jerseys. I've paid close attention to uniforms and the white-at-home phenomenon ever since.
———
Jacob Gibb
Growing up, I always knew the Utah Jazz by the purple/teal mountain logo, and I have a real fondness for the ridiculous '90s uniforms the team wore. (The BFBS design from the 1998 season is one of my all-time guilty pleasure uniforms.) By 2009, however, that logo and the team's bland, boring powder blue color scheme had run their course. Thankfully, the following season the Jazz reintroduced the classic J-note logo and I was hooked. I followed the team for every bit of information I could about the new logo set and salivated at the prospect of new duds that matched the early years of Karl Malone and John Stockton, and I was not disappointed when the accompanying uniform set was unveiled. Ever since then, I've obsessed over what teams are wearing just a little bit more than what's going on in the game.
———
Gene Sanny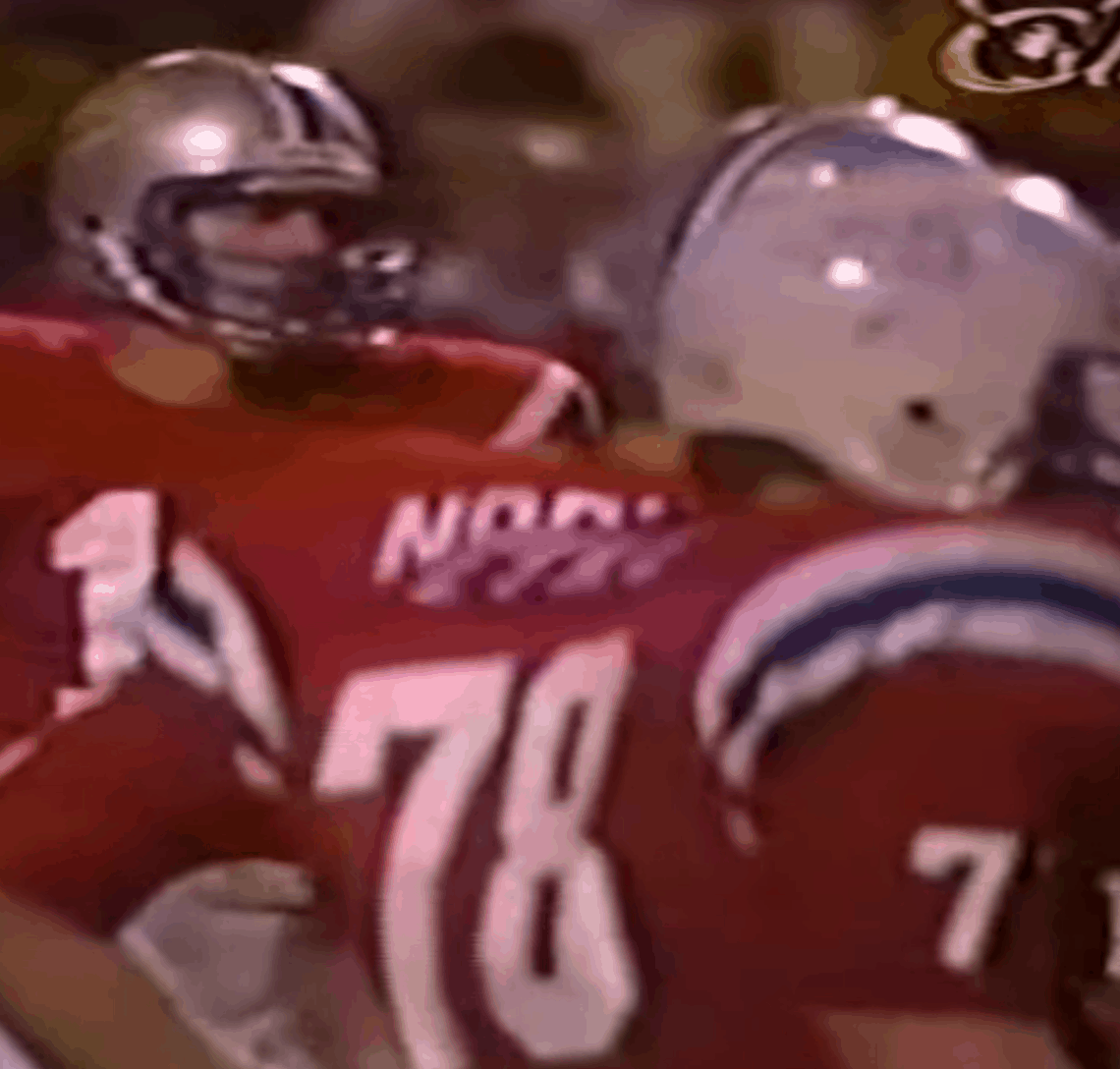 In 1983, 12-year-old me wonders why Chicago Blitz right tackle Nick Eyre wears a grey helmet while everyone else wears a metallic silver helmet. He also sees kicker Frank Corral wear a grey mask while everyone else wears blue, but that seems trivial compared to the odd grey helmet. He'd later learn that nothing is trivial when it comes to uniform oddities, as he is still wondering why Eyre had a grey helmet (and can't seem to focus on anything else when watching an old Blitz game on YouTube).
———
Howard Corday
I think I first Got It™ in 1959, when I started following the Red Sox. I had two T-shirts — one that said "Red Sox" and a generic one that said "Boston" with a drawing of a baseball player. I wore the Red Sox shirt when they were playing at home and the Boston shirt when they were on the road.
———
Jesse Agler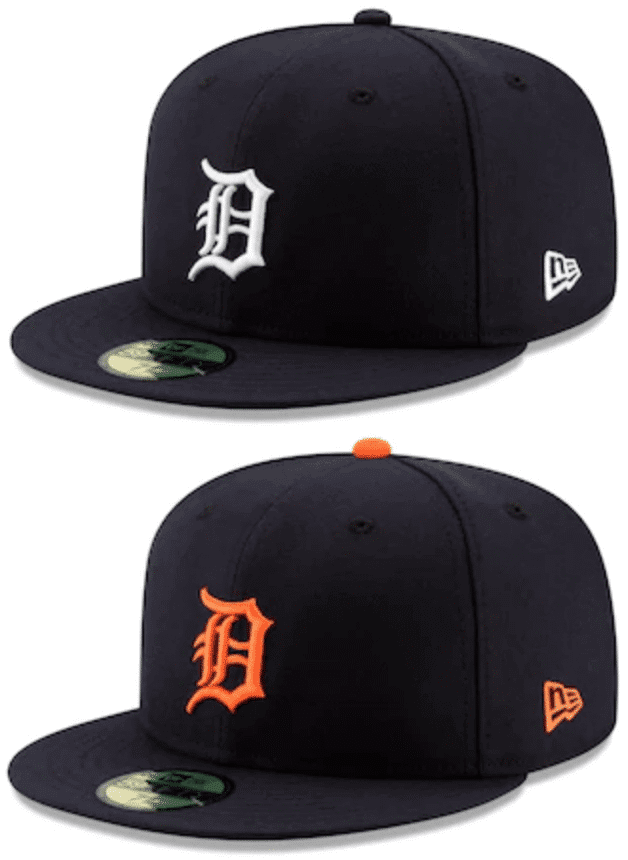 I was seven or eight years old — late '80s — and at our local drug store, they sold these sticker books where you would collect stickers that fit the different uniform parts of a baseball player's silhouette. So there was a hat sticker, a home uniform, home pants, etc., for each team. And I believe team logos, too. I enjoyed it well enough, but the thing that made everything click for me was when I realized the Tigers had two hats — one with the white "D" and the other with the orange. I was fascinated. I specifically remember asking my dad what the deal was, and he explained that one was worn at home, the other on the road. And I was instantly hooked on studying details and looking for quirks. Haven't stopped since!
———
Eric Bangeman
My father was in the Air Force, so we moved around a lot. In the mid-'70s, that meant living in Hawaii. My father took me to Hawaiians (WFL) and Islanders (minor league baseball) games, but the first one that made an impression on me was the 1976 Hula Bowl. I loved the red, white, and blue jerseys with the contrasting shoulder yokes and stars, but the players all wearing their own helmets really stuck out. Also, Cornelius Greene and Gordon Bell had their jerseys stolen before the game, so Greene wore No. 00 and Bell wore a blank jersey, which made them stand out even more. I started drawing uniforms and logos for imaginary teams in imaginary leagues, and the following Christmas I got the coolest present ever — a kit of 64 colored markers so I could better illustrate my uni creations.
———
Michael Malinowski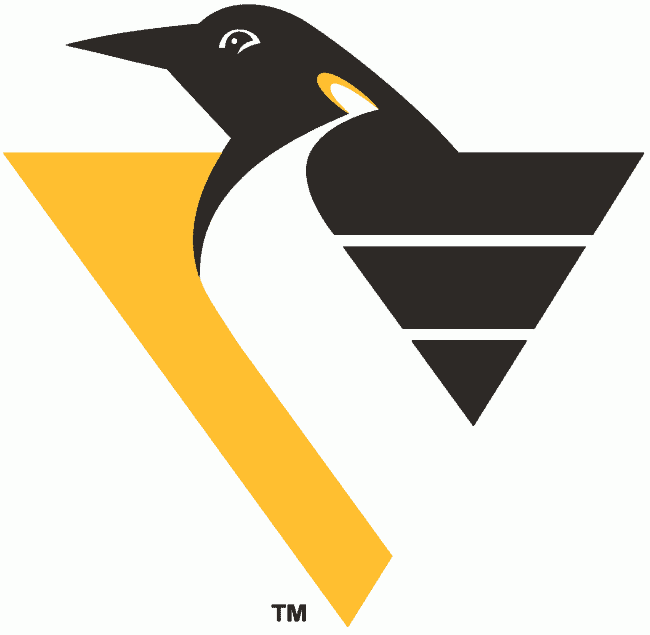 It was 1993 and I was 10 when I first Got It™. I saw something on TV saying the Pittsburgh Penguins were changing their logo, and the screen showed a penguin head on top of a bolt of lightning. I thought, "What in the world are they doing?" and felt very upset that they'd change their logo in the wake of two Stanley Cup championships and a Presidents' Trophy. I was relieved to discover they went with the robo-penguin and not the weird lightning bolt logo I've never seen again. The relief turned to grief when I saw they changed their uniforms too. I couldn't understand why they'd change something that wasn't messed up to begin with, which is my attitude towards uniform changes still.
———
John Dankosky
1979-1980 was a huge year for hockey uniforms, and I was a super-impressionable 10-year old who loved to collect cards. I'd listen to Penguins games and flip through the pictures of the colorful WHA expansion teams (they were all cool!), the vibrant North Stars and Canucks unis (flying V!), and see how they were clearly different than those of the "original six." Plus, as a bonus, that year my Pens ditched their original blues to wear the black and gold of our champion Pirates and Steelers, the ultimate Pittsburgh "uni move."
———
David Staples
There were two things that led me to Get It™ with uniforms, and both were at the Publix grocery store in West Palm Beach, Fla. The first was the gumball machine that would dispense helmets of different NFL teams. My brother collected them and then I started, eventually ending up with his collection when he outgrew the interest. I was a Cowboys fan and couldn't get their helmet, so my brother painted an extra Cleveland one to match Dallas for me for Christmas. Publix also ran a yearly scratch game with all of the Miami Dolphins' opponents. You would get scratch cards with helmets of the teams and then put them on a game board — similar to the McDonald's Monopoly game but far predating it. Eventually the focus on helmets grew and I started drawing helmets (and world flags). I loved facemasks that were not grey because they were unique. I knew which players wore different facemasks and when they changed. I've loved uniforms and logos ever since, which is why I love Uni Watch.
———
Kyle Martinek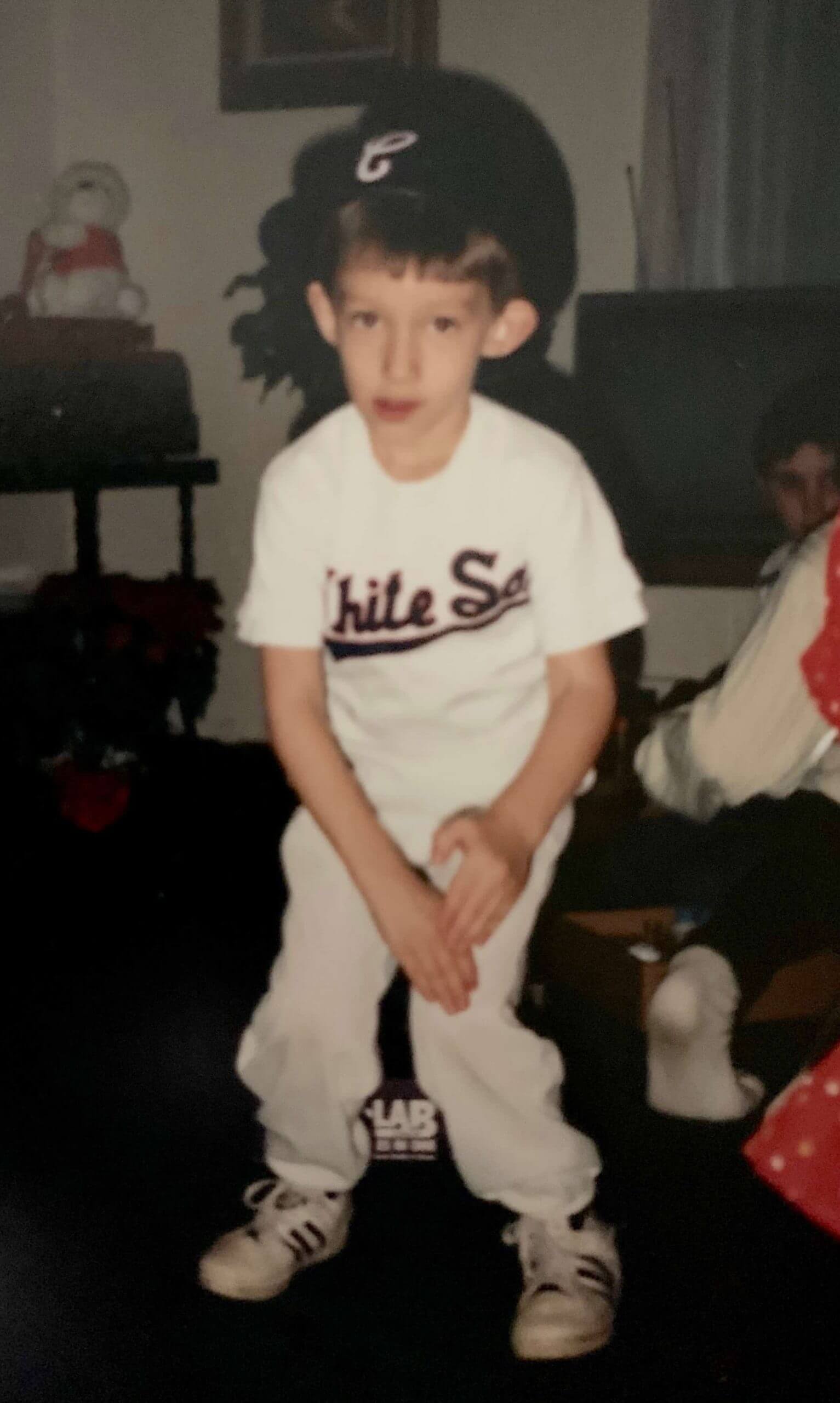 Most days in the fall you'd find me in my Hutch Walter Payton uniform. I even went so far as to use masking tape and a slice of orange peel to replicate his mouthguard. Weird, I know. Summertime meant the cursive-C White Sox. Dad wore a suit and tie to the office, so playing businessman required a suit and tie. Mr. Rogers would start every show by putting his uniform on, so I'd put a sweater and clean shoes by the door for when I came inside. If school was boring, drawing passed the time. With zero artistic talent, I drew what I enjoyed — college football helmet logos. That grew into designing new uniforms. When video games started letting players design teams and uniforms, it was a blast to put those awful freehand drawings into a real template.
———
Paul here. I love these stories so much! I still have some more in the hopper, so we'll have another installment soon.
If you want to share your own story of how you first Got It™ — no more than one paragraph, please — go ahead and send it here (note that this is not the usual Uni Watch email address). Thanks!
(My continued thanks to Brinke Guthrie for coming up with the idea for "When I First Got It™".)
• • • • •
• • • • •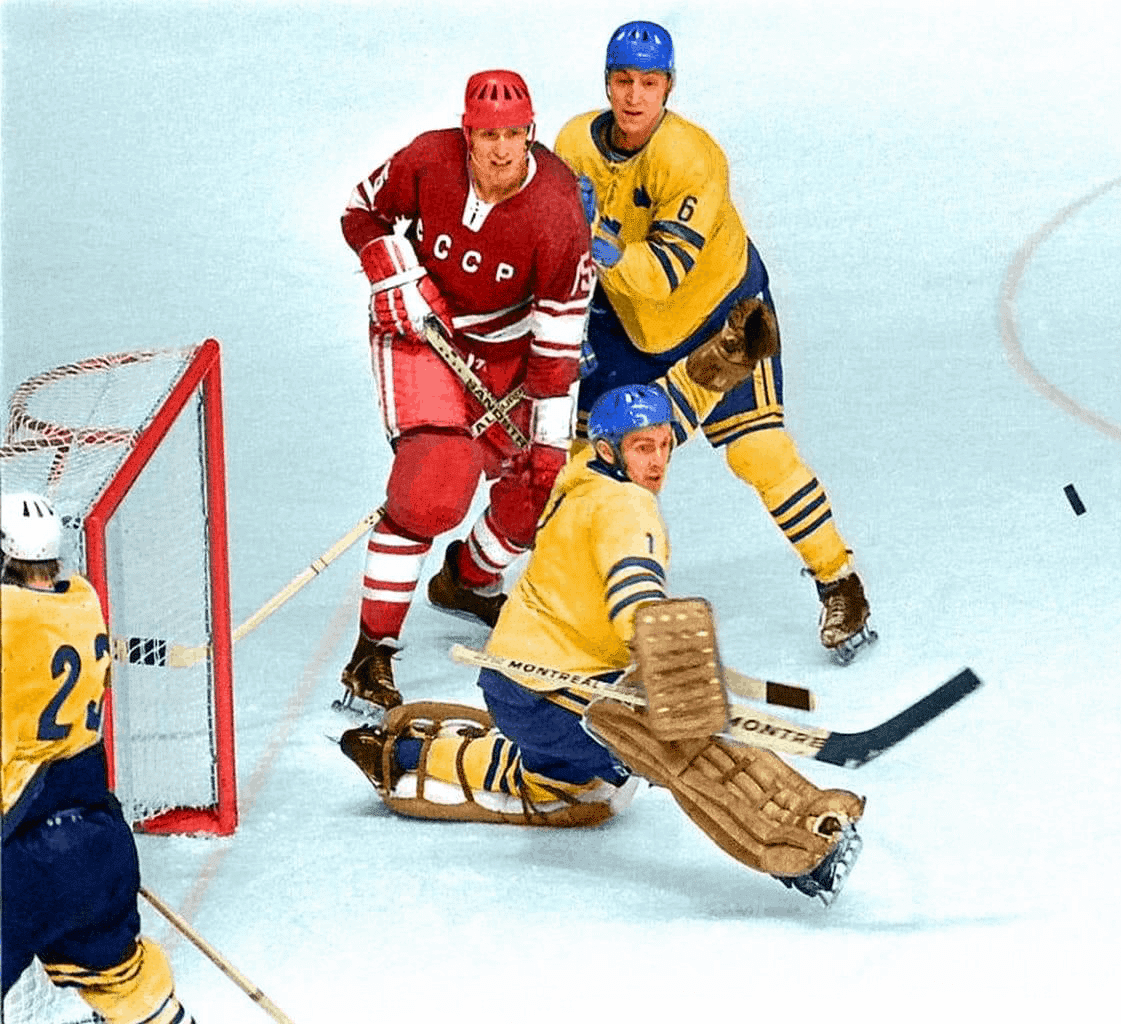 Click to enlarge
Who was that unmasked man? I'm old enough to have seen goalies wearing masks, goalies with no mask, and goalies wearing helmet/cage combos. Until now, though, I don't think I'd ever seen a goalie wearing just a helmet, but no mask.
That photo, which was sent my way yesterday by reader Bruce Jaynes, is from a 1970 game between the USSR and Sweden. Bruce says he's never seen that look before, and neither have I! Anyone know more?
• • • • •
• • • • •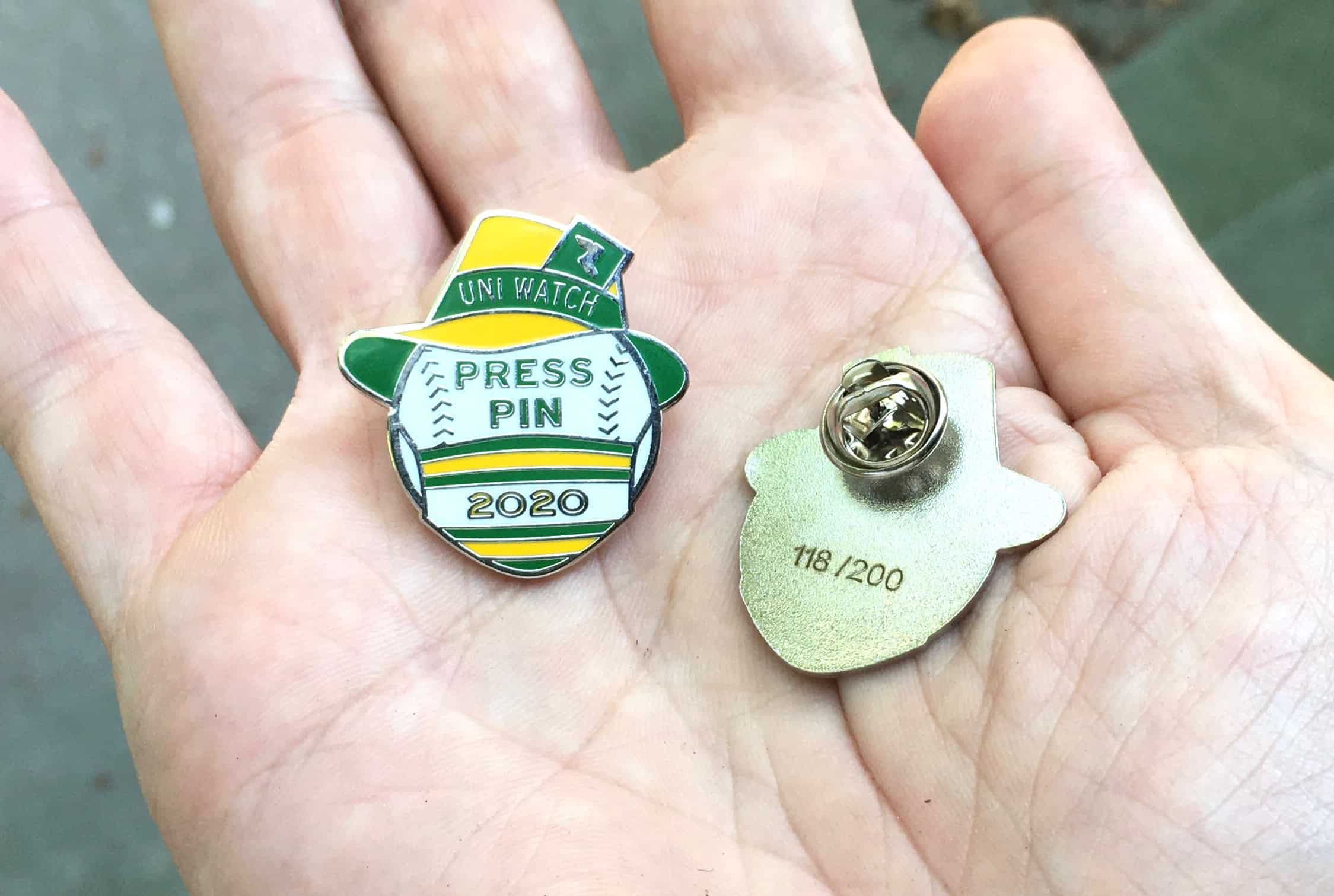 Click to enlarge
ITEM! 2020 Press Pin now available: The World Series starts next week, so it's time to roll out the 2020 edition of the Uni Watch Press Pin, which is now available.
In case you're new around here, or just need a refresher course: Designer Todd Radom and I launched the Press Pin series last year, inspired by the longstanding tradition of World Series press pins. Now, you may be thinking to yourself, "Er, I'm not a member of the press." Ah, but you are! All of you who scrutinize the uni-verse are essentially part of the Uni Watch media enterprise, whether you submit Ticker submissions or even just raise uni awareness by discussing uniforms with your friends. You've all helped make Uni Watch what it is today, and you're all fully deserving of wearing a Uni Watch press pin.
As for this year's design, it's a riff on the 1951 Dodgers press pin, with a mask thrown in to capture the spirit of this crazy year: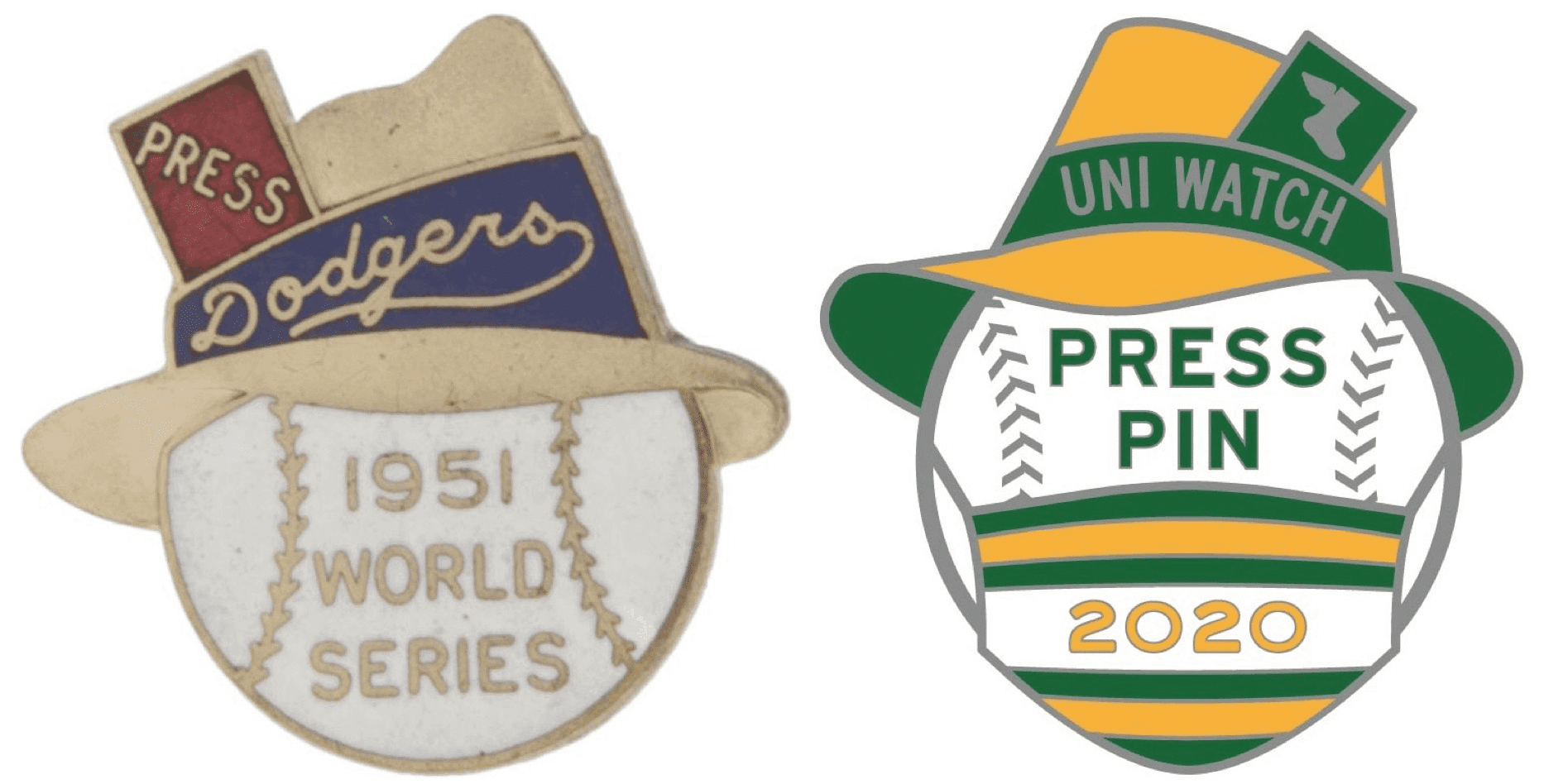 The Dodgers pin was a phantom, because Bobby Thomson's "shot heard 'round the world" kept the Dodgers out of the Series, but it's still a great design, and we're proud to reference it with this year's press pin.
This pin has been produced in a numbered edition of 200. It is not part of the monthly Uni Watch Pin Club series, so you do not need to purchase it in order to qualify for the Pin Club's "collect 'em all" bonus pin, although I think many of you Pin Clubbers will like this one as well.
Again, this new pin is available here. Last year's sold out in just a couple of days, so you know what to do.
• • • • •
• • • • •

Click to enlarge
ITEM! New theoretical menu item: Hanukkah is nearly two months away, but you can get a head start with the latest addition to the theoretical T-shirt menu — or at least you could if they were actually available for purchase.
Wouldn't it be fun — you know, just hypothetically — if these shirts were available? If you'd like to talk about that — or about any of the other menu items — shoot me a note and we can discuss that lamentable state of affairs.
• • • • •
• • • • •
Color Remix reminder: In case you missed it on Tuesday, Uni Watch Color Remix merch is now available in Halloween colors. Let's start with the caps (click to enlarge):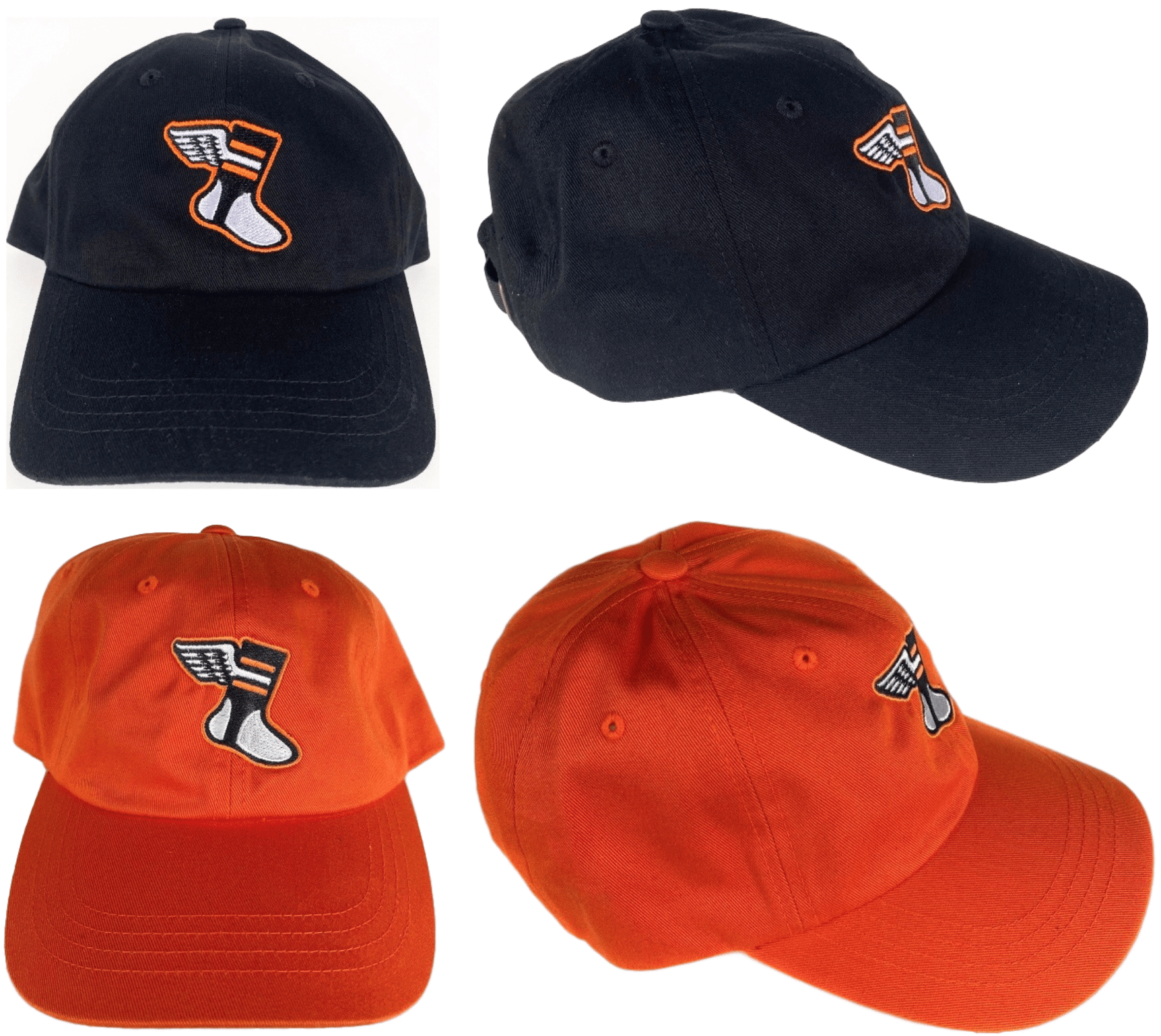 These will be available for a limited time here.
In addition, we have corresponding T-shirts: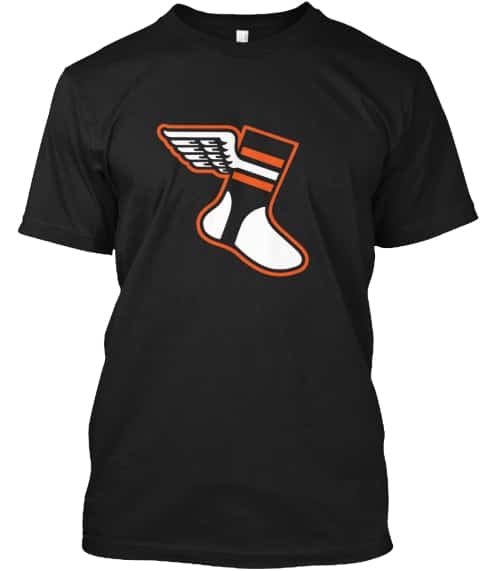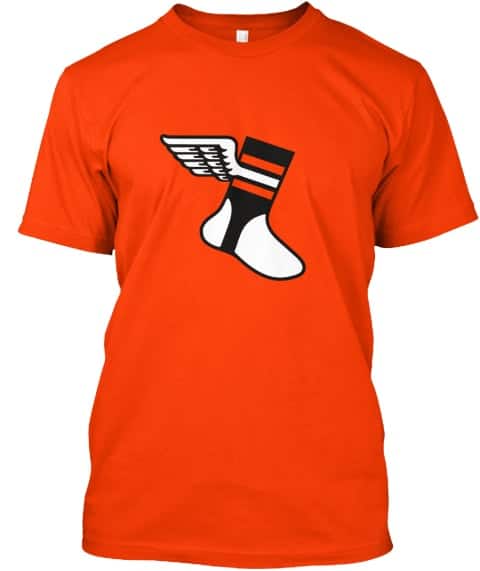 Here's where you can order the black and orange versions. They will remain in the Uni Watch Shop for the foreseeable future.
Finally, this is the last week for ordering the first round of Color Remix caps, so move fast if you want any of those. Thanks!
• • • • •
• • • • •
The Ticker
By Lloyd Alaban

Baseball News: Braves closer Mark Melancon didn't have the "Postseason" patch on his cap on Monday, but the patch reappeared last night (from Benji Boyter). … A cardboard cutout of Tampa Bay Buccaneers TE Rob Gronkowski was in the stands for the Astros/Rays ALCS game last night (from @JTS65). … Did you know there used to be a New York Female Giants ballclub? (From Doug Brei.)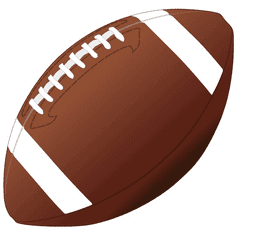 Football News: The 49ers will wear their all-white throwbacks this Sunday night against the Rams. That's surprising, because the Rams' jersey schedule, released prior to the start of the season, called for them to wear bone dishwater for this game, so you'd expect the Niners to be wearing red, not white. Hmmm. … New uniforms for Sam Houston State (from Clint, who didn't give his last name). … Nebraska has unveiled its latest "Blackshirt" alternates (from multiple readers). … Edmonton is being looked at by the CFL as a potential bubble city for the 2021 season (from Wade Heidt). … Cross-listed from the baseball section: A cardboard cutout of Buccaneers TE Rob Gronkowski was in the stands for the Houston Astros/Tampa Bay Rays playoff game last night (from @JTS65). … From reader Matthew McLaughlin: "I stopped at a store a few miles from Arrowhead Stadium to have a jacket hemmed and saw these nameplates on the counter. I asked if they did the sewing for the Chiefs and the lady just smiled and said she didn't know." Hmm.

Hockey News: Sabres F Taylor Hall will revert back to wearing No. 4 (from Wade Heidt). … Also from Wade: G Justin Easter of the Victoria Grizzlies of the BCHL has grizzly fur-themed pads. … D Alex Pietrangelo will wear No. 7 with the Golden Knights. He previously wore No. 27 with the Blues (from Mike Chamernik). … New logo for the CCHA (from Jerry Nitzh). … D TJ Brodie will wear No 78 for the Maple Leafs, marking the first time in Leafs history that that number has been assigned (from Ted Taylor).

Soccer News: MF Toni Kroos commemorated his 100th game with Germany with a gold badge on his shirt for a friendly against Switzerland (from Leon, who didn't give his last name).

Grab Bag: Renderings have been unveiled of a new international cricket stadium to be built in Kalam, Pakistan (from Kary Klismet). … "Coyote brown" has become one of the most popular uniform colors in the U.S. Armed Forces (from Noah Safari).
• • • • •
• • • • •
Click to enlarge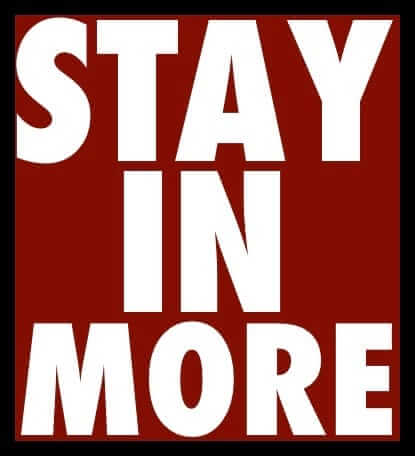 What Paul did last night: I mentioned a while back — I think in July — that our landlords were planning to replace our front walkway. They kept delaying it, getting quotes from different contractors, etc., until they finally went ahead and got the project started yesterday. Certainly made for a different Pandemic Porch Cocktails™ experience.
So there was lots of sledge- and jackhammering yesterday. Fortunately, I wasn't here for the latter, as I had to run to Manhattan for a dental appointment — my first visit to midtown since before the pandemic. My initial plan was just to come home afterward, but while the hygienist was working me over, it occurred to me that I was fewer than 20 blocks from my favorite NYC barbecue joint — Hill Country. So I walked down there after the dental session and got some takeout ribs, pulled pork, and hot links. The Tugboat Captain was so happily surprised that she made a spicy corn/tomato/onion/garlic side dish (click to enlarge):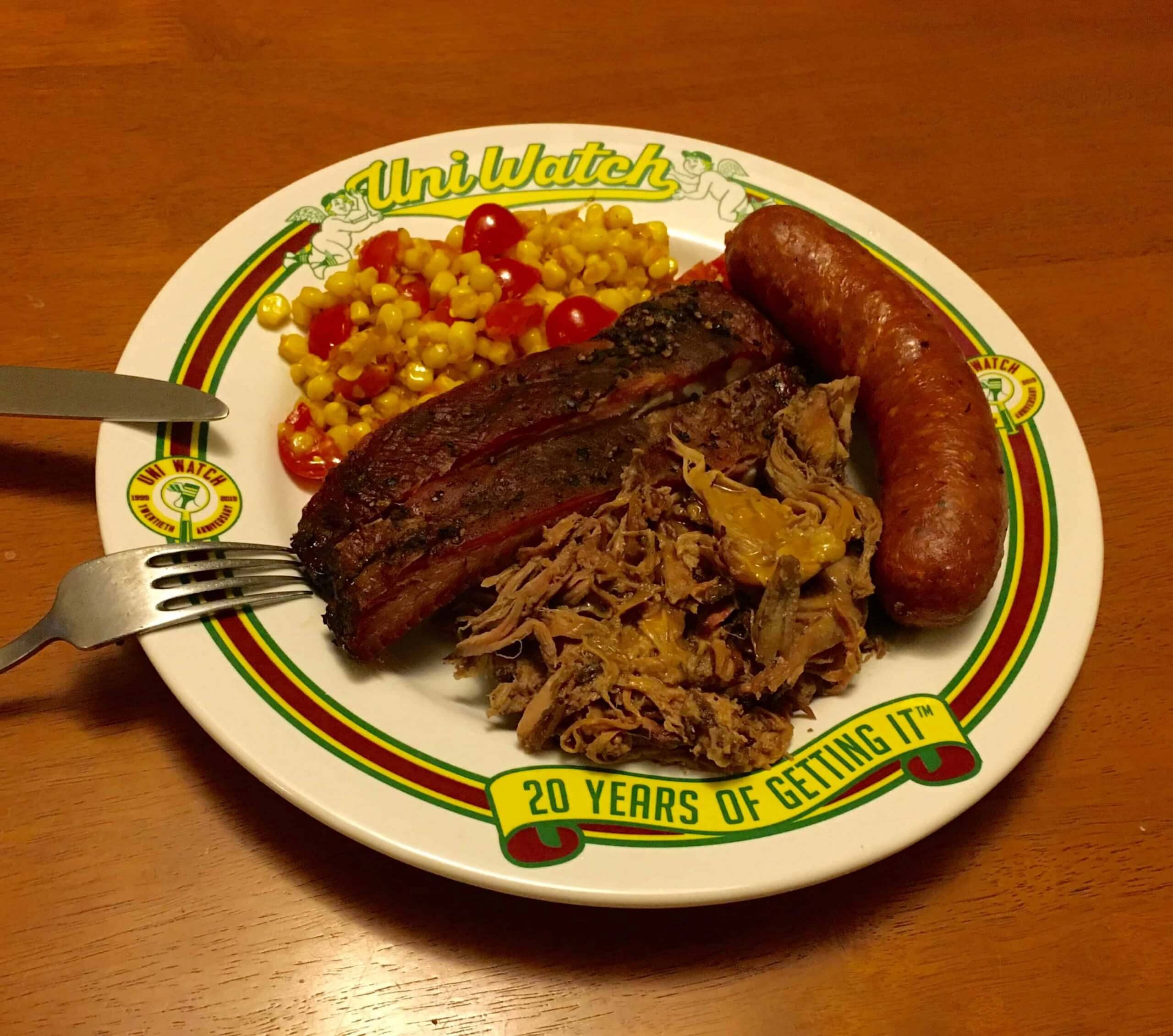 As always, you can see the full set of Pandemic Porch Cocktails™ photos — now well over 200 of them — here.