Earlier this year, I published a blog post featuring Uni Watch readers sharing the stories of how they first got hooked on uniforms — in other words, how they first realized that they Get It™. The post was such a hit that I did a follow-up post a few months later, and today we have the third installment in the series.
Some really great stories here — enjoy.
Christopher Hickey
My dad volunteered as the football team doctor for our local Catholic high school from the 1950s to the 1970s. He kept a collection of the school's yearbooks (given to him as keepsakes for his service, along with those my brothers received each year they attended) stored in a cabinet in his basement office. I remember being in grade school and making my way downstairs rather often to pore over those books. I'd look for photos of my dad or my brothers, but then found myself drawn to the various uniforms — band, track, baseball, etc. — and how they used the school colors, how styles changed over the years, and the like. It helped me connect with my dad, appreciate his call to service and gain some valuable common ground with my brothers, too. I stop by Uni Watch for some of the same reasons: to share, to learn, to gain perspective, and to connect with "family."
———
Gordon Blau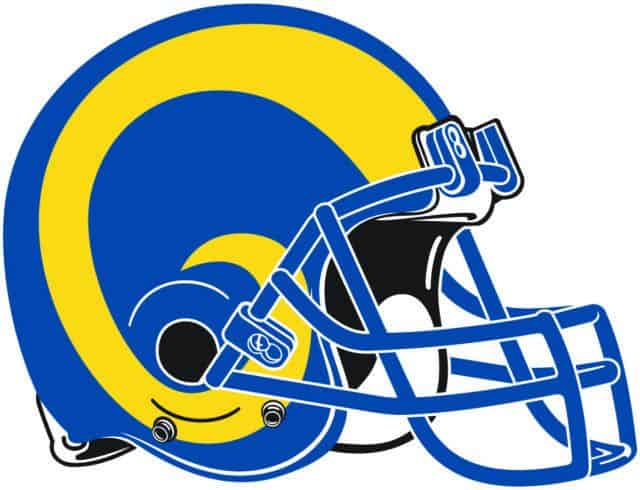 I first Got It™ when I was a young fan and noticed the Los Angeles Rams' helmet. It caught my attention because it wasn't just a logo slapped onto the side of a helmet; it was a true conceptual design! When their lineman were crouched and ready to collide, it was even more effective — that's what actual rams do! I wasn't even a Rams fan, but it was so well executed, I couldn't help but admire them. I went on to a career in design, so I imagine my early appreciation for the Rams' helmet foreshadowed that.
———
Scott M.X. Turner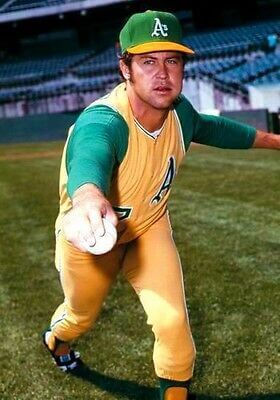 Two early moments:
1) Yankee Stadium, 1969, age eight. A twi-night double-header between the Yanks and the A's. I'm super-excited to see the A's all-yellow vest uniforms. They come out wearing their road greys. I am crushed. I sit through the entire game pouting. As the second game is getting set to start, my mom pokes me and points at the field — the A's have changed into their yellow unis for the nightcap! I am thrilled. Lesson: Good things occasionally come to those who wait.
2) My grandfather's house, White Plains, N.Y., Thanksgiving Day, 1971, age 11. Kansas City vs. Detroit Lions. I don't wanna go to Poppo's house, because the best NFL uniforms ever — KC's white jersey/red pants — will look awful on his black-and-white TV. Who doesn't understand this?! I refuse to go, but my mother is having none of it. She scruff-grabs and mom-handles me into the car. We arrive at Poppo's, I drag my feet into the house, and it's a Thanksgiving miracle — he's bought a Sears color TV! The game is on and Kansas City's red pants are bursting off of the screen. Lesson: Never doubt my Poppo.
To this day, my hopes for a sporting contest rise and fall on what the teams are wearing. Isn't this everyone's square one?
———
Chris Mitchel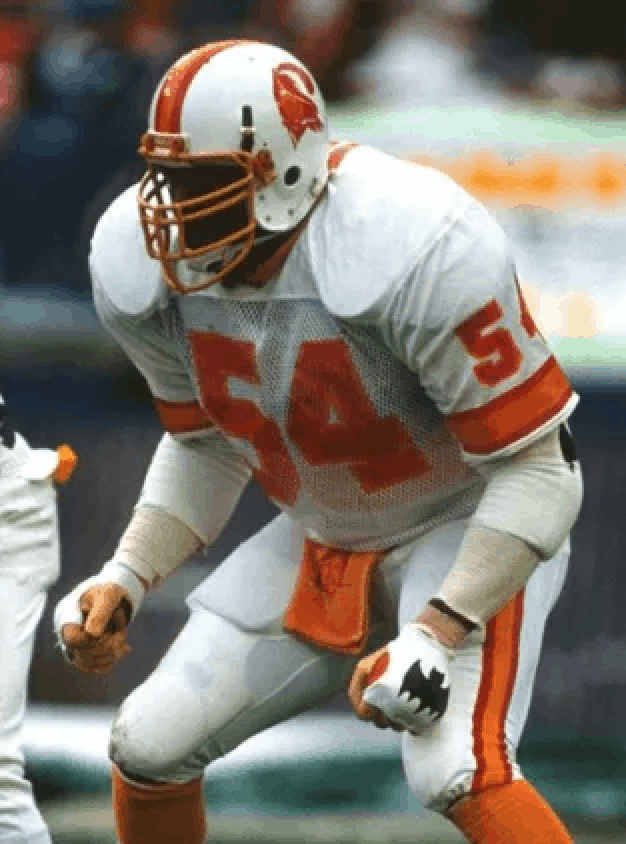 I used to scour the old Sporting News for any uniform items. That was my first foray into thinking I really Got It™. But I took it to a new level when I started to "detail" my electric football players with very specific uniform anomalies. My favorite was adding the Batman logo to my figure of Buccaneers linebacker Richard Wood. Sadly, those figures were later discarded by my father after I moved out and forgot to take them with me.
———
Casey Siereveld
Growing up as a Detroit Tigers fan, I always found myself fixated on the team's uniform quirks. The hat "D" was different from the jersey "D," and this bothered me for years. However, when they "fixed" the jersey logo to match the hat a few years ago, it felt a bit jarring. I'm still not sure how I feel about it, but what I know for sure is that I am obsessed with these sorts of details. One of the Tigers' other quirks — the appearance of orange on the road set only — has heightened my awareness of the color-related quirks of other teams in other sports around the world. For example, the German soccer team Hamburger SV is known for its red shorts, even though the team's colors are blue, white, and black. I would not be so intrigued by these sorts of things if it weren't for my beloved, quirky Tigers.
———
JohnMark Fisher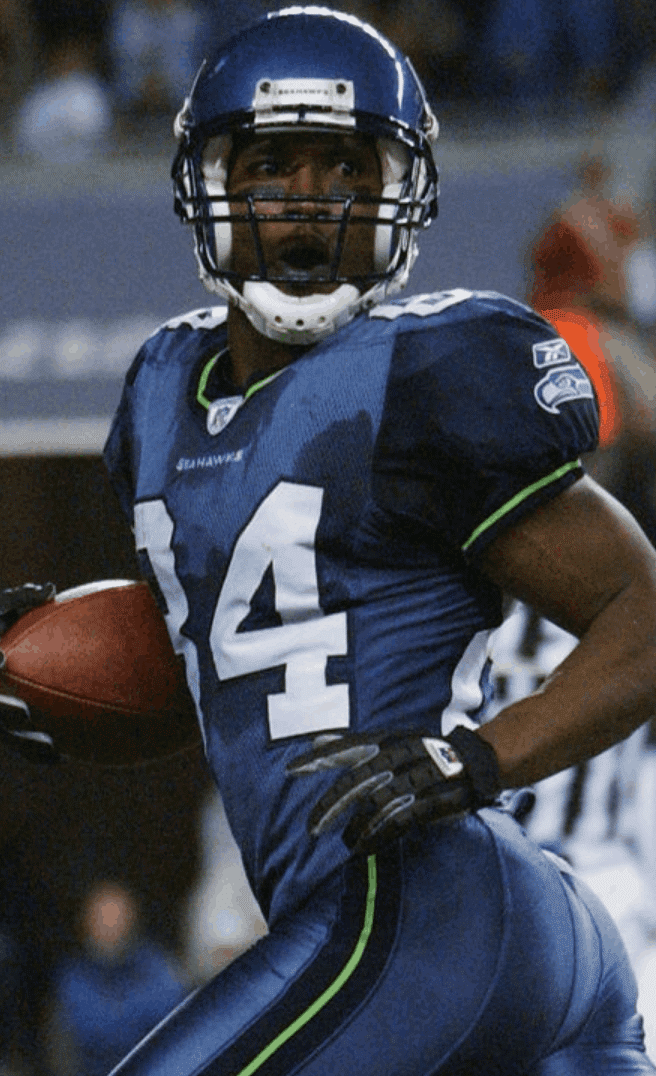 Oct. 14, 2002 –- the Seattle Seahawks hosted their first Monday Night Football game in their gorgeous new stadium, donning their bold new uniforms with the refreshed logo. As someone who grew up near Green Bay, I was constantly exposed to the Packers' classic look. This Seahawks look was an awakening, like a splash of cold water in the face — "They can do that!?" I was hooked. I was in eighth grade and remember telling my friends the next day about how "cool" the Seahawks were, declared myself a fan, and subconsciously opened my mind to the world of athletics aesthetics.
———
Brian Gunter
In the early 1960s, when I was five or six, my twin brother and I could barely wait for the Sunday paper with coverage of college football, especially Georgia Tech. But the photos in the paper were black-and-white, so we would take colored pencils and color them in. Then I remember our parents somehow got us some gold football pants — we already had Tech jerseys, but the pants, wow! Ironically, after going to Tech for a couple of quarters, I transferred to UGA and became a Dawg. My twin brother has yet to really forgive me!
———
Greg Seher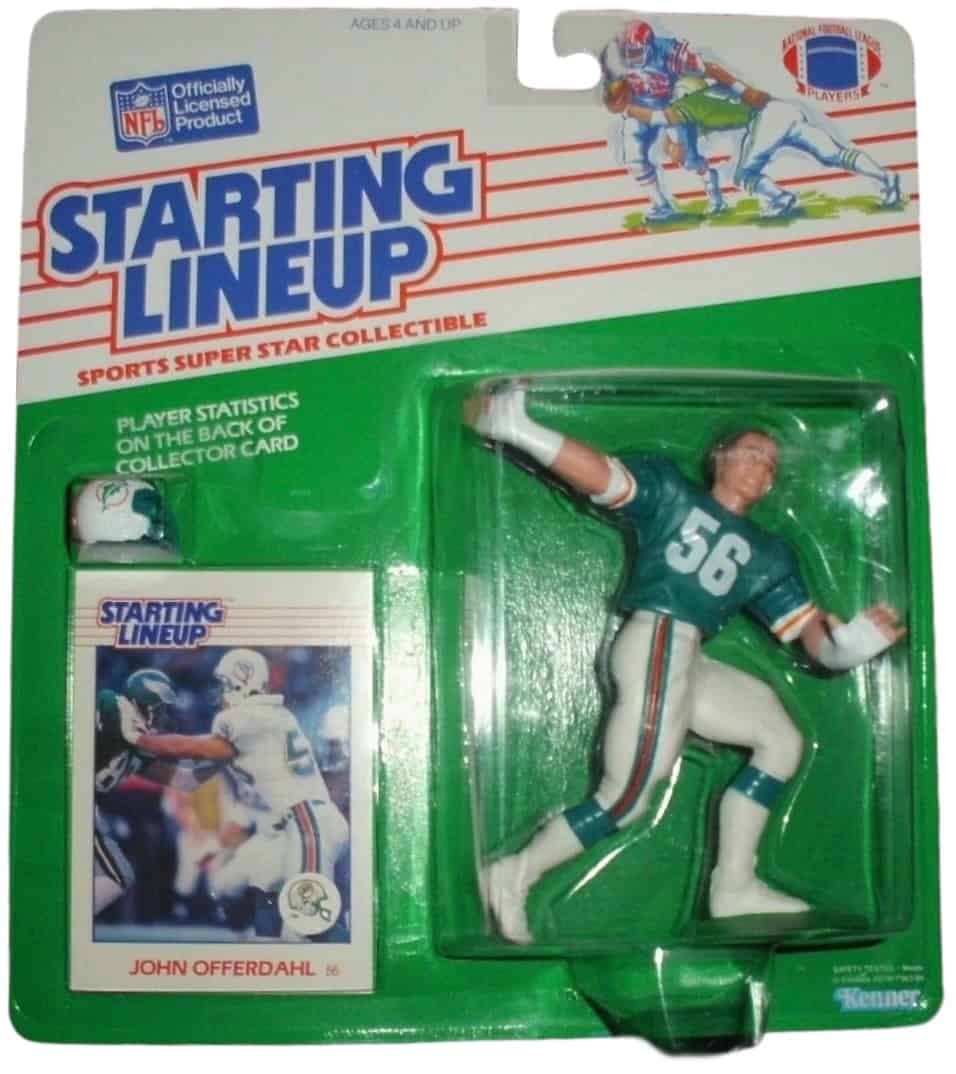 One year in the late 1980s, my babysitter got me a John Offerdahl Starting Lineup figure. There was something unique about the Dolphins' aqua-and-orange uniform and logo, and even the idea of a dolphin as the nickname and mascot was appealing. I quickly became a Dolphins fan. That was when I began to appreciate teams with good logos and uniforms. Then a couple of years later my dad took me on a chartered bus trip to check out a game at brand-new Camden Yards in Baltimore. On the trip I won Marc Okkonen's baseball uniform book in a raffle, and from there I was hooked.
———
Clarke Hall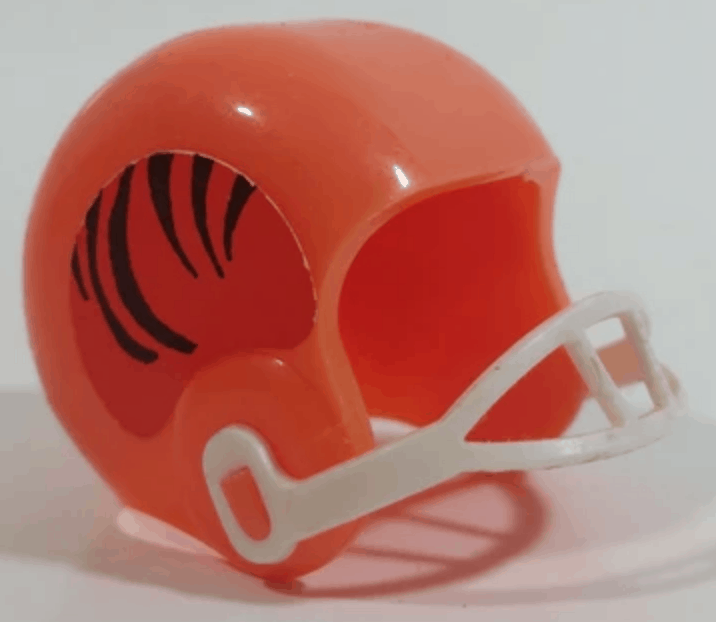 When I was a kid, probably about 10-ish, I was obsessed with gumball helmets. I loved the collecting, I loved that you had to put them together. The only thing that bugged me, as a Bengals fan, was that their version really sucked. That little patch of stripes on the side was such a bummer. So my grandpa took an orange shell and cut accurate stripes out of electrical tape to make my brother and me a legit Bengals gumball helmet. He even cut out a number 80 for the back. My parents still hang that helmet on the tree every Christmas!
———
Jesus Mora Saenz
Collecting stickers of older MLB teams got me interested in the meaning of logos, especially for the Expos. Never knew what it meant until after high school. The other key moment was watching Super Bowl XXVII and keeping an eye on uniform brands. The Cowboys wearing their usual white attire, made by Russell Athletic, and the Bills wearing Champion, if I'm not mistaken. Then the following year, Dallas was wearing Apex.
———
Andrew Maynard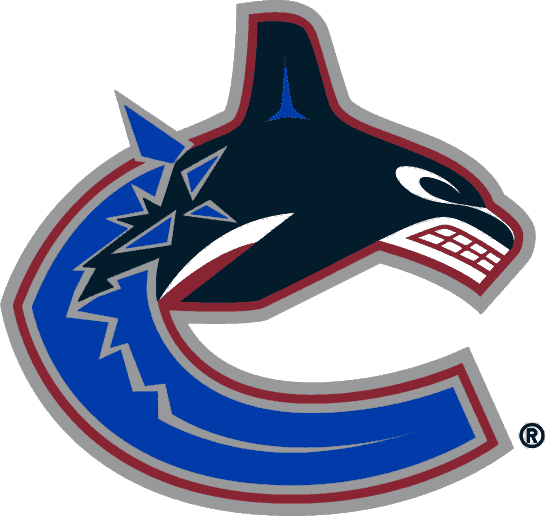 My first memory of liking a uniform for the sake of the uniform is when I went into the mall hat store and fell in love with the 1998 Canucks logo with the orca on it. I bought it right away, even though I've never been to the northwest. My only other hat at the time had "Marvel Comics" on it, so I didn't follow any sport that closely. I didn't know any players on the team and I didn't even follow my hometown Blues too closely at the time, but I loved that logo. Later, I would learn that "Canuck" is a nickname for a Canadian, not for an orca.
———
Shawn Klis
I remember watching hockey on black-and-white TV back in the late '60s. I'll never forget when my dad took me to my first Canadiens game at the Forum — seeing how vibrant and bright the Canadiens' home red jerseys were for the first time was mesmerizing. I fell in love with those sweaters and still love them.
———
Nathan Ellsworth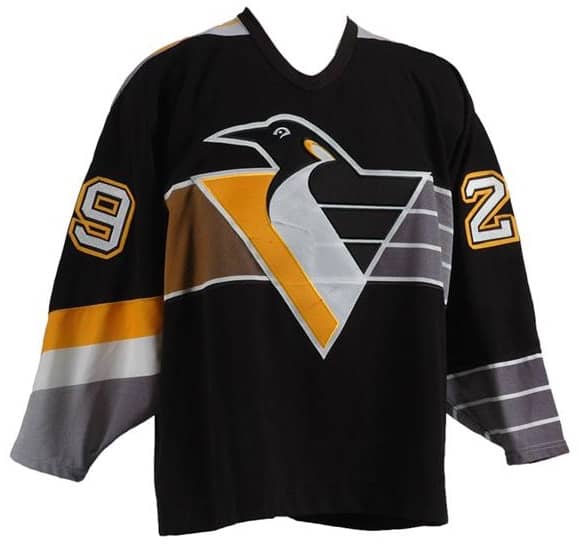 Hockey has always been my favorite sport and I'm a lifelong Penguins fan. I would have been nine or 10 when they were one of the first group of NHL teams to debut third jerseys in 1995-96. It blew my mind that they could have more jerseys than just home and away. The design was extremely '90s and doesn't hold up at all, but that only helped because it was so odd and interesting.
———
Chip Powell
I was probably in third or fourth grade. I had gone from a YMCA league where we just all wore white pants with a YMCA T-shirt and hat in the primary color of our team (red for Cardinals, light blue for Royals, etc.) to a Little League that used MLB jersey designs. I was placed on the Braves, and we wore navy pants so the parents didn't have to wash white. I remember complaining that we didn't really look like the Braves in blue pants.
———
Michael Gray
I first got the uni bug when I was about six years old and started using my mom's ceramic paints to repaint all the players on my electric football set every week. The obsession really kicked in a couple years later, when my dad volunteered to be the equipment manager for our junior football league. We had literally hundreds of helmets hanging in our basement, plus all the uniforms and equipment for a half-dozen teams. I spent many hours cleaning and repainting helmets and helping my dad with inventory. But the best part was the annual trip we made to the local sporting goods wholesaler. My dad let me tag along so I could see all the newest gear (which we never bought, it was strictly plain-Jane stuff for our league). I still remember seeing a prototype helmet that had a clear plastic shell with the graphics on the inside — it sure beat the helmets we "refinished" with plain old rattle-can black before every season.
———
Timothy Medeiros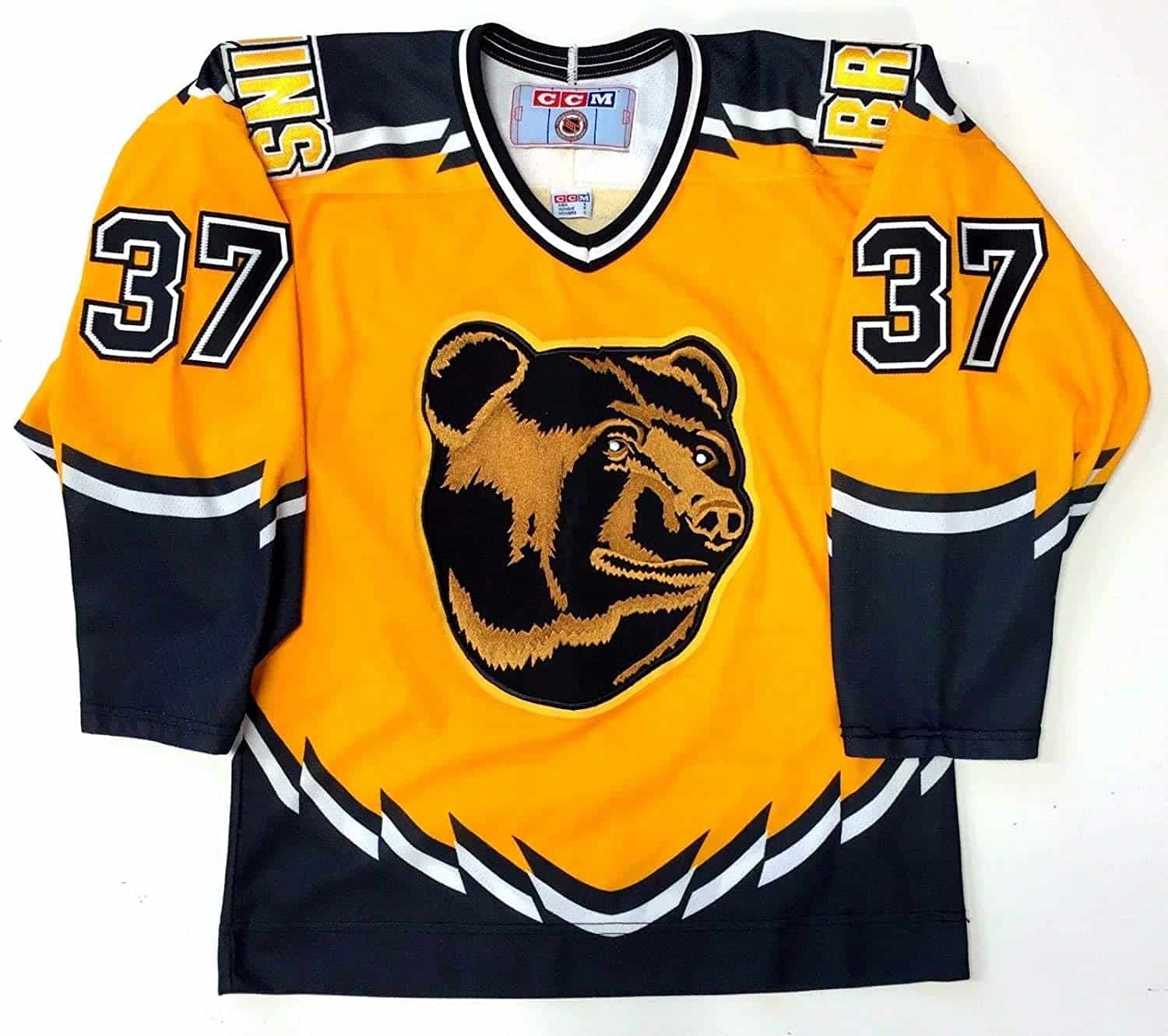 I was eight years old when the Boston Bruins debuted their now-infamous Pooh Bear design in 1995. I remember my entire Bruins-obsessed family being so upset and embarrassed by the set. I couldn't understand it and spent the next few years trying to convince everyone it was a fun change of pace and better than wearing the boring spoked-B all the time. I even made it the basis of my my Uni Watch membership card!
———
Jacob King
I loved drawing as a kid. I was maybe four or five years old and decided to draw my first baseball player. For whatever reason, I started from the ground up, drawing the cleat and then the stirrup. I stopped to switch crayons and my older brother said, "Whoa! That's a perfect-looking stirrup!" I was hooked. I'd do action shots with perspective and distance, spectators in the background, different teams so I could draw different uniforms, etc. Eventually, I filled binders with logos of imaginary sports teams in imaginary leagues, using a lot of alliteration (e.g. "Richland Rattlers").
———
Scott Durham
I first became fascinated with uniforms in the late 1970s while watching Clemson football games. This was during the tear-away jersey era, and it drove me nuts that some of the players had an outline on their numbers and others did not. I mentioned this to my mom, and her response was something along the lines of "Why would you even notice something like that?" I've been hooked since. In 1982, when Clemson and Georgia kicked off the college football season on Memorial Day night, the Tigers took the field with newly designed pants. I went on and on about it (I was 9 at the time) until one of my uncles told me to shut up. As a coach, I've always been very particular about what my teams wear, always keeping things simple and clean (I was a high school head baseball coach for 14 years and am in my seventh year as a head football coach). It drives most of my assistant coaches crazy the way I obsess over the uniforms.
———
Lee Stokes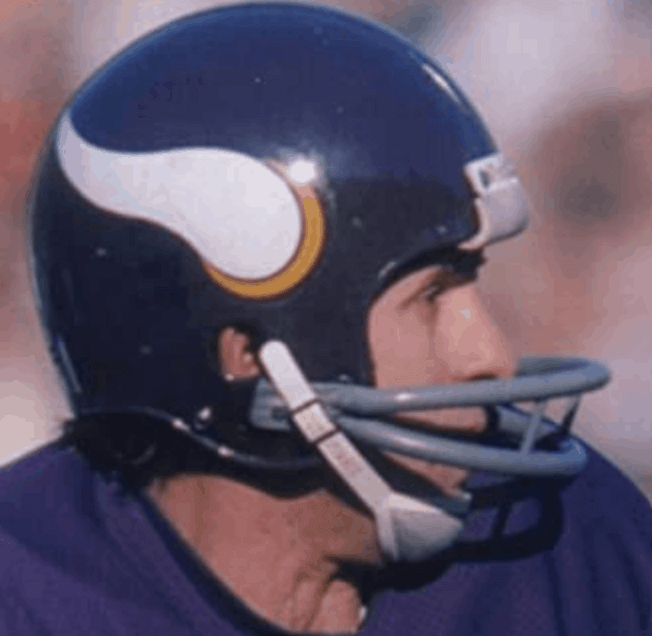 When I was six or seven — 1972-ish — my dad bought me a Minnesota Vikings helmet for Christmas. The bright white horn on purple, man, that was so cool. Because of the Vikings helmet, I studied all of the other helmets in the NFL. Loved the Rams and Eagles, thought the Bears, Bengals (just the wordmark at the time), and Packers were dumb. But even as a youngster, I had a certain respect for the Browns, because they chose to not to have a logo
Shortly thereafter I received a plain white helmet. I discovered that if you drew on it with crayon, you could wipe it off easily. That's when my obsession for designing my own helmet logos took off. Two of my own designs I remember specifically from back then were for the Vermont Green Lightning (green helmet with way too many little yellow lightning bolts all over it and yellow facemasks) and the Iowa Romans (we lived in Iowa back then and ate Roman Meal bread in our household, so I translated their logo into a football team), who wore burgundy and gold with burgundy facemasks. Even then, I loved colored masks. It made the Chargers' helmets so much cooler. Whenever I drew NFL helmets (which I did a lot!), I always gave them colored facemasks, well before most teams actually did so themselves. To this day, when rating team uniforms, it's an automatic point deduction if the mask is grey.
———
Dustin Jensen
I don't remember not Getting It™. Whether it was looking at baseball cards, sports magazines, or newspapers, it was the details of the uniforms (especially baseball pants/stirrups and football helmet facemasks) that captured my attention as much as the players. When I started playing Little League, it was more important that the stirrups looked right than that the uniform fit right. The same was true of football — I chose an ill-fitting helmet and shoulder pads so I could have the right look.
———
Sam Foss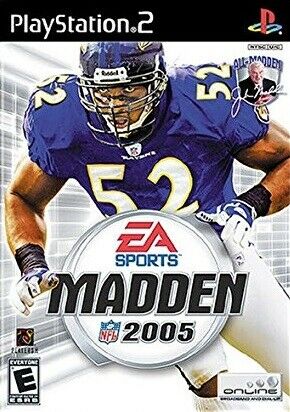 It all started for me on Christmas Day in I think 2005. I would have been six at the time, and my parents got me Madden 2005 for the Playstation 2. I never was good at the game, but it had a "create a team" feature that for the time had a great uniform designer. I would sit there and design uniform after uniform. I never asked for a new version of the game because I couldn't care less for the updated rosters or game modes. "Create a team" was all I needed.
———
Austin Meo
Back when I was in elementary school, the Madden NFL games introduced "franchise mode," where you could design a team from scratch, including stadium, players, and, of course, uniforms. My friends and I would spend hours debating each uniform, from colors to patterns to alternate/throwback uniforms. We'd rarely ever play a game the entire night. I can say with 100% certainty that we never designed a purple team — our top two primary choices were green or orange. We also made it a rule that if we ever played games against each other, we had to use AFL throwback uniforms. Once I saw my first Uni Watch NFL preview on ESPN years later, I was hooked.
———
Ray P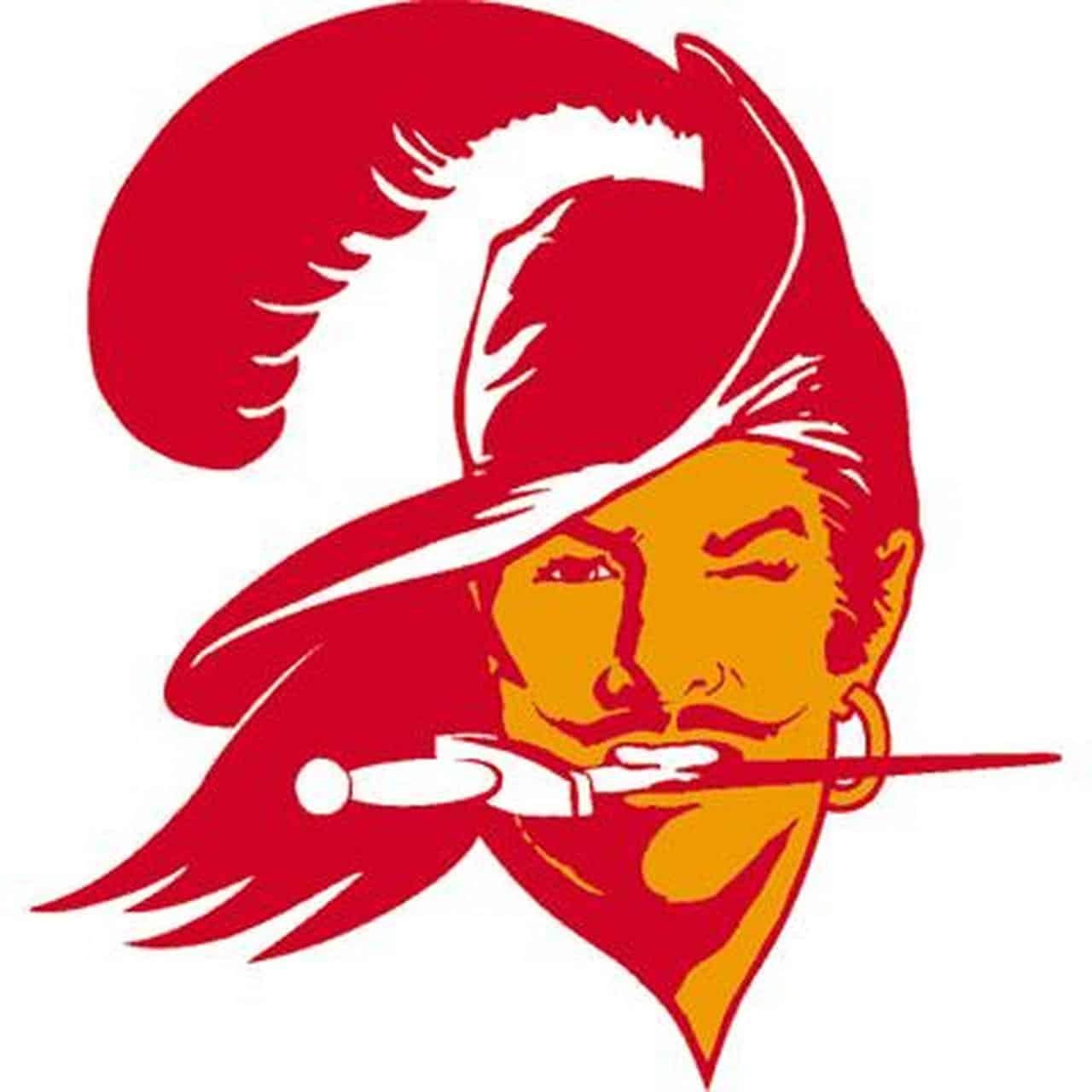 I had to be about seven or eight years old. I saw something with the logos of the two then-new NFL teams, Seahawks and Buccaneers. I was instantly taken in by the Buccaneers' logo. I can't describe how I really felt, I just loved it! In my small Massachusetts neighborhood, I was the youngest of the kids who played sports in the street. Everyone had their favorite teams — Cowboys, Raiders, Packers, Saints and of course Patriots. So of course my team became the Buccaneers. I took a lot of ridicule over the years, both for their play and for the uniforms, but I always loved them.
———
Eric Kehlenbrink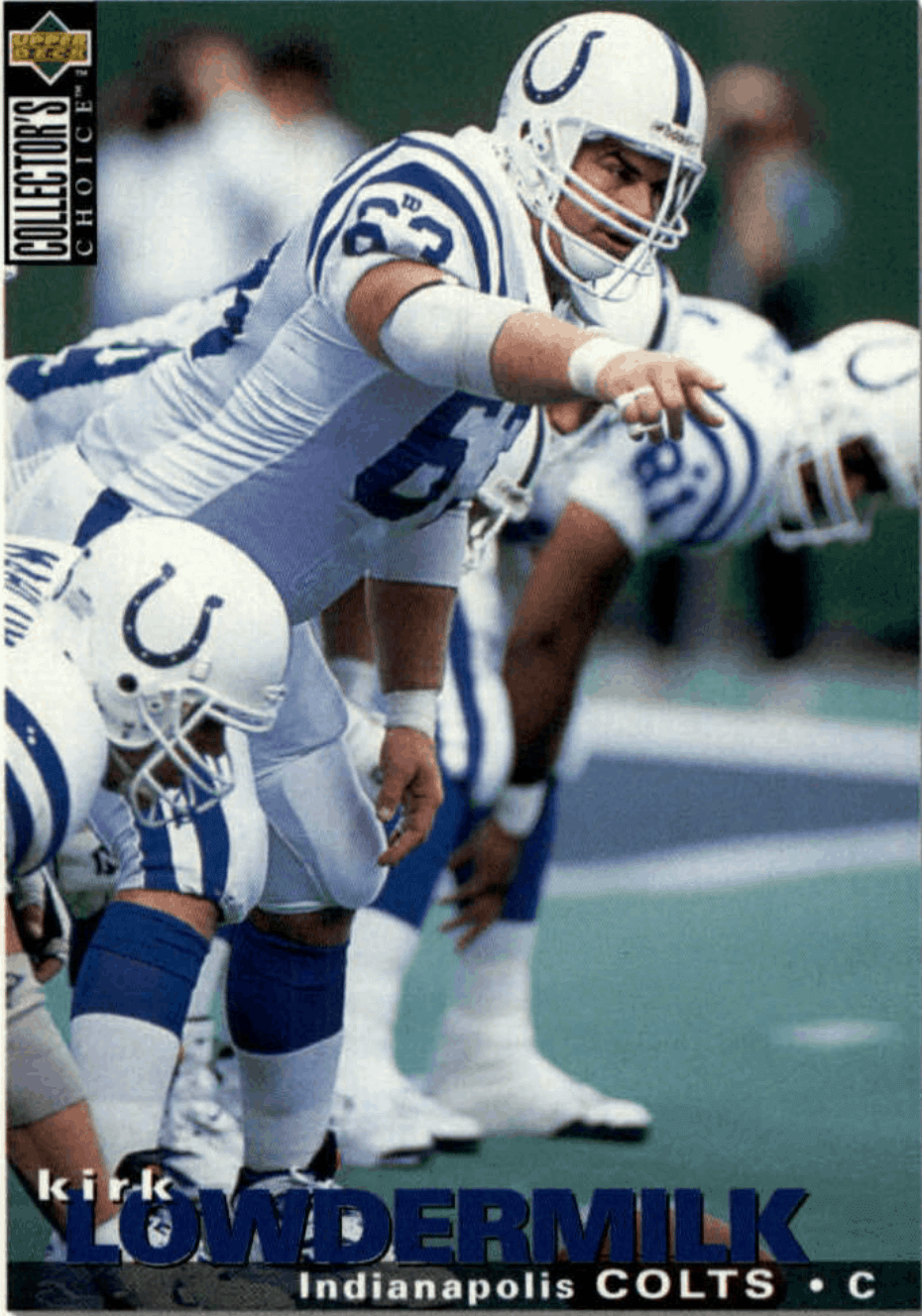 I first got the itch when my mom bought me football cards to keep me entertained while she worked and I waited to be taken home after school. The Upper Deck Collector's Edition was my card of choice. The one that in particular that I will remember is the Kirk Lowdermilk card. I just loved seeing the three Colts helmets lined up before the snap.
———
Scott Pendergraft
I was raised in a family that had sports on TV a lot, so I really can't remember a time when I wasn't obsessed with logos, helmets, caps, uniforms, how high stirrups were worn, number fonts, etc. This evolved into me sketching new uniforms for my favorite teams (Giants, 49ers, Trail Blazers), and then going ahead and doing new designs for all the teams in all the leagues. I wish I still had those drawings. A favorite uni memory was watching an MLB game on a small rabbit-ears TV in my bedroom as a 13-year-old. It was black and white, and the picture was "snowy," but I could still tell that the Astros were wearing something that was blowing my mind. That was my introduction to the Tequila Sunrise Jersey. A thing of beauty to this day.
———
EO Jackson
Although I grew up in the 1970s, my favorite books were published in the '50s and '60s, with lots of pictures of baseball players — all high-cuffed, low-stirrupped. So naturally, that's what I drew. Also, I'm a Cubs fan (I grew up on the South Side of Chicago, but did not and do not like the White Sox because they changed their uniforms too often), and their team rule at the time was to go high-cuffed, low-stirrupped, like the Reds, of which I approved. I may not like some teams — Yankees, Packers, USC — but I like their continuity. You know at one glance who you're looking at, and isn't that the point?
———
Dwayne White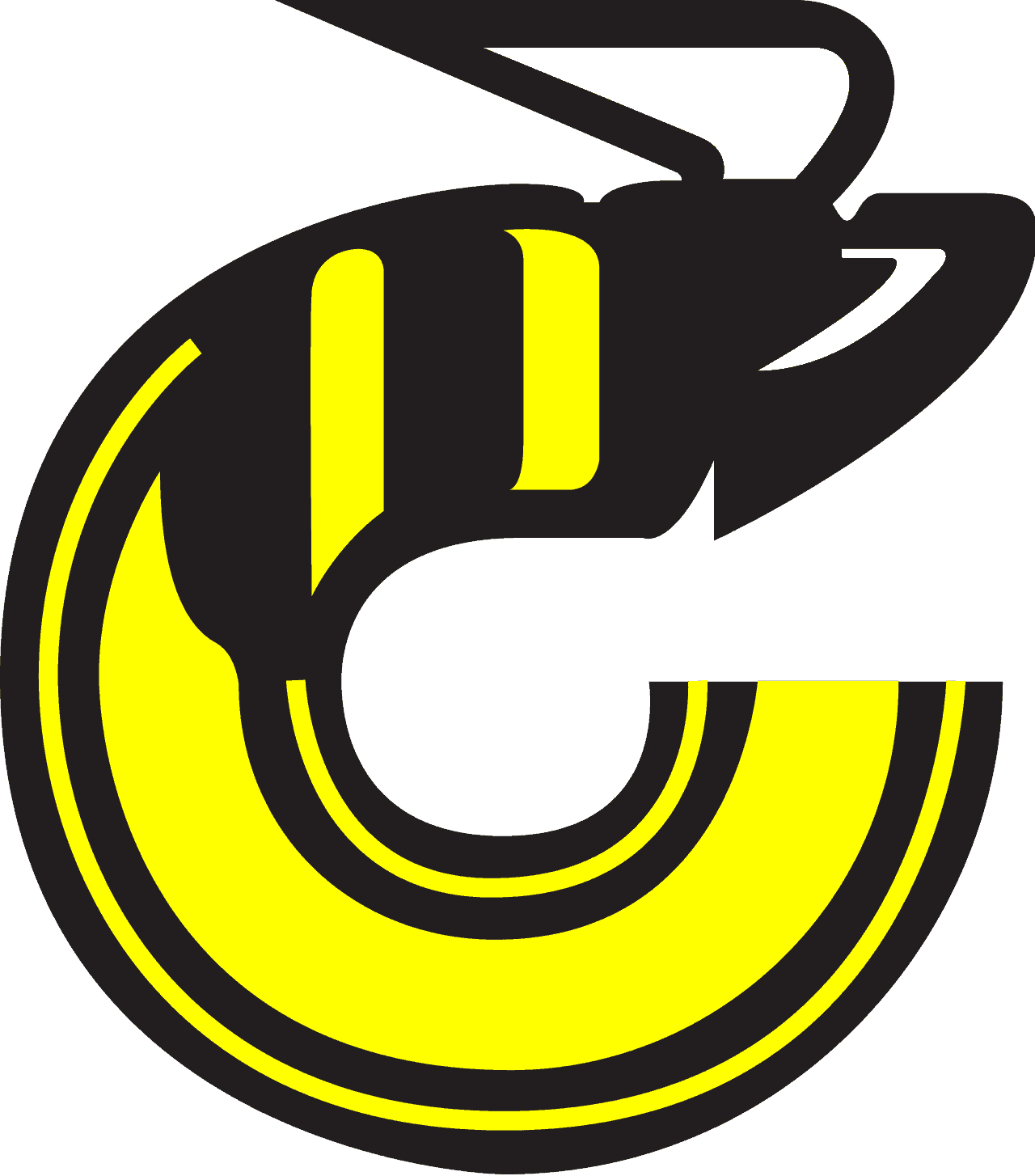 I was a teenager in junior high when Cincinnati was getting a "major league" team in the World Hockey Association, the Cincinnati Stingers. I had always followed the Bruins (Phil Esposito was my favorite player) and could hear the Blackhawks on the radio from Chicago, but when I saw the Stingers' logo printed in The Cincinnati Post, I was immediately hooked and the Stingers became my team. My friend Danny Bromwell strived every year to the Perfect Attendance tickets that the Stingers had as a promotion. We would go to many games and saw some of hockey's greatest players and a lot of fights, but those Stingers "bumble bee yellow" jerseys were the best in sports.
———
Paul here. Aren't these stories great? I had so much fun editing them! I still have a few dozen more in the hopper, so we'll have another installment soon.
If you want to share your own story of how you first Got It™ — no more than one paragraph, please — go ahead and send it here (note that this is not the usual Uni Watch email address). Thanks!
(My continued thanks to Brinke Guthrie for coming up with the idea for "When I First Got It™".)
• • • • •
• • • • •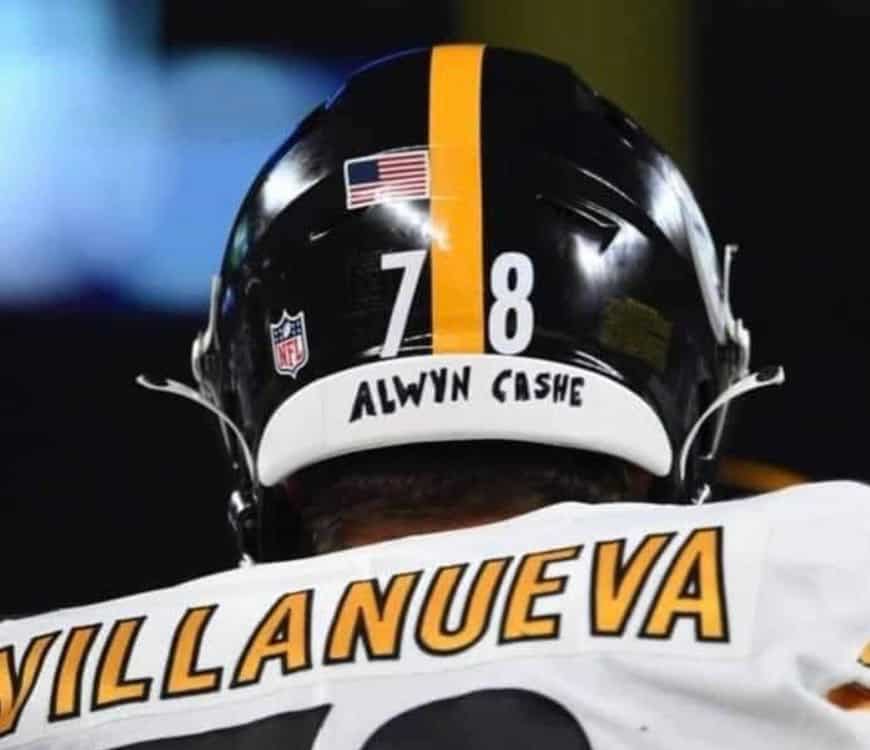 Bumper bummer: Following up on a Ticker item from two days ago: The Steelers had voted as a team to wear "Antwon Rose Jr." on their helmet bumpers. Rose was a Black teen who was fatally shot by an East Pittsburgh police officer in 2018.
But while the rest of the team wore Rose's name, offensive lineman Al Villanueva — a former Army Ranger — instead hand-inscribed the name of Alwyn Cashe, a Black U.S. Army soldier who was posthumously awarded the Silver Star for heroism while serving in Iraq.
According to this ESPN story that ran yesterday, several Steelers players expressed surprise over Villanueva's move, with quarterback Ben Roethlisberger saying, "Unfortunately, it is what it is," although coach Mike Tomlin said he knew about it and supported it.
This is not the first time Villanueva has gone against the grain of a protest-driven team decision. In 2017, when the team's players opted to stay in the locker room during the playing of the national anthem prior to a game against the Bears in Chicago, Villanueva stood by himself in the tunnel.
• • • • •
• • • • •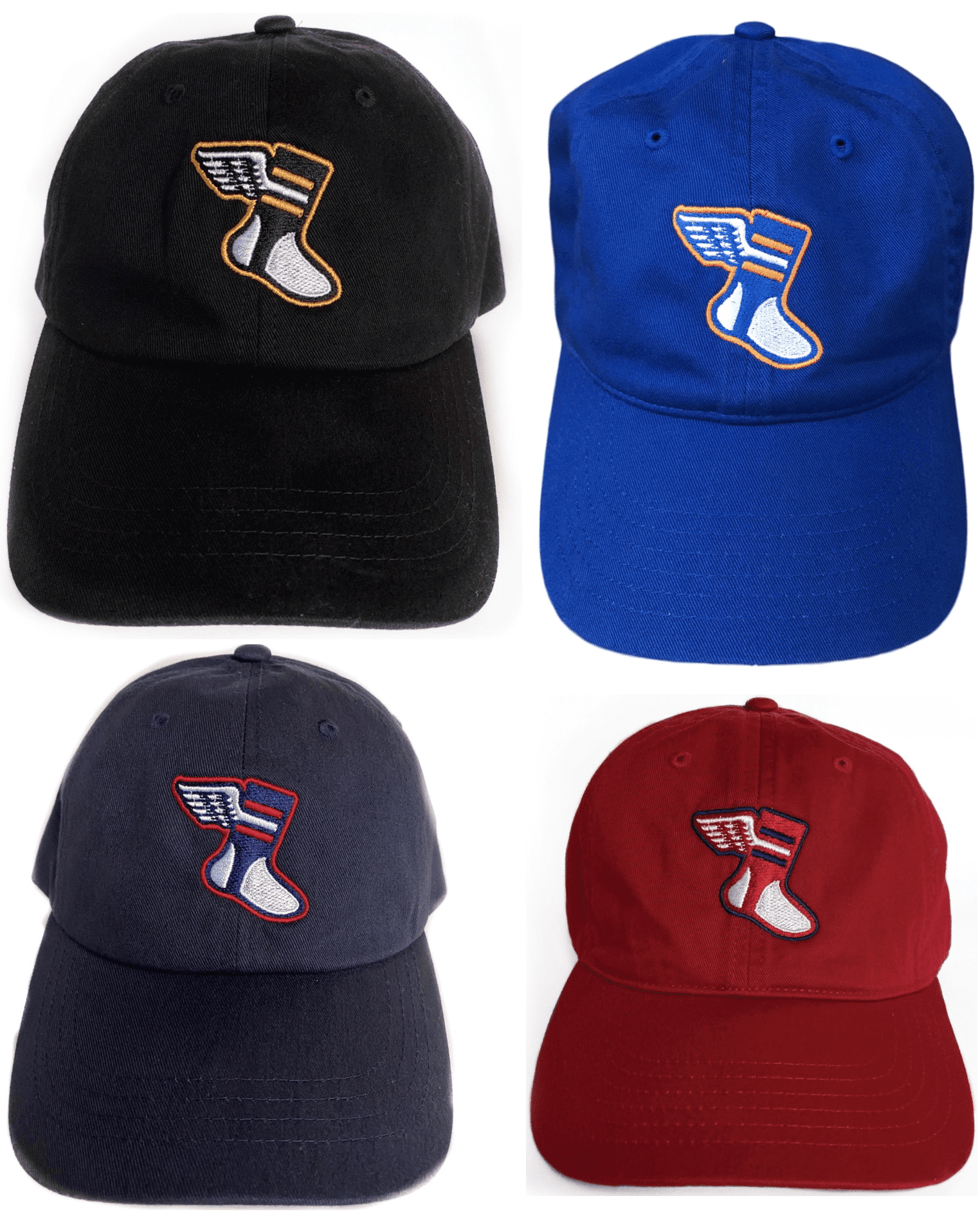 Color Remix cap reminder: In case you missed it on Wednesday, the first monthly round of Uni Watch Color Remix caps is now ready to go. The four designs, which I teased a few weeks ago, are shown above and are available here through mid-October, when we'll launch a new batch with new color combos.
We also have corresponding T-shirts in the same four color combos:
Here's where you can get the Black/Yellow, Royal/Orange, Navy/Red, and Red/Navy versions. (The T-shirts will remain available in the Uni Watch Shop indefinitely, and we'll launch new shirts next month to match up with the October cap designs.)
My thanks, as always, for your consideration of our products.
• • • • •
• • • • •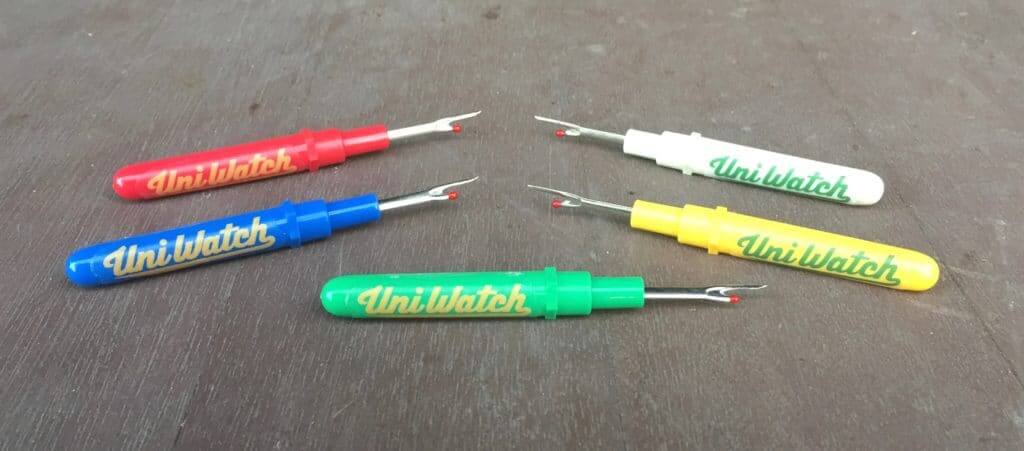 Seam ripper reminder: I am once again restocked on all five colors of Uni Watch Seam Rippers. They're available here.
Also: I have two remaining sets of Uni Watch Coasters. Who wants 'em?
• • • • •
• • • • •
The Ticker
By Paul

'Skins Watch: Pocatello High School in Idaho will no longer call its teams the Indians (from Evan Feick and Brett Thomas).
.
.

Working Class Wannabes™: An article new Florida Panthers GM Bill Zito refers to "the blue collar world of ice hockey." … A player on the Missouri women's soccer team says, "We've been working a lot on keeping, 'What is Mizzou soccer?' Which is hard work, a blue-collar-like mentality." … An article about New York Giants head coach Joe Judge says he has an "old-school, blue-collar coaching style." … A different article about Judge says he has "blue-collar guiding principles." … West Virginia football coach Neal Brown has unveiled a new weekly player award, called the Blue-Collar Award, "an honor given to the recipient for [his] work ethic" (from Timmy Donahue). … A newly hired high school soccer coach in Burlington, N.J., says that under his leadership, "You're going to see a disciplined, hard-working, blue-collar team. We want to outwork everyone."

Baseball News: Looks like the logos for next year's spring training are beginning to circulate (from Larry Littman). … The Astros shared a photo of prospect Narbe Cruz signing his first pro contract while wearing a 'Stros jersey. Interestingly, it has a Rawlings maker's mark on the sleeve, instead of a Nike mark on the chest. That's because it's from the Gulf Coast League Astros, Houston's rookie-level affiliate (from @robertBrownieJr and @fontophile). … More make-up game uniform follies: Giants in cream vs. Mariners in grey last night in San Francisco, even though the Giants were the road team. The game was originally scheduled for the previous night in Seattle but was postponed and moved to SF (thanks to all who shared).

NFL News: Washington is filled with government agencies and institutions, most of which have official seals. So Derek Peabody has come up with one one of the best ideas for a new Washington Football Team identity: the Washington Seals. Works on multiple levels, and you have to love that mascot balancing a football on his nose! … Reprinted from yesterday's comments: The Browns have a new end zone design featuring the AFC logo. … Following yesterday's post on NFL jersey color data graphics, the Titans Uni Tracker created a similar graphic for the Titans' pants. … Here's a ranking of NFL stadiums (thanks, Brinke).

College Football News: New throwbacks on tap for UNC. … New uniforms for Bemidji State (from @bry_night). … Look for North Texas to unveil a new alternate uniform today, probably around 1:15pm Eastern. … San Diego State's new stadium is scheduled to be ready by 2022. Until then, the team will play its home games over 100 miles north of San Diego (from Timmy Donahue). … Ole Miss has a new blue uniform that will be worn on Sept. 26 against Florida (from @RebelNutt18). … Now that the Big Ten is going to have a season after all, there's some speculation about a grey-sleeved alternate jersey for Ohio State. … Here are this week's uni combos for Syracuse and Louisville.

Hockey News: You don't see many afros in hockey, but check out this great 1975 shot of Amarillo Wranglers G Doug Allen (from Ted Arnold). … Plans have been announced for a new arena for the Kraken's AHL affiliate (from Wade Heidt). … New uniforms for the Danville Dashers of the Federal Prospects Hockey League (from John Cerone). … Also from John: If that same league had given a franchise to Memphis, here's how their jersey would have looked.

College Hoops News: Following up on a Ticker item from yesterday, it turns out that Louisville's embarrassingly corporate-named arena may retain its name — or at least its name signage — after the current naming-rights deal expires at the end of this month (from Timmy Donahue). … New court design for UC San Diego. "The Tritons are moving up to NCAA Division I this year and joining the Big West Conference," says Steve Hartsock. … New collar striping for Baylor.

Soccer News: Australia's national teams have unveiled two new shirts (thanks, Jamie).
.

Grab Bag: Officials in Arlington County, Va., have expressed support for changing the county's logo. The current logo depicts Arlington House, which was built by slaves and later served as the home for Confederate general Robert E. Lee. … The great SI writer Steve Rushin has a good piece about how head and face protection has always been a sensitive topic in sports. … Welsh Rugby Union will now be outfitted by Macron (from Jeremy Brahm). … Car brand Maserati has tweaked its logo. … Two former employees are suing the grocery chain Kroger because they were fired for not wearing an apron with a pro-LGBTQ logo. … Outdoorwear brand Patagonia has been including tags on its clothing that say, "Vote the Assholes Out." The slogan is directed at politicians who deny or disregard the reality of climate change (from John Cerone). … Pro tennis's Fed Cup is changing its name to honor Billie Jean King.
• • • • •
• • • • •