Click to enlarge
Good morning, and happy September! Paul here, sending you greetings from Uni Watch HQ, where all three inhabitants continue to be safe and well. Hope the same is true at your home.
Before I go any further, let's have a standing O for deputy editor Phil Hecken, who did a great job of running the site over the past three weeks while I recharged my batteries and worked on the College Football Season Preview (which, in case you didn't see it late last week, is available here) and the NFL Season Preview (coming next week). Well done, buddy — now take a well-earned break!
Now then: The current NBA season is still ongoing, but teams that didn't qualify for the bubble round are going ahead and revealing their new uniforms for next season. We saw that back in July with the Hawks, and it happened again yesterday in Charlotte, where the Hornets unveiled new white and colored primary uniforms (additional info and photos here and here).
This unveiling was originally slated to take place last Thursday, but the team decided to postpone it after the events of last Wednesday, when NBA players engaged in a wildcat strike to protest racial injustice.
The new set is an updated version of what the team wore in 1997 through 2002. Those uniforms, like the ones unveiled yesterday, featured a double-pinstriped motif. But the original double pins were multicolored, while the new ones are mono-colored. And there are other differences, of course — here's a comparison (old versions on the left, new on the right; click to enlarge):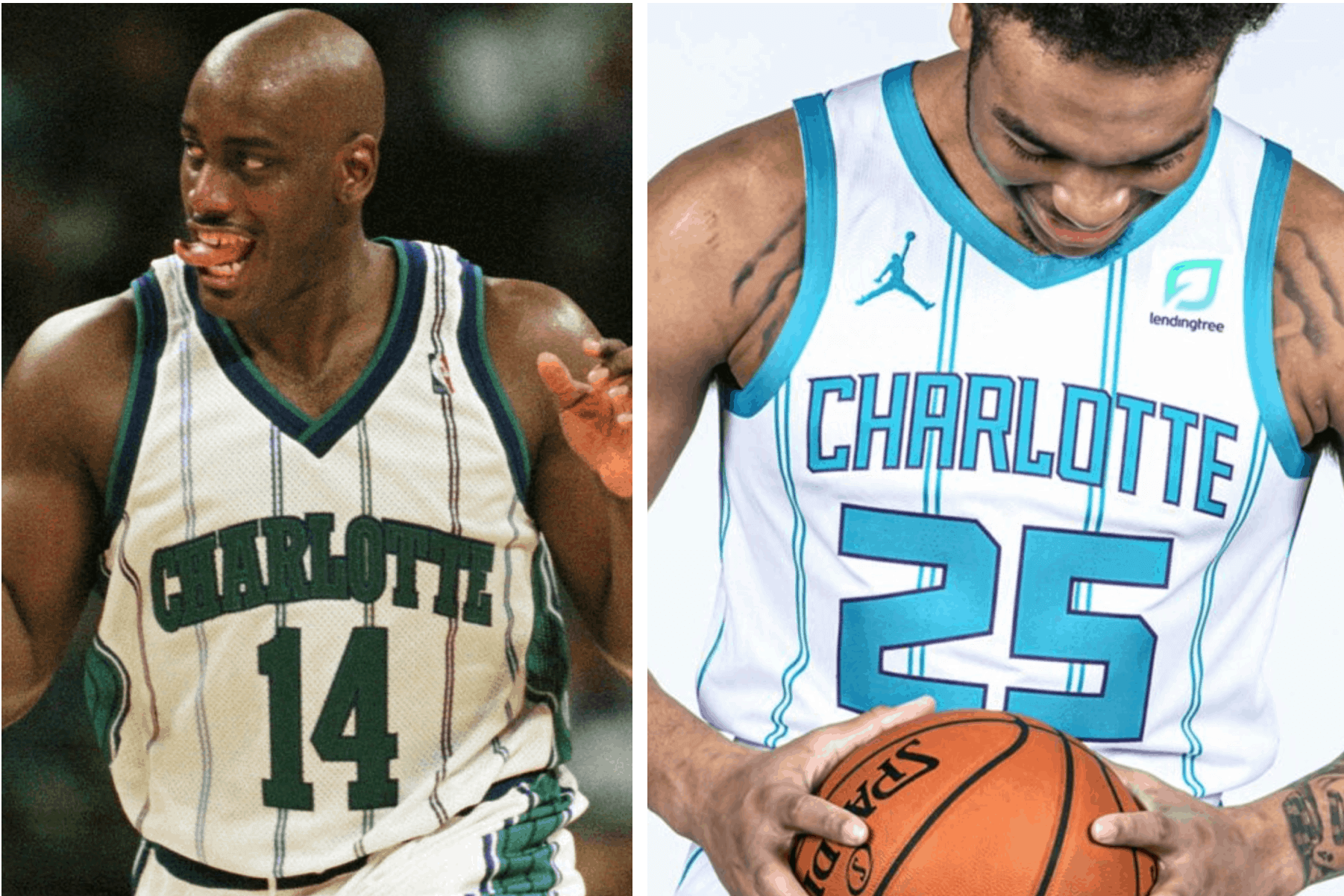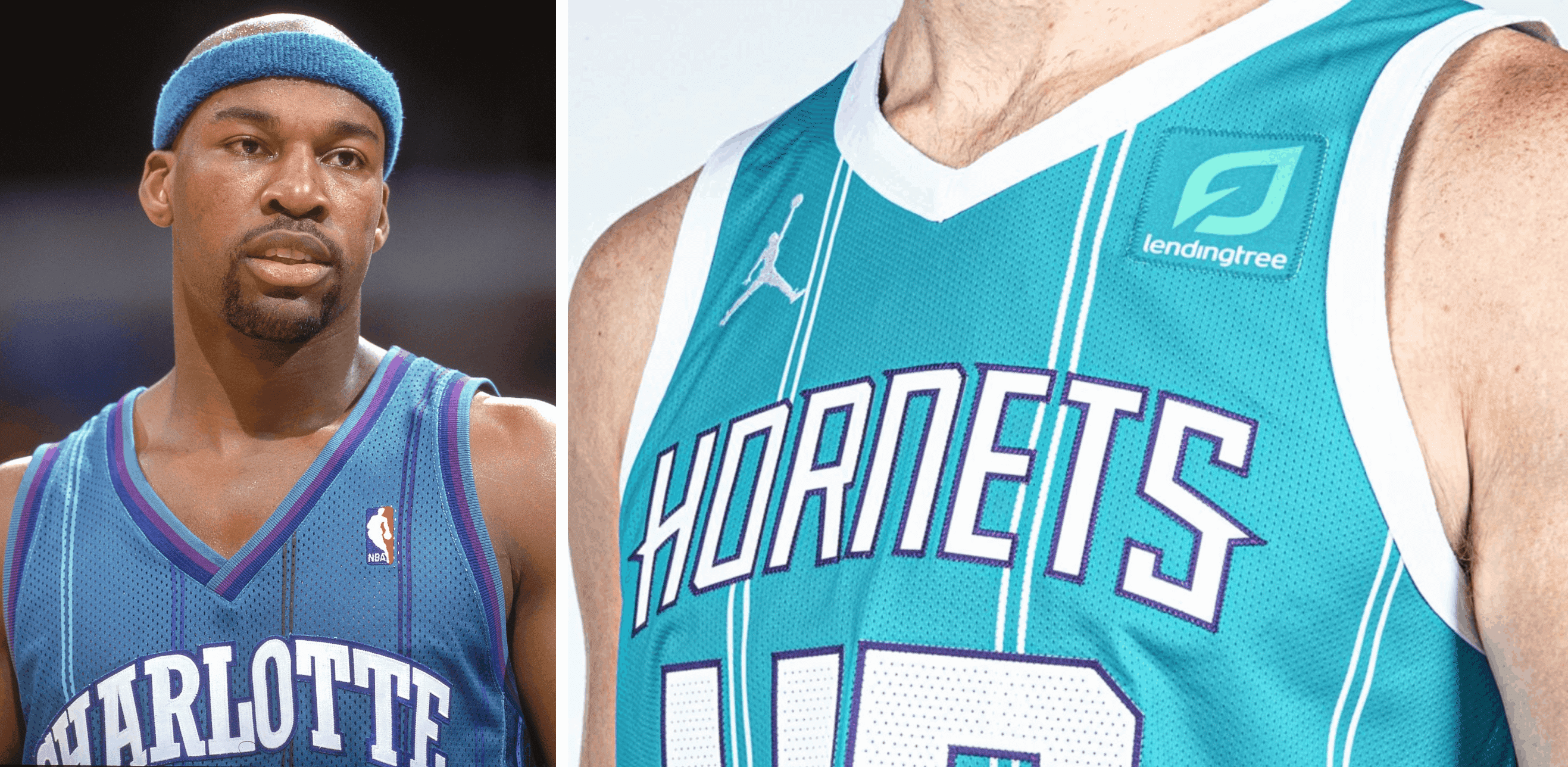 Honestly: I was never a big fan of the original version and don't think much of the reboot either. For starters, I don't like pinstripes on basketball uniforms. What's the point of accentuating the vertical when the players are already eleventeen feet tall? But if you insist on having pinstripes, put them on the shorts as well as the jerseys! Makes no sense to be striped above the waist and stripe-free below.
And how do these new uniforms compare to the ones they're replacing? Let's take a quick look at the outgoing set (click to enlarge):
I can't believe I'm saying this, but I prefer the outgoing set, even though it has more purple. The lack of pinstripes, the contrast between the chest lettering and the numbers — much better. The new set is a downgrade in my book.
These uniforms, like the ones they're replacing (and like many of Nike's NBA uniforms), were designed by the Mississippi-based firm RARE Design. There will presumably be at least one new alternate uniform revealed at a later date. Also, according to this page, the throwbacks that the Hornets have worn in recent years are "now out of the on-court rotation," so we apparently won't be seeing any more of them for a while.
Yesterday's unveiling also included a new primary court design. Here's a video that does a good job of showing the difference between the old and new designs:
This I do like — a lot! Love the contrasting patterns, the lanes, the whole package. Nicely done! And for those who like to follow such things, note that the new design's free-throw circles have six dashes — same as the old design.
• • • • •
• • • • •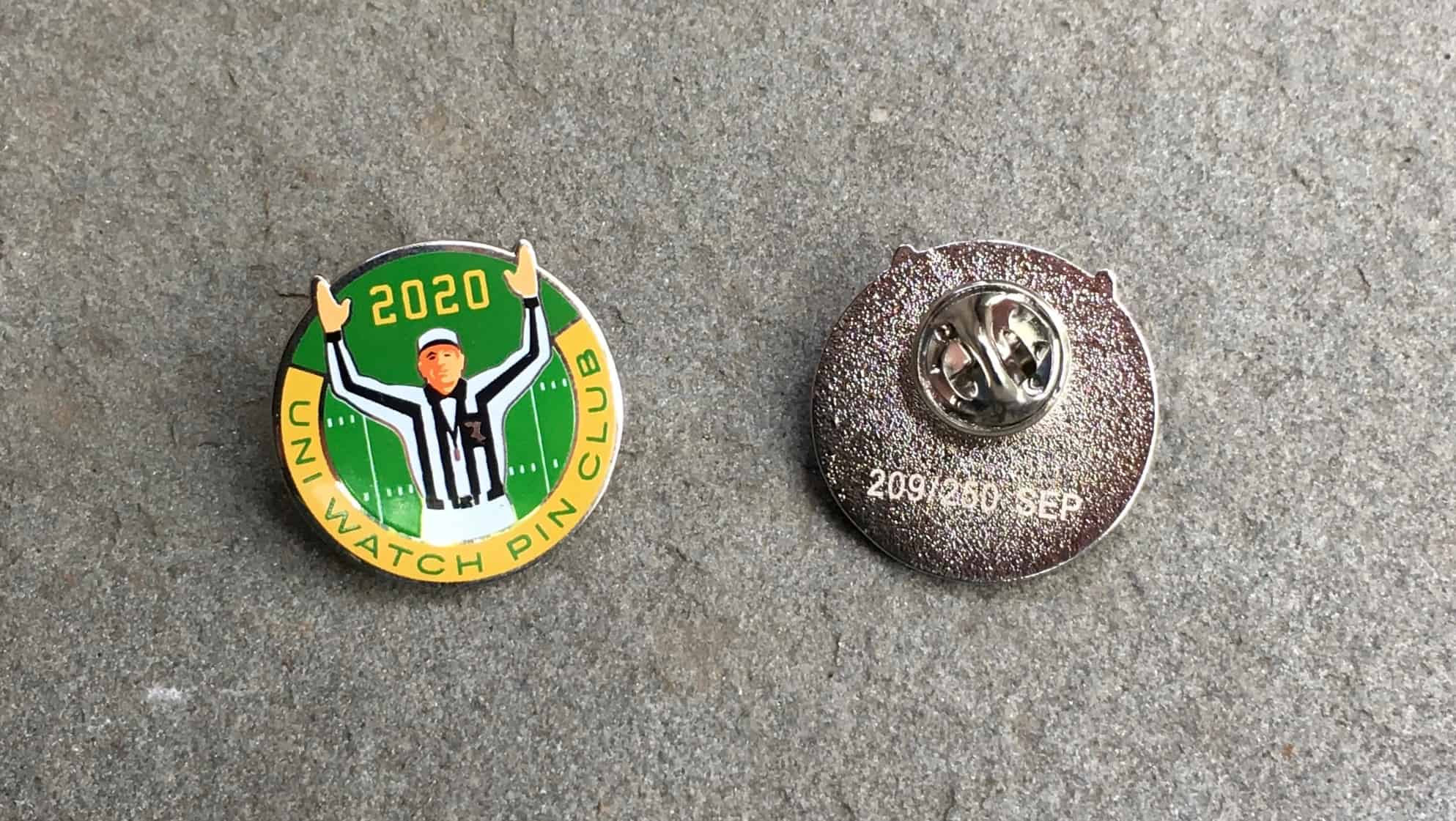 Click to enlarge
ITEM! September Pin Club launch: Today is the first day of September, which means it's time for the launch of the Uni Watch Pin Club's latest design. As you can see above, we're honoring the start of football season with a shout-out to gridiron referees.
Of particular note: All of our previous pins have had a gold metallic finish, but this time we went with silver — in part to change things up, and also so we could render the ref's whistle and belt buckle more color-accurately.
This is a limited/numbered edition of 250. Like all of our pins, the design was a collaboration between myself and the great Todd Radom. You can order yours here.
Need to get caught up? Here are our January, February, March, May, June, July, and August pins. (Sorry, April sold out!)
My thanks, as always, for your consideration.
• • • • •
• • • • •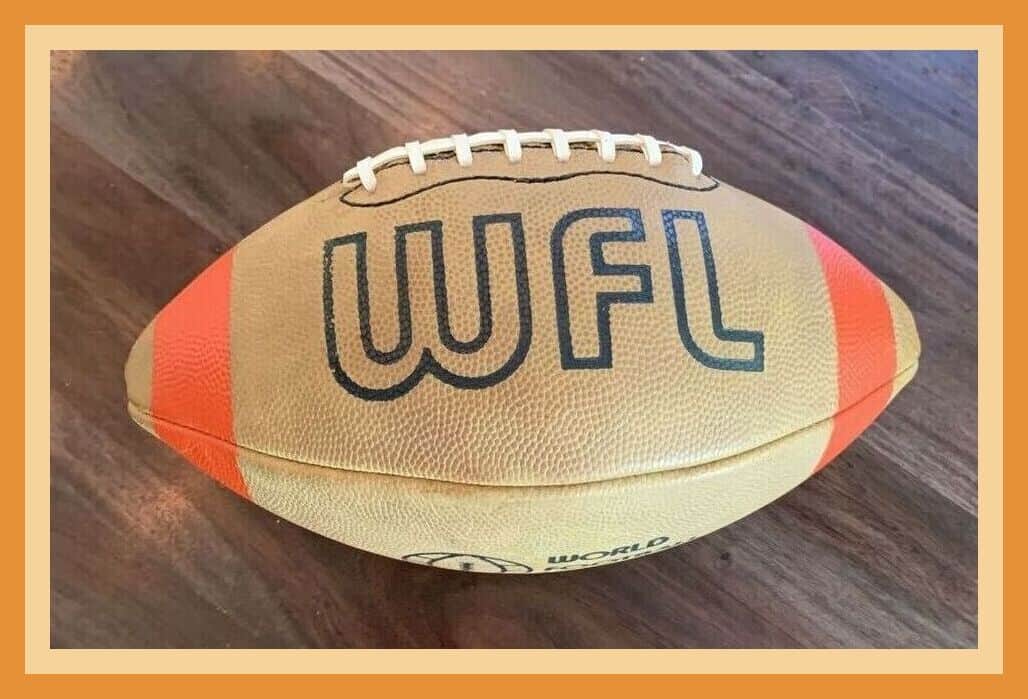 Click to enlarge
Collector's Corner
By Brinke Guthrie
Follow @brinkeguthrie    
Welcome to September! Let's kick off the month with this throwback artifact from the mid-1970s. The World Football League was an ill-fated attempt (aren't they all) to take on the NFL, and it was predictably short-lived. They started in 1974 and folded halfway through the 1975 season, but not before they brought us this official "yellowish-tan" Spalding football, complete with orange stripes. More on that ball here.
Now for the rest of this week's picks:
• This vendor's button was worn at 1940s St. Louis Cardinals baseball games, and promoted Kitty Clover potato chips. For some reason, it just says "Cardinal" — singular — at the top. Close, I guess.
 • Buffalo Sabres fans will love these MOC (mint on card) hockey stick pens!
 • This vintage Munro Hot-Shot table hockey game has some great box cover art. Those two teams look suspiciously like the Canadiens and Maple Leafs. But one of them should've should've been wearing a dark color instead of white! 
 • Here's an auction for 16mm reels of 1948 World Series and 1946 football highlights.
 • A couple of interesting 49ers items here. The eBay seller says this Nike-made jacket was team-issued — in blue? Really? And we've also got a Niners team-issued valuables bag.
• This WPLJ radio-sponsored button salutes the Yankees in the 1978 World Series.
• Back in the day, if you slapped this bumper sticker on the family station  wagon, you let everyone know that "This Is…Bruins Country!"
 • Here's a pocket-sized 1979 NFC/AFC Schedule sponsored by Heileman's Old Style beer. What's interesting here is that the sketch art they used was nowhere near contemporary. The defensive player is using an old-style 1950s facemask, and the QB is wearing No. 25!
 • This 1971 Official National Football League Player's Association Foot Locker Toy Chest featured the faces of players like Alworth, Lamonica, Butkus, and Page, but no team or league logos.
 • Here's another item that's NFLPA-endorsed: It's a board game called Pro Football Franchise. You can Buy! Sell! Trade! Draft! Build a Winning Team! Also: "Featuring over 300+ Pro Superstars!" With games like this, who needs a scouting department?
• And to wrap things up: I know I feature a lot of Dave Boss artwork, but this vintage NFL poster is definitely worth checking out.
• • • • •
• • • • •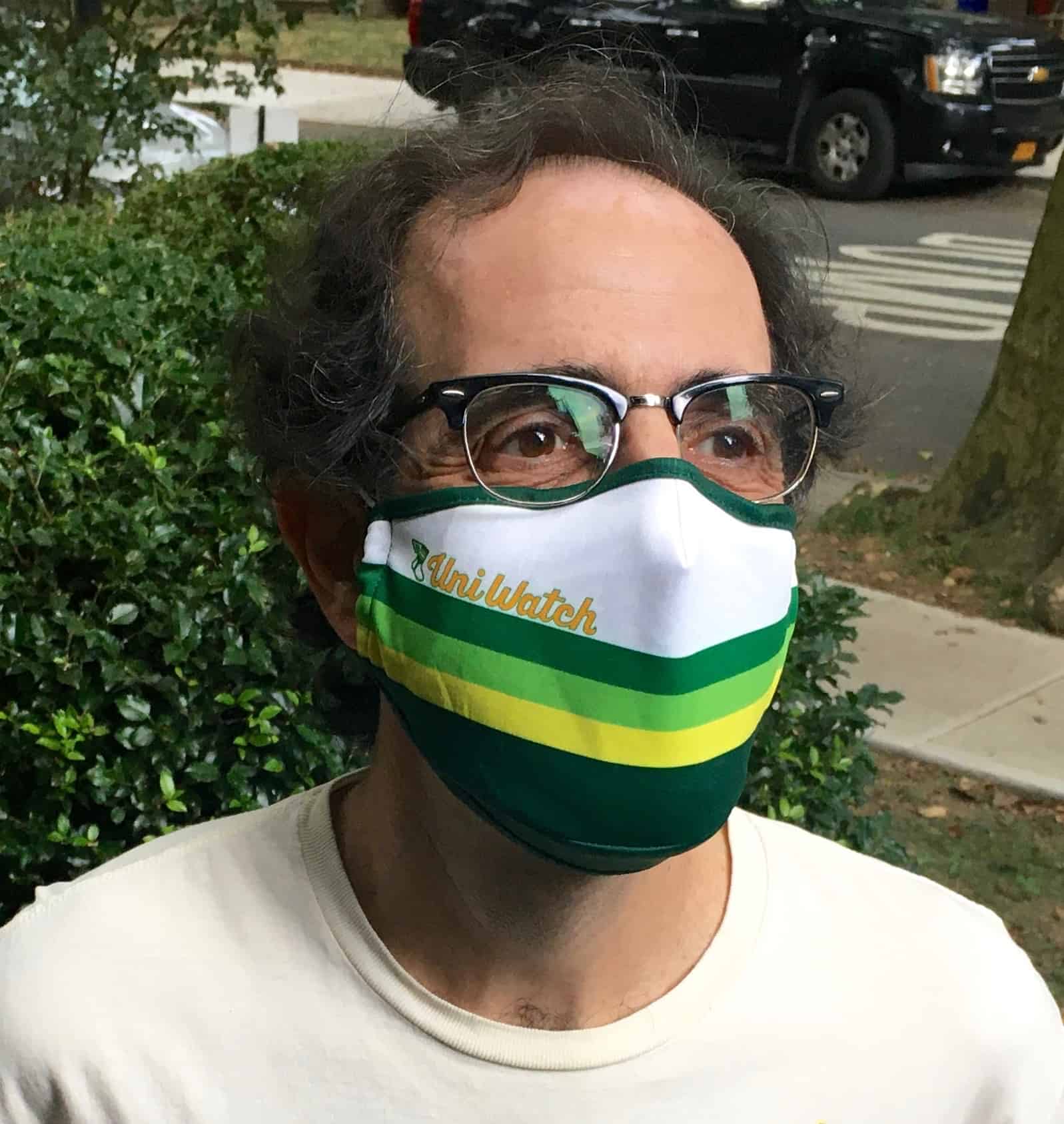 Mask update: As of this morning, there are about 30 Uni Watch Tequila Sunrise Masks remaining from the original batch of 500 (which means we've raised nearly $2500 for the National Alliance to End Homelessness!). We probably won't be getting another batch of these. They're still available here while supplies last.
These masks were originally available in two sizes — S/M and M/L. The M/L masks are sold out, but S/M size is the same size as a "normal" mask. So unless you have a really big head and/or face, it should fit you fine.
Thanks for supporting all the charities we've been partnering with via your mask purchases!
• • • • •
• • • • •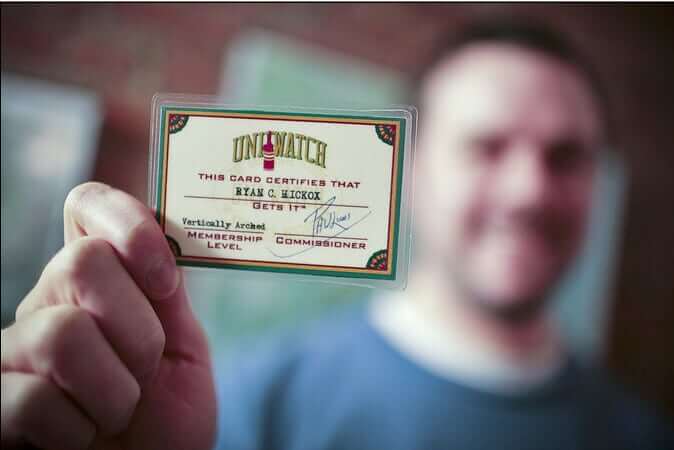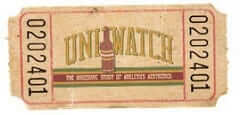 ITEM! New membership raffle: I have a bunch of accumulated things to raffle off in the next week or two, beginning today with a membership donated by reader Michael Zerbib.
This will be a one-day raffle. To enter, send an email to the raffle address by 8pm Eastern tonight. I'll announce the winner tomorrow.
Big thanks to Michael for sponsoring this one!
• • • • •
• • • • •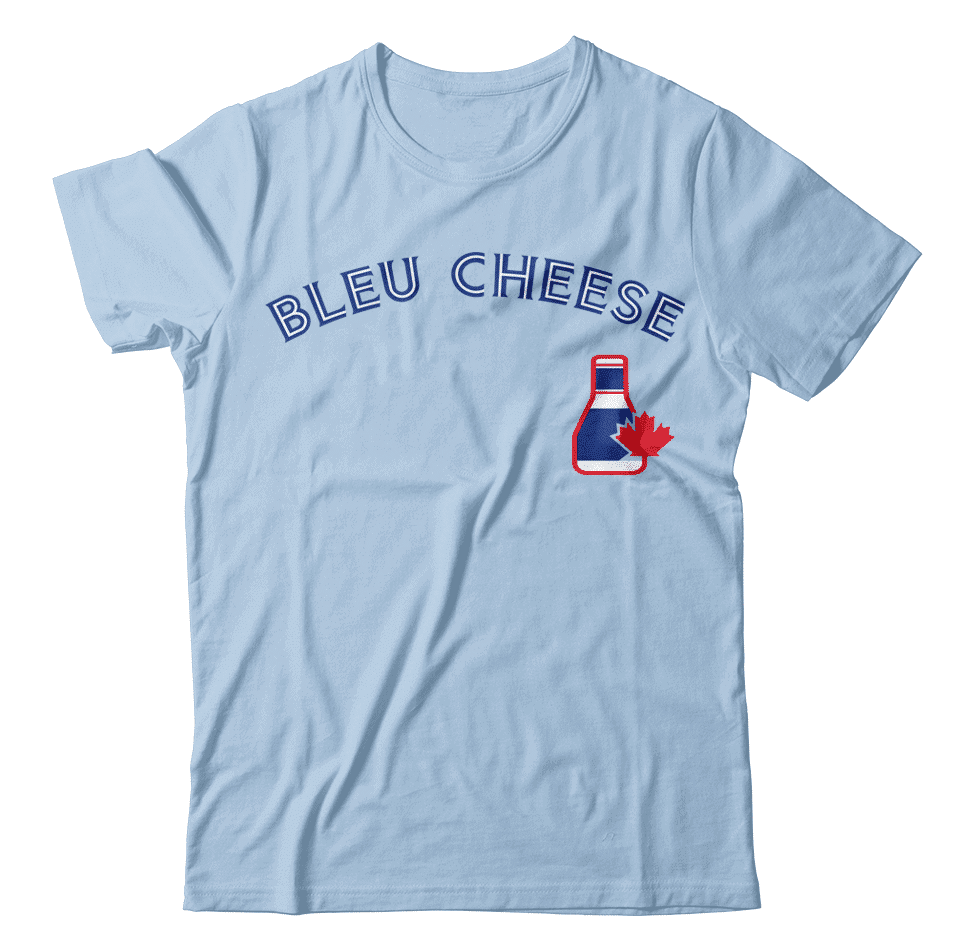 Click to enlarge
ITEM! Hypothetical idea: With the Blue Jays playing their home games in Buffalo, wouldn't it be good — just in theory — if the T-shirt concept shown above actually existed?
If you agree, drop me a line and we'll discuss. Thanks.
• • • • •
• • • • •
The Ticker
By Alex Hider

Baseball News: Yankees P Miguel Yajure finally got into a game last night, making him the first MLBer to wear No. 89. Every number from 0 to 99 has now appeared on the field. … Andy Chalifour found a few photos of former Twins 3B Gary Gaetti wearing a Minnesota-shaped pin on his cap in the late '80s. Anyone know more? … In this Detroit Free Press article about former Tigers in the 2,000-hit club, former RF/3B Harry Heilmann is pictured wearing a strange uniform with something on the back. Heilmann played in an era before uniform numbers, but I'm not quite sure what's on his back in this photo (from Doug McBurney). … For those who have never heard of the Yankees' short-lived mascot, Dandy, I suggest you read up (from Johnny Garfield). … @BallparkHunter has shared some more vintage MiLB commercials from the '80s and '90s. … Sen. Ed Markey rocked a new Worcester Red Sox jersey during a Zoom meeting with his campaign staff yesterday (from our own Anthony Emerson).

NFL News: We now have our first look at how the NFL will allow players to honor the victims of systemic racism on their back helmet bumpers. The league is also instituting several other initiatives, including cap patches for coaches and officials, messaging on the endlines, and messages on pregame T-shirts (from Jerry Wolper). … The 49ers are selling fan cardboard cutouts to be placed in their stadium this season (from Kary Klismet). … Eagles QB Carson Wentz has been wearing a compression sleeve with a quote from Martin Luther King printed on it. It reads, "Hate cannot drive out hate; only love can do that." … Here are the official face coverings that NFL personnel will wear this season. Unlike the MLB masks, the NFL versions have a visible maker's mark.

College/High School Football News: This website features an extensive database of University of Iowa football programs and ticket stubs dating back to the early 1900s (from Kary Klismet). … North Carolina and Virginia Tech are both selling custom fan cardboard cutouts for their home games this season (from James Gilbert and Kary Klismet). … Back in the day, some players at Millard North high school in Nebraska used long strips of tape across the front of their helmets and above their facemasks to hold down long chin straps. The trend became so ubiquitous on the team that the tape is now an official part of the uniform (from @Perez_Cristian3).

Hockey News: New, modified logo for the ECHL's Allen Americans (from @_alxjones_). … Check out the football helmet-inspired hockey lids that the Minnesota Golden Gophers wore back in the day (from Ben Hargen).

Basketball News: All WNBA teams wore pregame shirts promoting breast cancer awareness on Sunday, and at least one team in each game wore BFBS uniforms with pink accents to mark the occasion (from our own Jamie Rathjen). … Bucks F Giannis Antetokounmpo's wife and baby son showed up to the team's game last night, and Antetokounmpo's son was wearing an old Bucks jersey with an outdated maker's mark (from @solidbogey). … New jerseys for the women's basketball team of Polish sports club Polonia Warszawa (from Ed Żelaski).

Soccer News: New away kit for Romanian club FCSB (from Ed Żelaski). … Also from Ed: New shirts for Poland. … New jerseys for the Canadian men's and women's national teams (from Mark Ward). … New uniforms for Oral Roberts women's soccer. … AS Roma had to tweak their third game kit for European play because UEFA doesn't allow clubs to have more than two logos on it, even if it's only part of the background (from Ryan Maquiñana). … A bunch of Nike-outfitted European national teams released new shirts this morning, including England, Finland, France, the Netherlands, Norway, and Portugal. "Most national teams haven't played this year because the first window for their games was right after the world stopped," explains our own Jamie Rathjen.

Grab Bag: UCLA is suing Under Armour over the company's termination of its apparel contract earlier this year (from John Cerone). … Chinese telecom company Huawei is ending its nine-year advertising relationship with Australian rugby league club Canberra Raiders amid trade negotiations between the two countries (from Ted Arnold). … The city of Hutchinson, Minn., has a new logo (from Kary Klismet). … New logo for the Michigan Intercollegiate Athletic Association, an NCAA D3 conference. The set includes colorways for every member school (from @ponyupdoc and Ian Lee). … Landmarks in Melbourne, Australia, were lit up in purple in honor of International Overdose Awareness Day (from James Gilbert). … Russian men's volleyball team Zenit Kazan has new uniforms for 2020-2021 (from Jeremy Brahm). … Auto racer Tom Sneva once wore a helmet with a football facemask when driving in an Indy Car race in 1983 (from Kyle Dawson). … A Navy corpsman ran a 10K "ruck" in a full Star Wars Stormtrooper costume to raise money for charity (from Timmy Donahue). … Many books about politics this year have similar cover design motifs (from Jason Hillyer). … New logo for comics publisher Fantagraphics (from John Cerone).
• • • • •
[adrotate group="2″]
• • • • •
Click to enlarge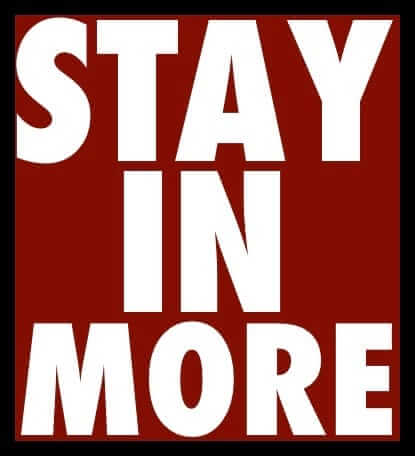 What Paul did last night: Although I've been away from the blog, pandemic Porch Cocktails™ have continued every day. We're now up to 167 daily photos.
Yesterday was particularly notable, because we witnessed a remarkable nature scene unfolding in the tree across the street from us (the same one from which Branch Rickety once swung): There was a squirrel that was gathering leaves from the tree branches and using the leaves to build a nest. The amazing thing was that he kept leaping back and forth from the nest site to where the leaves were. He'd launch himself from the nest to his preferred branch, harvest some leaves, hold them in his mouth, and then launch himself back to where he was building the nest. It was amazing!
I shot two videos. The lighting wasn't ideal, but I think they're good enough for you to get a decent sense of what was happening:
Occasionally the leaves would fall out of his mouth and flutter to the ground as he jumped, but whatever — he'd just go back for more. At one point he miscalculated his jump and fell down to the sidewalk (it had to be at least 25 feet) but didn't seem any worse for wear. He just scampered back up the tree and resumed his task.
I know there are such things as flying squirrels, but I'm pretty sure this fella isn't one of those, at least not genetically. But he's a squirrel that flies, and that's good enough for me!