[Editor's Note: Paul is on his annual August break from site. Deputy editor Phil Hecken is in charge from now through the end of the month, although Paul may be popping up here occasionally.]
By Phil Hecken, with Logan Patterson
Follow @PhilHecken

Hey kids — little bit of bad news this morning, as I was expecting Paul's Annual College Football Uni Preview to be running, but literally at the last minute, that got bumped (we expect it will run tomorrow, so be sure to check back then for that!). So, instead, I'm back again today with Logan Patterson, who has a nifty "What They Should Have Worn…" idea. If you missed the first edition, which ran a couple weeks ago, click here.
There's a lot in today's post, so let's get right to Logan's section.
• • • • •
Temple at Tulane
By Logan Patterson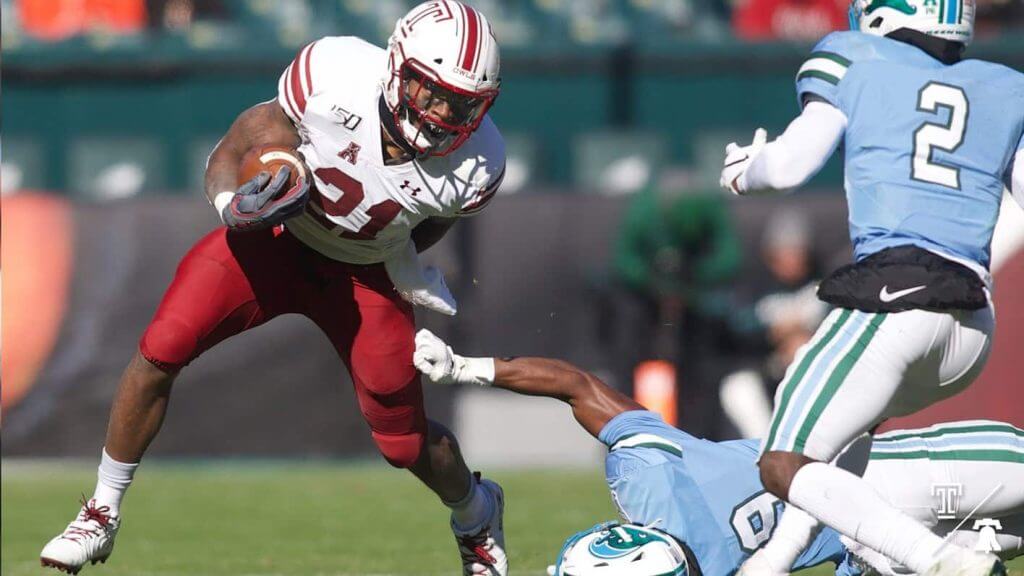 Temple made the trip to New Orleans in week 12 of 2019 outfitted in 1935 inspired throwbacks, a nod to their first matchup with Tulane in that year's Sugar Bowl. It's a solid look and I enjoy a good throwback. It's hard to be too critical here, but I'll take the opportunity to roll out a new look for the Owls. Over the years, Temple has incorporated unique diamond patterns into their uniforms, most memorably on their helmets stripes.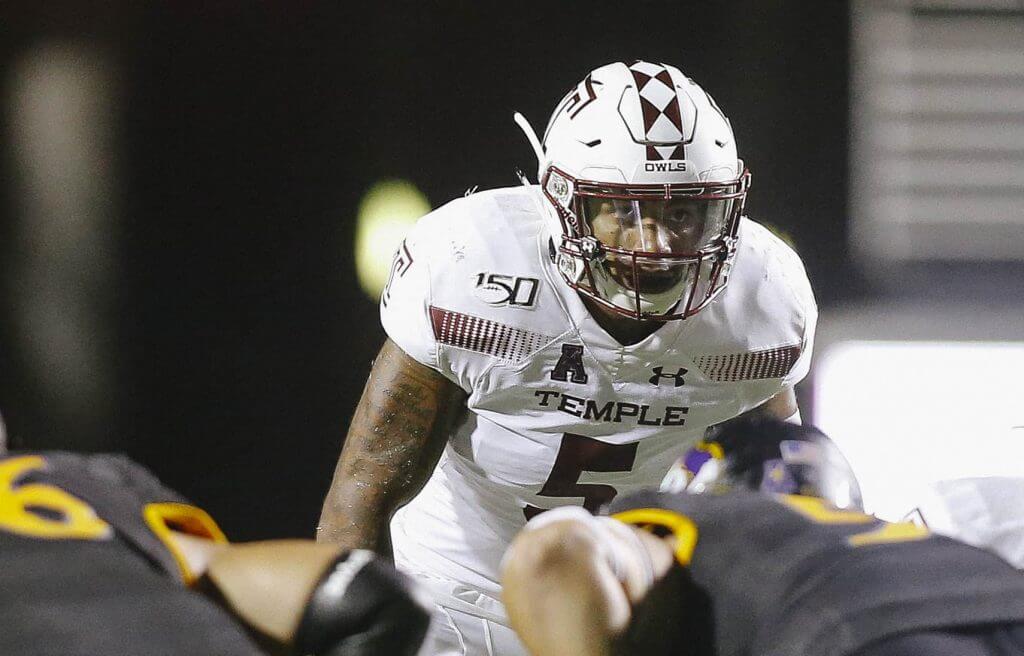 The university uses diamond imagery in all kinds of ways, from their uniforms to the campus currency, Diamond Dollars. It's a nod to a lecture titled "Acres of Diamonds", delivered by Temple founder Russell Conwell over 6,000 times about the value of education. Let's roll with that look and ditch the generic looking chest/shoulder pattern.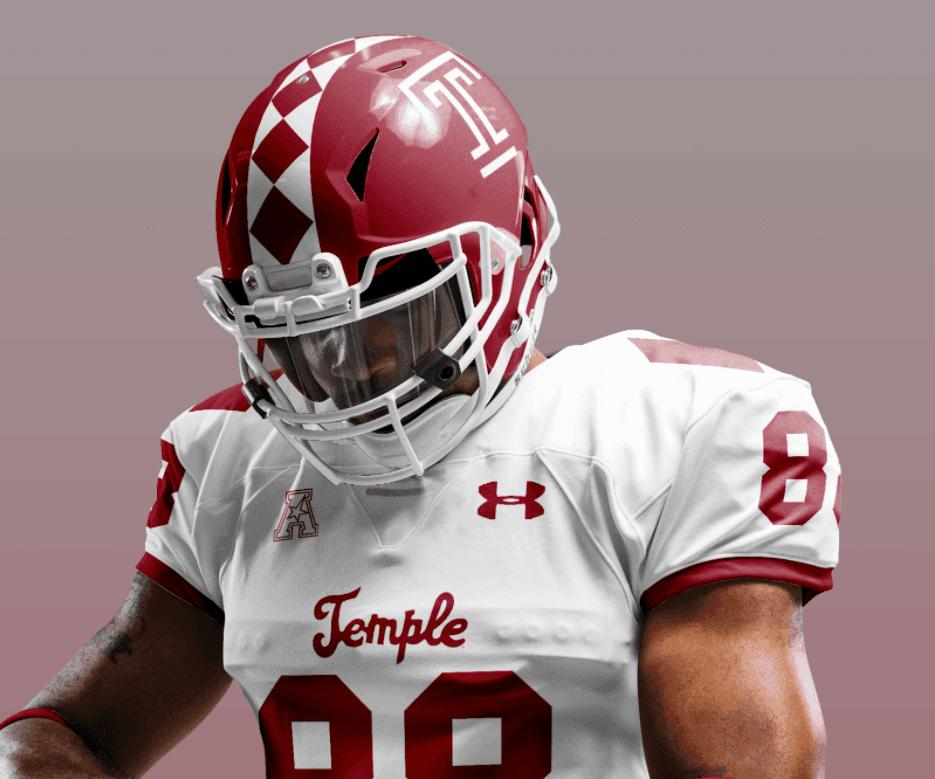 I would have liked to see Tulane in their green jerseys for the sake of contrast. The light blue look is great, but with the white lids and pants and their opponents in cherry/white/white, there wasn't a lot of value on the field. While the Wave's recent rebrand has been a home run, they haven't really settled on a signature look — regularly mixing up stripe patterns, metallics and one-off helmets.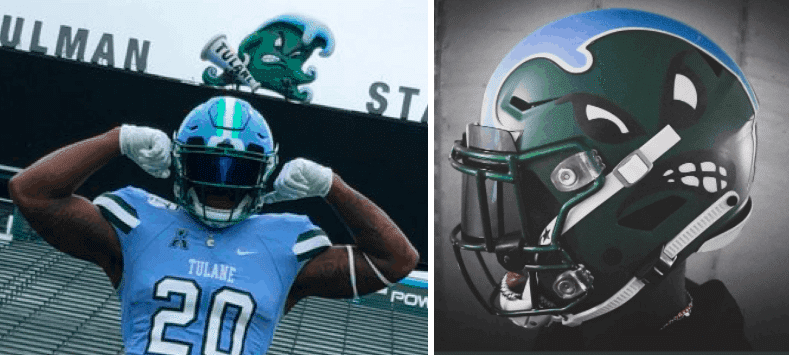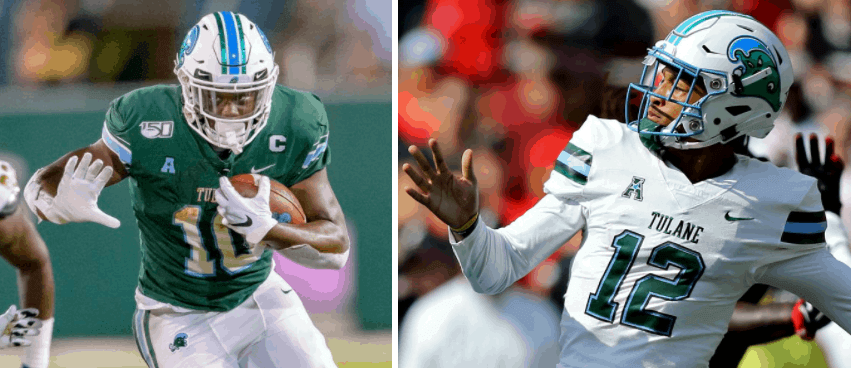 Tulane made "olive and blue" their official colors back in 1919, but their current shade of Tulane Green isn't particularly… olive-y. I've remedied that, while making marrying some elements from their '90s and early 2000s looks.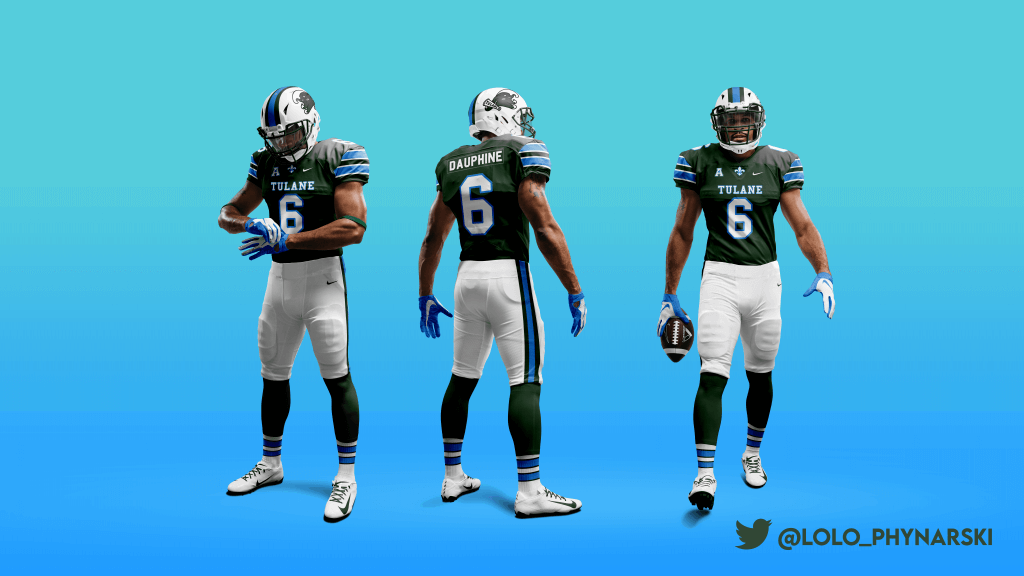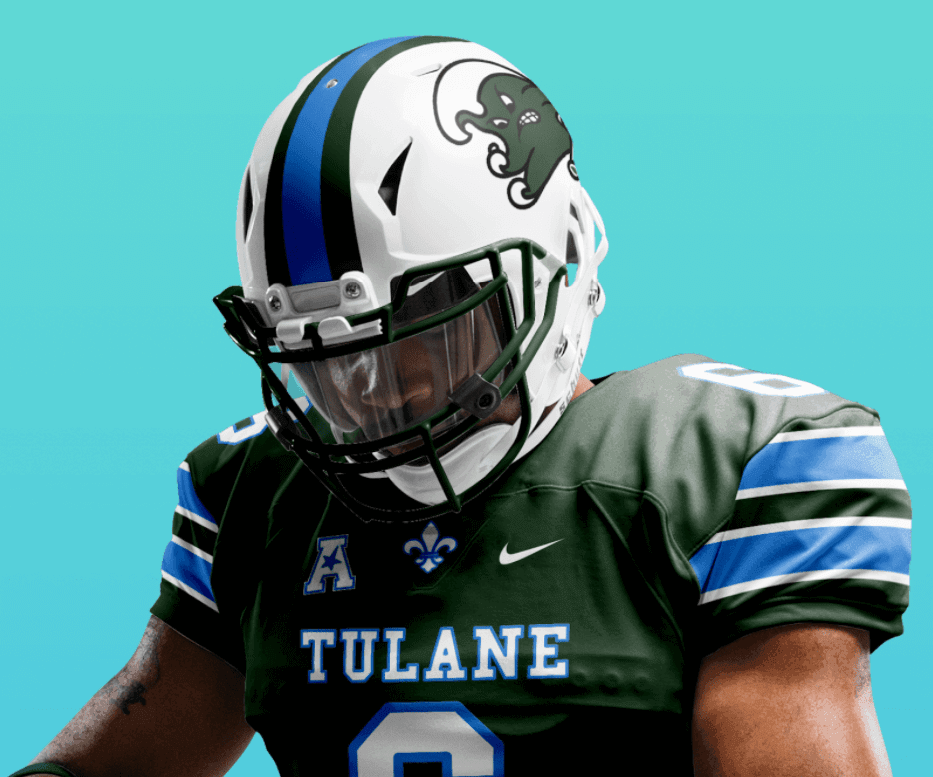 Here's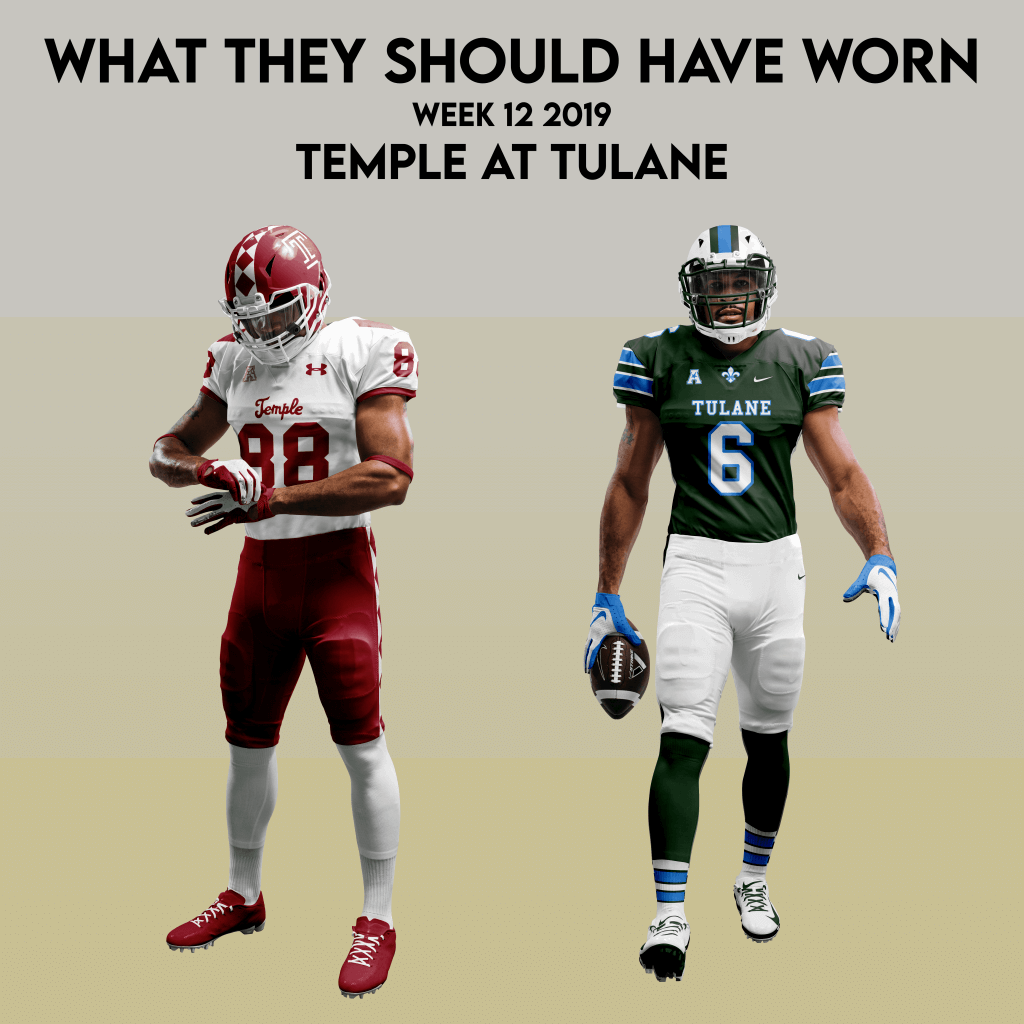 • • •
Thanks, Logan! Great stuff again.
• • • • •
• • • • •
Three's A Charm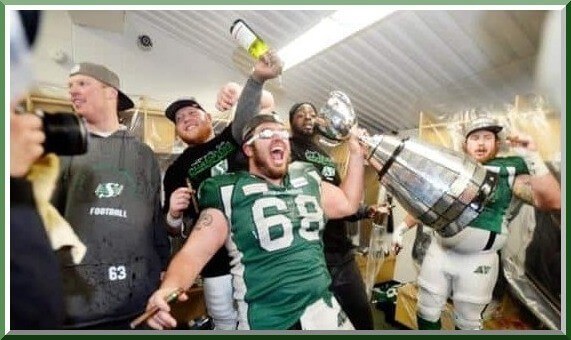 At the end of July, when I put out a call for reader submissions/suggestions for articles, I received the following piece from UW stalwart Wade Heidt — it's probably lede material, but as I have already more than enough articles to finish up August (and likely September), I want to run this as a sub-lede. Wade sent it to me prior to the 2020 CFL Season being cancelled, which is unfortunate, but probably the safest course of action. Here's a bit of what he said…
This email is in response to your request for submission of content in August. I have attached a small article. Not likely large enough to be a main article but might work well as secondary.

Of course, it is from me, so you know good chance it is about the CFL. I am missing seeing the league this year because of the pandemic. There is still hope for a short season starting in Sept in the bubble which is to be in Winnipeg. However, it is looking bleak that this will happen due to many complications and likely will be no 2020 season. This pandemic is also really hurting the league financially. Really worrisome as this football league is not rolling around in cash like the NFL does.

My article focuses on the 2013 Grey Cup Champion Saskatchewan Roughriders. They did something interesting to us uni watchers. They wore three separate helmet designs in their three playoff wins to the championship. Often teams would want to keep the same look for superstition. This is the opposite. Cannot think of another pro football team that has done this.
Obviously, at least in the NFL with its one shell rule, this hasn't been possible (although they may change that rule in the future, at least to accommodate throwbacks); and I can't think of any NFL team that's worn two different shells since the 1969 Eagles as part of their regular helmet lineup (non-throwback variety). So this is actually pretty cool what the Riders did. I'll leave the rest of the story up to him! Here's Wade:
• • • • •
Three's A Charm
By Wade Heidt
The 2013 edition of the Canadian Football League's Saskatchewan Roughriders did some interesting from a uniform watcher's perspective. Something I do not believe has been done by another pro football team (correct me if I am wrong). They wore 3 separate helmet designs during their playoff march to a championship in 2013.
__________
West Semi-Final
The Roughriders finished in second place in the West Division. They hosted the BC Lions in the 2013 West Semi-Final. The Riders elected to wear alternate throwback-style uniforms for this game. They wore their classic helmet design featuring their vintage logo and white centre striping. This throwback uniform usually was worn as green jersey over white pants. The Riders decided on this day to wear green over green. They still had the green pants hanging around that were worn with their alternate 1970s throwback white jersey back in 2010.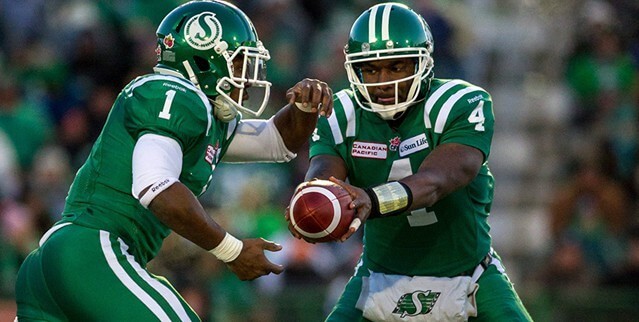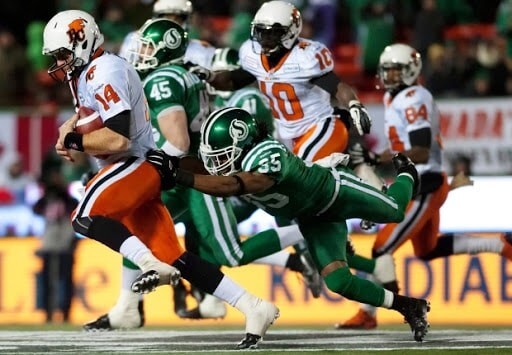 __________
West Final
After the West Semi-Final win, it was time to visit the Calgary Stampeders. From 2012 to 2015, the Roughriders had a white helmet that was worn for almost all their road games. I was not a fan of the white road helmet but learned to deal with it during its time.
The Riders sported their usual road look featuring the white helmet on that frigid day in Calgary. Helmet design number two and playoff win number two! The Saskatchewan Roughriders crowned the West Champions and secured their spot in the Grey Cup game.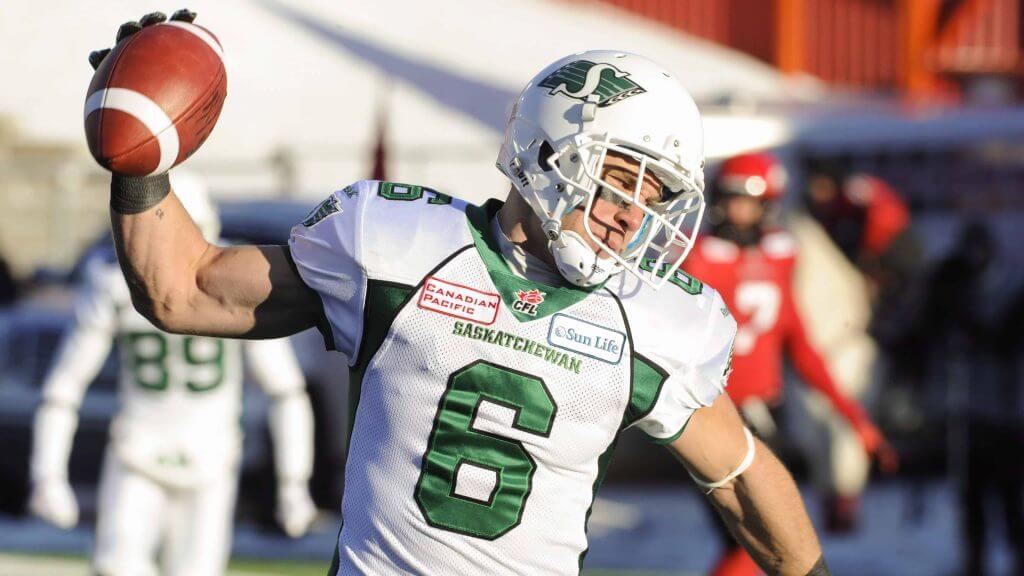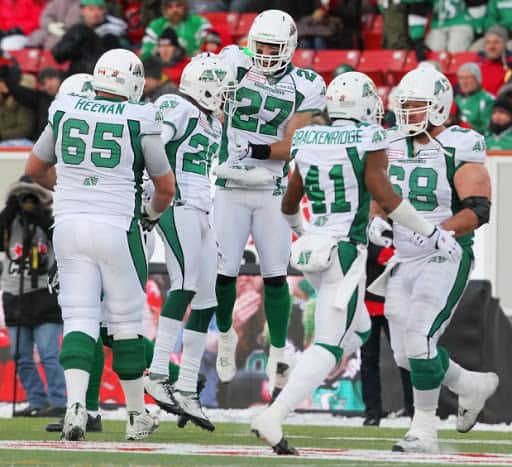 __________
101st Grey Cup
The Roughriders were designated the home team for the Grey Cup as the game was being hosted by a West Division team. Grey Cup sites are awarded in advance and the 101st Grey Cup was being hosted in Regina. The Roughriders were fortunate to be in their home city and stadium for this game.
No alternate uniforms in the 101st Grey Cup. As the designated home team, the Roughriders were in their dark jerseys. They wore their usual home uniform featuring their home and primary helmet.
The third helmet design worn in three playoff games and their third win. Comfortably defeating the Hamilton Tiger-Cats and hoisting Grey Cup!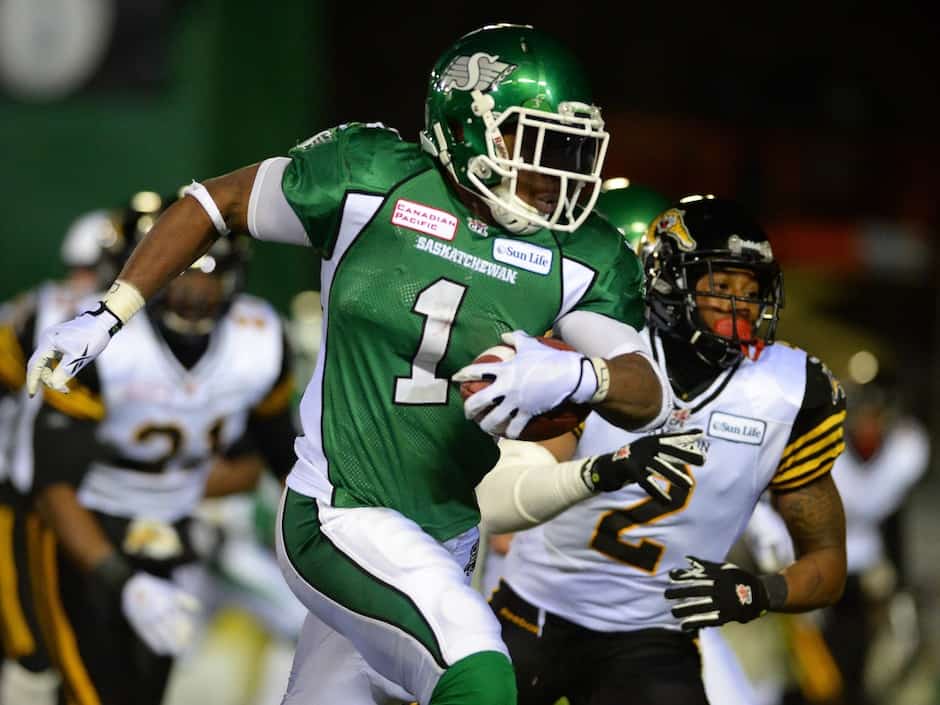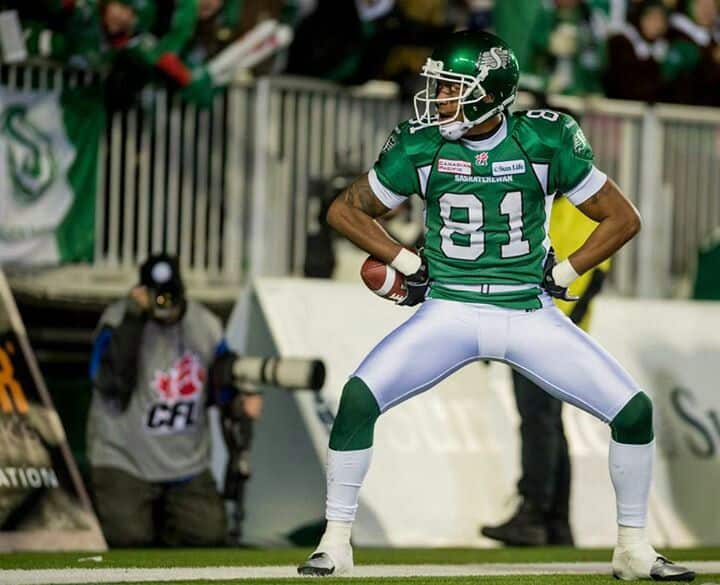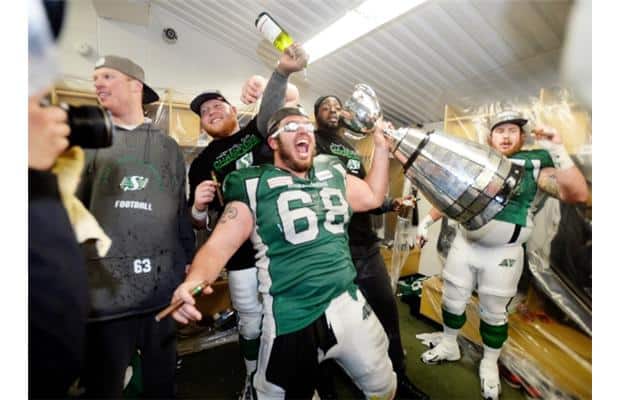 • • • • •
Thanks, Wade! Great story I'm sure not many of us were aware of (at least I wasn't). Can anyone think of another (pro) season in any football league where a team wore different helmets for a playoff run?
• • • • •
• • • • •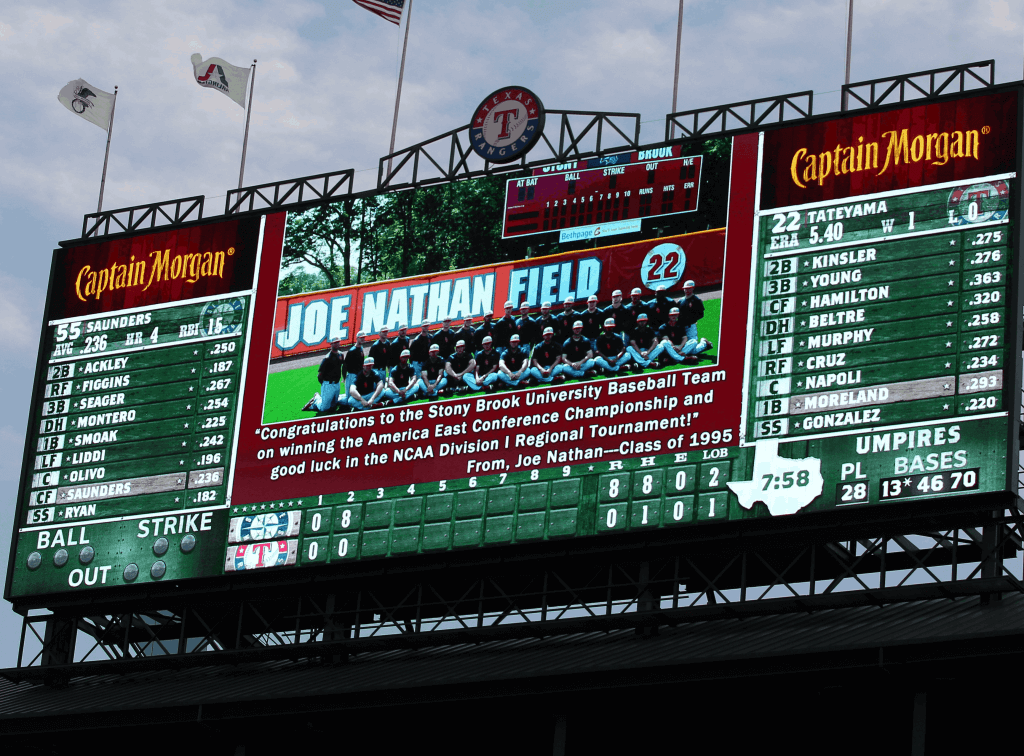 Guess The Game…
from the scoreboard
Today's scoreboard comes from Mike Chamernik.
The premise of the game (GTGFTS) is simple: I'll post a scoreboard and you guys simply identify the game depicted. In the past, I don't know if I've ever completely stumped you (some are easier than others).
Here's the Scoreboard. In the comments below, try to identify the game (date & location, as well as final score). If anything noteworthy occurred during the game, please add that in (and if you were AT the game, well bonus points for you!):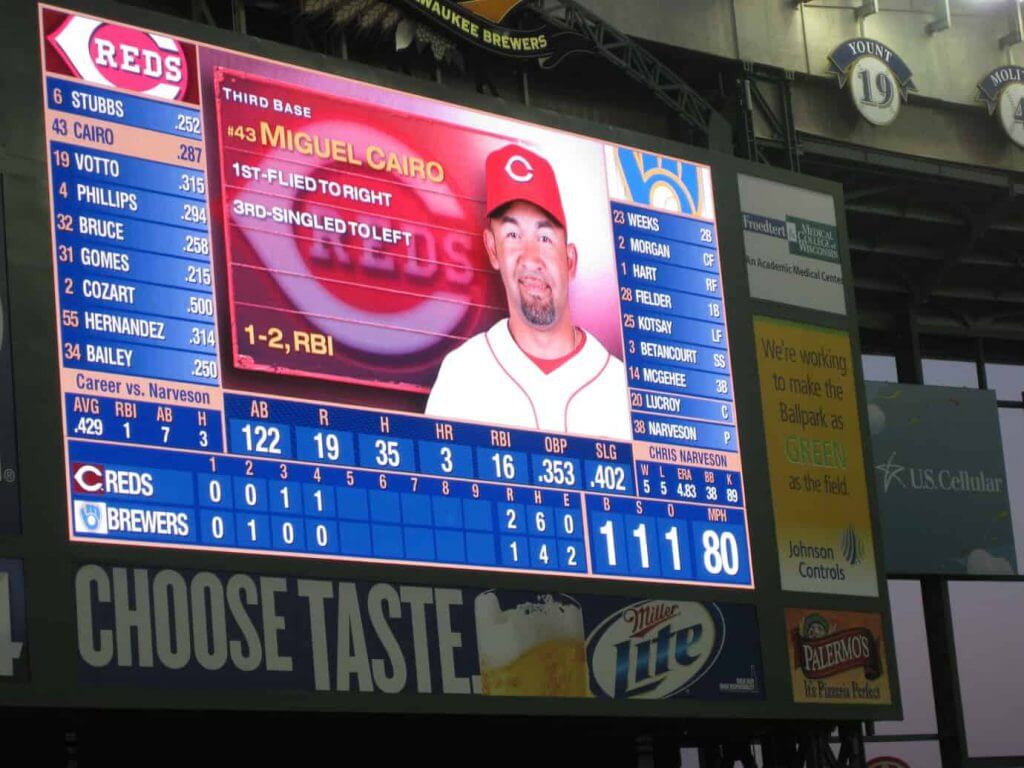 Please continue sending these in! You're welcome to send me any scoreboard photos (with answers please), and I'll keep running them.
• • • • •
• • • • •
NHL's Forgotten Teams…A Follow-up
Yesterday's main article on NHL "Defunct" Teams prompted reader Christopher Noice to do a bit of a follow up:
Loved the photos of the NHL's defunct teams.

I always loved the Cincinnati Stingers' logo and look. Sadly, like the ABA's Kentucky Colonels and Spirits of St. Louis (and Flint Tropics), they were paid to go away when leagues merged, and never made the jump from the WHA to NHL ice.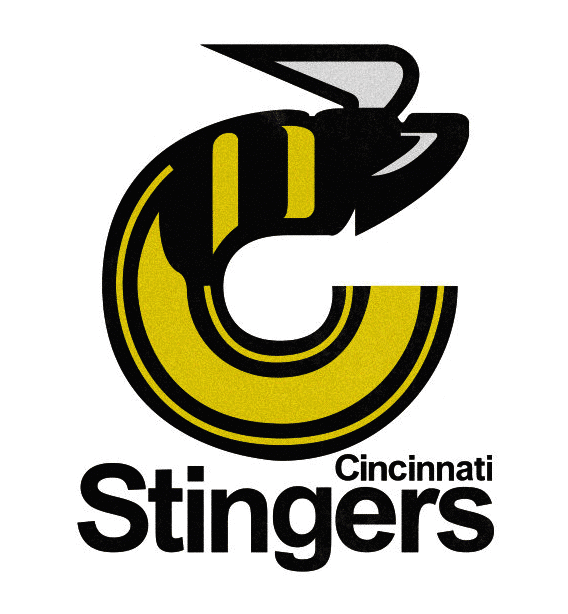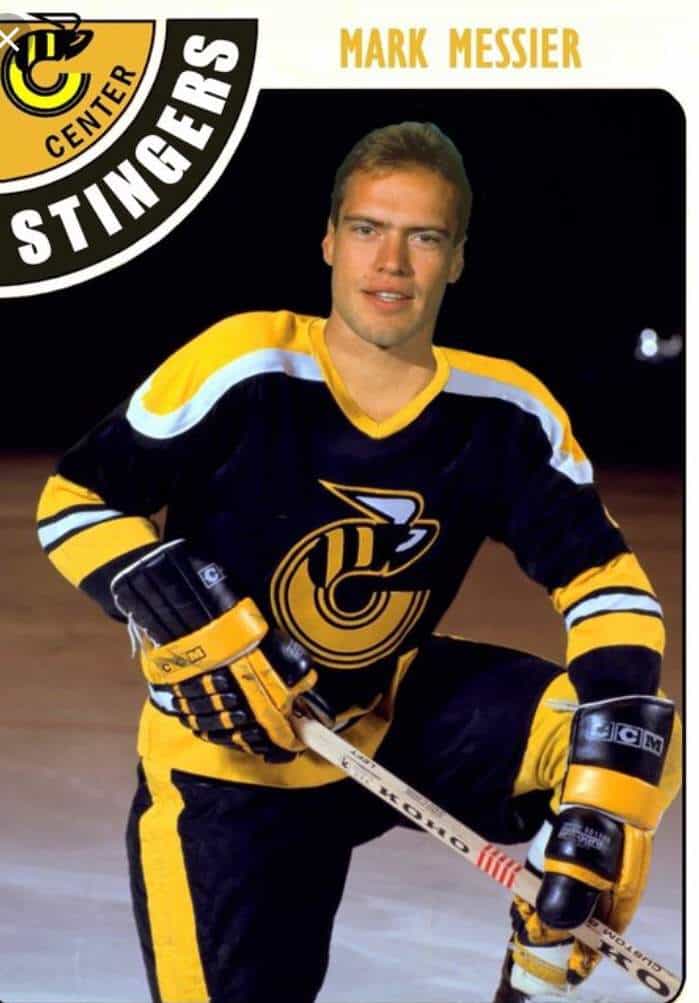 Come to think of it, the other Ohio WHA team – the Cleveland Crusaders – had a pretty good look, too (note the hockey sticks and puck shield crest). They were nudged out of Cleveland when the California Golden Seals moved to town and (I think) became the Barons. Hey, not so fast – purple is the traditional color of royalty. Some teams HAVE to use it!

Christopher Noice

PS: On that Crusaders Shield 'hockey sticks and puck' logo, is that the only use of 'reflection off the ice' as a design element in the NHL?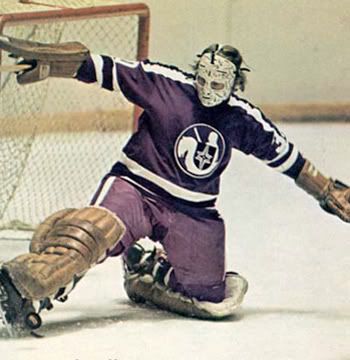 Good stuff, Christopher. Thanks for sharing!
• • • • •
• • • • •
Too Good For The Ticker!
Short one here from Robert Brashear, but it's just TGFTT!
If you're a Steelers fan (or not), this is for you (click to enlarge):
Going through boxes at my mom's I found these…

51 years ago this month the Steelers returned to Forbes Field for one last game…against the AFL Bengals…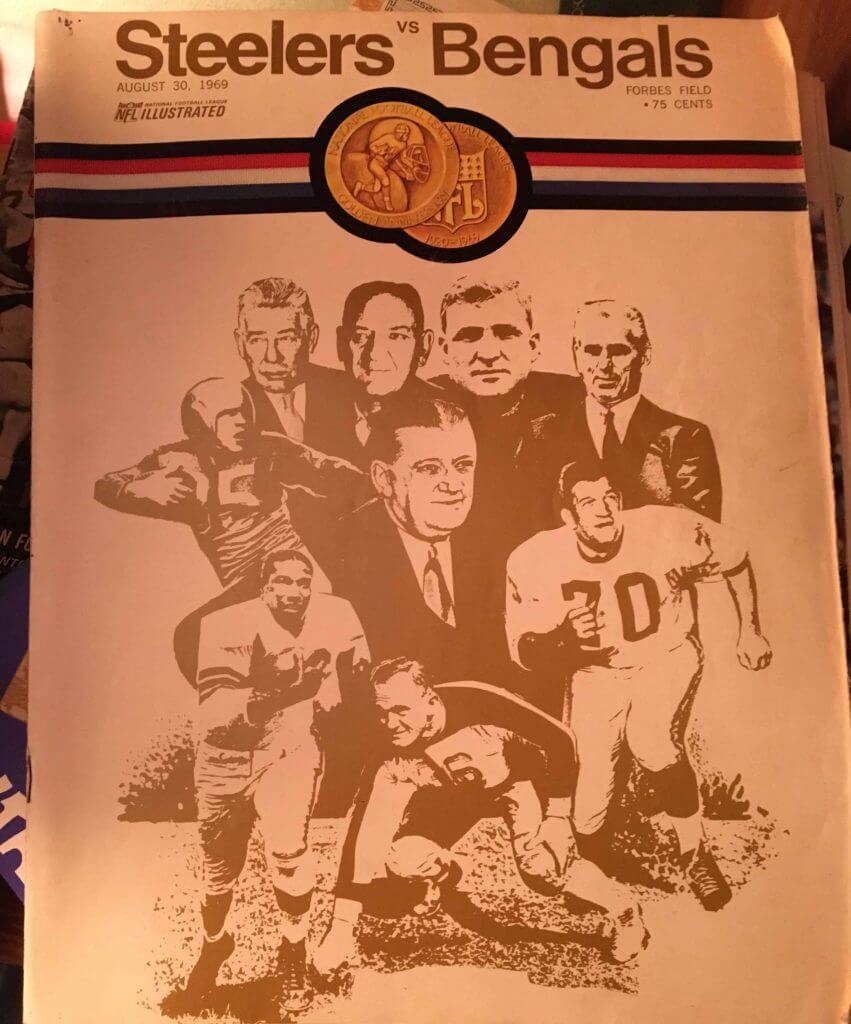 __________
Classic ticket stub: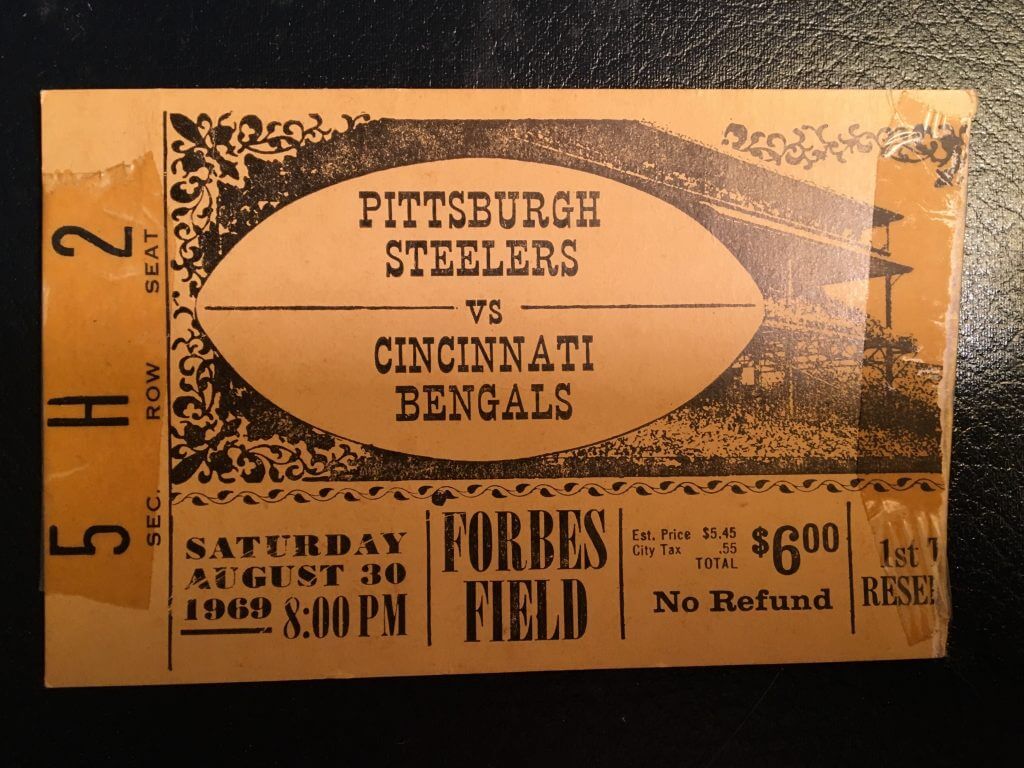 __________
One year later was the first football game at 3 Rivers…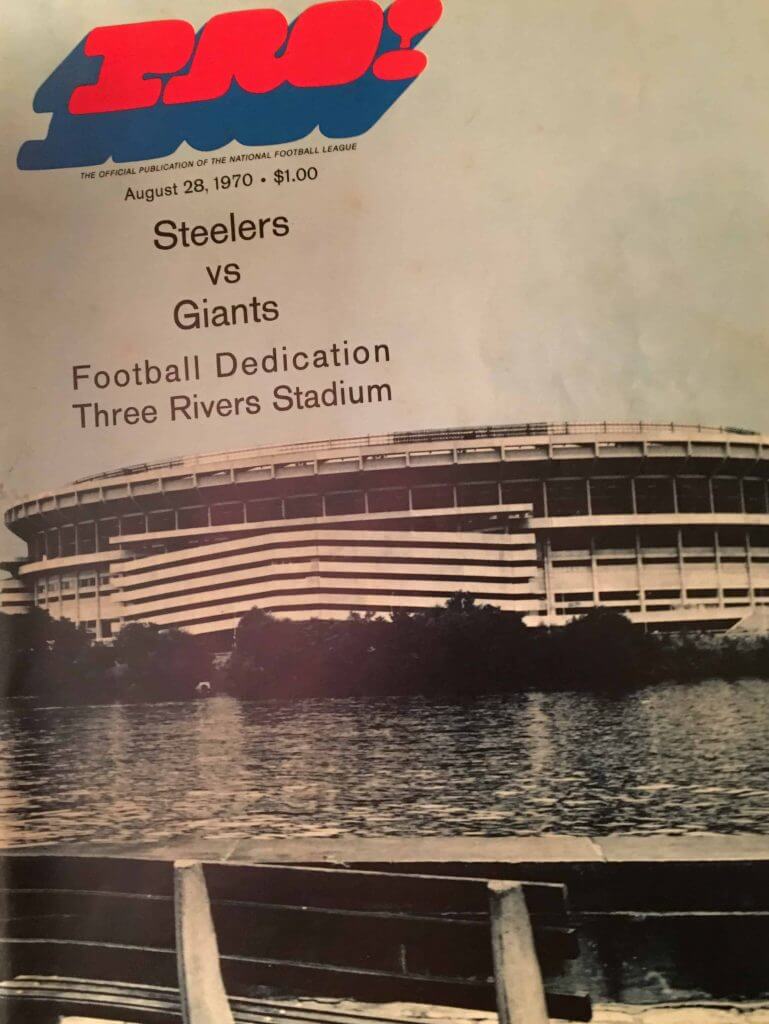 __________
Inside the program was a logo not seen before or since…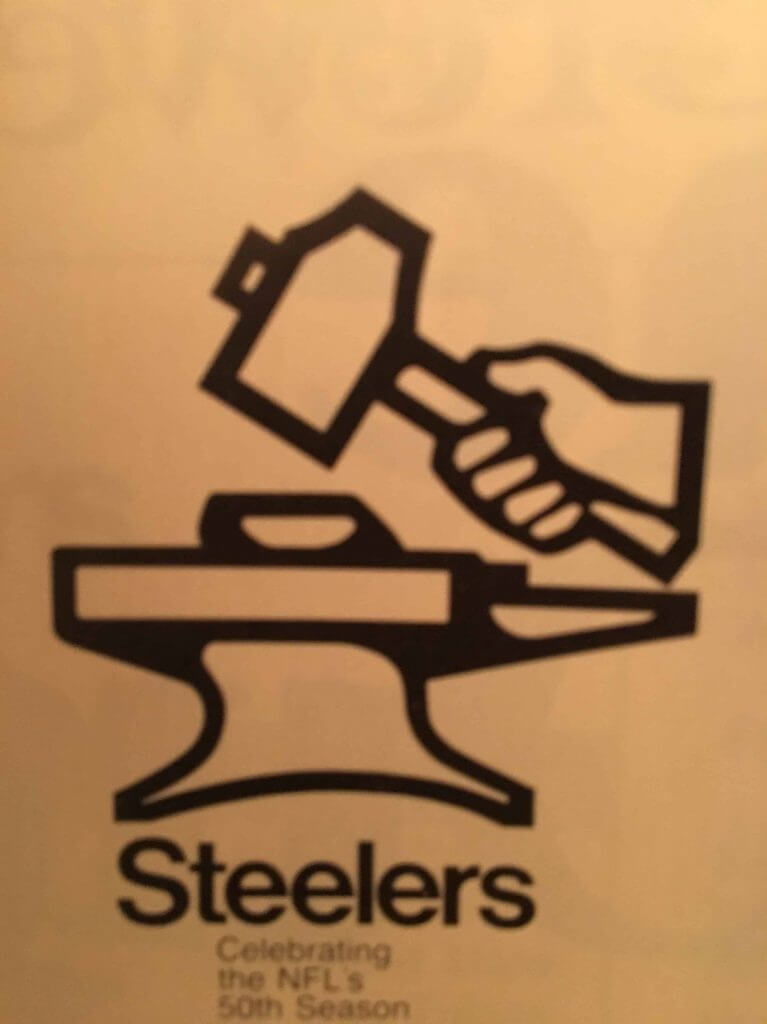 Great stuff! Thanks, Robert.
OK, now…on to the ticker.
• • • • •
• • • • •
The Ticker
By Lloyd Alaban

Baseball News: The Marlins/Mets game experienced a rain delay yesterday. During the delay, Mets 1B Pete Alonso decided to change shoes (from @1NepC). … Here's a uni tracker for the Diamondbacks (from @DbacksUni). … And here's A's tracker and Dodgers tracker (from Jakob Fox). … The University of Florida is selling seats from McKethan Stadium to baseball season ticketholders as keepsakes now that the new stadium set to replace it is scheduled to open next season (from Kary Klismet).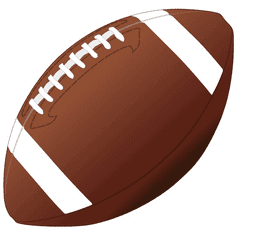 Football News: Here are more looks at the Raiders' inaugural season logo (from @TruColorNet). … Wabash College, a Division III school in Indiana, has released architectural renderings of what its stadium will look like after ongoing upgrades are completed (from Kary Klismet). … Baylor is continuing its tradition of giving single-digit numbers to the team's "toughest" players, as voted by coaches and the players themselves. The team released the new numbers on Twitter (from Joshua D. Lassiter). … Andrew Cosentino is a not big fan of the Rams bone uniforms for some reason.

Basketball News: A massage gun pushed in part by late Lakers PG Kobe Bryant can be found at every bench in the NBA.
.

Soccer News: Vancouver Whitecaps F Tosaint Ricketts wore an armband to commemorate his friend and former FC Edmonton MF Chris Kooy, who recently died of stage four colon cancer (from Wade Heidt). … Southampton spontaneously ditched their shirt advertiser in favor of another one today, although both the old and new ones are betting companies (from our own Jamie Rathjen). … New home, away, and goalkeeper shirts for ŁKS Łódź (from Ed Zelaski). … Also from Ed: New home shirt for Venezia.

Grab Bag: NASCAR driver Ryan Blaney will drive a strawberry-banana-Body Armor-themed car this weekend at Daytona (from Jakob Fox). … Saint Peter's University of New Jersey athletics has new logos. This Twitter thread includes lots of details and hype videos (from Kary Klismet). … New uniforms for the Girl Scouts (from multiple readers). … Here are the two design finalists for Mississippi's new flag. … New 70th-anniversary logo for Whataburger (from John Cerone). … New logo for Rolls Royce (from our own Phil Hecken). … Army scientists have designed a new bite sleeve to train military working dogs. The real-feel bite sleeve gives a flesh-like sensation and can bleed to simulate actual biting. It improves and focuses the dog's training (from Timmy Donahue).
• • • • •
• • • • •
And finally… thanks again to Logan, Wade and also to all of today's contributors. I'm looking forward to the NCAAFB preview which should run tomorrow, so again, check back for that!
Here's a recent sunset (sorry, wasn't a very good one yesterday)…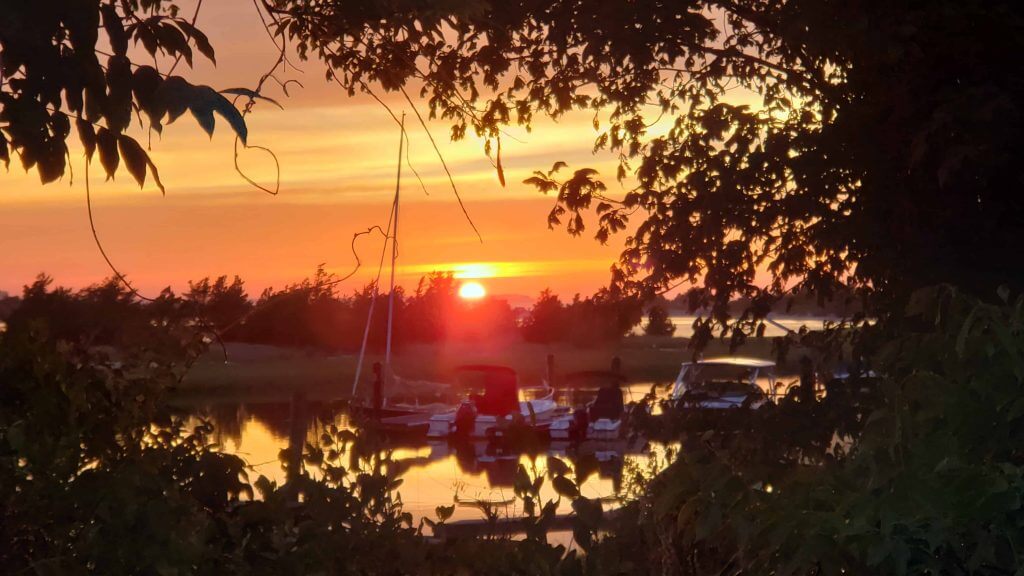 Everyone have a good Wednesday — and to anyone in Laura's path, please be safe!
Peace,
PH