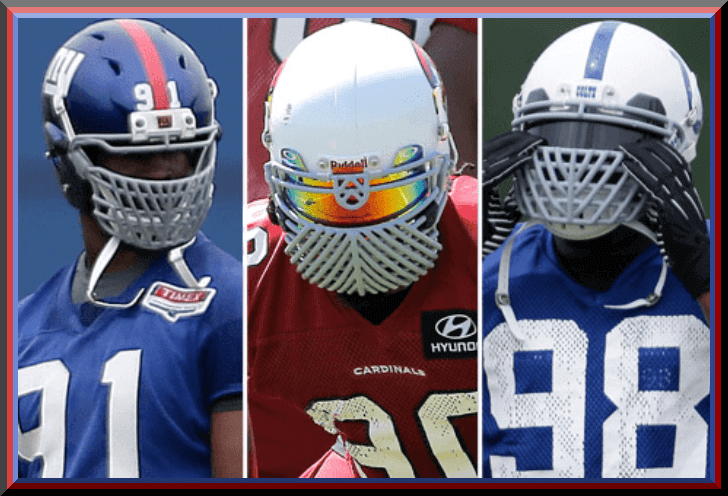 [Editor's Note: Paul is on his annual August break from site. Deputy editor Phil Hecken is in charge from now through the end of the month, although Paul may be popping up here occasionally.]
By Phil Hecken, with Skott Schoonover
Follow @PhilHecken

Hey everyone — it's Tuesday, and I hope everyone is doing well and staying safe.
One of my favorite things about Uni Watch is that rarely does a single day go by when I don't learn something (usually uni-related!). Paul is obviously a font (or, if you prefer, fount — it seems both are acceptable) of knowledge, and his daily imparts are a welcome diversion from life. And I hope you guys learn something when I write the ledes. But I also gain a ton of knowledge from reading the comments, and you guys are truly amazing in your sharing of various uniform minutia as well. It's one of the reasons I frequently reach out to the readership to pen a piece here or there — I may know a lot about unis, but many of you do as well (and often things I do not), and there are some of you, Paul first and foremost, who have probably forgotten more about uniforms than I'll ever know.
That being said — today is one of those days when a reader (and guest author) Skott Schoonover, is going to drop a ton of his knowledge on us in the form of facemask history and overviews. Now, I'm admittedly not a guy who is into facemasks (other than I think they should be gray), so it was a treat learning all about them, from their beginnings up to the present day, from Skott. I think you will too.
So, without further ado, here we go:
• • • • •
Football Facemasks
By Skott Schoonover
As a kid in the late 80's and early 90's I loved drawing athletes and designing uniforms, much like Kary Klismet and Marty Hick.
Before the digital age, I used pencils and markers. My favorite thing to draw was always football players because although all my illustrated faces looked the same, I could differentiate the players by their facemasks. I would watch games closely with my sketchpad in hand to make sure I had the exact right facemask design for each player. Thus, my obsession with facial protection began. Today I'm going to give a crash course on NFL facemasks along with some of my favorites.
__________
HISTORY
The first facemask as we know them was invented in 1935 by a man named Vern McMillan in Terre Haute, Indiana. It was rubber-covered wire and attached to a leather helmet. There were multiple efforts to improve upon the design, including one made of barbed wire and tape!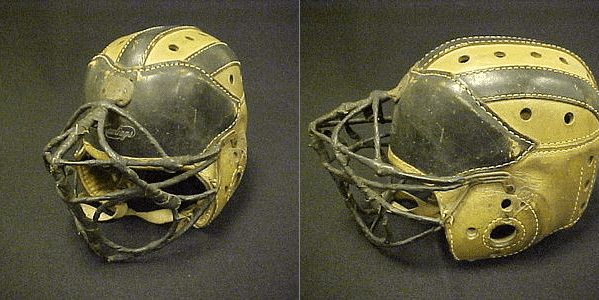 While many people credit Otto Graham and his Lucite face shield in 1953 to be the first facial protection in the NFL, the first documented professional football player to wear a facemask was Ernie Pinckert of the 'Skins in 1937.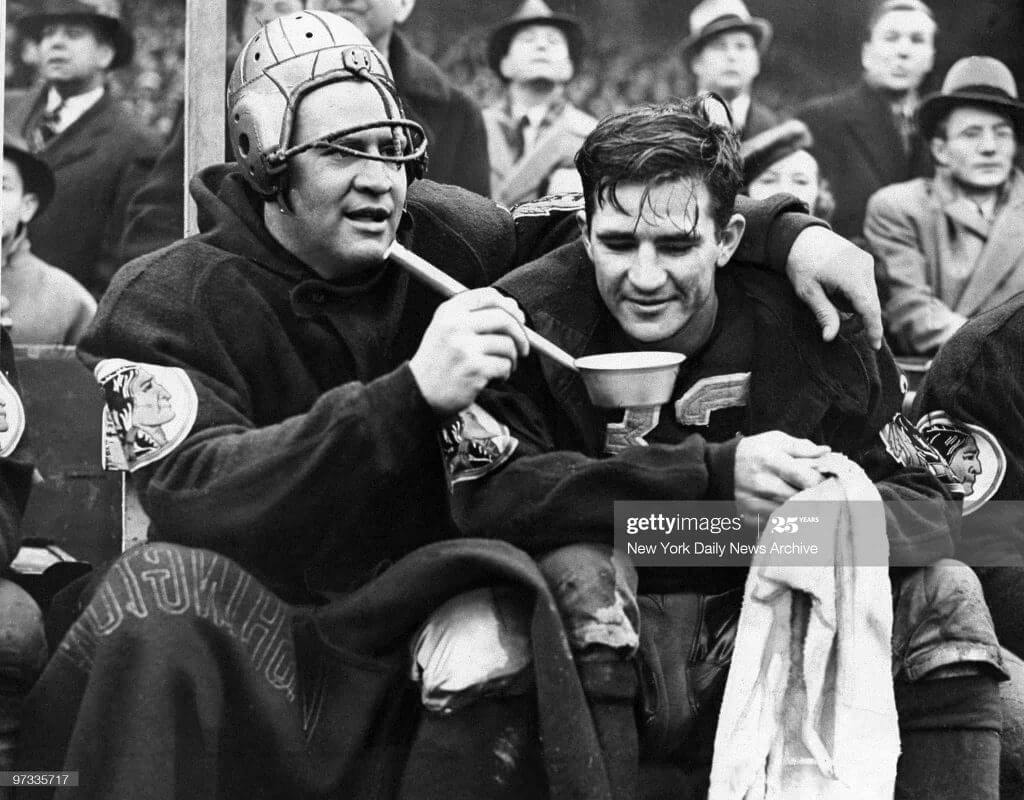 In 1954 Paul Brown patented the BT-5, which stood for Bar Tubular-5th attempt, but is more popularly known as the Single Bar, and it was produced by Riddell. This would be the beginning of modern facemasks that could be attached to plastic helmets. By 1966 the double bar Kralite-2 facemask was the most popular in the game and would remain that way through the mid '70s. At the same time, Dungard masks were introduced. And while far more protective, they were less popular.
By the late '70s the Clip On Mask had taken over. They were made of rubber-covered wire and had a lot of variations to make them position specific. Now you could choose a mask to fit your preferences.
In the '90s there was a brief period where plastic facemasks made a return in the form of the Kralite MB2 and MB5.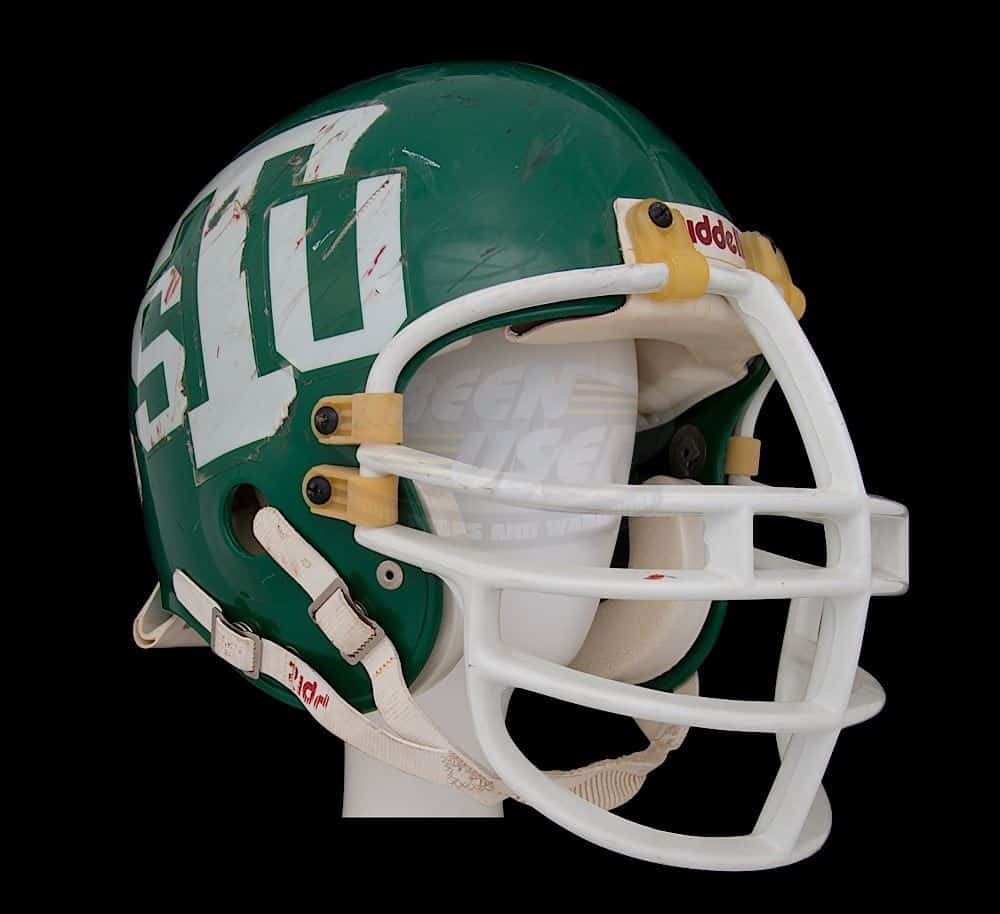 These were popular for replica helmets and in the WLAF. Some linemen wore them in the NFL, but they never gained mainstream popularity due to their immense thickness and view obstruction.
In the early 2010's Riddell introduced a new style of helmet called the Revolution. This helmet moved the side clip attachments down to the jaw area to help spread impacts and reduce concussions. It also had an effect of the aesthetic of the facemask. Recently they've gone a step further and introduced the Speed Flex helmet, which moves all the clips to the side of the helmet.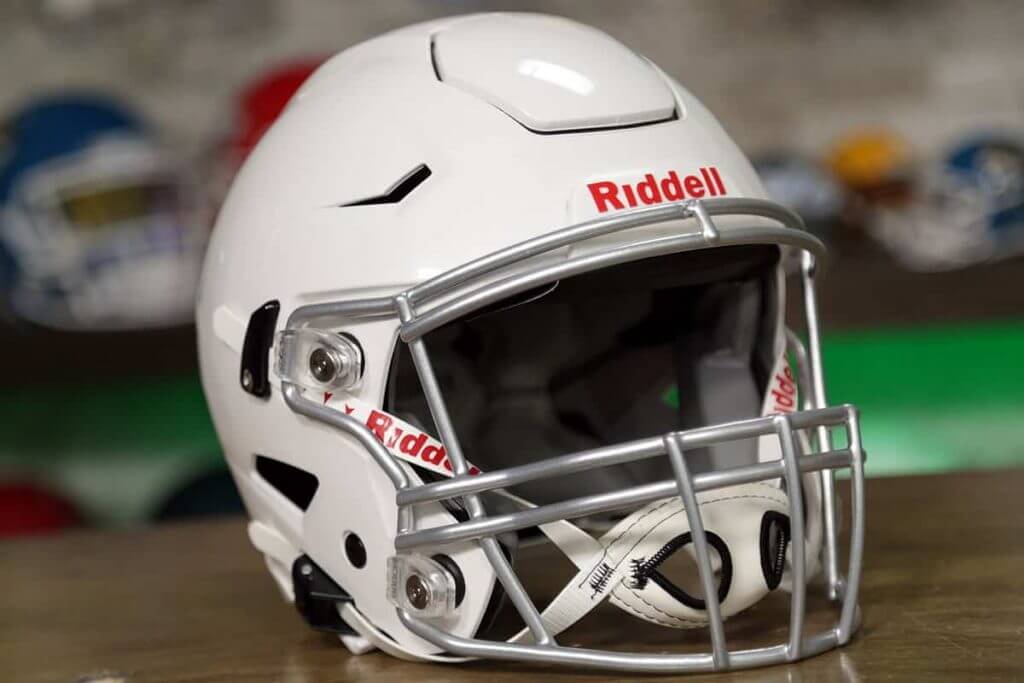 But they've reverted to more standard looking facemasks with the new model. Riddell isn't the only company that has changed the way helmets and facemasks look recently. Vicis, Schutt, and Xenith have all released helmets that have drastically changed the way facemasks look.
Team logos and television graphics have also evolved over time to reflect the current popular mask: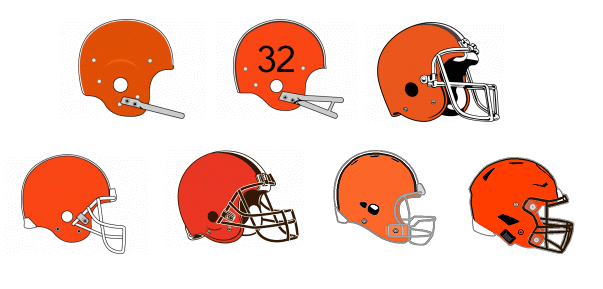 __________
STANDARDIZATION
With the wide variety of clip on masks, Riddell couldn't use just a quick abbreviation like the BT-5, they had to invent a classification system. This system included five basic styles that could be further customized. They are:
• OPO: Oral protection only
• JOP: Jaw and Oral Protection
• NOPO: Nose and Oral Protection Only
• NJOP: Nose, Jaw, and Oral Protection
• EGOP: Eyeglass and Oral Protection
These are all customizable with additional options by having a single or double horizontal bar across the middle, having two or three vertical bars protecting the mouth area, being reinforced with a second bar along the top, or a U-Bar at the top which helps protect the bridge of the nose.
__________
MY FAVORITES
One of my favorite pieces of sports minutiae is football players wearing facemasks that are unusual for their position. The one that always sticks out to me most is when Brett Favre was a rookie on the Falcons, he wore an EGOP, which as far as I know had never before, and hasn't since, been worn by a QB. I remember being so excited that a Quarterback was wearing the same facemask as Deion Sanders!
And speaking of Prime, it's not that it's an unusual facemask, but the fact that when he lined up at WR for the Cowboys, he had a second helmet with an ROPO because it gave him better vision than his typical EGOP.
Ted Ginn wore a kicker's RKOP facemask with a visor to protect his face in college.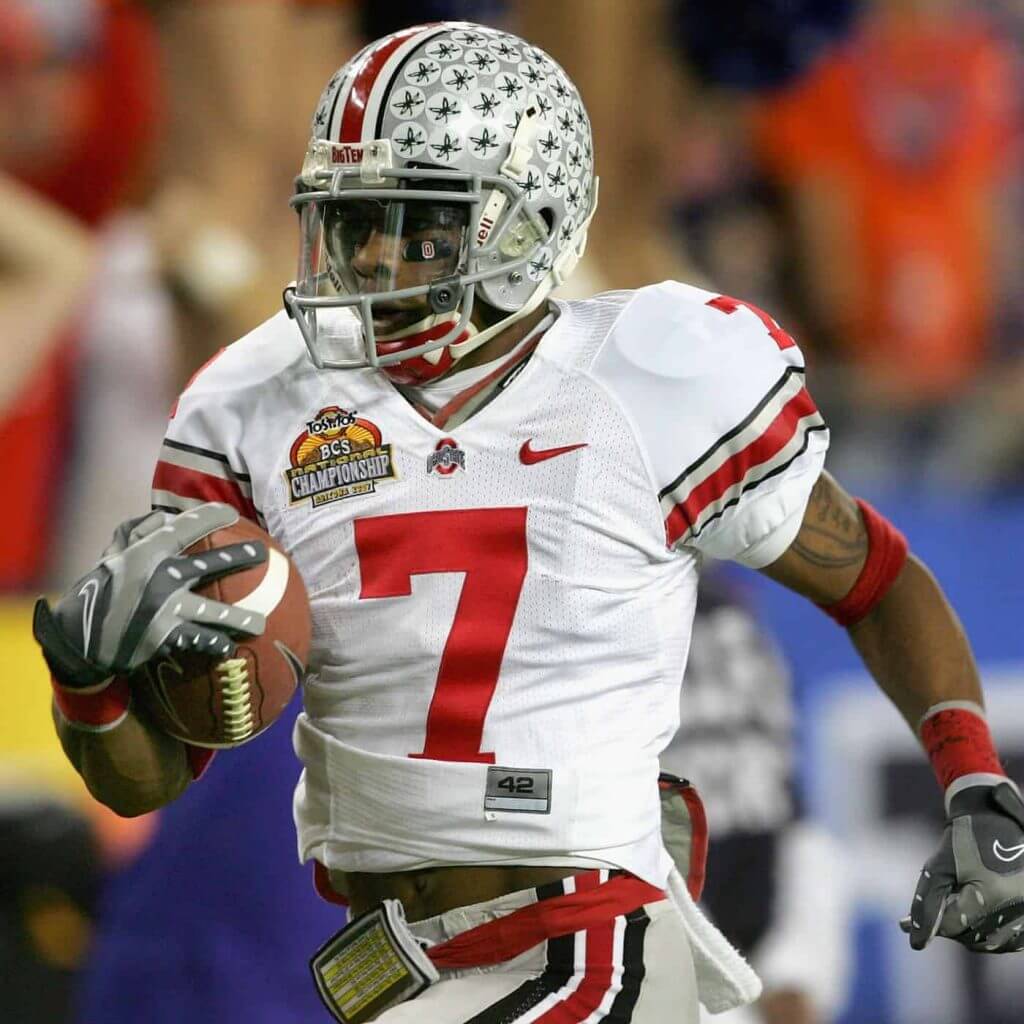 Notice the top bar of his mask is coming off the bottom attachment, not the top like a normal OPO-SW. He wore the same thing in the NFL for a year before they banned any non-kicker/punter from wearing them.
We all know that Joe Theismann was the last position player to wear the BT-5 single bar throughout his career, but did you know that Doug Flutie kept a second helmet with one when he was with the Chargers because he was also their emergency/back up kicker until 2004?
Rickey Jackson wore a crazy mask that had more bars than Bourbon Street.
Along that vein, Justin Tuck wore a variety of multi-barred masks because he was tired of getting poked in the face. He's also one of the players who wore a version of the "Shredder Mask" before it was banned by the league. Terrell Suggs wore a Wishbone Style mask around that same time.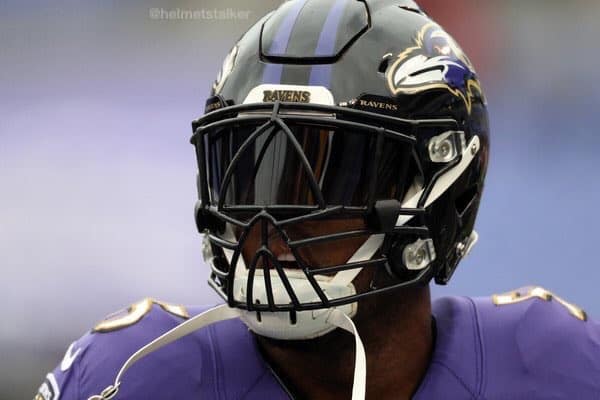 And what list of interesting facemasks would be complete without John Williams and his double Dungard concoction?
Thanks for coming with me on this journey through the history of NFL facemasks. I hope you enjoyed it, or at least learned something new. Have a great day!
• • • • •
Wow. Thanks, Skott. Tremendous job on this one! Readers? What say you?
• • • • •
• • • • •
Collector's Corner
By Brinke Guthrie
Follow @brinkeguthrie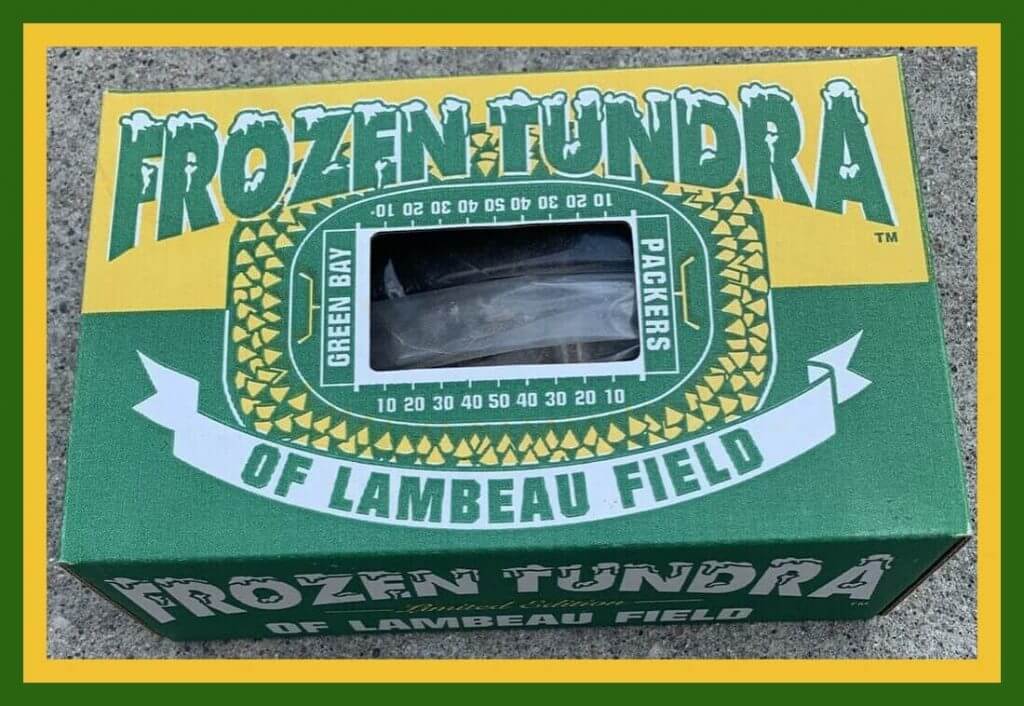 The summer temperatures are soaring around the country- don't ask about my part of Northern California- so this is the perfect time for an actual chunk of (say like Chris Berman) "The Frozen Tundra of Lammm-beau Field." The COA card says this is from the 1996-1997 Super Bowl season, and the Packers "accept no responsibility regarding the growth potential of plant material contained herein."
Now for the rest of the week:
———-
• Here's another one from that successful Packers season- a 5″ (b&w) screen Packers Helmet Television with AM/FM radio.
• Most of the helmet buggies you see on eBay are the little plastic kind, with the plastic baseball batting helmet or gumball football helmet. So this 200o-era Danbury Mint New York Yankees buggy really caught my eye. Great detail here, and I read elsewhere this one is 9″ long.
• Normally, you never see NFL helmet face masks pointing left on retail products- they're always pointing to the right. The makers of this Steelers bicycle plate decided to go left, and didn't realize…there is no logo on that side.
• Staying with the helmet theme for a sec- this Kansas City Royals Magnetic Car Topper is three feet long! You plop this massive thing on top of your car with four sturdy magnets- but as the disclaimer says, "Do Not Exceed 70 MPH Speed Limit!" (No convertibles, either, it adds helpfully.)
• One of The Masters, Bart Forbes, did the cover for this 1973 Pro Bowl program; (The Third Annual Meeting of American Football Conference and National Football Conference All-Stars.) That AFC player looks quite a bit like the Cowboys player on this NFL Action '72 Sunoco album. But hey, good artists borrow- great artists steal. Forbes could certainly steal from himself!
• Here's a rather unique item- a 12″ reel of the 1966 NFL Championship Game (Packers-Cowboys) marked "Coca-Cola™ version." It was from Coke's Bakersfield bottling plant, and loaned to Shafter High School in Shafter, California.
• One more item from The Real Thing™; this vintage Mickey Mantle collector's glass.
• Speaking of collector's glasses, Chargers fans will love this 1965 Chargers glass commemorating their 1964 AFL Western Division title. Brought to you by your friends at Plymouth.
• One can only imagine how hot and sticky you got inside this 1970s Denver Broncos Storm Suit from Uniroyal. Gotta be plastic-vinyl, right?
• Here's a nice looking Atlanta Falcons gear bag of unknown vintage. It's 18″ long and 8″ in diameter.
• • • • •
• • • • •
WooSox unveil … NINE jerseys and Seven Caps

Yesterday, the Worcester Red Sox unveiled the club's official on-field game jerseys and caps for their inaugural season at Polar Park in 2021. The display of "Whites & Grays and Blues & Reds … Introducing the WooSox Threads" was um … something.
Here's a look at the new merch dump jerseys & caps: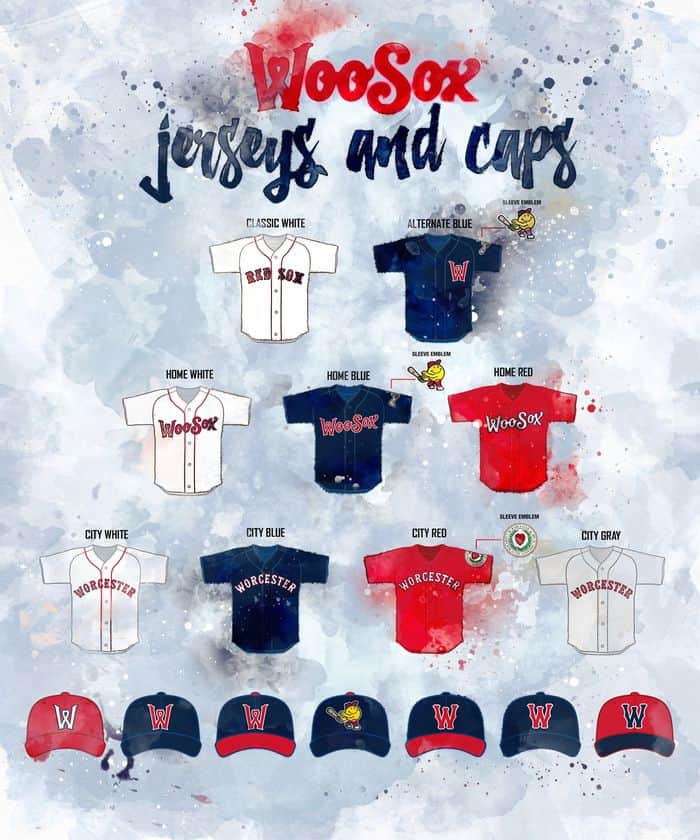 Perhaps surprisingly (and thankfully), the team has only white and gray pants (because fans don't buy replica pants in large quantities, I'm sure that's not the reason more weren't introduced). But there are those 9 jerseys and 7 caps. The team showed them off. There are too many combinations to actually show, but I'll try to include as many caps and jerseys below, to give you an idea of their "identity" for 2021. You'll note from the graphic above there are three white jerseys, three blue jerseys, two red jerseys and one gray jersey, each with specific names and also whether they are "home" or "city" (road?) jerseys.
Blue Tuscan "W" Cap, White "RED SOX" Jersey: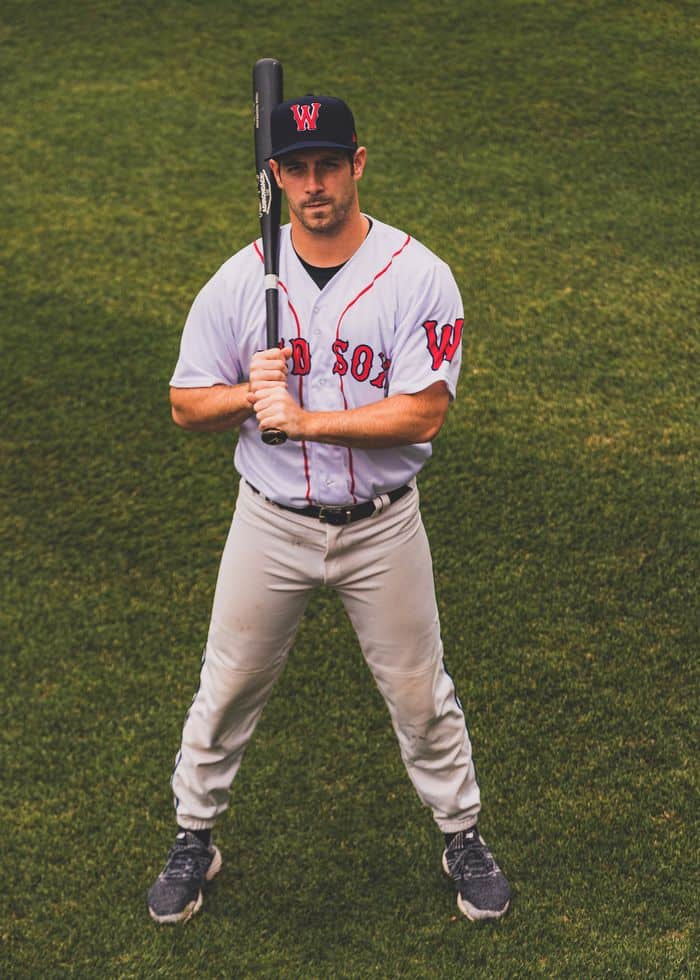 Blue Smiling Guy Cap, Blue "W" Jersey: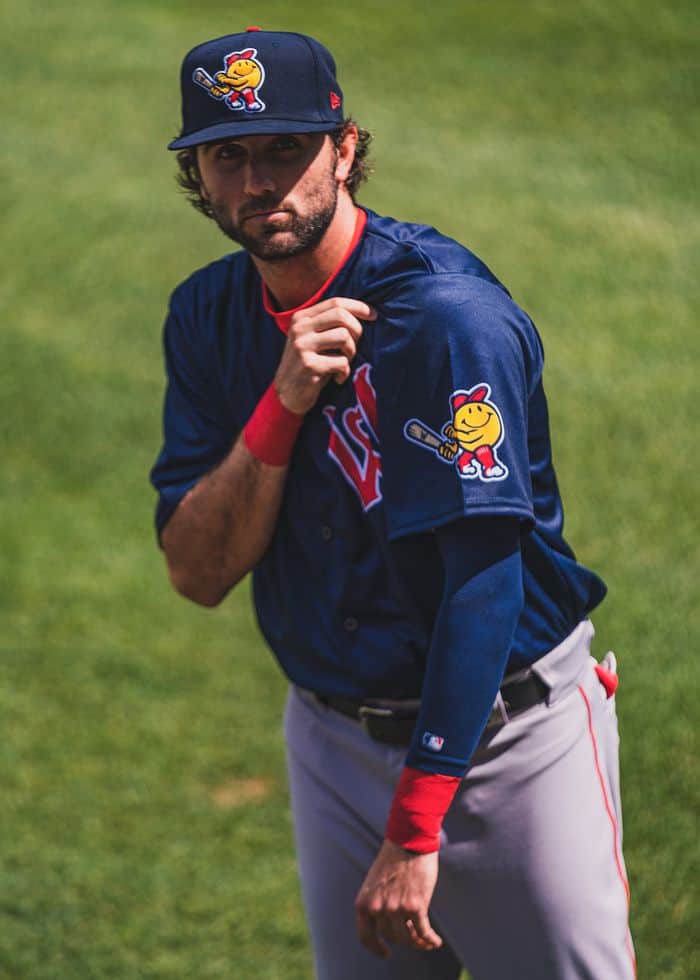 Red Curly "W" Cap, Red "WooSox" Jersey: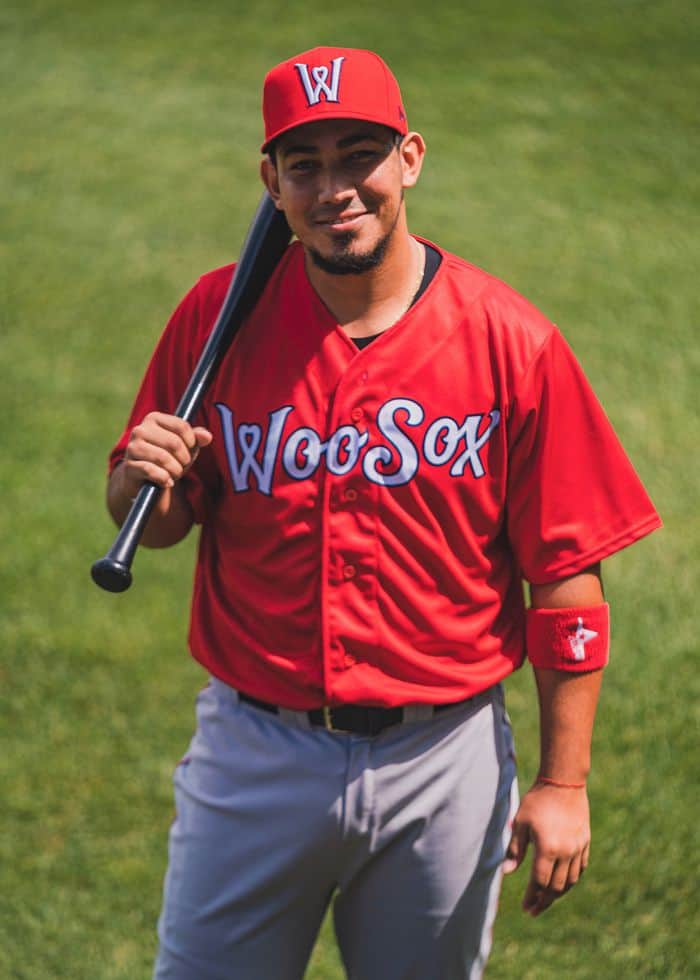 Red/Blue Hybrid Cap, White "WooSox" Jersey: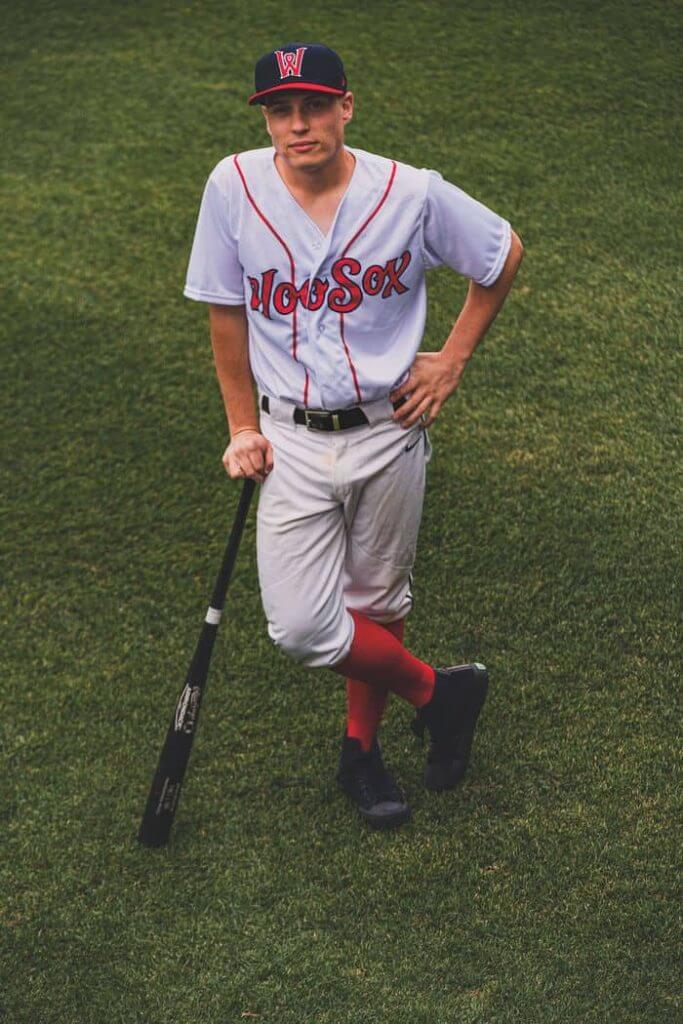 Blue Smiling Guy Cap, Blue "WooSox" Jersey: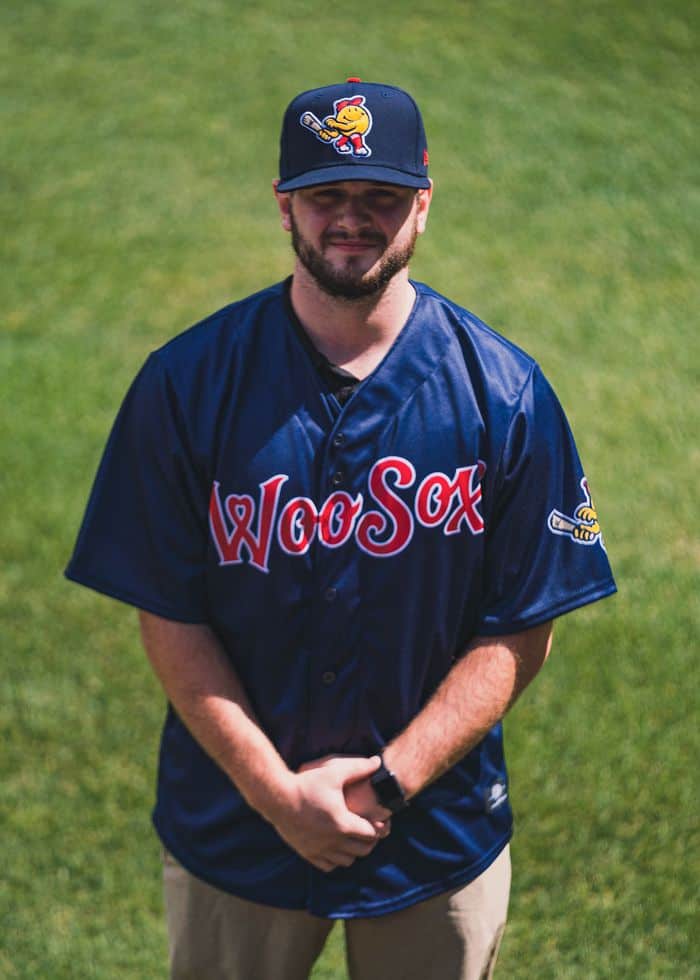 Red/Blue Hybrid Cap, Red "Wooster" Jersey: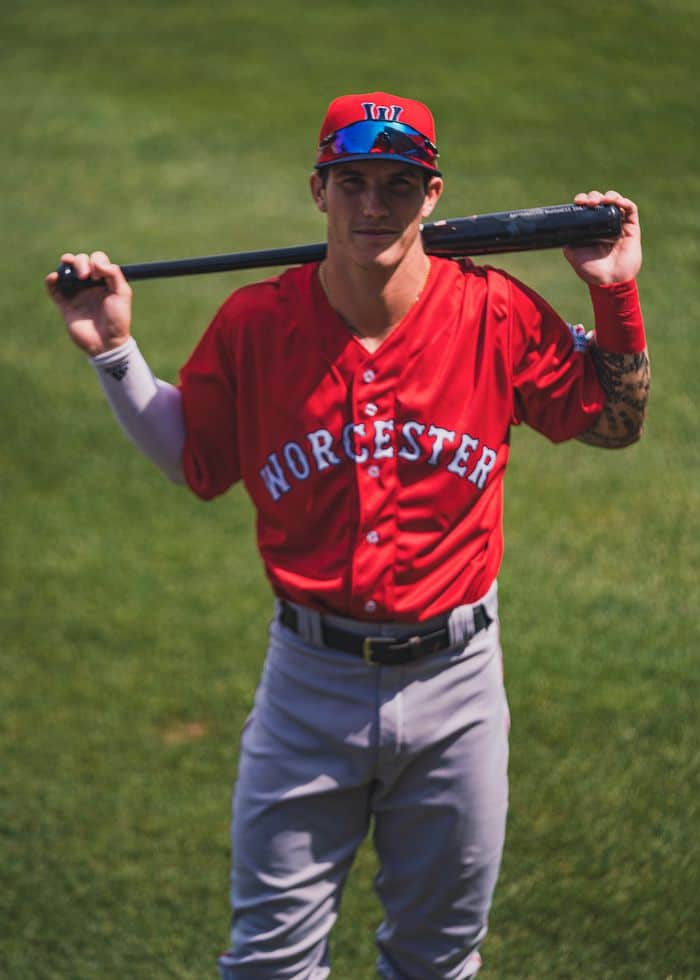 Blue/Red Hybrid Cap, White "Wooster" Jersey: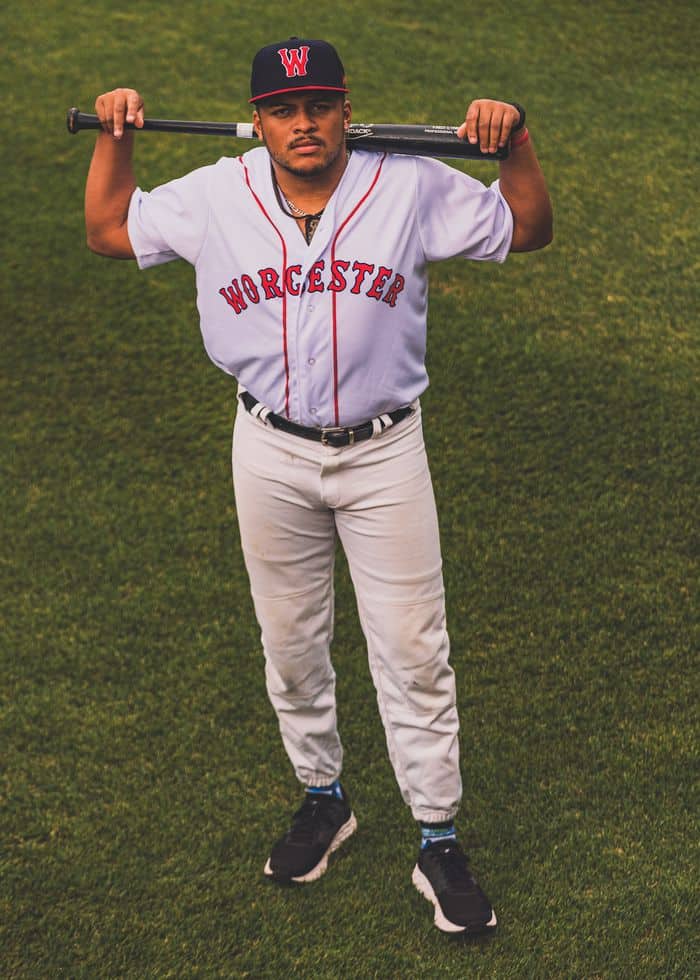 Blue "W" (Tuscan & Wavy) Cap, Blue "Wooster" Jersey: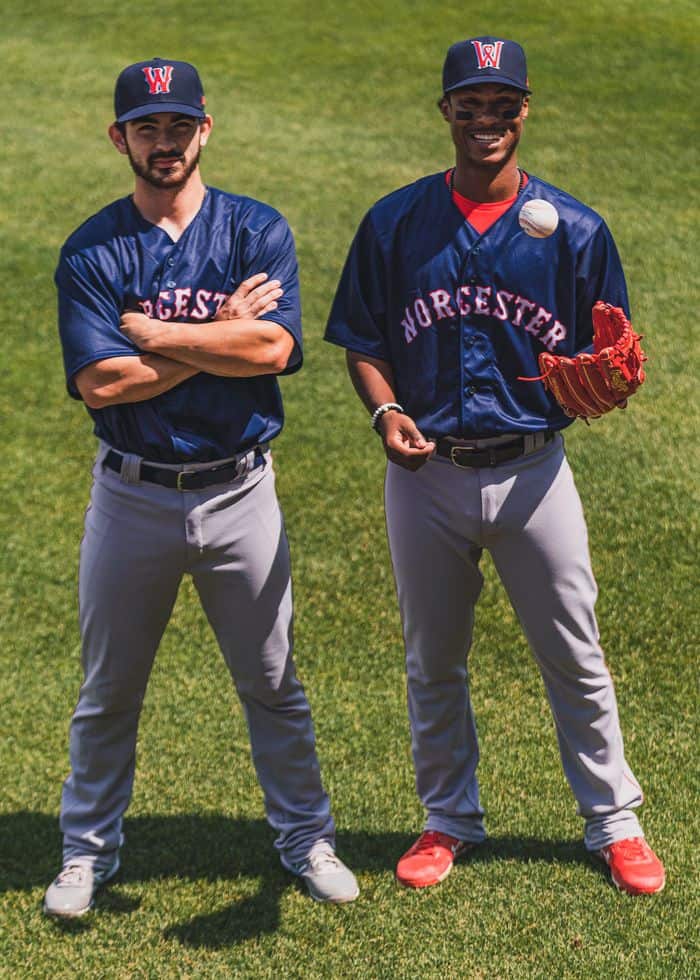 Blue Tuscan "W" Cap, Gray "Wooster" Jersey: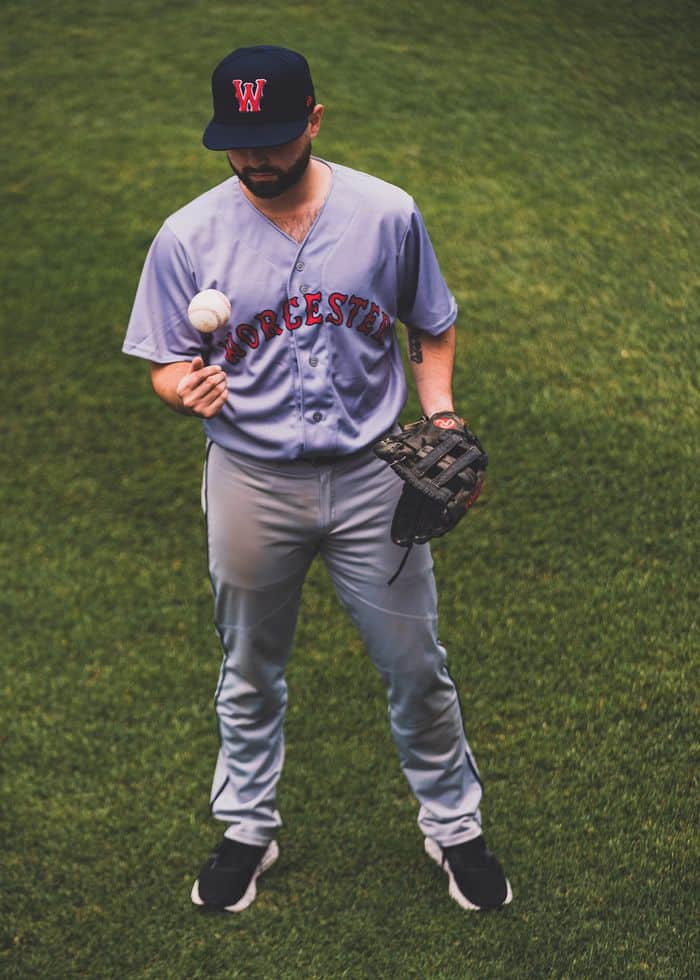 This is the minor leagues, so I have much less of a problem with the multiple jerseys and caps as I would with a big league squad, but this still feels like a bit much. One feature I do really like: The "wavy" "W" logo forms a heart shape in the middle: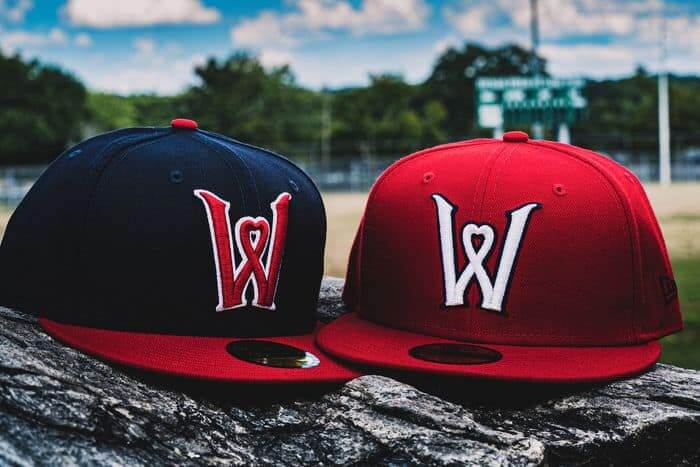 The club has described the nine jerseys thusly:
The nine jerseys include three whites, two reds, three blues, and one gray.

The Classic Worcester Whites—first revealed Sept. 17, 2018—displayed the name of the city in red letters, along with a navy cap bearing the Classic Worcester W in red—all in the original Red Sox font.

The Beautiful Worcester Reds with the City Seal on the sleeve—first revealed Nov. 12, 2019, when the club retired No. 6—show the name of the city in white letters in the Red Sox font, accompanied by a navy cap and red bill, featuring the heart-shaped W in red.

The Navy Worcester Blues, making their debut, feature the name of the city in white on navy, again using the Red Sox font. The jersey, which can be worn at home or on the road, was shown with a red cap and navy bill, featuring the Classic Worcester W in navy, again in the Red Sox font.

The Classic Red Sox Whites—showing the continuity of the Boston Red Sox, the Pawtucket Red Sox, and now the Worcester Red Sox—were shown with the navy cap and red bill and featuring the Classic Worcester W in red, in the Red Sox font.

The Vibrant WooSox Reds, bearing in white script the team's nickname for the first time, were shown with the navy cap and red bill, featuring the heart-shaped W in red.

The WooSox Whites were introduced with the team's nickname in red script, shown with an all red cap featuring the heart-shaped W in white.

After the WooSox Reds and WooSox Whites, the WooSox Blues were unveiled in navy, featuring the WooSox script in red—shown with a navy cap and red bill, featuring the heart-shaped W in red.

The fun Batting Practice Jerseys in navy with a red heart-shaped W (that can also be worn in games) bear the insignia of the WooSox' mascot and Worcester's native son, Smiley Ball. The jersey was accompanied by a navy cap that also bears the image of Smiley Ball—intended to be a hit with kids of all ages.

The Classic Road Grays, batting ninth, and worn only on the road, showcase the name of the city boldly in red. This jersey was shown with the traditional navy cap with the heart-shaped W.
And there you have it. You can read more about the unveiling here.
• • • • •
• • • • •

Click to enlarge
And now a few words from Paul
Hello! I'm happy to announce that the Uni Watch Tequila Sunrise Masks are now available. Like our previous masks, these were generously made for us at no cost by ProLook Sports, and we're once again donating all of our Uni Watch profits — that's $5 per sale — to charity. After previously donating to Doctors Without Borders and Feeding America, this time I've chosen the National Alliance to End Homelessness.
One important difference from our previous masks: This one is available in two sizes — S/M and M/L. (For reference, all of our previous one-size masks were S/M.)
Again, the masks are available here.
In other news:
• The lone purple-signed Uni Watch trading card has emerged:
No way!! I pulled the purple signed card! Glad to support @UniWatch ! pic.twitter.com/MSAuQA4W2o

— Charles (@cold_fashioned) August 15, 2020
There are still five or six of the green-signed cards remaining. You can order the cards here.
• Inventory levels: I have fewer than 30 Uni Watch Key Rings, fewer than 50 August pins, fewer than 40 July bobble-pins, and three chain-stitched patches.
• Phil has this Friday off, so I'll be writing that day's lede (it's a good one!) and coordinating the rest of the content. Looking forward to the rare mid-August cameo!
Speaking of Phil, I'm passing the baton back to him now. Over to you, buddy.
• • • • •
• • • • •
Thanks, Paul!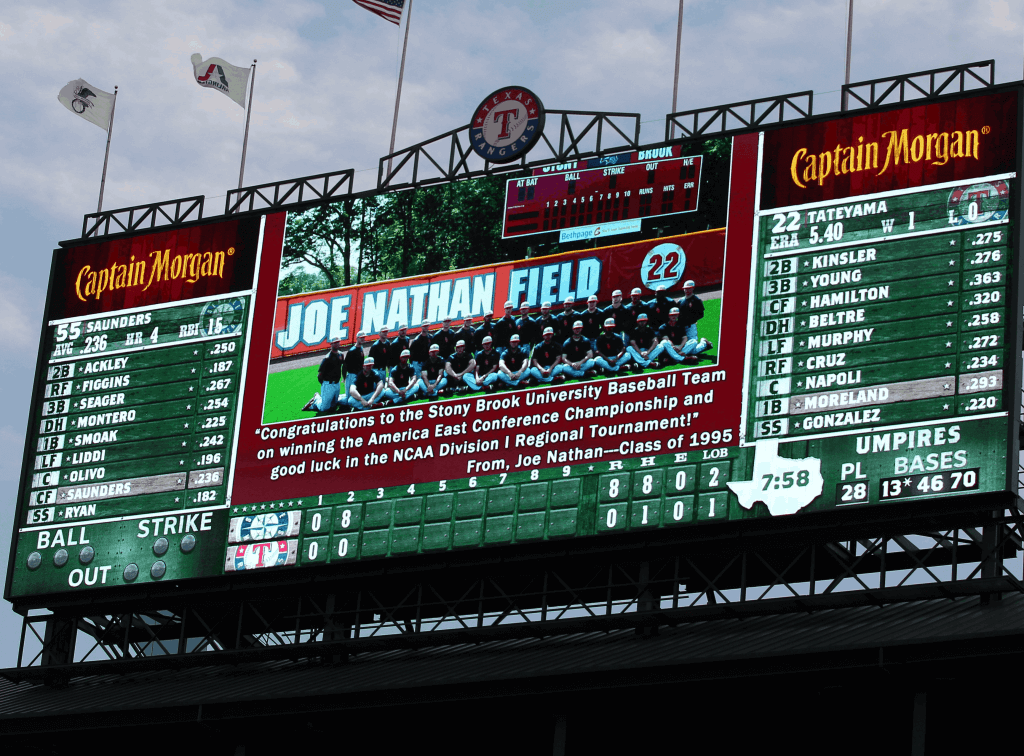 Guess The Game…
from the scoreboard
Today's scoreboard comes from Mike Chamernik.
The premise of the game (GTGFTS) is simple: I'll post a scoreboard and you guys simply identify the game depicted. In the past, I don't know if I've ever completely stumped you (some are easier than others).
Here's the Scoreboard. In the comments below, try to identify the game (date & location, as well as final score). If anything noteworthy occurred during the game, please add that in (and if you were AT the game, well bonus points for you!):
Please continue sending these in! You're welcome to send me any scoreboard photos (with answers please), and I'll keep running them.
• • • • •
• • • • •
The Ticker
By Alex Hider

Baseball News: Cardinal P Kwang Hyun Kim wore the team's batting practice cap during the first inning of St. Louis' doubleheader with the Cubs. He switched caps the next inning (thanks to all who shared). … Speaking of the Cards, they wore their road jerseys for the second game last night despite being designated the home team at Wrigley Field (again, thanks to all who shared). … Rare sight yesterday: Nationals rookie 3B Luis Garcia, No. 62, homered off Atlanta P Touki Toussaint, No. 62 (from Patrick J. Murphy). … Following the news that the Giants will add NOBs to their home jerseys next season, the San Francisco Chronicle ran an opinion piece about why that's a bad idea (from Patrick O'Neill). … This blog explores the different types of cardboard cutouts "attending" MLB games (from @29_sunset). … Dodgers C Keibert Ruiz lost his Negro Leagues centennial patch during Sunday's game (from @cmduncan8). … The Somerset Patriots of the ALPB are auctioning off fan-designed jerseys in support of a local charity supporting victims of childhood cancer (from John Cerone). … Aaron Pinto found a Dodgers-era Mike Piazza figurine for sale that strangely depicts him atop Philadelphia's Veteran's Stadium. … Andy Chalifour wonders, "What is up with Christian Vasquez helmet? Spray paint accident? Used his helmet as a foot rest to spray for athletes foot?" … The NLB patch may have been cheaply affixed (a few fell off on Sunday), but Justin Dunn of the Mariners' apparently won't come off, as he was wearing it last night (from Matthew Wolfram).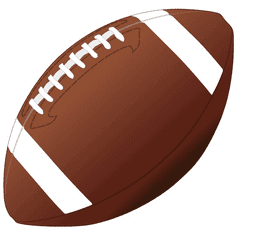 Football News: New York Giants S Julian Love's No. 20 had a different style "2" than his teammates at training camp yesterday (from Neil Vendetti). … Speaking of the Giants, coach Joe Judge says his players don't wear NOBs during training camp because it's important for coaches and teammates to get to know each other (from Brooks D. Simpson). … Don't think we've ever seen the Chargers wear these practice pants before; they must be new for this year (from Keyvon). …It appears Virginia may be using their new shield logo as a merit decal this season (from Jamie Rathjen). … Grandview High School in Texas — the Zebras — is poaching both the Broncos logo and the Bengals helmet stripes (from @HawkeyeOnAir).

Basketball News: If the Lakers advance out of the first round of the playoffs, they plan to wear black snakeskin-patterned jerseys in honor of Kobe Bryant for the remainder of the playoffs (thanks to all who shared). … The Thunder have unveiled their uniform schedule for their upcoming playoff series (from @AlexMShirley and Chris Corbaz). … In a lab at Yale University, there hangs a No. 19 Minnesota Timberwolves jersey with a "COVID" NOB (from @ajenkinsCLE). … Earlier this year, we thought we had seen the jerseys that would be worn in Space Jam 2. But yesterday, we got a look at LeBron in a never-before-seen turquoise "Toon Squad" jersey (thanks to all who shared).

Soccer News: German club Borussia Mönchengladbach has a new away jersey (from Ed Zelaski. See more jersey unveilings over on his Twitter page). … Also in Germany, third-tier club SV Wehen Wiesbaden has new uniforms (from Greg Phillips). … New home jerseys for English Championship club Watford F.C. (from Spencer Hollis). … Alebrijes, a second-division club in Mexico, has new uniforms for next season (from  @bryant_rf). … @CrystalPalaceDC notes that Italian club AS Roma unveiled a uniform with a tequila sunrise pattern just months before the team was bought by Houston billionaire Dan Friedkin. Coincidence?

Grab Bag: Anaheim Ducks G Ryan Miller will have a new pad set next season (from @GoalieGearNerd). … A few international notes from Jamie Rathjen: Australia's National Rugby League's North Queensland Cowboys released a shirt for the league's annual Women in Rugby round. The promotion sees at least one game where both teams wear pink or pink accents; The Sydney Swans of the Australian Football League released an Indigenous guernsey;  In the Indian Premier League, which is a Twenty20 cricket league, the Rajasthan Royals added a sanitary napkin company as a shirt advertiser, which is apparently the first ad of its kind. … William F. Yurasko was riding by a D.C.-area rail yard and noticed two metro systems cars wrapped completely in yellow. Turns out, they're the cars that collect money throughout the system…shouldn't they be green? … This blog recaps 17 trends that defined the evolution of fashion in rock and metal music (from Ephraim Vorzman). … Long Beach State has unveiled its new mascot: Elbee the shark (from @boxseatbanter). … NASCAR driver Tyler Reddick will drive a car with a throwback paint scheme honoring Jeff Burton rig in the '90s at Darlington on Sept. 6 (from Jakob Fox). … Biking is an awesome outdoor pandemic activity. Unfortunately, the sudden increase in demand for bikes has caused a shortage (from Tom Turner). … Not a good week for Dale Arnold. This time holding a piece of green paper while in front of the green screen (from Justin Hicks).
• • • • •
• • • • •
And finally… big thanks to Skott for that tremendous piece on facemasks, as well as Brinke for CC, Mike for the scoreboard, and Alex (congrats on your nuptials and welcome back!) for the ticker. You guys are all aces.
I drove back from the summer house back to my condo yesterday (gotta deal with a minor legal matter — no worries, it's good) and also need (desperately) a haircut & beard trim, so I don't have a "new" pic for you today. But there are a ton of windmills out there, and I always pass at least three during my daily walks, so here's one I wanted to share. This one is of the Hook Mill in East Hampton Town. I've probably photographed this one 100 times over the years, and I've probably sold a print or two at that annual art show I participate in (although not this year due to COVID). Here's a nice angle (they've removed the "sails" this year):
Everyone have a good Tuesday, and I'll catch you guys tomorrow.
Peace,
PH