[Editor's Note: Paul is on his annual August break from site. Deputy editor Phil Hecken is in charge from now through the end of the month, although Paul may be popping up here occasionally.]
By Phil Hecken, with Bowen Hobbs
Follow @PhilHecken

Hey kids, back again today, and I've got a real treat in store. Weekend readers will remember the absolutely outstanding design work done on the NBA by today's featured artist, Bowen Hobbs. If you missed either of those articles, click here for Part I, and click here for Part II. Bowen also did some amazing posters in an earlier post with me. All those were met with great enthusiasm in the comments section, and I promised I'd have Bowen back when I started my August weekday run.
Today, we'll be treated to Bowen's redesigns for the American League. If you're not familiar with his work, you'll note he creates his own bespoke fonts and logos for each team, and the uniforms are all unique as well. It's quite an undertaking, and a brilliant one at that. Click on any image to enlarge. Upper left would be the main uniform(s), upper right are the alternates. Middle left is the cap logo. Middle right is the team logo, and the bottom image is the logo slick. All original, all amazing!
There's a lot to get to today, so let's get right to it.
• • •
MLB Redesigns — American League Edition
By Bowen Hobbs
Hi everybody! It's Bowen Hobbs back with a collection of redesign concepts I developed for MLB. Each team has a handful of logos, a custom font, and six uniforms (home, away, throwback, home alternate, away alternate, and BP/training). One of my goals in this series was to find a way to deal with the overabundance of navy and red teams, which account for roughly one quarter of MLB with seven squads (BOS, CLE, MIN, LAA, ATL, WAS, and STL) wearing that one color palette.
AL West
Houston Astros
As with my previous Rockets concept, my Astros concept ties the team to NASA. The new "mission patch" primary mark and cap logo feature an A-star mark with a retro segmented gradient. To make the team more unique within the pros, orange is now the primary color, although navy is used more on the aways. The uniforms bring back a modified tequila sunrise similar to the Nuggets' City Edition uniforms.
__________
Los Angeles Angels
I wanted the Angels to sport a less demonic color scheme, so I restored navy as the primary color, with an option for a red secondary cap, both of which sport an athletic gold halo on top. The primary logo features a new haloed script-A. Although the Angels never wore powder blue away uniforms, it just felt right for the angelic brand, so I went with it.
__________
Oakland Athletics
The A's have one of the best color palettes in baseball and have long been the only team in MLB to not wear black, navy, royal, or red as their primary color, although the Padres have since joined them on that very short list. My A's concept features a geometric elephant standing atop a baseball on a diamond as the primary logo. The home caps are forest with gold brims and feature a Tuscan-style O against an oak leaf, while the elephant appears on the all-forest road caps. The home and away uniforms contain vests and forest green undershirts, with gold and forest softball tops as the alternate jerseys.
__________
Seattle Mariners
I love when a city has a unified color scheme, such as Pittsburgh's black and gold. With that in mind, I developed a Mariners identity in navy, sea blue, and lime. A version of the pitchfork-M returns for the primary logo, while the caps opt for an old-timey S that looks at home in a fish market or at sea. The road greys adjust their base color to an especially cool grey.
__________
Texas Rangers
The Rangers are currently a walking identity crisis. They don't know whether they're a royal team, a red team, or now, a powder blue team. My redesign positions them as a royal team with a strong red secondary option. The primary logo uses a sheriff's badge design that works a baseball and a stylized T into it. To help differentiate Texas from the Cubs and Dodgers, I warmed up their grey and added a touch or burgundy that gives the overall palette a western touch. An italicized western font is used throughout.
__________
AL Central
Chicago White Sox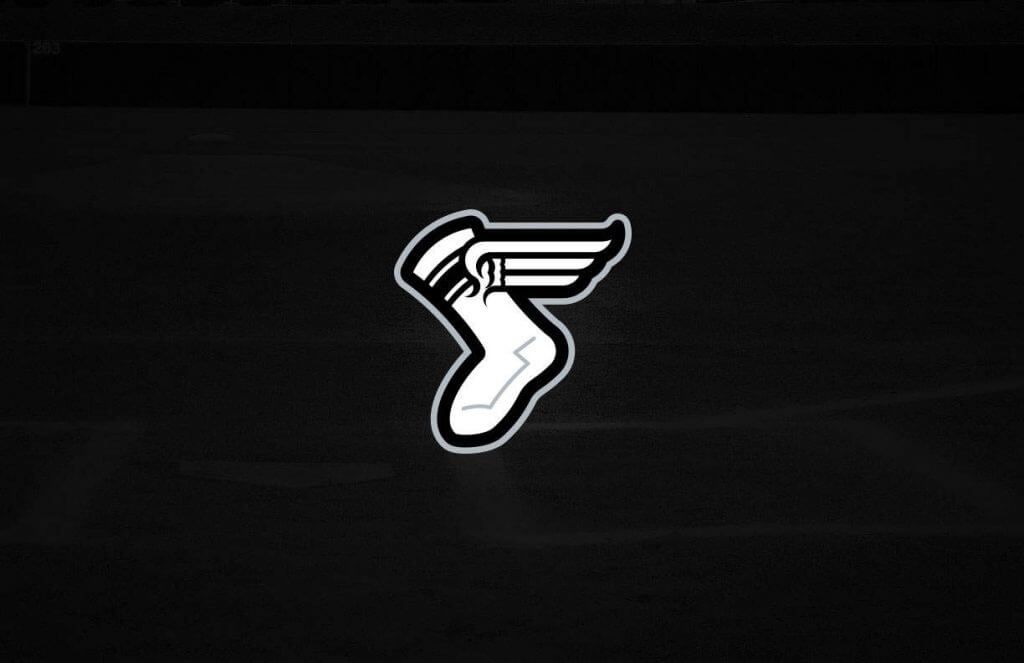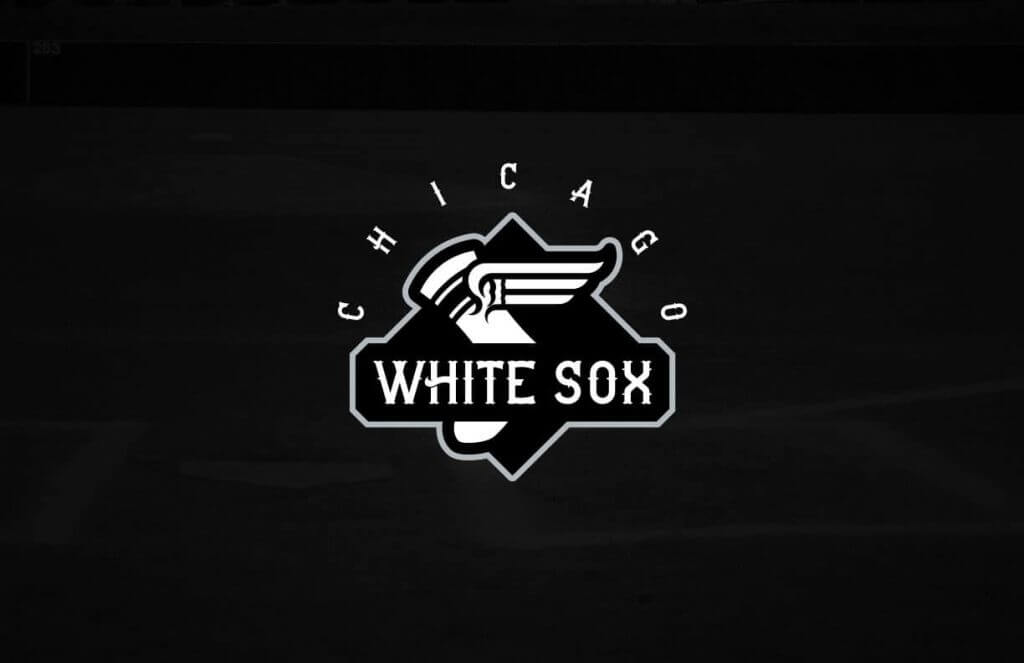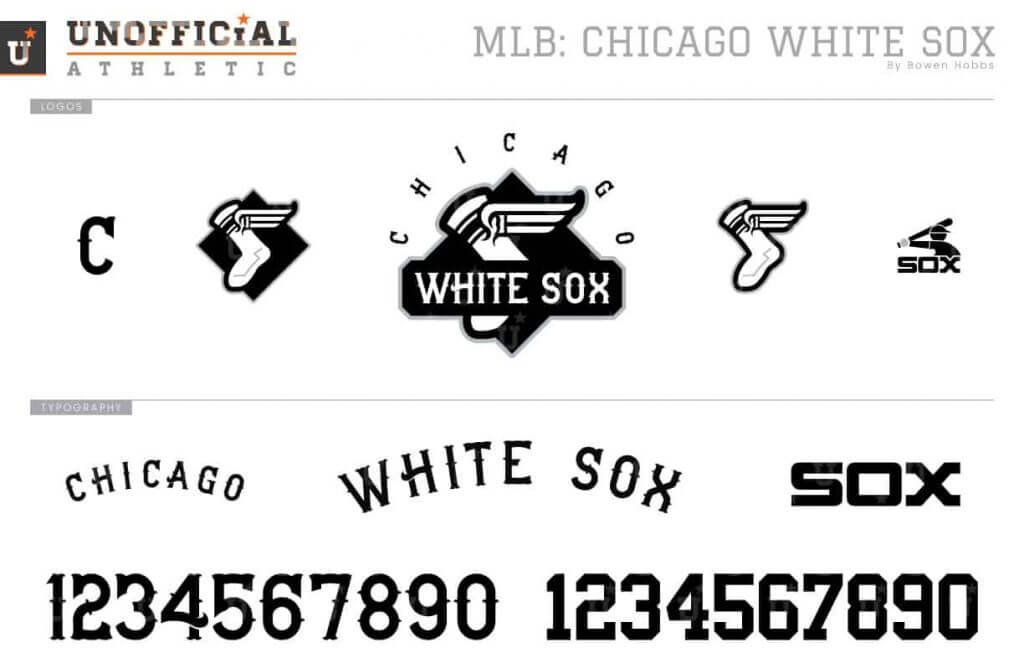 After bouncing around between blue and red for decades, the Sox finally found their chromatic home in black and silver. The primary is a modernization of the mid-century winged sock mark against a black diamond. The uniforms keep the pinstripes subtle, using silver on white and mid-grey on the aways. The black alternate jerseys can be worn as softball tops or as part of an all-black look. And of course, I made sure they wore white socks.
__________
Cleveland Spiders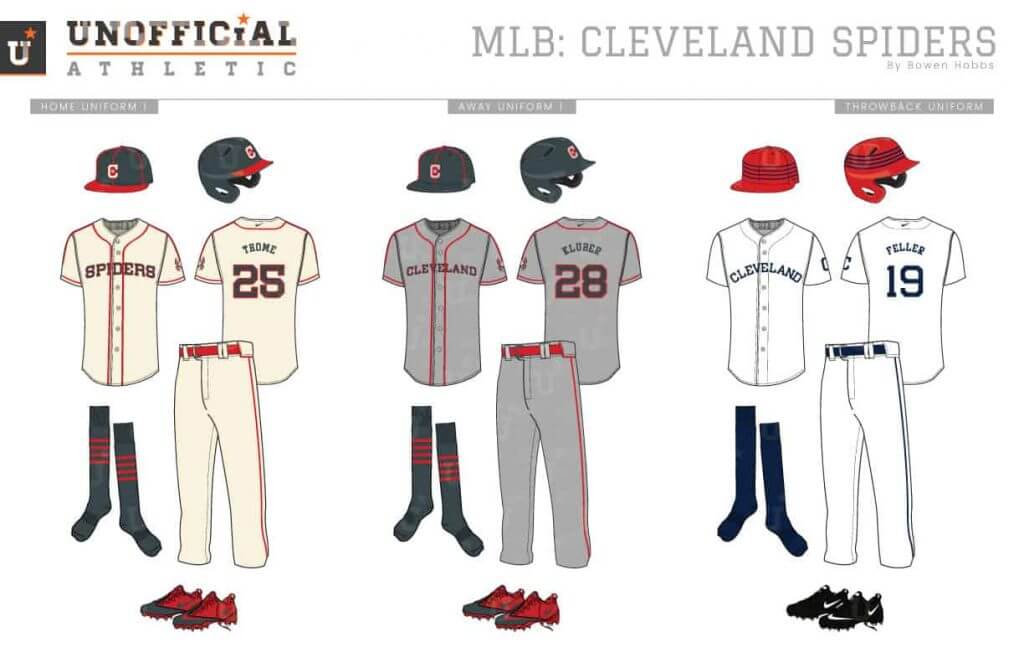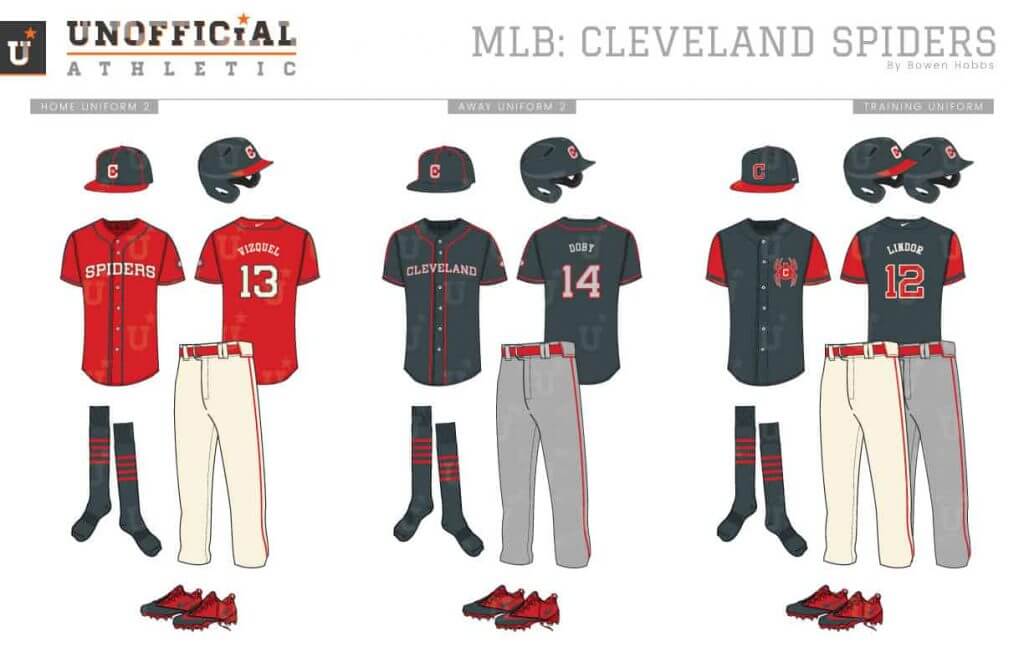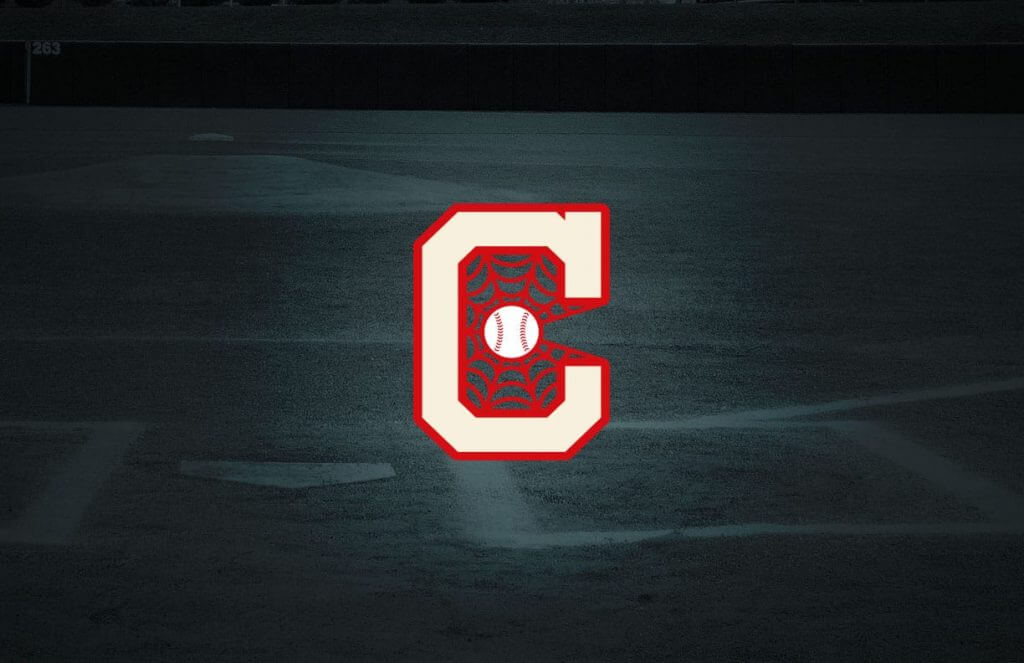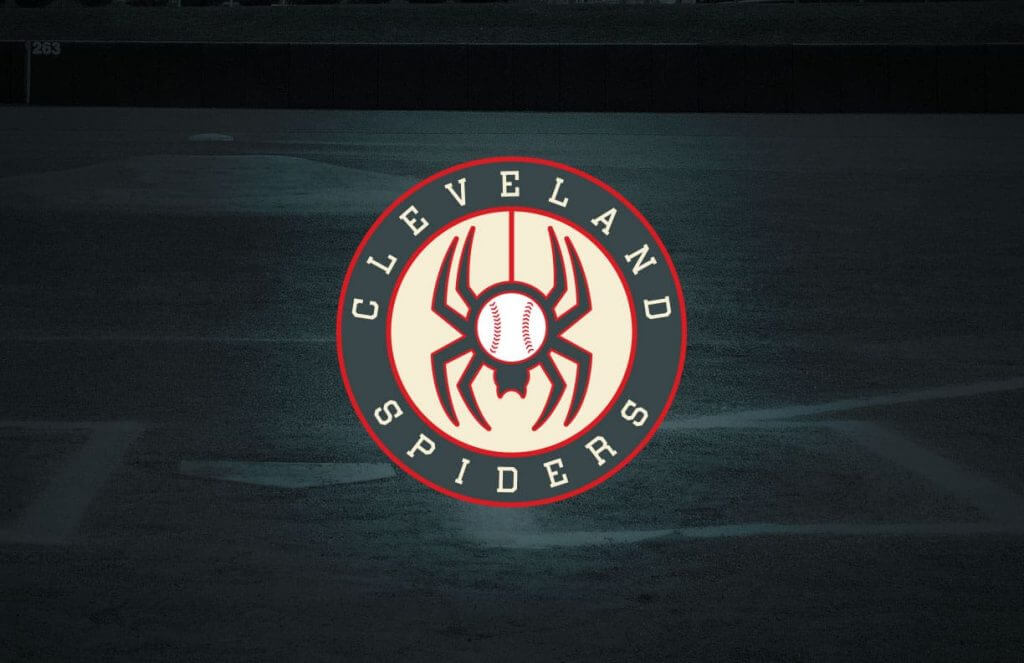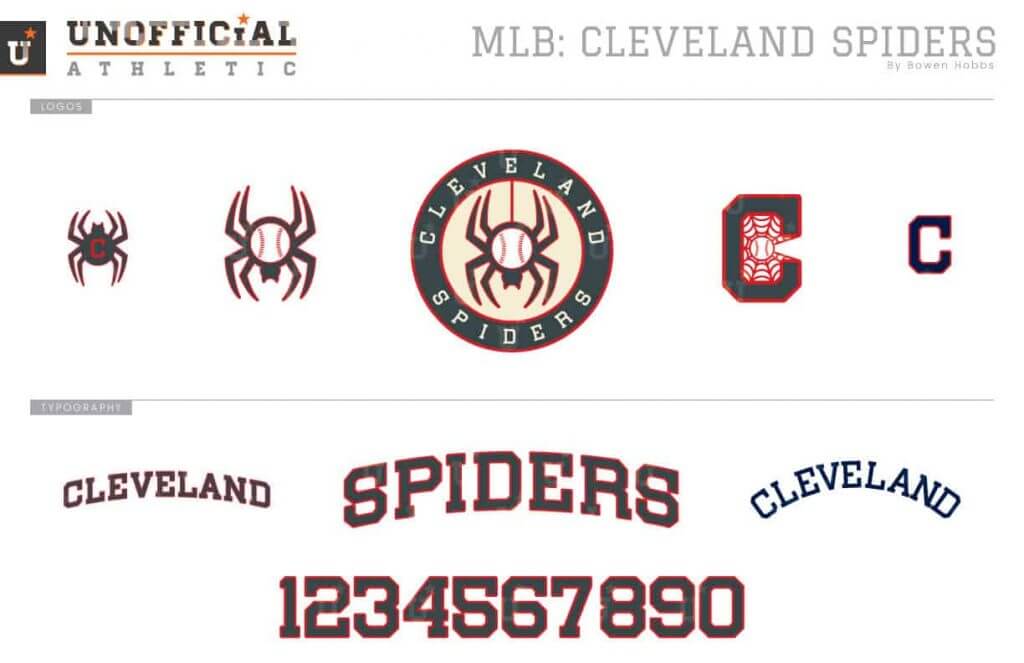 My personal vote for Cleveland's new team name, if they follow through with their review, is Spiders. Drawing from the NL team of the late 19th century, Spiders would give Cleveland a unique mascot and a chance to reimagine their brand. In accordance with my goal to have fewer navy-and-red teams, I opted for a charcoal grey and red scheme. The block-C is retained on the caps with webbing added. Speaking of the caps, the feature piping along the panel seams, similar to the 2019 ASG caps. The home uniforms are cream while the aways contain a faux-flannel pattern for an aged look.
__________
Detroit Tigers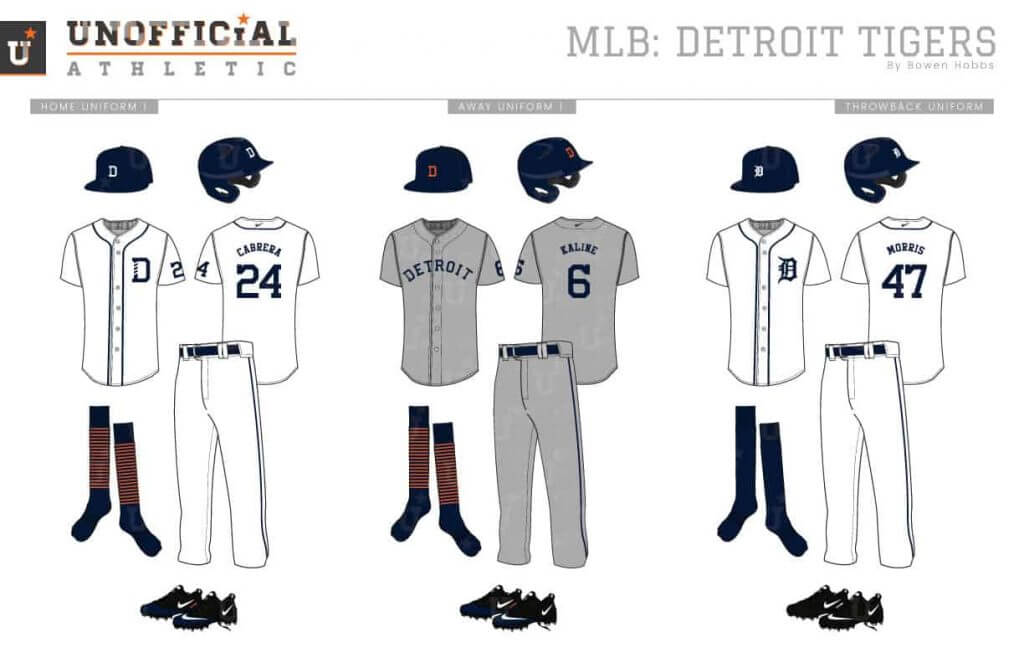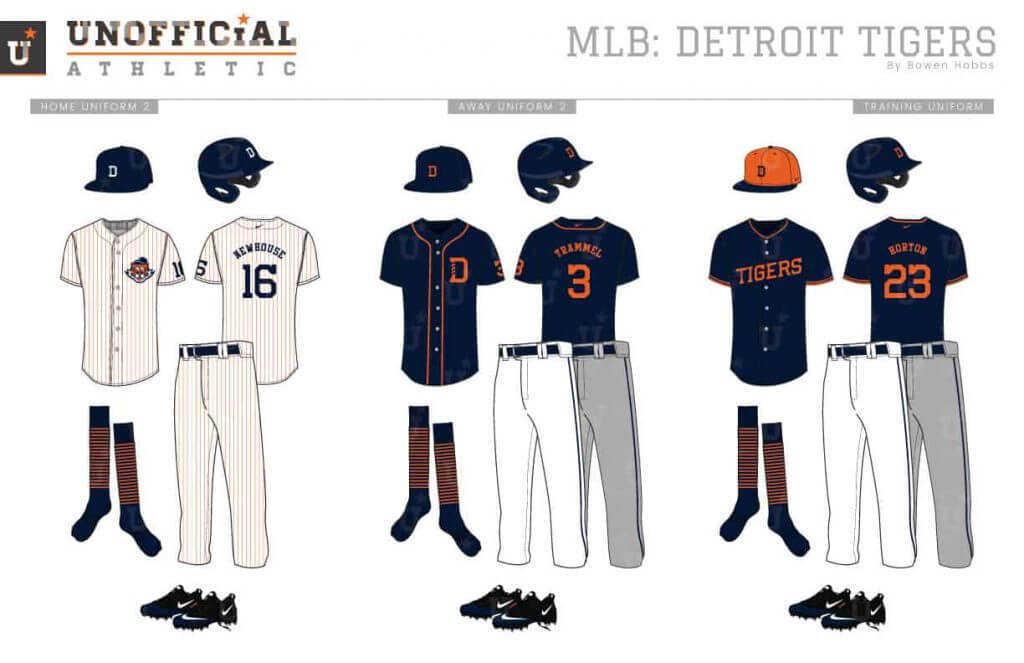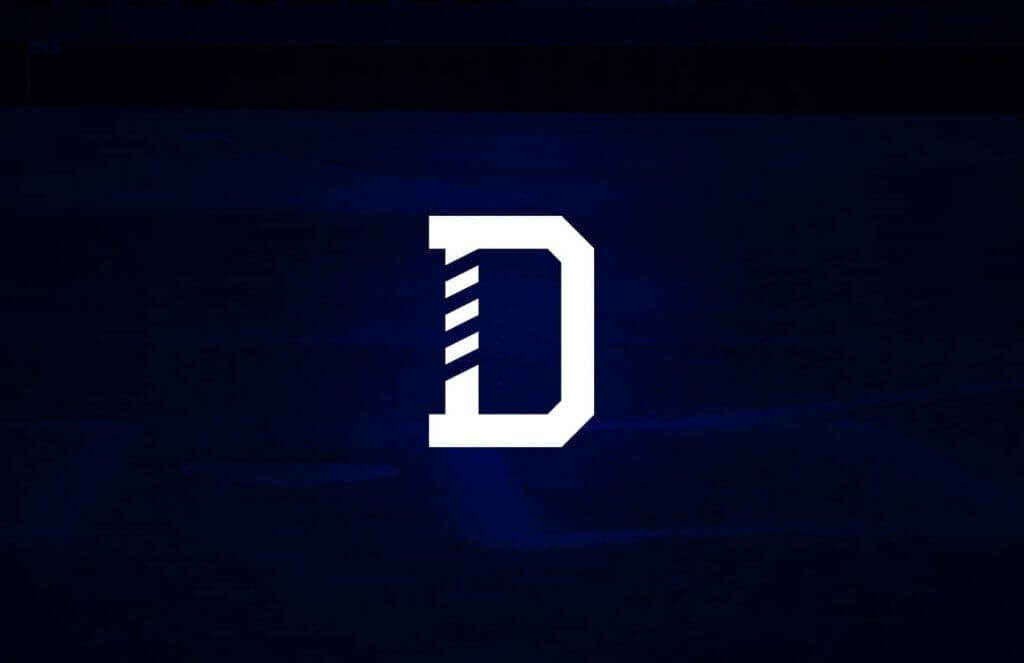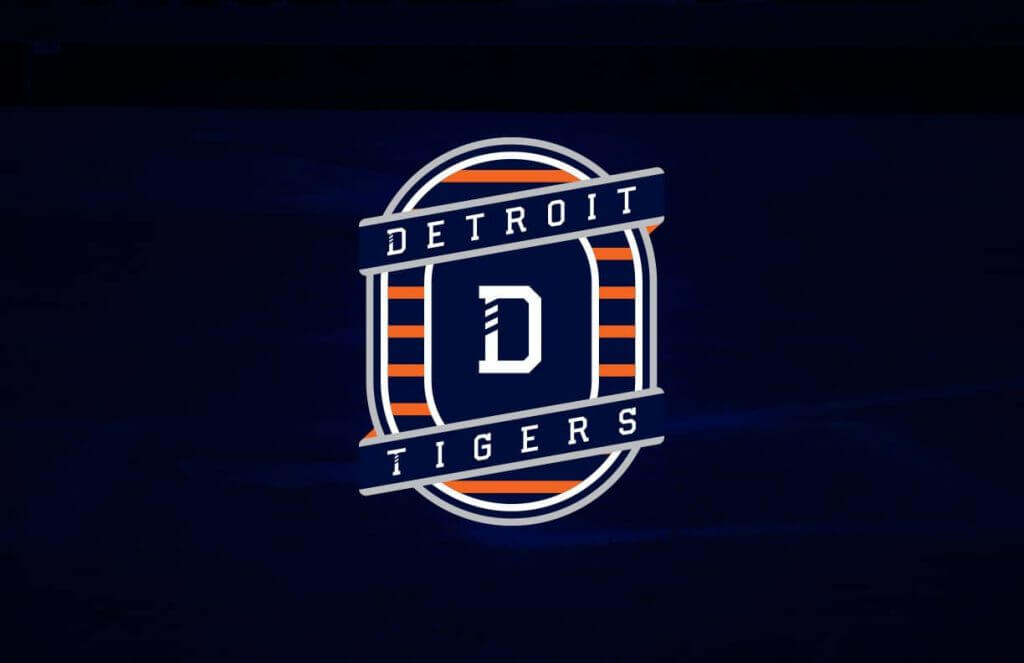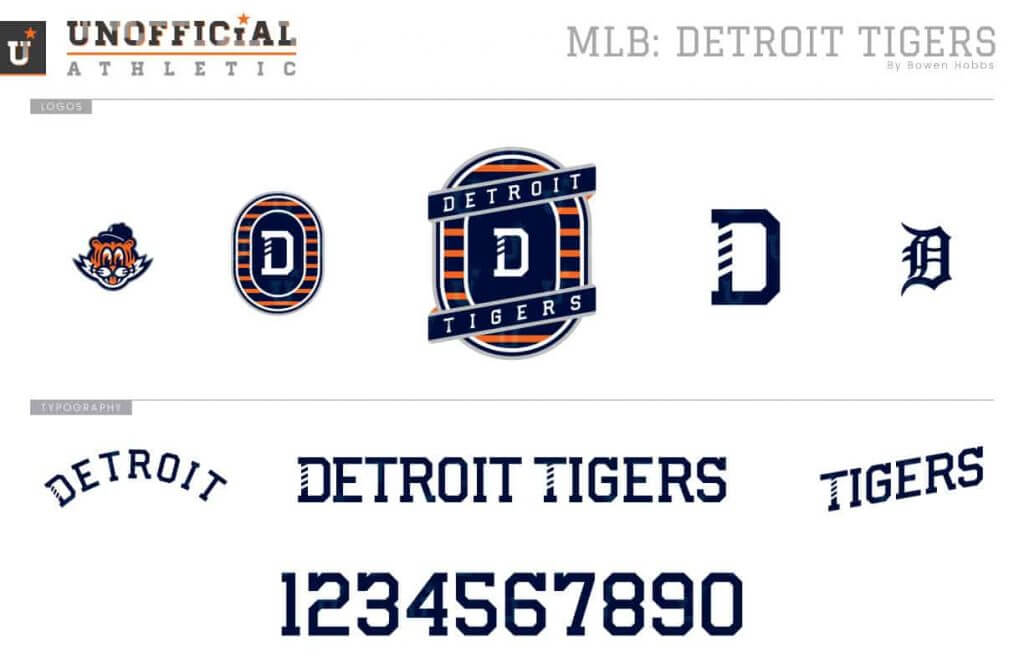 The Tigers have some of the most iconic uniforms in baseball. The Olde English D is perfect. But part of this project was to find ways to reinvent even the most classic brands, and Detroit is no exception. To that end, I developed a block-D with stripes on the stem of the D. One thing I always found odd was the use of orange only on the road. To remedy that, the uniforms themselves are strictly navy and white (or faux-flannel grey on the road), while the socks are striped in navy and orange, so players can show their stripes if they go high-cuffed. The home alternate places the cartoon tiger mark on an orange pinstriped uniform, recalling the 1927 team.
__________
Minnesota Twins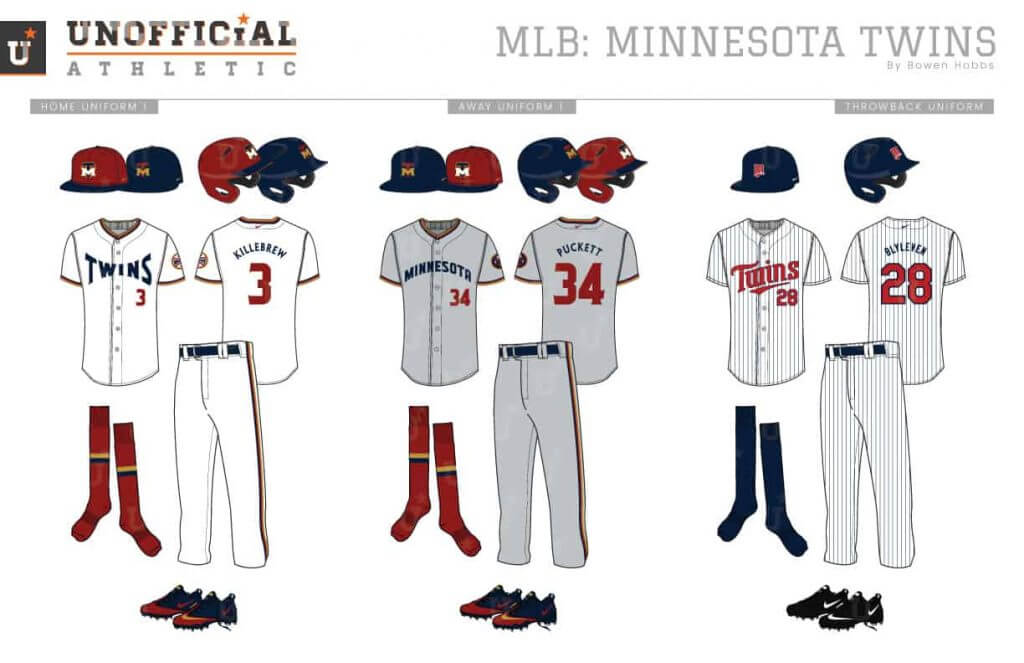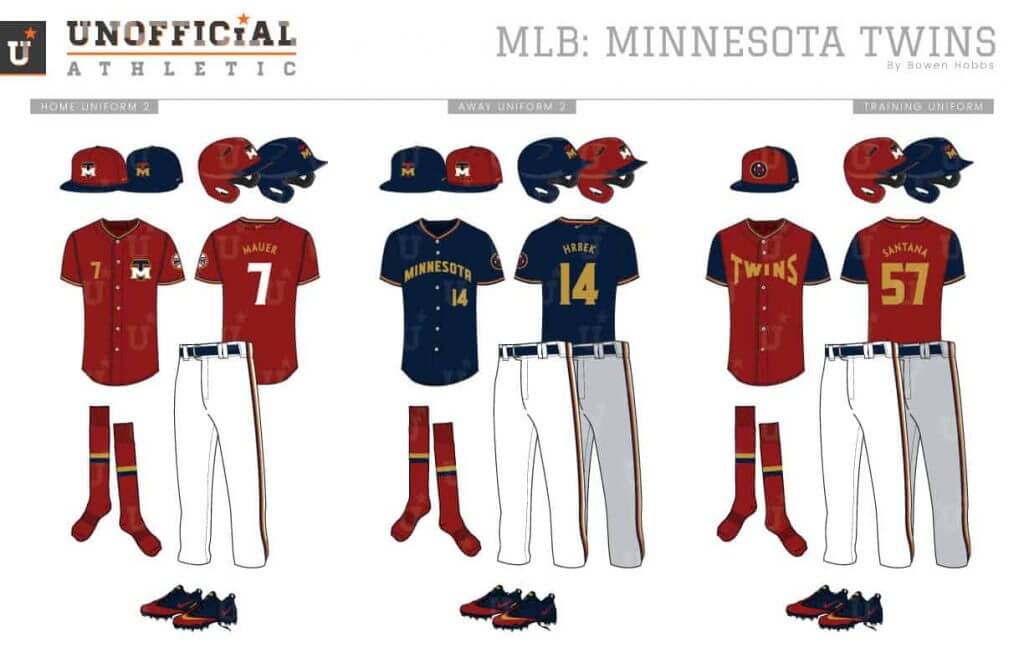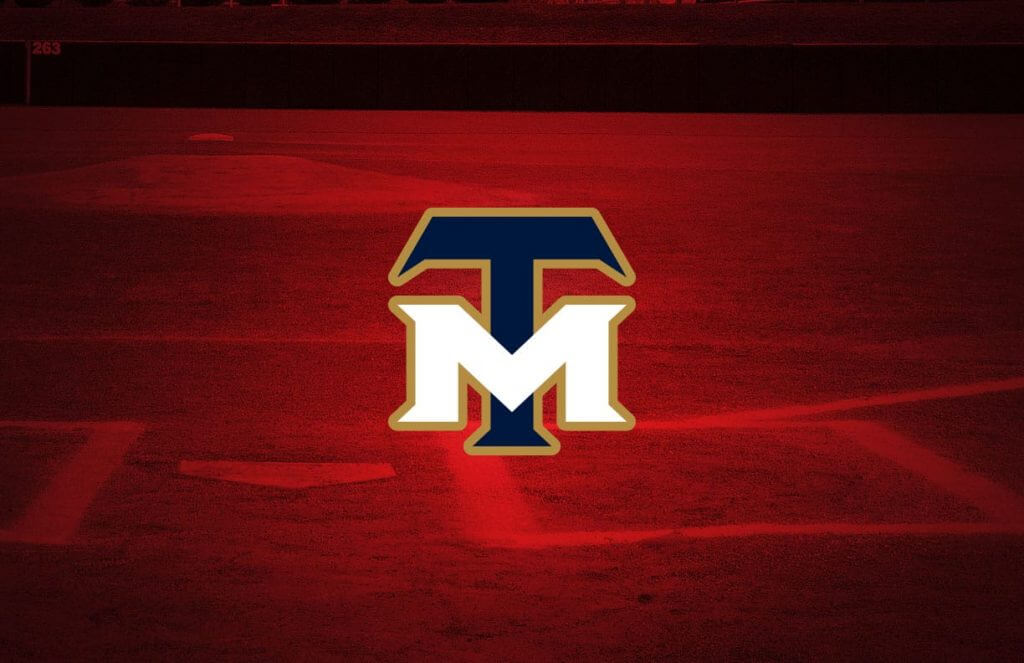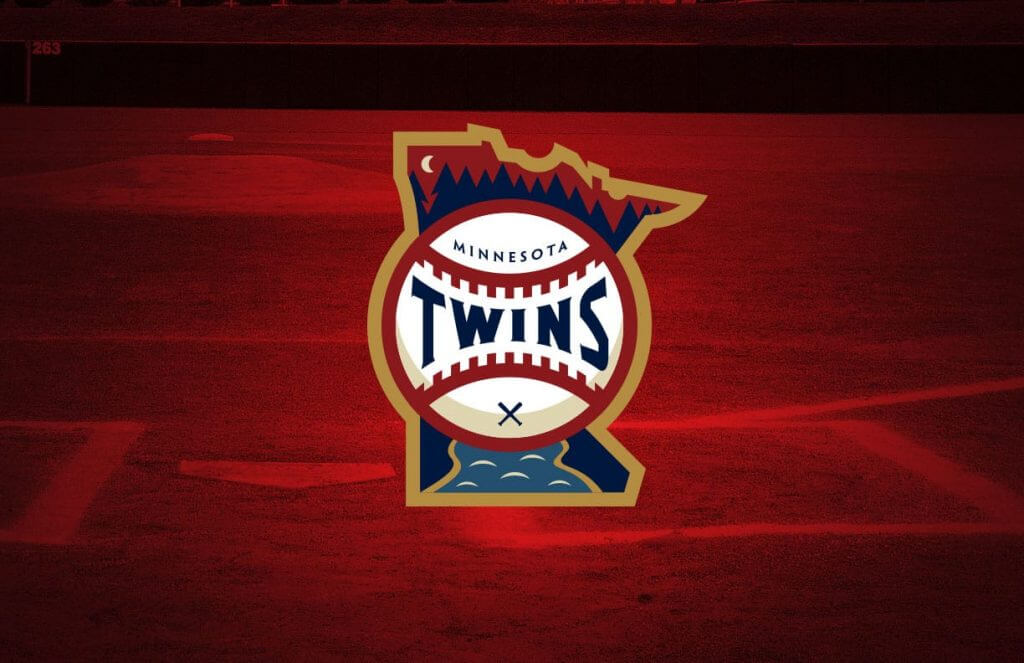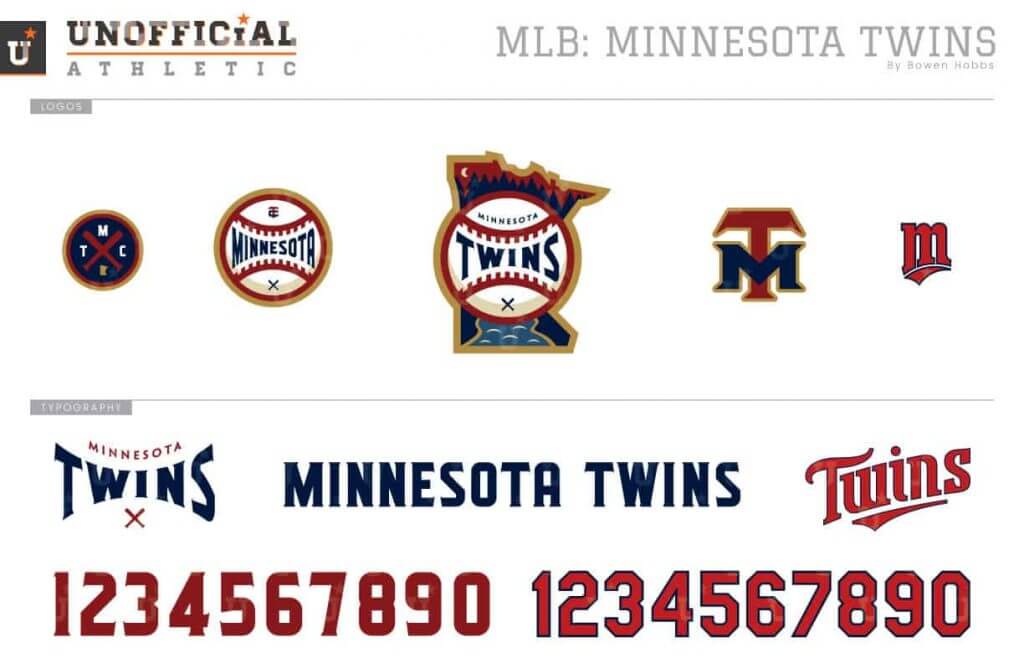 Another navy-and-red team, the Twins could do so much more. To give them more Minnesota pride, I sampled burgundy and metallic gold from the Gophers and paired it with navy. The primary logo shows the state of Minnesota, its trees and rivers, and a baseball front-and-center with the lower seams doubling as a bridge over the river. The uniforms balance burgundy and navy throughout, with burgundy appearing slightly more at home and navy appearing more on the road.
__________
Kansas City Royals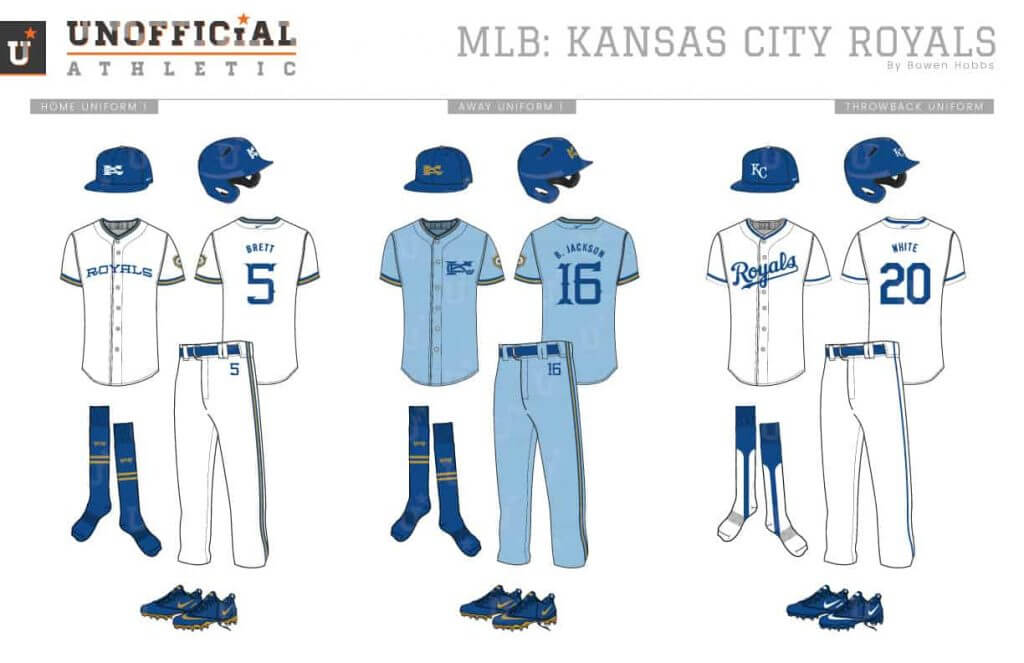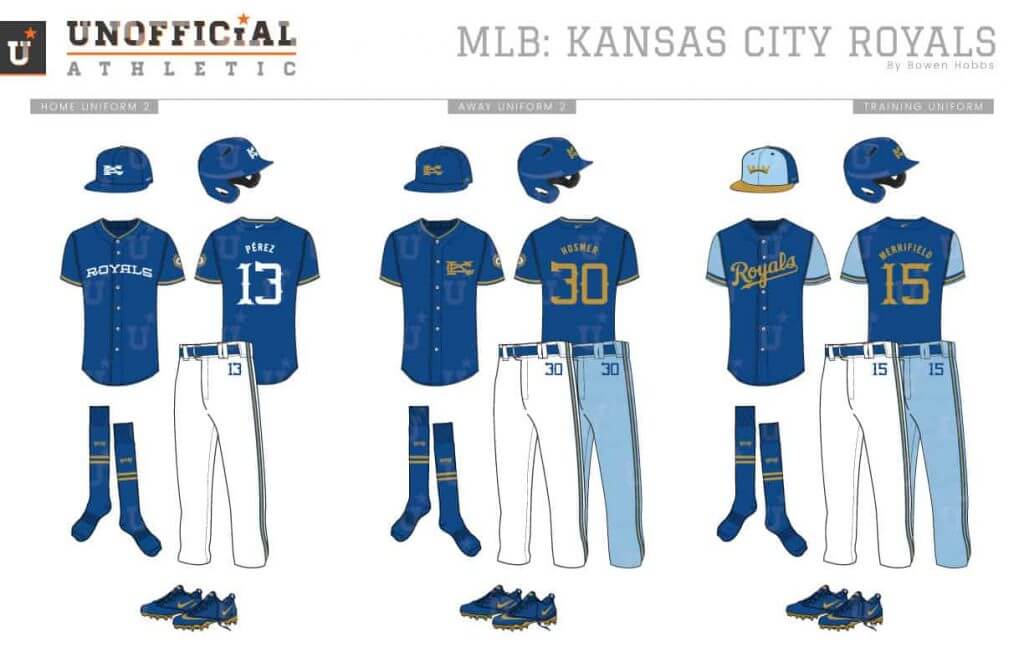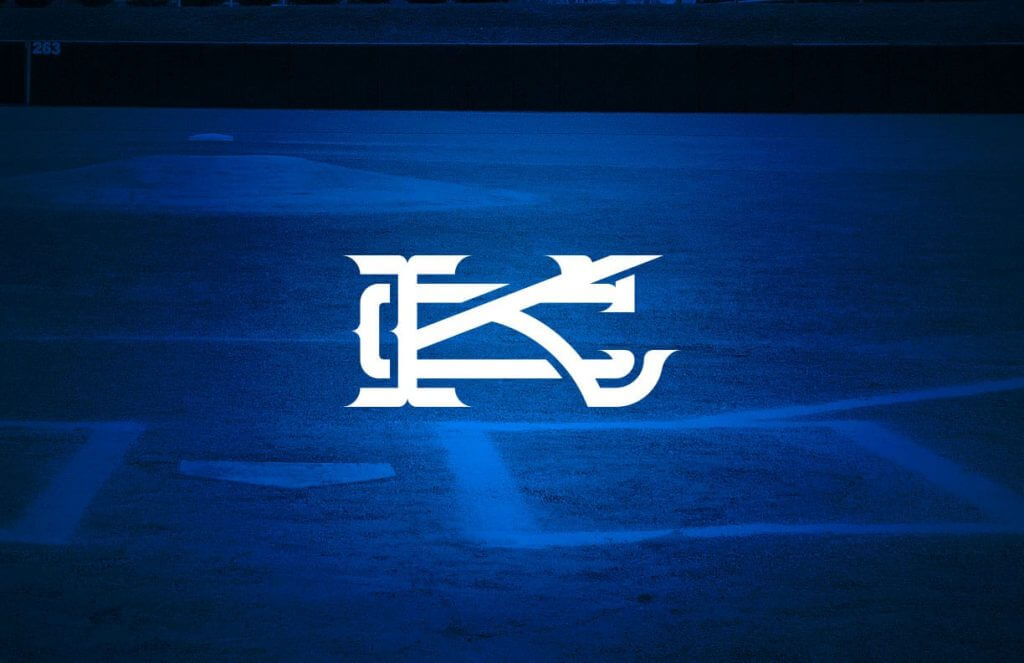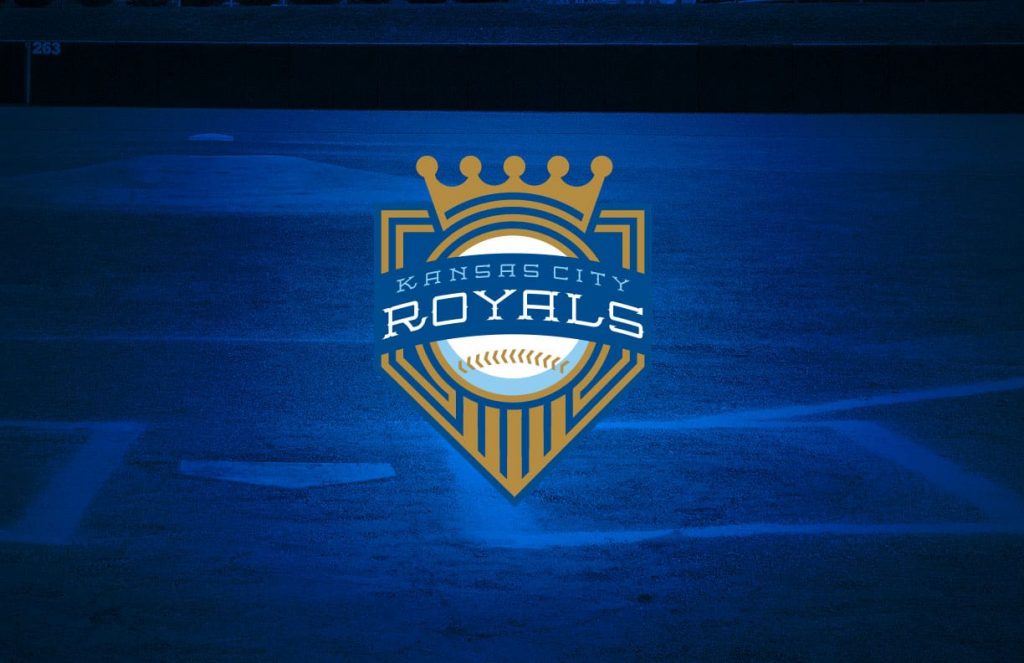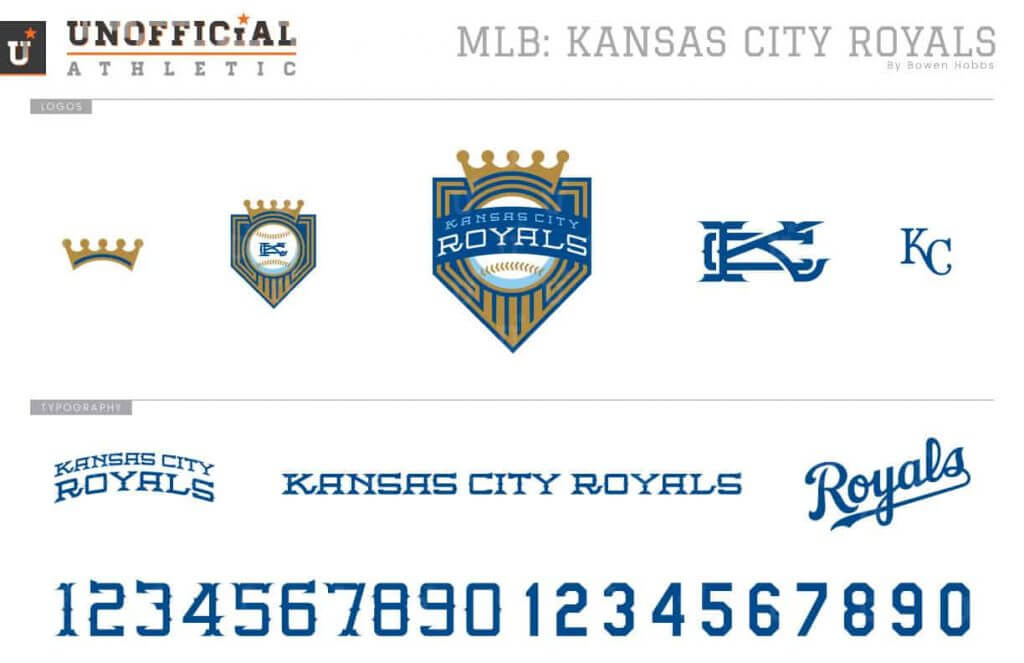 The Royals have a very classic scheme, focusing on royal and white with powder blue, metallic gold and grey also mixed in. My redesign eschews grey in favor of building out the scheme with powder blue and metallic gold. The primary logo shows a crowned baseball against a gilded home plate, while the new Tuscan-style font is used on the KC cap logo.The home uniforms keep royal caps while adding blue and gold trim, whereas the aways used a faux-flannel powder blue base. The crown mark accents the socks.
__________
AL East
Baltimore Orioles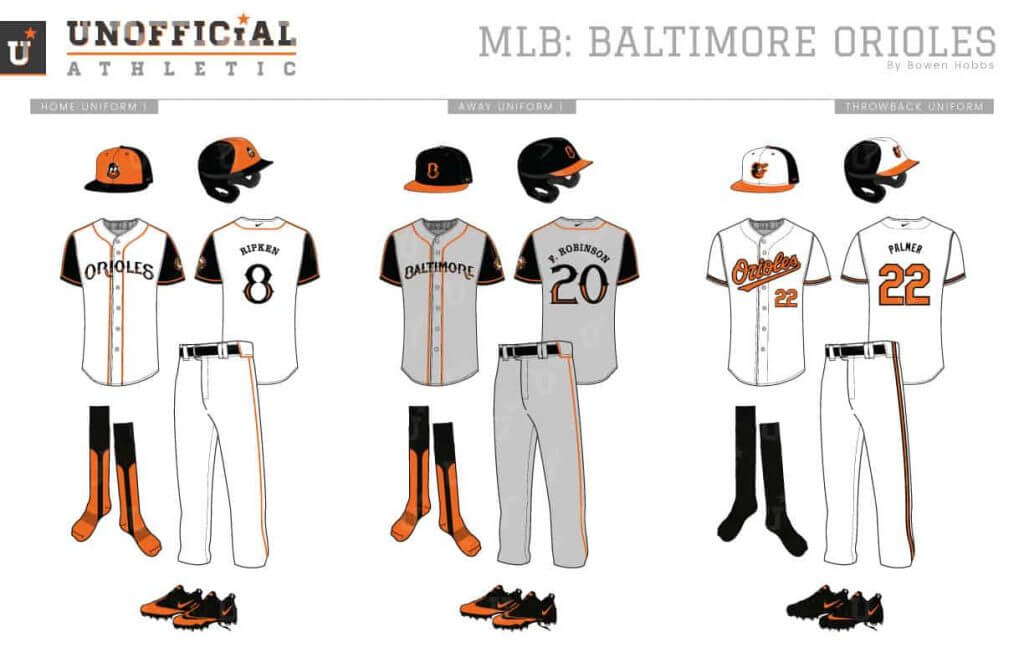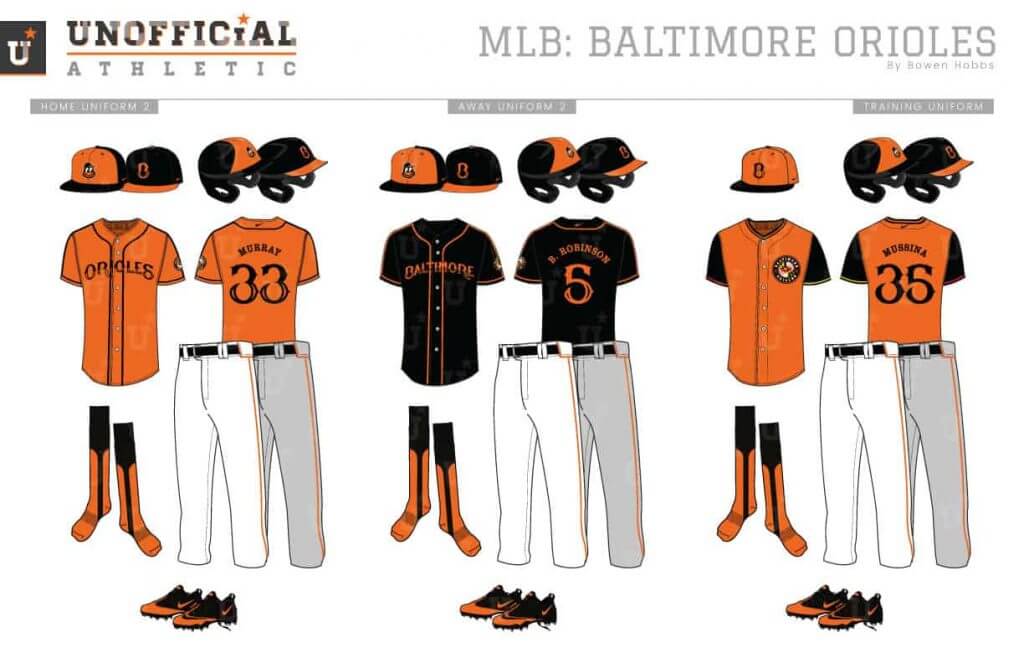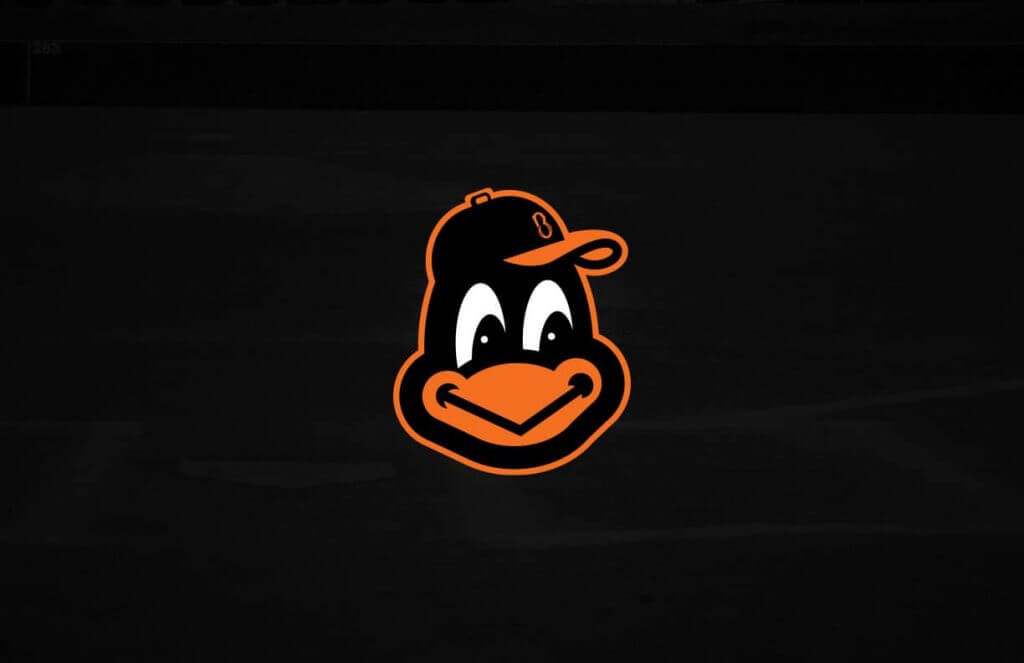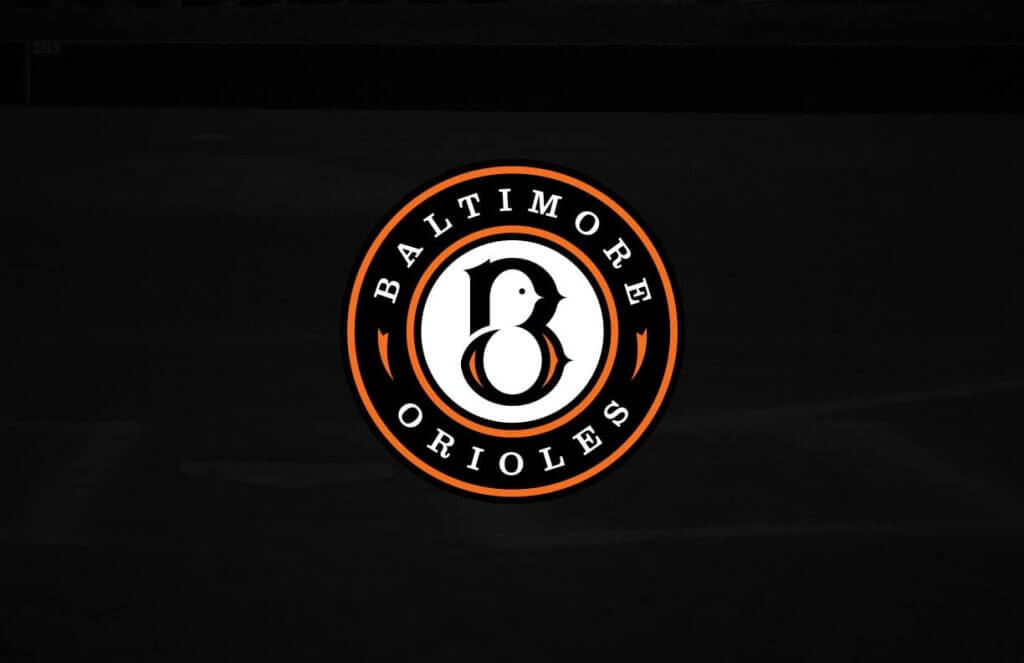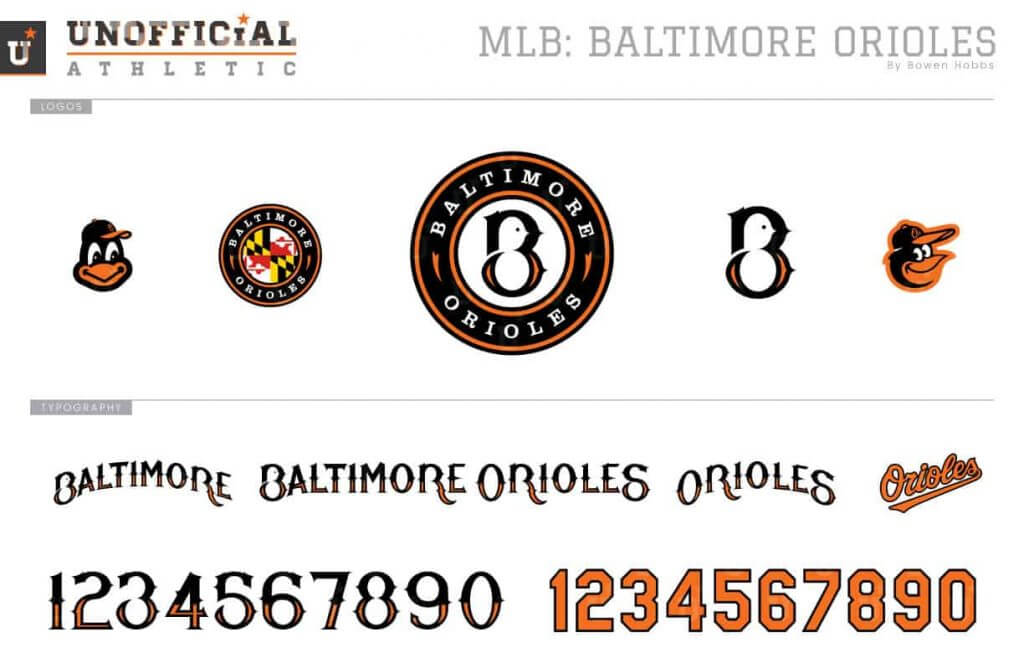 For Baltimore, I developed a clever Tuscan-B mark with a bird hiding in the negative space. It is the center of the primary logo and stands alone on the caps. The new font uses orange accents on the lower half the mimic the shading on an oriole. The home caps show off the new cartoon bird, while the away caps use the B-logo. Both the home and away uniforms use black contrasting sleeves and orange piping.
__________
Boston Red Sox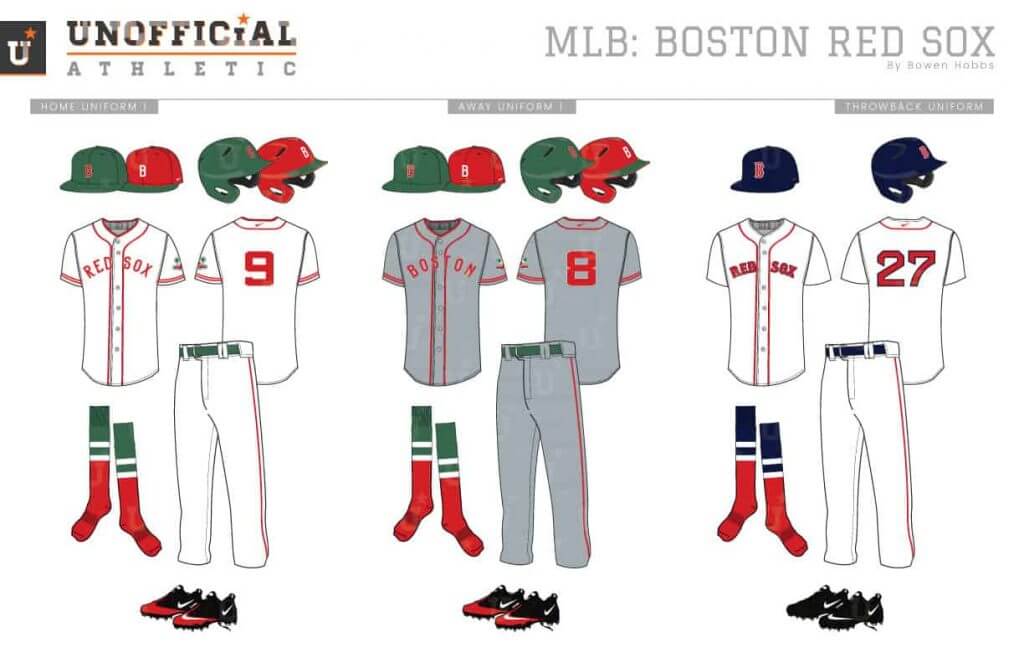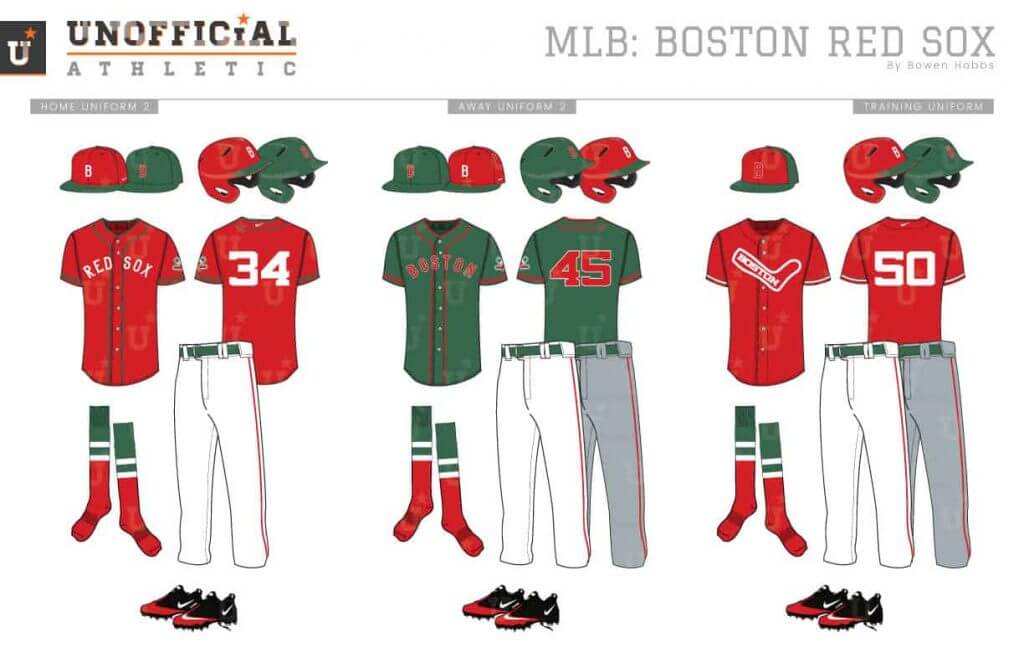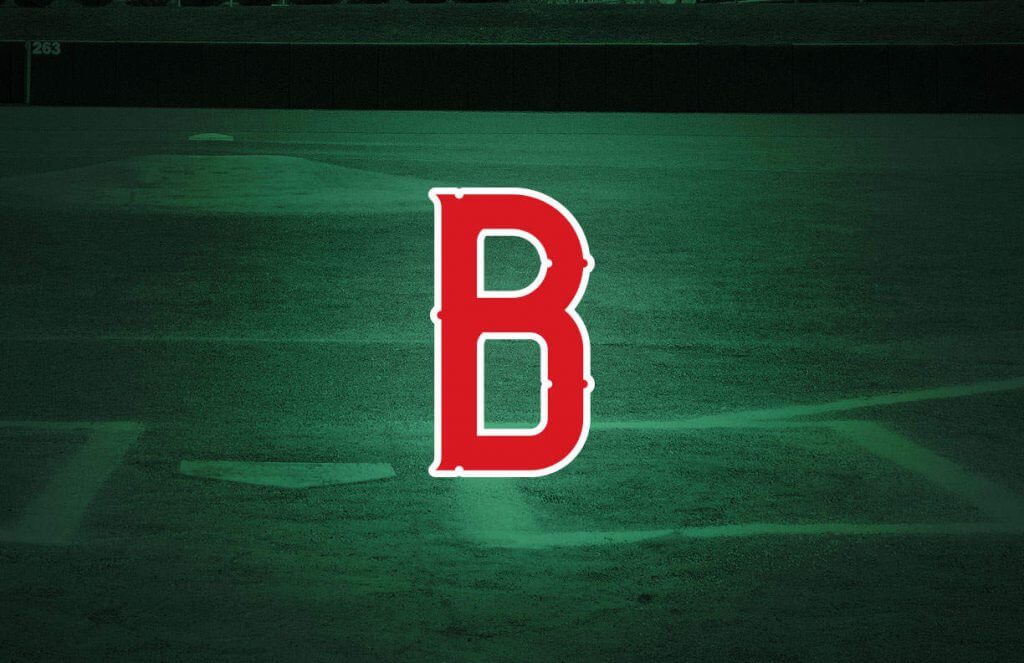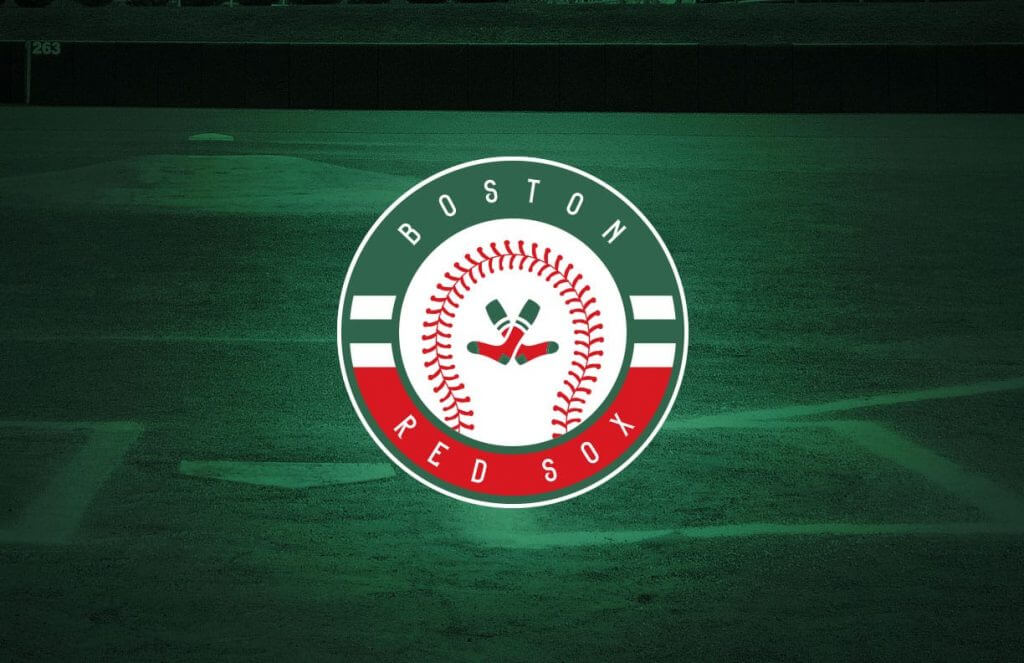 While I'm sure this will get under the skin of many BoSox fans, I've never really liked the team's use of navy. When their biggest rival wears the same hue, it muddies the visuals of the rivalry. My Red Sox concept uses a muted green that mimics the Green Monster to complement the red and refines the Tuscan font the team uses. The home and away uniforms are mostly red and white, but with green caps and belts.The home alternate jersey is red and white, while the second alternate wears Monster Green proudly.
__________
New York Yankees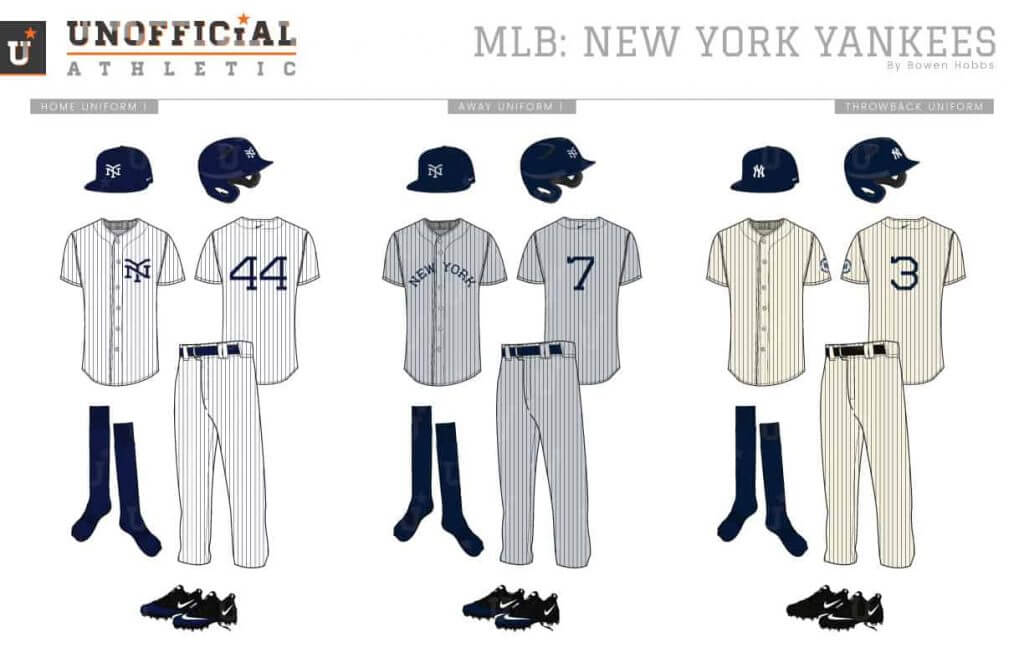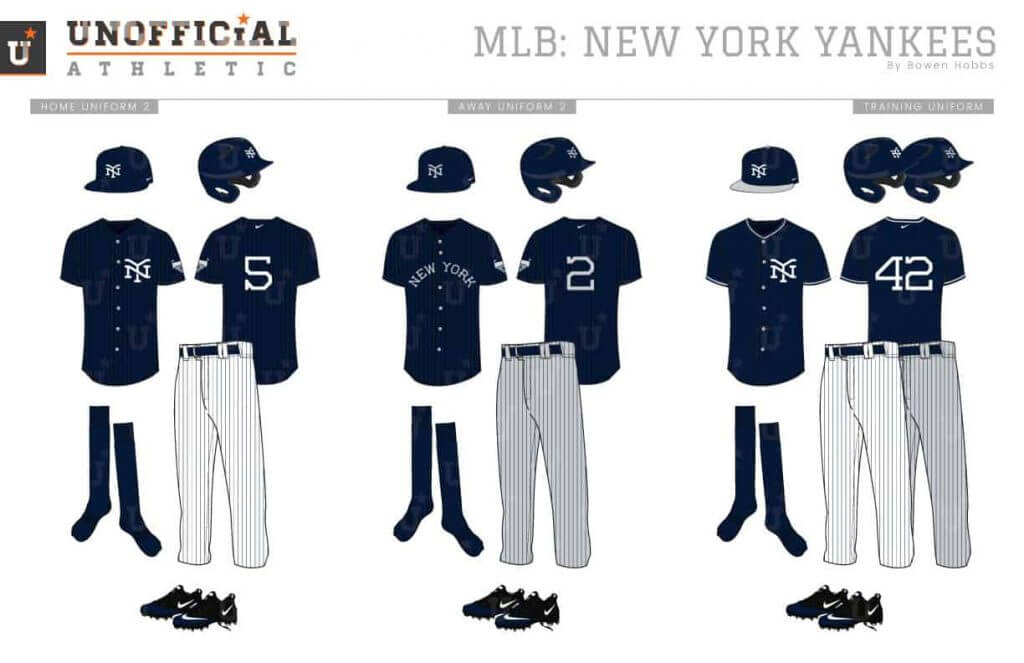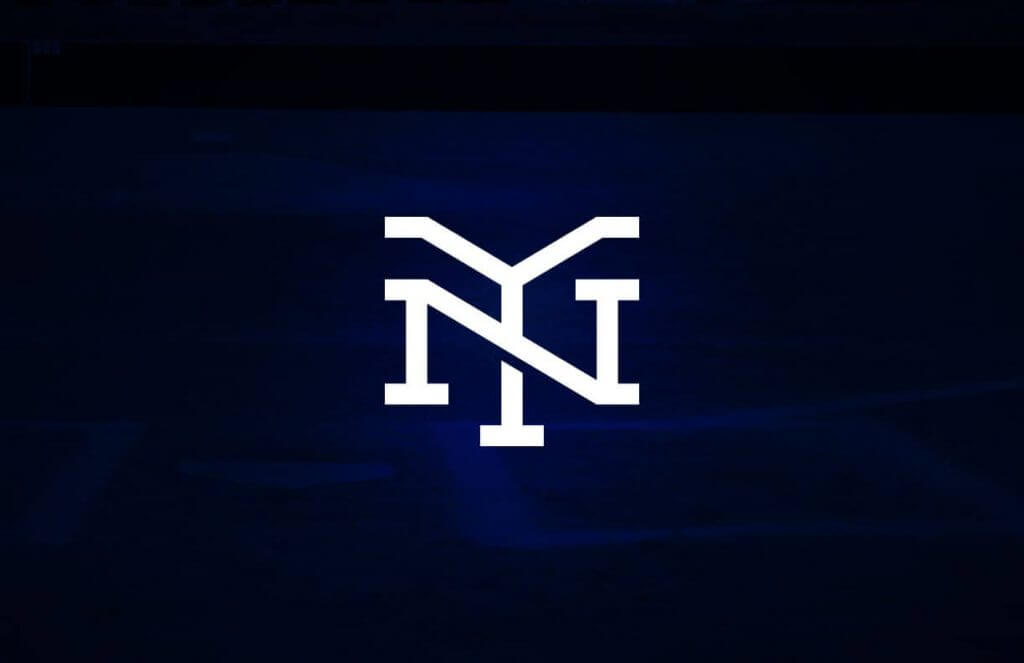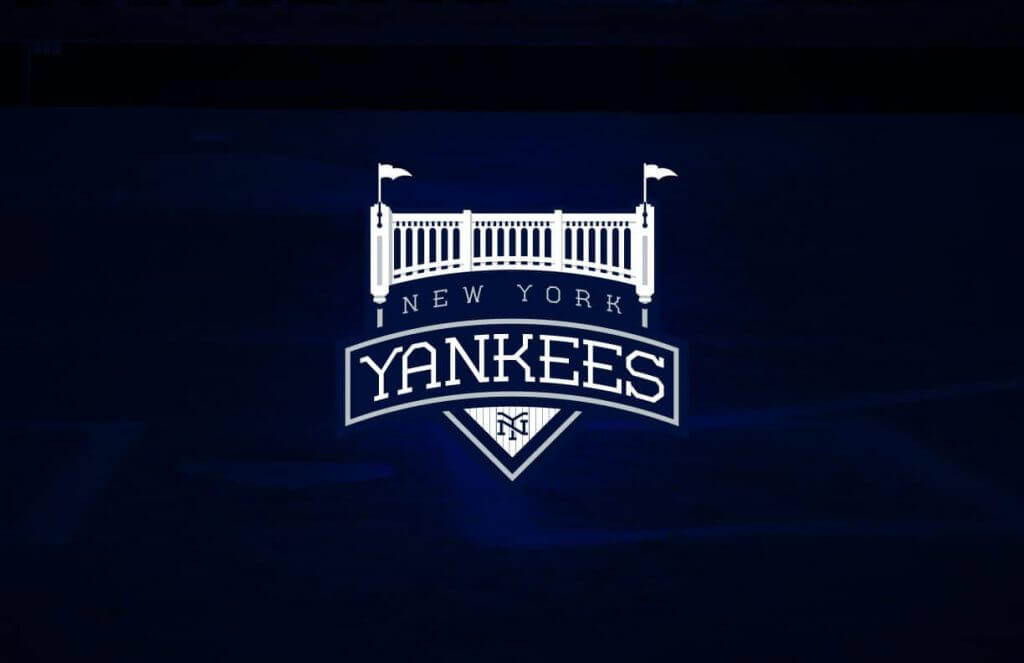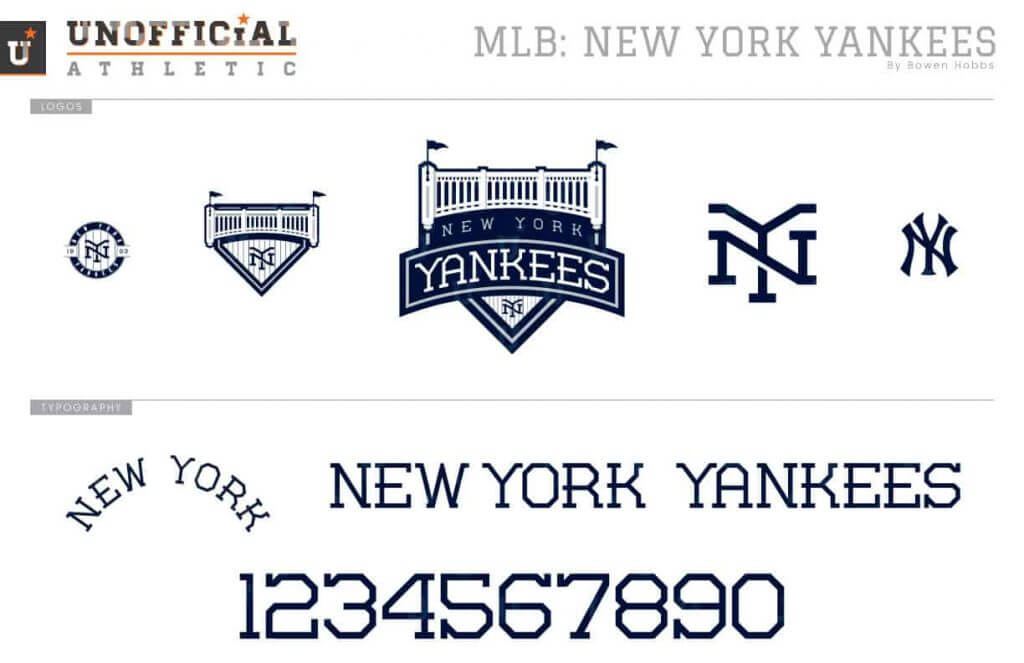 Much like the Tigers, the Yankees have an iconic brand and attempting to create some different was a challenge I relished. The primary logo uses the Yankee Stadium facade to keep the team's history alive, while a new thin block NY graces the caps. While minimal edits were made to the home uniforms (logos, fonts), the disappointing aways move to pinstripes to match the homes, eliminating the unnecessary white trim. The navy alternate jerseys also use sublimated pinstripes to reinforce the team's brand.
__________
Tampa Bay Rays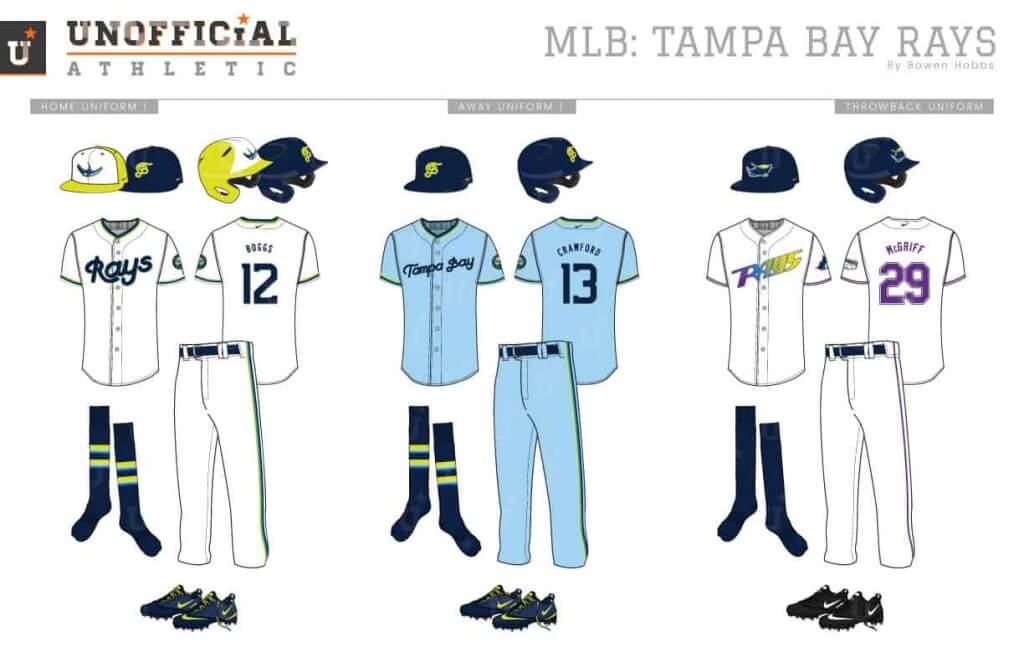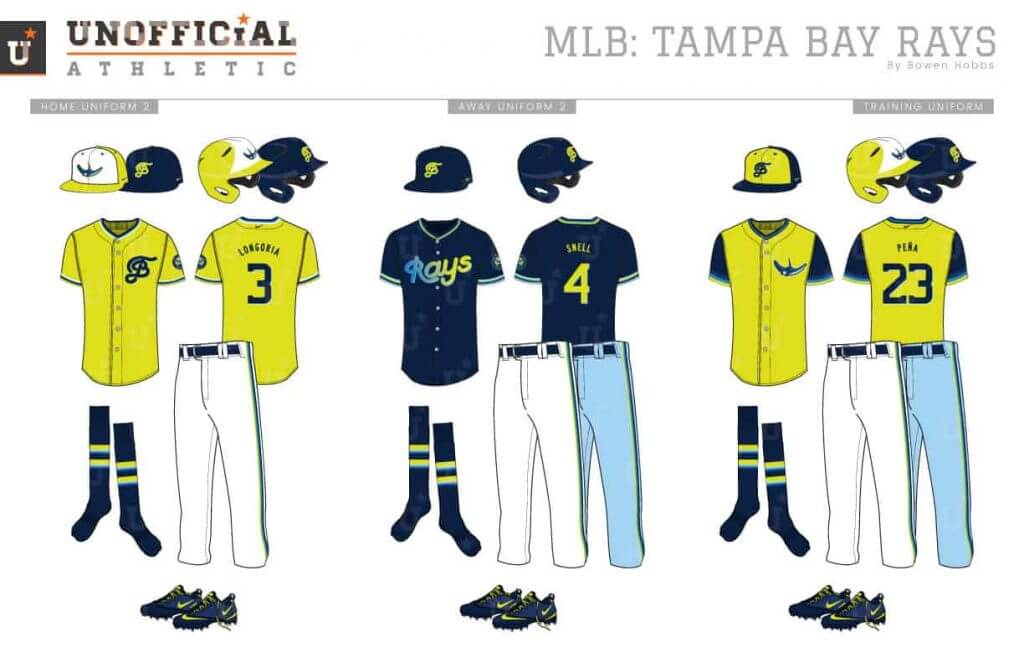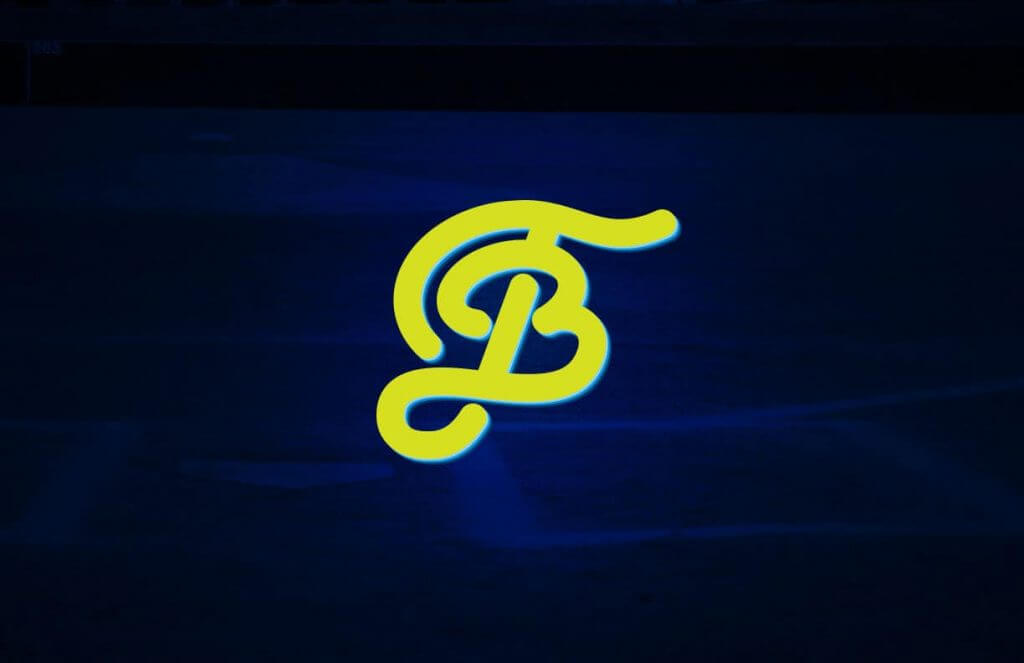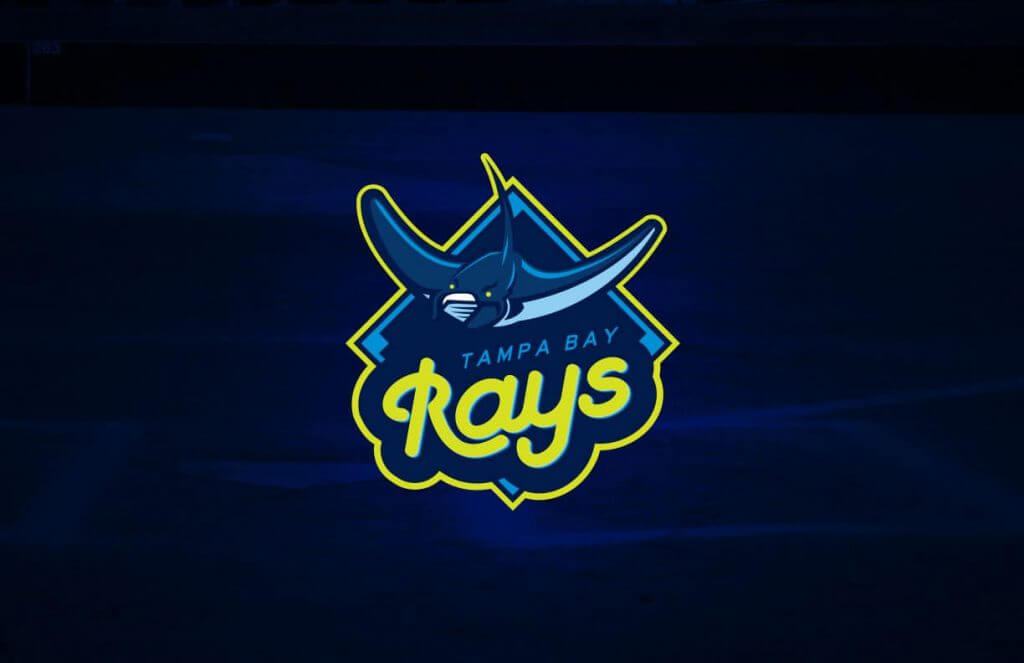 The Tampa Bay Rays have been a tale of two extremes. While their 90s uniforms were seen as too loud, their current branding hopes to not offend. Wanting to strike a balance between the two, I kept navy, but paired it with volt yellow, electric blue, and powder blue. The script exudes fun, while the manta ray returns to give the team a tangible mascot. The primary cap is navy with a volt TB, and the home alternate cap is volt with a white front and the manta ray on full display. The aways are powder blue, but the alternates steal the show between the volt home alternate and the navy alternate with a gradient script.
__________
Toronto Blue Jays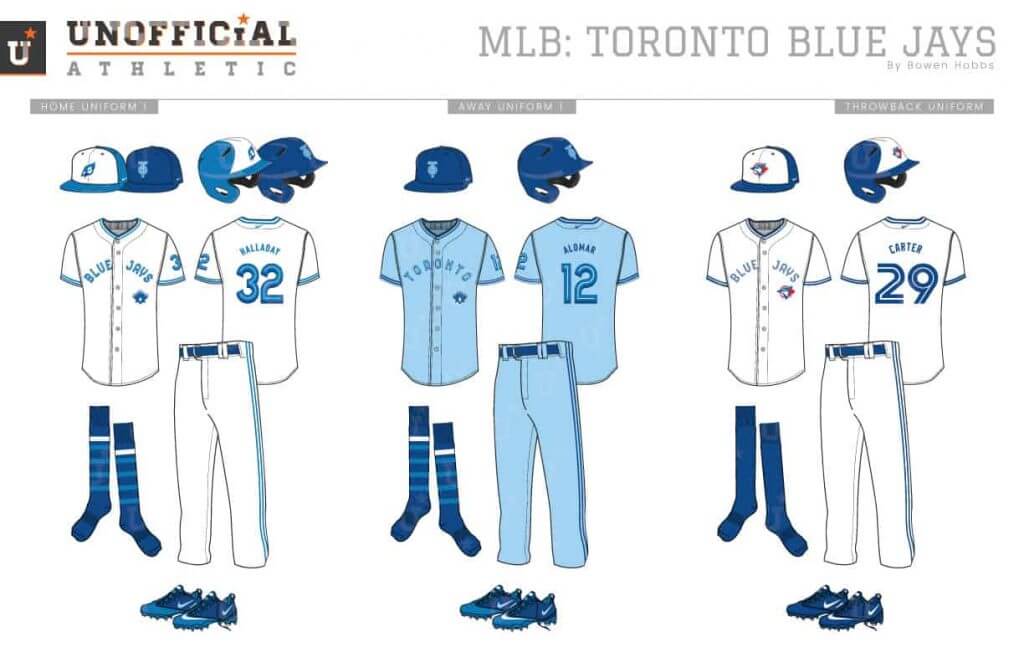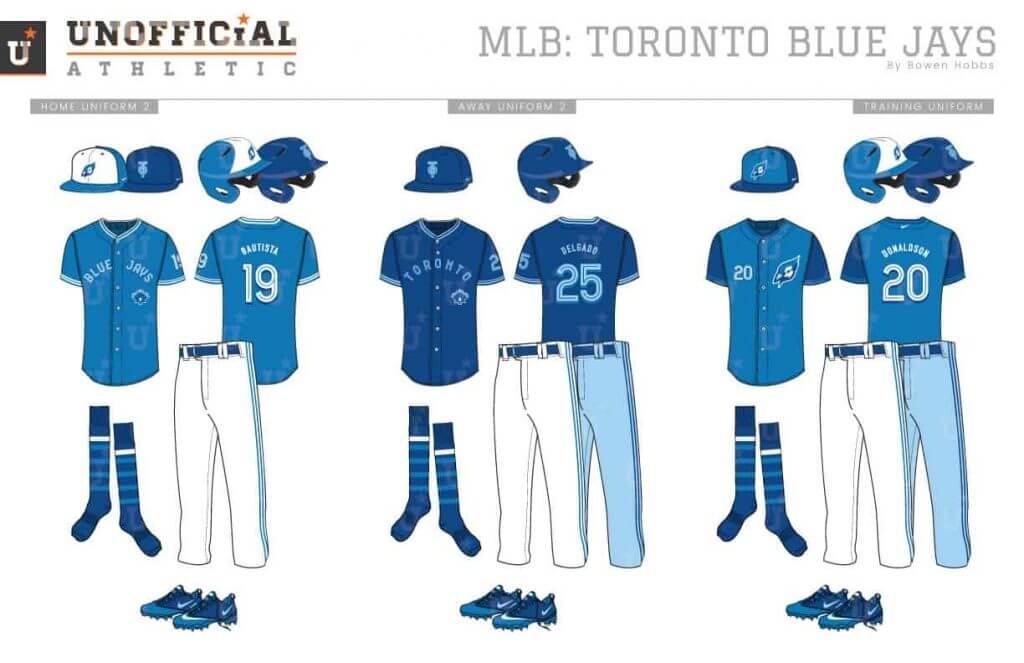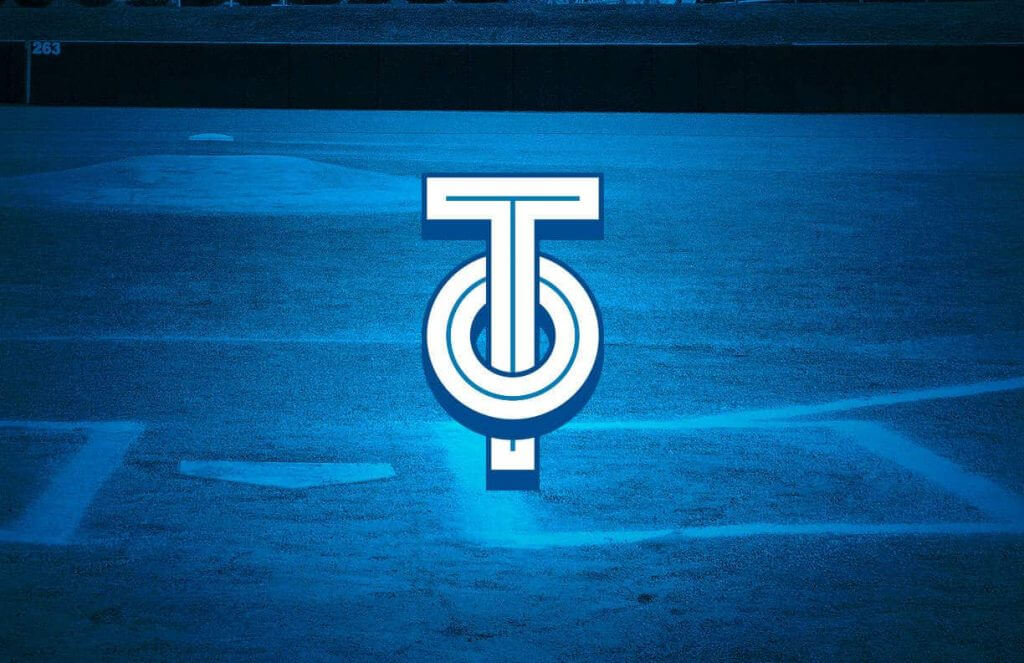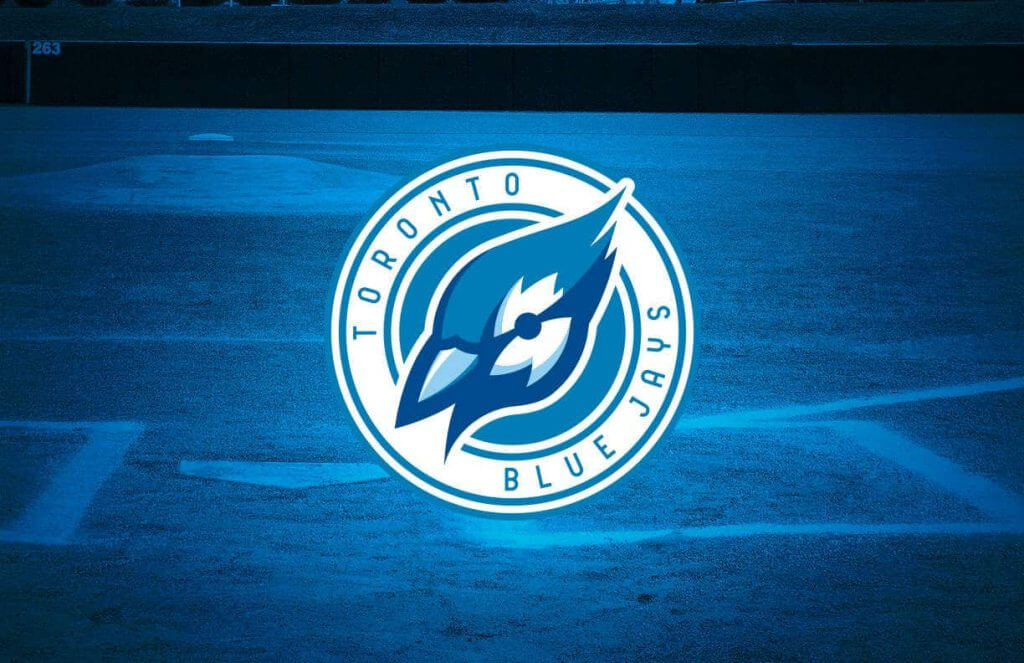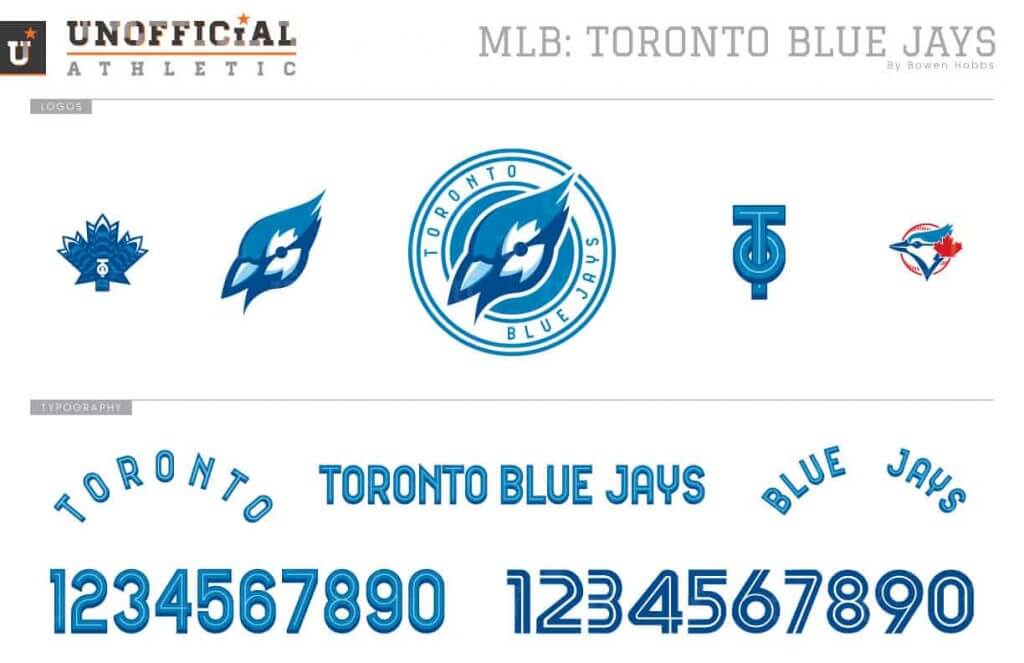 The Blue Jays made the right move by nixing charcoal grey, but I'm less impressed by their decision to wear navy caps with their powder blue uniforms. My concept uses multiple shades of blue, from powder blue to Honolulu blue to royal. A new three-quarters view jay head appears at the center of the primary logo, while a maple leaf logo that mimics a blue jay's tail and a TO mark featuring the new inline font expand the brand. The home uniforms are white with Honolulu blue type and primarily pair with the Honolulu blue cap, but the royal cap can also be used. The powder blue aways contain royal type and pair with royal caps only. The royal socks are striped to mimic a blue jay tail, similar to the maple leaf logo.
• • •
Wowsa! Thanks (again) Bowen. Those were fantastic.
I'm going to be back with Bowen for the National League in the near future, and I hope to get in a Q & A session with the man, so that you can get to know him and his work a bit better.
Readers? What do you think? Please let Bowen know in the comments below!
• • • • •
• • • • •
Collector's Corner
By Brinke Guthrie
Follow @brinkeguthrie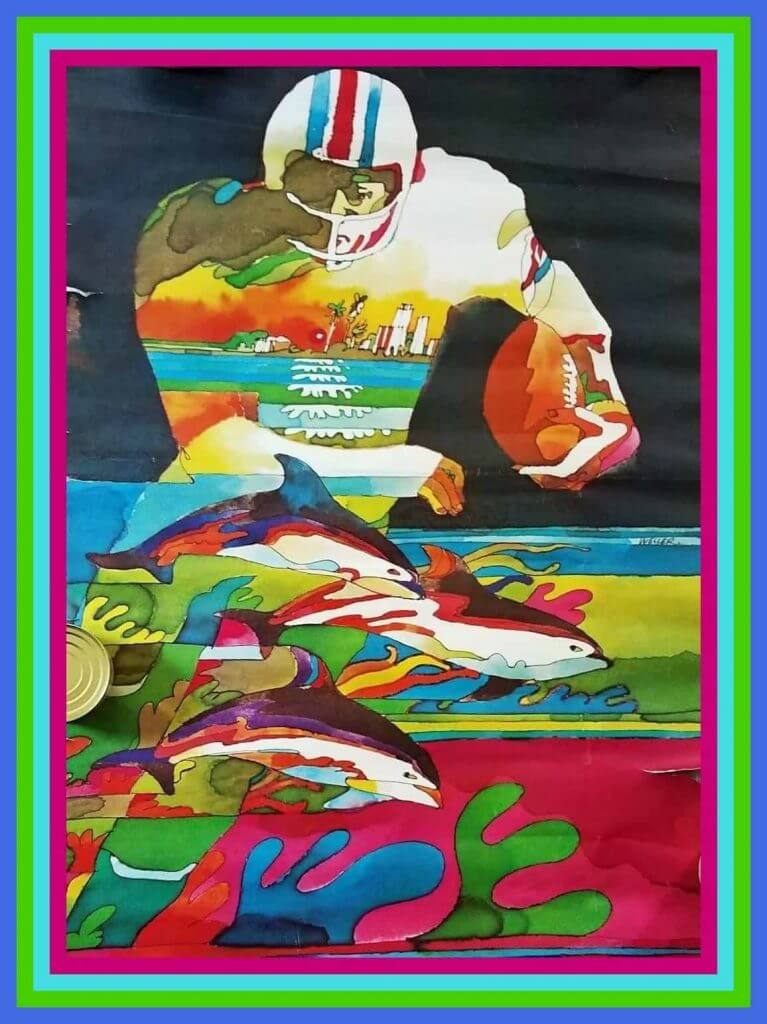 Leading off this week with a spectacular example of 1970s NFL poster art. This one for the Miami Dolphins has all the requisite South Florida references; the ocean, beach, high-rises, and of course, dolphins. The seller says it has pinholes and rips on edges- well, fine, it's also 50 years old. (It says 1970 NFL Collector's Series- 1970 National Football League Properties.) What concerns me a bit more is it looks to me like it has some ripples, which would be a bit tough for me to take if I were going to display it.
Now for the rest of the week:
————-
• The Swinging Friar made a welcome full time return to Padre uniforms this year. Here he is in a
belt buckle
for the 1978 All Star Game.
• The logo on this Dallas Cowboys gym bag is one I'm quite familiar with- it was on our family station wagon when we lived in Dallas. But I've never seen it on a product like this before- just on decals and key rings.
• Over the past couple of months, several vintage Pete Rose-endorsed items have turned up here on Collector's Corner, like chocolate drinks and candy bars. This week? A leather baseball glove wallet!
• Here's a No Smoking sign from the old San Francisco Candlestick Park.
• And another stadium-related item here- this is a nice looking small scale model of Seattle's then-named Safeco Field.
• The New Orleans Saints had black helmets ever so briefly in the 1969 preseason, and someone has decided to make a helmet buggy in their honor. That's a great look IMO.
• Dig the cover art font on this 1981 Philadelphia Phillies Eastern Division Series Official Program.
• This Minnesota Twins ashtray commemorates their 1965 AL pennant.
• Wanna spice things up? How about a bottle of "Ron Guidry's Very Own Lightning Hot Sauce. It'll probably light you up just like his fastball did!
• St. Louis Blues players Barclay (scrappy defenseman) Plager and Garry (mod, blonde) Unger were featured on this 1972 "Tips On Hockey" 45rpm record, brought to you by Shakey's Pizza.
• • • • •
• • • • •
Guess The Game…
from the scoreboard
Today's scoreboard comes from Bobby Hunter.
The premise of the game (GTGFTS) is simple: I'll post a scoreboard and you guys simply identify the game depicted. In the past, I don't know if I've ever completely stumped you (some are easier than others).
Here's the Scoreboard. In the comments below, try to identify the game (date & location, as well as final score). If anything noteworthy occurred during the game, please add that in (and if you were AT the game, well bonus points for you!):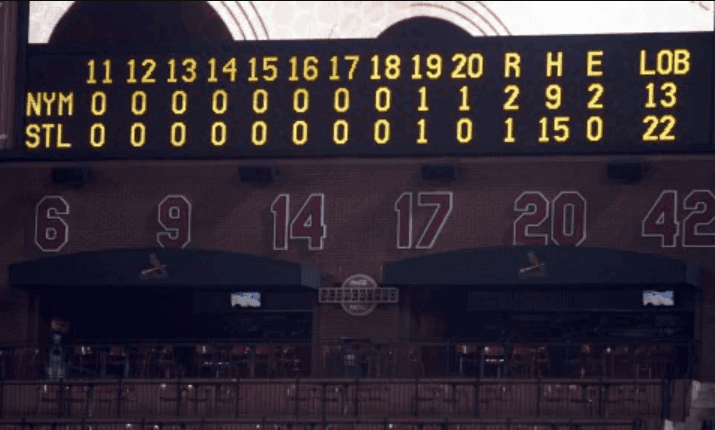 Please continue sending these in! You're welcome to send me any scoreboard photos (with answers please), and I'll keep running them.
• • • • •
• • • • •
How Well Do You Know Your NFL Teams?
Got a fun quiz in the e-mail from Michael Cahalan, which asks you to name the NFL teams from the clues provided below (he left out one team who remains nameless for now).
Yesterday I ran the quiz — and here are the answers (a couple of you already solved these in the comments yesterday, so congrats to them).
1. Pope's minions: Cardinals
2. Lone star staters: Texans
3. Udder young males: Cowboys
4. Revolutionaries: Patriots
5. Panned for profit: 49ers
6. Before the movers: Packers
7. Indigenous to India: Bengals
8. Pic-a-nic basket pilferers: Bears
9. Credit card users: Chargers
10. Luxury autos: Jaguars
11. Mythological foes: Titans
12. Christianity's MVPs: Saints
13. Monthly expenses: Bills
14. Jungle kings: Lions
15. Rodeo buckers: Broncos
16. West side gang: Jets
17. Jim, Tim, Paul, Charlie: Browns
18. Desperado crooners: Eagles
19. Head butters: Rams
20. Clouseau foe: Panthers
21. Ace Ventura's Snowflake: Dolphins
22. Mr. Ed's Sons: Colts
23. 8th Commandment breakers: Steelers
24. Ocean Osprey: Seahawks
25. They kill bugs dead: Raiders
26. Head honchos: Chiefs
27. Made the Kessel Run in 12 parsecs: Falcons
28. A dollar for corn: Buccaneers
29. Poe quotes them: Ravens
30. Soldier Joe insects: Giants
31. Roman 6 monarchs: Vikings
• • • • •
• • • • •
The Ticker
By Paul (pinch-Tickering today for Alex Hider)

'Skins Watch: Good backgrounder on how Native iconography is still a stubborn issue in high school sports (from @OlegKvasha). … The Missouri town of Savannah is divided over a campaign for the local high school to stop calling its teams the Savages (from Kenneth Traisman). … Many Ohio schools, however, are dropping their Native-based team names (from Tom Pachuta).

Working Class Wannabes™: A high school football coach in Ohio says his key for defensive success in 2020 is that "we're going to be the blue collar, get down and dirty and get it done." Sounds like a real mastermind. … The University of Charlotte football team announced a new helmet design by saying, "New hard hats are here. Time go to go work." … Cincinnati Bengals defensive back Vonn Bell describes his daily routine as "Just having a blue-collar working mindset and just going to work and getting it every day." … Over in Australia, an article about the AFL's Port Adelaide club described two of the team's players as "blue-collar midfielders." … An article about the restarted NHL season says the Toronto Maple Leafs "don't abide by the virtues of blue-collar hockey or have anything close to a small-market attitude." … An article about the East Fairmont High School boys' soccer team in West Virginia says, "Role players have humbly taken up the blue-collar tasks of infusing games with hustle and work rate." … An article about the Slocomb High School football team in Alabama uses the term "blue-collar" four times in the first five paragraphs. … Offensive lineman Brian Winters says he signed with the NFL's Buffalo Bills because "it's a hard-nosed blue-collar area and that's type of football I play."

Baseball News: Just as my own trading card is based on the 1973 Topps baseball set, someone has made a series of cards for Dr. Anthony Fauci, based on assorted old Topps templates (from Bruce Adams). … The A's usually wear their Kelly alternates only at home, but they took them on the road for last night's game in Anaheim because of a six-game winning streak when wearing them (from R.E. Stern). … Here's a thread featuring lots of photos of the Blue Jays' new "home" stadium in Buffalo (from Andreas Papadopoulos). … Here's an article about the artist who created the logo of the Albuquerque Dukes, the Dodgers' former Triple-A affiliate from 1963 to 2000 (from Kary Klismet).

NFL News: Here's something I don't think we've ever seen before: Tom Brady — now with the Bucs, of course — wearing a red-tinted visor (from William Clancy). … KC's practice shorts have pretty cool name/number/skyline tagging (from Ted Taylor). … This 1996 Sports Illustrated piece includes an interesting bit of info about former NFL RB Herschel Walker's shoulder pads: "Walker has less than 1.5% body fat on a body that has never lifted weights. It seems that whatever food goes into his mouth gets turned into fiber and sinew. Most marathoners have more body fat than he does. He is, in fact, dangerously muscular, with very little cushioning for the blows of his sport and in constant jeopardy of having a muscle snap from its own force. That is why he stretches rigorously and wears massive, customized shoulder pads" (from Johnny Garfield).

College and High School Football News: New advertised name for Georgia State's stadium. … New turf for Neosho (Mo.) High School and Santa Maria (Calif.) High School (from Kary Klismet). … This article about UVa's workouts includes the following tidbit: "As in years past, no numbers have been awarded this early in camp, but there is a twist this summer. On the back of each player's jersey is his last name." So the players are wearing numberless practice jerseys with NOBs. Weird! (From proud UVa alum Jamie Rathjen.)

Hockey News: The Sabres will unveil their new royal blue uniforms, to be worn for the 2020-21 season, today. Phil will have full coverage tomorrow. … New logo for the Fort St. John Huskies, a Junior B team in British Columbia (from Kary Klismet). … Here's a look at the Ping-Pong ball that gave the Rangers the top pick in the next NHL draft (from Alan Kreit).

Basketball News: New court design for Bethel University, an NAIA school in Tennessee (from Kary Klismet). … Here's a podcast interview with longtime sports designer Tom O'Grady, who created a lot of the NBA's boldest looks of the 1990s. … Suns G Devin Booker apparently wore his mask upside-down during a press conference yesterday, resulting in an upside-down Nike logo. … Mavs G/SF Luka Dončić previewed the team's throwback shorts yesterday (from @profjimmyc).

Soccer News: Renderings have been unveiled for a new stadium to be built in 2021 in Sumgait, Azerbaijan, home of Sumqayit FK of the Azerbaijan Premier League (from Kary Klismet). … New shirt for Fairant Kraków. "They play in the A-Klasa, the seventh tier of Polish soccer," says Ed Zelaski. … The Portland Timbers are adding "MLS Is Back Final" lettering to their jerseys for today's tournament title match (from @bryant_rf).

Grab Bag: Here's a profile of a designer who creates vehicle logos for GM. … Speaking of cars, here's a weird one: The "Edge" nameplate on this Ford Edge is misspelled (from @NYCommenter). … New uniforms for Pittsburgh Forge Rugby Club (from @MrBudziszewski).
• • • • •
• • • • •
And finally…
big thanks (again) to Bowen for those amazing MLB concepts (and wait till you see the NL!).
Like Paul said above, today the Sabres are unveiling (I think) a Royal Blue and White sweater, and hopefully they'll show the breezers and socks too. I'll have full coverage of that tomorrow.
Everyone stay safe.
Peace,
PH