By Phil Hecken, with Bowen Hobbs
Follow @PhilHecken

Hey kids! It's Jerry's birthday today. What a long, strange trip it's been…
Last weekend, I brought you Part I of Bowen Hobbs' redesigns of NBA teams, and today we're going to see the rest of the league. It's not just uni concepts either — he's done up a full set of logos plus courts!
You may remember, a couple weeks ago, I brought the art and artistry of Bowen Hobbs, via "posters" he has created. Not only has he done the posters and the NBA, but other major sports as well, which we'll see in the weeks and months ahead. He's even redesigned several defunct NBA teams, which will run shortly (but not today, sorry).
Without further ado, Part II of the Redesigning the NBA Series by Bowen Hobbs. Here's Bowen (click on any of the images below to enlarge):
• • •
Southwest Division
Dallas Mavericks
The Mavs' branding overhaul in 2001 left the team with a similar issue to their NFL counterparts: using both navy and black interchangeably. My redesign removes black for navy and re-renders the white stallion against a sheriff badge icon complemented by a more western font. The western details continue to the uniforms.
__________
Houston Rockets
The current Rockets identity leaves much to be desired, especially with the treasure trove of design elements available. My concept refocuses the team on its NASA roots with a color scheme of Mars red, navy, athletic gold, and orange. The primary logo features a rocket blasting off against an illuminated basketball.
__________
Memphis Grizzlies
The goal with the Grizzlies was to give the team more connection to Memphis. The redesigned logo features the neon of Beale Street. The uniforms rely heavily on dueling shades of blue and thin lines that feel like fluorescent trim.
__________
New Orleans Pelicans
While the Pelicans currently have a beautiful logo, they missed an opportunity to have truly original look by defaulting to a color scheme previously worn by the Nuggets and Cavs. My logo fashions the Pelican into a fleur-de-lis with wrought iron details. Those same architectural details are displayed on the uniforms in decadent deep purple, emerald green, and metallic gold.
__________
San Antonio Spurs
My Spurs concept adds a southwestern feel to the team's brand, combining the Alamo, southwestern art, and a basketball to make the primary icon. The typeface plays on vintage ranch branding. Most of the uniforms feature the traditional black and silver, but the Pride uniform adds a splash of the Fiesta era.
• • •
Northwest Division
Denver Nuggets
The Nuggets' most iconic look is their rainbow uniforms. I blended the powder blue from the Carmelo era with the rainbow motif, adding a beveled typeface that resembles bars of gold. The uniforms feature the rainbow across the chest in the player's left leg.
__________
Minnesota Timberwolves
With the plethora of navy-dominant teams residing in the Northwest Division, I decided to give the Wolves a heavy dose of lime green. A modified howling wolf logo is the primary, with a basketball/snowflake used for the secondary. The uniforms blend the current era with the tree theme of their previous branding.
__________
Oklahoma City Thunder
It seems obvious that the Thunder created their logo before they named the team, focusing on abstract swooshes and the letters OKC. My redesign gives a proper image to the team. A stampeding bison running on a basketball in a shield combined with a color scheme of brown, teal, gold, and orange gives the team a look that is uniquely Oklahoma.
__________
Portland Trail Blazers
The Blazers play in the Rose City and currently use a very clever abstract logo. My goal was to play on the flower theme with a rose/basketball icon and a hint of green to differentiate them from the other five or six red-and-black teams. The uniforms feature a thorned sash and a rustic font.
__________
Utah Jazz
The current Jazz identity lacks originality using a navy and athletic gold combo similar to Denver and Indiana. I replaced the gold with copper to represent the state's red rocks and mining history. A treble clef/basketball mark and a saxophone-J reinforce the musical theme. The side panels on the uniforms also reinforce the theme by using music staff striping.
• • •
Pacific Division
Golden State Warriors
While the team's move away from Indigenous imagery in 1969 was ahead of its time, the team has never fully embraced a new warrior mascot outside of the short-lived "We Believe" futuristic fighter. My redesign combines the Golden Gate Bridge and trolley car marks with ancient elements like a Spartan helmet and W-key trim.
__________
LA Clippers
For a long time, the Clippers' identity looked like the Lakers' little brothers. Then came the Microsoft WordArt era. My redesign carves out its own niche with a Sailor Jerry tattoo theme fitting of LA. The primary logo replaces the rectangle LAC with a ship's steering wheel.
__________
Los Angeles Lakers
The Lakers are Hollywood's team. To that end, I developed a Lakers redesign that played heavily on the Hollywood sign and the Walk of Fame. The uniforms feature sublimated spotlights on the back while the court has its own Walk of Fame with each of the team's championships listed on the sideline where the stars sit.
__________
Phoenix Suns
The Pacific Division has three purple teams while the NBA has no black and orange teams. One way to address that is to update the Suns' color palette. The new logo plays heavily on the Arizona flag with a western-inspired typeface to complement it. The uniforms feature a sun on the front and sublimated rays on the back. Purple is still retained as a trim color.
__________
Sacramento Kings
With the Kings, I made sure to maintain the team's regal theme while making it specifically Californian. The primary logo features a lion mimicking the pose of the state flag's bear. The typeface blends athletic block angles with medieval details.
• • • • •
Wow. Thanks Bowen — that quite a lot of effort! And now we've completed the current NBA teams — but Bowen's not done yet. Coming soon, Bowen will give you his redesigns for some defunct NBA teams! Readers, what do you think? Please let Bowen know (good or bad) in the comments below.
Guess The Game…
from the scoreboard
Today's scoreboard comes from ojai67.
The premise of the game (GTGFTS) is simple: I'll post a scoreboard and you guys simply identify the game depicted. In the past, I don't know if I've ever completely stumped you (some are easier than others).
Here's the Scoreboard. In the comments below, try to identify the game (date & location, as well as final score). If anything noteworthy occurred during the game, please add that in (and if you were AT the game, well bonus points for you!):
Please continue sending these in! You're welcome to send me any scoreboard photos (with answers please), and I'll keep running them.
A Very Special Kreindler's Korner
Hey guys & gals. You've enjoyed Kreindler's Korner for several years now, mostly on the weekends, on Uni Watch, but with the recent coronavirus outbreak, Graig's time is just too precious and he needs to tend to other things besides coming up with a new writeup each weekend.
However — for a very small segment of the population (and Uni-Verse), today is a very special day, and as such, I asked Graig if he'd share a non-sports painting he did a few years back, which is absolutely one of my favorites. If you know me, you know why (and Graig's description kinda sums it up for me too).
Happy 78th Jerry…
Here's Graig:
• • •
Title: "Jerry Waving"
Subject: Jerry Garcia, 1969
Medium: Oil on linen mounted to board
Size: 10" x 8"

Rather than posting a painting of an old ballplayer, how about one of somebody who's been a never-ending source of inspiration since I was 16?

There's no need to go into the history or lore of the Grateful Dead — it's very well documented by people who are a LOT more articulate than I. Also, with this being a website about the minutia of uniform aesthetics, it's not really the right place to do so. But, I will say, that day-in and day-out, his music has been (to me) the prime vehicle to wade in the endless myriad of human emotions. And for that I am ever grateful.

Happy birthday, Jer.
• • •
Thanks, Graig! You can (and should!) follow Graig on Twitter.
And now a few words from Paul
Hi there. Just wanted to bring you up to date a few merchandise items, starting with our Uni Watch Key Rings, which launched this past Monday. I made 200 of these are there are now fewer than 60 left. They're available here while supplies last.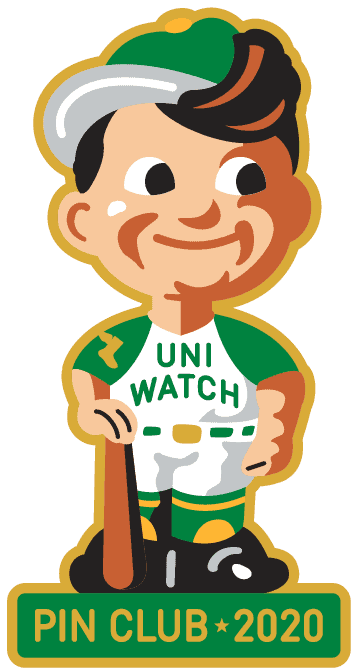 While we're at it:
• There are also fewer than 60 Uni Watch Pin Club bobble-pins remaining. Those are available here. (The August pin will soft-launch this weekend on my Twitter feed, and then I'll give it the full showcase treatment here on the blog on Monday.)
• In case you missed it on Friday, we have a new shirt product line called Uni Rock, which honors classic music logos. Check it out here.
You can see the rest of our current merchandise offerings here. My thanks, as always, for your consideration.
And now on to the ticker…
The Ticker
By Anthony Emerson


Baseball News: The guy who operates the fake crowd noise at Globe Life Park gave a rundown on how it works on Reddit (from Colin, who didn't share his last name). … Nationals Park played "OK Blue Jays" during the Jays' "home" game in DC on Thursday (from Wade Heidt). … The ESPN app used the wrong Brewers logo in a graphic about game postponements caused by COVID-19 outbreaks (from Geoff Poole). … A Chicago sports radio station posted an article naming the most "star studded numbers in baseball" — or, the uni numbers that currently worn by multiple really good players (from Steve Sher). … The team behind Super Mega Baseball, a baseball video game that lacks both the MLB and MLBPA license, is selling jerseys of their fake teams and players (from @valleyshook).

NFL News: Washington has asked fans to submit ideas for new nicknames (from Mike Chamernik). … Johnny Garfield has sent along this screen grab of Brett Favre in a five-stripe Packers jersey in 2000 — a look they stopped wearing after Super Bowl XXXI in 1997.

College/High School Football News: McKinney (Tx.) High's new $70 million football stadium has cracks in the concrete before even opening (from Kary Klismet).

Hockey News: The KHL's Sibir Novosibirsk released a new uniform to honor medical workers (from Mike Chamernik).
.
.

NBA News: Mike Chamernik sends along a full list of NOBs from the bubble. … Also from Mike: The "smart rings" the NBA has given players to monitor their health are largely untested and may not even work. … ESPN's digital on-court ads bled through onto the Bucks' Cream City jerseys and players' skin during last night's Bucks/Celtics game (from multiple reader). … Nets C Jarrett Allen's social justice NOB is "Sí Se Puede," Spanish for "Yes, it is possible" but usually translated as "Yes We Can." It was made famous by Latino civil rights activists Cesar Chavez and Dolores Huerta. … Blazers C Jusuf Nurkić wore "Ravnopravnost" — his social justice NOB translating to "gender equality" — in the first half, but came out in his usual jersey in the second half. Since his NOB is above his number and other players who have opted against having a social justice statement on their unis have had their NOBs below their numbers, it was probably a spare jersey. Maybe the "Ravnopravnost" one had a tear or some other issue (from Etienne Catalan). … A cream vs. green matchup for the Bucks-Celtics game last night, with the Bucks being the first teams to wear their city unis in the bubble. Interesting scorebug, too, with both teams secondary logos (from Nicklaus Wallmeyer).

College/High School Hoops News: New court for West Virginia Wesleyan (from Kary Klismet).
.

Soccer News: Barcelona have unveiled some classy-looking black-and-gold away kits (from multiple readers). … Scottish clubs will have sleeve ads for the first time in the upcoming season. Motherwell FC's will be a suicide prevention charity (thanks Jamie). … Also from Jamie, Scottish Premiership side St. Johnstone have revealed their new home kit. … One more from Jamie: Scottish third tier side Airdrieonians have unveiled their change kit. … Celtic have officially revealed their new away kit, and it looks significantly more green than it did in the leaked pics (from Ed Żelaski). … Also from Ed, English fourth tier side Forest Green Rovers have revealed their new kits. … Bundesliga club Mainz 05 have unveiled their somewhat wild new kits (from S.J. Moonlaw). … Another Bundesliga side, Schalke 04, have unveiled their new home, away and third kits.

Grab Bag: The following are all from Kary Klismet: The Massachusetts State Senate has unanimously passed a bill creating a commission to redesign the state's flag and seal … New renderings for Budapest's 20,000 seat arena have been unveiled. It's scheduled to host the 2022 European Handball Championship. … Simon Fraser University, the only Canadian college to compete in the NCAA, has broken ground on a new outdoor stadium project for its football, soccer, and track and field teams. … The Nottinghamshire Cricket Club has new hats. The old version depicted a leaping stag (from Robert Griffiths). … There's a movement building to reverse the US military's ban on the LGBTQ pride flag, among other banners (from Timmy Donahue).
And finally… big thanks again to Bowen for sharing his NBA concepts — some of these are really really interesting and there are a bunch of unis that would make for fine NBA uniforms for sure. Also, thanks to Graig for sharing his JG painting (love that one so much). Let your inspiration flow!
Hope everyone is holding up OK — to the UWers on the southeast coast, from Miami up through the Carolinas (and beyond), let's hope Isaias just gives a few strong gusts and some big surf — you guys stay safe! Oh, and some of the beaches near me have closed due to shark sightings. We don't need any more angst. *Checks calendar — Oh, yeah, it's still 2020*. At least I had another successful semester in grad school. One more to go! The rest of you please stay well and safe. I'll catch ya back here again tomorrow.
Peace,
PH