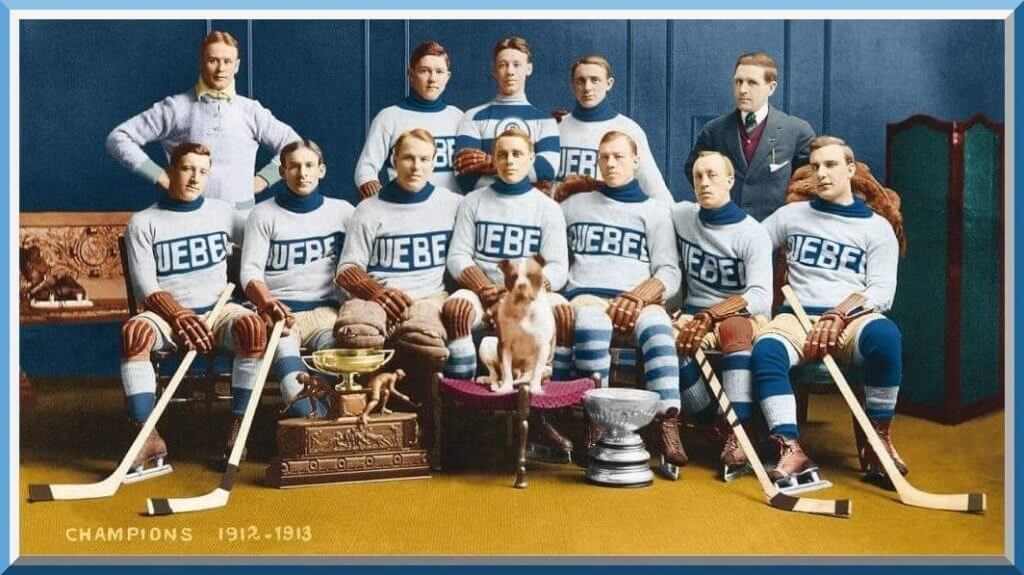 [Editor's Note: Paul is on his annual August break from site. Deputy editor Phil Hecken is in charge from now through the end of the month, although Paul may be popping up here occasionally.]
By Phil Hecken, with Mike Styczen
Follow @PhilHecken

Hey boys and girls — as you can see from the italicized words above, Paul's taking his annual August break (slightly different from years past, as this year he actually blessed us with a week's worth of columns last week). You will also note the weekends are going to be different for the remainder of the month, since I'm taking over the weekday articles.
I have a bunch of great guest writers lined up, since I'm not sure how much new uni news we'll have, but I think you'll greatly enjoy the guest contributors in any event. Lots of different perspectives, and many of the writers will be covering subjects we don't normally feature on Uni Watch.
We start this off with my buddy Mike Styczen, who is Canadian, and that by definition makes him a hockey aficionado. Mike's going to be telling us about some of the more obscure NHL teams which no longer exist (a longer list than you'd expect, actually), and he's breaking it into two parts. This is part the first. So without further ado, here's Mike …
• • •
Reviewing the NHL's Defunct Teams, Part I
By Mike Styczen
When the Seattle Kraken take the ice next fall, the NHL will have an even 32 teams. Like most leagues, however, the NHL has had its ups and downs in terms of membership.
Founded in 1917 with four teams, the league quickly dwindled to three teams, grew to as many as nine teams, and then settled in at what hockey fans refer to as the "original six" teams for a quarter century between 1942 and 1967. A total of nine franchises became defunct prior to 1942, either through ceasing operations or relocation.
After 1967, the league exploded. New teams were added across the continent in wave after wave of expansion and merger. Many survived, many did not. Ten teams vanished during this period – almost all by relocation.
This week, and next, we'll rank the looks of the defunct NHL teams. First up, we'll rank the pre-1942 defunct teams, and then we'll rank the post-1967 defunct teams.
A couple of notes: we're not going to look at the pre-NHL teams. Like most leagues, the NHL had a variety of predecessor leagues and teams, we have to cut this off somewhere, and that somewhere is the founding of the NHL in 1917. Second, some of the most memorable designs of this era were in other leagues – particularly the Pacific Coast Hockey Association and the Western Canada Hockey League, which competed against the NHL for the Stanley Cup from 1917 to 1926. The Vancouver Millionaires, Seattle Metropolitans and Victoria Cougars would top plenty of uniform surveys, but none of them were NHL teams. Finally, we're not going to look at teams that renamed themselves (Toronto St. Pats, Detroit Cougars for instance) – we're just looking at the teams that vanished or moved.
__________
DEFUNCT TEAMS 1917-1942
9. Quebec Bulldogs
While the Bulldogs had a great deal of success prior to the NHL's founding, they lasted only one year in the NHL before moving to Hamilton. It's surprisingly difficult to find photos of the Bulldogs in their one NHL season – nhluniforms.com suggests that they wore a plain blue and white striped jersey, with no logo, but there don't seem to be any photos of that jersey in action.
Their prior jersey, white with a blue stripe and "QUEBEC" in capital letters, is a pretty bland look with no logo.
A couple of bonus points for the striped socks, but still last on the list.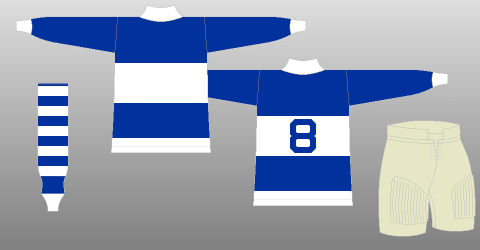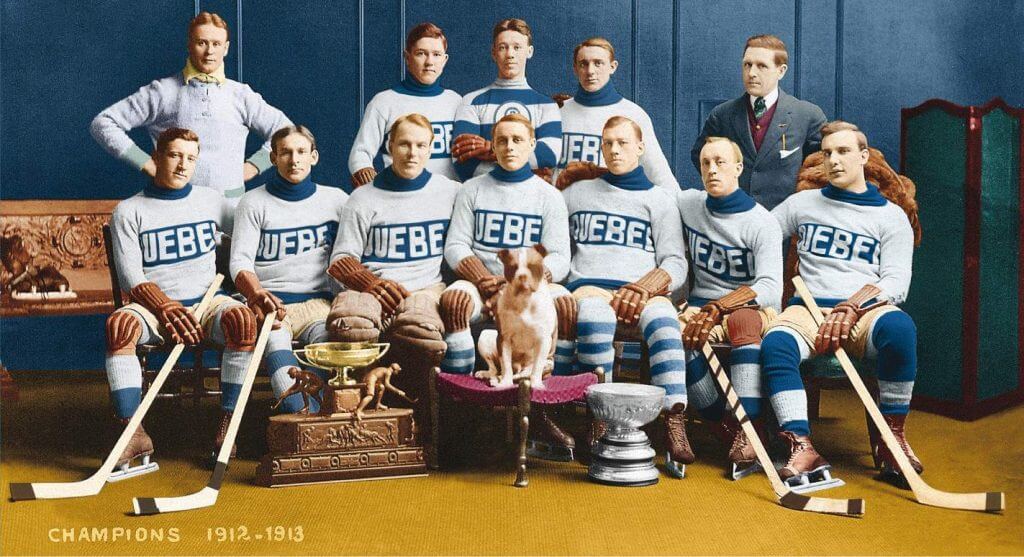 __________
8. Montreal Wanderers
Six games into their first NHL season, in 1917, their arena burned to the ground and destroyed all of their equipment, and the team folded. They were a good looking team, but what can you do with a team that only played six games? Ahead of the Bulldogs with the bright red-and-white look, but still at the bottom of our list.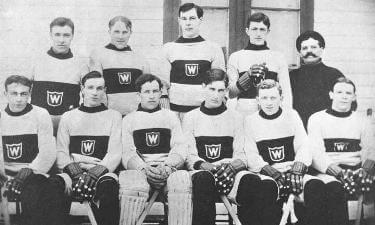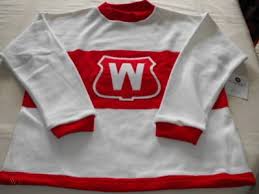 __________
7. Philadelphia Quakers
Played for one year (1930-1931) after relocating from Pittsburgh, set a futility record by winning four games in their only season, and folded. A strange script logo with a weirdly bent tail. Is it surprising that the Flyers have never bothered to throw back to their predecessors in orange and black? Not really.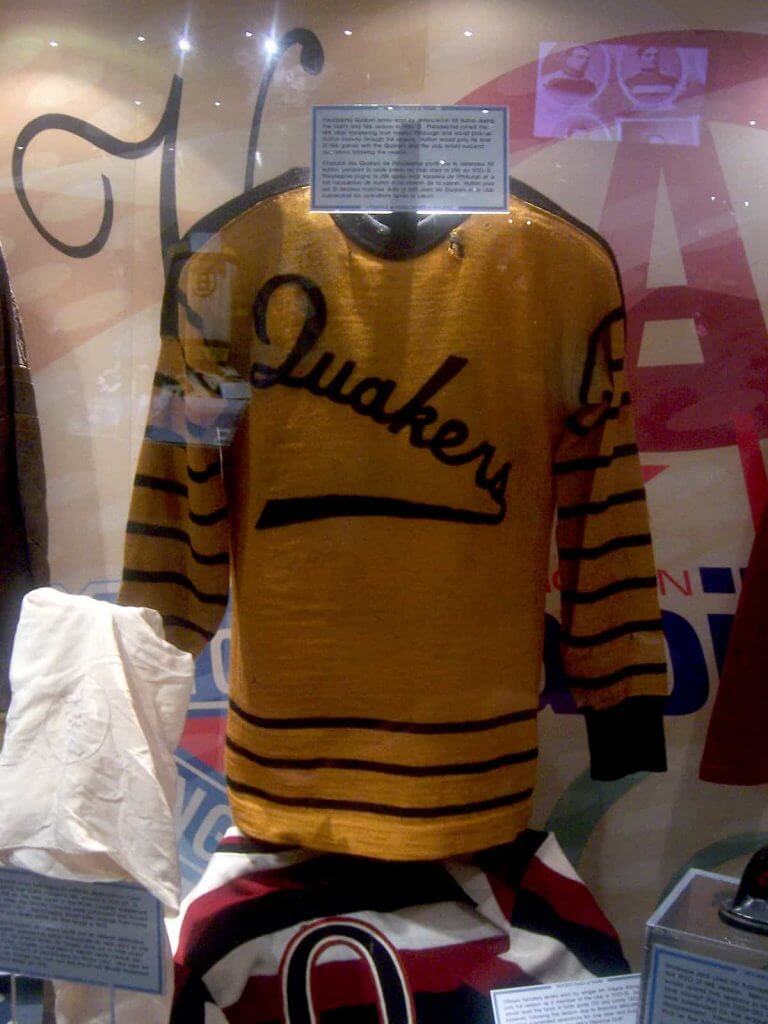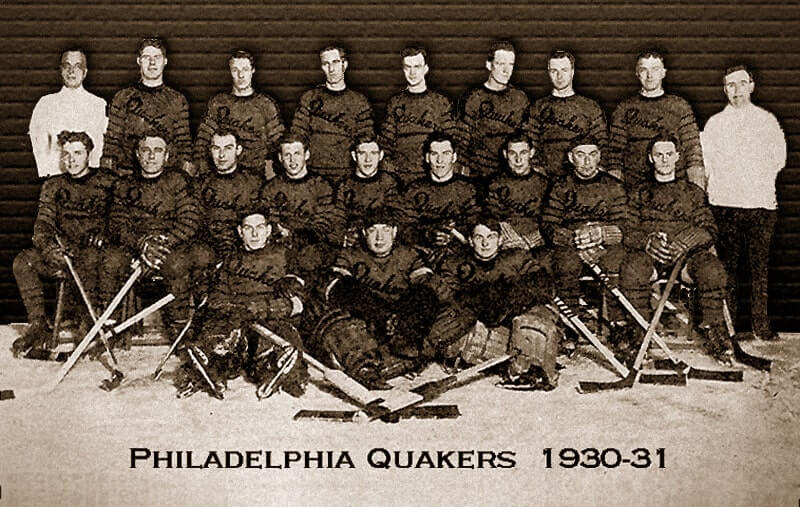 __________
6. Pittsburgh Pirates
Pittsburgh, we've often noted, is one of those unique cities in which the pro sports teams wear a consistent colour scheme. The team that kicked it off? The 1925 NHL Pittsburgh Pirates.
The team wore a variety of designs in its short (1925-1930) existence. First was a script logo with a capital "P".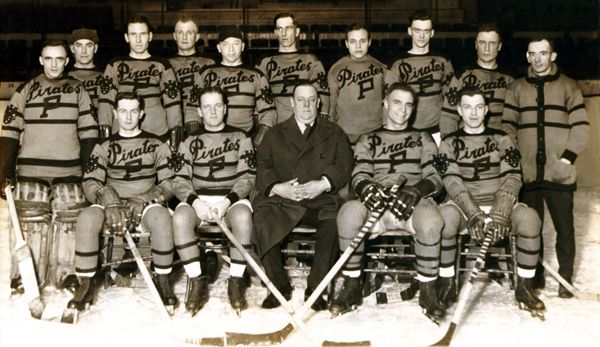 Look closely at the sleeve of that jersey and you'll see the City of Pittsburgh seal, later worn by the NFL Pittsburgh Pirates in their first season (1933) and revived by the Pittsburgh Steelers in 1994.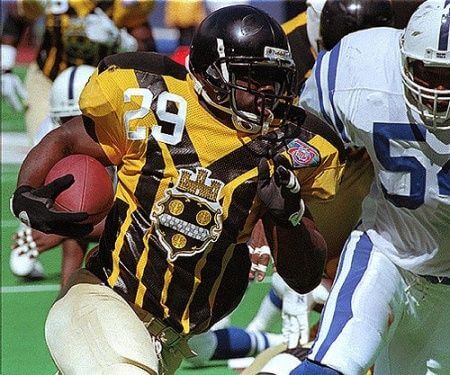 Later came a blue and yellow design for one season (of which no photos seem to exists). Nothing particularly strong.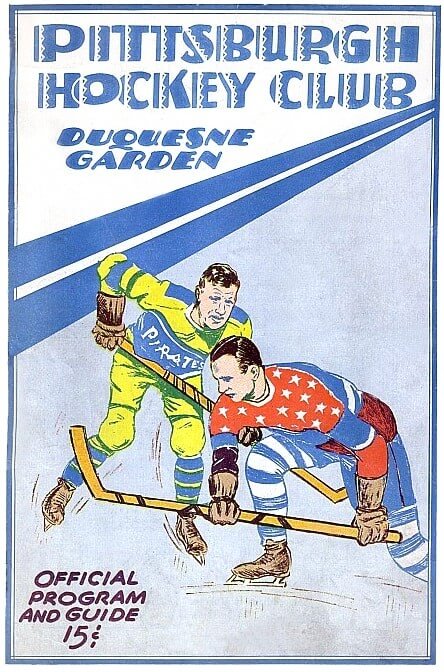 Finally, a triangle design and a pirates head logo. Again, nothing special. The Pirates moved to Philadelphia to become the Quakers after five seasons.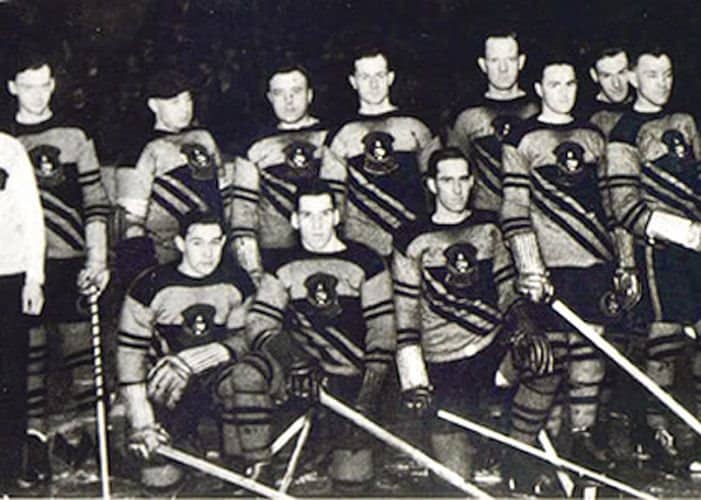 __________
5. St. Louis Eagles
The Eagles played for one season, in 1935-1935, after being relocated from Ottawa. A very bright look, with vibrant red and blue on a white jersey. The logo is solid, if a bit collegiate. I'm surprised we don't see more of this one, either as a fan fashion jersey or a throwback look for the Blues.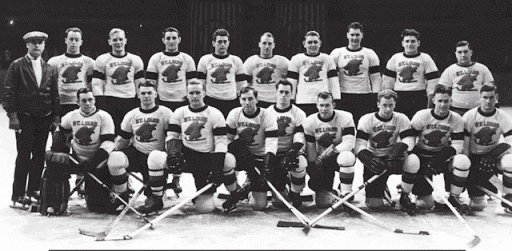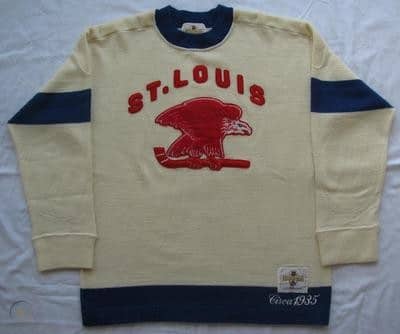 __________
4. Hamilton Tigers
The Tigers played five seasons between 1920 and 1925. They made great use of black and yellow stripes – both horizontal and vertical – and their final jersey had some pretty amazing sleeve stripes. The logos are average – the tiger head logo is particularly bad. That final jersey, with an "H" logo and the sleeve stripes, has attracted plenty of attention as a throwback jersey, being worn at least once by the OHL Hamilton Bulldogs. Great look overall, dragged down by some bad logos.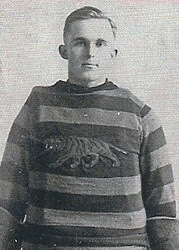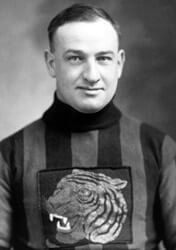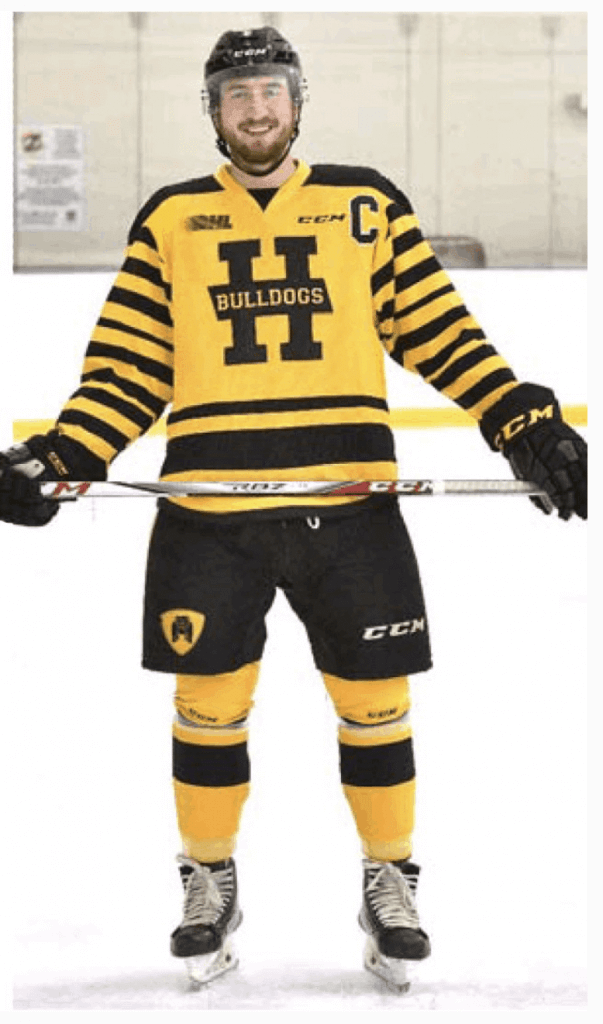 __________
3. New York / Brooklyn Americans
The Americans played for 17 seasons, from 1925 until 1942, and their demise left the NHL with six teams, kicking off the "original six" era. They used a number of different designs in the first few years (red on top, blue on top, different arrangement of the words) but the design was consistently patriotic through most of their existence, stars up top and stripes down below, evoking a giant American flag. Great striped socks in every design. A very memorable scheme.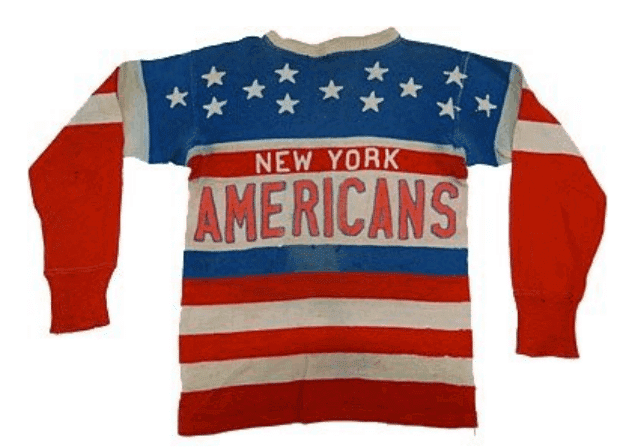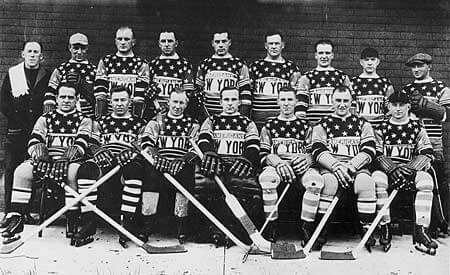 Here's an interesting shot, showing two very distinct jersey styles in the same photo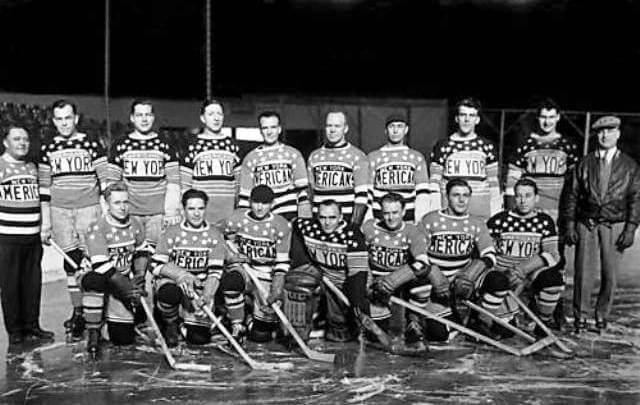 They simplified their look a bit in the 1930s, and then rebranded themselves as the "Brooklyn" Americans without moving out of Madison Square Garden. Those later uniforms were less memorable, but overall the Americans maintained a very good look for their entire existence.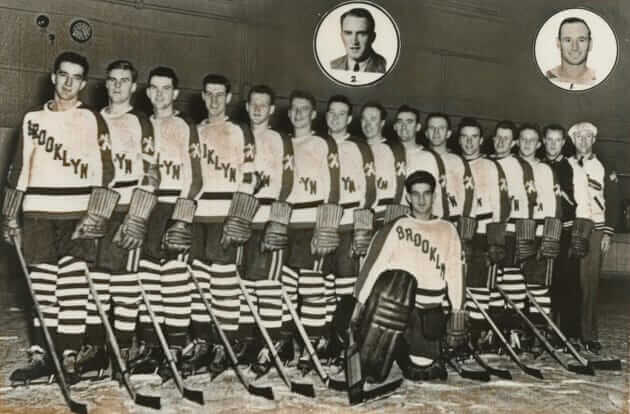 __________
2. Ottawa Senators
This is a very familiar look. The original Senators played in the NHL from 1917 to 1934 (before moving to St. Louis to become the Eagles) and won four Stanley Cups. Long after the original Senators folded, their look was carried on by the OHL Ottawa '67s and later by the expansion Senators. What else can you say about a jersey that's still being worn over 100 years after it debuted?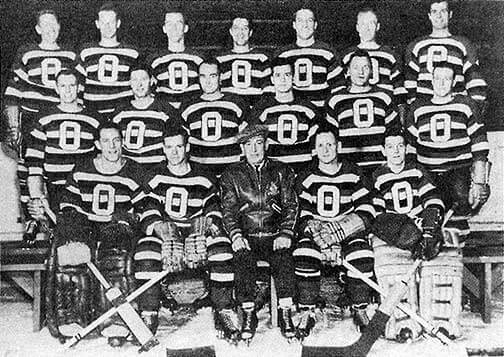 __________
1. Montreal Maroons
Playing for 14 years, from 1924 to 1938, the look of the Maroons was just perfect. Maroon jerseys, the right number of white stripes, a perfect "M" logo. This uniform wouldn't look dated or out of place today. Absolutely perfect.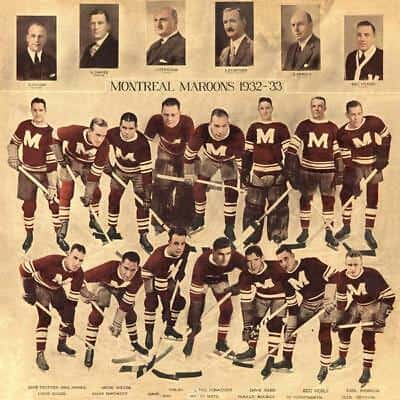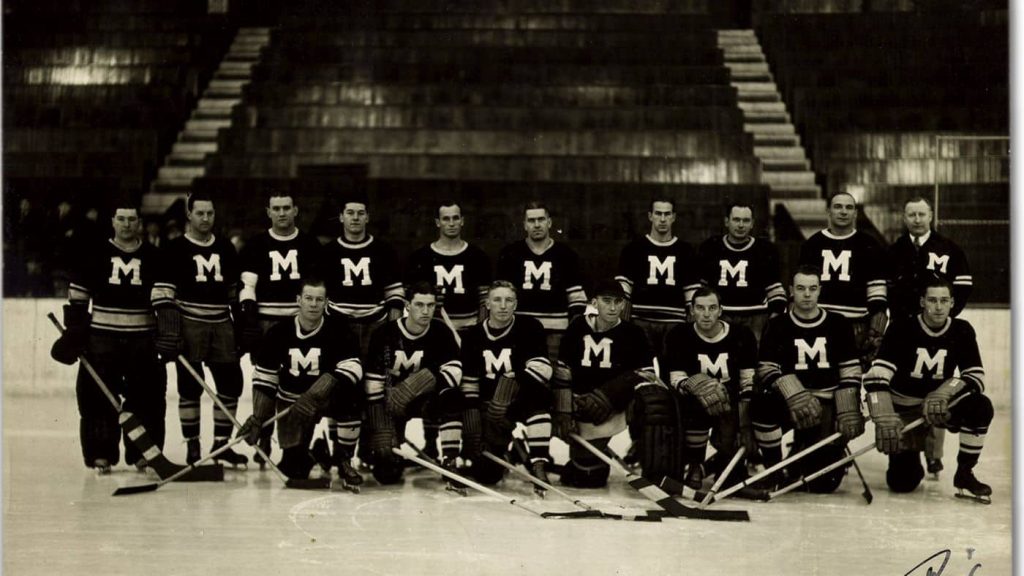 • • •
Thanks, Mike! Great stuff. Looking forward to seeing the post-1967 defunct teams next week!
Guess The Game…
from the scoreboard
Today's scoreboard comes from Jack A. Row.
This game usually runs on the weekends. If you're not a weekend reader, it's all explained below.
The premise of the game (GTGFTS) is simple: I'll post a scoreboard and you guys simply identify the game depicted. In the past, I don't know if I've ever completely stumped you (some are easier than others).
Here's the Scoreboard. In the comments below, try to identify the game (date & location, as well as final score). If anything noteworthy occurred during the game, please add that in (and if you were AT the game, well bonus points for you!):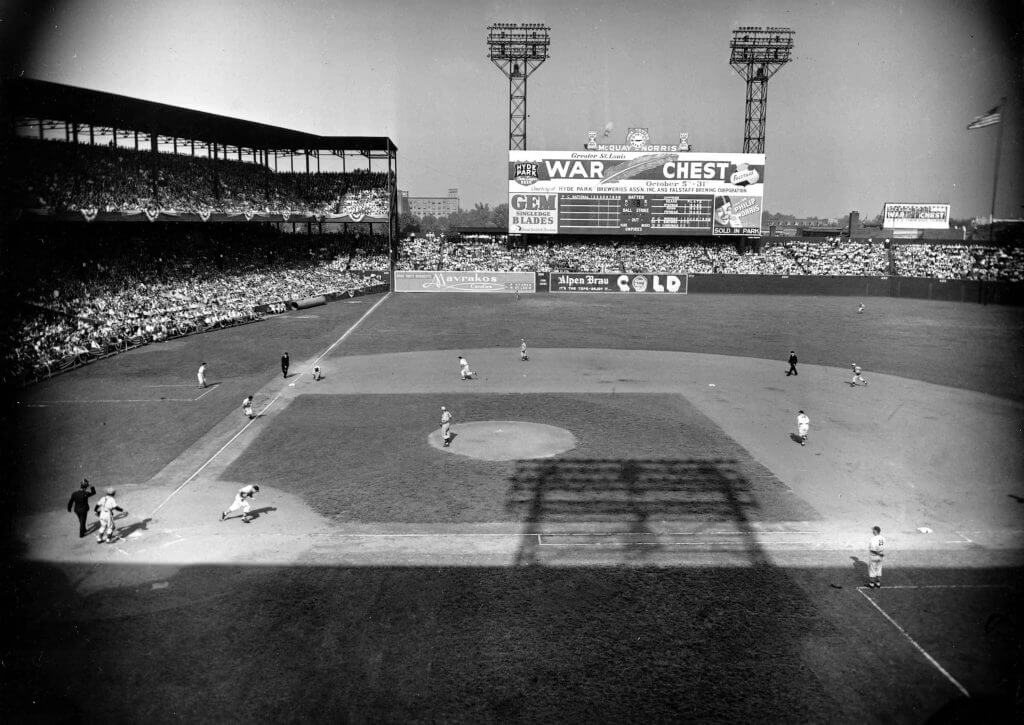 (For an even larger view, click here.)
Please continue sending these in! You're welcome to send me any scoreboard photos (with answers please), and I'll keep running them.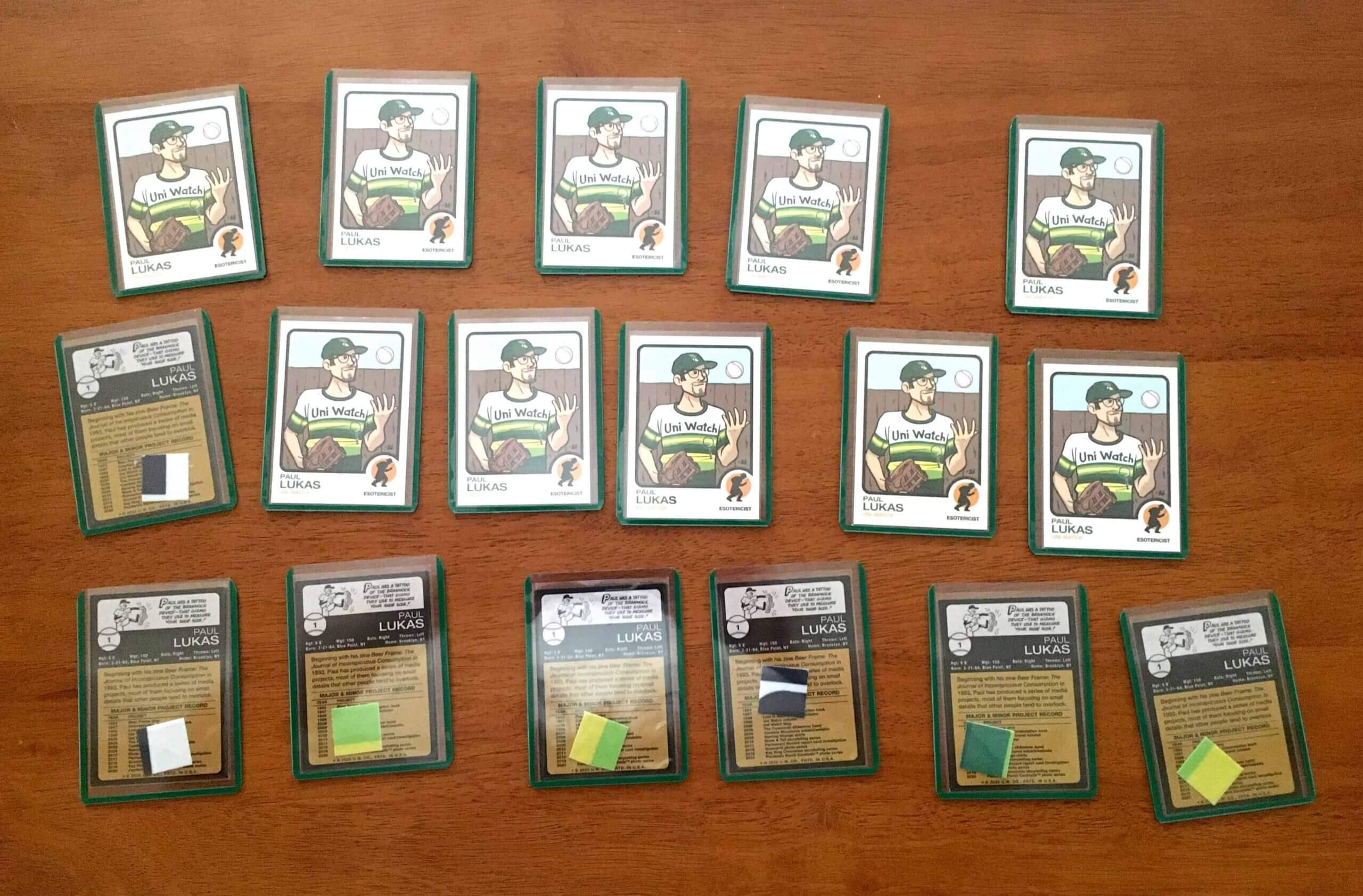 Click to enlarge
And Now a few words from Paul
Hi! Although I'm technically on blog-cation for the rest of August, I'll still be popping up here from time to time.
The green-bordered toploaders have arrived at Uni Watch HQ, so almost all of the pre-ordered trading cards have mailed out (each with a relic swatch of the shirt I was wearing for the Topps photo shoot that became the basis for Rob Ullman's front-card illustration), and the rest will mail out today.
So far three of the green-ink autographed cards have gone out, along with the one purple-signed card, so there are seven green-signed cards remaining. If you want to order, here's how.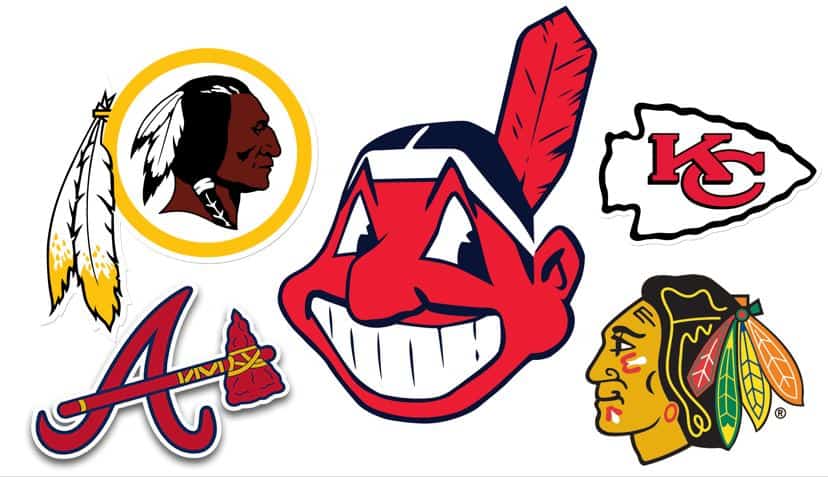 Meanwhile:
• I'll be participating in a Zoom panel discussion about the use of Native American imagery in sports this Wednesday, Aug. 12, from 12:30-2pm Eastern. The event, organized by Baruch College, is a follow-up to a similar discussion I took part in back in 2016 (you can see video of that one here). Registration is free and can be done here. (If the page asks you which part of the "Baruch community" you belong to, just say you're an alum, even if you're not — it's fine.)
• Here's some big news: Bill Henderson has just released the latest edition of his guide to post-flannel MLB jerseys — and for the next day or two, you can get this new edition at a significant discount. I cannot stress enough how wonderful Bill's guide is — I refer to it literally almost every single day, and I'm sure most of you will find it just as essential as I do (even though you don't write about uniforms for a living). Full details here.
• We still have about 60 of the August pin, about 40 of the July bobble-pin, and about 40 of the key ring.
That's it. Now back to Phil.
How Well Do You Know Your NFL Teams?
Got a fun quiz in the e-mail from Michael Cahalan, which asks you to name the NFL teams from the clues provided below (he left out one team who remains nameless for now).
I've seen quizzes like this before, but this one is new to me. No, it's not really uni-related, but it's still kinda fun. See how many you can guess (you can post your guesses in the comments below).
I'll have the answers tomorrow!
1. Pope's minions
2. Lone star staters
3. Udder young males
4. Revolutionaries
5. Panned for profit
6. Before the movers
7. Indigenous to India
8. Pic-a-nic basket pilferers
9. Credit card users
10. Luxury autos
11. Mythological foes
12. Christianity's MVPs
13. Monthly expenses
14. Jungle kings
15. Rodeo buckers
16. West side gang
17. Jim, Tim, Paul, Charlie
18. Desperado crooners
19. Head butters
20. Clouseau foe
21. Ace Ventura's Snowflake
22. Mr. Ed's Sons
23. 8 th Commandment breakers
24. Ocean Osprey
25. They kill bugs dead
26. Head honchos
27. Made the Kessel Run in 12 parsecs
28. A dollar for corn
29. Poe quotes them
30. Soldier Joe insects
31. Roman 6 monarchs
The Ticker
By Jamie Rathjen

Baseball News: It rained during yesterday's Nationals/Orioles game, and the Nationals grounds crew spectacularly failed to unroll the tarp because it became tangled somehow, eventually causing the game's suspension (from @bryanwdc). … The Rangers wore a new entirely powder blue and red combo yesterday (from multiple readers). … Braves C Travis d'Arnaud has a well-known initial lowercase D in his NOB, but not so on his catcher's gear. "I guess he just has to live with it," says Michael Driscoll. … No pic but interesting observation from Jason Hillyer: "James Karinchak #99 of the Indians retired Luis Robert #88 of the White Sox in their game Sunday." He continues, "Don't know how to look it up, but that has to be a record (or in the Top 3) for sum of pitcher/batter uni numbers, yes? (At least until Karinchak faces Aaron Judge in playoffs or next season.)" Anyone want to confirm or deny?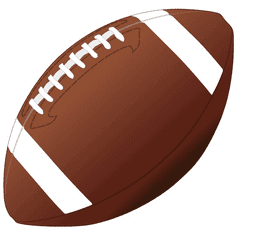 Football News: A thread from earlier this year contains some pictures and video of the '70s-era National Women's Football League. I vote for trying a fully professional women's league instead of trying the XFL again (from @MeanJoeFranco). … In 1986, the CFL's end zones were reduced to 20 from 25 yards in length, so at first the Saskatchewan Roughriders just painted the extra five yards white instead of making any changes to their designs (from Johnny Garfield). … Some Virginia players and wide receivers coach Marques Hagens formed a community outreach group, the Grounds Keepers, that already has its own logo. … Reader Kurt Rozek refurbished old Bengals and Chiefs helmets, citing this entry from January as inspiration. … Another DIY-er finished a wall-mounted Virginia Tech helmet and logo collection (from Matt Wise).

Hockey News: The Sabres are marking the end of their 50th season by returning to royal blue as their primary color this week, with new uniforms revealed tomorrow morning (from multiple readers). … Here is a selection of the sardonic "messages to fans" displayed on Edmonton's scoreboard video screen (from Wade Heidt).

Soccer News: Teams that released new kits or shirts this weekend included Poland's Lechia Gdańsk, Belgian team Gent, English League Two's Port Vale (all from Ed Żelaski), Israel's Maccabi Haifa (from Kary Klismet), German Bundesliga team Mainz 05's second shirt (from Greg Phillips), and German 2. Bundesliga team Holstein Kiel's first shirt (from Ryan Maquiñana). … German team 1. FC Köln yesterday released second and third shirts, and English League Two's Bradford City also released a second shirt. … Staying in Germany, Eintracht Frankfurt gave their women's team — the former 1. FFC Frankfurt — their own kits, with mono-black as first choice and mono-white as second. … Yesterday's women's Coupe de France final had the players wear NOBs below the number, which is something women's teams in the sport don't usually do and which the team pictured, Olympique Lyonnais, didn't do earlier in the tournament. … Japanese team Shimizu S-Pulse are wearing Thai-script NOBs twice, last Saturday and again next week, both to promote themselves in Thailand and because they have Thai striker and men's national team captain Teerasil Dangda this season (from Jeremy Brahm).

Grab Bag: As Deceuninck-Quick Step cyclist Remco Evenpoel won Saturday's stage of the Tour de Pologne, he held up the number of his teammate Fabio Jakobsen, who was badly injured in a crash at the end of the race's first stage. … In the Australian Football League, Adelaide and Hawthorn revealed their Indigenous guernseys. The annual Indigenous round, which is usually in May, was moved to the weekends of Aug. 22 and 29. … New uniforms for the Japanese top-tier women's volleyball team NEC Red Rockets and the top-tier men's team JTEKT Stings (from Jeremy Brahm). … NASCAR Cup drivers often have throwback liveries at Labor Day weekend's Southern 500 in Darlington, S.C. Ryan Blaney's is based on former Cup driver Paul Menard's car when Menard won his first ARCA race at Talladega, Ala., in 2003; the Menard family home improvement company is one of Blaney's advertisers (from Jakob Fox). … The Mercedes Formula One team added a horseshoe symbol to their cars for this weekend's 70th Anniversary Grand Prix, a symbol often seen on the cars of the great '50s and '60s driver Sir Stirling Moss. … Clemson updated its style guide to include dark grey and a darker purple as additional school colors. … Not sports-related: A website exists where you can design your own superheroes (from Heath Hendricks). … Apple is apparently taking legal action against a company called Prepear, which Apple contends is too similar to their Apple logo (from Brinke).
And finally… big thanks to Mike for the defunct NHL team piece, and to Michael for the NFL quiz. Everyone have a good Monday and I'll catch you guys tomorrow.
Peace,
PH