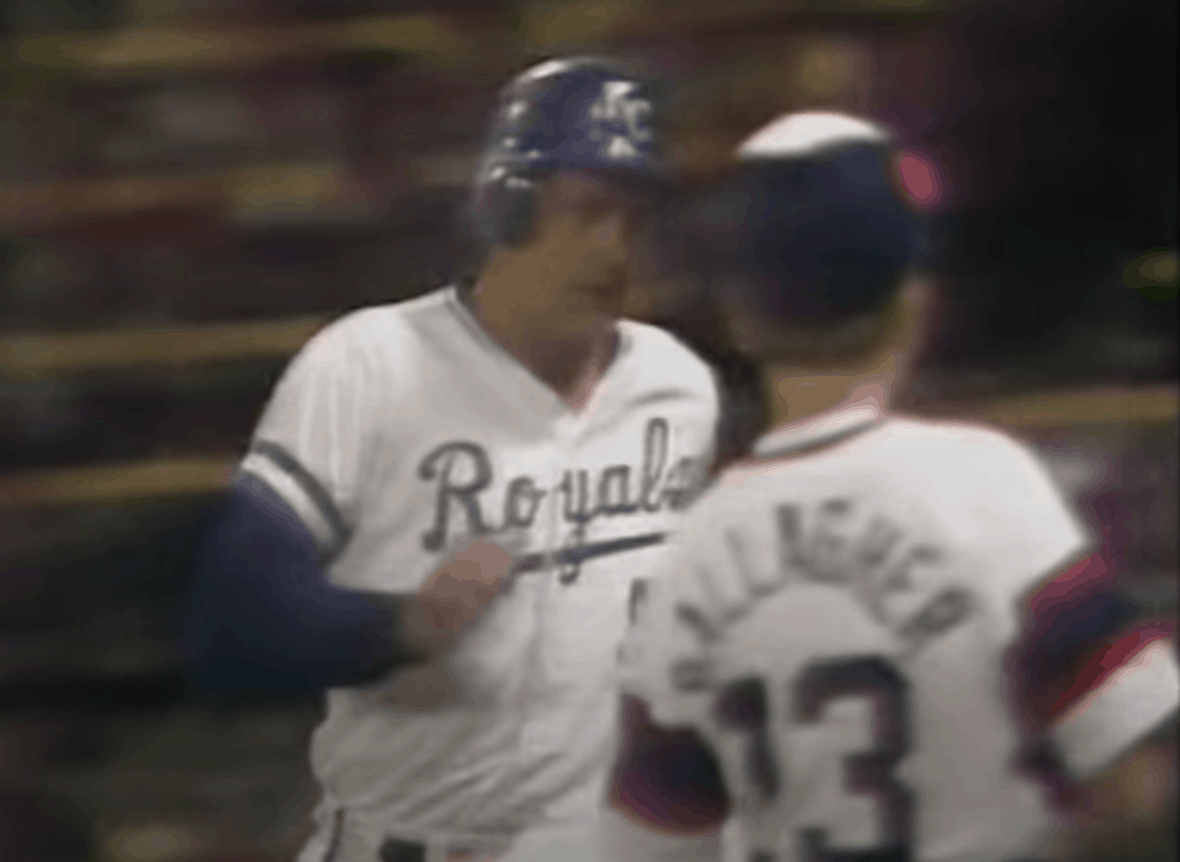 Well, that didn't take long. Yesterday afternoon, a few hours after I posted yesterday's blog entry about the White Sox No. 13 Mystery Man with the "Gallagher" NOB at the 1983 MLB All-Star Game, the Twitter account @QuirkyResearch lived up to its name by cracking the case.
@QuirkyResearch (which is tied to a website of the same name) turned up an article from the July 10, 1983, edition of an Illinois newspaper called The Southtown Star, about the National League's honorary batboy from that game — an eight-year-old kid named Keith Istrieri. Here's the key passage:
Keith, a fourth-grader at Kirby school, and Mike Gallagher, 13, of Chicago, were the lucky winners in the Coca-Cola/Chicago White Sox sponsored contest for a "dream job" at the midsummer classic. The boys were chosen from more than 30,000 entries from throughout the Chicago metropolitan area.
So that's our guy — Mike Gallagher, honorary batboy. Mystery solved!
The rest of the article is all about Keith, not Mike. But there's another relevant bit of uni-related info:
[T]he White Sox custom-fit authentic uniforms for both boys, with Keith wearing and keeping (perhaps for the rest of his life) the White Sox' "traveling grays" [because he was batboy-ing for the visiting National League team], complete with his name and number "eight" on the back of the jersey.
So that explains why Gallagher wore No. 13! The eight-year-old kid wore No. 8, and 13-year-old Gallagher wore No. 13. AOB — age on back!
Here's the full article (click to enlarge):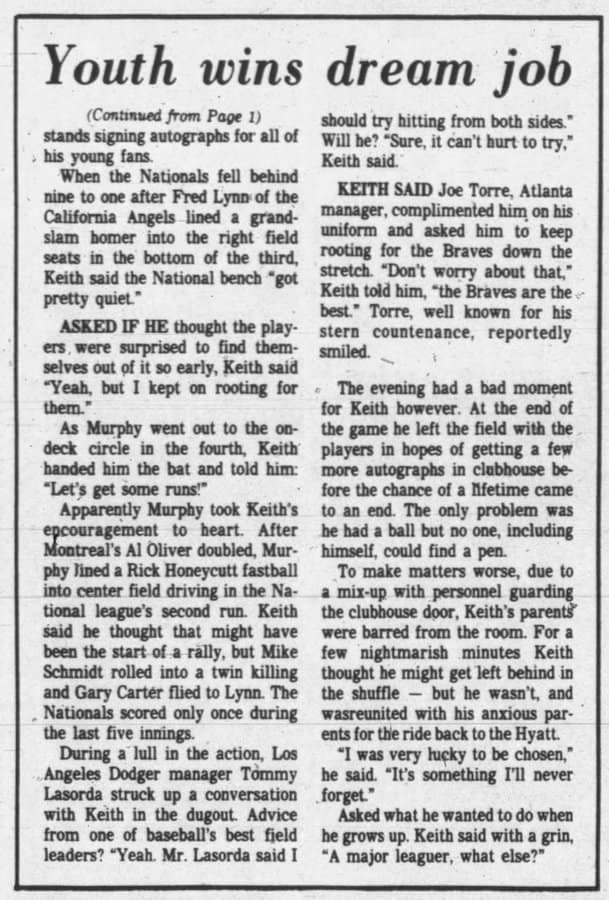 And what about the Coke/Chisox contest that the two boys won? @QuirkyResearch — whose real name, by the way, is Jeremy Snyder — found some info on that as well, from the June 16 edition of that same newspaper: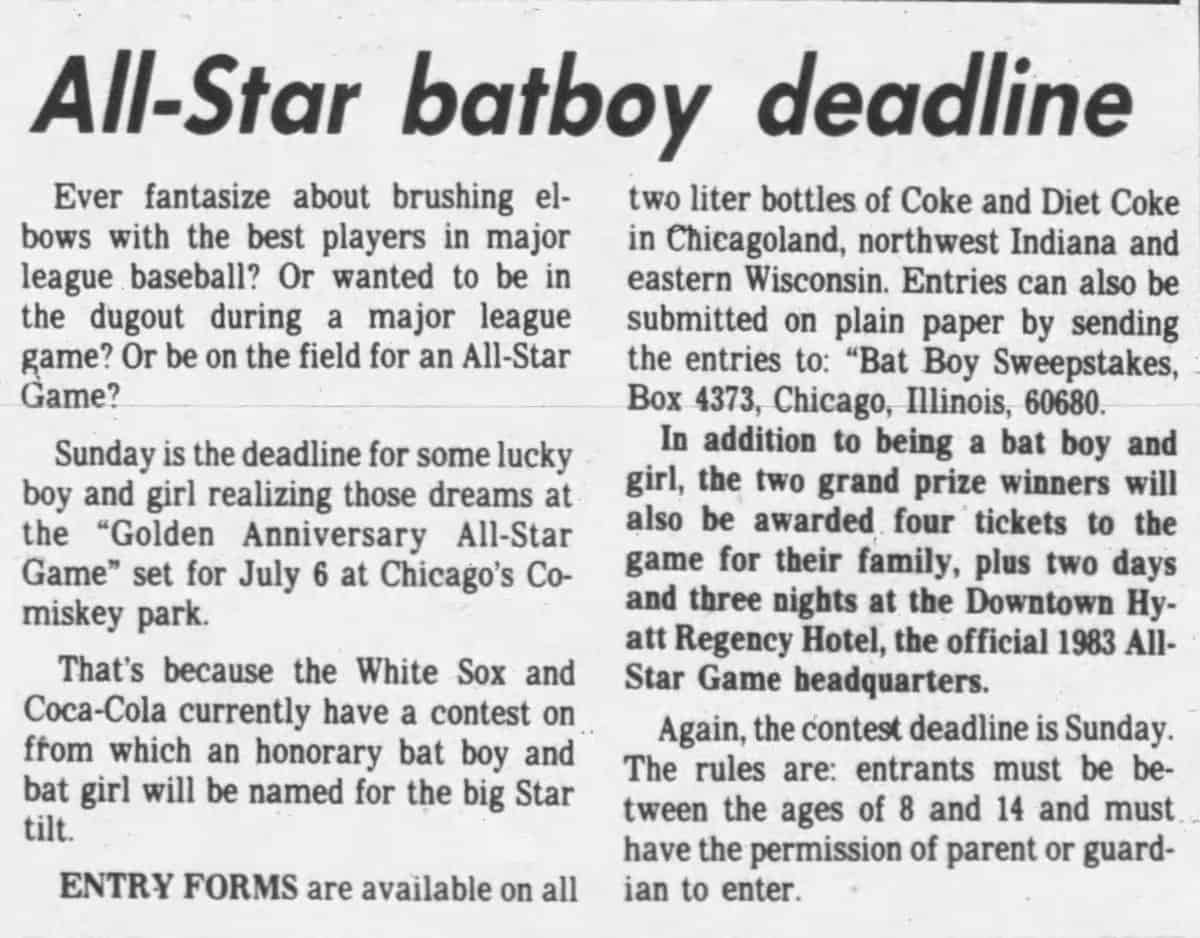 Hmmm — the article clearly indicates that the plan was to choose one boy and one girl, but instead they chose two boys. Wonder what that was about. Also, it would be interesting to see one of the entry forms. Like, did you just fill out your name and address, or did you have to explain why you wanted to be a batboy/girl in 45 words or less?
Meanwhile, the anonymous reader who brought this mystery to my attention in the first place got back in touch yesterday with some additional intriguing info. As you may recall, I mentioned in yesterday's post that Giants pitcher Atlee Hammaker wore a "Croix de Candlestick" pin on his cap during that '83 All-Star Game, and that he was the only player I knew of to wear that pin on the field.
But Mr. Anonymous said that all three Giants representatives at that All-Star Game — Hammaker, first baseman Darrell Evans, and pitcher Gary Lavelle — were wearing the pin during pregame introductions. Evans, in fact, was wearing four of the pins (or maybe some combination of Croix de Candlestick pins and some other pins — it's hard to be sure). Here's the relevant sequence of the pregame intros:
How wild is that?
We know Hammaker wore his pin on the mound. Lavelle didn't get into the game, so we can't know if he kept the pin on his cap after the pregame intros. But did Evans wear a pin, or maybe even all four pins? He didn't start the game but was one of several defensive substitutions in the bottom of the sixth, so here's broadcaster Vin Scully breaking down the players who'd just entered the game (he begins by mentioning Braves catcher Bruce Benedict and then gets to Evans):
It's just a brief glimpse, but Evans was clearly wearing all four of his pins! I love that.
I remember watching this game (I was 19 at the time) but have no memory of the pins. Seems like something that would've jumped off the TV screen for me, even at that age. Odd.
And! While working on this piece, I (re)discovered that Giants pitcher Mark Davis is shown wearing the Croix de Candlestick pin on his cap during a game on his 1985 Topps card — something I've written about before but had forgotten until now. So we now know of at least four Giants players who've done this: Hammaker, Evans, Lavelle (although we don't know if he ever did it during a game), and Davis.
All of these Giants players are now included in my photo set of MLB players who've worn pins somewhere on their uniform.
(My continued thanks to Mr. Anonymous for his tips and info, to @QuirkyResearch for cracking the case, and to everyone who suggested possible answers to the mystery Fun stuff!)
• • • • •
[adrotate group="2″]
• • • • •
#Rockies RHP Daniel Bard is taking the mound in a makeshift jersey. His 52 looks to be electrical tape. Bard last pitched in @MLB in '13 with the #RedSox but has looked good in Spring Training and Summer Camp. pic.twitter.com/YSff0wdK8G

— Thomas Harding (@harding_at_mlb) July 16, 2020
MLB intrasquoddities, continued: Yesterday I showed you Phillies pitcher Garrett Cleavinger taking the mound in a jersey that had no number and no name. Rockies pitcher Daniel Bard apparently didn't want to suffer that indignity, because he appeared in the team's intrasquad scrimmage last night wearing a jersey with a makeshift number made from black tape!
(Big thanks to Shane Bua for this one.)
• • • • •
[adrotate group="2″]
• • • • •
Too good for the Ticker: It's worth waiting for the pre-roll ad to play just so you can get to this short TV news report about the Utah Shamrocks, a 1930s-1970s women's softball team with absolutely spectacular uniforms. Trust me — don't miss.
(Big thanks to Kary Klismet for this one.)
• • • • •
[adrotate group="2″]
• • • • •
Click to enlarge
ITEM! New "Tour de Uni" cycling jerseys: I've previously partnered with Adelph Wear's Nathan Haas to create tequila sunrise-themed Uni Watch cycling jerseys. With the Tour de France scheduled to start in about six weeks, we've now come up with a line of new Tour-inspired jerseys — yellow (for the overall leader), green (Points Classification leader), and polka dot (King of the Mountains).
Each jersey can be customized with your choice of number (there's a bib-style panel on the back for that) and/or NOB — or you can skip those elements and leave the back blank. Up to you!
We're taking pre-orders from now through July 24, which should allow us to get the finished jerseys to you by Aug. 29 — the first day of the Tour de France!
Full details, including rear views, a sizing chart, and more, here.
• • • • •
• • • • •
Click to enlarge
Mask update: The next batch of Uni Watch masks is being produced as we speak. We're going with a new design this time around — the tequila sunrise pattern shown above. Slick, right?
Just like before, these are being produced and donated by the good folks at ProLook Sports, whose generosity has been remarkable and inspiring. And I will once again donate all of Uni Watch's profits to charity. (For the first two batches, the proceeds went to Doctors Without Borders and Feeding America. Haven't yet decided about this third batch.)
These new masks should be ready for ordering in a few weeks. If you'd like to be notified when they're available, shoot me a note.
• • • • •
• • • • •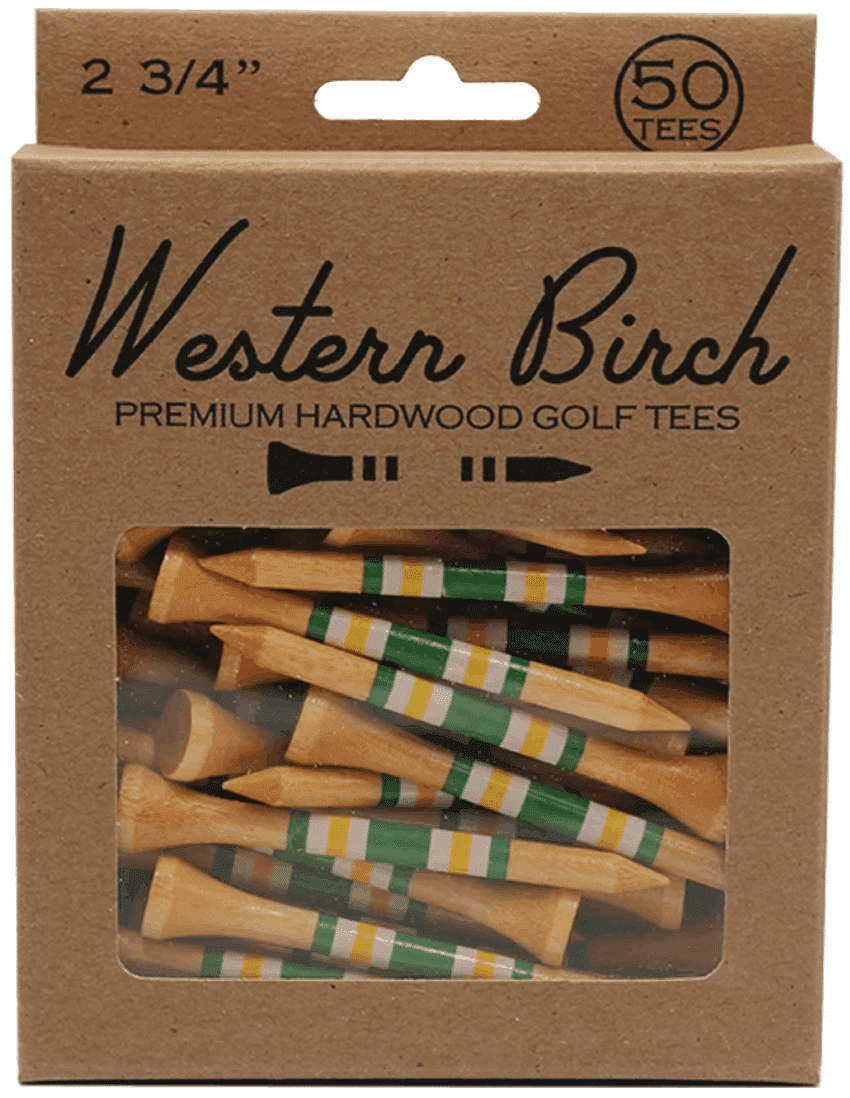 This is not a new piece of Uni Watch merch: Reader Stephen Murphy pointed me toward this listing for striped golf tees that look like they were made for Uni Watch! I'm not a golfer, but if I were, I'd definitely have to get these. In fact, I might have to get a pack anyway, just because I like the design so much!
• • • • •
• • • • •
The Ticker
By Paul

'Skins Watch: The son of the Native American designer who created the now-retired 'Skins logo says the logo was never offensive and was actually a source of pride. But the designer's grandson says changing the name and logo is the right thing to do. … A Pop Warner football team in Stratford, Conn., will no longer be called the Redskins and is now having a fundraiser for new uniforms with a new logo. Those who donate at least $50 can leave a team name suggestion (from Timmy Donahue). … The CFL's Edmonton Eskimos, under increasing public and financial pressure to change their team name, have doubled down, saying that the name signifies — get this — "toughness, hardiness and the ability to perform in [Edmonton's] cold weather" (from Wade Heidt). … The Philadelphia Cricket Club is reassessing its Native-themed logo. … More schools moving to change their Native-based team names and/or logos include Glastonbury High School in Connecticut; Jamestown High School in western New York; and Lane Tech in Chicago. … The English rugby union team Exeter Chiefs is also reassessing its name and logo. … The rest of these — yes, all of them — are from Kary Klismet: KC Chiefs prexy Mark Donovan says the team won't change its name but will consider whether things like fans wearing headdresses and doing the tomahawk chop should be dealt with. Donovan added some BS about KC's situation being different from Washington's because of the "true equity value in the traditions and the name and the history of the Kansas City Chiefs" — as if the same couldn't have been said until recently about the 'Skins. … Here's more about trademark squatters who've been trying to establish the rights to potential new names for the 'Skins. Meanwhile, the primary squatter has retained legal counsel and is apparently eager to make a deal. … Players from a segregated African-American high school football team in Georgia finally received championship rings last week, more than 50 years after winning the state championship. Unfortunately, the ring design features a Native American mascot character. … The Kanawha Redskins youth football program in Henrico, Va., is changing its name. … Watchung Hills High School in New Jersey is reassessing its Native-themed logo. … The school board for Tulsa (Okla.) Union High School is forming a panel to consider whether to keep calling its teams the Redskins. … Sewanhaka Central High School in New York is reassessing its "Indians" team name. … Rutland High School in Vermont, having already changed its logo from an Indian mascot to an arrowhead, is now reassessing the arrowhead. … Radnor High School in Pennsylvania may drop its Raiders name and Native-themed logo. … On the other hand, two schools — Donna High in Texas and Neshaminy High in Pennsylvania — plan to keep calling their teams the Redskins. … The Gallatin County (Mt.) Sheriff's Department is reviewing its use of an Indian head uniform patch. … A bill in the New York State Senate that would have withheld state aid to schools using racially insensitive names and mascots has been amended to remove that provision.

Working Class Wannabes™: A recruit who'll be attending Iowa on a football scholarship says, "I've learned that Iowa is a hard-nose, blue-collar football program." … An article about a new commit to the NC State women's hoops team says she's a "blue-collar, low-post prospect" with a "blue-collar persona." … An article about the upcoming Utah football season says offensive lineman Ashton Adams has a "tough, blue-collar attitude." … An article about the NHL's Vancouver Canucks says Justin Bailey "is the gruelling, 'blue-collar' forward general manager Jim Benning is fond of." … U. of Minnesota women's soccer assistant coach Maya Hayes says playing college soccer taught her "that work ethic and that blue collar mentality." … An article about MLS's return to action says (paywalled) the Philadelphia Union "personify a Philly-style blue-collar grit." … An article about the soccer team Real Madrid says players Luka Modric and Toni Kroos "do blue-collar mopping up." … An article about MLS's Real Salt Lake says, "Training sessions the past couple weeks have had a very blue-collar feel to them." This worked out well for the team's recent match against the Colorado Rapids, "a similar blue-collar team." … Colorado Rockies third base coach Nick Capra says utility player Danny Mendick is "a blue-collar player." … The new girls' basketball coach at West Creek High School in Tennessee says the team will succeed "if we all do our roles, we do our work, we put on a blue collar and come to practices every day." … An article about former Indiana Pacers player Joe Young, who's now playing in China, says, "Young had the blue collar work ethic Pacers fans love."

Baseball News: Cubs prospect Brennen Davis is the latest player to appear in an intrasquad game wearing a jersey with no name or number (from Tyler Benner). … Check out this 1980 photo of Madonna in a Pirates T-shirt (from David Goodfriend). … Gross: Ad on the mound for last night's Twins intrasquad game. I do like the "Blue vs. White" scorebug, however! … Here's a gorgeous view of the Tigers' quintuple-striped stirrups from the 1970s. … The great Savannah Bananas wore kilts (!) last night. … Fun project by Greg Kohn, who came up with home and road baseball uni concepts for 30 teams based on TV shows with city or state names in their title. … Kansas State baseball coach Pete Hughes has a big collection of baseball throwback jerseys. … As an aside, isn't it odd that major and minor league baseball skippers are called managers, but college and high school skippers are usually called coaches?

NFL News: Big news out of Buffalo, where the Bills' stadium will no longer be named after a headwear company. … Here's the Patriots' stadium rendered as a cake (from @PeskysPole). … The Packers will not allow fans to attend training camp or preseason games. A decision regarding the regular season has not yet been made (from Brian Kerhin). … Looks like the yard marker numerals at the Raiders' new stadium match the font of the team's jersey numbers.

College Football News: Arkansas is expected to add a new road uni shortly. … New 20th-season logo for FAU. No word yet on whether it'll be worn as part of the uniform (from Ayden Maher). … Looks like FSU RB Jashuan Corbin, new to the team after transferring from Texas A&M, will be wearing No. 0. That graphic also shows the team's new white uni numbers (from @VictoryCB). … Alabama Gov. Kay Ivey wore an Auburn mask while announcing the state's new mask requirement yesterday.

Hockey News: The Oilers have added a memorial helmet decal for teammate Colby Cave, who died in April (from @VintageOilers). … Here's a look back at one writer's favorite Providence Bruins theme jerseys. … The NHL may allow perforated carbon fiber stick blades (from Wade Heidt). … Looking ahead, here are the newly revealed jerseys for the 2021 ECHL All-Star Game.

Basketball News: Here are the social justice jersey messages that will be worn by players on the Heat, Wizards, Bucks, and Nuggets. … On the flip side, here's a look at some NBA players who aren't wearing social justice messages on their jerseys. … Former Pacers star Reggie Miller has partnered with the cycling brand Castelli on a new social justice cycling jersey. … Here's a feature about how a rare Seton Hall jersey had a big effect on hip-hop culture.

Soccer News: The indefatigable Kary Klismet says: "Want to see images of all the new stadiums being built in Qatar for the 2022 World Cup? This article has you covered." … Leicester City's new home kit has leaked. … More leak pics of Manchester City's home shirt, whose official release is scheduled for today. … Tottenham wore black memorial armbands yesterday for he brother of their right back Serge Aurier, who was killed in France a few days ago (from Mark Coale). … The rest of these items are from Ed Zelaski: New home shirt for French side Stade Rennais. … AS Roma and Nike are parting ways, so the team is looking for a new outfitter. … German side Hertha Berlin is seeking a new shirt advertiser. … New home and away shirts for French side Lyon. … New third shirt for fourth-tier English side Scunthorpe United.

Grab Bag: All U. of Wisconsin teams will wear a black "W" to show support for the Black Lives Matter movement. Additional info here (from David Petroff). … There's a new Swedish fragrance brand called Uniform. According to that article, "The unexpected starting points for [the company's] fragrances are the stairwells of Swedish high-rises (which are often home to diverse and multicultural populations), and the various scents that gather in those in-between spaces." … A North Carolina prison inmate reportedly managed to escape last week by wearing a janitor's uniform. … With uncertainty hanging over the fall school year, parents can't decide whether to buy school uniforms for their kids. … In a related item, Tulsa schools are dropping their uniform requirement. … New logo design for Nissan. … Cross-listed from the basketball section: Cycling brand Castelli has partnered with former NBA star Reggie Miller on a new social justice cycling jersey. … Penn State has trademarked the phrase "We Are Penn State" (from Stephen Babb). … Here are the finalists for Salt Lake City's new flag design (from Brice Wallace). … New official mascot for the 2022 Central American and Caribbean Games in Panama (from Kary Klismet). … A slew of schools are changing or reassessing their Confederacy-based team names, including Westford Academy in Massachusetts; Cuba-Rushford High School in New York; Juanita High School in Washington; the Southwestern Jefferson County Consolidated School Corporation in Indiana; Howell High School in New Jersey; and San Antonio College. Amazing how all but one of those schools are located in states that weren't even part of the Confederacy (all from, of course, Kary Klismet). … More Confederacy reassessment: Williamson County in Tennessee is reevaluating its county seal design, which shows, among other things, a Confederate battle flag draped over a cannon (from Timmy Donahue). … And still more: The school board in Montgomery, Ala., has voted to change the Confederacy-based names of three high schools (from Rob Haner). … The Pac-12 Conference created a graphic that puts the "mask" in "mascot," to so speak (from Jeremy Brahm).
• • • • •
[adrotate group="2″]
• • • • •
Click to enlarge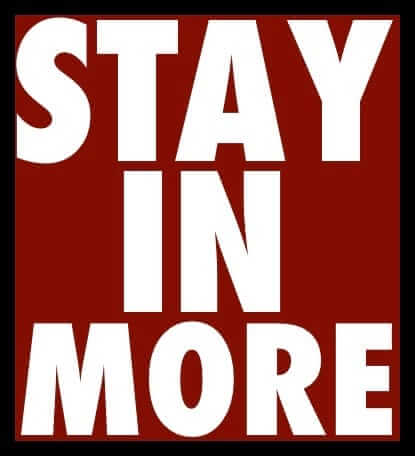 What Paul did last night: Some days, nothing much really happens on the porch. No dogs, no neighbors, no interesting strangers, no particularly notable conversation, no branch.
And that's fine. Because it's still really nice to be sitting there on a gorgeous summer evening, sharing drinks with someone you love.
As always, you can see the full set of daily Pandemic Porch Cocktails™ photos here.