Yesterday we solved a longstanding uni-related MLB All-Star Game mystery. Today we have a new one to ponder!
Here's the deal: As most of you probably know, the highlight of the 1983 All-Star Game, which was played at Comiskey Park in Chicago, was Angels outfielder Fred Lynn hitting the first grand slam in ASG history, as seen in the video embedded above. Now check out this photo of Lynn being congratulated at home plate by the three baserunners who scored ahead of him (Angels first baseman Rod Carew, Brewers shortstop Robin Yount, and Cleveland second baseman Manny Trillo):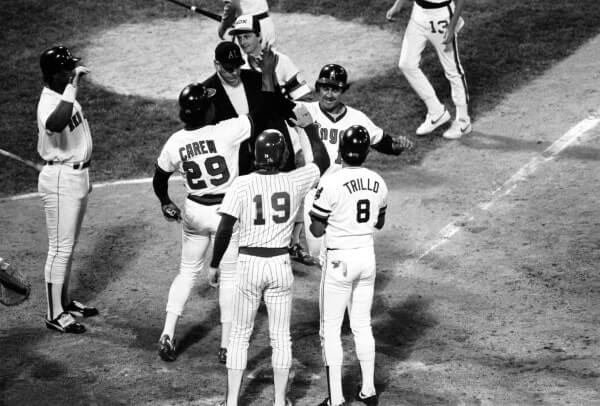 See that guy in the background wearing White Sox pants with No. 13? A Uni Watch reader who prefers not to be named was intrigued by that, because the only Chisox personnel on the American League All-Star roster that year were outfielder Ron Kittle (No. 42) and honorary coach Minnie Minoso (No. 9). In fact, no player or coach on the 1983 Sox wore No. 13!
So who was the person in the background — a bat boy? An honorary third base coach? Let's go back to the video of Lynn's grand salami. As Lynn rounds third base, he passes Orioles manager Joe Altobelli, who was coaching third base for the American League: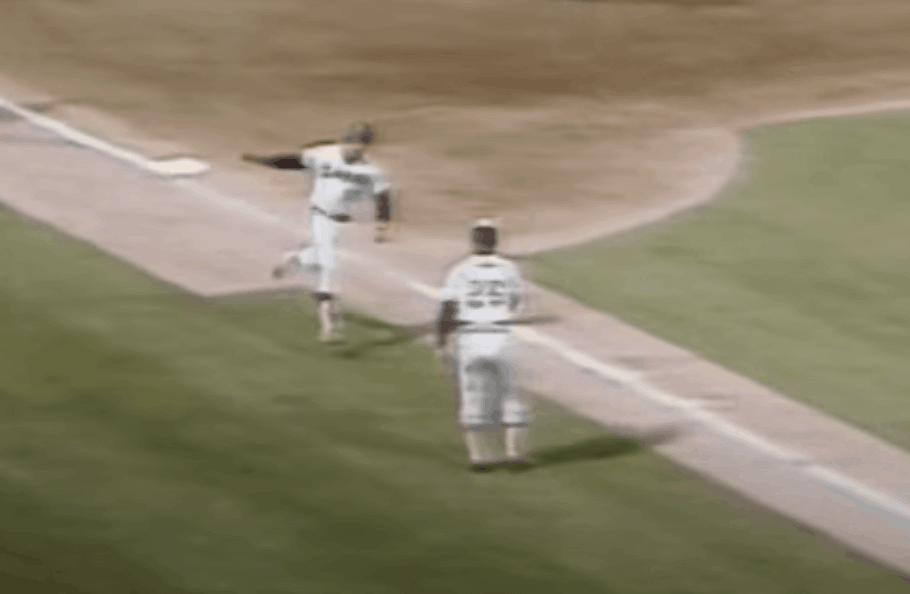 Then, before he gets to home plate, where Carew, Yount, and Trillo are waiting for him, three people in White Sox uniforms greet him: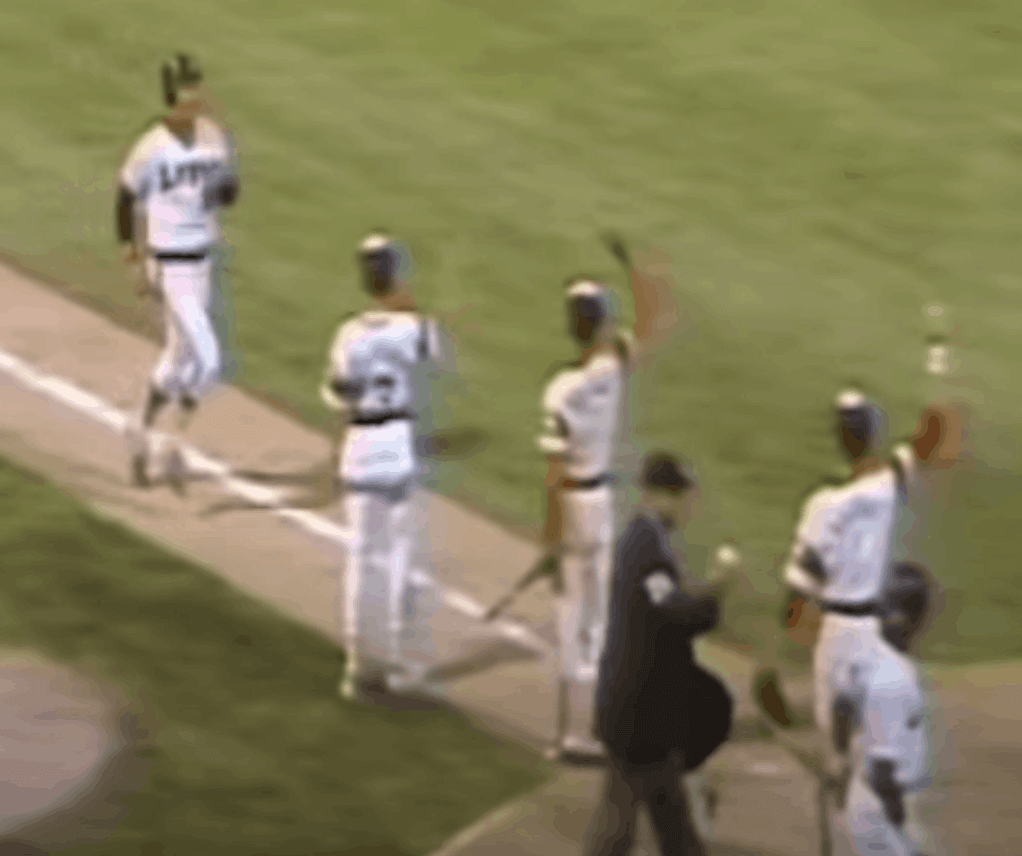 It's tough to be sure, but it appears that two of those White Sox jerseys have no number and "Batboy" NOBs. The third one, closest to Lynn, is our No. 13 Mystery Man. Unfortunately, his NOB is illegible.
Here's another photo of Lynn being greeted at home plate, with a clear view of one of these Chisox-uniformed people:
He's wearing a glove! Maybe he was a ball boy? No number on his pants, so this is not our No. 13 Mystery Man.
I also found a watermarked wire photo that provides a tantalizing glimpse of one of the NOBs. Here's the relevant portion of the photo: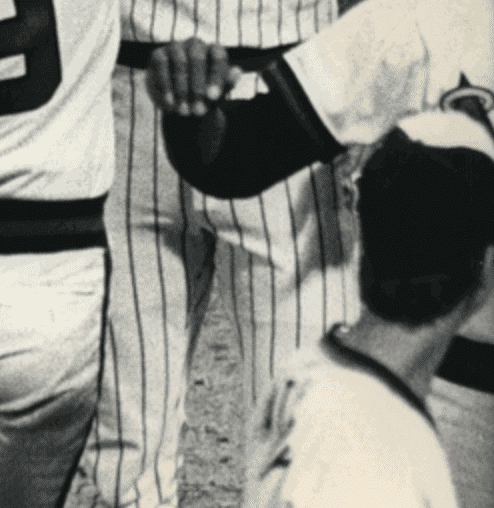 Although it's hard to be 100% certain, this seems to confirm that one of the Sox-uniformed guys had a "Batboy" NOB.
Speaking of batboys: A few moments before Lynn's slam, the game broadcast shows Red Sox outfielder Jim Rice on deck, with a batboy kneeling next to him: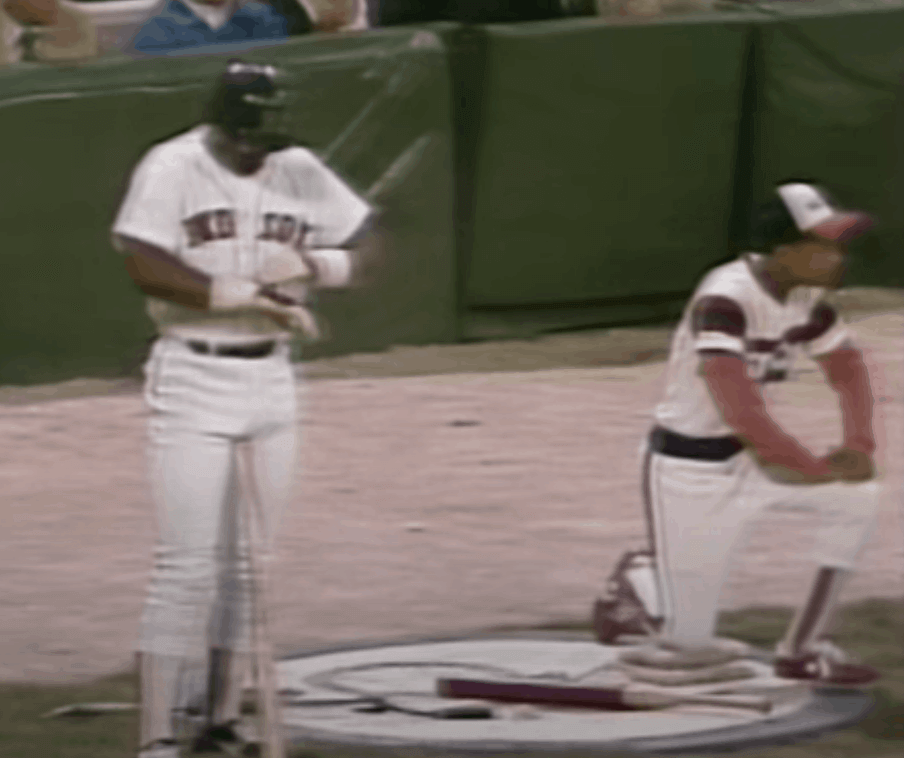 Although we can't see if there's a number on his left thigh, that is clearly not our No. 13 Mystery Man (wrong shoe color) and is also not the guy with the glove (wrong stirrup style, no glove).
Remember, this game was played at Comiskey, so it makes sense that there'd be lots of extra Sox folks on hand. But who was No. 13? Can we learn anything from the official American League team portrait? Let's take a look (click to enlarge):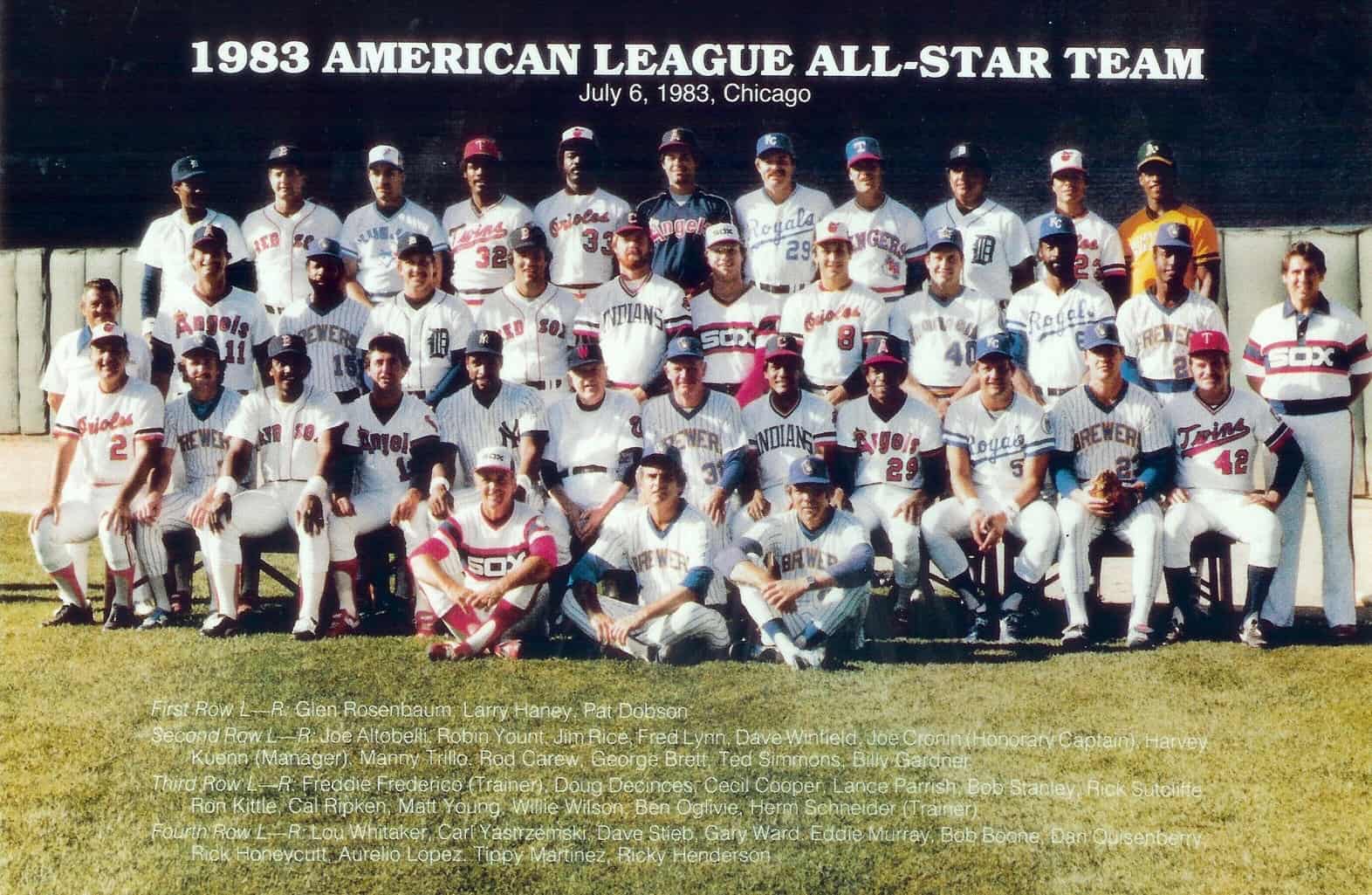 As you can see, there are some extra Sox folks in that photo, including trainer Herm Schneider (standing at far right). His pants don't have a number, plus he looks much chunkier than the No. 13 who greeted Lynn, so he's not our man.
But who's that sitting in the front row? According to the caption, it's someone named Glen Rosenbaum. I'd never heard of him, but Wikipedia tells us that he was the team's batting practice pitcher at the time. Hmmm — could he be our No. 13 Mystery Man?
Maddeningly, Rosenbaum's legs are crossed in way that obscures the view of the number on his pants. But his stirrups and shoes suggest that he isn't our man either: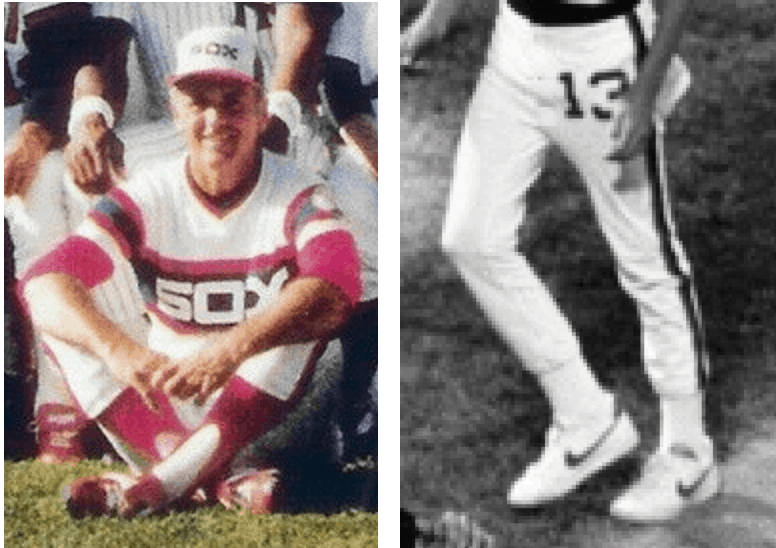 Moreover, I found an auction listing for a pair of game-used Rosenbaum pants with No. 39, and he's also shown wearing No. 39 on the cover of this biography. So I think we can safely say that Rosenbaum is not our man.
So that leaves us back where we started: Who was No. 13? Anyone..?
It's crazy to think that we owe this entire mystery to the fact that the Sox put uni numbers on their pants. If not for that, the photo that got this ball rolling in the first place would have been unremarkable.
———
Update!: Just as I was getting ready to publish this blog post, the reader who sent me down this rabbit hole got in touch. He'd been watching more video of that 1983 All-Star Game, and at one point the camera caught this as Royals third baseman George Brett returned to the American League dugout after making an out: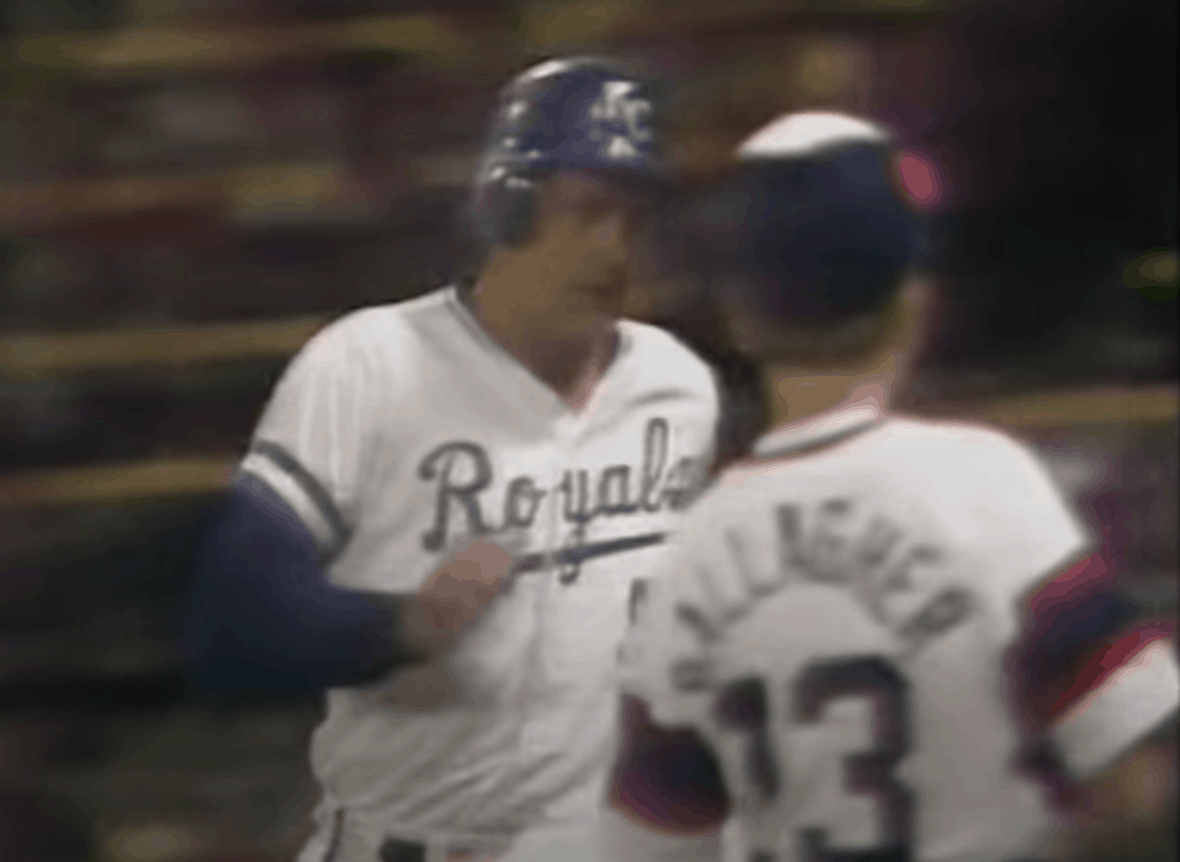 So it appears that our No. 13 Mystery Man's surname is Gallagher. I did some quick Googling and couldn't find anything to suggest who this person might be. Anyone..?
———
Meanwhile, there's another uni-related subplot from this game: Giants pitcher Atlee Hammaker — the guy who gave up Lynn's slam — was wearing a pin on his cap! NBC broadcaster Joe Garagiola even mentioned it during Lynn's at-bat:
As Garagiola noted, that's the "Croix de Candlestick" pin, which the Giants gave out to fans after extra-inning games as a sort of merit badge for enduring Candlestick's frigid conditions. Here's a closer look at the pin design (if you want one, they're easy to find on eBay):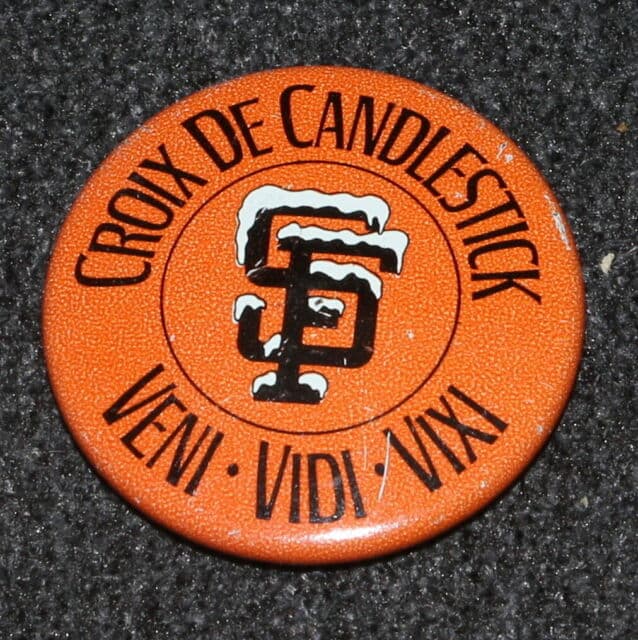 I wrote about that pin way back in 2007. To my knowledge, Hammaker is the only player who ever wore it in a game. I wonder why he did that, especially for a game at Comiskey? Another mystery! Might have to track him down to learn the answer.
(Major thanks to the anonymous reader who sent me down this very enjoyable rabbit hole.)
• • • • •
• • • • •
Click to enlarge
Can't tell the this player even with a scorecard: MLB teams are playing lots of intrasquad scrimmages this week. The Phils did that last night — the red jerseys against the white jerseys. But some players in camp haven't actually been issued white jerseys yet, which led to the odd spectacle of pitcher Garrett Cleavinger — a career minor leaguer who'll probably end up on the Phils' taxi squad — taking the mound in a jersey that was blank on the back.
That intrasquad game also featured outfielder Nick Williams batting while wearing a mask. I don't know if he's the first player to do that this month, but he's definitely the first one I've seen (click to enlarge):
(My thanks to Twitter-er @UntilTheNight for both of these items.)
• • • • •
• • • • •
@UniWatch Oh my God – this pin is SO FREAKIN' COOL! pic.twitter.com/3afxAFd8Ym

— Brian Holmsten (@bcholm) July 14, 2020
Pin update: As you can see above, people are starting to receive their Uni Watch bobblehead pins, and they look great!
People, I'll be frank with you: I thought this pin was going to be a big hit. Like, a monster hit. So I ordered 500 of them (by far the largest quantity for any of our pins). It's done relatively well — we've sold about 270 of them, which isn't bad at all — but nowhere near as well as I expected. So I have two questions for you:
1. What am I missing here? Did I misjudge how much people like bobbleheads in general? Fans seem to go bonkers for them when teams give them away, so I thought it was a good design idea, even before we decided to go with the spring-mounted head. Or maybe I misjudged the "Wow!" factor of the bobbling action..? Fill me in.
2. If you'd like to help us out, would you consider ordering one of these? Thanks to the pandemic, the Pin Club is one of the few steady income sources I have these days (ditto for my collaborator, Todd Radom), and it kinda sucks to have so many of them go unsold. Obviously, life in general and business in particular are full of calculated judgment calls that sometimes go awry — that's how it goes sometimes, and of course I understand that. But it really is an awesome pin! If you choose to get one, I know you won't be disappointed.
My thanks, as always for your consideration.
• • • • •
• • • • •
Membership update: Sooooo many interesting and, in many cases, beautiful designs were added to the membership card gallery yesterday — it was hard to pick which one to showcase today! I decided to go with Steve Feiler's card, which is based on the jersey of the 1981 Pennsylvania Stoners (now there's a team name!), a club that played in the now-defunct American Soccer League. Nice choice, Steve!
Ordering a membership card — whether based on an obscure pro soccer team or a mainstream Big Four team — is a good way to support Uni Watch (which, frankly, could use your support these days). And remember, as a gesture of comm-uni-ty solidarity, the price of a membership has been reduced from $25 to $20 until further notice.
As always, you can sign up for your own custom-designed card here, you can see all the cards we've designed so far here (now more than 2,900 of them!), and you can see how we produce the cards here.
• • • • •
• • • • •
Shirt project update: For those who care (which I assume is a very small number of you), the daily vintage green plaid shirt project is proceeding apace. You can click through the five six (so far) photos above, or see them side by side here.
• • • • •
• • • • •
The Ticker
By Lloyd Alaban

Baseball News: The Astros are the latest team to let fans submit pictures to be made into cutouts to place in the stands (from Brian Hoss). … Gross: During Monday's Reds intrasquad scrimmage, there was a Cintas ad on the mound (from Joanna Zwiep). … Speaking of the Reds, they're apparently going with giant ad tarps that will cover some of their empty seating (from our own Alex Hider). … Blue Jays C Caleb Joseph had a decal malfunction on his catching helmet (from @Minor_Leaguer).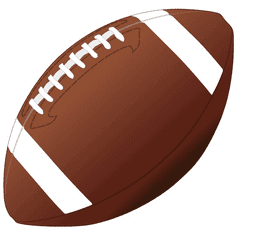 Football News: New personal logo for Dolphins WR Devante Parker. … The Stapleton neighborhood of Denver, Colo., is changing its name due to linkage of the neighborhood's namesake, former mayor Benjamin F. Stapleton, with the Ku Klux Klan. Denver residents have proposed several Broncos-related replacement names (from Kary Klismet). … British Columbia premier John Horgan wore a BC Lions mask during a press conference this week (from Wade Heidt).

Hockey News: Capitals F Alex Ovechkin is selling masks with his personal logo on them (from Scott Rogers).
.
.

Basketball News: The NBA's LockerVision site, which shows what each team will wear for each game, has now been updated to show the uniform schedule for the balance of the soon-to-resume season (from @SacKings_Unis). … The NBA's social justice NOBs will be worn for the first four days of the resumed season. After that, players may continue wearing them, in which case their surnames will be added below their uni numbers, or revert to their regular NOBs (from Dave Ciskowski). … Lakers PG Alex Caruso said he will wear "Black Lives Matter" in place of his NOB (from Timmy Donahue). … Here's a twist: Heat SG/SF Jimmy Butler wants to go NNOB when the season resumes (from Andrew Cosentino). … Over in the WNBA, here's how a jersey will look with the addition of a police brutality victim's name (from @Starkman55). … A sportswriter has ranked the best South Carolina player for each uni number (from Chris Wellbaum). … Also from Chris: South Carolina women's has masks with each player's name and number on them.

Soccer News: From Josh Hinton: FC Barcelona officially released their 2020-21 home shirt, which draws inspiration from their 2010-11 home shirt. … The BBC is attempting to create a ranking of some of the new shirts for next season. Ten choices are from England and Scotland (including Loch Ness, which plays in Scottish nonleague's North Caledonian Football Association and who we had in the Ticker last week), but there are also teams from the U.S.: the USL Championship's Las Vegas Lights and an amateur team, Providence City (from our own Jamie Rathjen). … Also from Jamie: New first kit for Northern Irish team Crusaders. … New shirt for the Northeast Wanderers, the futures team for Minneapolis City SC (from @BallparkHunter). … San Diego Loyal SC of the second-tier USL Championship has unveiled renderings of a proposed 15,000-seat modular stadium. More details here (from Kary Klismet). … The NWSL's Sky Blue FC wore rainbow wristbands for their match against NC Courage (from Gabe Cornwall). … New badge for Polonia Warszawa (from Ed Zelaski). … Bayer Leverkusen continued their recent tradition (from Museum of Jerseys).

Grab Bag: Here are the helmets for the newly reformed Philadelphia Barrage of the Major Lacrosse League (from @PhillyPartTwo). … Tennis star Roger Federer has his own shoe line, and he's put a lot of work into it (from our own Brinke Guthrie). … Confusing scorebug used by Top Rank Boxing last night. The fight in these pictures featured American Clay Collard vs. South African-born Lowrant-T Nelson, who was wearing trunks with the South African flag on the front and the US flag on the back (from Timmy Donahue). … Also from Timmy: The City of Placerville, Calif., is debating whether a noose on the city's seal should be removed. The city is nicknamed Hangtown because vigilante groups used to mete out capital punishment. … One more from Timmy: Students at Fort Knox in the Army Recruiters Course have become the first soldiers to be issued the Army's new World War II-style uniform, officially called the Army Green Service Uniform. … The University of Texas has decided to keep using the song "The Eyes of Texas" at sporting events, despite requests from student-athletes to retire it because of its alleged racist origins (from Kary Klismet). … The Hanover (Va.) School Board voted to change the names of its schools that are named after Confederate figures (from multiple readers).
• • • • •
[adrotate group="2″]
• • • • •
Click to enlarge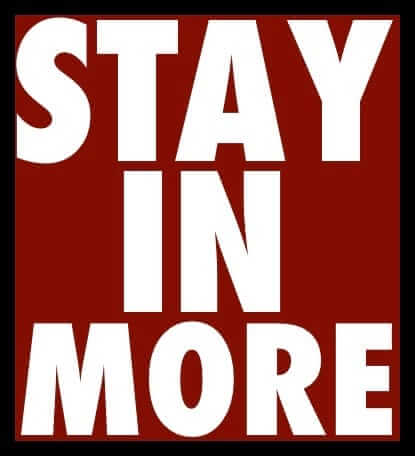 What Paul did last night: Our landlords recently mentioned to us that they're going to hire a contractor to rip up the walkway that leads to the porch steps and replace it with paving stones. We kinda cringed when we heard this news, because it means we'll be subjected to several days' worth of jackhammering and other noisy work, although I confess that a little part of me thought, "Well, that'll certainly make for some interesting Pandemic Porch Cocktails™ photos."
Yesterday we got the first hint that the work will soon be starting. You know how people put a little paint swatch on the wall right before they're getting ready to repaint the room, or a little fabric swatch on the sofa right before they're getting ready to reupholster it? Our front walkway now has a paving stone "swatch" (click to enlarge):
Seems like all those ridges could cause problems for snow shoveling. But hey, that's not my problem.
As always, you can see the full set of daily Pandemic Porch Cocktails™ photos — we're now up to 120 of them — here.