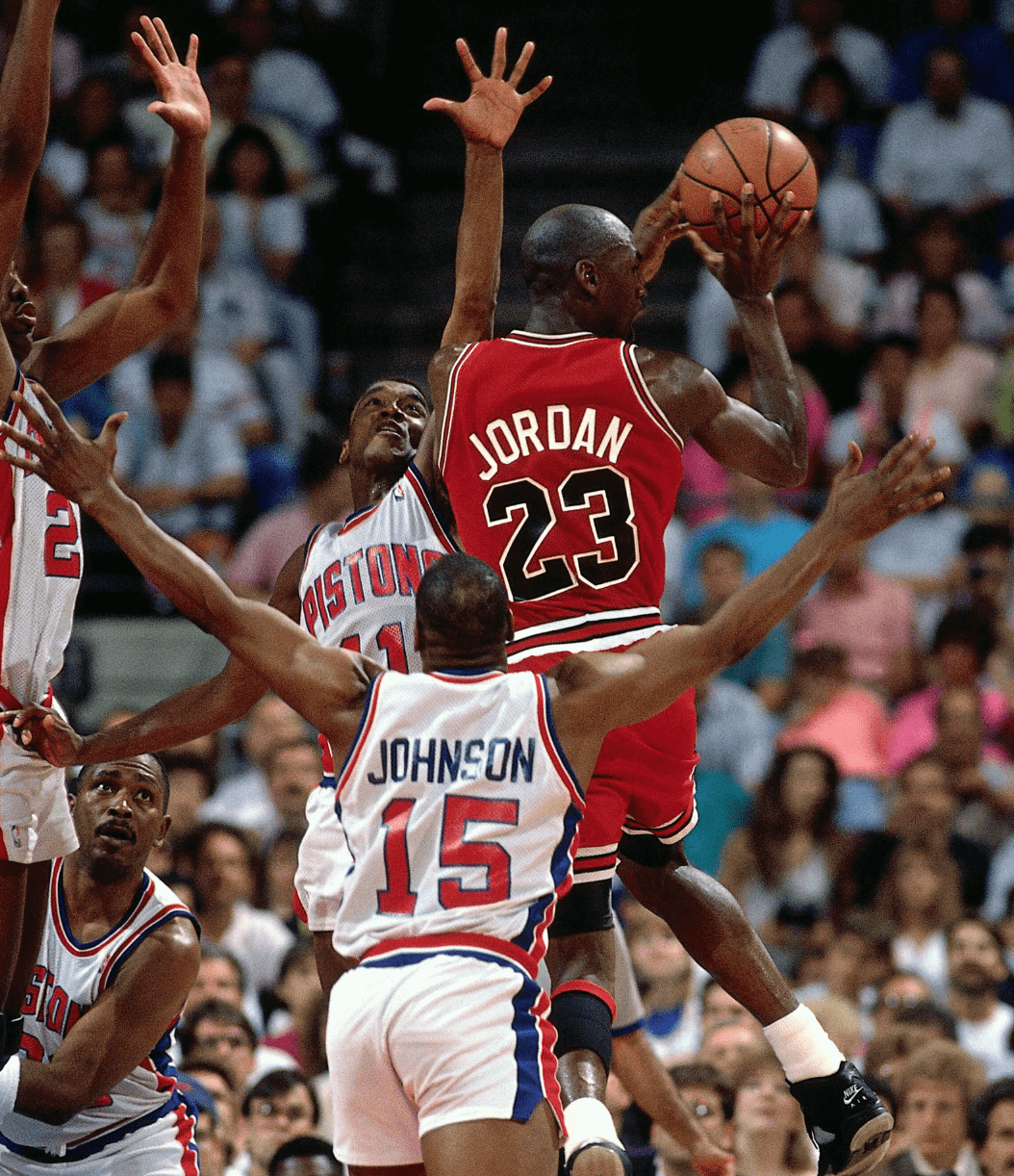 Notice anything uni-notable about this old photo of Michael Jordan about to break some hearts in Detroit?
Here's the part that interests me: For both teams, the color of the NOB lettering doesn't match the color of the uni numbers. I haven't come up with a snappy name for this phenomenon yet, but for now let's call it CMOB — color mixing on back.
CMOB is one of those things I've always kind of liked but have never thought too hard about, at least until now. I was reminded of it earlier this week, when we Ticker-linked to a great uni-centric interview with former L.A. Rams player Jack Youngblood. At one point in the interview he says, "I also liked that our name was in white lettering [instead of matching the yellow numbers] on our blue jerseys. I thought that made it stand out for some reason. I think the Steelers and us were the only teams that did something like that."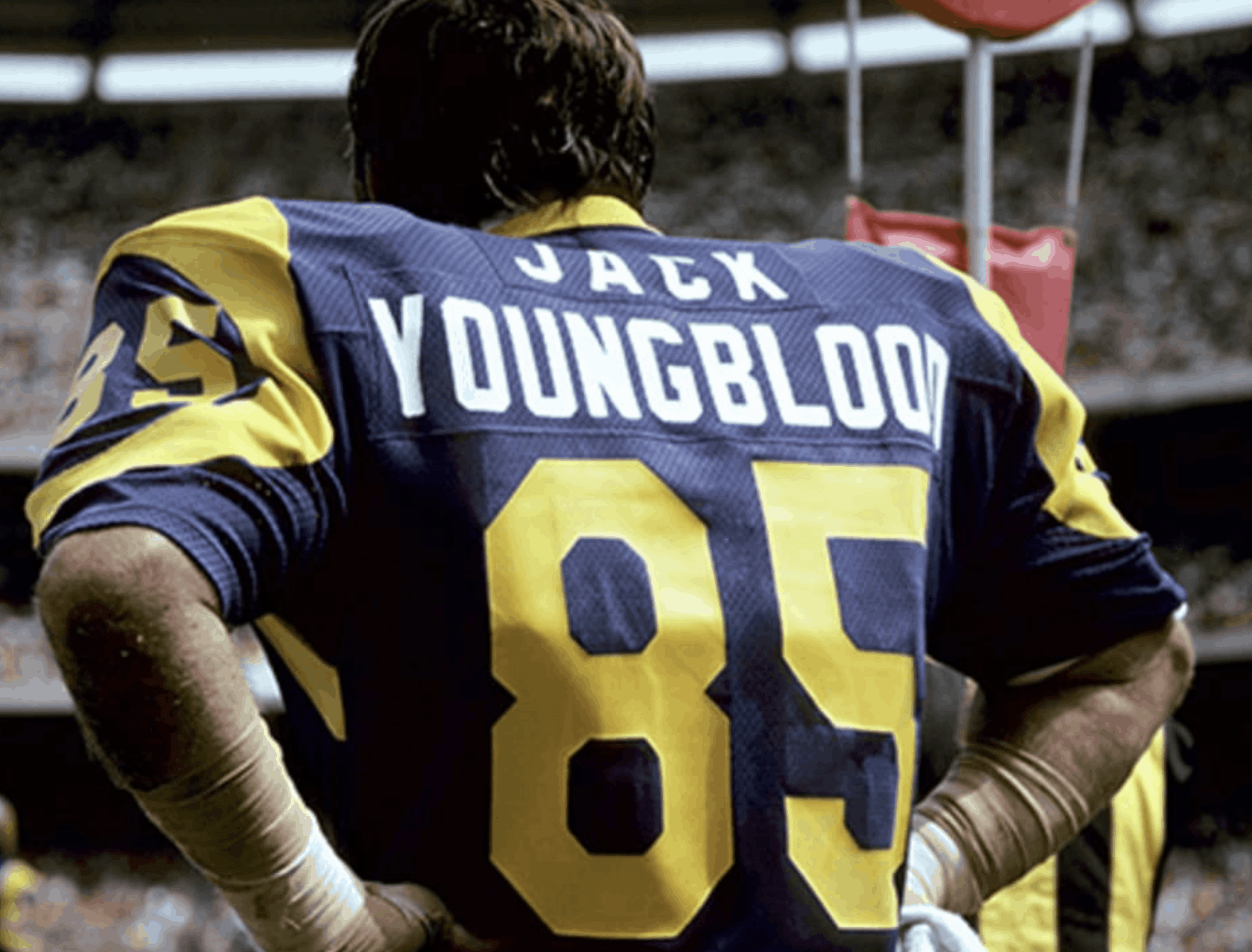 Four decades later, the Rams are once again using CMOB on the blue jersey of their new uni set: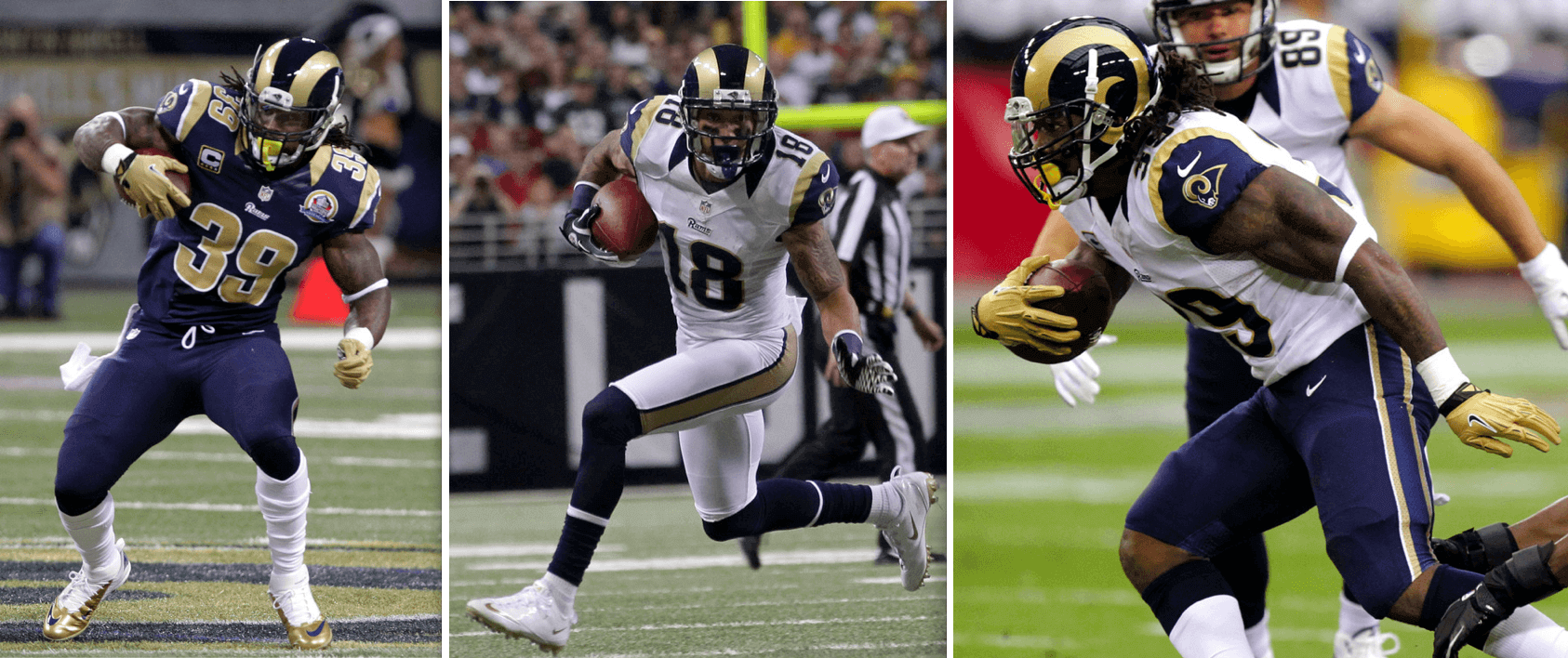 All of this got me thinking a bit more about CMOB. It's not common, but it's not quite rare either. How many teams currently use it? Today's post is an attempt to answer that question.
Before I get to that, though, two caveats: First, there are lots of jerseys where the NOB and number are the same base color but the number is outlined in a secondary color while the NOB lettering is not, like this: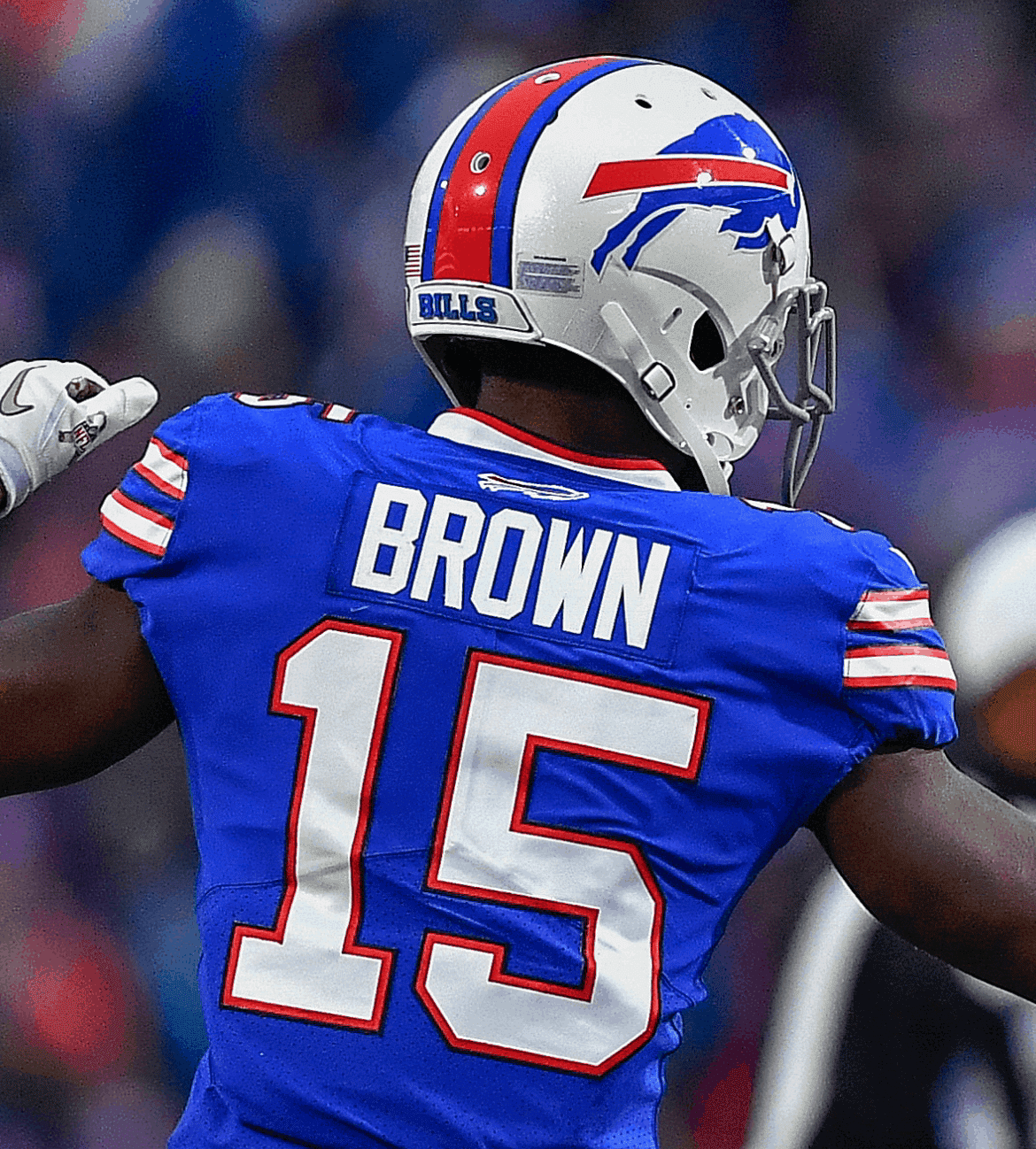 As far as I'm concerned, that is not CMOB. While the type treatments may not be quite the same, the base colors are the same.
Second, I'm also not counting it as CMOB if a team has a contasting nameplate or a contrasting shoulder yoke, since those design elements pretty much require a different NOB color. I'd say those are cousins to CMOB but not quite the same thing.)
With all that in mind, here's a look at teams that are currently going the CMOB route in the Big Four pro leagues:
MLB
The Braves are the current undisputed kings of CMOB. All five of their current jerseys have color-mixed NOB lettering and uni numbers: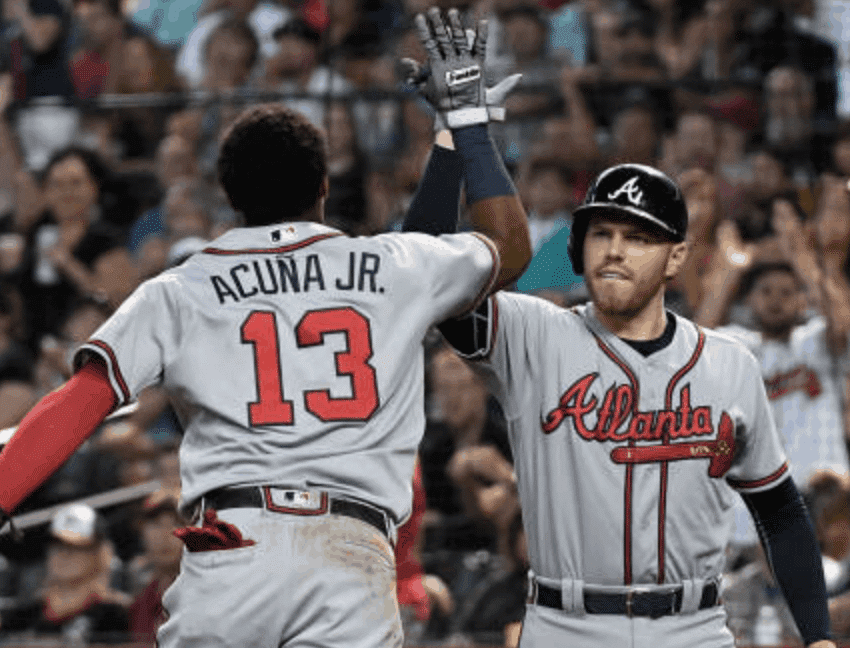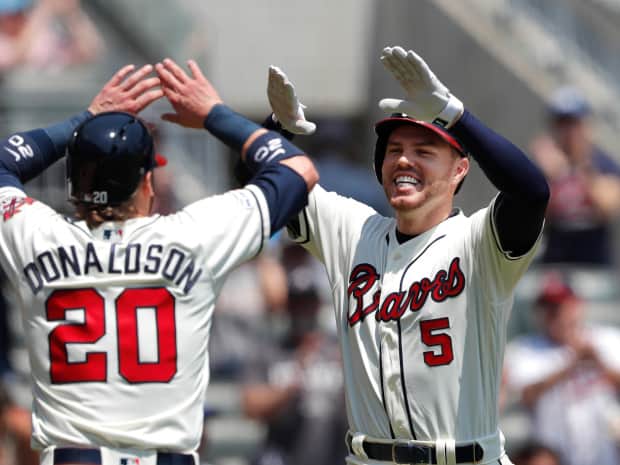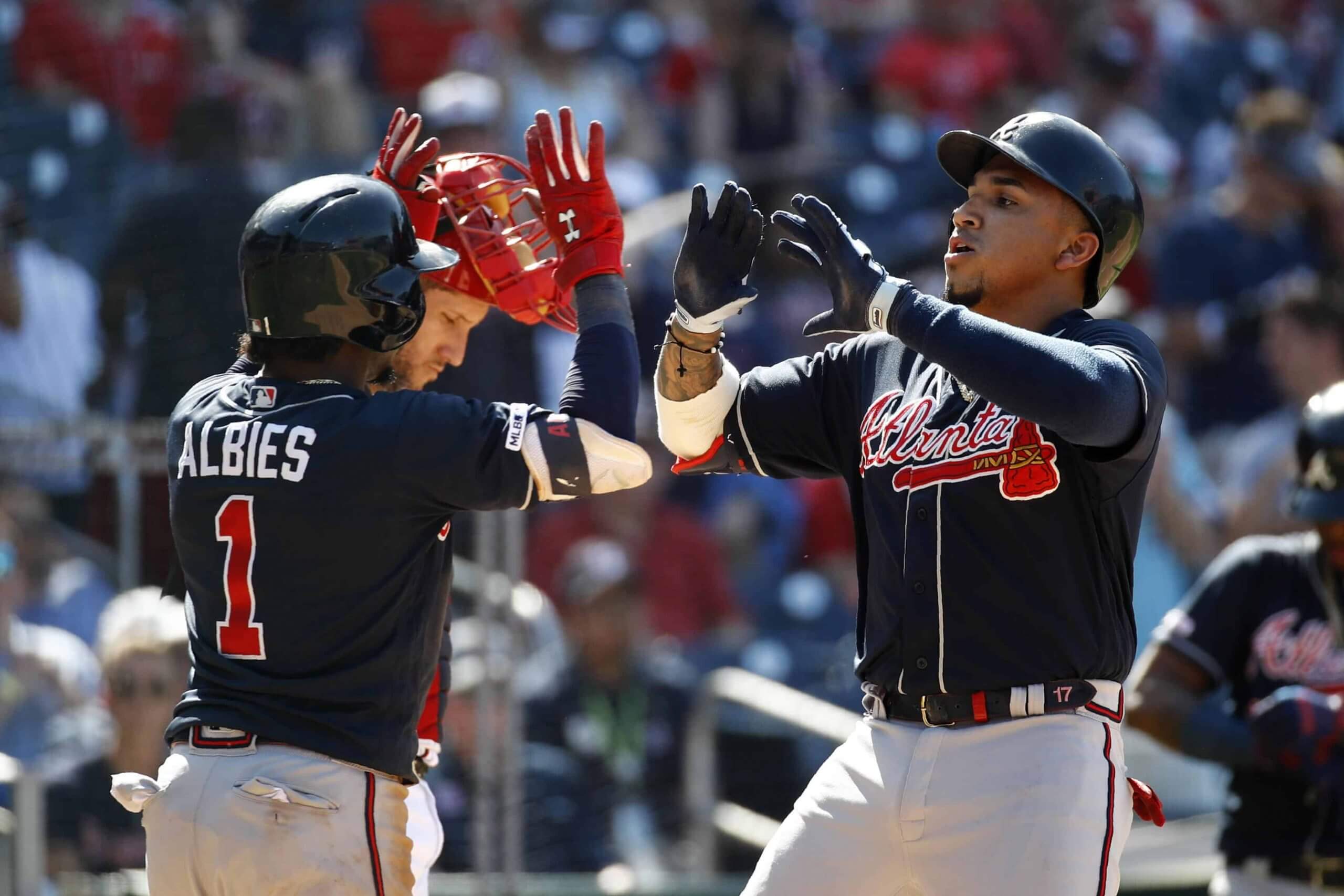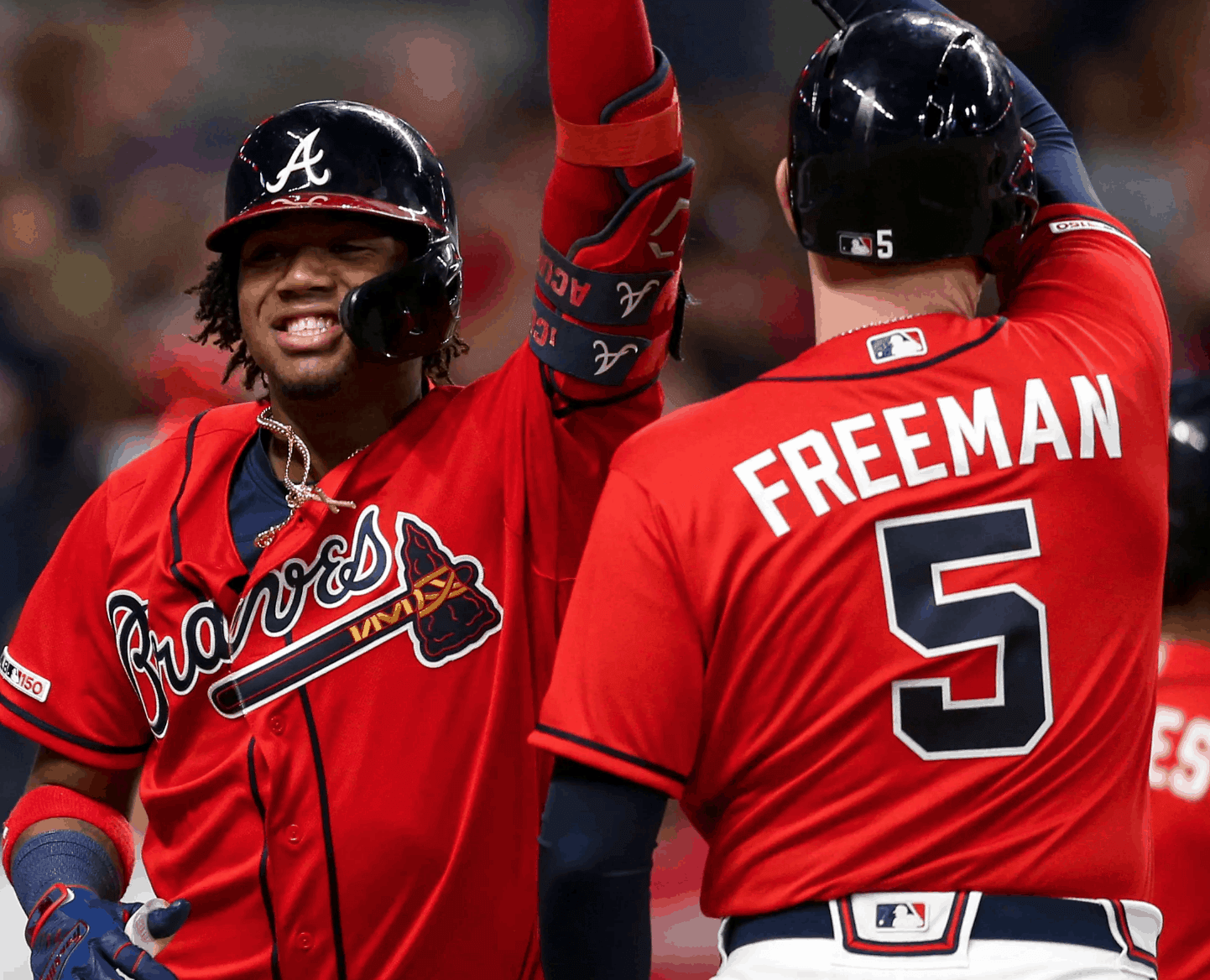 No other MLB team comes close to matching the Braves' five CMOB combos. The Rays are a distant second, with two: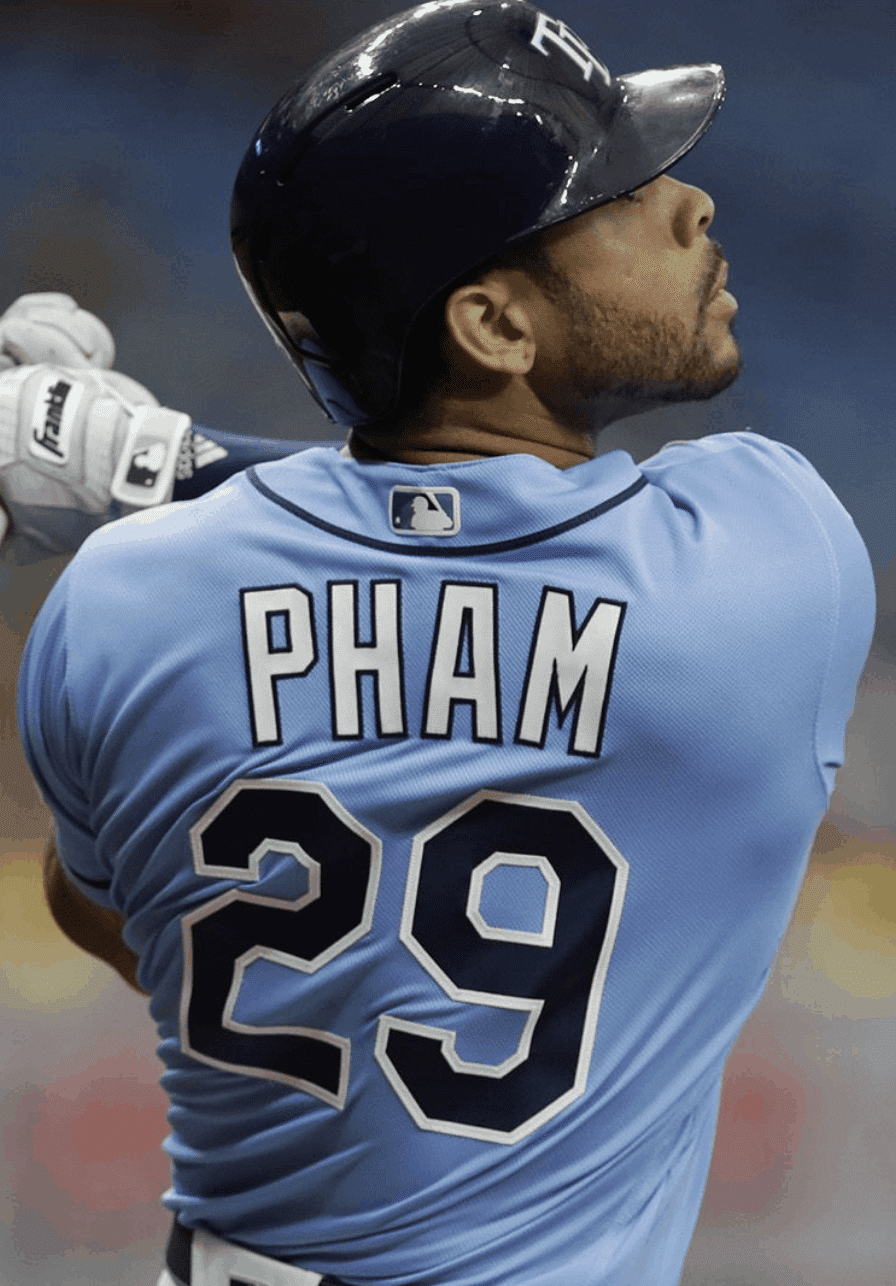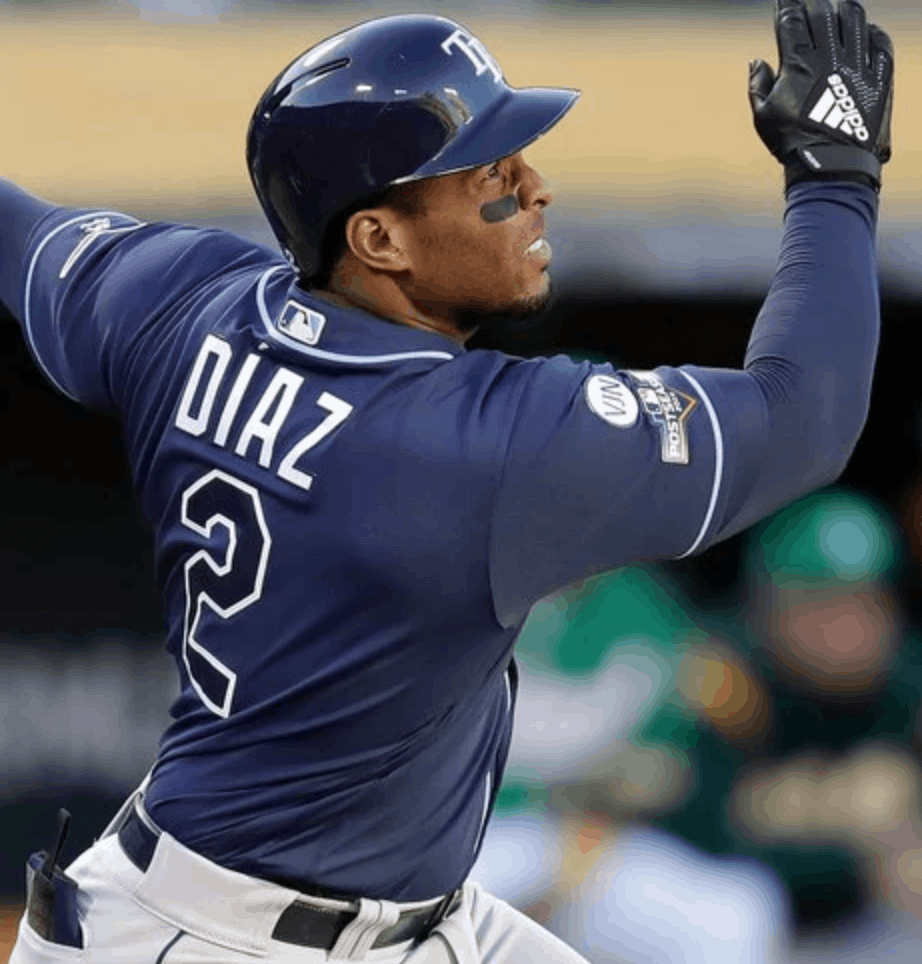 The Nats will also have two this season — their good-luck navy alternate and their new white alternate: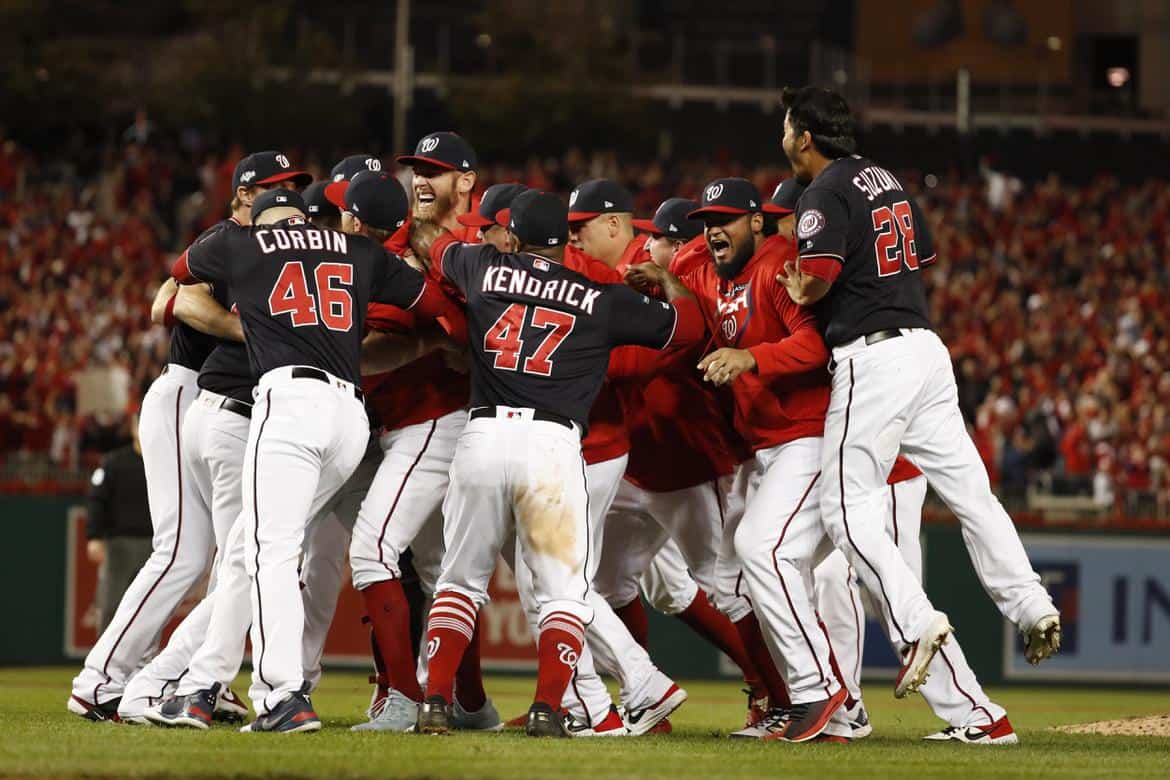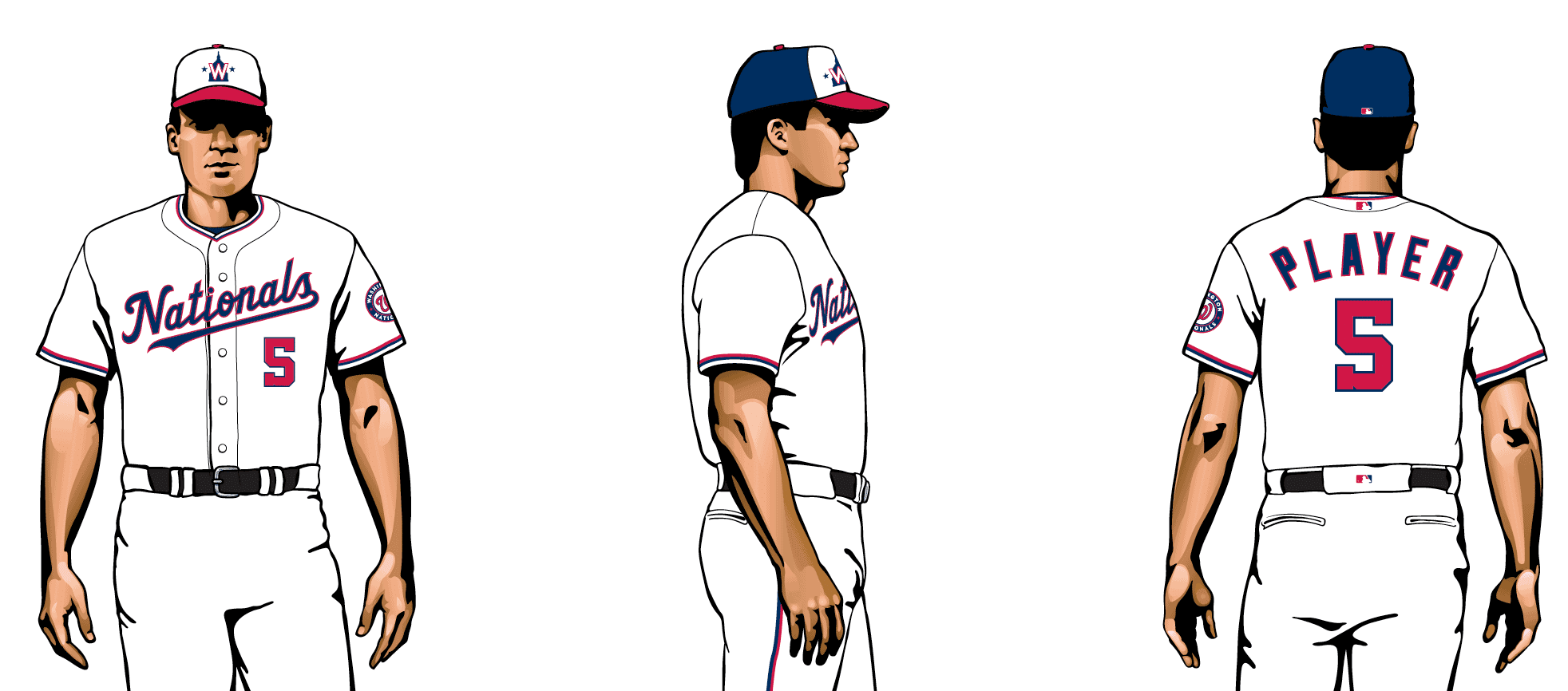 And then there are a few other CMOB examples from the Cubs (one of my favorites), Royals, and Twins: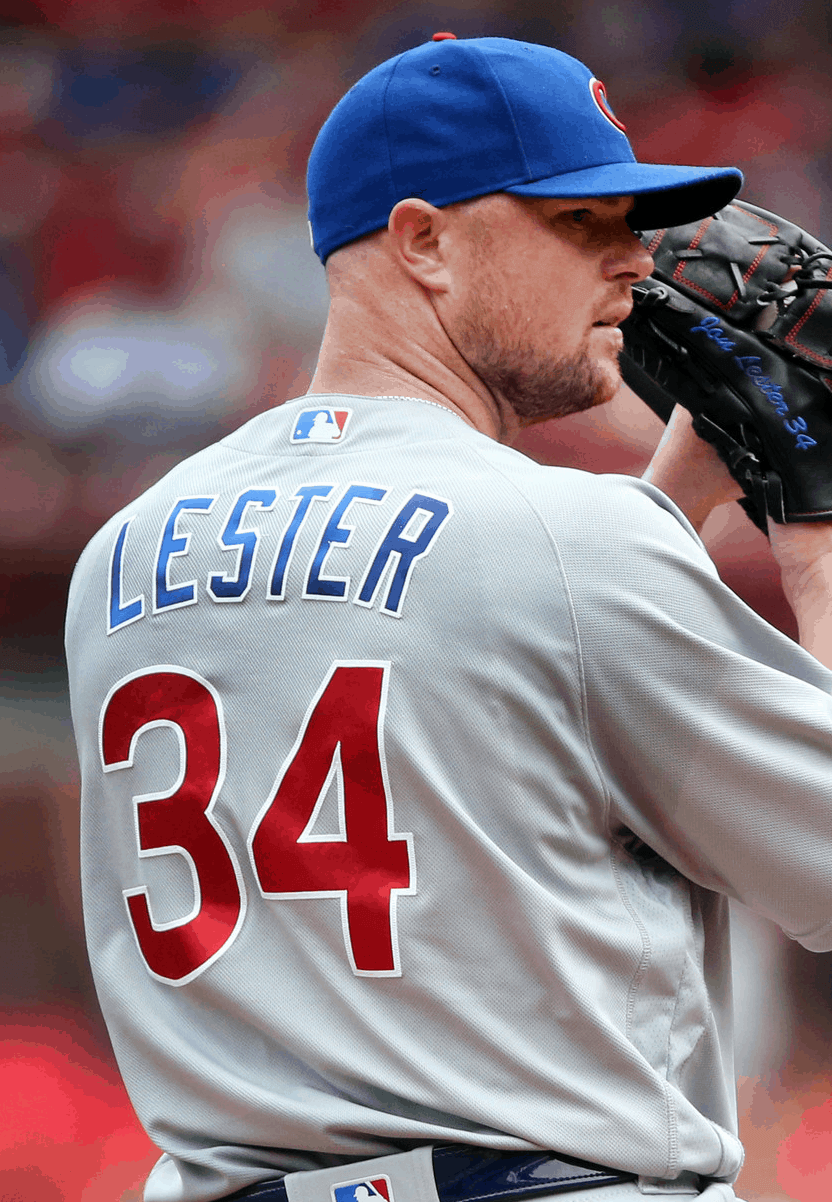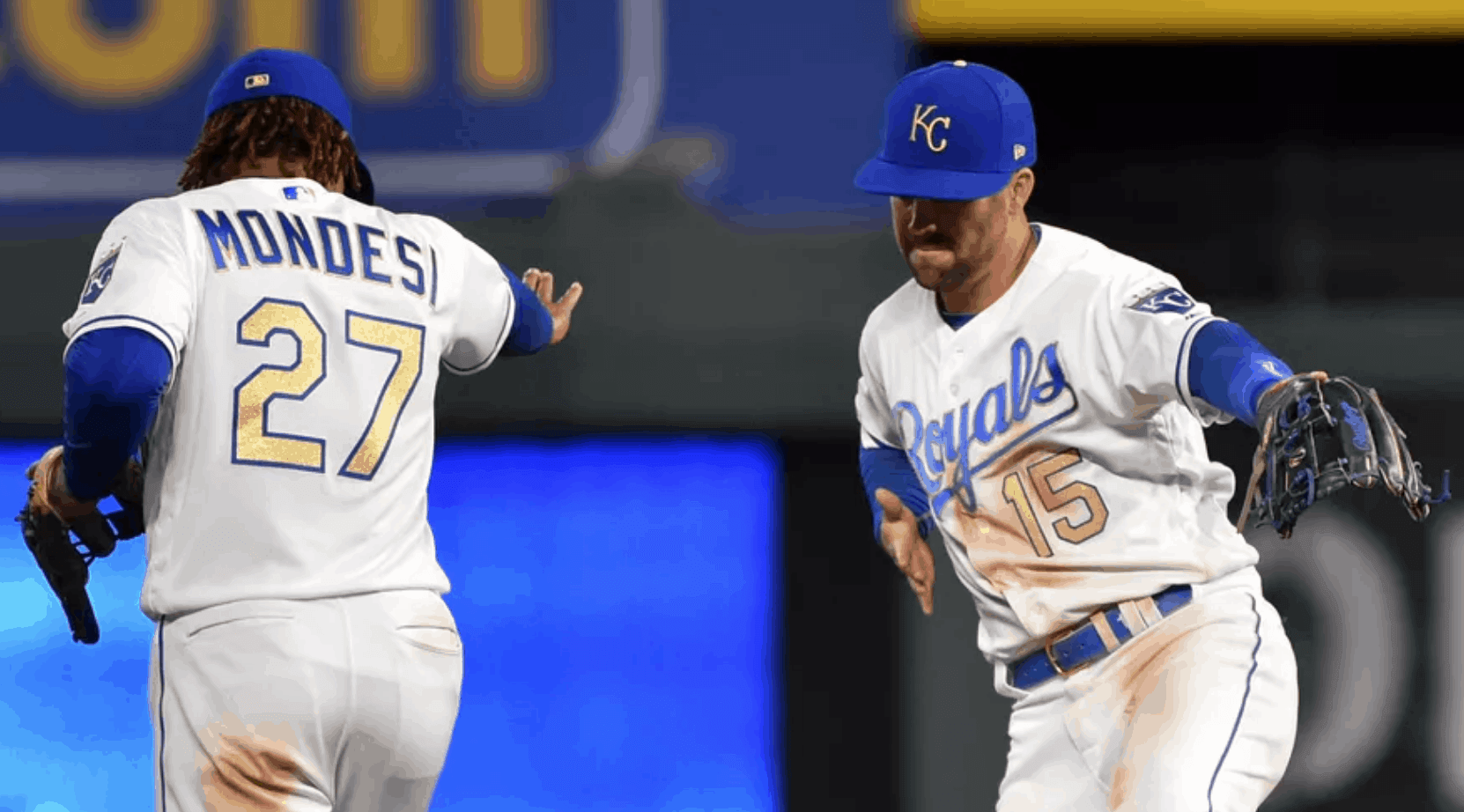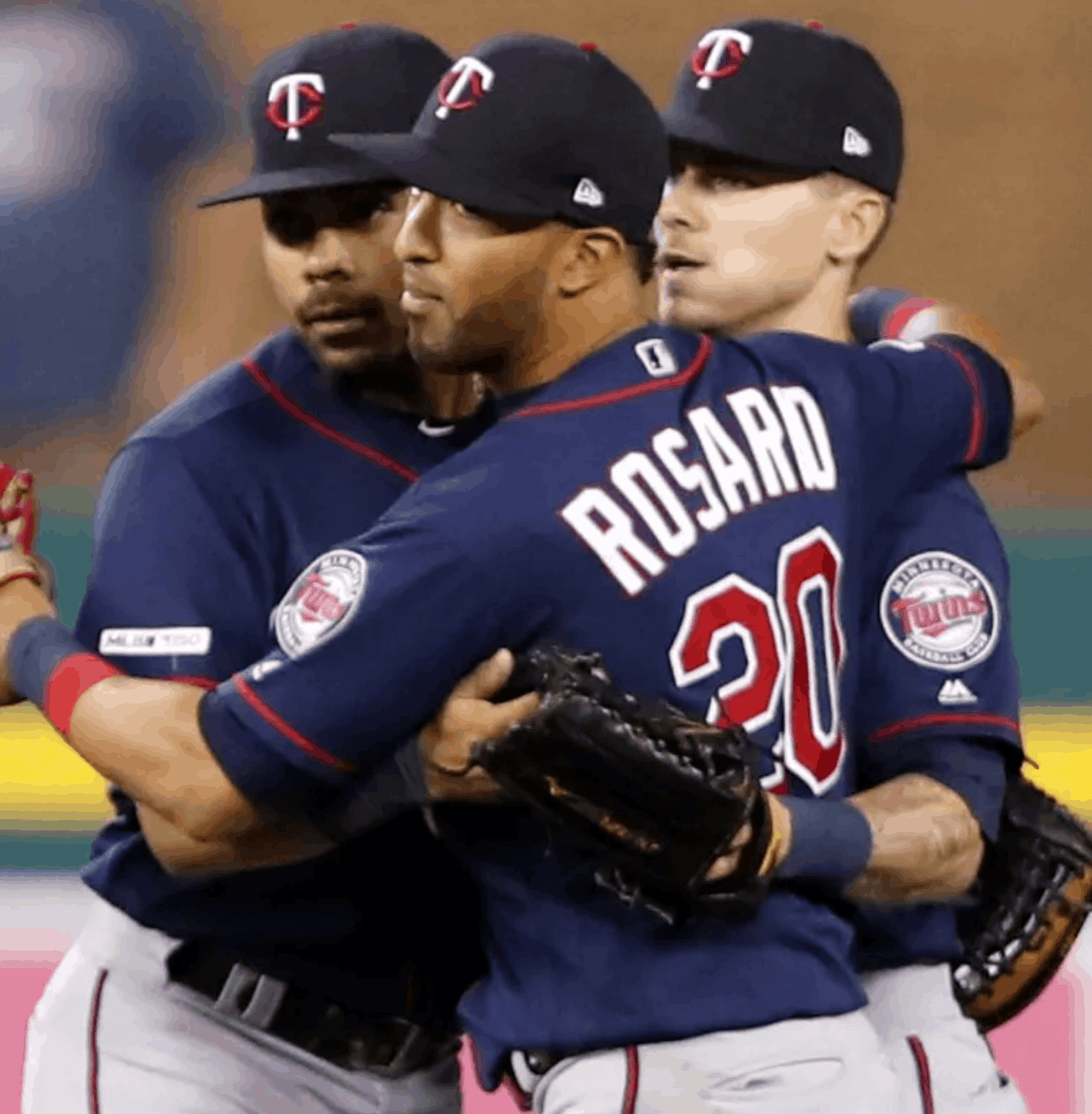 So those are the current examples of CMOB in MLB. There are lots of previous examples, though, and an inordinate number of them have come from the Diamondbacks. By my count, they've had at least 16 different CMOB jerseys during their existence (you can hover over this slideshow to see the navigation arrows, or you can go straight to the full photo set:
NFL
As Jack Youngblood noted, the Steelers went CMOB, just like his Rams did, back in the day. And they still do today, on both their black and white jerseys: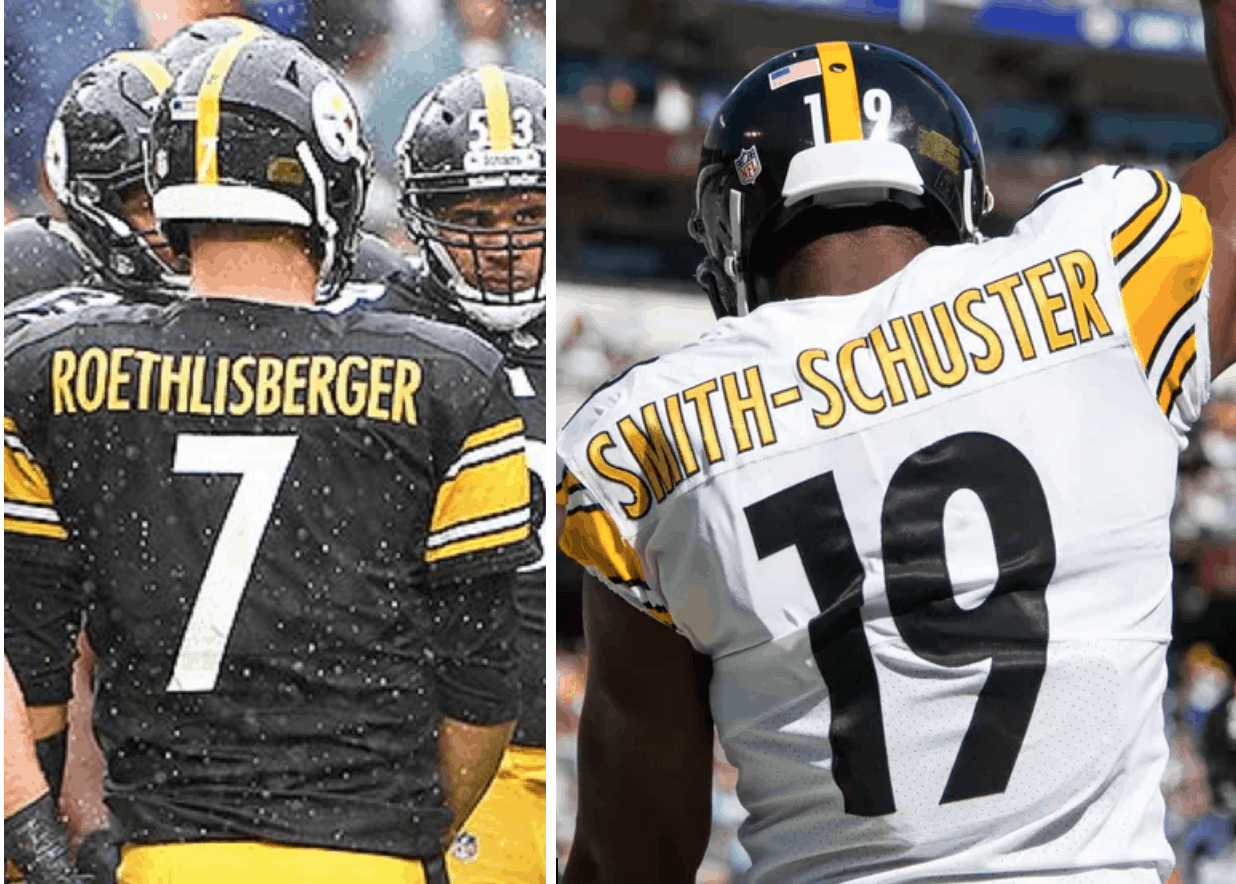 No other NFL team currently has multiple CMOB jerseys, but seven teams have one. That includes the Bucs, Falcons, Chargers and aforementioned Rams, who all used CMOB as part of the new uni sets they unveiled a few months ago: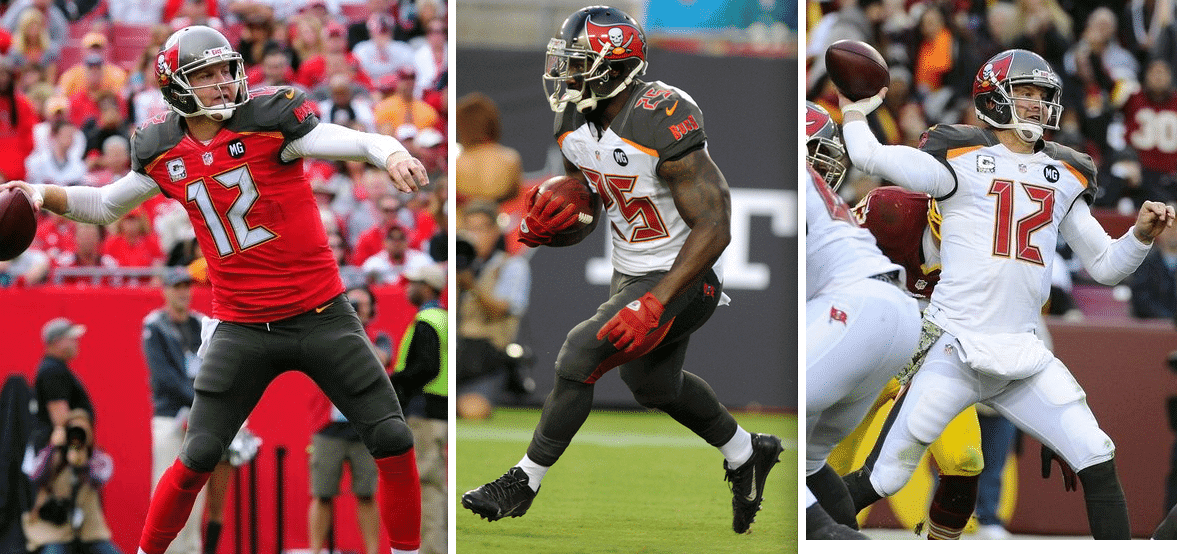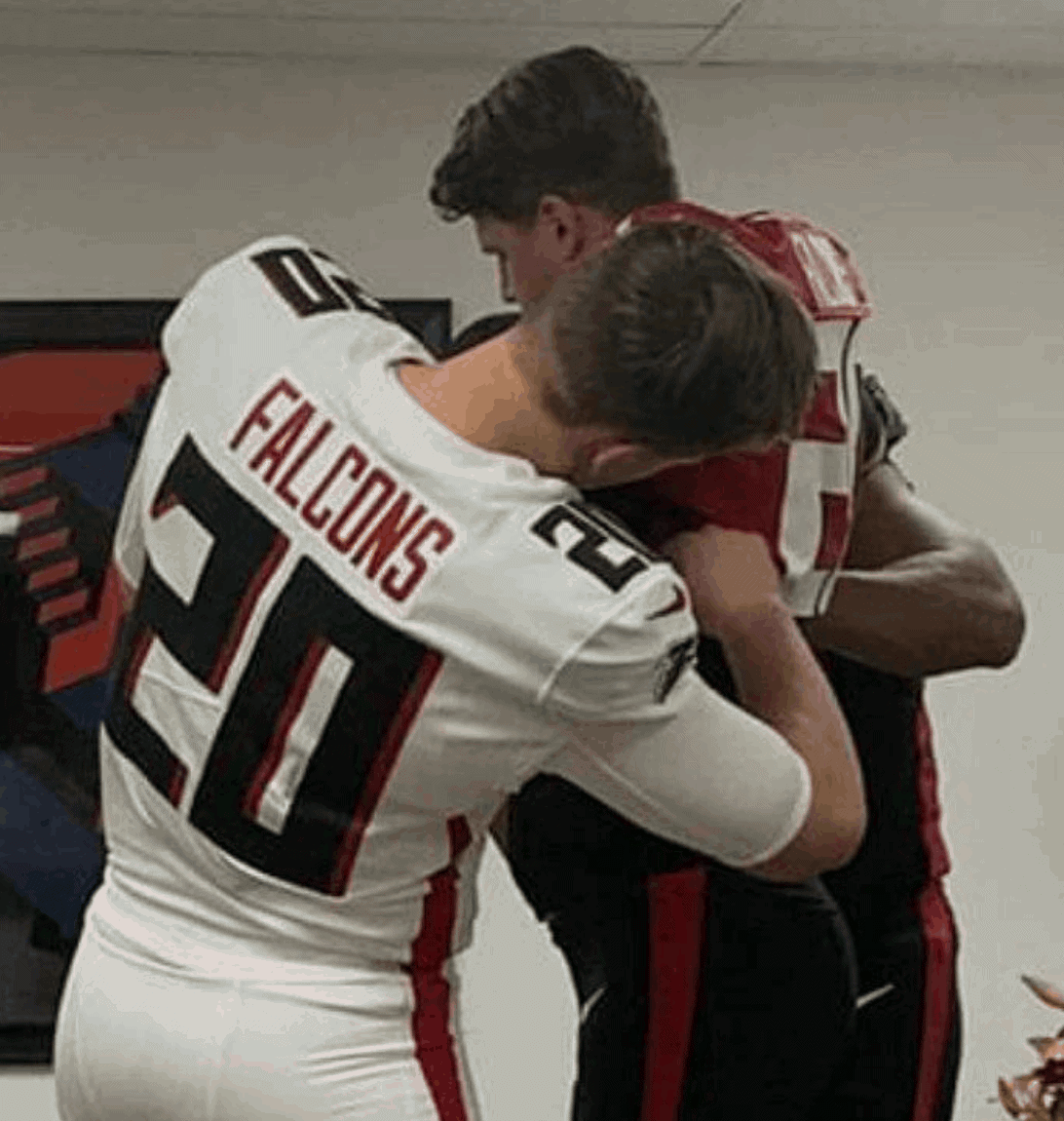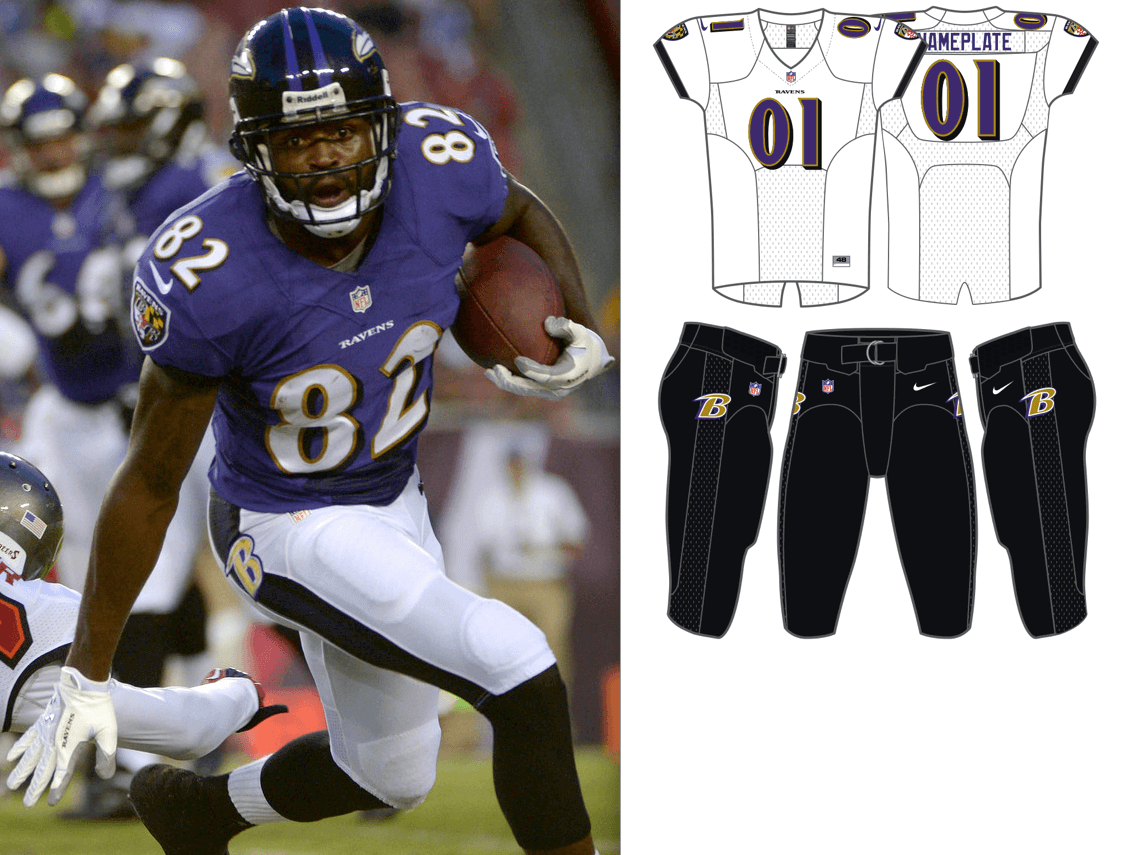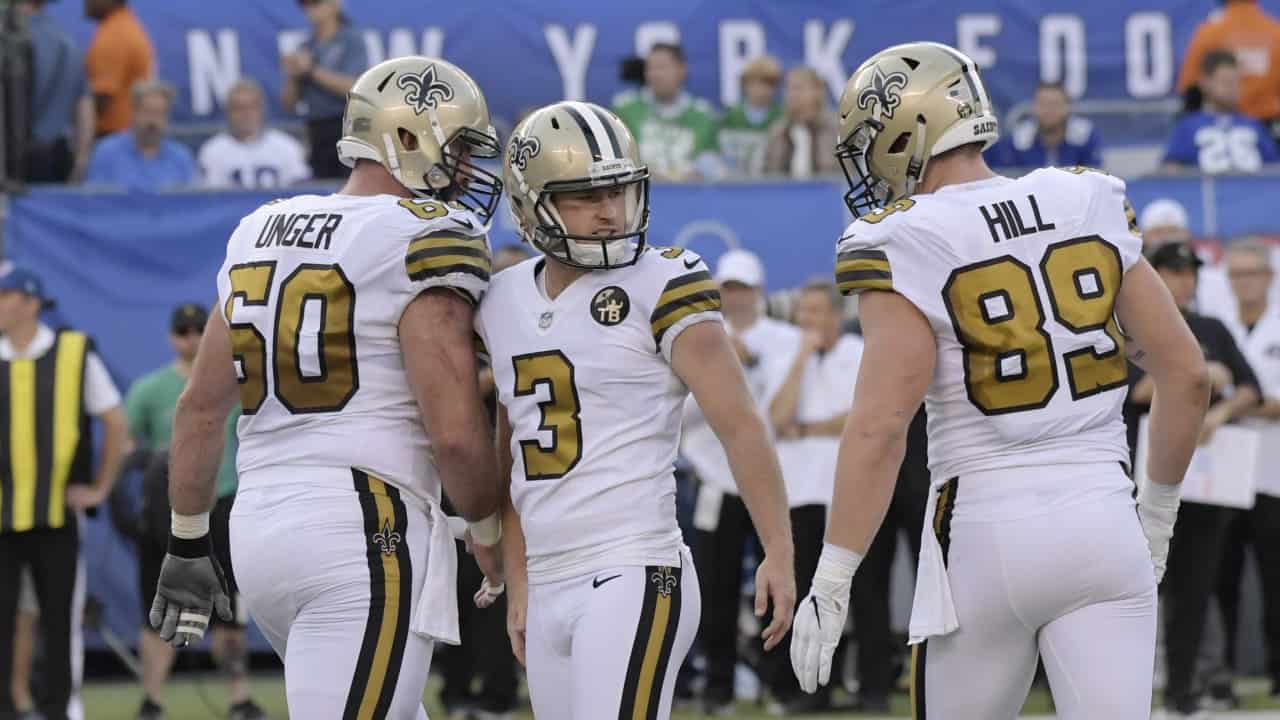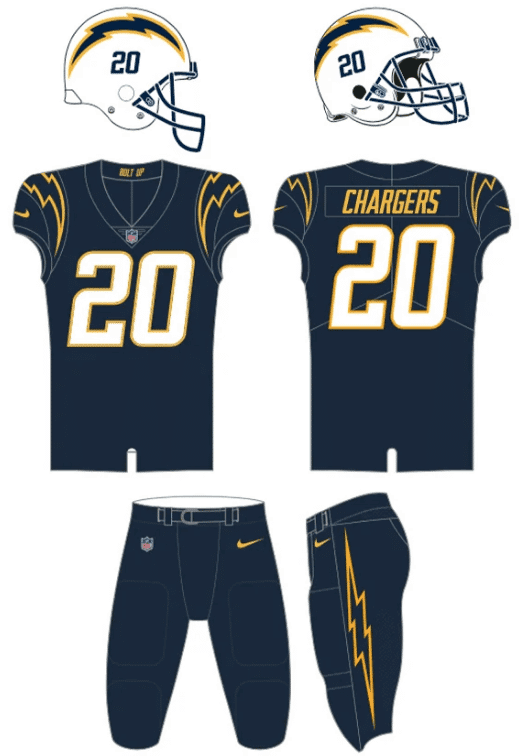 NHL
By my count, there are currently five NHL teams that have a CMOB jersey in their wardrobes: the Flames, Oilers, Senators, Wild, and Islanders: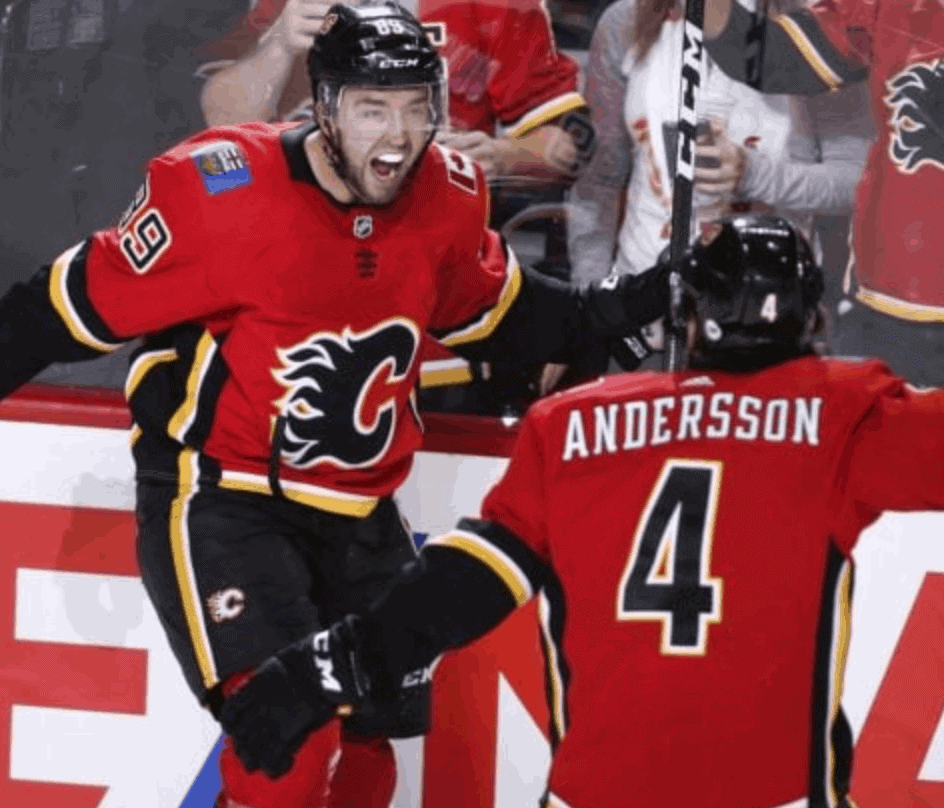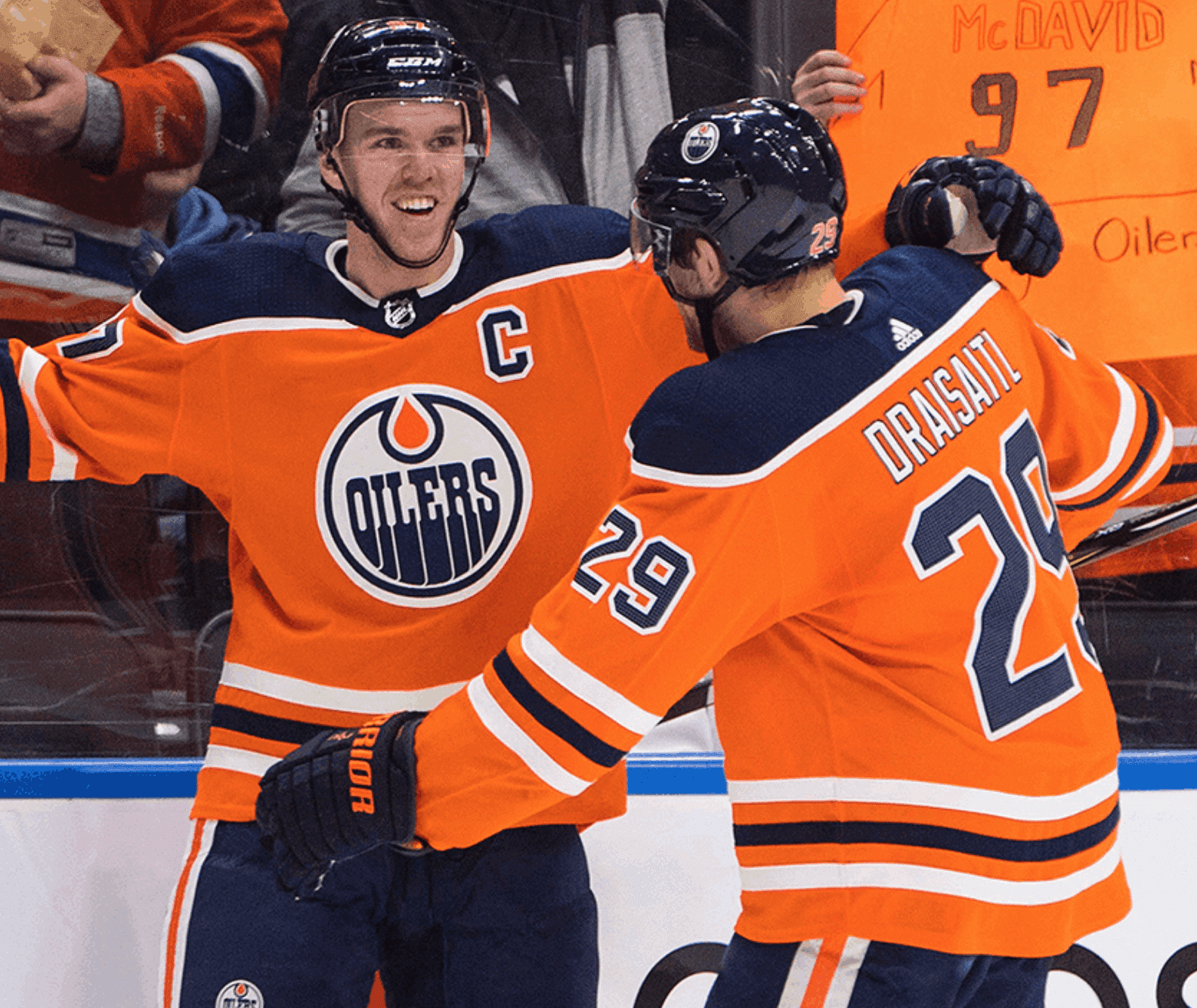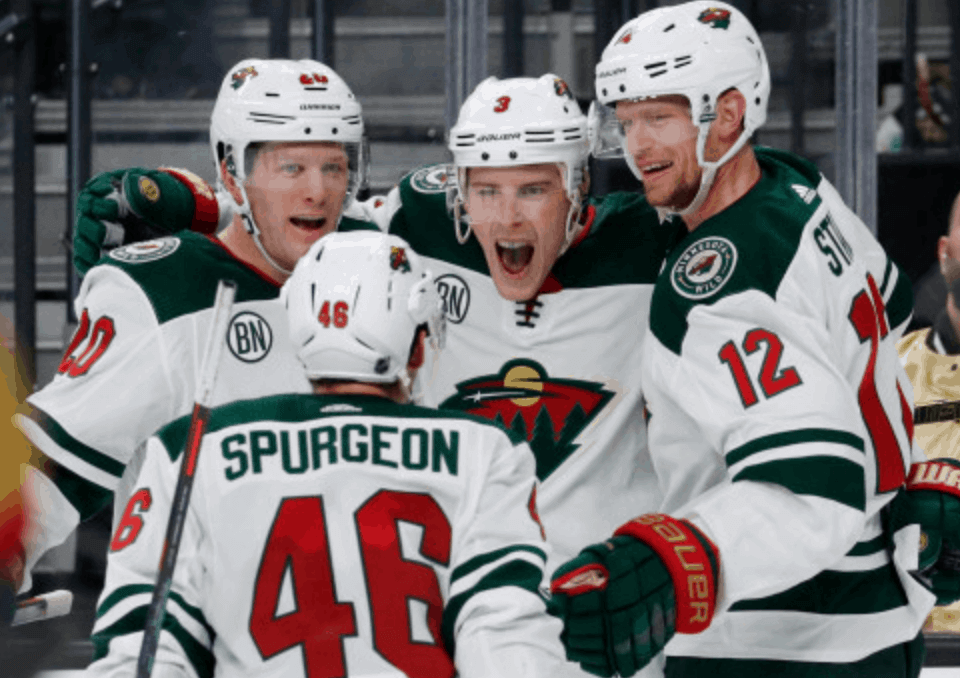 NBA
As always, it's more difficult to do NBA research because there's no good visual database of the league's uniforms. One thing I know is that the Heat have gone CMOB with a bunch of their Miami Vice-themed alternate uniforms:
I'm sure there are many, many other current NBA examples. Feel free to post them in today's comments.
———
So that's the current state of CMOB in the Big Four pro leagues. There are also countless non-current examples in all four leagues (here's one golden oldie apiece from MLB, the NFL, the NBA, and the NHL). Maybe we can try to document all that history at a later date.
As I look at all these CMOB examples, I think the vast majority of them look really good. I like how the different colors provide a bit contrast, a bit of pop.
That said, however, I can honestly say that I've never once looked at a uniform and thought to myself, "You know what this design needs? A different color for the NOB." For me, CMOB seems to be something I don't really think about until it's right there in front of me, at which point I tend to like it. But if it's not there, I don't miss it.
As you all know, my favorite team is the Mets. I suppose they could go CMOB by changing their blue NOBs to orange. But do I want that? Not really. I suppose they could alter their blue jersey by changing the orange NOBs to white. That would probably be an improvement to the blue jersey, but I don't really like the blue jersey to begin with, so it doesn't feel like a particularly substantive change.
Maybe some of you Photoshoppers out there could show us how various current uniforms might look if they went CMOB..? Or maybe that's a Pandora's box better left unopened. In any case, it's an interesting design phenomenon — surprising that I haven't addressed it until now!
• • • • •
• • • • •
Click to enlarge
ITEM! Caps back in stock: Ahhh, isn't it satisfying to see all those contrast-colored squatchees lined up like that? That's a new shipment of Uni Watch caps, which (finally) arrived yesterday at cap-fulfillment manager Mark LaFountain's house.
We'd been out of stock for several months due to a pandemic-related factory shutdown, but now we have plenty of inventory in all fitted sizes (and we should have adjustables in another two weeks or so). You can order them here — Mark is eager to ship your cap out to you!
Speaking of, check out what Mark chose as the NOB for his Uni Watch hockey jersey:
Lookin' good, Mark!
But wait, there's more. remember our lighter-weight "gold circle" strapback cap, which was briefly available last year? Designer Bryan Molloy and I have just reactivated that one for another round of orders. Unlike the Classic Cap, which is always available (well, except when the factory shuts down), this one will only be available for a limited run, so move fast if you want one. You can order yours here.
My thanks, as always, for your consideration.
• • • • •
• • • • •
ITEM! The best pin ever: I know many have been waiting patiently and anticipatorily for the Uni Watch Pin Club's new design for July — a bobblehead pin with a pin that actually bobbles! Check out the video above (much better than the one I showed last week) for the full effect! You can order it here.
Here's a closer look:
I want to take a minute to explain how this pin came about. Pin designer Todd Radom and I hadn't thought of doing a bobblehead pin (although we really should have — it's such a good idea!), but back in April I got an email from reader Chris Callan. He's the guy who guest-wrote an entry back in 2018 about restoring old bobblehead dolls, plus he made a couple of Uni Watch bobbles. Anyway, Chris said (I'm paraphrasing here), "Love the pins! You're gonna do a bobblehead version, right?" He even attached a design concept for how it could look.
Todd and I agreed that it was a really good idea, so Todd whipped up his own design for a very handsome Uni Watch bobble character. But then I wondered: The basic pin would be fine on its own, but would it be possible for the head to move? That would put it over the top! So I poked around a bit on YouTube and discovered that yes, such pins do exist. I asked our pin manufacturer if they could do that, they said yes, and that was that (well, except that it took a bit longer at the factory than it was supposed to).
All of which is a long way of saying that this pin wouldn't have happened if not for Chris Callan. Thanks, buddy!
Again, the July pin is available here.
• • • • •
• • • • •
ITEM! Masks available again: The new batch of 300 Uni Watch masks is now available. Just like with the first batch, the price is only $6. Teespring will keep $2 as a warehousing/fulfillment fee, and I'll donate the remaining $4 to charity — this time to Feeding America.
You can order here. Since these are very popular and we have a limited number of them, please try to order no more than one or two, so other people can have a fair shot. Thanks!
• • • • •
• • • • •
Membership update: Yesterday afternoon, shortly after I finished writing today's lede, designer Scott M.X. Turner sent me the latest batch of membership cards. That included Jason Galloway's new card, which is based on the early-1980s Texas Rangers' powder blues. Look — CMOB!
Jason's card is one of several that have been added to membership card gallery. If you scroll through the gallery, you can see lots of CMOB designs — and they tend to look pretty good!
Ordering a membership card is a good way to support Uni Watch (which, frankly, could use your support these days). And remember, as a gesture of comm-uni-ty solidarity, the price of a membership has been reduced from $25 to $20 until further notice.
As always, you can sign up for your own custom-designed card here, you can see all the cards we've designed so far here (now more than 2,900 of them!), and you can see how we produce the cards here.
• • • • •
• • • • •
The Ticker
By Paul

'Skins Watch: Amazon is the latest retailer to stop selling 'Skins merch. But Fanatics and NFL.com will keep selling it (thanks, Brinke). … Whatever the team's new name turns out to be, it will reportedly not include any Native American imagery. … 'Skins owner Dan Snyder created a charitable foundation in 2014 to support Native American communities, but public records and new reporting suggest that the foundation has been something between a bust and a scam. … The Chicago Blackhawks say they intend to keep their name and logo. … Pressure is building on the CFL's Edmonton Eskimos to change their team name, with a major sponsor threatening to sever ties with the team." It is the CFL, so every dollar counts," says Wade Heidt. The club is now saying it will provide an update on the team name by the end of the month. … Anderson High School in Ohio will no longer call its teams the Redskins (from our own Alex HIder). … Another Ohio high school — Parma High, near Cleveland — is reassessing its "Redmen" team name (from @nordeckian). … Some fans of Exeter Chiefs, a rugby club that's been at the top of the Premiership in England for several years and uses Indigenous imagery and the tomahawk chop, have started a petition calling on the team to stop misappropriating Indigenous culture. … The Saanich Junior Braves — that's a Junior B hockey team in Victoria, B.C. — will no longer be called the Braves (from Jim Wooley). … Two high schools in New York State's Hudson Valley are considering whether they should stop calling their teams the Indians (from Peter K.). … Braintree (Mass.) High School is facing renewed calls to stop calling its teams the Wamps, which is a reference to Chief Josiah Wampatuck, leader of the Mattakeesett Tribe in the 17th century (from Kary Klismet). … Also from Kary: The school board in Guilford, Conn., has decided that the local high school's teams will no longer be called the Indians. … And yet another from Kary: We had reported back in March that the school board in Paw Paw, Mich., had decided to stop calling their tames the Redskins, and now they've chosen their new name: Red Wolves.

Working Class Wannabes™: An article about the Virginia Tech football team says, "While the lunch pail may be used less often [with the retirement of defensive coordinator Bud Foster], the hard work, blue collar mentality is ingrained in the core" of the team. The article also describes the team as a "national power with a blue collar, lunch pail mentality." … An article about the NFL's New York Giants says, "A[n offensive] line also needs some blue-collar overachievement" in order to be successful. … An article about new UGA associate head football coach Matt Luke describes him as a "blue-collar coach," which is literally a contradiction in terms. … Former Pittsburgh Steelers coach Bill Cowher says the team has "always had a very sort of working-class, lunch-pail ethos" (from Seth Clarke). … An article about Texas high school football says the coaching staff at Round Rock High "is optimistic about a blue-collar bunch that has plenty of savvy." … An article about LSU football describes an offensive line prospect as a "nasty, blue collar, effort player." … An article about EPL matchups says Sheffield United "continue that blue-collar approach of high work rate and look to grind opponents down." … The baseball coach at Central Catholic High in Ohio says his 2011 squad was "just a bunch of blue-collar workers, a bunch of tough guys." … A player on a team in The Basketball Tournament says his team has "that go-getter, blue collar mentality." … The new girls' basketball coach at Pen Argyl High in Pennsylvania says he's excited to be coaching there because "I've been told that this is a blue-collar group, who will work hard every day." … An article about notable freshmen on the Nebraska football team describes offensive tackle Turner Corcoran as a "blue collar type guy and the type of lineman we need."

Baseball News: The Pirates have modified their logo to encourage masking up. … A small number of fans will be able to "attend" Cubs games on the rooftops of the buildings across the street from Wrigley Field. The city of Chicago has approved those venues to be open, but at only 25% of their usual capacity. … Mets P Marcus Stroman designed some uniforms for a youth team (from @thatgirlondeck). … Samuel Barrett has proposed a set of protocols and uniforms for a traditionalist model of baseball (Google account login required) — what the ballpark should be like, what the fans should eat, what the players and umps should wear, etc. There's also a team-by-team breakdown of what would be the most traditionalist uniform and ballpark for each MLB team. … Dodgers 2B Max Muncy, who was injured after being hit by a pitch during an intrasquad scrimmage on Sunday, says he didn't see the pitch because of the new batter's-eye backdrop at Dodger Stadium. … Remember when A's P Mike Fiers wore a strange "cat tail beard" last September? That facial hair styling has now been immortalized on masks that some A's are wearing (from A's vendor Hal the Hot Dog Guy).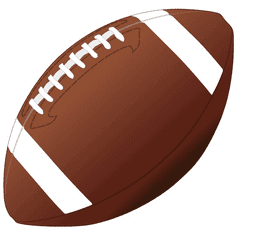 Pro Football News: Here's some cool drone footage of the new Rams/Chargers stadium, which is nearly complete. … If fans are allowed to attend Steelers games this fall, they'll be required to mask up. … Not exactly a surprise, but QB Cam Newton will wear No. 1 with the Patriots (from Andrew Cosentino). … Two very interesting examples of cross-sport facemasks: First, here's an Edmonton Eskimos player wearing a bizarre football/hockey hybrid cage, and then there's Robbie Ftorek of the WHA's Cincinnati Stingers wearing a football lineman's facemask (from Matt Mandrusiak and Dwayne White, respectively).

College Football News: Here's a detailed look at LSU's championship ring design. Frank Mercogliano notes that the reference to LSU's "interlocking" logo is inaccurate, since the letters actually overlap, not interlock. … Wake Forest's stadium has a new advertised name (from James Gilbert). … Here's something I didn't know: At some point in the past — maybe in the 1980s? — the ACC experimented with having officials wear shorts (from James Gilbert).

Hockey News: Cross-listed from the pro football section: Two very interesting examples of cross-sport facemasks, beginning with a player from the CFL's Edmonton Eskimos wearing a bizarre football/hockey hybrid cage, and then there's Robbie Ftorek of the WHA's Cincinnati Stingers wearing a football lineman's facemask (from Matt Mandrusiak and Dwayne White, respectively).

NBA News: The most popular option so far among NBA players who've chosen a social justice message to replace their NOB is "Equality." … Meanwhile, here's a look at what Kings and Trail Blazers players will be wearing.

College Hoops News: Siena College's coach announced that the team will add a black alternate uni this season as part of a social justice initiative (from Timmy Donahue).

Soccer News: Contrary to earlier reports, Inter Miami did not have a primary shirt advertiser as MLS returned to action last night. … Speaking of ads, an Adidas ad roughly the size of a house was digitally superimposed at the center of the pitch. … Scottish side Rangers are updating their crest (from Germán Cabrejo). … The new NWSL team in Louisville will be called Racing Louisville FC. Additional info here (thanks to all who shared). … New summer kits for J-League clubs Cerezo Osaka, Kawasaki Frontale, Shimizu S-Pulse, and Jubilo (from Ed Zelaski). … Burnley wore a one-off fourth kit for yesterday's match against West Ham in order to avoid a kit clash. … Gross: Two new shirt advertisers for NYC FC. … Philadelphia Union apparently has — or at least is selling — a new away kit. … Belgium's top tier has a new logo (thanks, Jamie). … Also from Jamie: "Some NWSL supporters' groups have been sending banners to be displayed at the Challenge Cup." … Here's a good look at how MLS players will be able to add a personalized message to their shirts during their first match when play resumes (from Jakob Fox). … AS Roma added a memorial patch yesterday for Italian composer Ennio Morricone, who died earlier this week (from @retroray12). … New shirts for French side Angers (from Ed Zelaski).

Grab Bag: The school district in Lufkin, Texas, will no longer require K-8 students to wear uniforms. … Following up on a storyline that has appeared several times in the Grab Bag, the police department in Gettysburg, N.D., is no longer using a logo featuring the Confederate battle flag. … MLL has a new ball design (@PhillyPartTwo). … Speaking of lacrosse, new jerseys for the PLL's Waterdogs Lacrosse Club (from Liam Murphy). … A Redditor has been designing flag concepts for universities (from Jeremy Baker). … New use for curling pins: holding a mask in place (from R. Scott Rogers). … Good article about the only boxing ref in Vegas who's currently wearing a mask. … There's a new website where you can shop for team-issued apparel from college student-athletes who are selling off their team gear. … White House coronavirus task force member Dr. Deborah Birx is trying to encourage people to wear masks by making her masks a fashion statement (from Alan Kreit). … The Richland County (S.C.) sheriff's department has added the term "Peace Officer" to deputies' uniforms and patrol cars (Kary Klismet again). … Also from Kary: Parkwood High School in North Carolina will no longer call its teams the Rebels. … My friend Jonathan, one of the world's foremost digital typographers, has designed the new typeface for presumptive Democratic presidential nominee Joe Biden's campaign. … New Jersey Gov. Phil Murphy has been wearing a variety of NJ-themed masks (from Timmy Donahue).
• • • • •
[adrotate group="2″]
• • • • •
Click to enlarge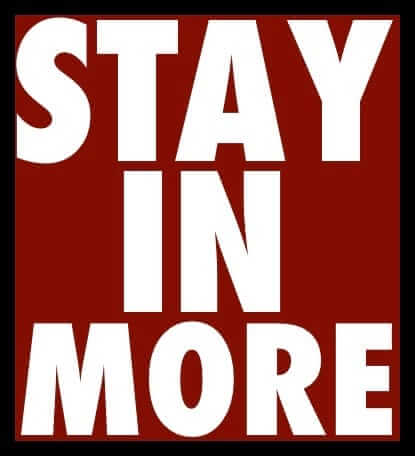 What Paul did last night: If you look closely, you can see that we had a bowl of grapes on the porch with us yesterday evening. I really like grapes, but for some reason we rarely have them in the house, which is really stupid. Note to self: Buy more grapes!
Anyway: This was the first time we've had grapes on hand for Pandemic Porch Cocktails™. Perfect, I thought — I can drop some in my beer so they'll bob around and look festive, as I sometimes do with raspberries. But to my surprise and mild disappointment, it turns out that grapes don't float:
In that photo, they look more like olives!
All of this is basically a long-winded dodge to avoid admitting that I can't remember the name of the dog in the main photo.
As always, you can see the full set of daily Pandemic Porch Cocktails™ photos, dating back to mid-March, here.