[Editor's Note: Today we have a very special guest entry from Chris Callan, who's going to tell us about his incredible bobblehead-restoration work. Enjoy. — PL]
By Chris Callan
Bobblehead dolls, or "nodders," have been an interest of mine for years now. I had a couple of them when I was a kid, but I didn't start collecting them until 2001, when my hometown St. Louis Cardinals added them as part of their stadium giveaway promotions. My first one was for my favorite player (and the team's current manager), Mike Matheny. Although I've missed a few along the way, I've tried to keep up with the Cardinals' stadium giveaways since.
After the first few years collecting the these stadium giveaways, my focus widened a bit, and I began going after some of the vintage bobbleheads. Unlike today's giveaways, these 1960s dolls were made of papier-mâché, not resin, and are much more susceptible to being damaged. Finding one that has survived the past 55-plus years unscathed is pretty rare. Therefore, a vintage bobblehead in excellent condition will command a premium price, which makes collecting them a bit more of a challenge for the average fan on a budget.
About five years ago, I stumbled across a vintage Cardinals mascot bobblehead on eBay for only $25. The price reflected the very poor condition of the doll, which had numerous chips, cracks, faded paint, and 50 years' worth of dirt. My initial reaction was to pass, but then it occurred to me: "Hey, I'm a professional artist, and capable with a brush — why not try to fix it up myself?" So that's exactly what I did. I won the doll without a bidding war and set out to fix it up.
First I had to give it a good cleaning, and then address damage that needed repair. Cracks, dents, and chips had to be filled in and sanded down smooth. I used modeling compound and plastic wood filler for this. Next came repainting, trying to match as closely as possible to the original colors (although in this case I turned the gold base green). Once all the paint was dry, I replaced the original uniform decals with ones that I had created on my computer and printed on water-slide decal paper. Here are some before/after shots [for all photos in this entry, you can click to enlarge]:
It would be fair to say that there was a bit of a learning curve with this first attempt, but I was still pleased with the results, and it went straight into my collection.
Having completed this experiment, I did the same thing with another vintage Cardinals doll, and then another. Realizing how much I enjoyed this process, I started searching for other damaged vintage nodders, which I fixed up and resold on eBay (making it clear that they were restored and not original). I also started to receive requests from collectors. As I went, the projects all seemed to fall into one of three categories:
1. Restorations: Taking a damaged/deteriorated vintage doll and bringing it back to its original condition/appearance.
2. Replicas: Taking an original vintage doll and making it look like another vintage manufactured doll (usually one that is more scarce, and more valuable).
3. Customs: Converting a vintage doll into a unique, one-of-a-kind creation never before made.
One replica project I did a while back was to try to create a Houston Colt .45s bobblehead featuring a black player, which is one of the scarcest, most sought-after nodders in the hobby, often selling for prices in the thousands. In addition, the first edition of Houston Colts dolls showed the player holding a pistol. This was changed to a glove and bat in subsequent releases, making the pistol dolls even more desirable. Here's an example of one of those dolls: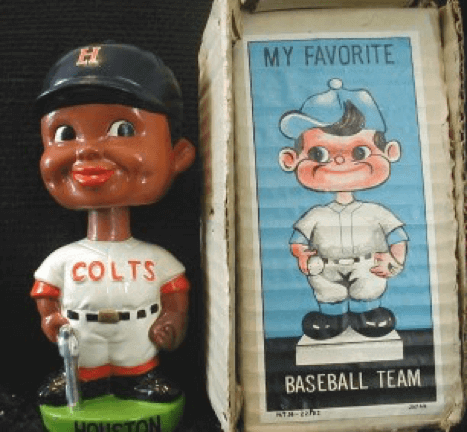 The primary challenge I faced with re-creating this bobblehead was establishing a starting point. Acquiring an original Colts doll to use as my base — even one in poor condition — was not easy, or affordable. So instead I chose to modify a more common bat/ball vintage doll, adding the pistol myself. This required some additional sculpting to achieve the right form. The bat had to be removed and replaced with a pistol; the chest lettering had to be raised; and some variations in the facial features also needed to be addressed.
Here are some photos showing the modification process, followed by the finished product: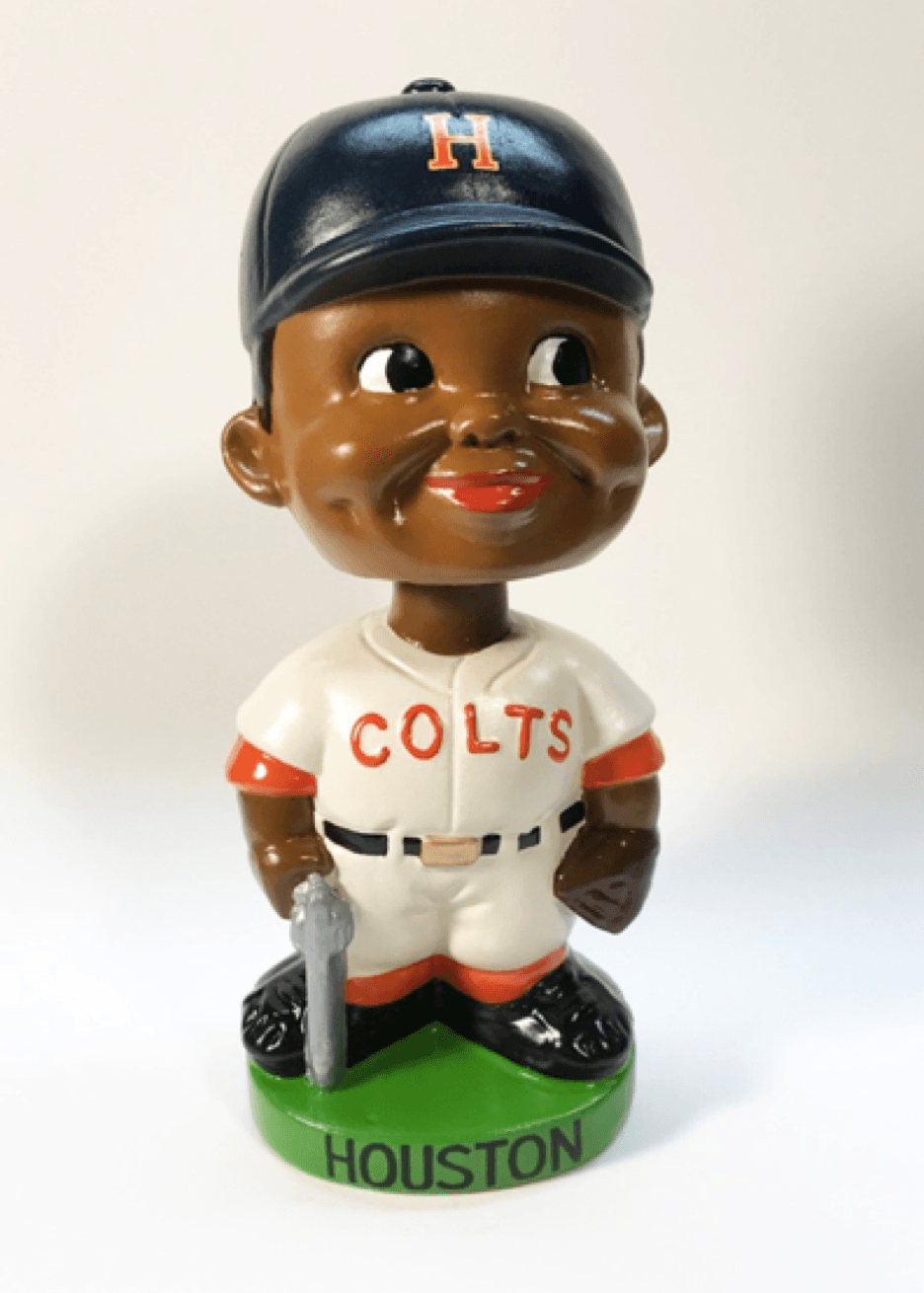 I had no intention of deceiving someone into thinking they were getting an original Colts doll. When I posted it on eBay, I included a detailed description of the work that was done, along with progress photos. My goal was to provide an opportunity for a collector who would otherwise have no chance of owning an original Colts doll, at a fraction of the cost.
I received a lot of very positive feedback, but I also heard from serious collectors who were concerned about how a replica could be misrepresented down the line. Even if I was being honest and upfront, the next guy might not be. These concerns seemed valid, and I didn't want to do anything to harm the hobby, so I decided not do any more replica projects. Since then, I have stuck to straightforward restorations, and custom projects that can't be confused with an original production doll.
Here are some before and after pictures of a few of the restoration projects I have done — a Washington Senator, a Houston Oiler, and a Los Angeles Dodger: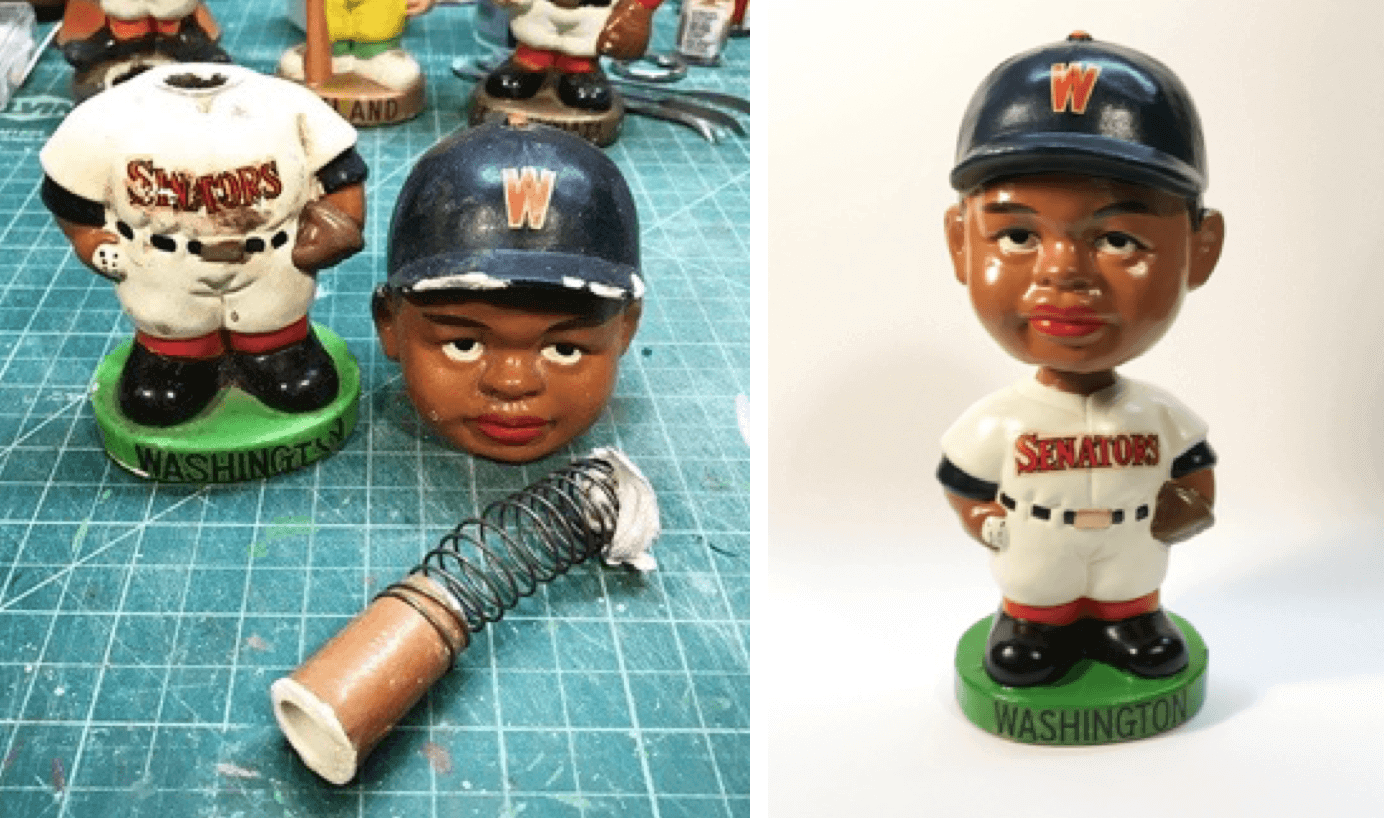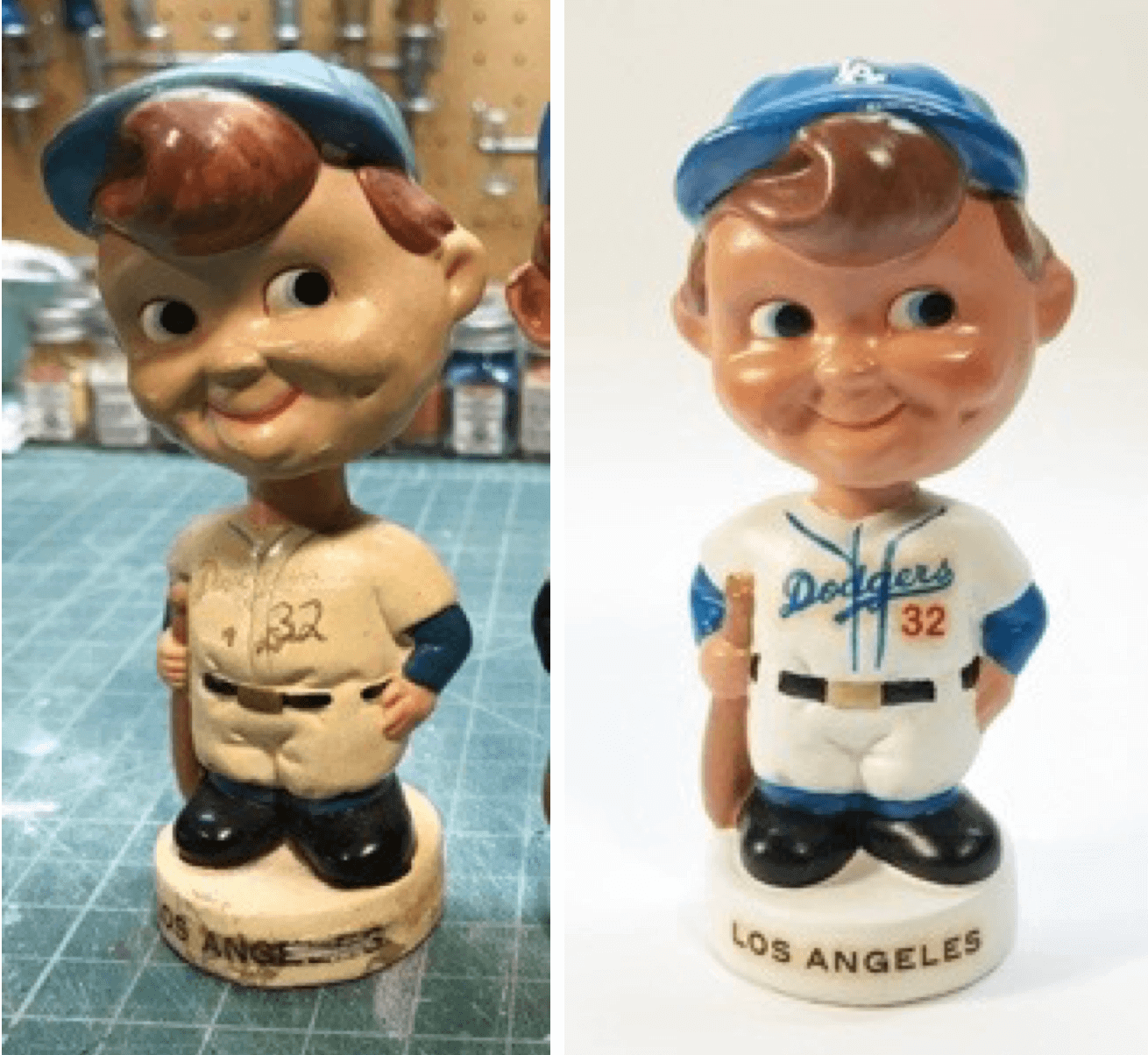 And here's a custom job I created — a Mr. Redlegs doll that I turned into a Reds boy. (There were no Reds boy bobblheads produced in the 1960s, so this would never be mistaken for an original production piece.)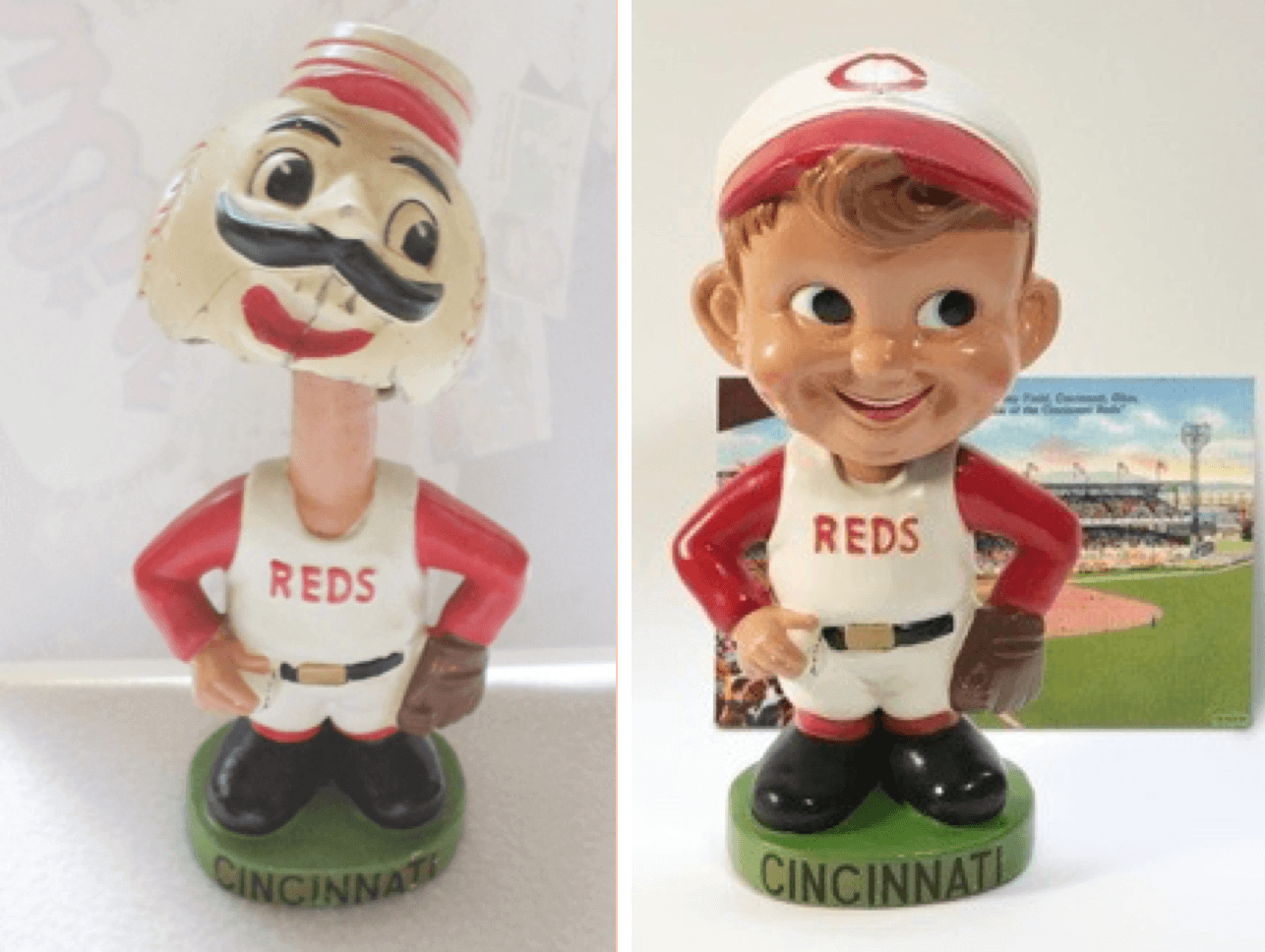 My most recent project a Willie Mays mini-bobblehead. A few popular player dolls, including Mays, were rendered as full-size dolls, but Mays was never made as a mini. I had to sculpt the head completely from scratch, using a full-size Mays doll as a guide.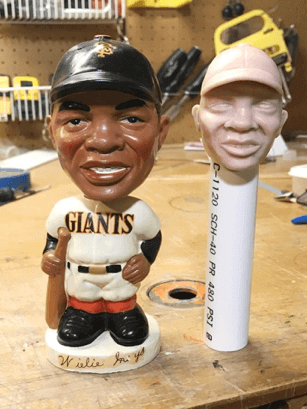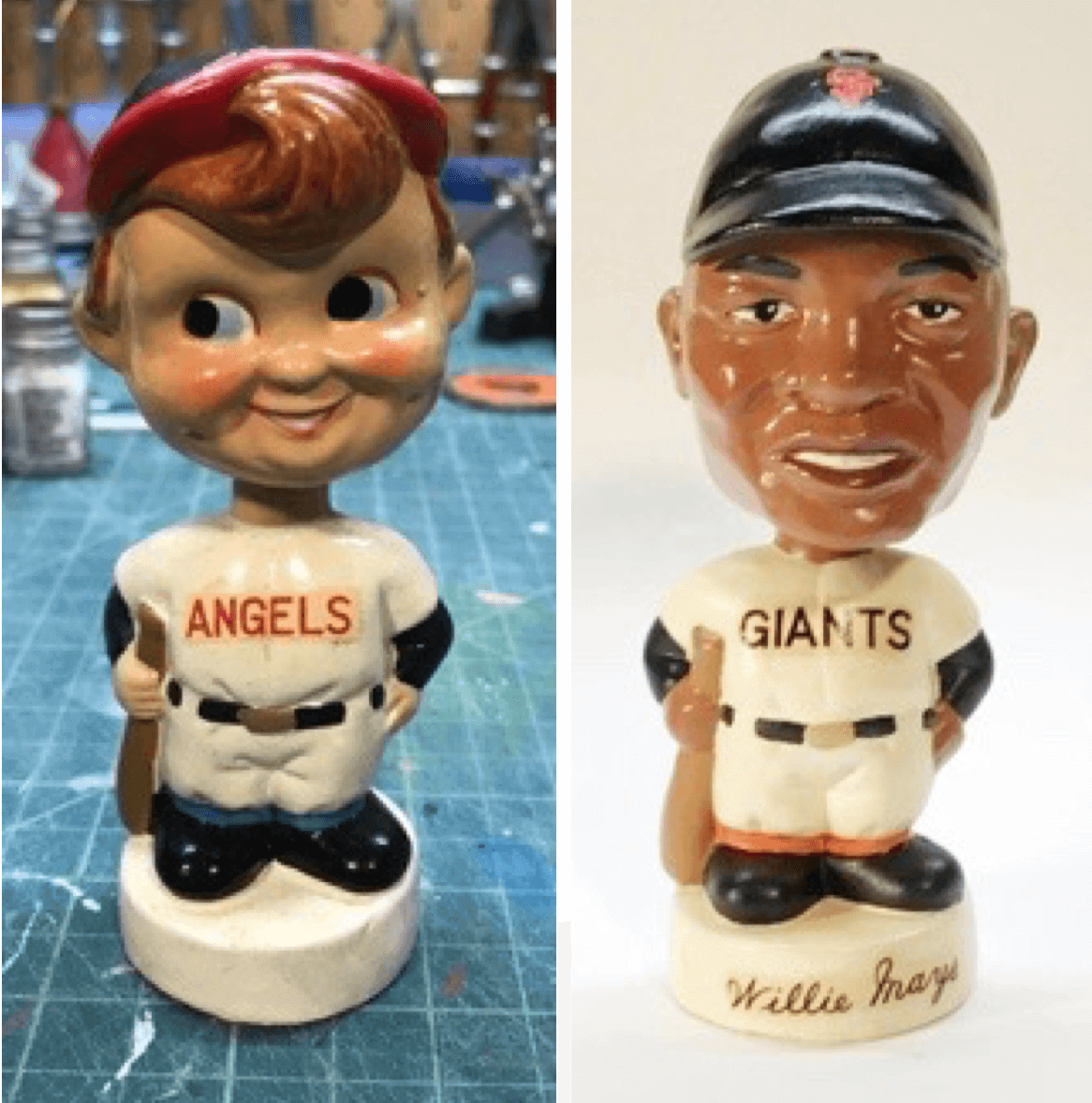 I continue to receive special requests from collectors. The majority tend to be restorations, but the custom projects are probably the most enjoyable! It's very rewarding to take something that has deteriorated and bring it back to life, making it beautiful and desirable once again.
———
Paul here. Is that some great stuff or what? Big thanks to Chris for sharing his expertise with us.
And there's more: A week or so after Chris sent all of this content to me, I received a package in the mail from him. Here's what was inside (click to enlarge):
Pretty cool, right? For the helmet logo, Chris created a variation on the Uni Watch "winged stirrup," transforming it into a winged football sock:
Like the rest of Chris's bobbles, this one started out as something else. Here's the original. (Also, it's worth noting that this isn't the first Uni Watch bobblehead. Comrade Robert Marshall created a series of Uni Watch bobbles back in 2009, and those were custom-cast from scratch, not repurposed vintage dolls. One of the all-time great DIY projects!)
If you're interested in commissioning Chris to do some bobblehead work for you, you can contact him here. And you can see a bunch of his work by going to eBay and searching on his eBay name, crc-customs.
• • • • •
[adrotate group="2″]
• • • • •
Click to enlarge
But no Paul Hornung betting slips or Brett Favre painkiller prescriptions: The PBS show Antiques Roadshow recently made a stop in Green Bay, and naturally some people showed up with Packers memorabilia. Of particular interest to us from a uni-related perspective is the helmet shown above — a prototype of the gold helmet design that Packers GM Ron Wolf wanted to introduce in 1993 as part of a new uniform design. Wolf even got then-scout and future Packers GM Ted Thompson to model the new uniform but eventually backed off on the uni-redesign plan.
The guy who brought in the helmet to Antiques Roadshow said he got it at a thrift shop for $25. He later got Wolf to autograph it.
Another person brought in a big helmet-shaped sign that her father stole from Lambeau Field during the celebration/melee following the Packers' victory in the Ice Bowl. She later got it signed by former Ice Bowlers Jerry Kramer and Doug Hart.
You can see the full Antiques Roadshow episode here. The segment with the Ice Bowl sign comes up at the 1:05 mark, and the helmet prototype appears at 29:29.
(My thanks to Miles Cliatt for letting me know about this one, and to Don Stein for the Ted Thompson factoid.)
• • • • •
[adrotate group="2″]
• • • • •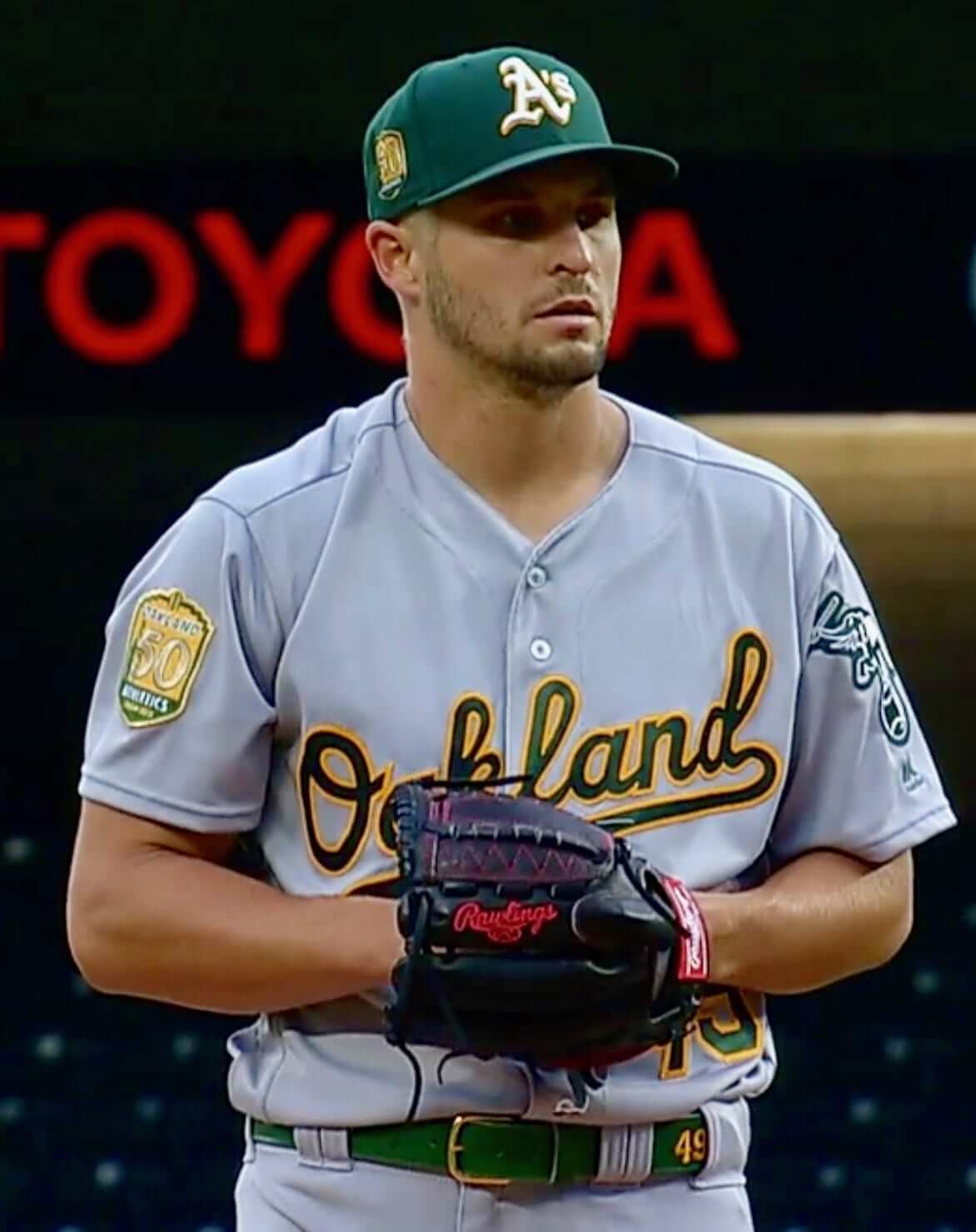 It's officially a trend: Last week I noted that Mets players Noah Syndergaard and Yoenis Céspedes were wearing uni-numbered belts. Last night A's starter Kendall Graveman was doing likewise. So this is definitely a thing.
Belts are the most overlooked part of an MLB uniform. I know that the ones with the slightly larger, flashier buckle are made by Mizuno, but I have no idea who makes the more standard-looking ones. I'll try to find out today.
Does anyone collect MLB belts? I did a search on "game-used MLB belt" (which was complicated significantly by the existence of Giants first baseman Brandon Belt) and came up with two auction listings: one for a belt and cap once worn by former Mets reliever Scott Schoenweis, which sold for $31.67, and another for a lot of six belts worn by Hall of Famer Barry Larkin, which sold for $179.25. (It's not clear why Larkin saved a bunch of belts from various stages of his career. Hmmmmm.)
About the only time an MLB belt gets any attention is when it breaks. Articles about the future of the baseball uniform often mention that the belt is an antiquated accessory that needs to go. And of course it did go in the 1970s and '80s, as many teams switched to elastic-waistbanded pants. But by 1993, they'd all switched back to belted pants, and pants have remained belted in the quarter-century since then. So belts are a fixture, if a rather inconspicuous one. Which is why I'm all geeked out about these uni-numbered belts — it's the first real change in this uniform element in a generation.
(My thanks to @justin_sr for letting me know about Kendall Graves's belt last night.)
• • • • •
[adrotate group="2″]
• • • • •
Click to enlarge
Two Giants in their field: Who's that posing with Giants skipper Bruce Bochy, while holding a Bochy gnome figurine? It's none other than our own "Collector's Corner" columnist and diehard Giants fan Brinke Guthrie, who got to meet Bochy last night when he made an appearance at a San Francisco sneaker shop. Looking good, Brinke!
• • • • •
[adrotate group="2″]
• • • • •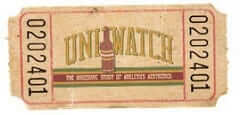 Raffle reminder: In case you missed it earlier this week, our friends at Ebbets Field Flannels are raffling off a super-cool Santurce Cangrejeros T-shirt. Full details here.
While we're at it: As you may have noticed, Ebbets is currently running an ad in our right-hand sidebar, and they're also partnering with us to create and sell the first Uni Watch cap, which should be available in mid-May. They have great stuff — please consider them, and the rest of our advertisers, for your shopping needs. Thanks.
• • • • •
[adrotate group="2″]
• • • • •
The Ticker
By Paul

'Skins Watch: A high school in Turners Falls, Mass., whose teams had previously been called the Indians, is asking students and residents to vote on a new team name. The voting runs from now through May 16.

Baseball News: What, no anniversary patch? The Phillie Phanatic made his debut 40 years ago yesterday. … I haven't heard anything about the D-backs' bullpen cart since the beginning of the season, when it was reported that most relievers were declining to use it. Also, the Tigers were reportedly introducing a cart, but I haven't heard anything more about that either. Has the whole project been quietly shelved? … Why were the Expos and White Sox playing each other, and why were they both wearing road uniforms? That photo's from the 1970 Hall of Fame Game (from Chris Mayberry). … The New Orleans Baby Cakes will become the CrawDaddys for one game on May 1. … Highly touted Braves prospect Ronald Acuña Jr., who was just called up, has a tilde and JROB on his jersey (from Richard Grossman). … Peoria Richwoods High School in Illinois has striking green uniforms with white pinstripes, similar to the Cubs' old reverse-pinstriped powder blue road uniforms (from Ben Zoss). … After the Houston Rockets won their NBA playoff game last night, Rockets G Gerald Green wore a Nolan Ryan Astros tequila sunrise jersey (from Ignacio Salazar). … Several readers have noticed that the Blue Jays now have uni numbers on the back of their sweatshirt/pullover thingies. Does any other team do that? … Speaking of new pullovers, the umpires appear to have a new design with a grey shoulder yoke. Or at least I think it's new — a few people have told me it actually debuted last year, although I don't recall seeing it until now.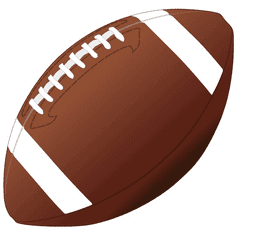 Pro Football News: "I work for a wine and spirits chain in Florida and we are always getting promo items that vendors hope we will sell," says Jon Solomonson. "This Broncos koozie caught my eye. They aren't shown on the manufacturer's website yet." … The 2019 Grey Cup will be played in Calgary (from Wade Heidt). … The Titans have been working out with their new helmets and practice jerseys. Not liking that new number font. Lots of additional photos are in a gallery that you can access by scrolling down on this page (from Nathan Dearman). … The Vikings are holding a "garage sale," in which they'll be selling off lots of team gear. … Buncha good stuff from Pro Football Journal, including shots of Bears P Bobby Joe Green going without a facemask in 1970 and Bears QB Bobby Douglass with a serious rear-jersey tear.

College Football News: New uniforms for ECU. Additional info here. … In a related item, it looks like Adidas jerseys will no longer have the tire tread pattern.

Hockey News: It's a little hard to see, but former Boston Celtics coach Tommy Heinsohn was on hand for last night's Bruins playoff game, and the team gave him a Bruins jersey with green uni numbers (from Lance Harris).

Basketball News: Cross-listed from the hockey section: It's a little hard to see, but former Celtics coach Tommy Heinsohn was on hand for last night's Boston Bruins playoff game, and the team gave him a Bruins jersey with green uni numbers (from Lance Harris). … Here's the backstory on the logo for the Augusta 706ers, a new team in the ABA. … Cross-listed from the baseball section: After the Rockets won their NBA playoff game last night, G Gerald Green wore a Nolan Ryan Houston Astros tequila sunrise jersey (from Ignacio Salazar).

Soccer News: AC Milan's new kit has leaked, and so has Borussia Mönchengladbach's (from Josh Hinton). … So has Corinthians' (from Ed Zelaski). … So has Bayern Munich's. … Speaking of, uni leaks seem to be much more common in soccer than in other sports. Anyone know why that is? … Real Madrid star Cristiano Ronaldo sent a signed shirt to Manchester United forward Marcus Rashford. … The new MASL team in Orlando will be called the SeaWolves (from Jim Vilk). … New kit for Dundee United (Josh Hinton again).

Grab Bag: Wyoming athletics, which had been outfitted by Nike, is switching to Adidas (from @WyoNationBlog). … The West Virginia Dept. of Agriculture is encouraging people to vote on a new "West Virginia Grown" logo. … New city flag for Reno (from Manzell B). … New logo design for TV station WMAZ in Macon, Ga. … The American Pecan Council has unveiled a new logo and slogan.
• • • • •
Happy Birthday to Comrade Robert Marshall, head of the Uni Watch Stirrups Club and an all-around swell guy. Love ya, Moose — big hugs to you on your special day.