As you may have noticed in the left-hand sidebar, our friends at Grey Flannel Auctions are running another catalog auction. Let's look at some of the highlights:
• We'll begin with the item shown above. Can you believe NBA players actually wore these? That's a 1976 New Orleans Jazz warm-up top. This one actually belonged to Pistol Pete himself!
• I think we may have seen one this in a previous Grey Flannel auction catalog, but taking another look definitely won't hurt when it comes to this spectacular Syracuse Nationals warm-up jacket!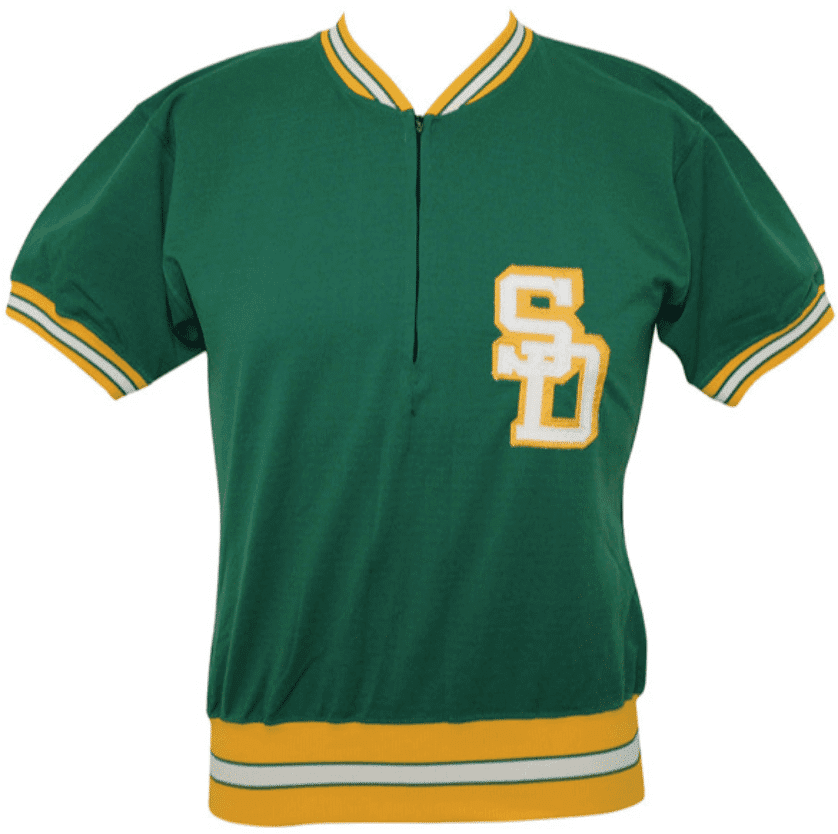 • Oh man, if this were in my size (and if I had a lot more disposable income than I actually do), I'd be all over this magnificent green/yellow 1968 San Diego Rockets shooting shirt. Right up my alley!
• Can never get enough of the San Francisco Warrors' classic "The City" design, with the massive cable car numbers on the back.
• Ooooh, even with some moth holes, this 1934 Chicago Bears jacket is a beauty. Love that chenille logo and lettering!
• Speaking of football jacket, check out this Texas Longhorns model, worn by coach Darrell Royal himself.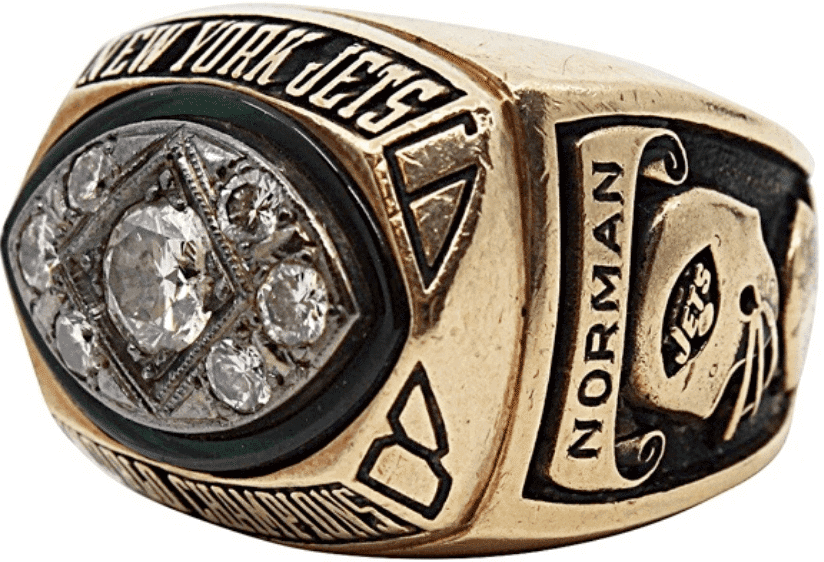 • As a young Mets fan in the early 1970s, I pored over all the fine print in the team's yearbooks and programs, so I know that their equipment manager in those days was a guy named Herb Norman. But I didn't know that he also had the equipment gig for the Jets until I saw this auction listing for his Super Bowl III championship ring. I was like, "Herb Norman — I know that name!" (The auction catalog also has Norman's 1973 Mets 1973 N.L. championship ring.)
• Speaking of championship rings, I love how this 1944 Cardinals World Series ring shows the birds on the bat on the side of the ring.
• And speaking of the birds on the bat, here's a jersey from the one season when the birds were AWOL — the (in)famous 1956 one-year style, complete with Slugger Bird on the left sleeve. This one was worn by Stan the Man!'
• And speaking of the Cardinals' sleeves, I always thought it was weird that they wore sleeve numbers on both sleeves in 1979 and '80, as seen on this 1979 Lou Brock gamer.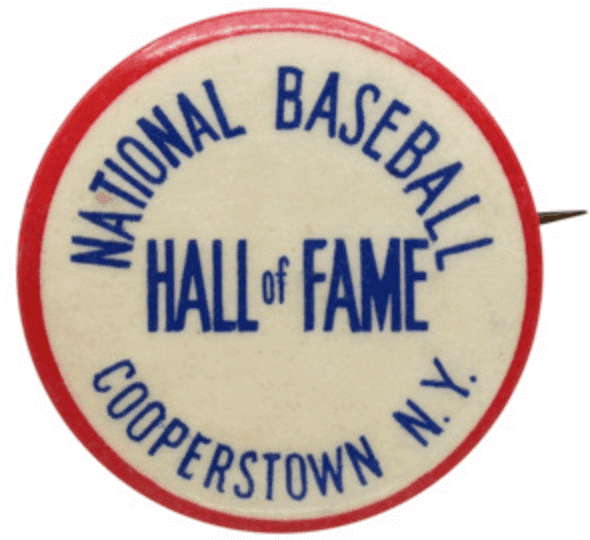 • This is really a listing for an autographed scorecard from the 1951 Baseball Hall of Fame Game, but what I like is the little pin that comes with it!
• I've known for many years that the Cubs had handwritten uni numbers inside their raised helmet logos in the 1960s and early '70s. But I don't think I've ever seen such an up-close view as the one provided by this 1969 Ernie Banks helmet.
• Here's an Ichiro jersey from his days in Japan, with massive "Ichiro" NOB lettering.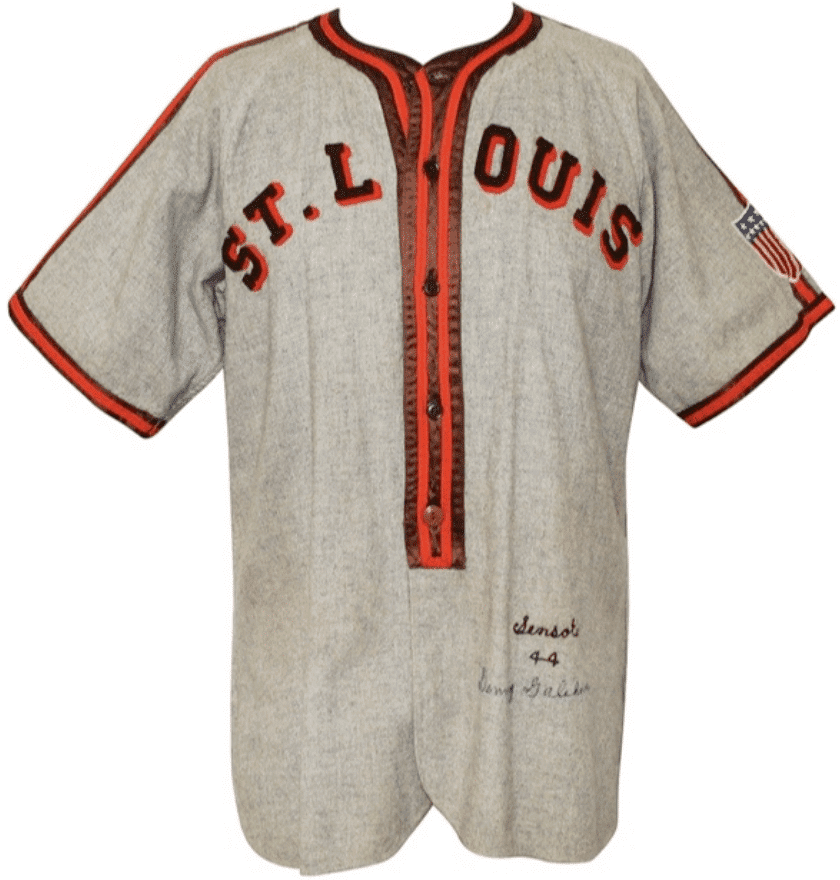 • Has any word on a uniform ever been more jarringly interrupted than the word "Louis" on this 1944 St. Louis Browns jersey? Nice stars/stripes shield for World War II, too.
• And we conclude with one of the strangest jersey designs in MLB history: Baseball chest insignias are usually either straight, arched, or sloped "uphill," but the 1928 Tigers wore their team name sloping downhill. Bizarre!
Want to see more? Here's the full online catalog.
• • • • •
• • • • •
ITEM! Contest results: My latest Uni Watch design challenge was to come up with patches, decals, or other signifiers that teams and leagues could wear to acknowledge this year's racial justice uprising.
We got some good submissions. You can see the best and most interesting one (including Brandon Pararas's Josh Gibson-themed patch for MLB teams to wear) over at InsideHook.
Speaking of InsideHook: As you may recall, about two months ago I did my Uni Watch MLB Power Rankings for them. Next up: the NFL Power Rankings, which should come later this month.
• • • • •
• • • • •
Branch update: After a brief holiday-weekend delay, I'm happy to report that things are proceeding nicely on the Brooklyn Branches prototype jersey that was conceived last week by reader Ron Ruelle. Ron and DIYer Waffledbored have been been talking about how to bring the jersey to life in the real world (there may be a few design adjustments from Ron's original concept), and yesterday I packed up several branch pieces and sent them Wafflebored-ward. The branch pieces will be used to make wooden buttons for the jersey.
When the one-of-a-kind jersey is done, we'll auction it off and donate the proceeds to a tree-based environmental group (I'm leaning toward the Arbor Day Foundation). I'll keep you posted as things develop!
• • • • •
• • • • •
Membership update: Yesterday I showcased Bill Emigh's St. Louis Hawks card. Bill emailed to let me know that he appreciated the shout-out but that the guy who really deserves the attention is his buddy and fellow new enrollee Chris Hart, because Chris is the one who turned him on to Uni Watch in the first place.
"Chris went to UNC on a baseball scholarship during the time Michael Jordan was there," says Bill. "Chris's claim to fame was meeting Michael on campus and Michael gave his dog, Taj Majal, a pat on his head that Chris swore gave the dog special powers!"
So there you go: Chris Hart — a special guy with a special dog who got head-patted by MJ himself! I'm happy to showcase his UNC-themed membership card today.
Even if Michael Jordan has never made contact with your dog, ordering a membership card is a good way to support Uni Watch (which, frankly, could use your support these days). And remember, as a gesture of comm-uni-ty solidarity, the price of a membership has been reduced from $25 to $20 until further notice.
As always, you can sign up for your own custom-designed card here, you can see all the cards we've designed so far here (now more than 2,800 of them!), and you can see how we produce the cards here.
• • • • •
• • • • •
KRC update: The latest installment of Key Ring Chronicles is about a length of pink ribbon. You can check it out here.
• • • • •
• • • • •
The Ticker
By Lloyd Alaban

Baseball News: We've seen MLB players with their uni numbers printed onto their belts, but Mets P Marcus Stroman has been wearing his number — No. 0 — on his belt's built-in loop (from @UntillTheNight). … The Pirates are hanging banners outside their ballpark honoring medical workers.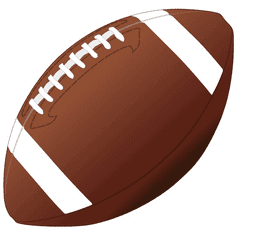 Football News: In 1972, Bears DL Willie Holman had some interesting additions to his facemask. It looks like he stuffed athletic tape and gauze between his facemask and helmet. He also had a great-looking leather chinstrap (from Bill Kellick). … LSU released a time lapse video showing the formation of their national champions logo (from Benji King). … Alabama will sell digital-only tickets in response to the pandemic (from Griffin Smith).

Basketball News: Some NBA players have announced the social justice messages that they'll be wearing in place of their NOBs (from Mike Chamernik). … Here are some of the new shoes that NBA players will be wearing when the season resumes. … U.S. Senator and WNBA Atlanta Dream co-owner Kelly Loeffler spoke out against the WNBA's Black Lives Matter initiative yesterday. Ironically, she said, "The truth is, we need less — not more politics in sports," despite being a politician who co-owns a pro sports team.

Soccer News: MLS is allowing players to wear social activism messages or names on the lower back of their game jerseys (from our own Jamie Rathjen). … More pictures of Manchester City's new shirts have leaked (from Josh Hinton). … Also from Josh: Nike has accidentally leaked Tottenham Hotspur's new shirt. … Chivas's new home and third shirts have leaked. … Borussia Dortmund's new away kit has leaked. … New shirts for Porto (from Charles George). … New shirt for Loch Ness FC (from Mark Coale). … Club America and Pumas went navy vs. navy (from Mauricio Montoya). … Brazil's famous yellow shirts have been adopted as a symbol by the country's far right over the past few years, so some on the left want the national team to return to the white and blue worn until 1950, while others want to wear yellow themselves (from our own Jamie Rathjen). … New shirts for EPL team Southampton (from Ed Zelaski). … Also from Ed: Spanish side Real Socidead has extended its kit-outfitting deal with Macron through 2026.

Grab Bag: New alternate logo for Russian men's volleyball club Fakel Novy Urengoy (from Jeremy Brahm). … Curling Canada has revealed its guidelines for curling to return during the pandemic. Only one sweeper per rock will be allowed. … The NFHS, which makes the rules for most high school sports in the country, is scrapping its rule requiring field hockey players to wear goggles, since requiring them means that players who wear glasses need a waiver, and also that nobody can wear masks when defending penalty corners. In the rest of the sport, goggles aren't allowed except for medical reasons (from our own Jamie Rathjen). … Parkwood High School (NC) will no longer call its teams the Rebels (from Duncan Wilson). … Check it out: a guy at the beach with a literal NOB (from @ccbiii2000). … A restaurant in Medford, Ore., has bar chairs whose seatbacks feature the logos of assorted pro sports teams (from James Brooks).
• • • • •
[adrotate group="2″]
• • • • •
Click to enlarge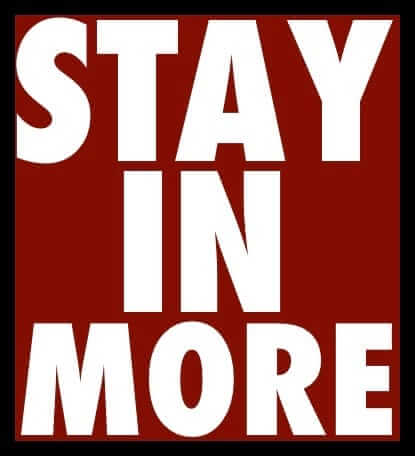 What Paul did last night: When we started doing Pandemic Porch Cocktails™ back in March, we both partook of alcohol every evening. At some point — I'm not sure exactly when — the Tugboat Captain decided she'd imbibe only on the weekends and have seltzer or some other non-intoxicant on weekday evenings. Every now and then, though, she makes an exception. Last night was such an occasion, because she'd had a good virtual remote job interview during the afternoon and decided to celebrate with some sort of vodka concoction. A good day.
On the far sidewalk, you can see Marley (or maybe Marlie — we're not sure how it's spelled), a beautiful collie that lives across the street from us and has a very regal bearing, although you can't tell that from this photo. Always makes me happy to see him (her?) out for a walk.
As always, you can see the full set of daily Pandemic Porch Cocktails™ photos, dating back to mid-March, here.
• • • • •
Our latest raffle winner is Dan Schneeman, who's won himself a membership card. Congrats to him, and thanks to Kevin Cearfoss for sponsoring this one.