Click to enlarge
Almost exactly one year ago, I published a long interview with A's vendor Hal the Hot Dog Guy. It was a very popular entry, and is probably my favorite Uni Watch post ever, mainly because Hal's energy, joy, and playful humor are all so infectious. He's a true people person, and you can tell that everyone who encounters him comes away feeling a little better about themselves and about the world.
With the baseball season on hold, Hal and his fellow vendors and other gameday employees are out of work. For many of them, working at the ballpark is their primary livelihood, so Hal has taken it upon himself to create a GoFundMe campaign for them. If you donate, you get one of his personal trading cards (or more than one, depending on how much you donate):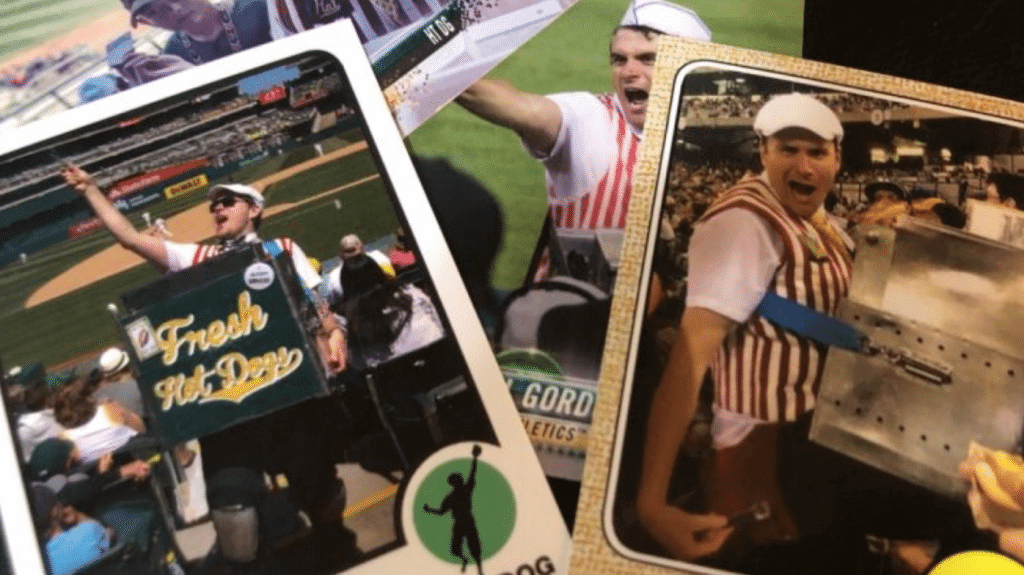 You can see additional views of Hal's cards, including the back sides, here.
The best part about this fundraiser (well, aside from how it's just another example of what a big heart Hal has) is that Hal's been promoting it via a series of hilarious videos shot in his backyard, which really capture his irresistible charisma. Check this out:
How awesome is that? It's so good, I don't even mind that he didn't put capers on the hot dog!
In addition, Hal now has a fun line of T-shirts, stickers, coffee mugs, hoodies, and more that's he's selling on Teespring, with 50% of his profits going toward the fundraiser. Here are a few of the items:
That "Gimme an A!" design is based on one of Hal's signature ballpark chants, which he and his wife recently recreated in the backyard:
GIMMIE AN A! Promise me you chanted back at me while you watched this. Don't leave me hangin! https://t.co/JFAahDnT6y You can support vendors by buying my merch. 50% goes to the vendor fund. Or just donate directly: https://t.co/zmb8PJvEC8 #RootedInOakland #Athletics pic.twitter.com/OKAaPN5QL2

— Hal the Hot Dog Guy 🌭🐘⚾️ (@ashotdog) May 3, 2020
And in case you're wondering about that A's-style "A," Hal says, "I emailed the A's twice to let them know I was going to rip off their logo and told them I could alter it if there was a problem, and they specifically didn't respond to that (they responded to other parts of the email), so I assume that was a wink and a nod, saying it was fine."
Again, Hal's GoFundMe is here, and his Teespring shop is here.
Why am I promoting all of this? Because interacting with Hal always reminds me that I can be a better person, a more joyful person, a more generous-spirited person. It may seem odd that I'd take that form of enlightenment from a hot dog vendor, but hey, inspiration is where you find it, right? I mean, even his new "Hal's My Pal" slogan is about how friendly he is!
Basically, Hal is who I hope I can be when I grow up — even though he's more than 20 years younger than I am. He and his fellow gameday workers make all of our lives better, and they're hurting right now, so please consider supporting them. Thanks.
• • • • •
• • • • •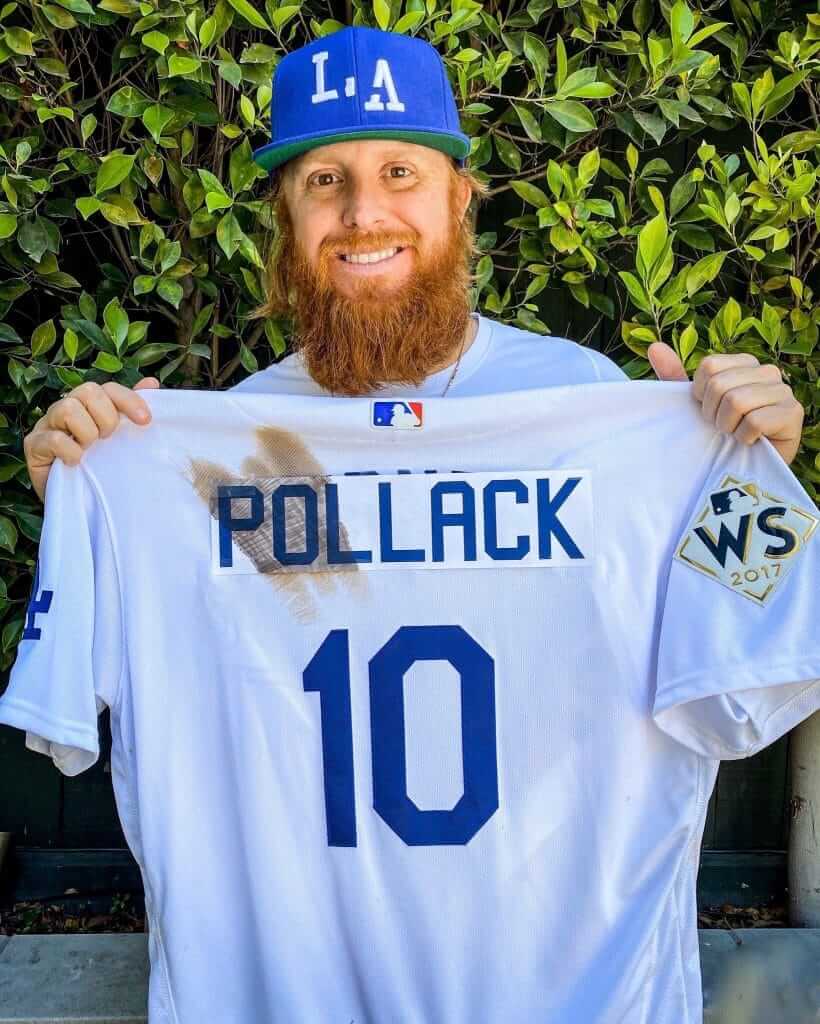 Click to enlarge
A nice gesture: Yesterday was National Nurses Day, so athletes across the sports posted photos and videos of themselves holding their own jerseys, but with their NOBs replaced by the names of frontline healthcare workers. Dodgers third baseman Justin Turner took things a step further by wearing a cap with a social distanced version of the team's logo (hadn't seen that one before!), plus he included his signature pine tar smudge across the cover-up NOB — nice.
Lots of photos and videos were tweeted yesterday with the hashtag #TheRealHeroes. More info here.
(My thanks to Rob Granados for the Turner photo.)
• • • • •
• • • • •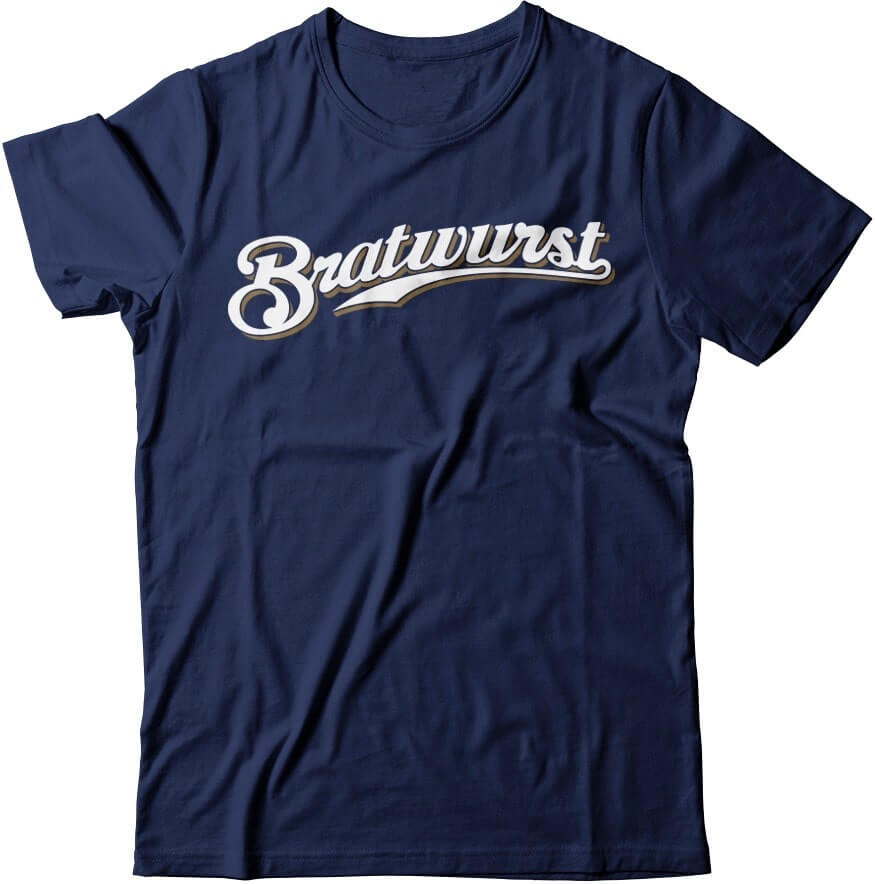 This and that: Some notes and reminders:
• It's fun to play around with food-themed sports insignia, no? If you agree, let's discuss.
• We have about 60 remaining pins for the Uni Watch Pin Club's May design, featuring a super-cool auto racing theme. Numbered edition of 250 — when they're gone, they're gone. Get yours here.
• You can save 15% on that pin, and on everything else in the Uni Watch Shop and the Naming Wrongs Shop, but using the checkout code COMMUNITY.
• If you have a very small or very large head, I still have Uni Watch caps in sizes 7 and 7-7/8, at the pandemic-friendly price of only $35.99. (Our factory has been shut down, but I'm told we should have all other fitted sizes and adjustables back in stock by mid-June-ish.)
• Until further notice, you can get a custom-designed Uni Watch membership card for only $20 — down from our usual price of $25.
• You can see more fine Uni Watch products here.
Want to support Uni Watch via a donation instead of a merch purch? Here's how you can do that.
• • • • •
• • • • •
Membership update: When I receive a new batch of membership card designs from designer Scott M.X. Turner, I review the designs and make sure everything matches up with what the enrollees requested. When I got to Eric Stroker's card, I thought something was off — Eric wanted his card to be based on the Red Sox's navy alternate jerseys, and that "44" definitely didn't look like the team's distinctive McAuliffe font. But as I quickly discovered, the "4" in that font isn't as distinctive as most of the other numerals, which I somehow hadn't realized until now. Just another way that the membership project continues to teach me things!
Eric's card is one of several that have been added to the membership card gallery, as Scott and I continue to work our way through the recent spike in orders (thank you!).
Ordering a membership card is a good way to support Uni Watch (which, frankly, could use your support these days). And remember, as a gesture of comm-uni-ty solidarity, the price of a membership has been reduced from $25 to $20 until further notice.
As always, you can sign up for your own custom-designed card here, you can see all the cards we've designed so far here (now more than 2,600 of them!), and you can see how we produce the cards here.
• • • • •
• • • • •
The Ticker
By Paul
Baseball News: If you can try to ignore whatever your political leanings happen to be and just focus on the story, this article on whether Donald Trump was a actually a pro baseball prospect, as he has claimed, is a fascinating piece of investigative journalism. Recommended reading. … MLB is now selling team-branded face masks (from Jason Ricles). … Here's a nice photo gallery of Oklahoma State's new stadium, which is set to open whenever college baseball comes back (from Kary Klismet). … Boooo! Yesterday the Mets' official Twitter account endorsed 1B Pete Alonso's informal campaign to bring back the BFBS uniforms — and used the wrong NOB and number fonts to boot (from Shannon Shark).
Football News News: Here are the uni number assignments for the Jags' rookies. … Seahawks QB Russell Wilson has a field at his home property emblazoned with his own personal logo (from Boden Pollack). … Toledo was supposed to get a new arena league team in 2010, but the league it was supposed to be a part of ended up folding before that could happen. Now the uniforms that the Toledo squad would have worn have finally been unveiled — a decade after the fact (from Tom Konecny). … Penn State's student newspaper has ranked the school's football uniforms (from William Yurasko).
Hockey News: With the whole "murder hornets" thing trending, I guess it was only a matter of time before someone jokingly suggested that the NHL's new Seattle franchise would be named after them (from @vancealot29). … Whoa, check out this early-1980s Winnipeg Jets cookbook! Scroll down to see some of the interior pages (from @John Przebieglec). … Interesting video of Mark Messier on the night he became the Rangers' captain, with the captain's "C" positioned rather awkwardly alongside the NHL 75th-anniversary logo patch. … Speaking of Messier, check out the "big apple" logo on the sleeve of his practice jersey. I don't recall seeing that one before, and it's not shown on SportsLogos.net's Rangers page (good one from Pat Craven).
NBA News: A judge has ruled against Clippers G/F Kawhi Leonard, who had claimed that Nike stole his "Klaw" logo. … Having already ranked jerseys, ESPN has now ranked the 74 best and 10 worst sneakers in NBA history (from Nicklaus Wallmeyer). … In Game One of the 1993 NBA Finals, Suns G Danny Ainge wore a DIY memorial for Drazen Petrovich. … The Raptors' players depicted as Animal Crossing characters? Sure, why not (from Andreas Papadopoulos). … Here's a depiction of an NBA-style game featuring The Office vs. Friends (from @DJinLOU). … Here's an amusing look at what we might see if the NBA took over Disney World (from Danny Pedroza). … This 1985 letter on Bulls stationery shows a 20th-season logo that I don't think I've seen before. It's not shown in SportsLogos.net's rundown of Bulls logos, either (good spot by Chris Schwartz).
College Hoops News: Georgetown coach Patrick Ewing says his Olympic gold medals and NCAA championship ring have been stolen. … UMass is getting black alternate uniforms (from Shane Bua).
Soccer News: Tottenham Hotspur winger Son Heung-Min has been going through compulsory military training back home in South Korea. Photos released yesterday showed him in his military uniform (from Asa Domolky). … New away kit for Brazilian side Flamengo. … The rock band Iron Maiden has a new line of soccer shirts patterned after their album covers.
Grab Bag: Stalwart Ticker contributor Kary Klismet has created, with my blessing, a Facebook group for Colorado-area Uni Watch fans. "We're planning on using the group to stay in touch with other area uni-watchers and to provide a forum for information about get-togethers and other events in the future. We're working on some ideas for online events during our current age of social distancing, and will use the group to provide details about those. The group is private, so prospective members will have to ask to join, but that's just to cut down on bots, trolls, and so on." … NASCAR crews will be allowed to sell ads on their face masks when racing resumes later this month (from Chris Hickey). … UC Santa Cruz, whose teams are called the Banana Slugs (yes, really), is holding a vote for a new logo. … Newly installed Chicago police superintendent David Brown plans to undergo the necessary training so he can wear a CPD uniform. … New logo for HP's Omen brand. … New athletics logos for North Union High School in Marysville, Ohio (from the indefatigable Kary Klismet). … A graphic designer who worked on a previous logo for the Mormon church has assessed the church's new logo.
• • • • •
[adrotate group="2″]
• • • • •
Click to enlarge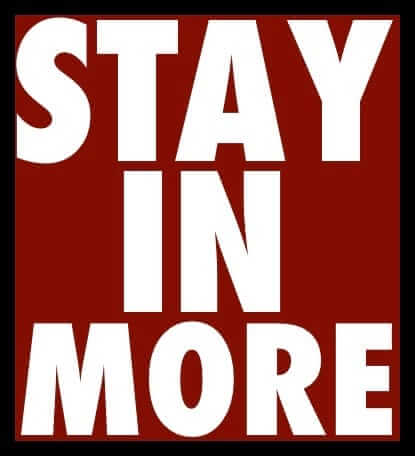 What Paul did last night: Another grey, chilly evening yesterday — 48º and drizzling. Usually we talk about interesting things we read that day, or about the songs that are stuck in our heads and how they got stuck there, or about our families, or whatever. But yesterday, for about 45 minutes, we talked about utilitarianism, and the pros and cons of how it pertains to the pandemic.
Yes, that's right. Utilitarianism. Forty-five minutes.
Bud Copper for me, seltzer for the Tugboat Captain (she had an evening class to attend after our porch session). We saw one very adorable dog hitching a ride in its person's shoulder bag, but I've already forgotten its name and didn't get a photo — sorry.
Oh, and the branch is still there.
As always, you can see the full set of Pandemic Porch Cocktails™ photos here.
• • • • •
Our latest raffle winner is Rob Leavell, who's won an item of his choice from the Vintage Brand website. Congrats to him, and my continued thanks to VB for running these raffles each month. — Paul