Good morning! Greetings from Uni Watch HQ, where all three inhabitants continue to be healthy and safe. Hope you are as well.
Now then: Over the past two decades we've gotten used to the idea of the major sports having league-wide apparel deals with a single outfitter. But for most of the 1900s, teams cut their own deals with sporting goods companies (sometimes even having different suppliers for their home and road uniforms). Fans usually had no idea who those companies were, because visible maker's marks weren't yet a thing, and neither was widespread jersey retailing.
But for a period in the 1990s — during the rise of maker's marks but before the rise of league-wide deals with a single outfitter — you could see the carousel of outfitting deals on display. This was particularly true in the NFL, where teams wore a wide variety of manufacturers' logos, as seen in here:
1990s NFL uni makers included (l-r, top to bottom) Russell, MacGregor, Starter, Apex, Logo Athletic, Adidas, Puma, Wilson, and Wilson Staff. pic.twitter.com/V81oxZPyHN

— Paul Lukas (@UniWatch) October 7, 2016
For some insights on how these deals worked, we're going to hear today from from Kurt Evans. As you may recall, a year ago he wrote a sensational guest entry for us about his time working for Starter in 1980s and '90s, so he was right in the middle of all the churn among NFL teams and outfitters during that period. He's now the curator for the Patriots Hall of Fame (hence the photo shown below, which you can click to enlarge) but still has lots of invaluable stories to tell from his time at Starter. Take it away, Kurt!
1980s and '90s NFL Outfitter History
By Kurt Evans
In the late 1980s and early '90s, Starter — the company I worked for at the time — had the lion's share of sideline gear outfitting the NFL teams. We provided a somewhat informal "promo program" of items at no charge: 24 team polo shirts, 12 satin jackets, and 36 hats. Other styles were seeded to the teams as desired. Aside from Logo 7 on some sidelines, we were the most prevalent brand in the NFL sideline landscape.
As far as the uniforms, teams primarily chose the manufacturers, sometimes in conjunction with the league. I believe this continued until 1993.
In 1990, along came Apex One. They deeply cut into our exposure by flooding teams with their signature jackets. Soon the Chiefs, Oilers, Lions, Bills, Cowboys, and other teams were blanketed in the brand. Logo 7 (which became Logo Athletic) got into the mix as well, and bidding wars commenced. We began offering teams cash and product deals, typically via their head coach, in exchange for their team's sartorial loyalty. It became highly competitive.
Then, I believe in 1993, the system changed. Instead of outfitters bidding and teams choosing, the league decided to assign a sideline merchandise licensee to each team. This started to include the respective on-field uniforms as well. The licensees included Starter, Logo, Apex, Nike, Adidas, and Reebok. Apex One went out of business in 1994, so this new system really took hold in 1995. We started with the most teams, but more and more of them were pulled away from us each year until 1999, when we went out of business.
I'm not sure what sort of system the NFL had for assigning certain teams to certain companies. It seemed to be, at least from our end, that they kept a licensee assigned to that team that they were already supplying for. For example, at Starter we were solidly outfitting the Jets and Dolphins for years, so they kept us with them. But I don't know the overall reasoning as to why they'd pull a team from us and assign it to Nike, or whomever, but it may have been financially driven. The Cowboys were the only team that seemed to dictate who they wanted. They went from Apex to Nike, per Jerry Jones's wishes.
So from 1995 through 2001, those remaining companies — Starter, Logo, Nike, Adidas, and Reebok — provided the uniforms to their league-assigned team. In 1999 and 2000, Logo Athletic partnered with Puma, so Puma was the on-field brand for those years. (Another quirk from that period: In 1996, the Packers wore Starter uniforms but Logo Athletic sideline gear — a strange outlier situation.)
This lasted until 2002, when Reebok's exclusive league-wide deal kicked in. That lasted until 2012, when the contract shifted to Nike.
———
Paul here. My continued thanks to Kurt for his insider's view of this key transitional period in NFL uniform history.
• • • • •
• • • • •
Hosiery hoedown: Check out this 1978 footage of former Orioles great Brooks Robinson — then an O's TV broadcaster, having retired at the end of the 1977 season — teaching Little Leaguers to bunt. So many different stirrup styles on display! Well worth your two minutes.
(Big thanks to Steven Marks for this one.)
• • • • •
• • • • •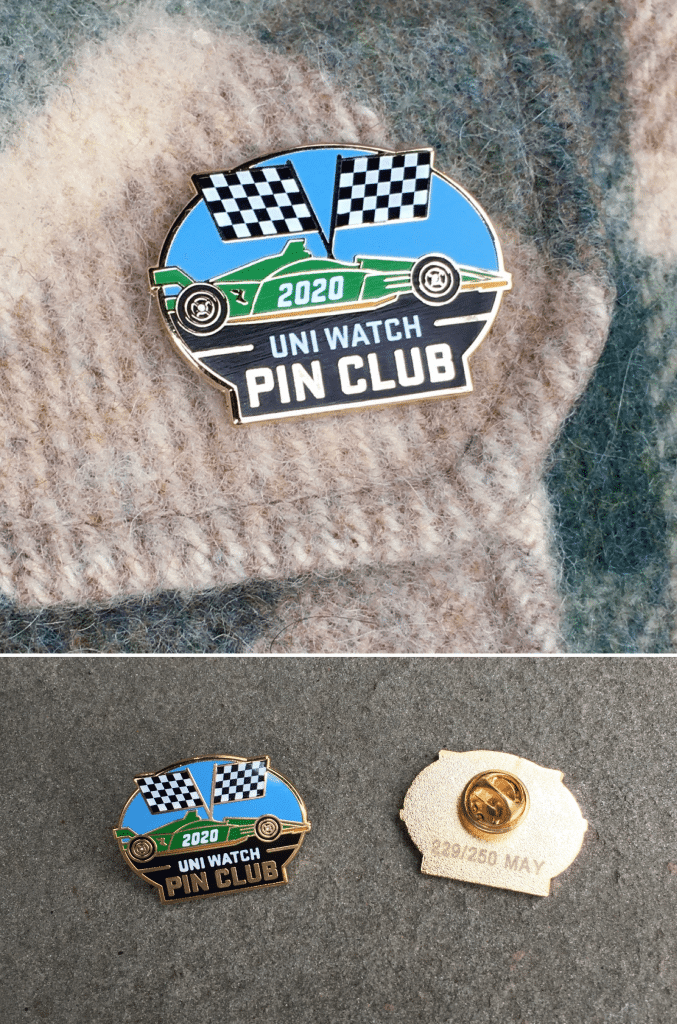 Click to enlarge
Pin Club update: The Uni Watch Pin Club's design for May launched on Friday and is almost certain to sell out. We produced this one in a numbered edition of 250; as of this morning, only 70 are left.
Like all of the Pin Club editions, we will not make more once it sells out — once it's gone, it's gone — so move fast if you want one. It's available here. (And if you need to get caught up, the January, February, and March pins are still available. April is sold out!)
• • • • •
• • • • •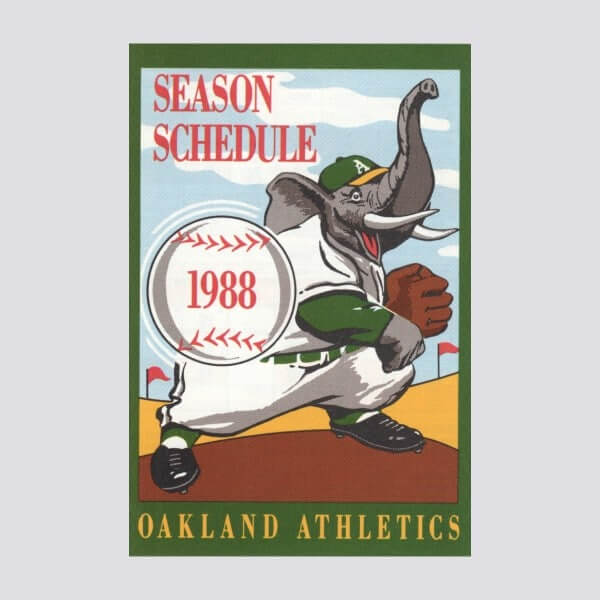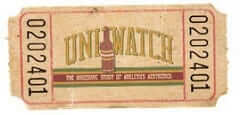 ITEM! Another Vintage Brand raffle: It's time for the monthly raffle from our longtime advertiser Vintage Brand, which means a lucky Uni Watch reader will get to choose anything from the VB site (including the A's poster shown above, which might be the world's only depiction of an elephant wearing stirrups).
Please note that this raffle is only open to people who have shipping addresses in the USA. It will be a three-day raffle. To enter, send an email to the raffle address by 8pm Eastern this Wednesday, May 6. One entry per person. I'll announce the winner on Thursday. Good luck!
• • • • •
• • • • •
Membership update: Card designer Scott M.X. Turner and I have been collaborating on the membership project for 13 years now, but he still finds ways to surprise and delight me with his design work.
Case in point: We recently got a membership order from reader Jeremiah Baker, who asked for his card to be based on the Cubs' retired number banners. I assumed Scott would simply put the name, number, and pinstripes on a plain white background. But since the banners are two-sided, and you can often see the rear-facing side showing through, Scott decided to depict that visual effect on the card — a brilliant decision that put a big smile on my face when I saw it.
But I wasn't sure it was what Jeremiah wanted, so I checked with him and told him we could do the plain white background if that's what he preferred. "I wouldn't have thought to do that, but I love the effect now that I've seen it," he said. "Go for it!" Alright — another membership card success story!
Jeremiah's design is one of several that have been added to the membership card gallery. Meanwhile, if you'd like to give Scott more opportunities to delight me, ordering a membership card is a good way to support Uni Watch (which, frankly, could use your support these days). And remember, as a gesture of comm-uni-ty solidarity, the price of a membership has been reduced from $25 to $20 until further notice.
As always, you can sign up for your own custom-designed card here, you can see all the cards we've designed so far here (now more than 2,600 of them!), and you can see how we produce the cards here.
• • • • •
• • • • •
The Ticker
By Jamie Rathjen
Baseball News: Some Twins players wore giant "Kirby for Governor" decals for a 1987 segment of This Week in Baseball, which seems a reference to CF Kirby Puckett (from Steven Robinson). … Here's a rare shot of former Reds and Tigers manager Sparky Anderson in a Padres uniform. He coached for them in 1969 (from Bell Hetrick and @OldTimeHardball). … The Beloit Snappers, Single-A affiliate for the A's, are set to begin construction on a new ballpark (from Kary Klismet).
Football News: Virginia Tech is holding a greatest-jersey contest, though of course it should be a uniform contest because "a jersey alone means next to nothing," says Andrew Cosentino. I know which one is my favorite! … Gene Sanny's latest painting is of '60s and '70s Vikings RB Dave Osborn. … Douglas Ford sent us a picture of Celtics SF John Havlicek in a Browns uniform — he was drafted by both teams in 1962 and attended Browns training camp. … Last weekend, we had a Ticker item featuring some clear football helmets. Reader Brice Wallace says his junior high school, Wayne Junior High in Wayne, W.Va., actually did wear some clear helmets in the '70s. "All you could see underneath was the crown pad and the suspension straps holding it in place, plus the ear pads," he says.
Hockey News: There's an upcoming documentary on the 50th anniversary of the Bruins' 1970 Stanley Cup win, so they made a commemorative logo (from Cole Pessolano).
.
Basketball News: Here's model Cindy Crawford wearing a Bulls jersey apparently given to her by Dennis Rodman in the '90s (thanks, Brinke). … Here's a look at Aussie football team logos patterned after NBA logos (from Jeremy Brahm).
Soccer News: Bundesliga team Fortuna Düsseldorf released a 125th-anniversary shirt supposed to be worn when the league resumes. That would be their sixth shirt of the season, which Sky Sport Deutschland claims is a Bundesliga record. … 2. Bundesliga team Arminia Bielefeld also released a 115th-anniversary shirt. … An article from UEFA about a month ago mentions Austrian team Austria Wien wearing a shirt ad in 1966; I'd always heard that Germany's Eintracht Braunschweig was the first in 1973. Sure enough, Austria Wien's website mentions the ad as well, but only says they were the first team in Europe to wear one. … New first kit for English League One's Tranmere Rovers and two for the English National League's Chesterfield, the launch for which was filmed by players and kids at their houses. … The Canadian website TheScore picked the best Premier League-era players to wear each number worn in the competition, which is most from Nos. 1 to 78, plus 87. The list cheats a little bit, picking some players for numbers that they did wear early or late in their careers, but with which they weren't particularly associated. … Here's a map of Japan using J.League team crests to fill in the prefecture or city they represent (from Jeremy Brahm).
Grab Bag: Spitballs are legal in cricket, and the ball is generally not replaced with a new ball except at the beginning of an innings, or after 80 overs — that's 480 legal deliveries — in Tests. But because of the coronavirus-related concerns of multiple bowlers handling a ball covered in spit, the powers that be are considering allowing foreign substances to be used instead (thanks, Paul). … Reader Shaun McNamara is doing an art project involving panels depicting team or university colors. … Cox Media Group had an internal design contest for its new logo (from Lachlan McLean). … The New York Times took pictures of many stadiums and arenas around the world that have been repurposed to help fight the pandemic. … The guy in charge of props for Star Trek: Picard mentions how they designed the show's version of the Starfleet badge in this video (from Terry Mark). … It doesn't get more 1990s than this remarkable volleyball uniform for the Polish team AZS Olsztyn (from Jeremy Brahm).
• • • • •
[adrotate group="2″]
• • • • •
Click to enlarge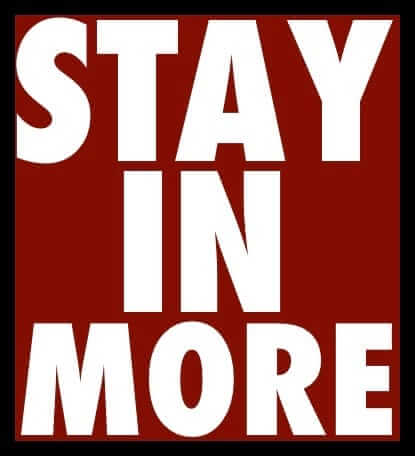 What Paul did last night: Yesterday was the nicest and warmest day of the year so far, so for a change we didn't have to bundle up when we hit the porch. Everyone walking by looked sun-splashed and radiant, which was nice. Even the dogs looked happier.
Since it was such a nice day, we wanted to spend a chunk of it outside. We figured a bizillion people would be out at Prospect Park — not great for social distancing — so in the afternoon we strapped on our masks and biked over to Green-Wood Cemetery, where we found a secluded spot under a tree. Nobody else seemed to be wandering by, so we removed our masks and spent a few hours reading, bird-watching, and thinking about the permanent residents who were sharing their space with us for the day (click to enlarge):
It was even more pastoral than that photo suggests. A perfect setting, really. I can't imagine a better way to have spent the afternoon.
Also: It's not easy to see in that panoramic shot, but one of the gravestones near us had the family name displayed diagonally – -a very unusual orientation (click to enlarge):
So that was my Sunday. Hope yours was good as well. — Paul