Click to enlarge
Twenty years ago today — April 19, 1999 — the sportswear brand Starter filed for bankruptcy, bringing an end to a storied retail and on-field brand.
As it happens, Uni Watch reader Kurt Evans (that's him in the photo above, showing off Starter's NFL sideline caps in 1998) was working for Starter at the time. Just as reader Dave Bloomquist recently told us what it was like to work for Twins Enterprise (the precursor of '47 Brand), Kurt's going to tell us a bit about his time with Starter. He's provided photos of some of his T-shirt designs, including a few phantom shirts for games or titles that never happened, which I've sprinkled throughout the piece. For most of them, you can click to enlarge.
Take it away, Kurt.
Starting with Starter
By Kurt Evans
As an art major at Southern Connecticut State University in New Haven in the mid-1980s, I knew I wouldn't be long for the conventional design world. I was a pro sports fanatic and the sportswear juggernaut Starter was headquartered right there in New Haven. That was too much of a coincidence for me — I worshipped the place, and I knew I had to be employed there.
After relentless nagging, I was fortunate enough to be hired in September of 1987, when I was still in school, as Starter's first and only intern. My job was to mix and match the ink to team logo colors to be screened on the sew-on wristband appliqués for NFL, MLB, and NBA players.
Following my December '87 graduation, I was hired full-time in Starter's two-person art department. I'd been passionate about uniforms, colors, and logos since my youth, and it was a lot of fun getting my artistic sports visions out there. I specialized in designing graphics for my favorite sport, NFL football (although I also got to design Nolan Ryan's official 300th-victory shirt [shown above]). I created the Conference Champs and Super Bowl locker room tees during the infancy of that product category. It was amazingly cool to have NFL team personnel and players wearing my artwork. I still see some of those shirts for sale on eBay 30 years later.
After two and a half years, I was able to secure the most coveted role I could have only dreamed of: pro teams services and relations coordinator. This job called for me to deal with the players and teams in all four of the major pro sports. With Starter being the biggest and best in the world at the time, and with the company at its peak, I could not envision a better job on the planet. How could there be? Here I was, a 25-year-old guy, going to Super Bowls, World Series, and so on, with all-areas access and elite treatment.
I was eventually appointed Team Service Manager for the NFL. It was a blast selecting the apparel and headwear styles for the teams to wear. I still remember the first player endorsement contract I negotiated — I signed Raiders wide receiver "Rocket" Ismail in '94. Raiders players were always a priority and very important — something about the silver & black!
The job put me in contact with a lot of celebrities — not just NFL people (countless star players, along with coaches like Don Shula, Bill Parcells, Bill Belichick, Jimmy Johnson, Dennis Green), but also actors and musicians, I never knew who would be on the other end of the phone when I answered it, from Jerome Bettis to Paul McCartney. Everyone wanted Starter!
Originally we had all 28 then-current NFL teams wearing our product on the sidelines. Then, with the unexpected ambush of Apex One in 1990, we had to start paying coaches for their team's coverage. The exposure wars began as we competed for the likes of George Seifert, Chuck Knox, Mike Ditka and so on. We would offer individual contracts to these guys for the right to outfit their team. The dollar amounts, which seemed exorbitant at the time, were laughably low sums by today's standards.
Then we moved into uniforms. Although we didn't have experience with on-field gear, there was no learning curve for us regarding uniform construction or production because it was outsourced to the very best — the Ripon folks in Berlin, Wis. They made our uniforms for us so the teams and Starter didn't miss a beat in the transition.
The first teams we outfitted were the Steelers, Packers, and Washington. We later expanded to supply the Vikings, Dolphins, Chargers, Patriots, Ravens, Eagles, and Jets. (When Parcells took the Jets job, I told him, "Now we just have to change those dreadful uniforms." He agreed, and thankfully they went back to their roots.)
We redesigned the Vikings' purple jerseys following the '95 season; I felt it was an aesthetic step backwards since I favored tradition: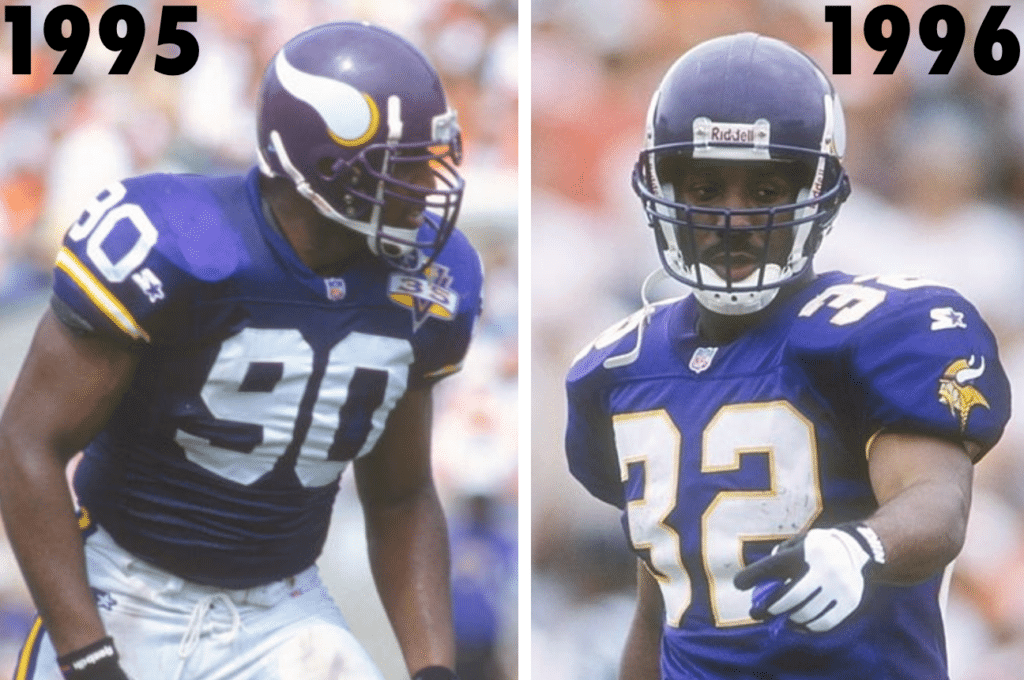 Moving the TV numbers up to make room for the sleeve logo was fine. But I hated the sleeve stripes becoming the knit cuff at the end of the sleeves, especially striped in gold/white/gold. Those colors bordering each other never work — they don't contrast well. if at all.
Unfortunately, as the 1990s wore on, the sun began to set on Starter. At that time, dozens of companies had the license to make Jets jerseys, Broncos jackets, etc. With all of that competition, and the league charging higher exposure fees from us, we had to spend more while sales began to wane. Just an oversaturated market. On April 19, 1999, only weeks after our product line had been voted the best at the annual NFL Equipment Managers meeting (beating out Nike, Reebok, and Logo Athletic), I got the word that we were finished as a company. Until the end and to this day, I maintain Starter made the best-quality apparel. It really was special there, the product and the people.
I moved on to Logo Athletic — Starter's competitor — in Indianapolis. But in February 2000 I was called into the president's office and told they were going out of business too. I was out of a job twice in less than a year, struck by bankruptcy lightning again.
I returned home to Connecticut in September of 2000 and was hired by Saranac, which at the time was Reebok's NFL glove licensee. They had started on-field gloves for athletes — baseball batting gloves in the late '60s, football in the '70s. I was to handle all 32 teams' glove and accessory needs, working closely with Reebok HQ to develop the colorways for their contracted players' on-field gloves (thereby rekindling my design roots a bit). I reported to the owner of Saranac who, oddly, also happened to be a VP of the Green Bay Packers. A great man. It was a fun gig.
Reebok, meanwhile, soon struck an unprecedented 10-year exclusive apparel deal with the NFL. In September of 2003 I was given my biggest role: I was to work out of Reebok HQ in Massachusetts, overseeing the company's contracted NFL players. In essence, I was managing the NFL team, league, and player services and relations for the company. This would primarily include negotiating and signing the players to contracts, and working on their footwear and glove product. (As an example, in November 2006 I did neon green gloves for Deion Branch in Seattle. That was the start of the Seahawks' neon green craze.)
The signings included both Peyton and Eli Manning, Tony Romo, Philip Rivers, DeMarcus Ware, Steve Smith, Chad Johnson, and many more. Reebok was the only game in town as far as the NFL's uniforms and sideline apparel. Among other things, it put me on the Super Bowl XLI podium with Peyton in 2007:
My job also entailed executing player TV and photo shoots and appearances. My personal highlight was the "Perfectville" TV shoot in 2008 with the '72 Dolphins (thanks for the jersey, Mercury!). When Reebok's contract with the NFL expired, I stayed on for a year afterward until the remaining player contracts expired. I left in January 2013.
I'm currently the curator for the Patriots Hall of Fame. The Patriots are a premier, elite organization — the latest in a lifetime of such outfits I've been fortunate enough to be affiliated with. It's been a great ride, and I wouldn't change a thing.
———
Paul here. Great story, Kurt — thanks for sharing.
Starter has gone through some new iterations since Kurt's time with the company, of course. Most recently, they made the uniforms for the AAF — but we all know how that played out.
• • • • •
• • • • •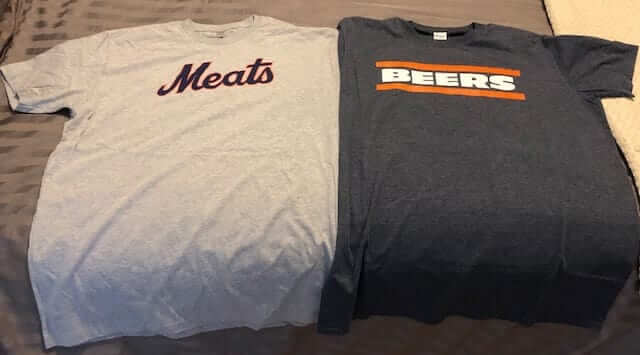 Two great tastes that taste great together: You may have seen the shirt on the left before, but I'd never seen the one on the right until reader Ryan Brandt, who has both shirts in his wardrobe, sent me this photo. He says he got that one from a bottle shop on Chicago's South Side — nice!
• • • • •
• • • • •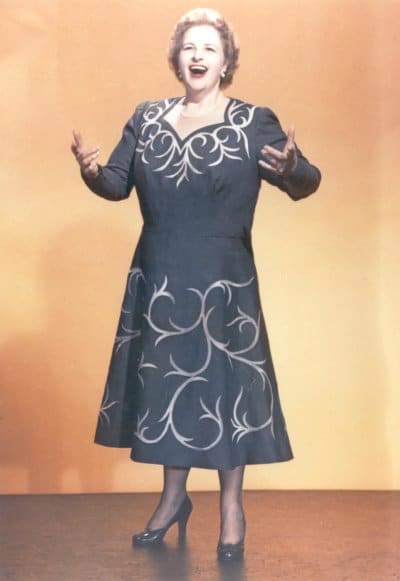 At the old ballgame: Faaaascinating story yesterday from the New York Daily News, which reported that the Yankees have yanked Kate Smith's recording of "God Bless America" — a longtime staple of the seventh inning stretch at Yankee Stadium — and replaced it with other recordings of the song after learning that Smith recorded at least two racist songs and endorsed a racist doll.
For those too young to remember, "God Bless America" was not played at MLB ballparks until after the terrorist attacks of Sept. 11, 2001, when it became a standard seventh inning feature for the balance of the '01 season and postseason. In the years that followed, most teams eventually reserved the song for Sundays and/or holidays, but the Yankees have kept playing it at every home game. Their TV broadcasts, most of which are shown on the team-owned YES network, stick around for the playing of the song instead of going to commercial (by contrast, the pregame playing of the national anthem is not broadcast), with the camera typically showing fans holding a flag or a USA-themed banner during the song.
Incredibly, this is the second time the Yankees have had to pull a "God Bless America" vocalist due to concerns about bigotry. In 2009, the team sacked Irish tenor Ronan Tynan, who at the time routinely performed the song live on the field during the stretch of home playoff games, after reports that he had made an anti-Semitic slur, which he later said was a joke. (Visiting teams sometimes complained that Tynan's long, drawn-out rendition of the song gave the Yanks an unfair advantage, because it forced the visiting pitcher to stand around in the October chill before getting down to business in the bottom of the seventh.)
Earlier that year, the Yankees settled a lawsuit brought by a fan who was ejected from a game after he tried to use the restroom during the playing of "God Bless America." As part of the settlement, the team agreed that it would no longer restrict fans' movements in the stadium while the song was being played.
Radical thought: Stop the outdated jingoistic nonsense already and just play "Take Me Out to the Ballgame" during the stretch. I'm fairly certain there won't be any lawsuits or accusations of bigotry over that.
Update: The NHL's Philadelphia Flyers, who also have a longstanding connection to Kate Smith, are following the Yankees' lead.
• • • • •
• • • • •
The Ticker
By Yianni Varonis

Baseball News: Some Diamondbacks players are wearing Rawlings' new Mach batting helmet (from Josh Miller). … It looks like Yankees 1B Luke Voit wore the batting helmet of teammate Gio Urshela last night (from @ColdAsBryan and Robby Margason). … ESPN revealed on SportsCenter the Fayetteville Woodpeckers' three new alternative uniforms (from @killasugah). … Typically, a baseball jersey isn't appropriate church attire. But jerseys are welcome at this Washington, D.C. church, which purposefully holds mass before each Nationals home game, giving fans the chance to attend both (from John Muir). … A local artist has designed the Rays giveaway cap that young fans will receive at a game next month … A local high school German class attended a Twins game wearing a T-shirt that said "Zwillinge," which means Twins in German (from Gary-O). … A Southern-based comedy group called 85 South regularly wears Braves-styled apparel, including these well-made jerseys (from Kevin Eckhoff). … The Omaha Storm Chasers had a little fun last night, showing their lineup with redactions as a nod to the Mueller Report (from journalist Brett Baker). … New throwbacks for the Nashville Sounds (from Chris Howell).

NFL News: From Phil: The 49ers will again wear their all-white throwbacks in 2019. … We know that the Browns will have new uniforms in 2020. Could the five stripe pattern the team has recently used in its marketing materials be a part of any redesign, on or off the field? … This is kind of strange: The Chiefs released their 2019 schedule by recreating each of its opponents' helmets with grey facemasks, whether accurate or not, except for the Chargers, who were shown with yellow facemasks (from @beelze_BUBBLES). … The Panthers unveiled their schedule with a journey through video gaming history. … Like the Falcons, the Texans paid homage to the Game of Thrones intro to unveil their 2019 schedule. … Here's a clearer picture of the Jaguars' new 25th-season logo that was recently teased (from multiple readers). … A designer has posted uniform concepts for each NFL team.

College Football News: How many SEC football stadiums can you fit in Talladega Superspeedway? It turns out all of them (from James Gilbert). … Boise State is replacing its well-known field this offseason, though the new turf will remain blue (from Tyler Keefe).

Hockey News: Reader Kary Klismet was at an Avalanche game when he spotted a fan wearing the jersey of "Bernie," the team's St. Bernard mascot, complete with a dog bone numeral and a hole in the back for a tail. Kary says the fan "has hired Bernie as entertainment for several events for his organization and got the jersey as an appreciative gesture from the team."

NBA News: A few items from Phil: This article details "The most influential NBA player advertisements and brand partnerships" in the league's history; GQ wrote a story on how Converse created the basketball shoe of the future; and Warriors F/C Jordan Bell wore shoes last night that paid tribute to Nipsey Hussle, the rapper who was recently shot and killed. … Chicago Mayor Rahm Emanuel received custom Bulls jerseys featuring No. 57.7 to symbolize the 57.7 million people who visited the city last year (from Griffin Smith).

Soccer News: Here's a visual history of English club Liverpool wearing pinstripes, including on its newest shirt (from Steve Kriske). … Scottish club Celtic's new home shirt probably leaked (from our own Anthony Matthew Emerson and multiple readers). … German club VfB Stuttgart will wear a 125th-anniversary shirt (from Antonio Losada). … FC Wichita Falls, an arena league team, announced that the winning submission from its team-naming contest was "Flyers."

Grab Bag: Cross-listed from the college football section: How many SEC football stadiums can you fit in Talladega Superspeedway? It turns out all of them (from James Gilbert). … Professional IndyCar driver Marco Andretti will use a throwback livery for the Indianapolis 500 that pays homage to his grandfather, Mario Andretti, who won the race in 1969 (from our own Jamie Rathjen). … Vogue detailed "the most mesmerizing design moments" from the world's preeminent furnishing and design sector showcase, the Salone del Mobile. … The Wisconsin-based coffee company Kickapoo Coffee announced that it will change its name to avoid appropriating the identity of the indigenous Kickapoo tribes (from R. Scott Rogers and Nick Haering). … Disney has introduced "Captain Minnie Mouse," who wears pants on the company's cruise line, to "inspire the next generation of female leaders in the maritime industry." … Some women are criticizing Twitter's CEO for making a public appearance in a beanie and hooded sweatshirt that they believe represents a double standard. … This is what Walmart looked like when it first opened in 1962. … Ahead of Easter, check out these photographs depicting eggs in art and design. … Take a look at the Easter egg designs that Iowa and Utah submitted for this year's White House Easter Egg Roll. … HBO issued a statement asking that its "intellectual property not be used for political purposes" after President Trump made a made a Game of Thrones-themed tweet yesterday. … Adidas is out with a new Game of Thrones-themed shoe that depicts both "fire" and "ice" (from John Cerone).
• • • • •
Our latest raffle winner is Randy Allemann, who's won himself a Goodyear-inspired Uni Watch T-shirt, in green. Congrats to him, and big thanks to Jon Eidukas for purchasing and donating the shirt. We'll have more raffles next week.
• • • • •
Happy Passover and Easter to all who are celebrating this weekend. — Paul